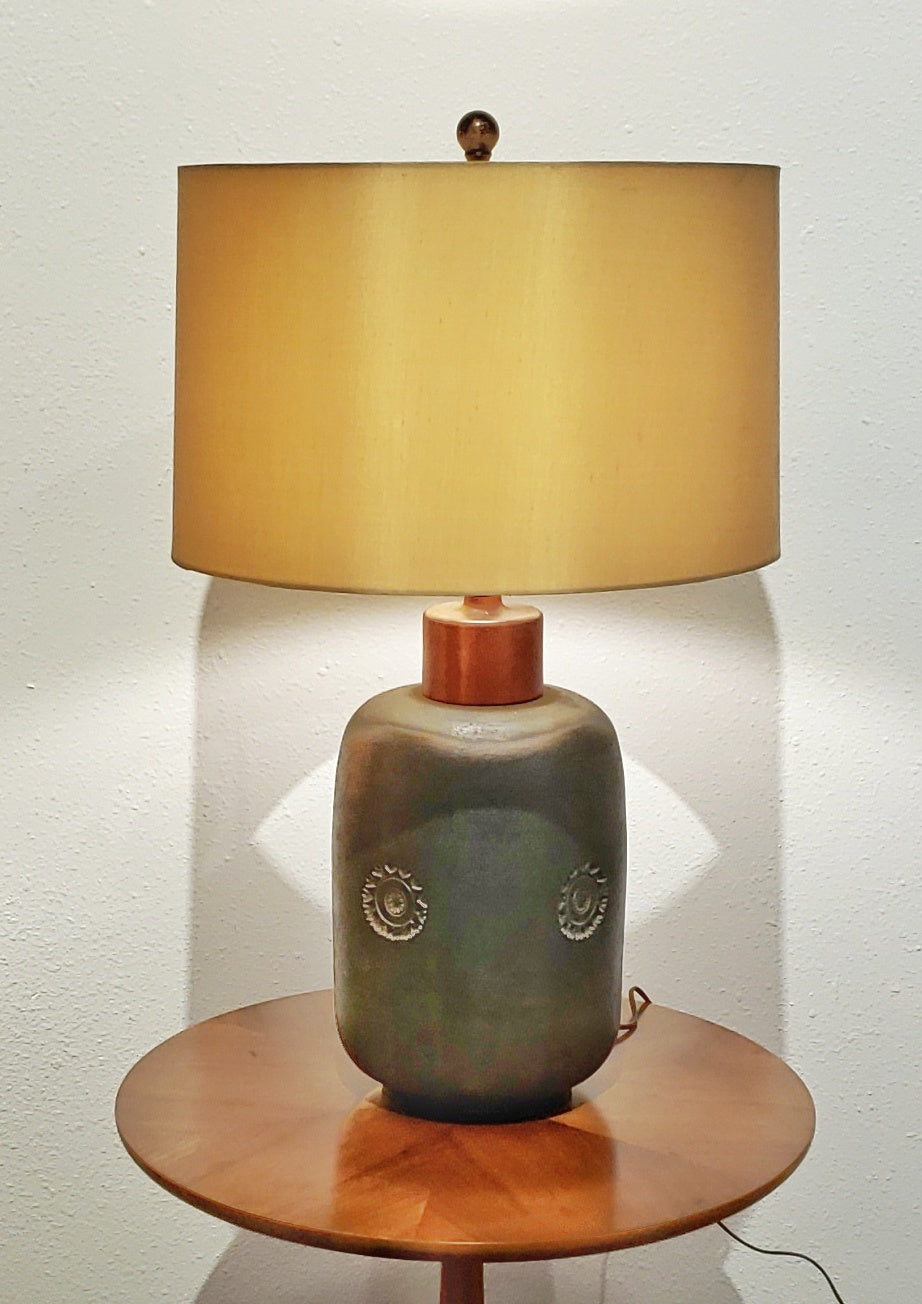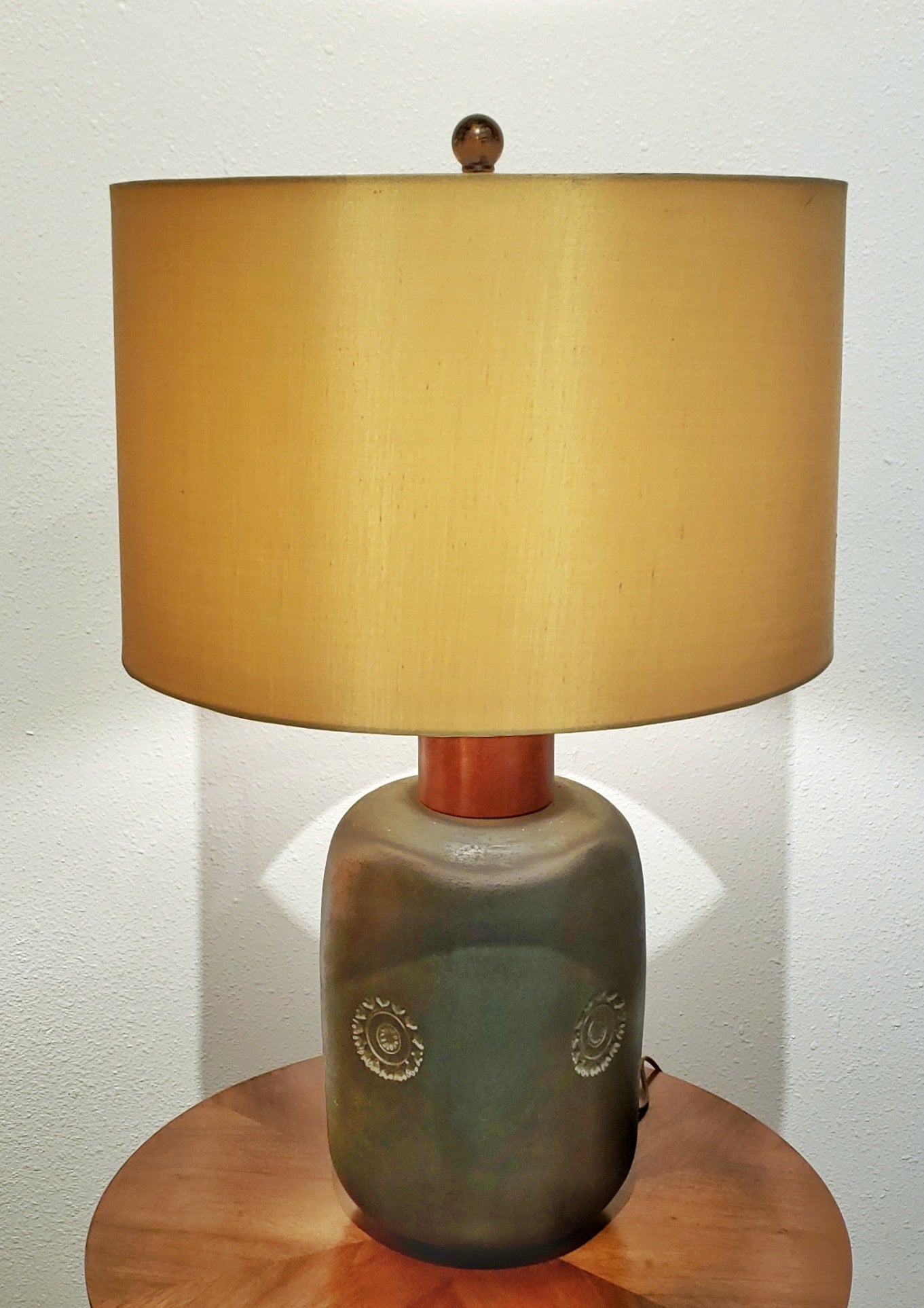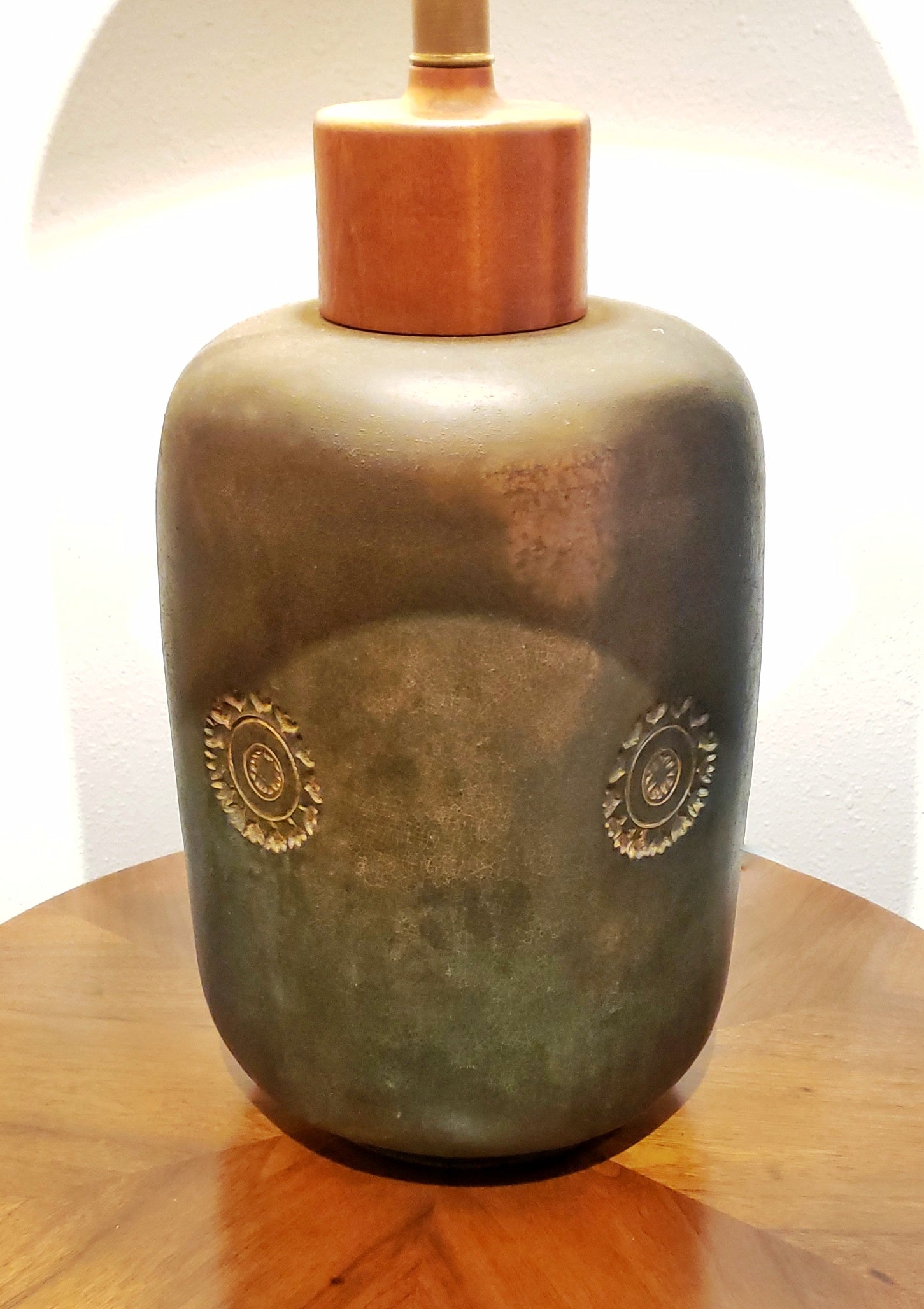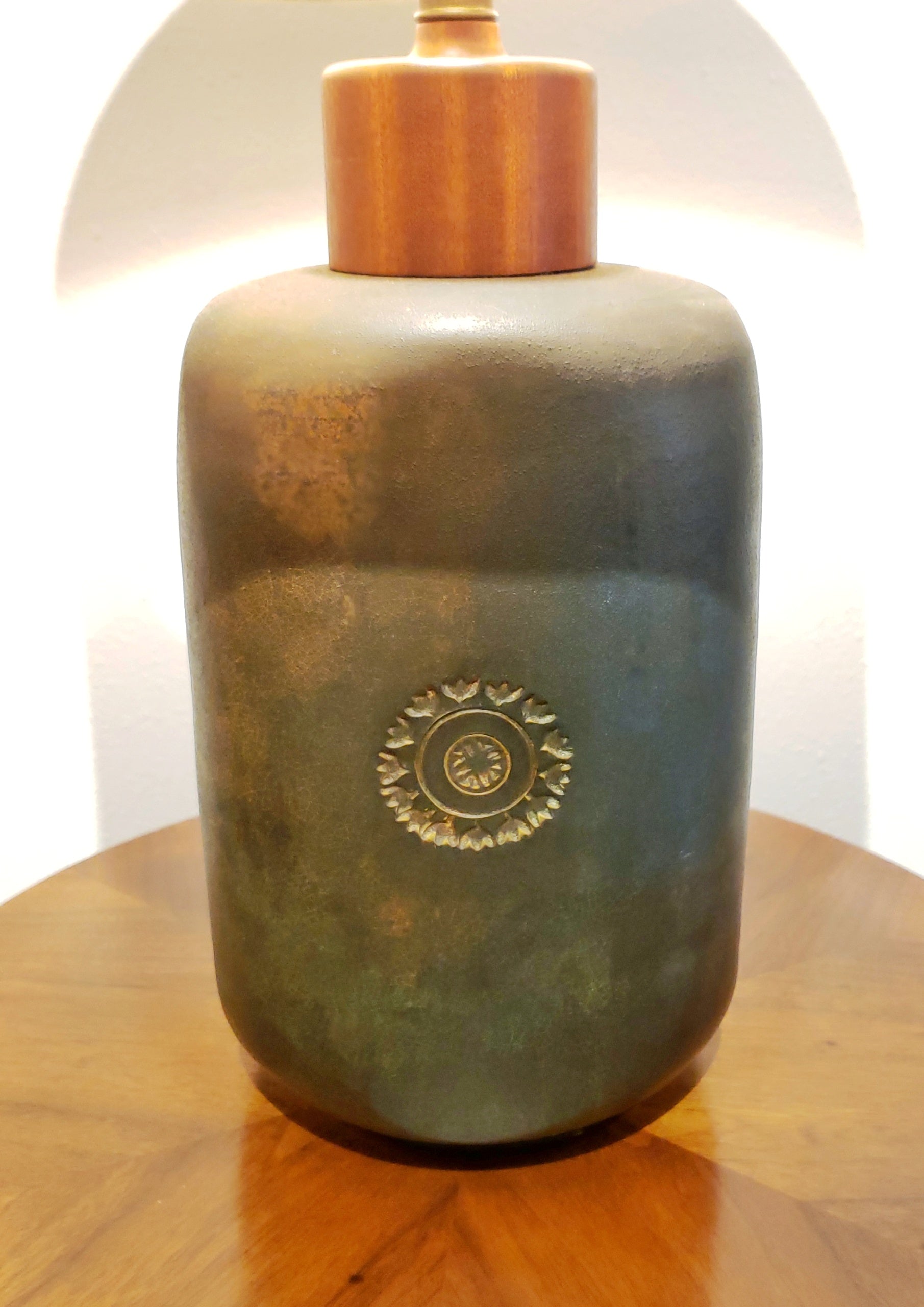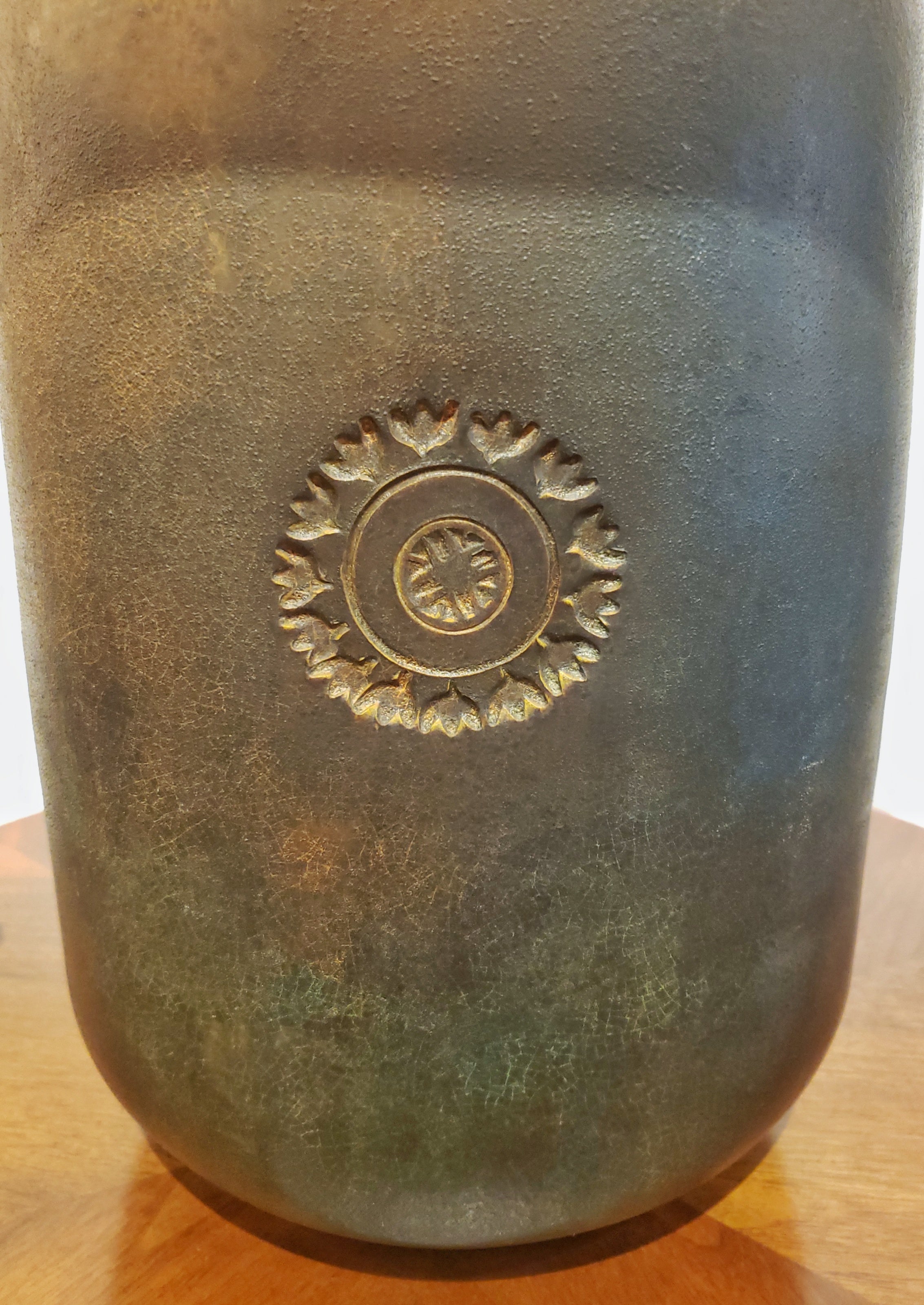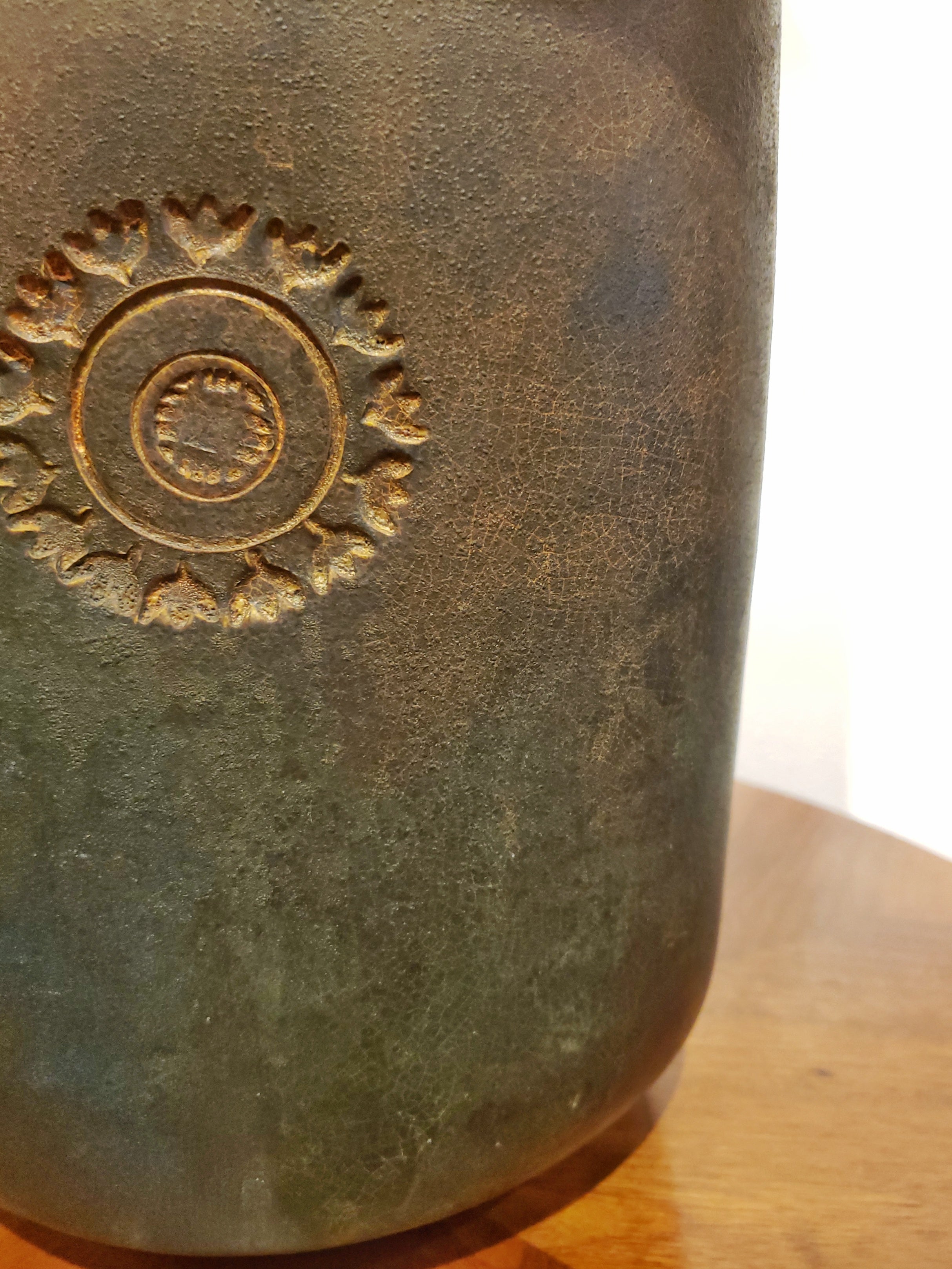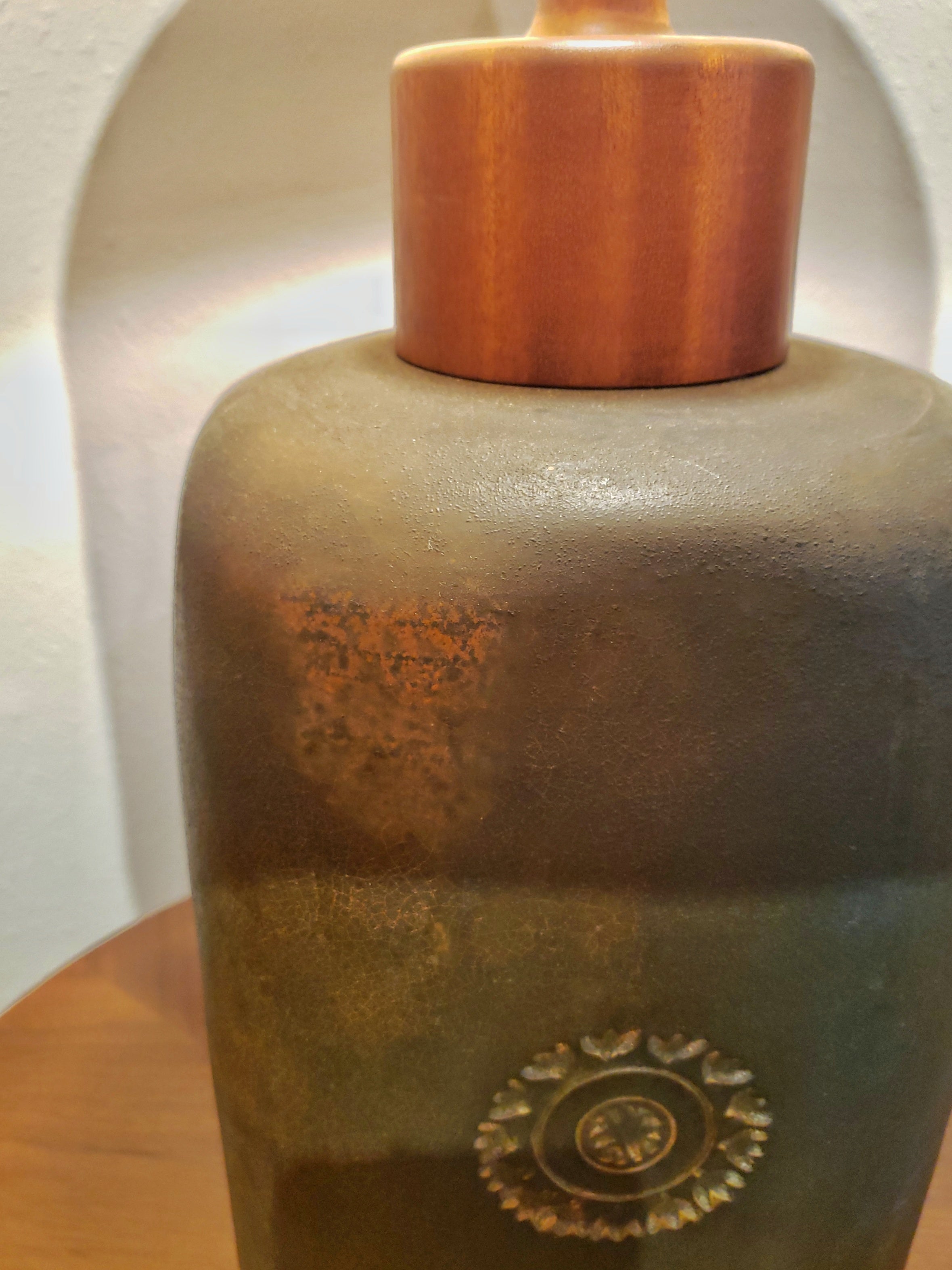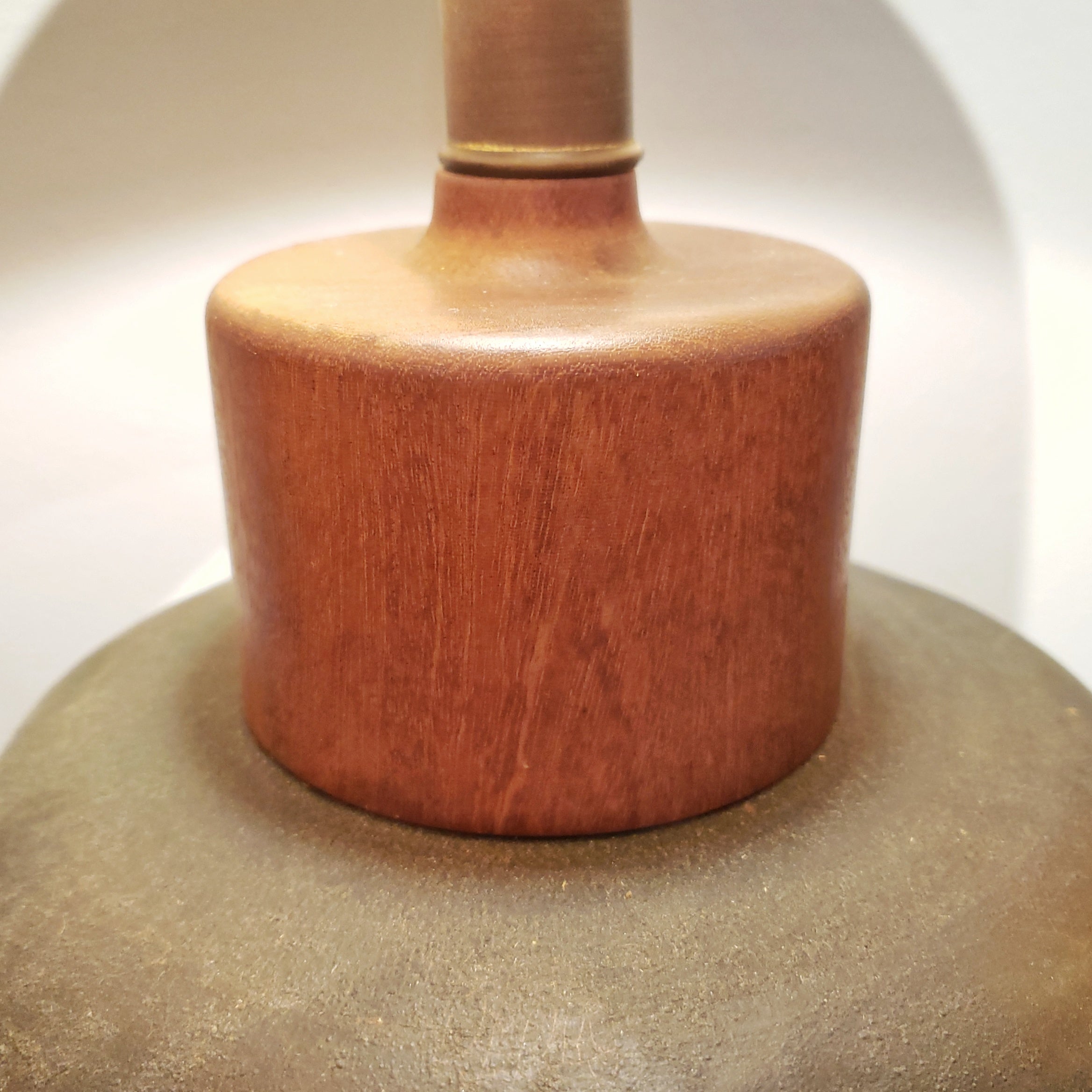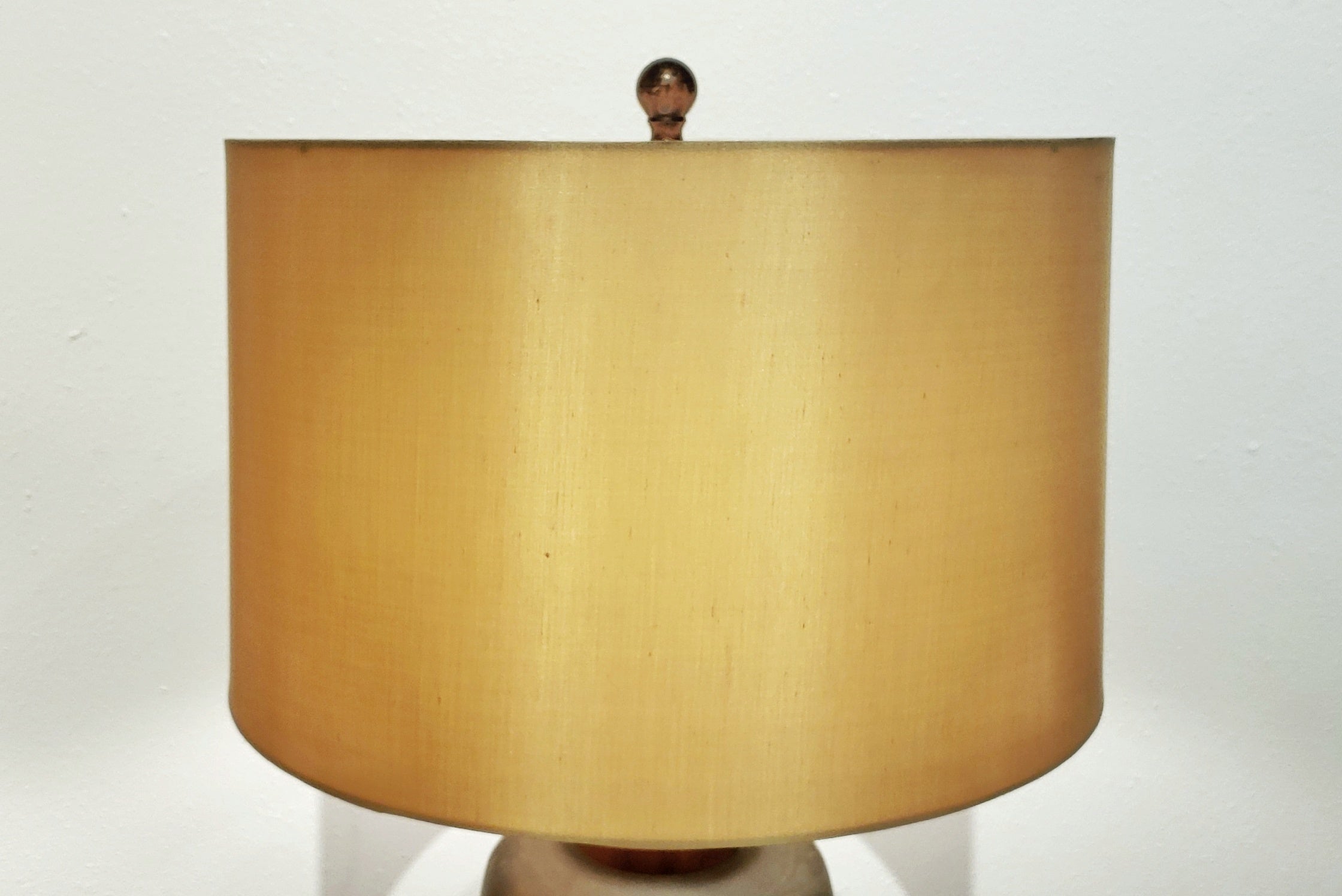 1960s ALDO LONDI 'ETRUSCAN' TABLE LAMP FOR BITOSSI CERAMICHE
CONTACT US HERE ABOUT THIS ITEM.
An 'Etruscan' décor table lamp designed by Aldo Londi for BITOSSI CERAMICHE of Italy.  Four impressed medallions are featured on a beautifully subtle glaze comprised of shades of dark green, orange, and turquoise applied to a vaguely rectangular form with rounded corners and edges.  The ceramic body is topped with a thick, solid walnut neck and a drum shade in golden silk.  The beauty of the glaze is difficult to capture in photographs.
ALDO LONDI was one of the most celebrated Italian ceramicists of the past century.  He spent most of a long, successful career creating exceptional works of great art and technique for the Italian manufactory BITOSSI CERAMICHE.  Londi's birthplace of Montelupo Fiorentino (on the outskirts of Florence) had been a major center of pottery production during the Renaissance, and in 1922 it was the home of Fratelli Fanciullacci, the region's premier ceramics workshop.  Londi began work there at the young age of eleven.  Following World War II, upon returning to Montelupo from South Africa where he had been a prisoner of war, Londi was hired as BITOSSI CERAMICHE's creative director.  He would hold the position for more than 50 years and design well over 1,000 objects for the firm—ranging from jugs and vases to clocks and animal figurines.
Londi brought vast experience in traditional artisanal methods and a high level of technical expertise to BITOSSI.  His designs combined a signature whimsy with a distinctive expressiveness.  His best-known work is the '50s-era Rimini Blu collection (1955-1965)—considered a midcentury-modern archetype.  He created his first piece in Persiano Blue, the famous "Ball" vase, in 1955; he would begin to produce other pieces in this proprietary chromatic finish in 1959.  (While blue was not the only color Londi utilized, it has become closely linked with his work.)  Londi's last solo collection, ARKitectura (ca. 1950s), was a departure from his earlier output and featured simple animal figures glazed in black, white, and platinum.
In 1958 Londi began a fruitful association with legendary Italian architect-designer Ettore Sottsass (1917-2007), who considered Londi to be an important mentor.  During his time at BITOSSI, Londi also collaborated with Piero Fornasetti (1913-1988), Matteo Thun (b. 1952), and Karim Radhid (b. 1960).  Most of Londi's collections, including the Rimini Blu and ARKitectura, are still in production today and are widely collected by ceramics enthusiasts.  Many of his original works can be seen at the MAIB–Artistic Industrial Bitossi Museum in Montelupo.
BITOSSI CERAMICHE was established in 1921 as Manifattura Ceramica Cav. Guido Bitossi & Figli by Guido Bitossi in Montelupo Fiorentino in Tuscany—a region with an ancient tradition of ceramics a few kilometers from Florence.  The Bitossi family, documented in the area as early as 1536, had for centuries worked there as sculptors, painters, but especially as potters.  In the twentieth century, under Guido's leadership, they would introduce an extraordinary stylistic and formal renewal of their craft.
In the late 1940s master ceramist Aldo Londi (1911-2003) was named BITOSSI CERAMICHE's creative director.  He held the position for well over 50 years. Himself a Montelupo native, Londi brought to BITOSSI a deep expertise in the traditional production of ceramics.  Nevertheless he keenly appreciated the streamlined forms of the mid-century moment.  He is best known for his 'Rimini Blu' collection, an iconic series comprised of over 150 designs—bowls, vases, jugs, and animal figurines—all glazed in a vibrant azure hue and embossed with abstract motifs and shapes.  It helped to bring expressive, hand-crafted work into the modernist design conversation in Italy.
During Londi's tenure, BITOSSI collaborated successfully with a host of famous designers, including the legendary architect-designer Ettore Sottsass.  An avatar of 1960s counter-culture, Sottsass thought design should be provocative and sensual, and his avant-garde style blended well with BITOSSI's mid-century aesthetic.  Besides Sottsass, BITOSSI partnered with designers Piero Fornasetti, Karim Rashid, Arik Levy, Fabio Novembre, Benjamin Hubert, Matteo Thun, Monica Förster, and Cédric Ragot.
Today BITOSSI CERAMICHE is justly considered an institution.  The Bitossi family and its foundation have amassed an archive of over 7,000 historical documents and materials in relation to the production of ceramics.  The assemblage is housed in the Bitossi Artistic Industrial Museum in Montelupo.  In 2014, BITOSSI became an official member of the Registry of Italian Historical Companies, appointed by the Italian National Union of Chambers of Commerce.
Production Period – 1960-1969
Country of Origin – ITALY
Designer – ALDO LONDI (1911-2003)
Maker – BITOSSI CERAMICHE
Attribution – WELL-KNOWN
Materials – CERAMIC, WALNUT
Colors – BROWN
Condition – VERY GOOD (no defects; may show slight traces of use)
Plug – N. AMERICAN
Height (in.) – 30.0
Diameter (in.) – 17.0