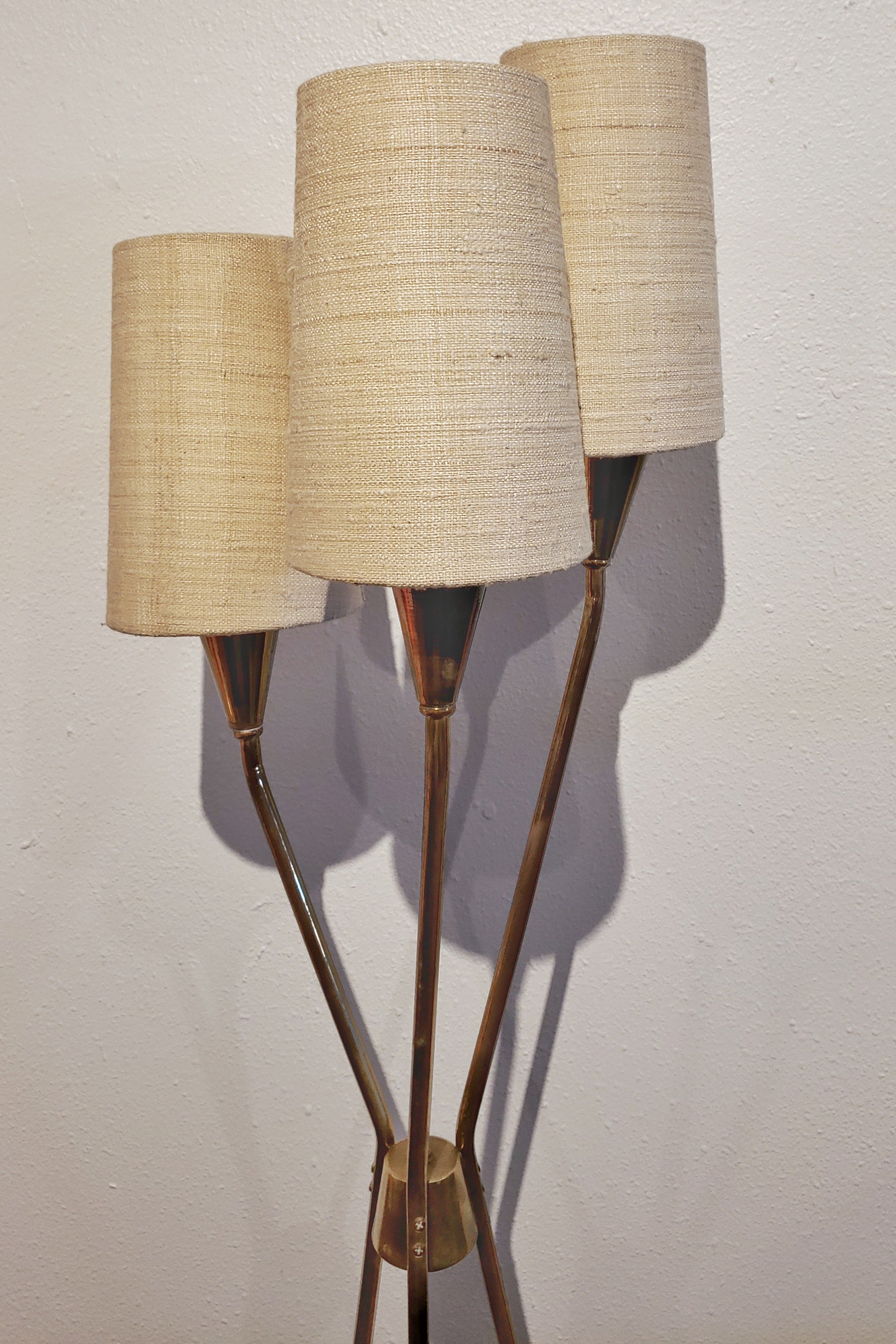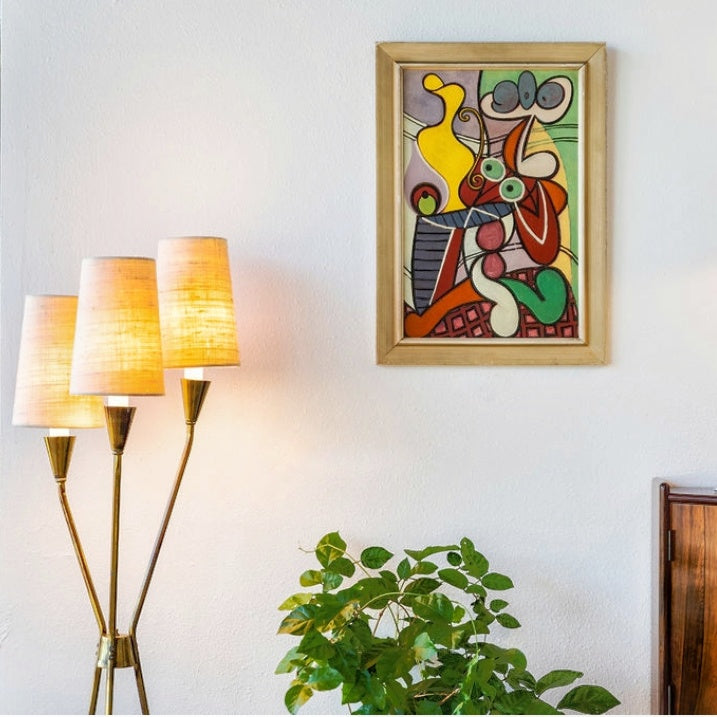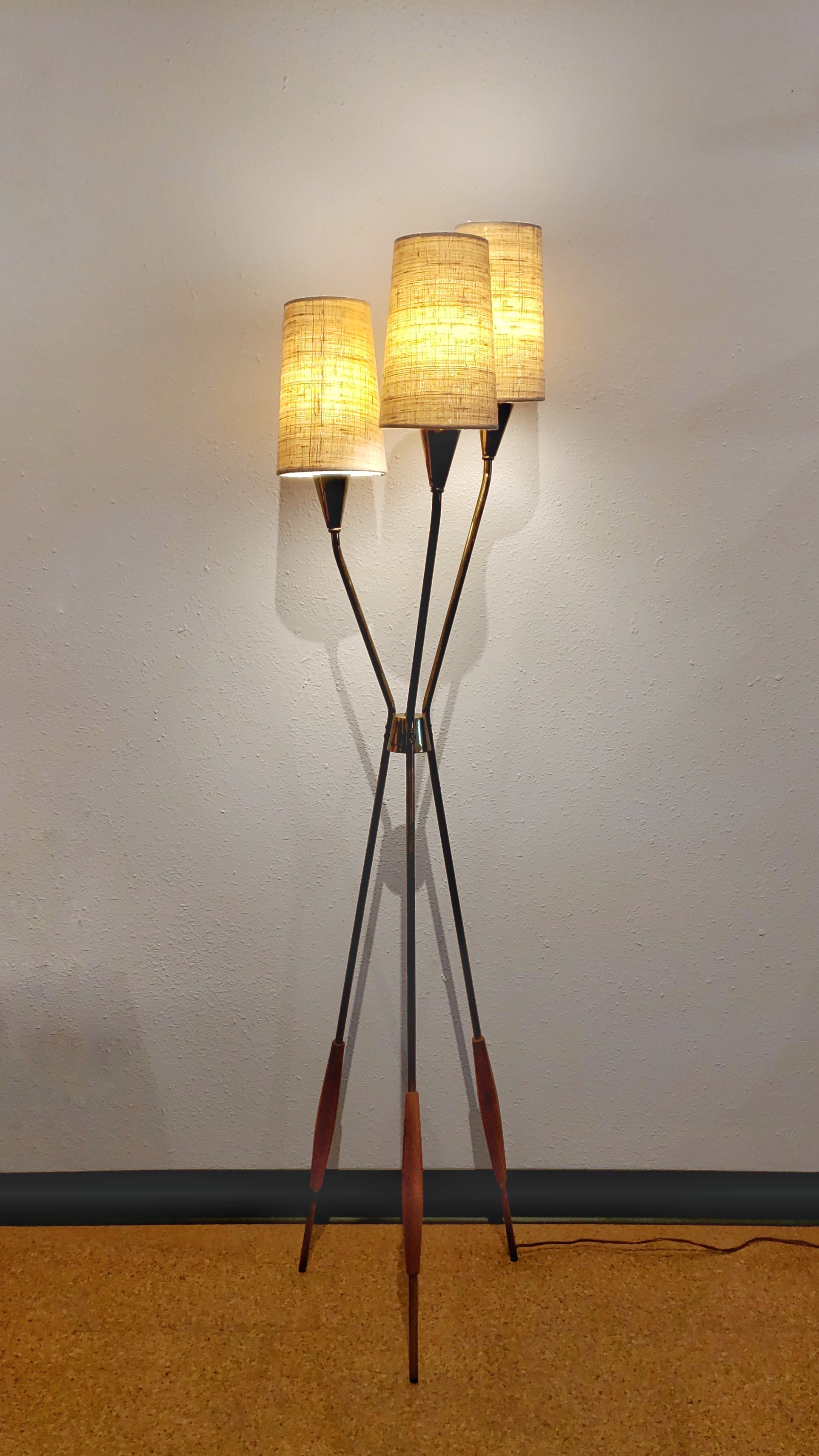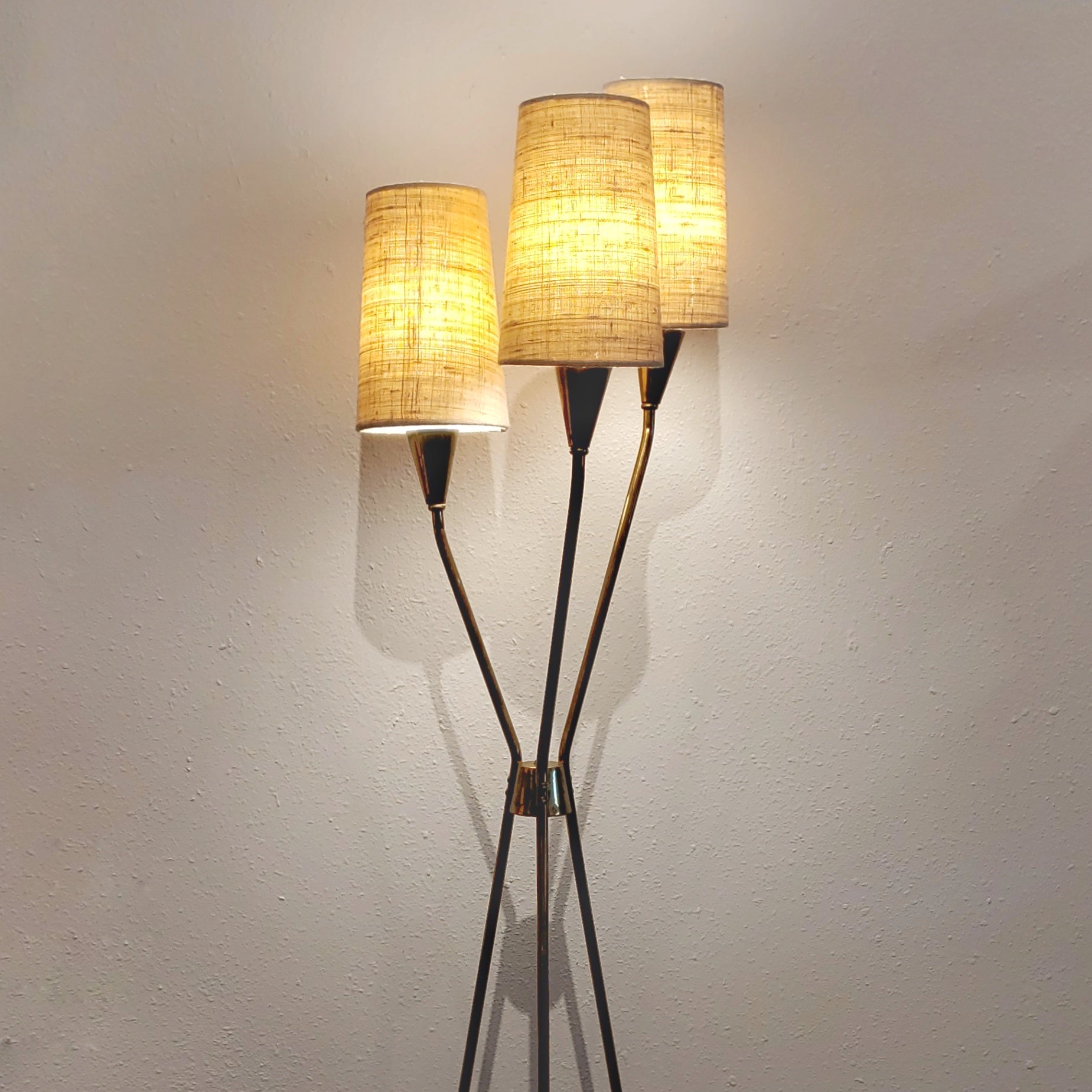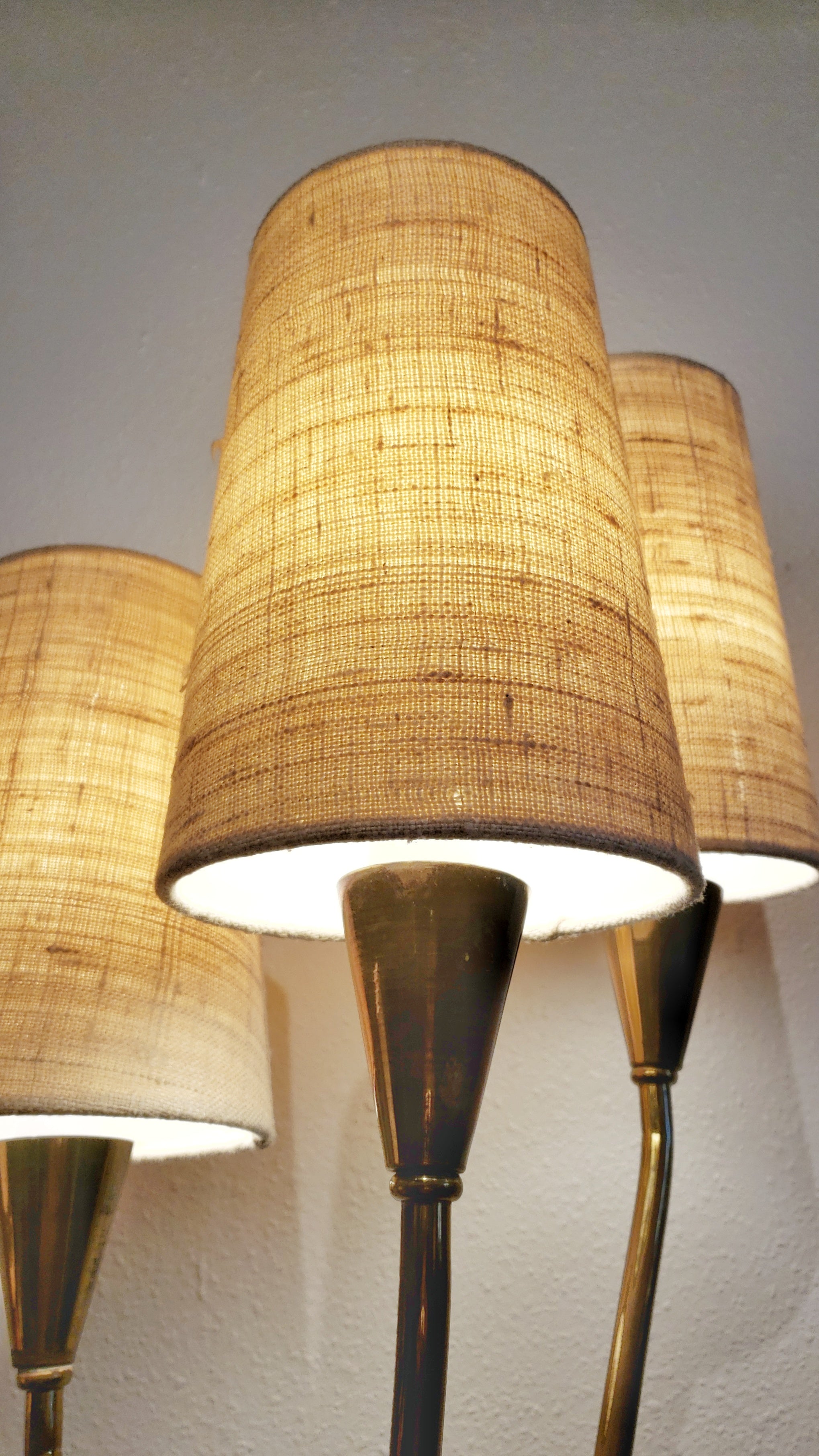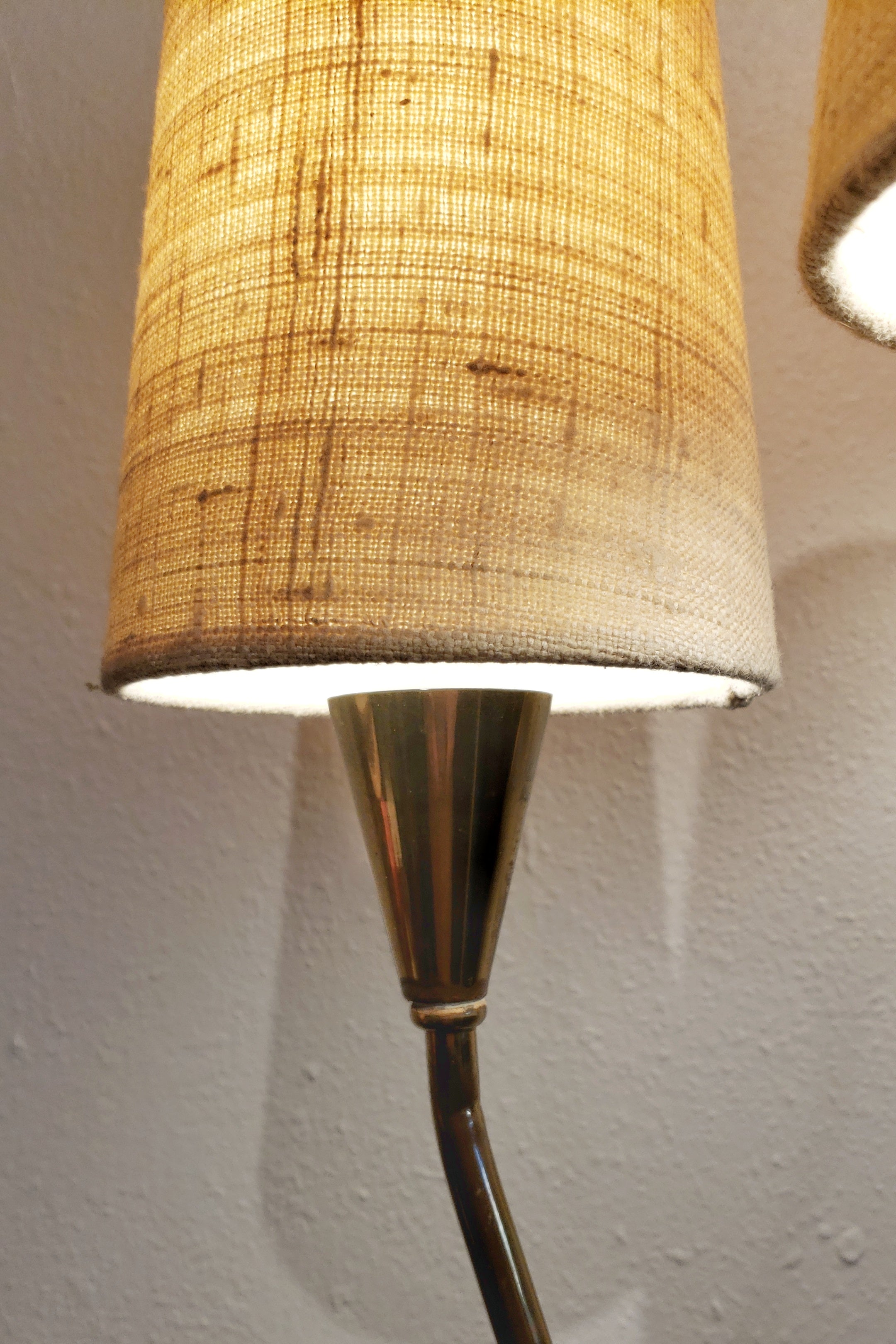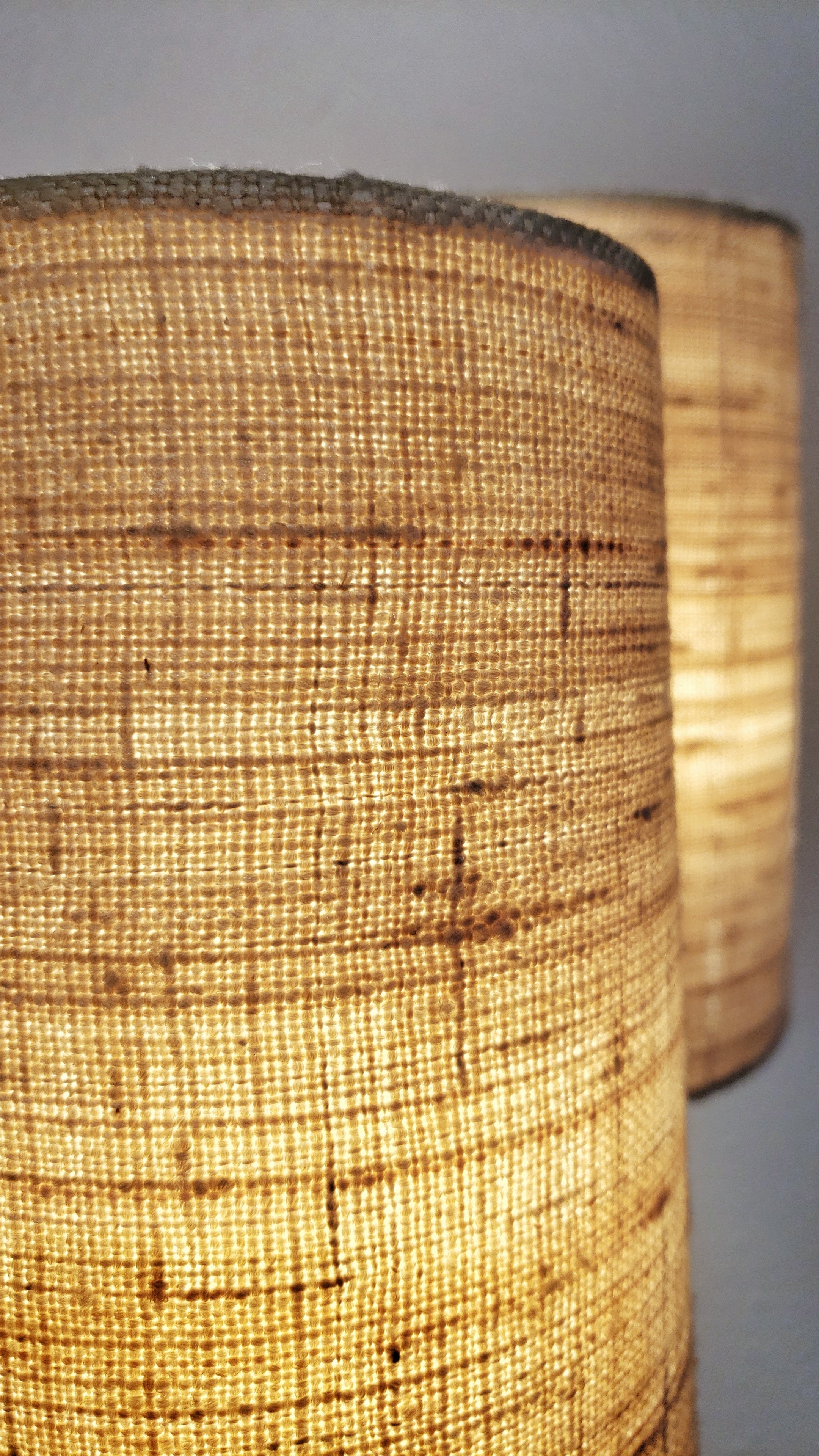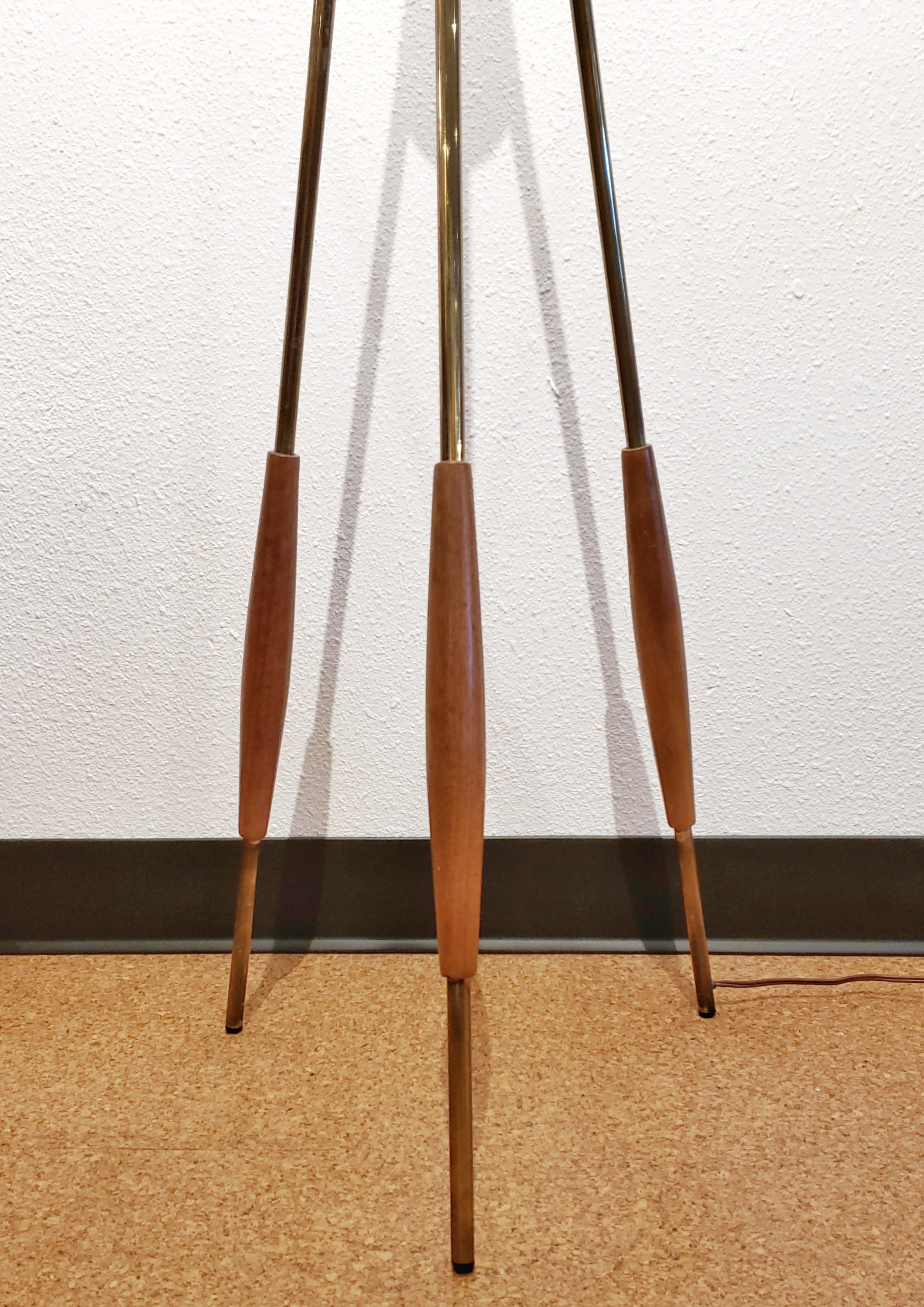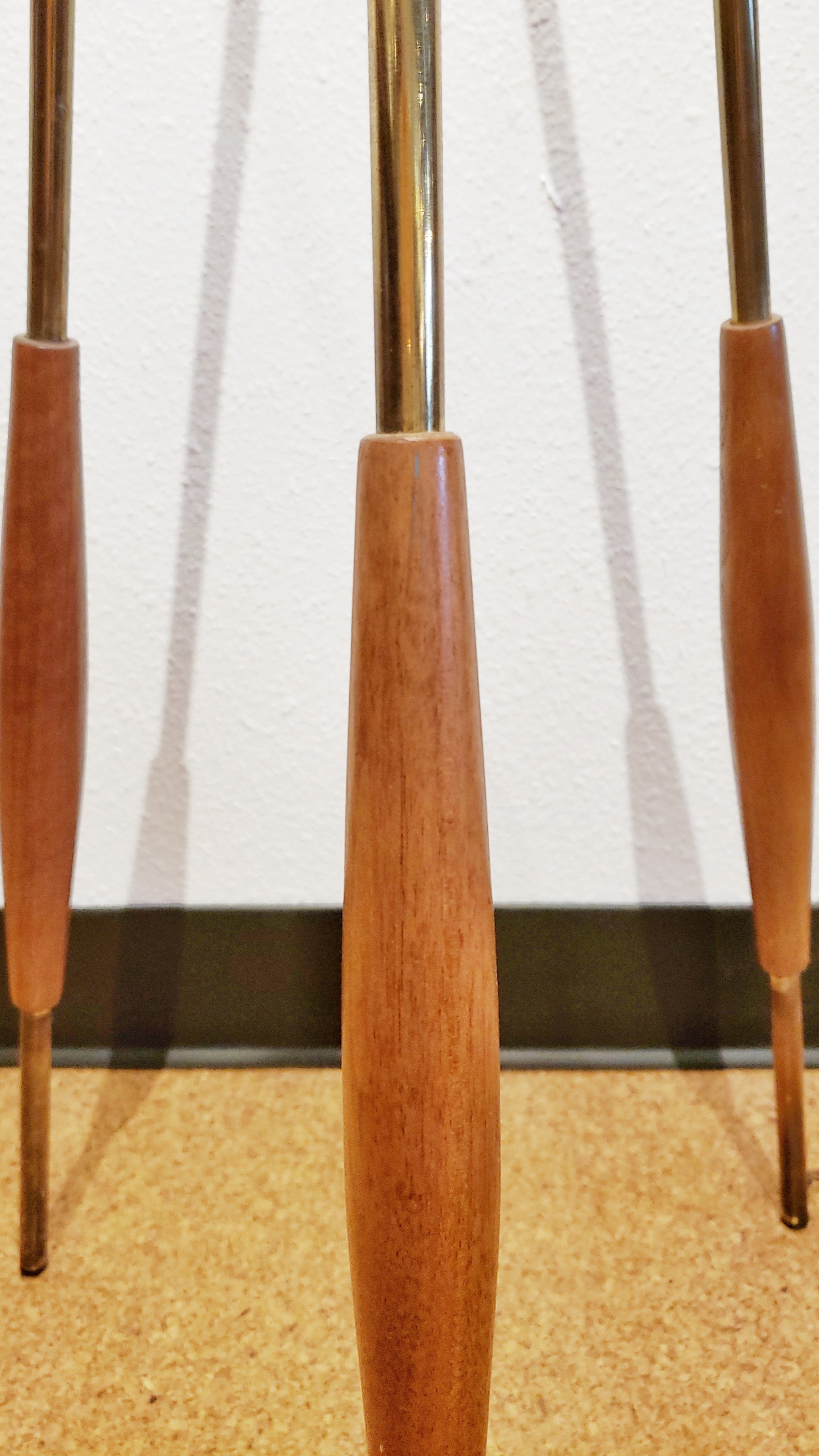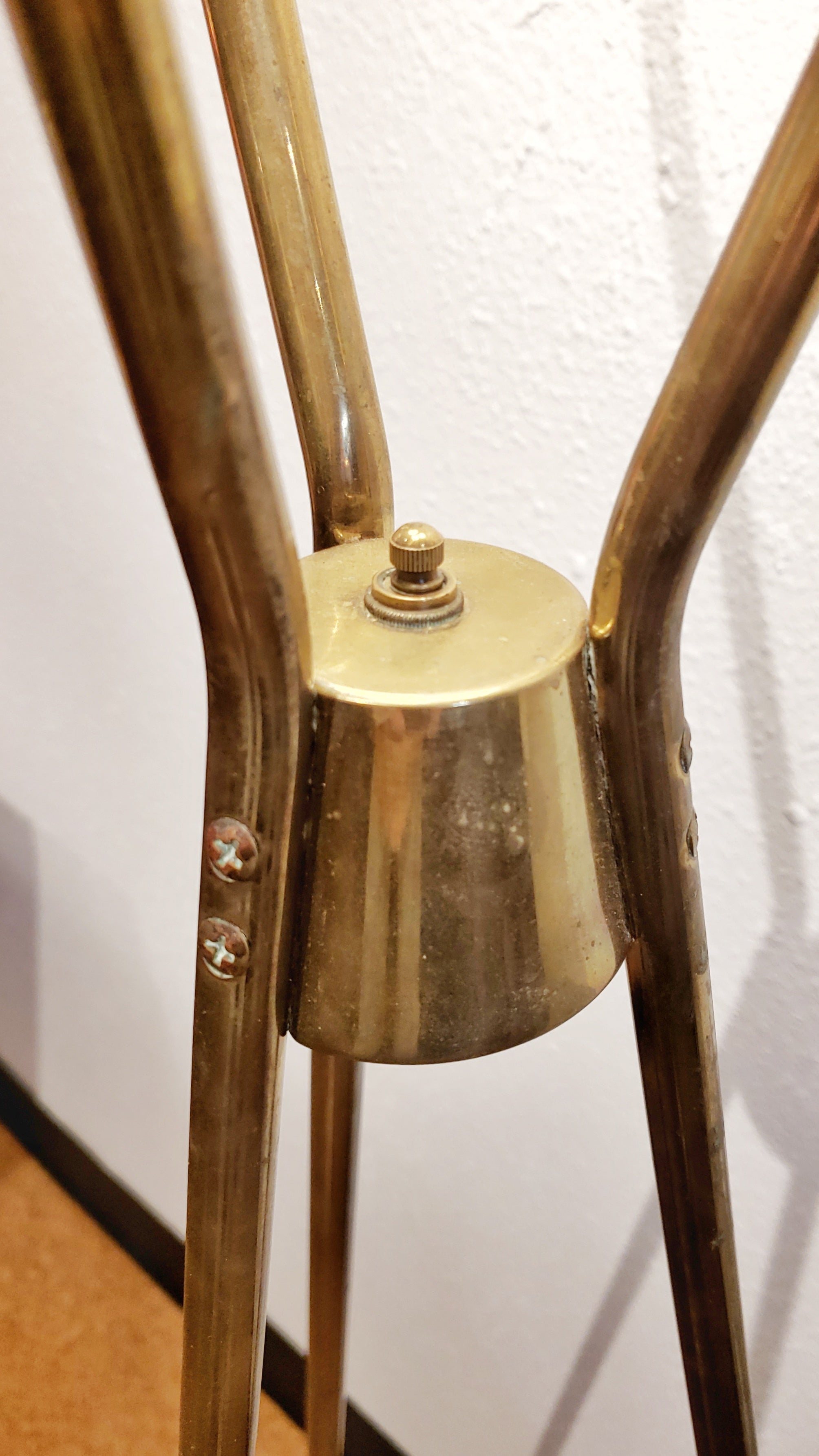 GERALD THURSTON FLOOR LAMP FOR LIGHTOLIER
CONTACT US HERE ABOUT THIS ITEM.
A classic, '50s-era tripod floor lamp designed by Gerald Thurston for LIGHTOLIER, with three shades and a three-way switch.  This brass-and-wood tripod design, a popular format of the period, was produced in many variations.  The shades are brand new, but the patina is all original.
GERALD THURSTON earned an industrial design degree from the School of the Art Institute of Chicago (SAIC).  While a student, he produced freelance designs for the Zenith Radio Corporation in Chicago (now Zenith Electronics LLC, part of LG Electronics).  His career began in earnest when we started work for the New Metal Craft Company in Chicago where he designed custom lighting fixtures and ornamental items for decorators and architects.  In 1938 he became a charter member of the Industrial Designers Institute (IDI), the oldest organization of professional industrial designers in the USA, where he served on the executive council and as chairman of the New York chapter.
Around 1950 he went to work for the American lighting manufacturer LIGHTOLIER of New York and Jersey City.  He worked there for 30 years before retiring from the Jersey City office as head of the design department of residential lighting.  During his tenure with LIGHTOLIER he became well known internationally for an exhaustive catalogue of designs, including the famous 'Scandia' collection.
During America's post-war construction boom and rise of mid-Century modern design, LIGHTOLIER's in-house product design team was of critical importance.  Thurston's right hand was actually insured for a million dollars.  (At the height of his career the design methodology encompassed drawing illustrations on craft paper—a far cry from the computer-generated graphics process of today.)  Thurston remained passionate about his work until the end, as his oeuvre makes abundantly clear.  He died in 2005, leaving behind a truly rich body of work.
LIGHTOLIER is an American company that manufactures and sells a wide array of lighting fixtures.  It was founded in 1904 by Bernhard Blitzer under the name of New York Gas and Appliance, Co.  When electric lighting started to be more widely accepted, the name was changed to LIGHTOLIER—a portmanteau of "light" and "chandelier."  In its early years, the company specialized in fancy, decorative chandeliers, but shifted to the high-end design and architectural markets in the 1920s.  Gerald "Jerry" Thurston was hired to head its residential lighting department in 1950; the relationship lasted for 30 years and transformed the company into a premier manufacturer of modern lighting for the home.  The names LIGHTOLIER and Gerald Thurston became virtually synonymous.
In the 1960s LIGHTOLIER introduced the very first track lighting system, designed by the late Anthony C. Donato.  (Unlike the horizontal tracks of today, it was vertically integrated.)  During this same period the firm began importing European designs, including those of Gaetano Sciolari.  Also notable is the success of its 'Lytegem' series designed by Michael Lax (1965), now part of MoMA's permanent collection.  LIGHTOLIER is also acknowledged for advanced reflector designs.  It was the first company to introduce digital lighting systems in the early '90s.
LIGHTOLIER is a Sustaining Member of the Illuminating Engineering Society of North America, a founding member of the American Lighting Association, an ally of the EPA Green Lights program, and a Partner of the Lighting Research Center.  In 2007, Philips Royal Electronics announced that it would acquire the Genlyte Group, putting LIGHTOLIER under its umbrella.
If you can't convince them, confuse them! – GERALD THURSTON
Design Period – 1950-1959
Country of Origin – USA
Designer – GERALD THURSTON
Maker – LIGHTOLIER
Attribution – WELL-KNOWN
Materials – BRASS, MAPLE
Condition – VERY GOOD (no defects; may show slight traces of use)
Plug – N. AMERICAN
Height (in.) – 63.0
Diameter (in.) – 12.0