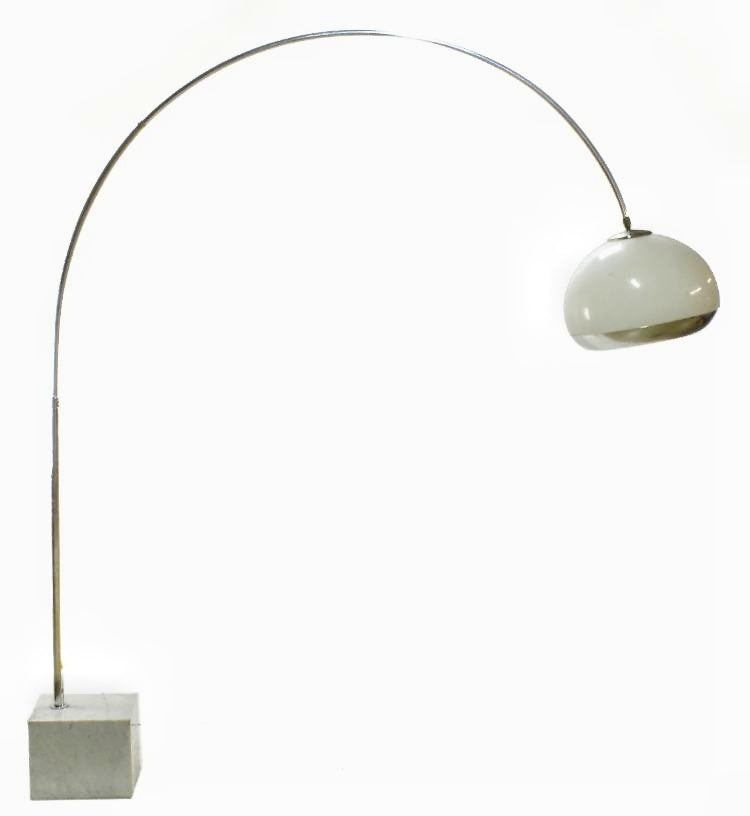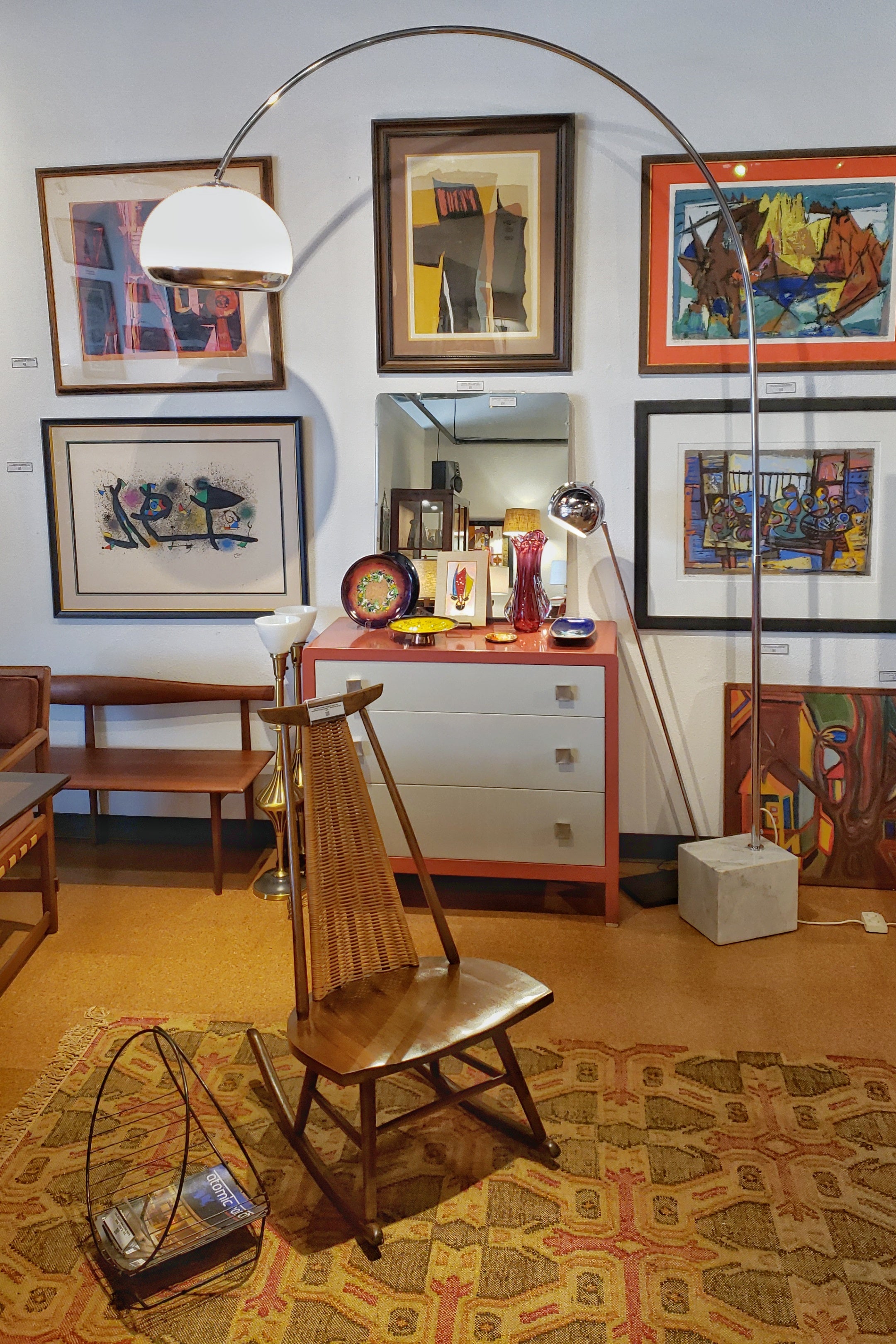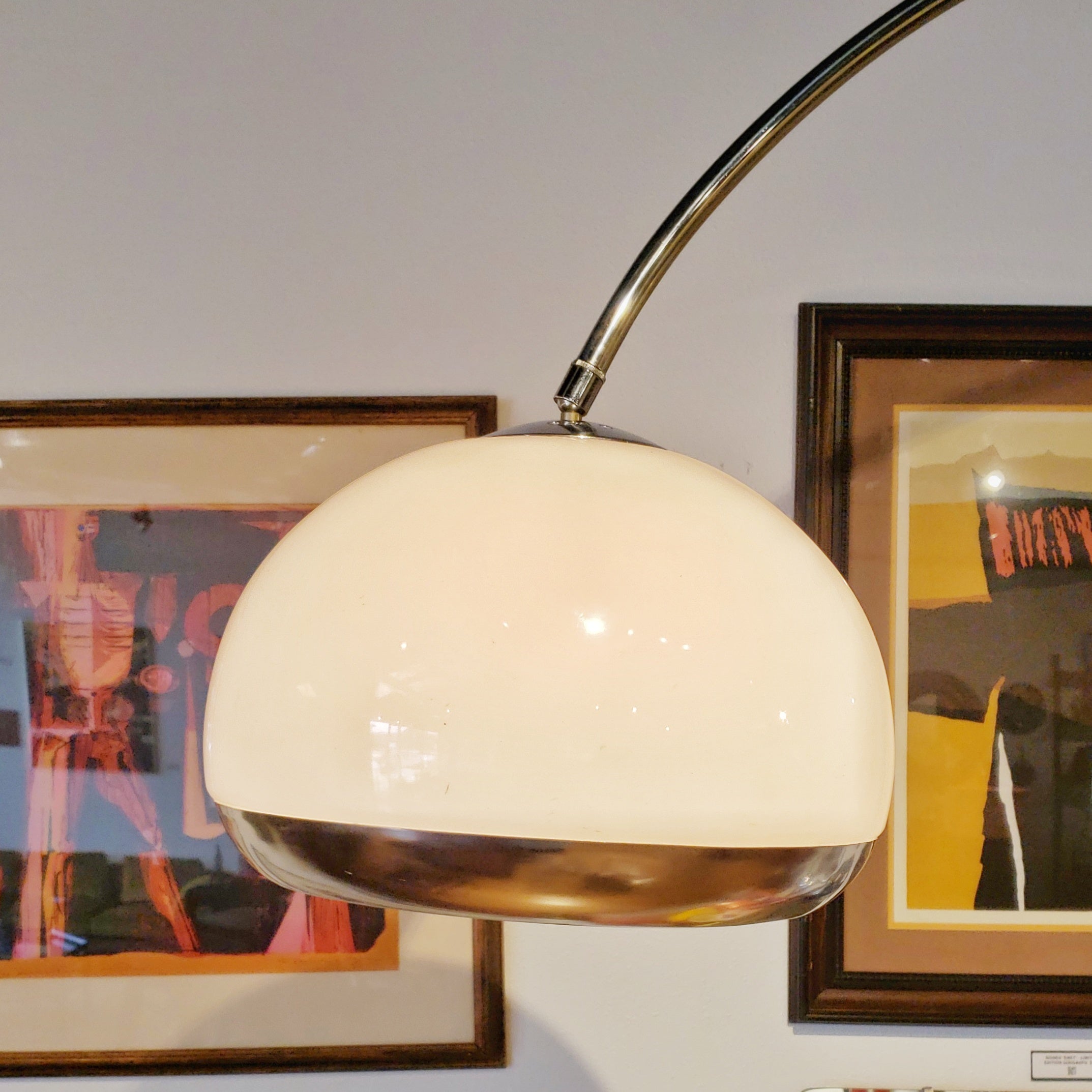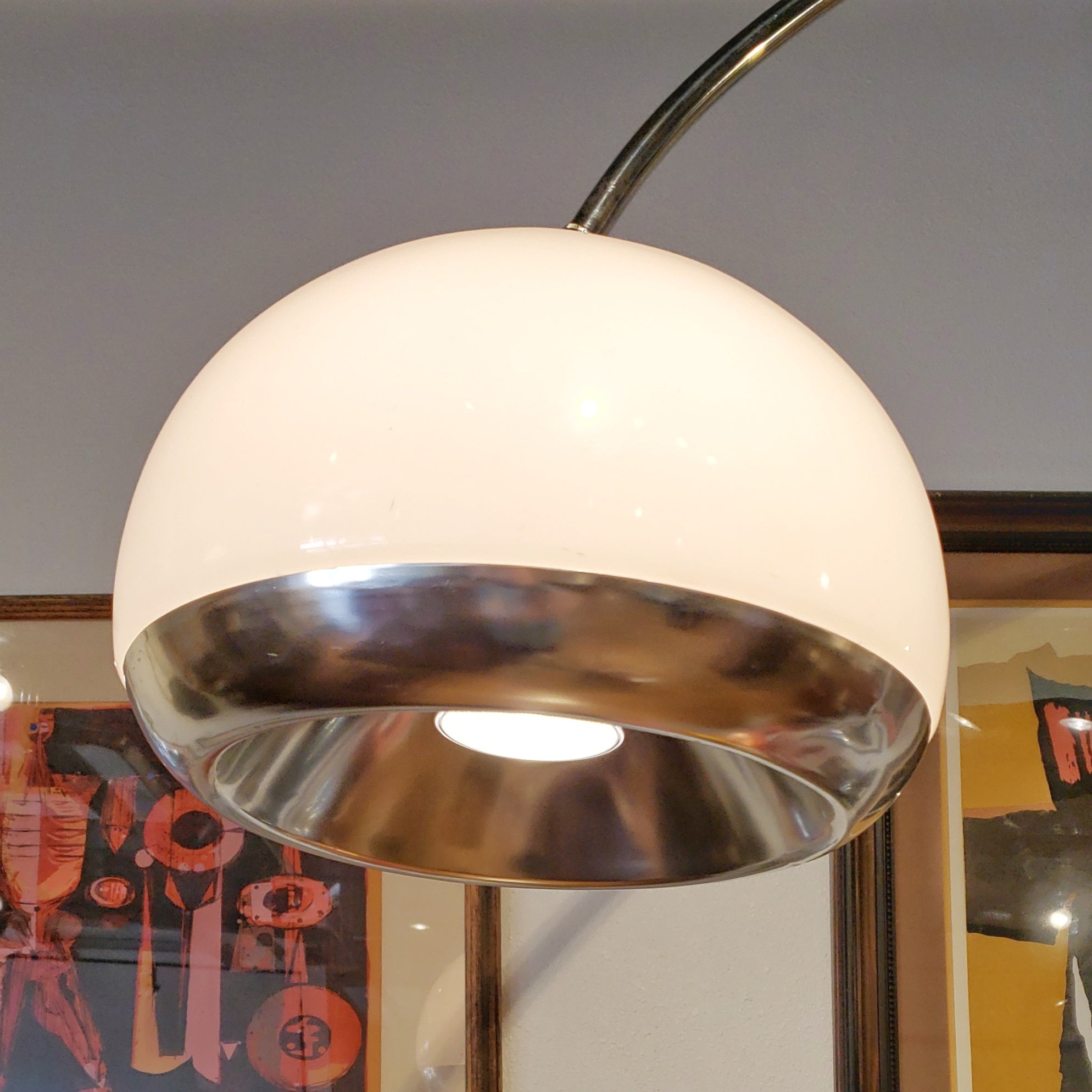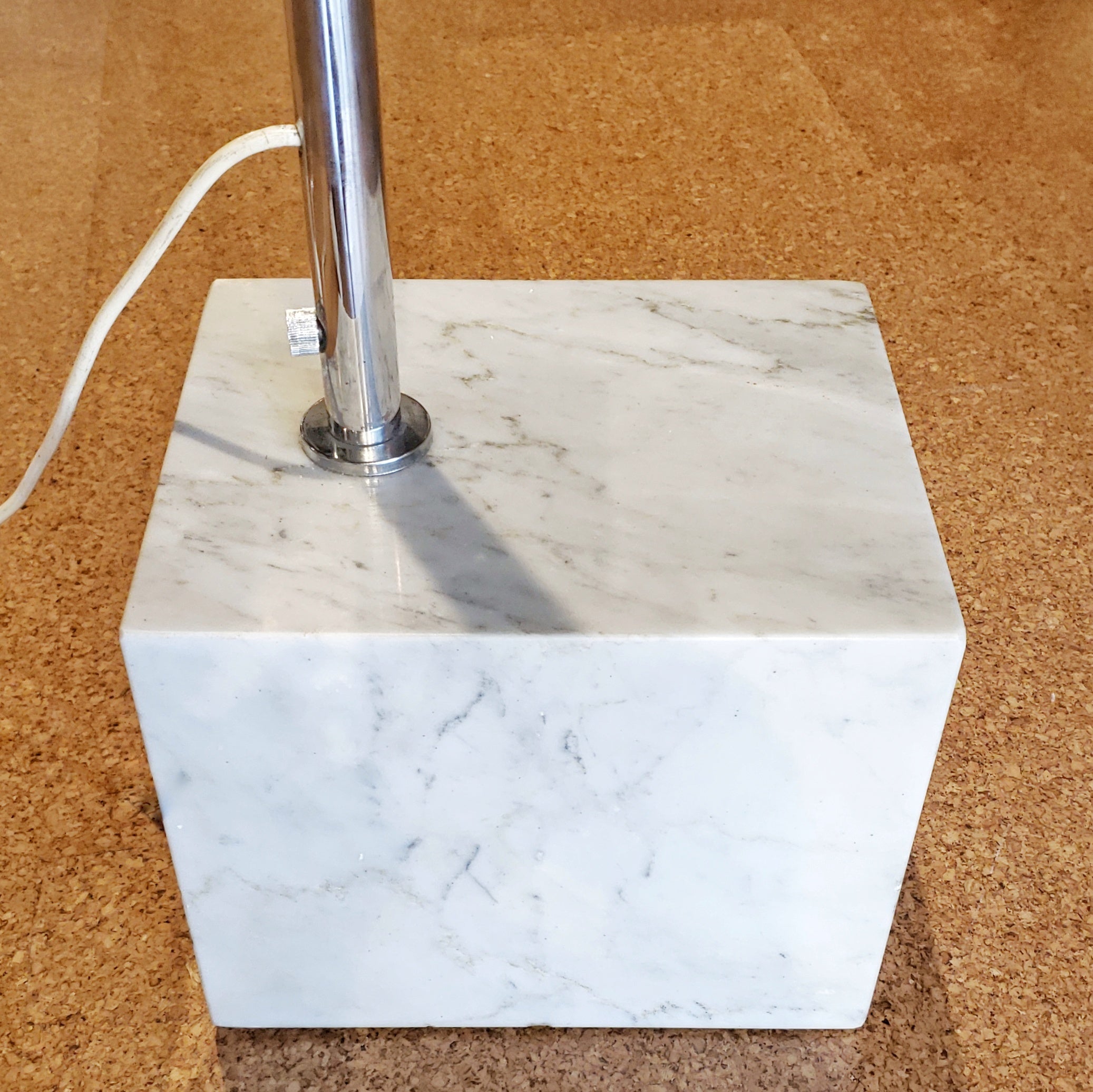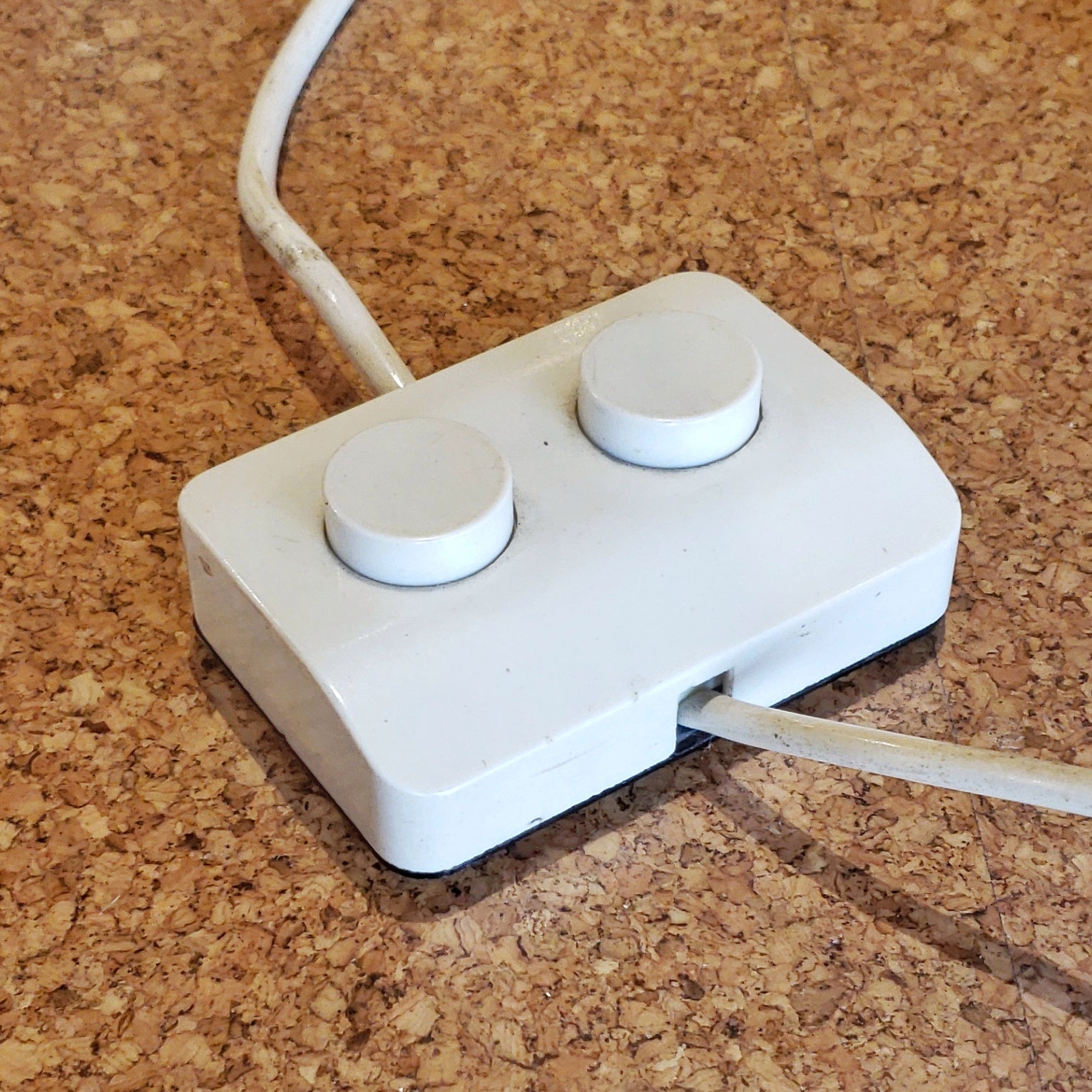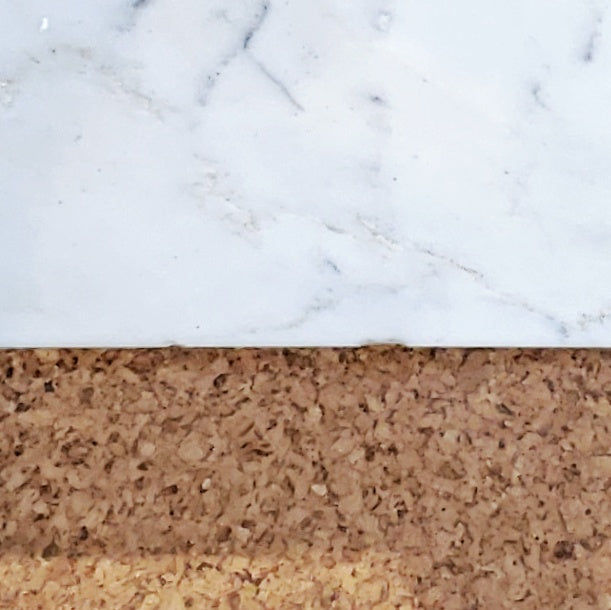 HARVEY GUZZINI 'ARC' FLOOR LAMP
CONTACT US HERE ABOUT THIS ITEM.
Here is an impressive 'Arc'-style floor lamp from the Guzzini brothers of Recanati, Italy.  The tall, retractable, chromed-steel arch rises from a solid Carrera marble-block base.  It terminates in an internally lighted white, Perspex dome fitted with a molded aluminum reflector that forms its rim.  The lamp is equipped with a pair of foot switches that work independently—one controlling the pair of candelabra-base bulbs that illuminate the interior of the translucent dome, the other the standard-base bulb fitted inside the reflector.  The overall height of the arch may be extended from a minimum of 7' (placing the light source at roughly 5' AFF) to a maximum of 9' (placing the light source at roughly 7' AFF).
HARVEY GUZZINI had its origins in a company started by Raimondo Guzzini in 1959 to produce copper-plated decorative objects:  Harvey Creazioni.  Founded in the small town of Recanati on Italy's Adriatic coast, the firm was reestablished as a family concern in 1963 when brothers Giovanni, Virgilio, Giuseppe, Adolfo, and Giannunzio joined their elder brother in business.  Rechristened Harvey Creazioni di Guzzini, its production was expanded to include pendant lighting, sconces, and table and floor lamps.  (The eponymous Harvey, incidentally, is not a family member, but rather the giant, invisible, talking rabbit featured in the 1950 Jimmy Stewart film, a family favorite.)
The six brothers employed architect-designer Luigi Massoni—who was introduced to them by leading plastic importer Maurizio Adreani—as head of design, branding, public relations, and advertising for HARVEY GUZZINI.  The company ceased the production of copper-plated items around 1976 to concentrate on lighting made almost exclusively from acrylic.  It dabbled in furniture production, collaborating with Yugoslavian furniture producer Meblo, located in Nova Gorica in present day Slovenia.  The firm was rebranded as iGuzzini in 1974 and as Illuminazione Guzzini in 1981.  It is headquartered in Recanati to this day.
Famous HARVEY GUZZINI designs include Luigi Massoni and Luciano Buttura's 'Mushroom' table lamp (1965), as well as the in-house designed 'Arc' floor lamp (1968), 'Faro' table lamp (1970), and 'Toledo' table lamp (1973).  An interning design team, Studio 6G, developed the 'Clan' table lamp in 1968; and the design team of Ermanno Lampa and Sergio Brazzoli was responsible for the 'Nastro' series (1970), the 'Orione' pendant (1970), the 'Sirio' table lamp (1970), the 'Alba' floor lamp (1973), the 'Albanella' table lamp (1973), and the 'Alf' series (1976).
In 1967-68 the company exhibited at Domus:  Formes Italiennes in the Galeries Lafayette in Paris under the name Design House (DH), where the company featured Gio Ponti's 'Media' wall sconce.  A retail outlet was opened in central Milan under the name Harvey Guzzini-DH in 1969.
Production Period – 1970-1979
Country of Origin – ITALY
Maker – HARVEY GUZZINI
Condition – VERY GOOD (no defects; may show slight traces of use)
Plug – N. AMERICAN
Height (in.) – 75.0
Width (in.) – 50.0
Depth (in.) – 13.5