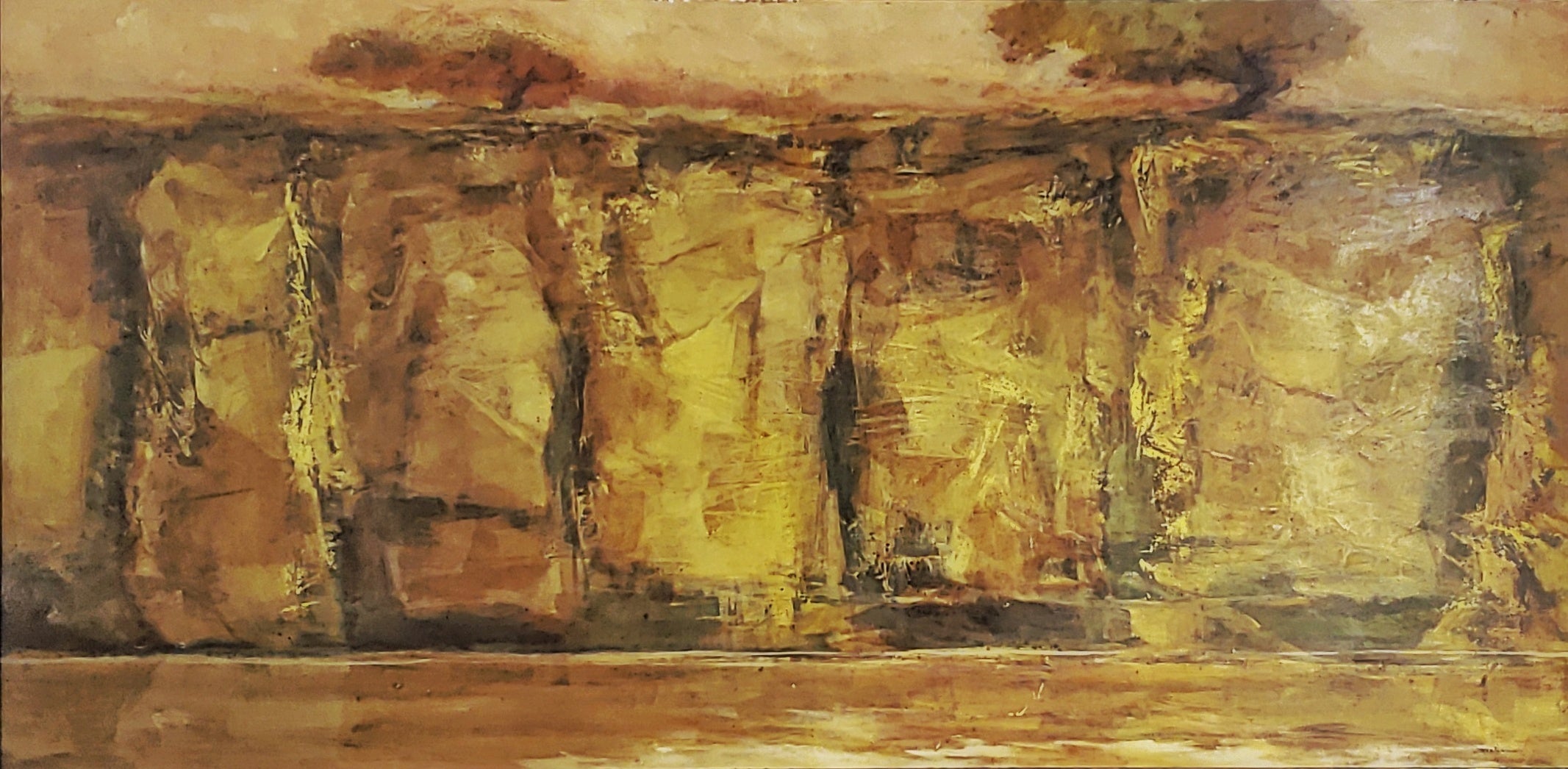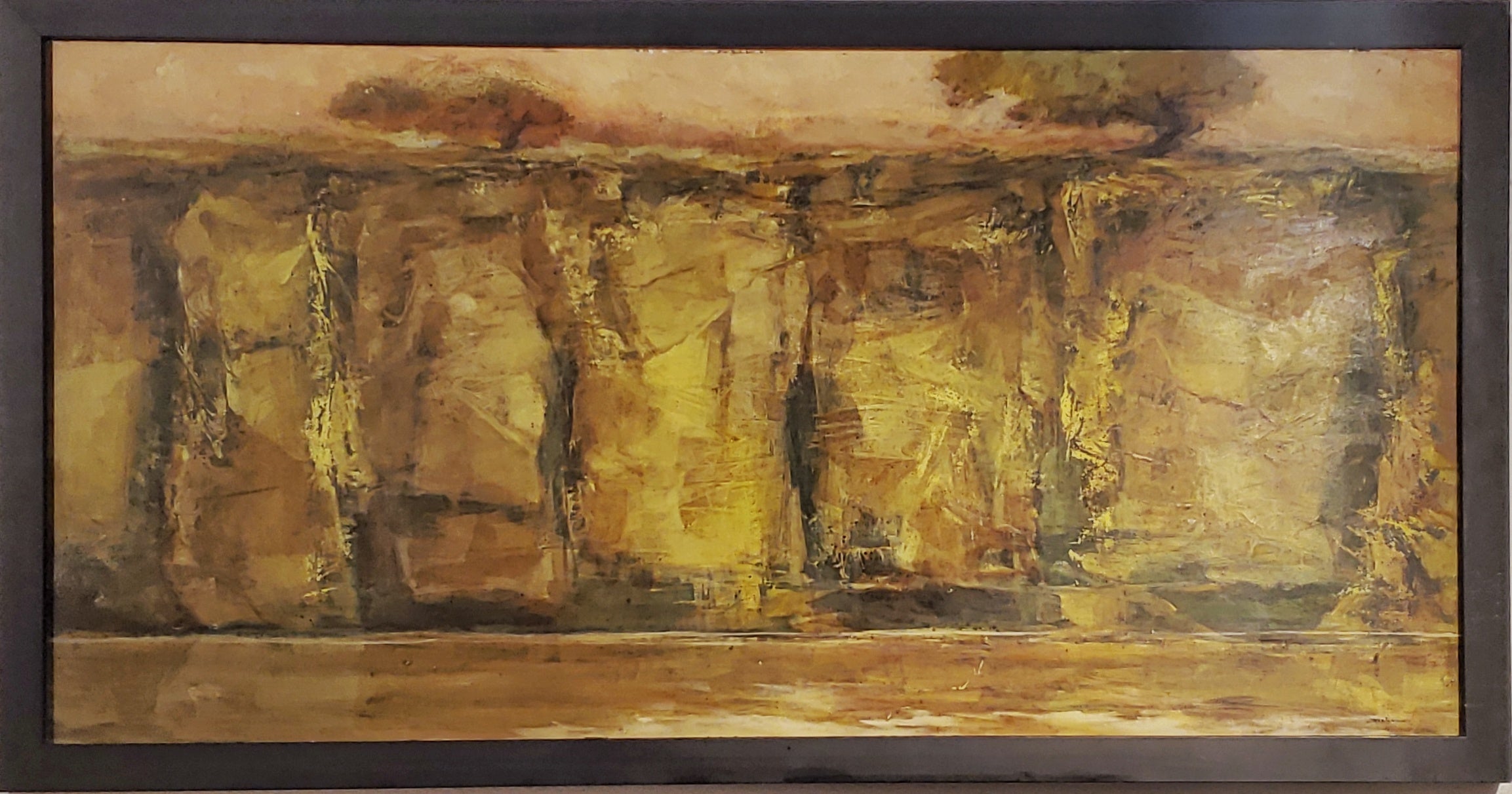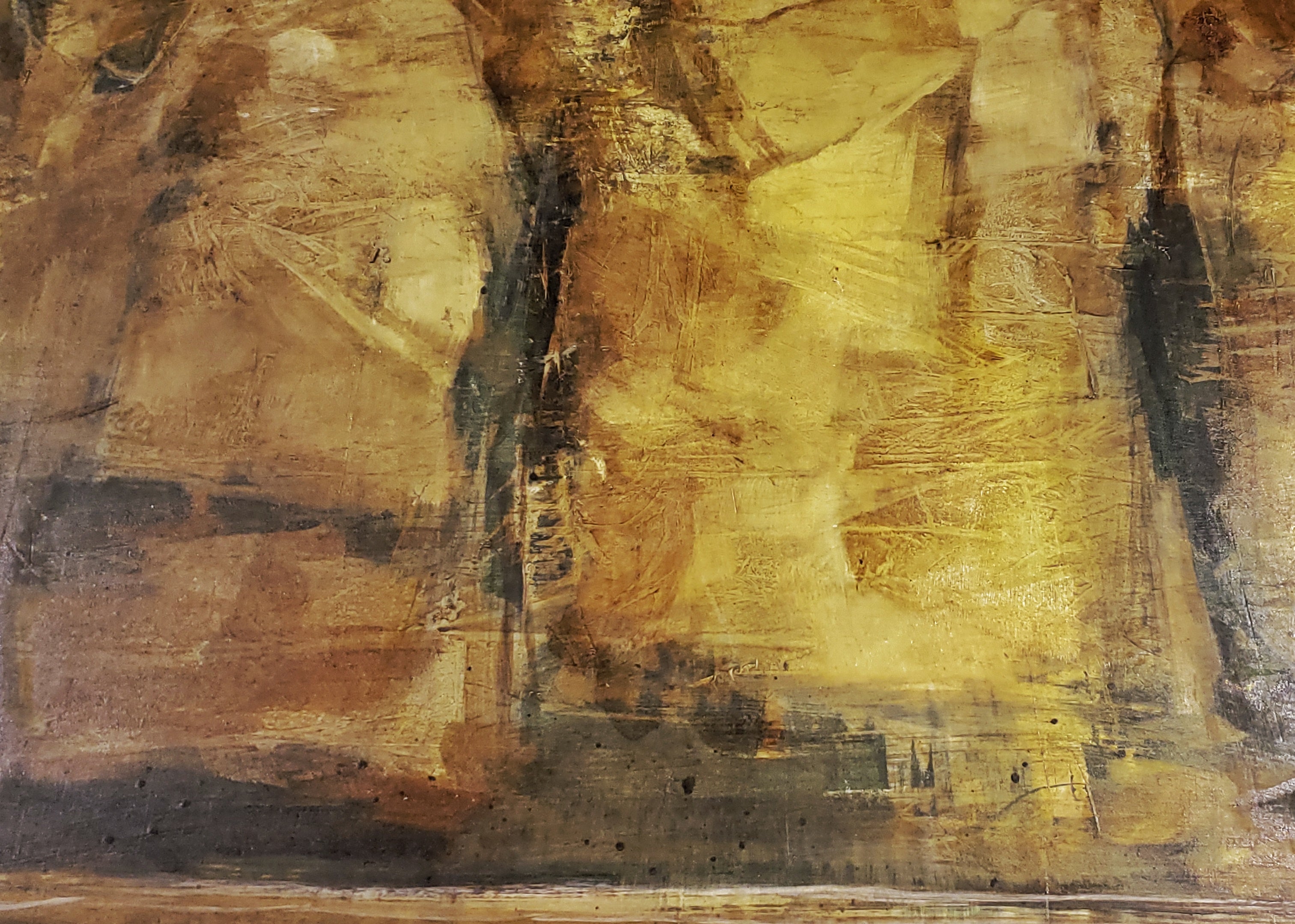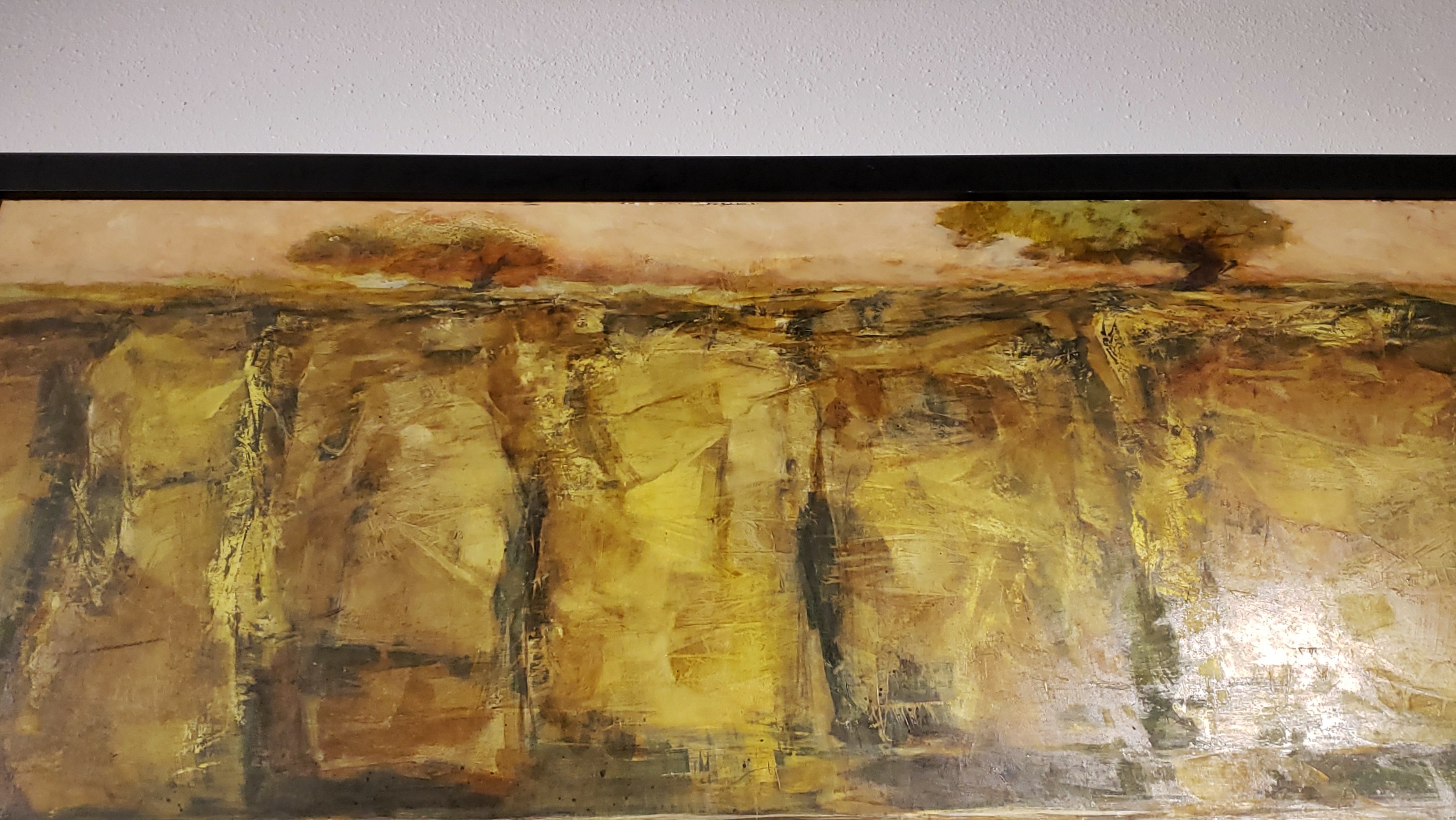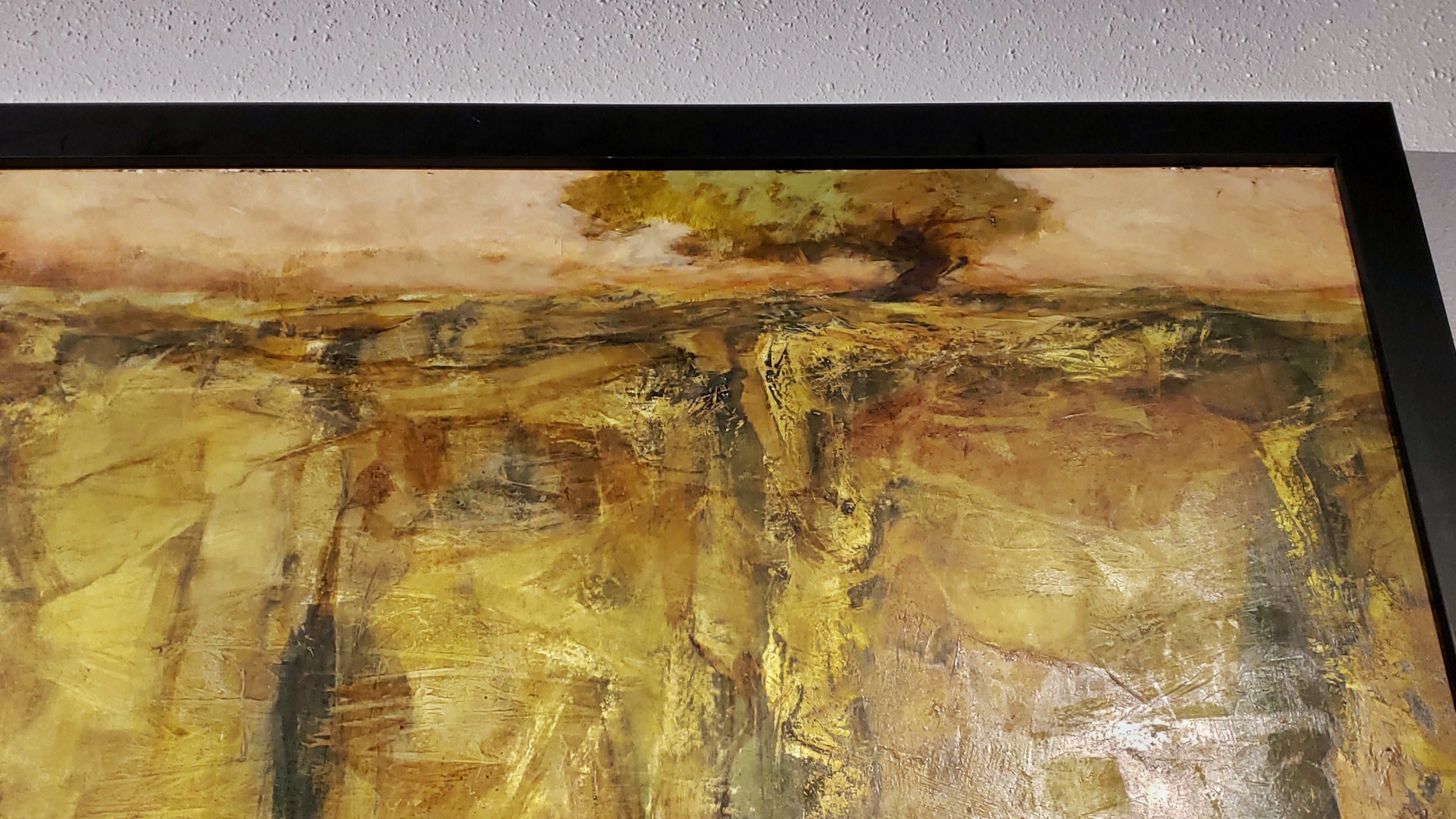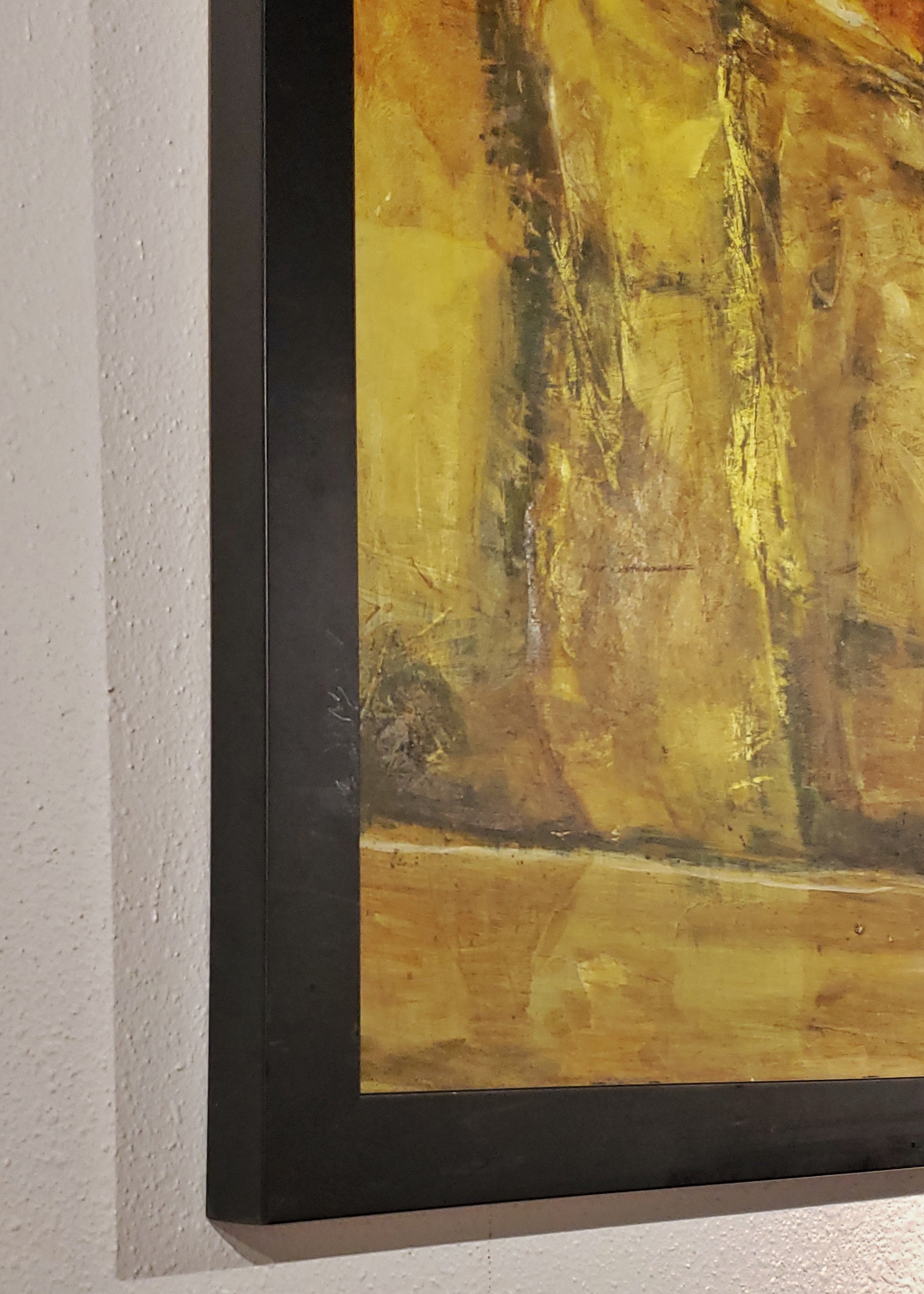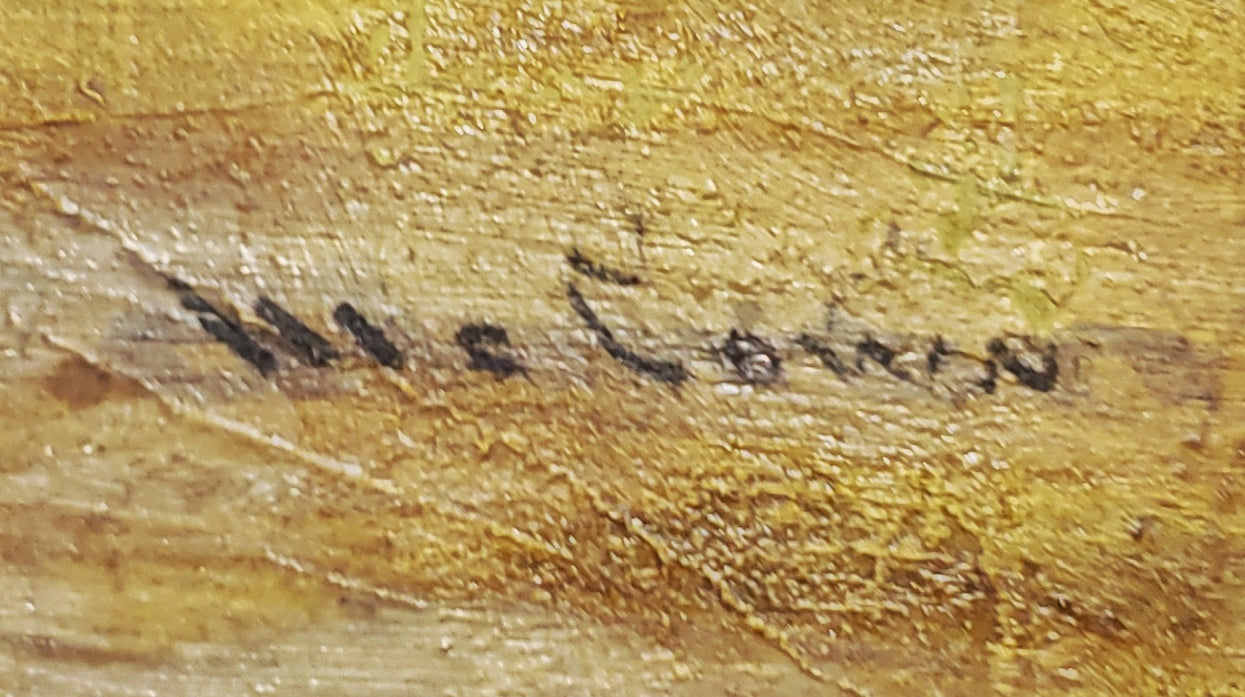 WALTER EDWIN MCCOWN LANDSCAPE
CONTACT US HERE ABOUT THIS ITEM.
A large (4' plus) and particularly moody landscape by listed Texas artist, Walter Edwin McCown.  The work is painted on masonite in shades of green, ochre, and pale pink, accented in black, using broad brushstrokes and possibly a pallet knife.  The subject appears to be a sheer cliff face that dominates the central two thirds of the picture plane, rising from either a placid body of water or a stony flatland, to wedge two trees against a pinkish sky in the uncomfortably tight space between the cliff's plateau and the hard edge of the frame.  Signed lower right corner.
WALTER EDWIN MCCOWN was active in Texas in the last century's second half, chiefly in the '60s.  He is especially noted for his abstract and landscape paintings, many of which are rendered on masonite with a pallet knife in a rich impasto style.  Born in Whitney, Texas, McCown lived at various times in McAllen, Harlingen, and finally Waco.  He studied early on with fellow Texans Dollie Nabinger, Eleanor Roth, and Norma Knight—all celebrated for their figurative work.  McCown first began exhibiting with the Texas Watercolor Society in 1951, and in 1960 he won first prize in the El Paso Sun Carnival Art Exhibition.
Soon after settling in Waco in 1957 McCown began to show nationally.  He belonged to the Texas Fine Art Association, and his paintings were often included in its exhibitions.  For a period McCown ran a gallery of his own in Dallas, selling work to a receptive audience and garnering regional popularity.  Curiously, some of his pieces were sold there under the name of "Joshua Bass," his paternal grandmother's father.  McCown also began to teach in the 1960s.  His stylish paintings remained in great demand all over Texas up until his death.  It is not unusual to come across them today in antique shops from Corpus Christi to Dallas.  McCown died in Waco at the age of 62 in 1994.
Production Period – 1970-1979
Country of Origin – USA
Artist – WALTER EDWIN MCCOWN (1932-1994)
Attribution – SIGNED
Medium – OIL ON MASONITE
Condition – VERY GOOD (no defects; may show slight traces of use)
Height (in.) – 27.0
Width (in.) – 51.0
Depth (in.) – 1.5