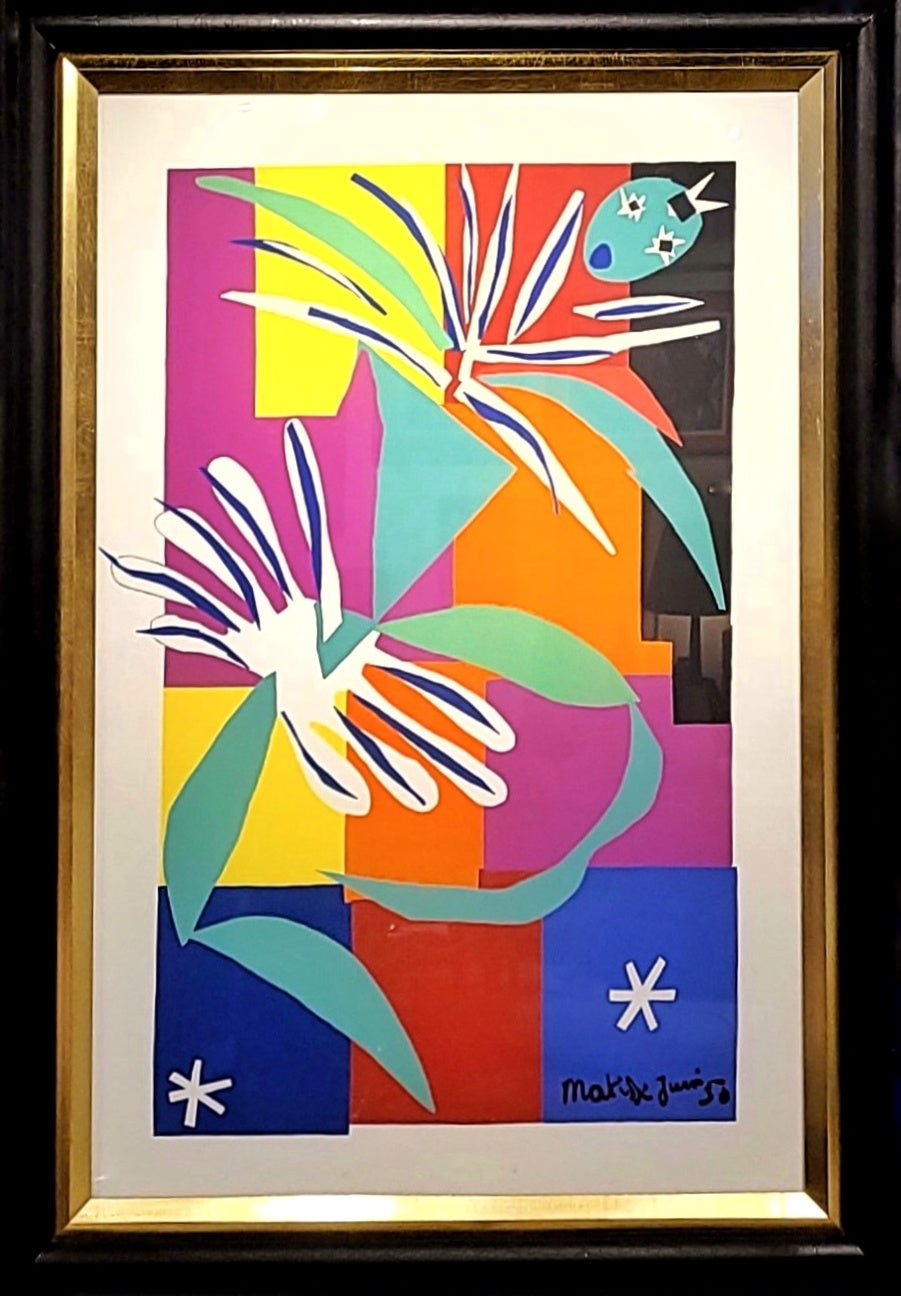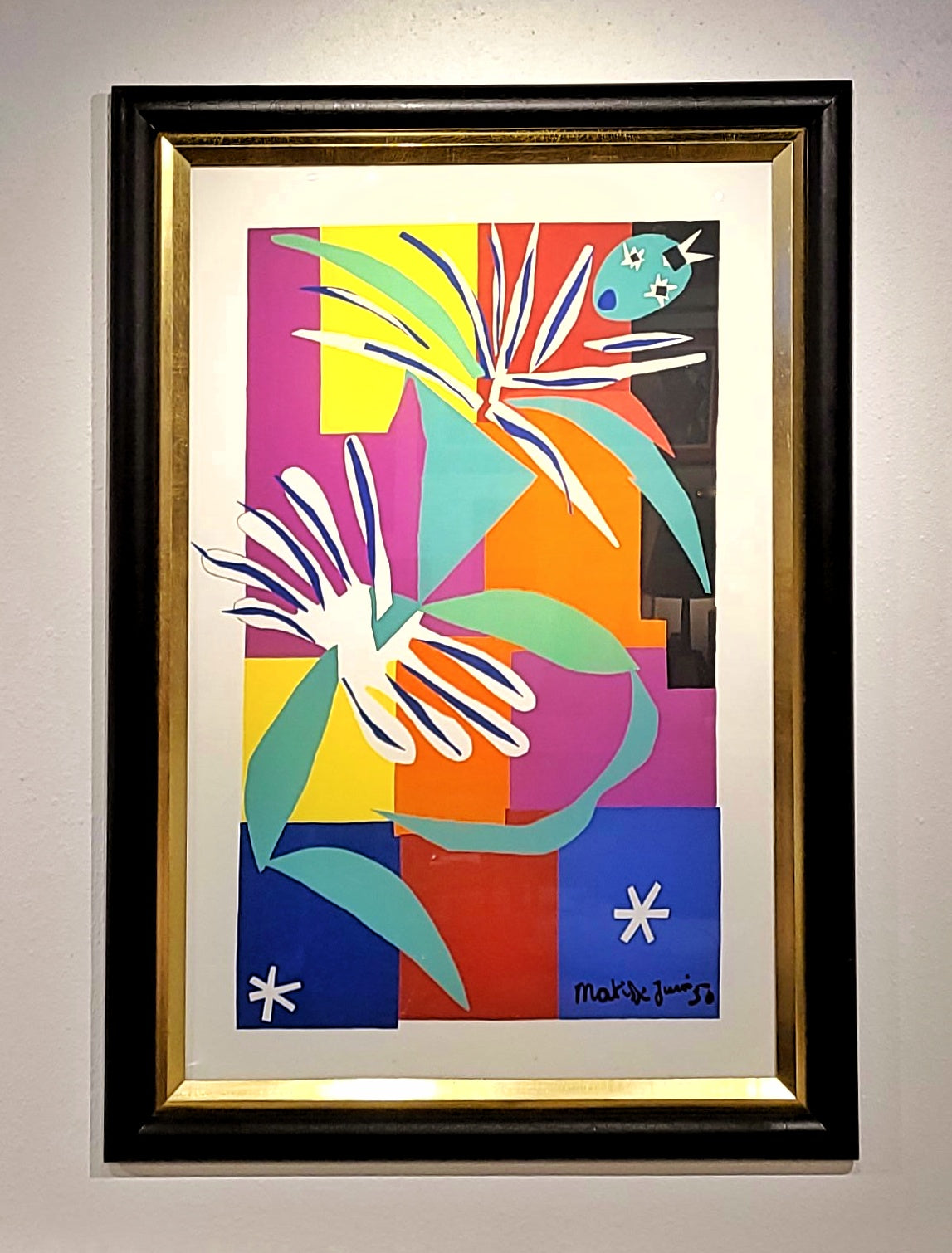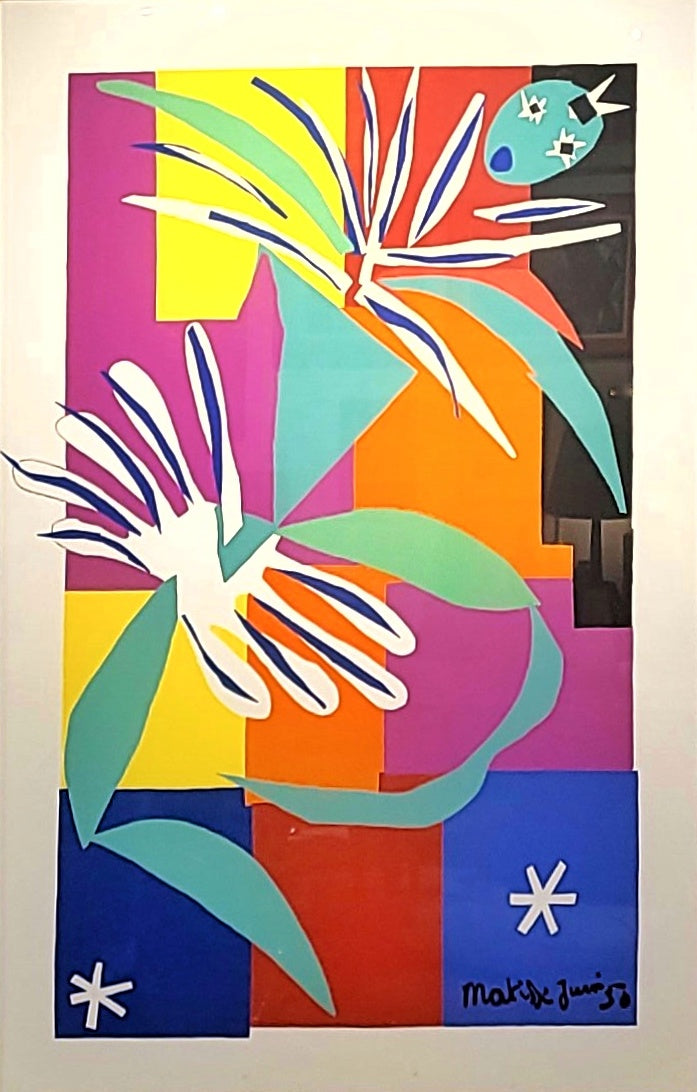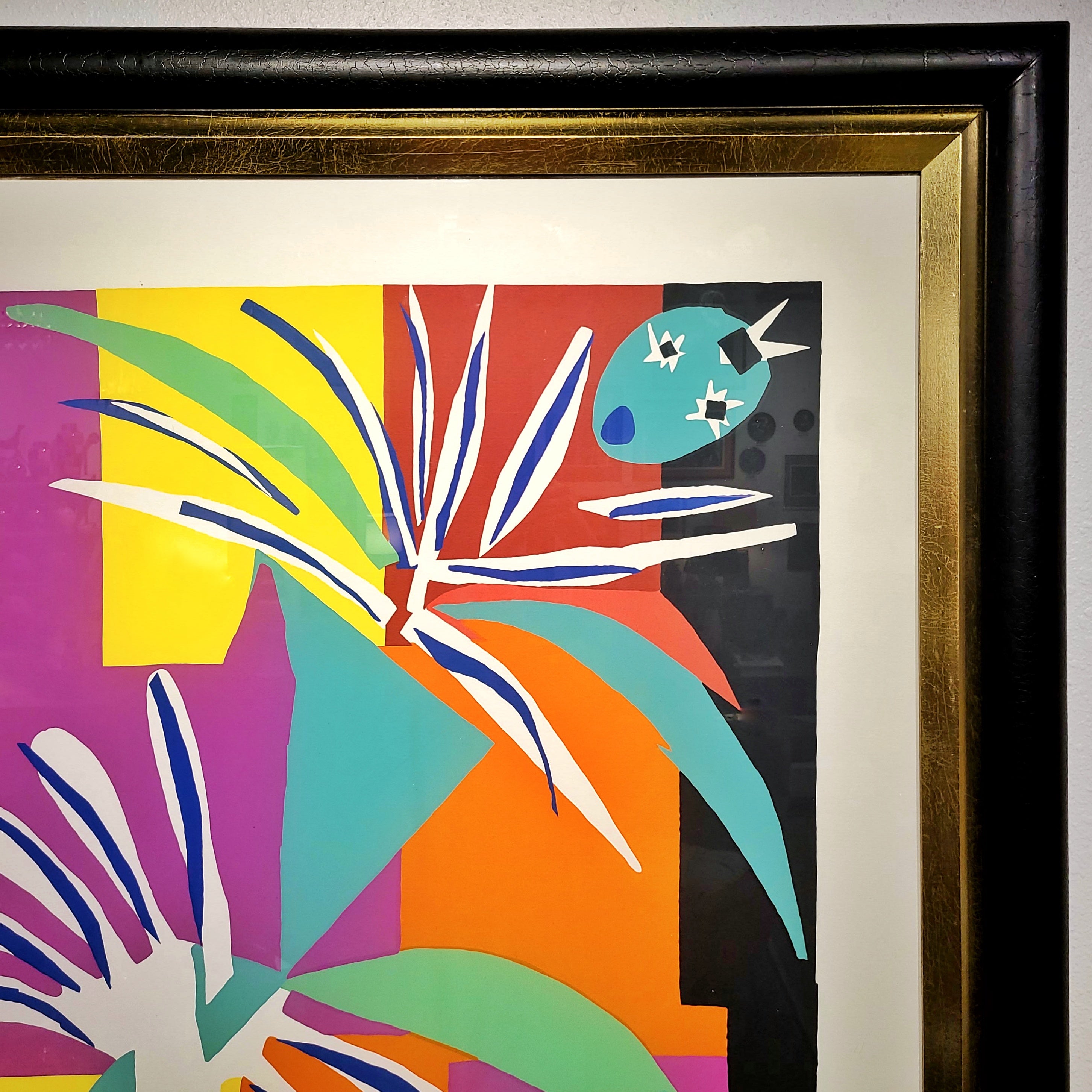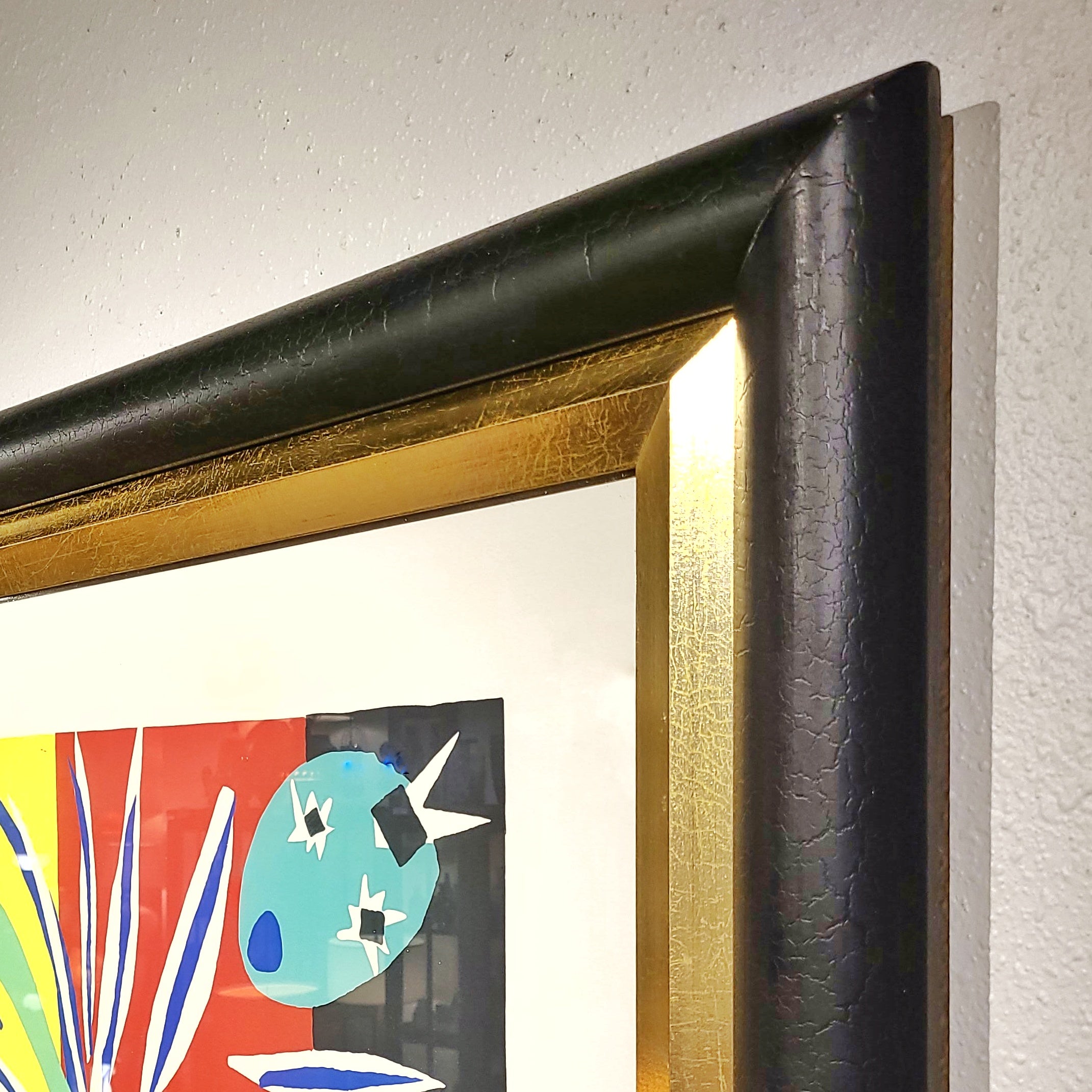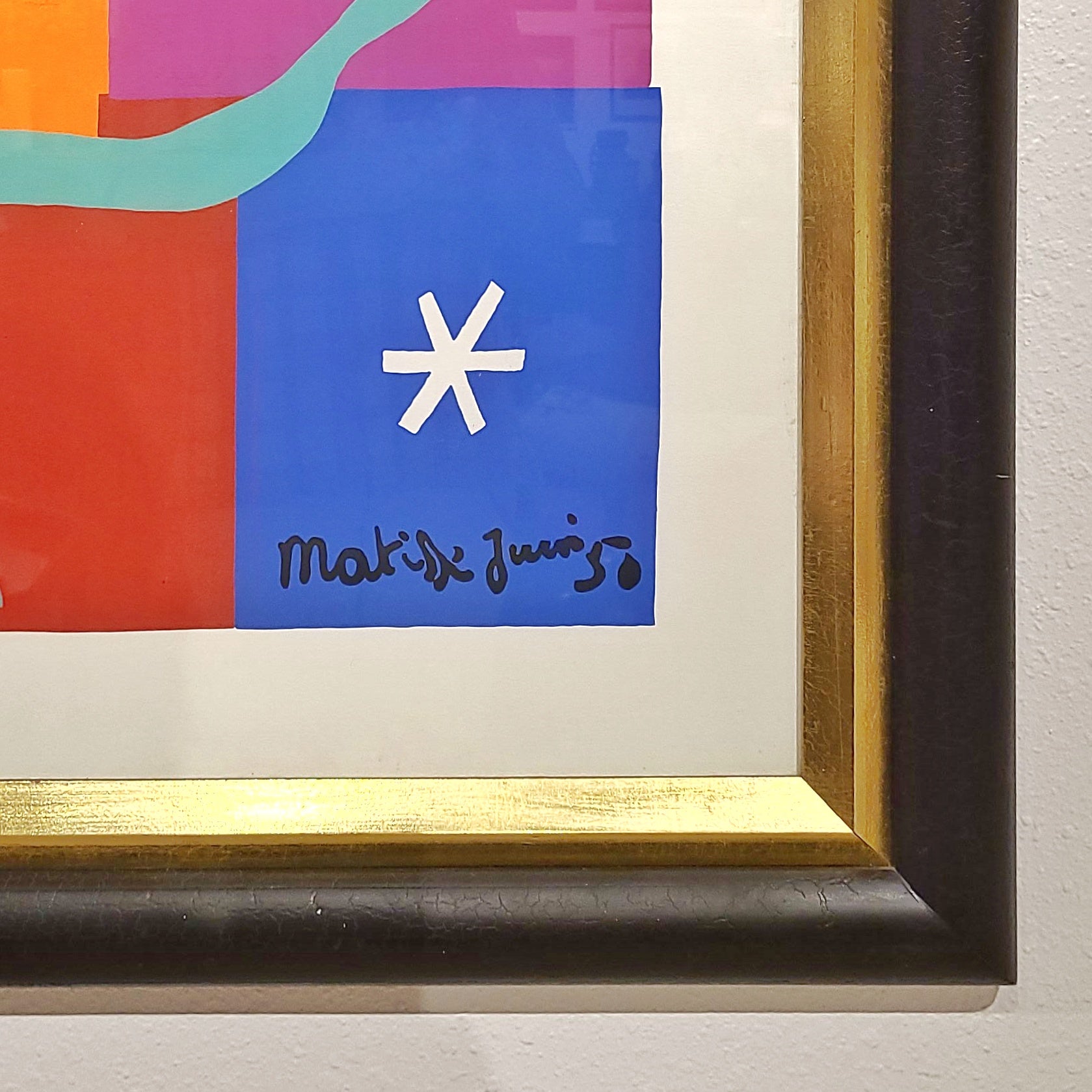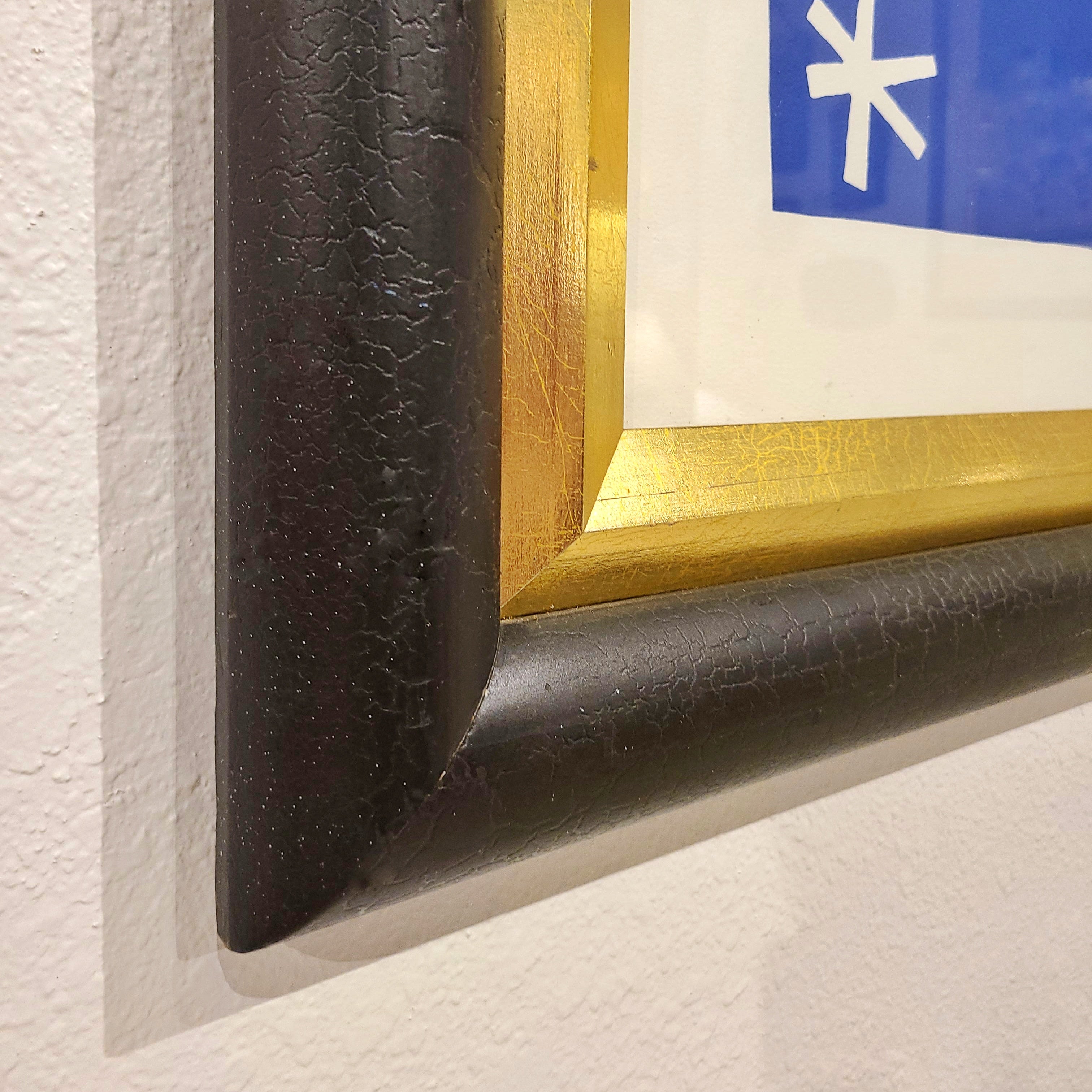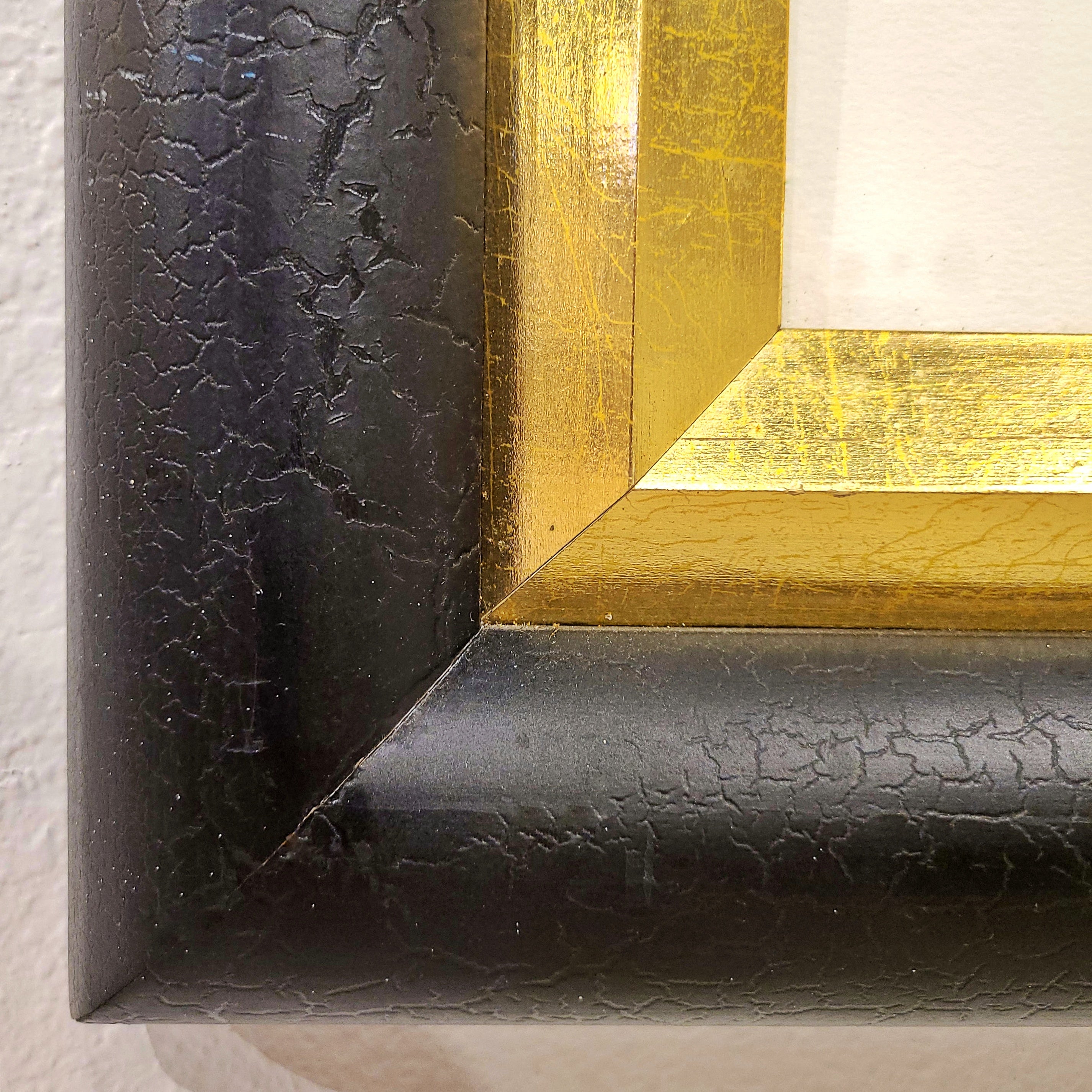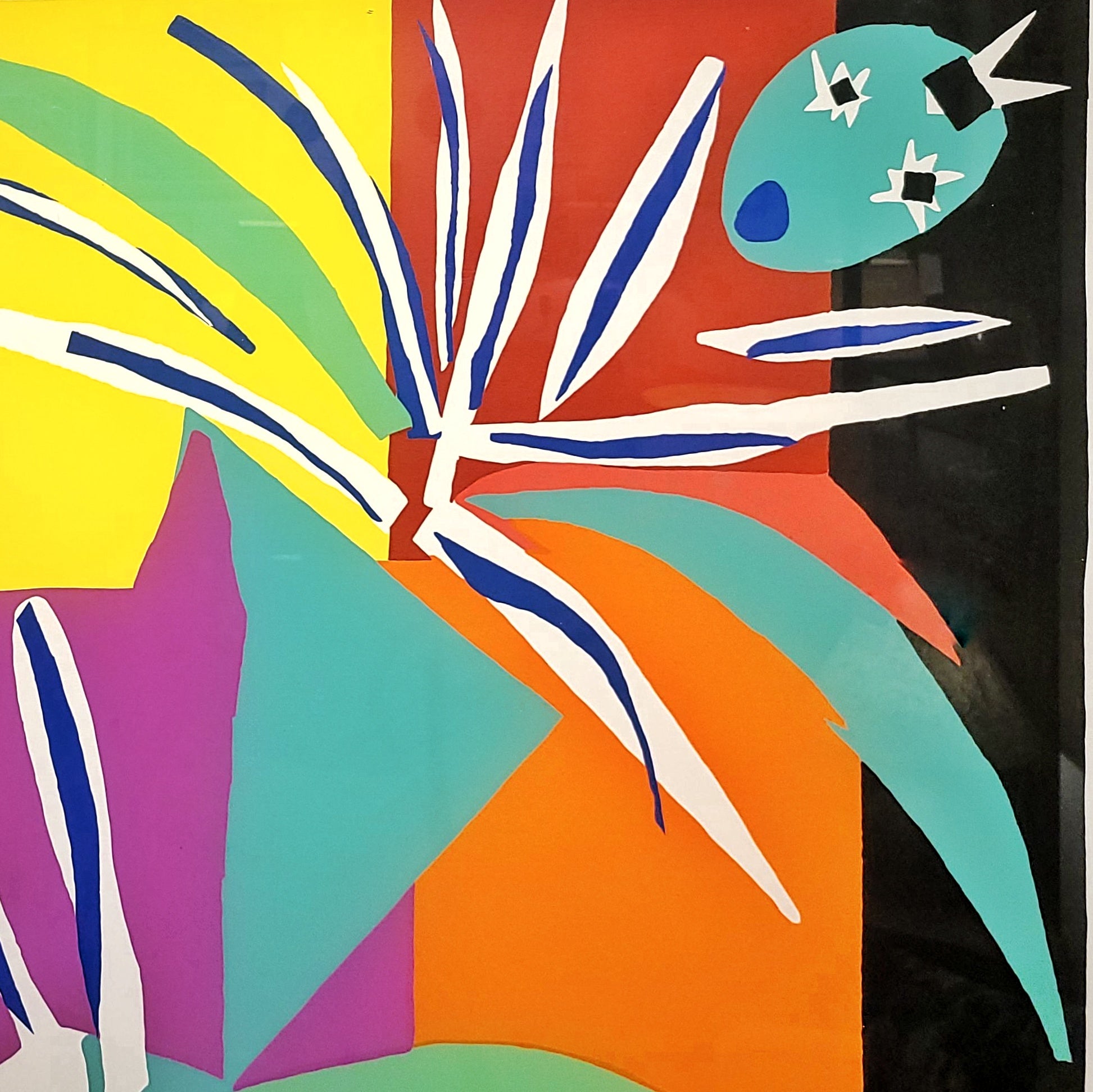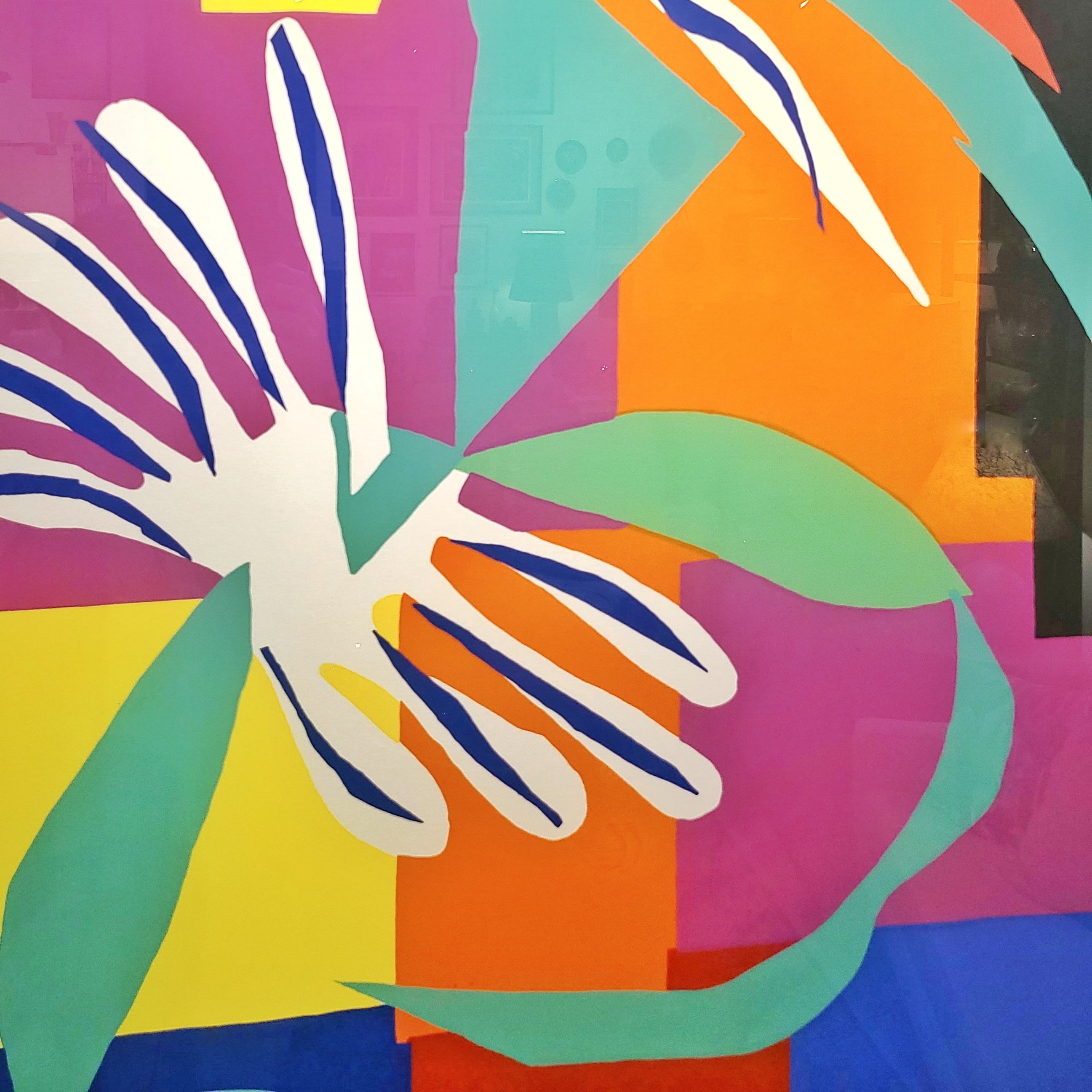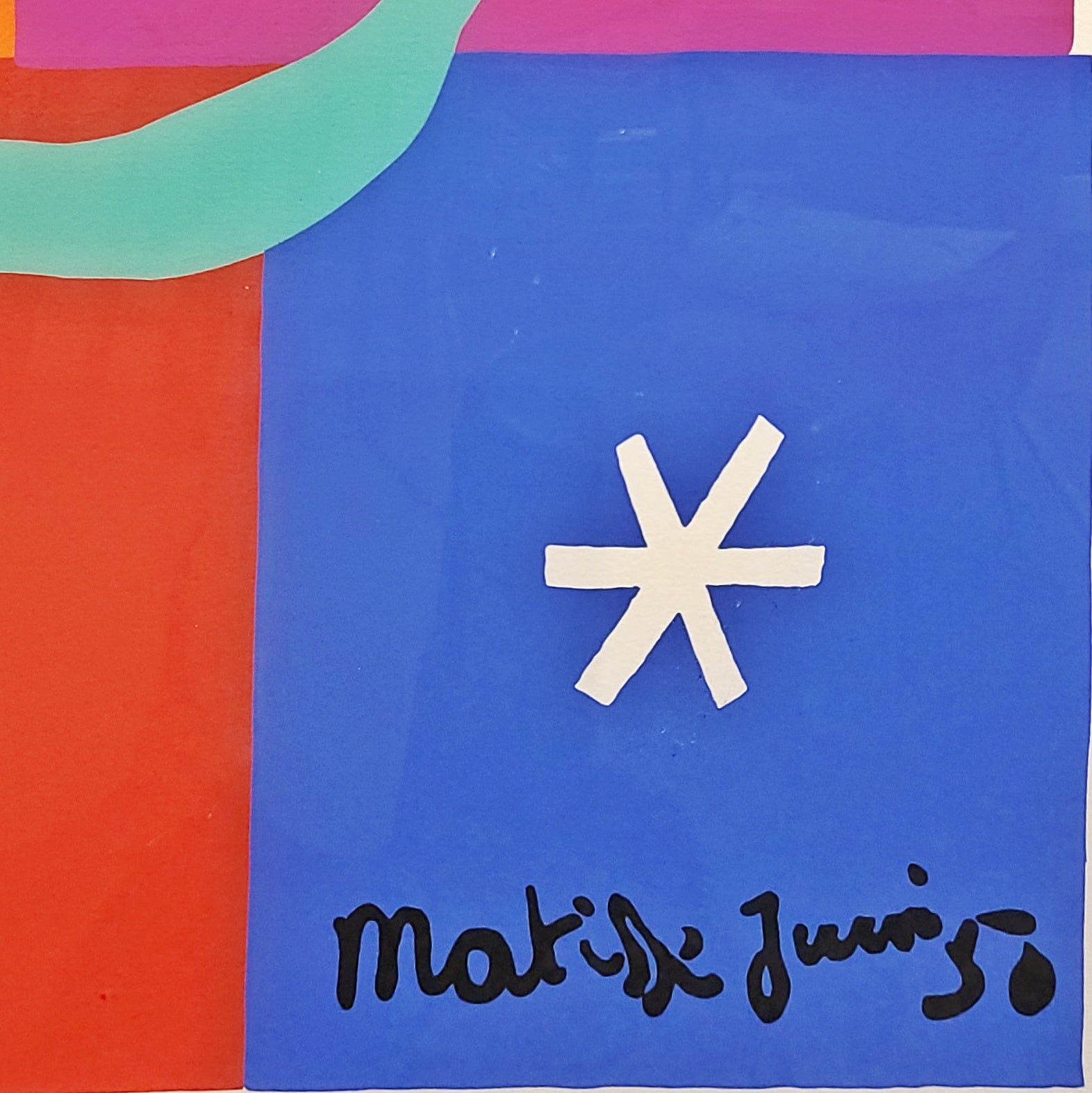 'LA DANSEUSE CREOLE' BY HENRI MATISSE (OFFSET LITHOGRAPH)
CONTACT US HERE ABOUT THIS ITEM.
A beautiful offset lithograph of 'La Danseuse Creole' (The Creole Dancer) by Henri Matisse.  Created in 1950, Matisse based the cut-out figure on Katherine Dunham, an American dancer and choreographer whose modern dance routines were influenced by dances from Africa and Haiti.  Matisse had invited Ms. Dunham to perform in his studio, and he created Creole Dancer from the sketches he made while she was dancing. The work was completed in a single day, using lead pencil markers and leftover bits of colorful cut and glued Gouache painted papers on canvas, to a finished size of 205 x 120 cm (80.7 x 47.25 inches).  In 1953, Matisse gifted the painting to Musée Matisse in Nice, and in 1965 the French Department of Tourism commissioned Mourlot Studios in Paris to create a poster using the image of 'La Danseuse Creole' to promote the Côte d'Azur and the city of Nice. 
Many critics consider this to be his most innovative period. He had begun to experience severe arthritis and had a bout with cancer which forced him to be confined to a wheelchair. He could no longer stand to paint, so instead, he created paintings with scissors by cutting pieces of colorful paper and gluing them onto larger pieces of paper with the help of his assistants. They were called « gouaches découpées » (cut out gouaches). Danseuse Créole is a fine example of this style, with its use of stunning colors and shapes to create a scene.
HENRI MATISSE (1869-1954) was born in Le Cateau-Cambresis, Nord, France. He grew up in Bohain-en-Vermandois, Picardy, France, where his parents owned a flower business; he was their first son. In 1887 he went to Paris to study law, working as a court administrator in Le Cateau-Cambrésis after gaining his qualification. He first started to paint in 1889, after his mother brought him art supplies during a period of convalescence following an attack of appendicitis. He discovered "a kind of paradise," as he later described it, and decided to become an artist, deeply disappointing his father.
Matisse studied in Paris at the École des Beaux-Arts and became a student of William-Adolphe Bouguereau and Gustave Moreau.  At the turn of the century, he delved into Neo-Impressionism and became close to Signac, who he visited in Saint-Tropez; this encounter resulted in Luxe, calme et volupté (1904). Matisse spent the summer of 1905 in Collioure with Derain and made the first Fauve pieces exhibited that year at the Salon.  Regarded as the leader of the Fauvist movement,  Henri Matisse became the figurehead of the Parisian avant-garde and presented Le Bonheur de vivre at the Salon des Indépendants the following year.
His work in Paris and travels in the 1890s were when he began to develop a love of bold color.  Matisse pursued the expressiveness of color, for which he has become known, throughout his career — but it was the south of France that really captivated and inspired him.  The artist was won over by the climate and light and gradually moved to the Mediterranean, where he chose to stay until the end of his life.  The Côte d'Azur Is where he created many of his greatest works.  By 1917, his celebration of color reached its peak when he relocated to Cimiez on the French Riviera, a suburb of the city of Nice, where he would live and work for the next 37 years. His work of the decade or so following this relocation shows a relaxation and a softening of his approach. This "return to order" is characteristic of much of art of the post-World War I period and can be compared with the neoclassicism of Picasso and Stravinsky and the return to traditionalism of Derain.  In these years, Matisse relentlessly tackled the portrayal of body shapes on an ornamental background.  His orientalist 'odalisque' paintings are characteristic of the period, and while popular, some contemporary critics dismissed this work as shallow and decorative.
Today, of course, Matisse is considered one of the undisputed masters of 20th-century art, known for his use of color and his fluid and original draughtsmanship. He was a draughtsman, printmaker, and sculptor but is known primarily as a painter. Matisse is commonly regarded, along with Picasso and Marcel Duchamp, as one of the three artists who helped to define the revolutionary developments in the plastic arts in the opening decades of the 20th century, responsible for significant developments in painting and sculpture. Although he was initially labeled a Fauve (wild beast), by the 1920s, he was increasingly hailed as an upholder of the classical tradition in French painting. His mastery of the expressive language of color and drawing, displayed in a body of work spanning over a half-century, won him recognition as a leading figure in modern art.
With the support of art collectors, dealers and critics, he could now create large-format pieces for the decorative purposes he aspired to. A non-hierarchical concept of surface, an attraction towards imposing esthetics, and a vision of accessible art became key elements of his work. 
In 1930, at the age of 60, he began a series of several trips taking him to Tahiti and America. Exploring large US cities, being in touch with the wilderness associated with the idea of a lost paradise, and the attraction to Oceanic art recharged his batteries.  New vigor and bolder simplification appeared in his work.  He was inspired to make a new kind of mammoth art, such as the commissioned mural 'The Dance II ' created for the Barnes Foundation at the request of American art collector Albert C. Barnes.  'The Dance II' was completed in 1932.
In 1939 Henri Matisse and his wife of 41 years separated.  Two years later, he fell seriously Ill and underwent an emergency operation in Lyon. After a lengthy recovery, the artist felt like he'd been given a "second chance" to complete his work. Now in a wheelchair, he returned to the Côte d'Azur and moved to Villa Le Rêve in Vence, whose lush garden reminded him of Tahiti. With the aid of assistants, he set about creating cut paper collages, often on a large scale, called 'gouaches découpés' (cut-out gouaches). His Blue Nudes series feature prime examples of this technique he called "painting with scissors"; they demonstrate the ability to bring his eye for color and geometry to a new medium of utter simplicity but with playful and delightful power. The demanding and tireless creator worked daily, day and night. Next came countless illustrated books, the first pieces made entirely from paper cut-outs and the last large paintings.
The paper cut-outs were originally designed as a work tool to explore the balance between shape and color but gradually became the artist's favorite means of expression, making the last chapter of his life a new time of intense creativity and innovation.  Vast in scale (though not always in size), lush and rigorous in color, his cut-outs are among the most admired and influential works of Matisse's entire career.  This new medium meant the 80-year-old artist could create what he saw as his masterpiece: The Rosary Chapel in Vence and vast, immersive pieces that covered the walls in his Régina studio apartment in the Nice hills.
In 1947 he published 'Jazz,' a limited-edition book containing prints of colorful paper cut collages, accompanied by his written thoughts. In the 1940s, he also worked as a graphic artist and produced black-and-white illustrations for several books and over one hundred original lithographs at the Mourlot Studios in Paris.

In 1951 Matisse finished a four-year project of designing the interior, the glass windows, and the decorations of the Chapelle du Rosaire de Vence often referred to as the Matisse Chapel. This project was the result of the close friendship between Matisse and Sister Jacques-Marie. He had hired her as a nurse and model in 1941 before she became a Dominican nun.  They met again in Vence and started the collaboration, a story related in her 1992 book Henri Matisse: La Chapelle de Vence and in the 2003 documentary "A Model for Matisse."
On November 8th, 1952, Matisse established a museum dedicated to his work in his birthplace city of Le Cateau-Cambrésis, France.  This museum is now the third-largest collection of Matisse works in France.
Matisse died of a heart attack at the age of 84 in 1954. He is interred in the cemetery of the Monastère Notre Dame de Cimiez, near Nice.  Matisse is an influential figure of the 20th century and a decisive figure of the time. By defining a clear pictorial language, of colors and arabesque lines, rather than looking at painting as a means to an end, Matisse greatly impacted future movements and works produced by artists in the 20th century.
Details

Dimensions

41.75ʺW × 1.5ʺD × 60ʺH
Styles

Abstract
Boho Chic
Figurative

Art Subjects

Abstract
Figure
Patterns
Geometric

Frame Type

Framed
Artist

Henri Matisse
Period

1950s
Place of Origin

France
Item Type

Vintage, Antique or Pre-owned
Materials

Glass
Lithograph
Paper
Wood
Condition

Very Good Condition, Original Condition Unaltered, No Imperfections
Color

Yellow
Condition Notes

Excellent Vintage Condition. Frame May Show Slight Traces of Previous Use