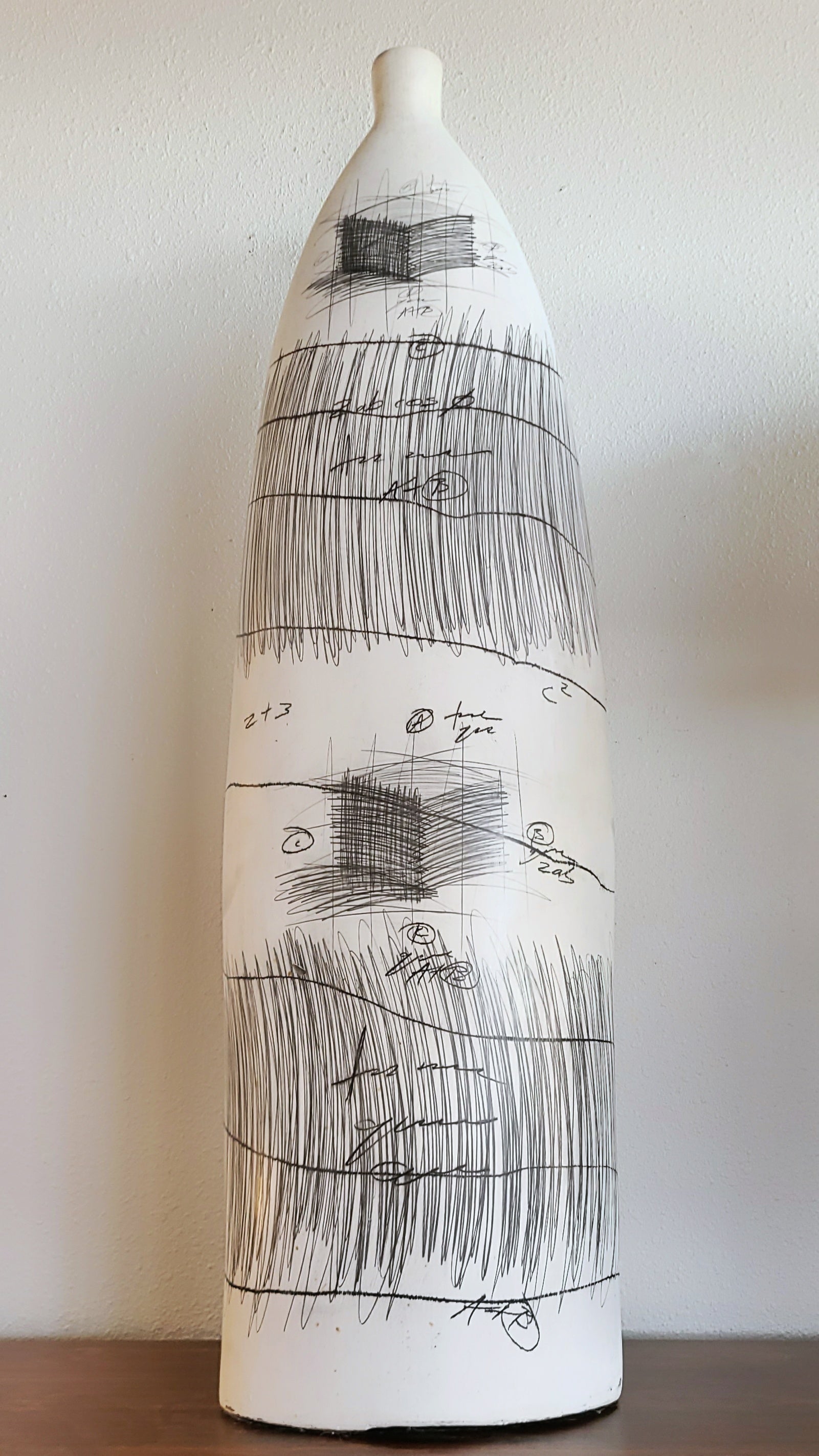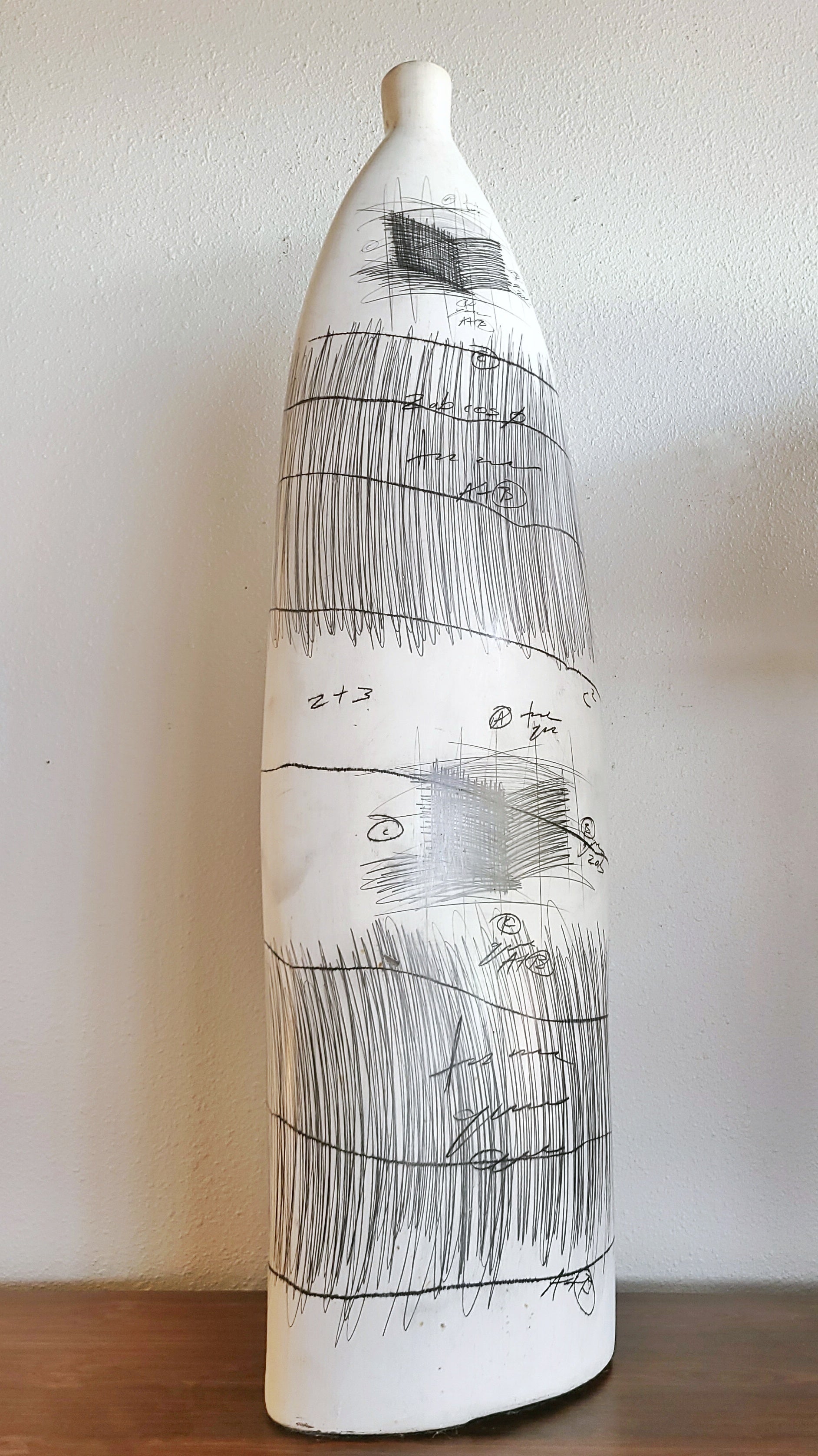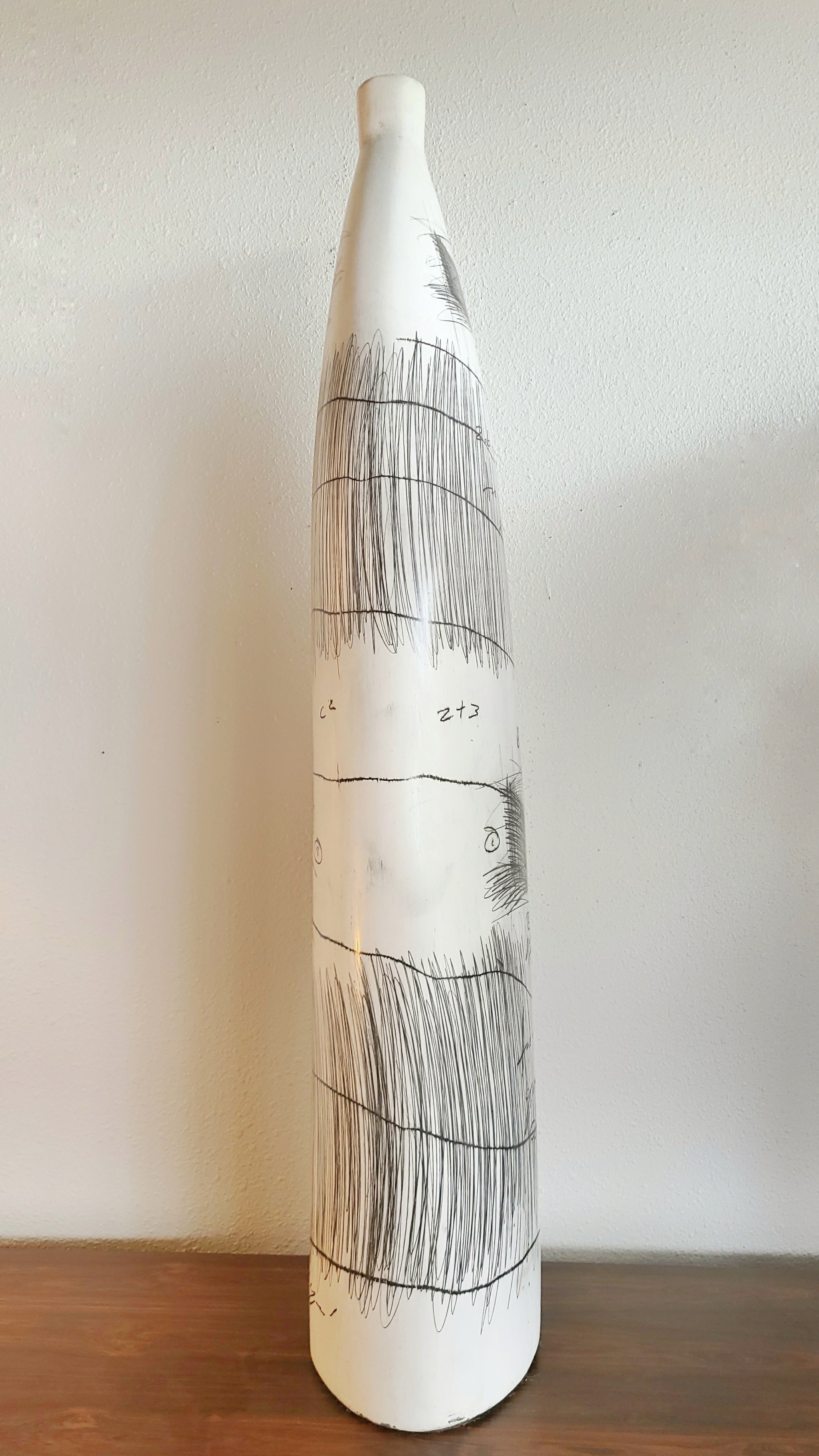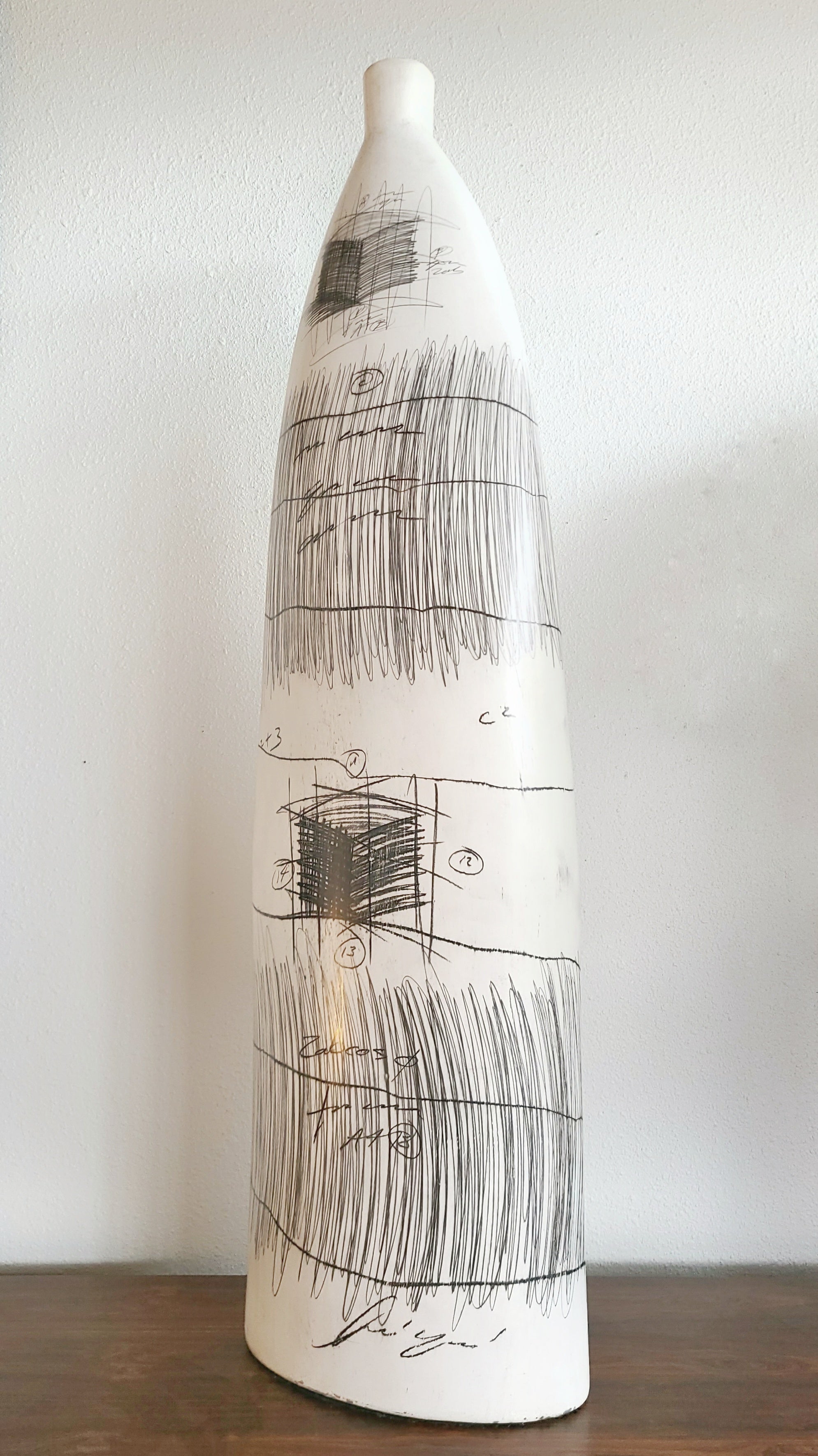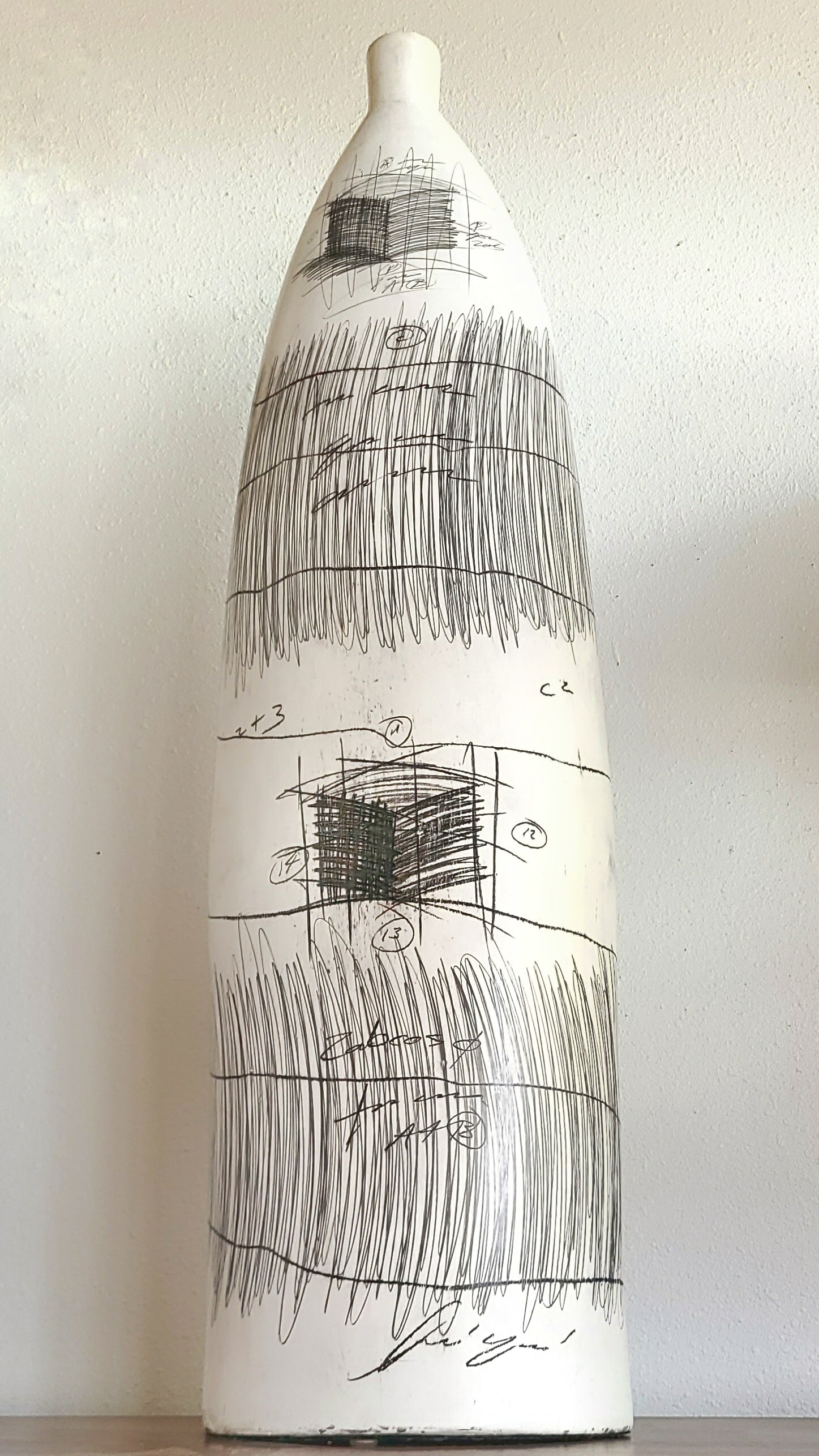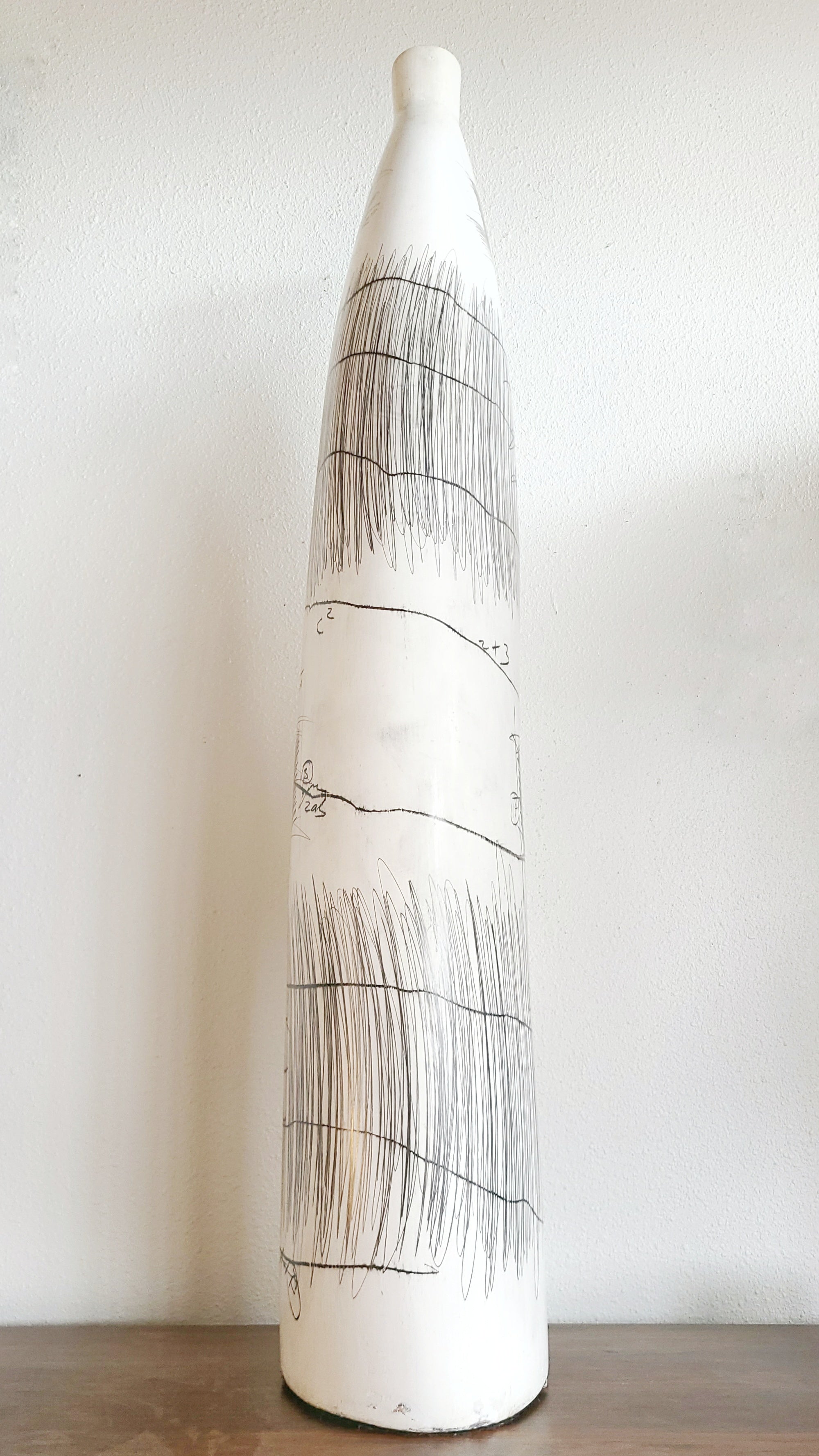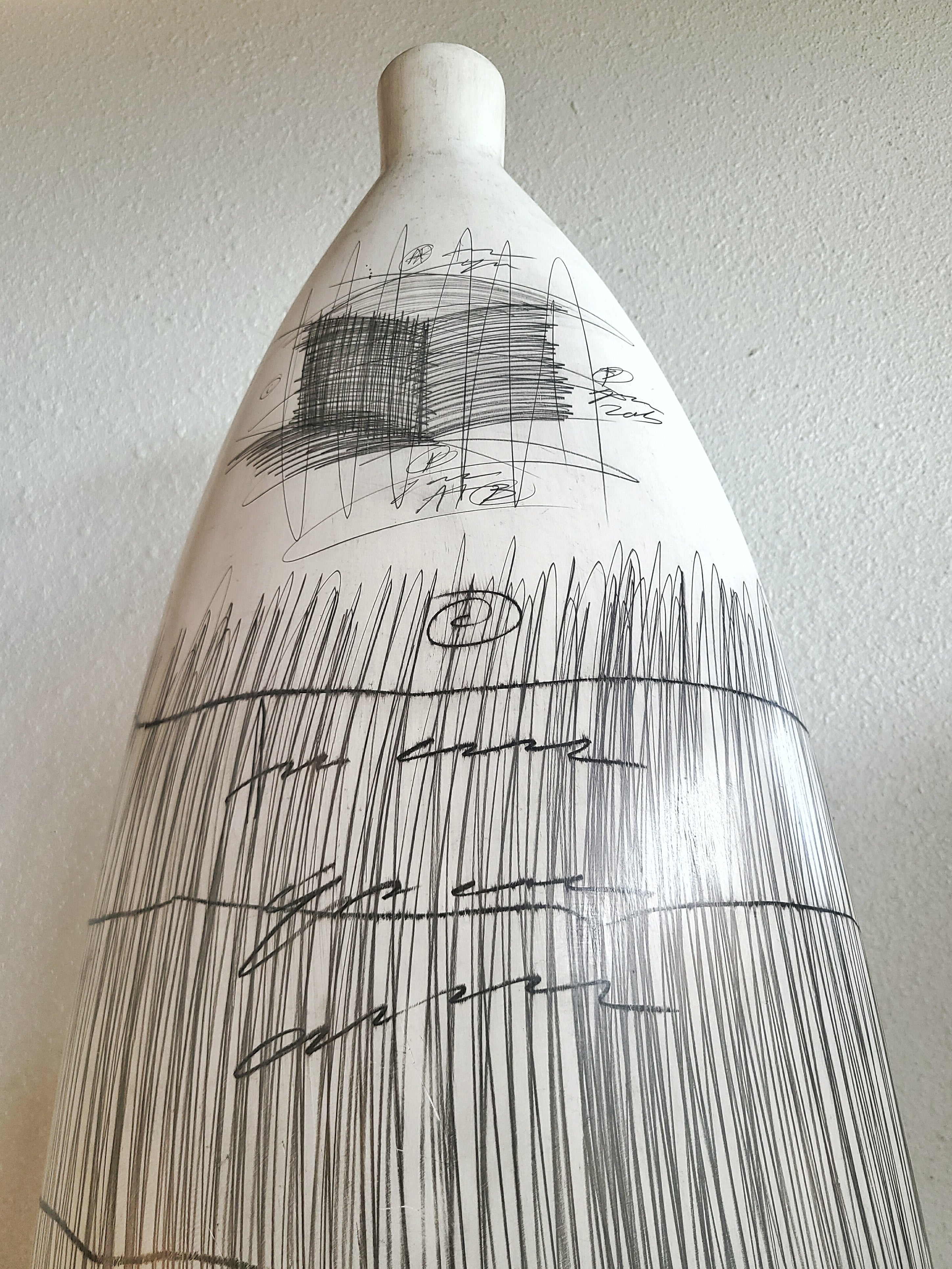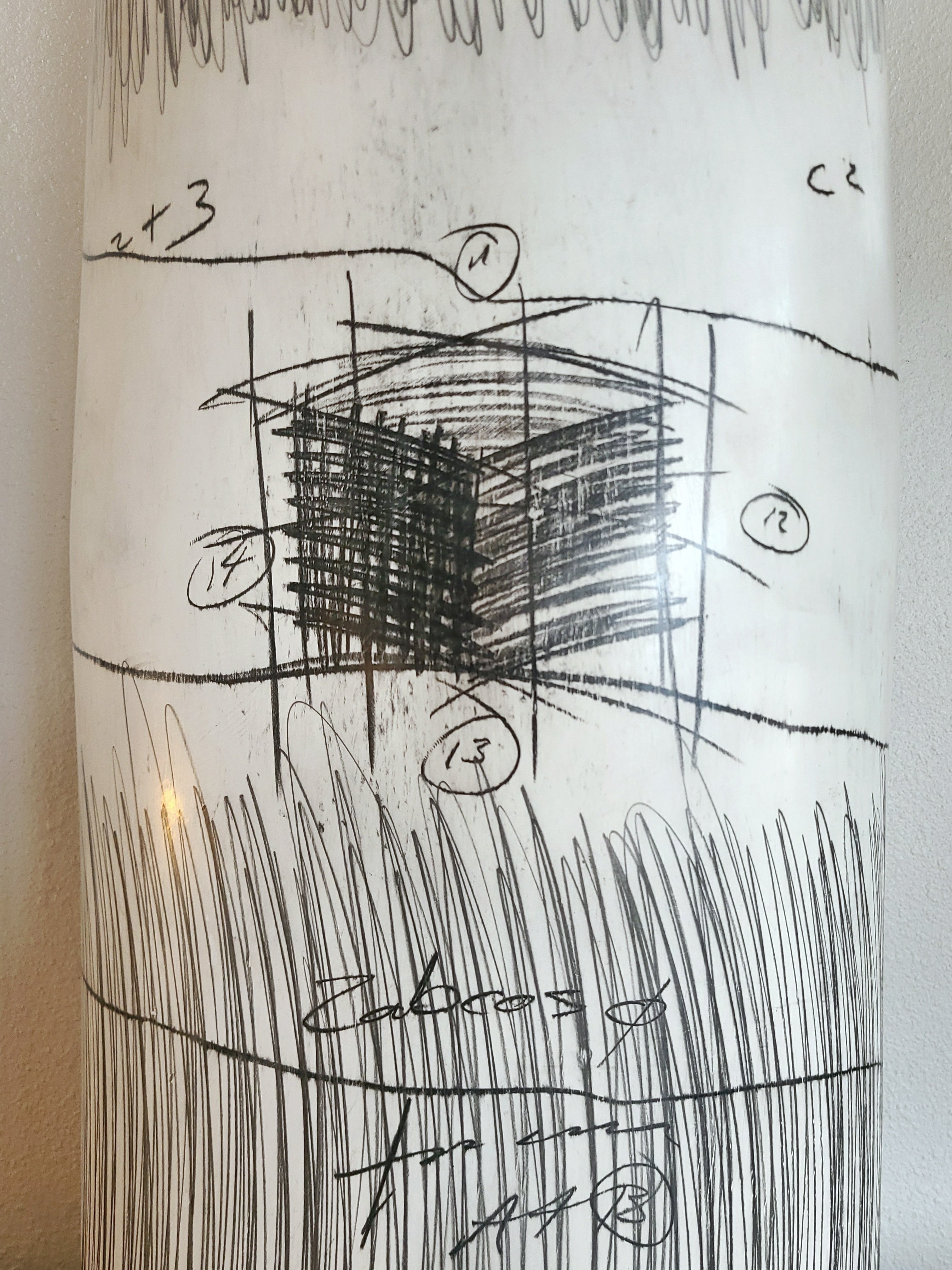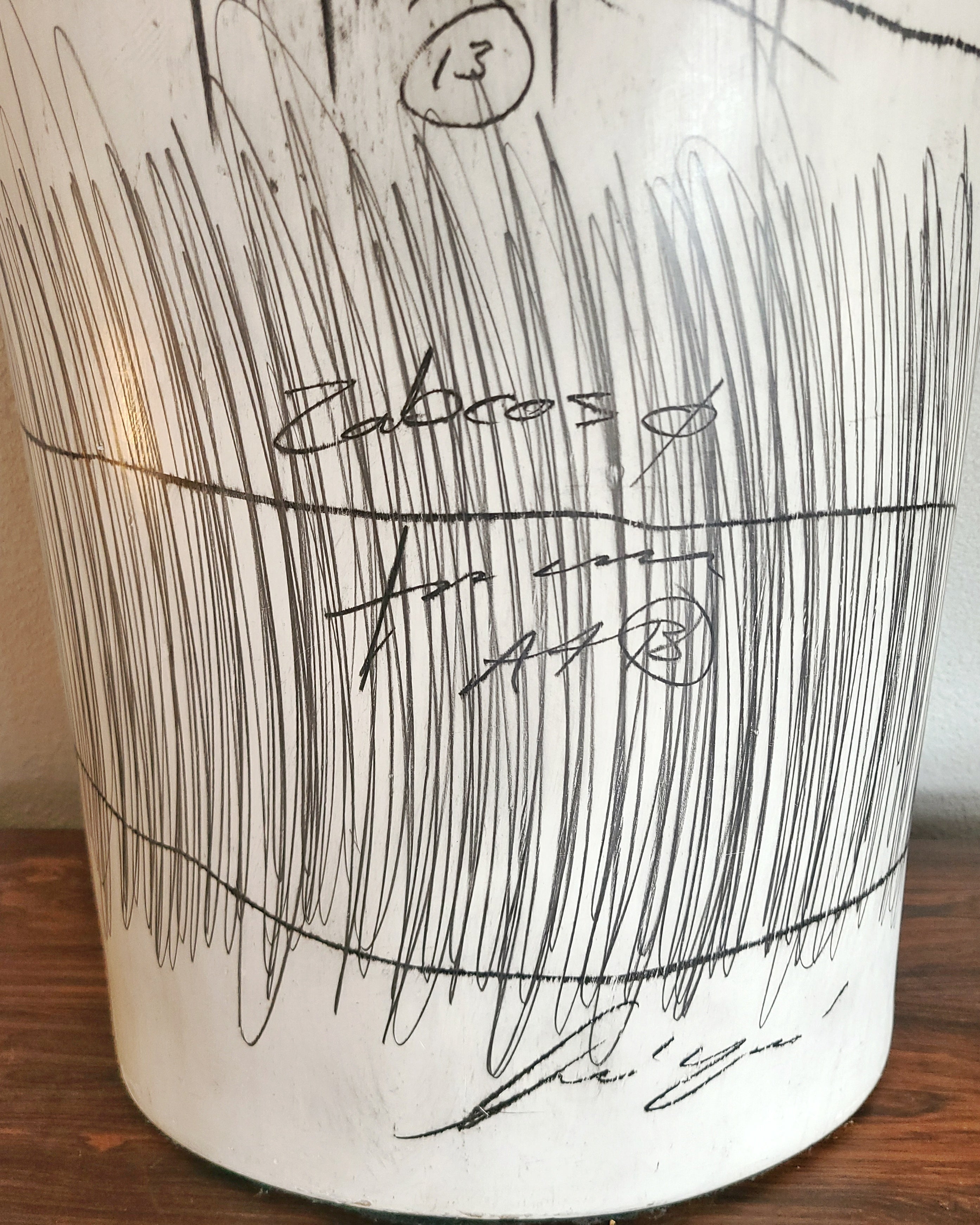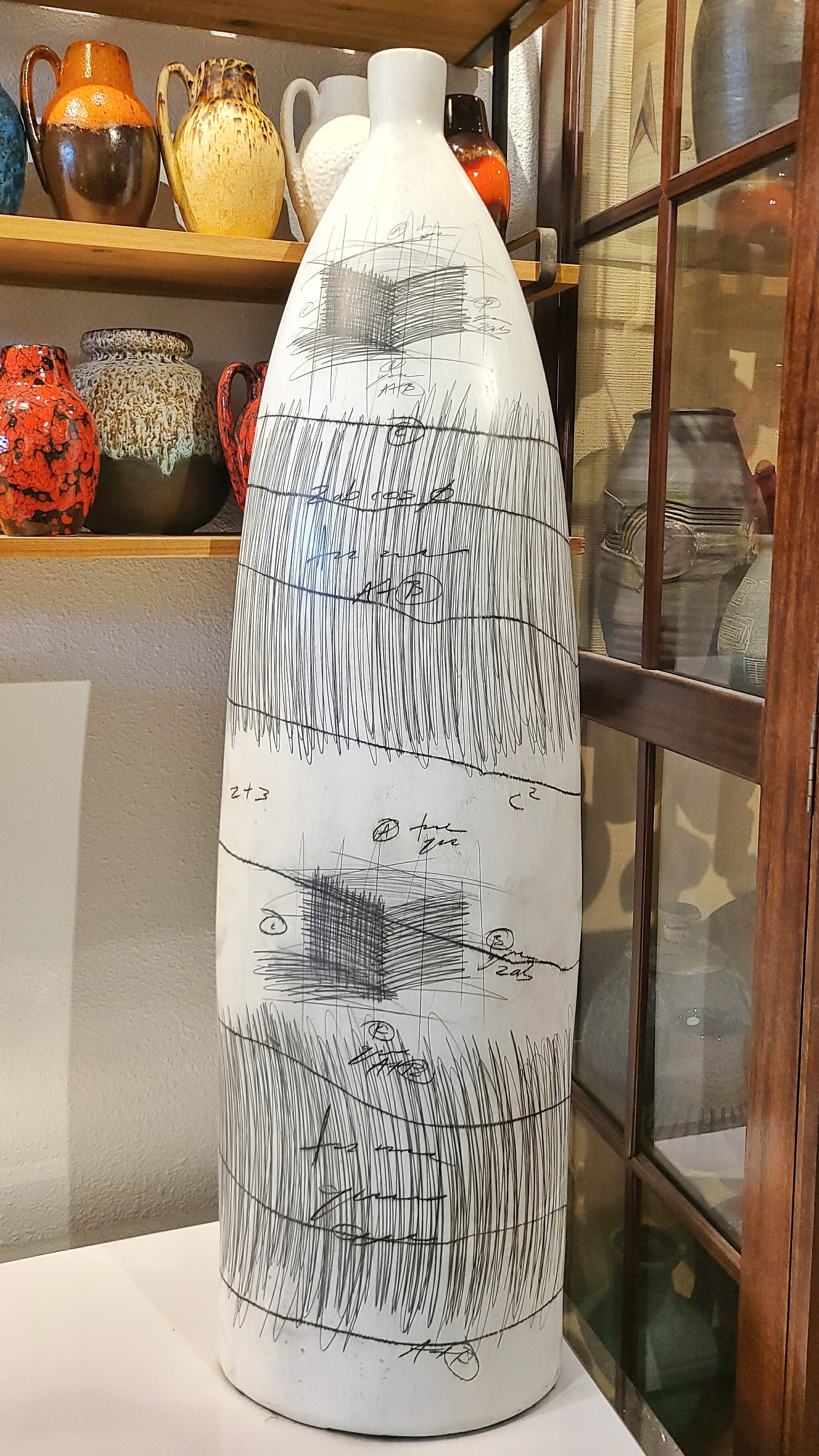 MONUMENTAL 'SKETCHBOOK' SERIES BOTTLE VASE BY YURI ZATARAIN
CONTACT US HERE ABOUT THIS ITEM.
A monumental ceramic bottle vase in a matte white porcelain-colored glaze covered with graphite drawings of diagrams and geometric sketches from Yuri Zatarain's 'Sketchbook' series of ceramic forms.  Signed by the maker.
YURI ZATARAIN (b. 1972) was born in Mazatlan Sinaloa, México into a Spanish-Russian family. He is a painter sculptor, engraver, and designer.  From an early age, he was attracted to art and won his first painting competition at the age of 6, which woke up the beginning of a passionate international career.  At the age of six, Yuri Zatarain was initially recognized for his artistic talents, which would later lead to a myriad of awards and international recognition in ceramics, acrylics, watercolors, photography, painting, sculpting, poetry, and more. "It actually happened quite by accident," Zatarain explained. He was in possession of some cartoon drawings by two of his older schoolmates, when his father discovered them and, expounding on the talents of his young son, credited Zatarain for the artwork. To impress his father and live up to this expectation, he practiced in secret – over and over – until he could match or exceed the drawings his friends had created. This effort led to a first-place award in a school contest. The rest, as they say, is history. Zatarain's work has been exhibited in galleries in Berlin, Milan, Paris, San Francisco, Los Angeles, Washington, D.C., Chicago, and New York, to name a few. His painting, Hombre de Pie (Standing Man), currently hangs in the Los Angeles Museum of Latin American Art (MoLAA).
Having studied Industrial Design from 1990 to '94 at the Autonomous University of Guadalajara, in Guadalajara, Jalisco, Mexico, Yuri has gone on to become an icon of art worldwide. He has participated in more than 250 exhibitions around the world in cities such as; New York, Paris, London, Milan, Moscow, Dubai, Athens, Verona, San Francisco, Miami, Dallas, Washington, Los Angeles, Las Vegas, Rio de Janeiro, Bogota, Santiago, and Mexico City, among others.  His work is represented in countless art collections.
Yuri Zatarain's works relate a continuous narrative about a God who falls in love with a human woman - each chapter of this story being represented by a collection. Zatarain's compositions blend the figurative with the abstract while delving into recurring themes of love and honesty. The award-winning artist mixes techniques and uses pencils, charcoal, acrylics, and oils, painting on metal, canvas, wood, or ceramic.
Having designed more than 600 ceramic objets d'art, Zatarain describes himself as a hunter of sorts, constantly pursuing new forms and designs to stay ahead of the trends. Working in a modernist style, Yuri draws inspiration for his work from a variety of places.  For an emotional bond to his progeny, Zatarain often looks to the images throughout his grandmother's house, his own childhood memories, architecture, weaving, and music as well as the fashion and design atmospheres for his inspiration. "I want people to feel a dramatic connection to each piece," said Zatarain. He describes each shape as unique, very chic, and fashionable – like fine art. "When someone sees my work, it stirs a need or feeling from within – a passion that only surfaces upon viewing the piece." Much of Zatarain's designs capture a feeling he terms "ethnic chic", reflecting the ideas of a new age and way of life for people who have grown into a more global community. His materials are always natural, taken with care and measure from the earth in an effort to preserve every resource.  All of his forms are shaped by hand, oven-fired at over 1300 degrees Celsius, painted, rubbed, sanded, and refinished – all by hand.
His studios are currently located in Guadalajara, Jalisco, Mexico, San Miguel de Allende, and Mexico City.
Details

ART IS NOT A DESTINATION IT IS A LONG TRIP TO YOUR INNER SELF

DIMENSIONS

12ʺW × 6ʺD × 44.25ʺH
STYLES

Abstract
Mexican
Postmodern

ART SUBJECTS

Abstract
Geometric
Graffiti
Text

PERIOD

1990s
ITEM TYPE

Vintage, Antique or Pre-owned
MATERIALS

Ceramic
Graphite
CONDITION

Good Condition, Original Condition Unaltered, Some Imperfections
COLOR

White
CONDITION NOTES

Excellent Vintage Condition