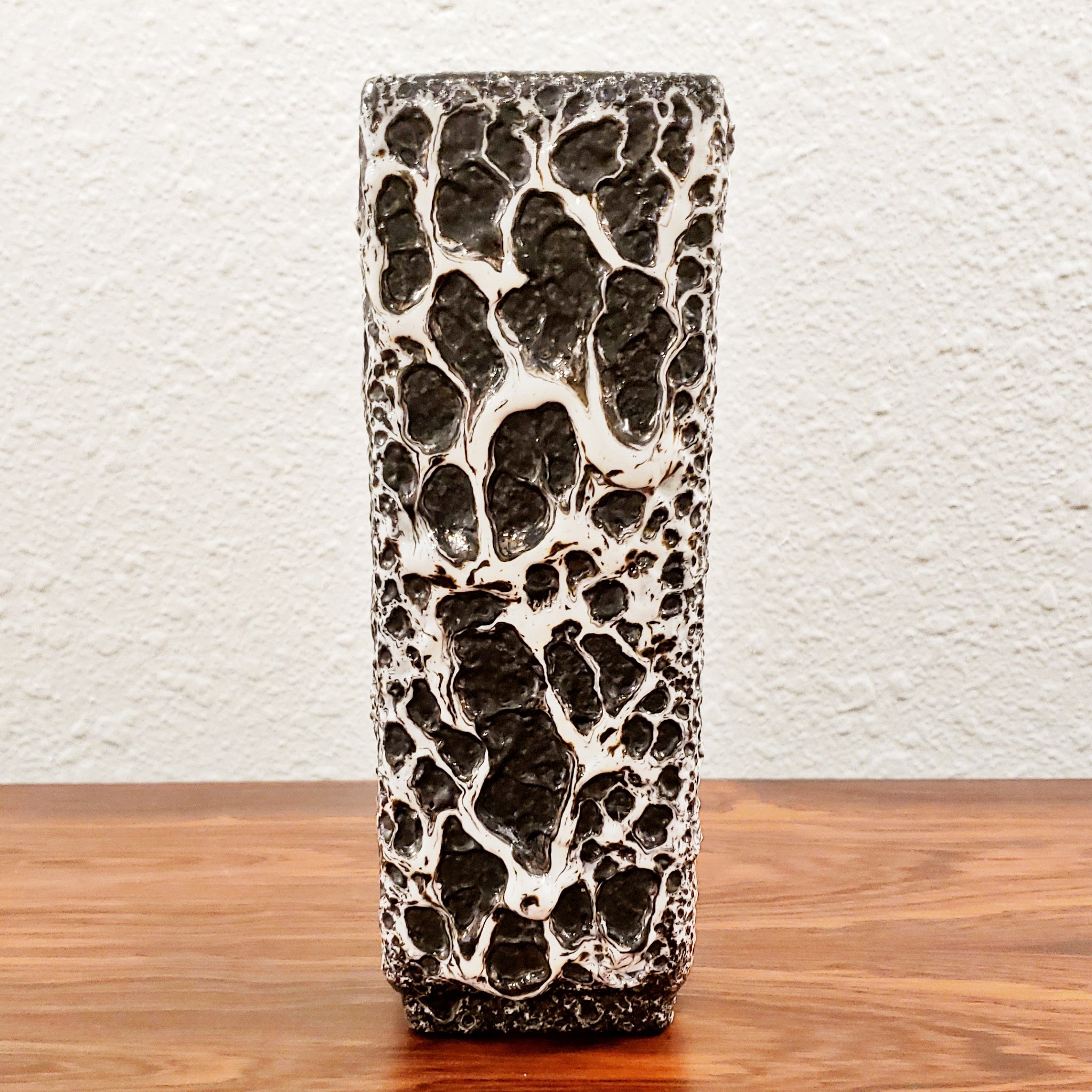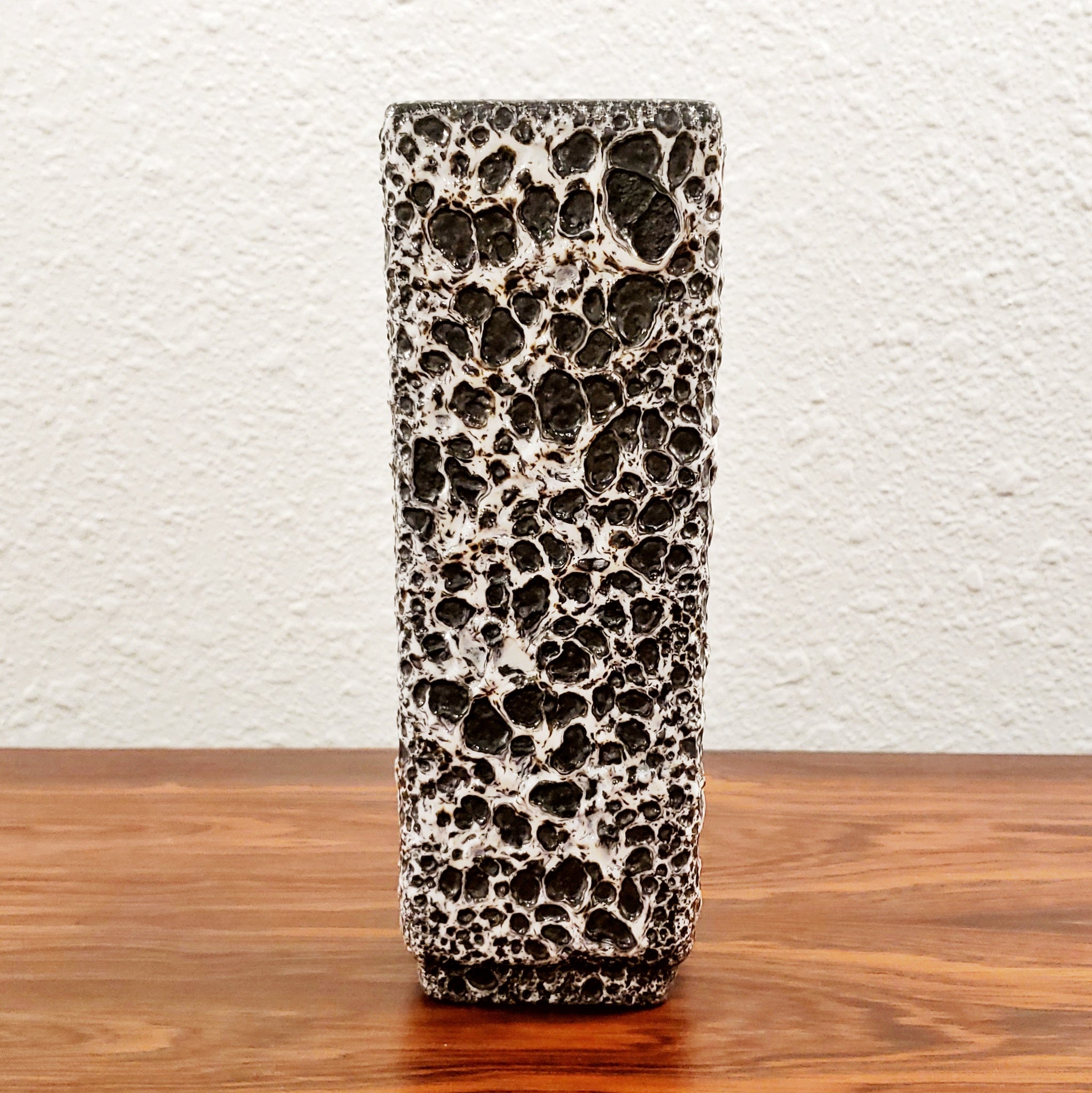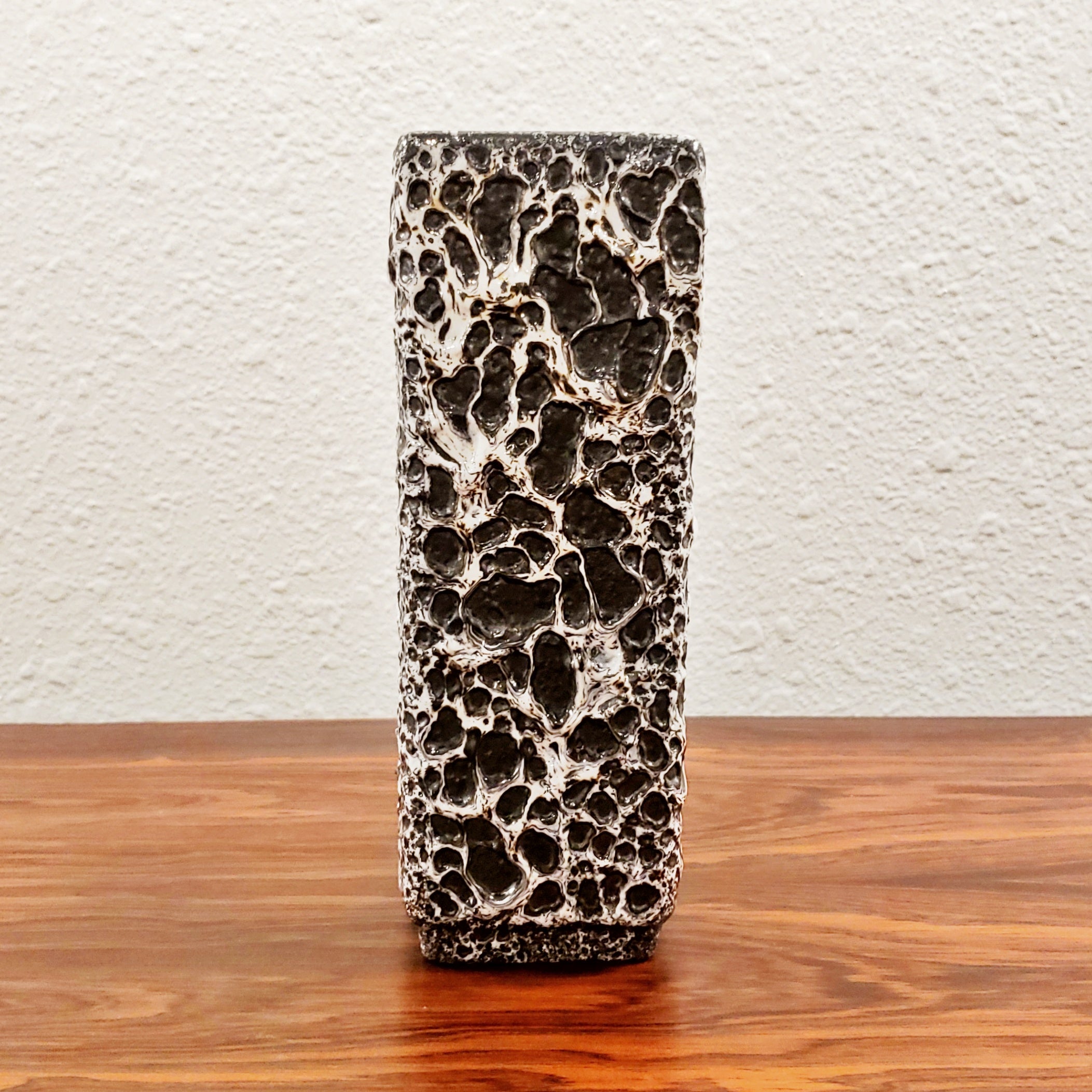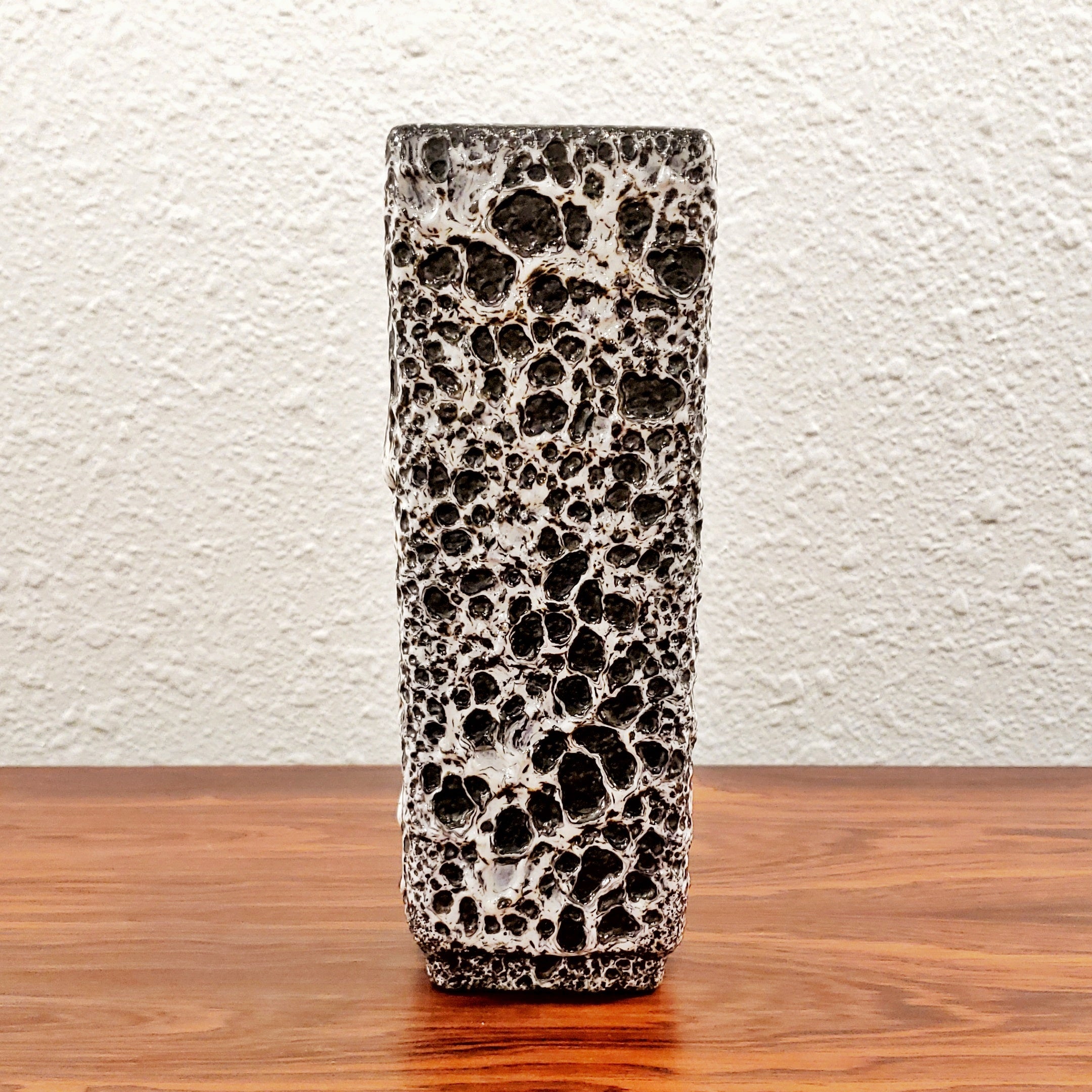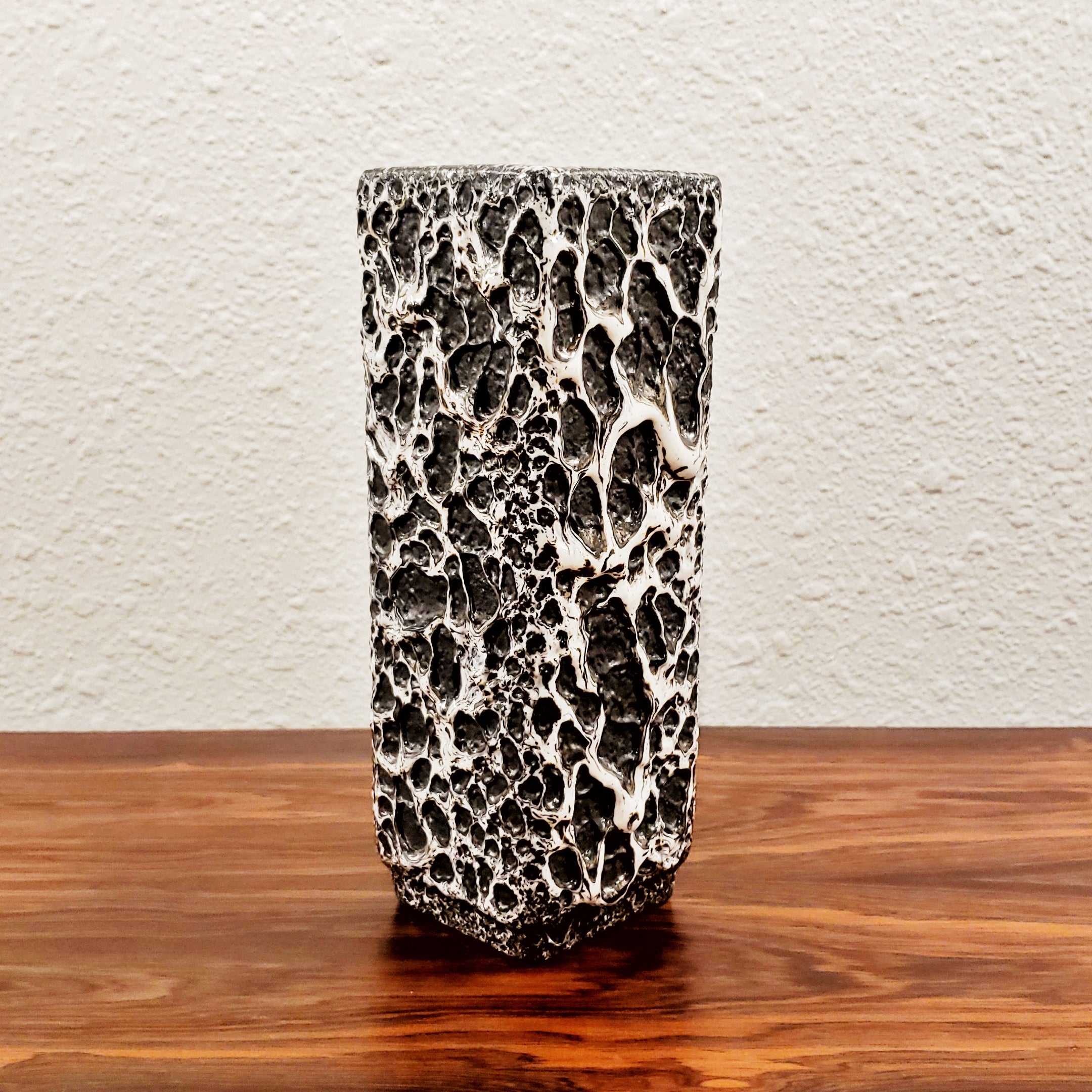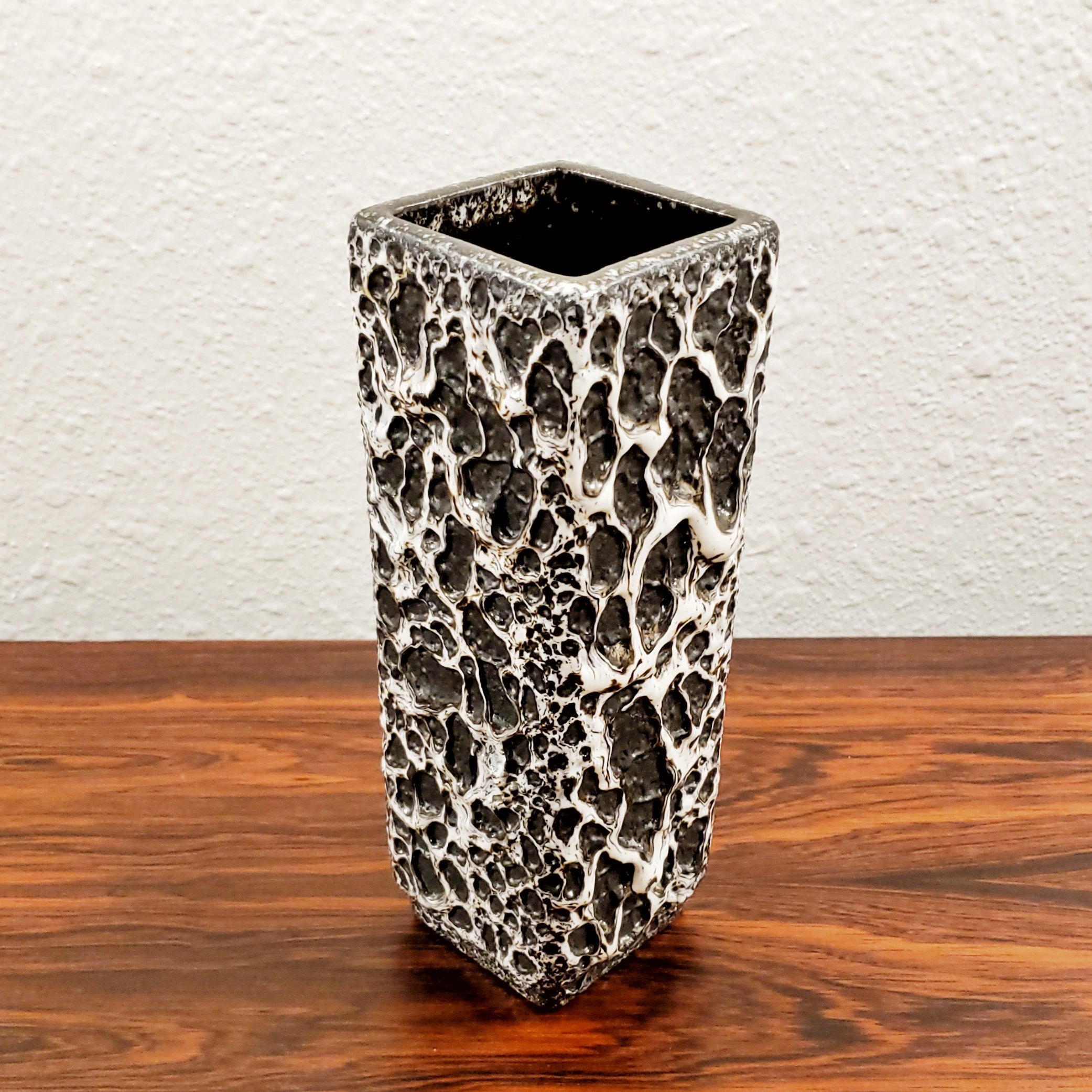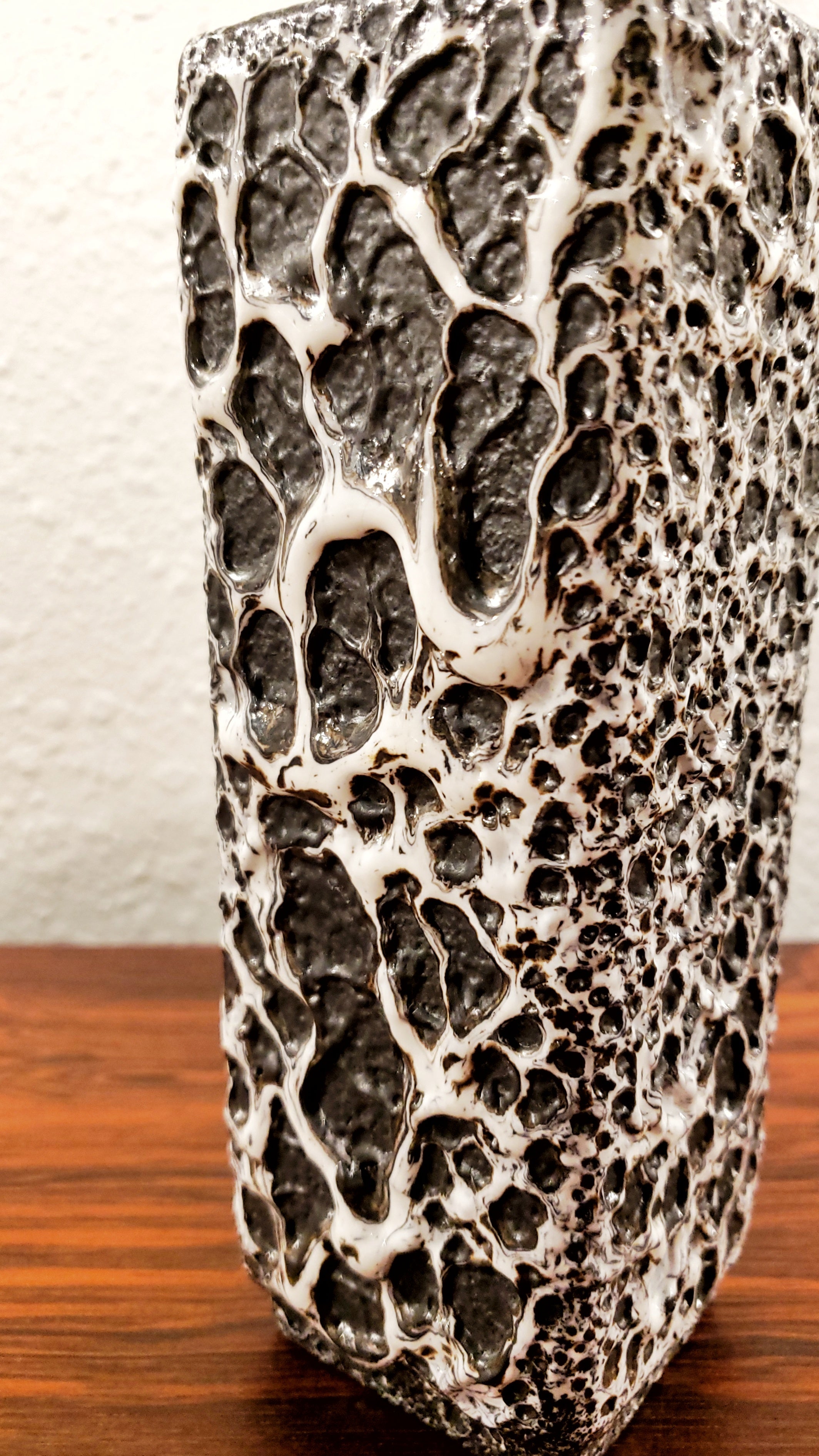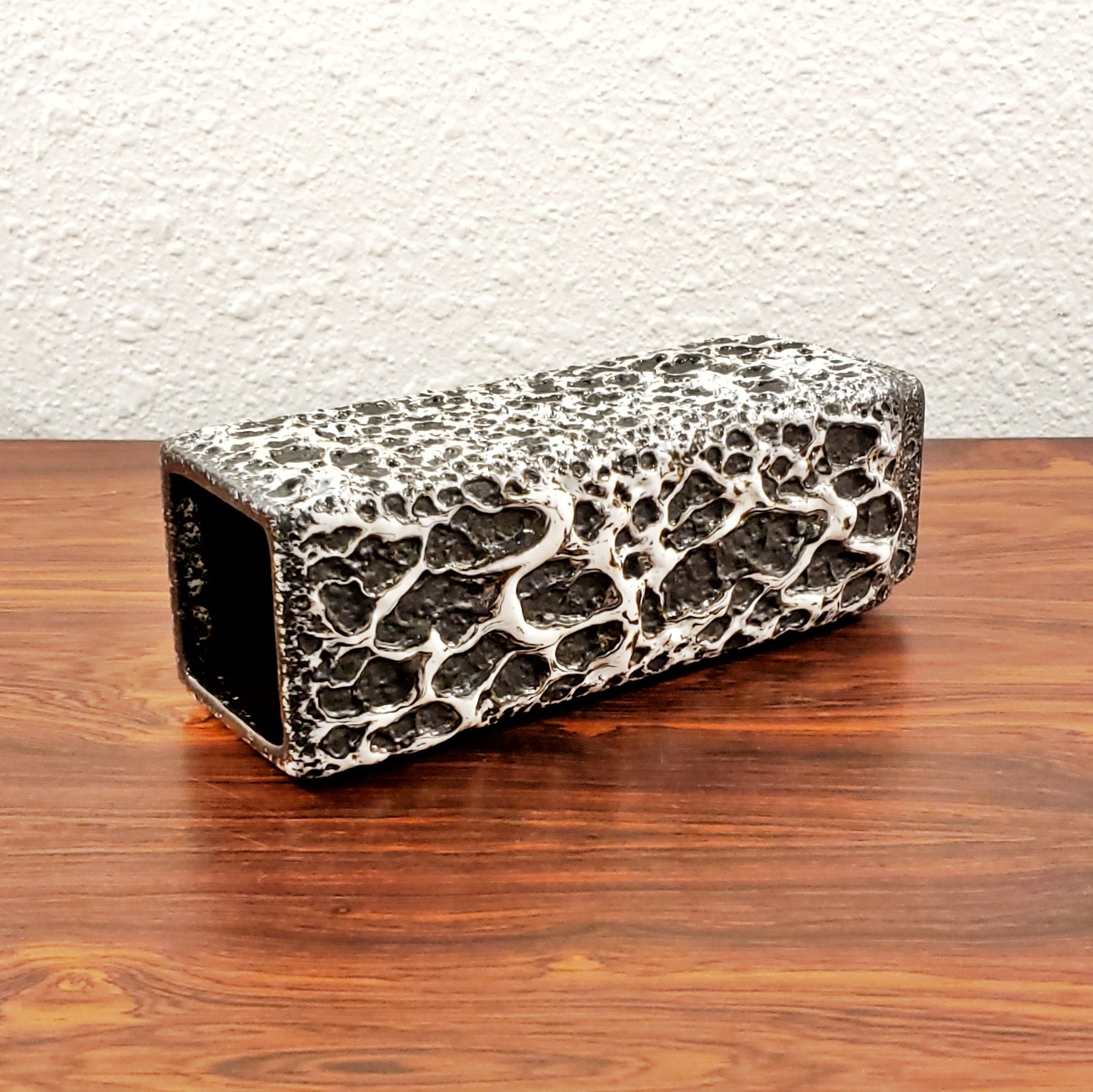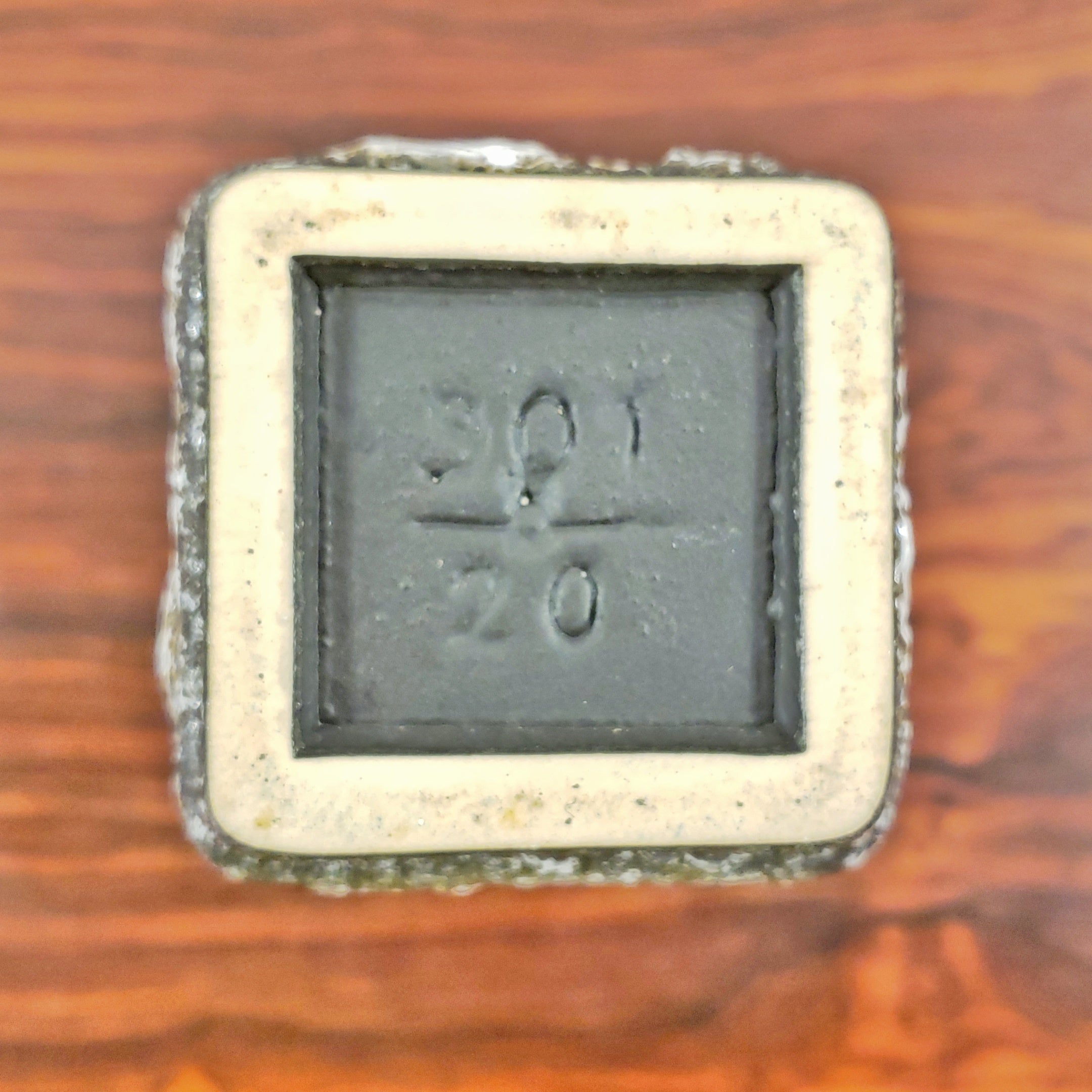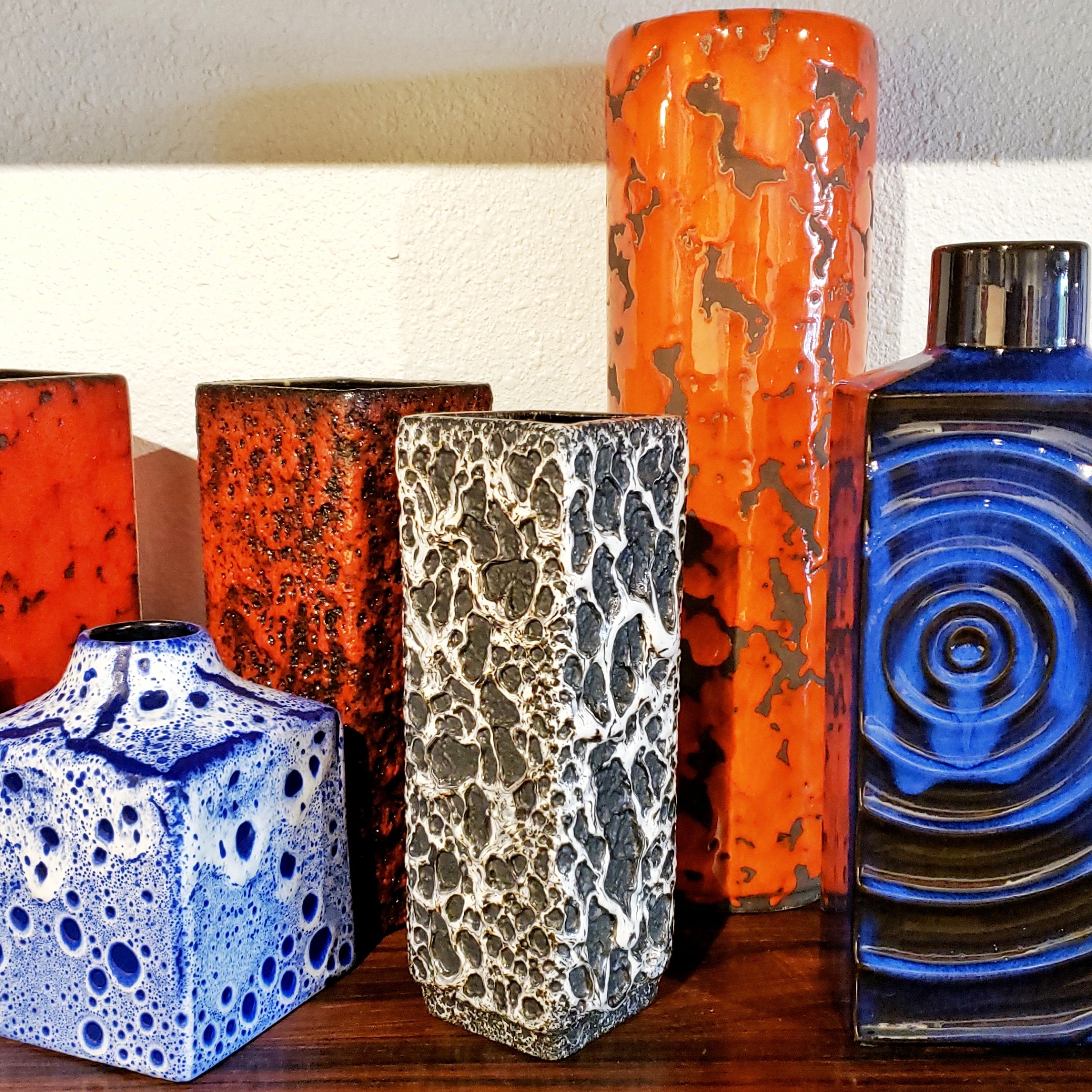 JOPEKO RECTANGULAR 'HANSE' VASE 901/20
CONTACT US HERE ABOUT THIS ITEM.
A 901/20 rectangular vase from JOPEKO with a remarkable, thick, black-and-white fat-lava glaze.  Produced in the 1970s.  The décor is called 'Hanse.'
JOPEKO was founded in 1848 by Johann Peter Korzilius in the town of Ransbach-Baumbach in what today is the central western German state of Rhineland-Palatinate.  Originally established as Krug und Abflussrohr Fabrik (Pitcher and Drainpipe Factory), it produced containers for spirits and chemical products as well as drainage pipes.  The manufacture of ornamental ceramics would not begin until much later and was initially limited to decidedly traditional styles.  Modern forms and décors would not appear until the second half of the 1950s, by which time the company name had been changed to JOPEKO, in deference to its founder JOhann PEter KOrzilius, as well his son and namesake, who inherited the company in 1948.  The production of art pottery began in earnest in 1957 with the introduction of the décor '1003,' a "shrink glaze" offered in a range of colors.  '1003' was virtually indistinguishable from a décor called 'Cortina' developed by competitor JASBA the previous year.  To distinguish the two, JOPEKO added a grouping of three dots (yellow, red, and blue) arranged in triangle on the face of each product.  They followed up a year later with the series 'Ulla,' a sgraffito decor with abstract, partially-colored ornaments on a black or terra cotta, sintered engobe ground.  All of the designs were produced in-house.  In the years that followed, JOPEKO would add many new classic and asymmetric shapes to their mold stock, as well as a host of striking décors ranging bright, monochromatic colors to two-dimensional, hand-decorated designs, and including some of the most striking examples of Fat Lava to emerge from the German pottery market.  In 1960-61 a new collection known as 'Jopeko-Werkkunst' (loosely translated as 'Jopeko Works of Art') was created by the company's then head-of-design Heinz Martin.  It consisted of new and very elaborate forms offered with ornamental as well as figurative décor variants.  The program was limited, however, and production was short lived.
JOPEKO always held tight rein on its distribution.  It was managed through their own area representatives to specialized floral wholesalers, retailers, and florists, which made for limited distribution in the German market.  The business is still family run today in Ransbach-Baumbach, although it no longer manufactures in bulk and instead rents its facilities out to studio potters, who are allowed to use the equipment to produce limited runs of ceramics.
Around 1986 JOPEKO re-released many of its most popular old designs.  Note:  many designs that have been attributed to JOPEKO in the past are now known to be creations of Stein Keramik and Gerz Keramik.
Production Period – 1970-1979
Country of Origin – WEST GERMANY
Maker – JOPEKO
Attribution – MARKED
Materials – CERAMIC
Colors – BLACK, WHITE
Condition – VERY GOOD (no defects; may show slight traces of use)
Height (cm) – 20.5
Width (cm) – 7.5
Depth (cm) – 7.5