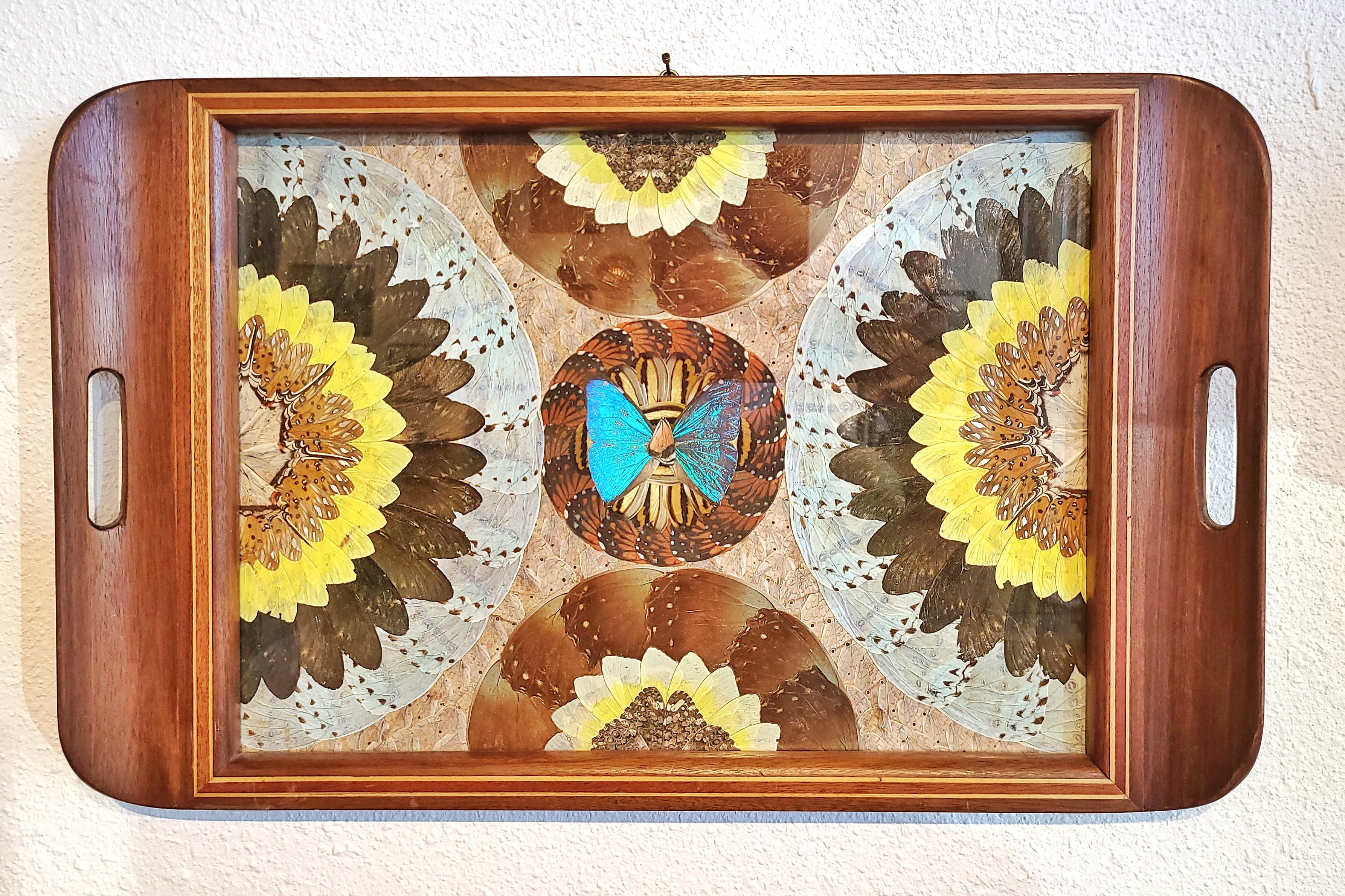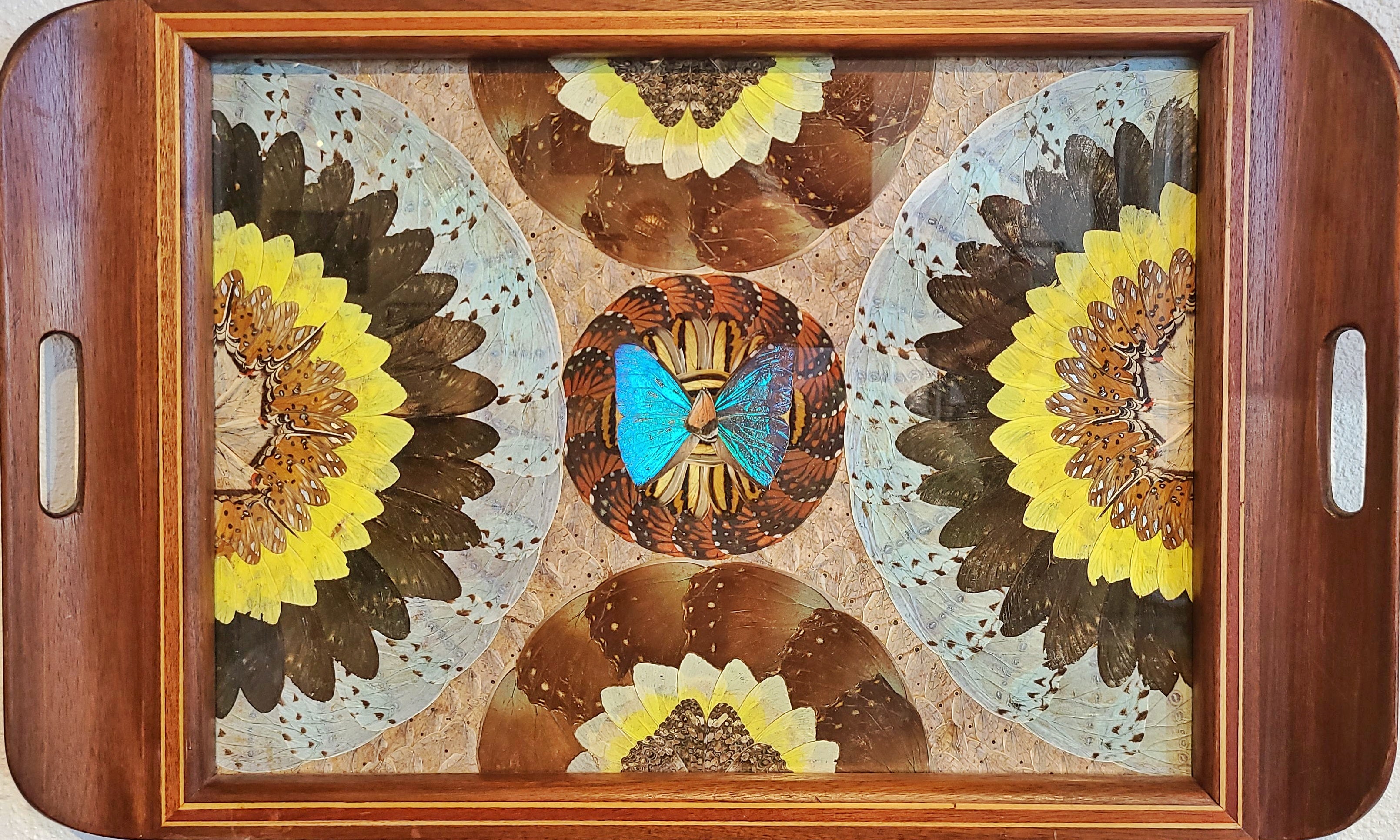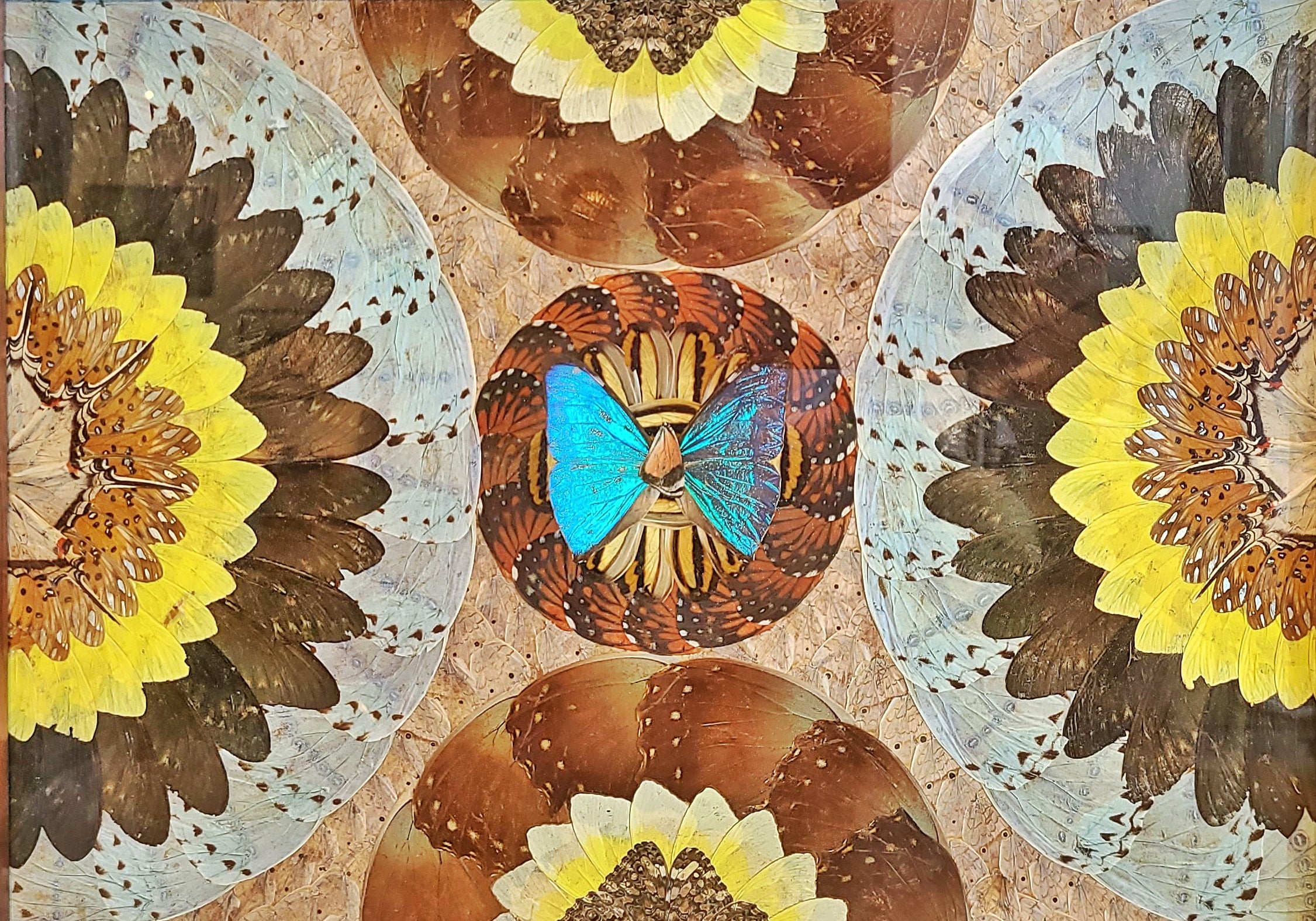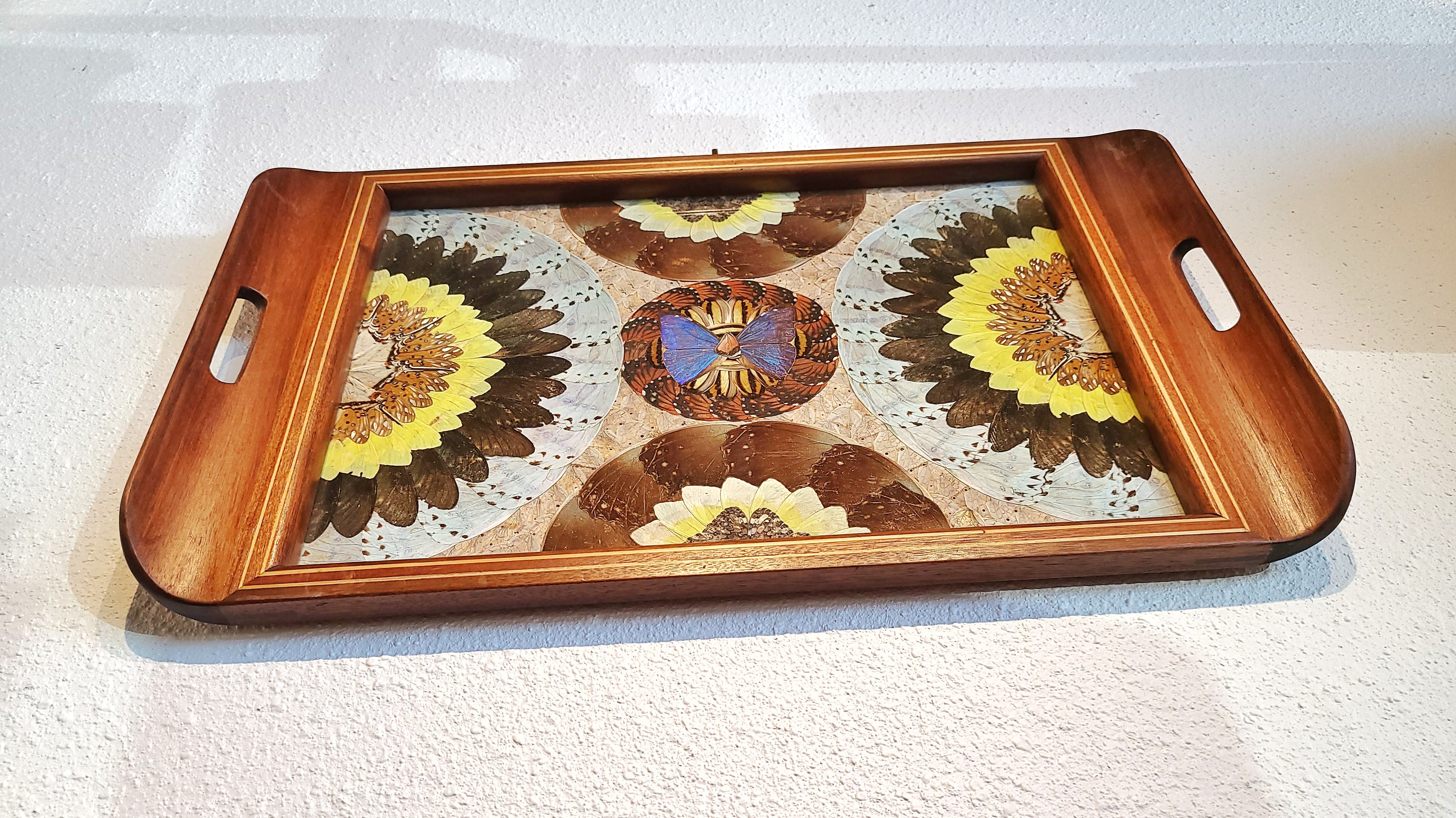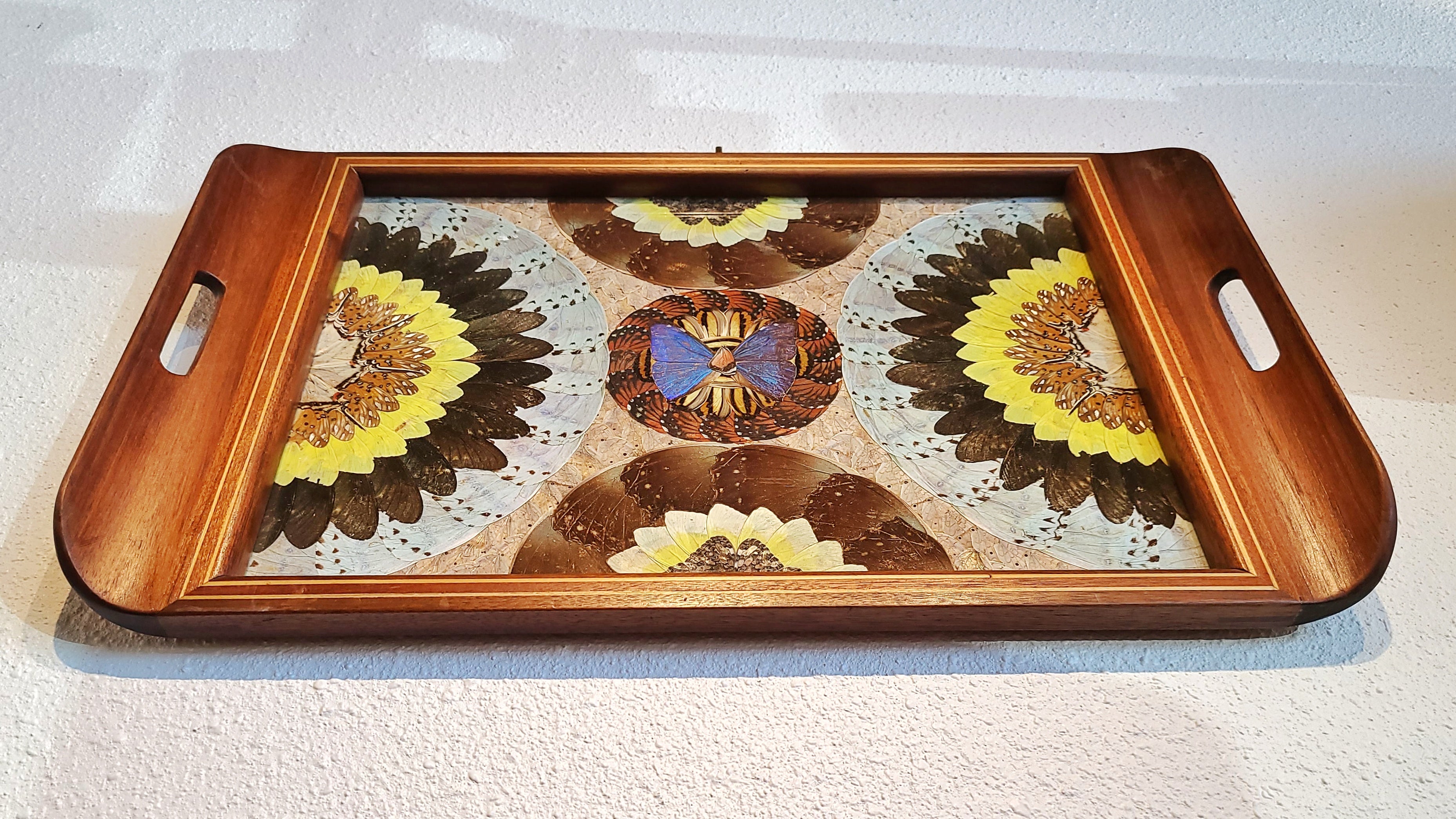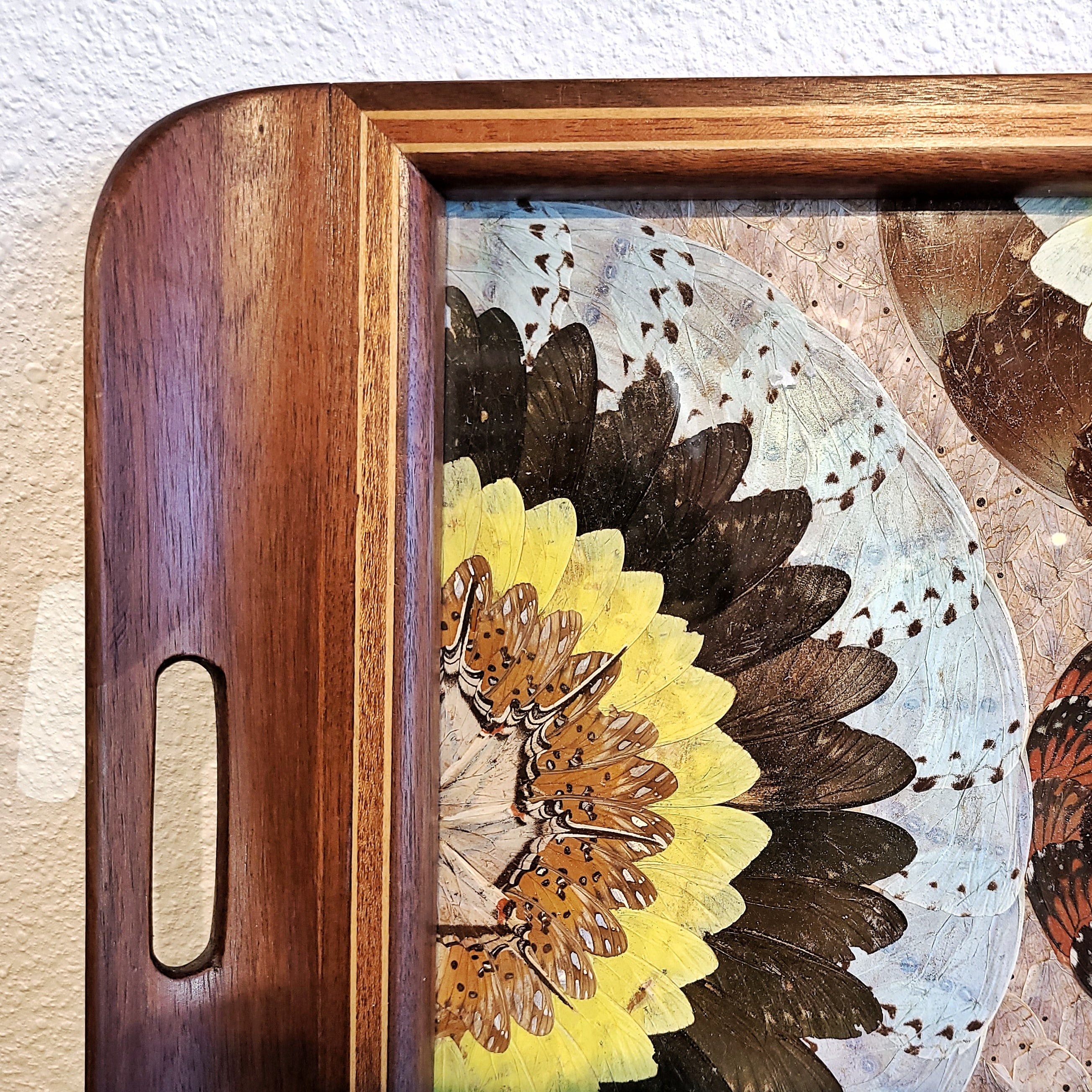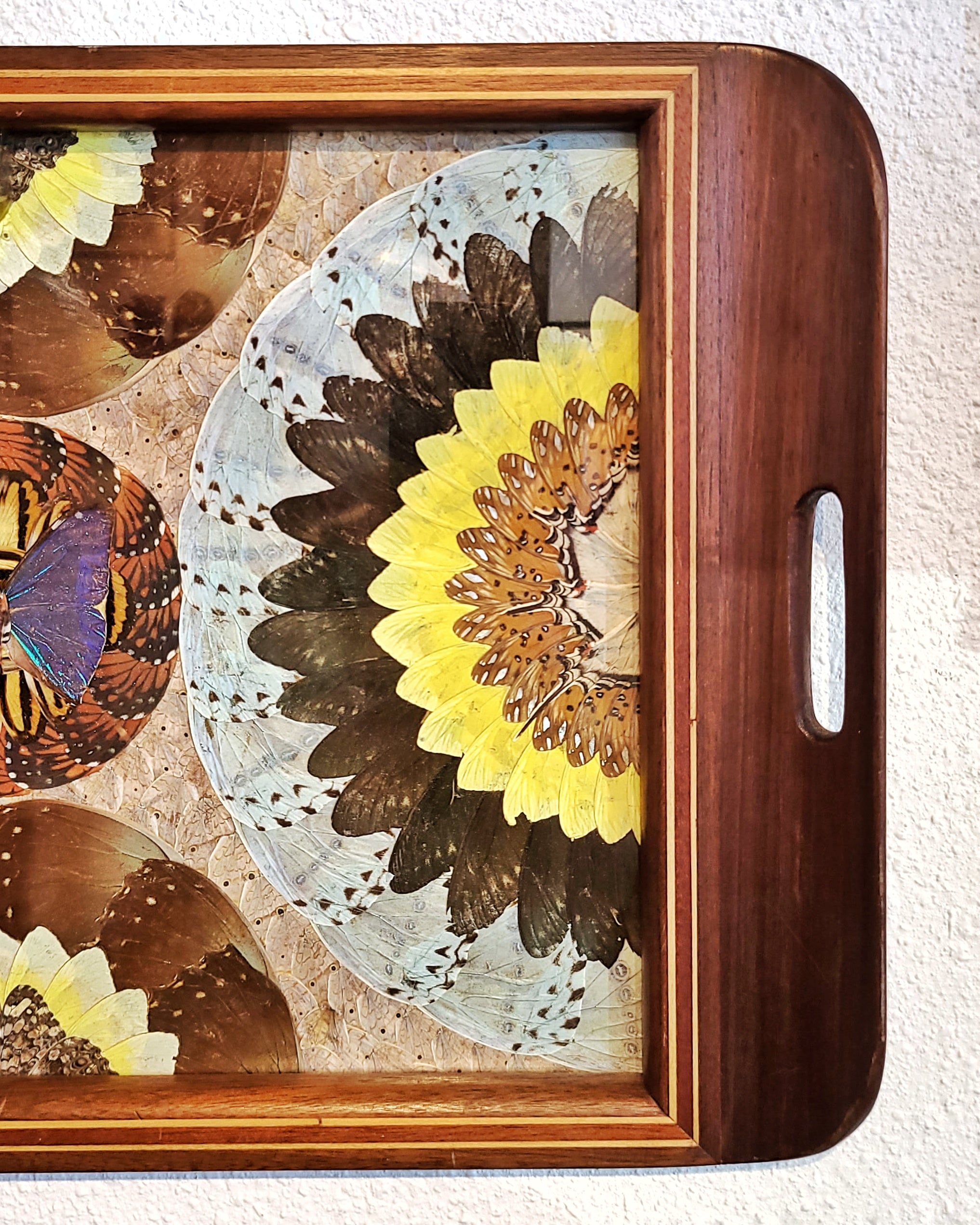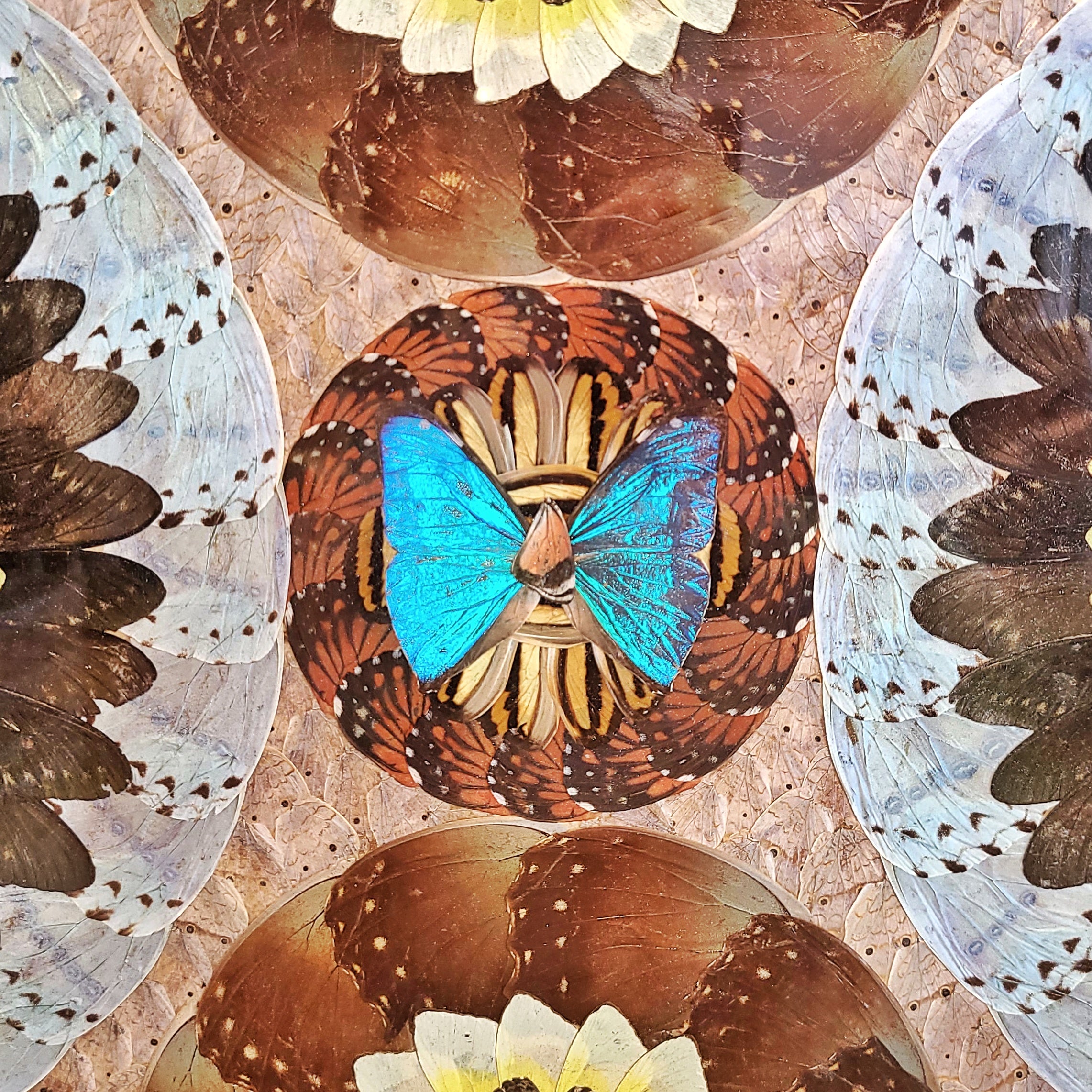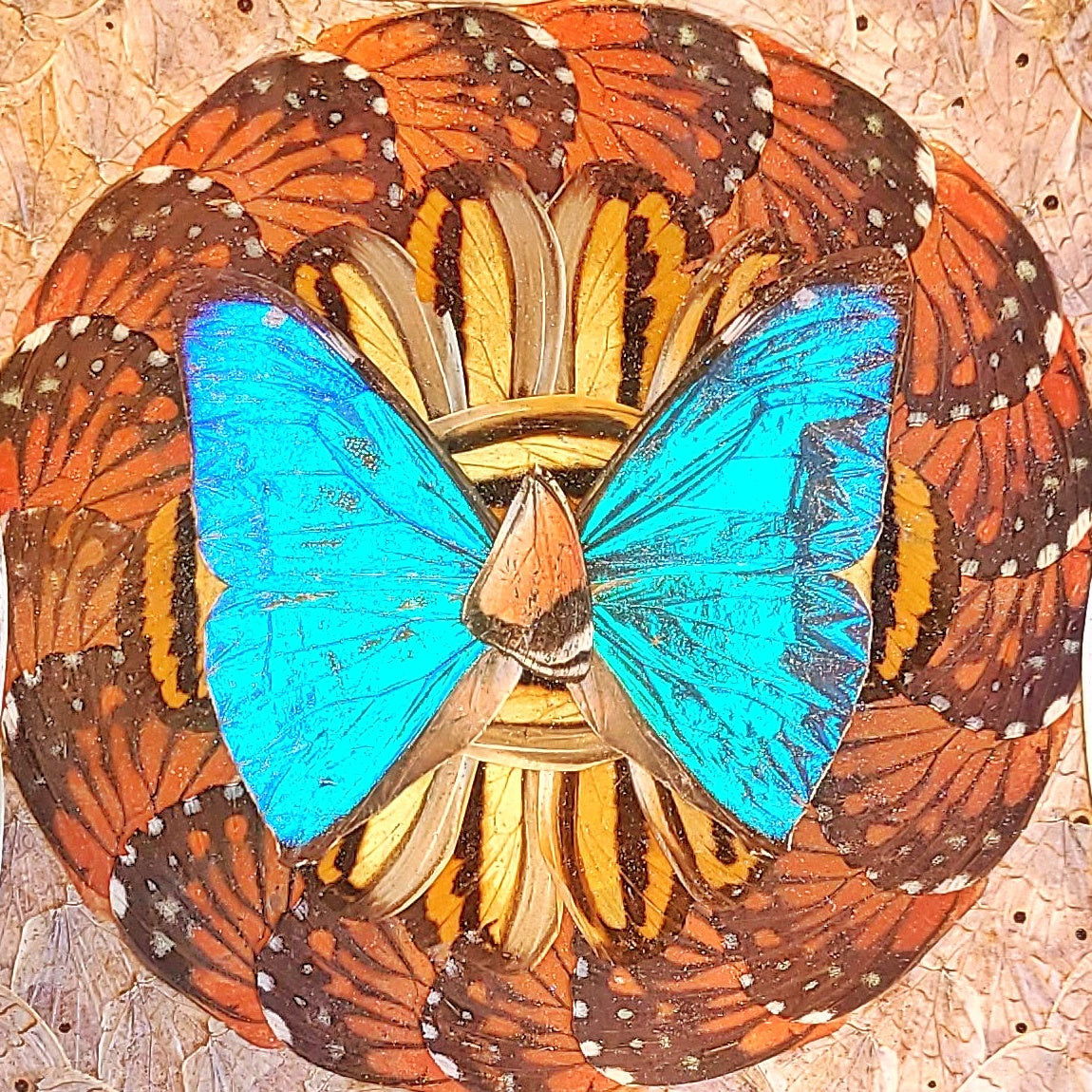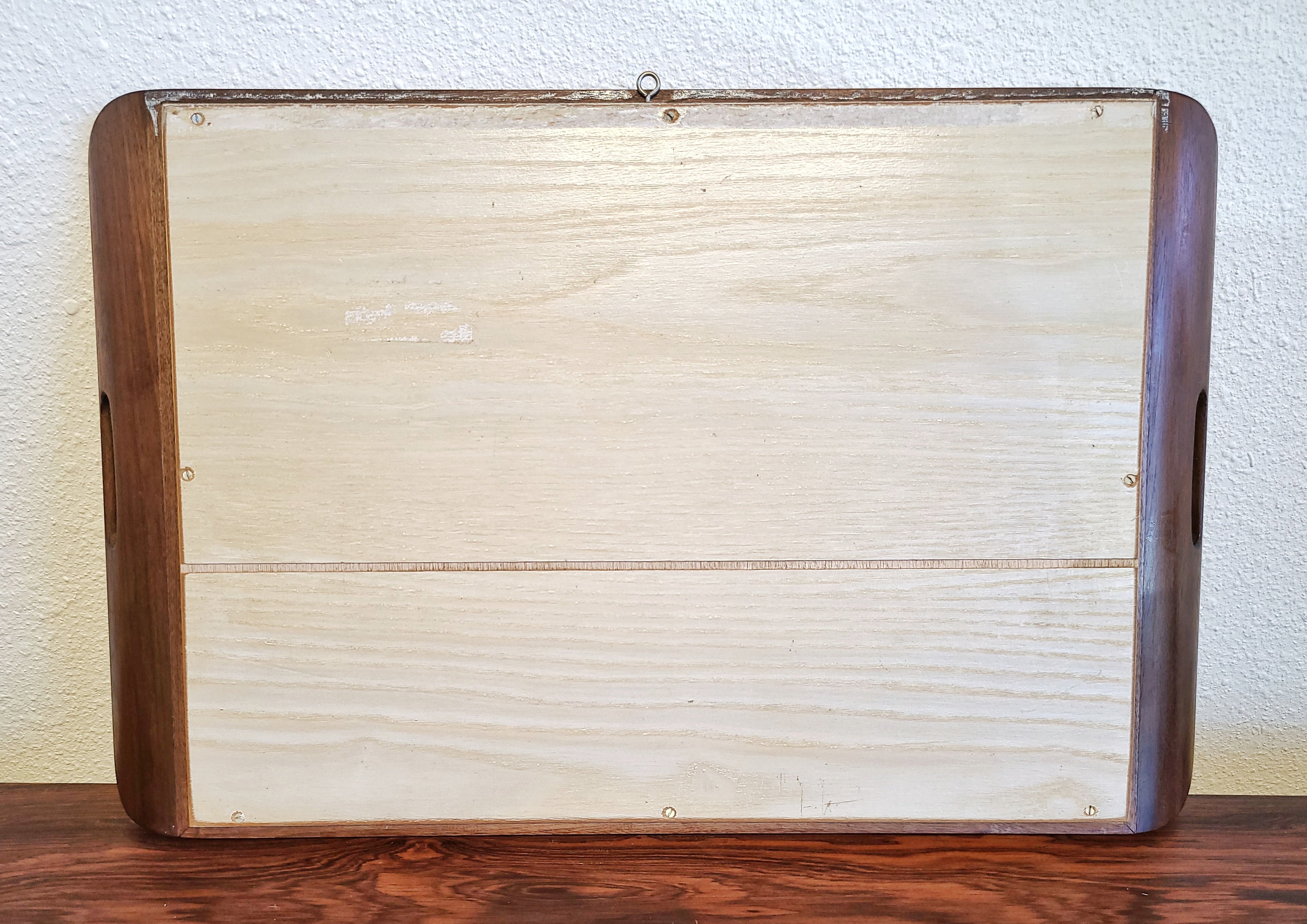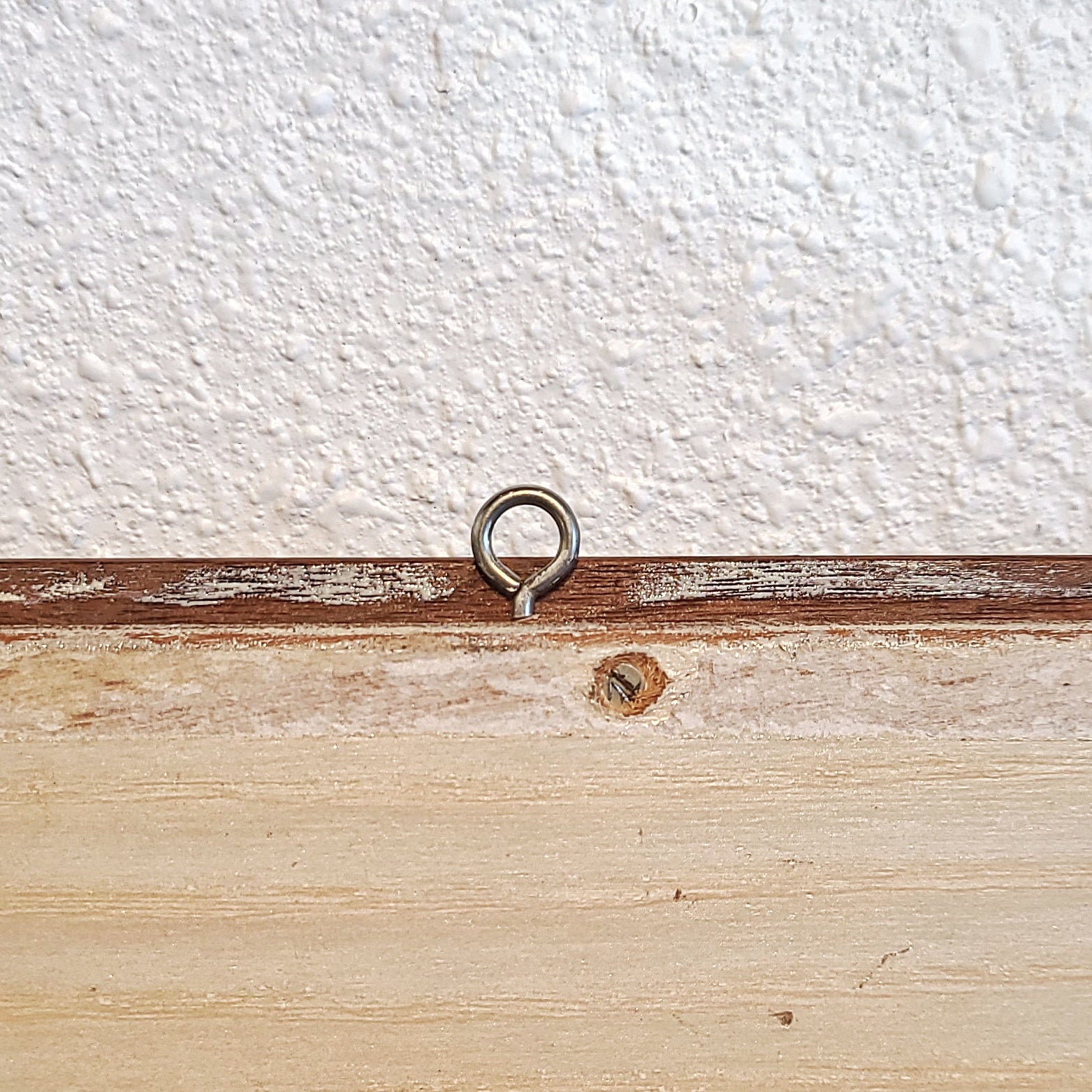 ANTIQUE BRAZILIAN BUTTERFLY WING TRAY (1920s)
CONTACT US HERE ABOUT THIS ITEM.
A strikingly beautiful butterfly wing tray made in Brazil in the 1920s. This fascinating object consists of various butterfly wings, laid out in intricate patterns, glued to a backing board, and pressed down under glass. The entire piece is set into a dark hardwood tray with lighter-toned inlay.  This particular piece has circular patterns of brown, burnt orange, pale blue, and yellow-toned wings of the Monarch and other butterflies, and features at its center a pair of beautiful blue iridescent Morpho butterfly wings.  Overall, it is in astoundingly good condition for its age.
Butterfly-wing art was a popular indigenous art form in Brazil and other parts of South America from the late 19th to mid-20th century. Surprisingly, there is little specific information that exists on its origin. However, there are accounts of sailors bringing trays, pictures, and jewelry decorated with butterfly wings home to the United States and Europe beginning in the late 1800s.
The hallmark of butterfly-wing artwork is the striking iridescent and luminous blue and green tones of the Morpho Butterfly's wings – they diffract and scatter light, making it appear to change colors. Morpho is a species of butterfly found in the rainforests of the American continent. Over the past century wealthy foreign collectors, fascinated with their exotic color, often sought out these creatures. For instance, it would not have been uncommon to find them in a "cabinet of curiosities" in 19th century America and Europe. In Brazil (and other countries), Morpho butterflies were farmed extensively for use in popular art forms brought on by tourism. 
Details
Dimensions

13ʺW × 20ʺD × 1.5ʺH
Styles

Abstract
Art Deco
Modern

Period

1920s
Place of Origin

Brazil
Item Type

Vintage, Antique or Pre-owned
Materials

Taxidermy
Wood
Condition

Good Condition, Restored, Some Imperfections
Color

Brown
Condition Notes

Excellent Vintage Condition. Backboard Replaced.Due to Water Damage..