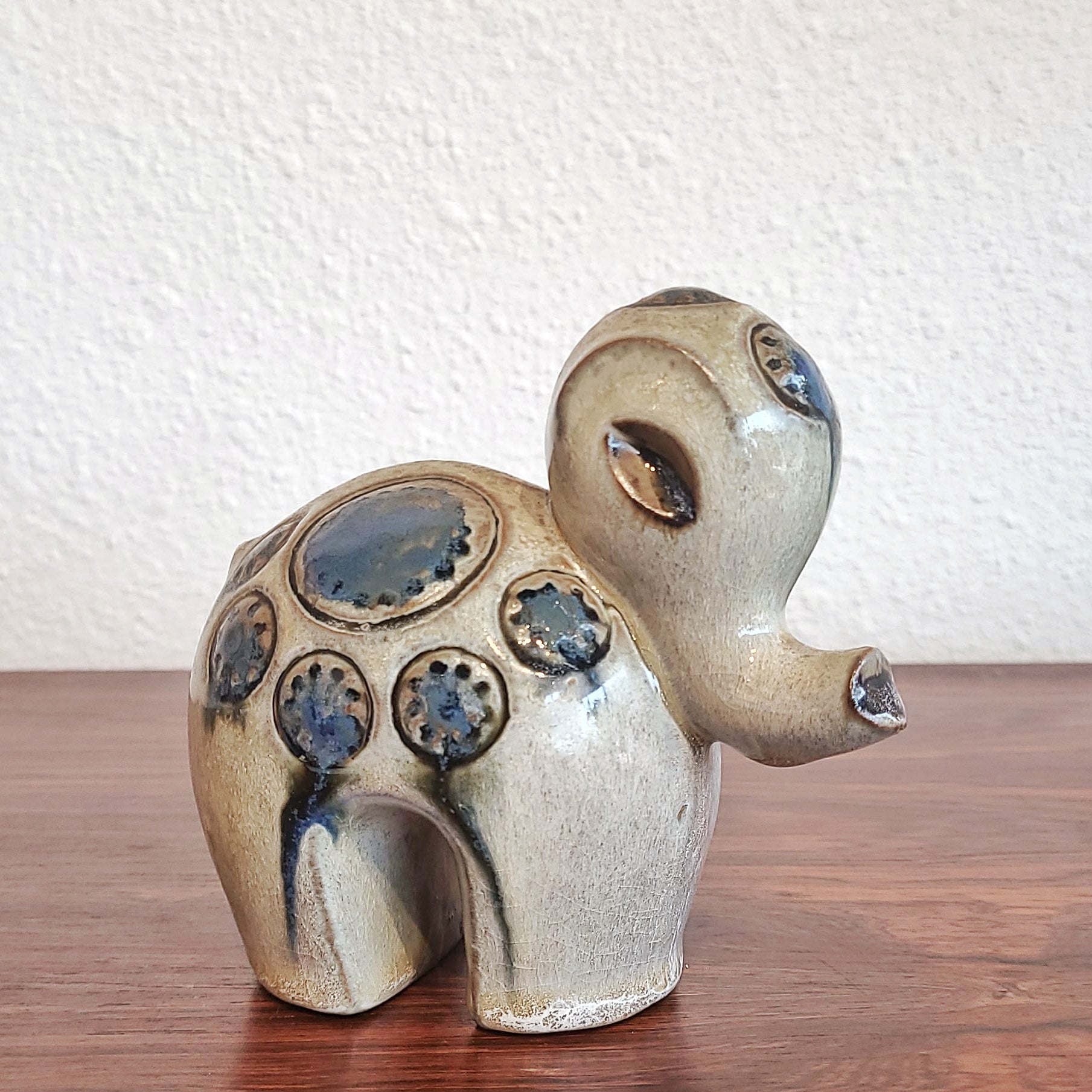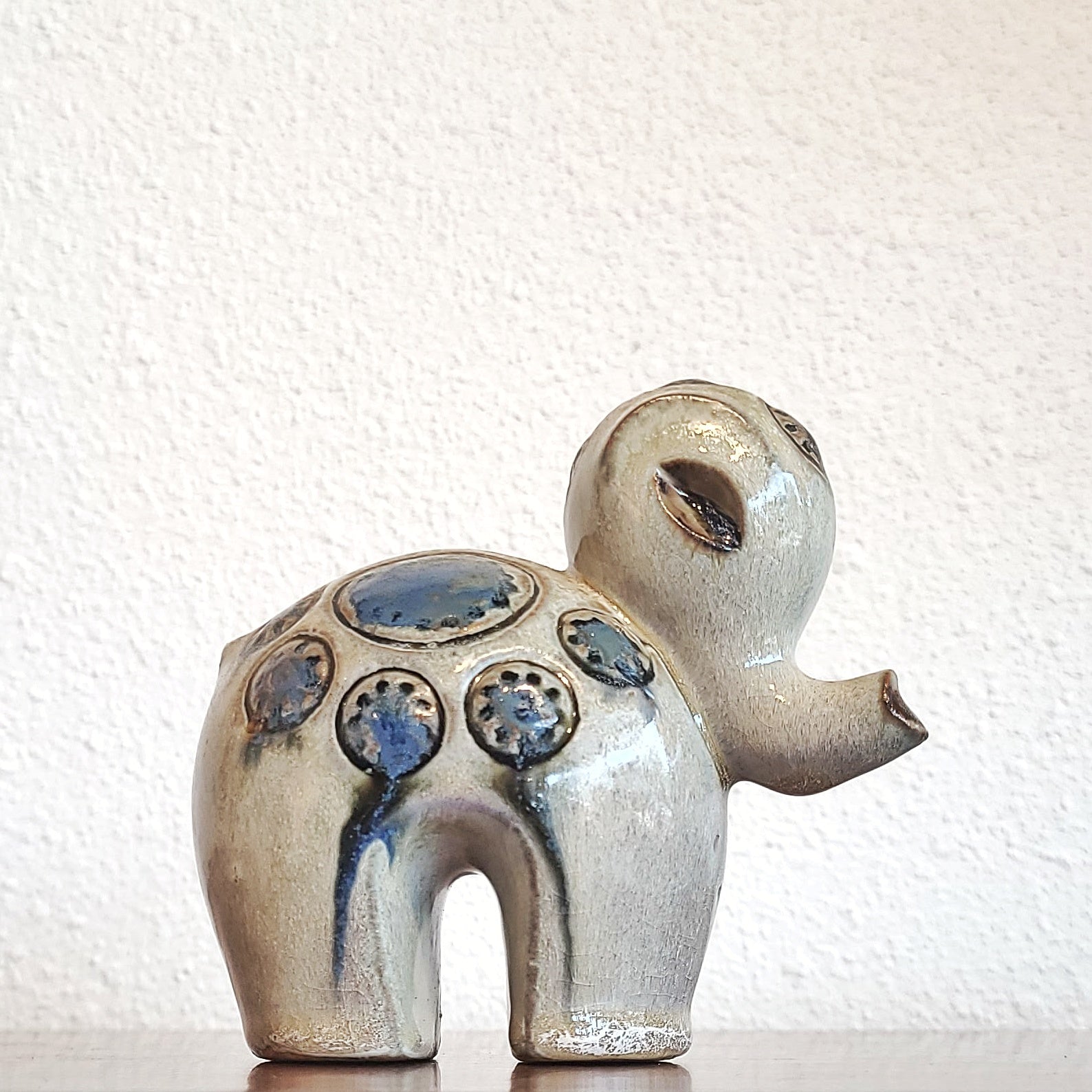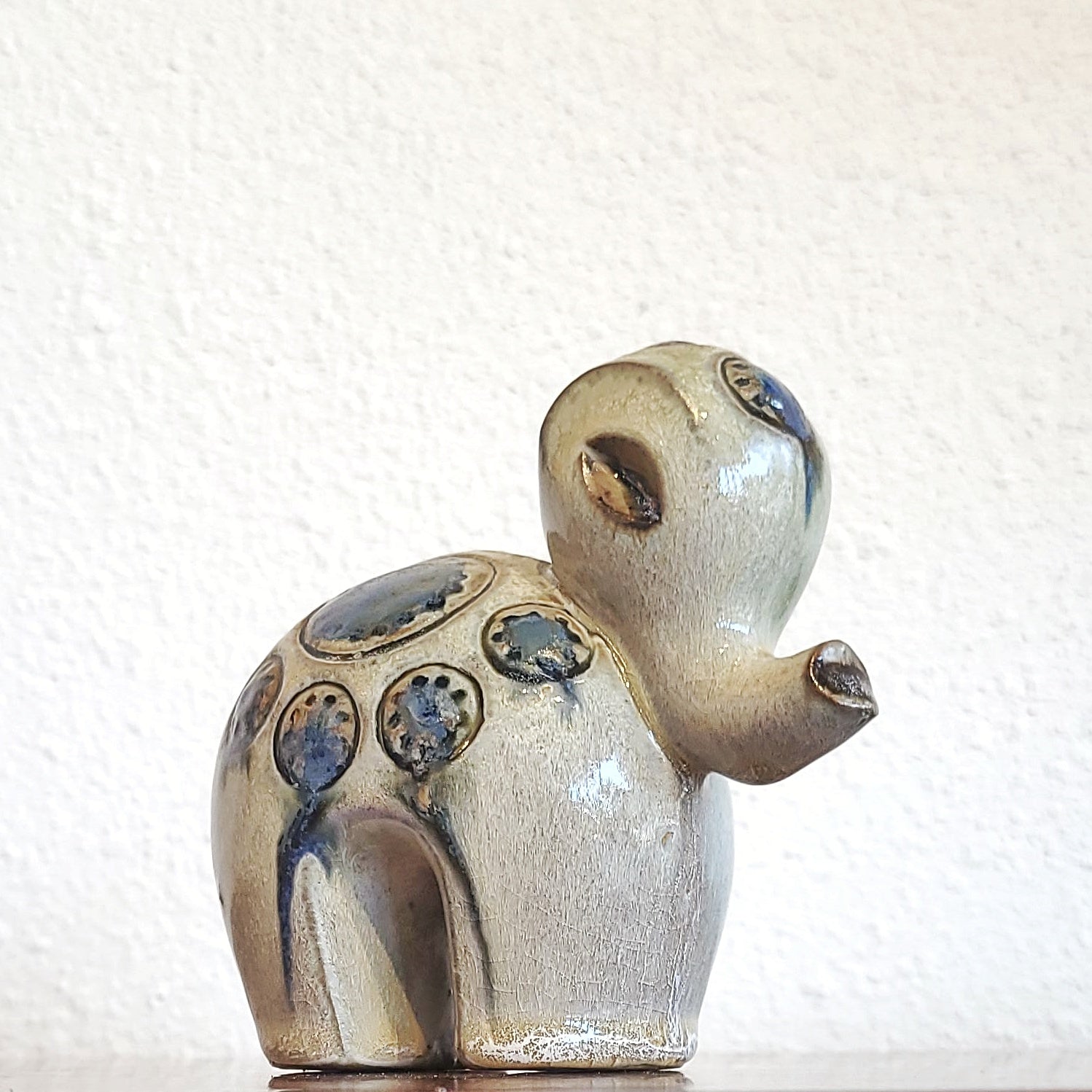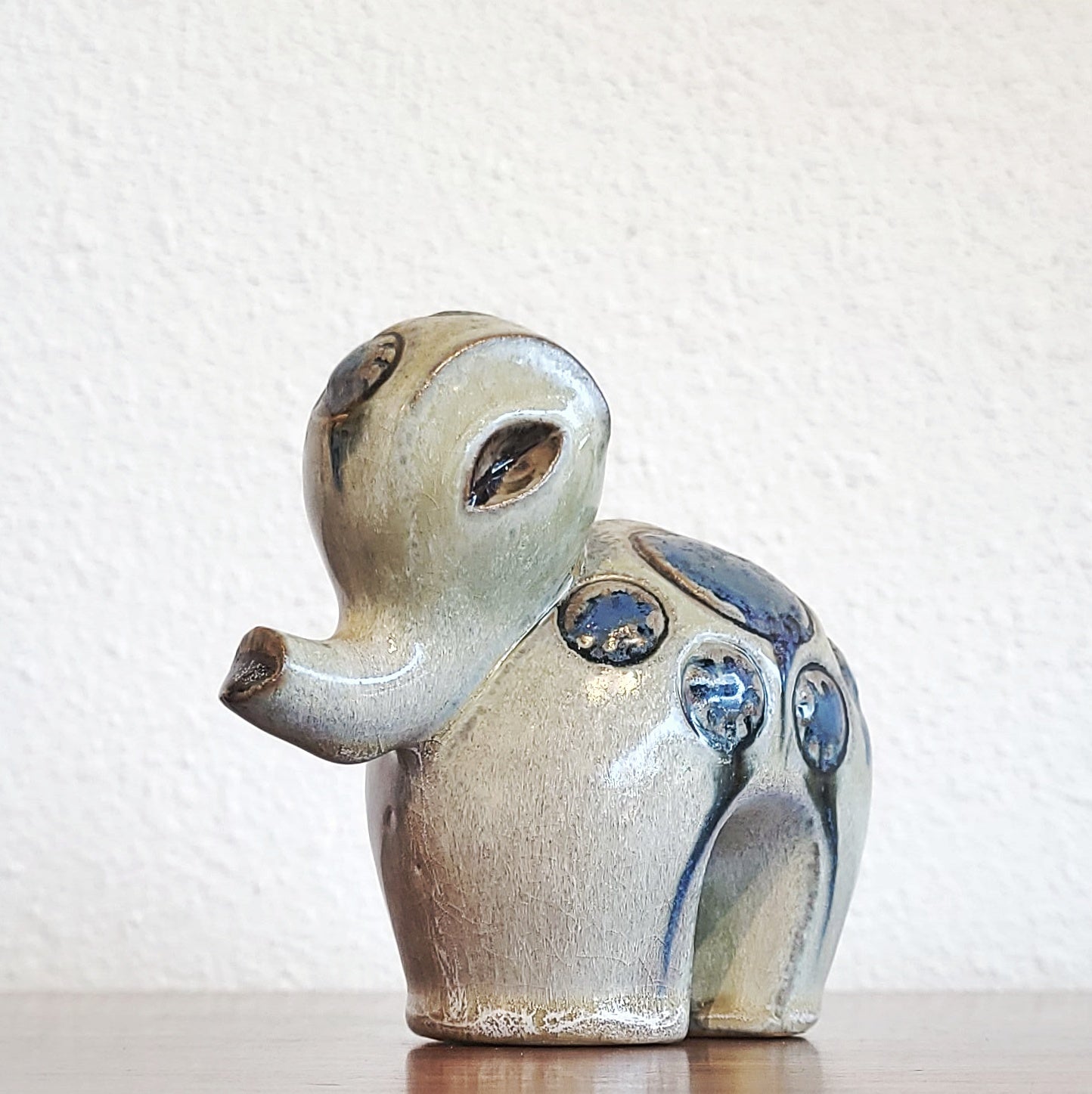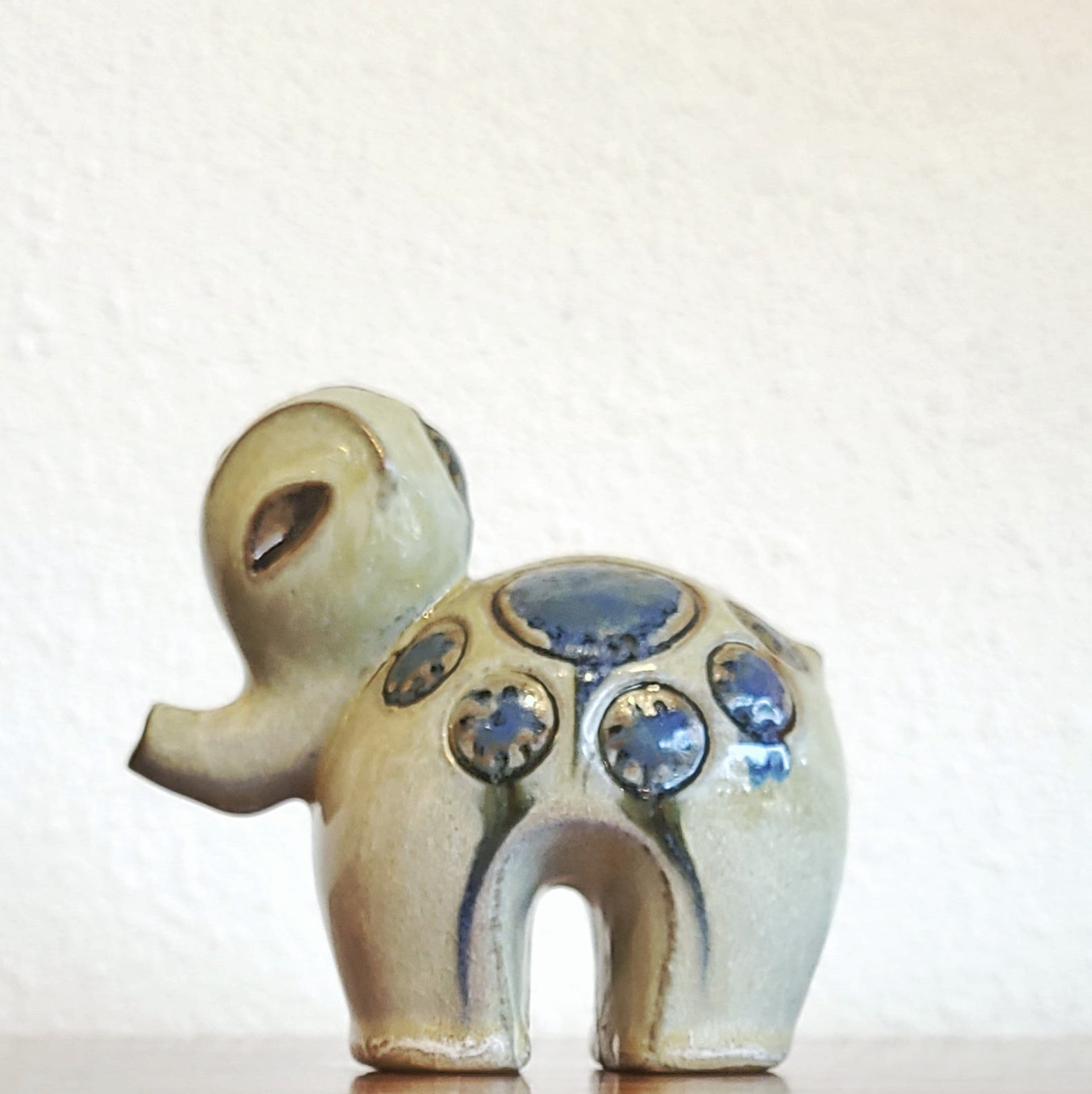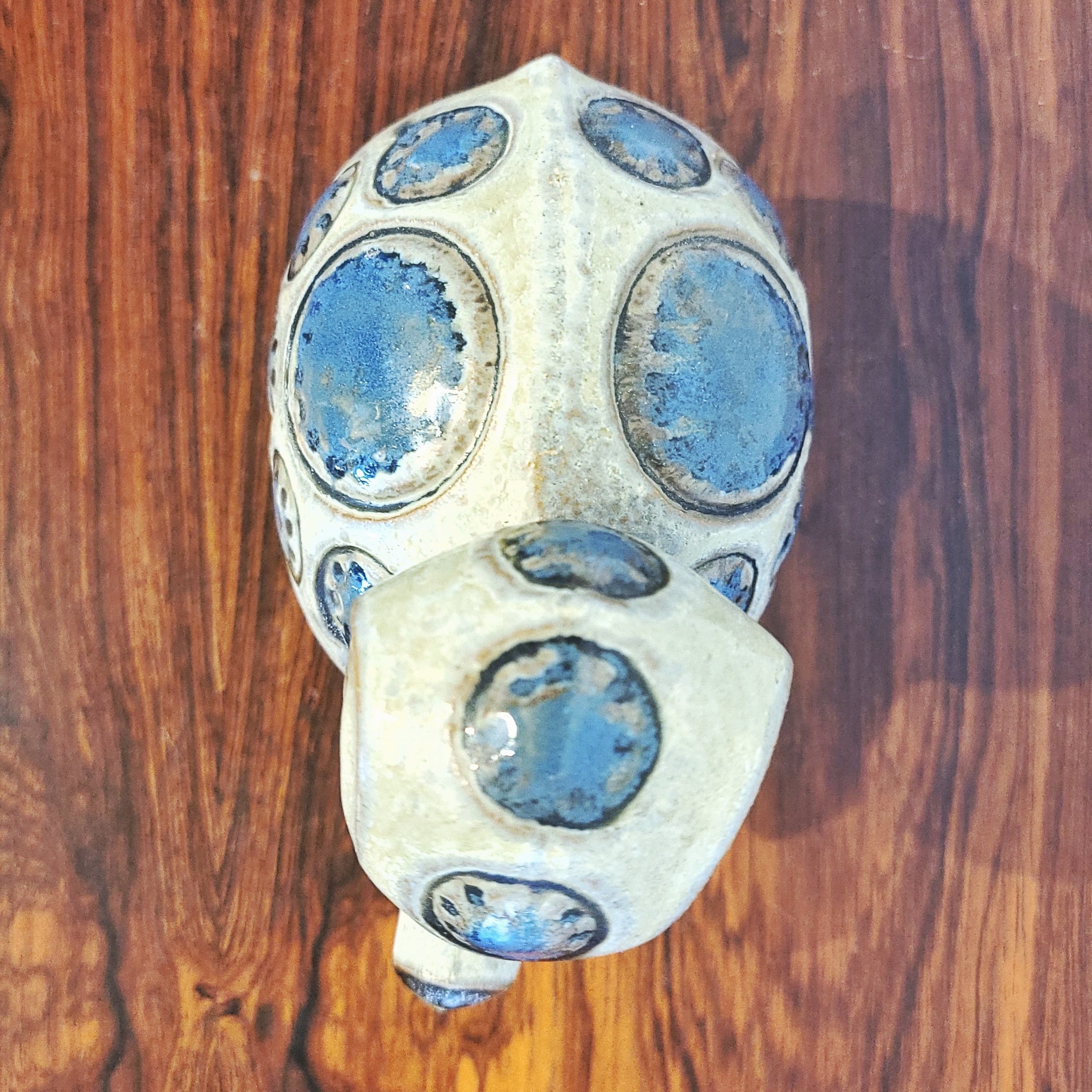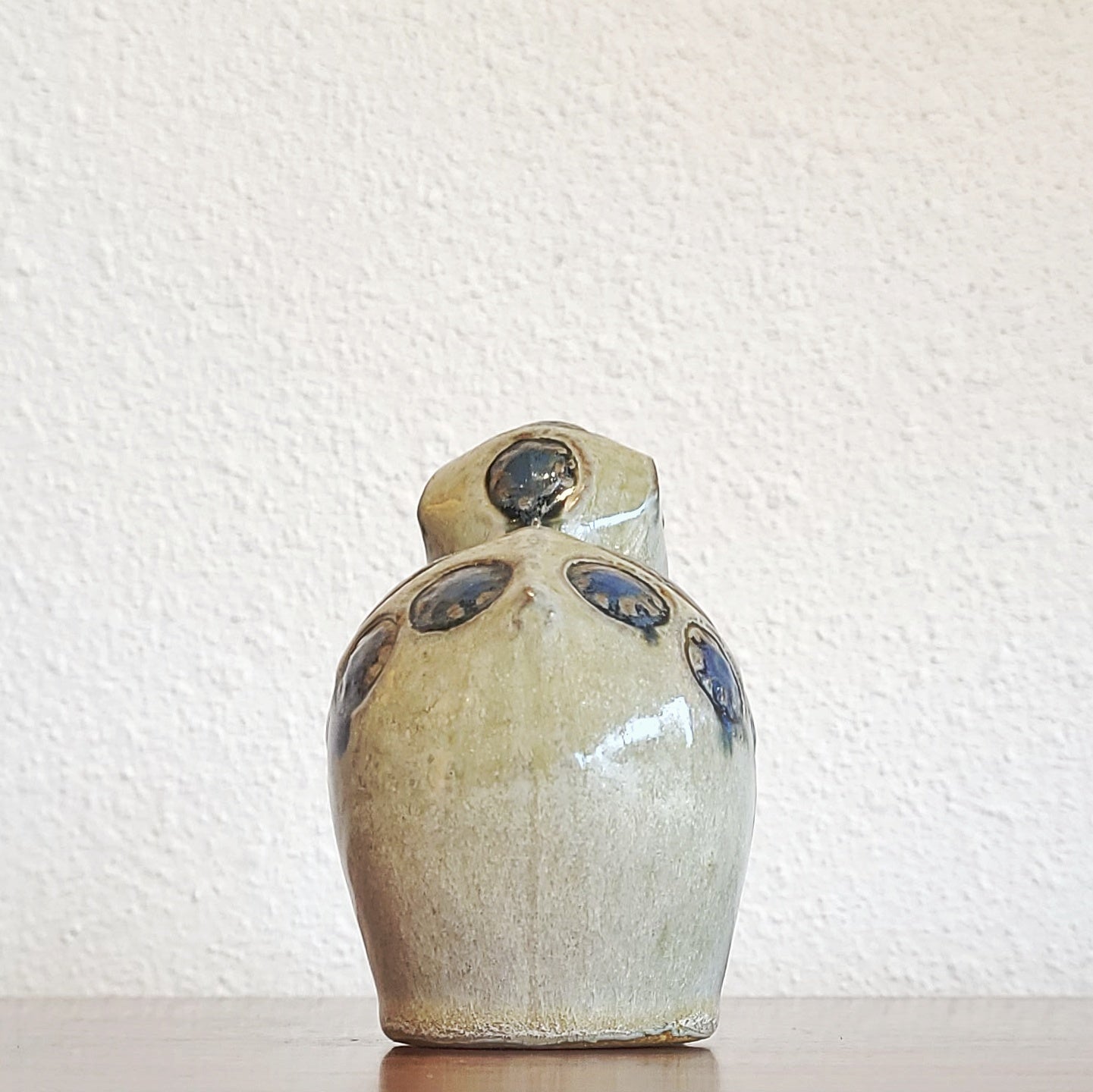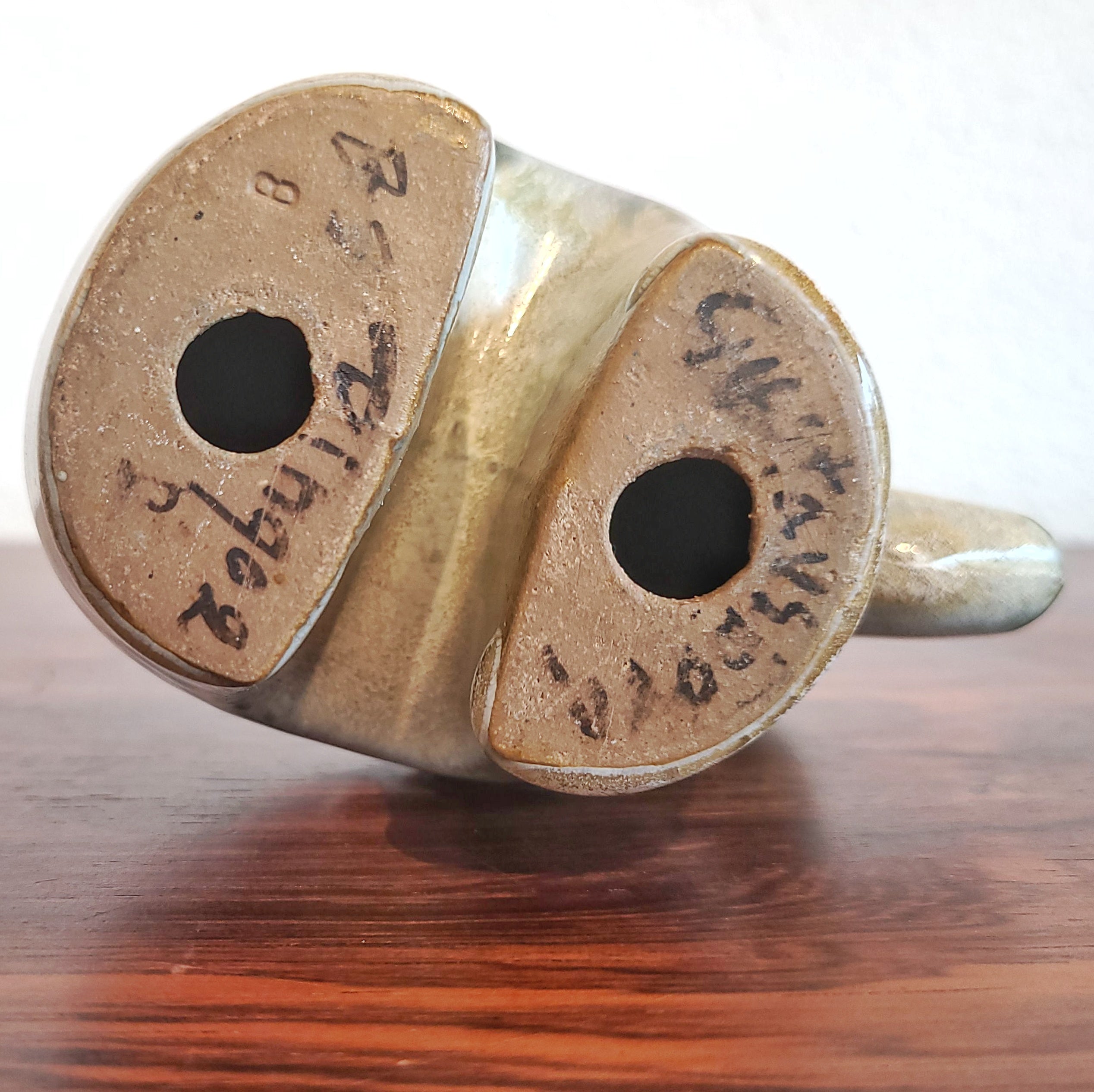 BRITT-LOUISE SUNDELL 'RINGO' SERIES ELEPHANT FOR GUSTAVSBERG (SWEDEN)
CONTACT US HERE ABOUT THIS ITEM.
This beautiful modernist elephant figurine is made of stoneware with glazed geometrical decorations. It was designed by Britt-Louise Sundell in the 1960s as part of the 'Ringo' series for Gustavsberg. It is in superb condition without chips, cracks, or repairs.  Signed: "BS, Gustavsberg Ringo 2.

BRITT-LOUISE SUNDELL (1928-2011) is known as one of the most renowned representatives of the illustrious Swedish ceramic design industry of the 20th century. She is well known as one of the leading designers for the famous Gustavsberg factory in the 1950s and 1960s.  Sundell was born in Västerås, Sweden to Torsten Sundell and Märta Pettersson, and grew up in the city of Ludvika from 1937.  After studying at the Art College's day school and then with Edgar Bröckman at Konstfack, the University of Arts, Crafts, and Design from 1950–1954, Sundell was hired as a designer at AB Gustavsberg's factories where she worked until 1984.  In addition to household porcelain, she designed pieces in chamotte stoneware with a vegetative decor, often in the form of carvings.  She also worked with plastic and glass. Her works include the series Berit, Mushroom, Ingarö, Kadrilj, Nät, Pastill, and Rustik. She made ceramic tiles for wall decorations, and in 1960 she created several wall decorations for the Co-operative Association's test kitchen. In 1961, she was awarded a diploma from The Swedish Craft Association for a set of glass vases she designed for Målerås Glassworks, and in the same year, she was awarded an iron forging commission in a competition for an artistic decoration for Stockholm subway.  The grille was later mounted at the Mariatorget metro station, and in terms of form, it is closely related to the carved decors on her ceramic objects, as well as a baptismal font in ceramics for Markaryd parish 1970. Until 1997, there was a forged iron gate in the hallway towards Klara church by Sundell that was later moved to Hammarbydepån.
She participated in Bing & Gröndahl's handicraft exhibition in Copenhagen in 1960 and the Young Scandinavian handicraft exhibition at the Museum of Contemporary Crafts in New York.  She was awarded a prize for her work as well as international handicraft exhibitions in several places in Europe.  Separately, she debuted with an exhibition at Gustavsberg in Stockholm in 1962 and followed that up with a separate exhibition at Forum in Uppsala in 1964.  In the intervening year she also got married to the artist Endre Nemes  Sundell is represented at the National Museum of Fine Arts in Stockholm,  the Kalmar Art Museum, the Laholm Drawing Museum, Moderna Museet, the Trondheim Museum, Saltsjöbaden, Västerås Art Museum, and in Brno in the Czech Republic, and the Austrian Museum of Applied Arts in Vienna.
In 1979 she began to freelance, working mainly in the media of drawing, collage, and graphics, and to show her work in numerous solo exhibitions within Sweden, as well as in Bochum and Inzlingen in Germany.  When she left Gustavsberg in 1984 her participation in exhibitions almost became her new full-time occupation, including about ten in Stockholm, Linköping 1982, Gothenburg 1989, Hallstahammar and Sala 1991, Olofström 1991-93, Norrköping 2000-05, Uttersberg 2000-02, Ystad 2002. Internationally she participated in the exhibition called 'Life on Earth' 1986-1987, the exhibition 'Mini Print International' in Spain for several years between 1988 and 2004, and various other exhibitions in Japan, England, France, and the Czech Republic.  Britt Louise-Sundell passed away in 2011.
Details

DIMENSIONS

5ʺW × 2.75ʺD × 4.5ʺH
STYLES

Boho Chic
Figurative
Modern

BRAND

Gustavsberg
PERIOD

1960s
PLACE OF ORIGIN

Sweden
ITEM TYPE

Vintage, Antique or Pre-owned
MATERIALS

Stoneware
CONDITION

Very Good Condition, Original Condition Unaltered, No Imperfections
COLOR

Light Gray
CONDITION NOTES

Excellent Vintage Condition