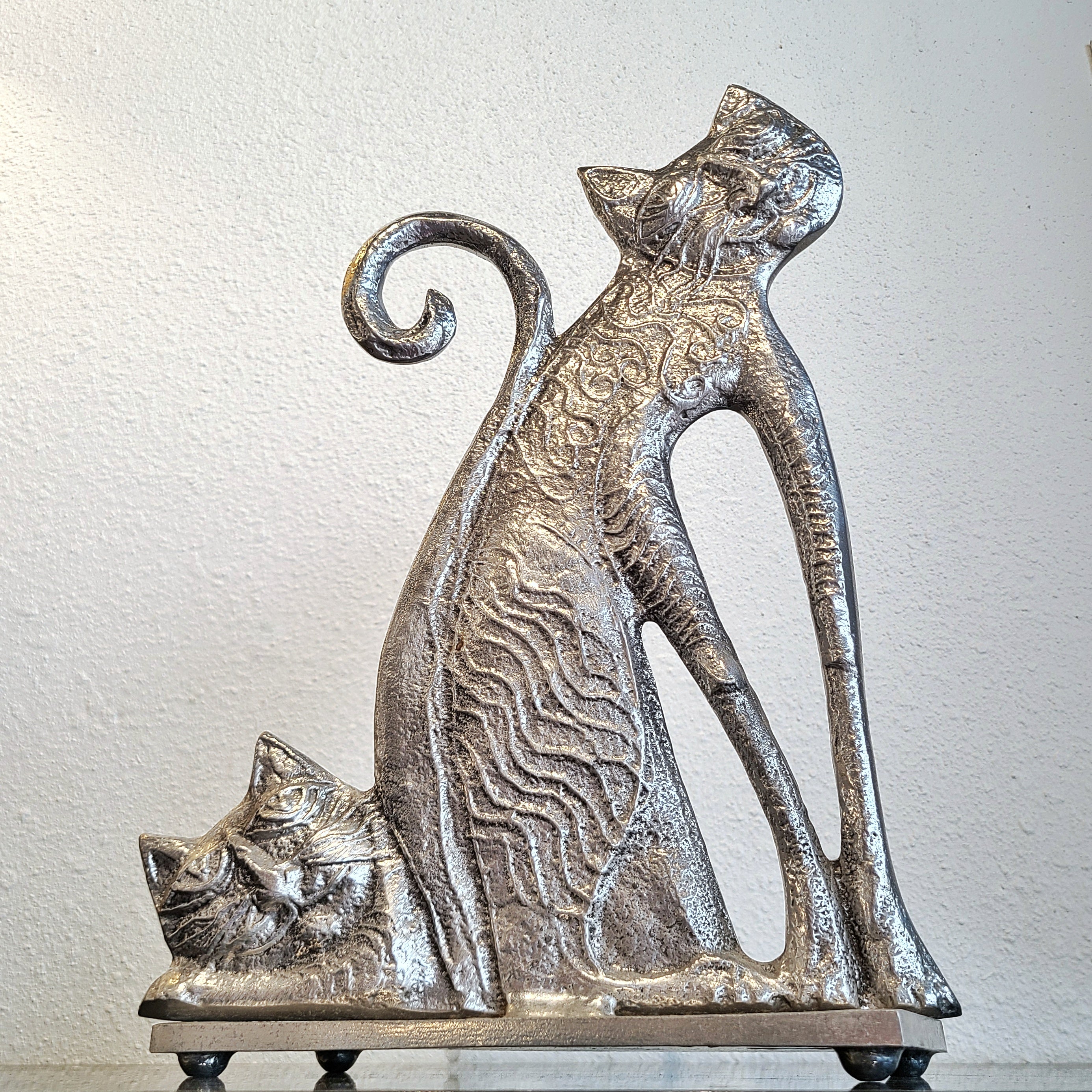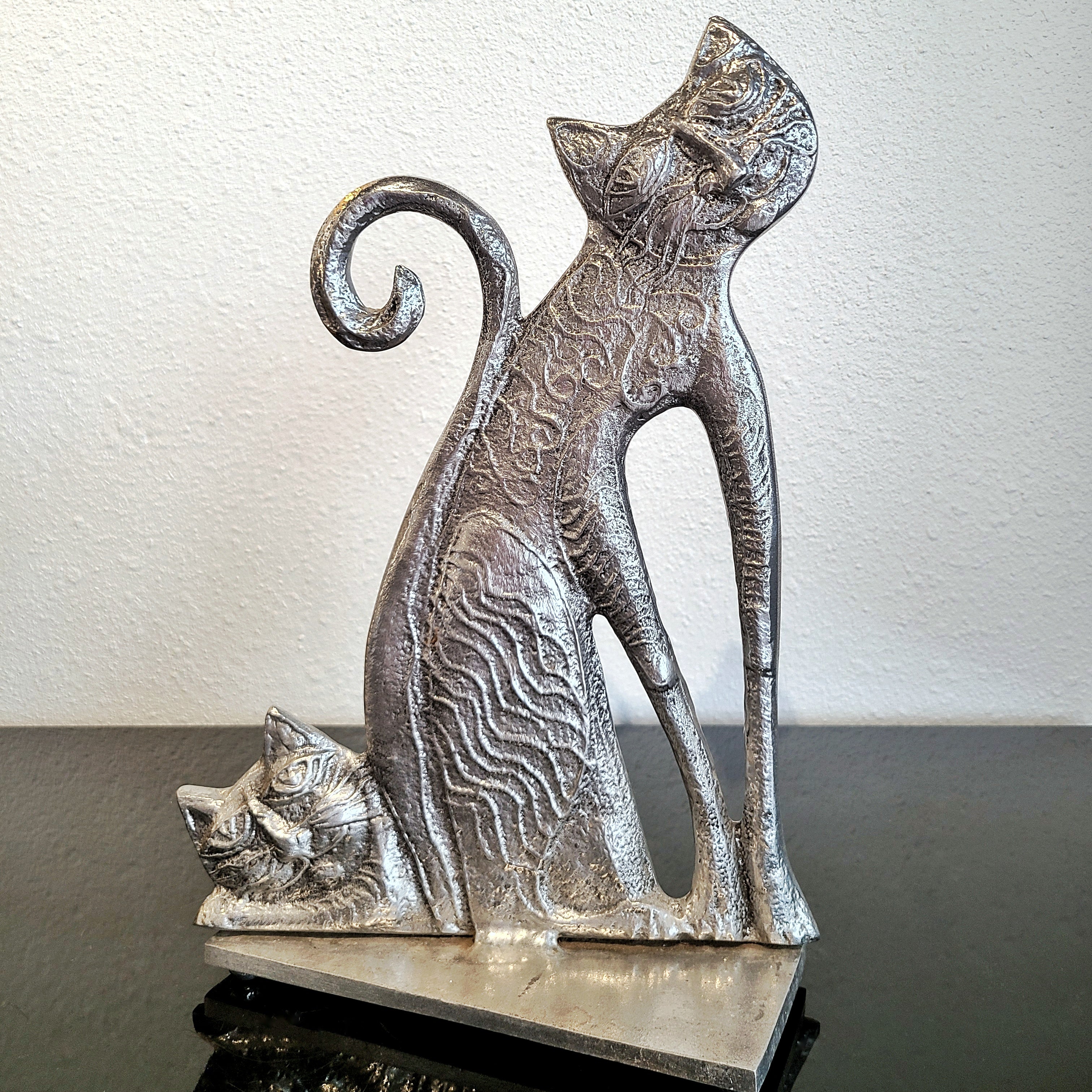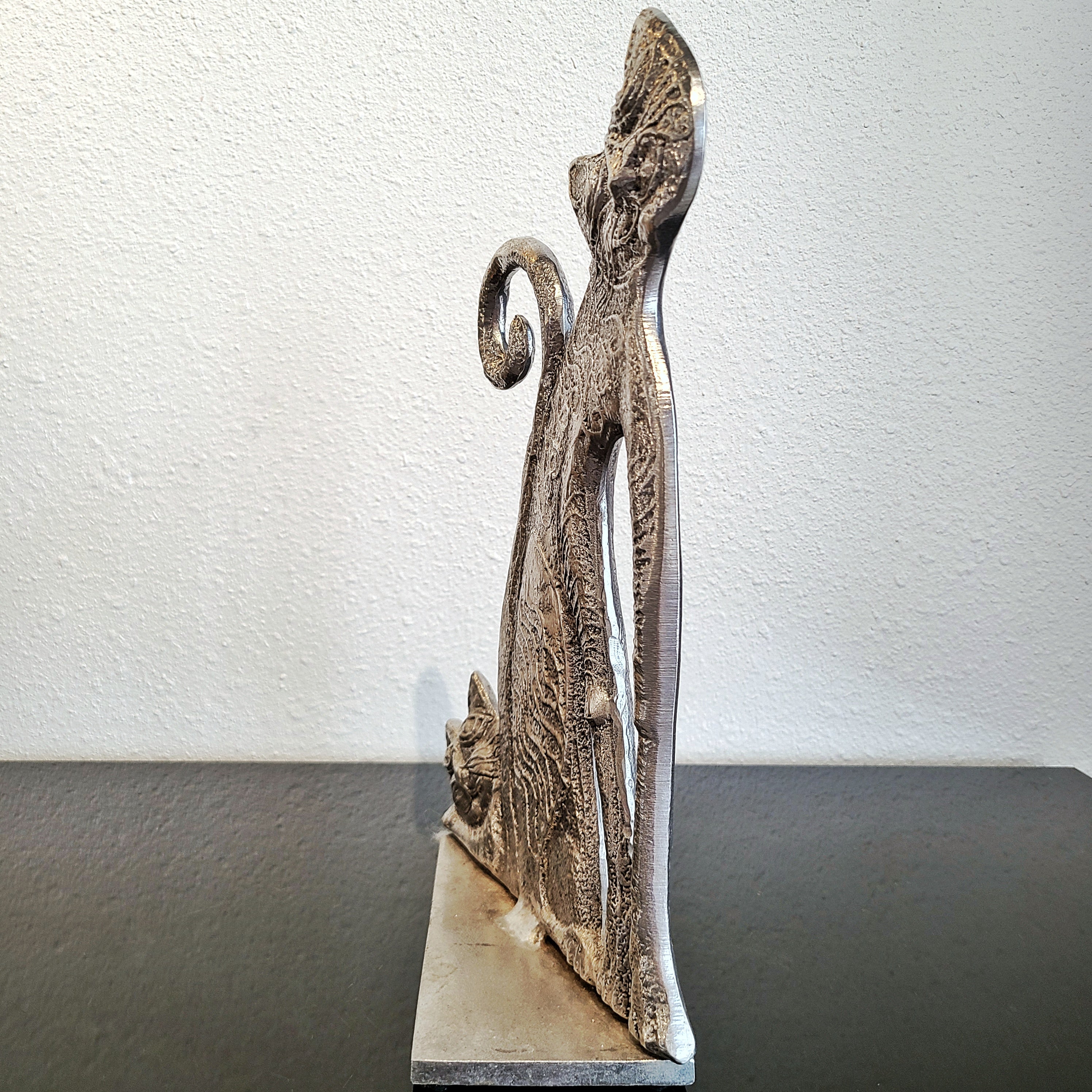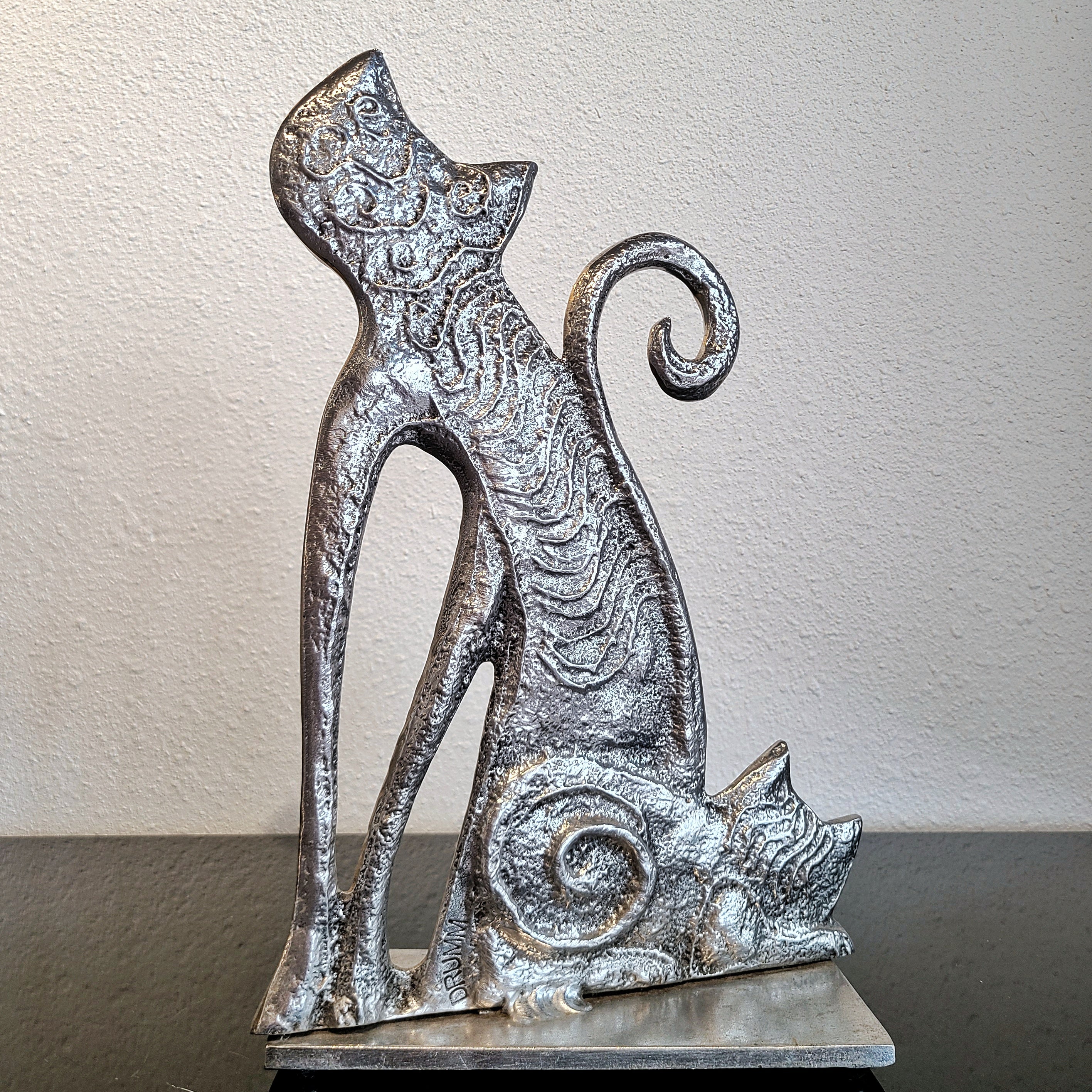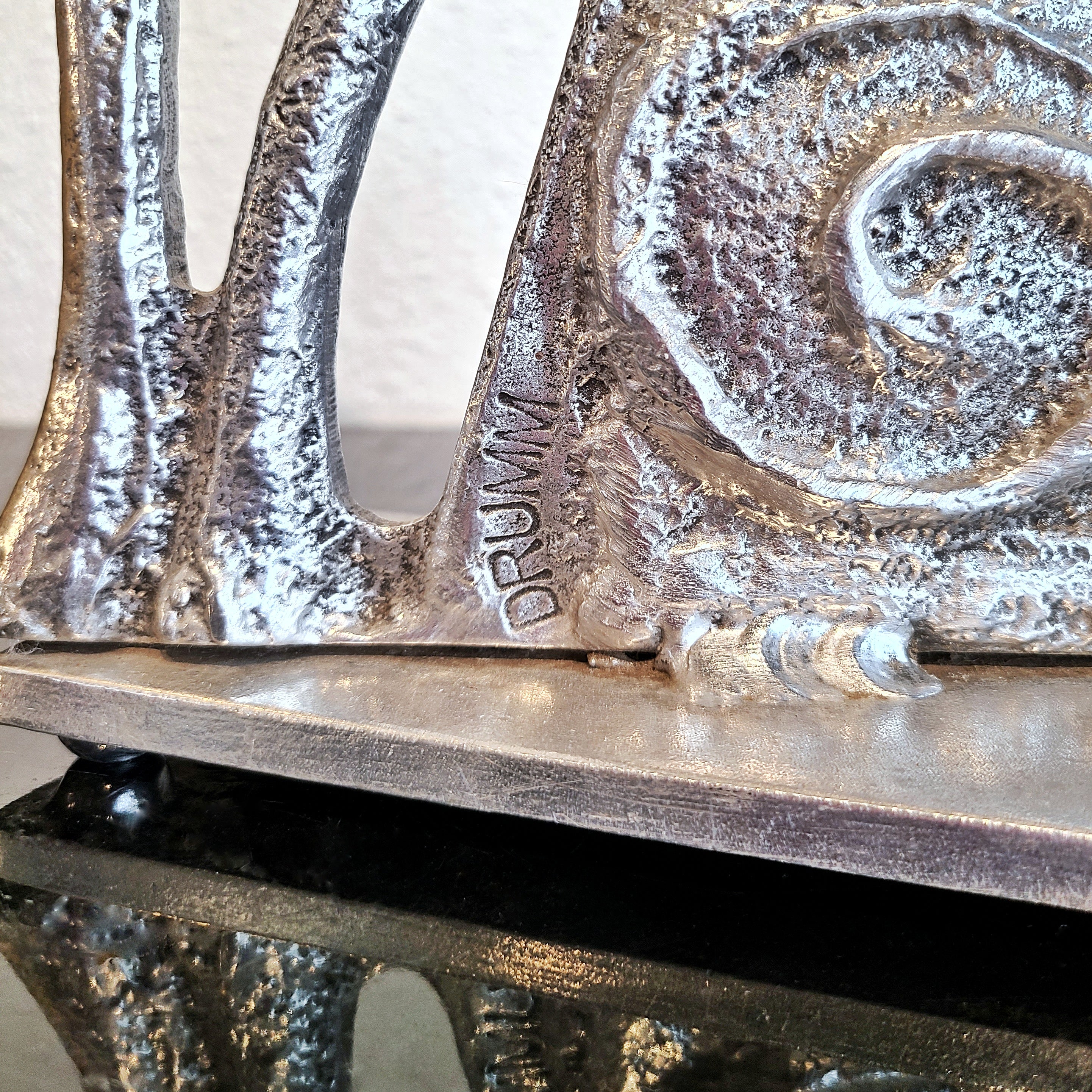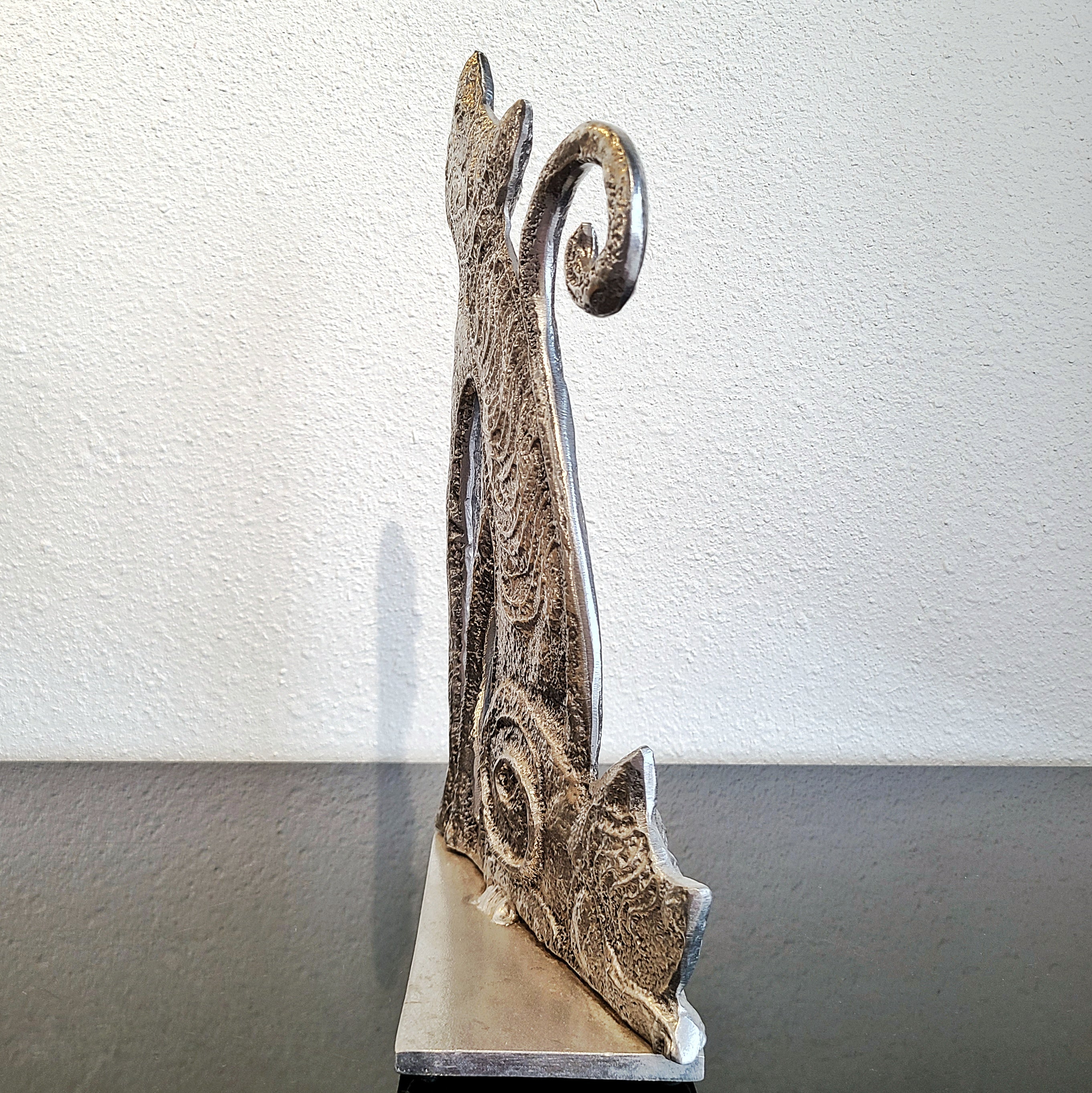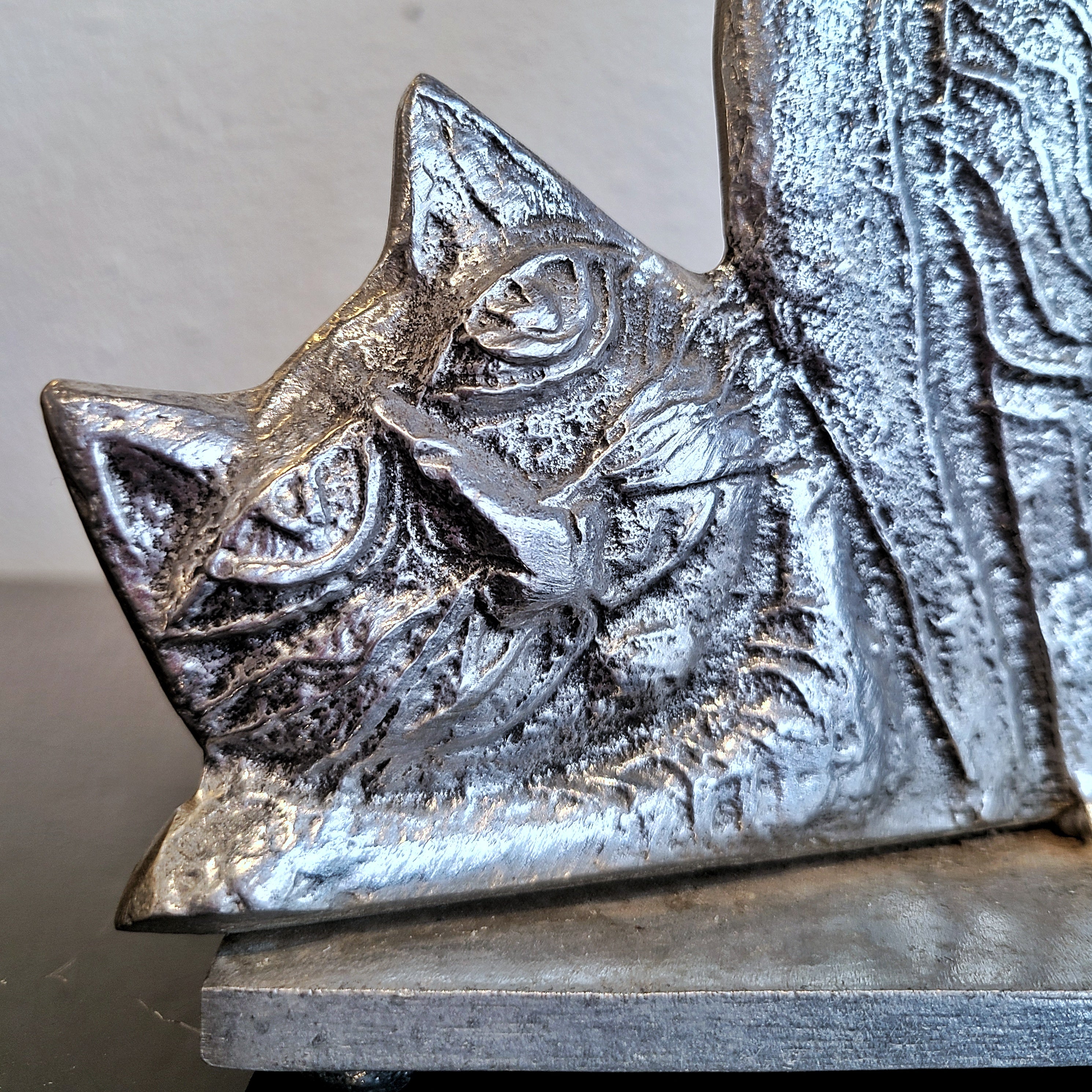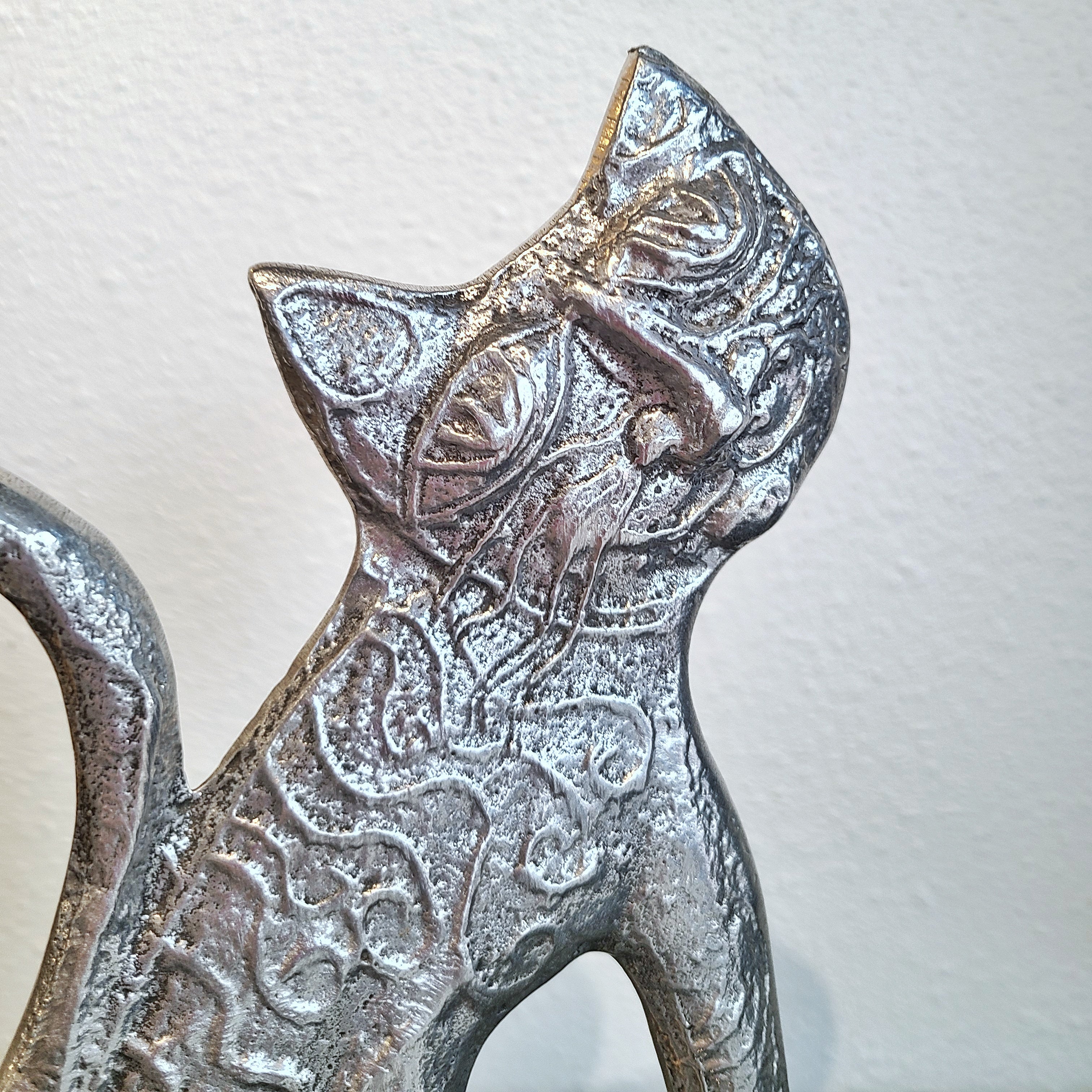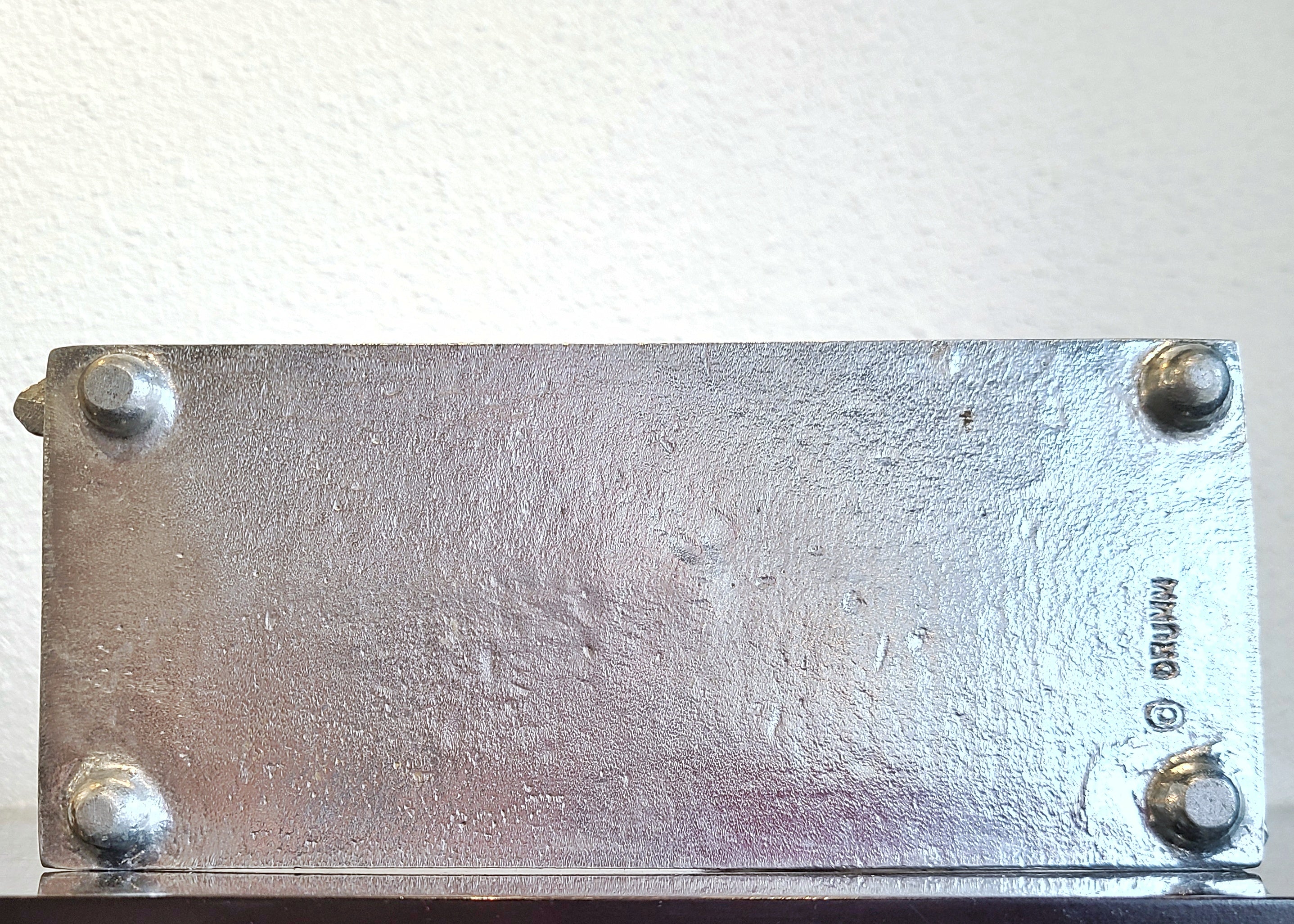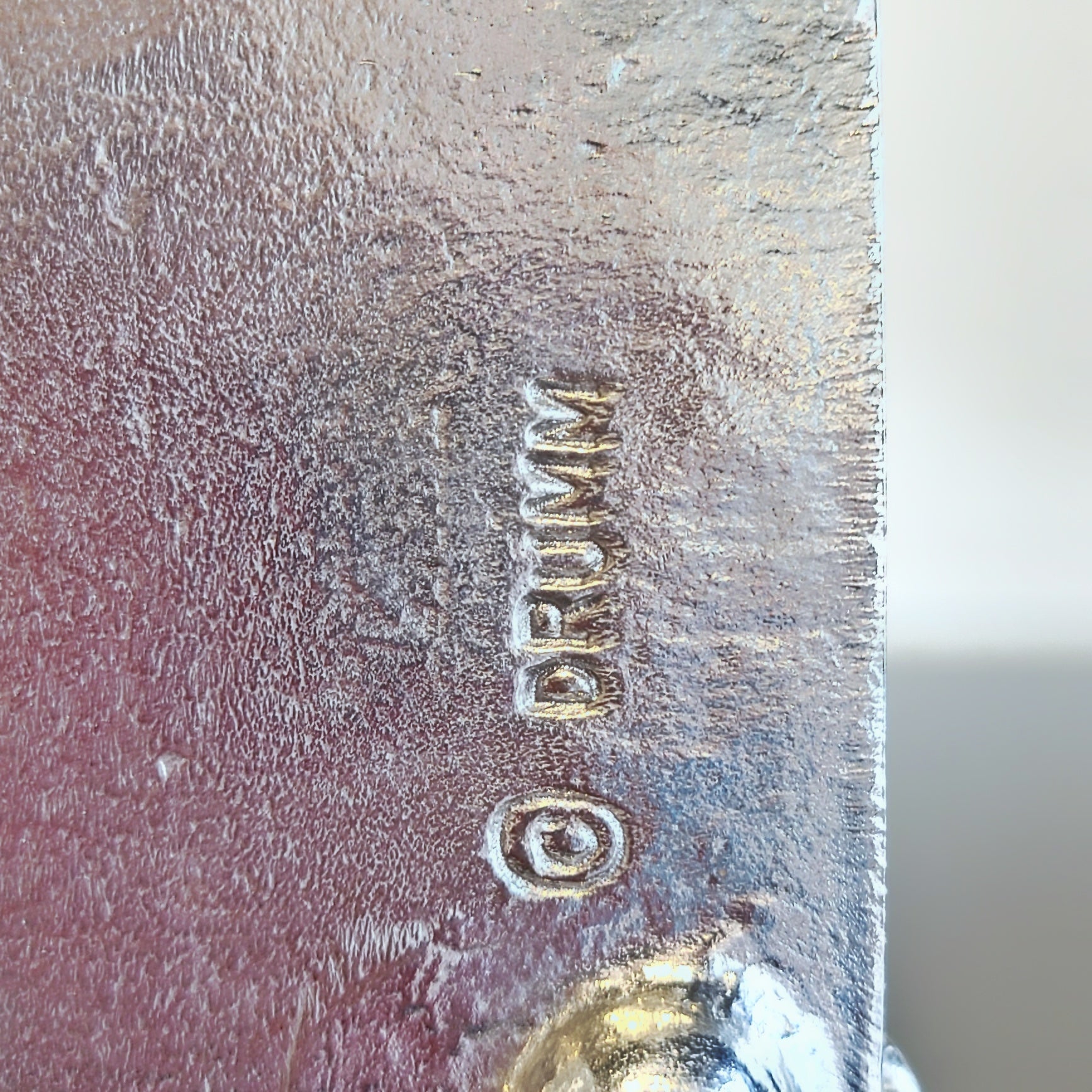 DON DRUMM SAND-CAST ALUMINUM 'CATS' DOORSTOP
CONTACT US HERE ABOUT THIS ITEM.
A clever doorstop by Don Drumm from the 1970s in the form of two cats. This whimsical aluminum sculpture was made by hand using the sand-casting method for which Drumm is best known.
---
DONALD "DON" DRUMM (b. 1935) is an American sculptor and master craftsman working mostly in metal. Born in Warren, Ohio, in 1935, Drumm briefly studied medicine before pursuing an art education at Kent State, where he earned his B.F.A and M.A. He was subsequently employed for two years as a modeler by the industrial design firm Smith, Scherr & McDermott in Akron, Ohio. It was here he was introduced to the techniques of sand-casting. Laid off in 1960, when the firm shifted its focus, Drumm opened the Akron studio where he practices to this day. About ten years later, the studio was expanded to incorporate a small gallery, where functional and decorative pieces for the home are sold. The enterprise has since grown extensively; it now encompasses eight buildings, providing gallery facilities for over 500 artists and studio space for three full-time residents.
Drumm is noted for his innovative use of contemporary building materials in the creation of arts and crafts. In the late 1950s, he pioneered cast aluminum as an artistic medium. Steel and pewter are also well-represented in his oeuvre. He continues experimenting and creating to this day.
The 1960s brought teaching opportunities for Drumm and his wife Lisa (née Plavcan), herself a fabric artist. They began to spend a few weeks each summer at the Penland School of Craft in the Blue Ridge Mountains of North Carolina. There, he taught sculpting, welding, and casting, and she taught fiber arts. In 1965, Drumm began a six-year residency at Bowling Green State University in Ohio. Charged with beautifying the campus, he produced one of his most monumental works: a ten-story indoor/outdoor mural sandblasted onto the east facade of the school's Jerome Library.
In 1967, Drumm was asked to design a sculpture at his alma mater, Kent State. His response was a 15-foot-tall piece, Solar Totem, comprised of over 100 steel tiles, installed outside the school's Taylor Hall. (The sculpture was famously pierced by a bullet during the notorious Kent State shootings in 1970. Every spring, the sculpture is adorned with daffodils in memory of the victims.) Public works in Akron by Drumm include a mural at the city's Children's Zoo, a brushed aluminum sun and moon watching over its Public Library, and the Garden of Fantasy sculpture at the Jean and Milton Cooper Cancer Center.
Drumm has received numerous honors along the way, including a lifetime achievement award from Ohio Designer Craftsmen and an "Outstanding Contributors of the Century" award from the Akron Beacon Journal. He was the inaugural recipient of both the "Outstanding Visual Artist Award" from the Akron Area Arts Alliance and the "Artist and Craftsman Excellence" award from the American Institute of Architecture (AIA). The Drumms have established the Don and Lisa Drumm Endowed Scholarship Fund for the School of Art at the University of Akron, to be awarded to students with artistic talent and financial need.
---
I feel like I'm part of an industrial age and should be using as many of those techniques as I can. — Don Drumm
---
DETAILS
Designer – DONALD DRUMM
Design Period/Year – 1970s
Origin – USA
Styles/Movements – FIGURATIVE; MODERN
Materials – ALUMINUM
Colors – SILVER
Condition – Excellent vintage condition. Minor wear consistent with age and use.
Dimensions – 10 ¼" W × 3 ¾" D × 15 ¼" H