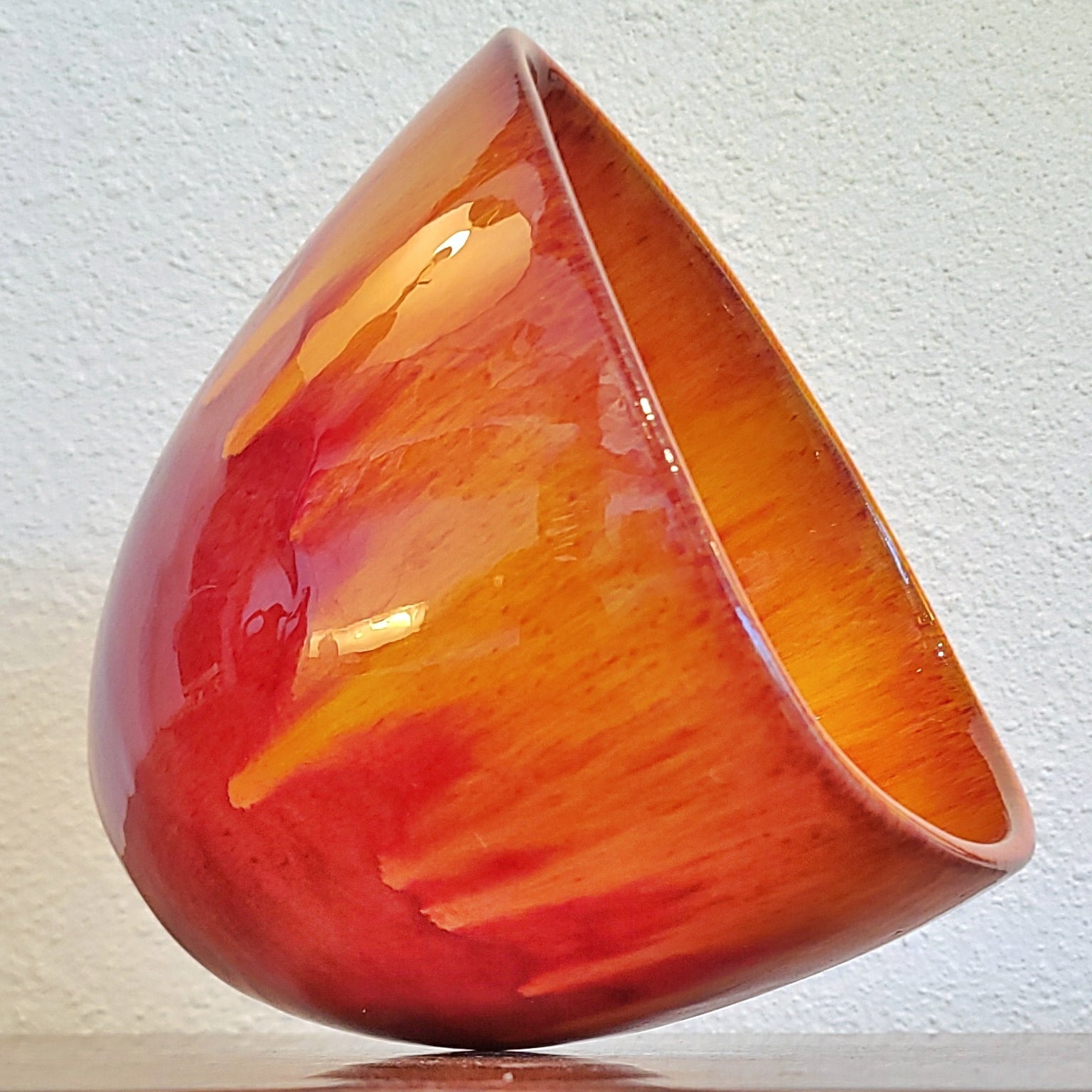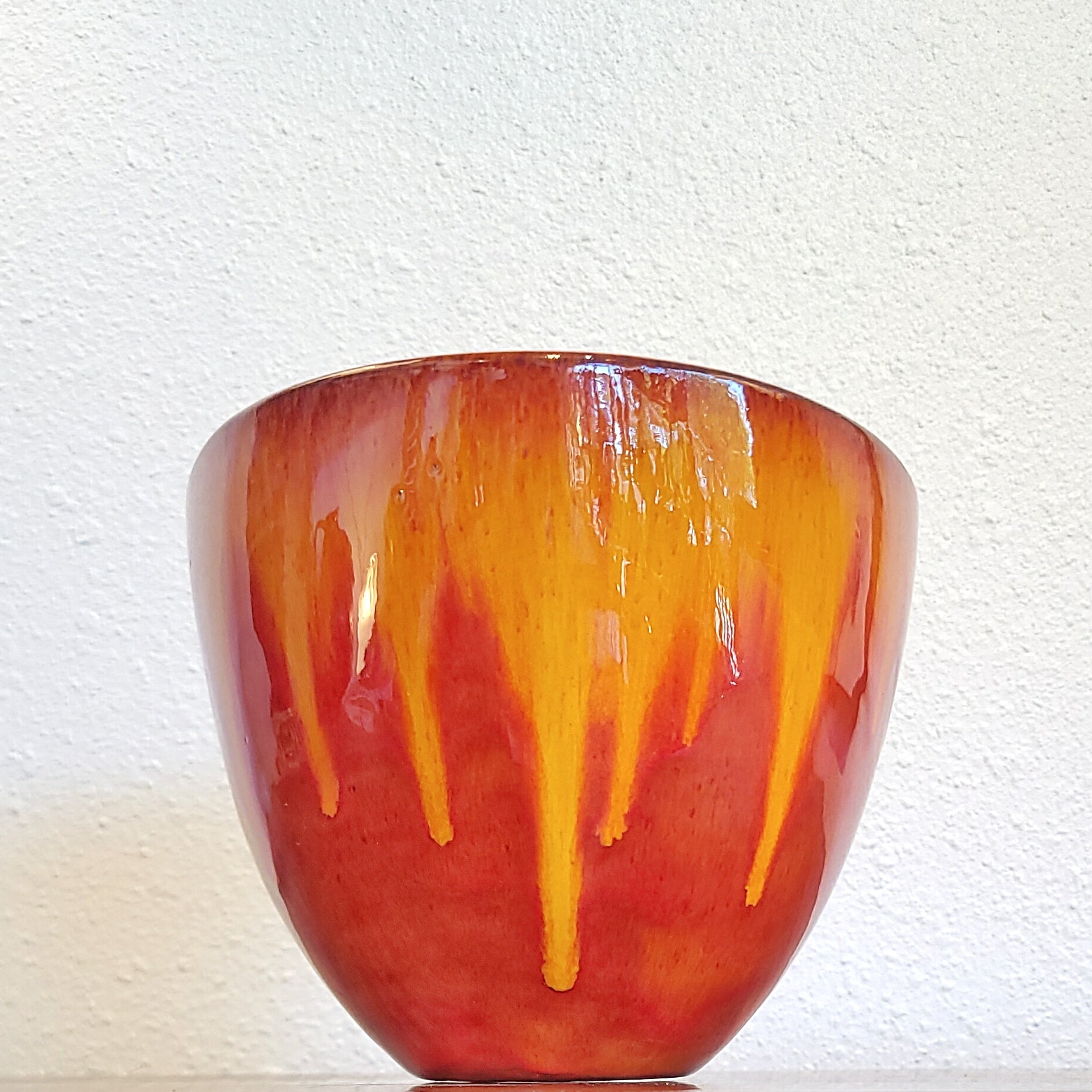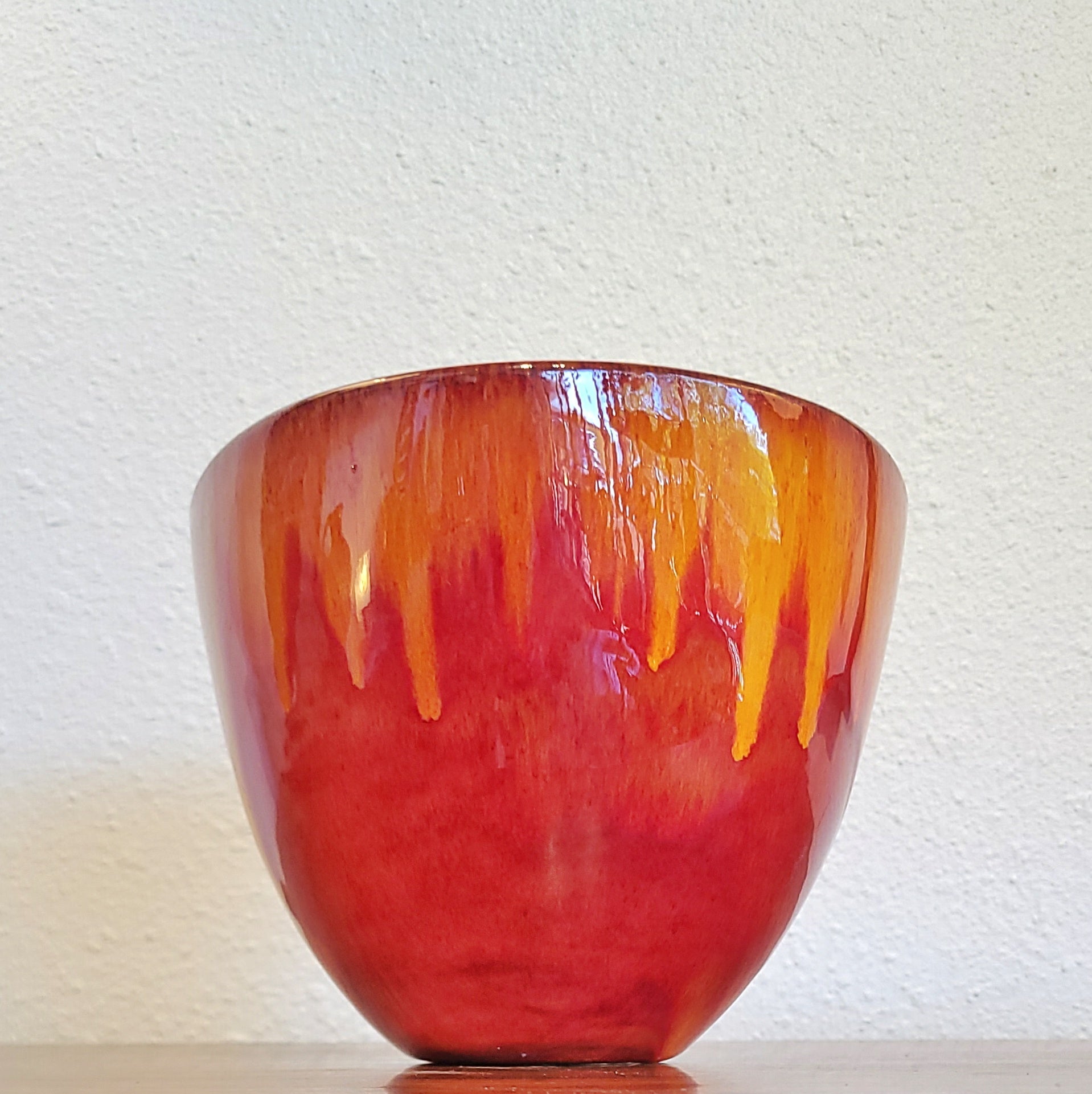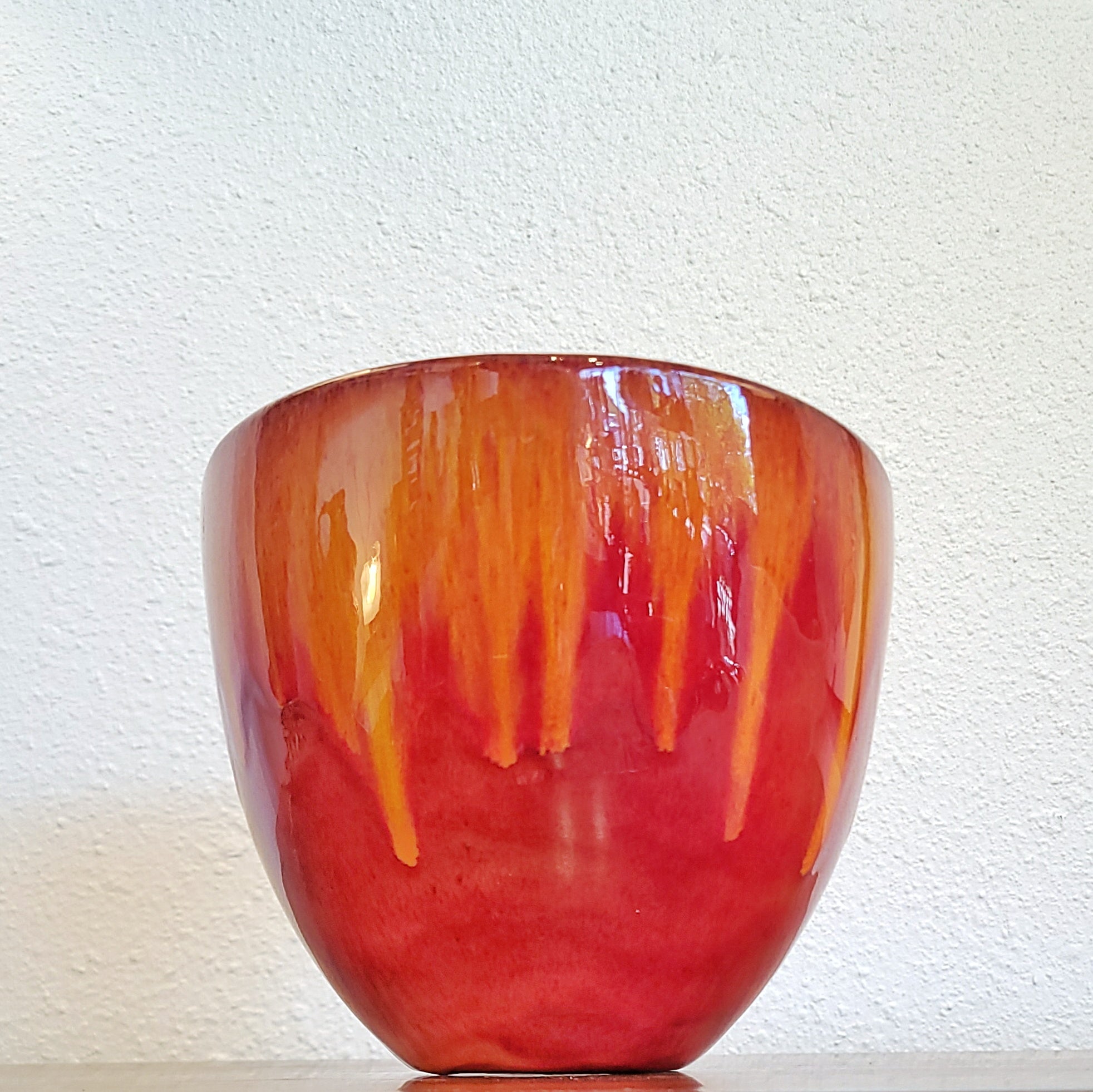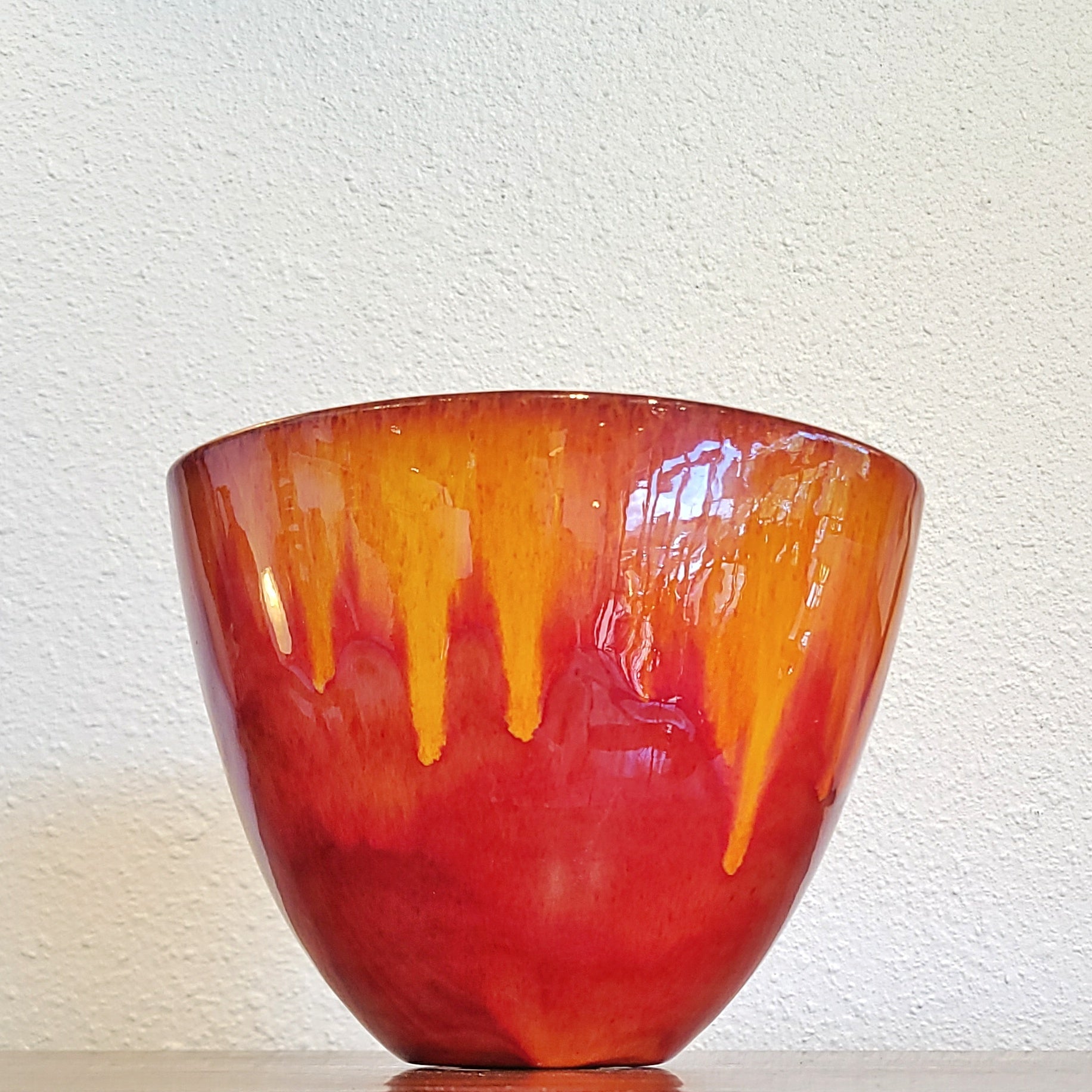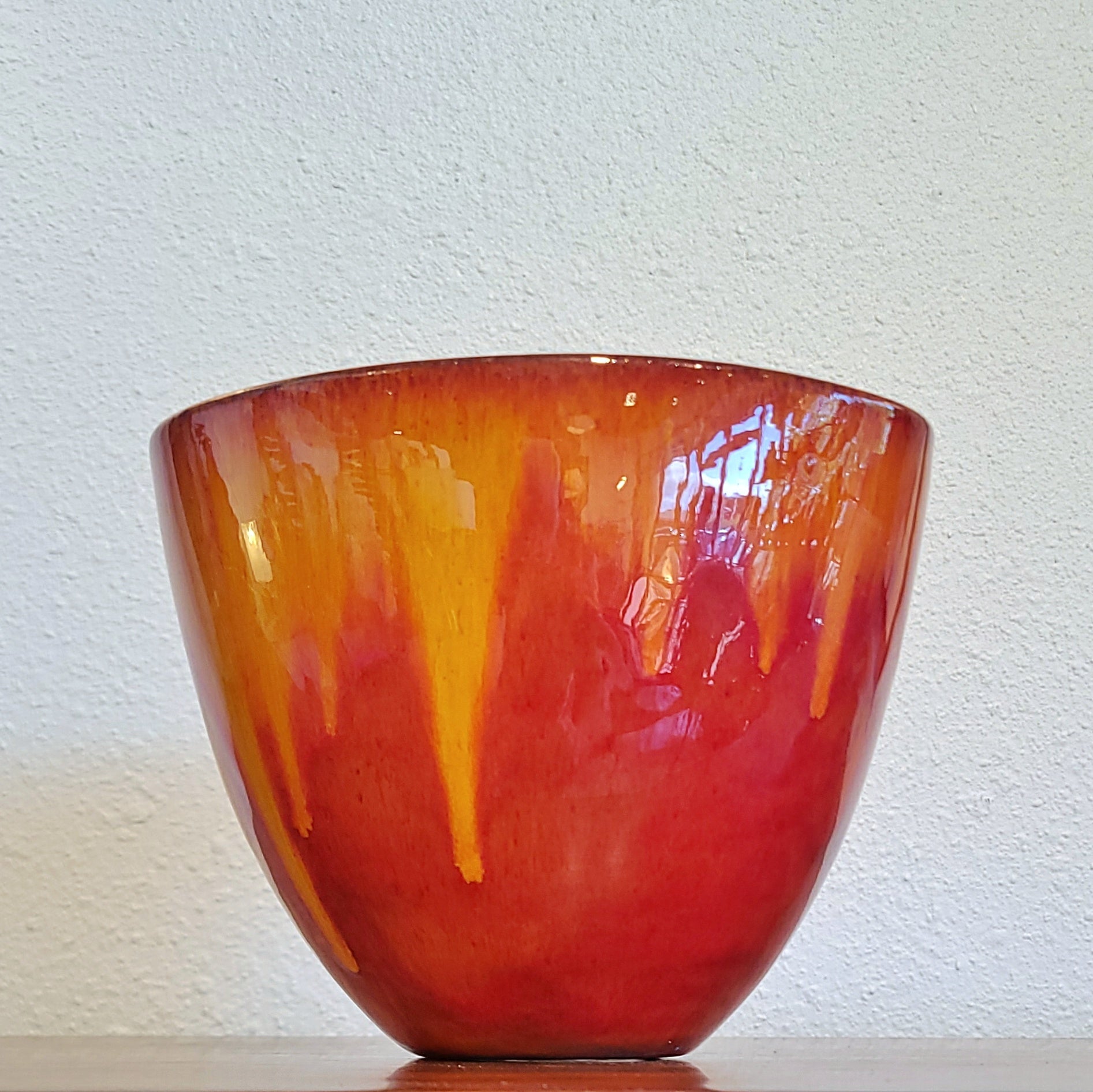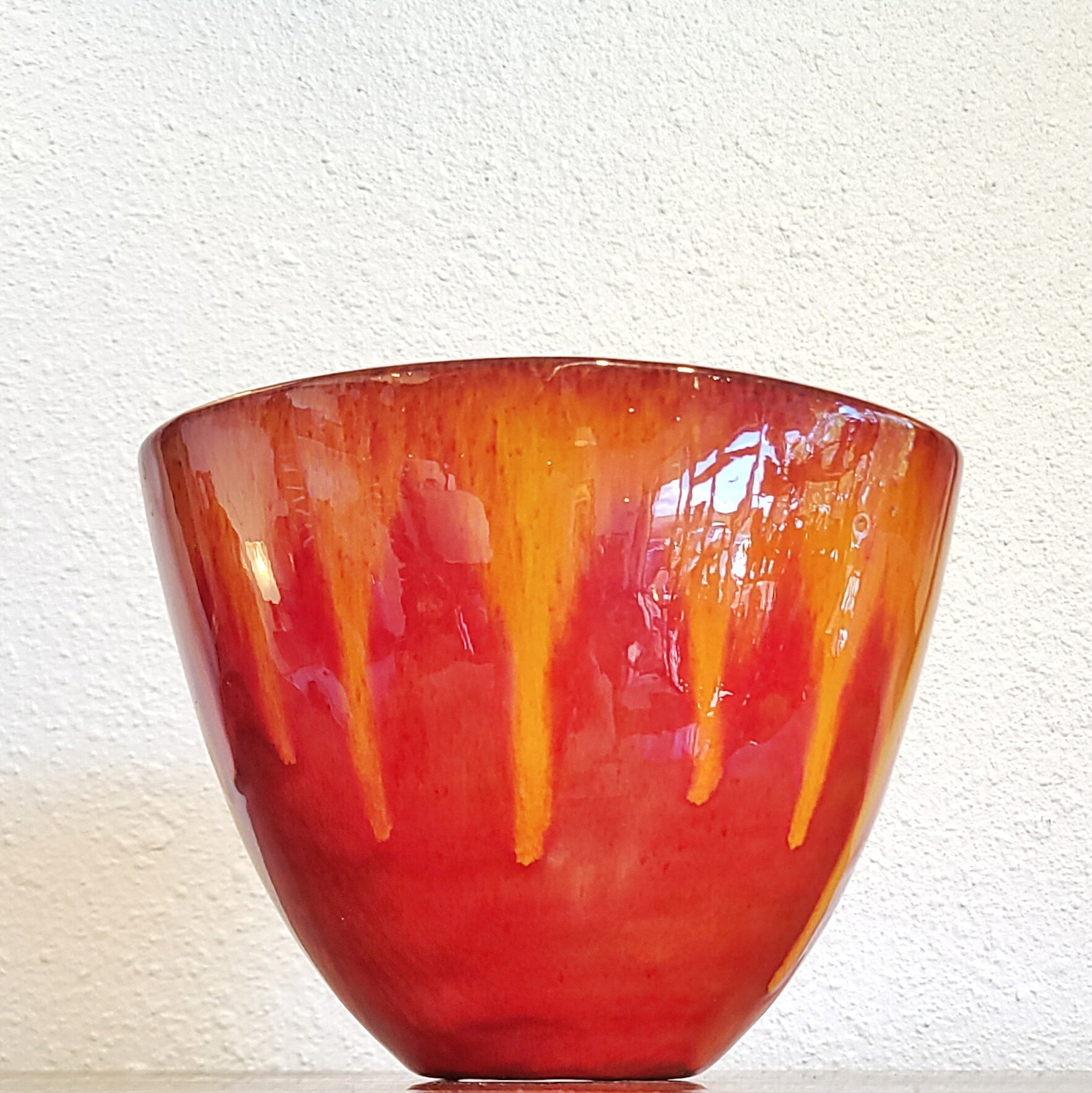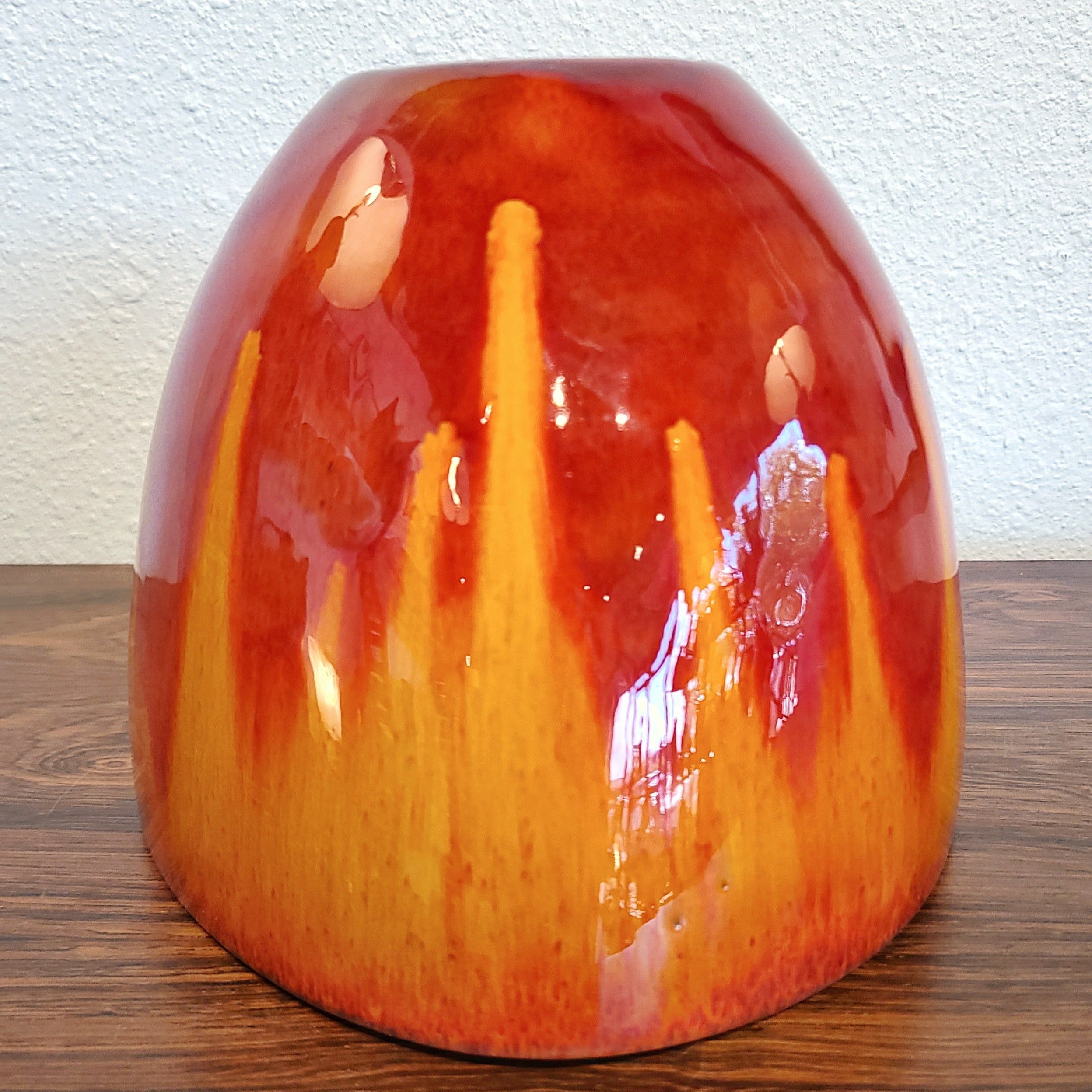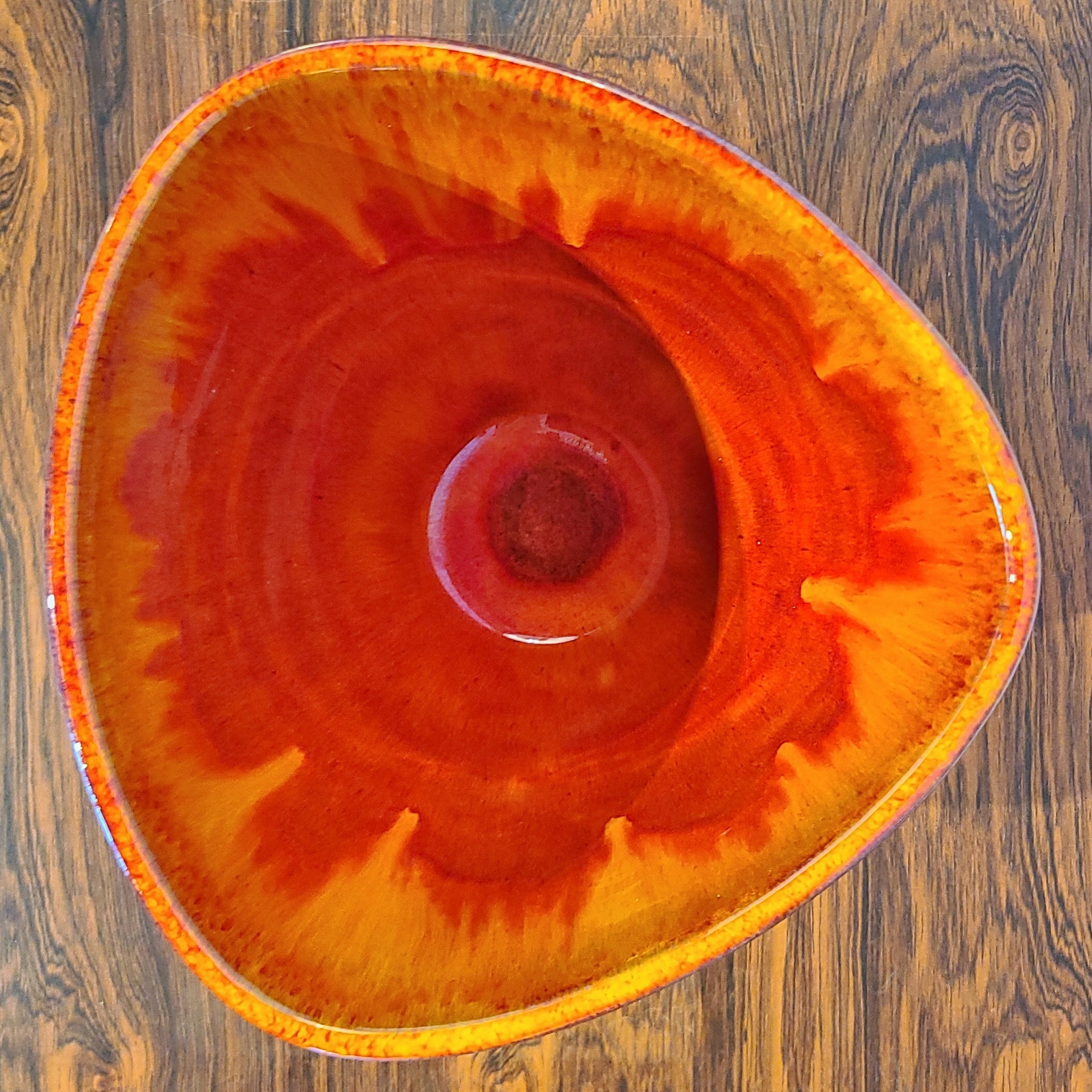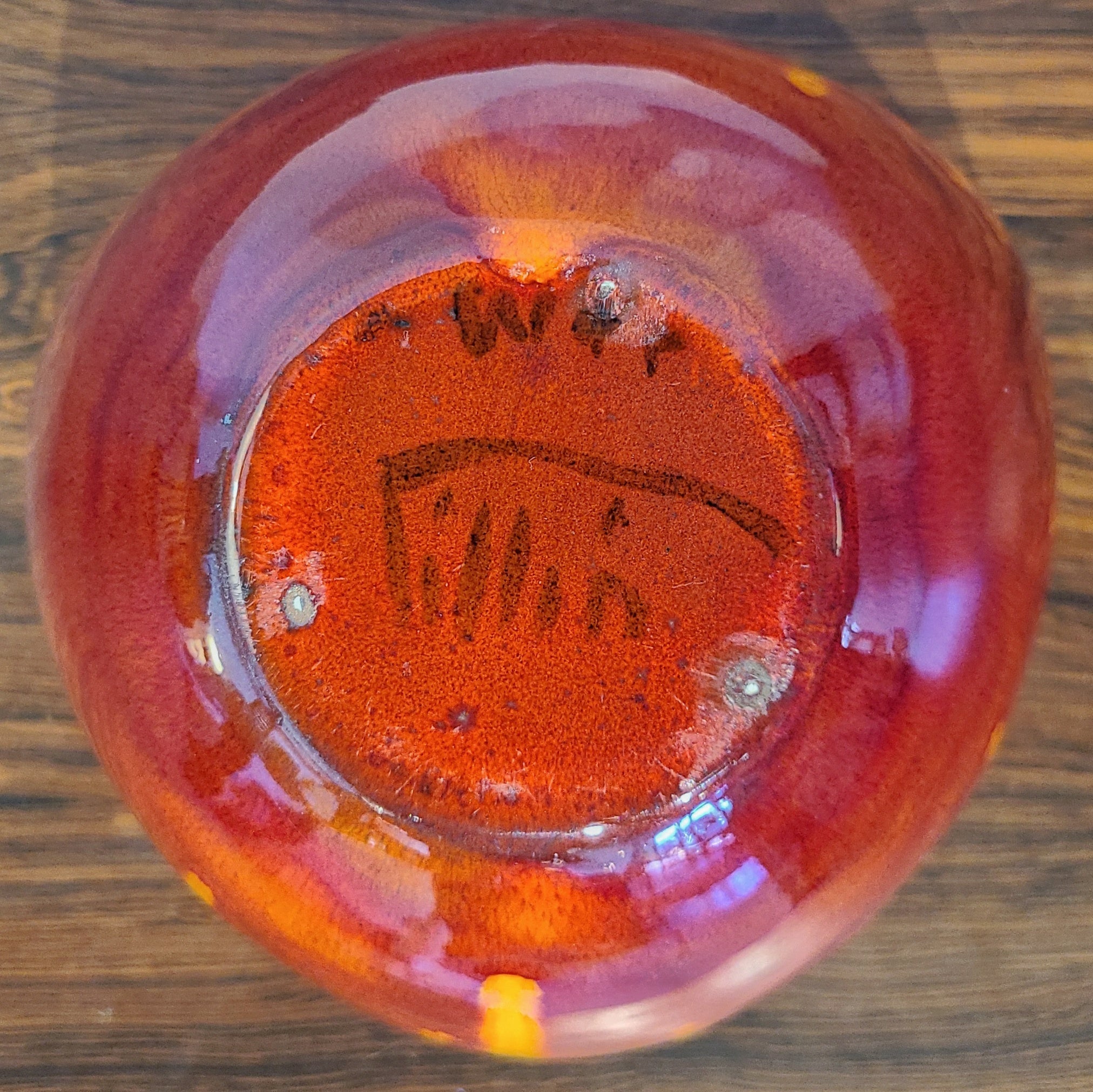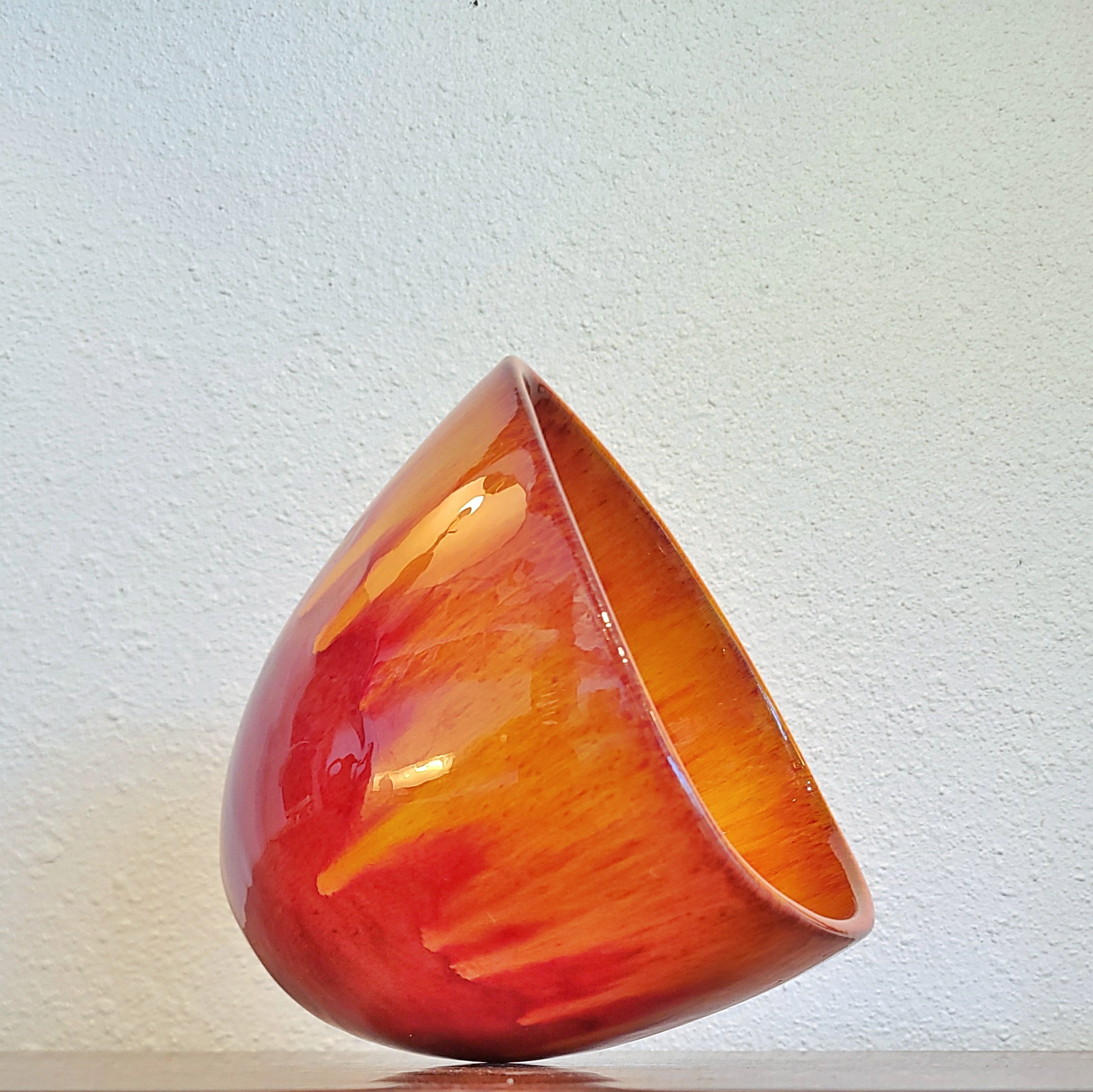 WILLIAM & POLIA PILLIN FLAMBÉ BOWL OR CACHEPOT
CONTACT US HERE ABOUT THIS ITEM.
A stunning orange and yellow triangular flambé bowl or cachepot by William and Polia Pillin.  In excellent vintage condition with no chips cracks or crazing!
POLIA PILLIN was born Polia Sukonic in Częstochowa Poland in 1909. She immigrated to the United States in 1924 at the age of 15. She made her home in Chicago and worked long hours in the garment district. She spent her evenings at the local Jewish Peoples Institute learning both painting and sculpture. In 1927 she met William Pillin, a Ukrainian immigrant who was just one year younger than Polia. Before that year was out they were married.

William had always had hopes of becoming a published poet, and his opportunity came during the Depression. He was hired through the WPA Writers Project, and his work brought him all across the United States. In 1936, they moved to an undeveloped 16-acre property in the Espaniola Valley near Albuquerque. The living conditions here were harsh and primitive, but they found the isolation inspiring. However, with the arrival of their son in 1940, the Pillins saw a need to return to civilization, and they moved back to Chicago.
William quickly found a position in the book business which brought in enough money to support the family. This allowed Polia the opportunity to explore her art, mostly paintings with watercolors or oils. Her work slowly began to become noticed, and she displayed a one-woman show at the Chicago Art Institute. It was during her showing there that she noticed pottery on display and became fascinated by the medium.

Aside from the night classes Polia had taken in the late 1920s, the only other formal training she received was in Chicago at the Hull House in 1946. She took a six-week course in ceramics there and fired pieces in their kilns until it was shut down. She then moved her fledgling pottery business to their apartment, with a pottery wheel and an improvised kiln in the kitchen. There was nowhere near the space required for a pottery business, so in 1948 the Pillins moved to Los Angeles. There they purchased a modest home with a garage. In this garage, Polia taught William how to throw and form pottery and the Pillin Art Pottery Company was born.

Polia used engobe and glaze techniques to create mid-century motifs painted onto hand-thrown pottery such as pots, vases, plates, bowls, etc., with the majority of subjects involving women, horses, cats, fishes, and other animals. Her work has been described as Byzantine in style, with similarities to the work of Chagall. But of course, the work of Polia Pillin is flavored with her own unique artistic vision.
Although the vast majority of the pottery produced by Polia Pillin was from California beginning in 1948, there are examples from her kitchen studio in Chicago from 1946 and 1947. These rare examples will usually be inscribed with a 46 or 47 for the year, and they are typically incised with the Pillin signature.
Some pieces can be found with an inscribed "W + P" above the Pillin signature. This was an early indication that William had thrown the piece and Polia had decorated it, a practice that became commonplace for decades.
The vast majority of Pillin Pottery is marked with her iconic "Pillin" signature in black. There was a small amount of variation and evolution in the signature, so a very close inspection can sometimes reveal approximate periods when the piece was likely produced. This however does not appear to have much bearing on the value of any particular piece in the marketplace. Collectors tend to buy what they like with little regard as to whether it is an early piece or a later piece. In general, the earlier pieces tend to be thicker in construction.
There have been reports of fake pendants occasionally appearing in the marketplace. They appear to be "one-offs" and not part of a widespread operation. Most collectors who are familiar with her work can identify them as fakes immediately. Nearly all Pillin pottery is made from a very distinctive red brick-colored clay.
Well over 95% of Polia Pillin's ceramic work is highly crazed. This is actually quite predictable, as her studio did not have a team of chemists and the equipment available to larger commercial operations. Those few pieces which come to the market uncrazed can sometimes command multiples of the expected price for a comparable piece with average crazing.
Polia made her last known piece in 1991, a year before her death in 1992. William had died years earlier in 1985. No production records were ever kept, and most pieces were unique, so no catalog of her work would ever be complete. The total output of pottery from Polia is hard even to estimate, but certainly no more than 10,000 in total. The actual number is probably much lower.
Today, pottery from Polia Pillin is becoming increasingly scarce as collectors snatch up examples as often as they appear. With great appeal to decorators of mid-century modern styles, the prices have been driven upward sharply. Her unique style is striking a chord with collectors and helping to establish the Pillin Art Pottery as one of the premier American studio art potteries of the 20th Century.
Details
DIMENSIONS

7.5ʺW × 7.5ʺD × 6.12ʺH
STYLES

Abstract
Mid-Century Modern

DESIGNER

Polia Pillin
PERIOD

1960s
PLACE OF ORIGIN

United States of America
ITEM TYPE

Vintage, Antique or Pre-owned
MATERIALS

Ceramic
CONDITION

Good Condition, Original Condition Unaltered, Some Imperfections
COLOR

Burnt Orange
CONDITION NOTES

Excellent Vintage Condition