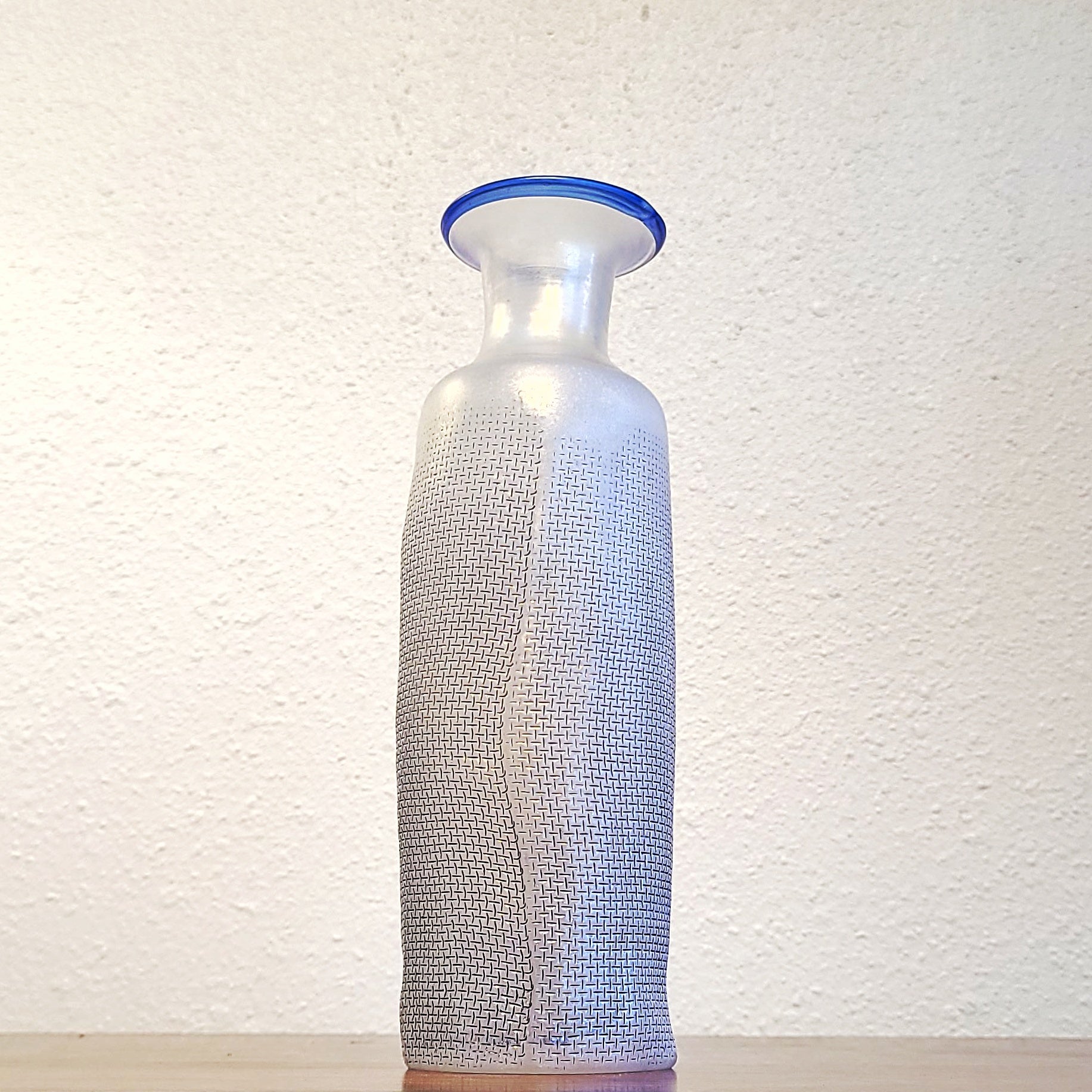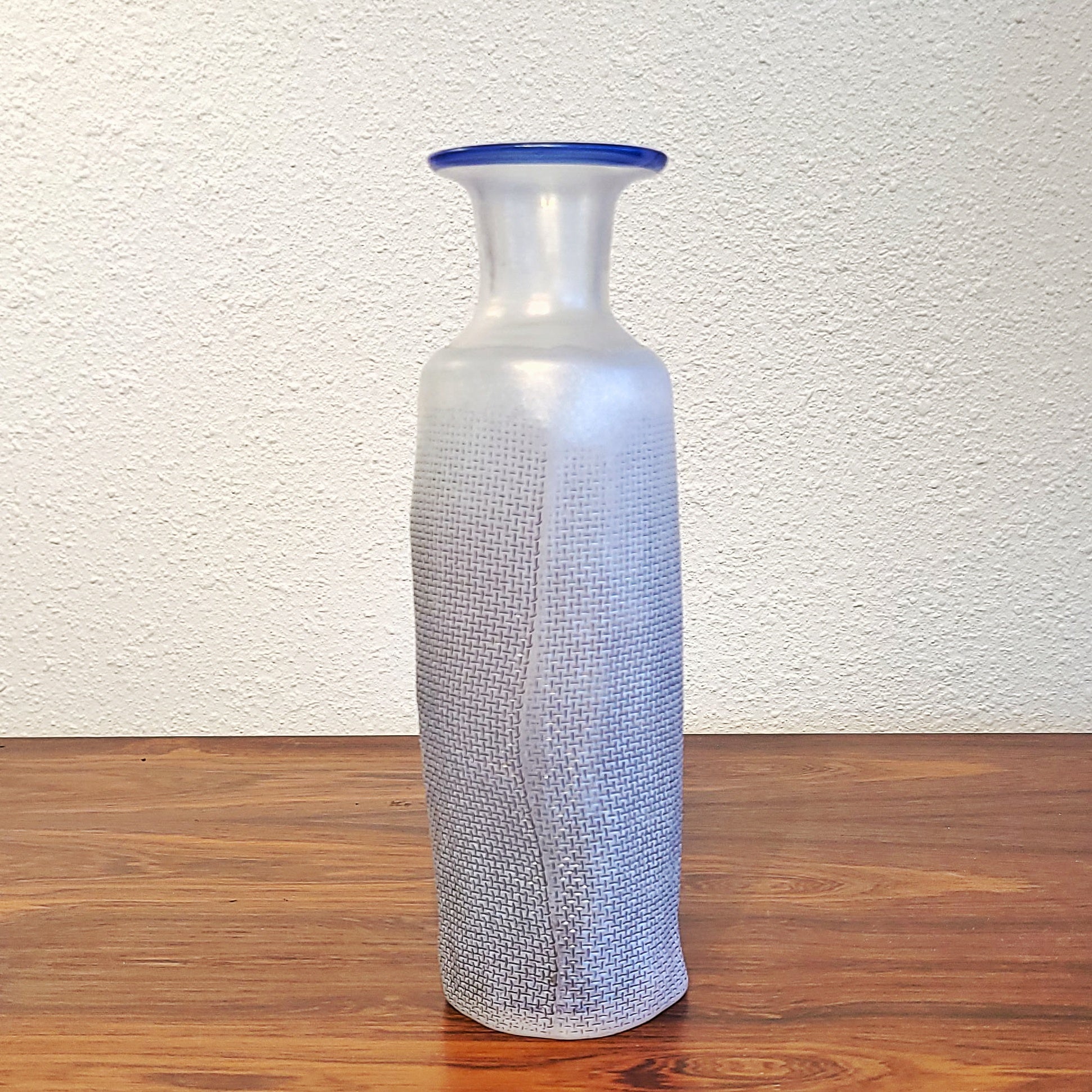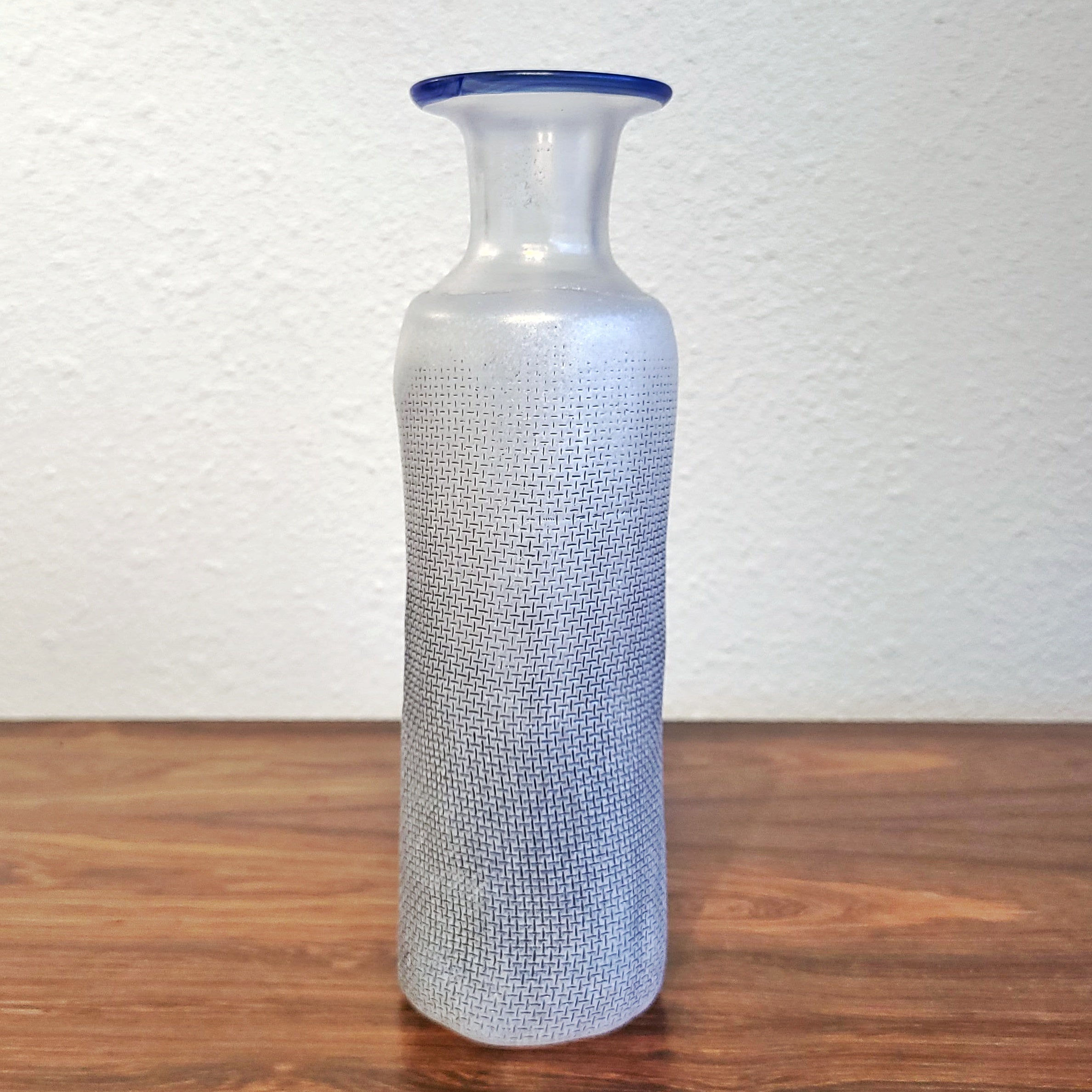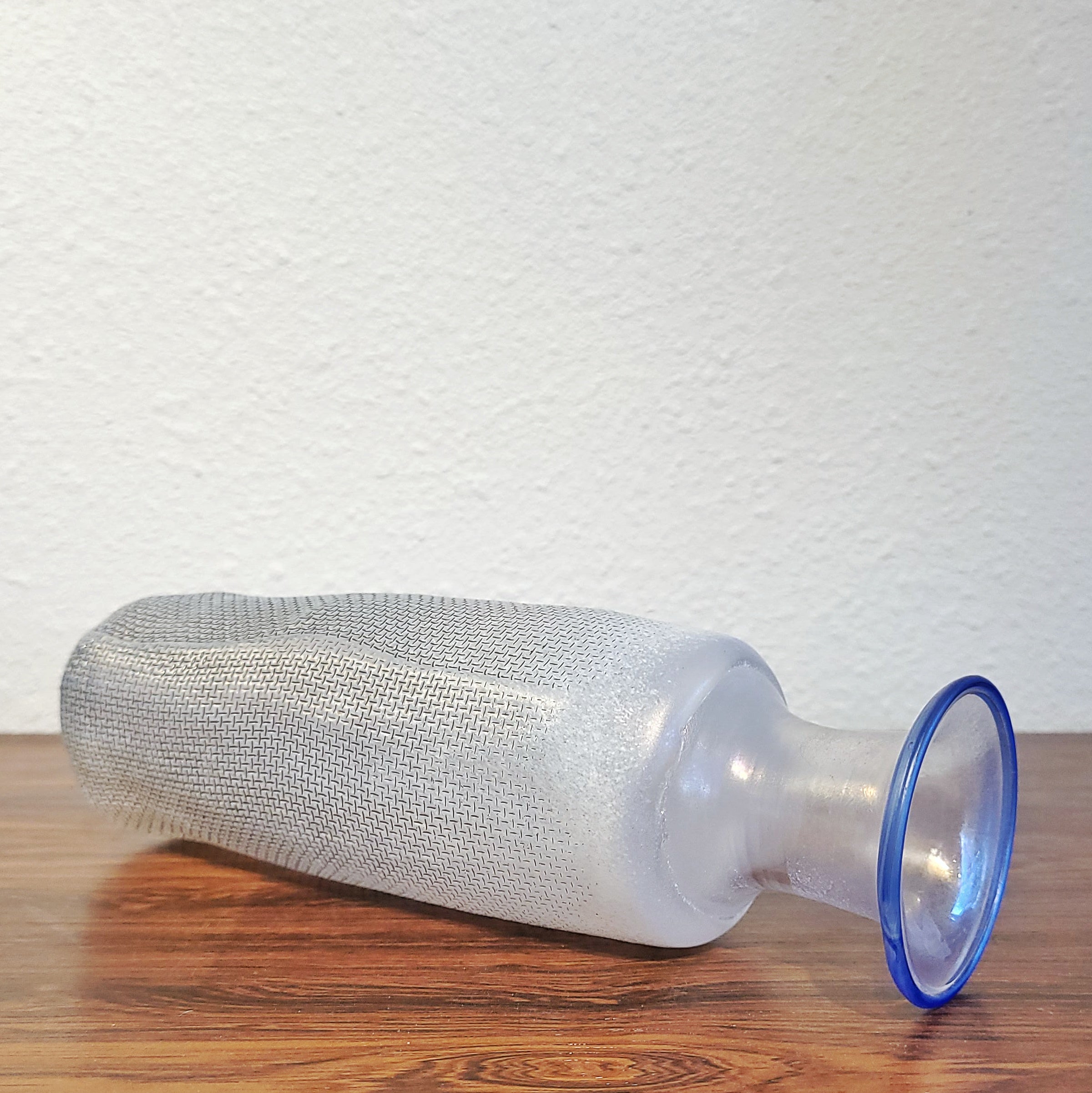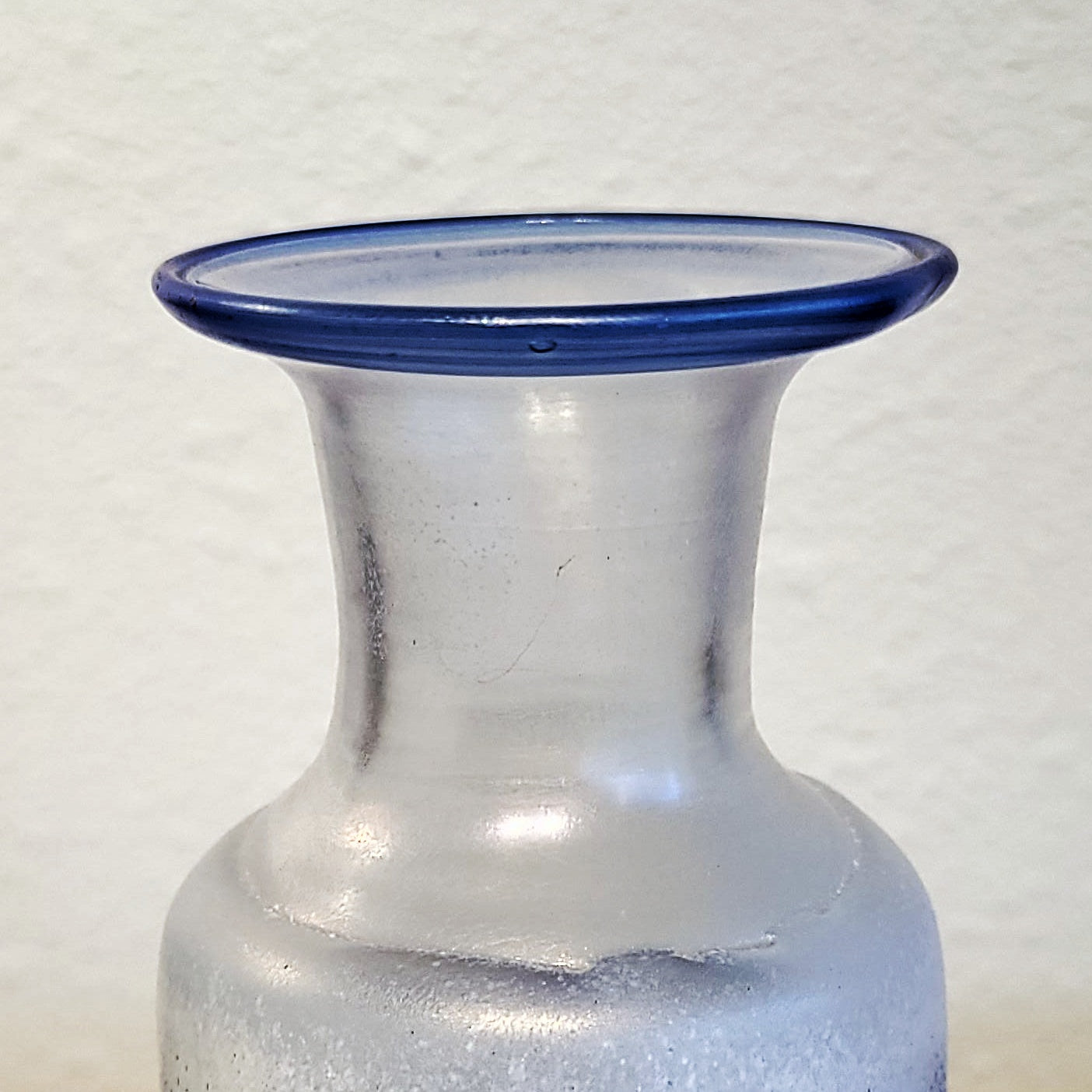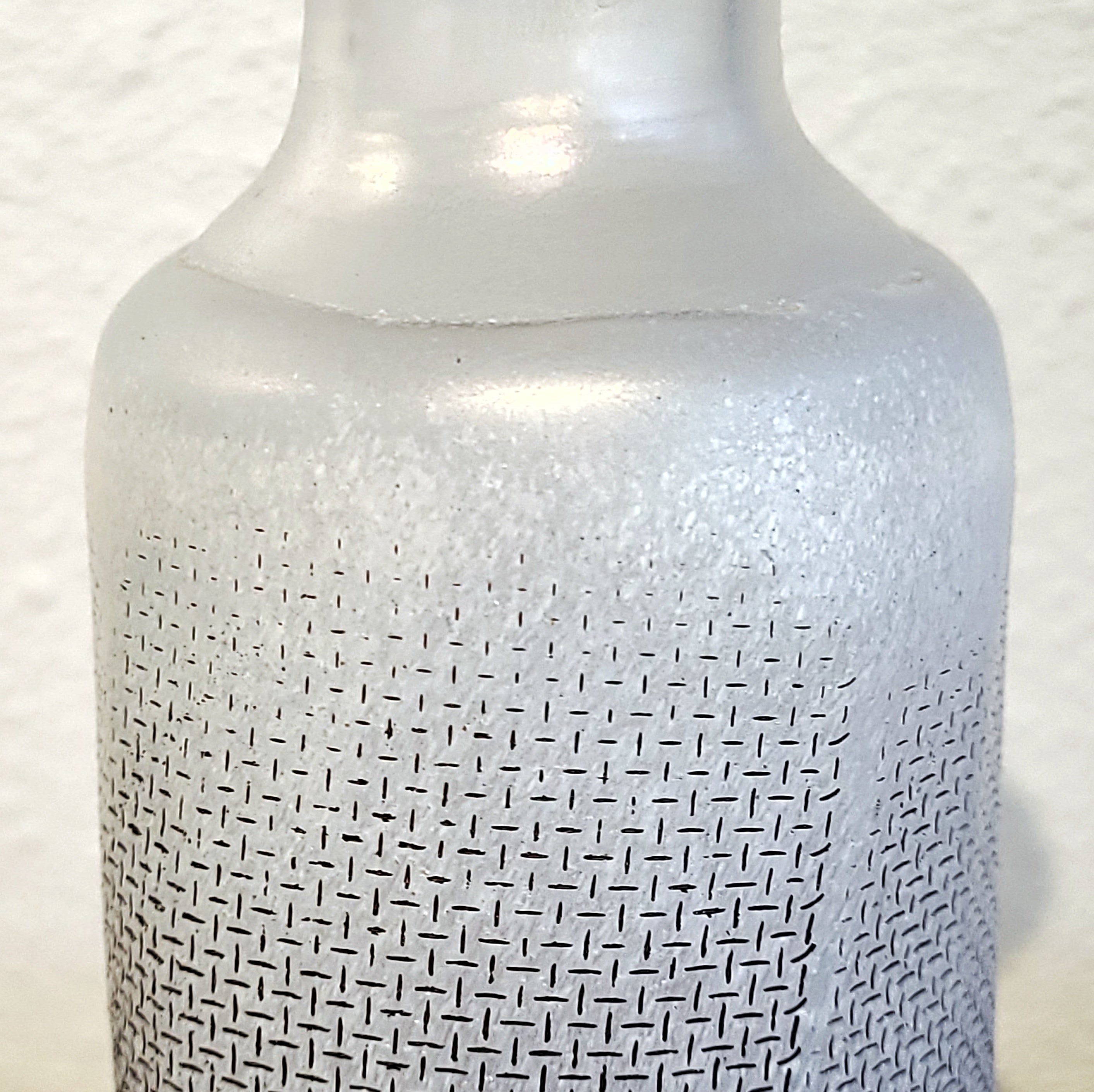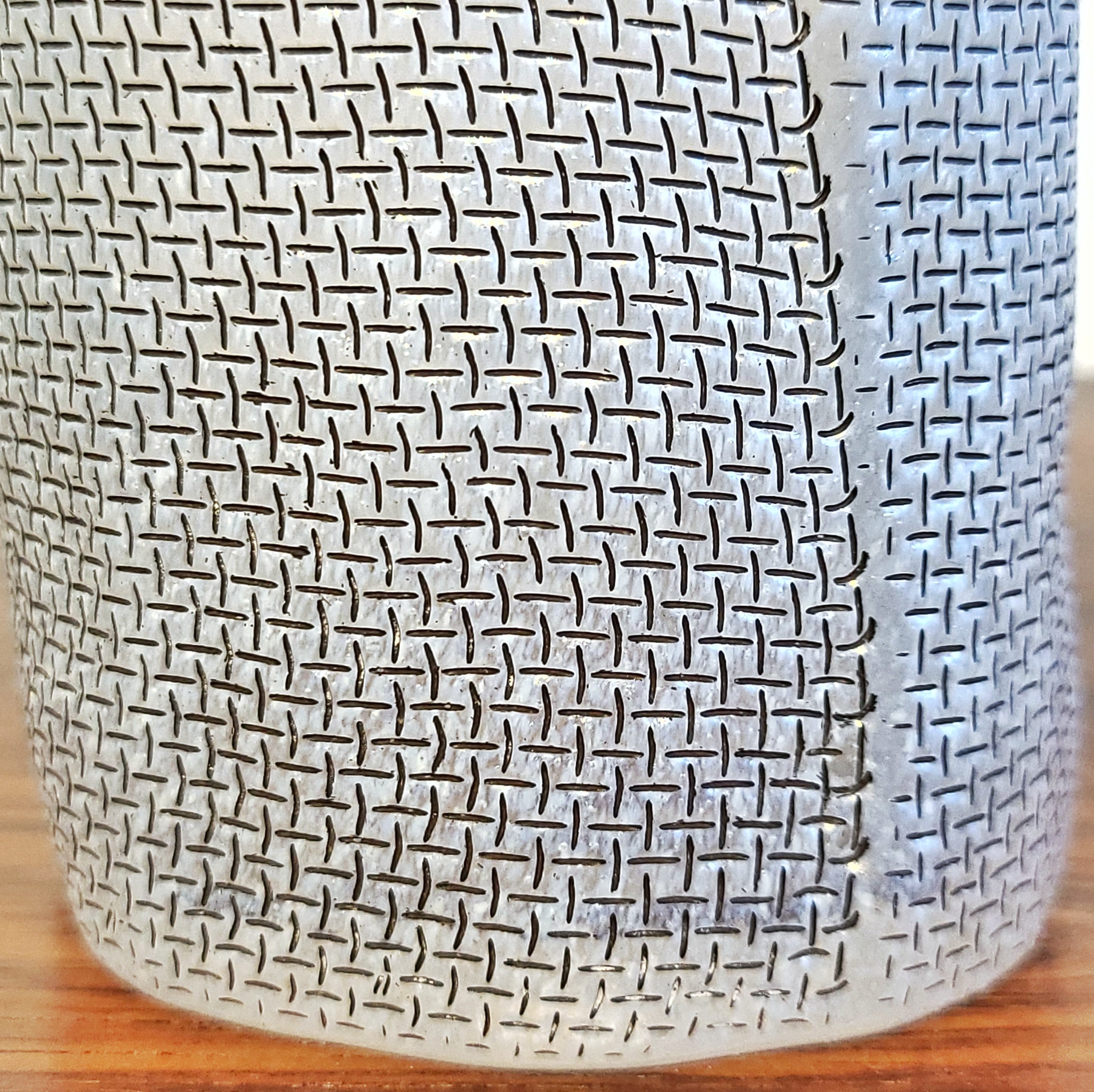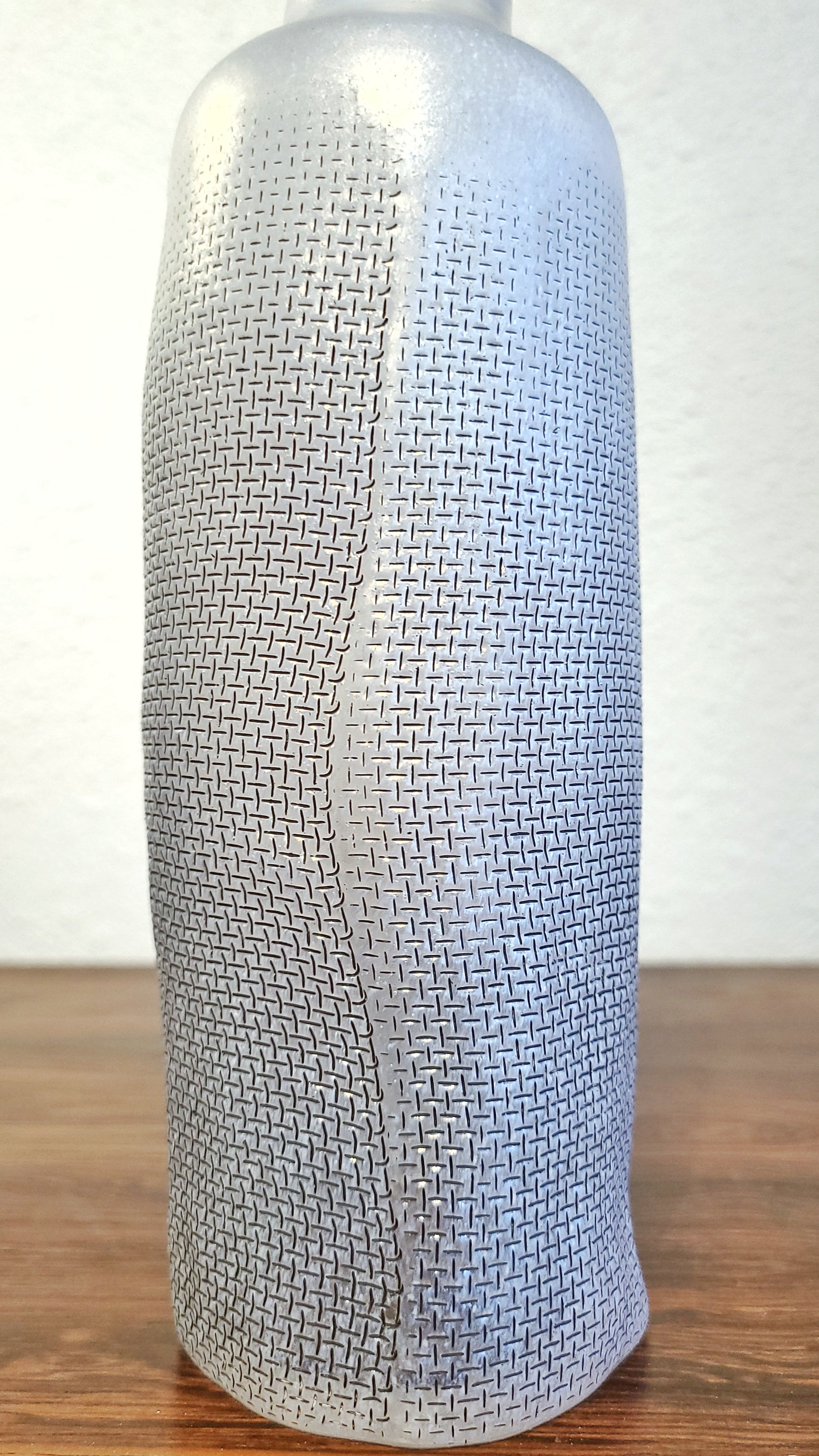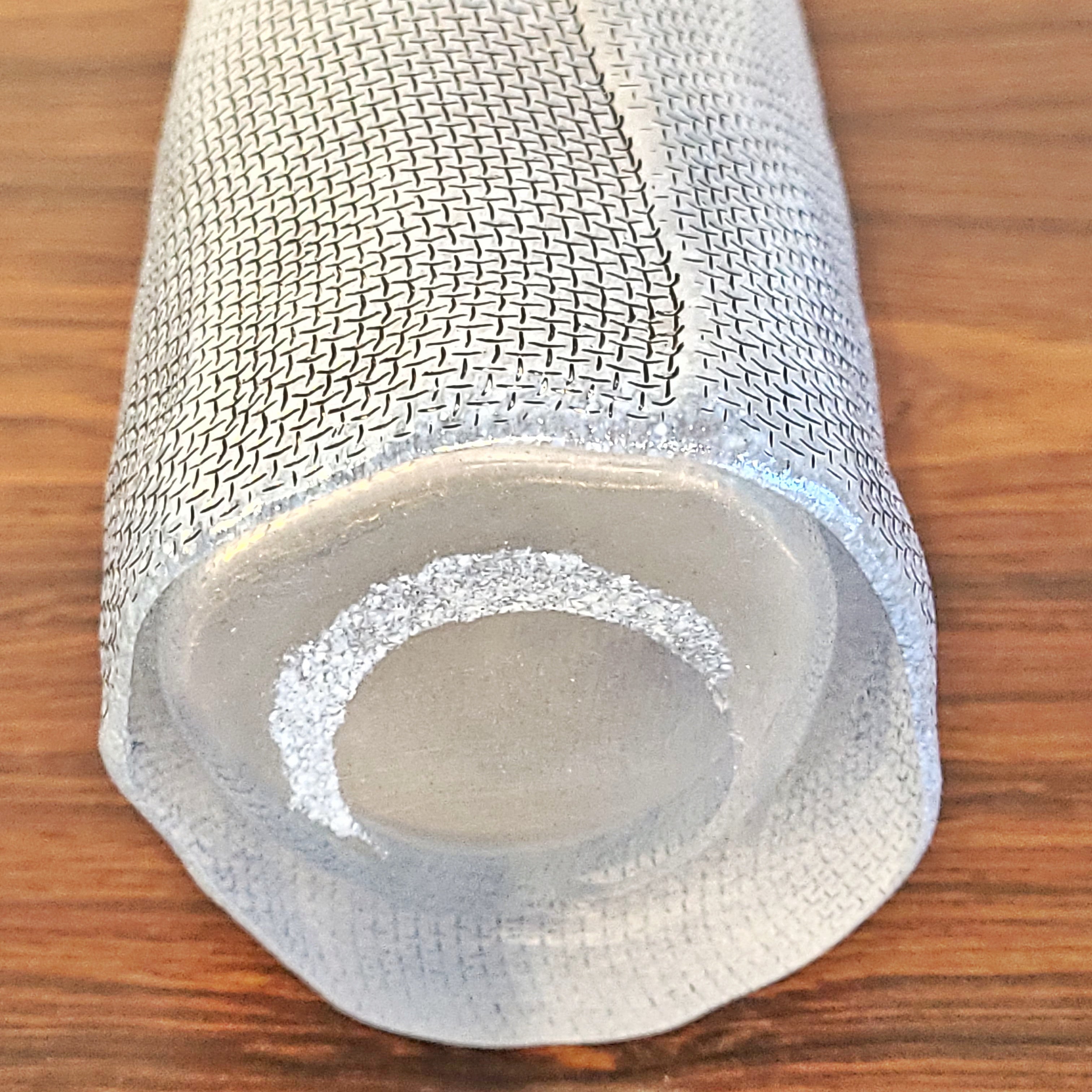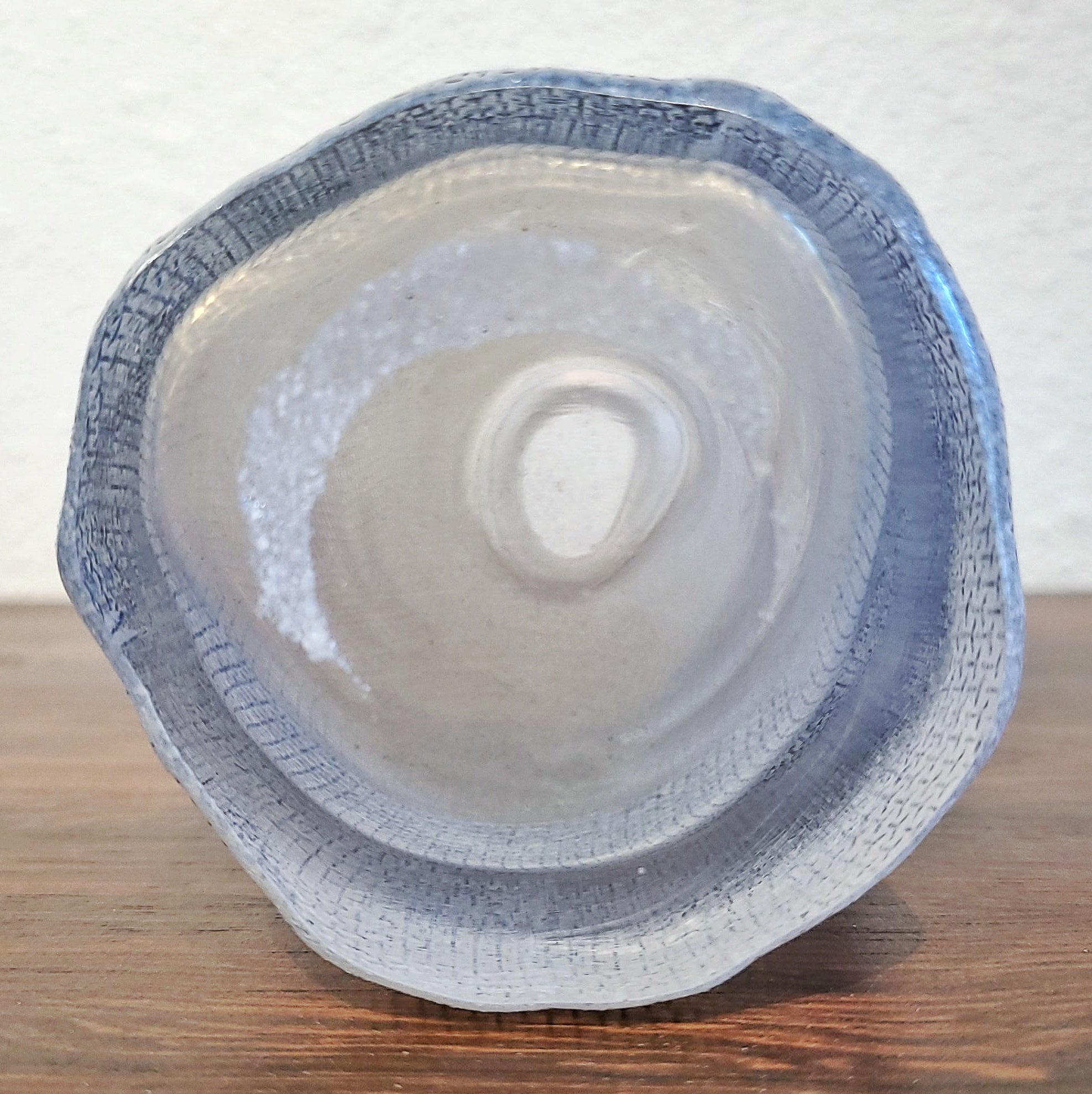 BERTIL VALLIEN 'NETWORK' SERIES BOTTLE VASE FOR BODA GLASSWORKS
CONTACT US HERE ABOUT THIS ITEM.
Bertil Vallien's 'Network' series of 1978 for Boda Glassworks is part of the company's 'Artist Collection.'  'Network' consists of eight vases and three bowls, all with a distinctive net pattern on a white surface. The glass is frosted and slightly iridescent, with an overlay textured with a crosshatched surface produced by blowing the molten glass against a metal screen. This cylindrical bottle vase with a flared lip and blue detailing is among the rarest of the forms (model 47864) and measures 9.25" tall by 2.75" in diameter.  The base has been left unsigned, but its provenance is irrefutable.
BERTIL VALLIEN was born in 1938 in Sollentuna, a northern suburb of Stockholm, into a strictly devout religious family.  He felt the inclination to become an artist at a very early age.  This first manifested in his youthful talent for sketching horses.  (In his teens Vallien would join the calvary, serving in the last generation of Sweden's mounted special forces.)  He began the study of ceramics at Stockholm's Konstfack School of Arts, Crafts, and Design in 1955.  He later briefly attended the School for Advanced Industrial Design before returning to Konstfack.  Stig Lindberg (1916-1982), the renowned, master-of-all-trades Swedish designer, was a principal teacher and inspiration.  Vallien graduated from Konstfack in 1961 at the top of his class and was awarded a Royal scholarship to continue his studies in the US and Mexico.  While in Los Angeles, he took a job with a small factory, HAL Fromholt Ceramics; soon he was networking with California artists, critics, and gallery owners.  He was invited to return to Sweden in 1963 by the legendary manager of the C.H. Åfors glassworks, Erik Rosén.  As its Art Director, Vallien was involved in the company's successful restructuring and was responsible for many of its well-known lines.  Åfors began to collaborate with the glassworks in nearby Kosta the following year.  Today's KOSTA BODA was formed through the 1971 merger of the two factories with a third glassworks in Boda to the south.
By the 1970s, Vallien's focus had shifted entirely to glass.  He became well known for massive sculptures that appeared to enclose light within their interiors.  In the 1980s he was a leading figure in the development of the sand-casting technique—pouring molten glass into a prepared bed of sand to create a form.  The method became one of his signatures.  Vallien is perhaps most admired for his enormous sand-cast sculptures of boats.  Inspired by Viking burials, they address themes of journey, memory, and time.  Much of his work conveys a symbolic and mystical narrative; the human head, maps, stars, crosses, bridges, pyramids, and rings are recurring motifs.  Vallien has designed several series of glassware through the years, the most famous being 'Château.'  First produced in the early '80s for the glassworks in Johansfors, the thin stem of the 'Château' wine glass and the optical effects of its cup make it impossible to reproduce by machine.  The line's tremendous commercial success saved Johansfors from bankruptcy.  Like many Swedish studio artists, Vallien has pursued a career designing for industry while maintaining an independent freelance practice.
Sweden's most innovative, best-known contemporary glass artist, Vallien has exhibited his art worldwide.  His works are held in numerous public collections:  the State Heritage Museum in St. Petersburg, the Nationalmuseum in Stockholm, London's Victoria and Albert Museum, the Art Institute of Chicago, the National Museum of Modern Art in Kyoto, the Metropolitan Museum of Art in New York, Sydney's Powerhouse Museum, and the Museum of Fine Arts in Boston.  He has received an array of awards:  Prince Eugen's medal for Outstanding Achievement in the Arts (1995); an Honorary Doctorate from the University of Vaxjö (2002); the Gold Medal from the Royal Academy of Science in Stockholm (2005); and Seattle's Pilchuck Glass School's prestigious Libenský/Brychtová prize (2008).  Vallien's fame has led to lecturing positions in the US and Japan.  Still very active today, he is based at the glassworks in Kosta.  There, along with other artists such as Anna Ehrner, Åsa Jungnelius, Lena Bergström, and Kjell Engman, Vallien works in close cooperation with the foundry's craftsmen.
BODA GLASSWORKS was established by two glassblowers from Kosta, R. Wictor Scheutz and Erik Widlund. In 1918 the factory changed hands and in 1947 was acquired by Eric Åfors. In 1964 Boda began collaborating with Kosta and Åfors, and in 1971 the three companies officially merged as AB Åforsgruppen. In 1975 the Åfors family sold out to Uppsala Ekby, manufacturers of porcelain and ceramics, and a year later the group was reformed as Kosta Boda AB, which in 1990 merged with Orrefors AB to form Orrefors Kosta Boda.
Boda's early production consisted of blown and pressed domestic glassware and bottles. Crystal became an important part of the line around 1920. Gabriel Burmeister was hired to design art glass for a short period in the twenties. From 1925 to 1968 Fritz Kallenberg designed domestic glassware for mass production, as well as individual objects that followed a traditional aesthetic. During the Second World War Boda manufactured preserving jars, but at the end of the 1940s, it resumed its standard production line. In 1953 sculptor Erik Höglund was hired to develop art glass that would supplement Boda's traditional glassware. Höglund remained at Boda until 1973. His robust, engraved crystal and colorful, seedy potash glass with its imaginative, cast-on applications brought a new style to Swedish Glass. Other artists worked sporadically at Boda.
Details

Dimensions

3.75ʺW × 3.75ʺD × 9.25ʺH
Styles

Abstract
Modern
Postmodern

Brand

Boda Glasbruk
Designer

Bertil Vallien
Period

1970s
Place of Origin

Sweden
Item Type

Vintage, Antique or Pre-owned
Materials

Glass
Condition

Very Good Condition, Original Condition Unaltered, No Imperfections
Color

White
Condition Notes

Excellent Vintage Condition