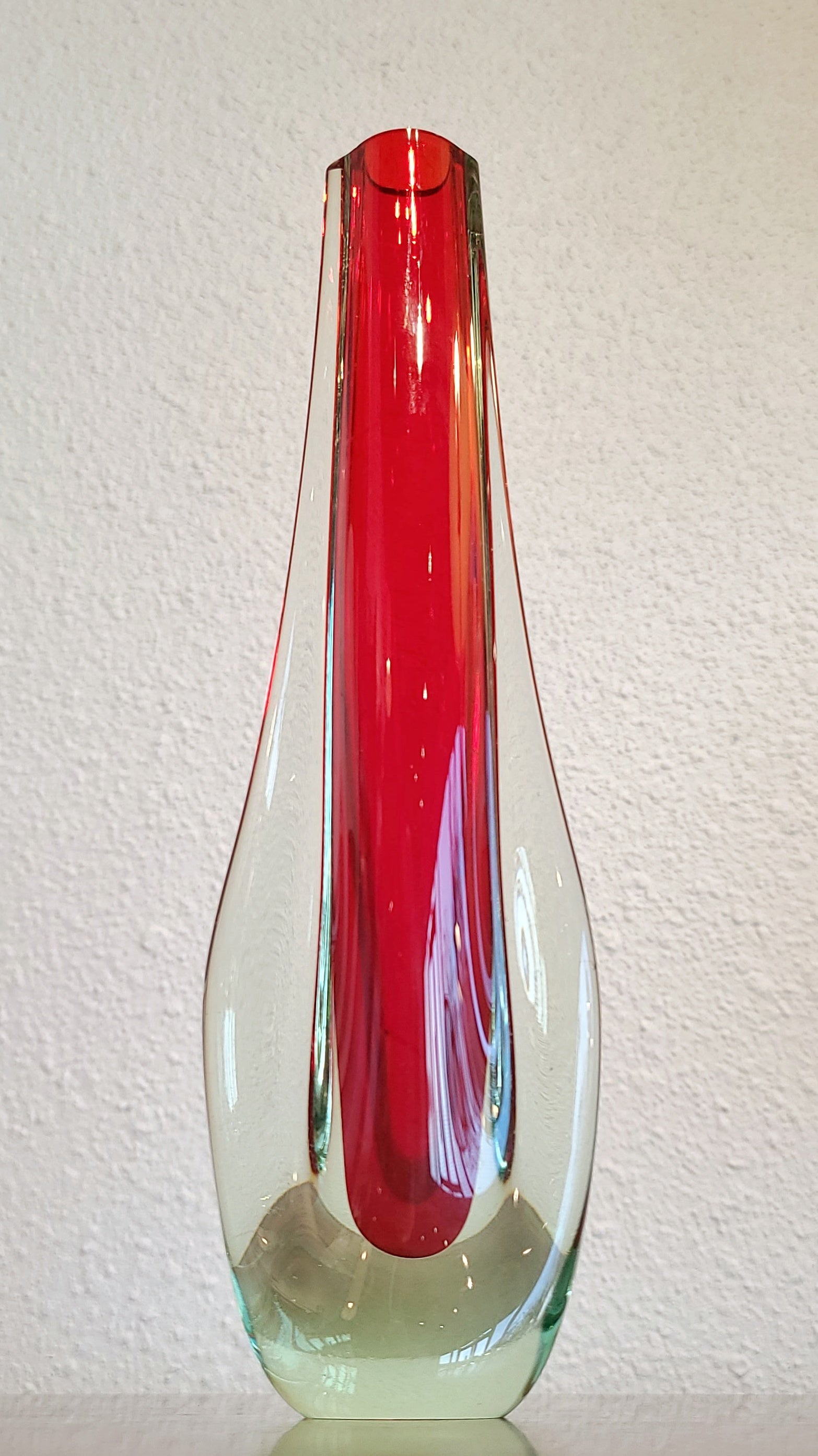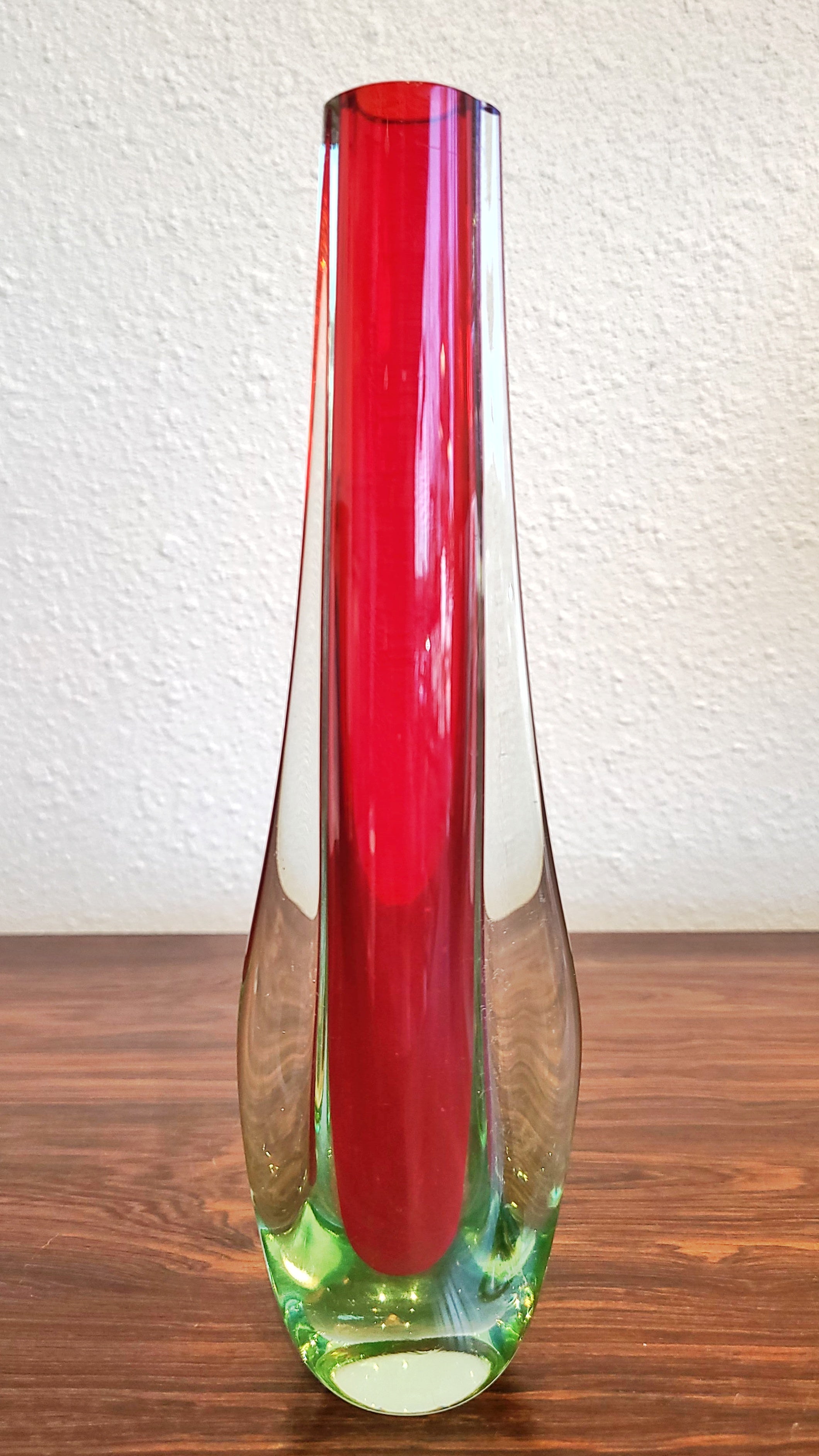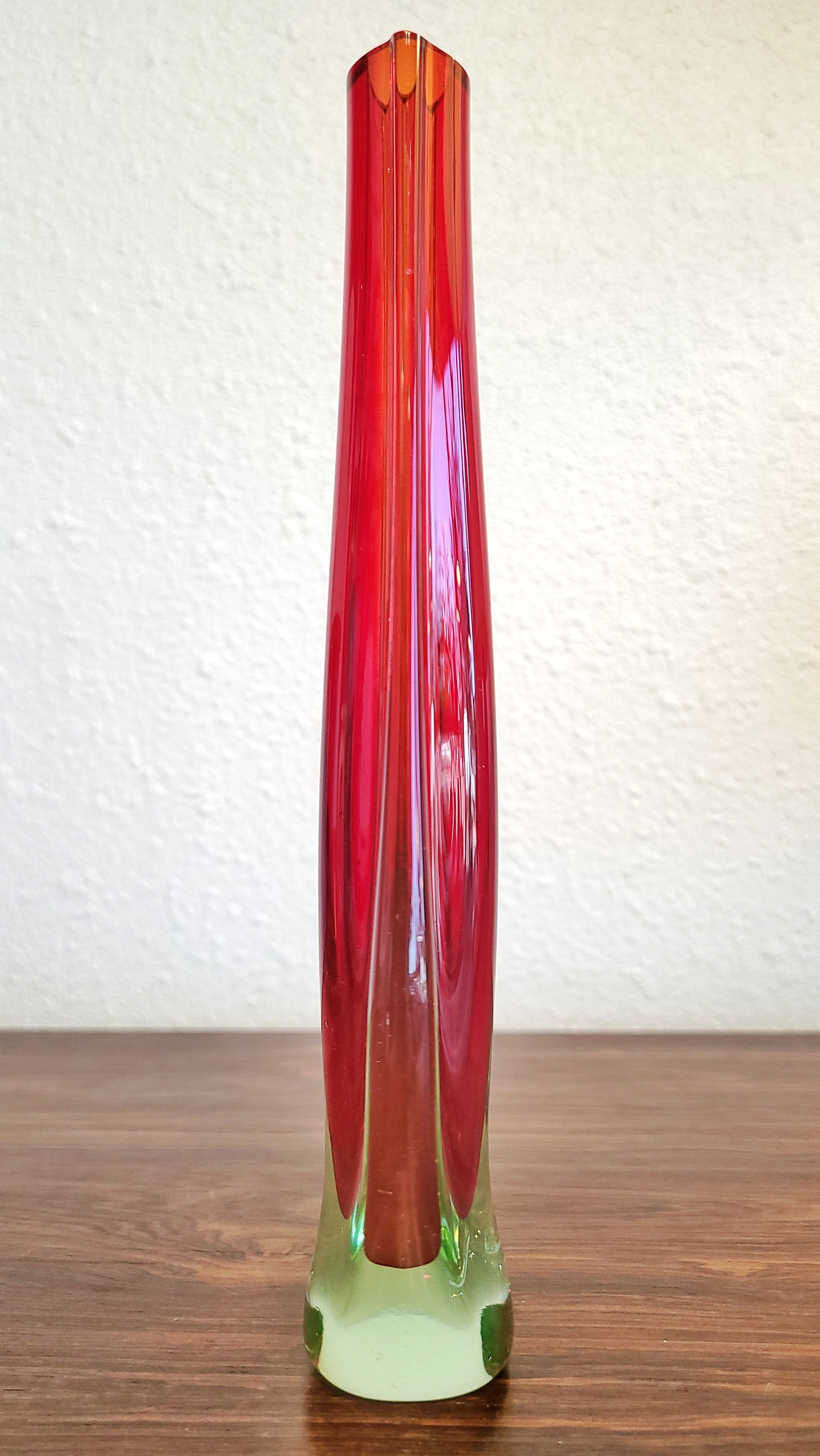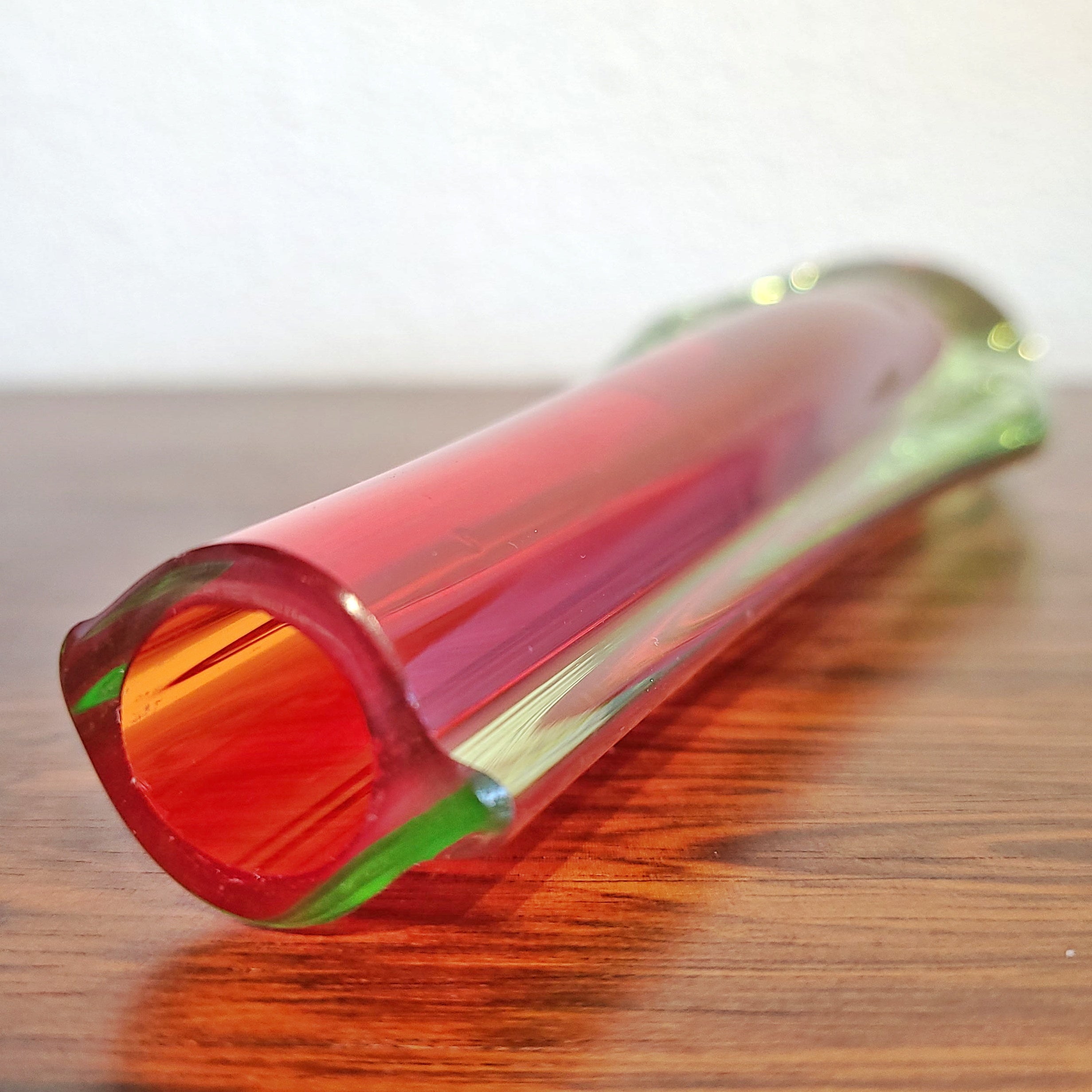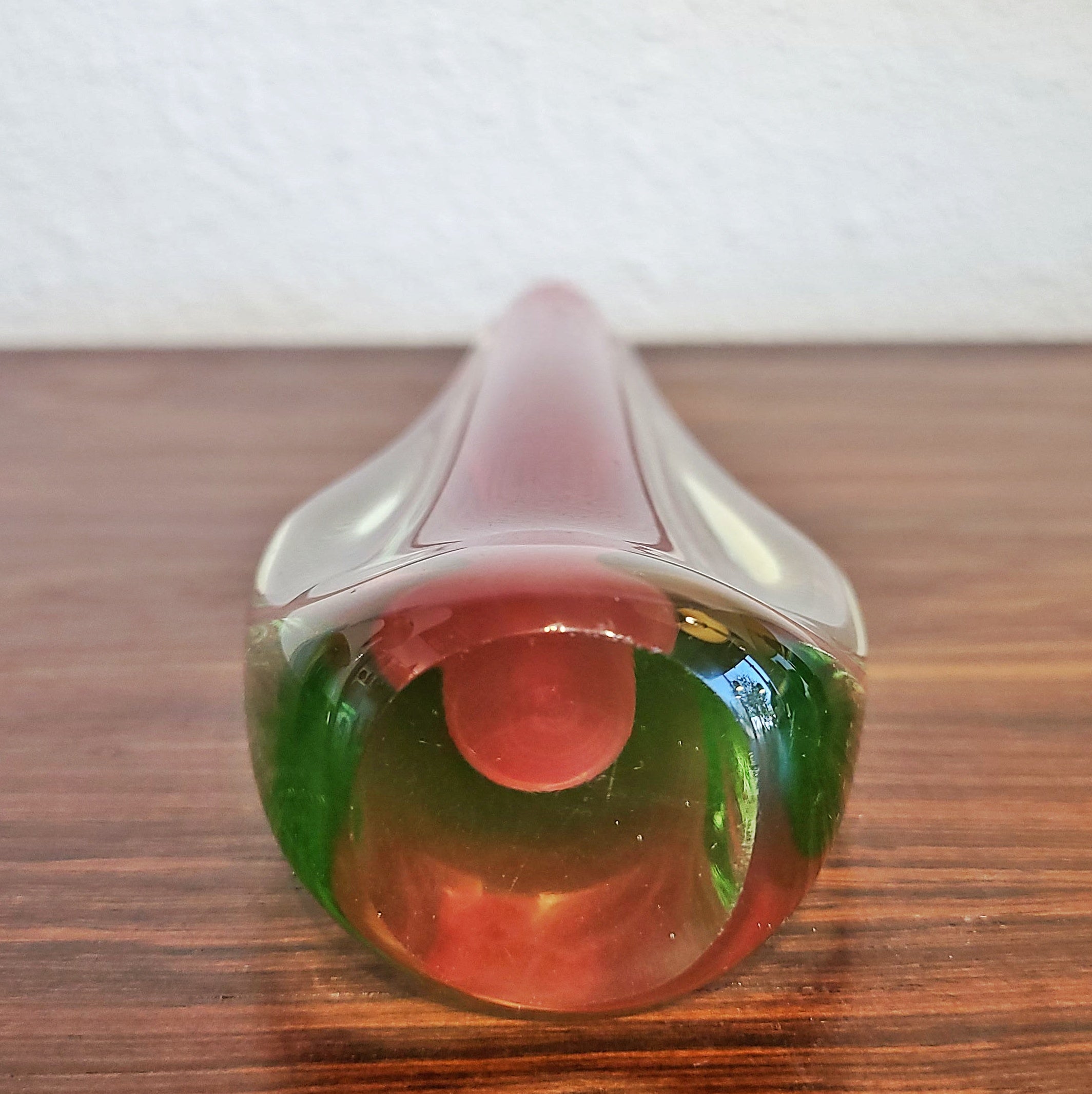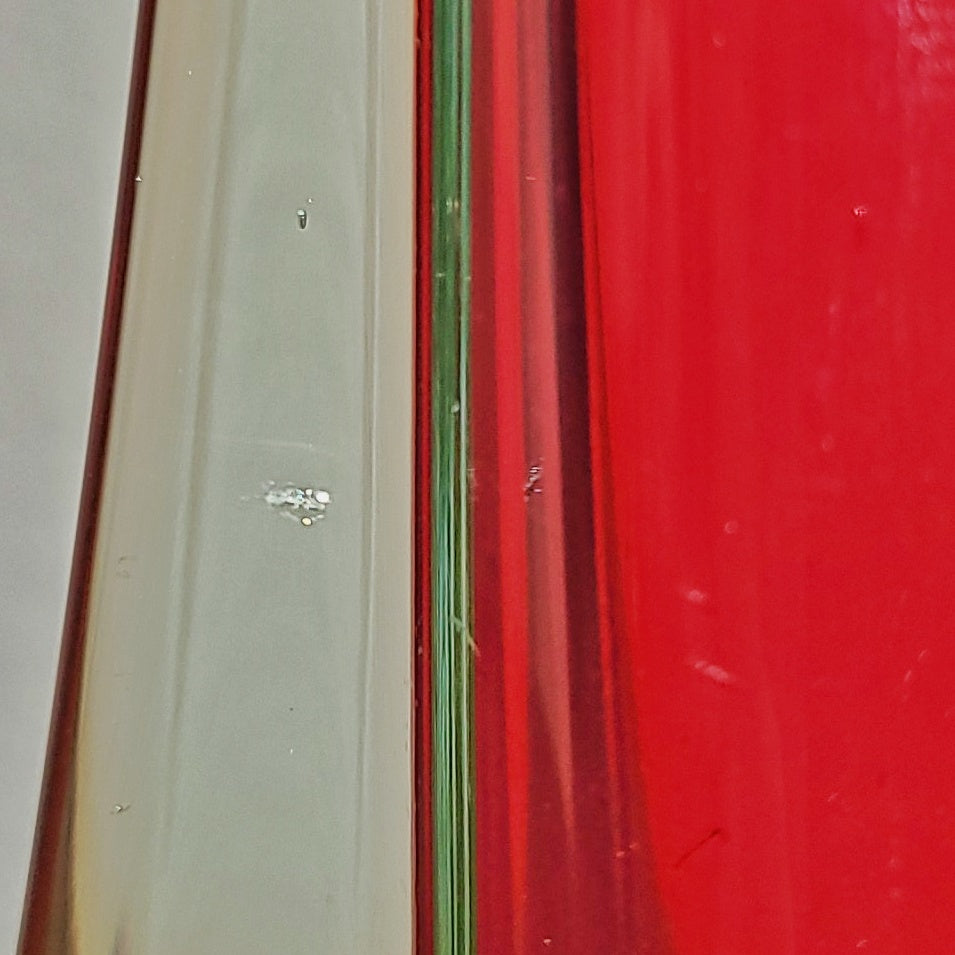 GIORGIO FERRO RED AND GREEN SOMMERSO GLASS TEARDROP VASE
CONTACT US HERE ABOUT THIS ITEM.
A very slender single stem teardrop shaped vase of ruby red glass encased in a clear layer of crystal with a greenish tint.  Often confused for the work of Flavio Poli, this vase, produced using Poli's famous sommerso technique, was designed by Giorgio Ferro and produced in the 1960s at his father's glass factory, La Vetreria Artistica Galliano Ferro, where Giorgio was the head designer. 
VETRERIA ARTISTICA GALLIANO FERRO was founded in Murano in 1955 after its founder, Galliano Ferro, left Arte Vetraria Muranese (AVeM), the company he had co-founded in 1932.  The aim of Galliano Ferro was to produce high-quality objects using techniques that were typical of Murano glass.  From the outset, Galliano's son, Giorgio Ferro, was the creative force behind his father's company.
Born on the island of Murano in 1931, Giorgio Ferro attended the Instituto d'Arte di Venezia, a prestigious high school for the arts where the teachers were artists themselves.  Initially he dedicated himself to painting, but after graduating from the Carmini State Institute of Art in Venice in 1951, he went to work  as a designer at the Arte Vetraria Muranese (AVeM) factory–which was founded by his grandfather Antonio Ferro, his father Galliano Ferro, and by Emilio Nason and Giulio Radi.   After the death of Giulio Radi in 1952, the young Giorgio took the role of lead designer of AVeM.  It is during this time that Giorgio first created his most significant work of the period, the very successful Ansa Volante vases, made of thick chromatic iridescent glass–a technique that he had learned from Radi, and designed with sinuous curves, small openings and large integrated handles pulled directly from the body of the vase to produce a remarkable sculptural effect.. These designs were exhibited in the 1952 Venice Biennale to great acclaim.
In 1955, after having worked together for 22 years, relationships between the partners of AVeM turned sour and Galliano Ferro left the firm to open an independent furnace, taking with him some of the best maestros as well as his own sons.  Giorgio immediately fell into place as the artistic director of the new furnace and began designing thin blown glass pieces as well as encased glass pieces using the sommerso technique.   The great harmony of form in the designs produced by Giorgio Ferro – rightly considered one of the greatest glass designers of twentieth-century Murano – would result in the company gradually focusing on the production of light fittings in which traditional methods were used to reinterpret form.  Venetian lamps of different eras were produced, from the Renaissance to Art Nouveau, and the work was all performed manually, and to great accuracy, by the most skilled glass masters of the sector, using the same instruments and ovens of the past.  A lot of the proposed chandeliers were designed and created by Giorgio Ferro, who was known for creating objects lightly blown in transparent faint colors.  Other collaborators included such masters as Ezio Rizzetto, Fulvio Bianconi and Vinicio Vianello.

Giorgio Ferro took over the reins of the family company in 1972, focusing production entirely on the creation of traditional chandeliers together with newer and more original ones, to become one of the greatest designers of chandeliers in Murano.  In 2001, Giorgio Ferro's son Alvis took over as the artistic head of the company. The Vetreria Artistica Galliano Ferro is now led by Paola and Lisa Ferro
| | |
| --- | --- |
| Designer | Giorgio Ferro |
| Manufacturer | La Vetreria Artistica Galliano Ferro |
| Design Period | 1960 to 1969 |
| Year of Production | |
| Production Period | 1960 to 1969 |
| Country of Manufacture | Italy |
| Identifying Marks | This piece has been attributed based on archival documentation, such as vintage catalogs, designer records, or other literature sources |
| Style | Vintage, Mid-Century, Italian Modern, Hand-Crafted, Minimalist, Modernist |
| Detailed Condition | Good — This vintage item remains fully functional, but it shows sign of age through scuffs, dings, faded finishes, minimal upholstery defects, or visible repairs. |
| Restoration and Damage Details | Light wear consistent with age and use, Minor horizontal scratch on one of the wings |
| Product Code | |
| Materials | Murano Glass, Mouth-Blown Glass |
| Color | Clear, crimson, green |
| Width | 2.5 inch |
| Depth | 1.3 inch |
| Height | 9.4 inch |