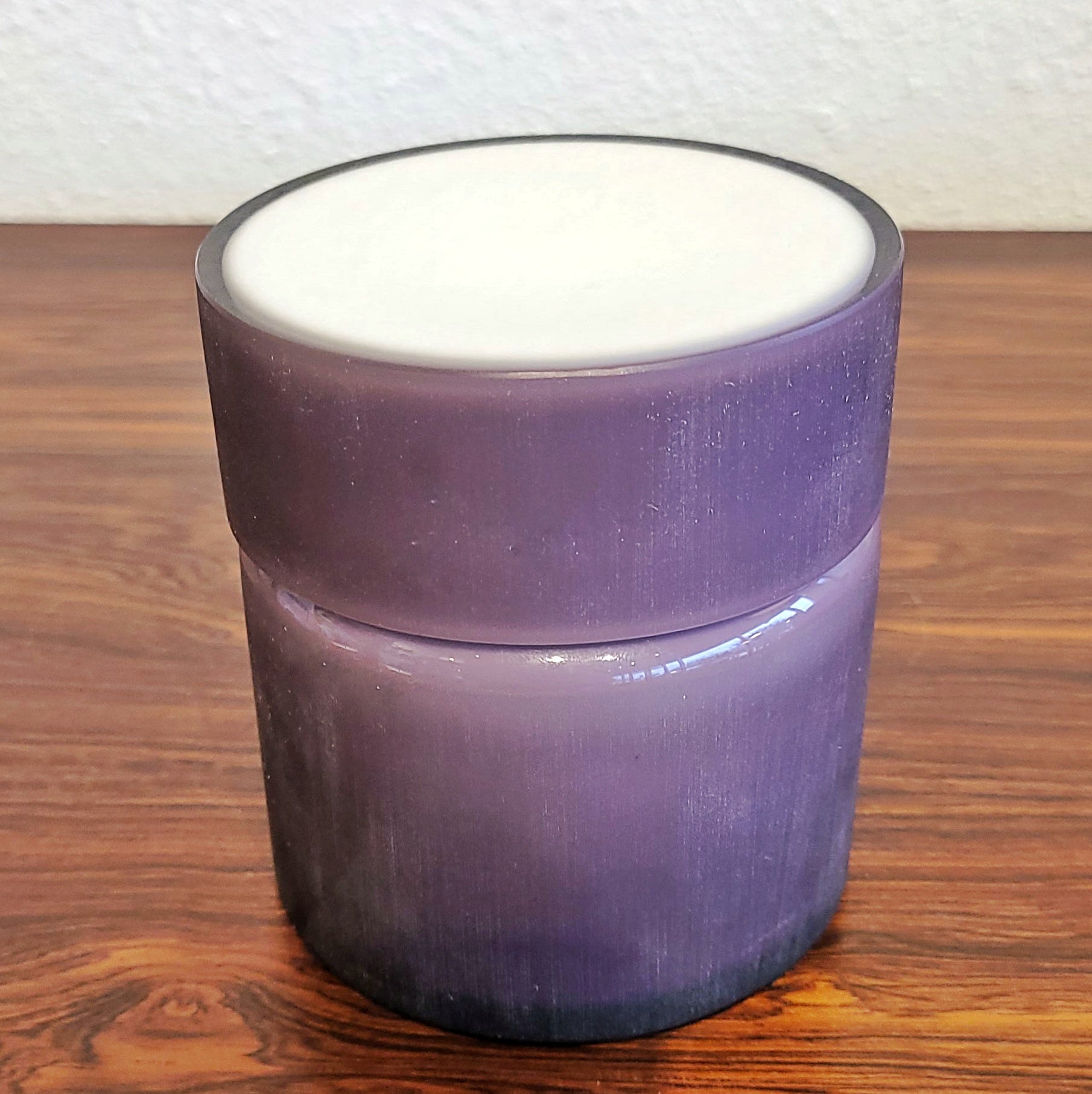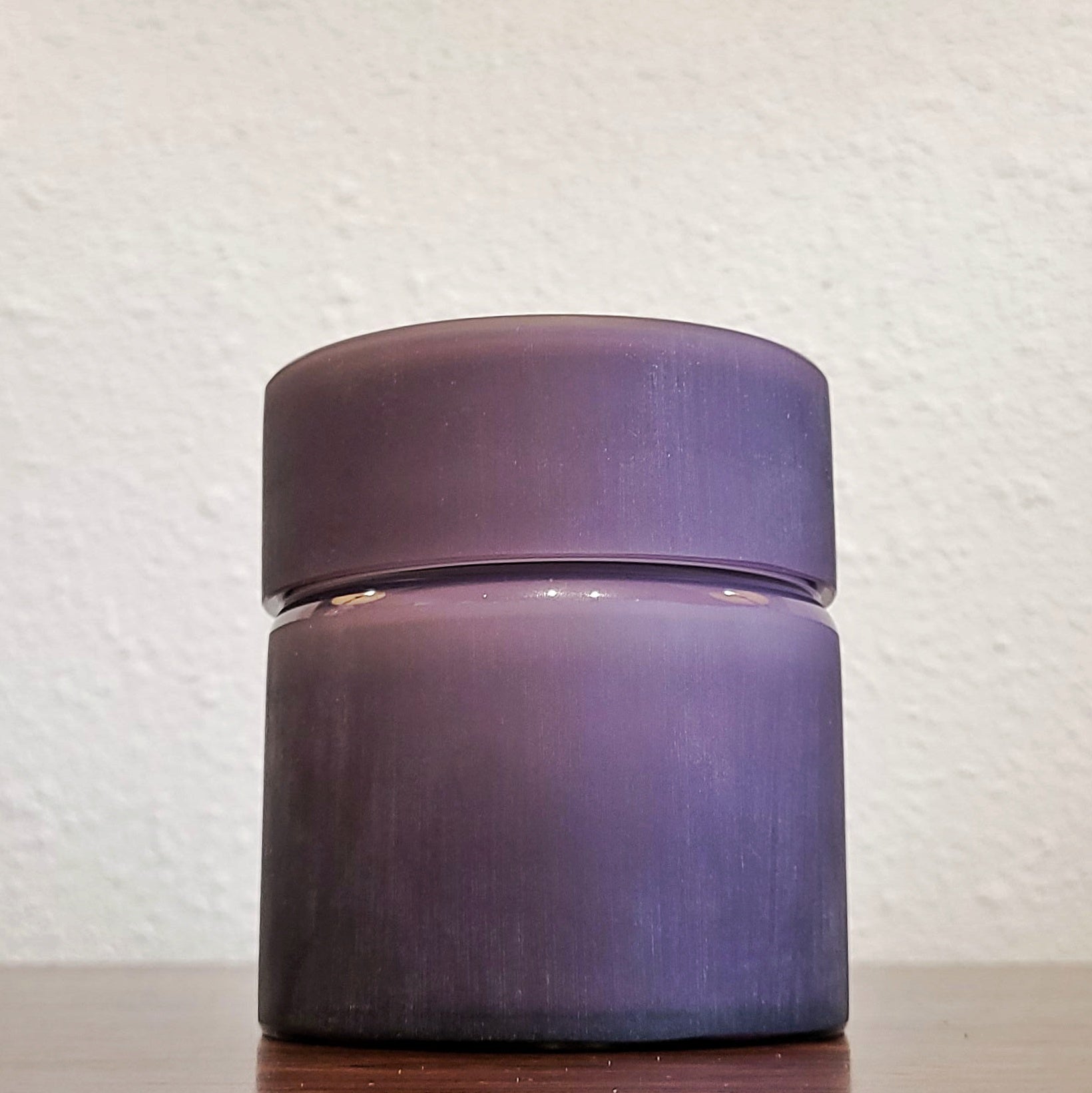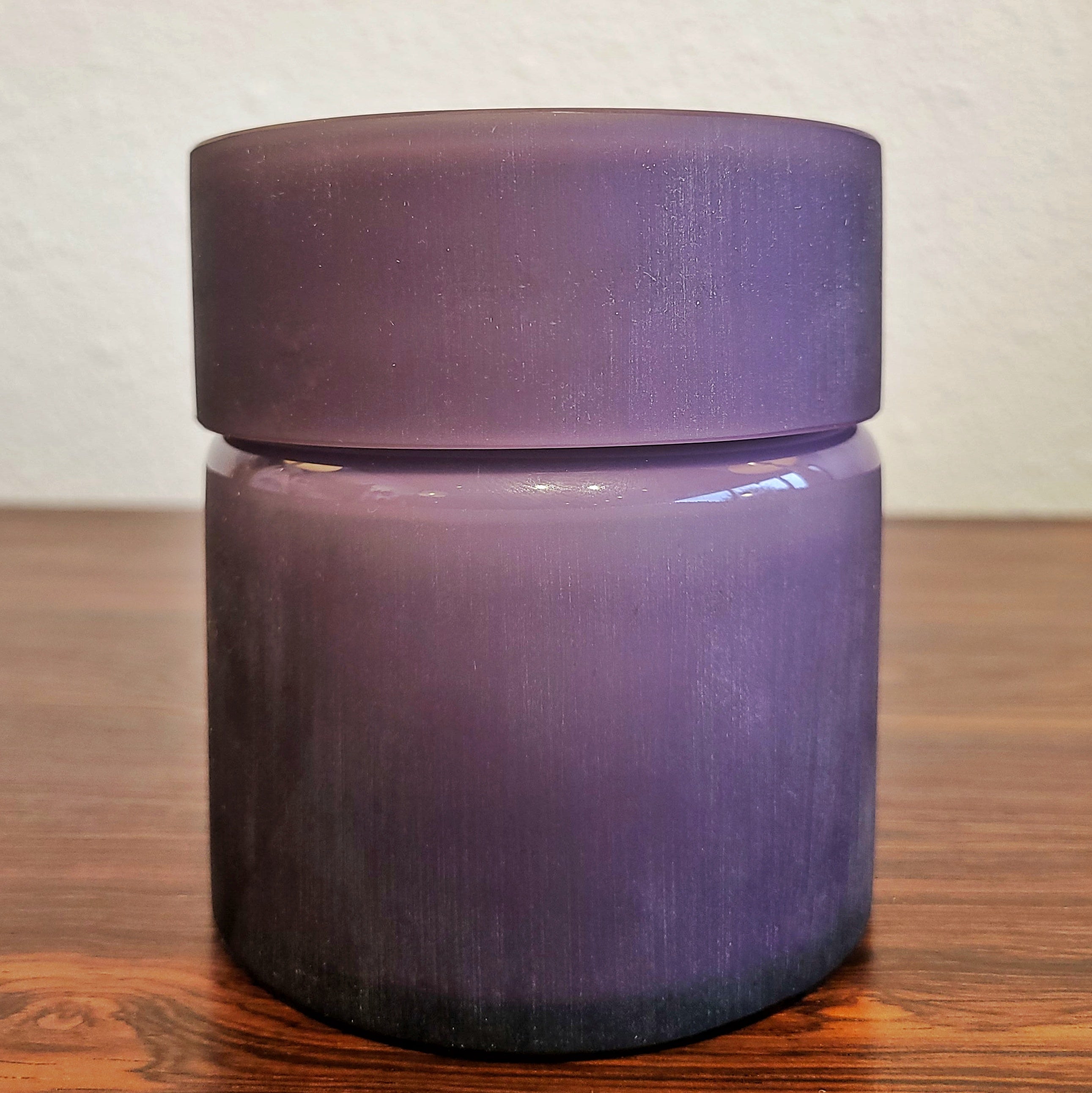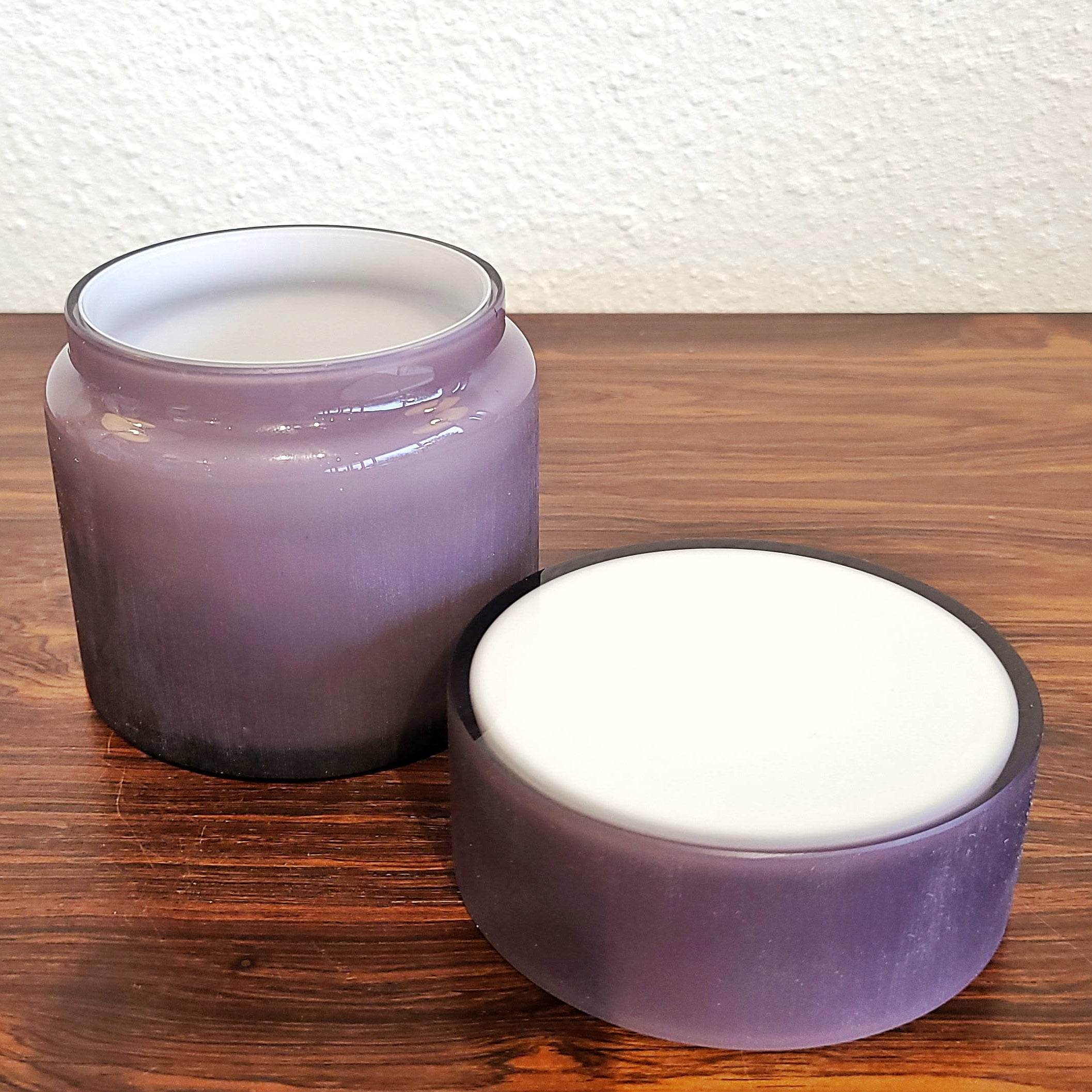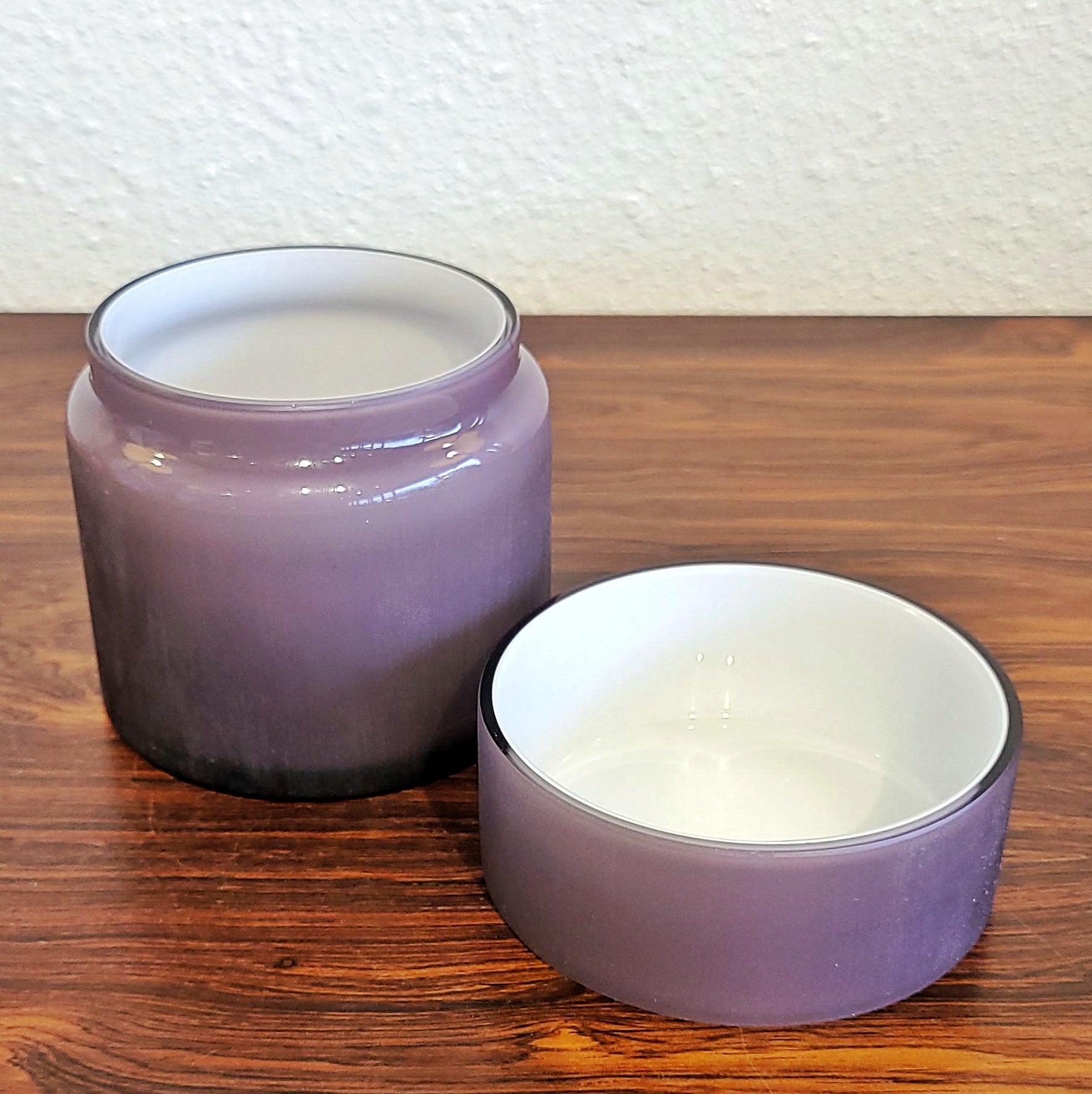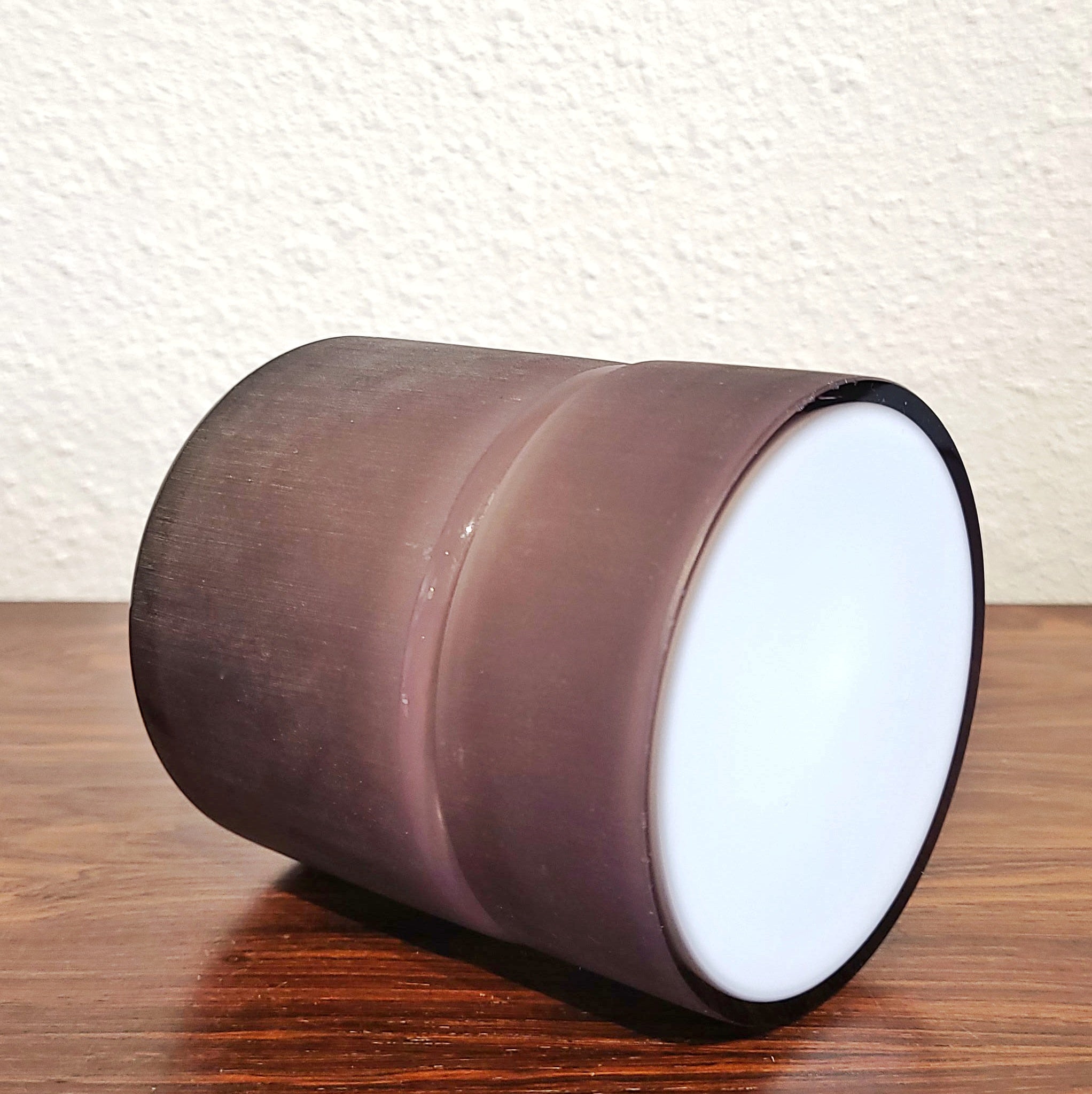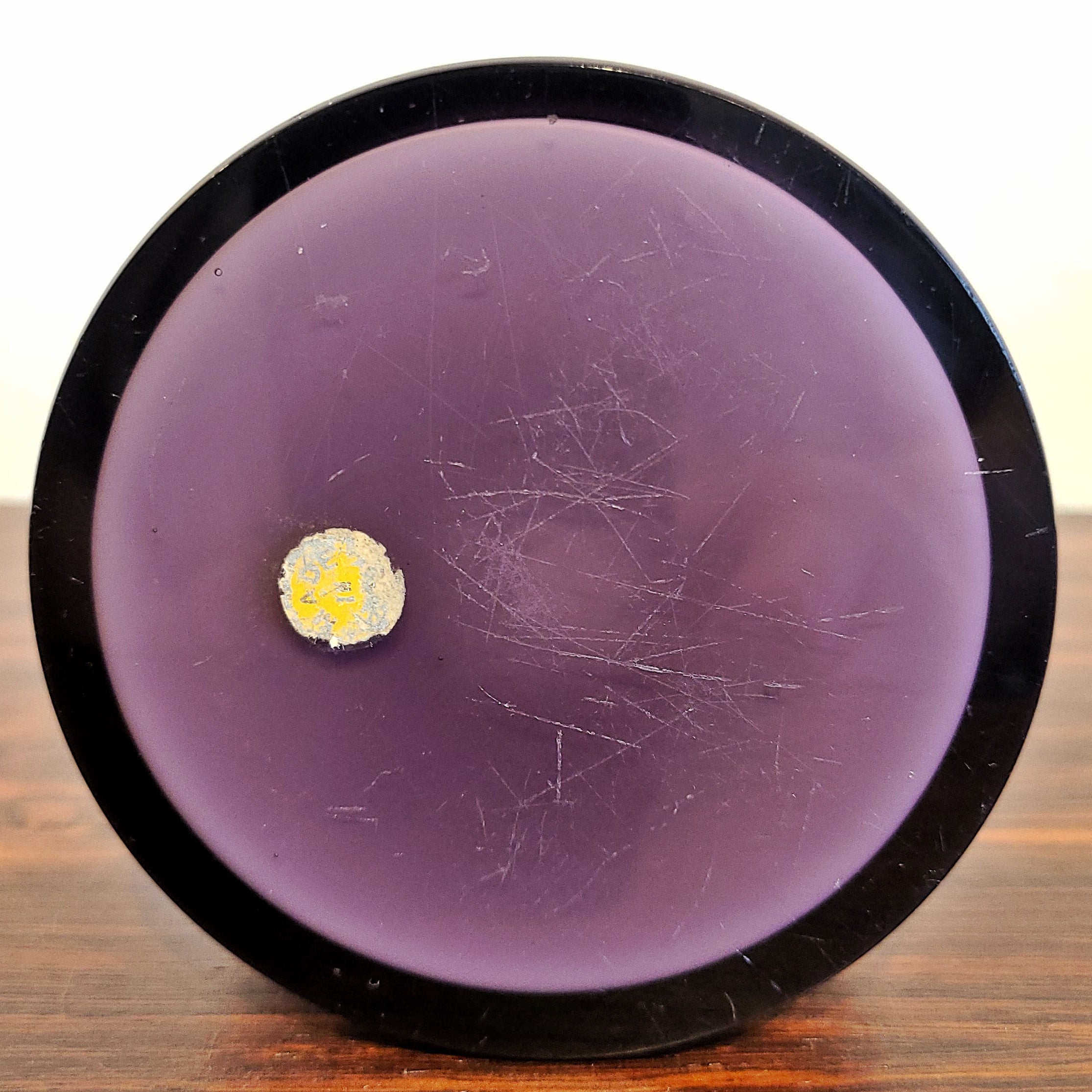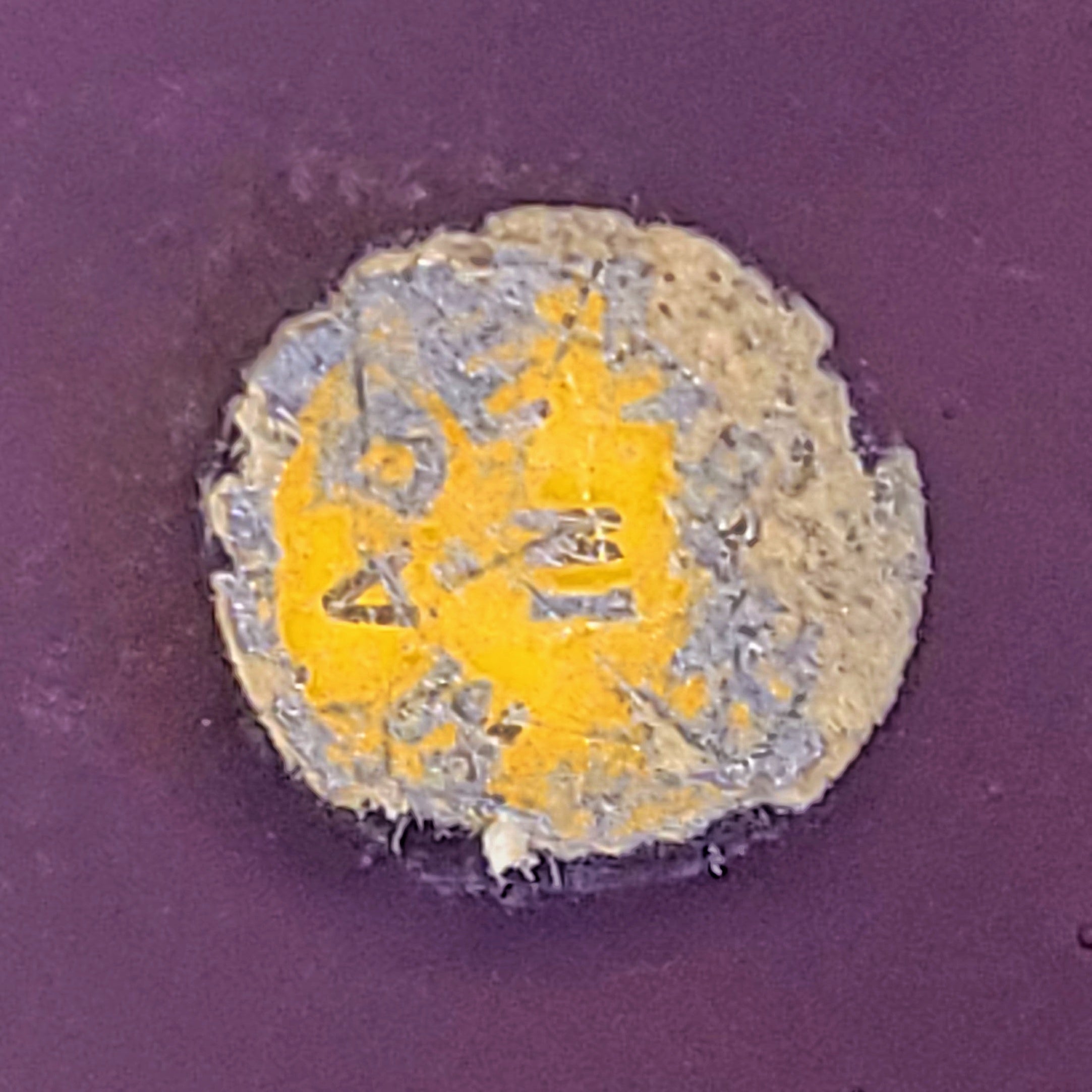 1960s VISTOSI FROSTED AMETHYST AND WHITE CASED GLASS BOX (MURANO)
$450.00
Regular price
$530.00
CONTACT US HERE ABOUT THIS ITEM.
This rare frosted cased glass cigarette box created by Vistosi in Murano, Italy during the 1960s, may find a more contemporary use as a tea caddy or trinket box.  Cylindrical in shape, this amethyst-colored jar is composed of a glossy white opaline interior cased inside a frosted amethyst outer layer.  The white glass is left bare on the top and polished to a high sheen creating great contrast with the dark frosted body.  The "Made in Murano" label is still attached to the base.
VISTOSI can be traced to the 16th century, Murano-based glassmaking family of Vincenzo Gazzabin. Though the Gazzabin family was productive for centuries, the decline of the Venetian Republic in the 19th century interrupted the glass-blowing industry in the region. In 1945, Guglielmo Vistosi, an heir of Gazzabin, re-established the family glassworks under the Vistosi name. Guglielmo passed away in 1952, and was succeeded by his brother, Oreste, and two sons, Gino and Luciano.

Born in Venice, Luciano Vistosi (1931-2010) grew up in Murano with the aspiration to create products using the latest techniques and aesthetics. He began designing his own glass collections—some of which are still in production today—under the pseudonym Michael Red. In 1968, he had his first exhibition at the Alfieri Gallery in Venice. At the end of the 1960s, he concentrated on blown-glass sculptures. Iconic works by Luciano include the lighting fixtures Neverrino (1960s), Bissa (1968), Bissona (1968), and Onfale (1978).

From the 1960s onward, Vistosi collaborated with some of the most celebrated names in design, such as Gae Aulenti (1927-2012), Liisi Meronen Beckmann (1924-2004), Adalberto Dal Lago (b. 1937), Michele De Lucchi (b. 1951),Vico Magistretti (1920-2006), Alberto Meda (b. 1945), Eleonore Peduzzi Riva (b. 1937), Ettore Sottsass (1917-2007), and Marco Zanuso (1916-2001). Although most of the pieces from these collaborations are well documented, Vistosi's many eccentric one-offs and small editions can be challenging to definitively attribute, date, and authenticate.

The pieces produced during the 1960s and '70s—most of which are white or translucent—anticipated both minimalism and the excess of the 1980s. Their emphasis on form is expressed through characteristically curvaceous shapes and elongated forms. Notable works from this time include Alessandro Pianon's Pulcino glass birds collection (1961), Fulvio Bianconi's Ih che bei or "Oh how pretty" series (c. 1963), and Eleanore Peduzzi Riva's large S621 Dish (1971), which can be found in MoMA's permanent collection.

In 1967, Vistosi debued the now-iconic, Murano glass-link Giogali Lighting designed by Italian architect, sculptor, and designer Angelo Mangiarotti (1921-2012). These revolutionary, highly successful chandeliers and lamps feature interconnected glass loops in an array of configurations. From the 1970s and '80s, Vistosi also found success with Magistretti's Alega Lamp (1970), De Lucchi's Vega Table Lamp (1982), and several designs by Albert Leclerc and Ettore Sottsass.

Luciano directed the company until 1984. There are conflicting stories as to who gained ownership of the company afterward. Some accounts state that Vistosi was acquired by lighting specialist Aurelian Toso; while other sources report that Maurizio Albarelli took helm in 1985. According to Vistosi's own website, however, the company was acquired by the Italian businessman Giancarlo Moretti in 1989. In the early '90s the factory closed, but was reopened a few years later with the help of Giancarlo's son, Matteo Moretti, who relaunched the Vistosi brand after a deep reorganization of the production and commercial sectors. At the end of the 20th century, Vistosi acquired the brands Alox, Triade, and G2 in order to focus on a more international market. Today the company continues to collaborate with important designers to produce high-quality lighting fixtures.
| | |
| --- | --- |
| Manufacturer | Vistosi |
| Design Period | 1960 to 1969 |
| Production Period | 1960 to 1969 |
| Country of Manufacture | Italy |
| Identifying Marks | This piece has been attributed based on archival documentation, such as vintage catalogs, designer records, or other literature sources |
| Style | Vintage, Mid-Century, Italian Modern, Hand-Crafted, Minimalist, Modernist |
| Detailed Condition | Very Good — This vintage item has no defects, but it may show slight traces of use. |
| Restoration and Damage Details | Light wear consistent with age and use |
| Product Code | |
| Materials | Colored Glass, Etched Glass, Frosted Glass, Glass, Hand-Blown Glass, Mouth-Blown Glass, Murano Glass, Opaline Glass |
| Color | Mauve, white |
| Width | 3.5 inch |
| Depth | 3.5 inch |
| Height | 4.3 inch |
| | |