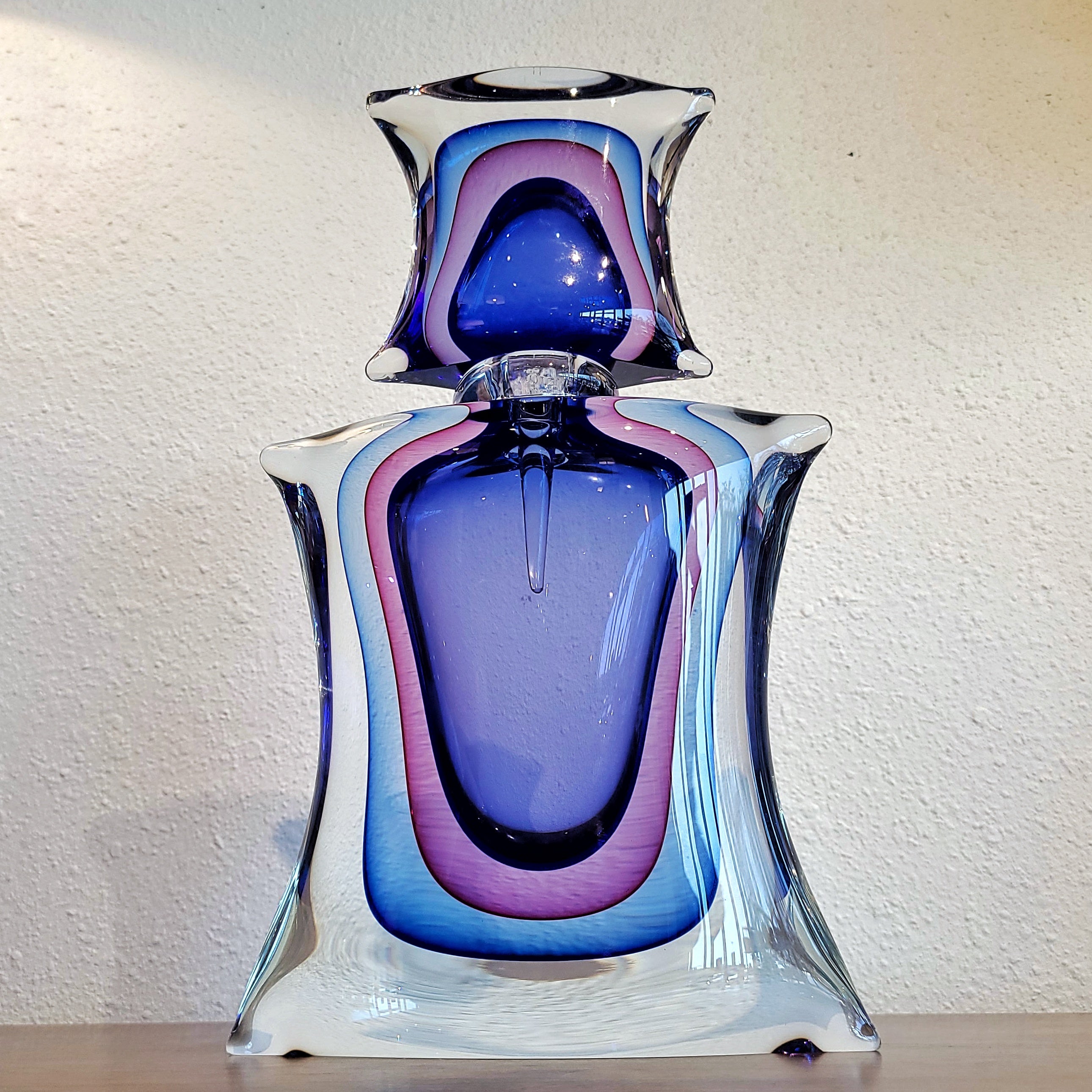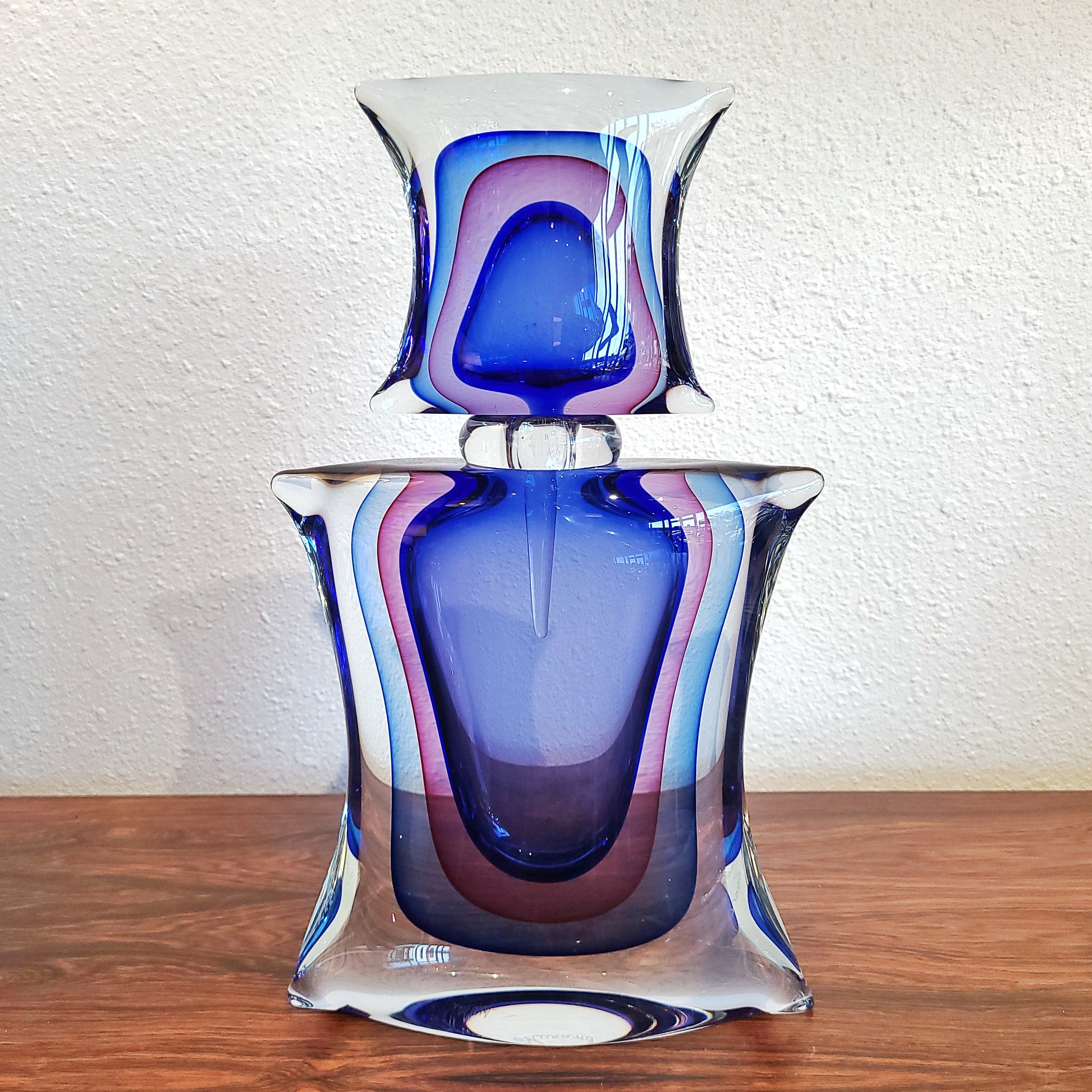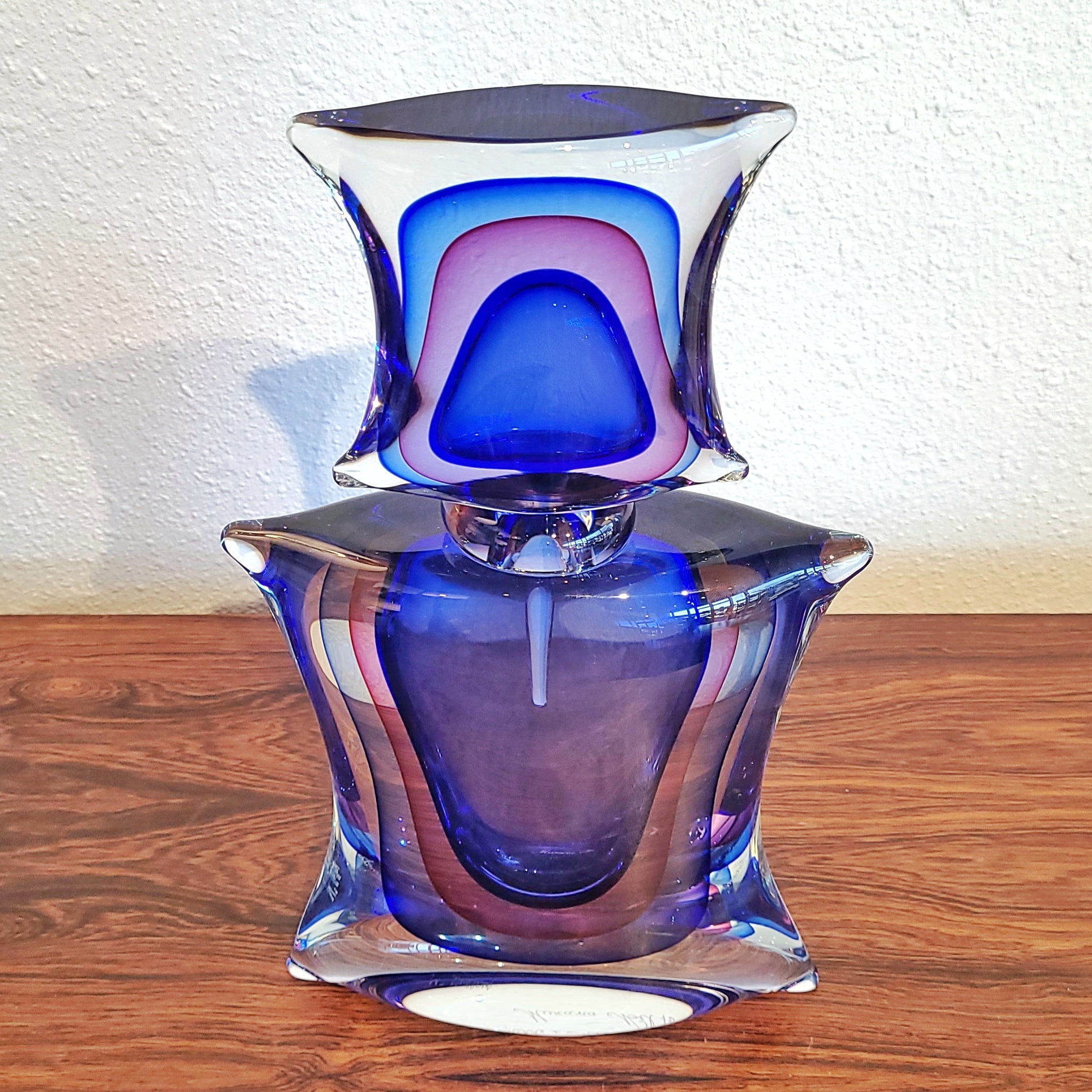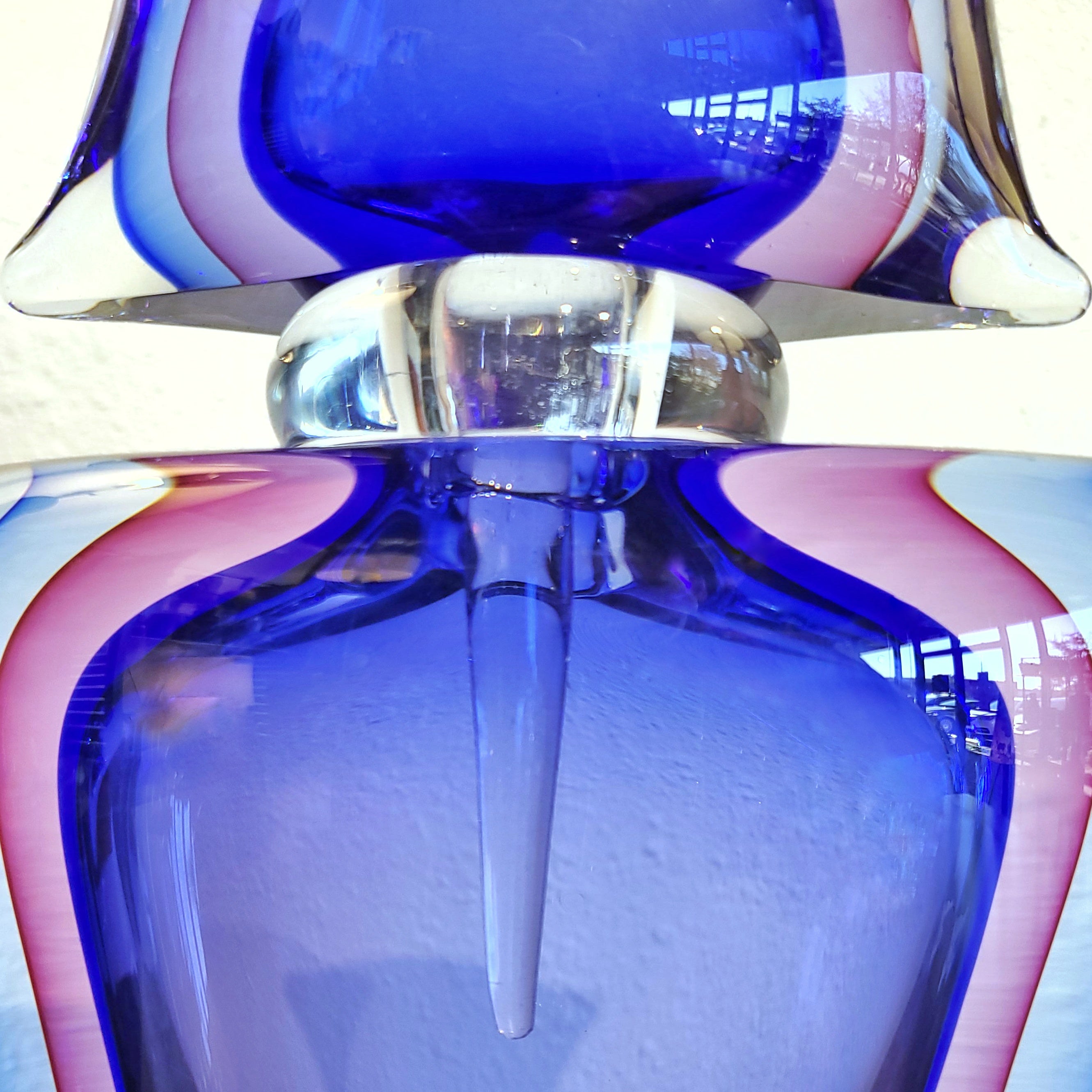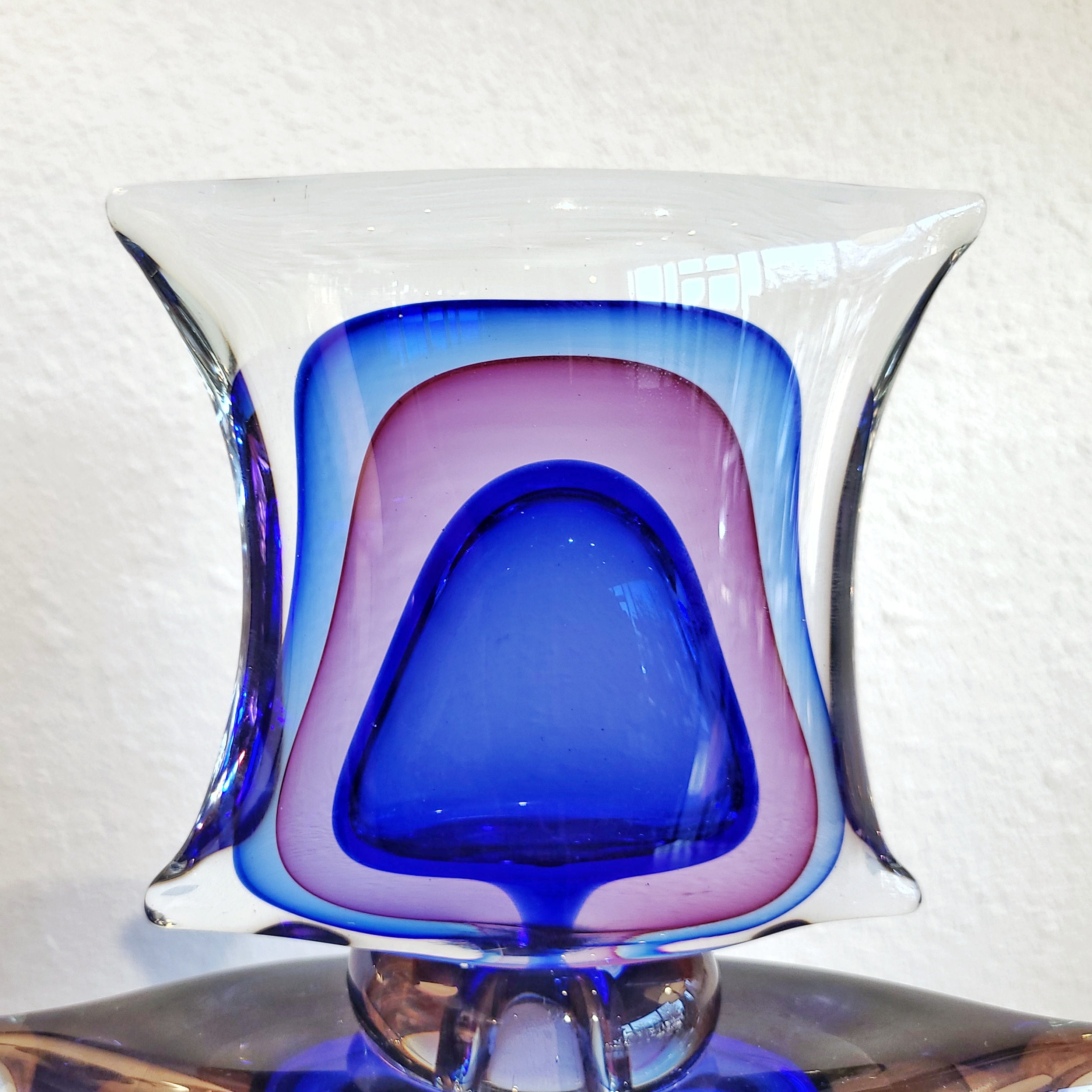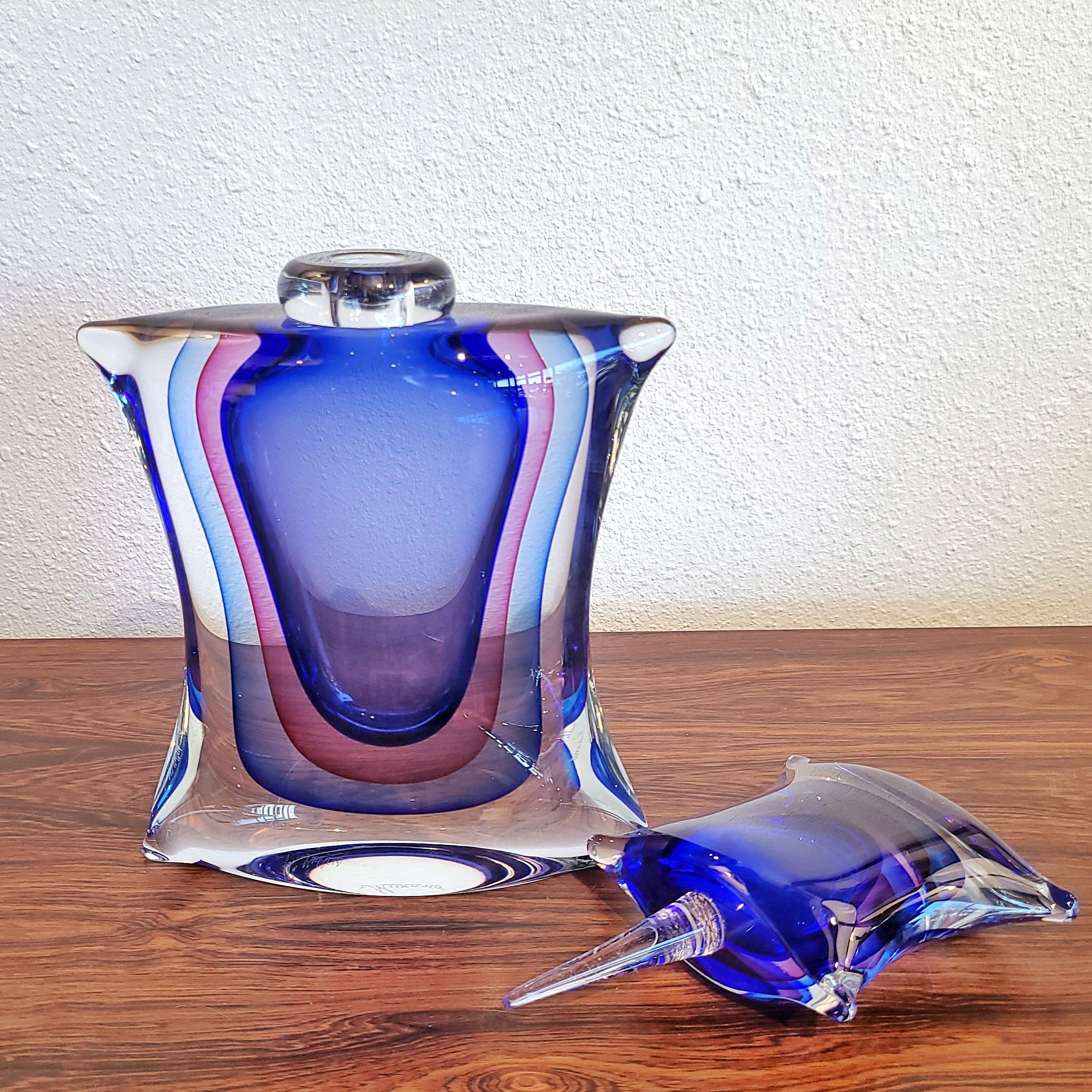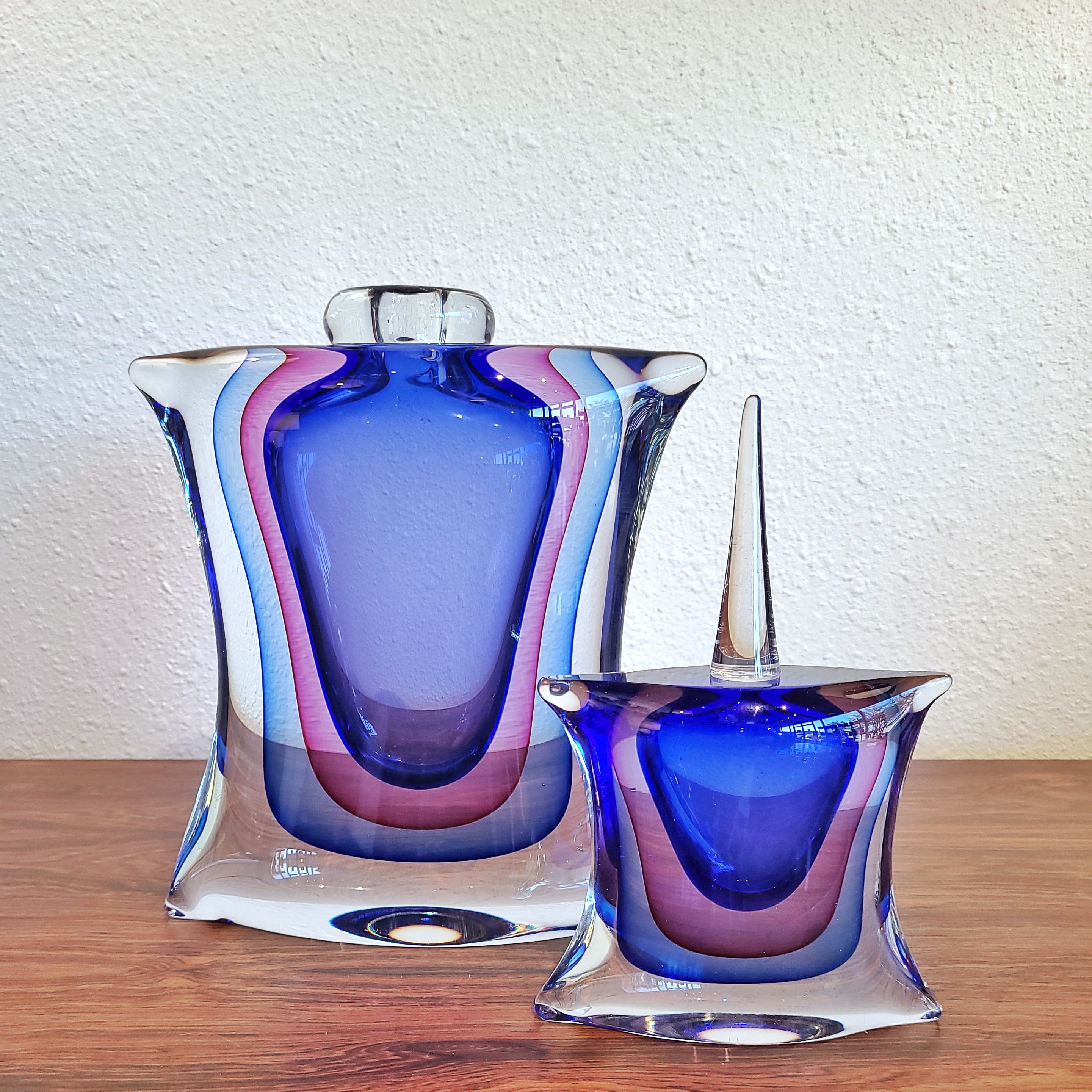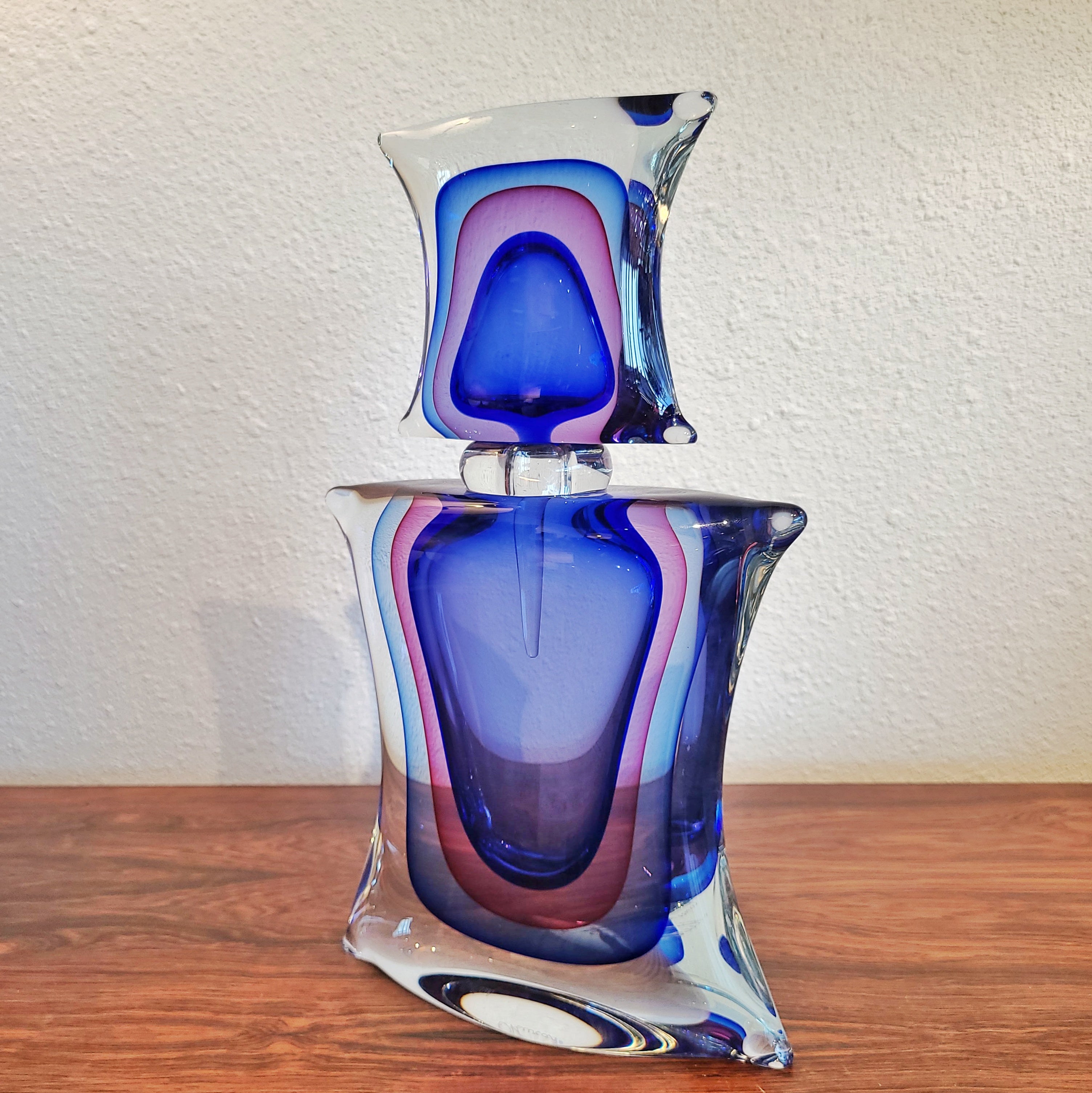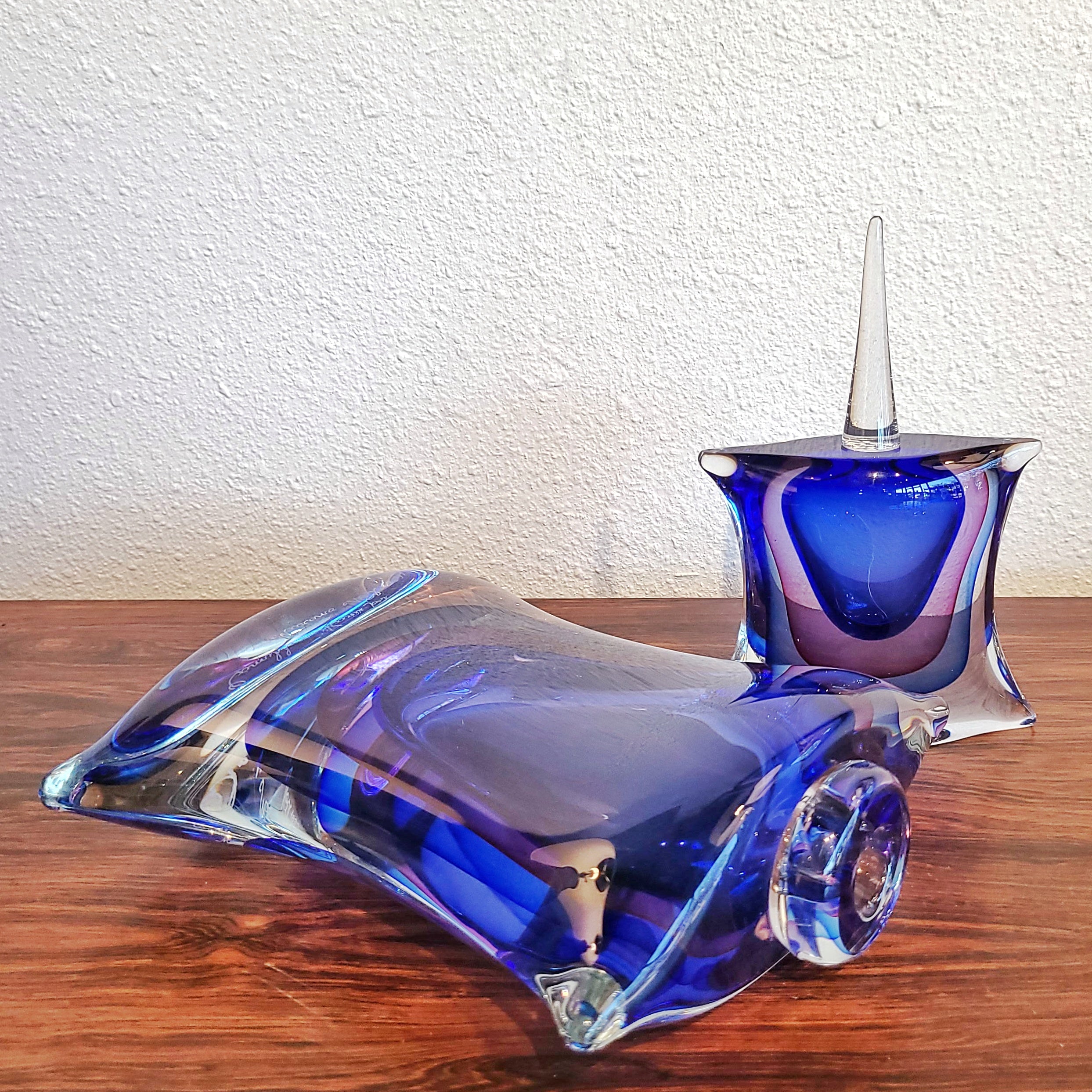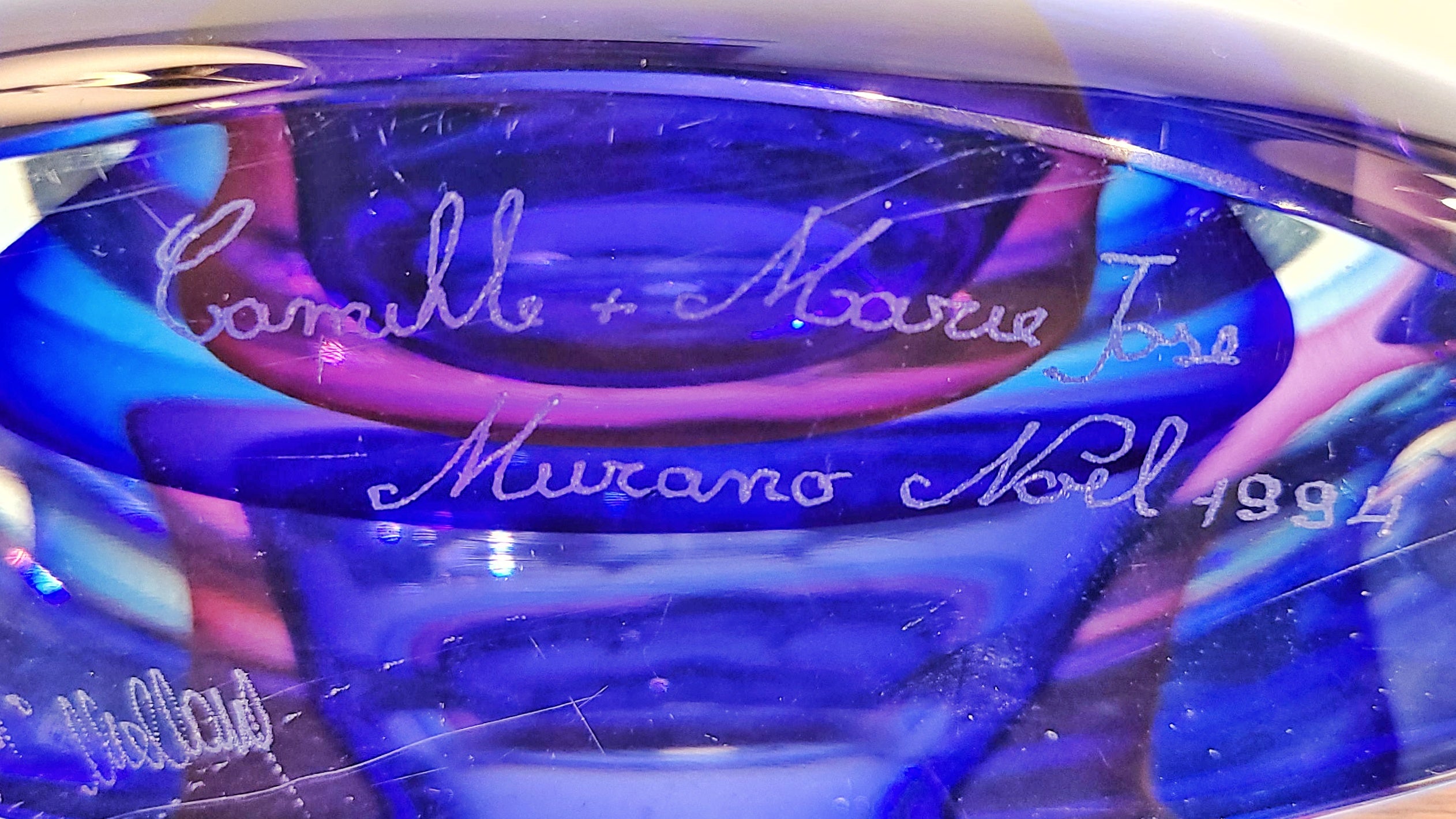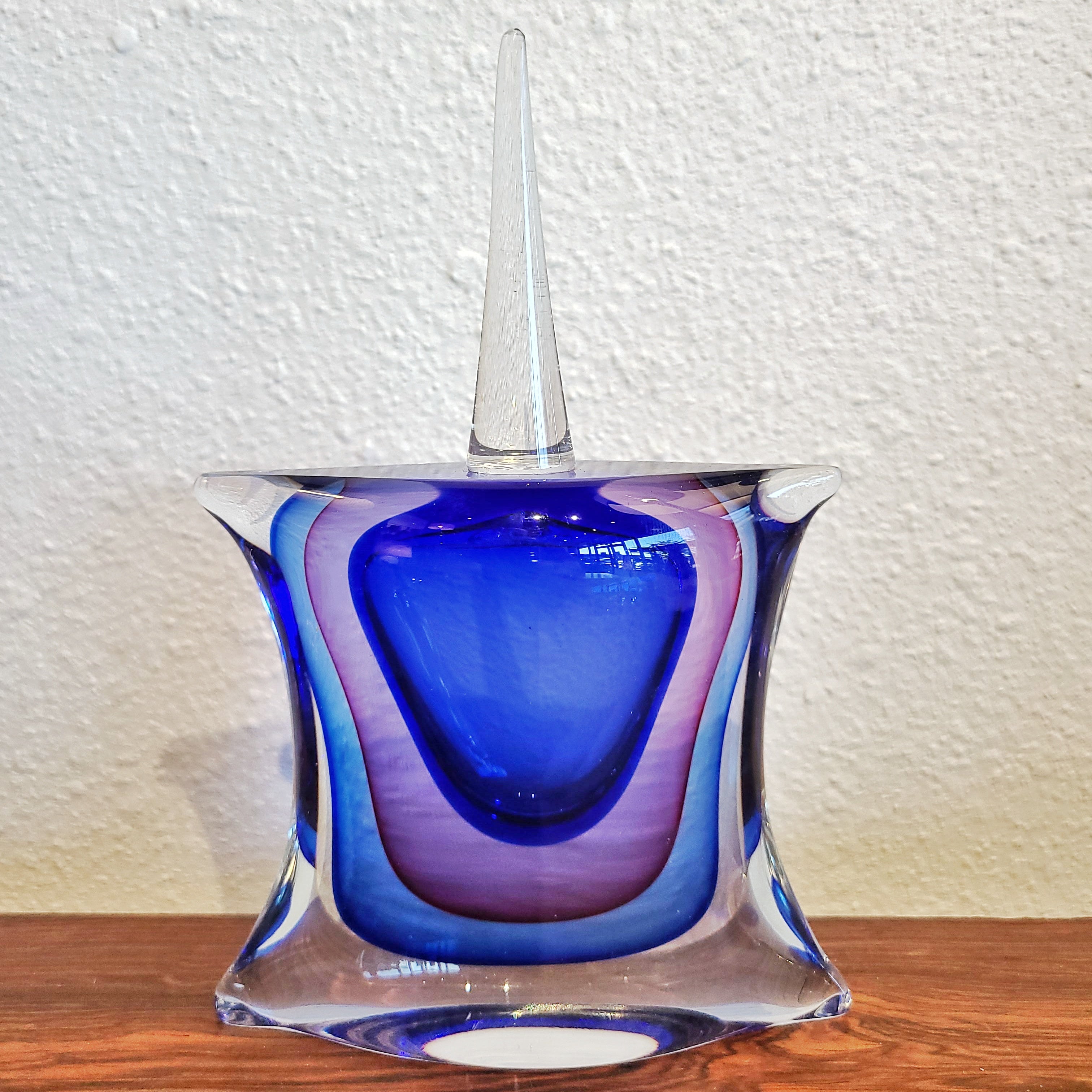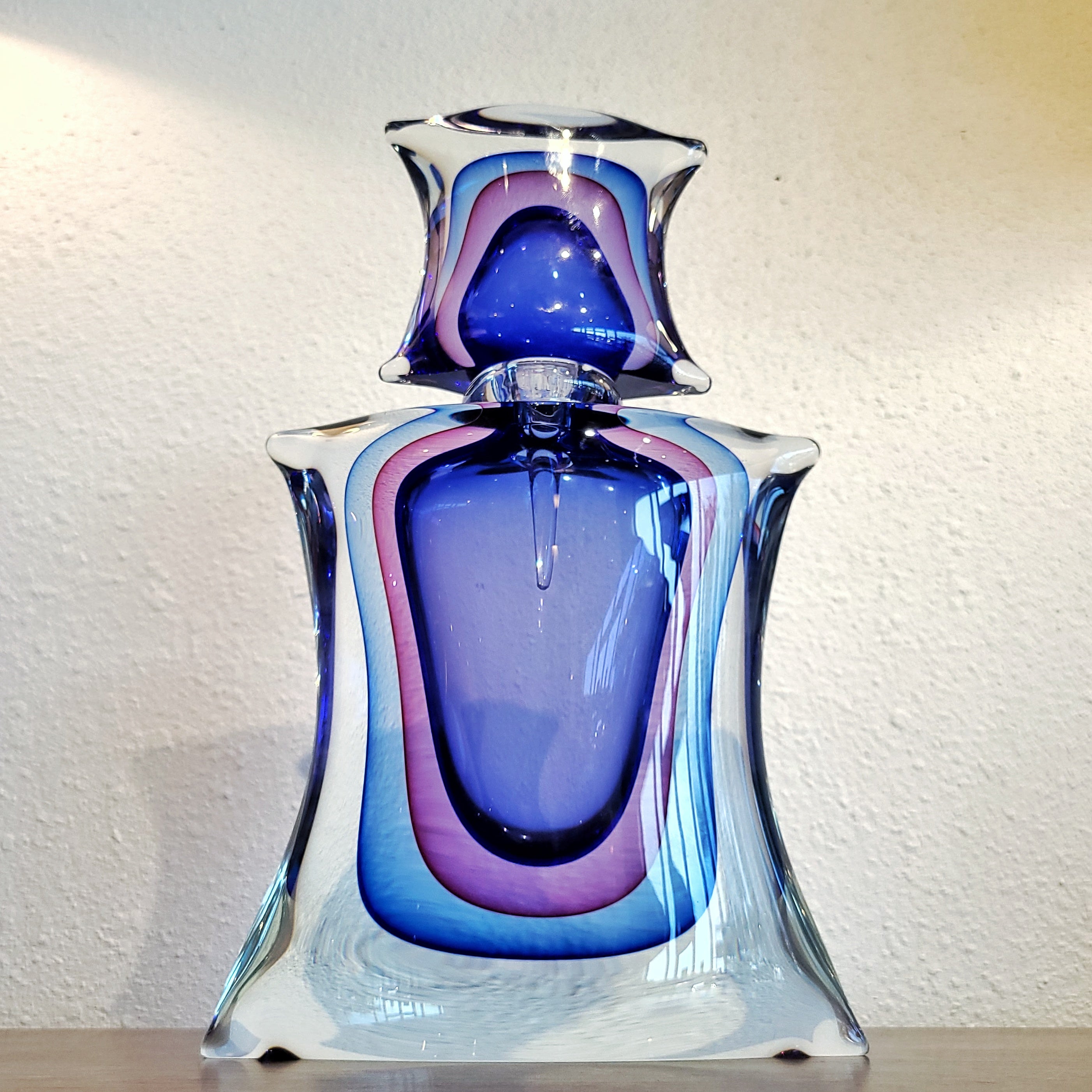 LARGE SOMMERSO PERFUME BOTTLE BY LUIGI ONESTO (MURANO, ITALY)
CONTACT US HERE ABOUT THIS ITEM.
An unusually large Murano glass perfume bottle designed in the 1970s or 80s by Luigi Onesto for Vetreria Artistica Oball.  Measuring 13.5" tall by 8" wide and 2.5" deep, it makes a proud statement in vibrant sommerso colors of royal blue and violet encased in a clear crystal matrix.  It has been inscribed on the bottom "Camille + Marie Joss Murano Noel 1994"
LUIGI ONESTO (1935-) is one of the most famous makers of Italian Murano art glass.  He was born on the island of Murano into a glass-making family and was immersed in the art from an early age. As a teenager, he honed his craft during his apprenticeship at Gambaro & Poggi, one of the oldest and leading glass-making companies in Italy at the time.  In 1978, once he had attained suitable skill, he founded his own atelier, Vetreria Artistica Obali, later to be joined by his sons Fabio and Michele. On numerous occasions, he collaborated with Oggetti, the famous U.S importer and retailer of fine Italian art glass.

Luigi's work is characterized by his exceptionally skillful use of the sommerso technique. Sommerso involves layering multiple colors of glass for a very distinctive and beautiful effect. It is not a simple process by any means and in the hands of lesser artists, the effect is often ruined by the presence of air bubbles between the layers. In the hands of a skilled artist like Luigi Onesto, the end result is quite dazzling.  Oball is also known for its Murano Glass Aquarium Collection.

Vetreria Artistica Obali has been running for more than 40 years.
Since the beginning, works were predominantly in the sector of gift and furnishing accessories. The continuous qualitative research into materials and design characterizes the entire production that takes place manually using the most antique and traditional techniques of glass manufacture.  Nowadays all production is created and conceived by Fabio and Michele Onesto.
Details

Dimensions

8ʺW × 2.5ʺD × 13.75ʺH
Styles

Abstract
Italian
Modern

Period

1970s
Place of Origin

Italy
Item Type

Vintage, Antique or Pre-owned
Materials

Murano Glass
Condition

Very Good Condition, Original Condition Unaltered, No Imperfections
Color

Royal Blue
Condition Notes

Excellent Vintage Condition