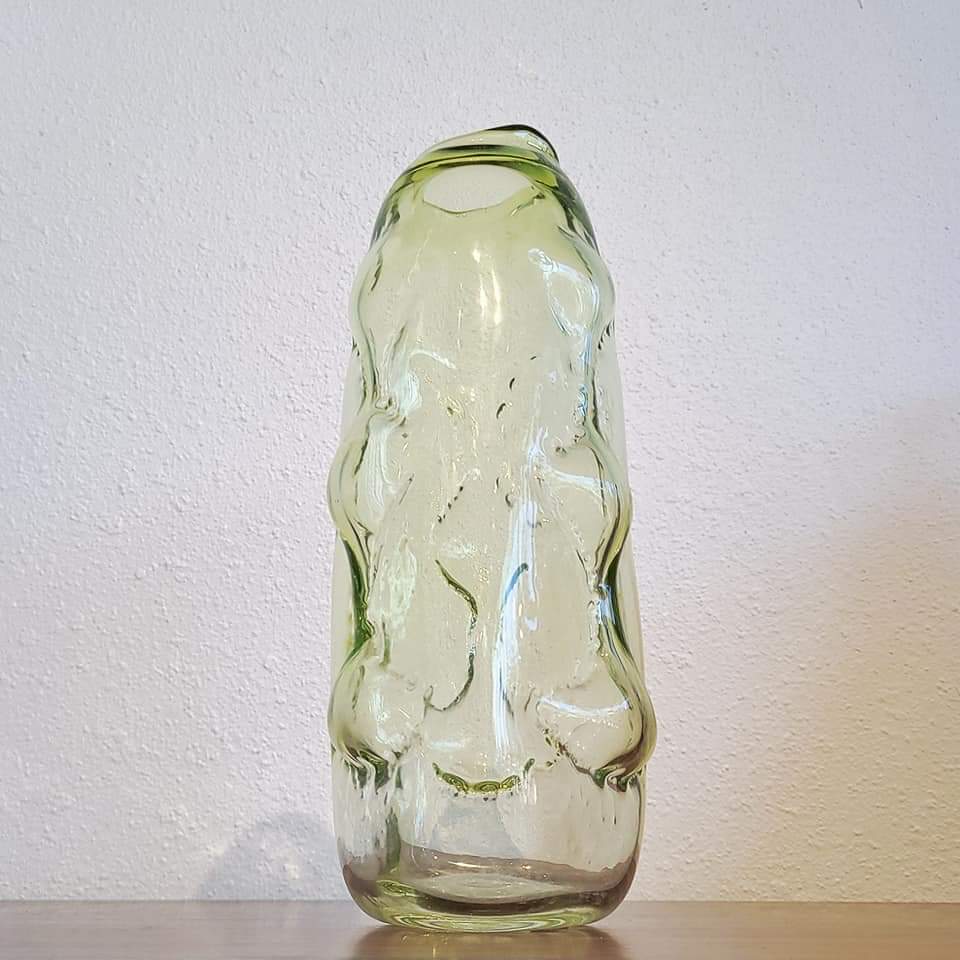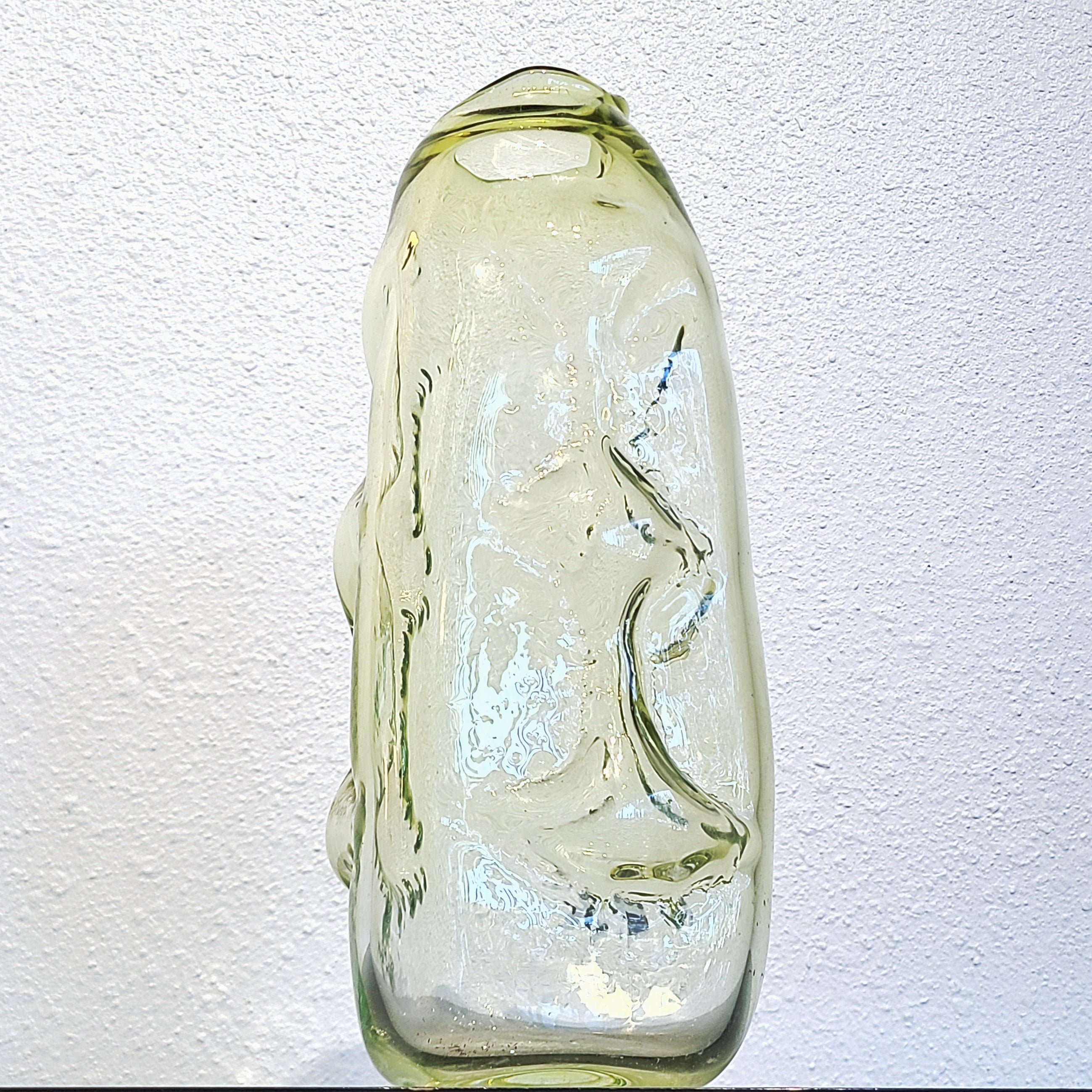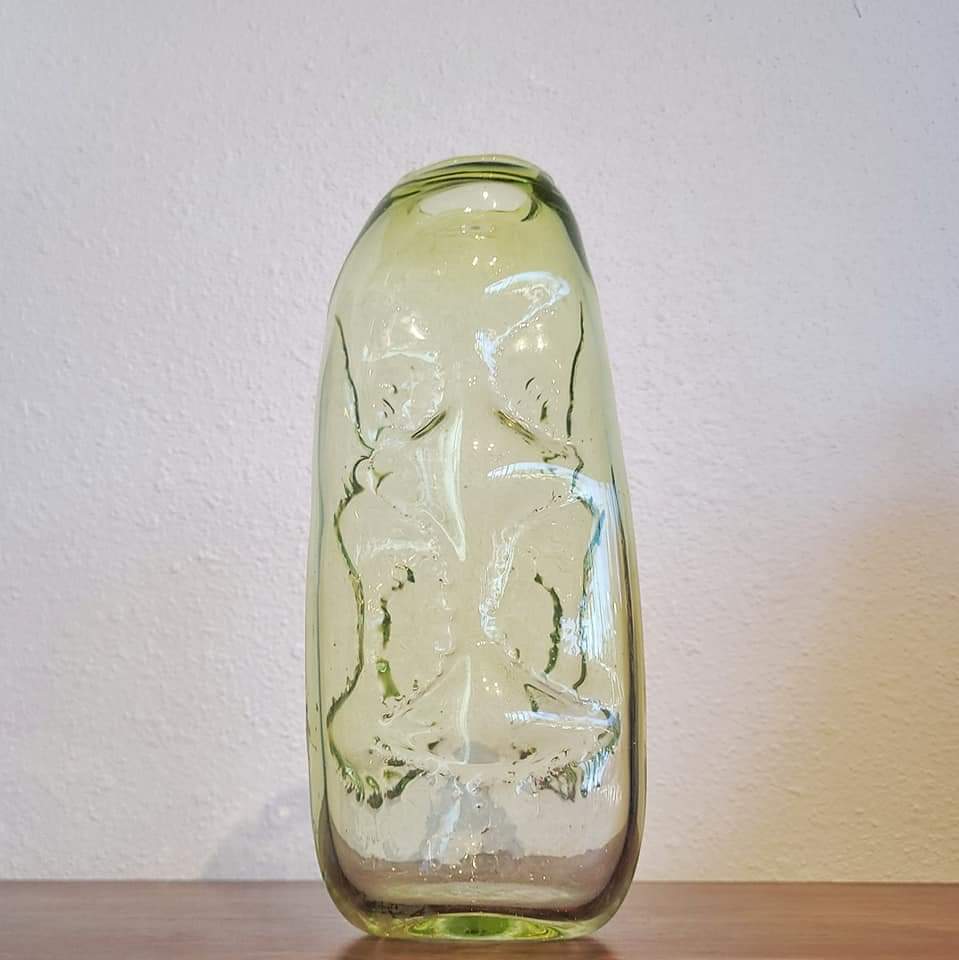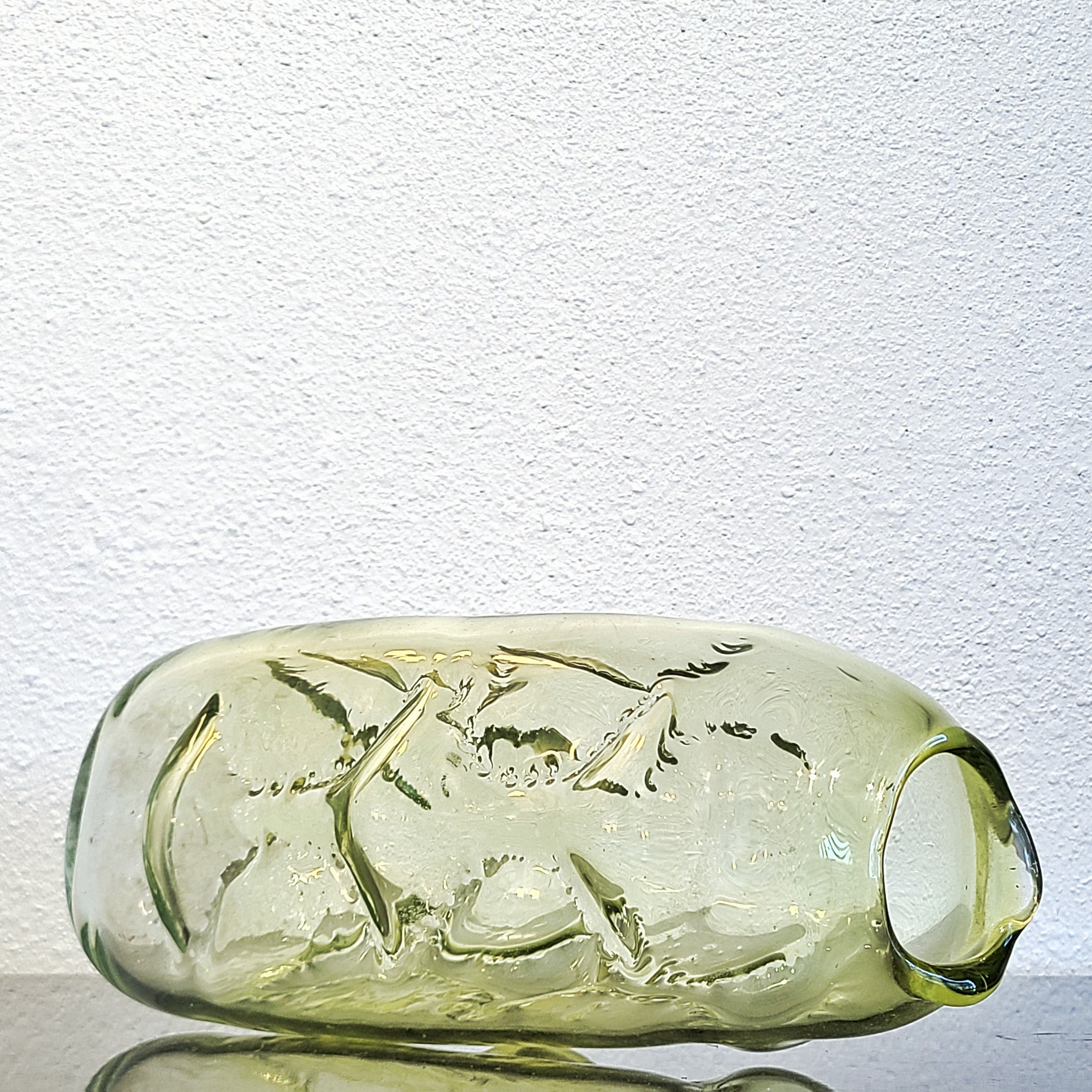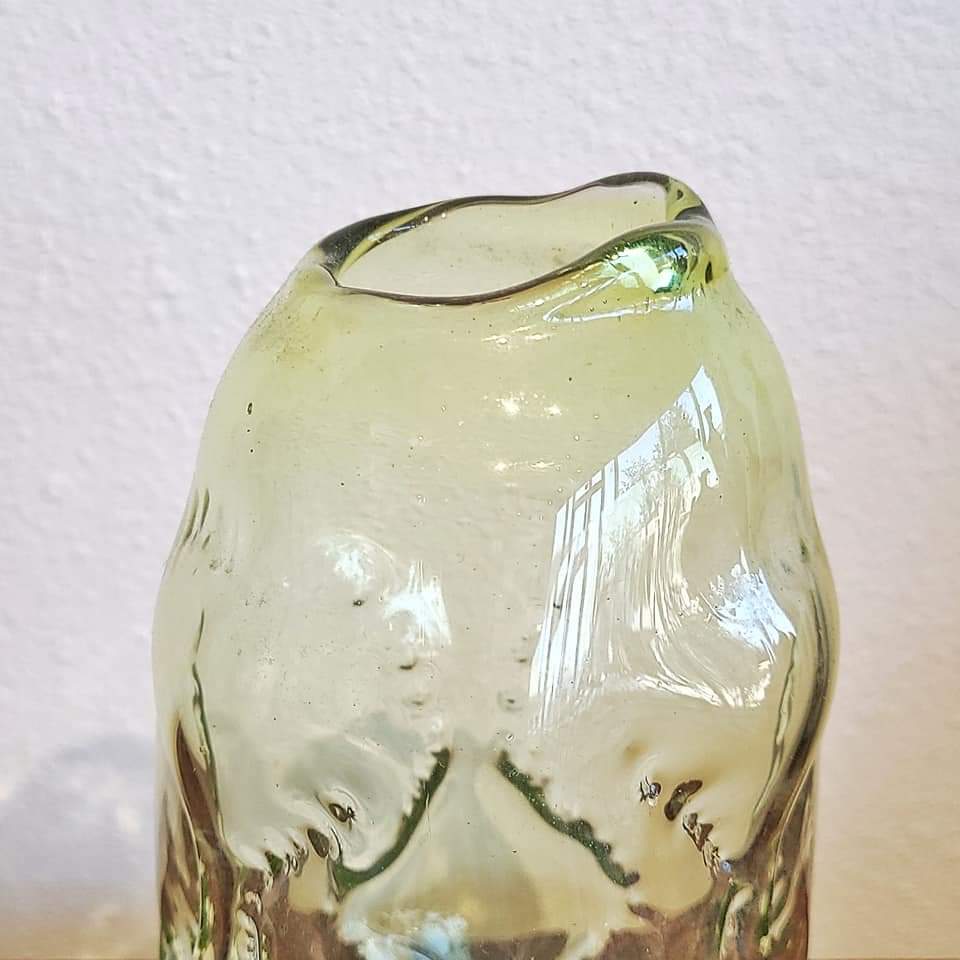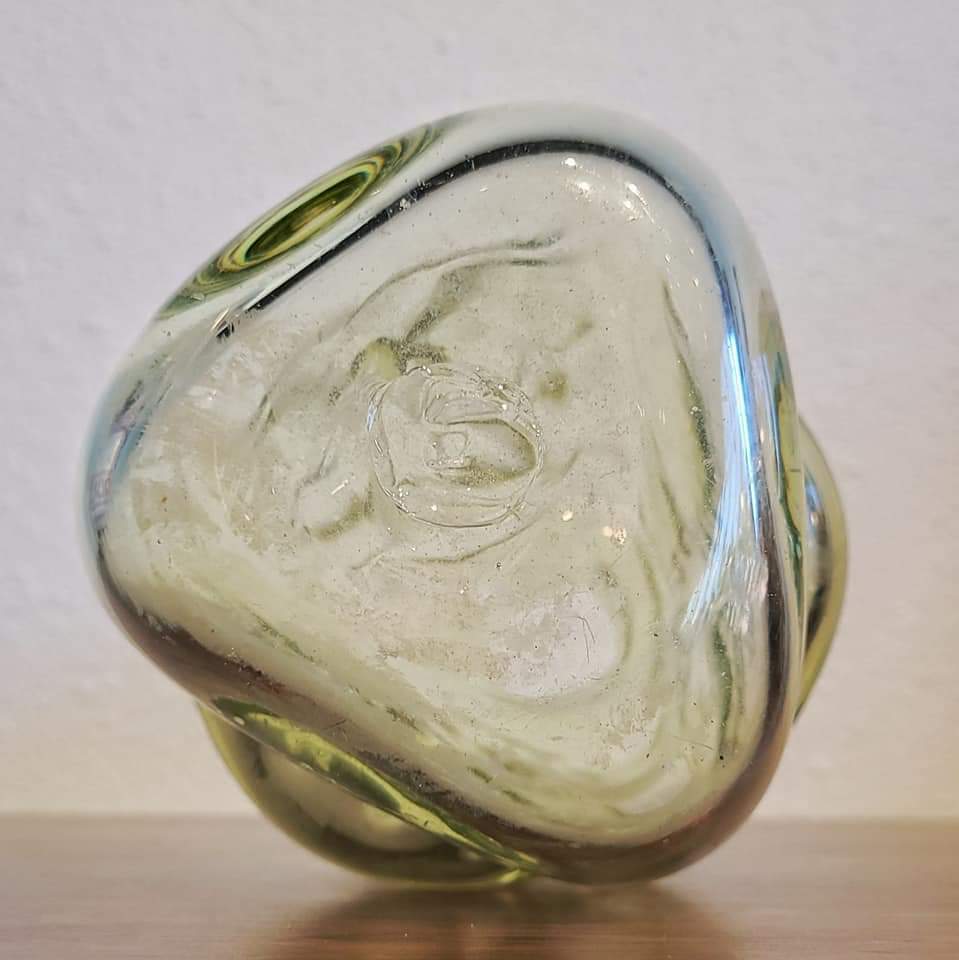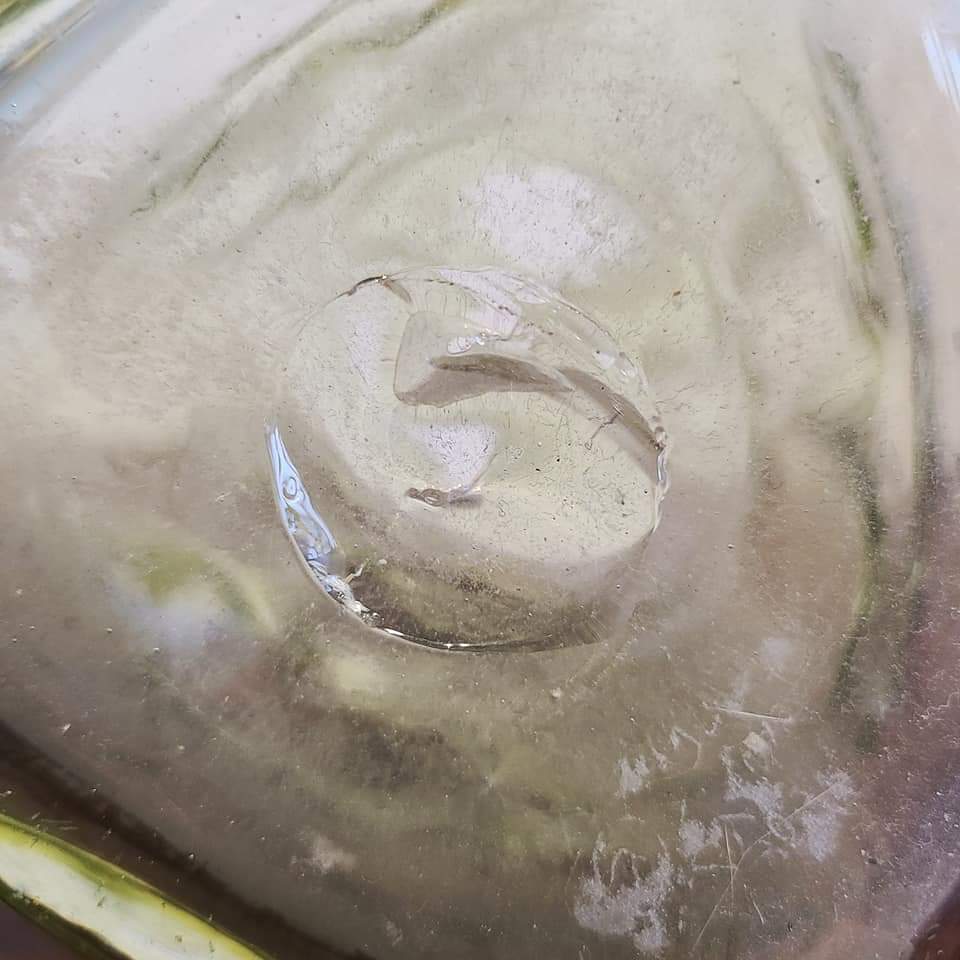 RARE WAYNE HUSTED BIOMORPHIC GLASS VASE Nr. 5422 FOR BLENKO
CONTACT US HERE ABOUT THIS ITEM.
A rare triangular, biomorphic BLENKO glass vase Nr. 5422 designed by Wayne Husted in 1954 and produced for only two years. Tall at 12.5", its color is a beautiful pale chartreuse.
---
BLENKO GLASS COMPANY is a family-owned business located in Milton, W. Va., that specializes in hand-blown glass. It was founded in 1921 as the Eureka Art Glass Company by Englishman William John Blenko (1854–1934). Blenko was determined to introduce Old World sheet glass production methods in the US. He immigrated to America in 1893 and eventually set up shop in Milton after several unsuccessful attempts to establish factories elsewhere. Blenko had been sold on the location by the Industrial Development Dept. of the Chesapeake & Ohio Railroad—as both home to a sober, conscientious workforce and a reliable source of natural gas for his kilns. He set to work building a furnace with the help of a few Milton locals, and, within less than a month, handmade glass was being manufactured. (Along with natural gas, rich deposits of silica and access to both river and rail transportation helped make West Virginia a locus of glass manufacturing following the American Civil War.) Prior to the 1923 arrival of his son and daughter-in-law—William H. Blenko (d. 1969) and his wife Marion (née Hunt)—William J. was making and selling all of the glass himself. Within two years time, a larger workshop and better shipping facilities were necessary, and the glassworks was moved across the river to its present location, near the main line of the C&O Railroad. The operation acquired a notable commission in 1927 when British architect Sir Giles Gilbert Scott chose it to fabricate glass for the windows of Liverpool Cathedral. Another early honor was furnishing glass for the windows of St Patrick's in New York City.
The onset of the Great Depression, which decimated the market for stained glass, made it obvious that the product line had to expand beyond sheet glass. To that end, the services of two Swedish-American glassblowers were secured in 1929, the brothers Louis Miller and Axel Müller (the latter of whom never Americanized his name). They trained the Milton crews to craft decorative objects by hand—the vases, pitchers, and stemware for which BLENKO became internationally known. An early customer was the Boston importer Carbone and Sons, which previously had sourced such goods from Italy and Sweden. Growing demand was met with increased production, and, in 1930, the company changed its name to the BLENKO GLASS COMPANY, and the tableware line that made "Blenko" a household name was introduced. In 1932, Macy's in New York began selling BLENKO. After founder William J. died in 1934, son William H. assumed his duties; he would preside over steady growth at the firm for 30 years before retiring. His wife Marion served as treasurer, secretary, and retail sales manager up until her death in 1989.
Since the mid-1930s, BLENKO has showcased its product line in an annual catalog. It was published in color for the first time in 1959, under the direction of designer Wayne Husted. As the company introduced new hues and phased others out, a special page was devoted to a list of available colors—often evocatively named. During the early '60s, palettes included turquoise, amethyst, tangerine, sea green, jonquil, crystal, and rosé. Later in the decade, chestnut, honey, peacock, plum, lemon, and wheat appeared. Collectors, dealers, and curators alike seek out past catalogs to help identify and authenticate BLENKO objects.
While many different techniques have been employed at BLENKO, the company is particularly known for its use of molds in the production process. Hand-carved cherrywood molds, for example, are employed to shape its blown tableware. About 80 percent of Blenko's production has utilized wooden turn-molds. Such molds enable makers to rotate the blowpipe so that the glass does not stick. While considerably less expensive than metal ones, wooden molds wear out after fifty to a hundred uses. More durable, cast-iron molds are used for objects made in quantity, such as BLENKO's signature 384 Water Bottle (in continuous production since 1938).
Change came in 1947 with the decision to hire Winslow Anderson (1917–2007) as a full-time design director. The work of the company's first designers achieved critical acclaim; several of Anderson's designs received MoMA's Good Design Awards in 1950, ensconcing BLENKO as a leader in modern American glass through the '50s and '60s. The company's "Historic Period"—the focus of collector and cultural interest—began with Anderson and ran through the tenure of John Nickerson (b. 1939) up to 1974 (see below). The second design director, Wayne Husted (b. 1927), did much to propel the company into the avant-garde, notably pioneering the concept of "architectural scale" designs. Husted's successor, Joel Philip Myers (b. 1934) and founder of the Studio Glass movement, with its emphasis on the artist as designer and maker of one-of-a-kind objects, further enhanced the firm's reputation.
---
BLENKO'S "HISTORIC" DESIGN DIRECTORS:
Winslow Anderson, 1947–1953
Wayne Husted, 1952–1963
Joel Philip Myers, 1963–1970
John Nickerson, 1970–1974
---
The BLENKO GLASS COMPANY filed for Chapter 11 in May 2011. A reorganization plan was accepted by the court in December 2012, clearing the way for the company to exit bankruptcy in early 2013. Now in its fourth generation of family leadership, BLENKO continues to produce new forms and roll out new hues. Contemporary collectors, prizing historic designs and colors, have fostered an active secondary market for BLENKO glass. Direct-to-consumer sales of two limited edition runs of figurines depicting famous West Virginia cryptids—the Flatwoods Monster and Mothman—expanded BLENKO's traditional customer base in recent years, helping to sustain its fortunes through the COVID-19 pandemic. The company offers free factory tours to the public and has an observation area for watching its craftspeople at work.
---
DETAILS
Maker – BLENKO GLASS COMPANY
Production Period/Year – 1950s
Designer – WAYNE HUSTED
Design Period/Year – 1950s
Origin – USA
Styles/Movements – ABSTRACT; MID-CENTURY MODERN; AMERICAN
Materials – GLASS
Colors – CHARTREUSE
Condition – Excellent vintage condition. Minor wear consistent with age and use.
Dimensions – 5" W × 5" D × 12 0" H