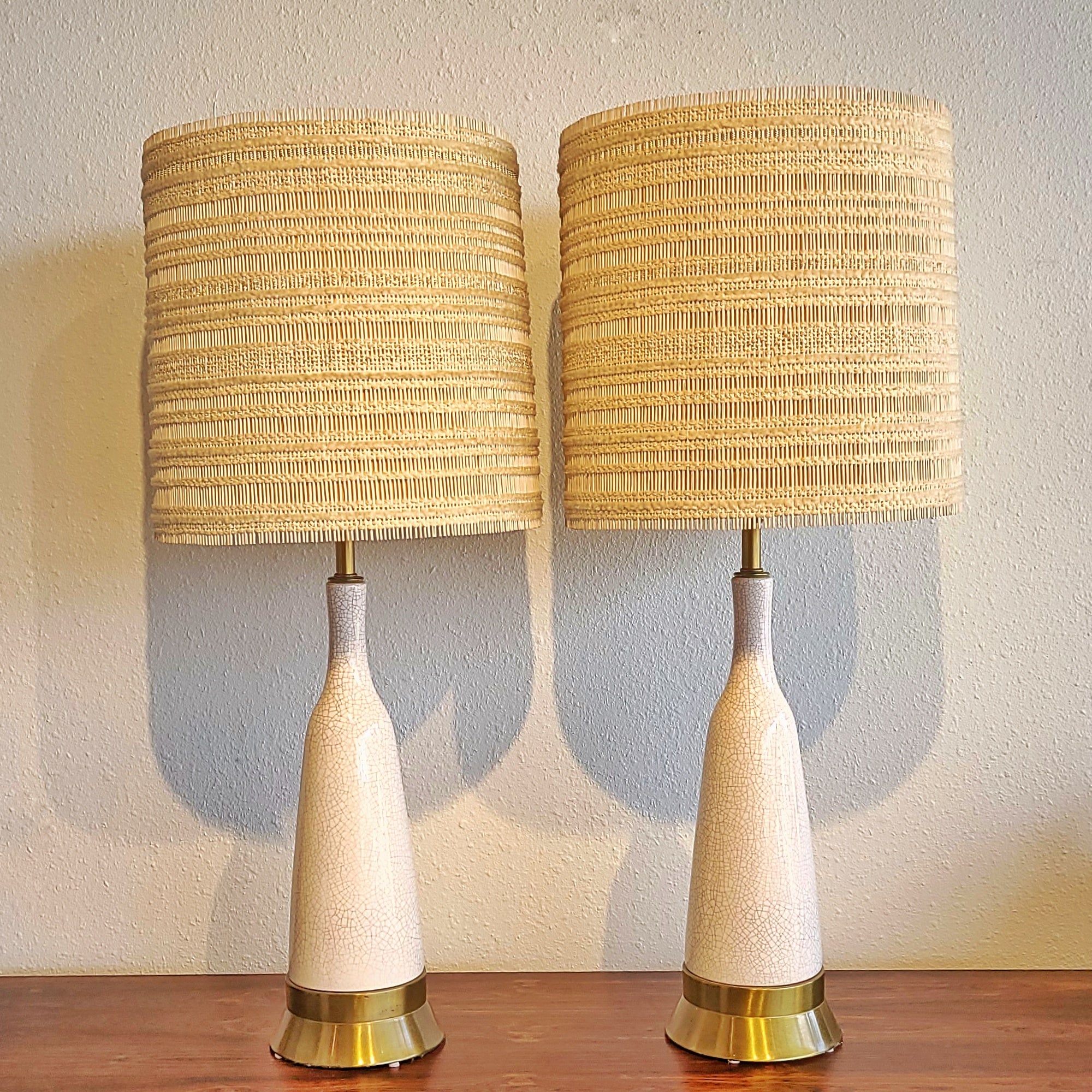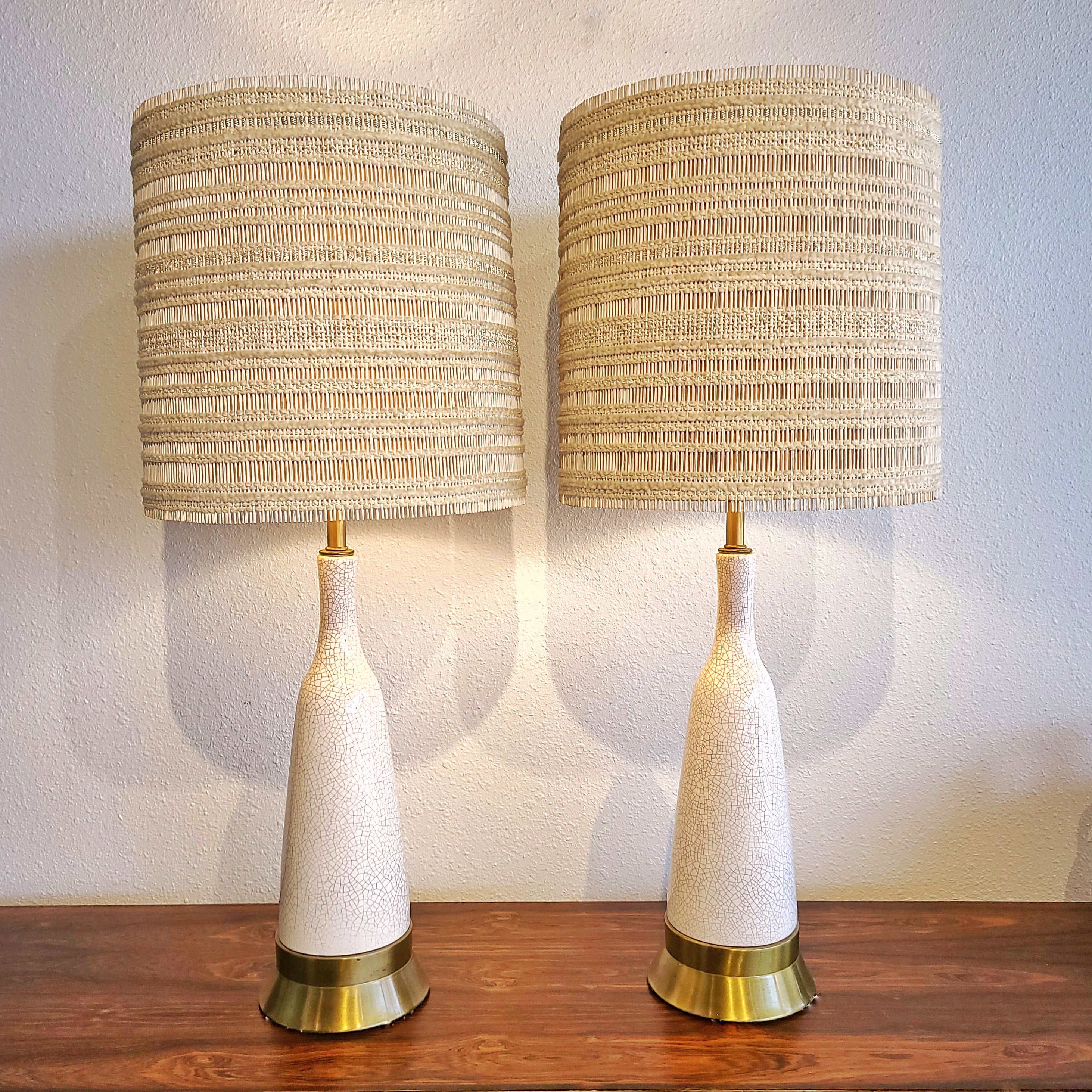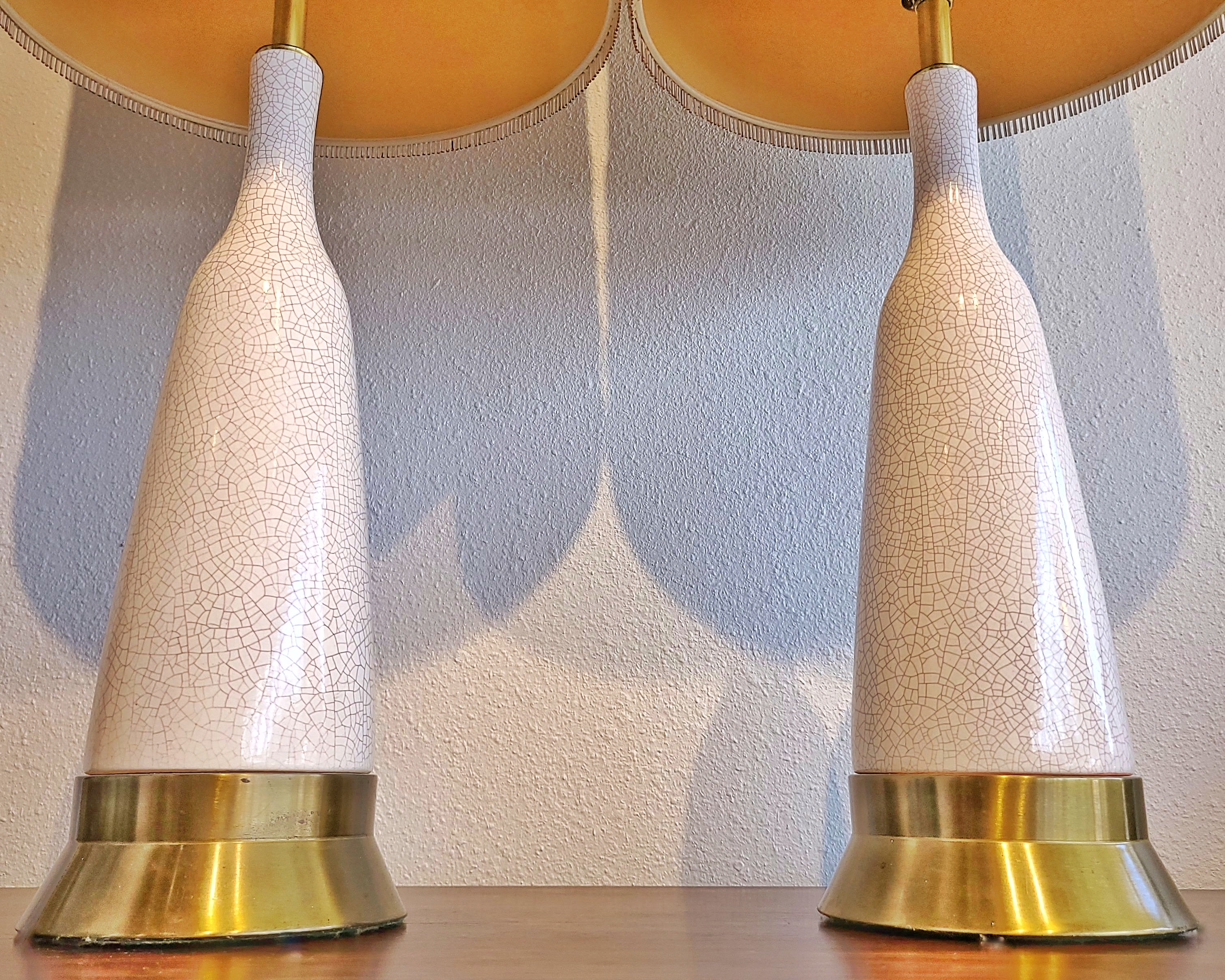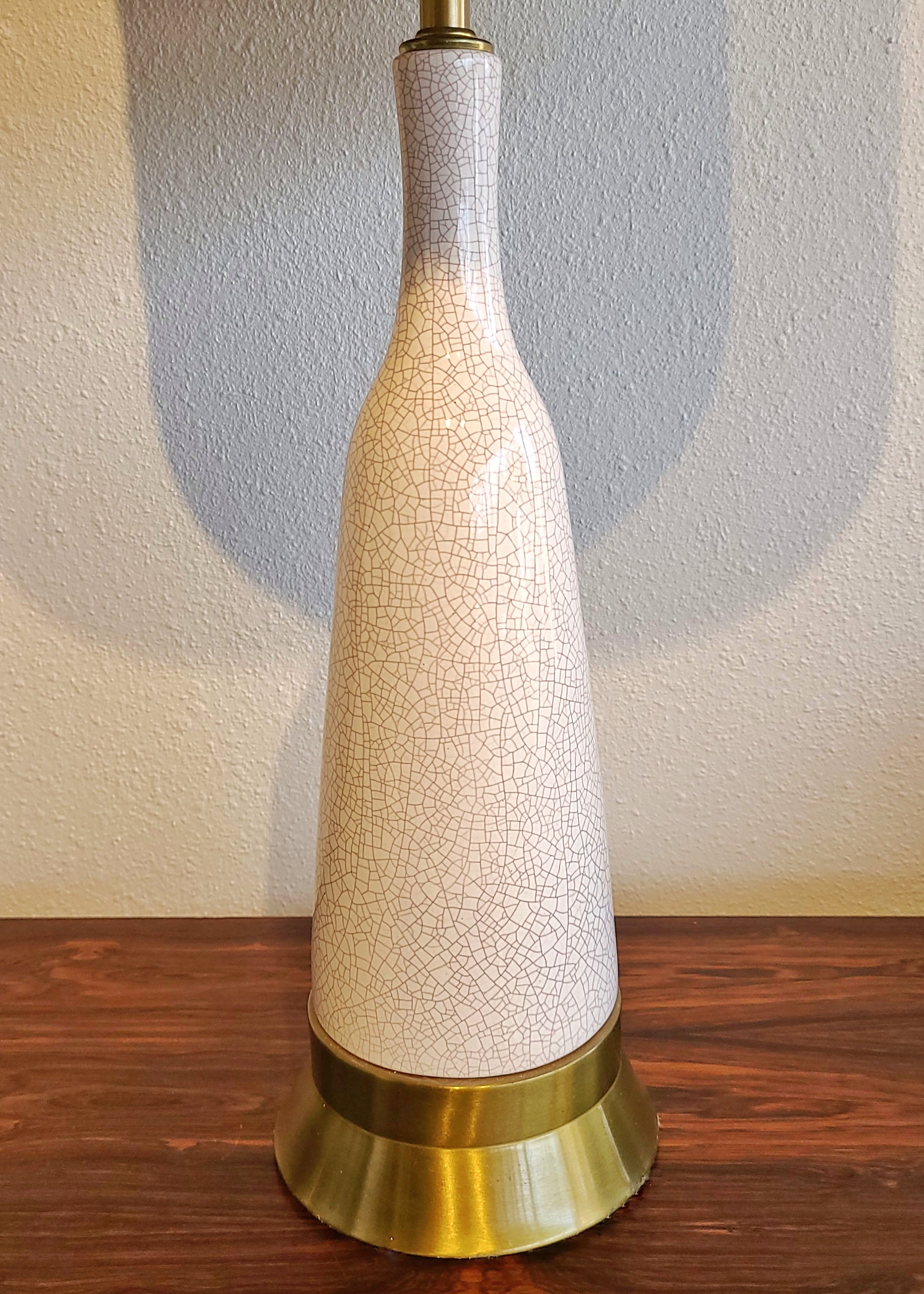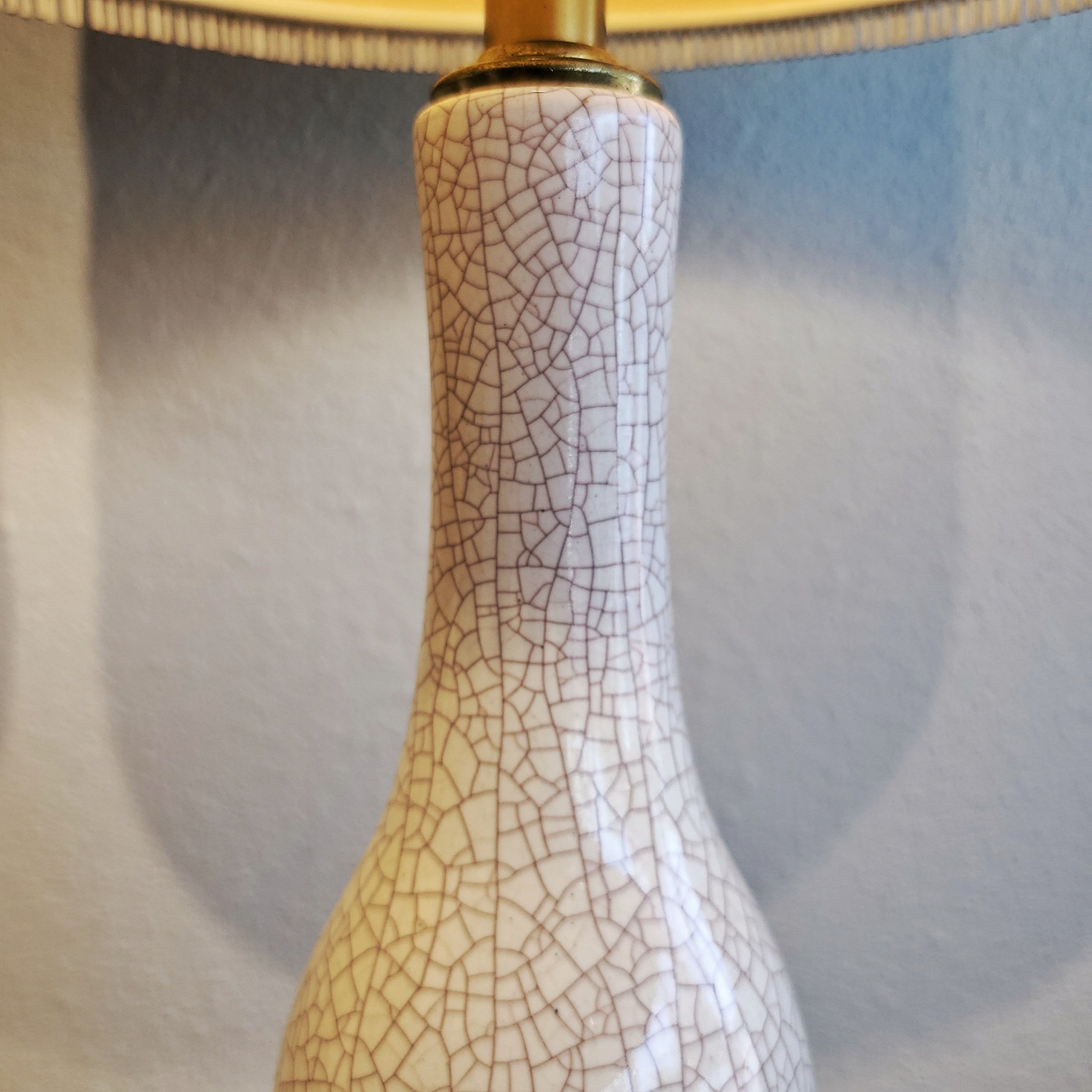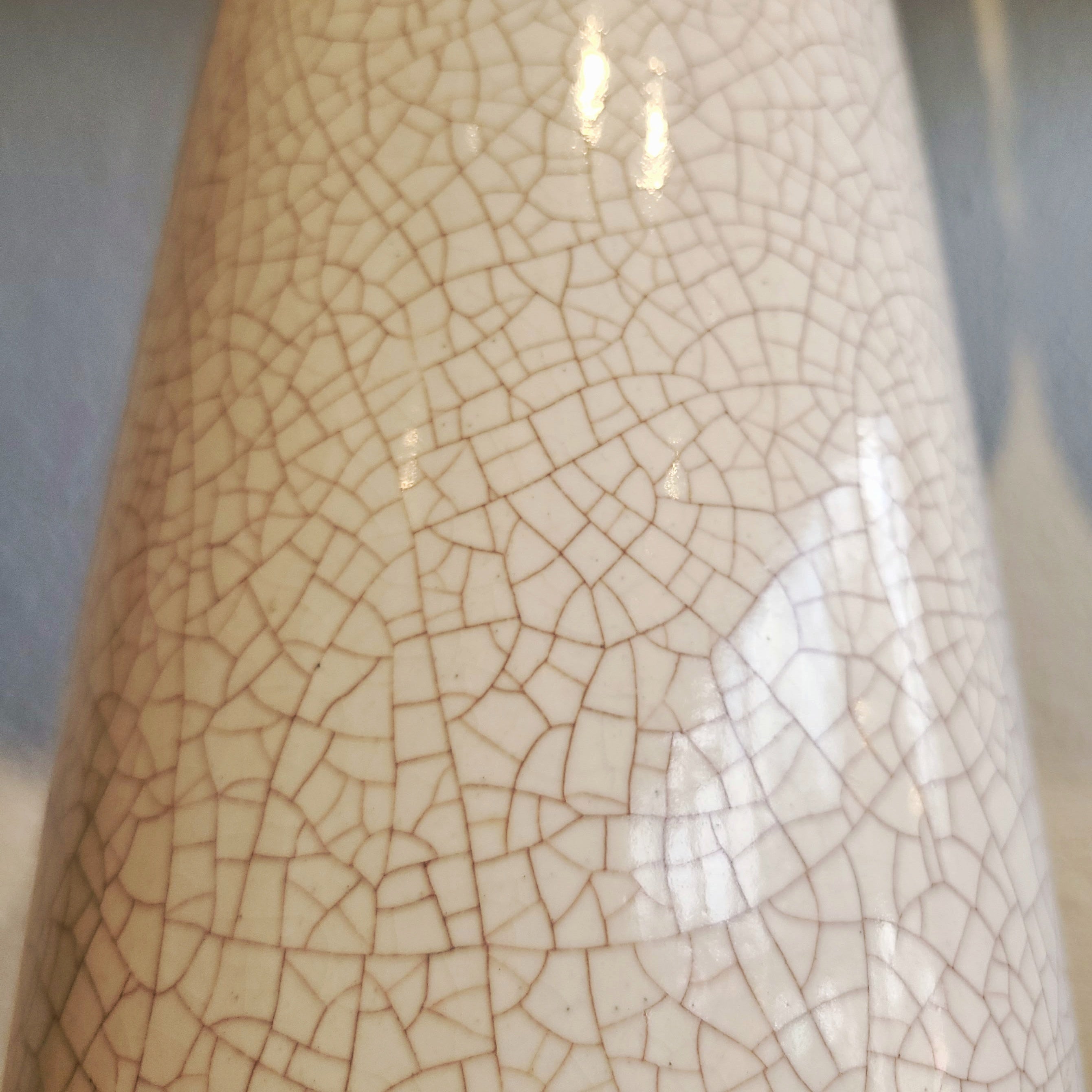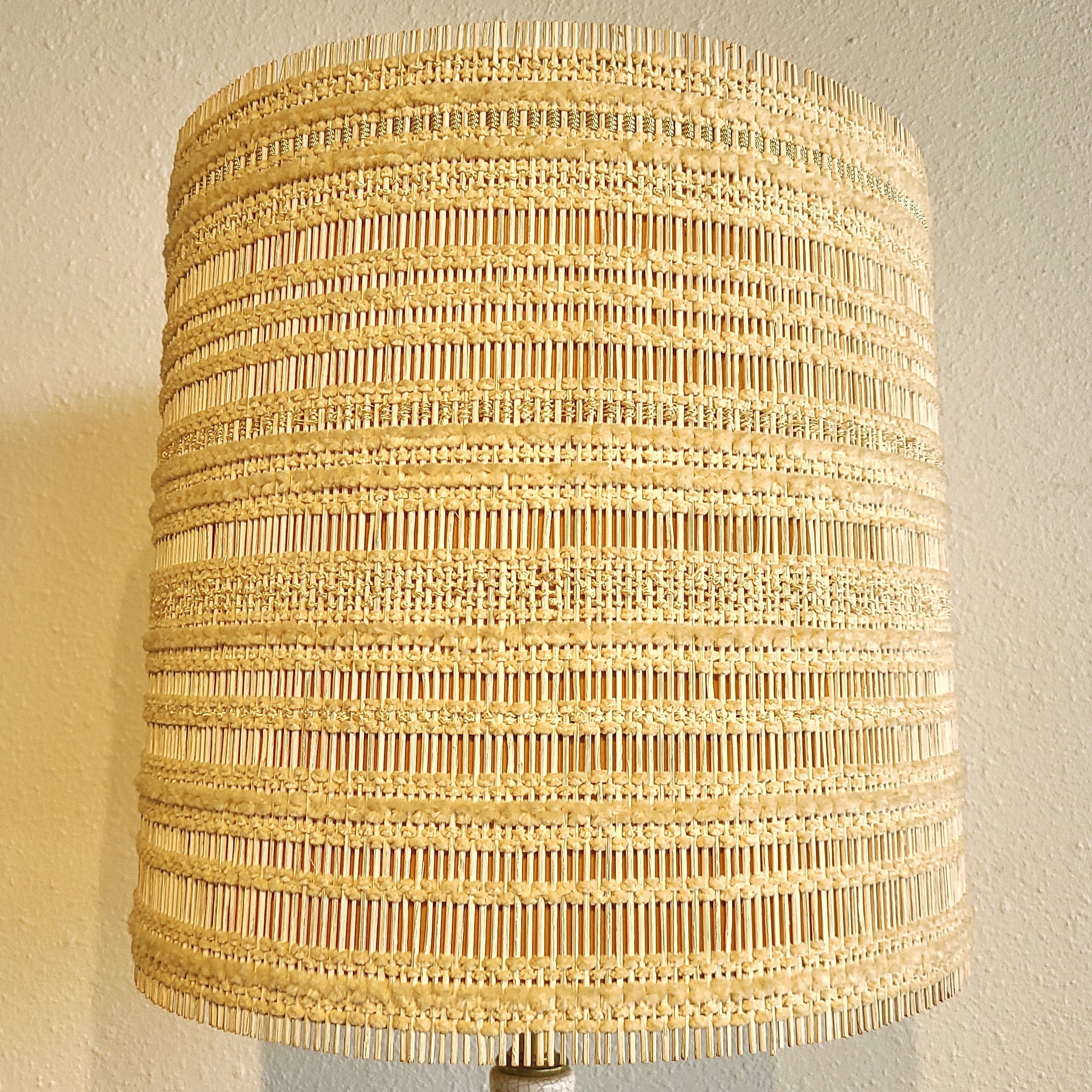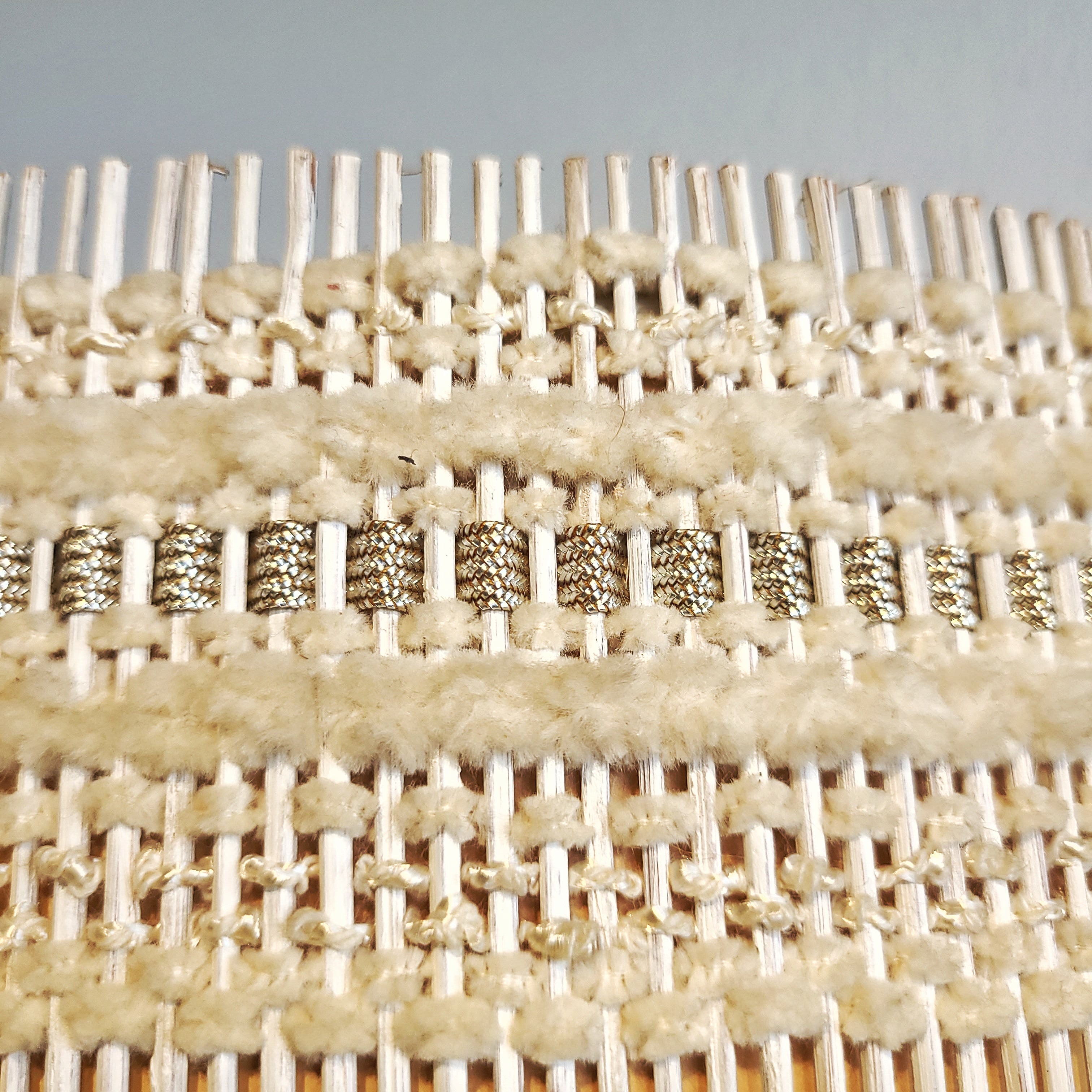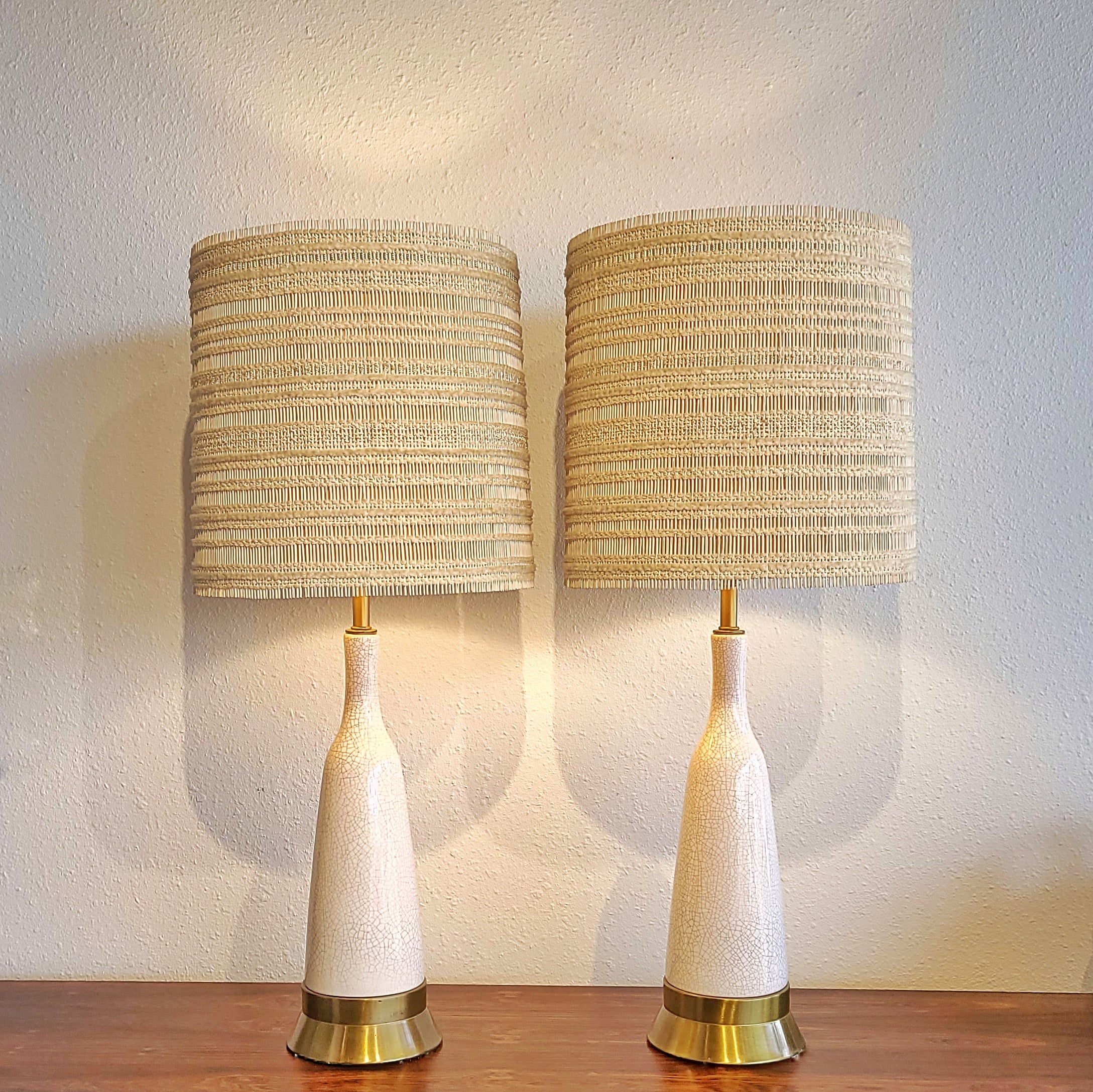 PAUL LÁSZLÓ & MARIA KIPP FOR WILSHIRE HOUSE CRACKLE GLAZE LAMPS
CONTACT US HERE ABOUT THIS ITEM.
A pair of mid-century white crackle glaze lamps with original Maria Kipp shades produced by Wilshire House and attributed to Paul László.
PAUL LÁSZLÓ (1900-1993), internationally known interior designer and architect, was born February 6, 1900 in Debrecen, Hungary. He attended the Staatliche Akademie der Bilden den Kunste in Stuttgart, Germany where he studied architecture and design. László apprenticed with Fritz August Brueuhaus in Cologne Germany before he opened his practice in Vienna in 1925, at the age of 24. In 1936, László immigrated to the United States to escape increasing anti-Jewish sentiment in Europe, and settled in Los Angeles, where he opened an architecture and design studio on Rodeo Drive.  He quickly became the designer of choice in Beverly Hills, gaining numerous residential commissions. One of his first commissions in California was to design the Bullock's department store on Wilshire Boulevard. Throughout László's career the majority of his work consisted of ultra-modern, spacious residential homes for celebrities and the wealthy.  By the late 1940s, Laszlo had built and designed homes for Hollywood's most elite insiders such as William Wyler, Cary Grant, Elizabeth Taylor, Barbara Stanwyck, Barbara Hutton, Fritz Lang, as well as the casino, showrooms and hotel interiors for Howard Hughes.  László often designed all of the furniture and interiors for his buildings. As his career progressed László focused more of his energy on interior design. Some of his more notable projects include designs for department stores, including Bullock's, Goldwater's, Robinson's, and Ohrbach's stores.  Mr. John Daniel Hertz, the founder of Yellow Cab and Hertz rent-a-car spent over $89,000 in the 1950s for a László' designed bomb shelter to be built for him at the corner of Shoup Avenue and Oxnard Street in Woodland Hills.  The shelter, which still exists,  was considered a masterpiece of engineering. Shaped like a submarine, it had bath facilities, an elevator, an electric kitchen and sleeping accommodations for 30 people.  In 1948 George Nelson described Laszlo's designs as having "generous dimensions, great elegance of appearance, and impeccable taste", all of which translated easily to the glamorous Hollywood lifestyle. Paul László died on March 28, 1993, at the age of 93.
MARIA KIPP (1900–1988) was born in Weihsenbrunn, Bavaria in 1900. Her father was a Protestant minister, and her family's associations with Bavarian royalty provided a relatively privileged upbringing. In 1906 her family moved to Gaub, and she enjoyed private tutoring in French, music and embroidery. She attended a household and horticulture school, and discovered her proclivities towards drawing and painting. In 1918, she enrolled at the Kunstgewerbschule (School of Applied Arts) in Munich. Though the women's liberation movement in Germany had recently allowed equal admission to both men and women, there were lingering prejudices surrounding women's enrollment in art schools, in particular. Gunta Stozl also attended that school from 1914-1916, and would later go on to assume the position of head of the Weaving Workshop at the renowned Bauhaus, although It is unclear whether Kipp was exposed to or influenced by the Bauhaus manifesto during this time.
In 1920, she enrolled at Staatliche Hohere Fachschule für Textilindustrie (State Academy for the Textile Industry), in Münchberg, Bavaria. She was the first female student to attend the school since its founding in 1854. Kipp proved to be a highly disciplined and talented student, motivated to become not only a textile designer but also a textile engineer. On Saturdays when class was not in session, she and her classmates taught themselves how mechanical looms worked by disassembling and reassembling them. It was there that she gained the necessary technical knowledge of weaving, learning about natural fibers, spinning, finishing techniques, warp calculation and became proficient with weaving on both mechanical (jacquard) and hand looms.
After graduating from the Academy in 1923, she was reluctant to begin her career as a textile engineer because it would require her to relocate to eastern Germany where the weaving mills were situated. A year later, after receiving a handloom as a gift from a friend, she decided to launch her own business. She married Ernst Haeckel in late 1923, and became deeply involved in the spiritual Mazdaznan movement, which Kipp thoroughly describes in her autobiography. In 1924, Kipp and Haeckel emigrated to the United States without sponsorship. They settled in Los Angeles, the headquarters of the Mazdaznan organization and also a cultural haven for European artists and intellectual émigrés.  Kipp and Haeckel quickly established what would become a very successful workshop, "Maria Kipp Handweaves," specializing in handwoven textiles for interior designers and architects. Los Angeles had experienced unprecedented economic growth in the 1920s and 30s, largely due to the success of the oil, film, aviation and automobile industries. This economic abundance fostered an inviting environment for writers, musicians, filmmakers, architects and artists – creating ample opportunity for successful business ventures. 
During this period, they worked on two important commissions: in 1928 Kipp designed the drapery for the Los Angeles City Hall and the San Francisco Stock Exchange. They also worked with fellow émigrés and modernist architects Rudolph Schindler, Paul Frankl, Paul László, and Richard Neutra who sought out her designs for their interiors. Neutra used Kipp's designs in his own home, as did other prominent Southern California architects such as Welton Becket, who commissioned her to create interiors for the Bullock's chain of department stores, and Paul Revere Williams, who partnered with her to create interiors for celebrity homes and the Beverly Hills Polo Lounge.  She designed textiles for upholstery, drapery and casements, lampshades and more. Though she and Haeckel divorced in 1931, they continued their professional relationship until it was no longer practical. Kipp married again in 1933 to George Engelke, an accountant, who provided her with enough financial security that she could feel free to expand her new firm "Maria Kipp, Inc" even further. 
Though she preferred to practice primarily as a small-run handcraft producer, Kipp created handwoven textiles for the superliner SS United States, Airforce One, the Beverly Hills Hotel and the Los Angeles Times Offices. She also executed many important commissions for Hollywood elites like the actress Loretta Young, Frank Sinatra, Dean Martin and Rita Hayworth, among many other private and commercial commissions.  Her textiles often feature open-weave structures, with dimensionality, abstract imagery, and geometric forms, but in quiet, calm colors.  Although she was lesser known than her contemporaries Anni Albers and Dorothy Liebes, Kipp received an inaugural award for woven fabrics from the American Institute of Decorators in 1948. In addition to being a successful and talented technical handweaver, Kipp was also a shrewd businesswoman, and enjoyed a long and fruitful career before finally retiring in 1977. Maria Kipp died in 1988.
| | |
| --- | --- |
| Designer | PAUL LÁSZLÓ AND MARIA KIPP |
| Design Period | 1960 to 1969 |
| Production Period | 1960 to 1969 |
| Country of Manufacture | United States |
| Identifying Marks | This piece is attributed to the above-mentioned designer/maker. It has no attribution mark |
| Style | Vintage, Mid-Century, Hand-Crafted, Modernist |
| Detailed Condition | Very Good — This vintage item has no defects, but it may show slight traces of use. |
| | The vendor has confirmed this piece is in working order. |
| Restoration and Damage Details | Patina consistent with age and use, RARE TO FIND A MATCHING PAIR OF THESE LAMPSHADES IN SUCH EXCELLENT VINTAGE CONDITION |
| Plug Type | US Plug (up to 110V) |
| Product Code | |
| Materials | Beech, Ceramic, Fabric, Metal |
| Color | Beige, gold, tan, white |
| Width | 15.0 inch |
| Depth | 15.0 inch |
| Height | 35.0 inch |
| | |