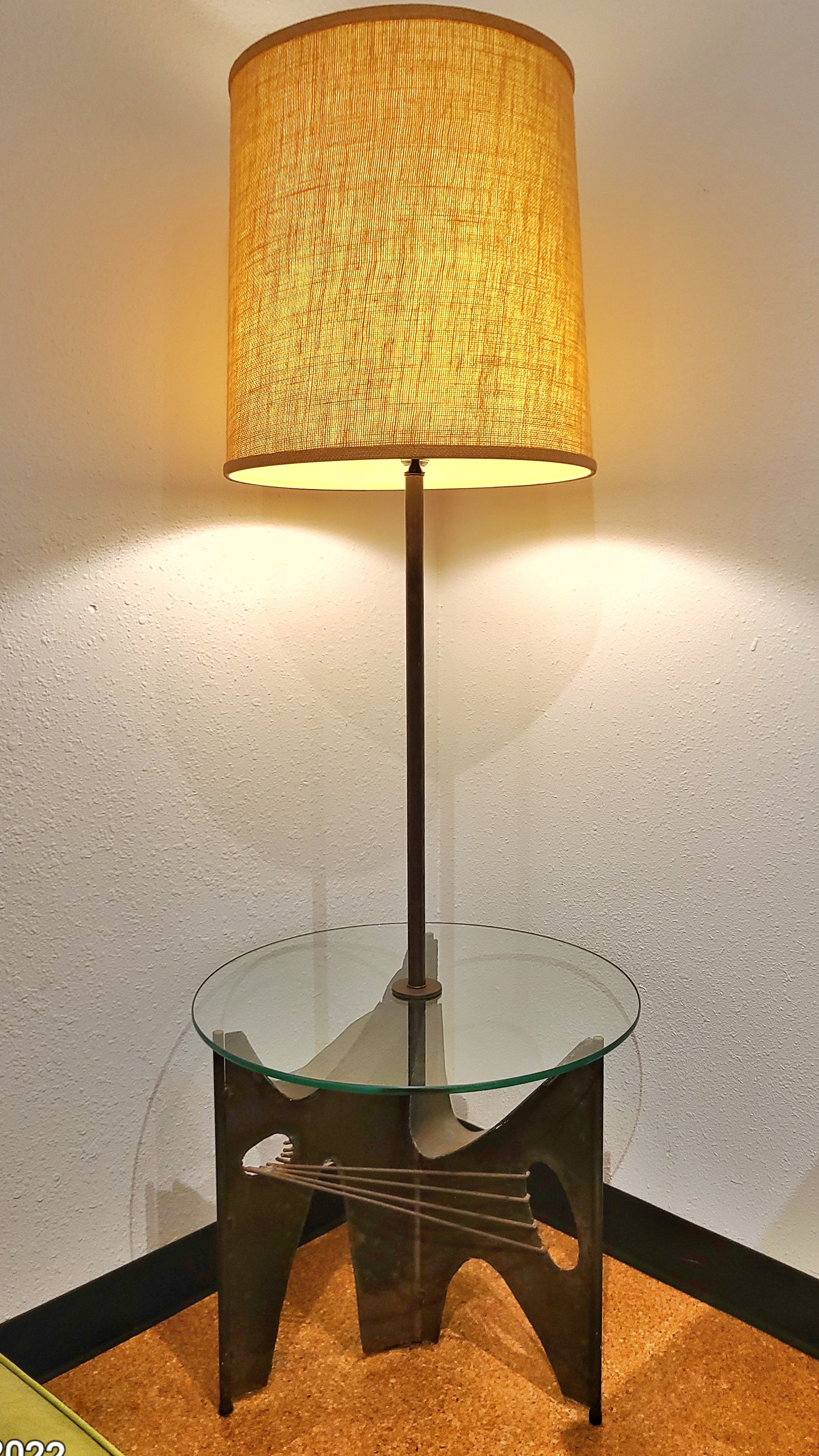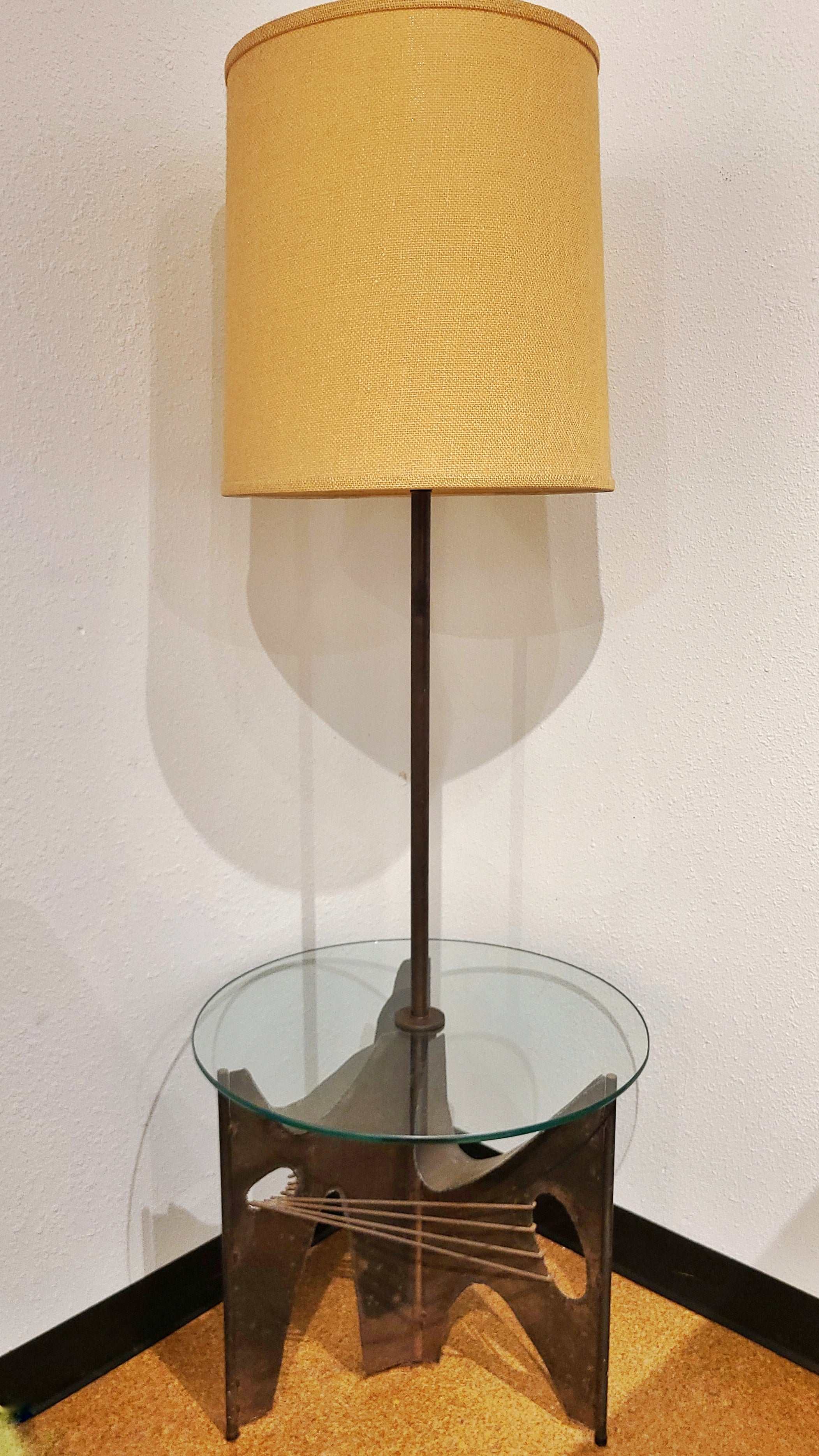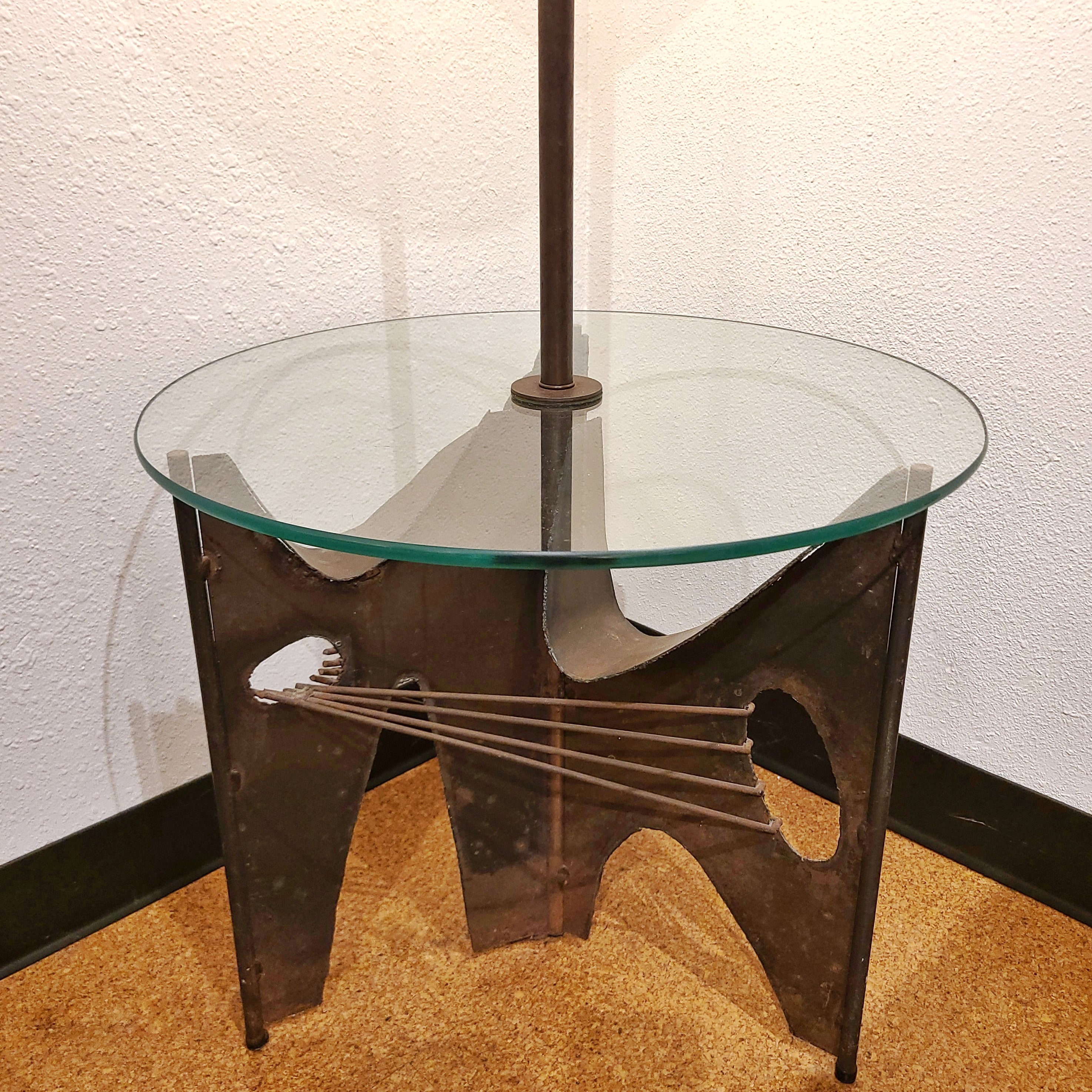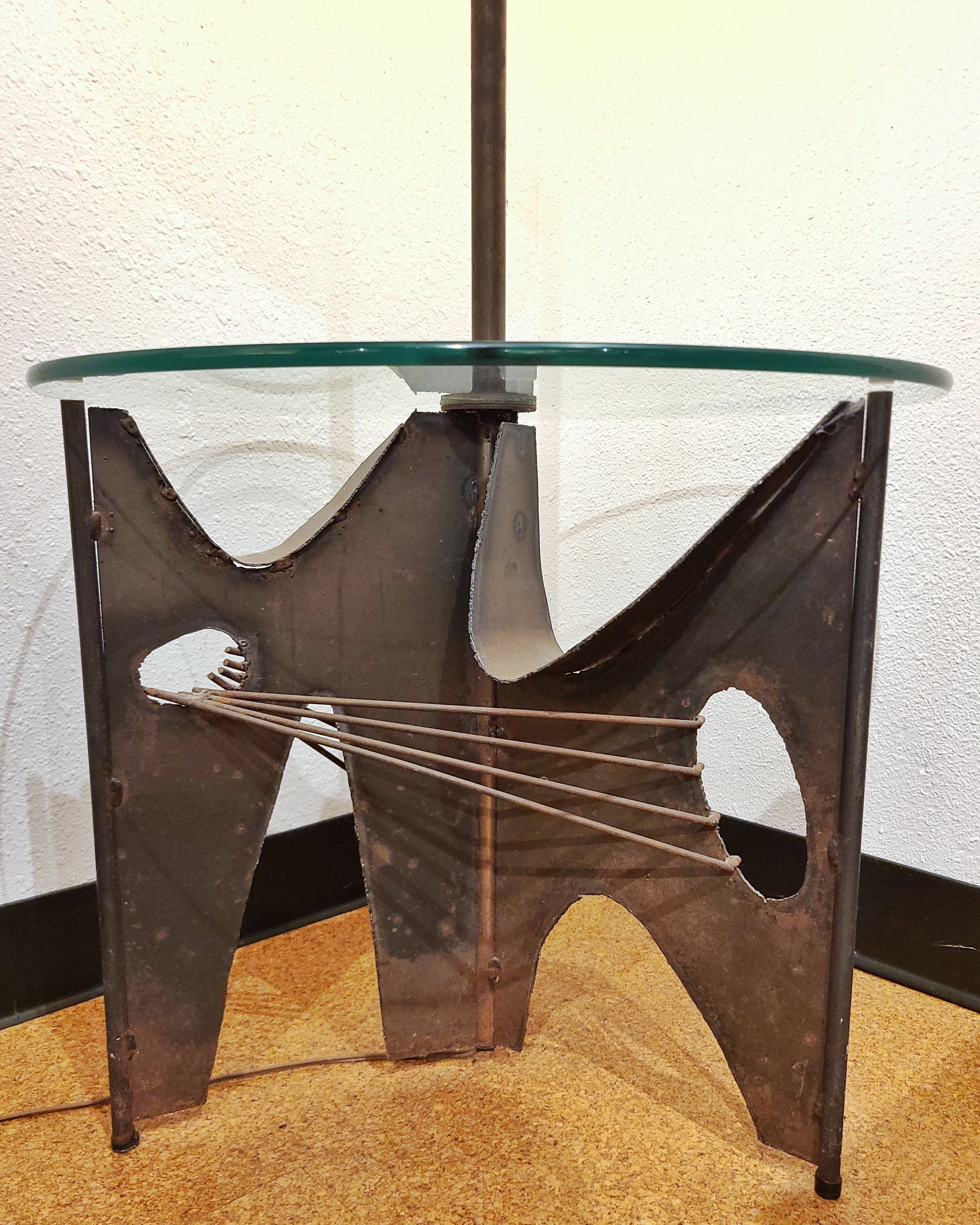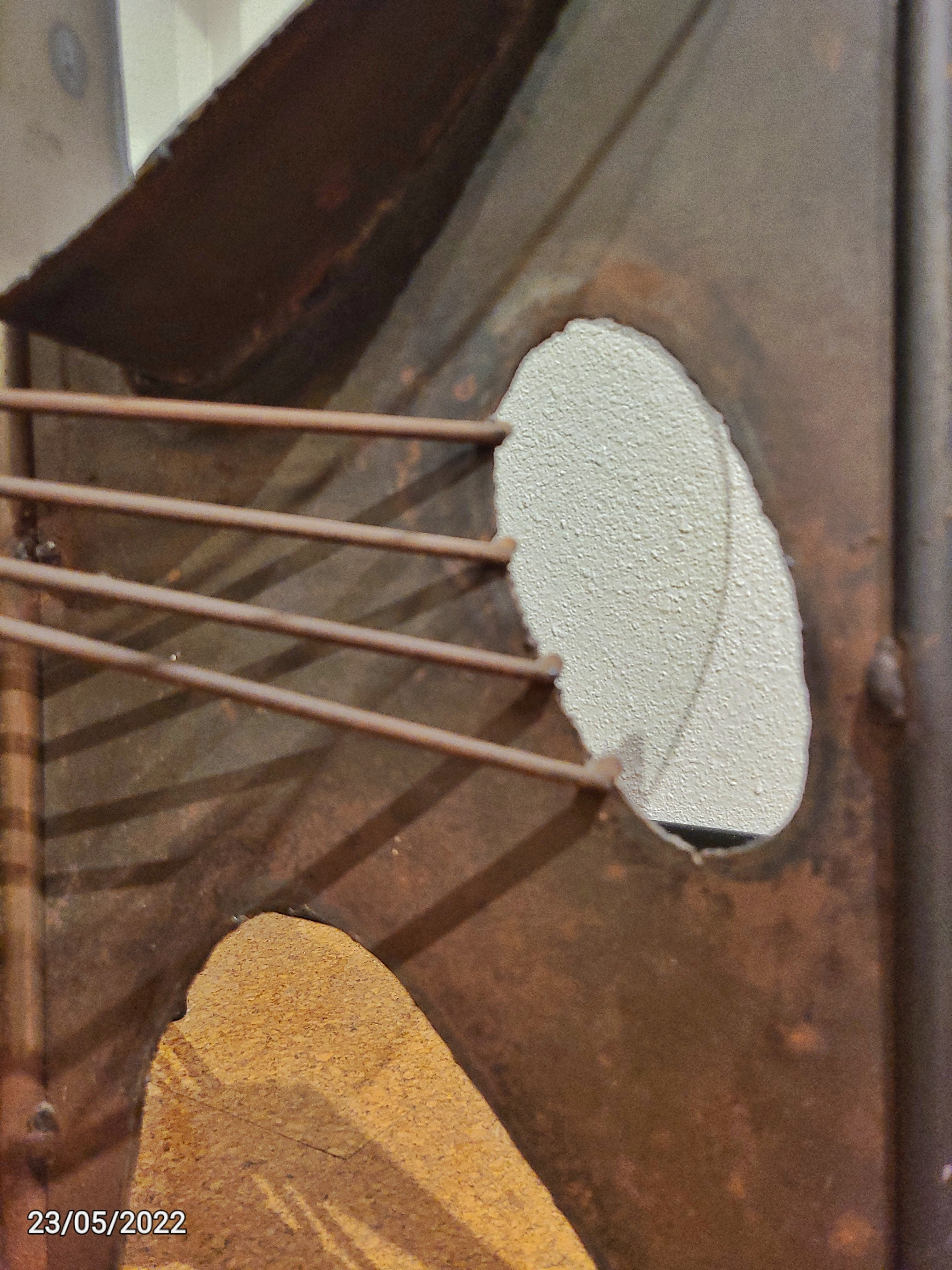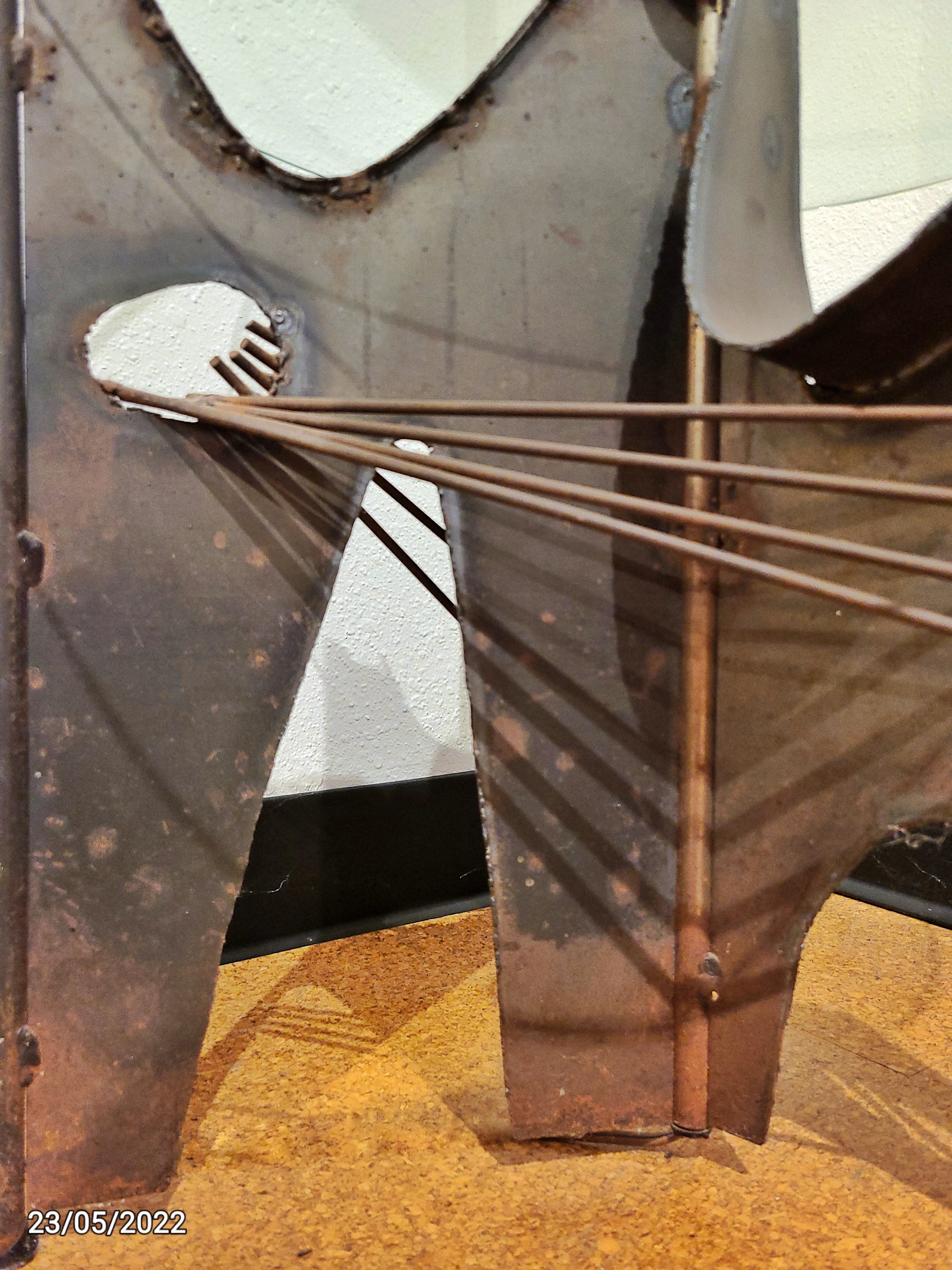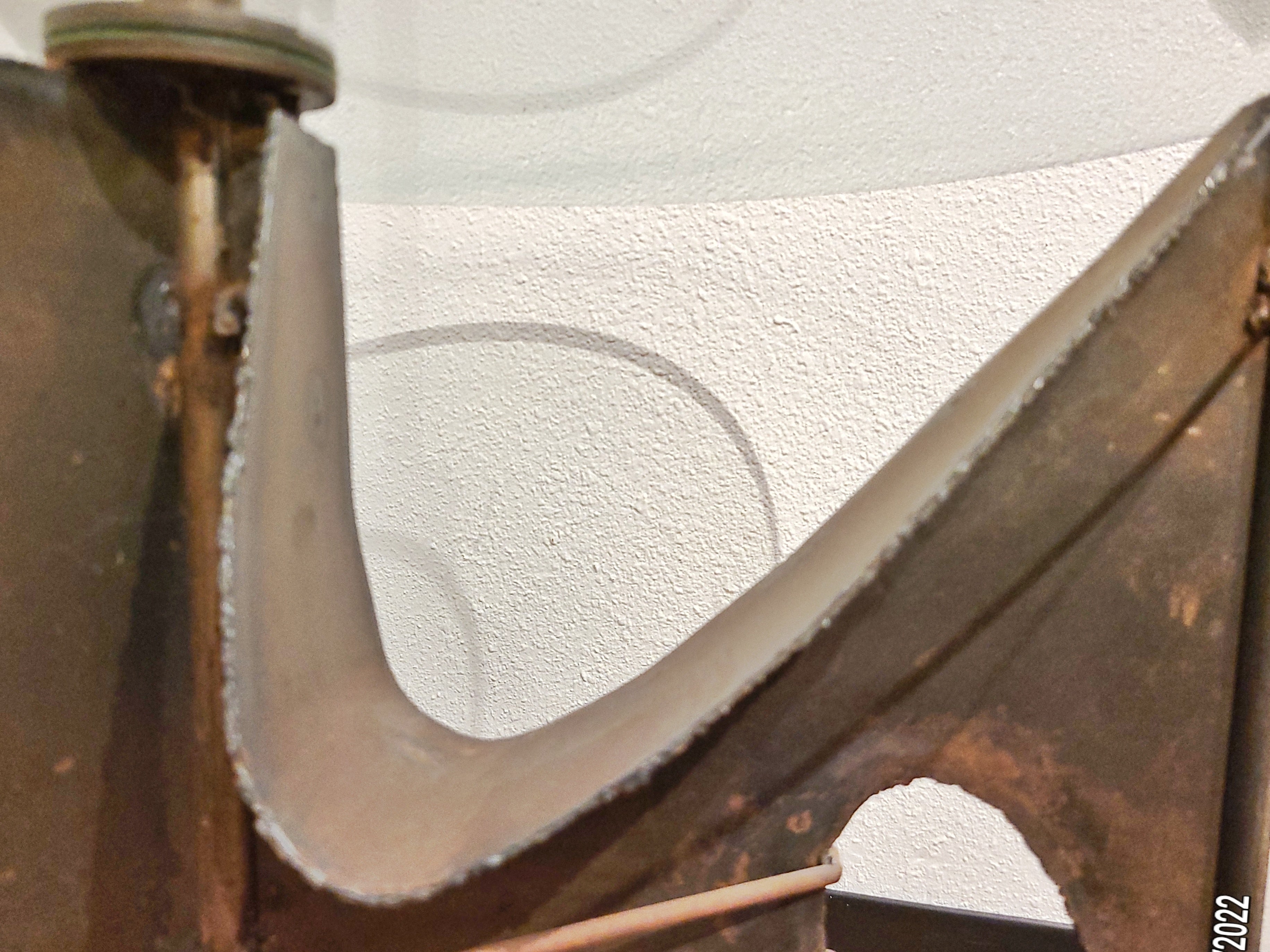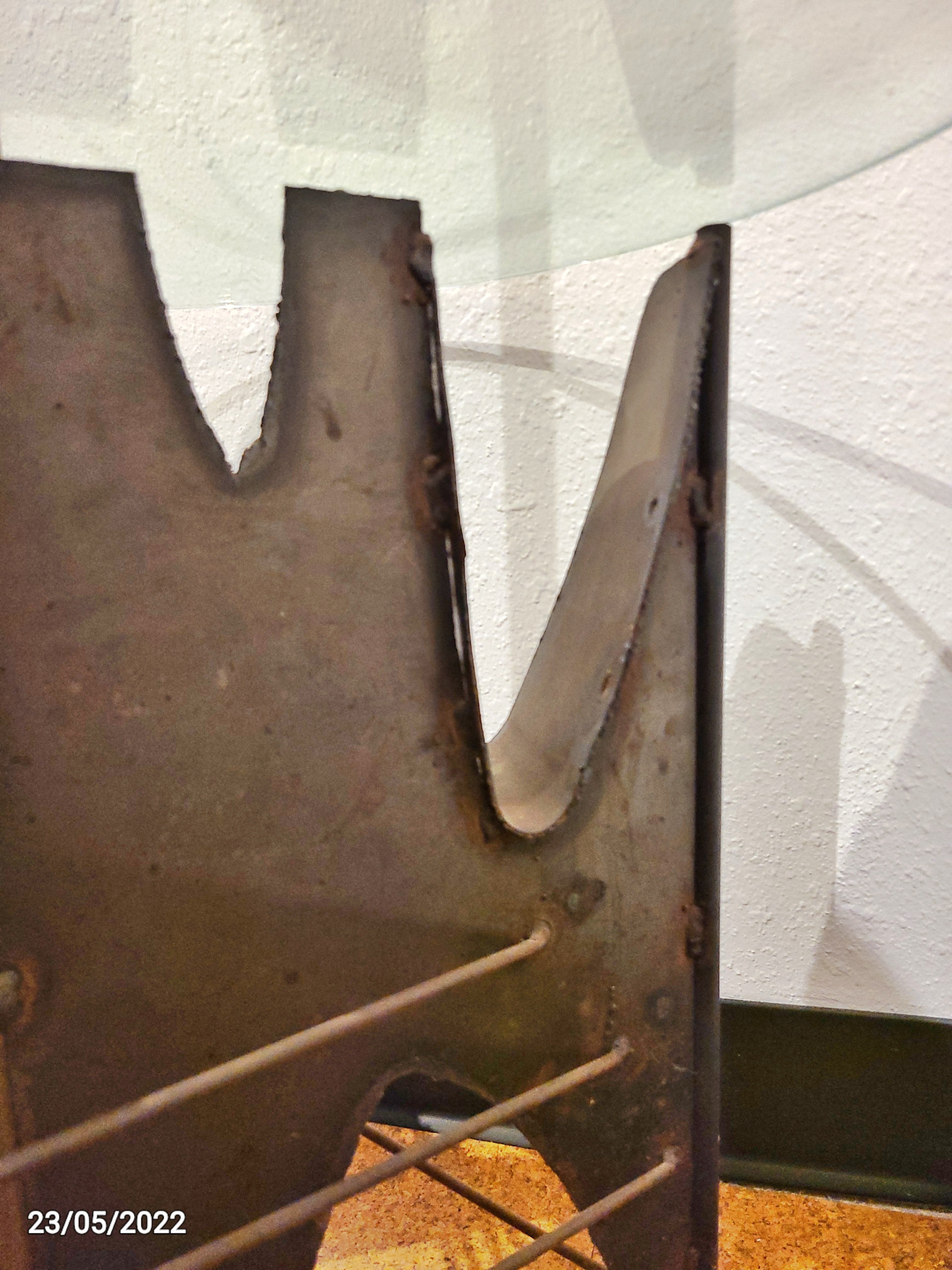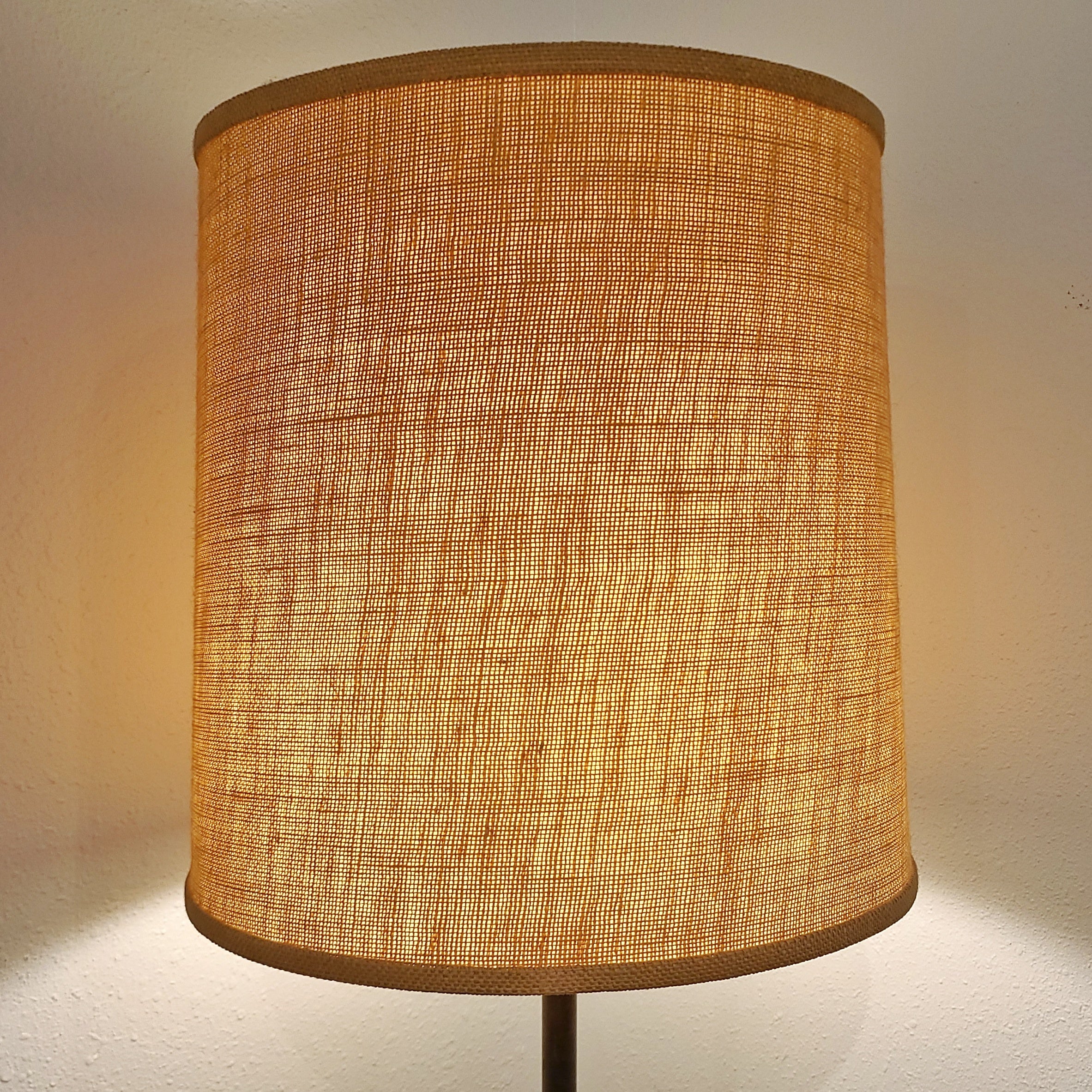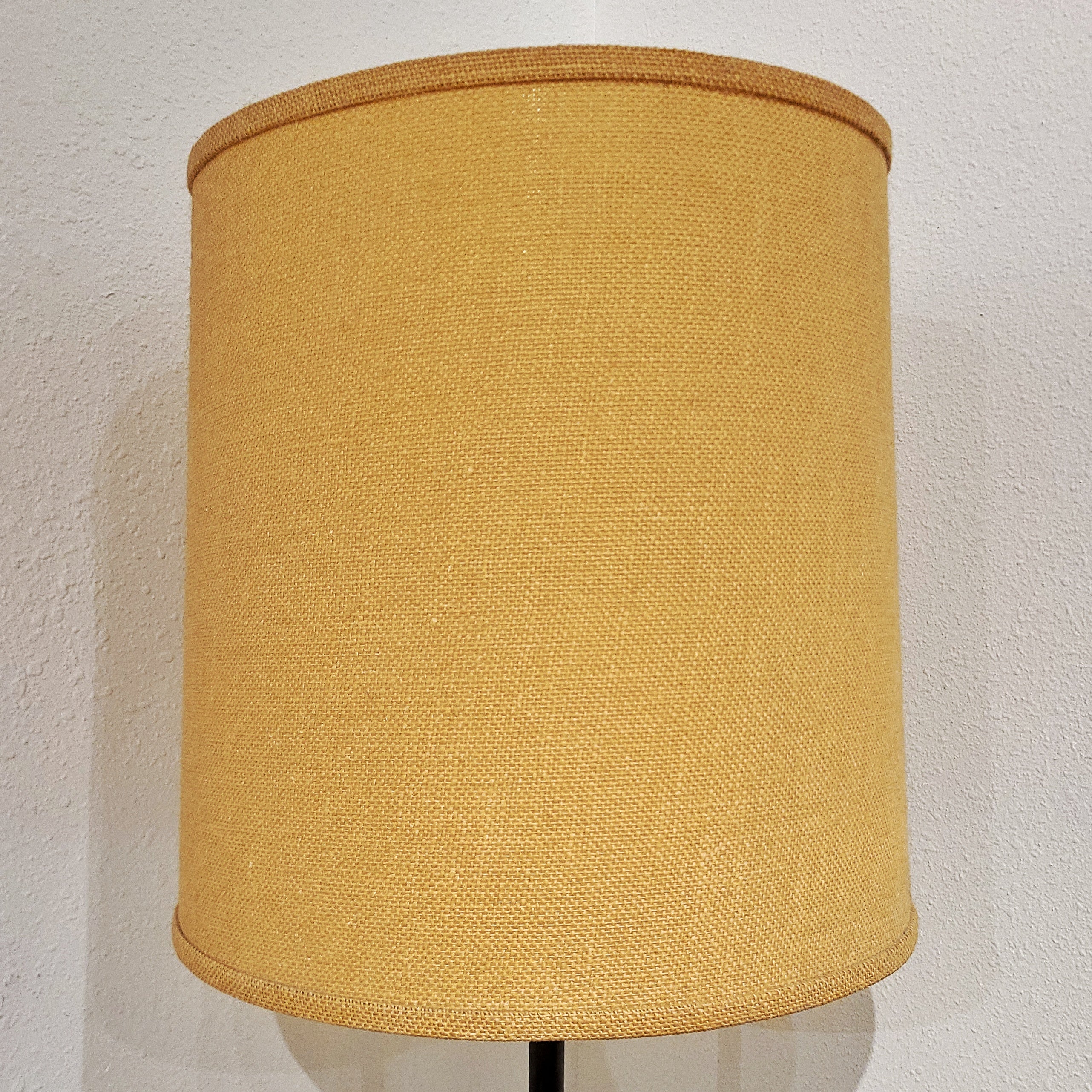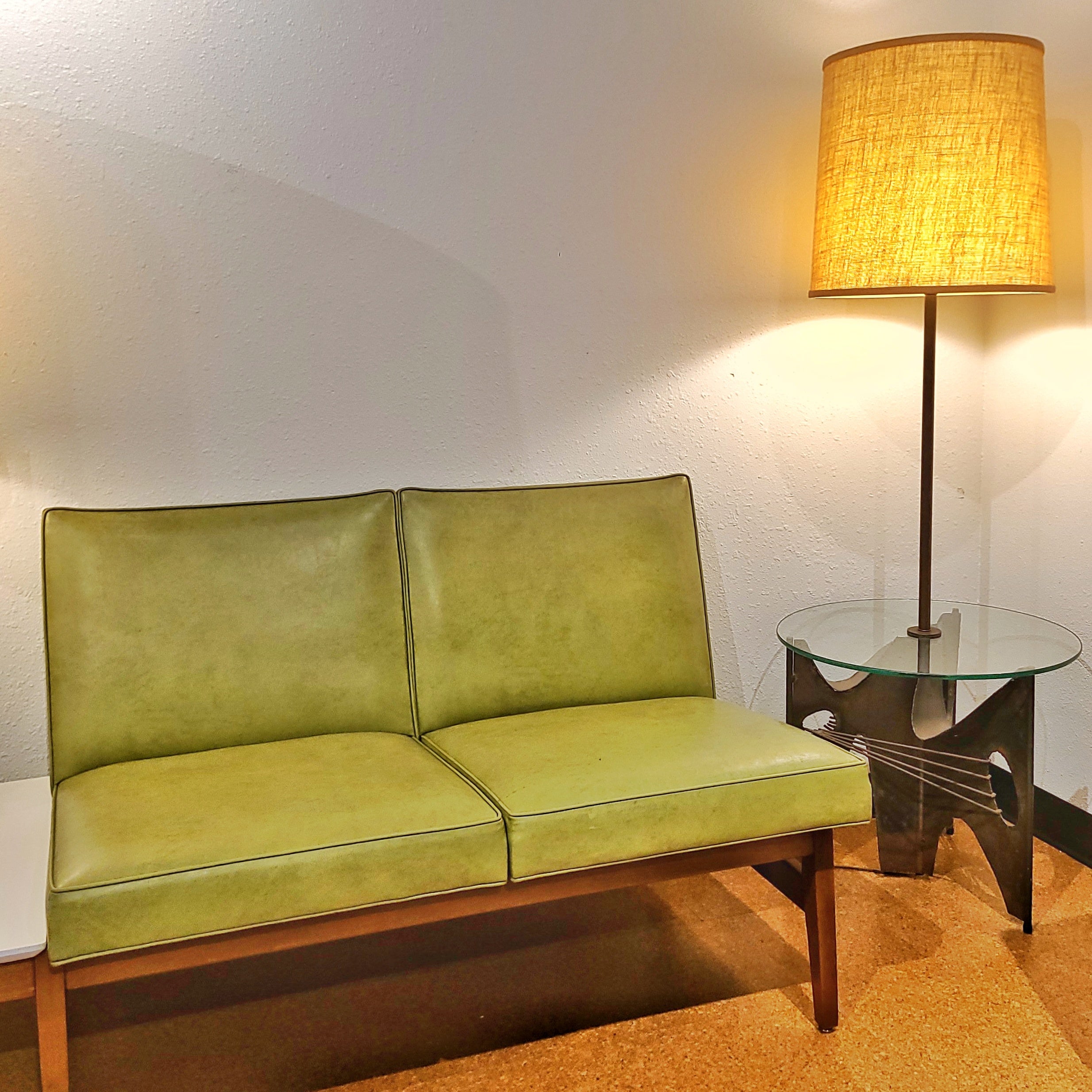 TORCH CUT IRON FLOOR LAMP WITH GLASS TABLE BY RICHARD BARR FOR LAUREL
CONTACT US HERE ABOUT THIS ITEM.
A brutalist torch cut and welded weathered iron and glass floor lamp/table in the form of an abstract metal sculpture designed in the 1960s by Richard Barr for the Laurel Lamp Mfg. Co. of Newark, NJ.

LAUREL LAMP MANUFACTURING CO. (1946-1992). of Newark, NJ, was incorporated as a Domestic Business in the State of New York on May 2, 1946, by Max Weiss and his sons Harold and Murray Weiss. Max was born on December 9, 1891, in Austria and began his career as a tinsmith working on carriage lamps. In 1908, he immigrated to the United States through Ellis Island.

In 1913, Max and an uncle formed "Habacht and Weiss," a lighting company that manufactured gaslights and lanterns, sold from a small shop in New York City and via pushcarts. Recognizing the permanence of the electrical revolution early on, Max pivoted to selling portable electrical lamps, renaming the company the Sunset Lamp Company.

In 1924, the Sunset Lamp Company merged with the Mutual Lamp Manufacturing Company. This new firm, the Mutual Sunset Lamp Company, was originally located on the corner of Lafayette and Houston in New York City. During World War II, Mutual Sunset did its patriotic duty as a subcontractor making equipment for the U.S. Navy.

After retiring from Mutual Sunset Lamp Manufacturing Company in 1943, Max joined his two sons, Murray and Harold, to form the Laurel Lamp Manufacturing Company in 1946, where he remained until his second retirement in 1972.

But it was Harold Weiss (1915-2014 who was the driving force behind Laurel's unique and iconic designs. After graduating from NYU in 1938, Harold's talents in industrial engineering were reflected in Laurel's efficient and versatile factory, which remained virtually unchanged for 25 years while still being able to adapt to advances in manufacturing and production. As Laurel's president, Howard oversaw all manufacturing and design work in Laurel's Newark, New Jersey, factory and was

responsible for building Laurel from a regional lamp manufacturer to a globally recognized leader in the home lighting industry. Most notably, the Laurel Co. produced a variety of lighting and lamp products in the modern style of the mid-century that are highly sought after by collectors today. Harold's dedication to the highest production standards and materials is why most Laurel pieces still function with their original electric components and maintain their original finishes. By 1979, Laurel had showrooms in New York City, San Francisco, Dallas, Chicago, Los Angeles, and the High Point National Furniture Mart in North Carolina.

From at least the mid-1960s, Laurel began a collaborative relationship with American sculptor and designer Richard Barr (1930-2003). Born in Pittsburgh, 'Dick' was raised in Bellevue, PA, before residing in Watchung, NJ, for most of his professional life. He graduated from Carnegie-Mellon University in 1951 with a B.A. in Industrial Design and was self-employed as a furniture designer and heavy metal sculptor. Working from the design room at Laurel or his studio in Watchung, Mr. Barr was involved in designing many of Laurel's most iconic lamps. The lamps from his "Studio Collection" of 1965, comprised of several highly sculptural welded steel lamps, continue to be some of the most sought-after and highly prized lamps ever created at Laurel. Historically, the lamps of the Studio Collection, as well as several others, have been incorrectly attributed to the sculptor Harry Balmer or the Italian designer Maurizio Tempestini. Although Harry Balmer was an accomplished artist in his own right - there is no record of any relationship between Harry Balmer and the Laurel Lamp Company, a fact that has also been confirmed independently by the family of Harry Balmer. Similarly, no documented connection between Maurizio Tempestini and Laurel has ever been found. The Laurel designers in 1965 were Harold Weiss & Richard Barr, who collaborated on Laurel designs from at least 1965-to 1981. The exception may be the highly sculptural, abstract, and kinetic brass table lamp of 1971 titled "Setarrah," designed by Bijan of California and first appearing in the 1968 Laurel catalog. Bijan of California turns out to be Bijan J. Bijan (1936-2016). Fondly referred to as the "Father of Metal Sculpture," Bijan was a highly gifted artist who came to Los Angeles in 1962 from Iran before gaining international recognition for his novel metal sculpting methods. It is the only known Laurel piece that Bijan of California designed.

In the late 1970s, noted French designer Pierre Cardin partnered with Laurel and other high-end furniture manufacturers as part of Cardin's venture into home furnishings labeled the "Pierre Cardin Environment." The full debut of Cardin's "Environment" was in April 1977 at the High Point Furniture Show in North Carolina and was accompanied by great fanfare, parties, and media attention. Although Pierre Cardin had some input into the design of the Cardin Laurel lamps, a New York Times article that chronicled Cardin's entry into the home furnishing market notes that Mr. Cardin did not do the actual design work. The Pierre Cardin Laurel lamps appear to have been designed in-house at Laurel, primarily by Richard Barr and Harold Weiss.

The Laurel lamp Manufacturing Co, Inc. was dissolved on Wednesday, March 25, 1992.
Details
Dimensions

22ʺW × 22ʺD × 61ʺL
Styles
Original Condition

Original Condition Unaltered
Does it have imperfections?

  Some Imperfections
Lamp Shade
What type of item is it?

  Vintage / Antique / Used
Brand
Period

1960s
Place of Origin

United States of America
Item Type

Vintage, Antique or Pre-owned Materials
Glass
Plastic
Steel
Textile
Condition

Good Condition, Original Condition Unaltered, Some Imperfections
Color

Coffee
Power Sources

Up to 120V (US Standard)
Corded
Type A
Condition Notes

Good Vintage Condition.  Minor Cracking to the Interior of the Shade.  Scratches to Glass Table Top.