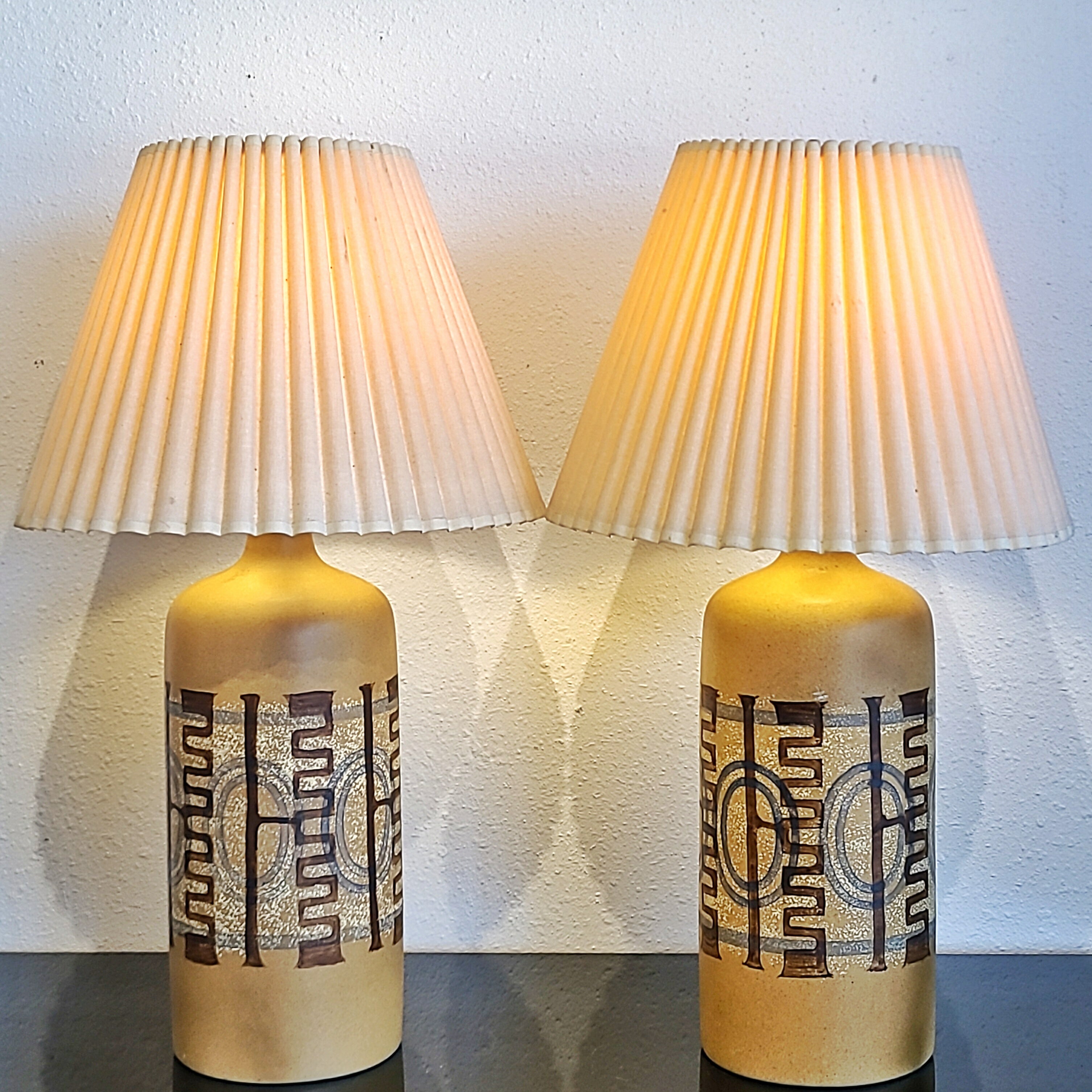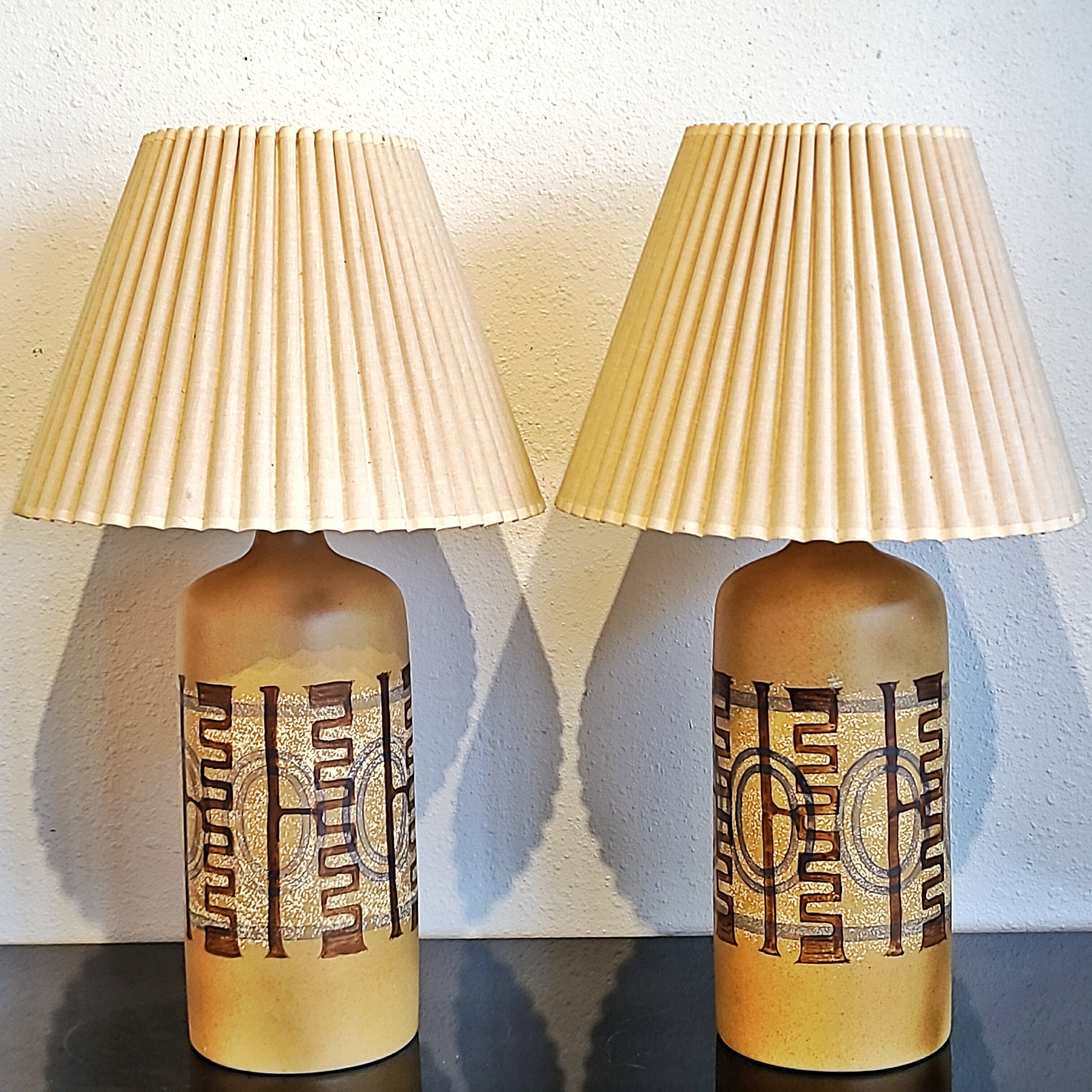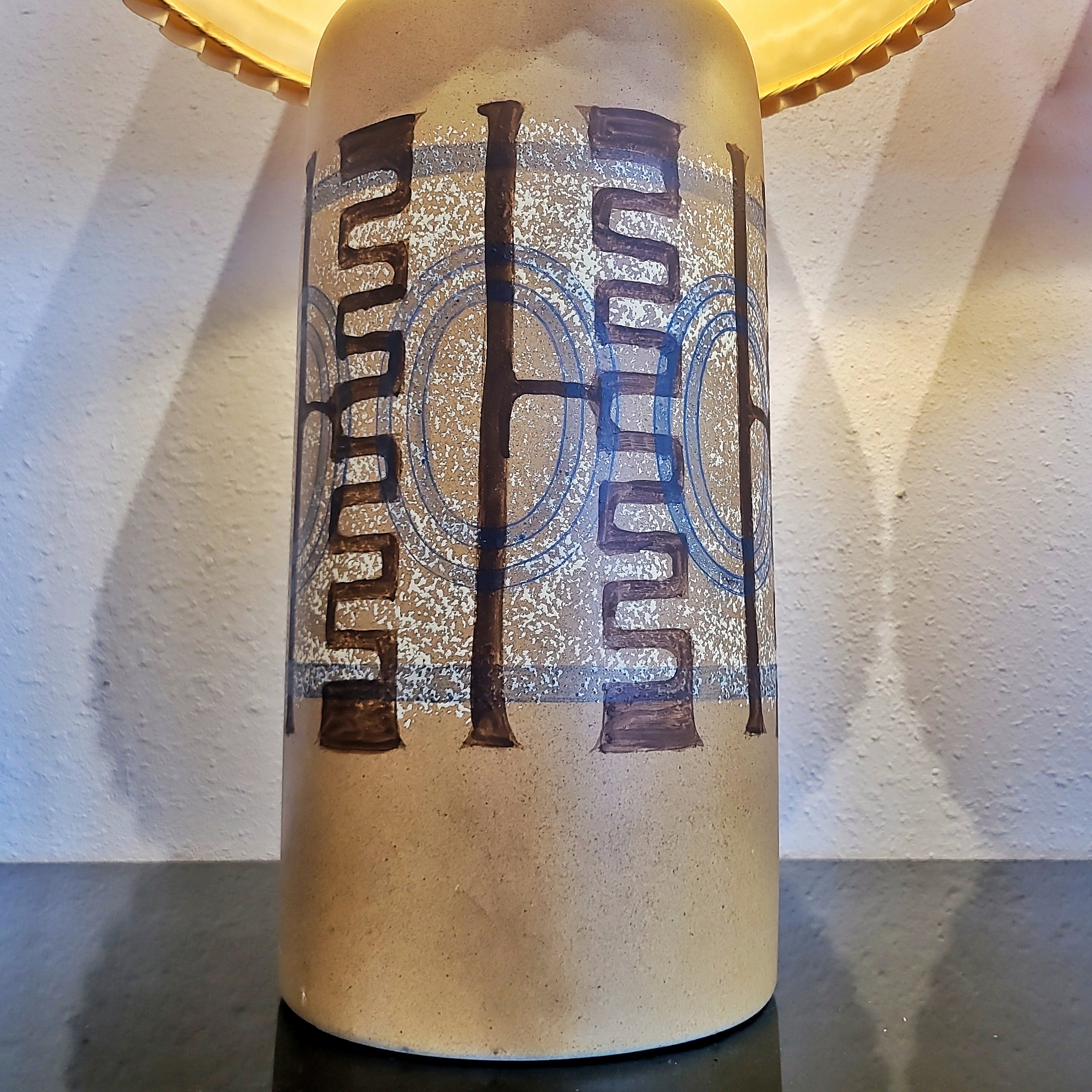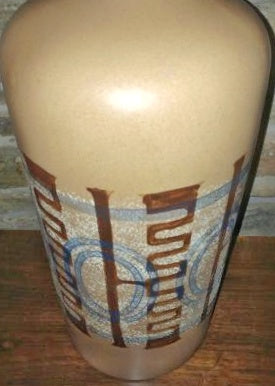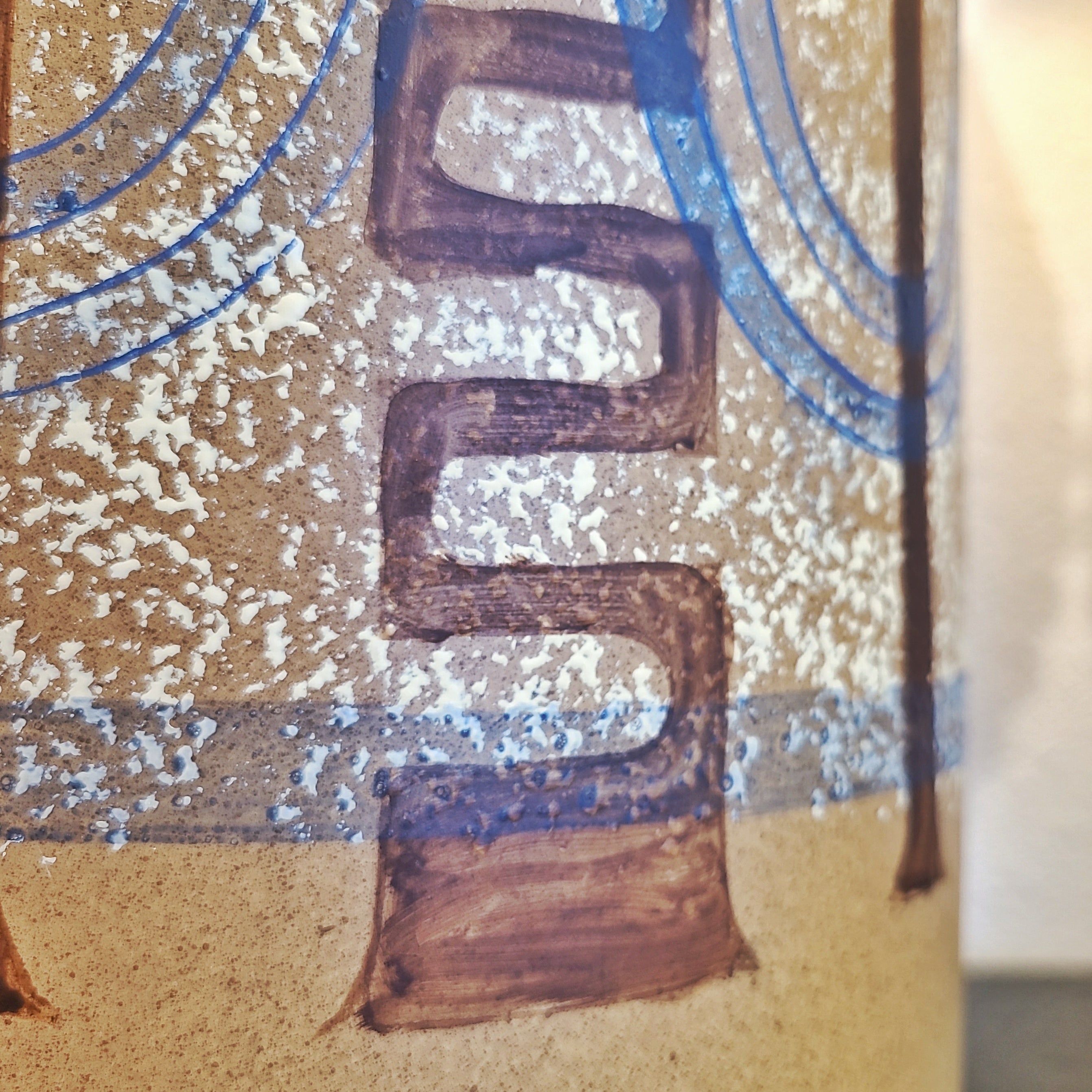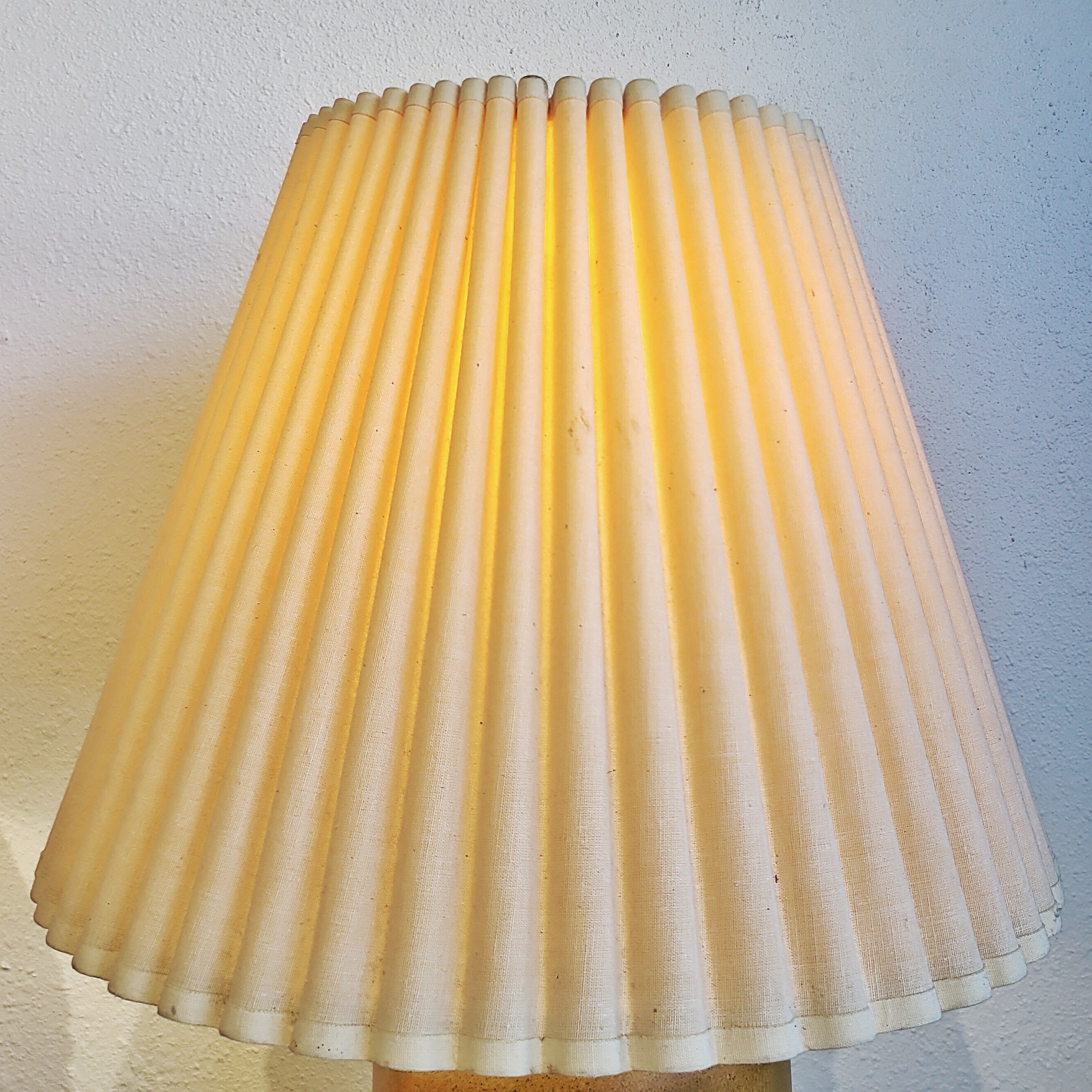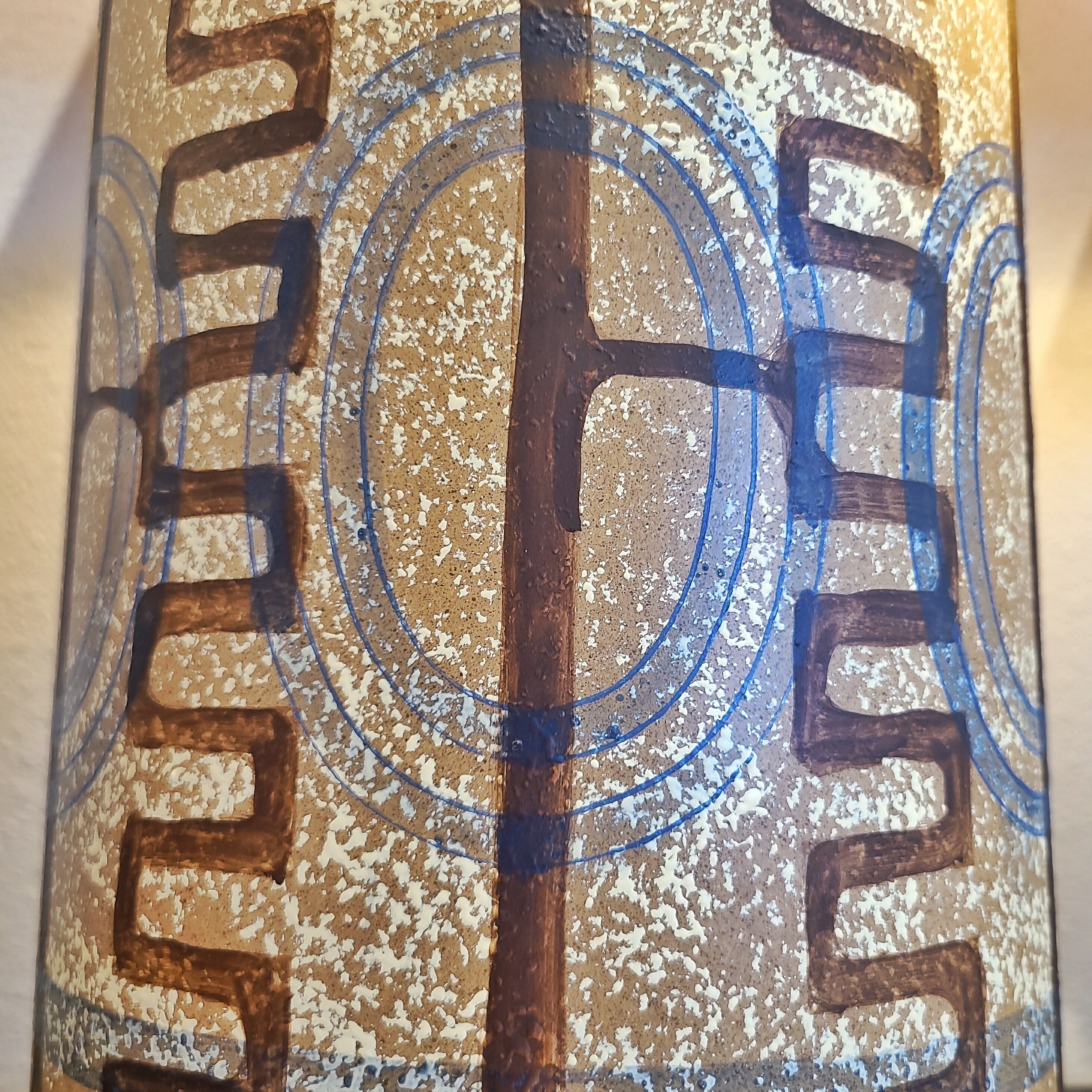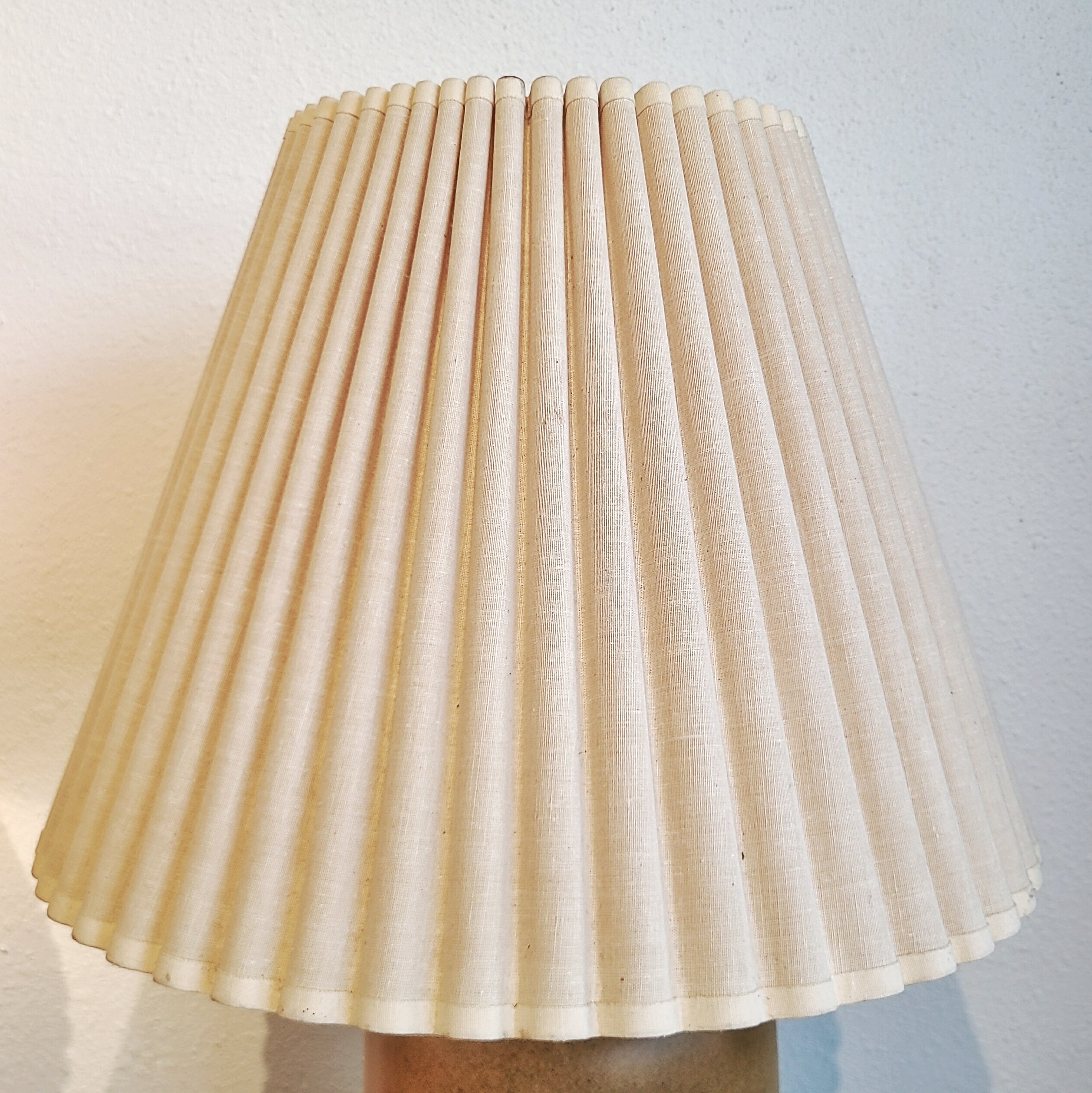 ELSPETH COHEN TABLE LAMPS FOR LAPID POTTERY, ISRAEL (PAIR)
CONTACT US HERE ABOUT THIS ITEM.
A pair of casual yet sophisticated table lamps from LAPID POTTERY of Tel Aviv, Israel, designed in the 1960s by Elspeth Cohen-Silberschmidt. The columnar bottle forms were hand-finished with an abstract décor comprised of multiple overlapping elements—in shades of brown, white, and light blue—applied using a series of 'wax-resist' techniques to allow the underlayers of decoration and the tan ground to show through. The base is marked and signed beneath the felt (...in all likelihood; we have not confirmed). Height listed is to the to the top of the socket.
ELSPETH COHEN was responsible for some of the finest ceramics produced in Israel during the second half of the 20th century. During a long tenure as head of its art department, Cohen introduced a modernist, European aesthetic at LAPID POTTERY of Tel Aviv-Jafo. She was celebrated for the clean, austere, and classical lines of her work—a style very reminiscent of contemporaneous Scandinavian design.
LAPID's owner Kurt Musberg had brought in Dr. Bertha Rosenthal—herself the owner of factories in Germany and Czechoslovakia—to organize an art wares department at LAPID in 1952. Its largely female staff was for the most part recruited from the famed Bezalel Academy of Art and Design of Jerusalem, and Elspeth Cohen, a German émigrée, was named its chief. (Elspeth, incidentally, is a Scottish version of the name Elizabeth.) LAPID designers were responsible for the shapes of objects on Cohen's watch and "decorators" for the finishes—though there was often collaboration. Teams of seven or so decorators painted the molded forms by hand using either glazes or colored oxides, often employing wax-resist and sgraffito techniques to enhance surface interest. Subtle changes to base patterns yielded individually unique items. The painters were compensated on a piecework basis; to keep track of wages due, completed items were signed on the base, typically with first names only. As Cohen's department became established, its work grew increasingly chic, and its output was made available for export.
LAPID POTTERY was established in 1943 in Tel Aviv-Jafo during the British oversight of Mandatory Palestine with the goal of manufacturing sanitary ware and ceramic tiles. In 1949, after Israel's founding, new owner German émigré and industrialist Dr. Kurt Musberg installed a 50-meters-long tunnel kiln for the high-temperature firing of household stoneware. (The huge oven took a full two weeks to turn on and off. Apart from two exceptions when repairs required shut-downs, the kiln operated continuously, around the clock, for the life of the firm.)
The company enjoyed a commercial boost in 1957 when it was purchased by Koor Industries, at the time Israel's largest commercial enterprise. Koor had been born as an arm of Solel Boneh, a construction and civil engineering company founded by the Histadrut, Israel's federation of trade unions. Its ceramics division included LAPID POTTERY, Naaman Porcelain, and Harsa Ceramics. The acquisition plan had been for LAPID to abandon the manufacture of bathroom fixtures and focus exclusively on tableware and art pottery, but workers nixed the idea: they were compensated on a quota basis, and sinks and toilets were much easier to make than hand-painted vases. Although LAPID never entirely gave up producing sanitary items, it was always better known for its decorative products.
In consumers' minds, LAPID household stoneware pieces embodied a particularly Israeli aesthetic—despite the fact that most of the designs were inspired by (sometimes copied from) Scandinavian pottery. There were regional influences of course—archeological finds, desert colors, images of Arab women holding pots on their heads, etc.—and product lines were often given local geographical names: e.g., Ein Gedi, Negev, and Carmel. But if LAPID was less essentially Israeli than was generally imagined, its popularity was undeniable. Its heyday spanned the 1960s and '70s, and a couple who got married in Israel in those days would have undoubtedly received a LAPID dinnerware set as a wedding present. Israeli kitchen cupboards were full of LAPID in the second half of the 20th century—and many of them still are.
In the late '60s LAPID's marketing manager Dan Eyal took advantage of CEO Joseph Givol's acquaintances with many of the nation's bigwigs. He approached Lily Sharon, the wife of Ariel Sharon—at the time a high commander in the army—knowing that she hosted frequent garden parties. He offered to supply all the dishes she needed for the affairs, telling her to put everything unwashed in a box at the end of the event for collection the next morning. All she had to do in exchange was to let anyone who asked know that the dishes were from LAPID. Ruth Dayan, the first wife of Moshe Dayan, then Israel's minister of defense, got a similar deal.
Another marketing tack involved the workers' committees of the Histadrut who bought LAPID products for their members as holiday gifts. Employees of huge companies like Egged Transportation, Israel Aerospace Industries, and of course Koor, all received LAPID for Rosh Hashanah. Prior to the dramatic shift in Israeli politics that occurred with the 1977 election (that ended a near 30-year rule of the left) the Histadrut was one of Israel's premier institutions; it only stands to reason that so many in Israel were eating off LAPID plates.
By the 1970s LAPID tableware was being mass-produced—although most of it was still hand-painted. In spite of its having infiltrated nearly every household in the country by this time, it was still seen as prestigious. However, LAPID started to decline in the 1980s—first artistically and then financially. Israel's government was opening up the country for imports, and trade was liberalizing. People started opting for lighter and cheaper dishes from overseas rather than LAPID's relatively heavy and expensive tableware, even though it was of higher quality and lead-free. Local industry was unprotected from the encroachment of globalization; one Israeli ceramics factory after the next was shuttered. The value of the firms' real estate so outstripped that of their factories and production potential that all hope for new designs that might adapt to changing consumer taste was forgotten. Struggles with debt and repeated threats of liquidation finally forced the hand of parent company Koor: LAPID closed its doors in 1990 after 47 years in operation.
DETAILS
Designer – ELSPETH COHEN
Design Period – 1960s
Maker – LAPID POTTERY
Production Period – 1960s
Origin – ISRAEL
Styles/Movements – MID-CENTURY MODERN; MODERNIST
Materials – CERAMIC
Colors – TAN, BROWN, LIGHT BLUE
Shade – INCLUDED
Power – UP TO 110V (US STANDARD), CORDED, TYPE "A" PLUG
Condition – Very good vintage condition; without defects, but showing slight traces of use.
Dimensions – 8" DIAM. × 22" H