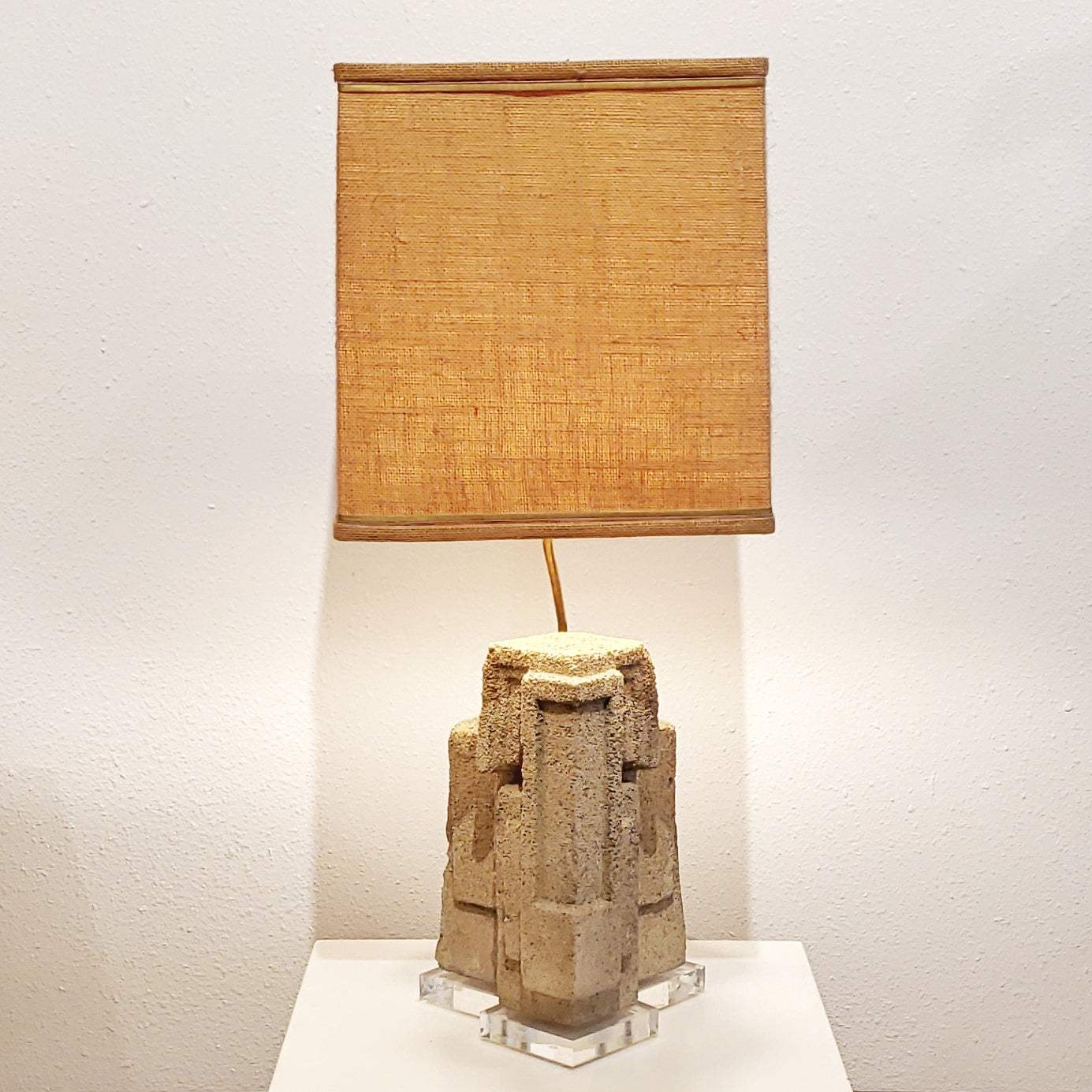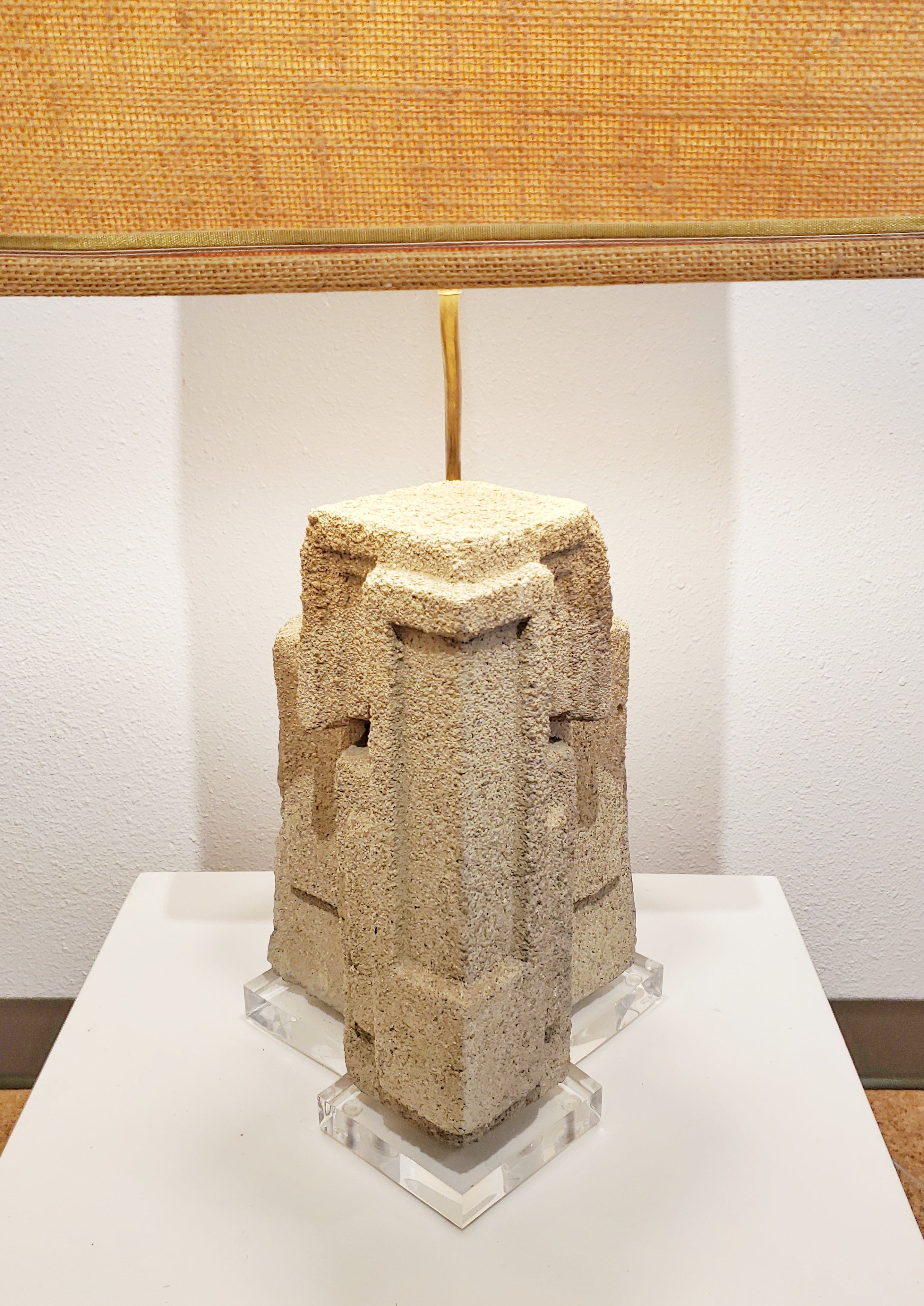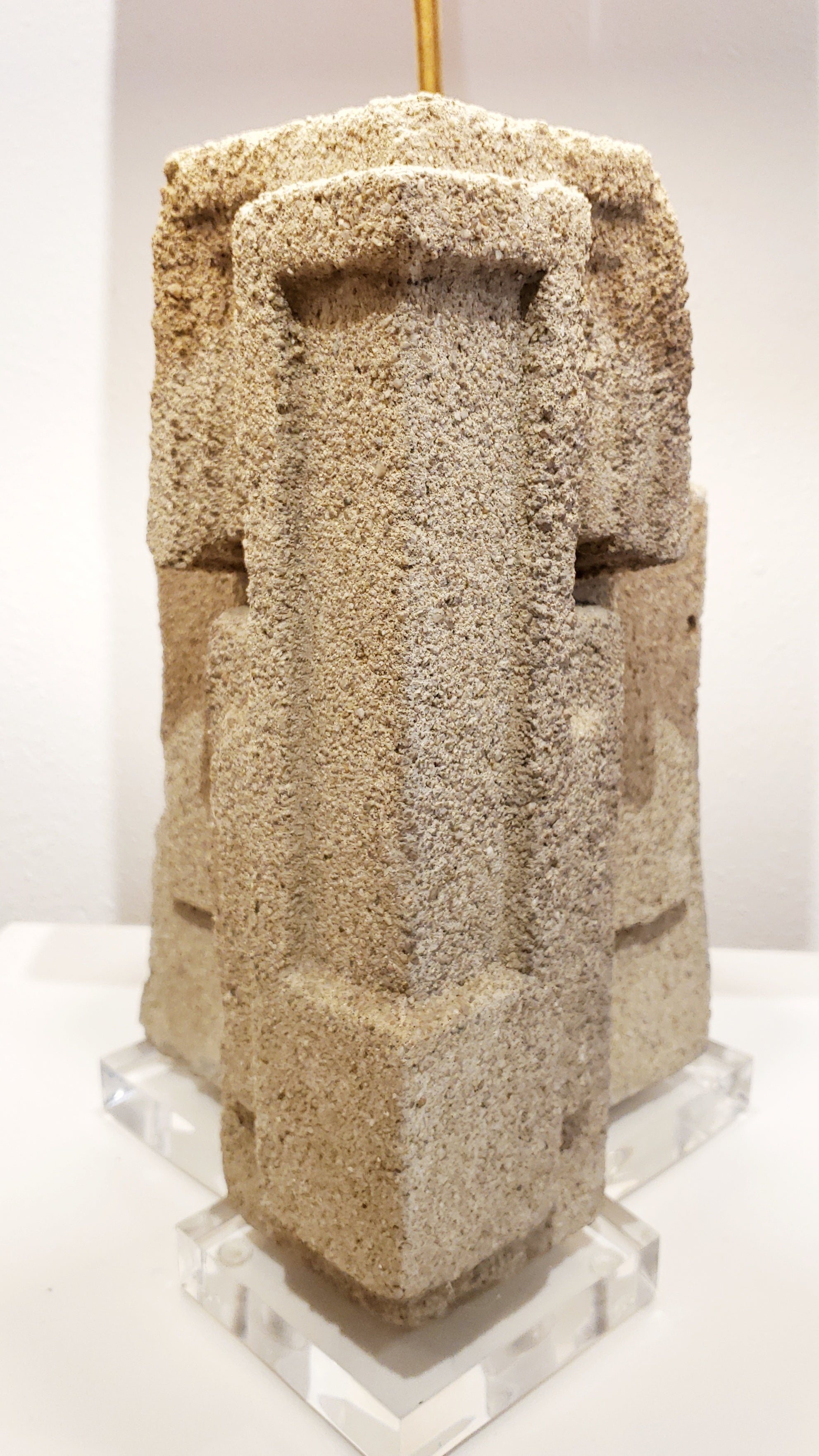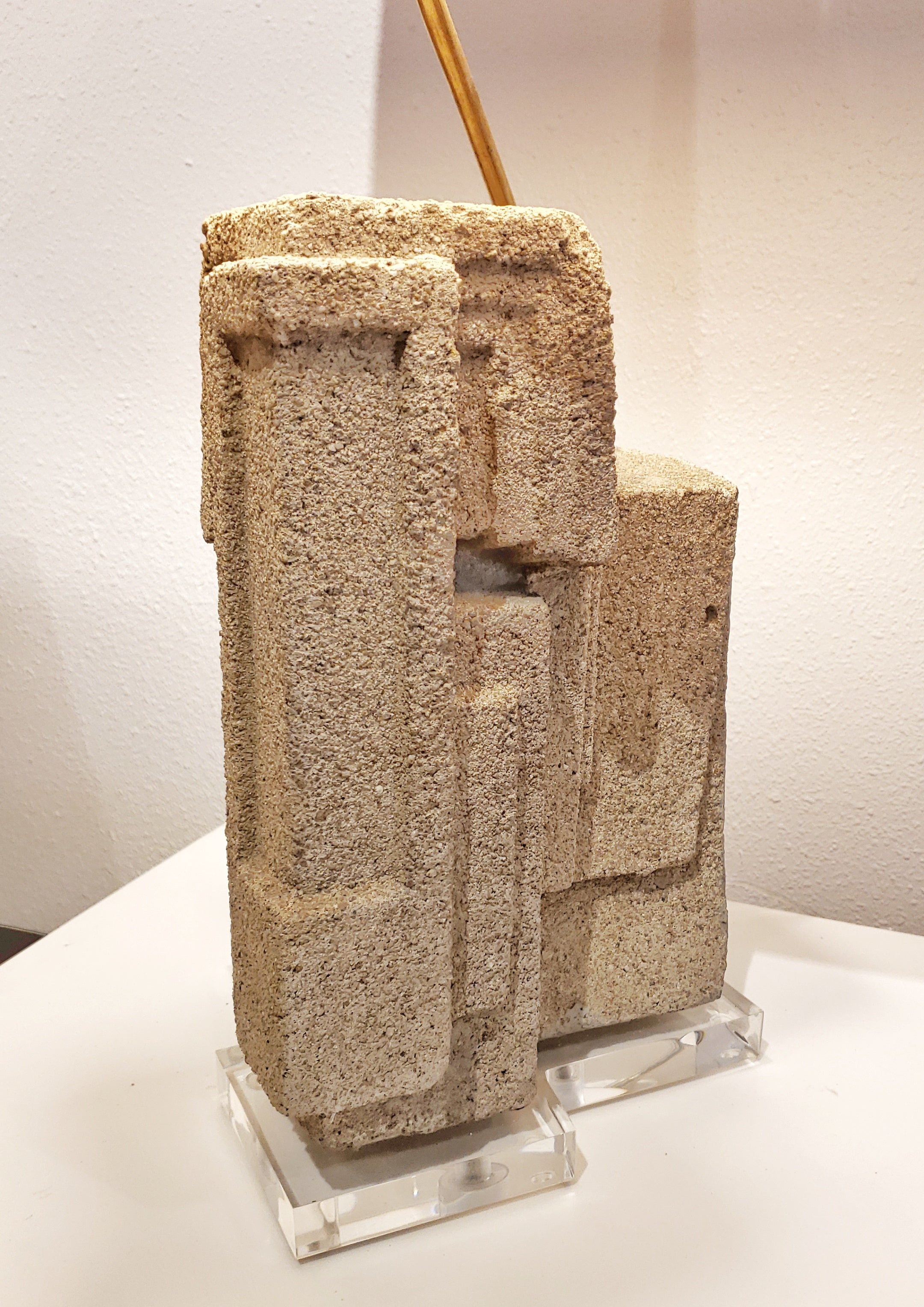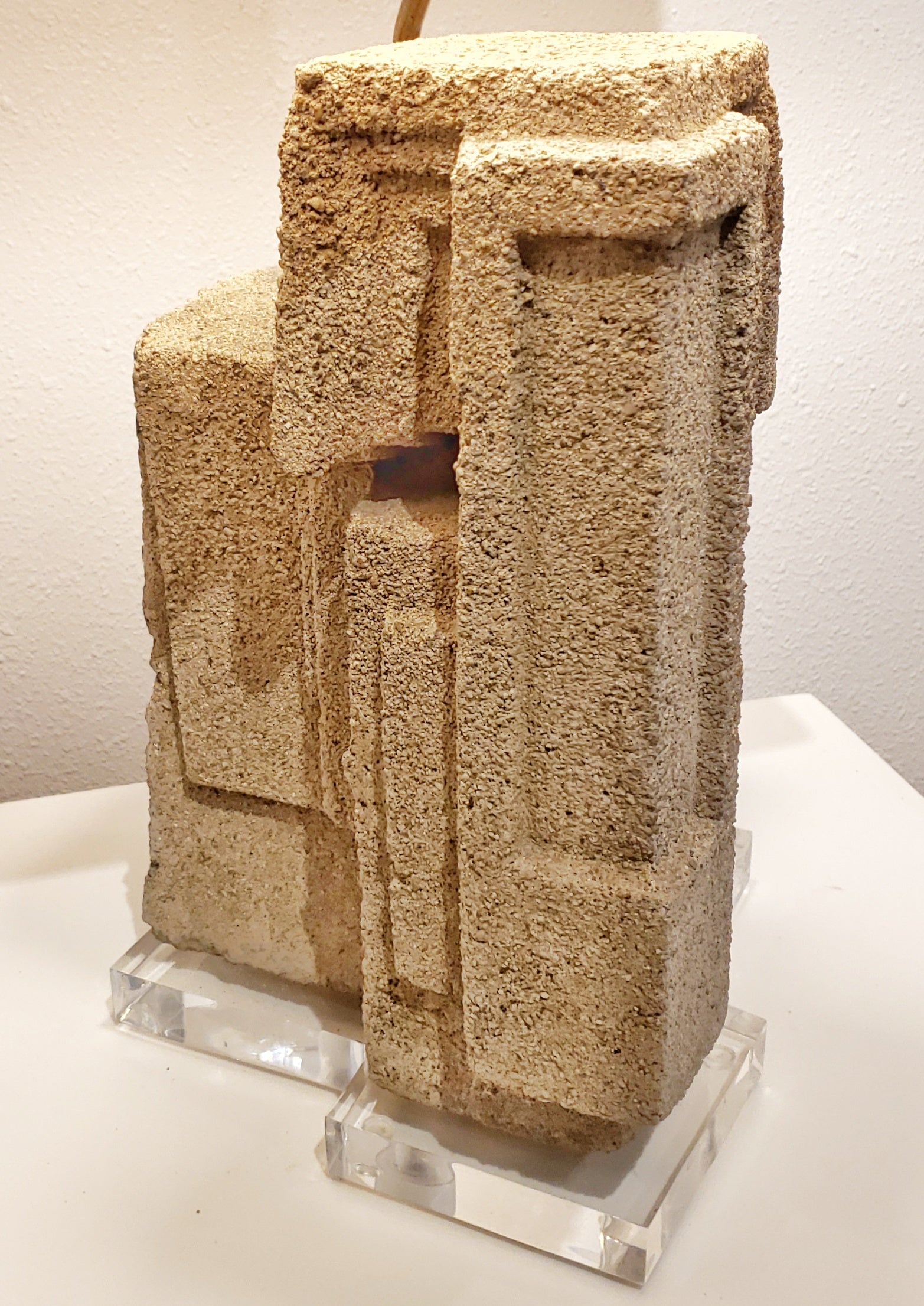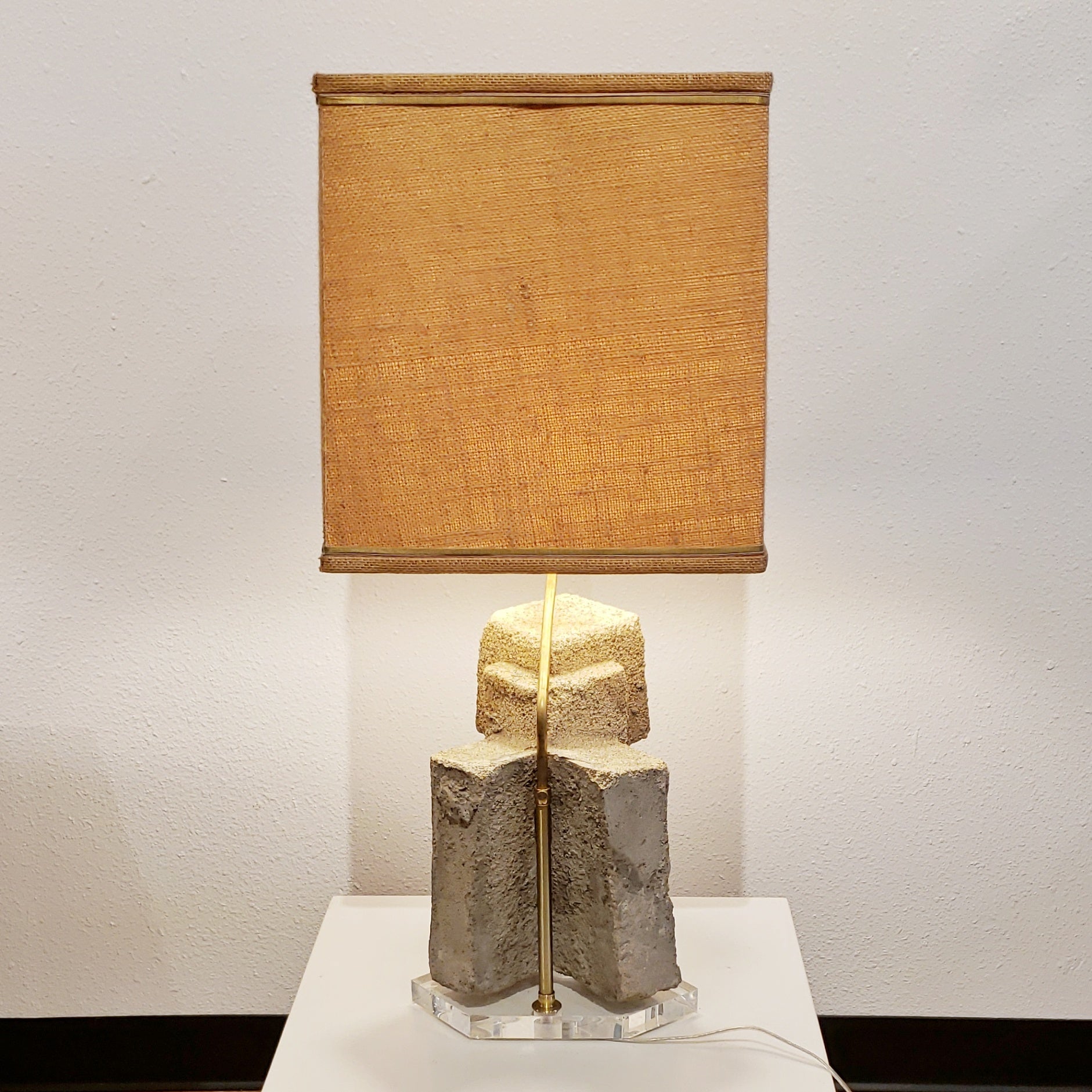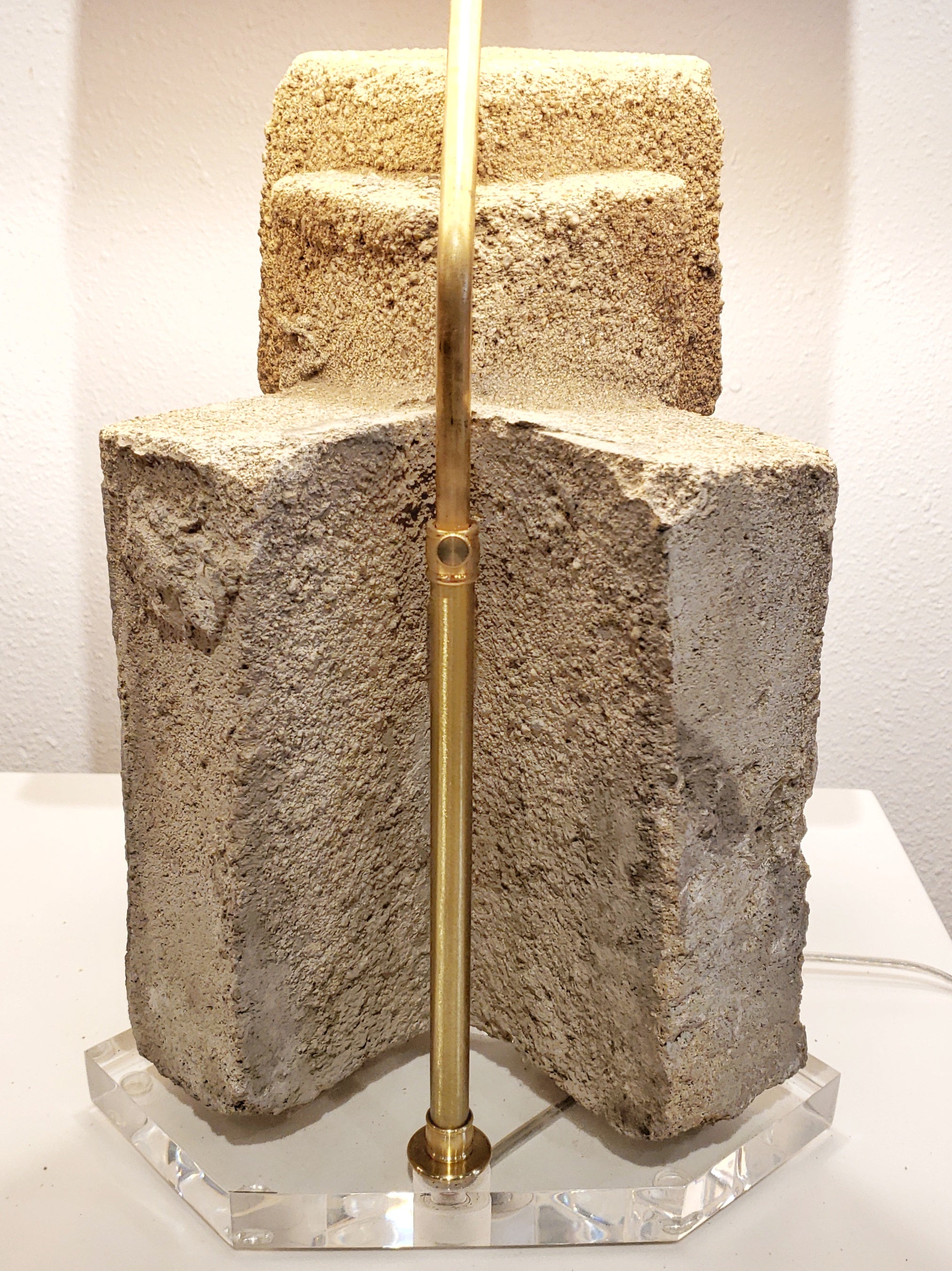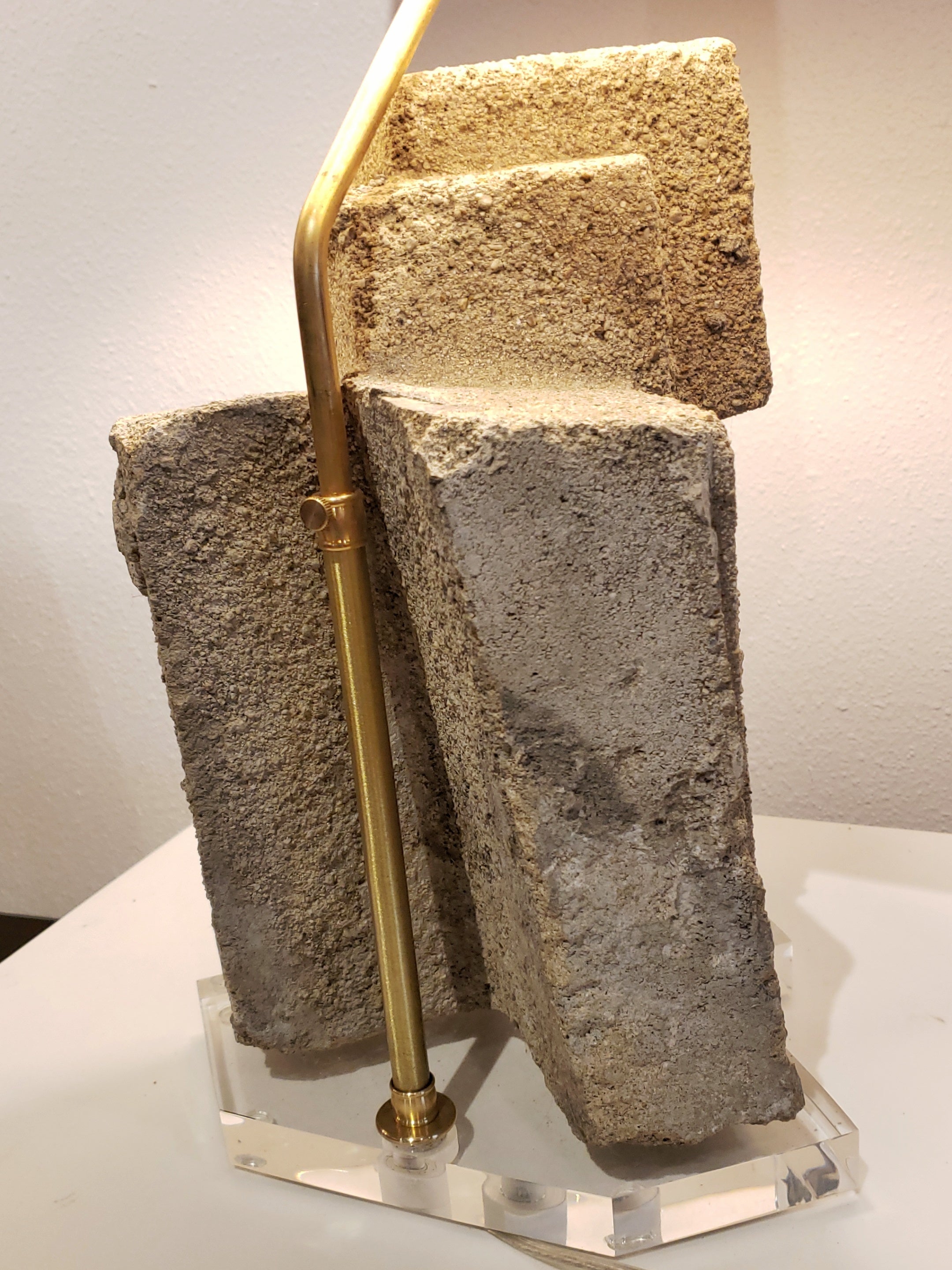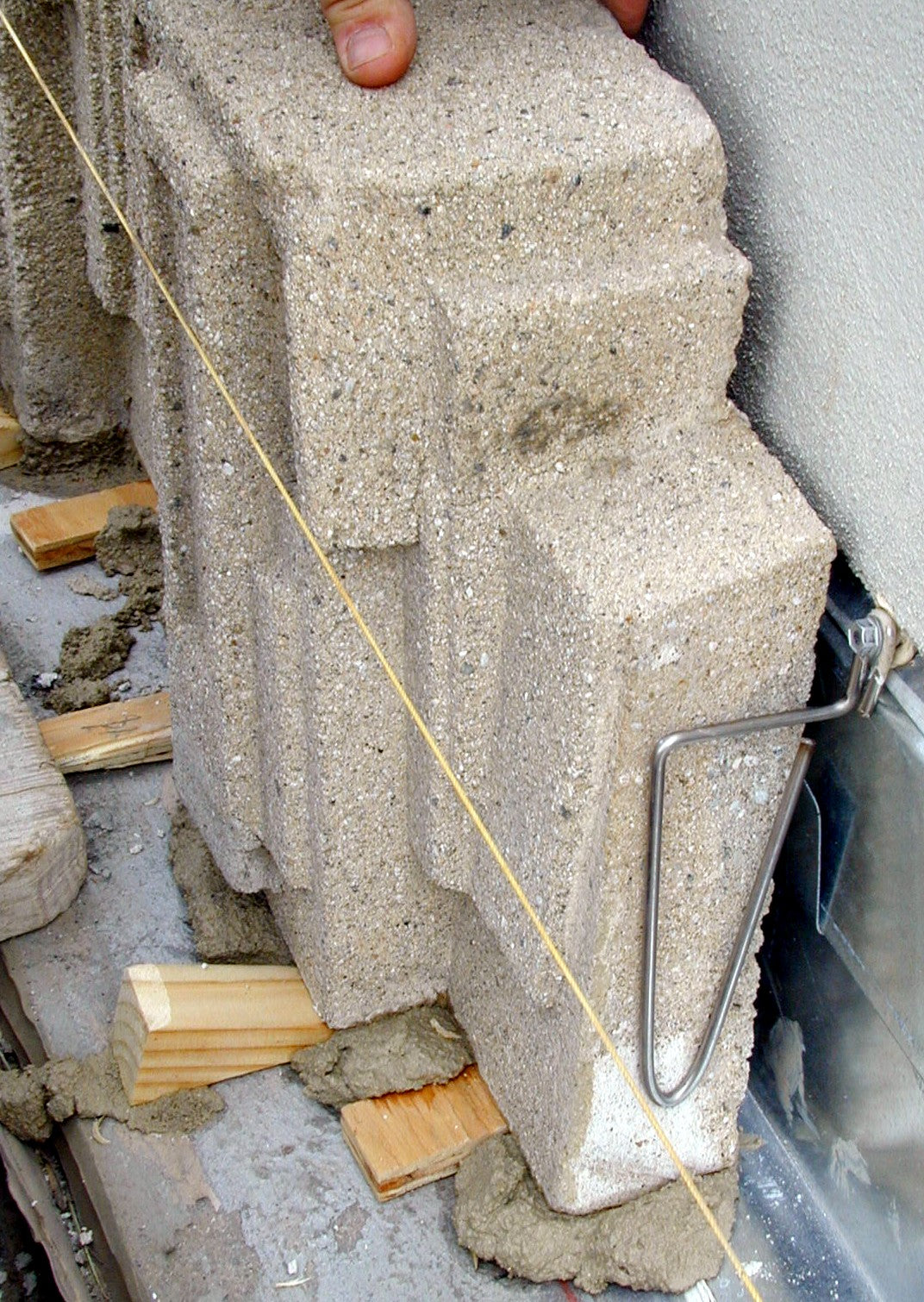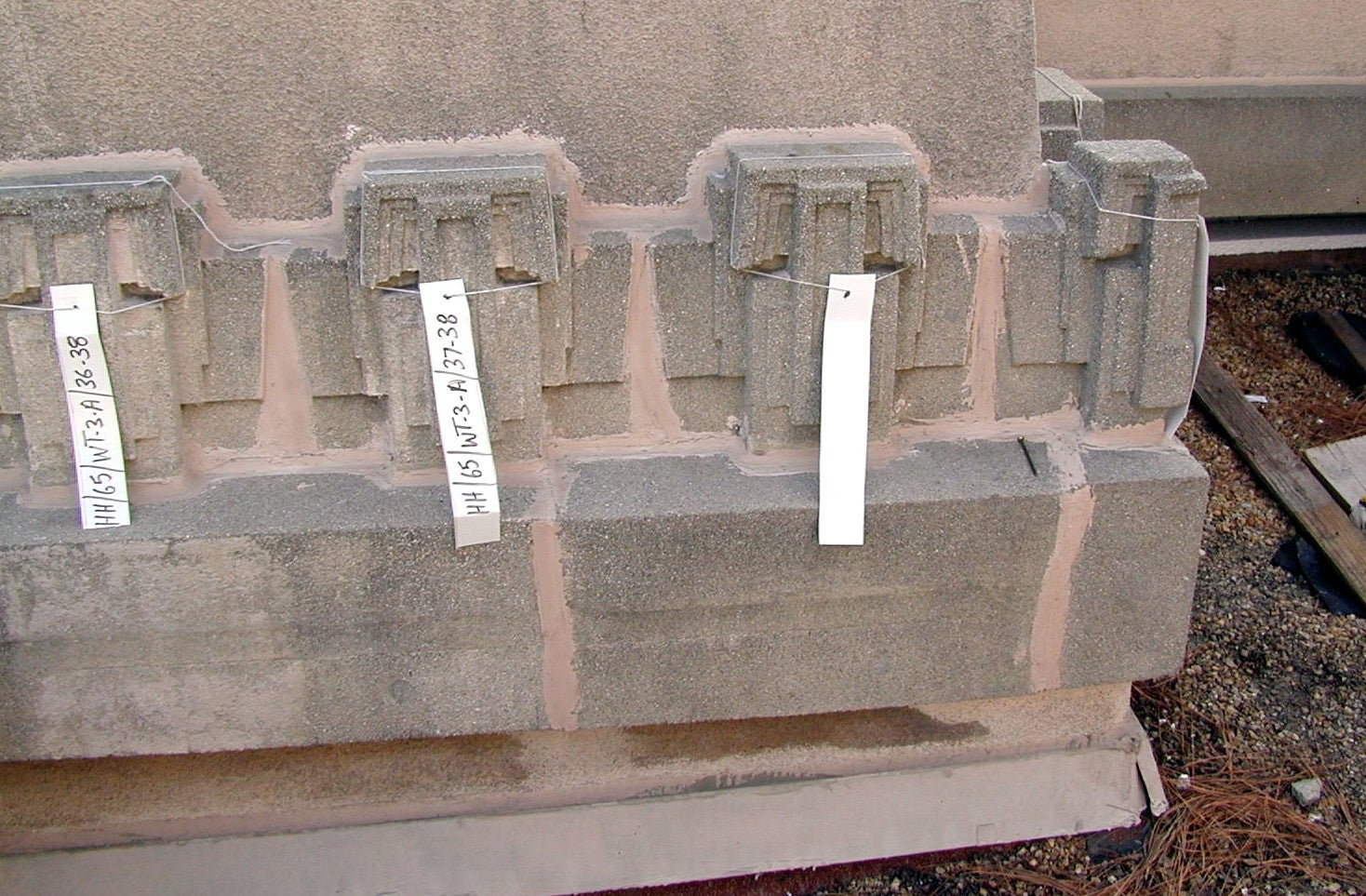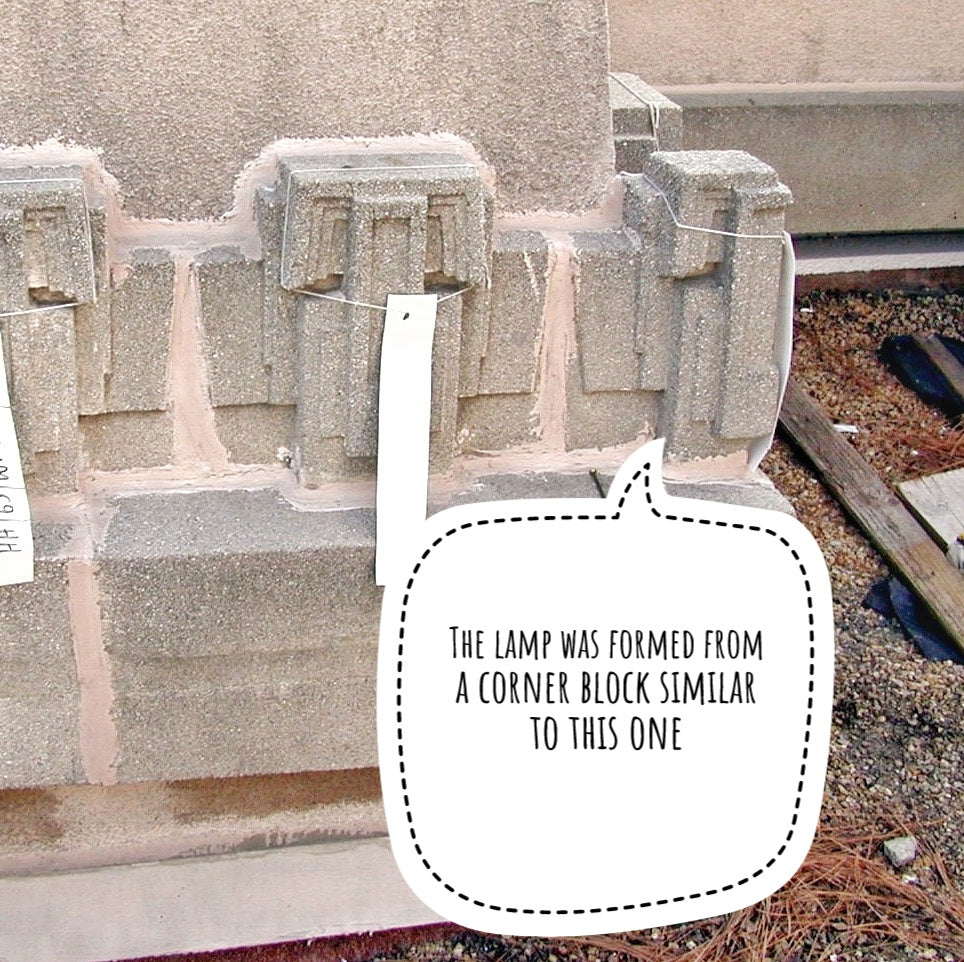 CUSTOM FRANK LLOYD WRIGHT TABLE LAMP
CONTACT US HERE ABOUT THIS ITEM.
This one-of-kind table lamp was fashioned from a hand-cast concrete block recovered during restorations to Frank Lloyd Wright's Hollyhock House following a 1994 earthquake.  Commissioned by oil heiress Aline Barnsdall and completed in 1921, the house represented Wright's transition away from the 'Prairie' style of the preceding decades.  Principally used to ornament the Hollyhock House, such blocks would later become the basis of the new construction system that Wright employed in building his four "textile-block" homes in Southern California:  the Ennis, Millard, Samuel Freeman, and Storer Houses.  Reinforcing rods, cast inside the blocks themselves, were "woven" through the walls like threads on a loom.  According to Wright's grandson, the size of the blocks was "intended to be about what one person can lift without too much effort."  Mounted on Lucite.
FRANK LLOYD WRIGHT was born in 1867, in Richland Center, Wisconsin.  After studying civil engineering at the University of Wisconsin, he apprenticed in Chicago with noted architect Joseph Lyman Silsbee and worked as chief assistant to architect Louis Sullivan, "the father of skyscrapers."  Wright founded his own practice early on in the village of Oak Park on the outskirts of Chicago.  He pioneered the development of an architectural style that became known as the 'Prairie School.'  Marked by horizontal lines thought to evoke the broad, treeless expanses of America's native prairie landscape, it was an attempt to develop an indigenous North American architecture independent of Old Europe and in concert with the ideals and aesthetics of the Arts and Crafts movement, sharing the latter's embrace of handcrafting as a corrective to the dehumanizing effects of mass production.  Wright called this "organic" architecture—design suited to its environment and the modern American way of living.  Its ideal artifacts were buildings that seemed to have naturally grown from their sites.
His efforts were supported and amplified by a group of Midwestern architects at work in and around Chicago, "The New School of the Middle West."  They included George Elmslie, Myron Hunt, George Washington Maher, Dwight Perkins, William Gray Purcell, Thomas Talmadge, and Vernon Watson, as well as Wright's later associates Marion Mahony, Walter Burley Griffin, William Drummond, and Francis Byrne.  Wright created some of the most innovative spaces in the US, and it is no exaggeration to say that he changed the way Americans built and lived.  He produced a total of 1,114 architectural designs during the course of his career—532 of which were realized.  His career spanned seven decades, securing his cultural primacy.  He died in 1959 at the age of 91.
Study nature, love nature, stay close to nature. It will never fail you. – FRANK LLOYD WRIGHT
Country of Origin – USA
Designer – FRANK LLOYD WRIGHT (1867-1959)
Plug – N. AMERICAN
Height (in.) – 33.0
Width (in.) – 14.0
Depth (in.) – 11.0