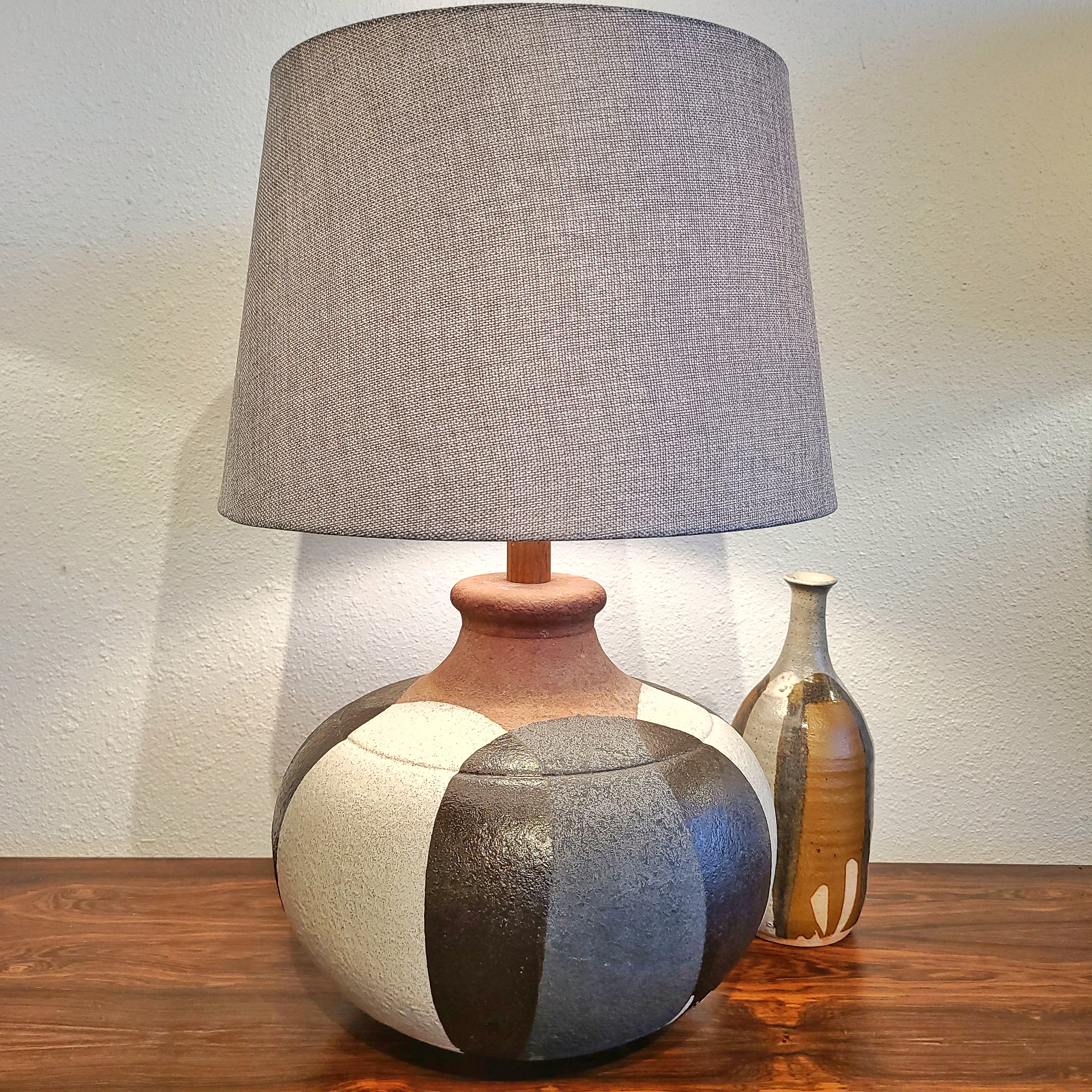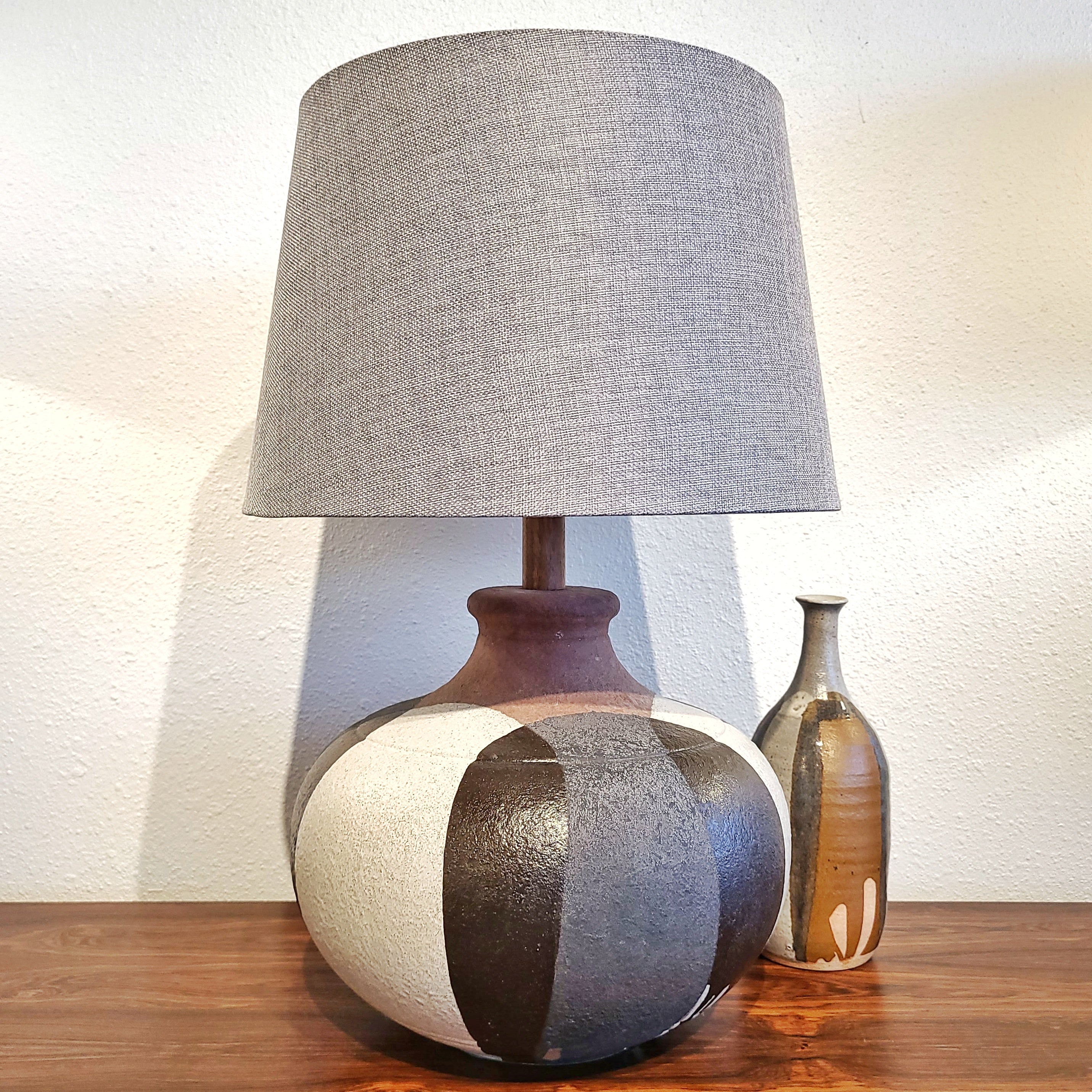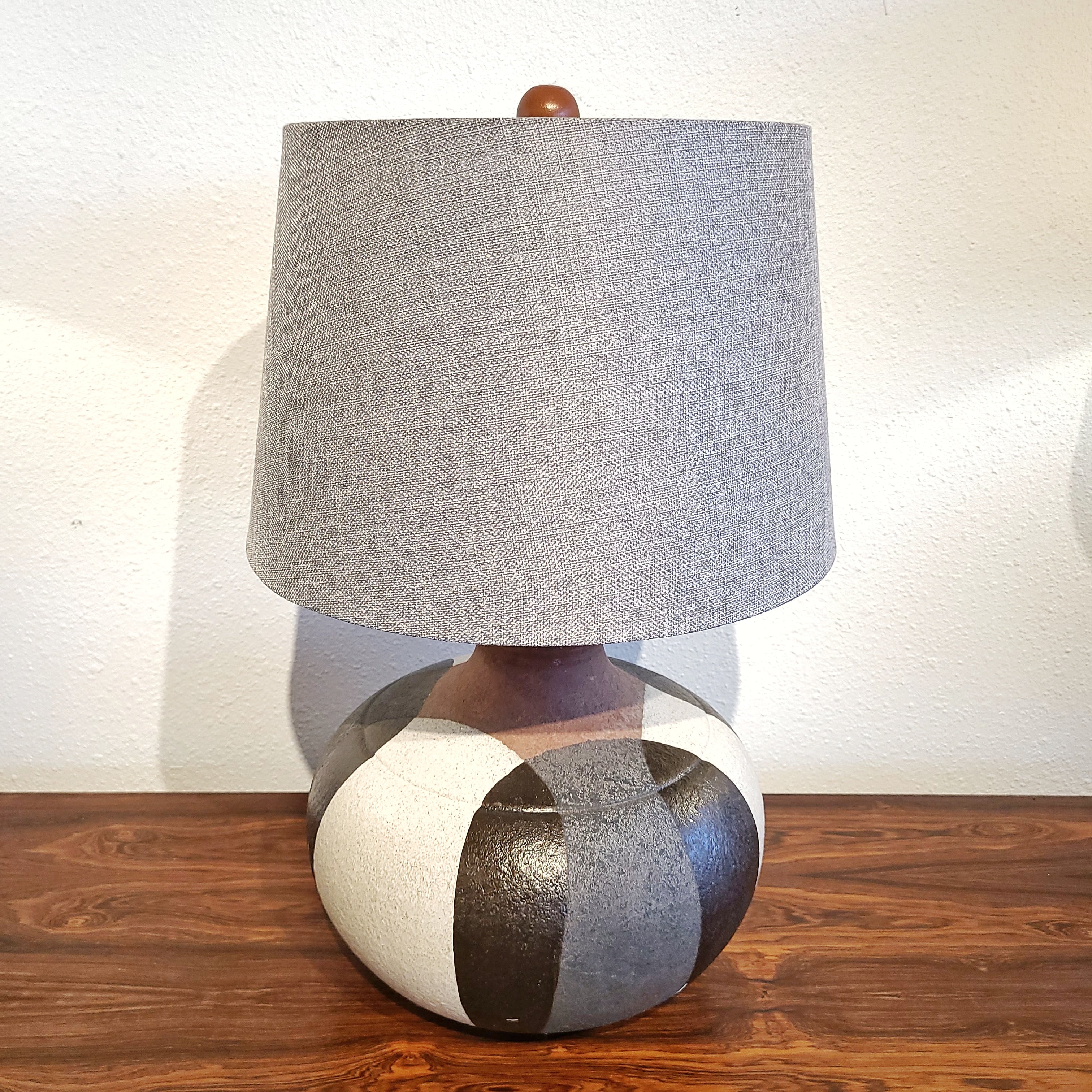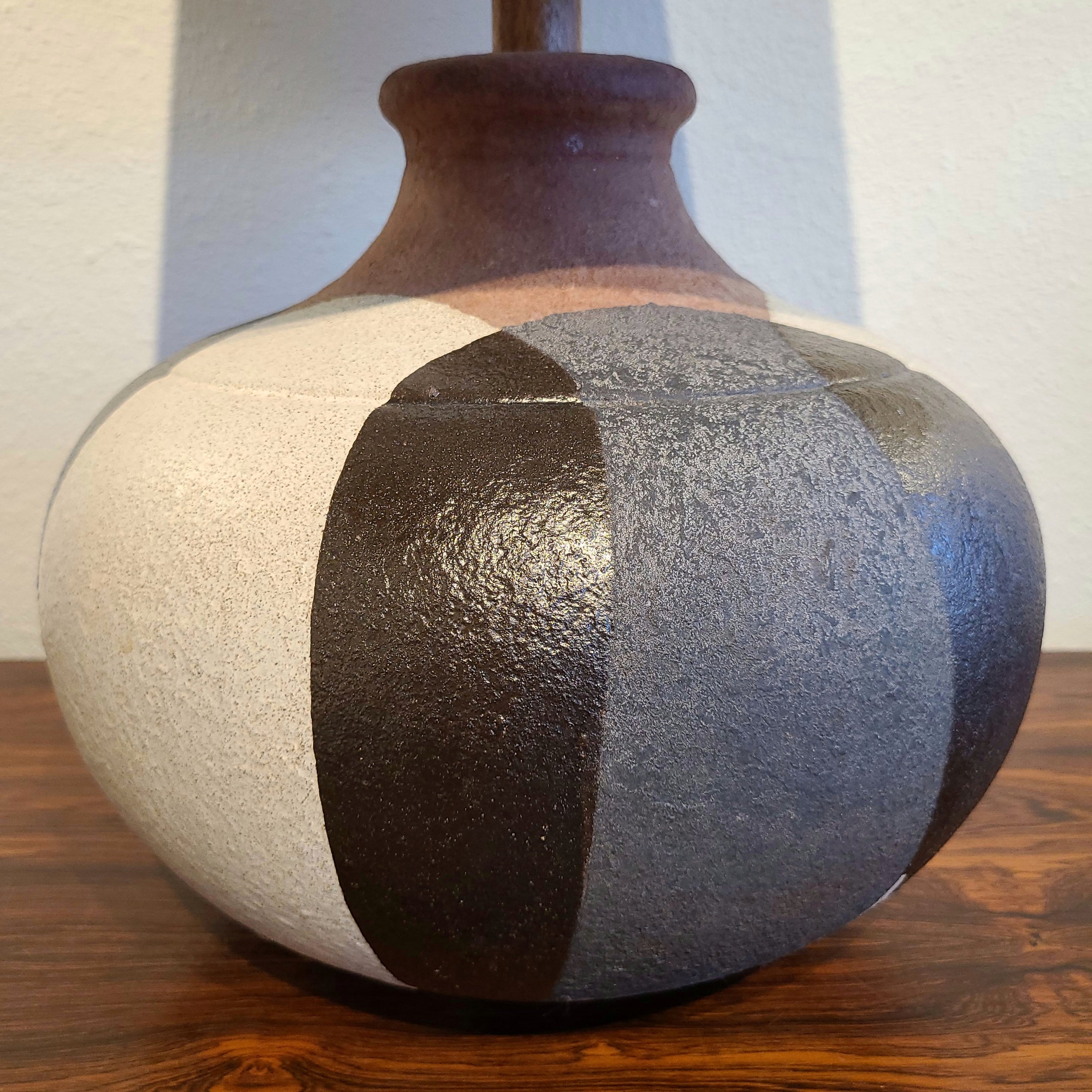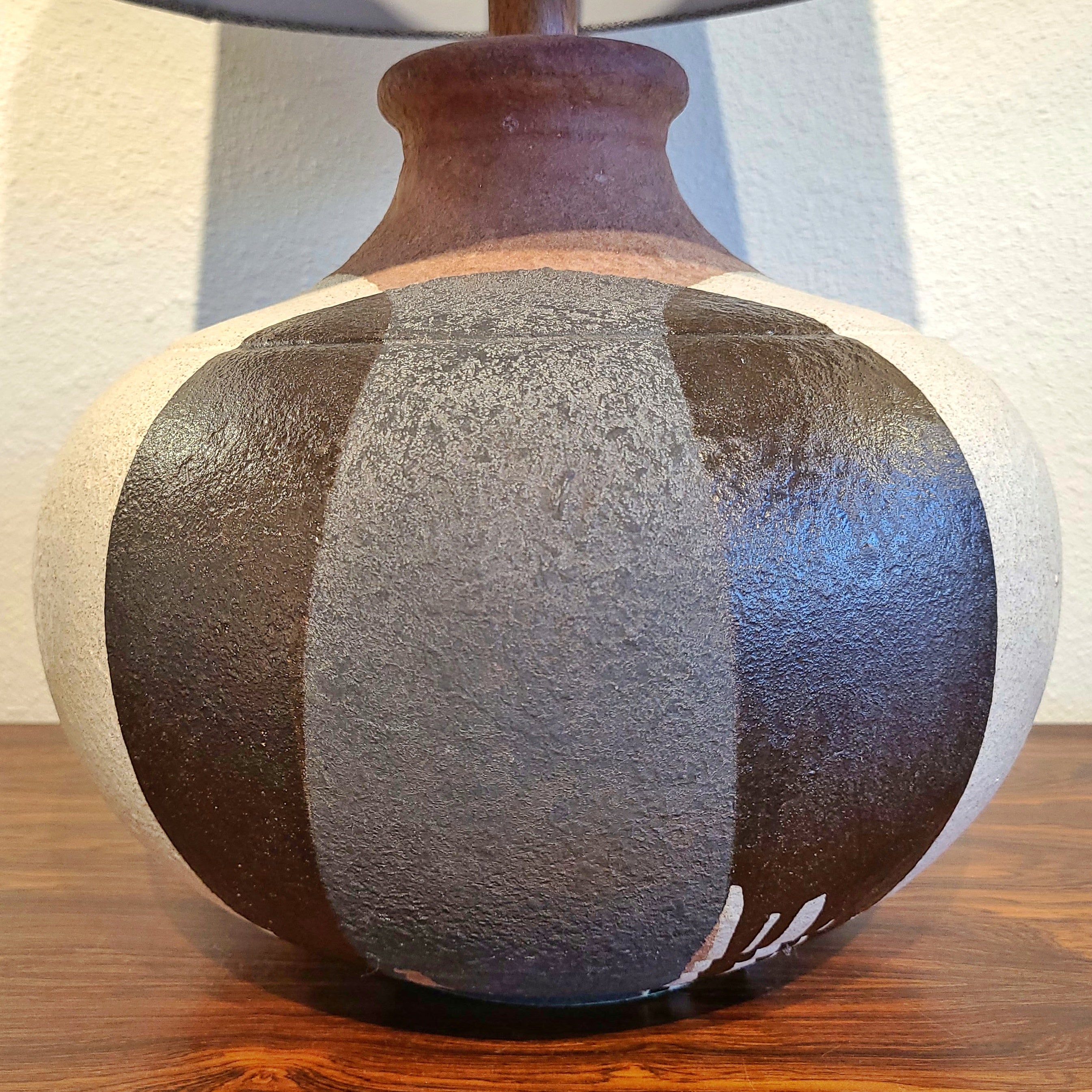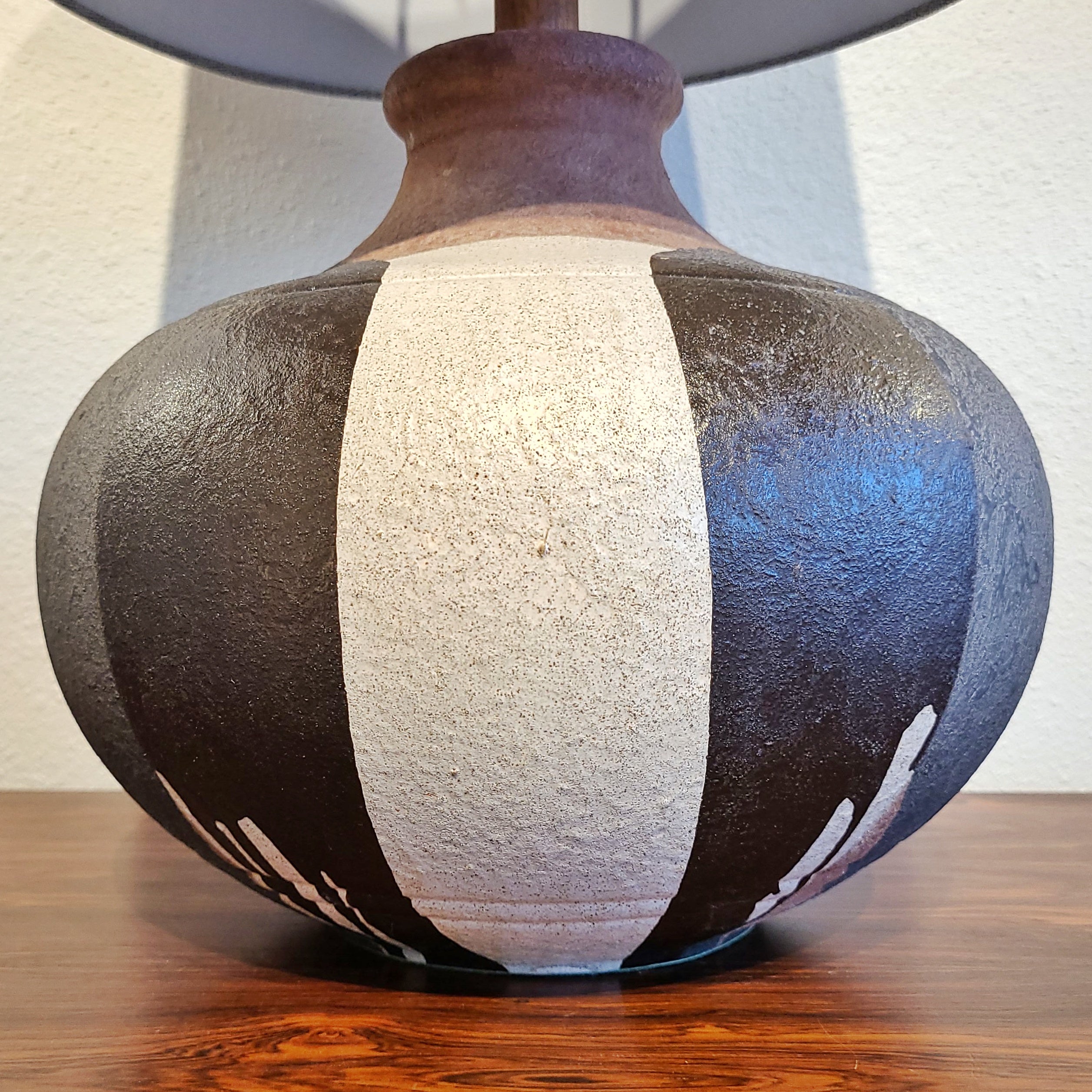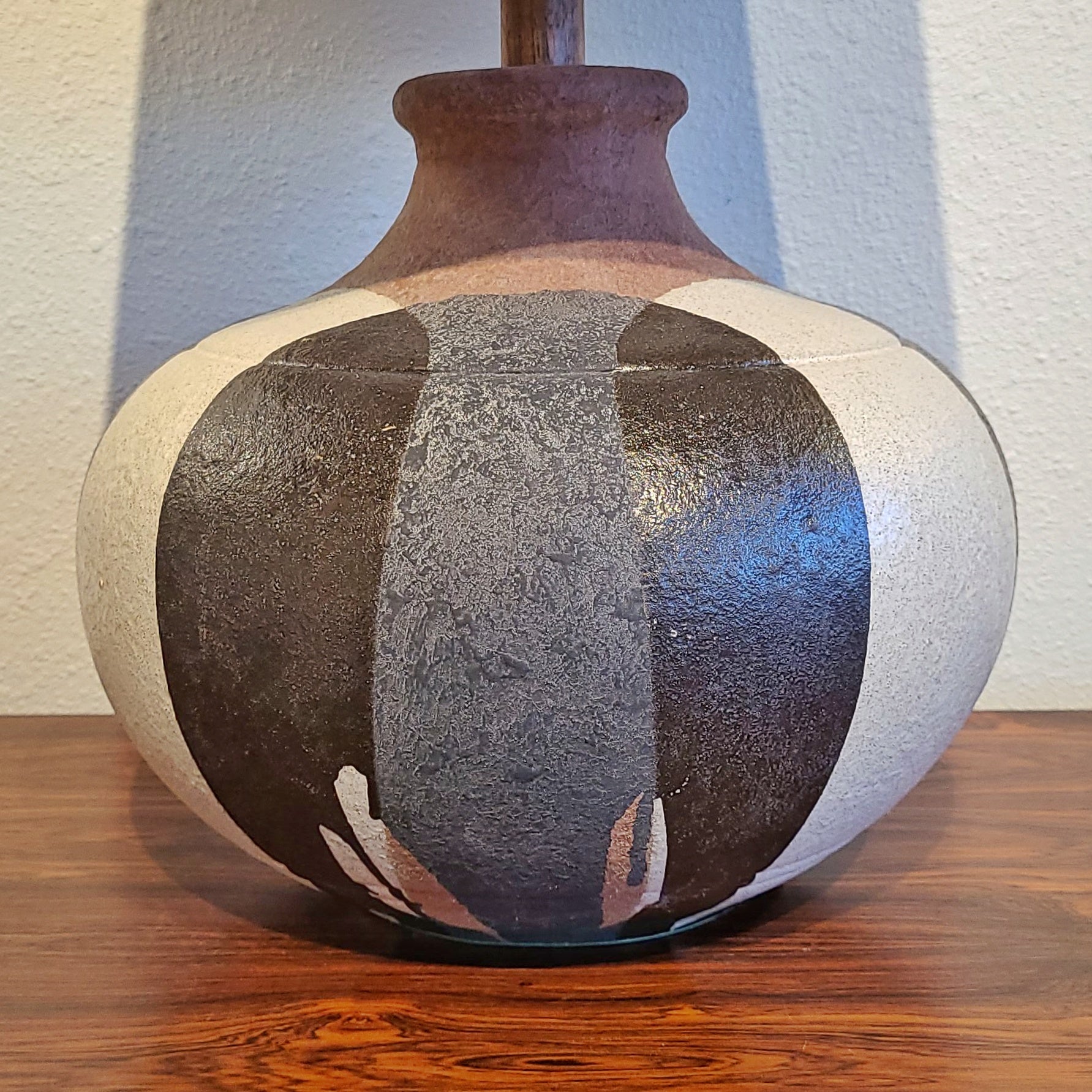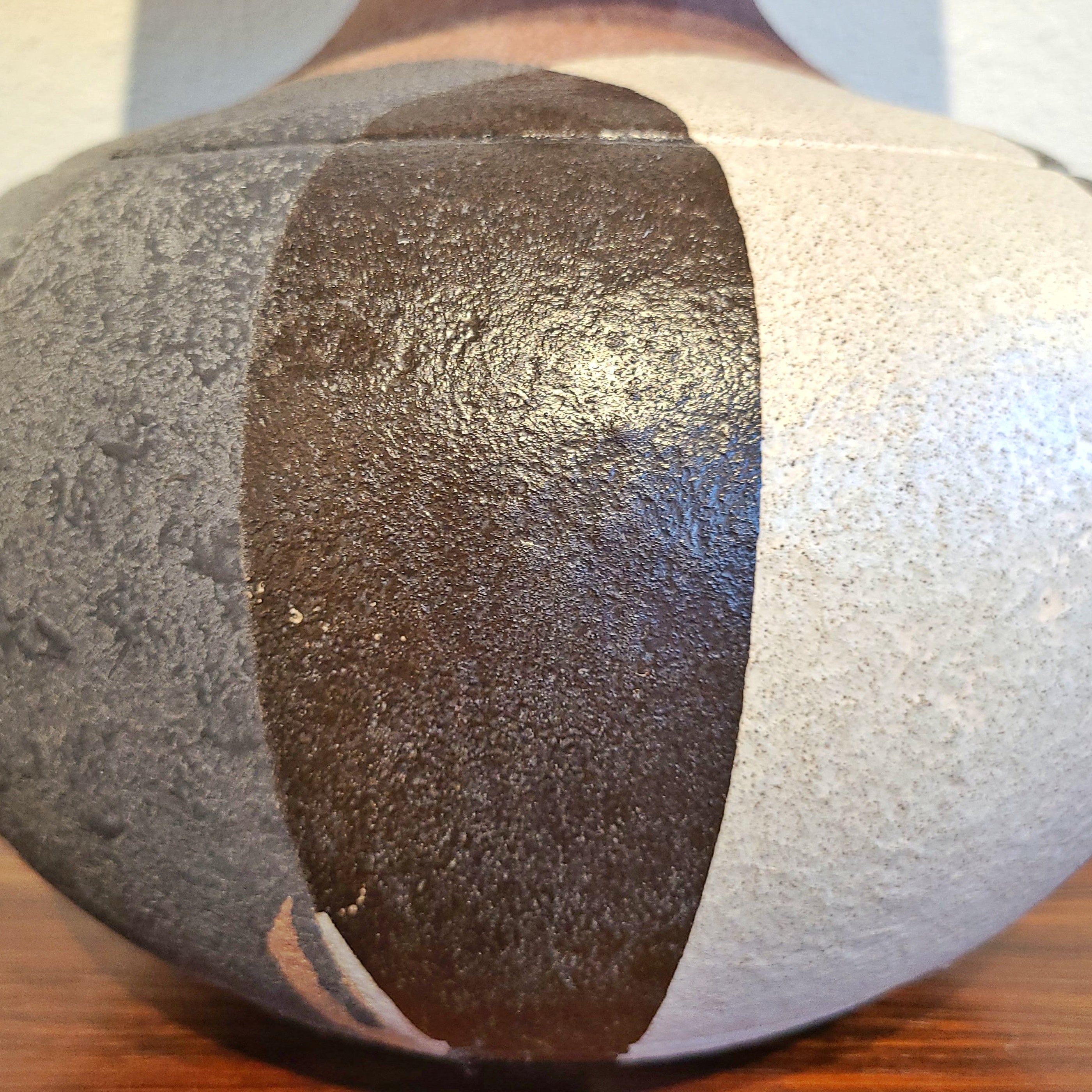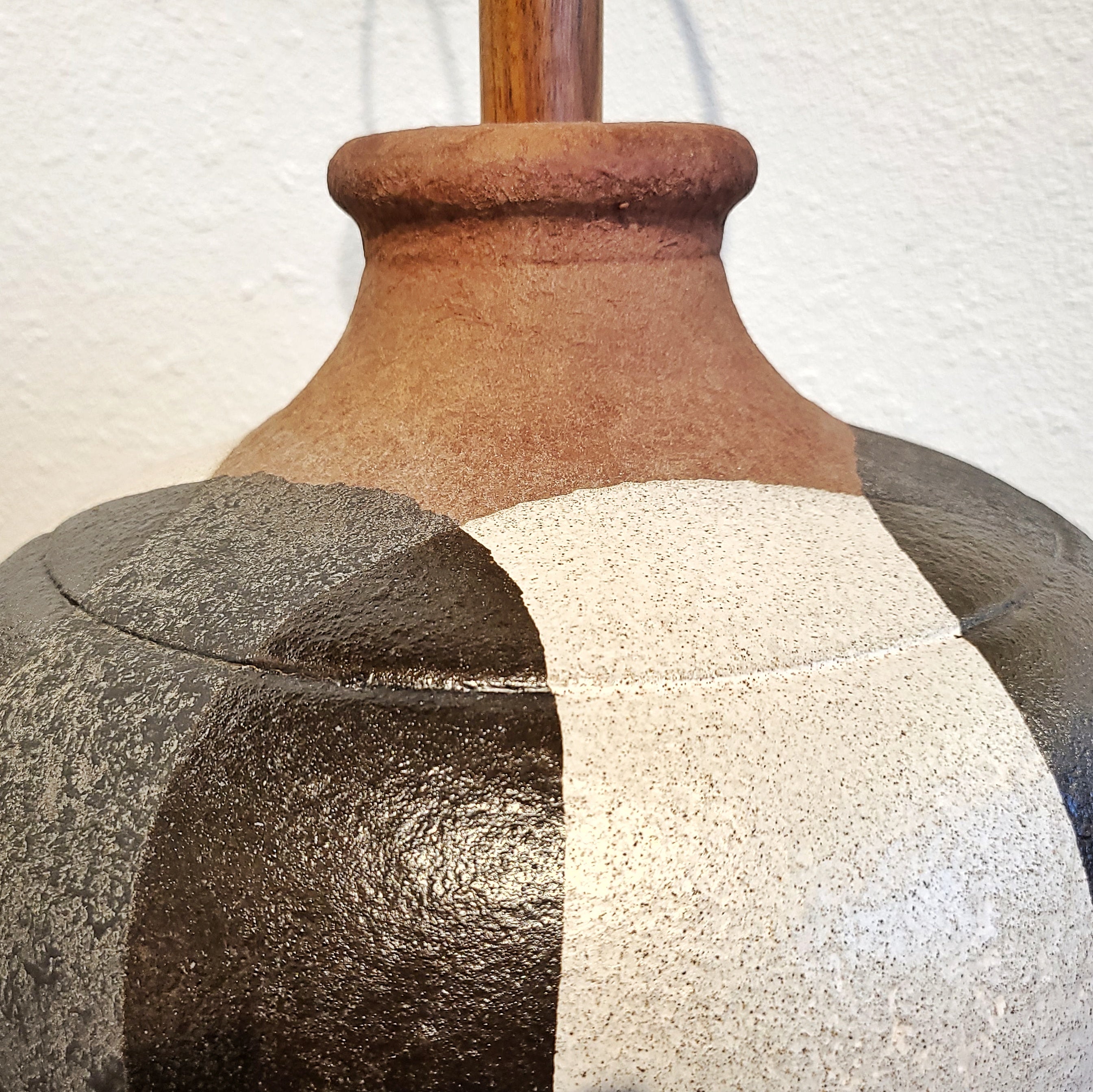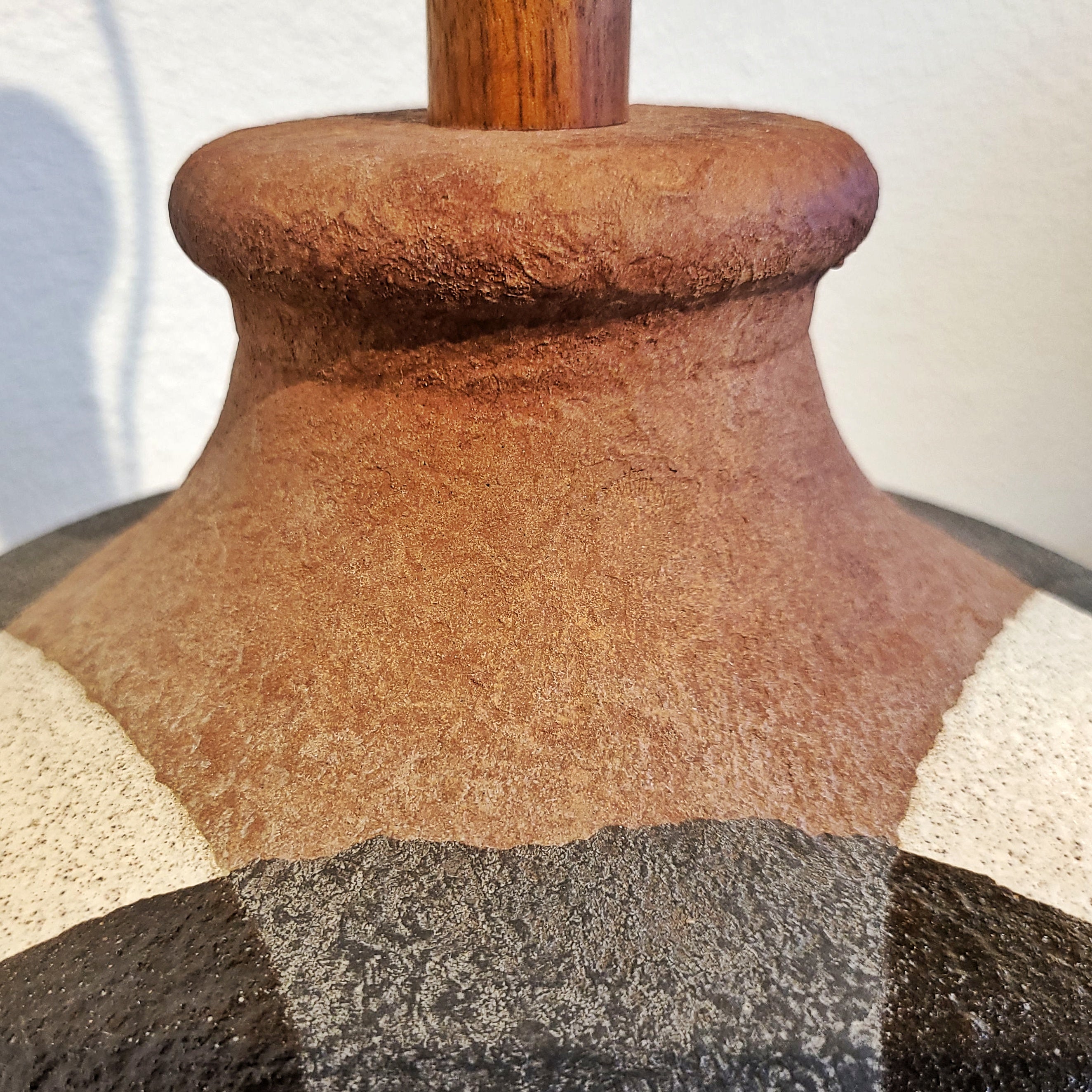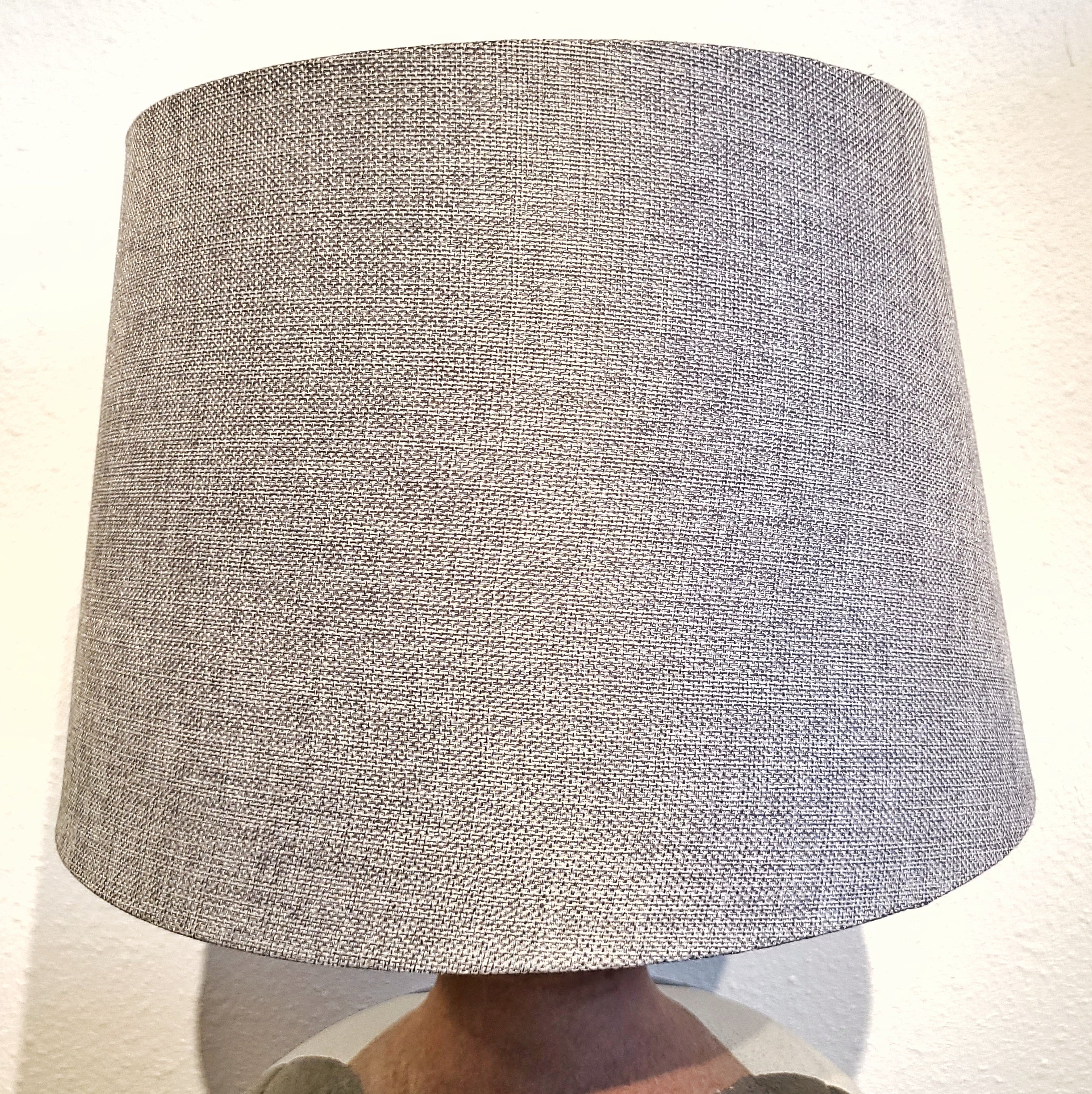 DAVID CRESSEY 'PRO/ARTISAN' COLLECTION TABLE LAMP FOR ARCHITECTURAL POTTERY
CONTACT US HERE ABOUT THIS ITEM.
A rotund Architectural Pottery lamp with overlapping white, gray, and black flowing glazes poured over a terra-cotta red ceramic base by David Cressey from the 'Pro/Artisan' collection.
DAVID CRESSEY (1916-2013) is widely recognized as an influential multi-disciplinary artist who, over the course of a six-decade career as a sculptor, potter and painter, developed a distinctive aesthetic that rendered the character and ideology of post-war California.
Beautifully made and formally resolved, David Cressey's ceramics exist as contemplative sculptural forms engaging the viewer through their tactile plasticity. In 1961, after becoming the first artist in residence at Architectural Pottery in Los Angeles, and continuing through the mid 70s, Cressey's Pro/Artisan Collection of ceramic vessels reflected the expressiveness of his studio practice on an architectural scale. Drawing from his fine art training, Cressey re-thought the usual approach on the designed object and changed its functional fate by rendering his own sensibility, thus creating a new lexicon for ceramic design and giving shape to the 20th century Californian indoor-outdoor ceramic planter. Classic or organic forms, wheel thrown or casted in his uniquely compounded stoneware formula, his are finished with an array of individually poured velvety smooth glazes. Lyrical textures or organically structured grids emerge from the bold marks of his tools. Over-pours of the same glaze, allowing the flow to follow the contour of the shape, materialize in painterly surfaces, resembling the appearance of curvaceous brushstrokes. Variations in color produced by the hand pouring of two glazes enhance the appearance of the natural earth tones of the stoneware form. Celebrating his beliefs in the role of design as intellectual and emotional framework of an era, Cressey's ceramics are a true testimony of the way his practice shaped the visual and material identity of modern California.

David Cressey was born in Los Angeles, California in 1916. He trained at USC under Vivika Heino and at UCLA under Laura Anderson. In 1956 he received an MFA from UCLA. He taught at University of California Los Angeles, California State College in Long Beach, Utah State University and served as the Chairman of the Art Department at Mount Saint Mary College in Los Angeles. Cressey's work was featured in "California Design 1930 – 1965: Living in a Modern Way" at Los Angeles County Museum of Art in 2011 and was included in several museum exhibitions at Pasadena Art Museum in 1967, Everson Museum of Art, NY in 1961, Oakland Art Museum in 1961.  David Cressey passed away in 2013.
| | |
| --- | --- |
| Designer | DAVID CRESSEY |
| Manufacturer | ARCHITECTURAL POTTERY |
| Design Period | 1950 to 1959 |
| Production Period | Unknown |
| Country of Manufacture | United States |
| Identifying Marks | This piece has been attributed based on archival documentation, such as vintage catalogs, designer records, or other literature sources |
| Style | Vintage, Mid-Century, Modernist |
| Detailed Condition | Excellent — This vintage piece is in near original condition. It may show minimal traces of use and/or have slight restorations. |
| | The vendor has confirmed this piece is in working order. |
| Plug Type | US Plug (up to 110V) |
| Product Code | |
| Restoration and Damage Details | New Shade |
| Materials | Ceramic, Fabric, Teak |
| Color | Tan, black, white, grey |
| Width | 15.0 inch |
| Depth | 15.0 inch |
| Height | 23.0 inch |