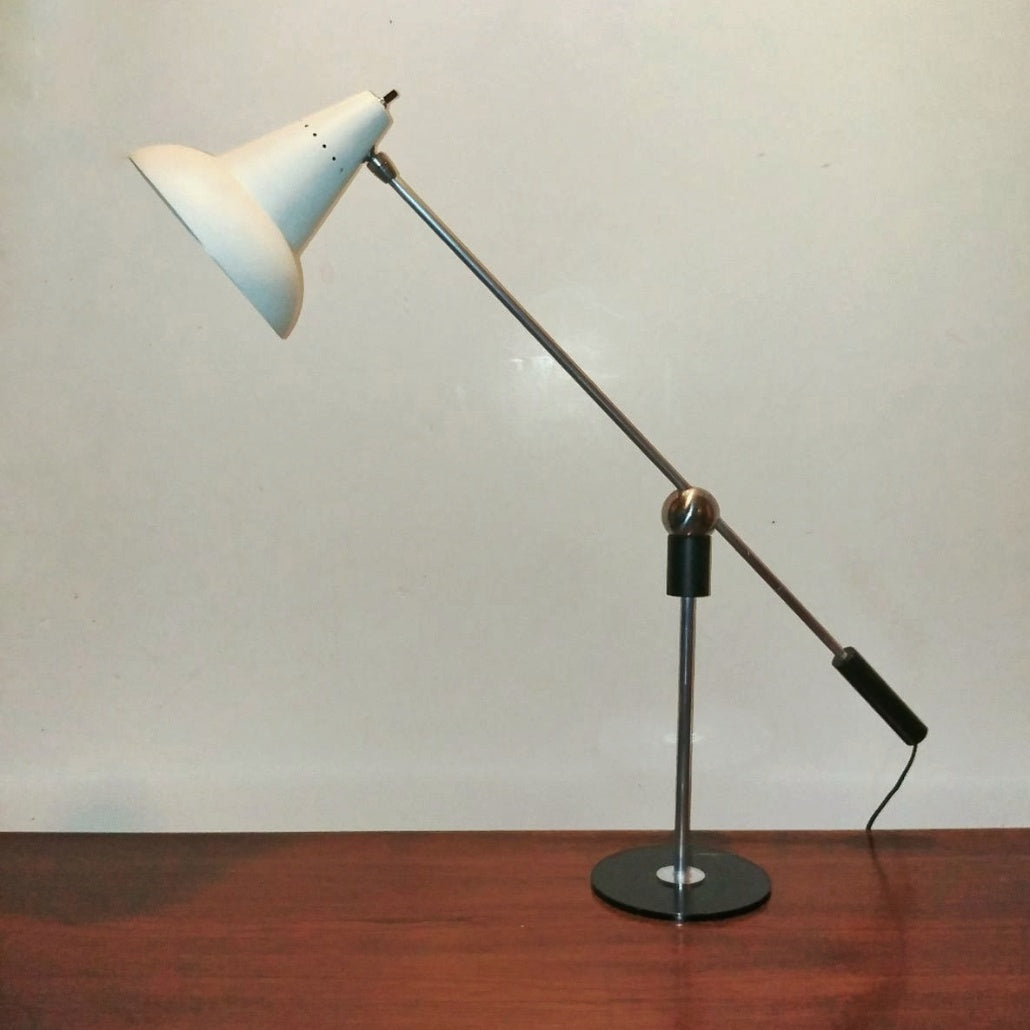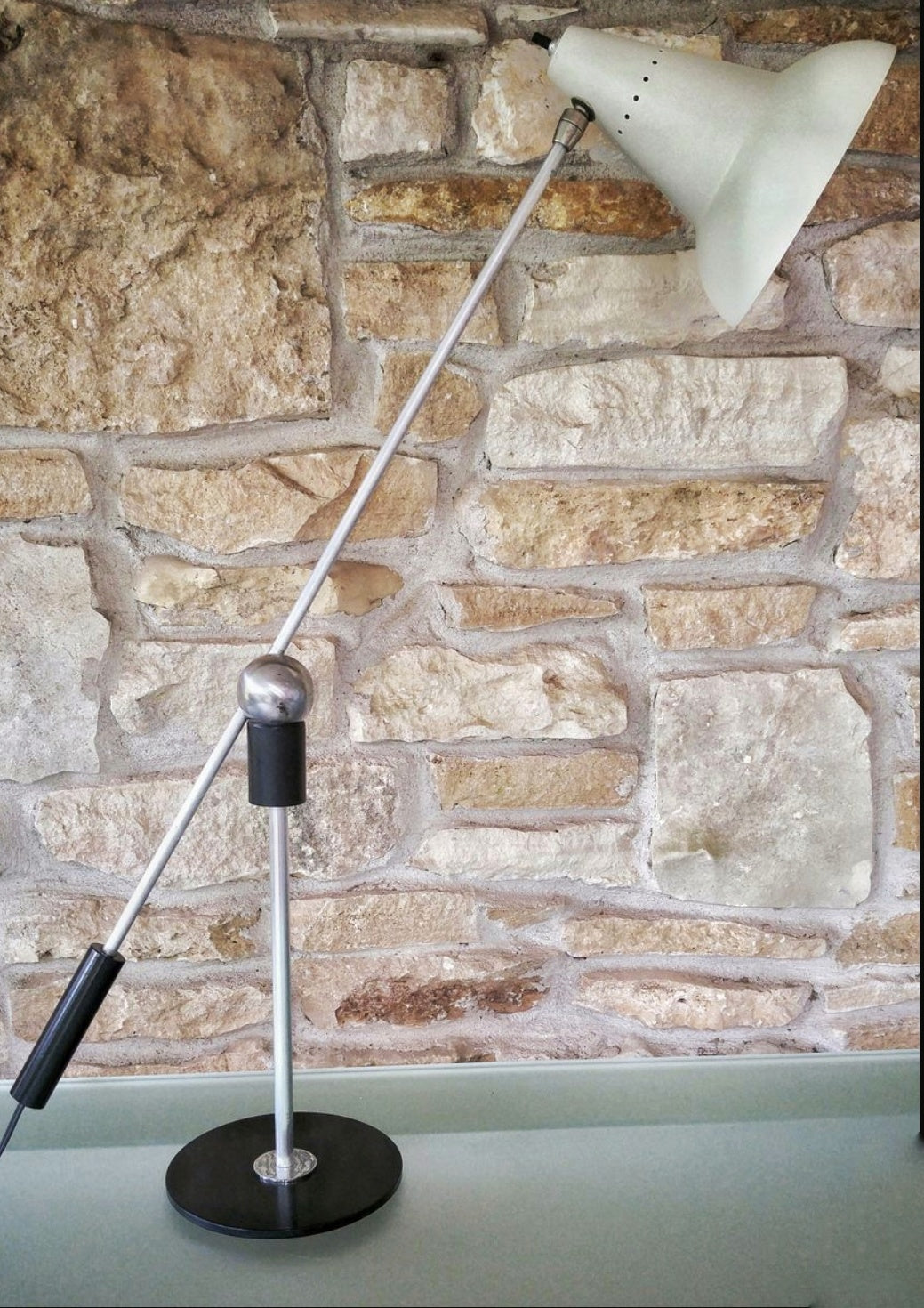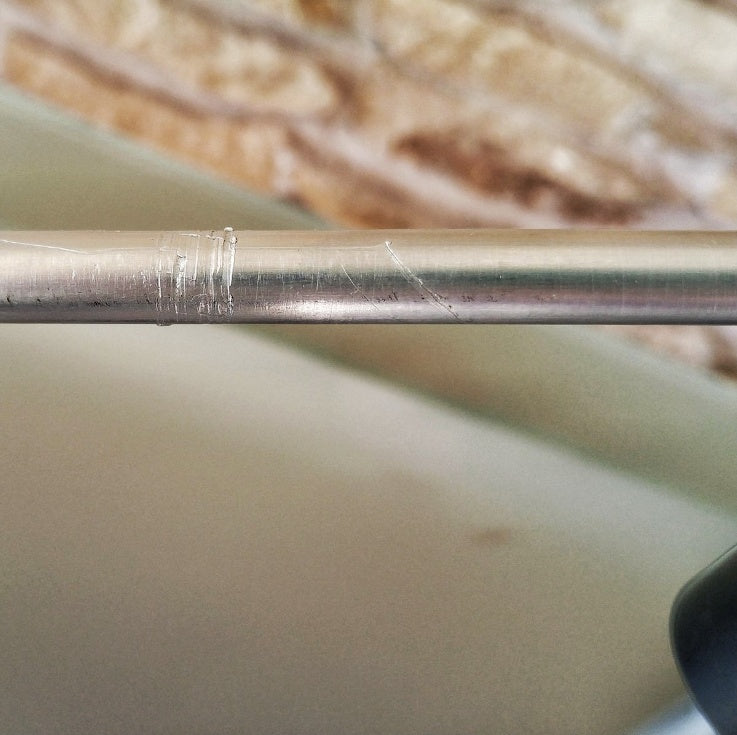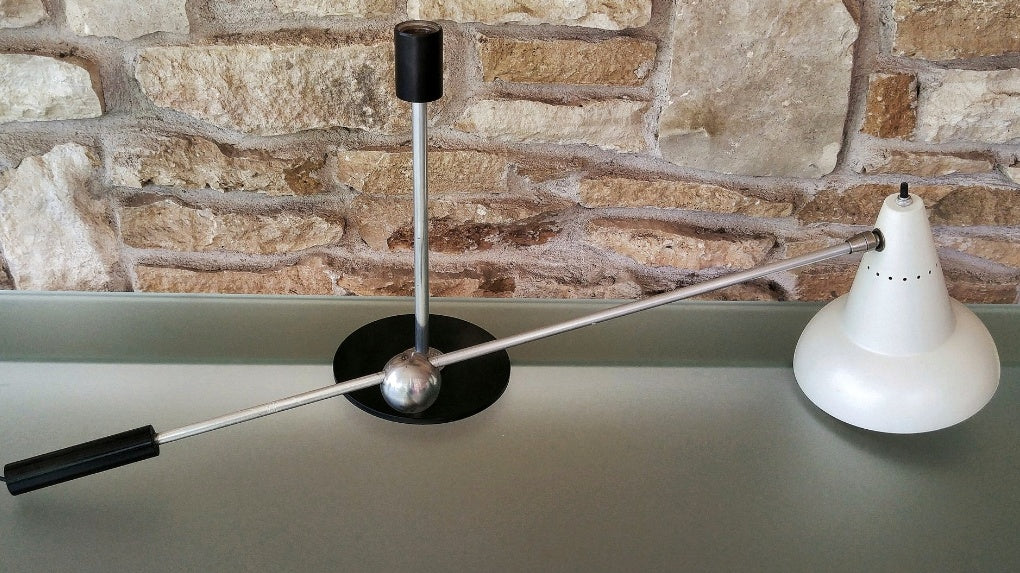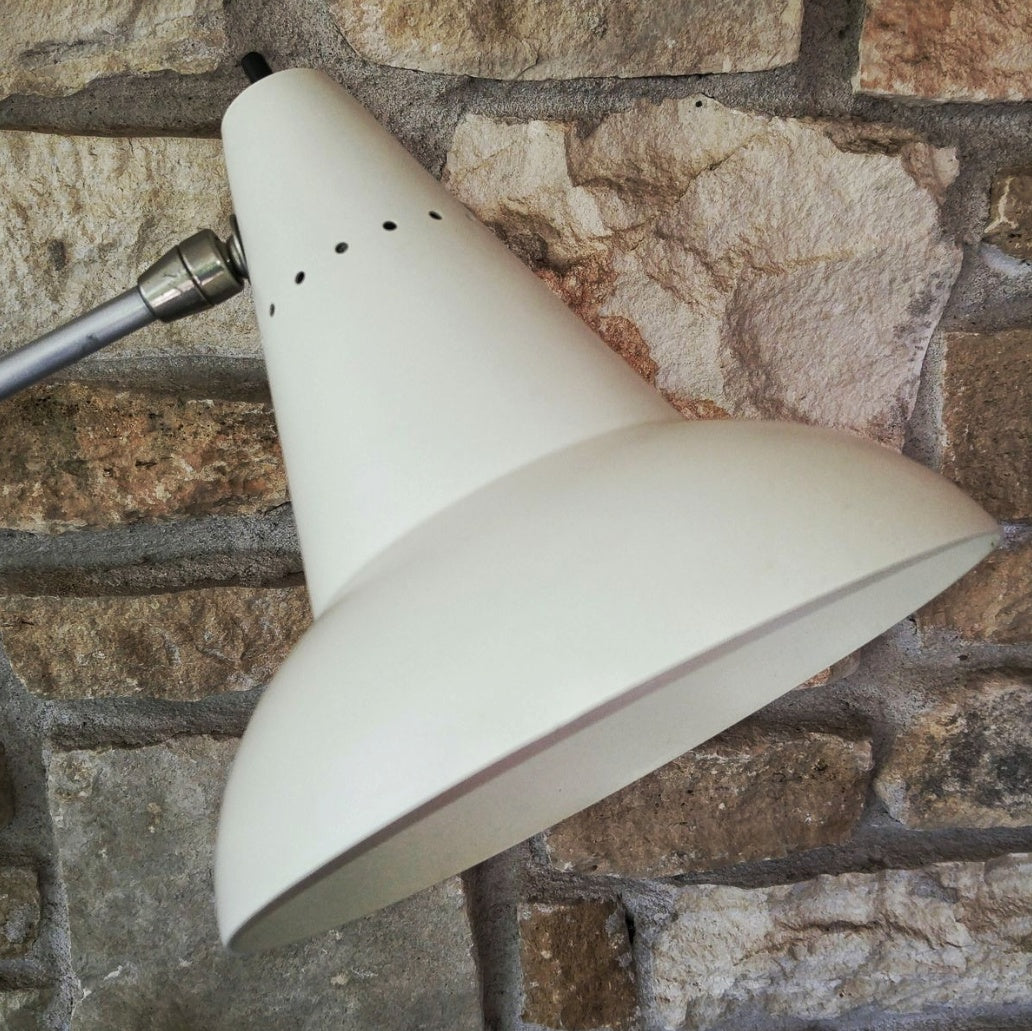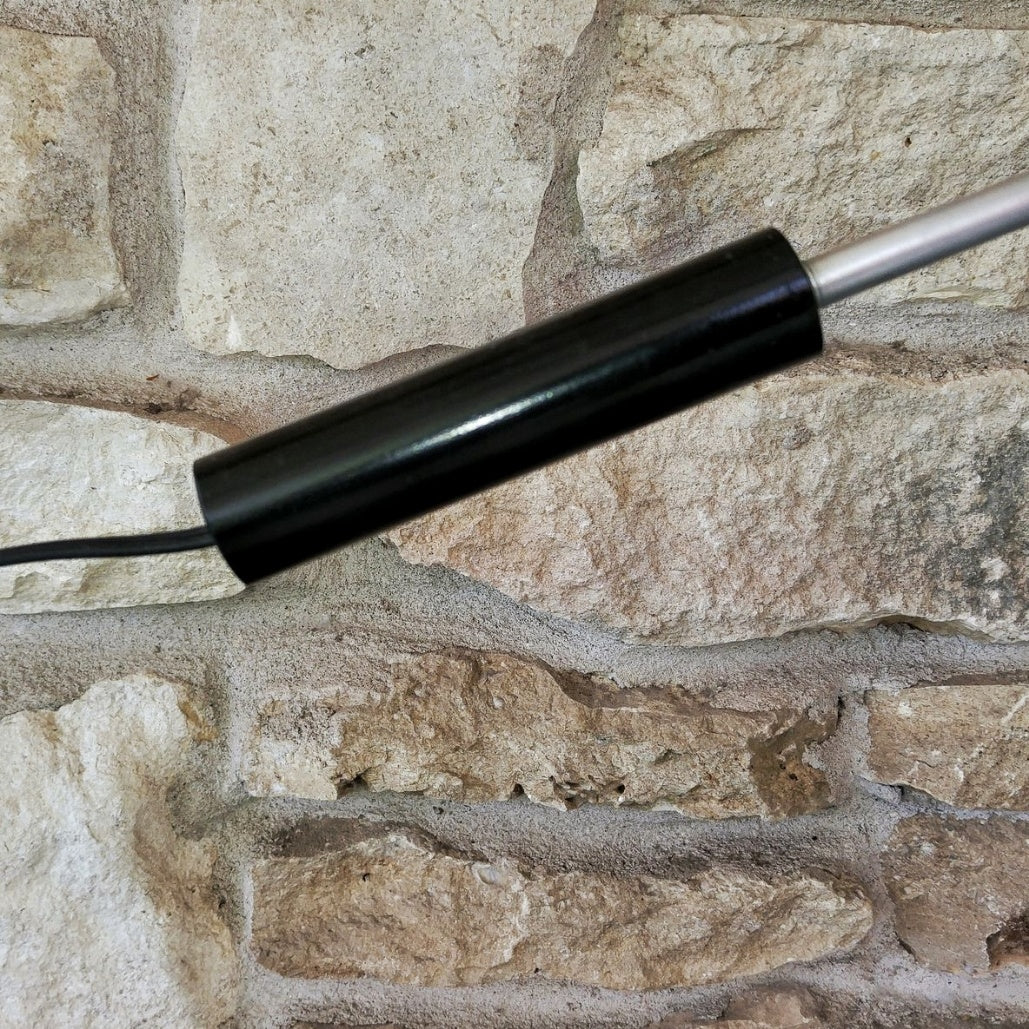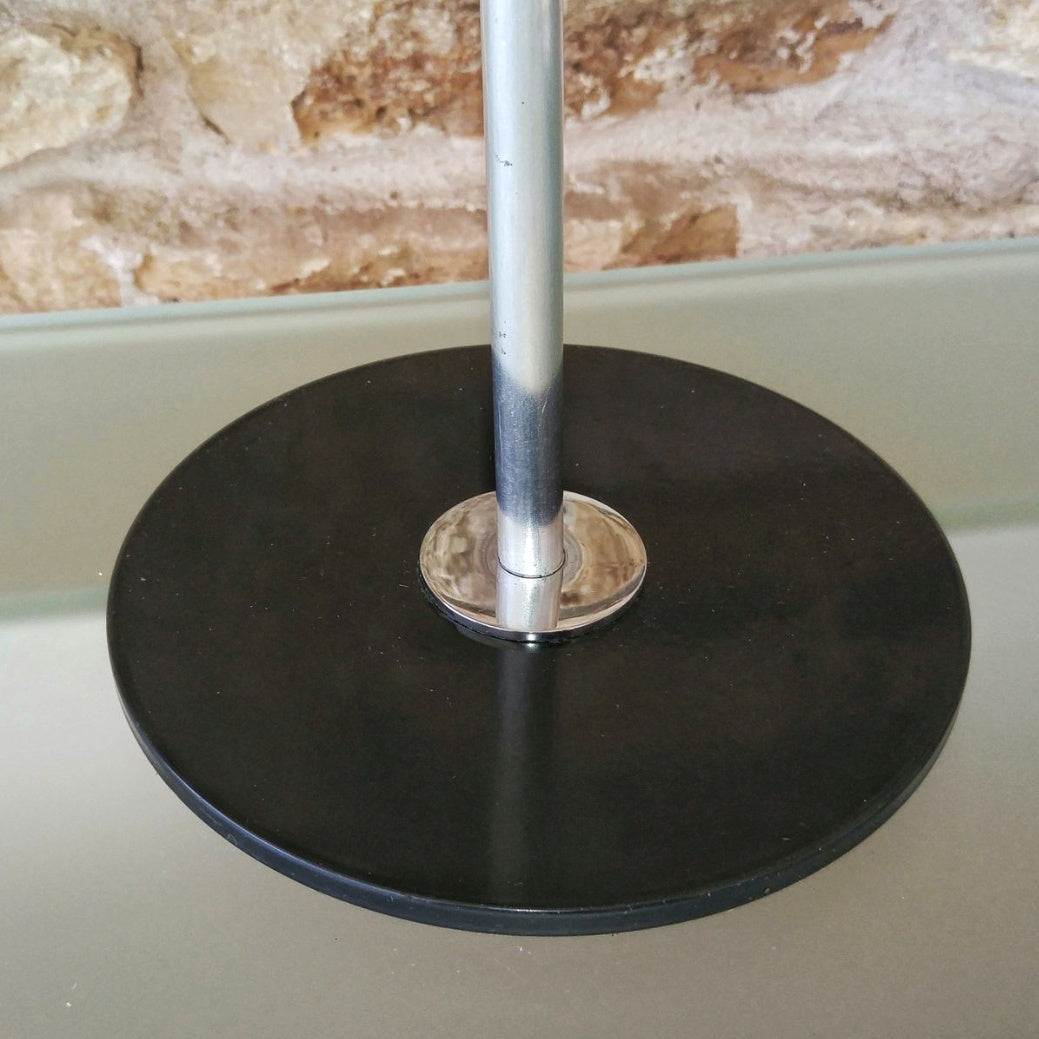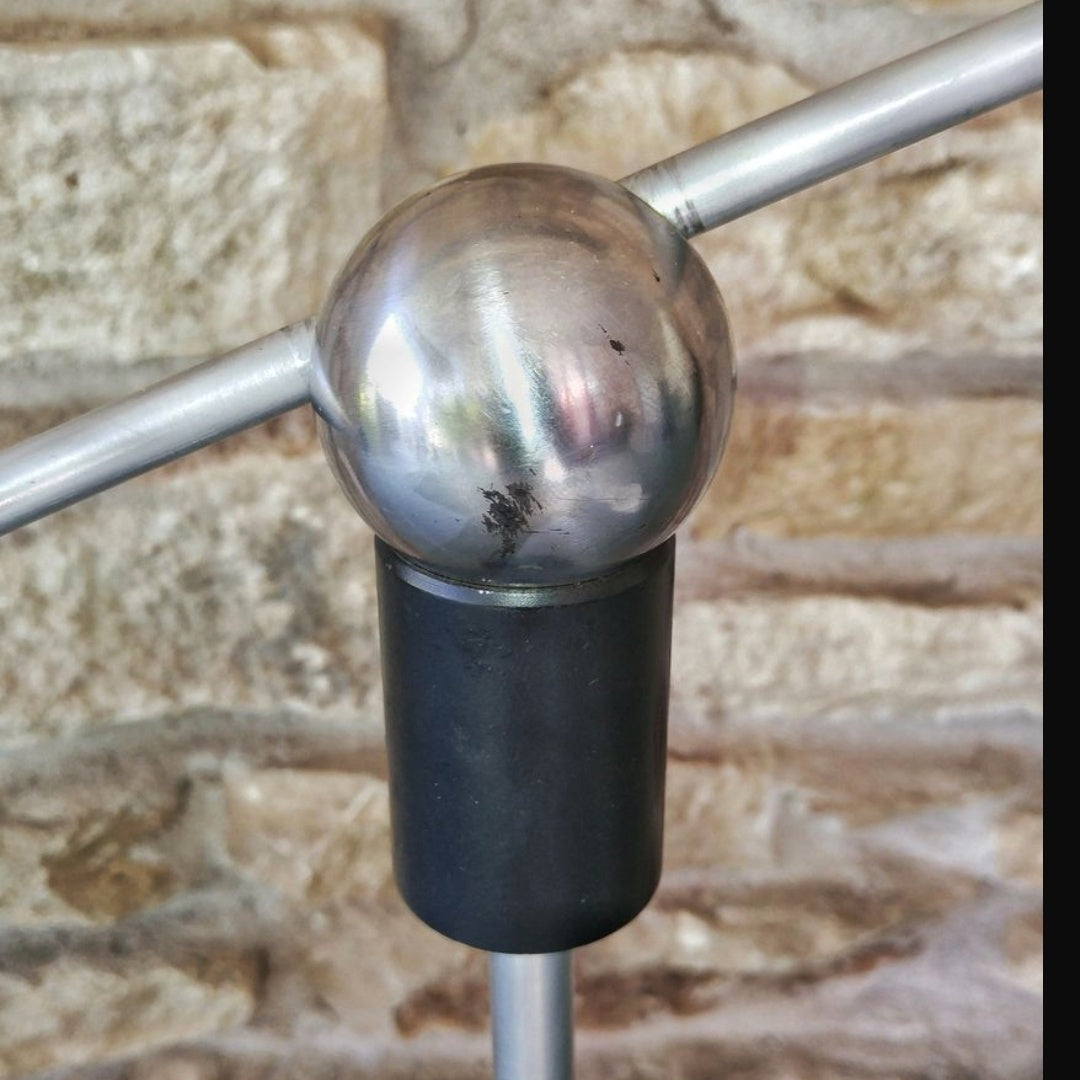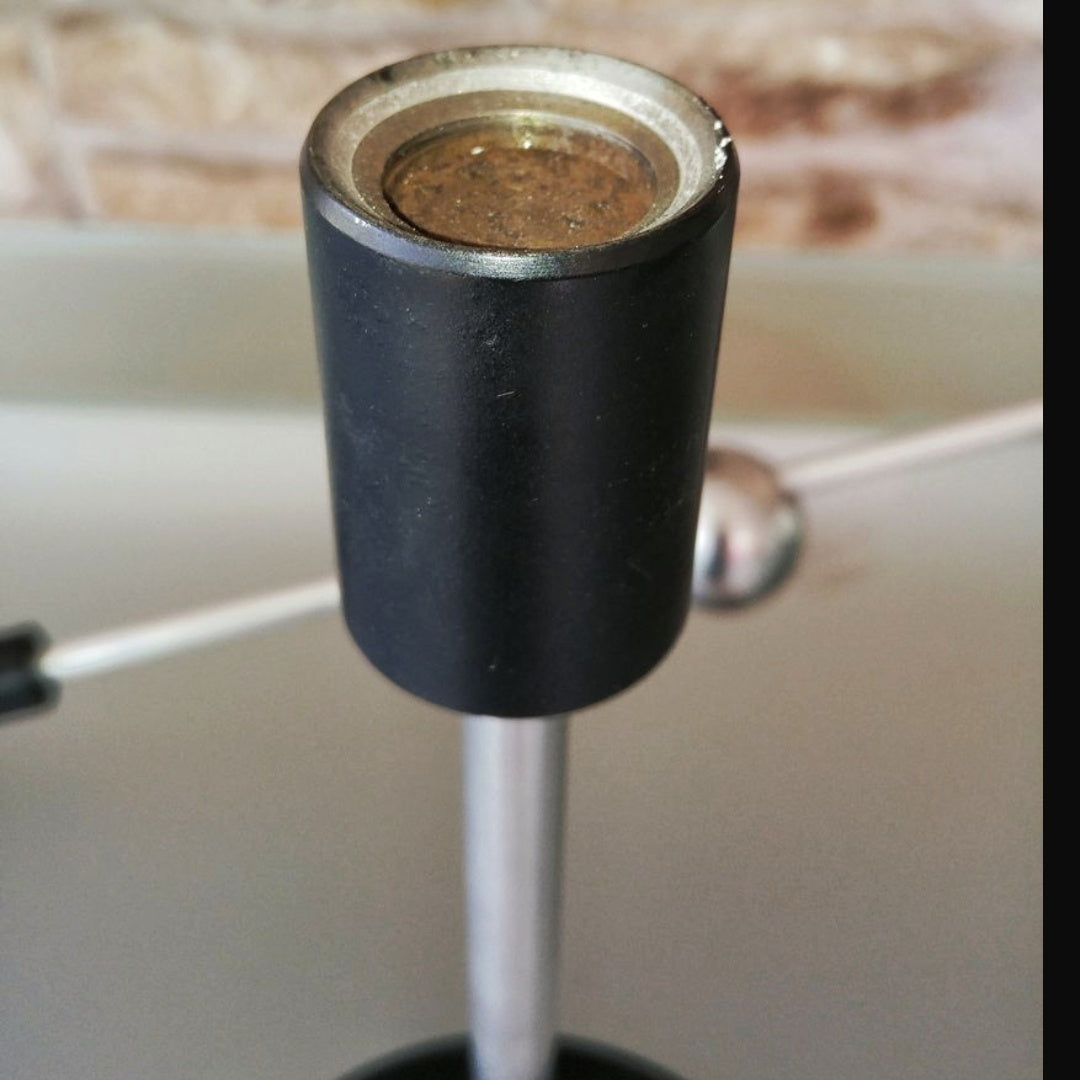 GILBERT WATROUS DESK LAMP FOR HEIFETZ
CONTACT US HERE ABOUT THIS ITEM.
This desk lamp by Gilbert Watrous was designed for MoMA's 1951 Low Cost Lighting Competition.  The contest was purportedly inspired by designer Marcel Breuer's despairing remark that he could not find a well-designed modern lamp; it drew over 3,000 entries.  The tripod-based, floor-lamp version (by Watrous) with the same magnetized steel-ball element allowing for secure multi-positioning was selected as the overall winner.  HEIFETZ MANUFACTURING, who co-sponsored the competition, subsequently put a number of variations into production, including this table model.  The width can be adjusted from 23" to 33" and the height from 15" to 30".  The base measures 6" in diameter.
GILBERT WATROUS was born in 1919 in Tulare, California.  He attended the Illinois Institute of Design in Chicago, graduating in 1951.  Watrous achieved acclaim that year when one of his lighting designs was given a "Good Design" award as an intriguing, low-cost light fixture by MoMA.  The prize-winning lamp, Model No. F-1-W Floor Light, featured a pivot comprised of a magnetized steel ball residing comfortably inside a concave socket.  HEIFETZ, the manufacturer, referred to the desk version simply as "table light" in its materials; the description of the original pre-production version was pithier:  "…long arm balances on a magnetic ball perched on a singular rod mounted in walnut."  Watrous filed patents for his lighting, a table, and structural systems for furniture—the last in collaboration with Frederic A. Roberton.
Watrous relocated to San Diego soon after graduation and opened a retail store on Prospect Street in downtown La Jolla selling folk art and Mexican furnishings.  Despite the early success of his lighting designs, he chose to channel his interest in contemporary design through his store's inventory.  Watrous would become a specialist in Mexican handicrafts and was known regionally for his storefront.
HEIFETZ MANUFACTURING was founded in Connecticut in 1938 by Yasha Heifetz and operated out of a Manhattan showroom beginning in the late 1940s.  Its focus was on modern decorative objects and lighting.  The company is best known for its brief production of ten famous lamps that won a prestigious competition it had co-sponsored with MoMA in 1950.  The lamps in question are now highly sought after—particularly the ones designed by Gilbert Watrous.
HEIFETZ also produced ceramic pieces—bookends, ashtrays, and jewelry boxes; a very collectible line of plastic hanging light fixtures known as 'Rotaflex'; and many carved wooden lamps featuring mostly modern, biomorphic shapes, sculpted by Heifetz in his home studio.
Design Year – 1950
Country of Origin – USA
Designer – GILBERT WATROUS (1919-1991)
Maker – HEIFETZ MANUFACTURING
Attribution – WELL-KNOWN
Materials – ALUMINUM, ENAMEL, STEEL
Condition – VERY GOOD (no defects; may show slight traces of use)
Additional Condition Details – minor surface scratches on the fulcrum from adjusting the arm within the ball.
Plug – N. AMERICAN
Height (in.) – 30.0
Diameter (in.) – 6.0
Width (in.) – 33.0