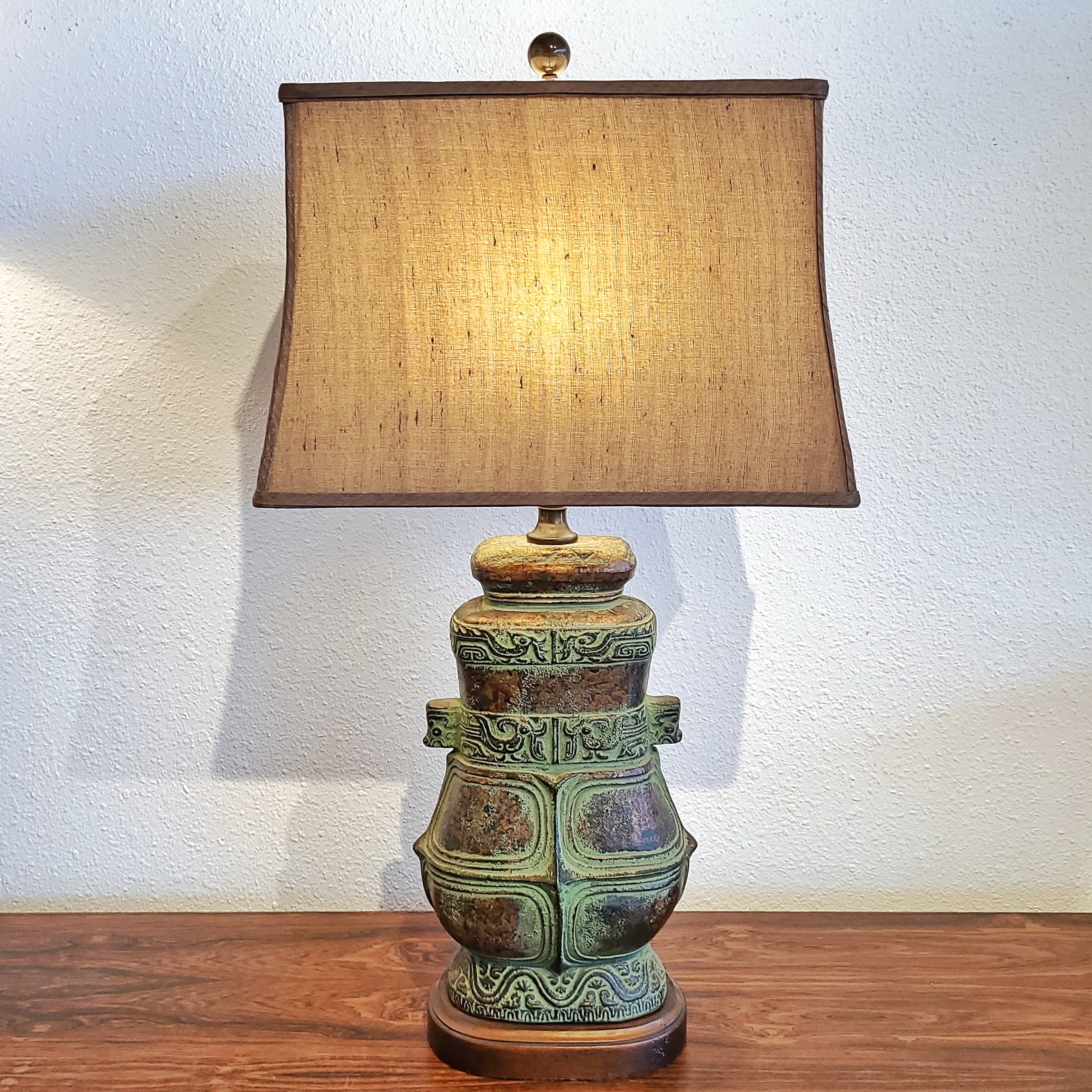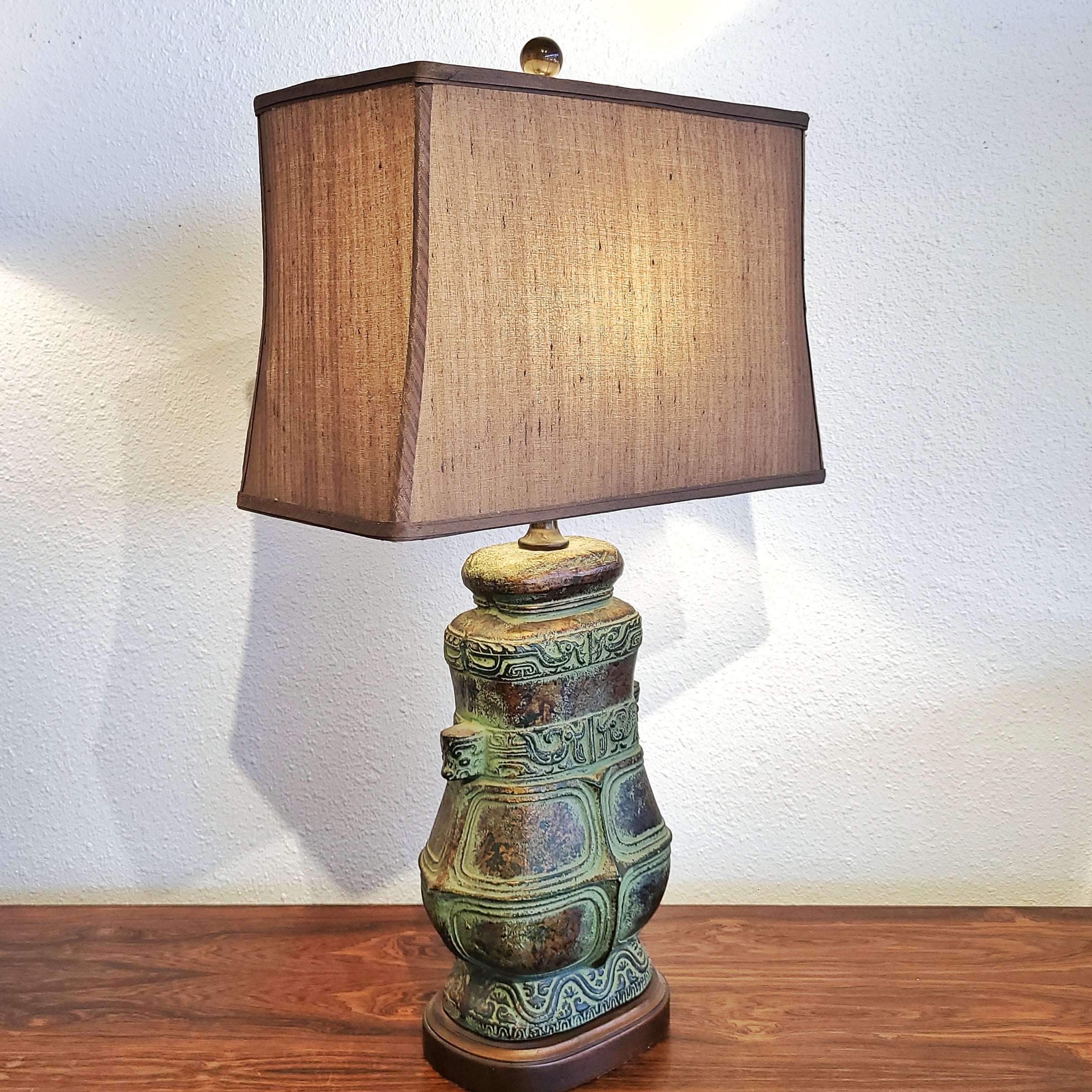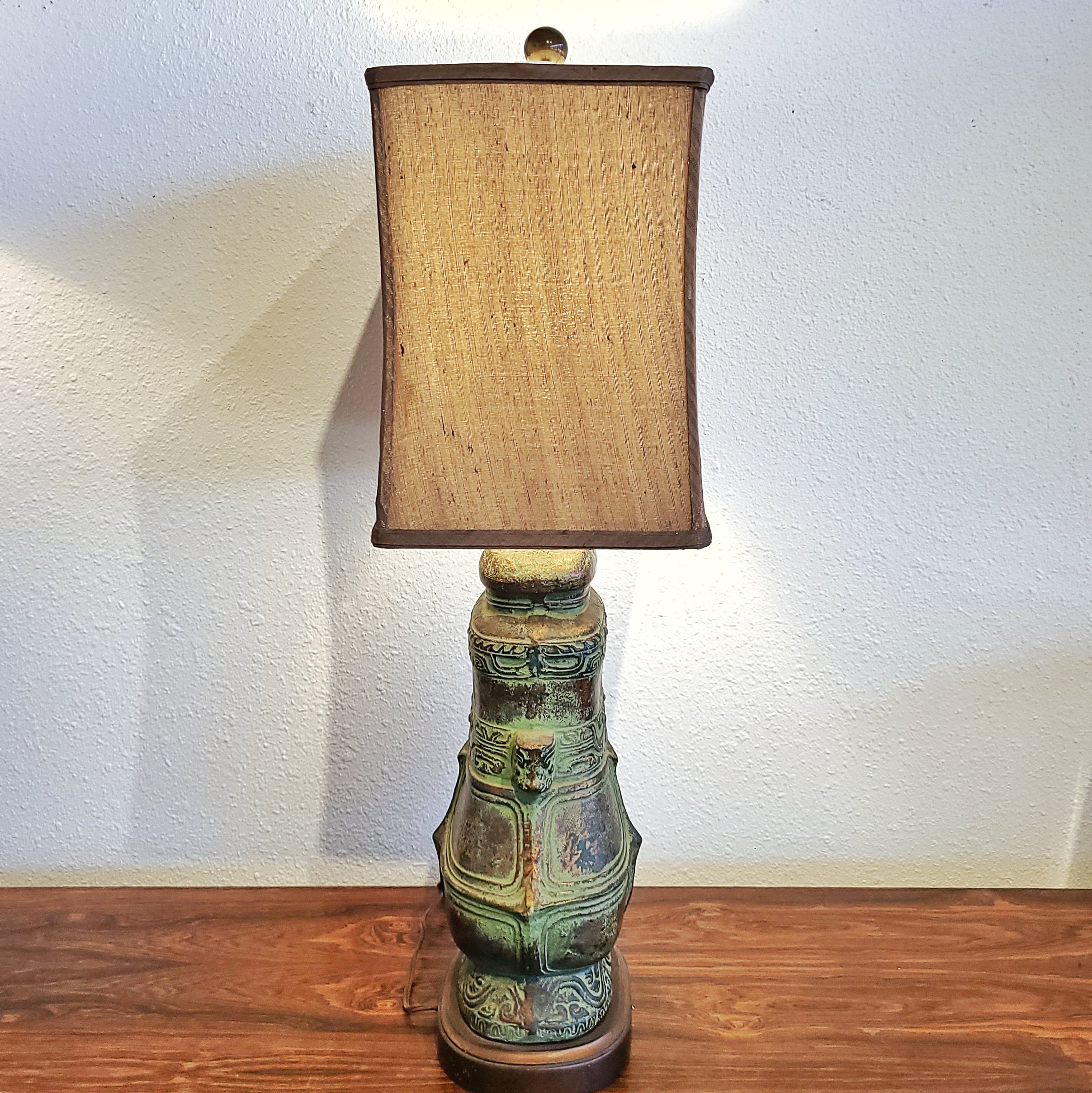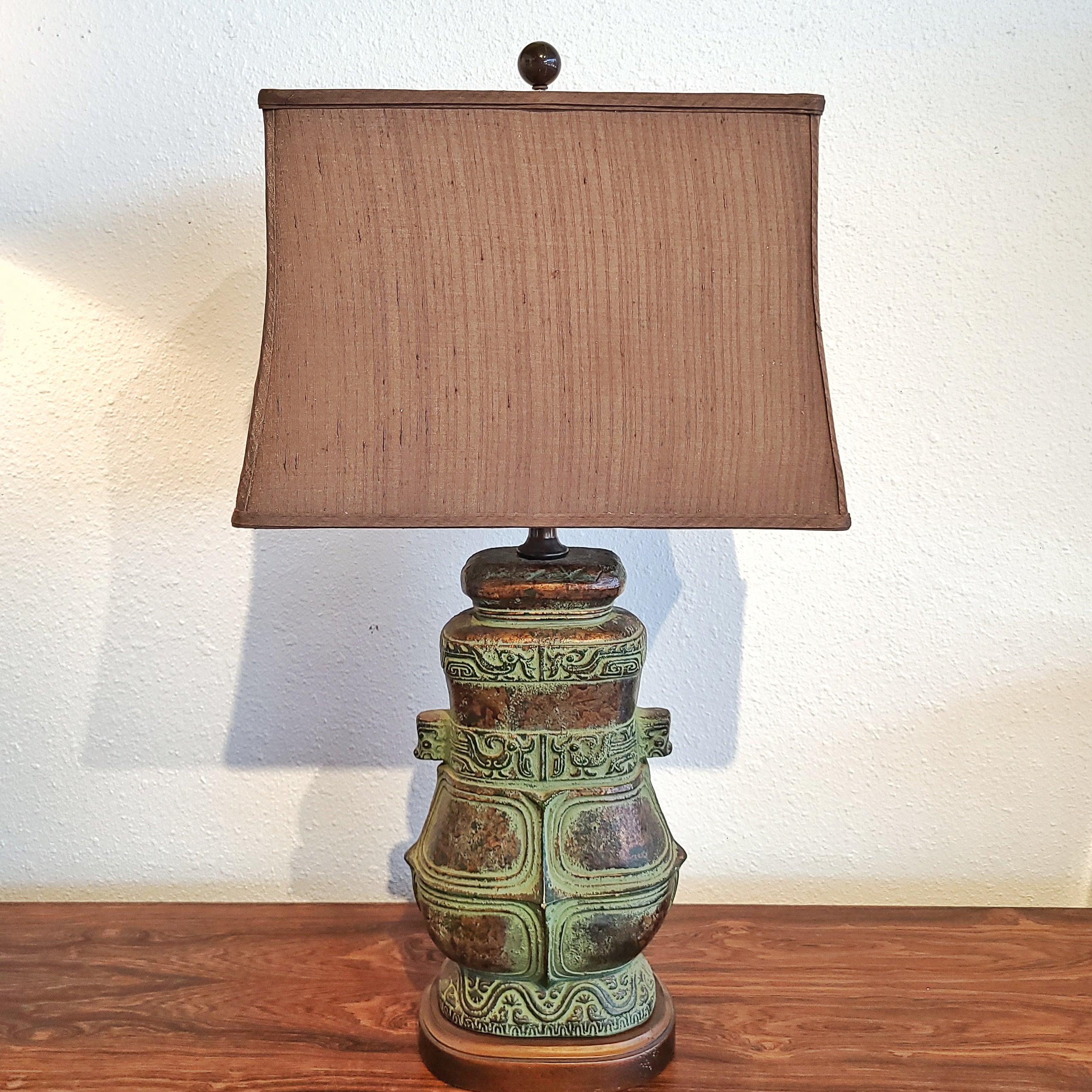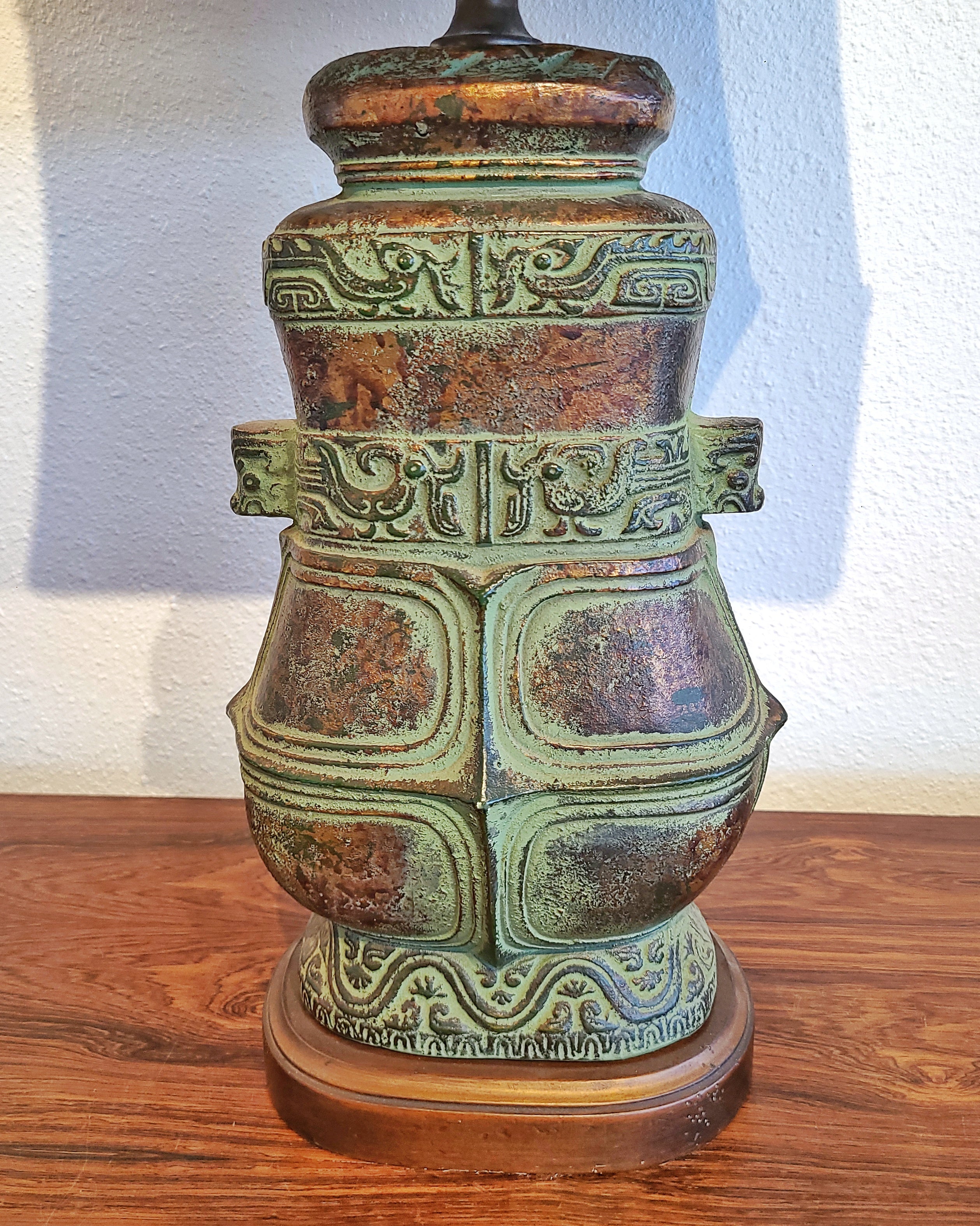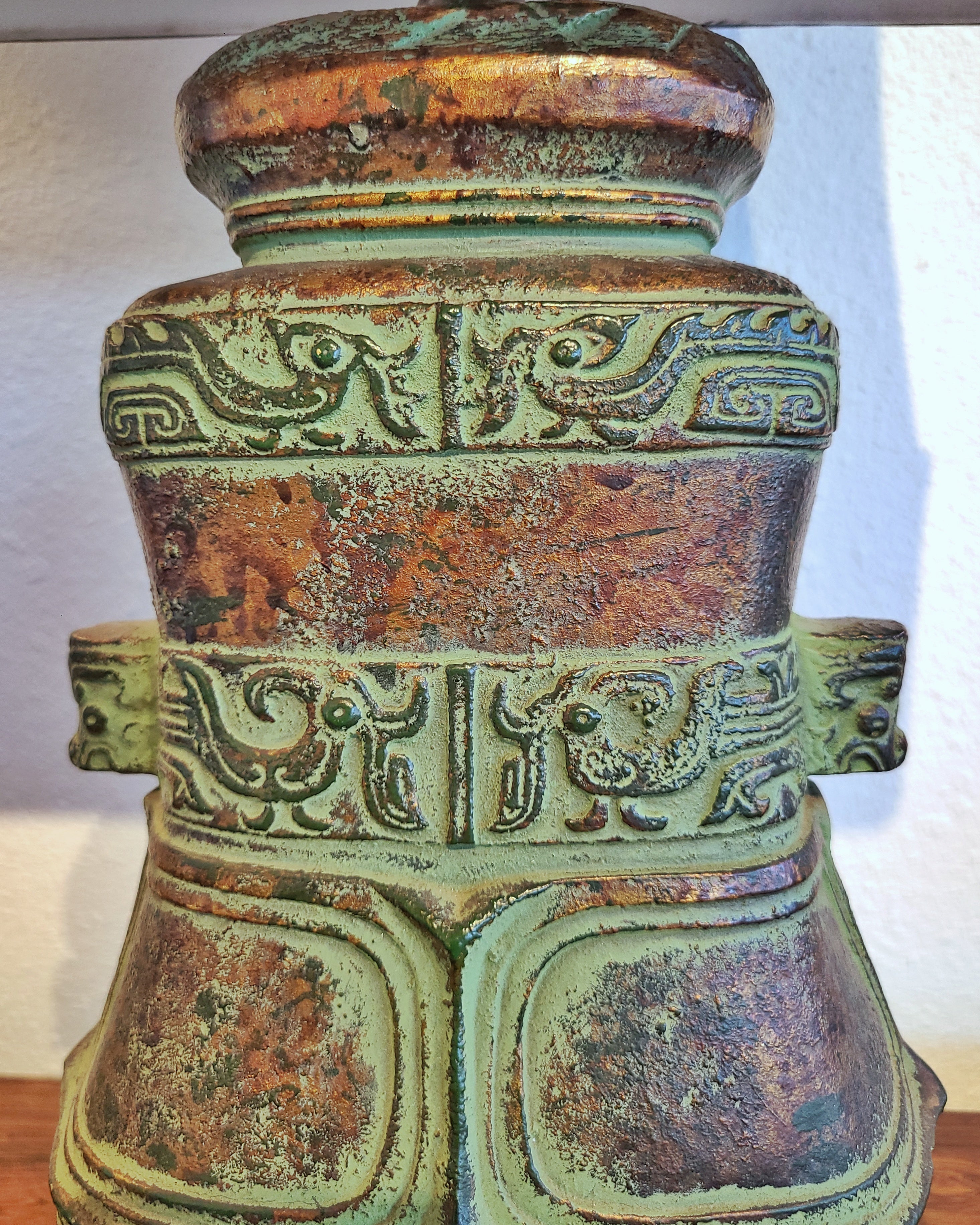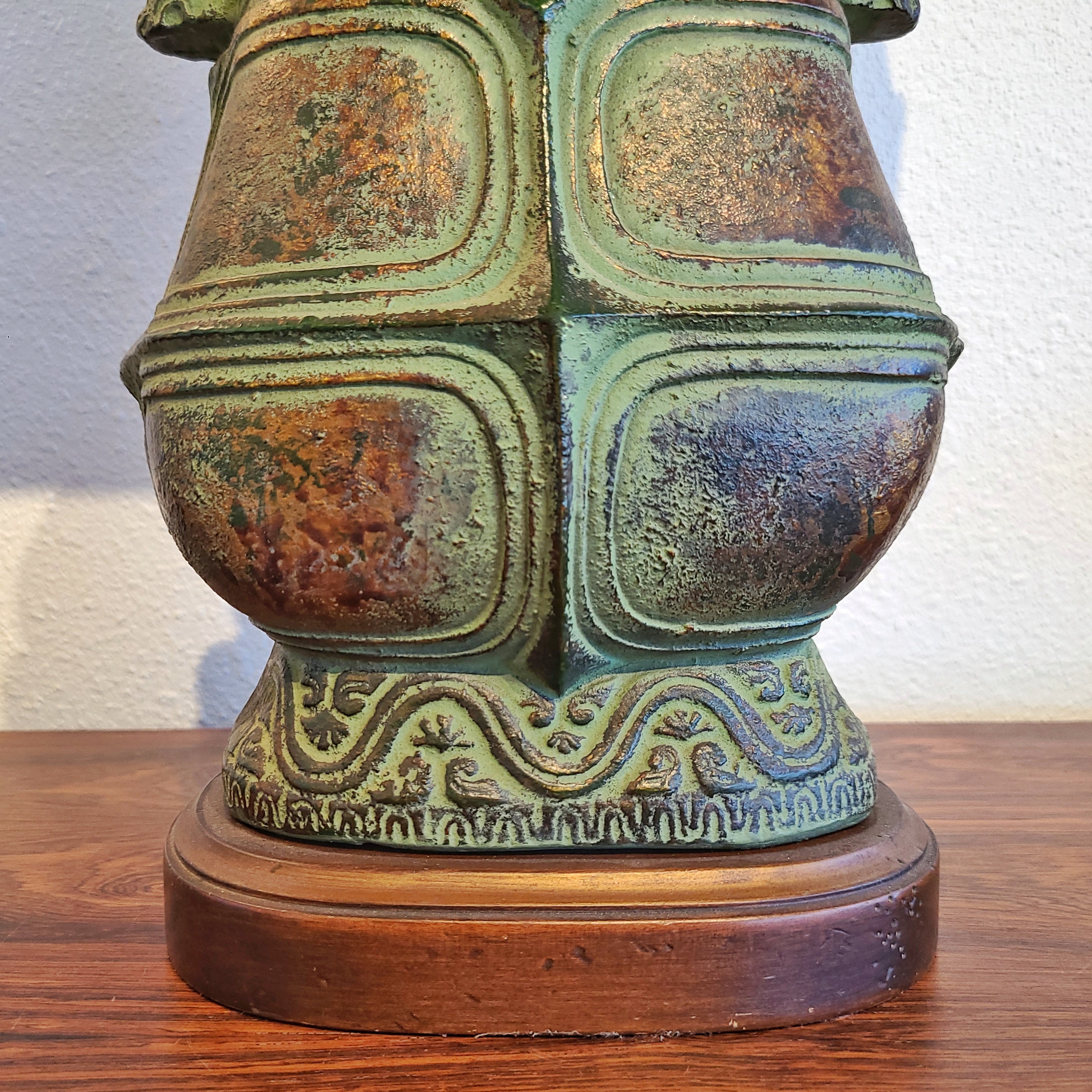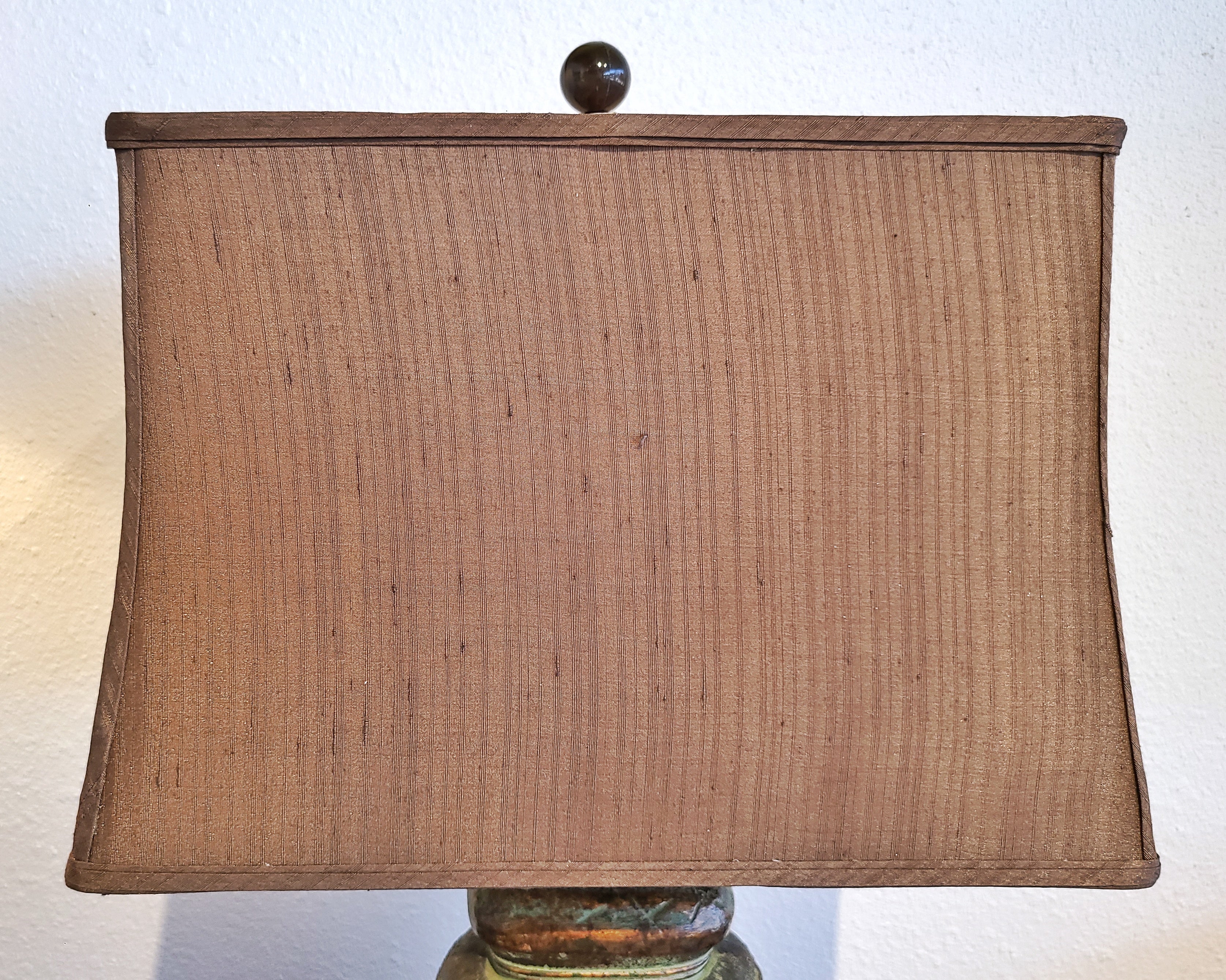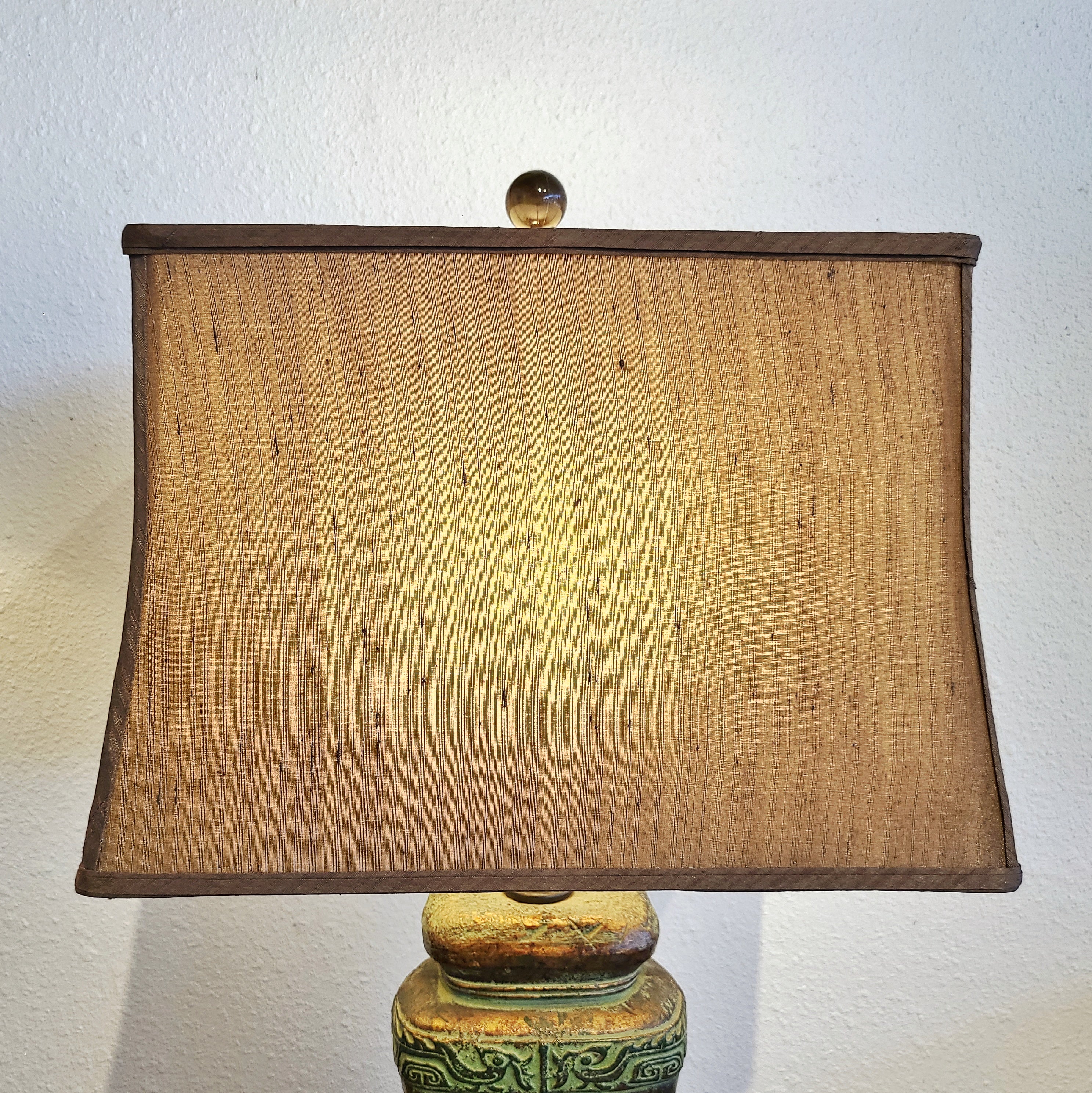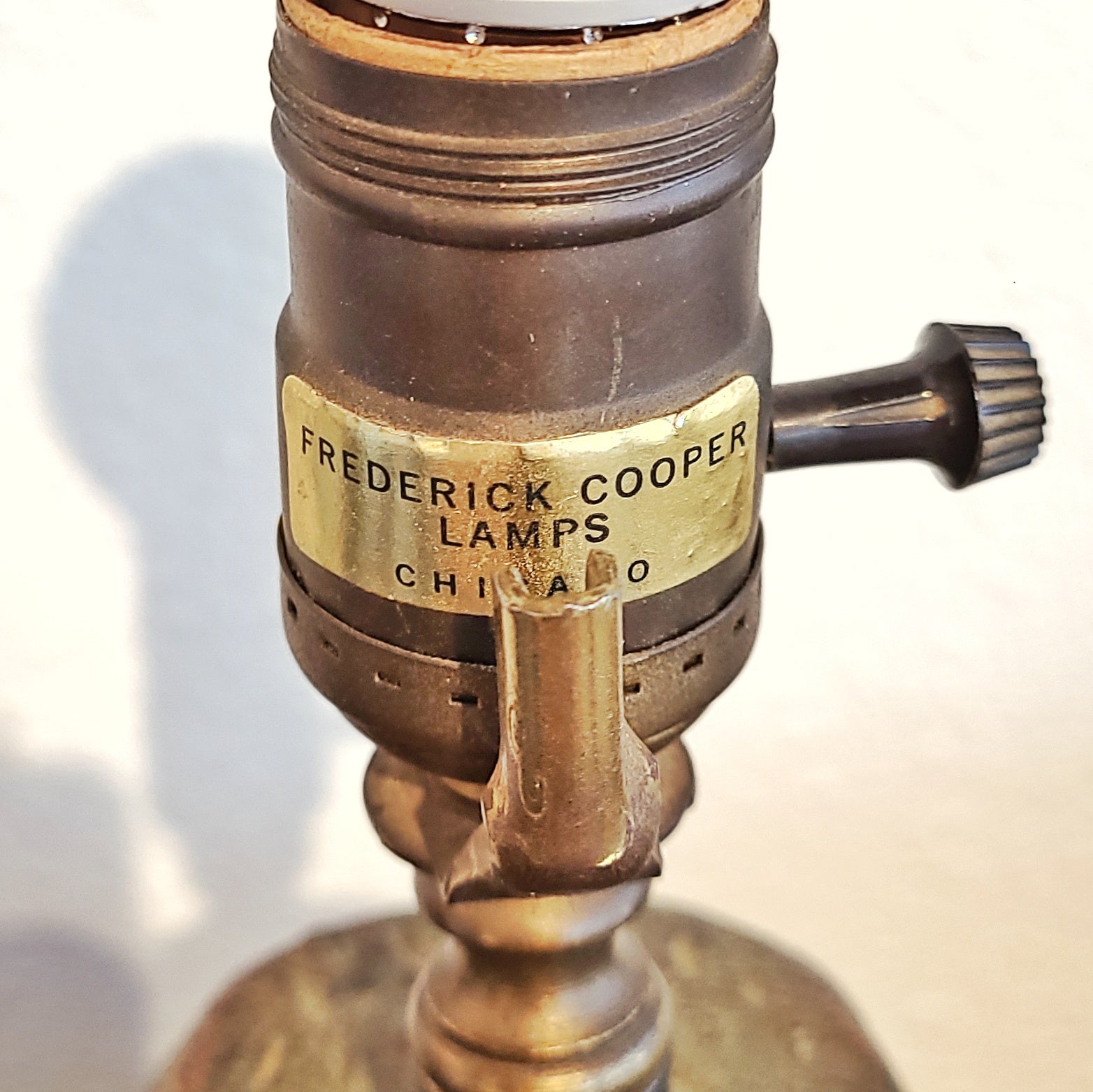 BRONZE FREDERICK COOPER TABLE LAMP IN THE STYLE OF JAMES MONT
CONTACT US HERE ABOUT THIS ITEM.
A bronze Asian-themed table lamp with a verdigris patina, produced in the style of James Mont by the Frederick Cooper Lamp Company of Chicago, Ill.  The Chinoiserie urn form lamp body is adorned with flared rectangular silk shade and ball finial.
FREDERICK COOPER LAMP COMPANY grew out of an artist's studio founded in 1923 by a young Chicago artist named Frederick Cooper.  Cooper originally established his studio to create beautiful sculptures and watercolor paintings, but at that time, American architecture was in its heyday in the Windy City, and Mr. Cooper found himself captivated by the still relatively new invention of home lighting and electric lamps, which were only common in approximately half of American households during the mid-1920s.  He soon turned his attention to the creation of uniquely designed lamps made with precise attention to detail that set them apart from the competition.  He quickly accrued some notoriety as a forward-looking lamp designer who combined materials like brass, ceramics, glass, and wood to create exquisitely crafted lamps that mirrored the grandeur and swift innovation in the burgeoning American architecture he saw around him, particularly at a time when the striking chrome finishes and sharp geometric angles of Art Deco Lighting had become immensely popular.
Eventually, Frederick Cooper sold his company to Benjamin Markle and Russian immigrant Leo Gershanov. Under their stewardship after the Second World War, the manufacturer flourished in Chicago and the local lighting artisans at Stiffel gained a formidable competitor. The timing was particularly ripe as the demand for table lamps to furnish new houses exploded, as did the company built on Cooper's artistic reputation and his signature styles.
Under the stewardship of the Gershanov family, the business flourished in Chicago, then the lighting capital of the world. This was the beginning of a manufacturing tradition that endures today as the brand, Frederick Cooper.  Over decades, many other lamp businesses faded away, while Frederick Cooper prospered, building on its reputation for distinctive styles and superb quality.  Frederick Cooper lamps have been used in the Whitehouse, embassies, and luxury resorts around the world.
Lighting designers at Frederick Cooper innovated in the years that followed, integrating alluring materials like glazed ceramics, painted porcelain, marble, and jade. Apart from the classic Art Deco designs that defined the studio's work in its early days, the company's craftsmen experimented with Asian-inspired designs and produced floor lamps, wall lights, modernist chandeliers, and other fixtures in varying furniture styles such as Neoclassical, Hollywood Regency, and Empire.
Designers such as Larry Laslo, Alexander Julian, Mario Buatta, and Studio Mascheroni contributed to the supply of fresh new designs.  In addition to the use of fine materials such as brass, porcelain, onyx, marble, alabaster, wood, bone, glass, and leather in making the lamp bases, Frederick Cooper is famous for its shades. Their lampshades rise above the status quo in the marketplace by reason of the designers' choice of fabrics, shapes, colors, and detail.  Along with table lamps, Frederick Cooper makes a variety of floor lamps, including adjustable brass Pharmacy lamps, as well as pendants and swing-arm wall lamps.
In 2011 Wildwood Lamps purchased the Frederick Cooper brand and continues the tradition of producing high-quality luxury lighting.  Today, Frederick Cooper still stands for superlative design, and traditional craftsmanship, as they search the world for lost arts to be interpreted into illuminated art.
DETAILS

DIMENSIONS

16ʺW × 8ʺD × 29.5ʺL
STYLES

Asian Antique
Hollywood Regency

LAMP SHADE

Included

BRAND

Frederick Cooper
"STYLED AFTER"

James Mont
PERIOD

1950s
PLACE OF ORIGIN

United States of America
ITEM TYPE

Vintage, Antique or Pre-owned
MATERIALS

Bronze
Textile
CONDITION

Very Good Condition, Original Condition Unaltered, No Imperfections
COLOR

Bronze
POWER SOURCES

Up to 120V (US Standard)
Corded
Type A
CONDITION NOTES

Great Vintage Condition. May Show Slight Traces of Previous Use.

This piece is in working order.