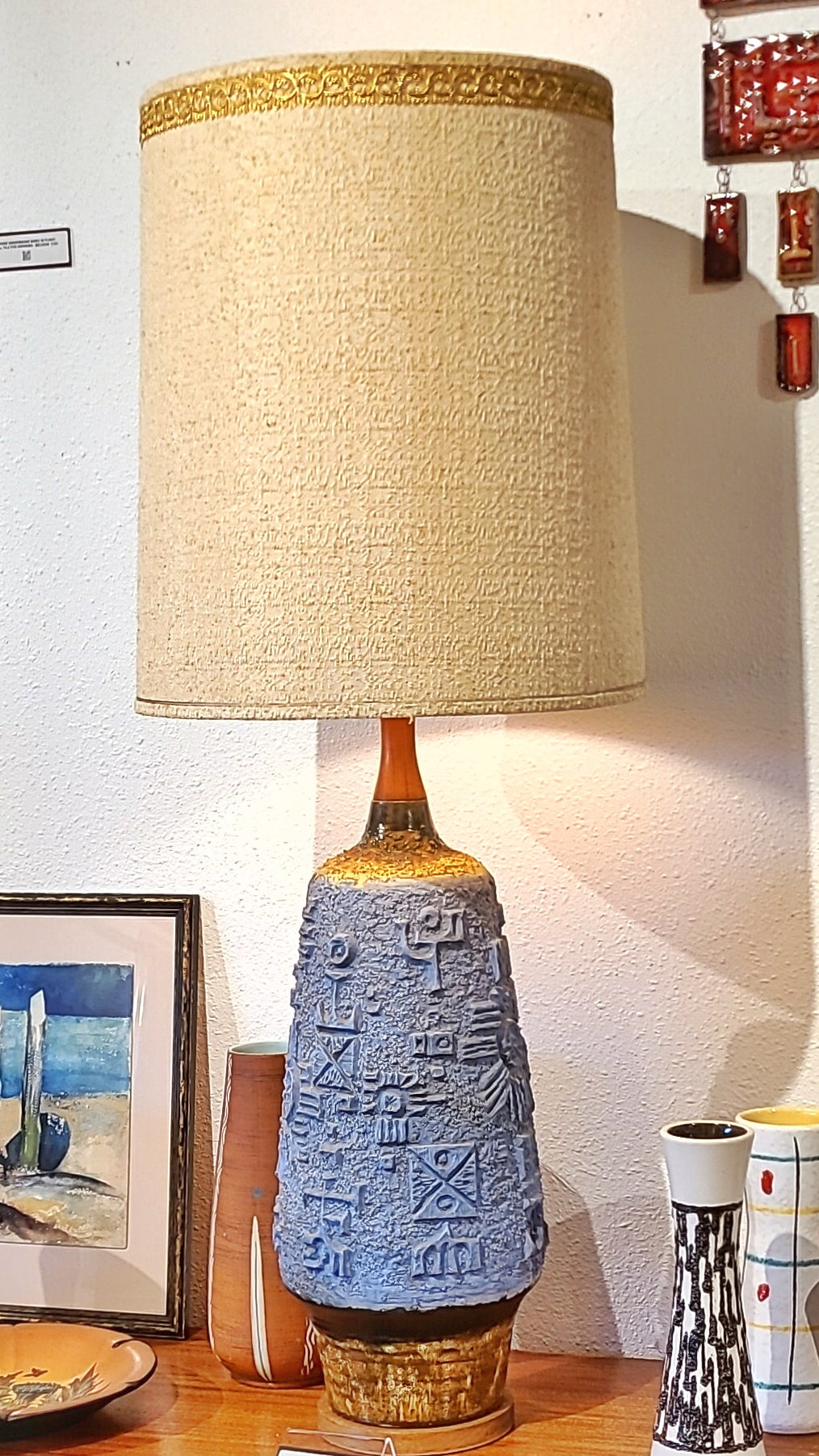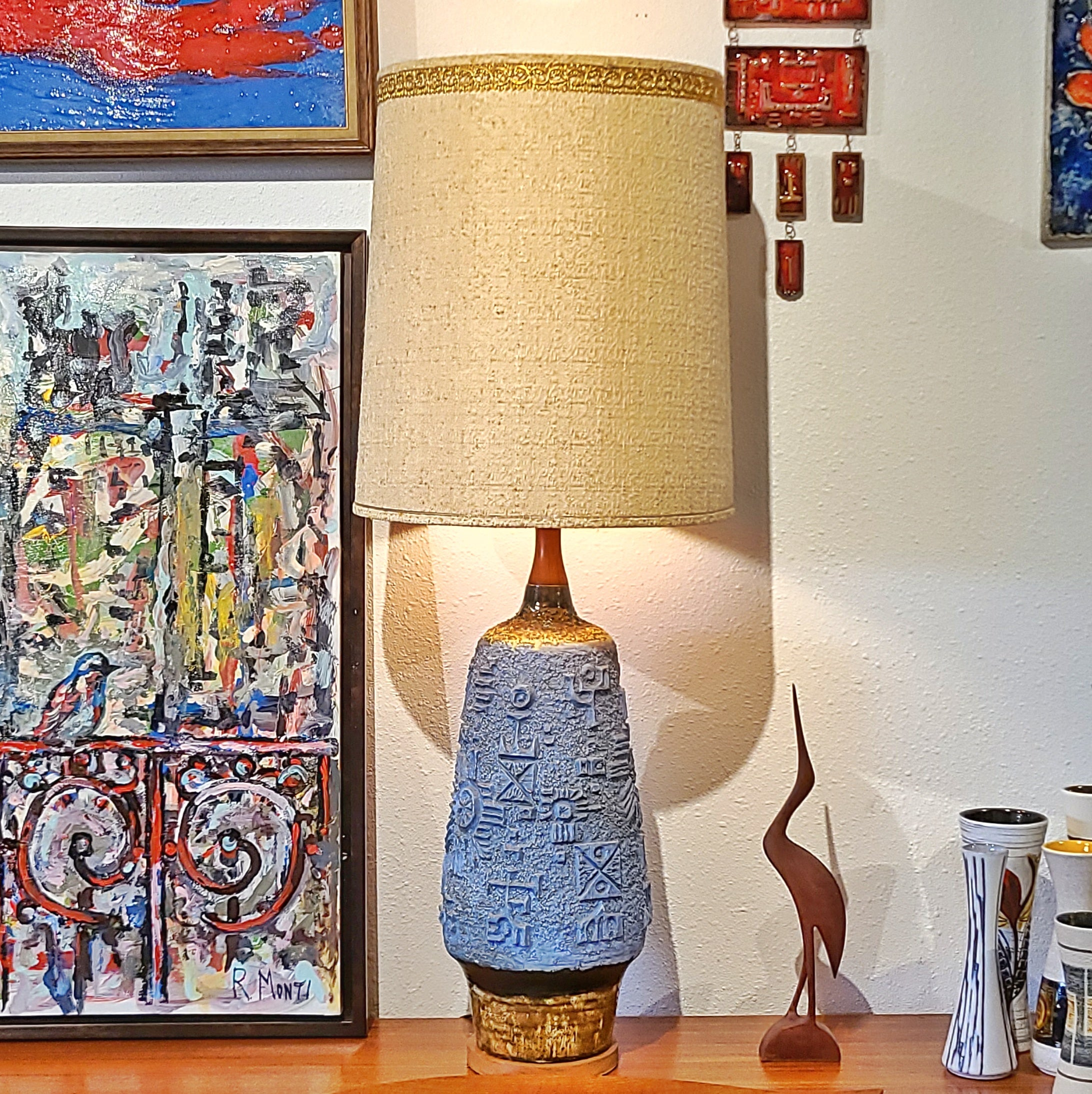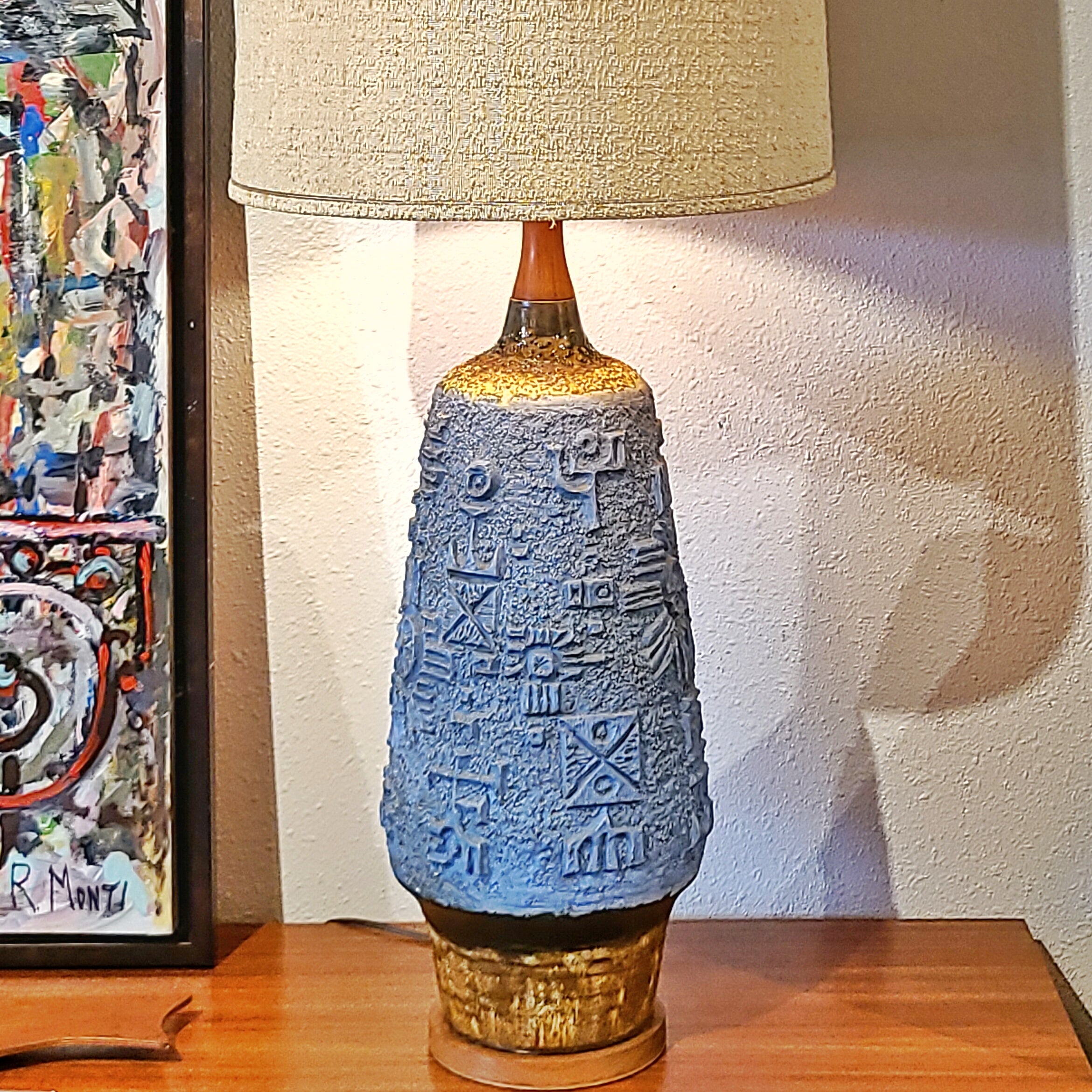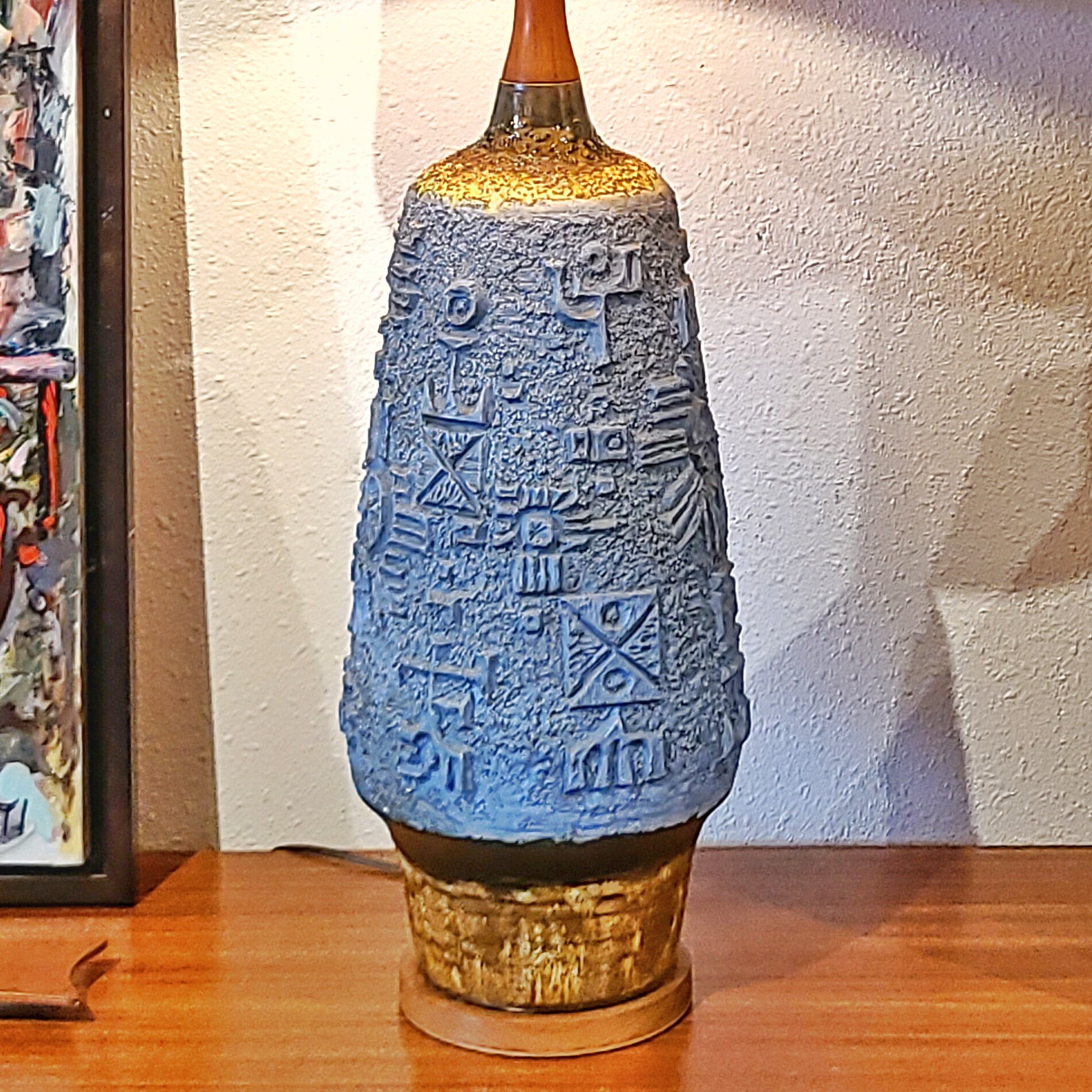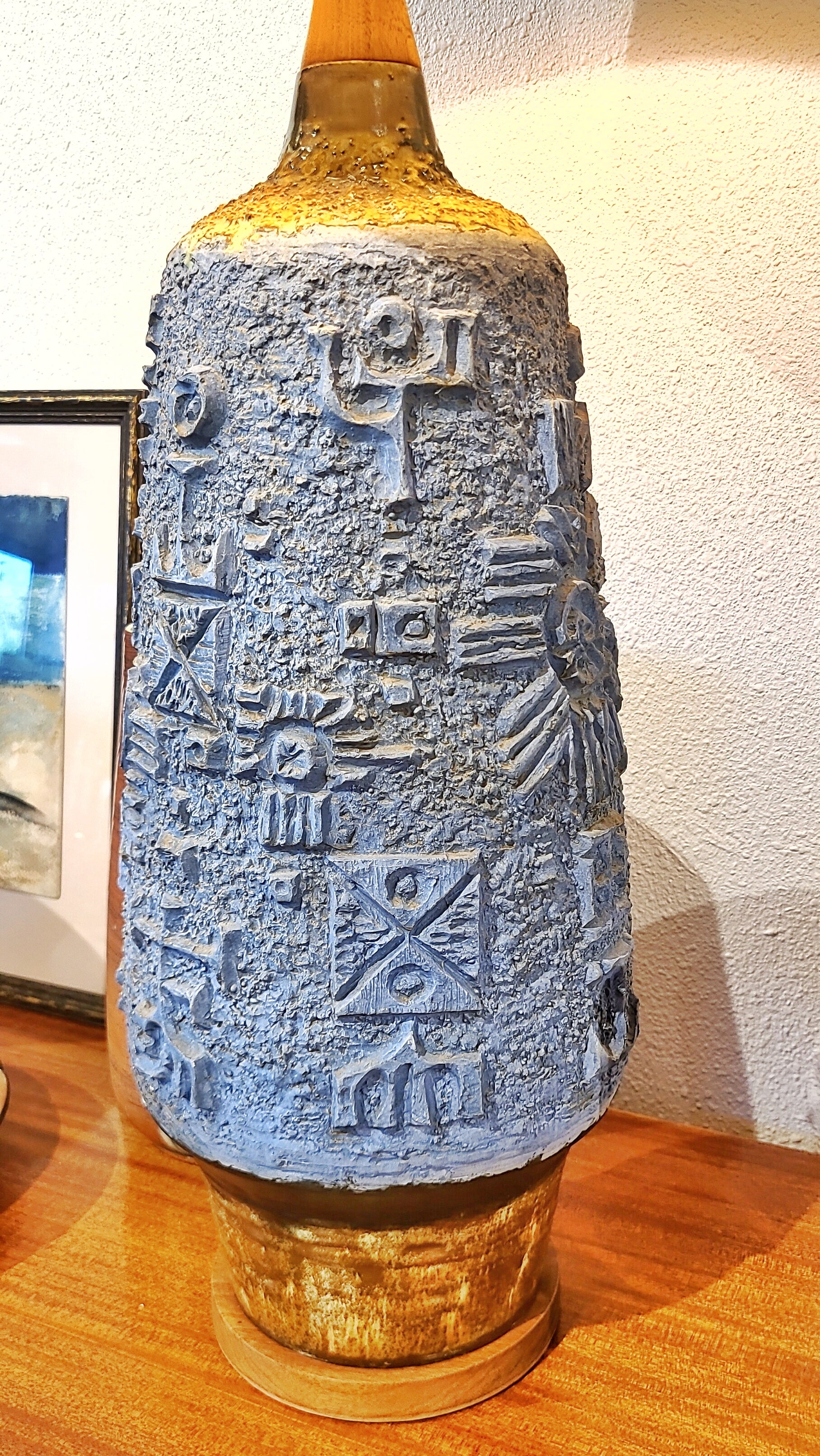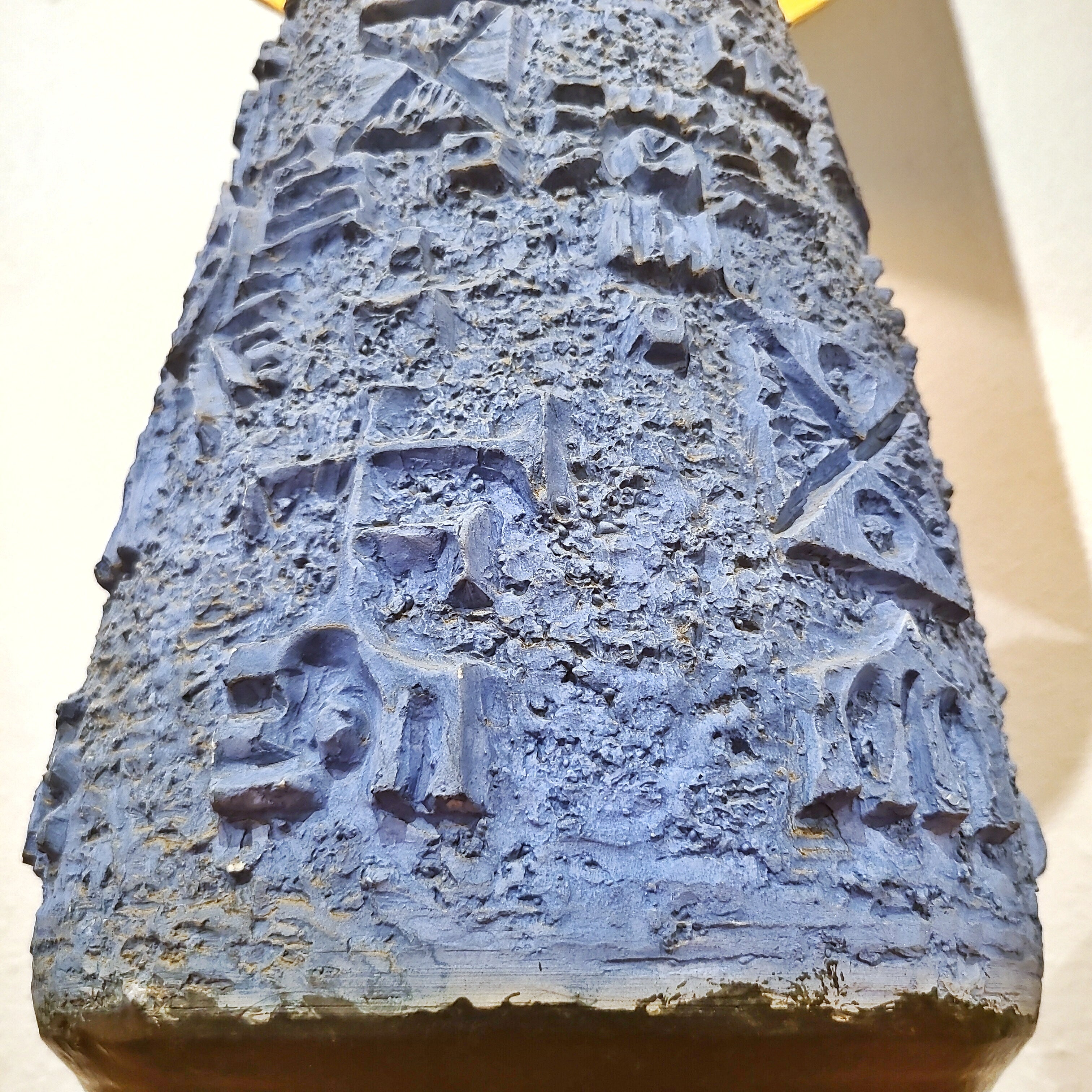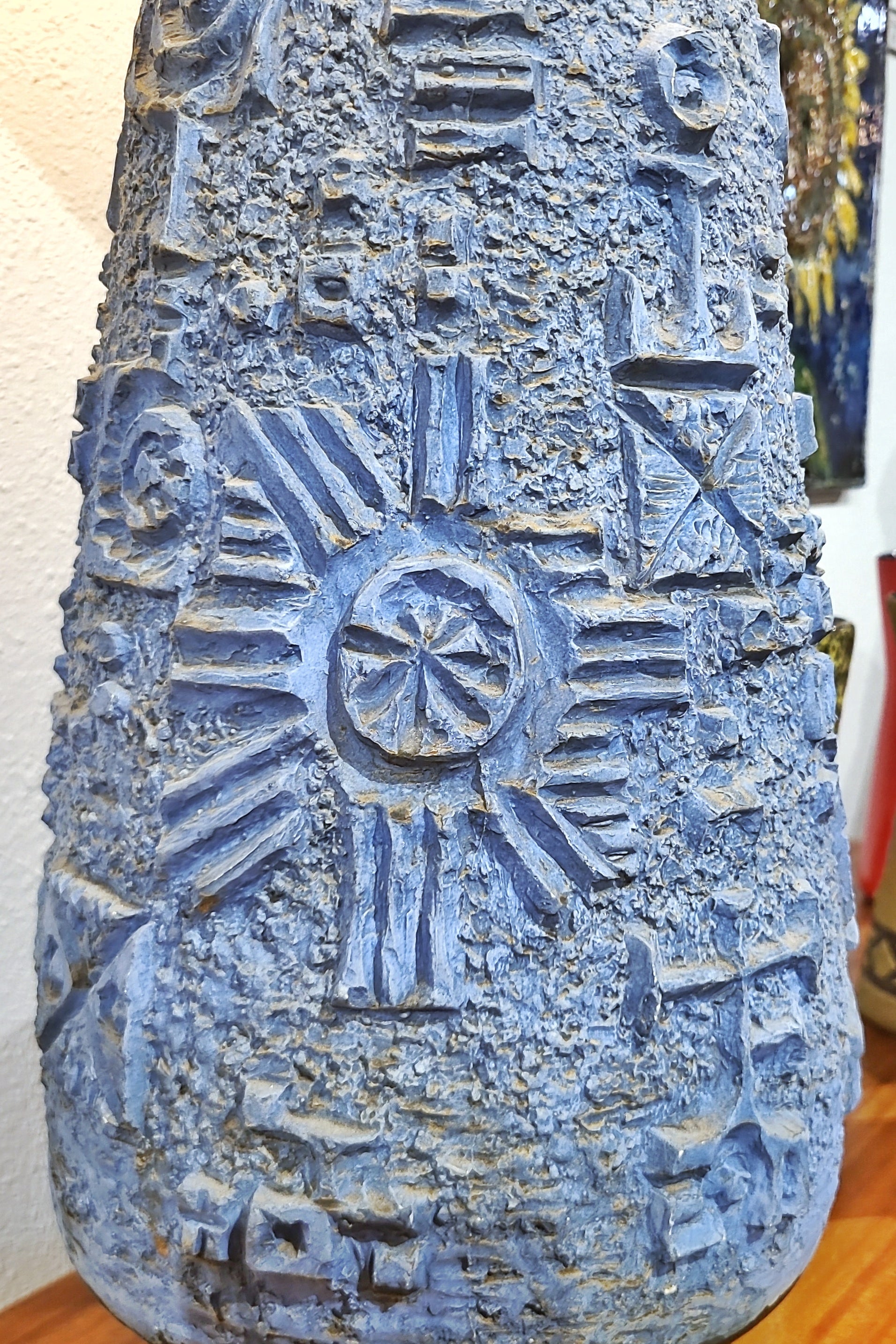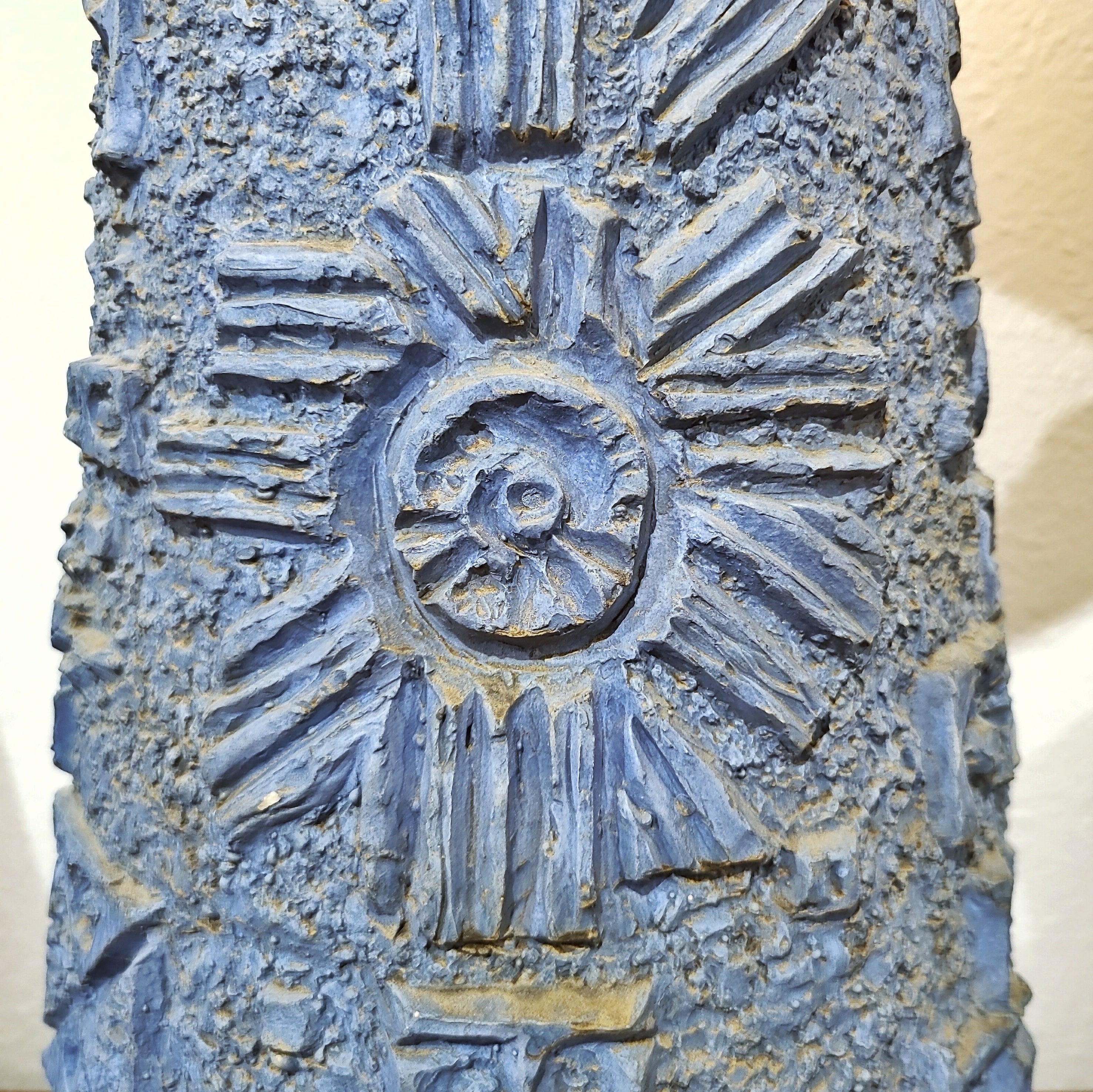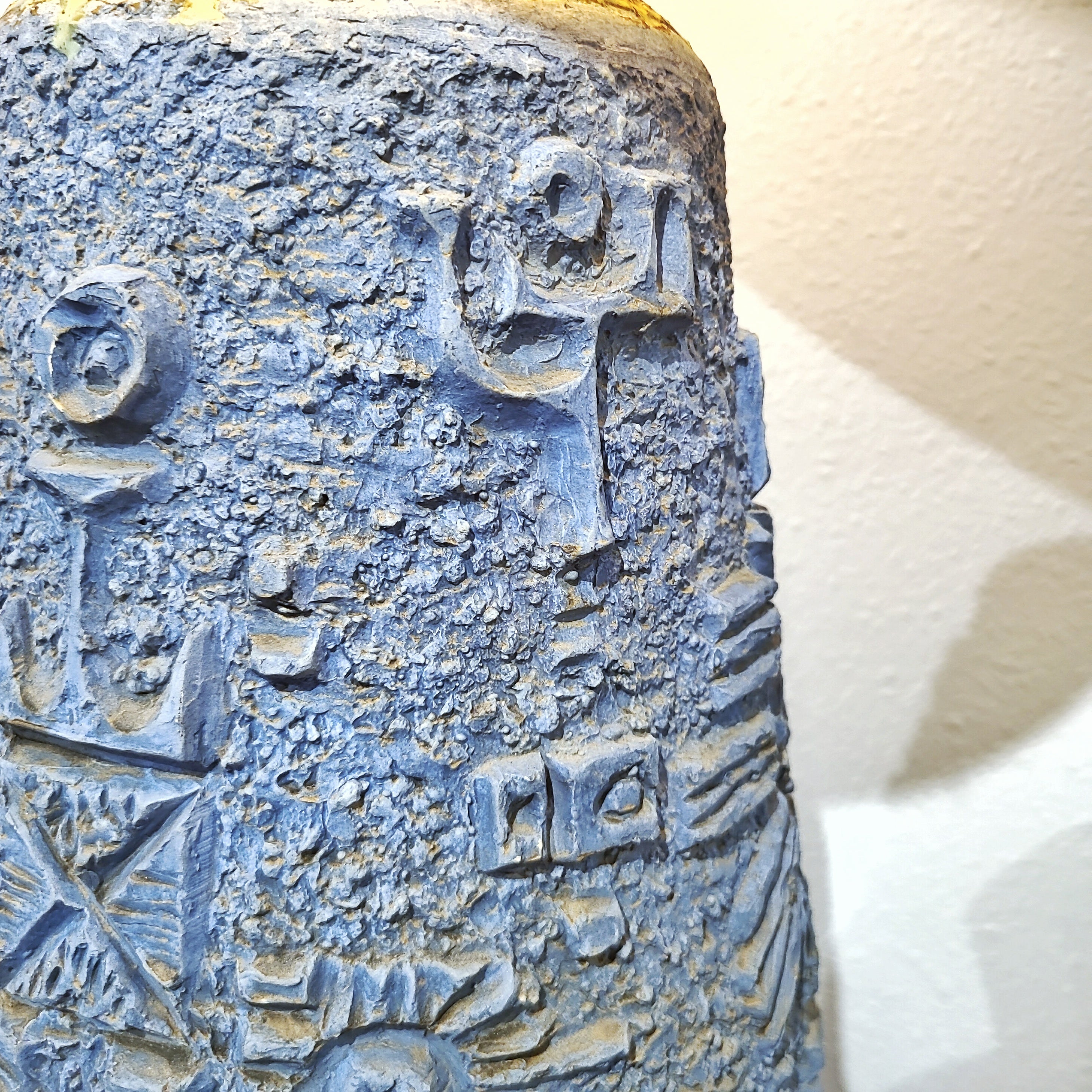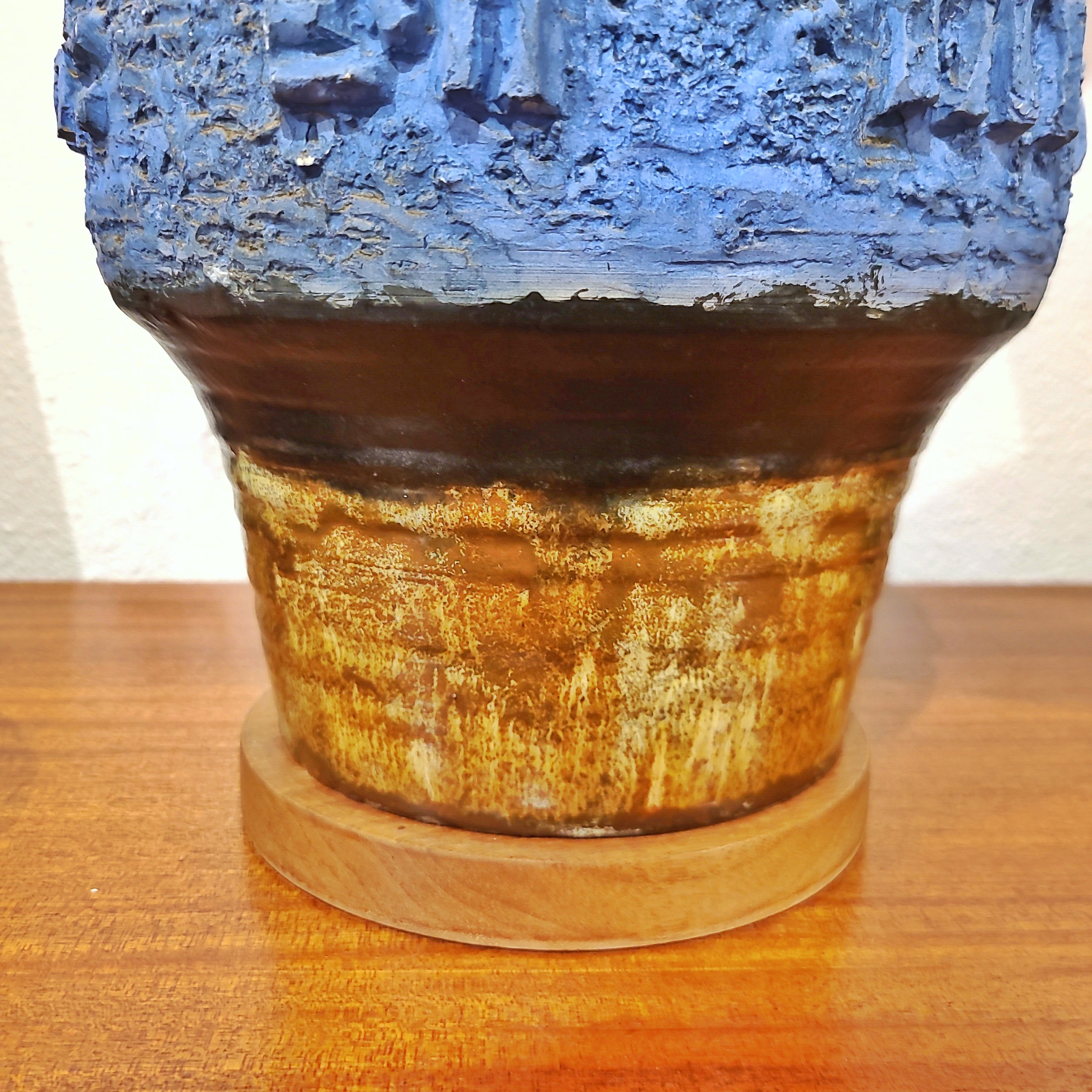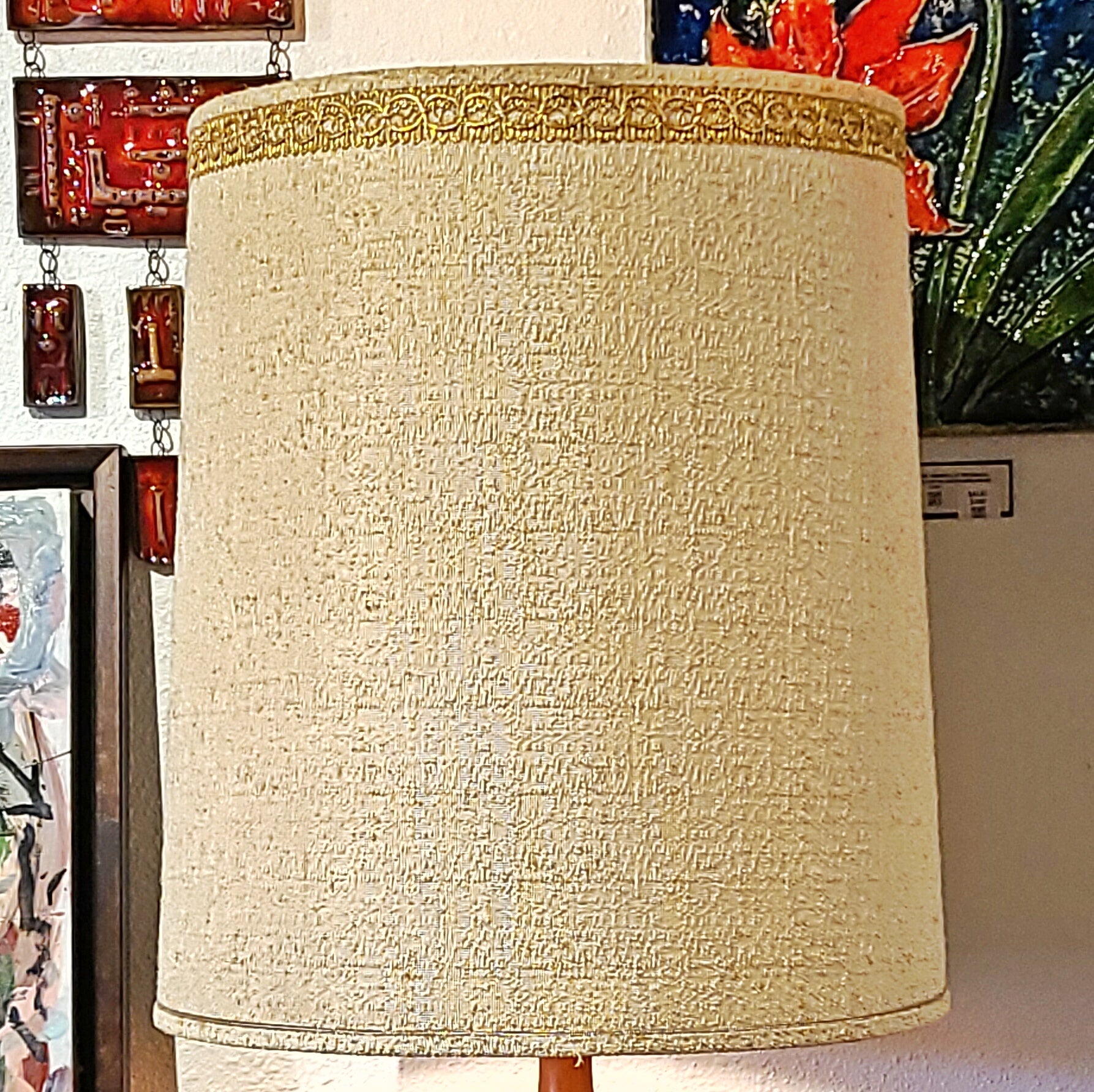 MONUMENTAL JIŘÍ GEORGES LAUDA TABLE LAMP PRODUCED BY PAUL TANNIER FOR NORWOOD OF MONTREAL
CONTACT US HERE ABOUT THIS ITEM.
A heavily incised, geometric décor table lamp designed by Jiří Georges Lauda in the 1960s and produced, in collaboration with ceramist Paul Pannier, for Norwood Lamps of Montreal, Canada. Walnut accents are featured at the neck and base. These lamps are rare and highly collectible. This one, in light blue, is in excellent condition and has been paired with a tall, nubby fabric drum shade of similar vintage.
---
JIŘÍ GEORGES LAUDA (1925–2014) was born in Prague in 1925 in what was then Czechoslovakia. He studied at the city's Academy of Fine Arts, where he trained in multiple disciplines—including sculpture, printmaking, illustration, and ceramics. He immigrated to Montreal in 1951 and briefly pursued a career in education. In 1966, the inaugural year of the Montreal Metro, he cooperated with its artistic director, Robert LaPalme (best known as an editorial cartoonist), to create a bronze plaque memorializing the early development of the city's public transportation system. The plaque is housed today in a circular black granite bench—commonly referred to as la rondelle, i.e., the hockey puck—that serves as a popular rendezvous point within the Berri-UQAM metro station.
LAUDA frequently worked with noted ceramist Paul Pannier (1926–1993), the founder of Pannier Céramiques of Montreal. Many of LAUDA's table pieces were produced there. The typical division of labor, would have LAUDA responsible for concept and design and Pannier for the firing and glazing. This specialization was likely extended to the execution of the major public art projects that LAUDA and Pannier collaborated on. LAUDA was also an accomplished illustrator and graphic designer.
NOTABLE PUBLIC WORKS:
LE POÈTE DANS L'UNIVERS—An homage to Québec poets Hector de Saint-Denys Garneau, Émile Nelligan, and Octave Crémazie, this immense mural adorns a transept wall above the Montmorency platform of Crémazie's namesake Montreal metro station. With ceramist Paul Pannier and artist-blacksmith Gérard Cordeau (1937–2003). 1968.
L'ÉVOLUTION DU NURSING—A depiction of the history of nursing from antiquity through its early days in Canada. It includes a representation of St. Marguerite d'Youville, founder of les Soeurs Grises (the Gray Sisters), and resides in the entrance hall of the pavillion that bears her name on the University of Montreal campus. 1974.
HOMMAGE À L'ESPRIT SPORTIF—Covering an entire exterior facade wall of Aréna Garon (an ice rink in Québec City), groupings of athletes, two male and two female, are portrayed. With ceramist Paul Pannier. 1990.
---
DETAILS
Maker – NORWOOD LAMPS
Production Period – 1960s
Designer – JIŘÍ GEORGES LAUDA
Design Period – 1960s
Origin – CANADA
Styles/Movements – ABSTRACT; MID-CENTURY MODERN
Materials – CERAMIC, WALNUT, FABRIC
Colors – SKY BLUE, BROWN, GOLD
Shade – INCLUDED
Power – UP TO 110V (US STANDARD), CORDED, TYPE 'A' PLUG
Condition – Excellent vintage condition. Minor wear consistent with age and use.
Dimensions – 16" DIAM. × 42" H