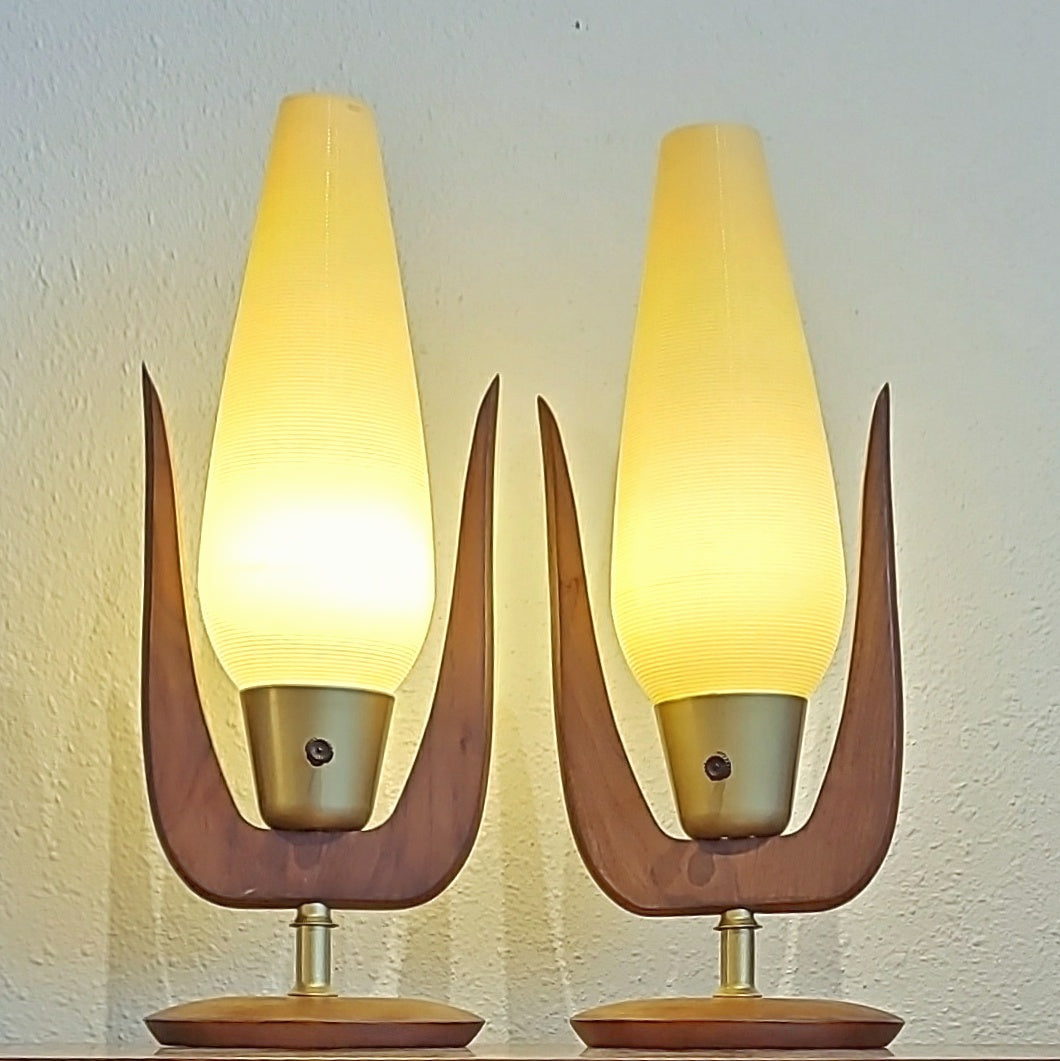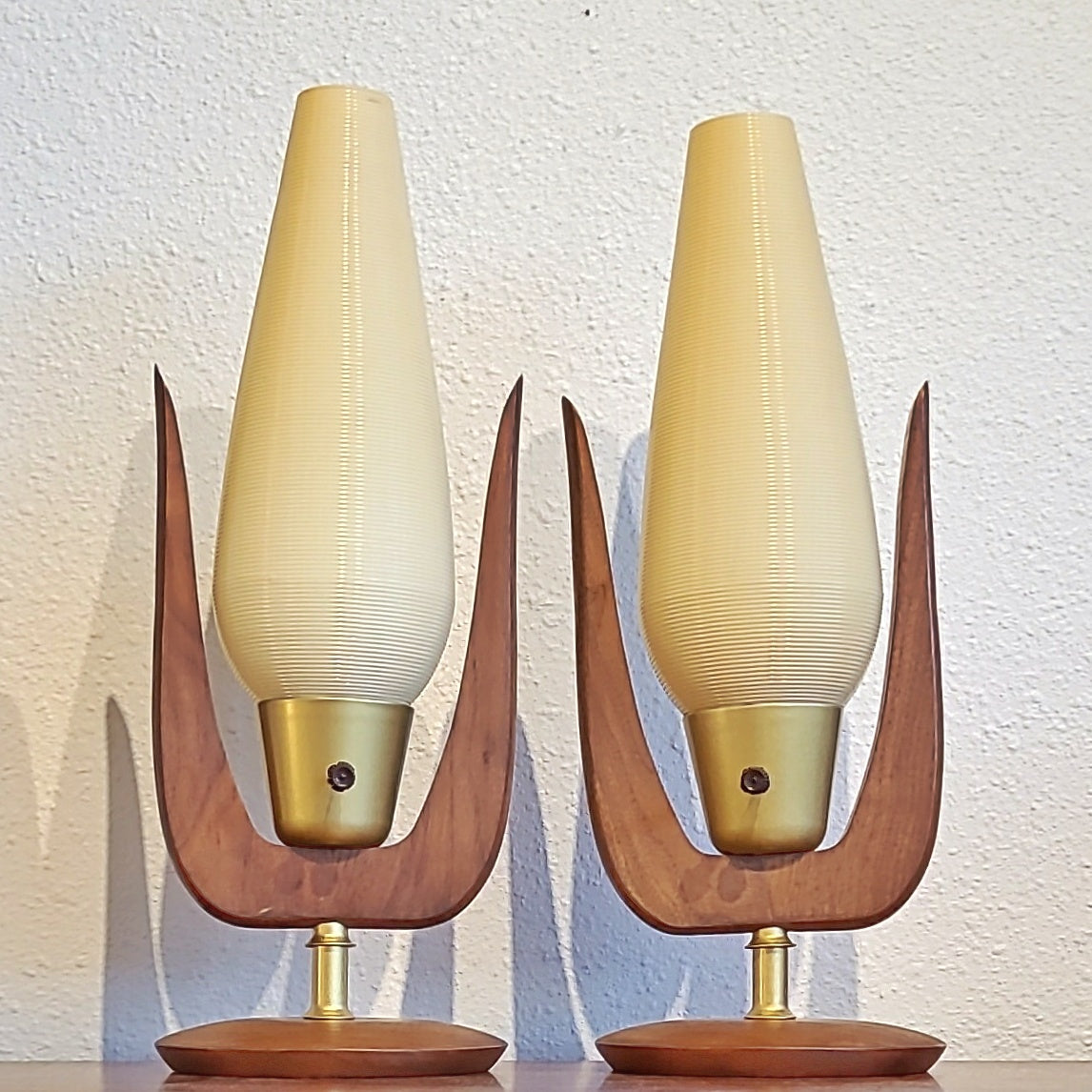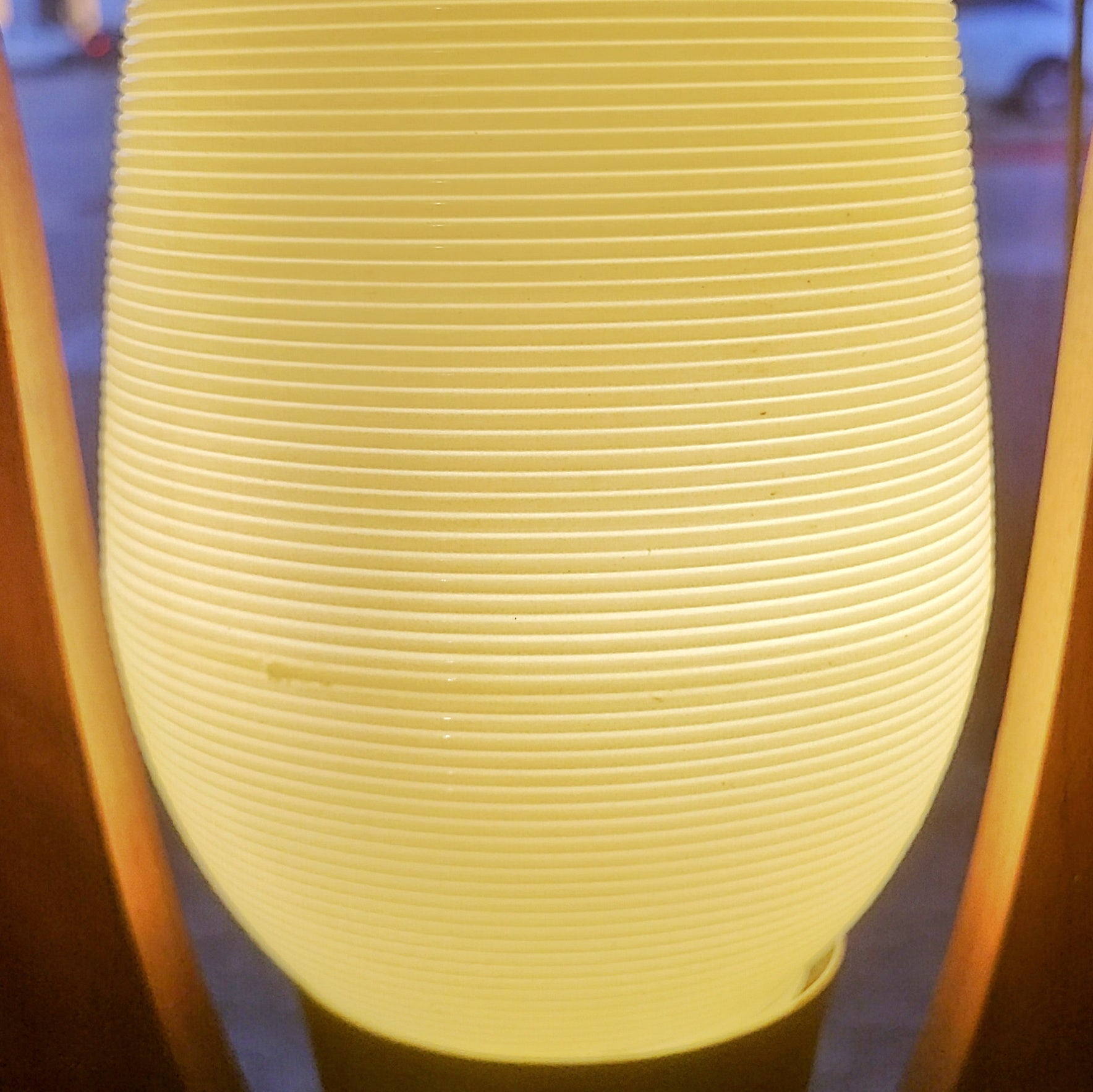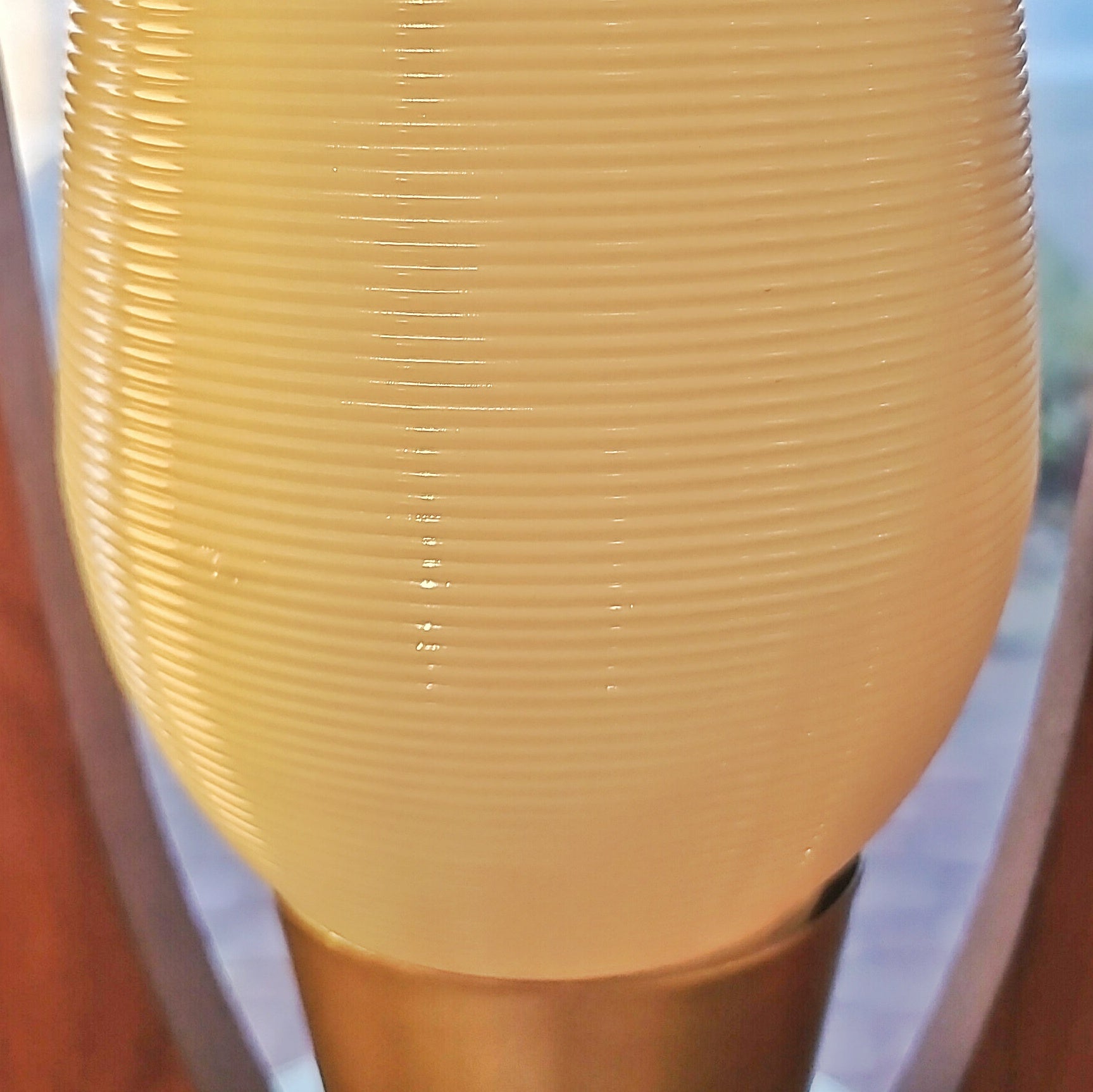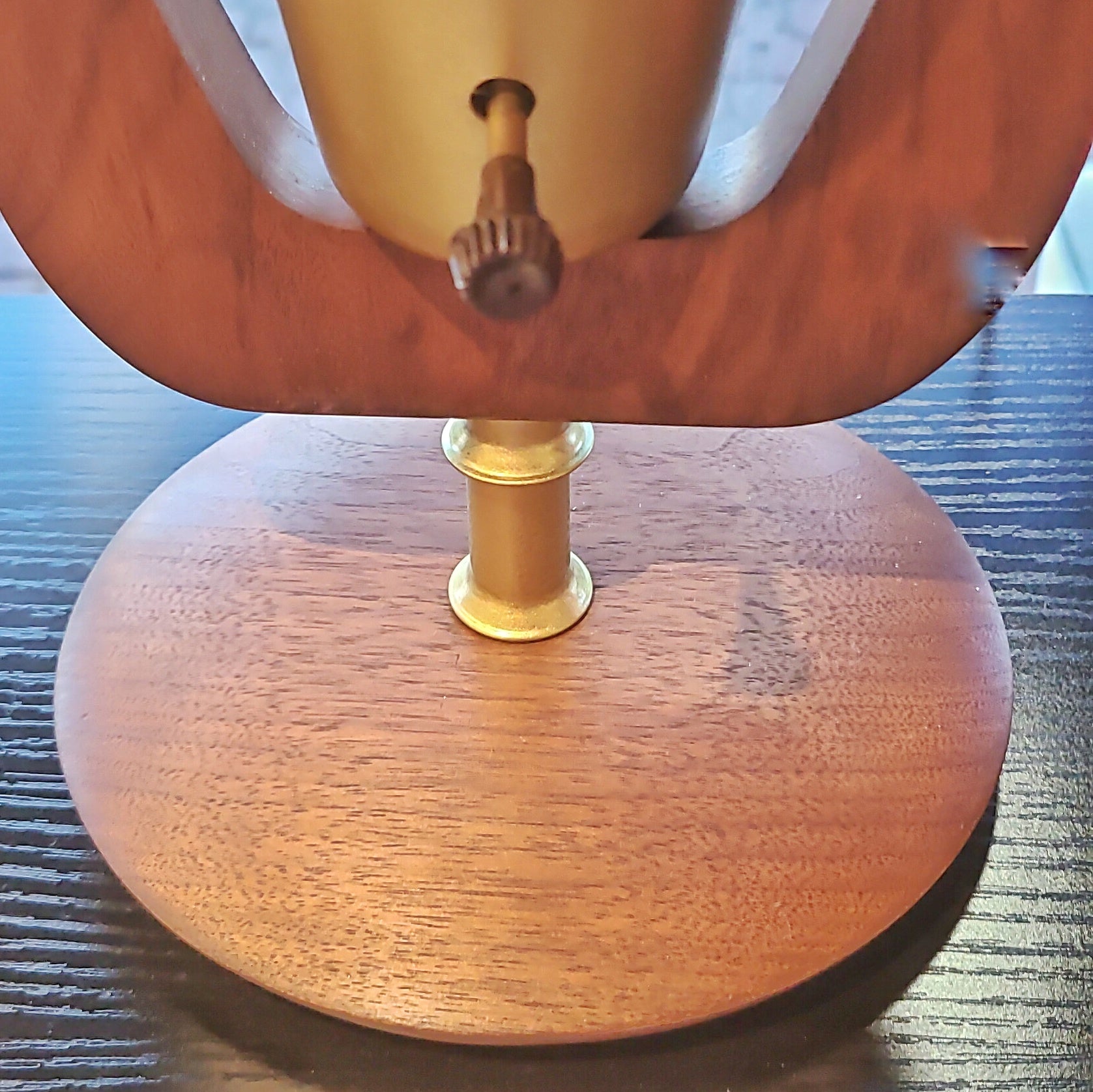 RARE PAIR OF HEIFETZ ROTAFLEX BEDSIDE LAMPS (1950s)
CONTACT US HERE ABOUT THIS ITEM.
A very rare pair of 1950s walnut lamps with Rotaflex shades. (Rotaflex refers to a method of plastic production developed in France in the 1950s and the plastic so produced.) These were designed and produced by Yasha Heifetz of Heifetz Manufacturing USA and feature beehive-shaped shades with solid walnut bases. Their condition is near mint; they have been professionally rewired.
ROTAFLEX™ is a patented method of spinning cellulose acetate 'yarn' into a lampshade. The patent, filed in 1946 by Danish civil engineers Bent Højberg Pedersen and Bent Panker, describes the process by which a thermoplastic, bioplastic cord of cellulose acetate is spun onto a mold by hand. Cellulose acetate is an early acrylic with various trade names: Rhodoid in France and the UK, Tenite in the US, and Cellon in Germany. As it's lighter than glass, less fragile than paper, and allows for a great variety of shapes and colors, it became popular with lighting designers. Moreover it gives a beautiful light. Objects produced using Rotaflex retain the shape of the underlying mold.
Navigating the world of Rotaflex lamps can be confusing as the term 'Rotaflex' can designate the materials method patented by Pedersen and Panker, various diffusers produced with it, and Rotaflex LTD, a British brand founded in 1953, as well as several other companies and brands that developed in quick succession, all interconnected via licensing. The first lamps branded Rotaflex were manufactured circa 1952 in France by Charron and Disderot from early designs by André Simard and René-Jean Caillette. In 1954, the company L'Atelier de Recherche Plastique (Plastic Research Workshop), aka ARP, was founded by Pierre Guariche (1926-1995), Joseph-André Motte (1925-2013), and Michel Mortier (1925-2015). The three met while working in the design agency of Marcel Gascoin. They aspired to shake up the codes of classicism by drawing on new forms to create more accessible furniture and lighting designs. They seized upon the Rotaflex method to accomplish several outstanding lighting designs under the ARP label. They participated in the Salon des Arts Ménagers (Household Arts Fair) in 1954 and received numerous prizes. Their furniture and lamps were produced by companies such as Airborne, Disderot (Atelier Pierre Disderot), Meubles TV, Huchers-Minvielle, Luminalite, Steiner, and Rotaflex. ARP was dissolved three years later in 1957.
The British firm Rotaflex LTD was founded in 1953 by Bernard Stern, a painter turned industrialist. Stern rented a former agricultural building in order to produce a range of lighting using the Pedersen/Panker process. The lampshades produced were very light and easy to package for transport, and in just a few years, Rotaflex became one of Britain's leading lighting manufacturers, in no small part thanks to the award-winning design work of consultants John & Sylvia Reid. In addition to many spun cellulose acetate lamp designs, the Reids enhanced the range with the Christals series that featured shades made of cellulose acetate sprinkled with hundreds of tiny lucite bits to resemble sugar balls in various colors. The couple is also famous for their Metallux, Interplay, Honeycombs, Fernland Cylinders, and Sphere lamp designs. Rotaflex received several design awards including a 1957 iF Design award for their pendant lamps. British Rotaflex lamps were distributed in France by Disderot and vice versa. Sadly, the Rotaflex company no longer exists. 
As of 1955, the US company Heifetz led by Yasha Heifetz (not to be confused with the famous violinist Jascha Heifetz), sold Rotaflex lamps of his own as well as others' design but also served as the American distributor of the British Rotaflex lamps. Everything was labeled either Heifetz Rotaflex or simply Heifetz. Lightolier and Verplex also produced and sold their own designs in the US.
The other companies that employed the name Rotaflex were either using the patented manufacturing process or distributing the British Rotaflex brand in their respective countries (e.g.: Stockman Orno in Finland). Kempthorne in Australia marketed the material as Spunlite. In Germany, Licht und Form and Rolf O. Burghard KG, Düsseldorf, produced and sold Rotaflex lamps. In Belgium and some other European countries, they were sold by Massive. Disderot produced and sold them in France, and Philips from the Netherlands included some in their collection. In Sweden, they were designed by Alf Svensson, Bertil Roos, and Sigvard Bernadotte, and produced by Bergboms under the name Rotoflex (N.B: spelling).
Despite its international influence and longevity, documents about Rotaflex are quite rare, and many inaccuracies (including, no doubt, in this text...) remain.  Two catalogs and some advertisements attest to the French manufacture of some forty models and Finnish, American (Heifetz), and British documents testify to a much larger production.
DETAILS
Maker - Heifetz Manufacturing USA
Production Period - 1950s
Designer - Yasha Heifetz
Design Period - 1950s
Origin - USA
Styles/Movements - Mid-Century Modern; Space Age; Minimalism
Materials - Plastic, walnut
Colors - Beige
Condition - Near-mint condition. Rewired. A professional electrician has confirmed this piece is in working order.
Dimensions - 6.5ʺ W × 6ʺ D × 17ʺ H
Power Source - US standard; Type A