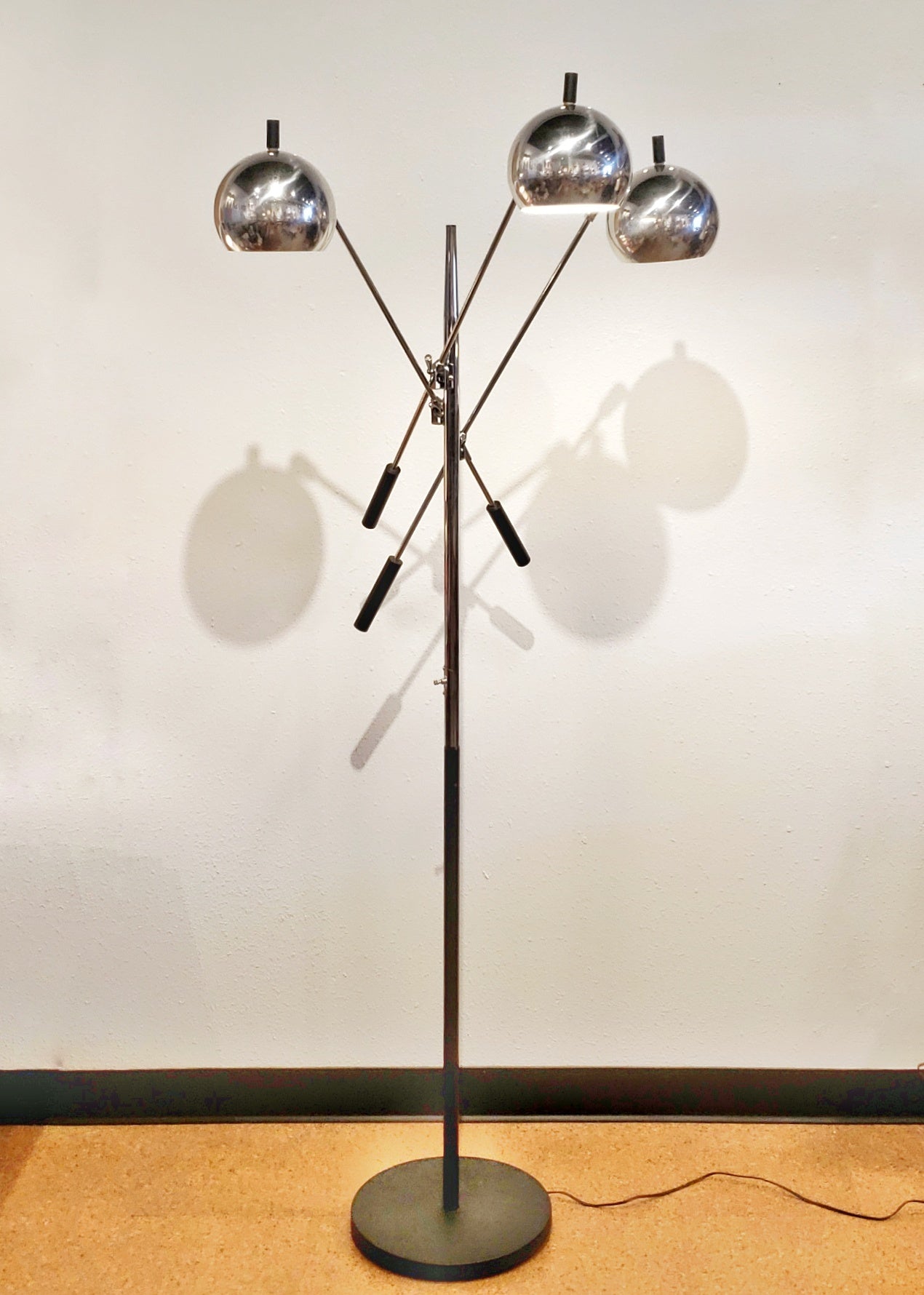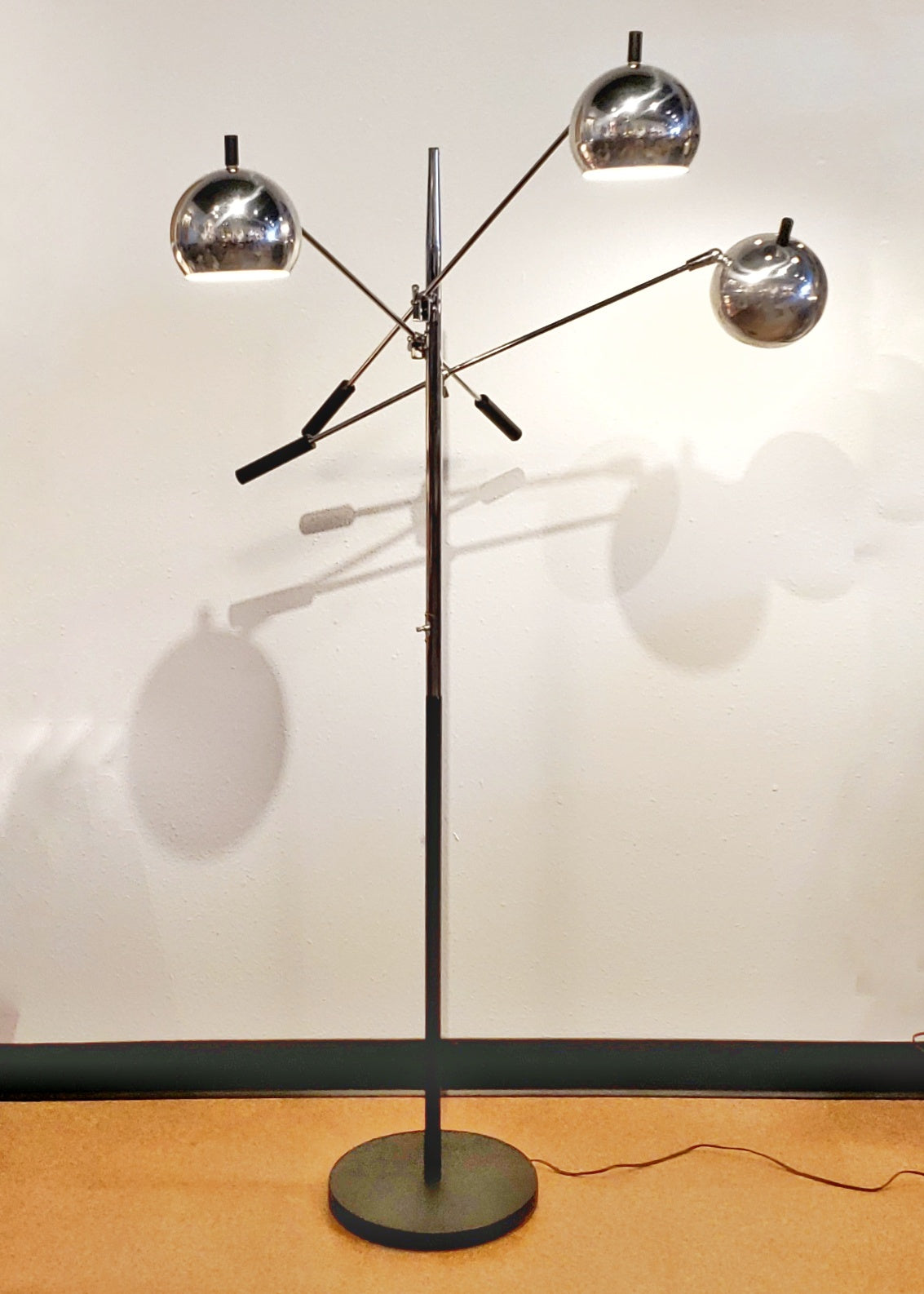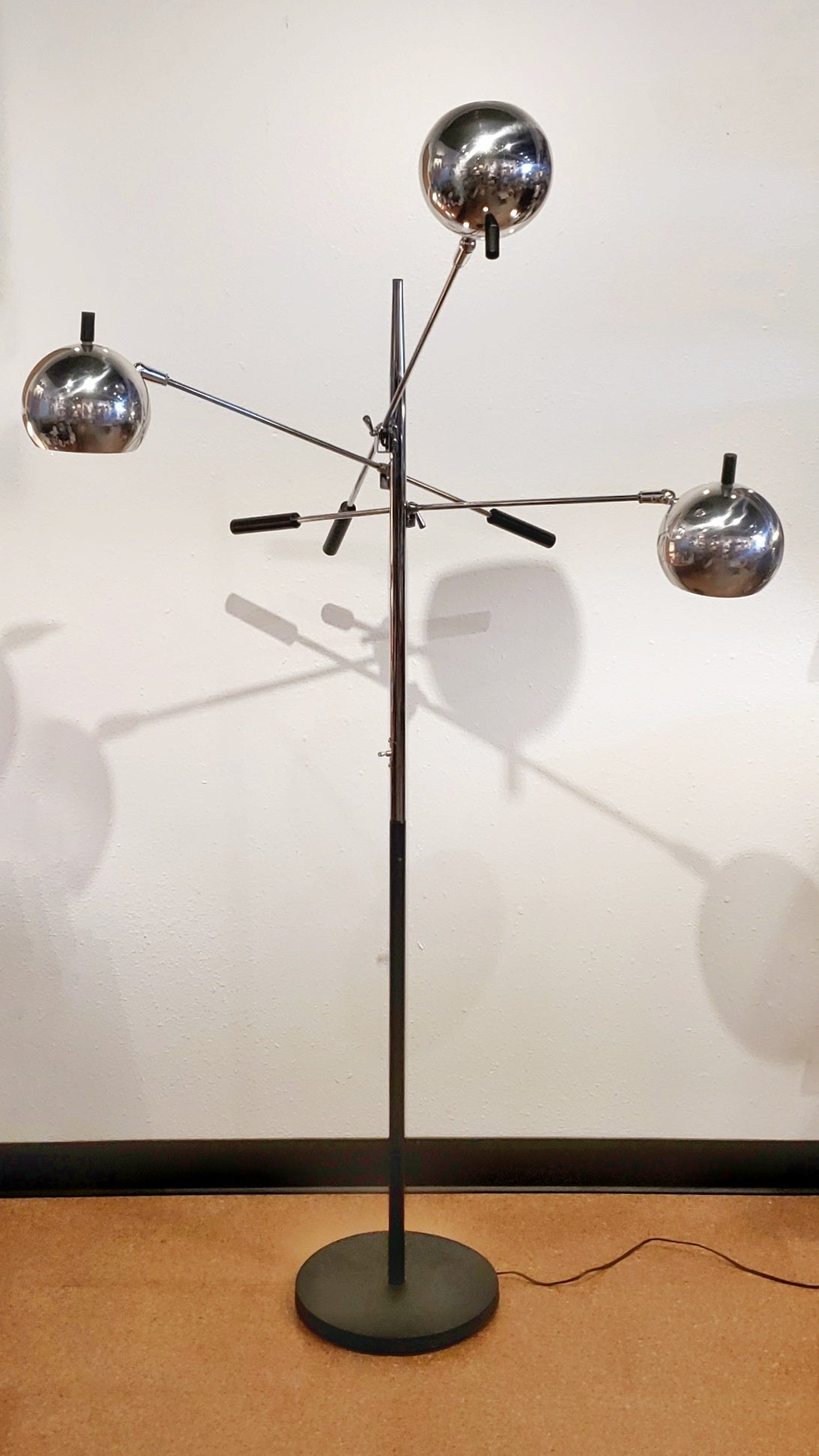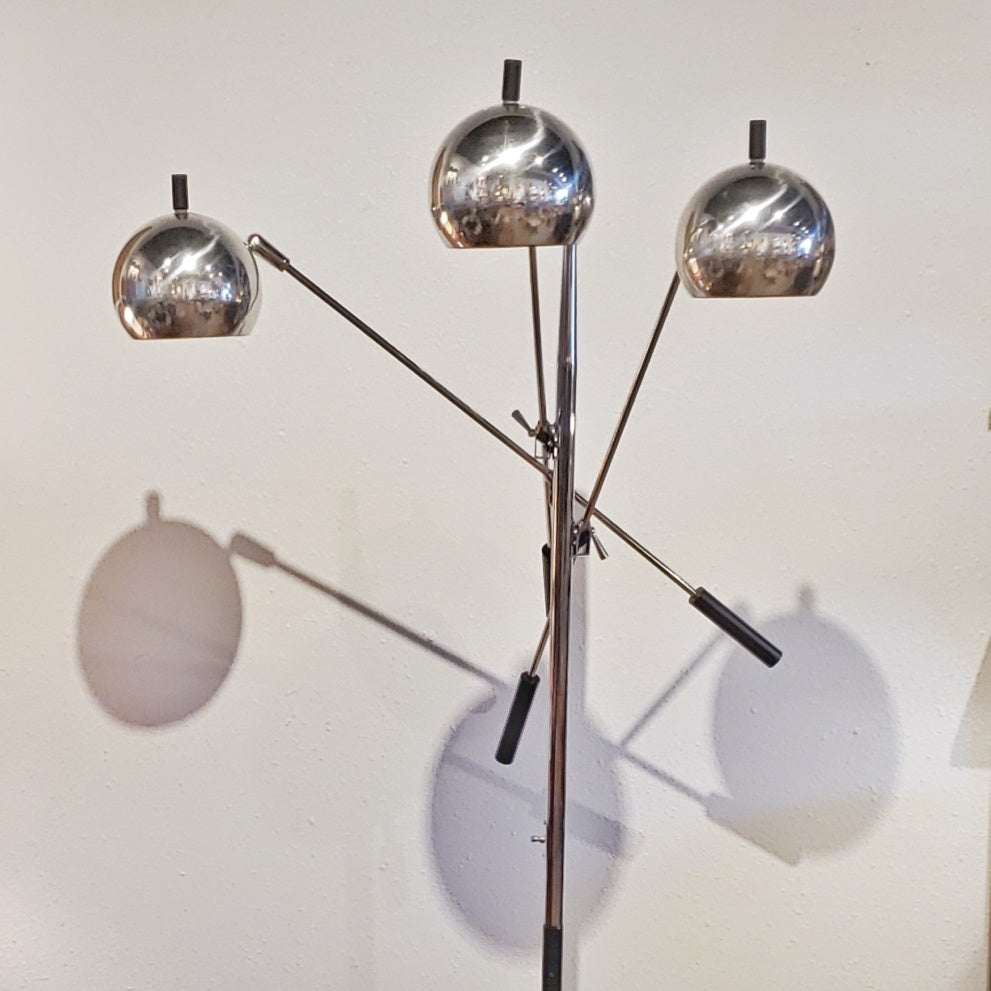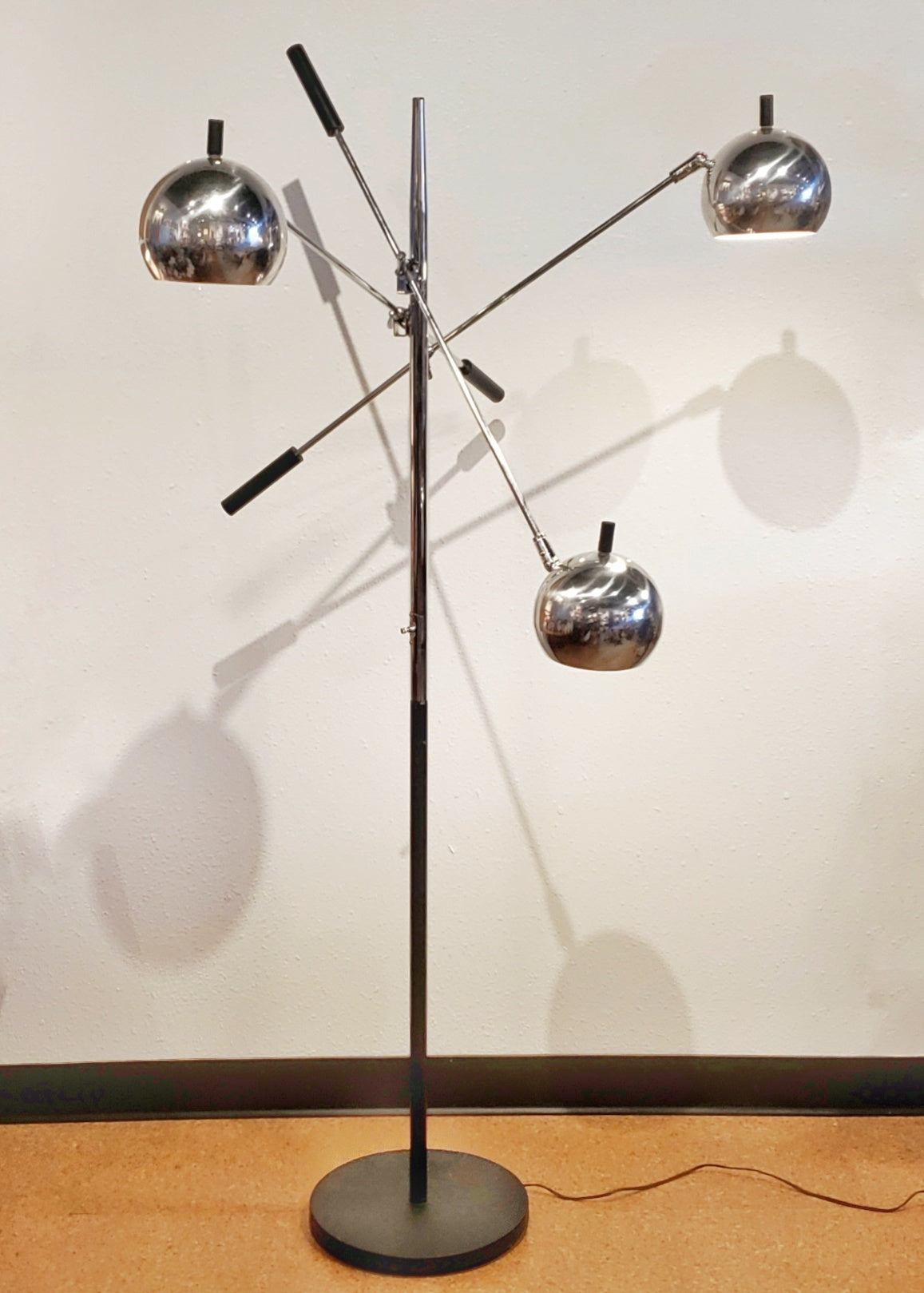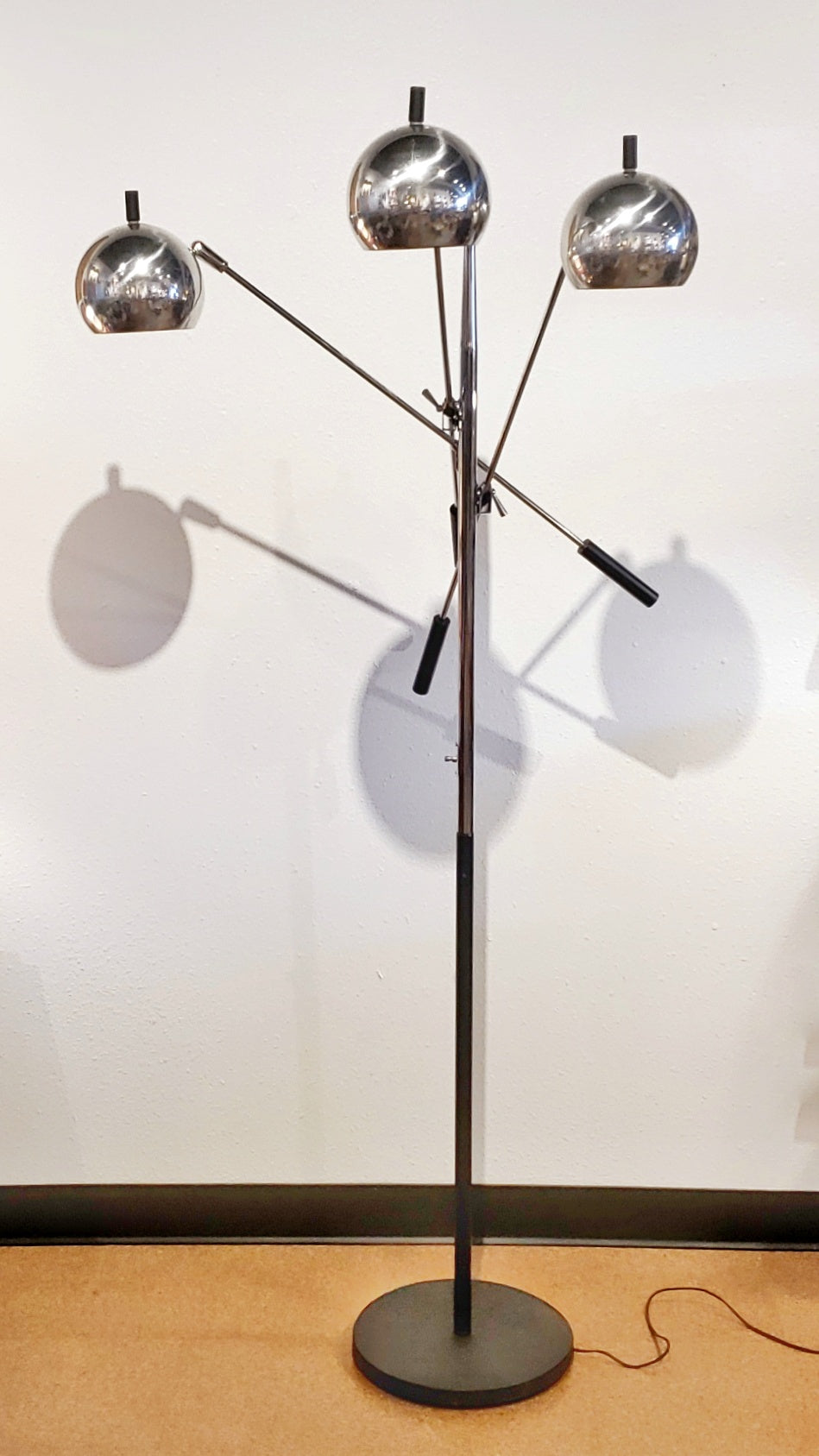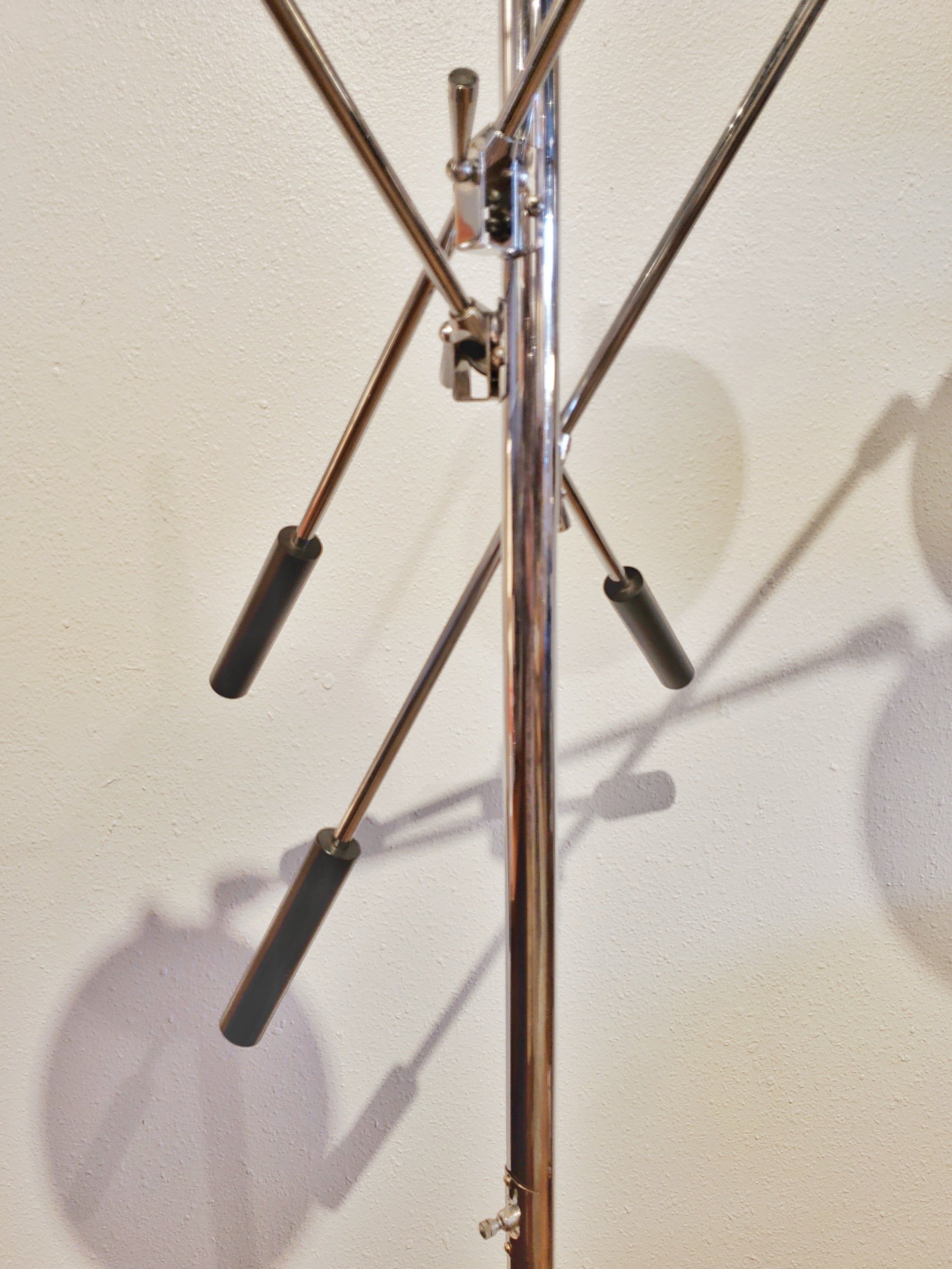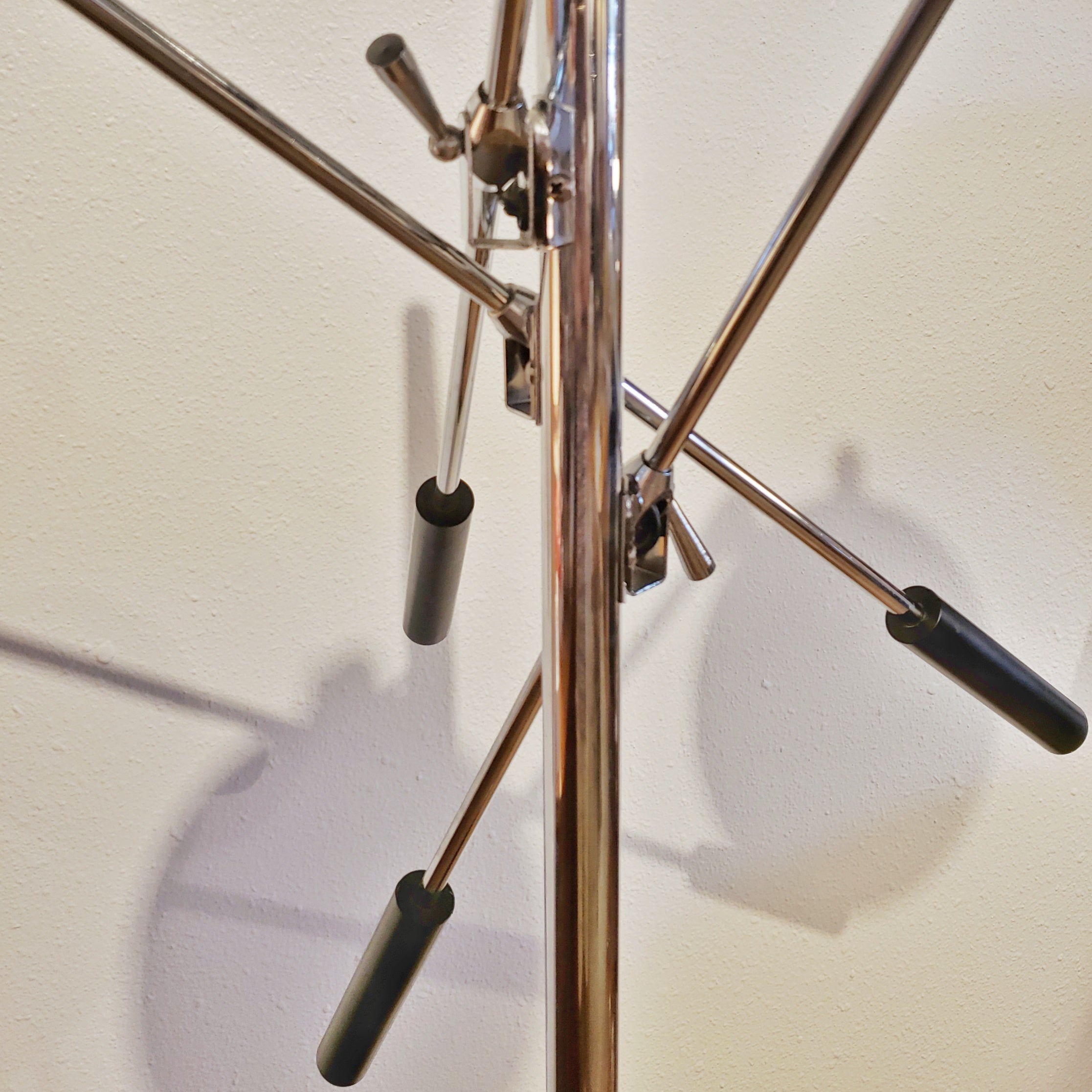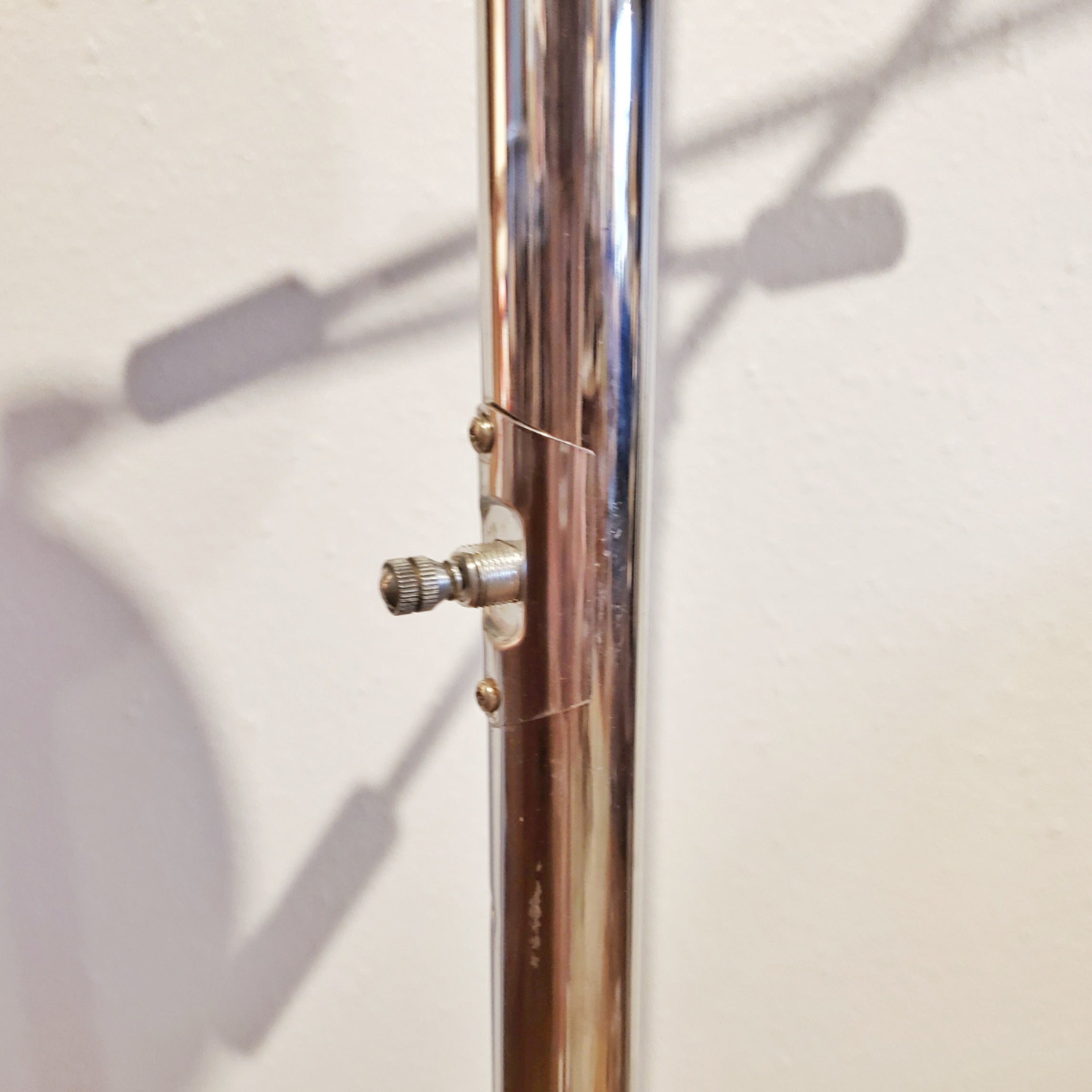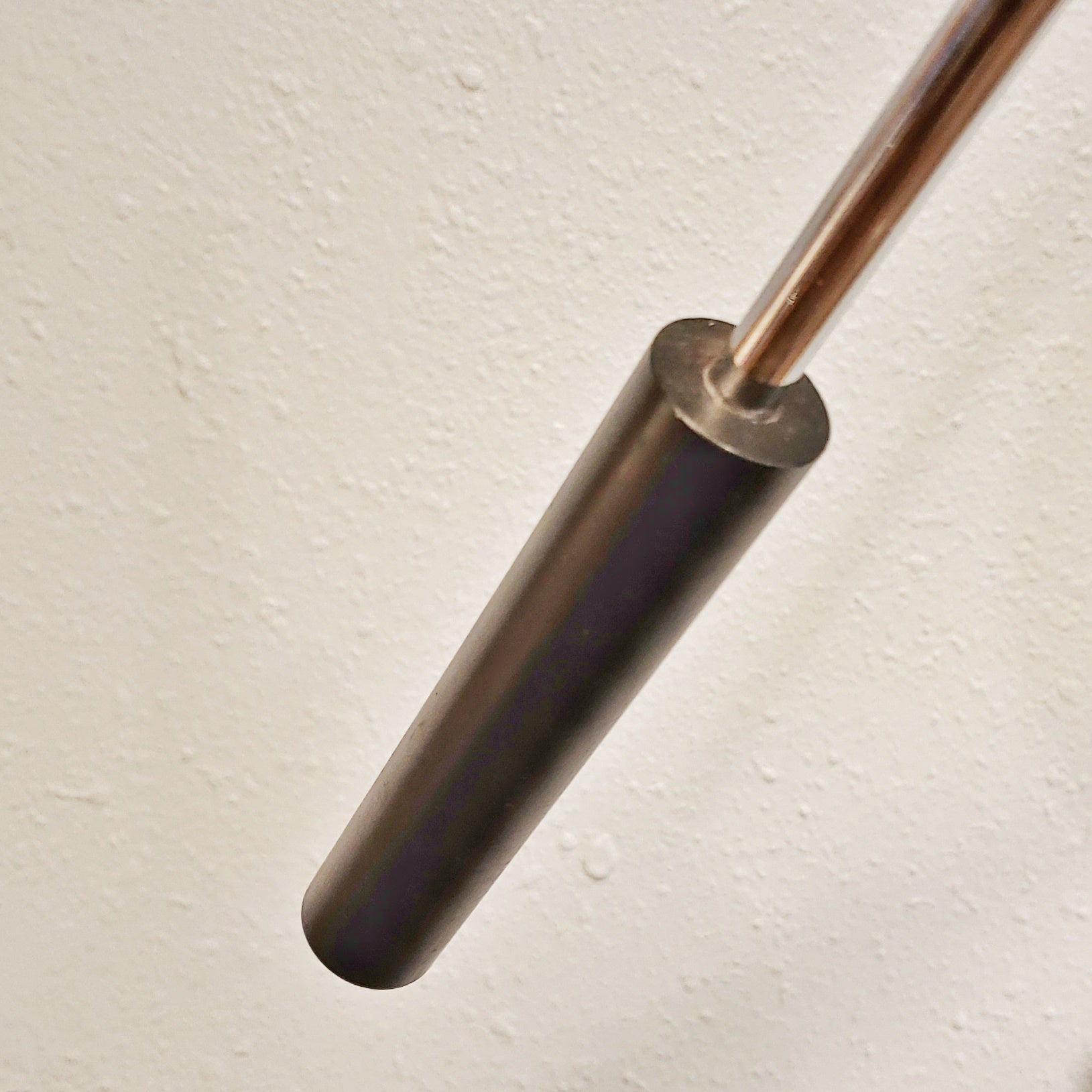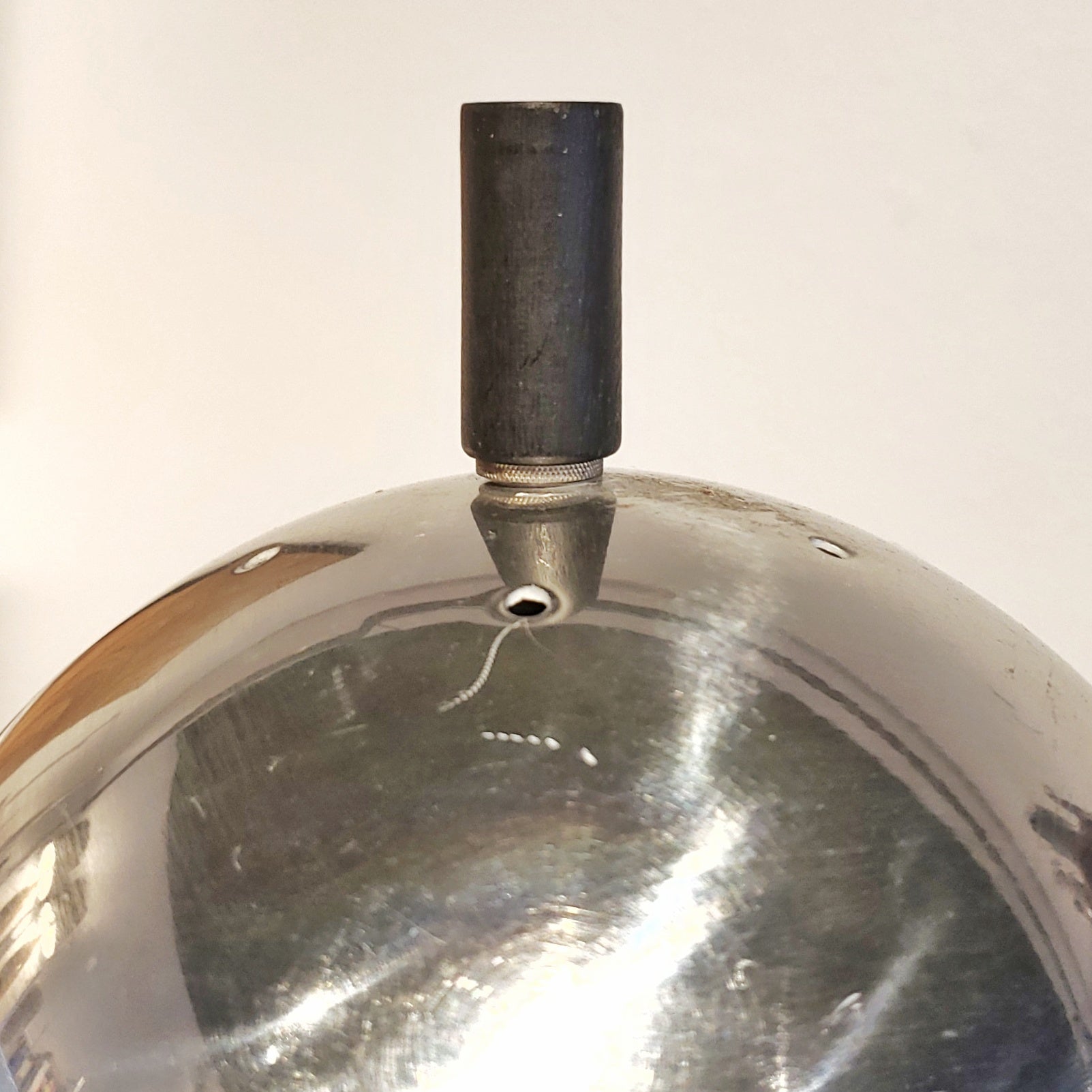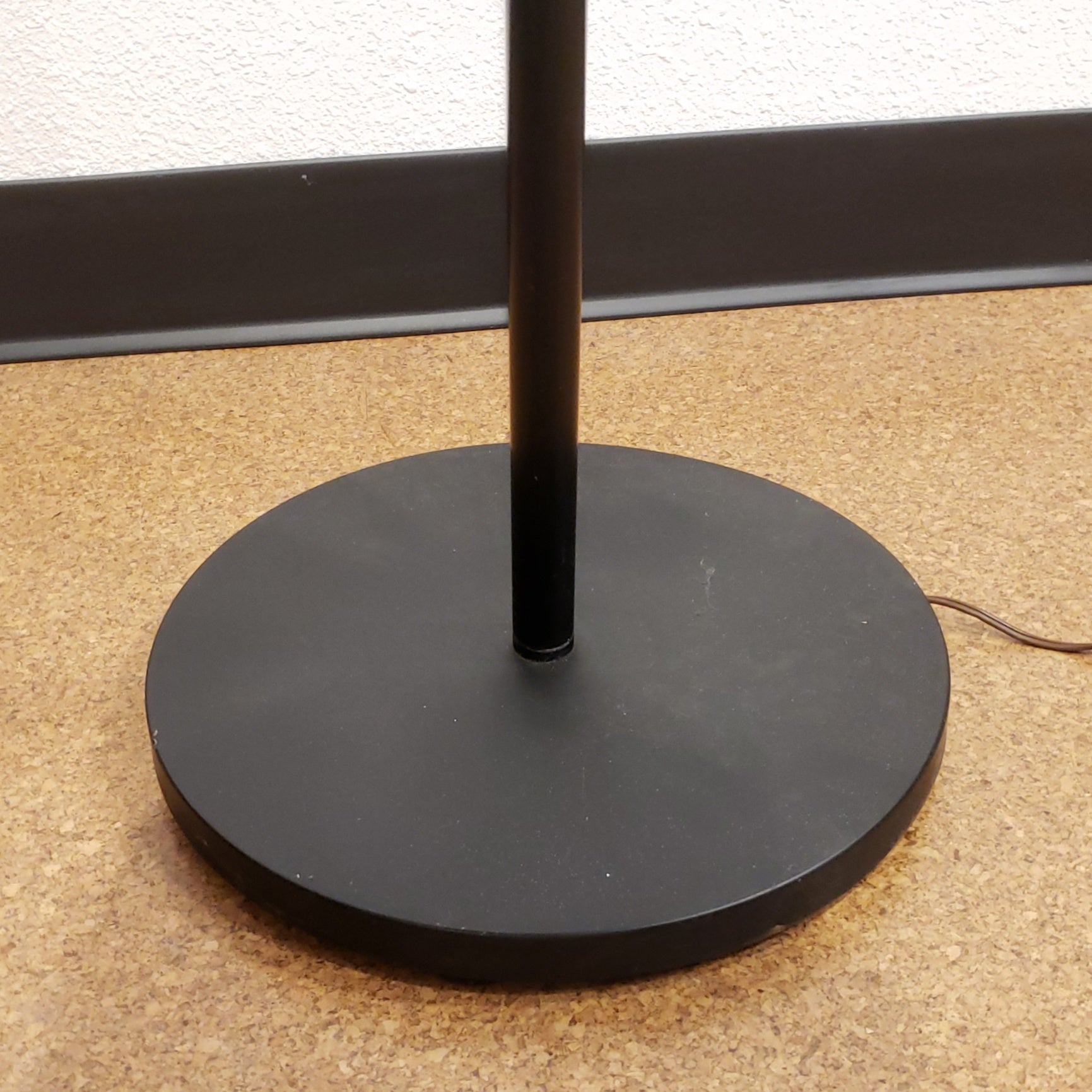 ROBERT SONNEMAN TRIENNALE STYLE CHROME FLOOR LAMP
CONTACT US HERE ABOUT THIS ITEM.
An iconic, 'Triennale' style floor lamp designed by Robert Sonneman in the 1970s.
ROBERT SONNEMAN was born in 1943 in New York City and raised there by parents who manufactured what he calls "traditional lighting and normal lamps."  He displayed a keen interest in art early on and studied at the Rhodes Preparatory School on West 54th and the Art Students League on West 57th.  His career started in the '60s with work for lighting retailer and designer George Kovacs; the two later partnered to produce an original line of lamps when Sonneman was only 21.
In 1967, at age 23, Sonneman launched his own lighting company, selling to NYC stores such as Bloomingdale's and Macy's.  It was during this time in the late '60s and the 1970s that he created his iconic, zeitgeist-capturing works:  lamps with names like 'Orbiter' and 'Odyssey,' that featured globelike heads and tubular arms and necks, and pendants and sconces made from glass disks that seemed to float like flying saucers.  Many of these products have become classics of the modern era.  His award-winning designs have remained in the forefront of the field ever since.  Inspired by the Bauhaus school, the self-taught Sonneman imposed strict aesthetic and quality standards upon himself and his associates.  Purity of line and excellence in design continue to be his hallmark.  In 1974, Sonneman founded the Sonneman Design Group, developing products for leading brands, including Lightolier, Sunbeam Appliance, Singer, Stanley Furniture, Brueton, Goody Products, and Lifetime Brands.
Sonneman has lectured at Stanford University, the Pratt School of Architecture, the Parsons School of Design, the Philadelphia College of Art, and UCLA.  He was a contributor on Chrysler and Toyota projects at Pasadena College of Design's Art Center and served on the Nissan Design Advisory Board.  After some years spent freewheeling through Milan and Tokyo, on forays into architectural work, and as CEO for Ralph Lauren's Home Product Development Division (1999-2005), Sonneman returned to the lighting industry.  He has since focused, as lead designer of the brand "SONNEMAN—A Way of LIight," on architecturally scalable designs, including the new 'Constellation' and 'Tik-Tak' collections which operate as modular systems rather than singular, sculptural pieces.
Sonneman's eye for detail and unyielding commitment to technology has earned him countless awards in product design as well as placement in institutions such as MoMA, the Chicago Art Institute, the Cooper-Hewitt National Design Museum, the UCLA Exhibition on Design, Karnette County Art Museum, and the Houston Contemporary Arts Museum.  He remains relatively unsung in the canon of his peers, but his standing has begun to inch up in recent years—at least among collectors, who have taken a shine to his vintage, space-age designs.  His work is held in the collections of MoMa, the Chicago Museum of Science and Industry, and the Philadelphia Museum of Art.
I am devoted to creating the extraordinary, free from contrivance....  I am driven by what's next. – ROBERT SONNEMAN
Design Period – 1965-1974
Country of Origin – USA
Designer – ROBERT SONNEMAN (b. 1943)
Attribution – WELL-KNOWN
Materials – METAL, CHROME
Condition – VERY GOOD (no defects; may show slight traces of use)
Additional Condition Details – minor scratches; minor paint loss.
Plug – N. AMERICAN
Height (in.) – 70.0
Diameter (in.) – 36.0