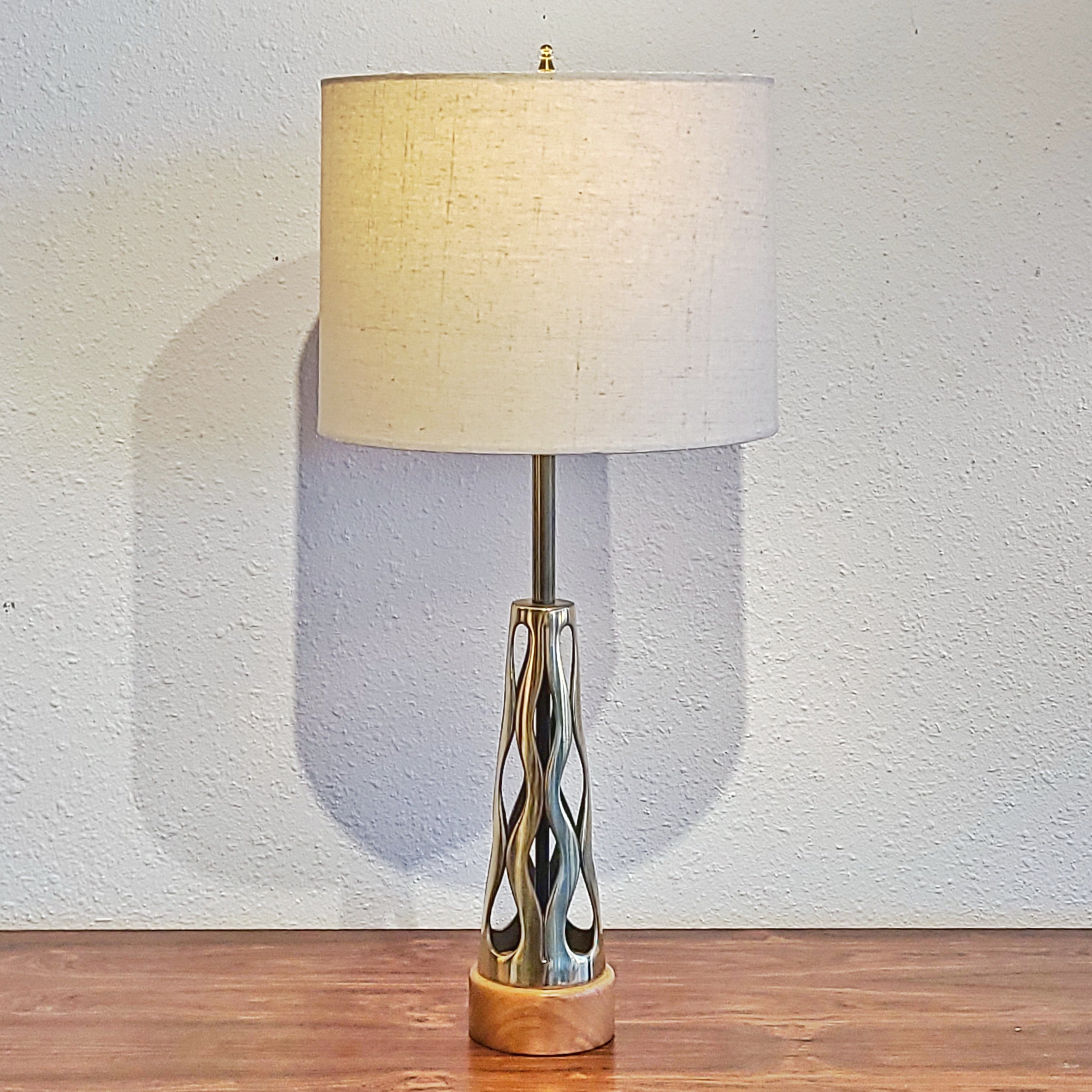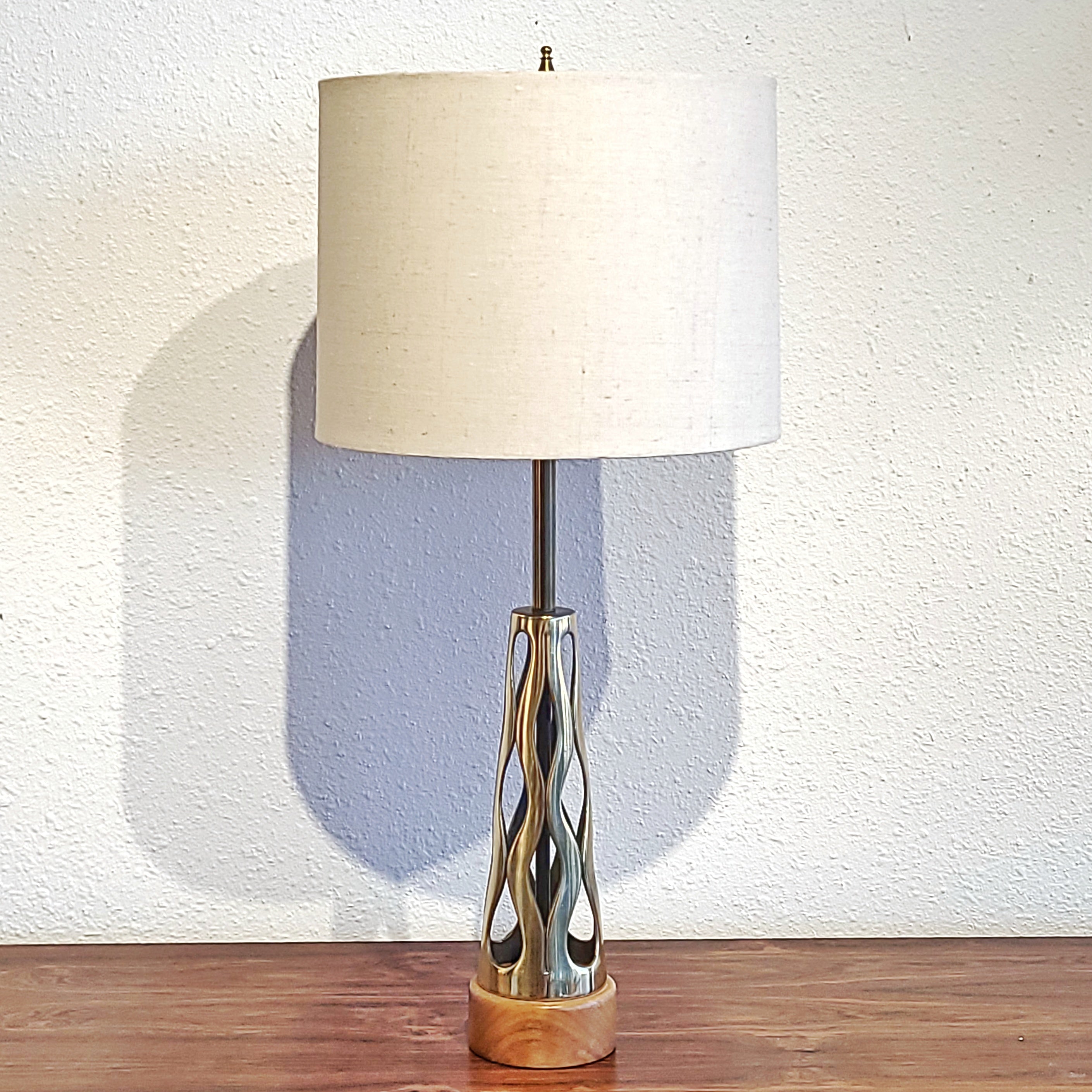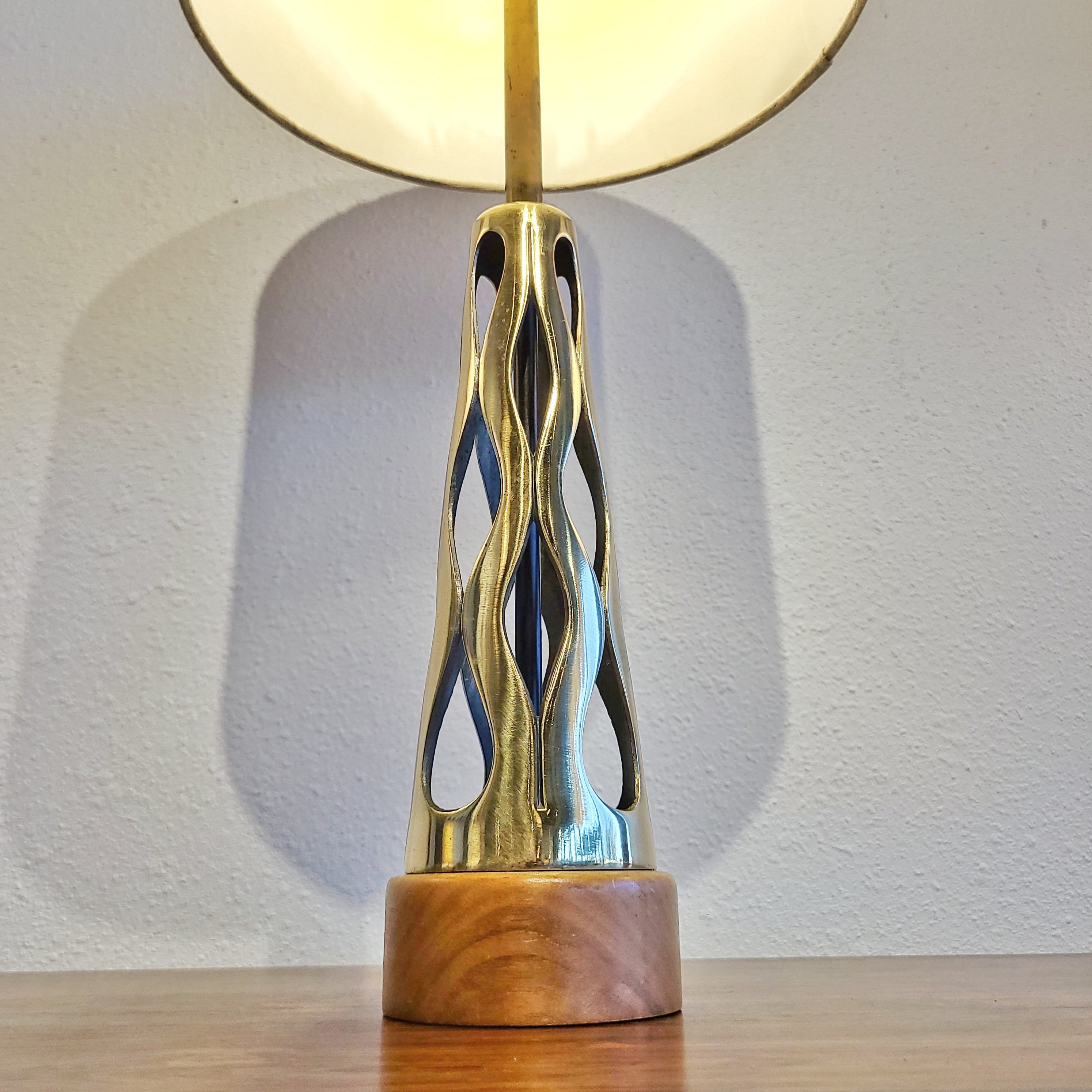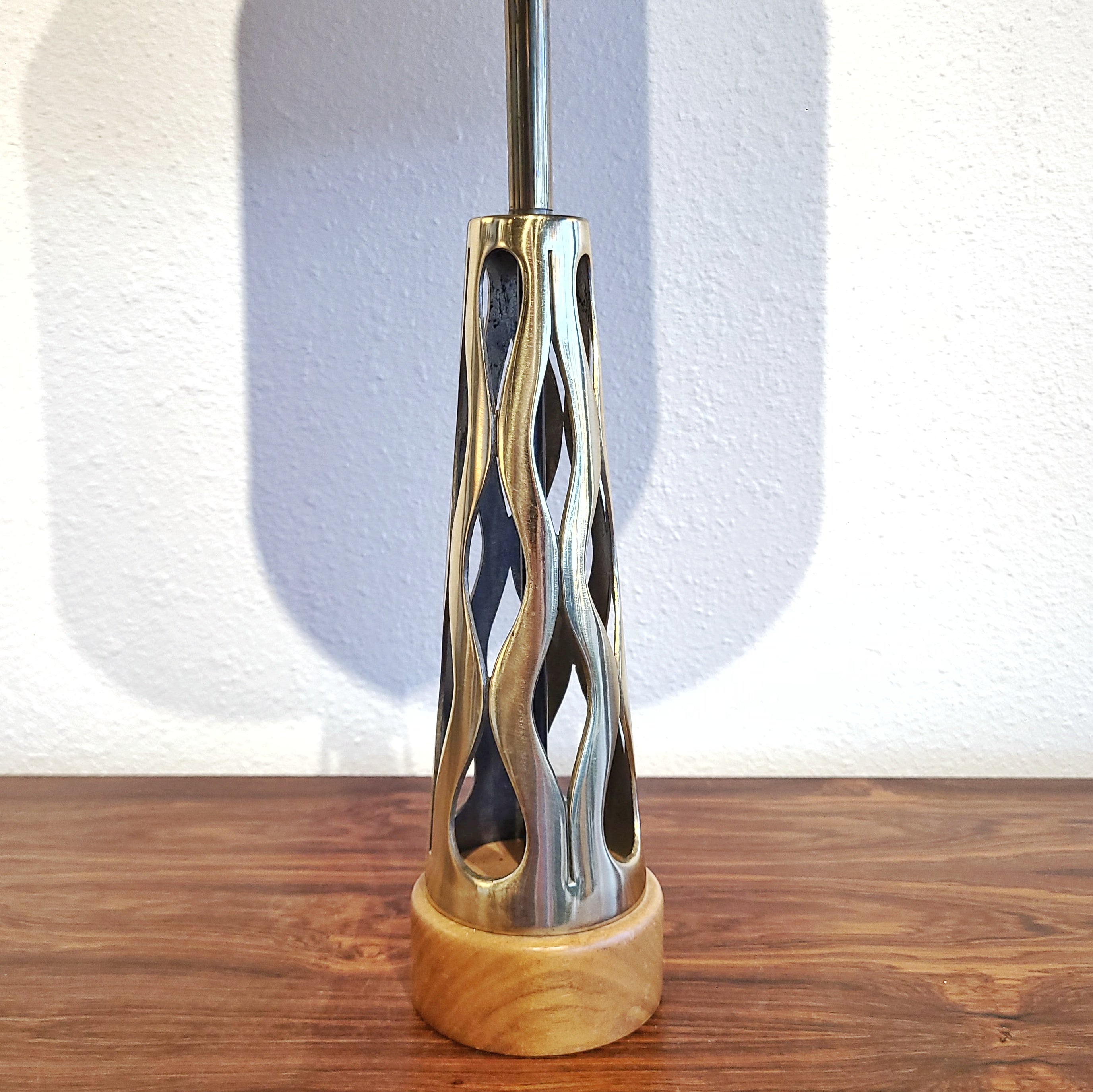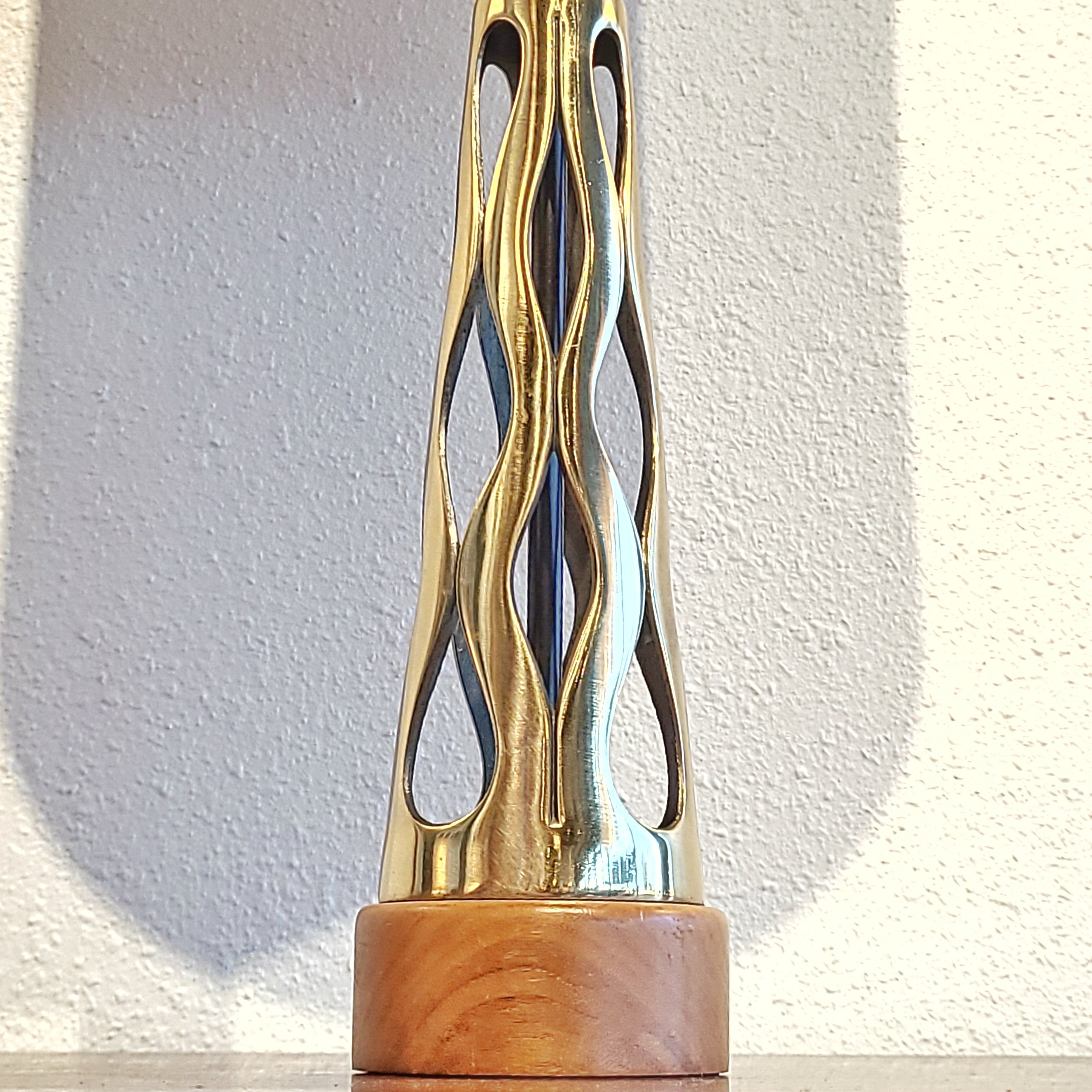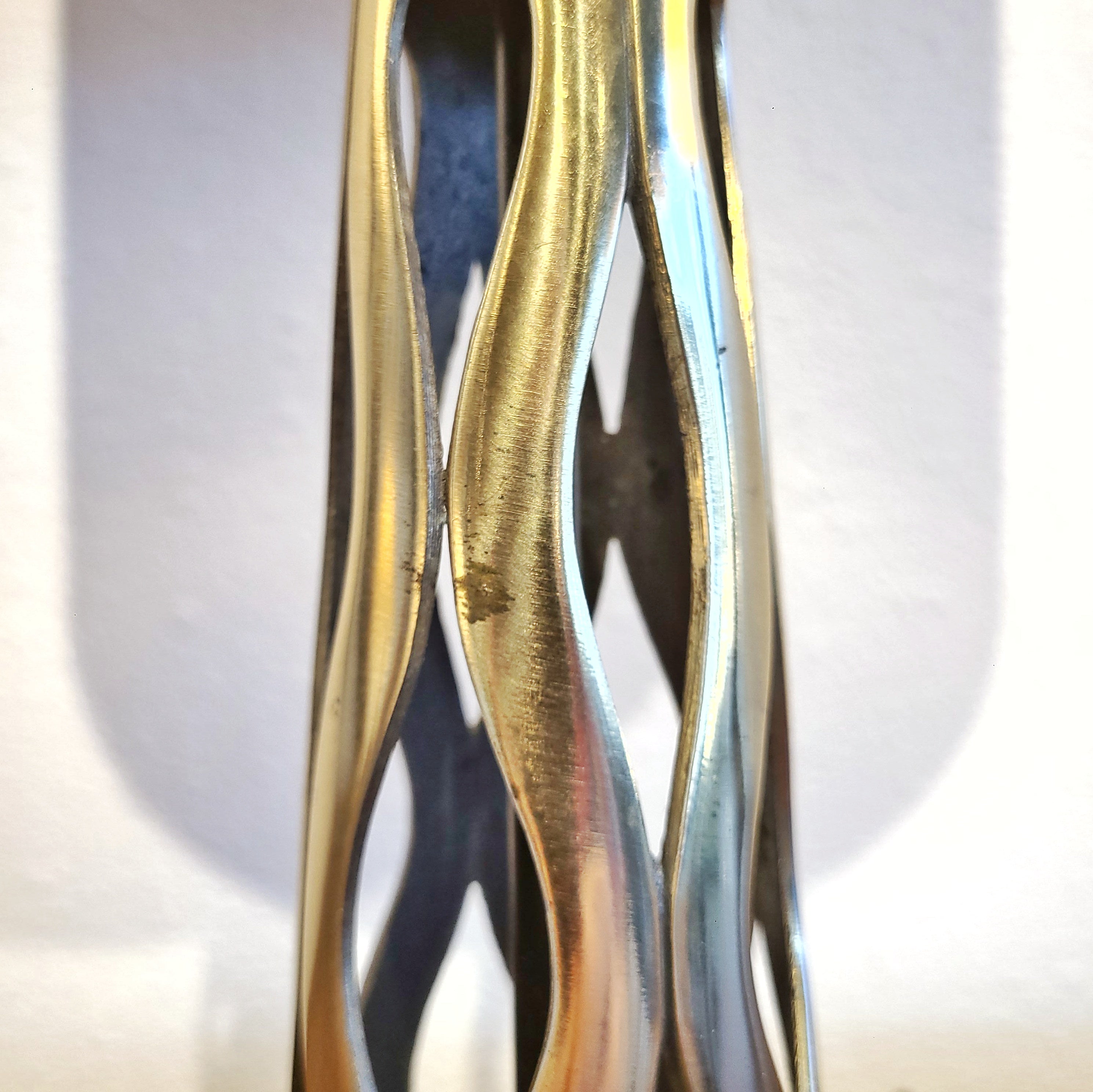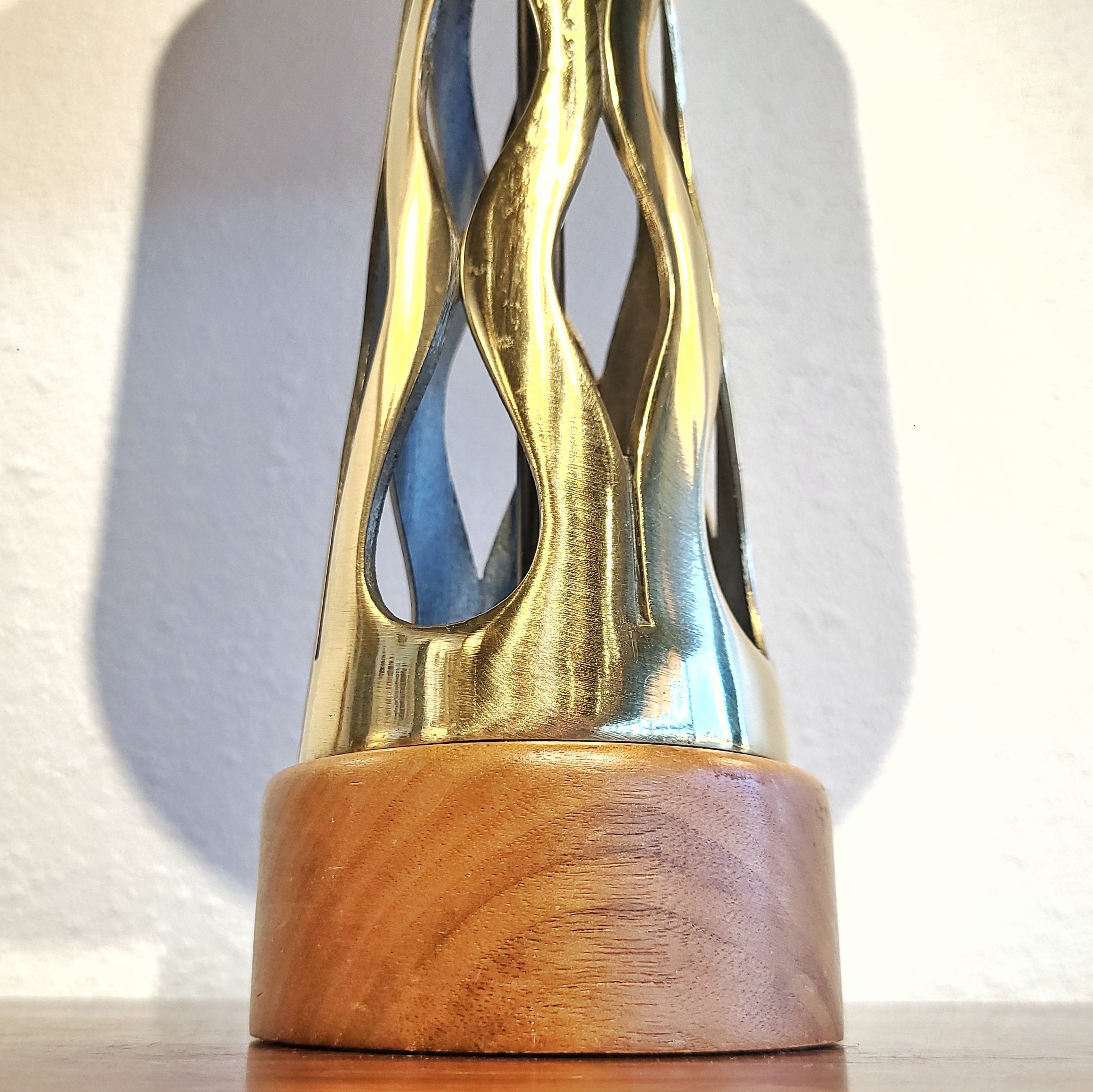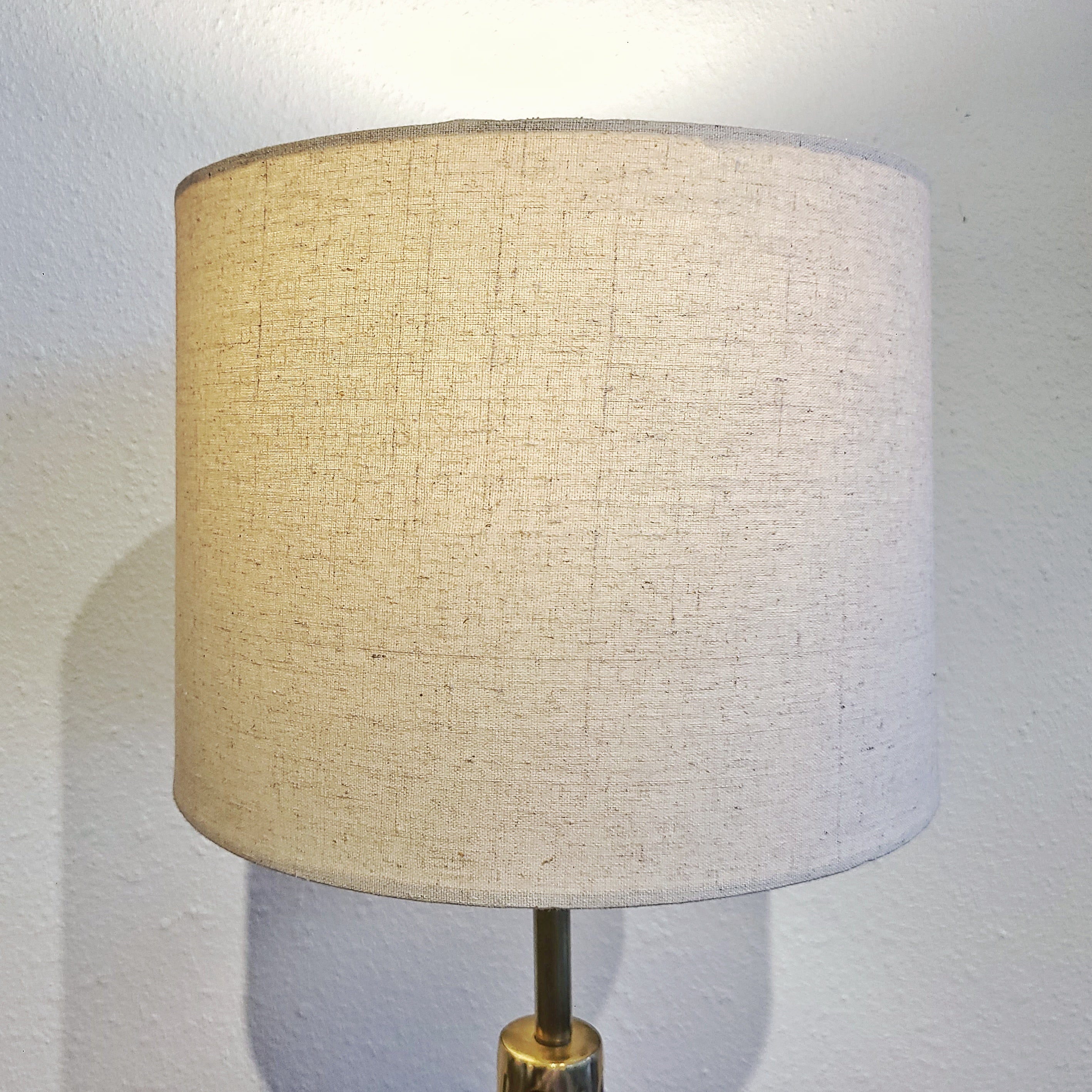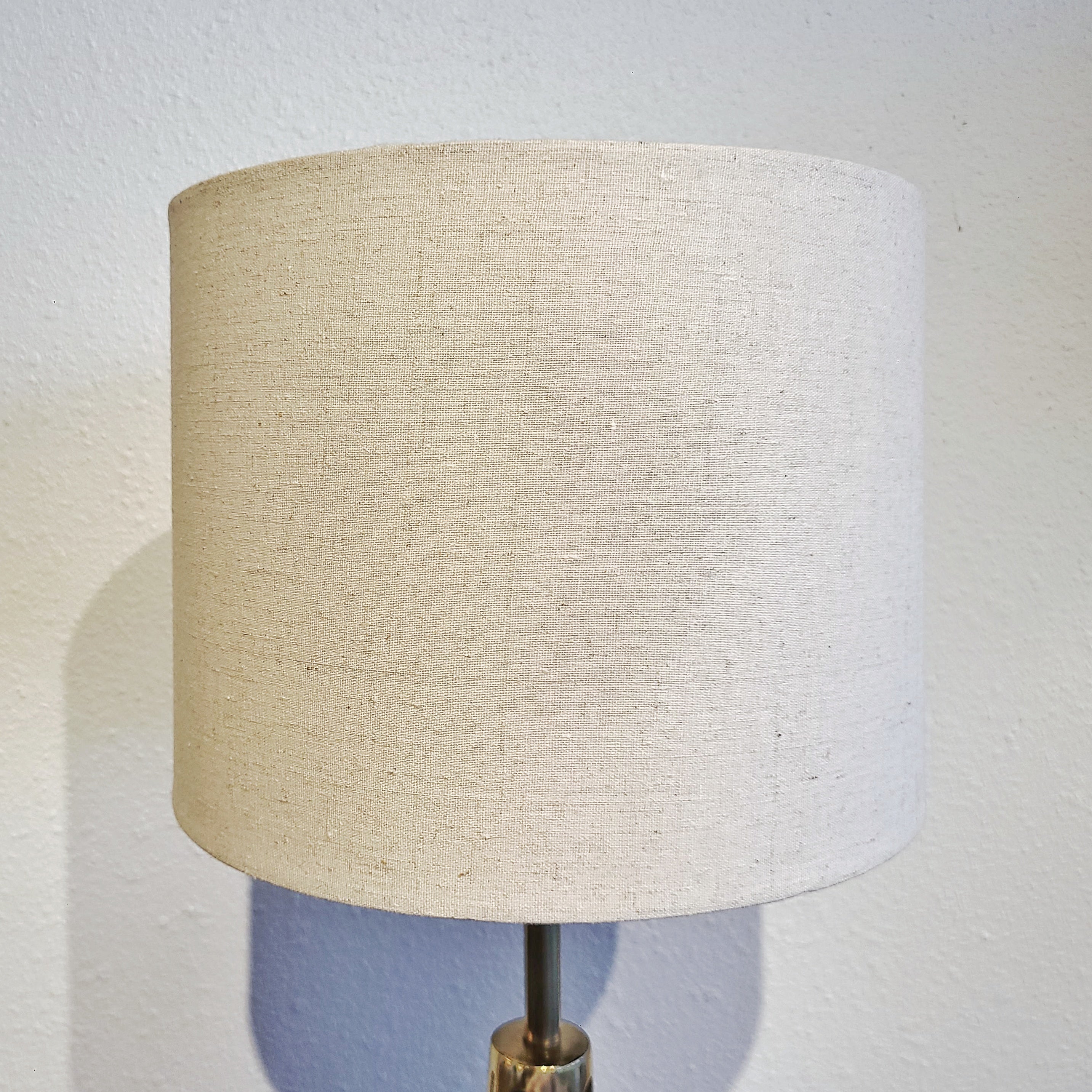 TONY PAUL BRASS AND WALNUT TABLE LAMP FOR WESTWOOD INDUSTRIES (1950s)
CONTACT US HERE ABOUT THIS ITEM.
A petite cast brass table lamp designed in the 1950s by Tony Paul for the Westwood Industries Lamp Company.  The undulating pierced brass cone rests on a solid bleached walnut base and is paired with a tan cloth-covered drum shade on a slender brass stem.
TONY PAUL (1918-2010)
 was a world-famous American industrial designer known for his furniture, housewares, and lighting.  He was born in the Bronx, NY, on February 28, 1918, and attended the Pratt Institute. 
He began his career, which spanned nearly 60 years, as a designer for Robert Barber, Inc., where he designed an armchair selected for MOMA's 2nd "Good Design" award in 1951-52.  He also worked on ergonomic designs for Angelo Bisenz Associates.
Early in his career, he worked and became friends with many top industrial designers of the Mid-Century, including Ben Seibel, Arthur Umanoff, Russel Wright, Paul McCobb, etc.  Tony 
Paul lived and worked in the NY area for his entire career, except for a couple of stints in Italy and Spain.  His designs were distributed by several companies including,
Richards-Morganthau (aka 
Raymor), 
Mutual-Sunset, Majestic Lamp, Elk Lighting, Westwood, Robert Barber,
Verplex, Woodlin-Hall,
Spanish Arts, Levco, Brueton, Gilley, 
The Elton Company, and eventually his own design firm: Tony Paul and Associates (Tony was also part owner of The Elton Company, the name of which was a portmanteau of the company founder's given names,
"Elliot" and "Tony.")  Interestingly, we know virtually nothing about Elliot other than his contribution to the product line seems to have been "ceramics."  No surname is ever mentioned in any literature, and the trail goes cold even before the company closes sometime in 1953/1954.
Although Tony Paul designed furniture and housewares, he found his niche in the design of lighting, which he practiced for over 20 years.  His work has been featured in many design periodicals and books, such as Furniture for Modern Interiors by Mario Del Fabbro and Chairs by George Nelson.  His work won many design awards over the years.  Tony Paul passed away in 2010.
Details

Dimensions

12ʺW × 12ʺD × 26ʺL
Styles

Abstract
Mid-Century Modern

Lamp Shade

Included
Brand

Westwood Lamps
Designer

Tony Paul
Period

1950s
Place of Origin

United States of America
Item Type

Vintage, Antique or Pre-owned
Materials

Brass
Fabric
Walnut
Condition

Very Good Condition, Original Condition Unaltered, No Imperfections
Color

Brass
Power Sources

Up to 120V (US Standard)
Corded
Type A
Condition Notes

Excellent Vintage Condition

This piece is in working order.