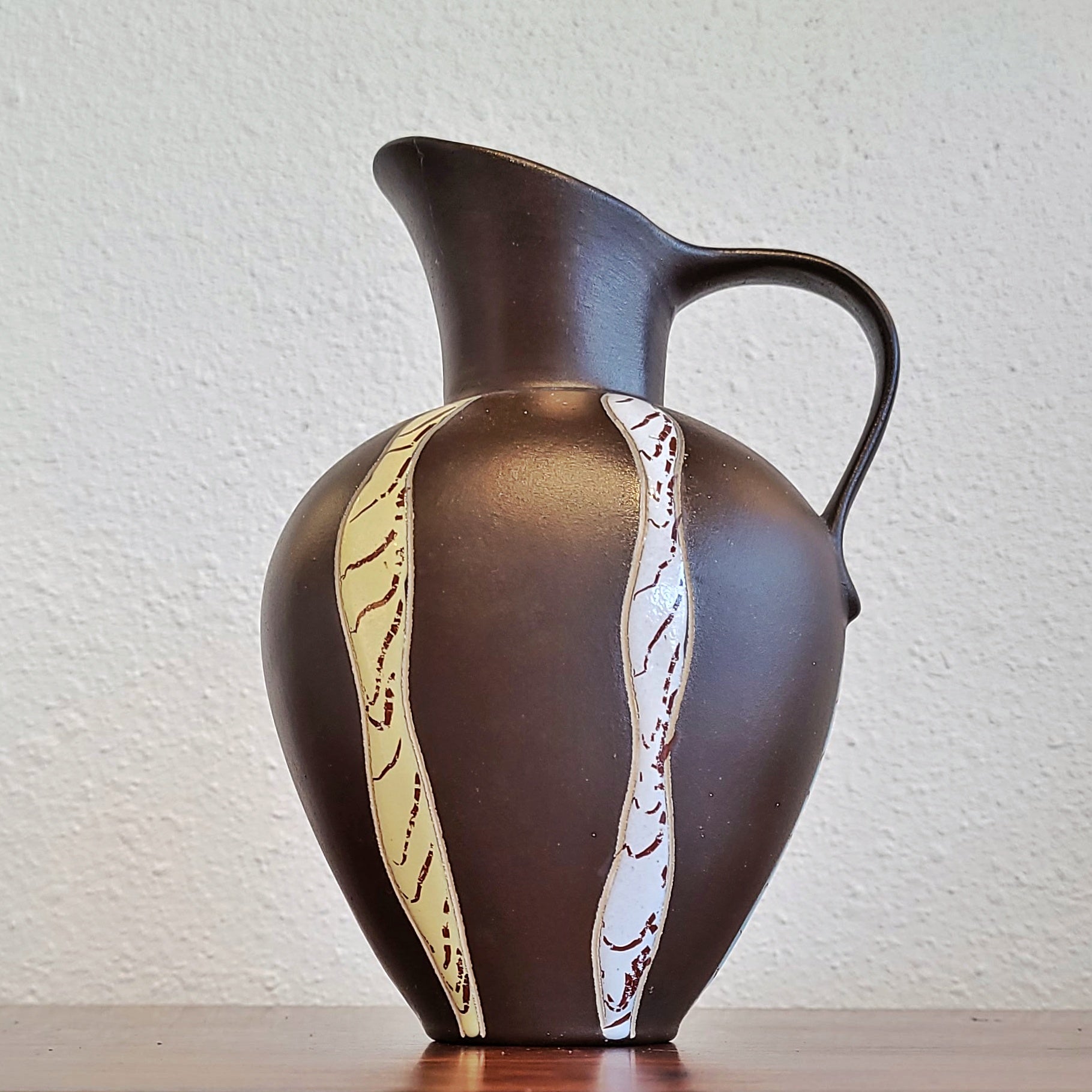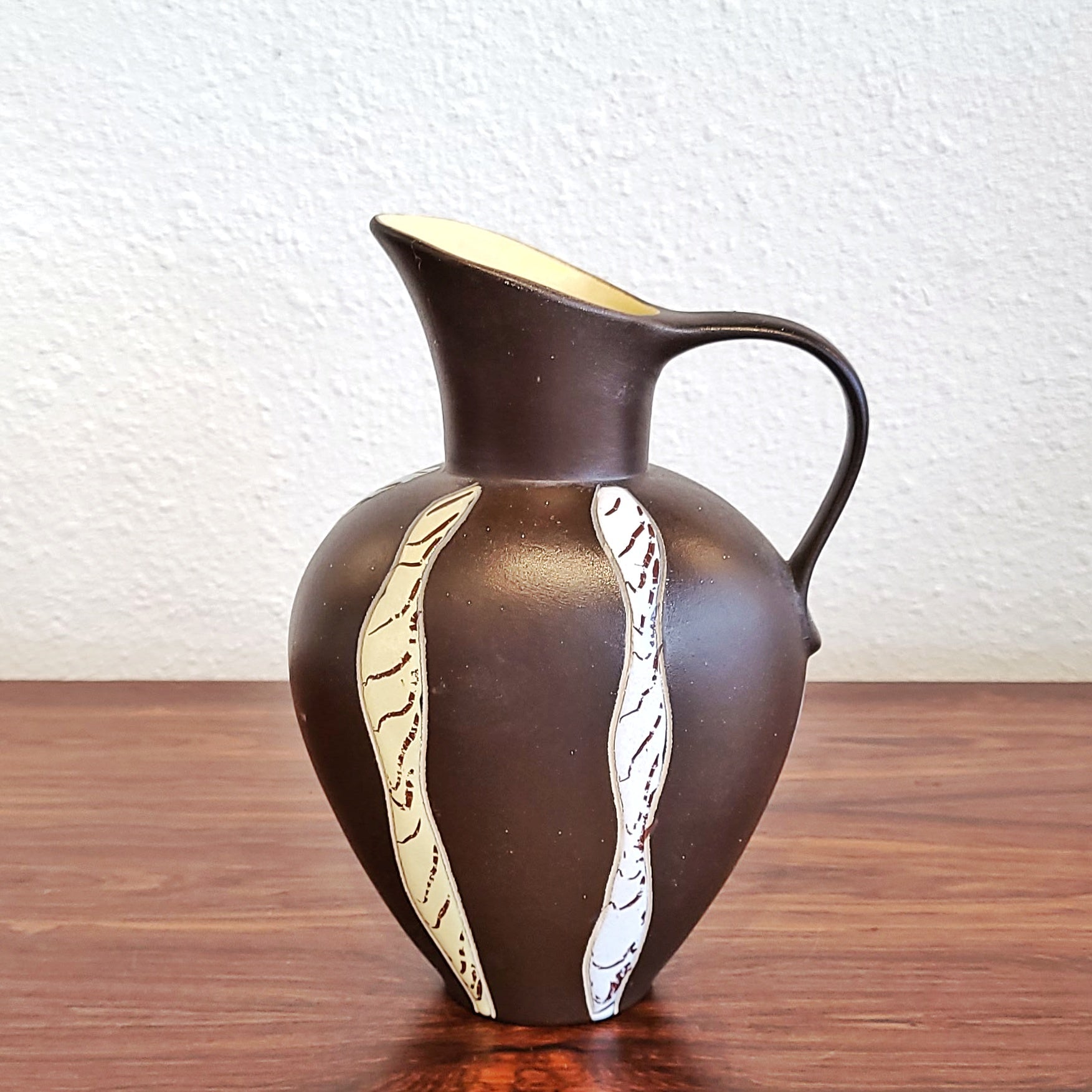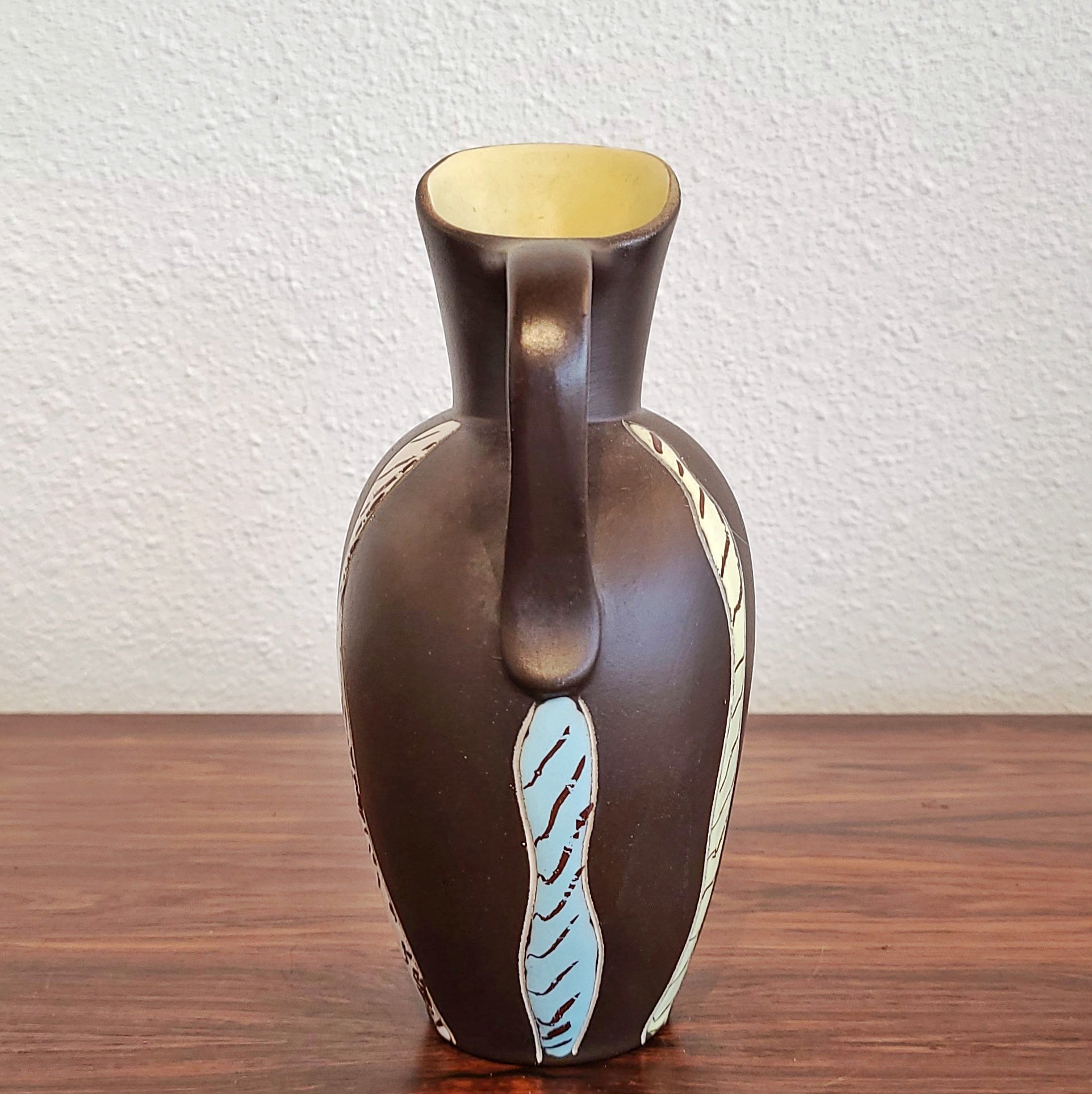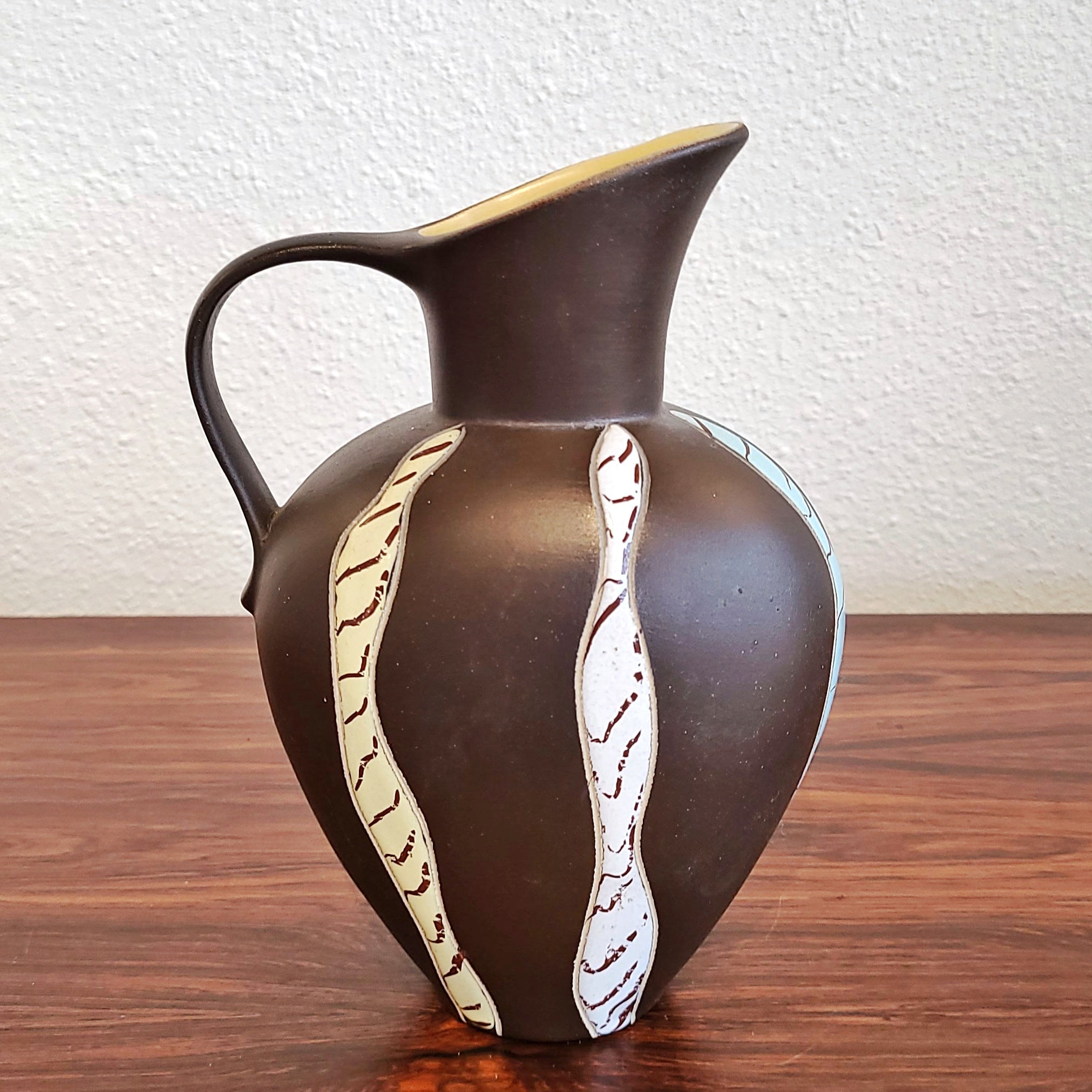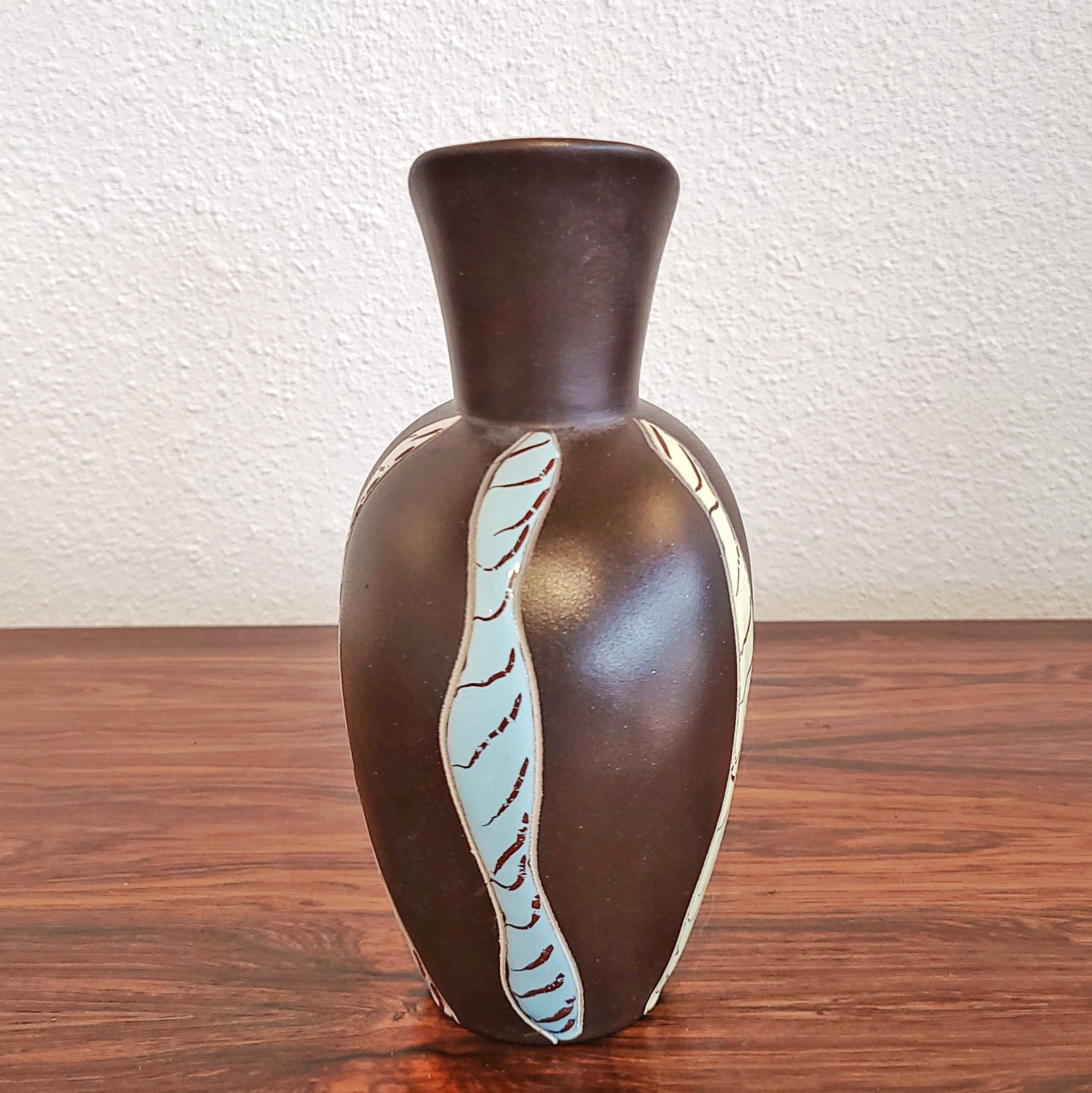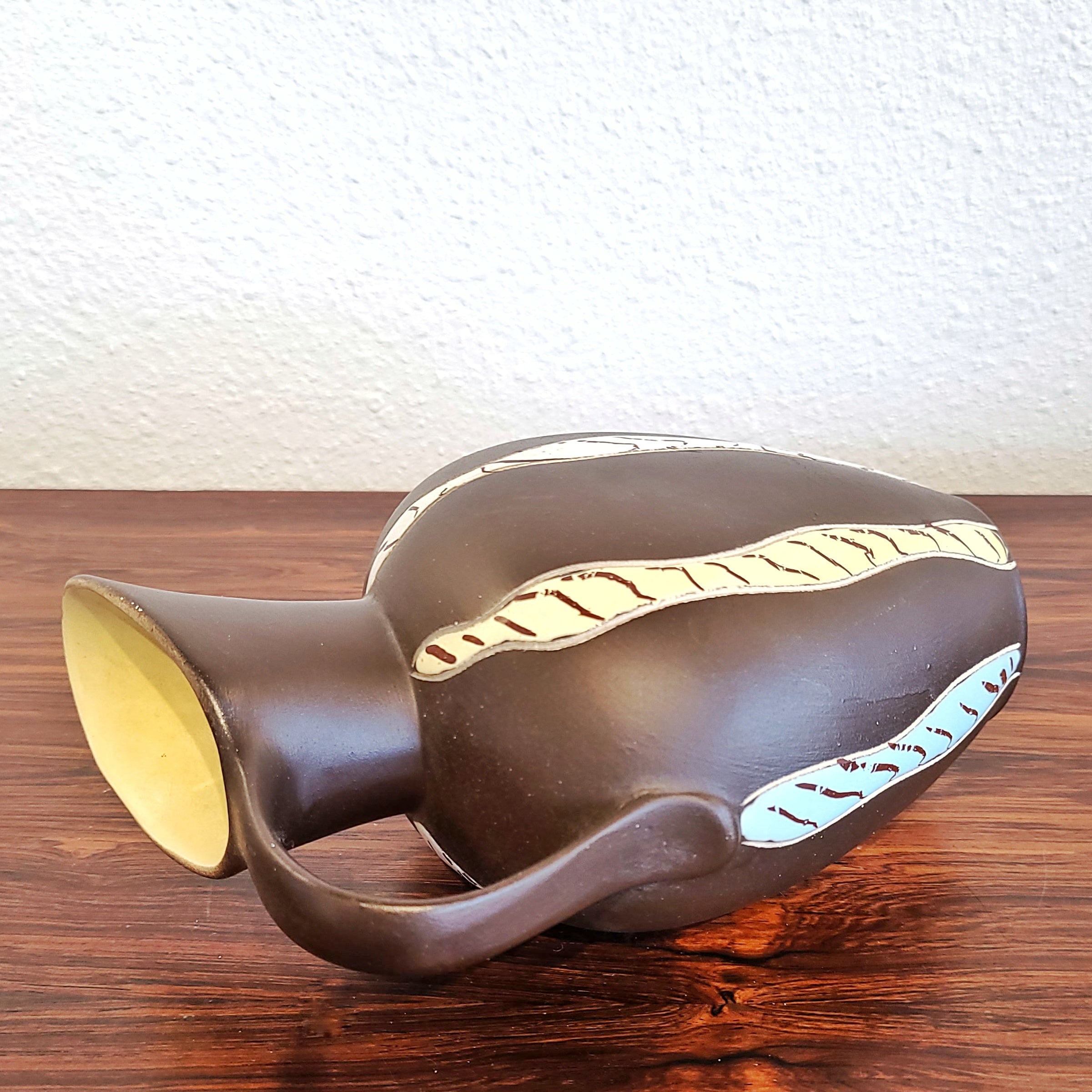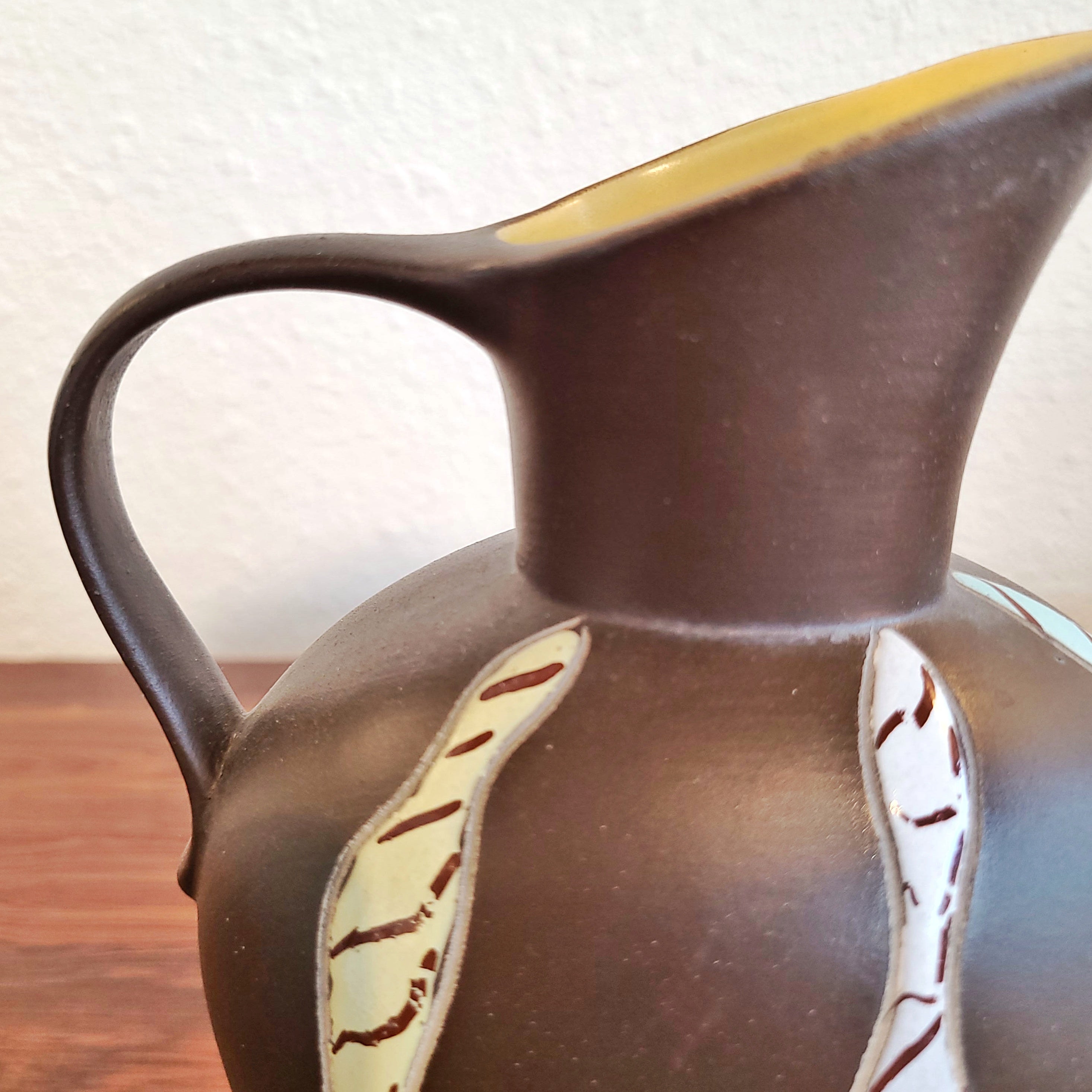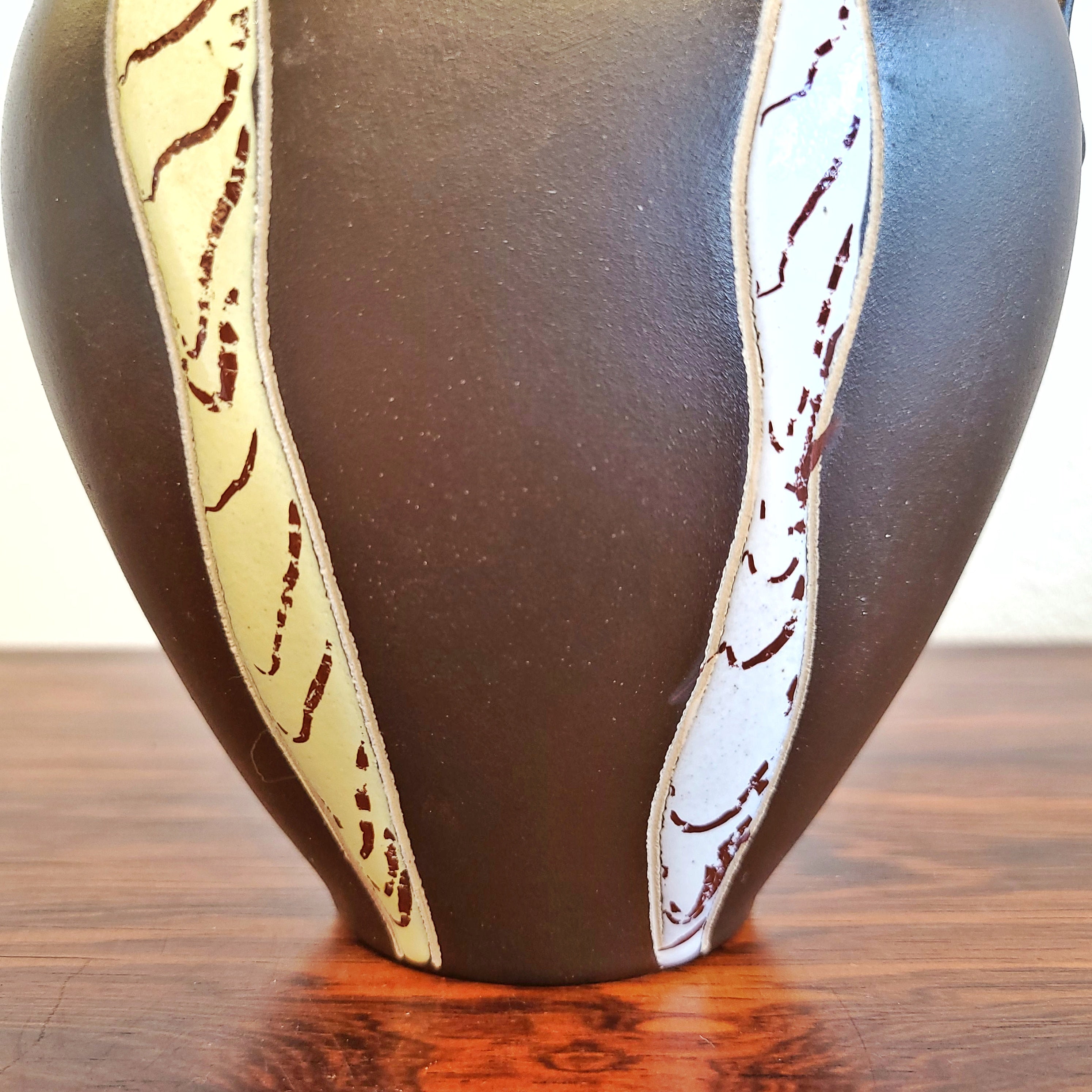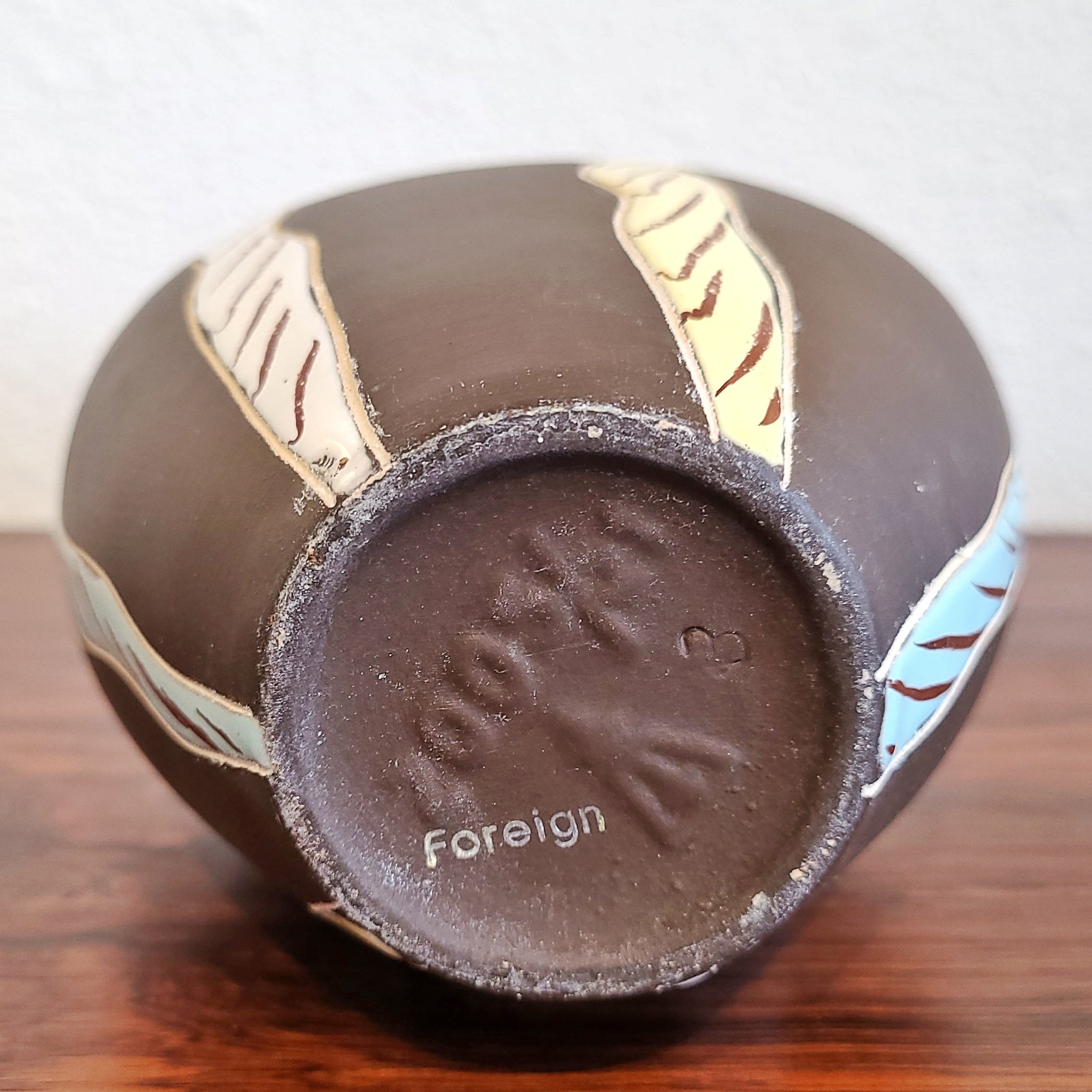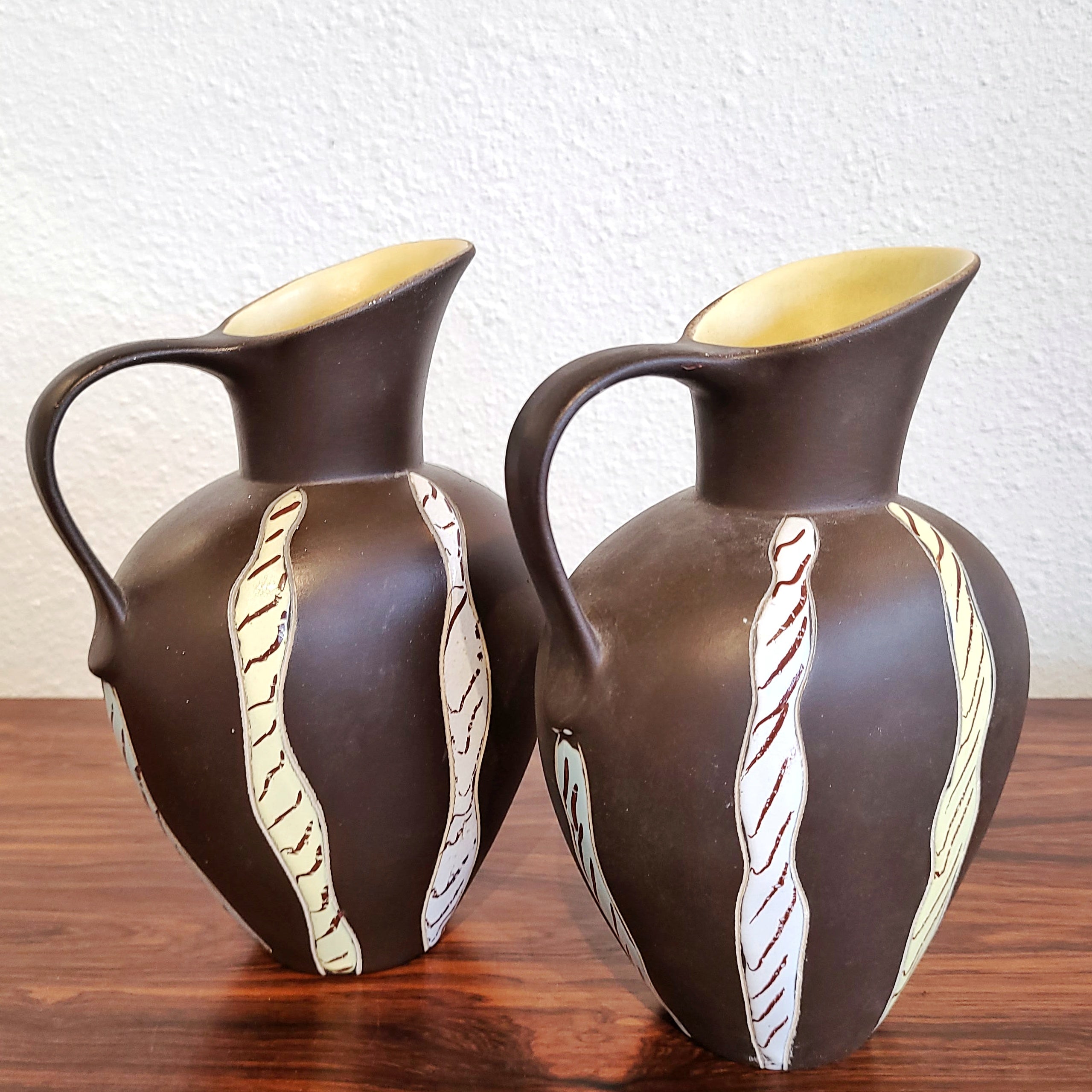 50s MARZI & REMI HANDLE VASE Nr. 2005/21 (A)
CONTACT US HERE ABOUT THIS ITEM.
A compact pitcher vase with a classically inspired profile (model Nr. 2205/21). Glossy stripes of glaze in alternating white and pastel shades, with oxblood striations, are applied onto panels scored into a matt, ebony ground. Two available. Priced individually.
MARZI & REMY was founded in 1879 by brothers-in-law Anton Marzi (d. 1924) and Simon Peter Remy (1835-1919) in the small town of Höhr (today Höhr-Grenzhausenin) in what is now central Germany—in the Kannenbäckerland, the "jug-bakers' land," a centuries-old home to ceramics manufacture and the site of Europe's largest clay deposit.
Established to manufacture decorative stoneware, MARZI & REMY at first produced only the blue-gray salt glazed stoneware characteristic of the Westerwald, the mountainous region where the factory was situated. Designer Gustav Thinwiebel (1853-1933) was employed from the start and was responsible for modeling a great number of beer steins in the 'altdeutschen' style for the company. A pewter foundry was added in 1881 to make hinged tin lids for the steins. MARZI & REMY remains better known among collectors today for their beer stein catalog than for their art pottery.
The 1883 perfection of the technique for making cream-colored earthenware, Elfenbeinsteinzeug (Elfenbein is German for ivory), led to an expansion of MARZI & REMY's product range. Bowl sets and all kinds of gift items were added to the program. The company maintained strict quality standards, and only products of the best quality were sent to market. The firm quickly became one of Germany's leading stoneware producers—with the necessary reputation to attract such famous architect/industrial designers as Henry van de Velde, Albin Müller, and Peter Behrens. At the turn of the century it employed about 100 workers.
Upon Marzi's death in 1924, his son-in-law Johann Otto Bühler took over the management of the company. He assumed full ownership in 1931 when Remy's son Werner departed the firm. MARZI & REMY suffered greatly from the recession of the 1930s on his watch. Bühler's son Otto took the reins from his father in 1941, surrendering them in turn to Bühler's grandson, Otto George (O.G.) Bühler, who had been locally educated as a ceramics engineer, in 1953.
For the duration of WWII, production was scaled back to simple crockery. Following the defeat of the Axis powers, all facilities were thoroughly modernized. MARZI & REMY initially stuck to manufacturing gift items in the post-war period—in a traditional, old German style, with a very large export share—but modern design tendencies were adopted relatively early. After his 1953 promotion to head the firm, O.G. updated the product line to meet more contemporary tastes. He also replaced the old round ovens with tunnel ones, and continuous production supplanted batch firings. That same year O.G. married one of the firm's young designers; soon Erika Bühler would present a popular collection of pieces that featured asymmetry, a quality hitherto seen only in Chinese pottery. O.G. himself worked as both a ceramist and a prolific designer of glazes.
Despite these positive developments, MARZI & REMY finally found itself unable to cope with the rapid changes of the late 20th century, and it ran into economic difficulties in the early 1980s. These resulted in bankruptcy proceedings in 1984/85 and again in 1990. It was forced to permanently close its doors in 1994.
Early MARZI & REMY items are seldom marked. They are identified mostly based on old factory catalogs.
DETAILS
Maker - Marzi & Remi
Production Period - 1950s
Origin - Germany
Styles/Movements - Mid-Century Modern
Materials - Ceramic
Colors - Black; pastels; gold
Condition - Very good vintage condition.
Dimensions - 5 ½ʺ W × 3 ½ʺ D × 8ʺ H