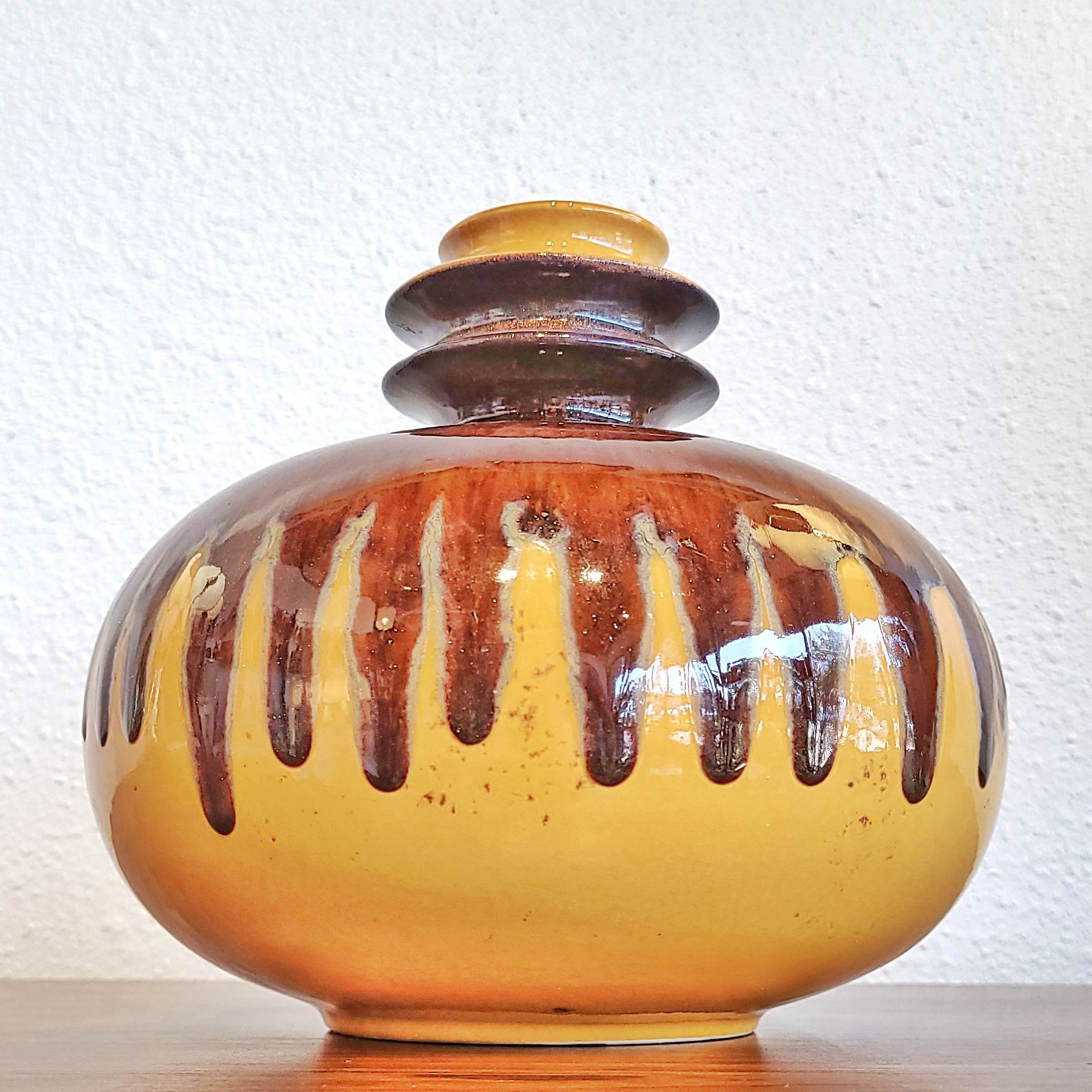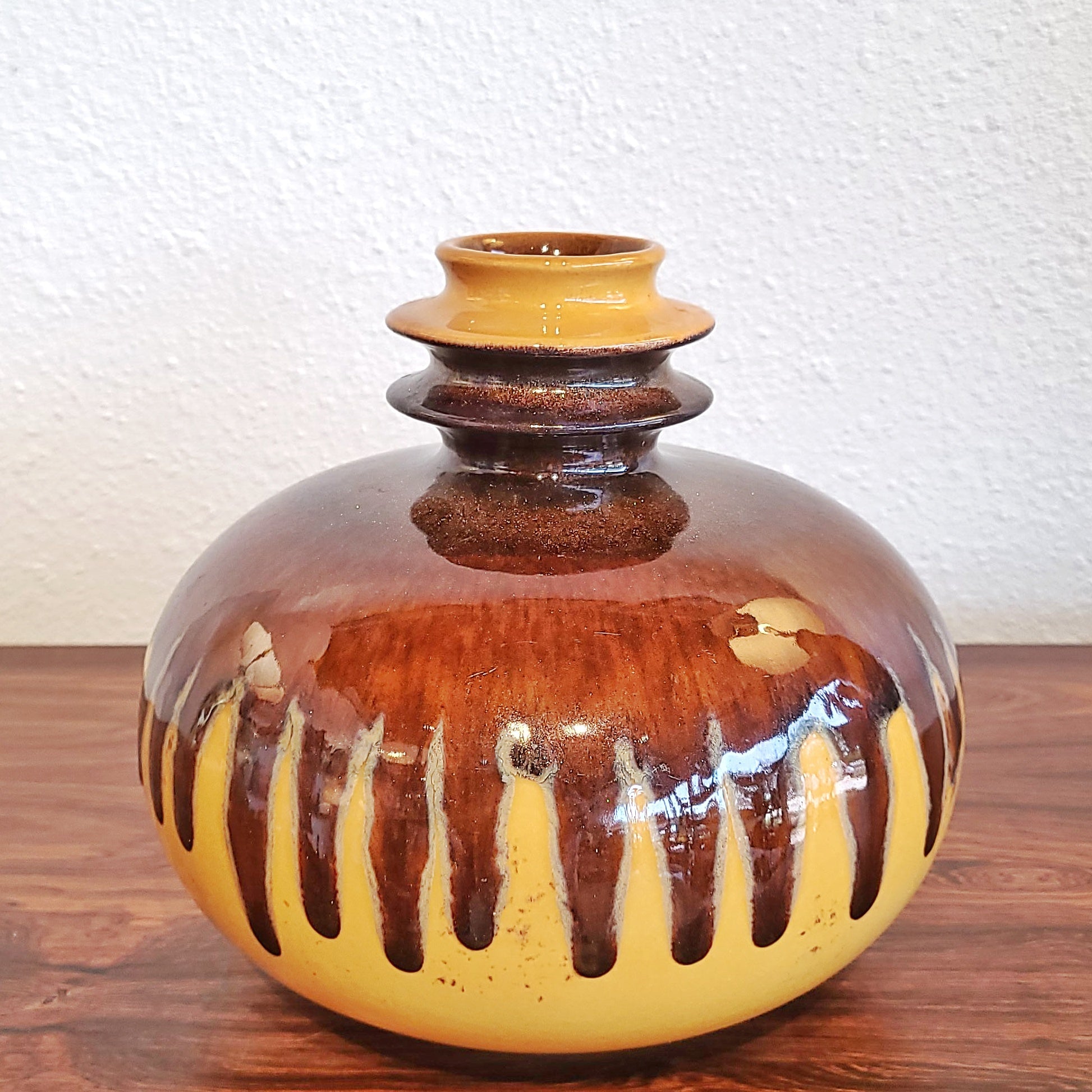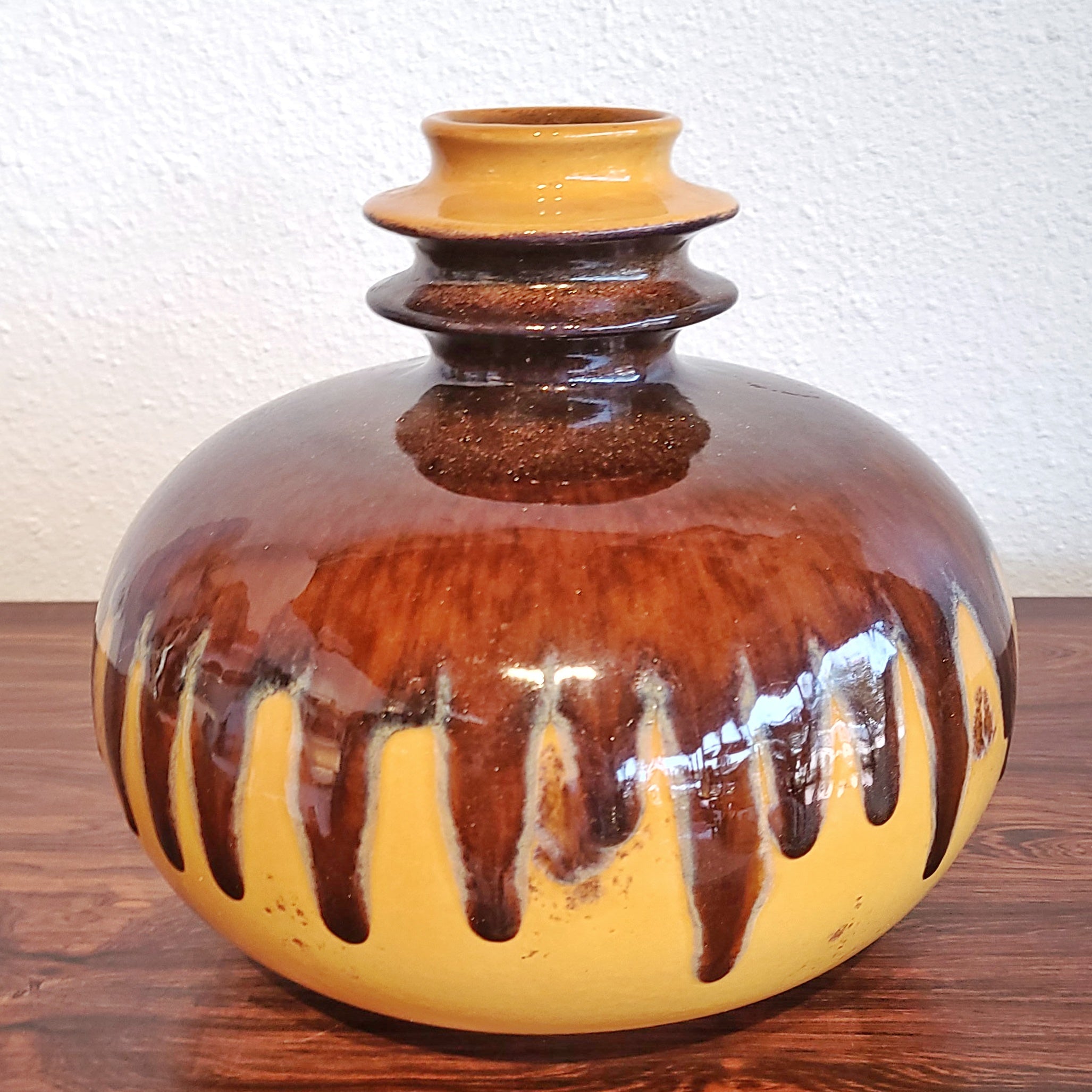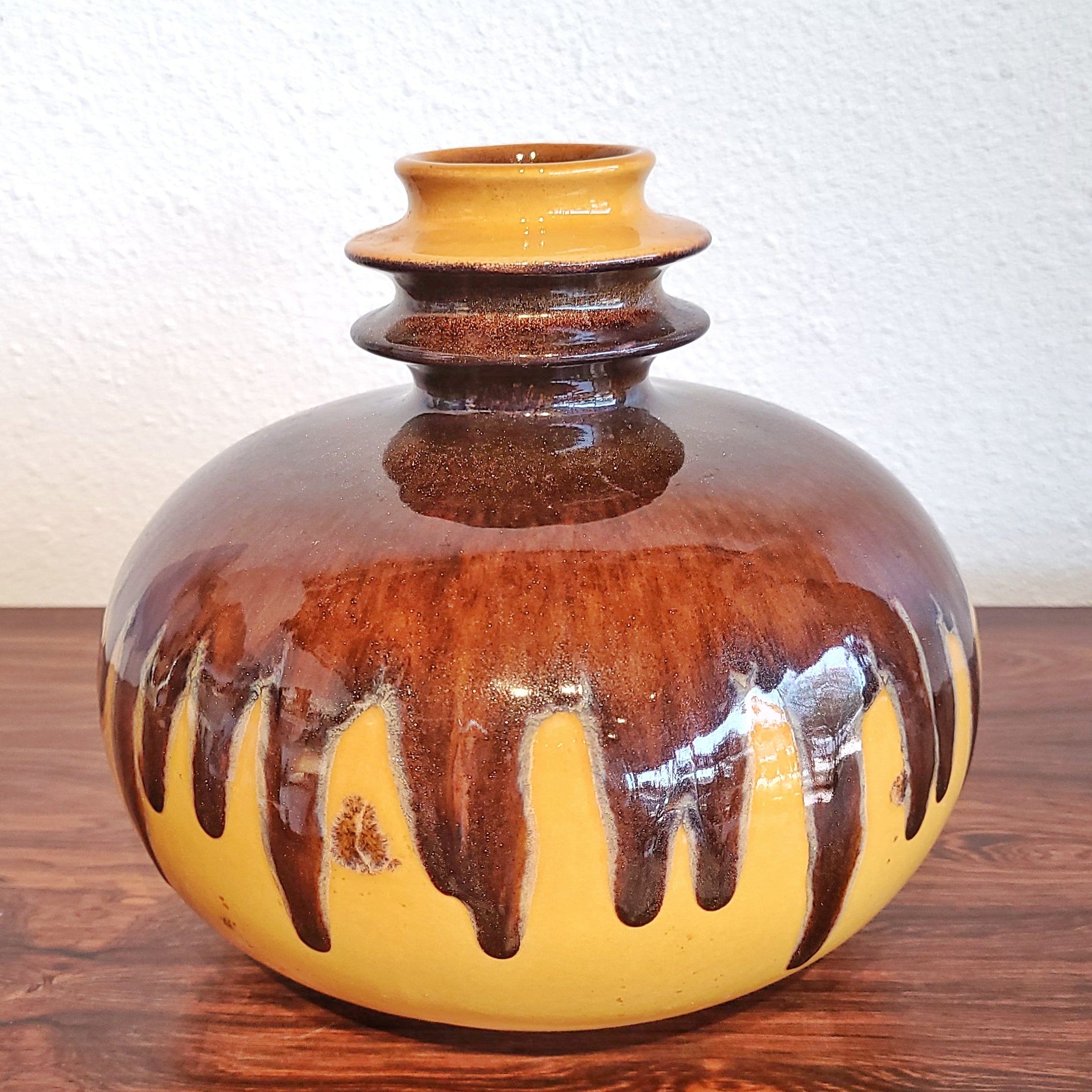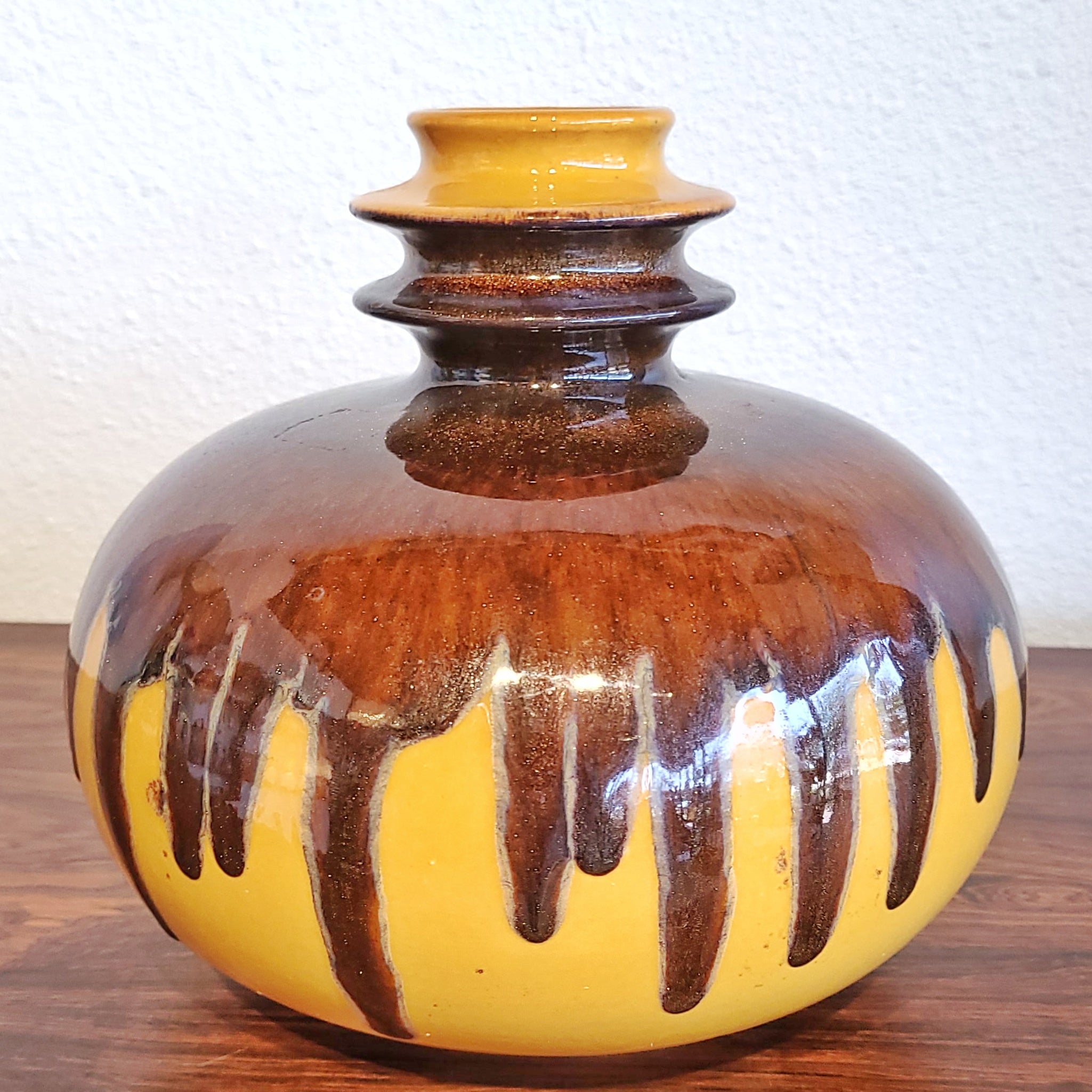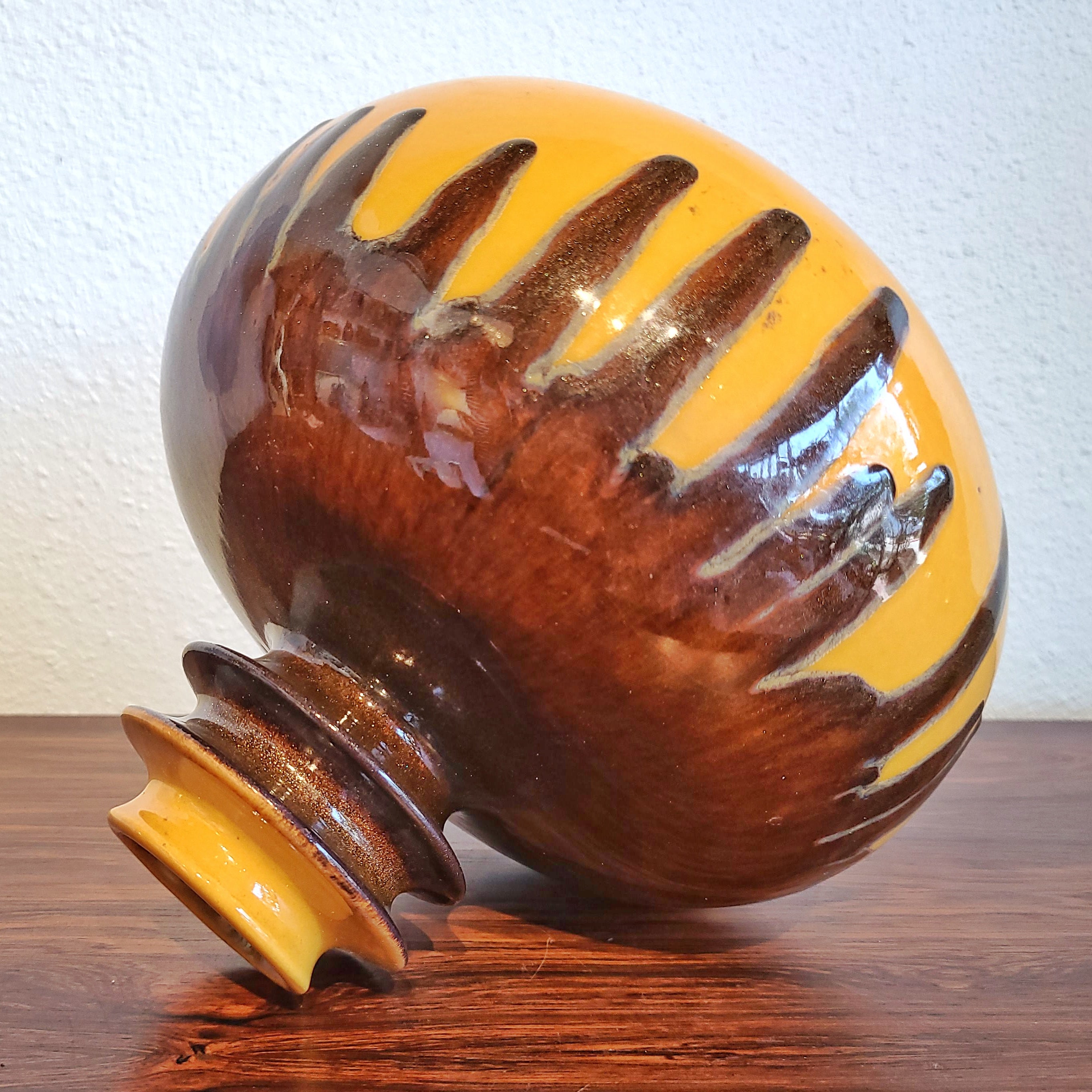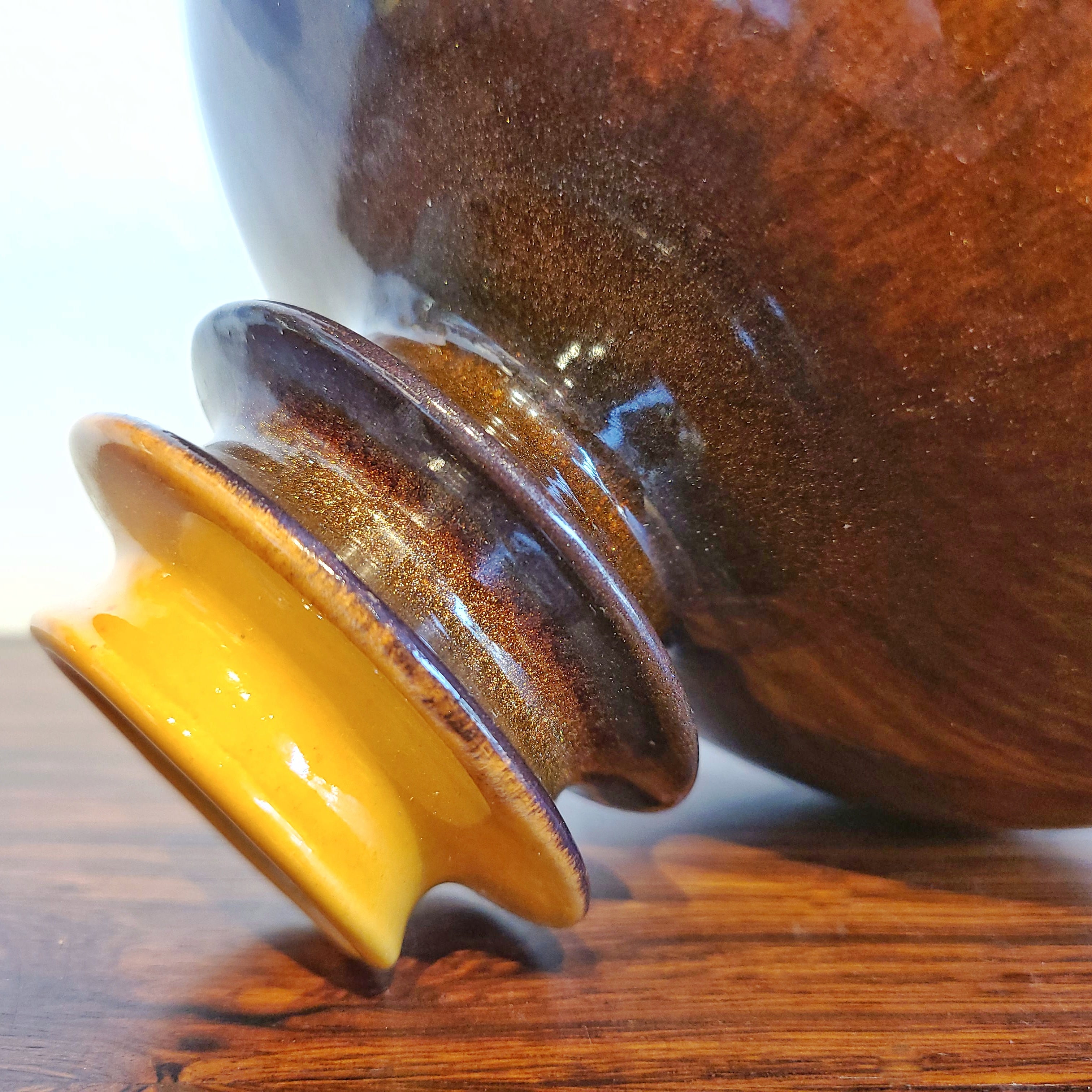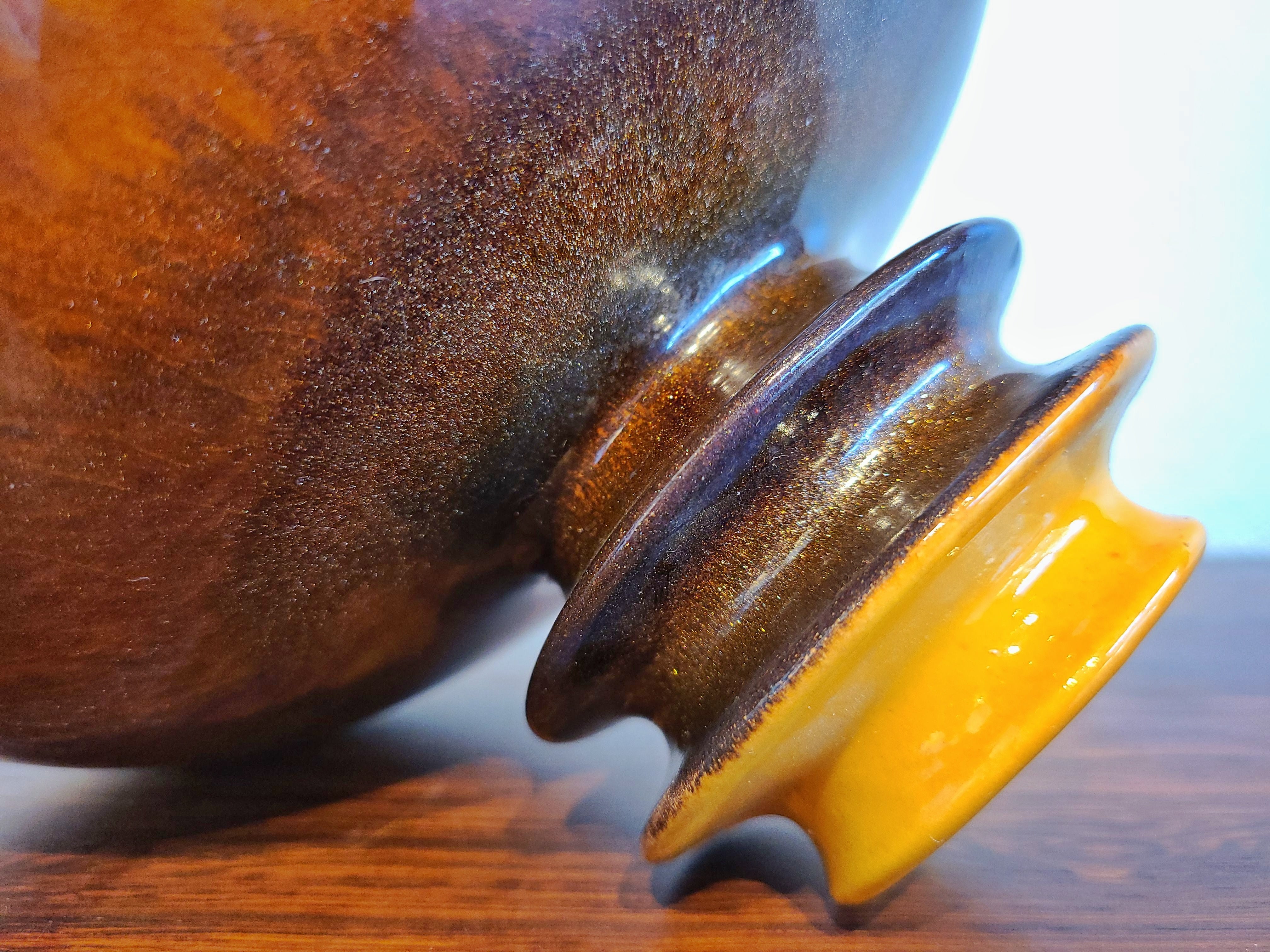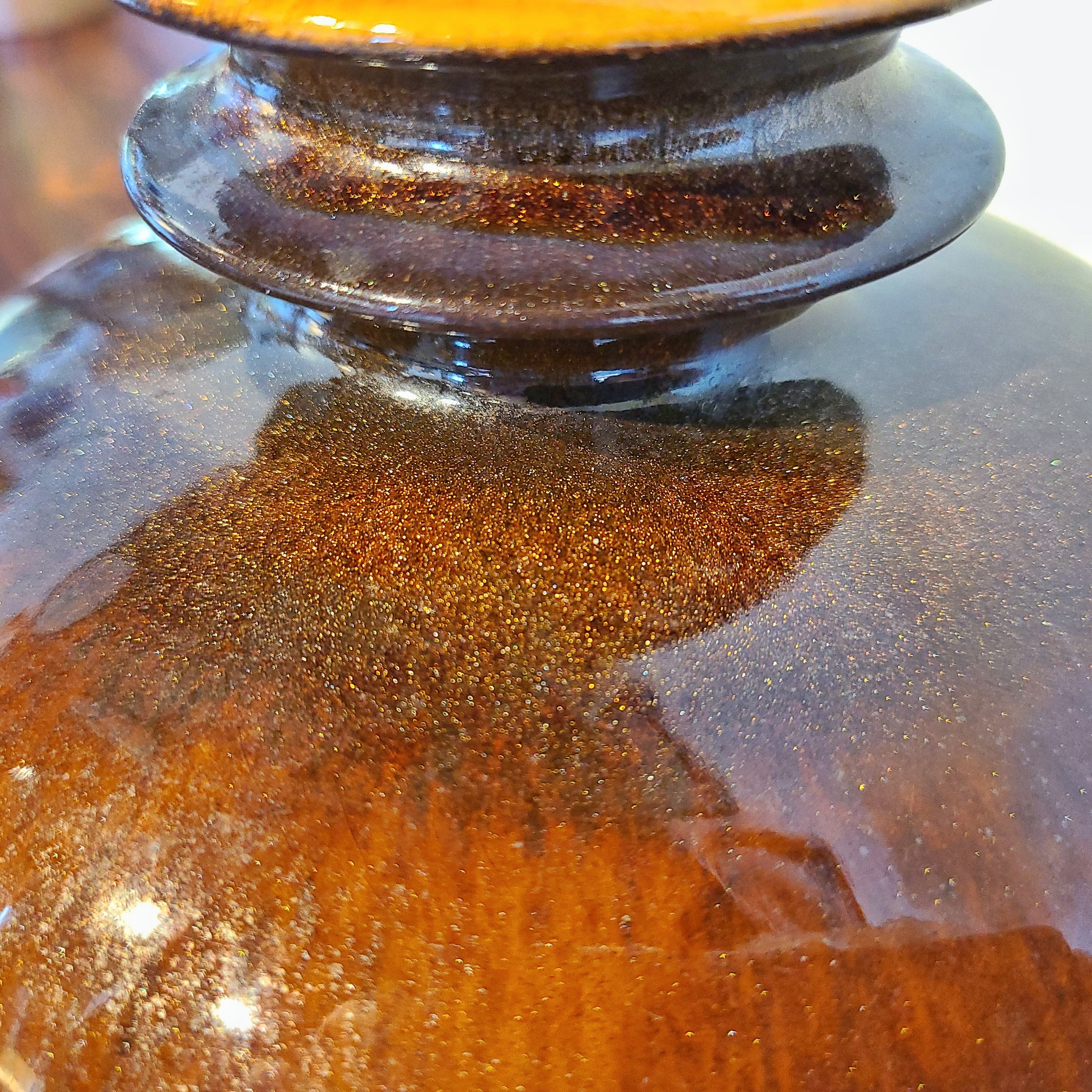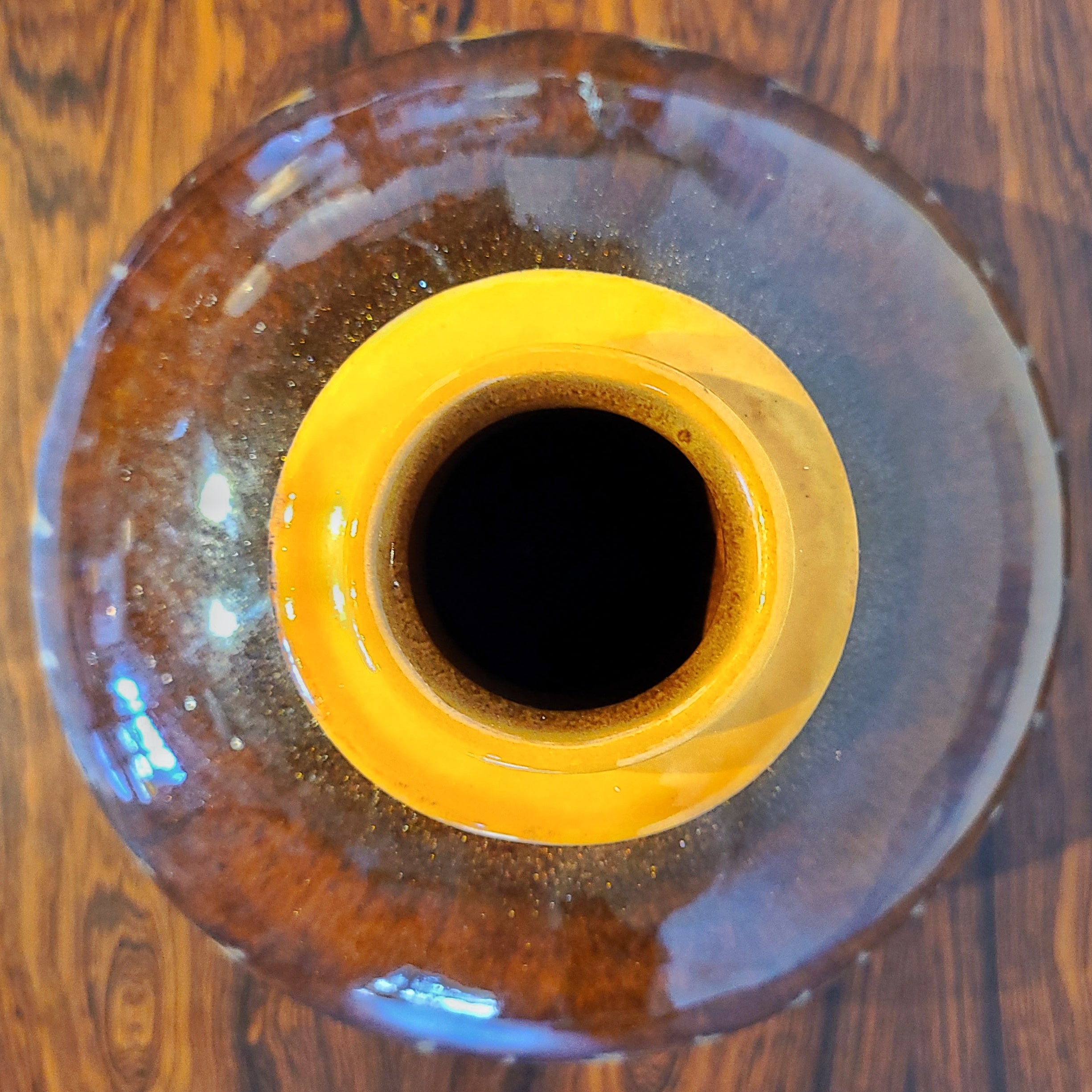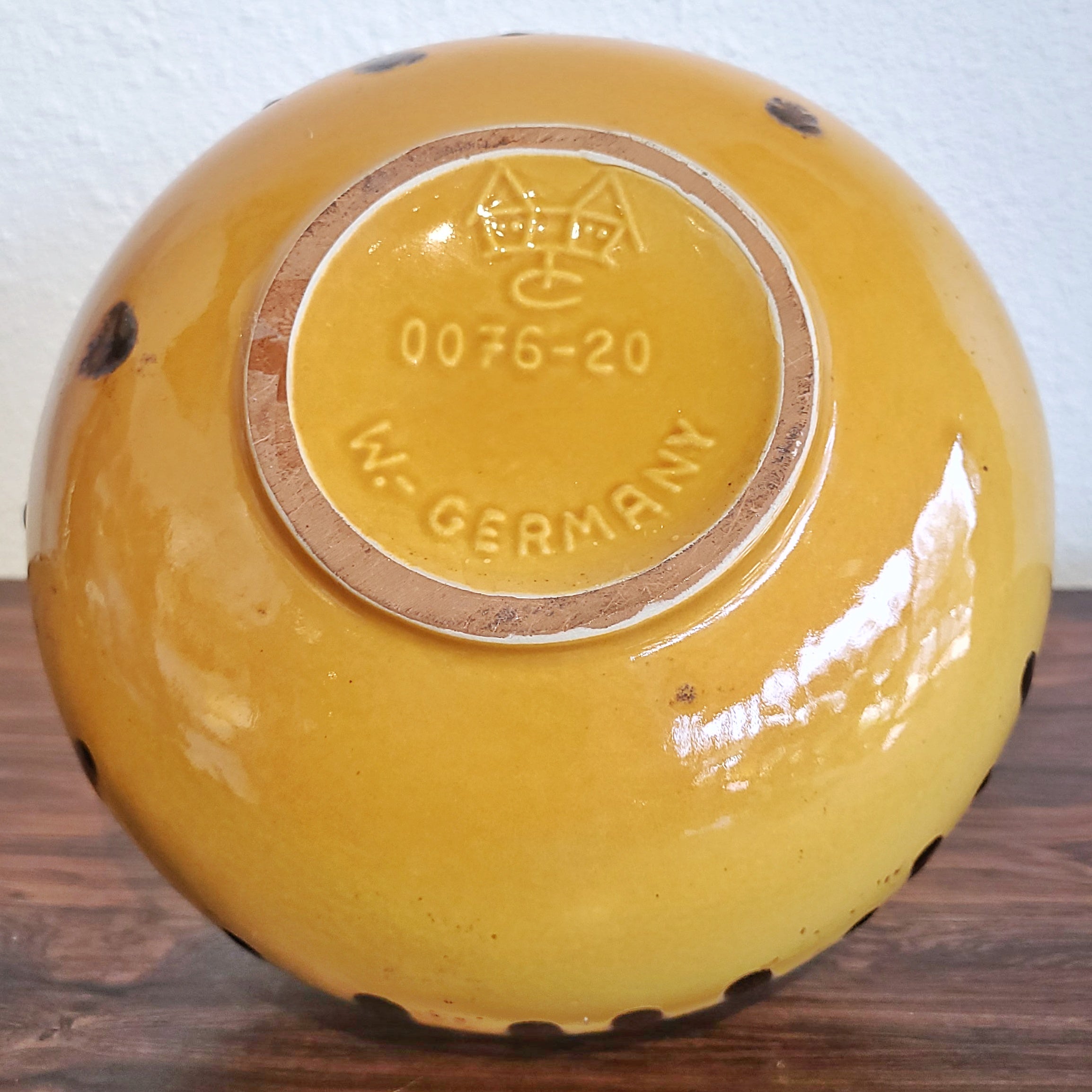 CARSTENS TÖNNIESHOF 'PEKING' VASE Nr. 0076/20 BY GERDA HEUCKEROTH
CONTACT US HERE ABOUT THIS ITEM.
A gorgeous example of Gerda Heuckeroth's 'Peking' decor for Carstens Tönnieshof in a rare colorway.  Form number 0076/20 has been glazed in a very glossy and beautiful cadmium yellow topped with a sparkling metallic brown that flows down from the double-ringed neck of the vase.  Very reminiscent of a series designed by Renee Neue for Hutschenreuther.
CARSTENS TÖNNIESHOF was founded in 1946 by Ernst Carstens and his son Christian. Their family had a long prior history of manufacturing ceramics and porcelain in Germany, but all of its businesses had collapsed by the end of WWII. Most of the CARSTENS factories wound up on East German soil when the country was divided and so were expropriated by the DDR. Father and son built the new Tönnieshof factory on a farm of that name in Fredelsloh in Lower Saxony, just west of the border with East Germany.  Very little is known about Carstens Tönnieshof's earliest production of table ceramics which began in 1947; the first known decorative pieces date from the early '50s. Ernst's wife Trude Carstens served as artistic director until her death in 1965.
The first known decorative ceramics are probably from the period 1949-1954 and had simple forms and discreet colors. More advanced decors with organic patterns and elements of gold were developed by Trude Carstens in the mid-50s. Examples of this type of decor are Utrecht and Graz.  Some forms with geometric, molded patterns were also developed at the end of the 1950s. One example is the relief series 'Carmen' from 1958.
Carstens was very successful for many years and produced an enormous variety of shapes and glazes. In addition to their own pottery, they also manufactured ceramics for the Austrian company Goldscheider.  By 1953 Carstens had around 400 employees.  When Ernst Carstens died in 1954, the firm's leadership passed to his son Christian under whose guidance the company once again became a very dynamic leader in the German Ceramics industry, producing vast ranges of shapes and decors, many of which are much sought after today by collectors.  Heinz Siery began working at Carstens in 1959.  His form designs with their harmonious 'Golden Ratio' proportions are common in Carstens' early 60s products and indeed throughout the company's remaining history.  Of special note is the first 'Atelier' series designed by Gerda Heukeroth (decors) and Heinz Siery (forms) released in 1962.  Together the two designers would create some of Carstens' most remarkable products. 
Helmut Scholtis (listed as von Scholtis in much of the literature) designed the very popular 'Ankara' décor in 1963 during a stint with CARSTENS; an example of the "wax resist" technique, it was applied to a broad array of forms and can be found in a variety of permutations and combinations of shapes and colors.  'Ankara' was in continuous production until 1969.  Carstens produced many variations of the Ankara decor and, like most of the large ceramics companies of the time, they used different decor techniques on the same forms which created a huge variety of products.  At the end of the 60s, Dieter Peter and Rudolph Christman created several advanced, odd forms, often with very advanced 'fat lava' glazes, for the higher end 'Luxus' series of 1967, followed in 1968 by Gerda Heukeroth's 'Boutique' series.  These lines were created to be sold in large department stores and were some of Carstens' most labor-intensive and expensive items to produce.
Production was eventually expanded to Austria, Brazil, Chile, Argentina, and Australia—it may well have topped out at close to 10,000 items daily, but by the mid 70's profitability in the ceramics industry fell victim to cheap imports and lagging public interest.  The company went bankrupt in 1977 and was taken over by employees under the name Kiel Atelier which continued production until 1984.
Primary Designers:  Trude Carstens (1946-early 60s); Heinz Siery (1959-1967); Gerda Heuckeroth (1962-1964); Dieter Peter (early 70s); Rudolph Christmann (1967-1968); Helmut Scholtis (60s) (Decors)
GERDA HEUCKEROTH began her career with an apprenticeship under renowned ceramist Siegfried Möller and studies at the School of Applied Arts in Bremen.  She showed her first pieces at the Grassi Museum in Leipzig in 1939.  Less than two years later she was appointed the artistic director at Carstens-Uffrect KG in Neuhaldensleben and soon took over the management of the group's Hubbe branch.  (The Carstens-Uffrecht factory would be nationalized by the DDR with the division of Germany and operate as VEB Haldensleben up until reunification.)  During WWII Heuckeroth set up a workshop in her home in a suburban district of Hamburg.  Following the war, she worked for various firms, among them Grünstadt, Villeroy & Boch, and the Koninkliijk Plateelbakkerij Zuid Holland in Gouda, as a designer of both forms and décors.  Heuckeroth became artistic director of Ruscha Keramik in 1959 when Hanns Welling left the company.  She succeeded him again in 1962 as the senior designer for Ceramano.  In 1964 she moved to CARSTENS TÖNNIESHOF as head of its Atelier department, where she produced a great number of outstanding designs.  Along with much of her early work, these have become highly sought-after by a new generation of collectors.  Eventually retiring from industry, Heuckeroth returned to freelancing out of her Hamburg studio.  Her work has received numerous awards and prizes over the years at national and international exhibitions.
Details

Dimensions

9.5ʺW × 9.5ʺD × 8ʺH
Styles

Abstract
Boho Chic
Space Age

Brand

Carstend Tönnieshof
Period

1970s
Place of Origin

Germany
Item Type

Vintage, Antique or Pre-owned
Materials

Ceramic
Condition

Very Good Condition, Original Condition Unaltered, No Imperfections
Color

Goldenrod
Condition Notes

Excellent Vintage Condition