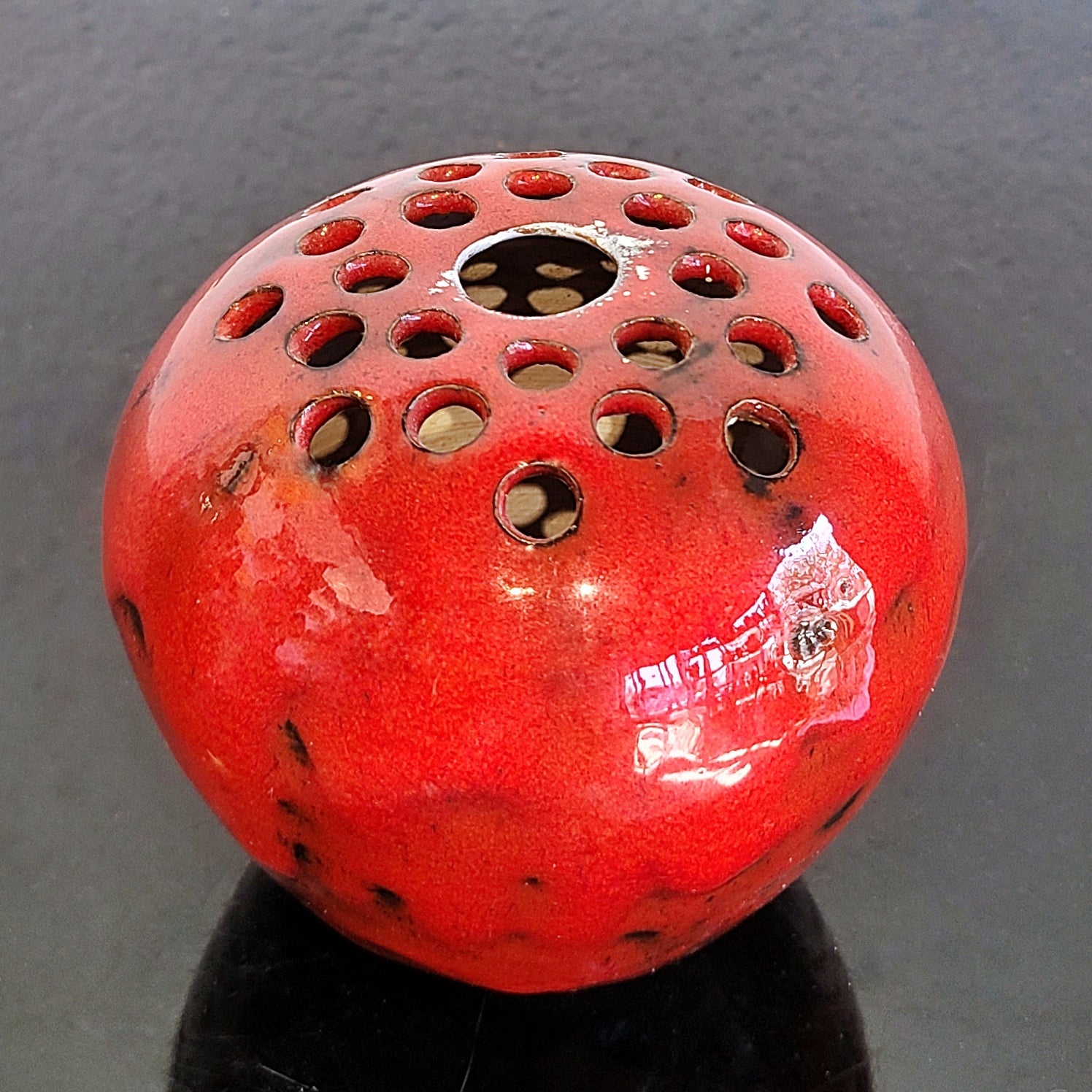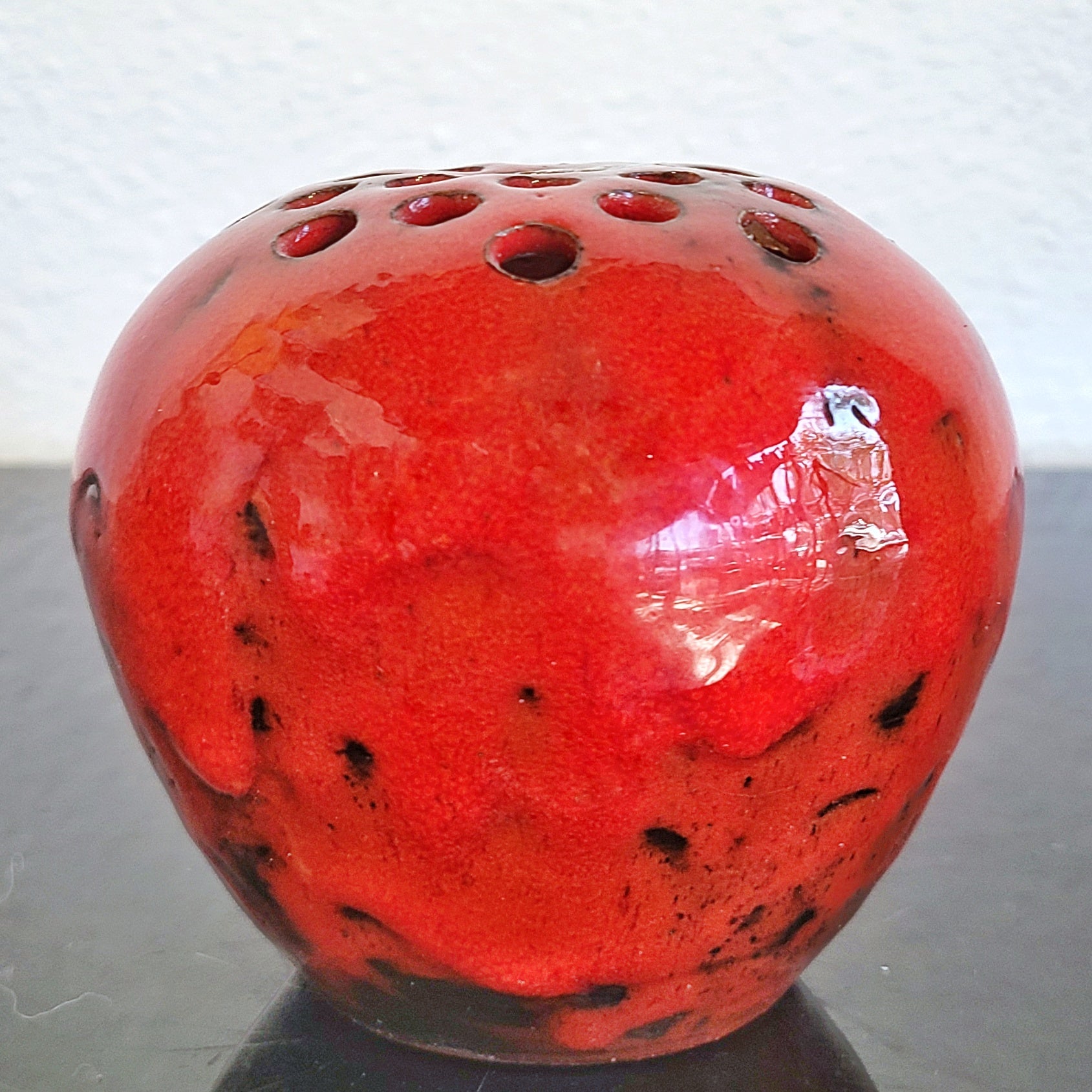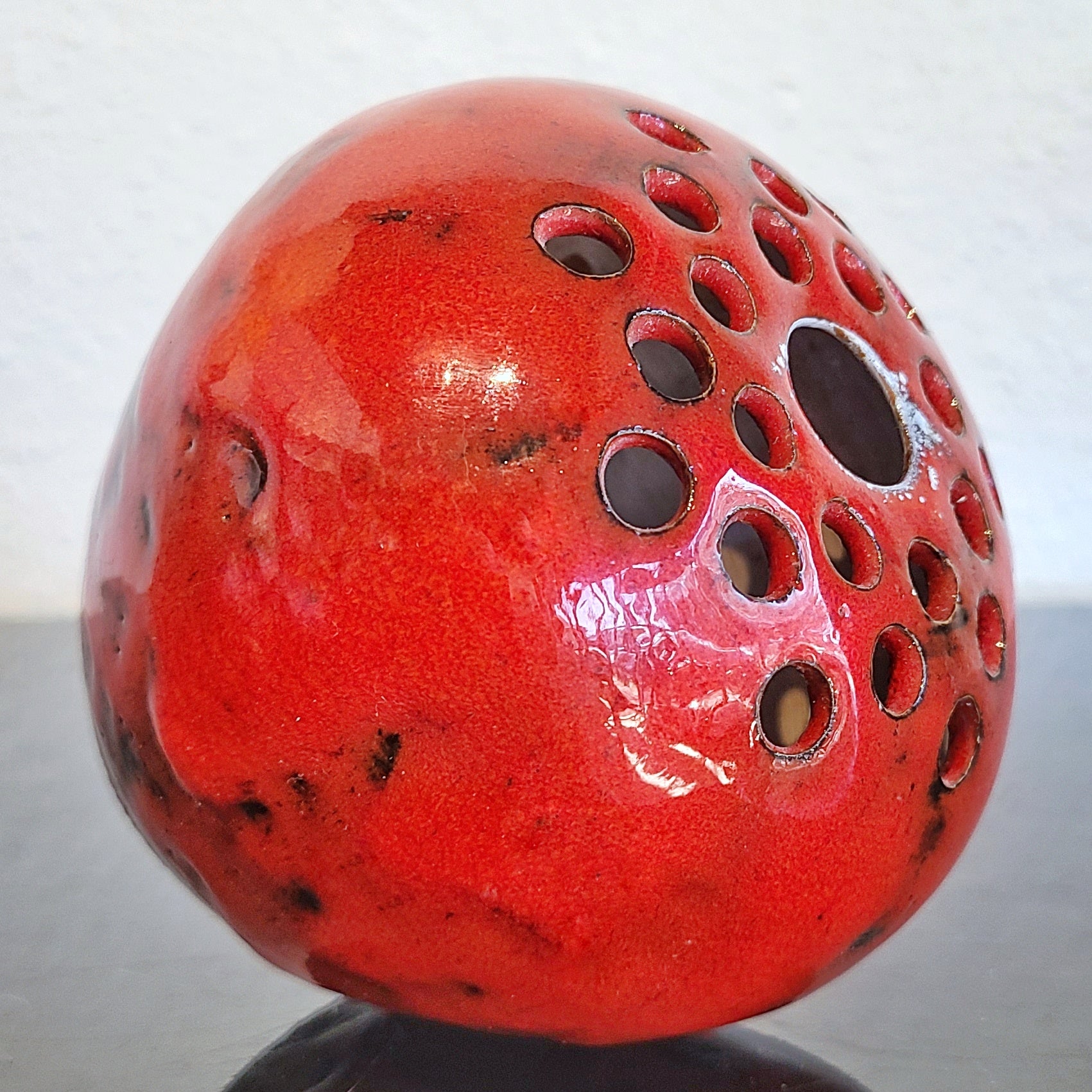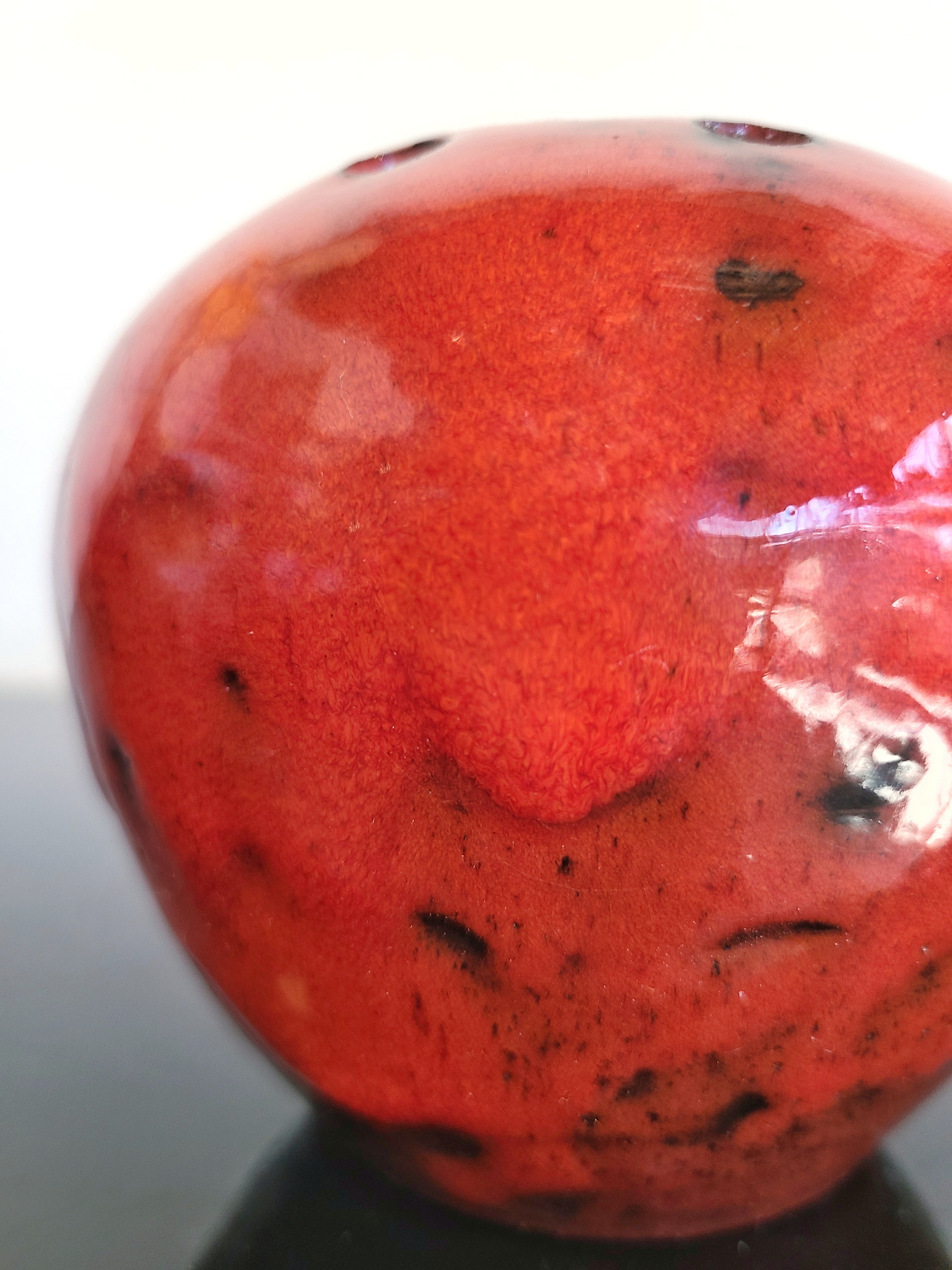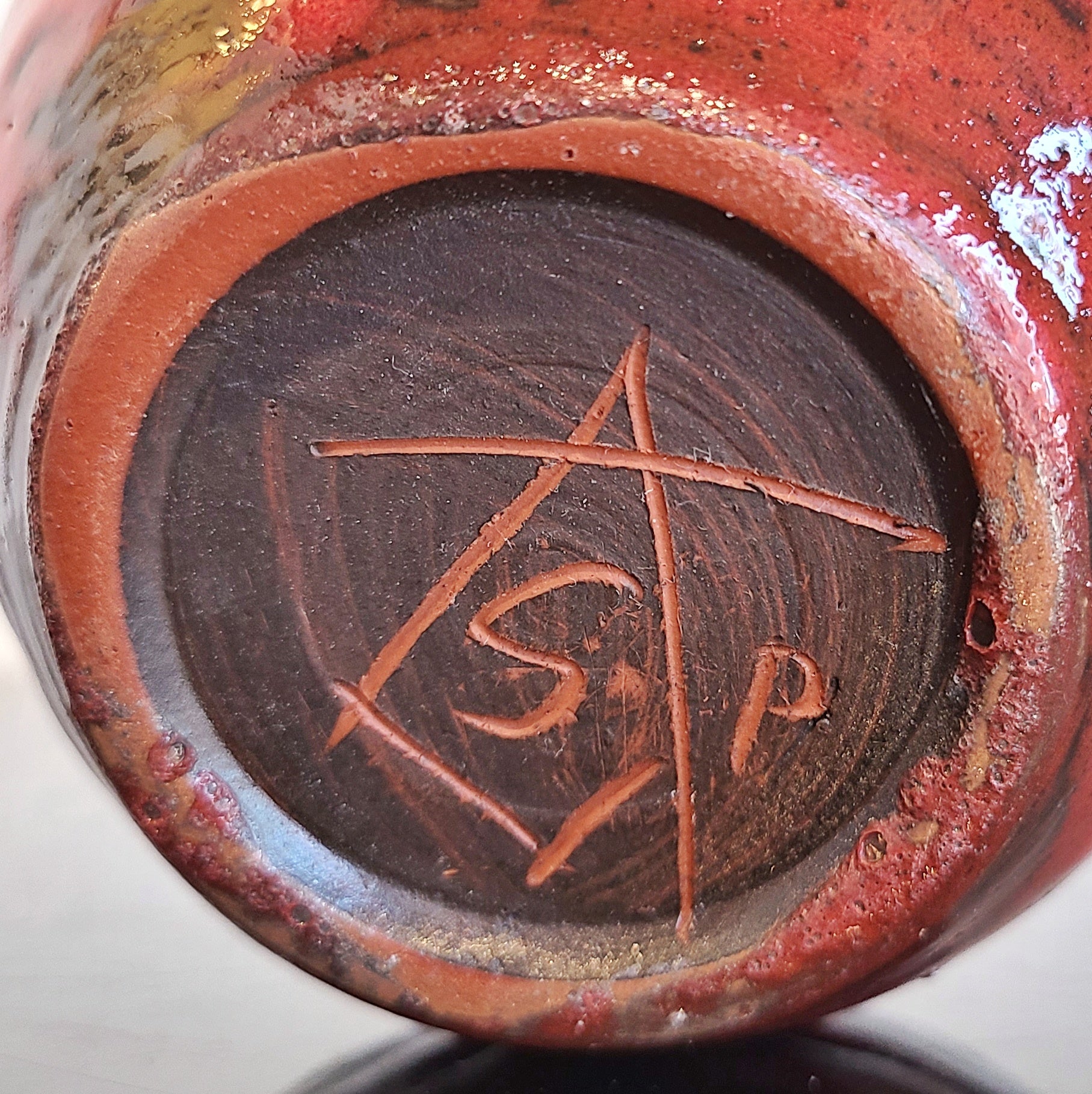 AGNES STOCK FLOWER-FROG VASE FOR STOCK TÖPFEREI
CONTACT US HERE ABOUT THIS ITEM.
A bright red flower-frog vase by Agnes Stock for STOCK TÖPFEREI, aka ASM Keramik. Flower frogs were first used in the Japanese art of flower arrangement, ikebana, which requires the strategic positioning of blooms, and thus a means of holding stems in place. The earliest known examples of such devices date back to the 14th century. "Frog" is an English-language designation that presumably refers to its placement in water.
---
STOCK TÖPFEREI was founded in 1947 as the ASM Pottery (Alfred and Agnes Stock, Mehlby) in the Mehlby district of the small town of Kappeln on the Jutland peninsula in the extreme north of Germany. Upon passing her master's examination, Agnes Stock, together with her husband Alfred, registered the business and immediately began producing and selling pottery. Although Alfred soon completed an apprenticeship with his wife, a division of labor persisted: she provided the designs for form shapes and their decoration; he took care of technology and sales. (Indeed, Alfred designed and built the first kilns for the pottery himself.)
Decorative ceramics were produced, either with elaborate ornamental incisions or painted in color. In the first few years, the products were sold regionally. Alfred Stock rode his bicycle across country and sold the ceramics out of his backpack. Soon the Stocks were able to purchase a motorcycle—and later a car, greatly facilitating sales. Initially, output was limited by shortages. Raw materials such as glazes and clay were not easy to obtain so soon after WWII. Furthermore, currency reform in 1949, when the Reichsmark was replaced by the Deutsch Mark, yielded a lasting era of low inflation and rapid industrial growth that flooded the market with consumer goods. Not everybody was thinking about buying art ceramics.
But the Stocks were able to weather these obstacles. With the beginning of the Wirtschaftswunder, the "economic miracle" of the early '50s (the rapid reconstruction and development of the economy of West Germany), the ceramics business began to flourish again. The couple was able to build a more spacious workshop. Stoneware items, with glazes developed in-house, were added to the pottery range. STOCK TÖPFEREI products were soon regularly presented at the biannual trade fairs in Frankfurt and were also sold in children's and maternity homes.
Agnes and Alfred's son Rüdiger Stock took over the pottery in 1973. He had apprenticed with Grete von Zaborsky (1908–1998) in Leckern in the Bavarian Forest and spent time as a journeyman in various pottery workshops, including at home. He completed his training by studying ceramics at the University of Applied Sciences in Höhr-Grenzhausen. Rüdiger still runs STOCK TÖPFEREI today with his wife Debora. They continue to produce a wide variety of decorative and functional ceramics.
---
I was filled with wonder every time I looked at this art. – Agnes Stock (recalling her apprenticeship)
---
DETAILS
Maker – STOCK TÖPFEREI
Production Period/Year – 1970s
Designer – AGNES STOCK
Design Period/Year – 1970s
Origin – WEST GERMANY
Styles/Movements – MID-CENTURY MODERN
Materials – CERAMIC
Colors – RED
Condition – Excellent vintage condition. May show minor signs of age and previous use.
Dimensions – 5 ½" DIAM. × 3 ¾" H