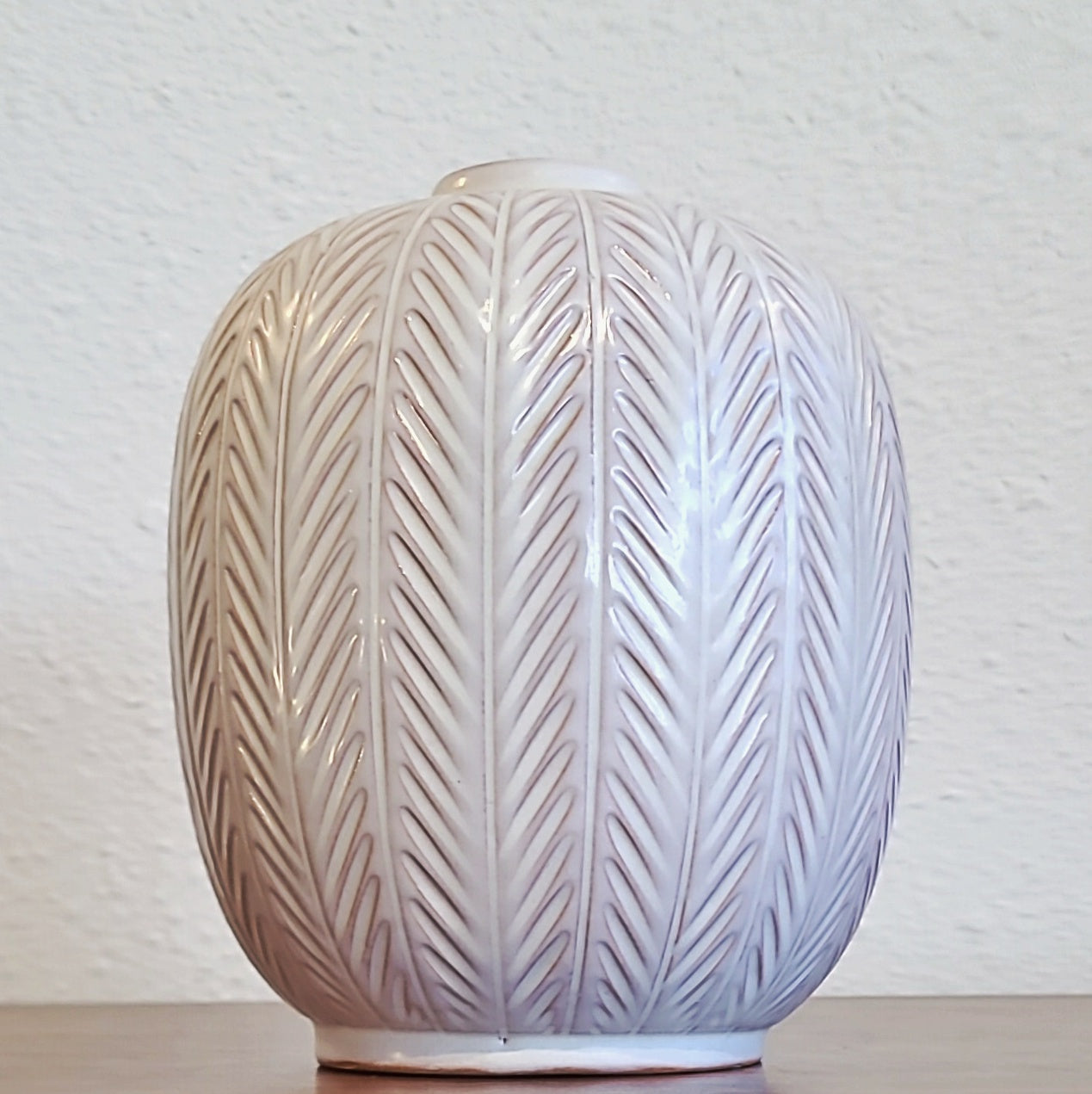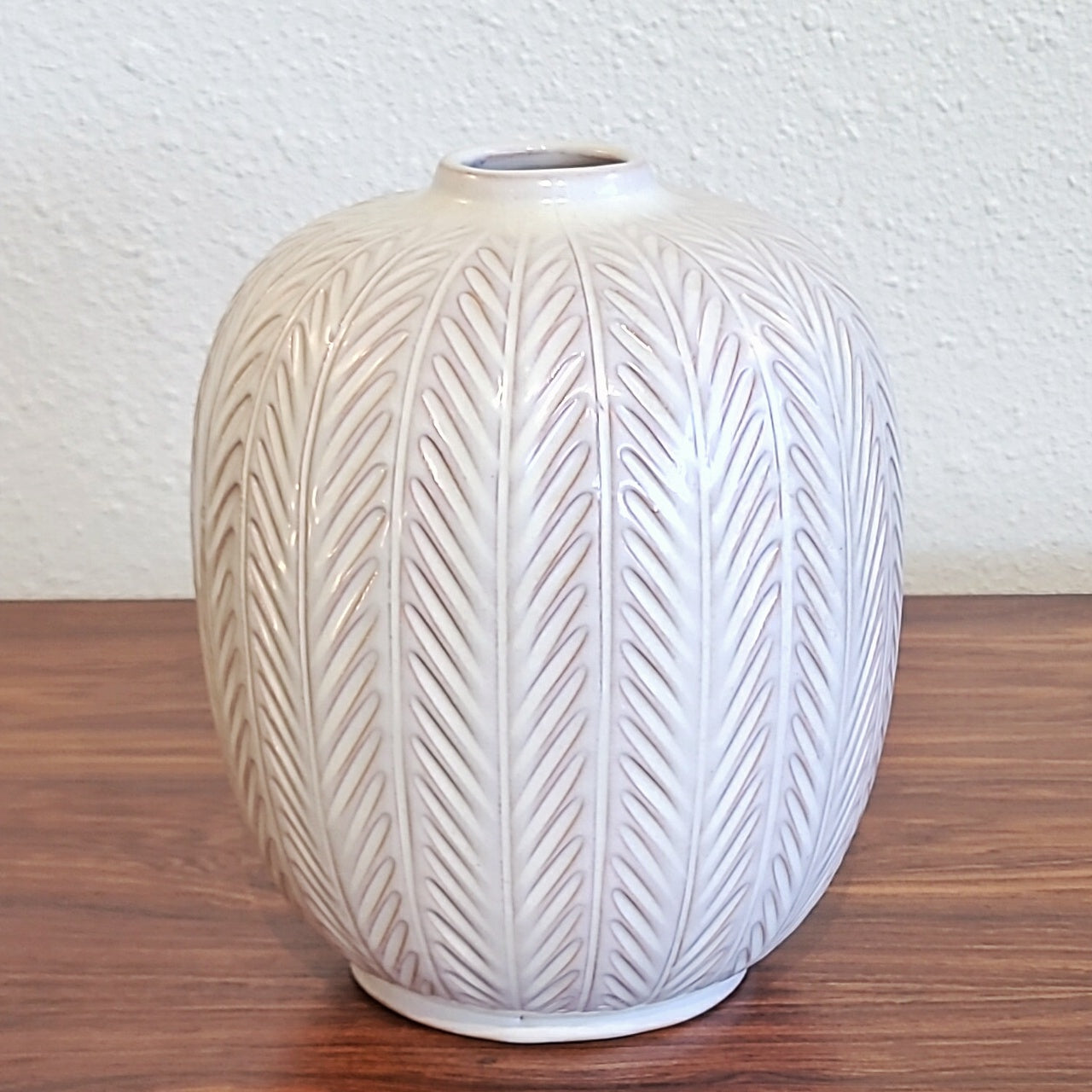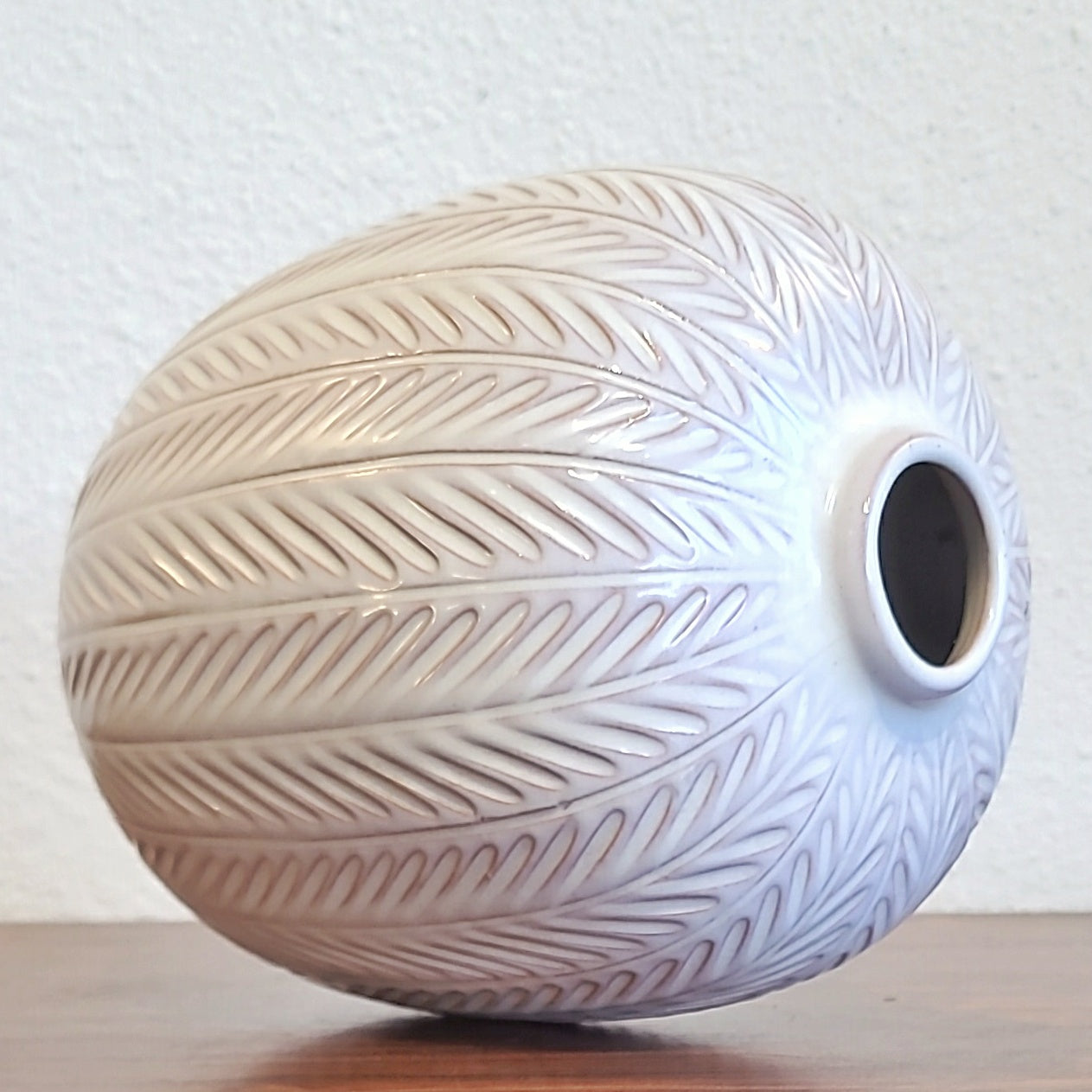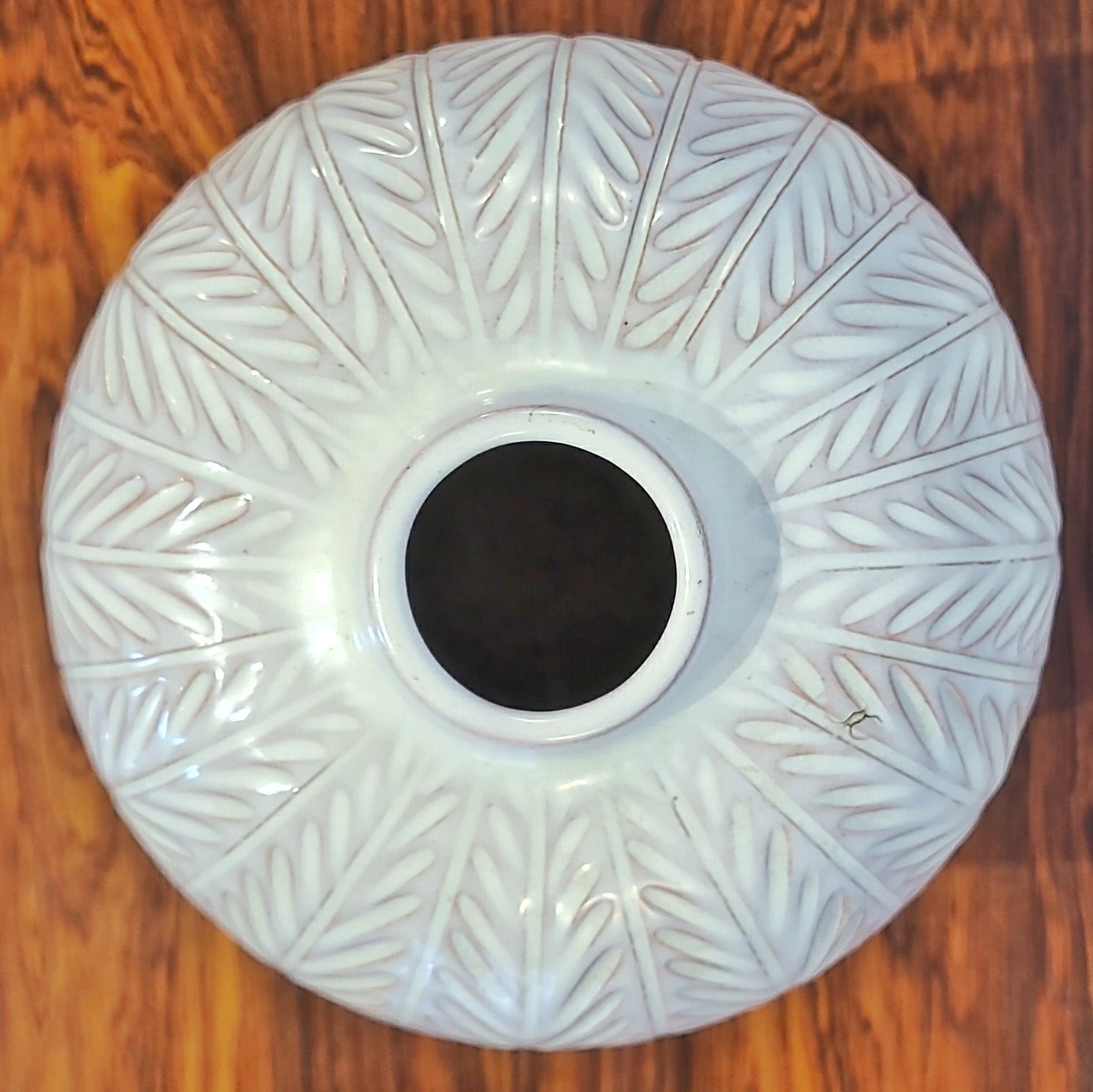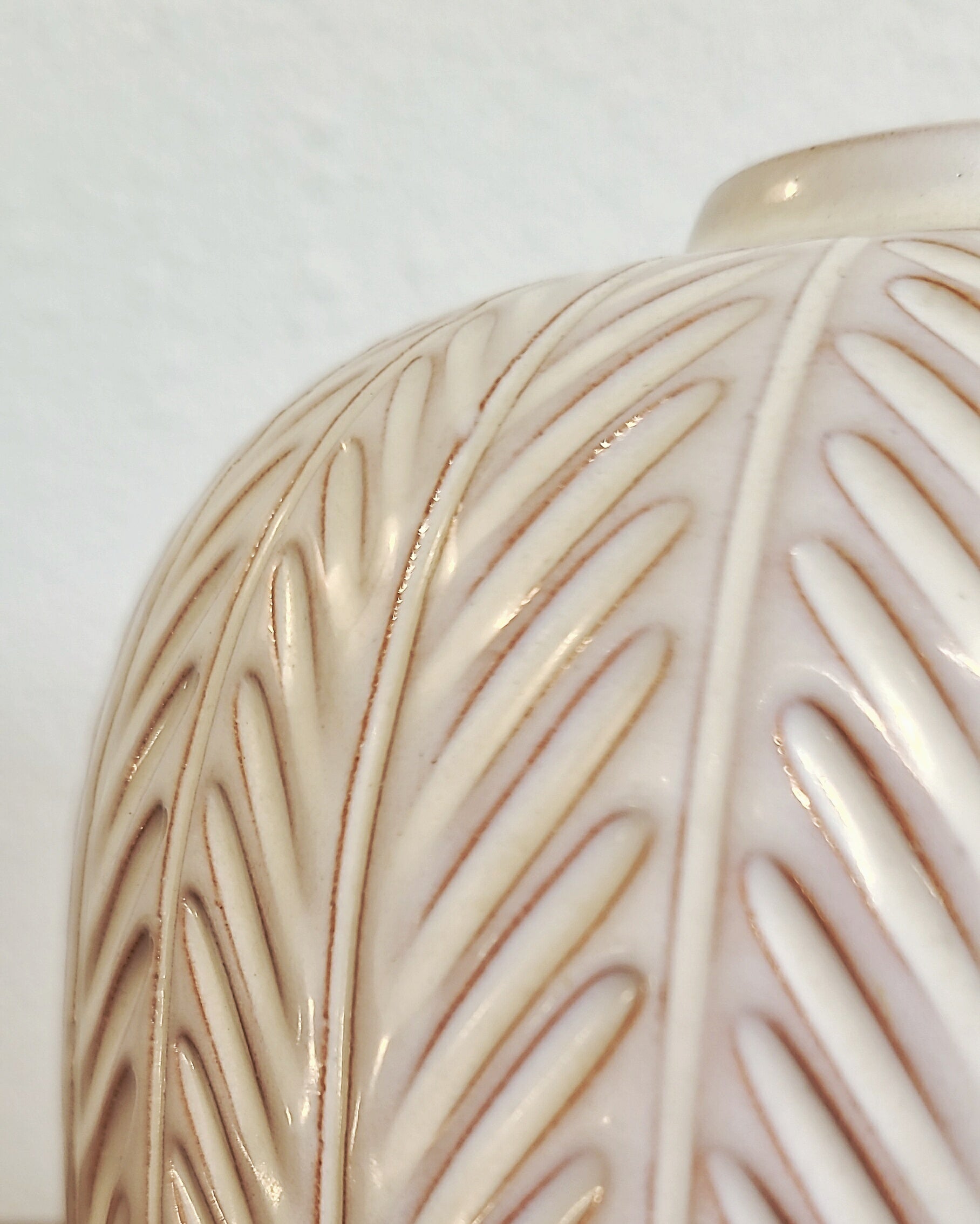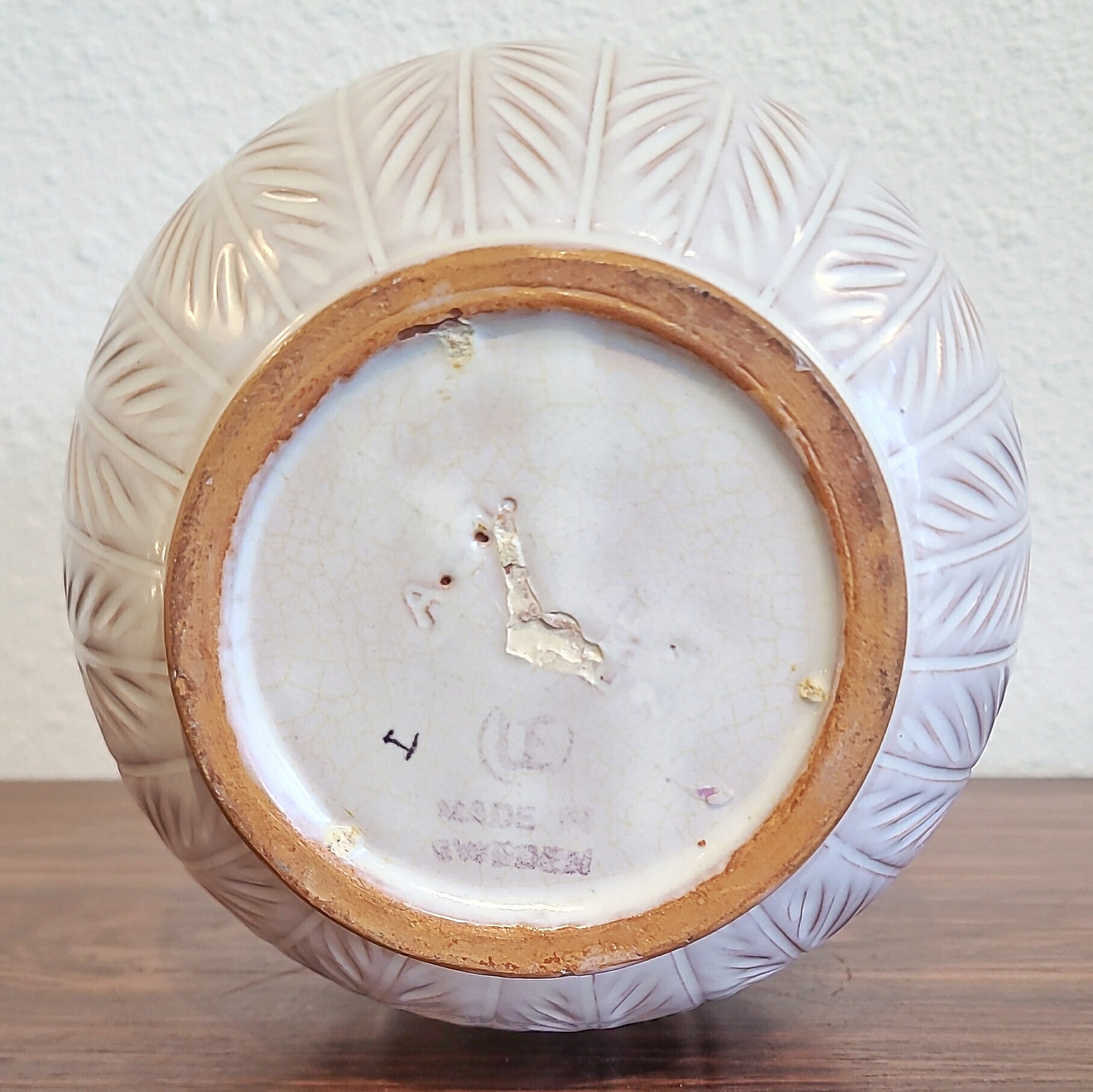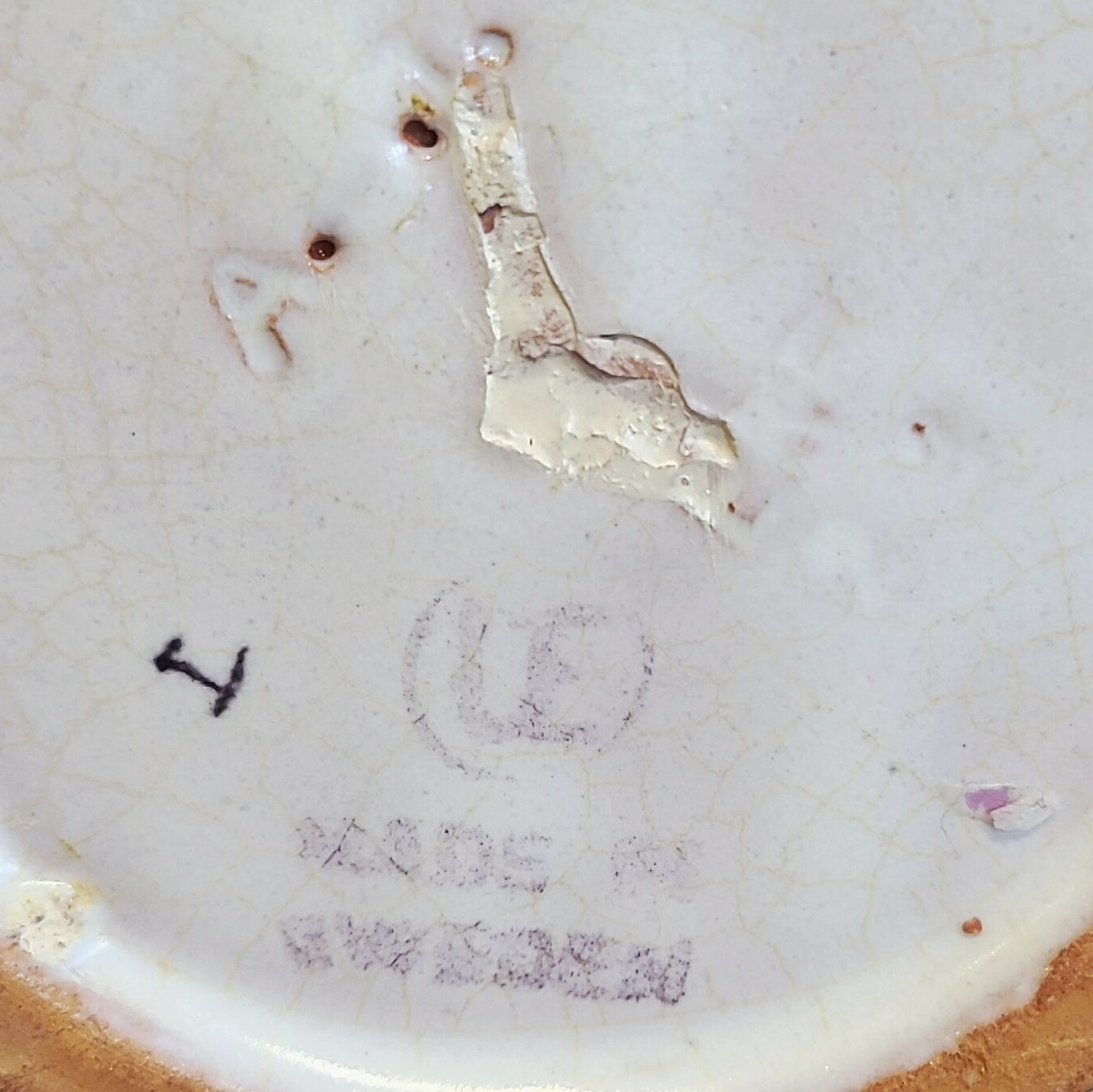 ANNA-LISA THOMSON INCISED VASE FOR UPSALA-EKEBY (SWEDEN, 1940s)
A stylish, ovoid vase with a glossy white glaze over a red earthenware body. It was designed in the mid '30s by Anna-Lisa Thomson for the Upsala-Ekeby ceramics factory of Sweden. Its classically simple form is hand decorated with a sgraffito leaf or needle pattern and covered in a semi-translucent glaze that allows the clay of the body to peek through, accentuating the décor.
Originally cataloged as '3216,' the model number was changed to '23' in 1939. The vase remained in production until 1949.
ANNA-LISA THOMSON (1905-1952) was a Swedish ceramist, painter, and draftsman, known mainly for her designs for two Swedish potteries: Upsala-Ekeby and Gefle Porslinsfabrik. Born in Karlskrona in 1905, she studied at Konstfack in Stockholm and later abroad. Thomson would play a vital role in the development of 20th century Swedish ceramics.
Early in her career Thomson served as the artistic director at St Eriks Lervarufabrik in Uppsala, where she designed tea sets and other tableware. However, she spent most of her working life at Upsala-Ekeby, having arrived there in 1933. Her collaboration with the company was a long one, and she would always remain an integral player. Together with Vicke Lindstrand and Sven Erik Skawonius, Thomson was tasked with directing the focus of Upsala-Ekeby's ceramic production. Her award-winning designs remained on the company's price lists for many years after her death—a testament to her strong sense of form as well as her creative vitality.
Throughout the '30s Thomson's work was typefied by pure, often geometric forms and sober, earthy colors. Critics called her designs "austere and restrained." An exception was a series of pale green stoneware vases with celadon glaze for Gefle; its strict forms were decorated with an underwater motif. Later creation was increasingly influenced by nature—the play of floral lines and the surging morphology of shells and sea plants were often present. The scale of Thomson's designs ranged from small figurines to floor vases and tile tables.
Anna-Lisa Thomson is of course best known for her Paprika vase, a true ceramic icon and a Swedish modern classic. The Paprika series debuted in 1948 and was hugely popular. It was produced in various shapes and sizes and manufactured well into the 60s. Its combination of rough, black earthenware with glossy white or yellow glaze was quite innovative when it appeared. Other famous creations include the Urn Lancet (1949) and the Spectra series (1951)—earthenware dishes of brown clay decorated with a colorful sea life motif.
Thomson drew frequent inspiration from Grundsund, the tiny municipality on Sweden's west coast in the far north where she had a summer house. She would devote herself there to painting in a naïve style. Following her untimely death in 1952, friends started a memorial foundation using the paintings as capital. It was named "Stiftelsen Anna-Lisa Thomson till minne" (The Anna-Lisa Thomson Foundation in memory) and has awarded scholarships to female artists in various disciplines. Scholarships originally included a stay in Grundsund. A collection of Thomson's poetry Eko av dagars ljusa klang (Echo of the bright sound of days) was published posthumously with her own illustrations.
Anna-Lisa Thomson's ceramic oeuvre is represented at Sweden's National Museum. The Art Museum in Uppsala has around thirty of her paintings at its disposal.
DETAILS
Maker – UPSALA-EKEBY
Production Period – 1940s
Designer – ANNA-LISA THOMSON
Design Period – 1930s
Origin – SWEDEN
Styles/Movements – SWEDISH MODERN
Materials – CERAMIC
Colors – WHITE
Condition – Excellent vintage condition.
Dimensions – 6" DIAM. × 7 ½" H