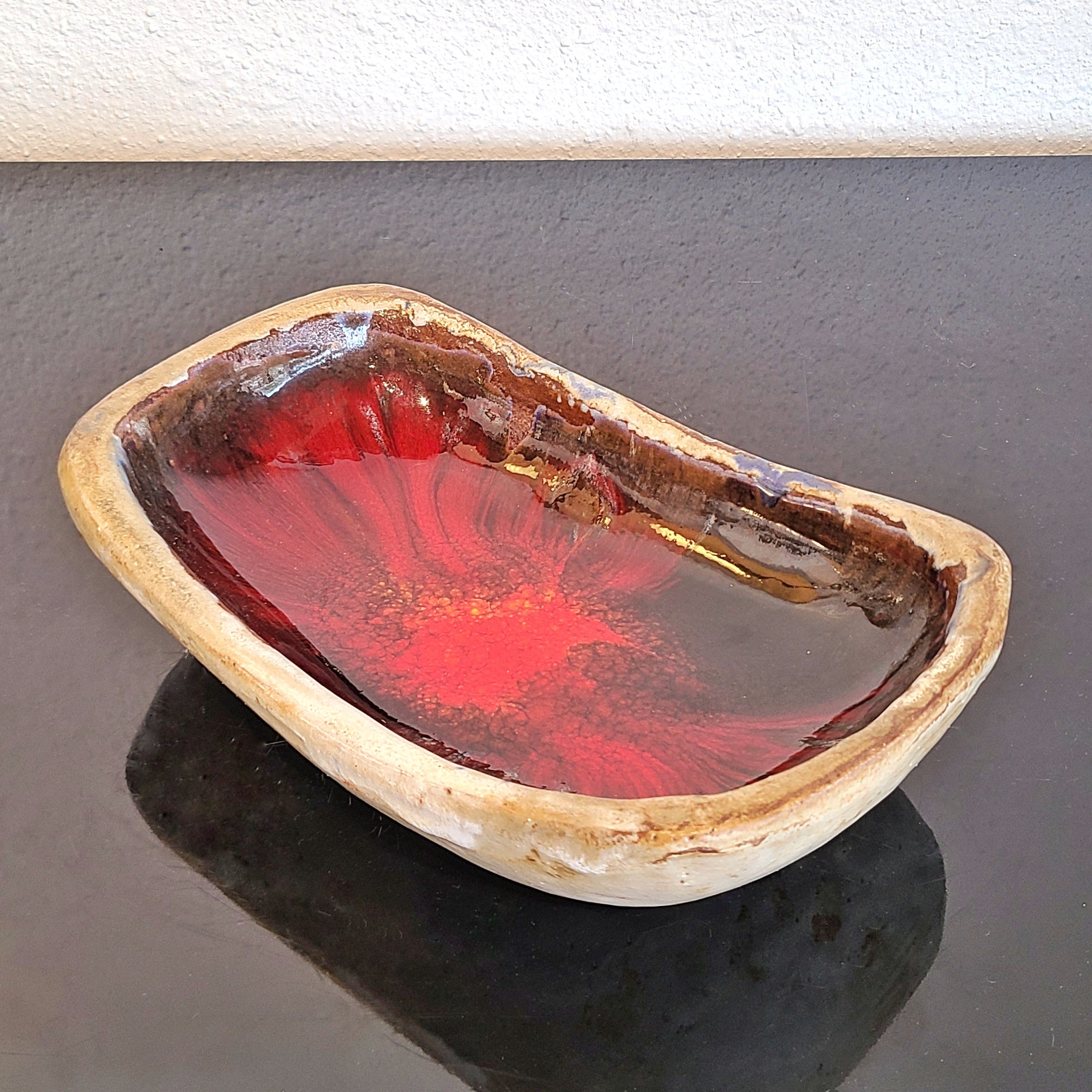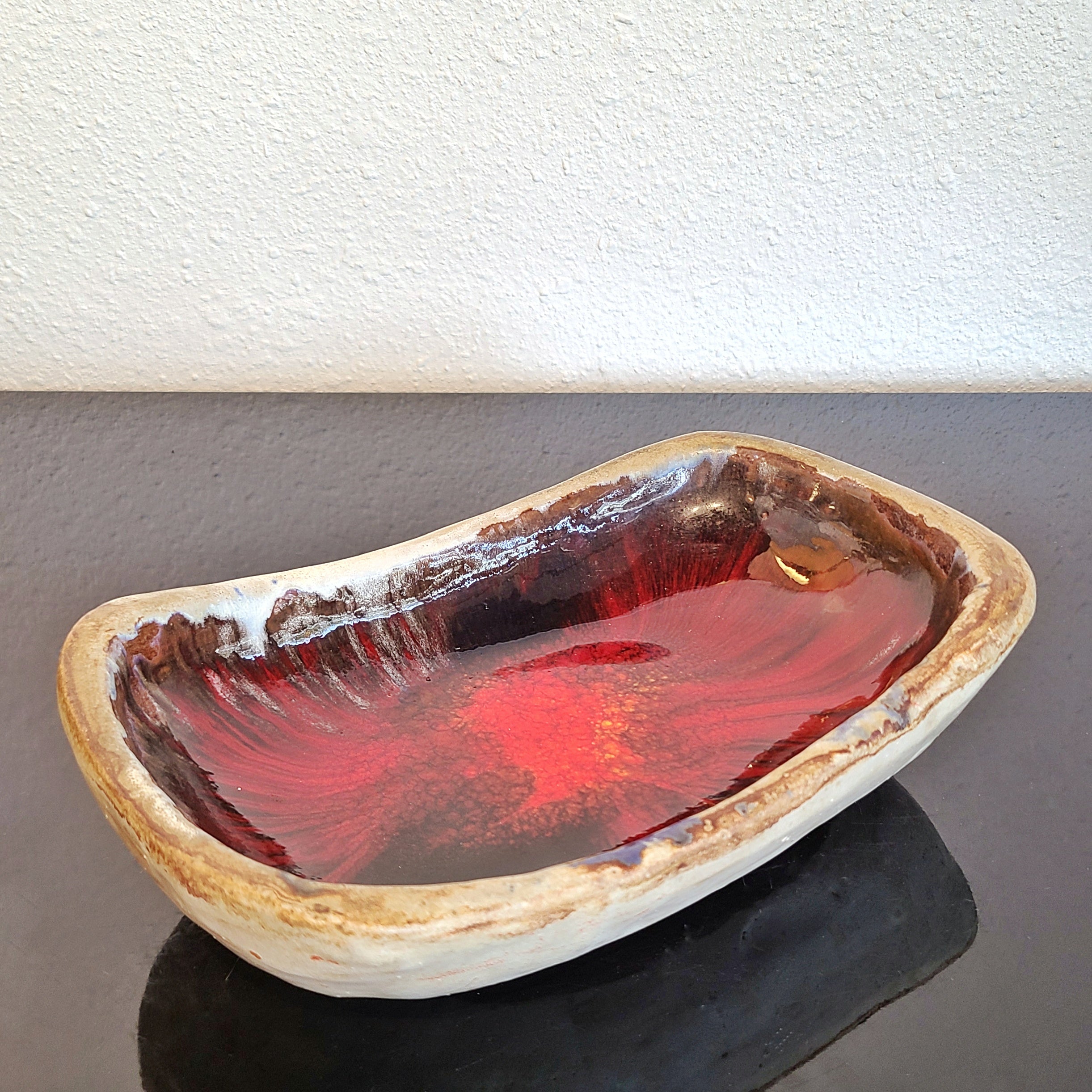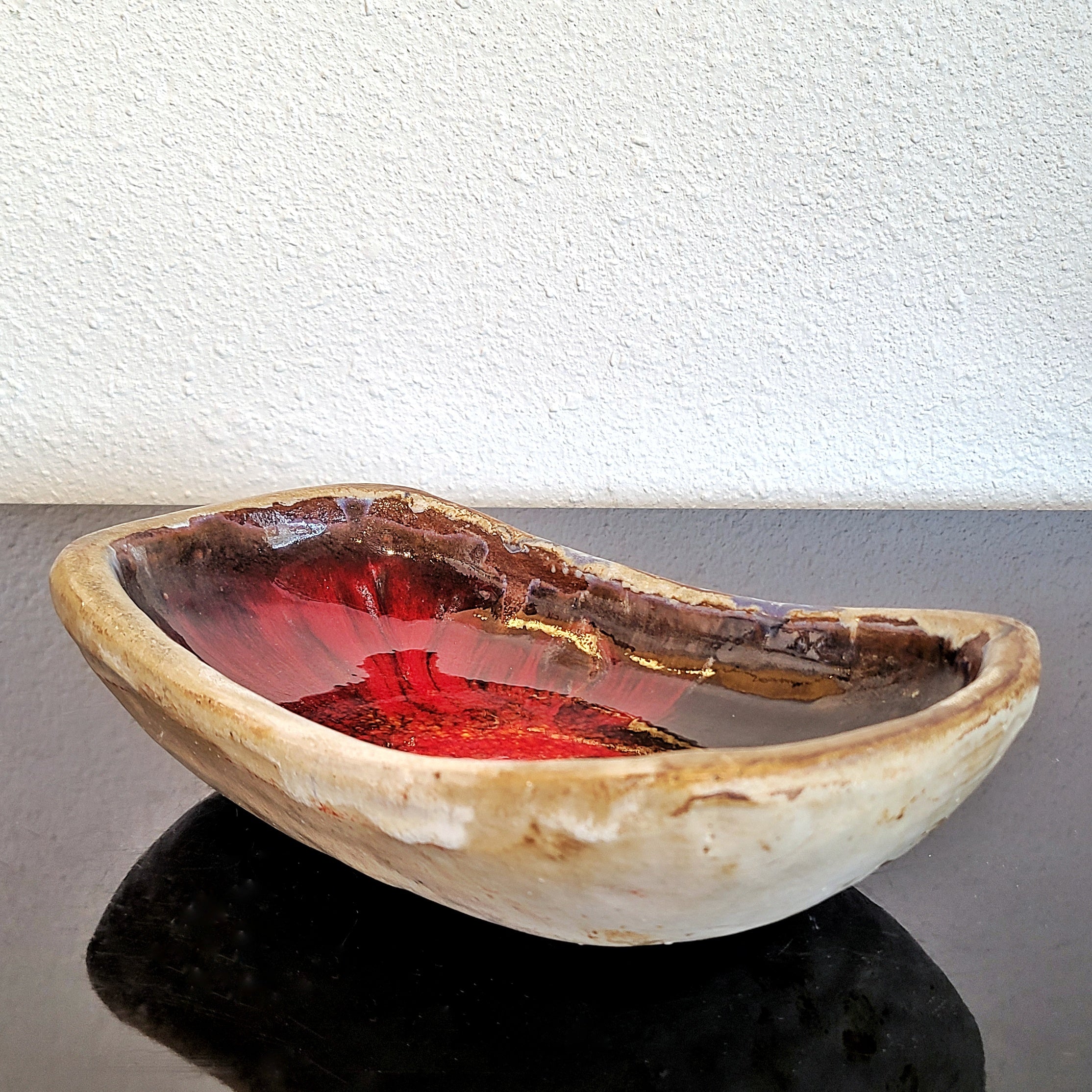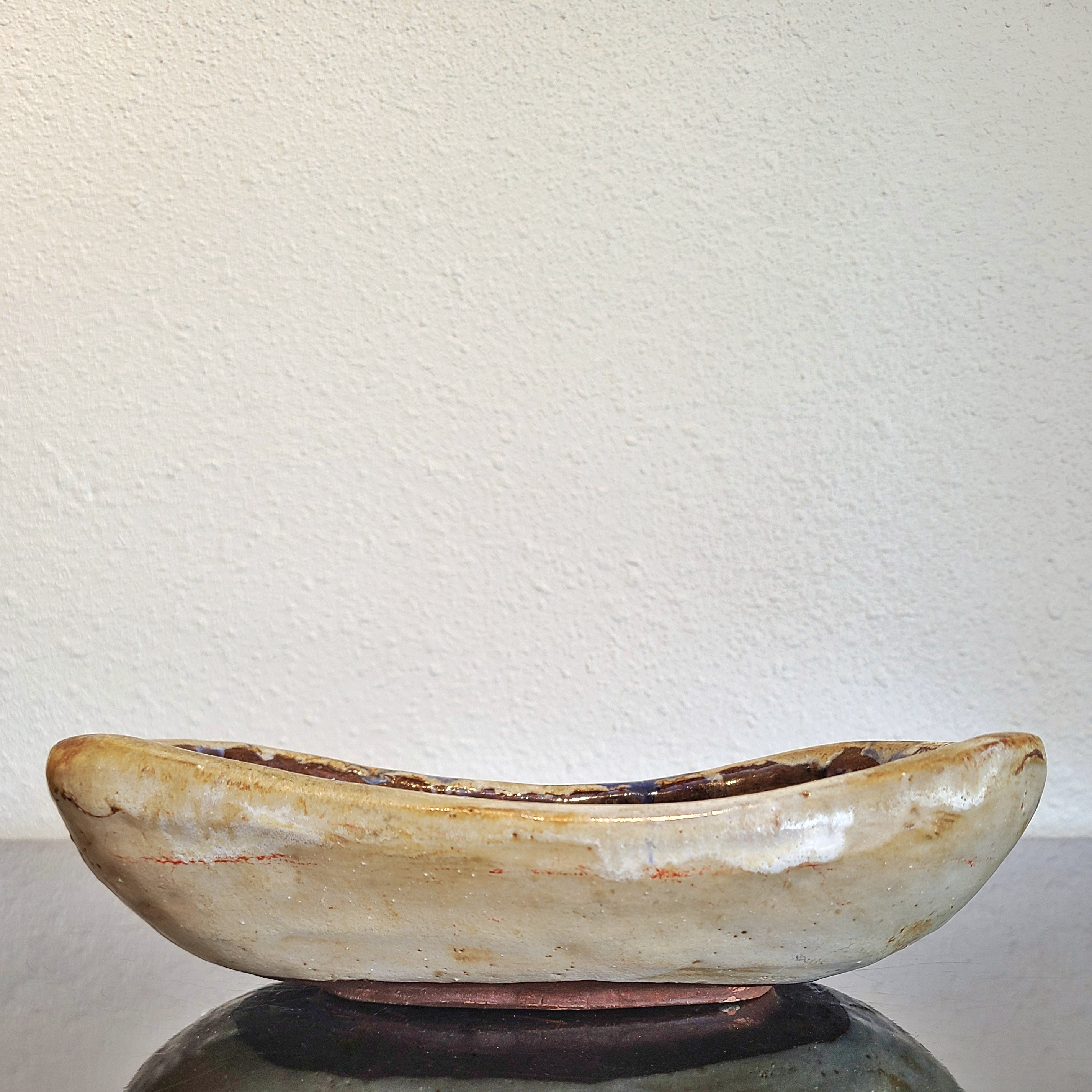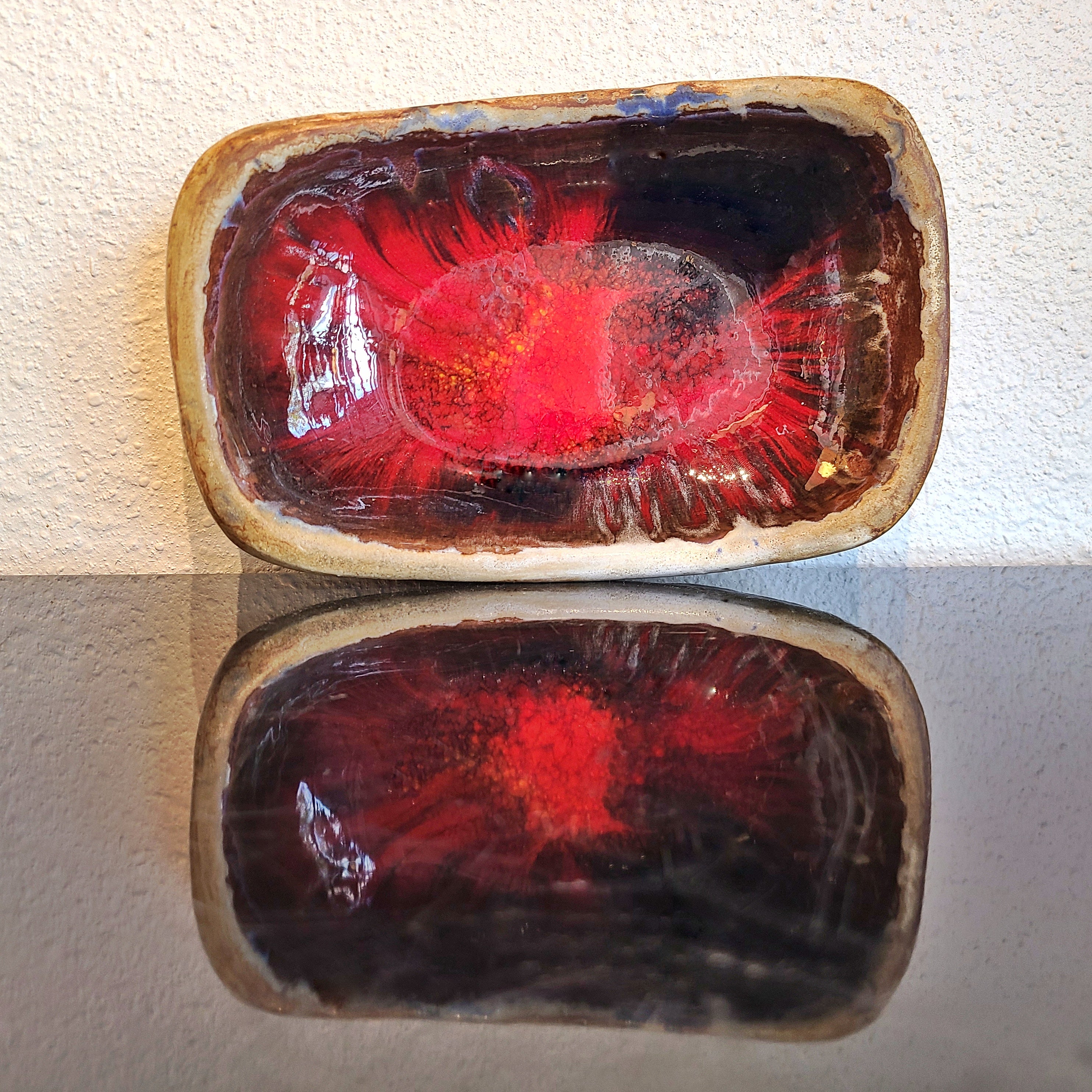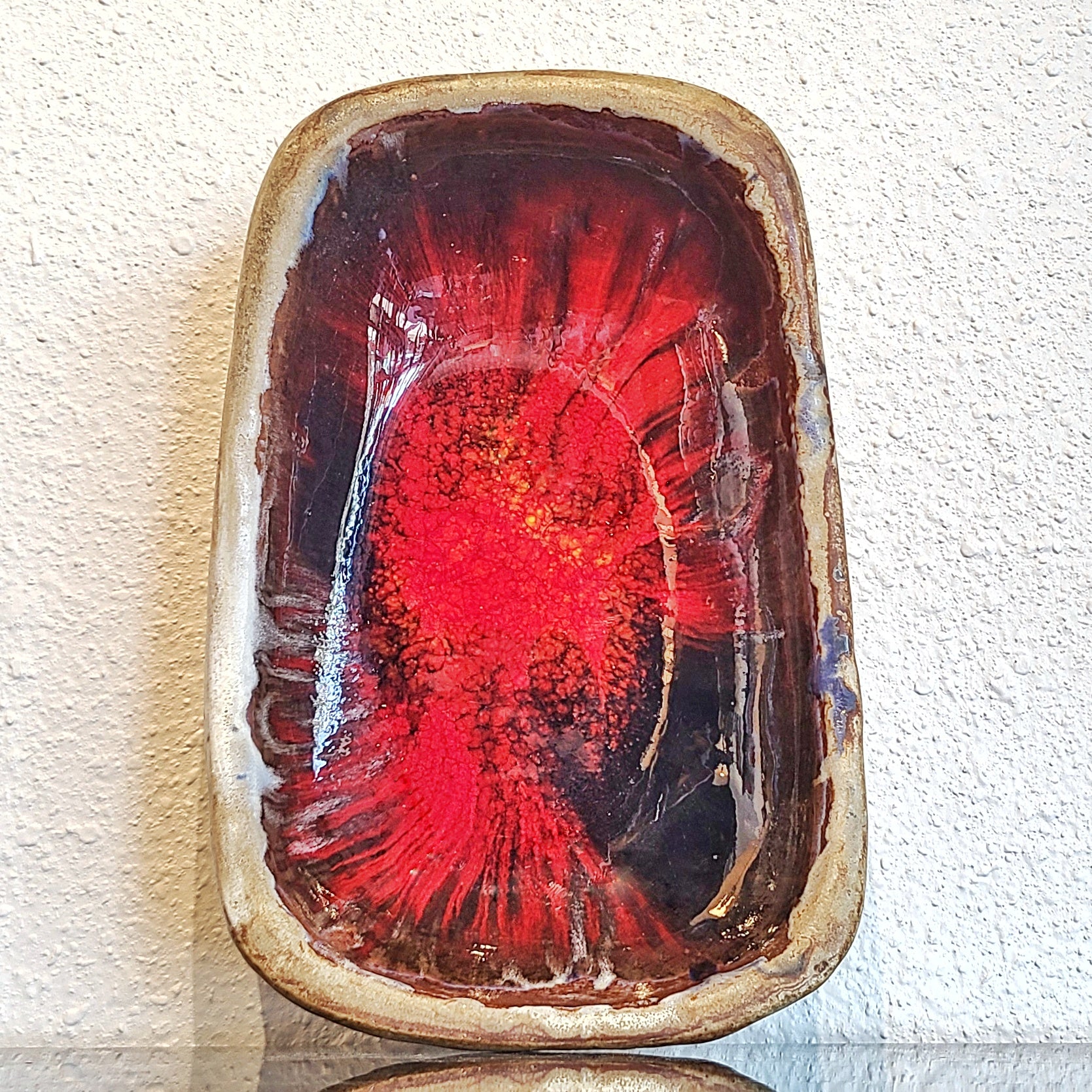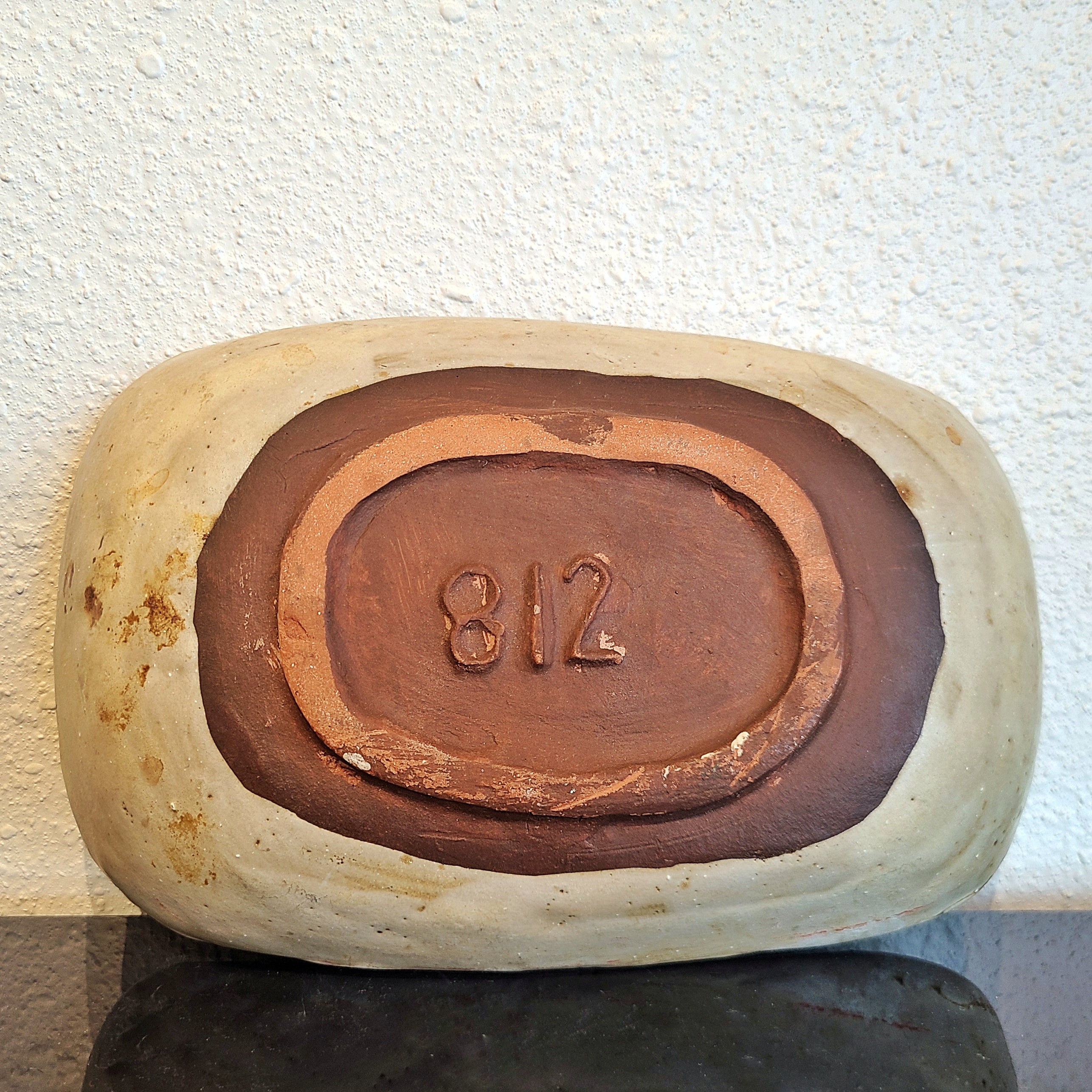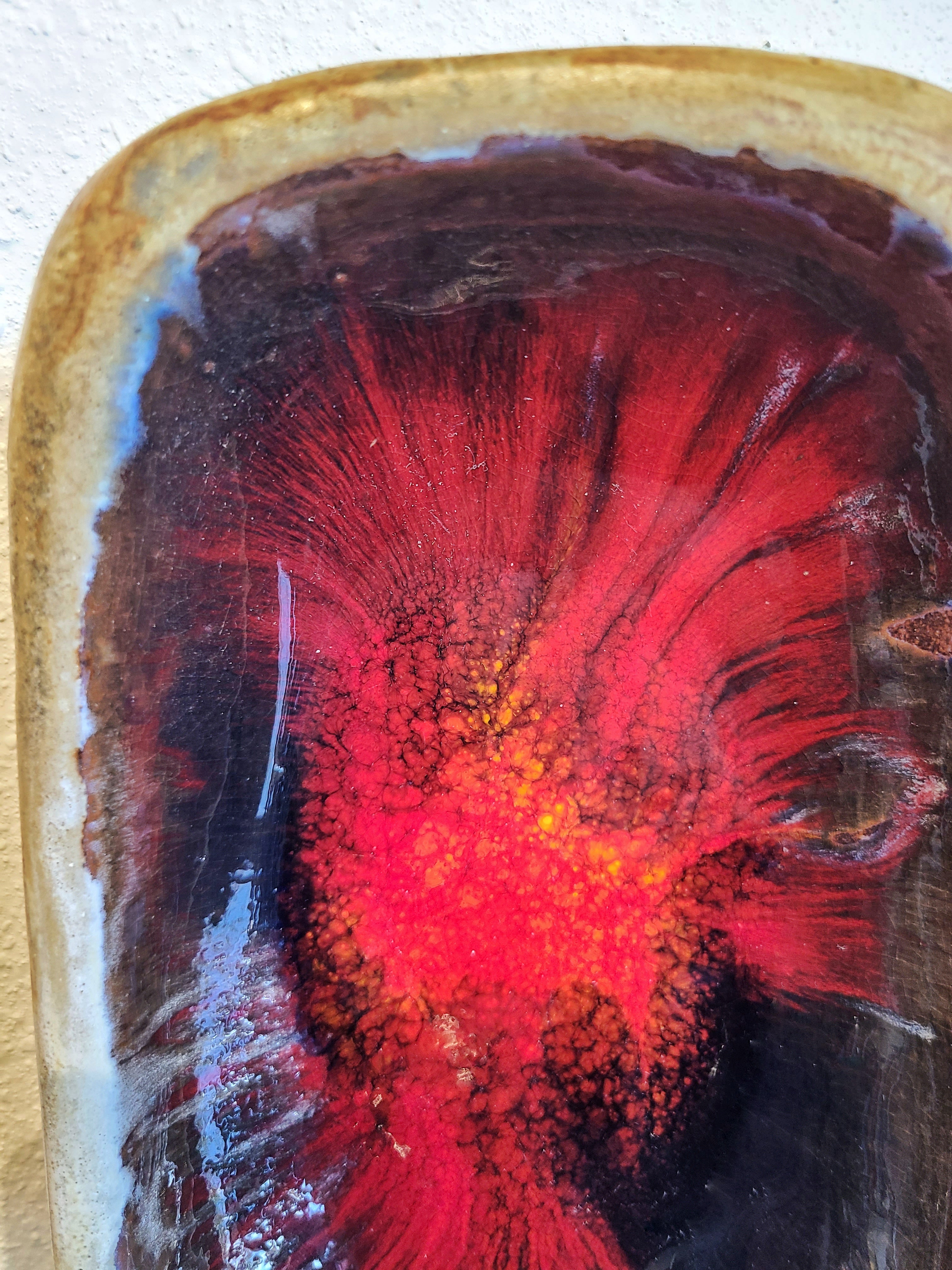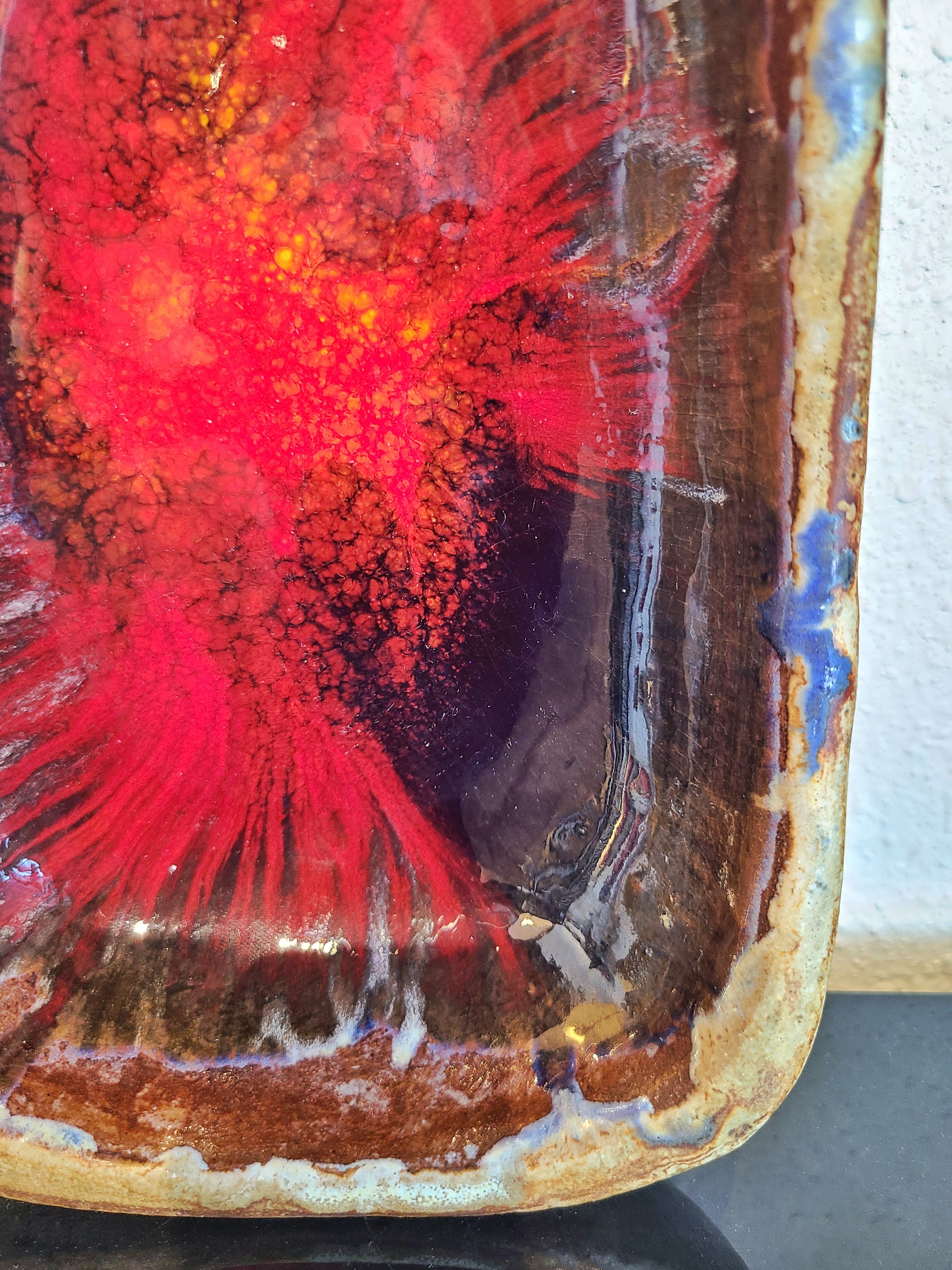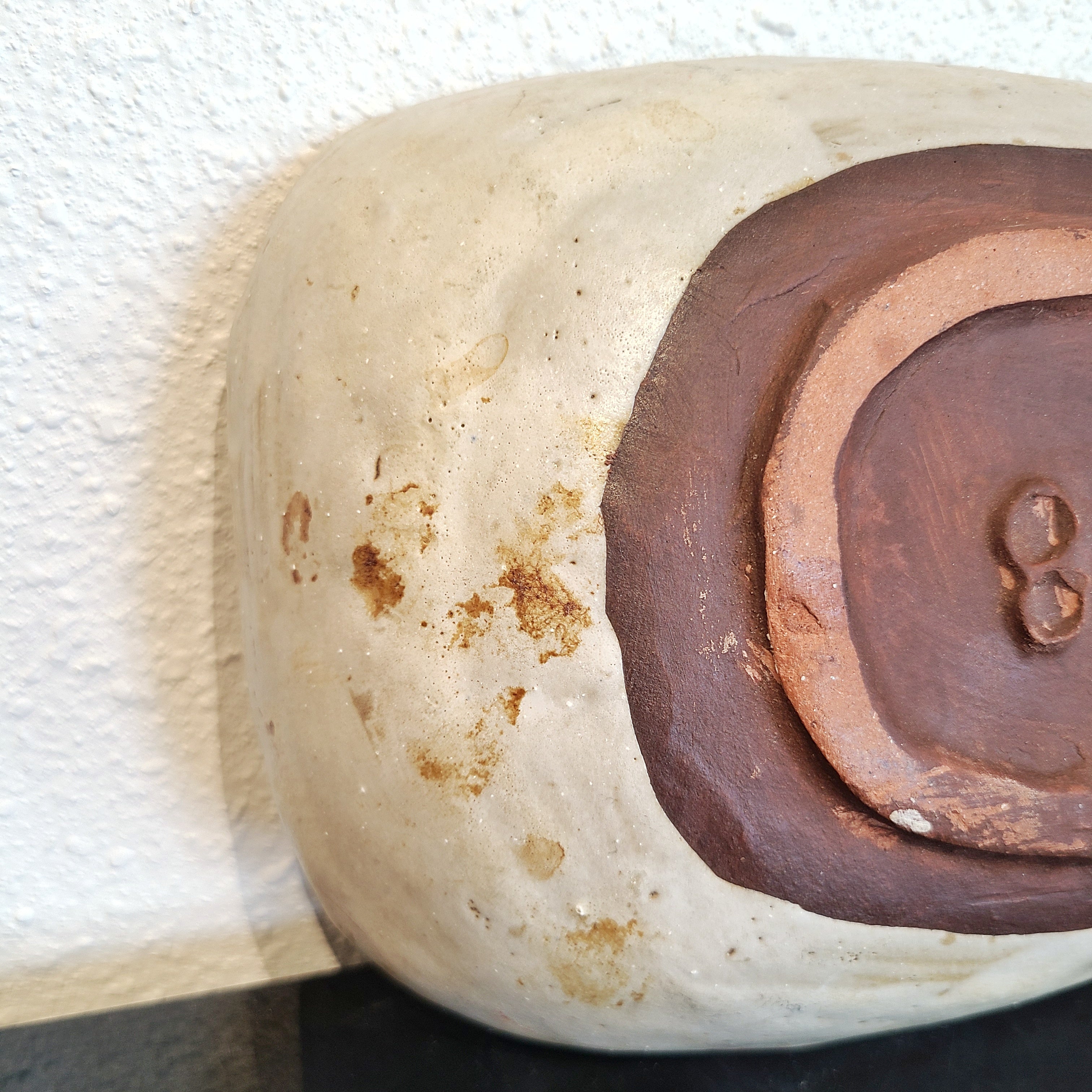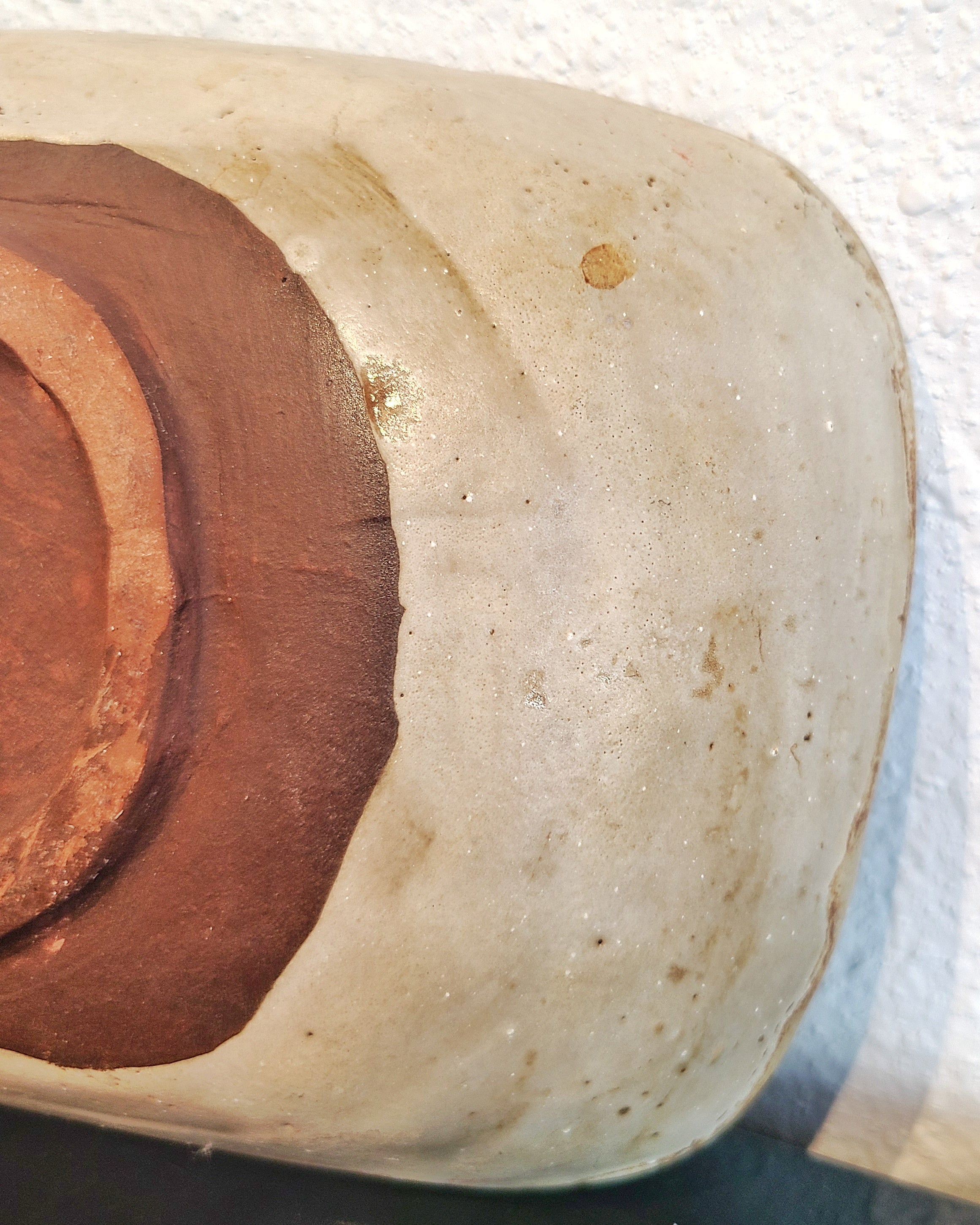 HELMUT FRIEDRICH SCHÄFFENACKER FAT LAVA BOWL Nr. 812
CONTACT US HERE ABOUT THIS ITEM.
This substantial and hard-to-source 60s flambé glazed bowl by renowned sculptor and ceramic artist, Helmut Freidrich Schäffenacker of Ulm, Germany, is thick-walled and irregularly shaped with a beautiful running glaze in shades of red, orange, blue, and white with a touch of yellow on a heavy orange clay body.  It is marked in relief with its shape number '812' on the underside.
---
HELMUT FRIEDRICH SCHÄFFENACKER (1921–2010) was a prolific German ceramic artist, recognized for his use of both innovative and traditional techniques in ceramic artistry and justifiably known as a "master of plaques." His creations display the full spectrum of motifs, from realistic to abstract styles. In addition to ceramics, he also worked in other mediums, producing paintings, prints, and sculpture—the last in a wide variety of materials, notably stainless steel, bronze, stone, and wood. He decorated numerous buildings, commercial and public, with wall reliefs, and he designed fountains and sculptures for many public spaces. His ceramic designs heavily influenced the aesthetics of West German ceramic production from the '50s well into the '70s.
Schäffenacker was born in 1921, in the southern German city of Ulm, the son of noted painter Otto Schäffenacker (1888–1964). He completed a commercial apprenticeship in 1935, and employment followed. In 1940 he was drafted into the Waffen SS, the combat branch of the Nazi Party's notorious paramilitary Schutzstaffel (SS), where he was trained as a medic and driver. He would remain in medical service until the end of WWII. He began to work as a ceramist in 1948.
The next year Schäffenacker completed an apprenticeship with the sculptor and medalist Rudolf Pauschinger (1882–1957) in Stuttgart. After further study of art and subsequent training as both a painter and a sculptor, he founded his Ulm studio, "Atelier Schäffenacker," in the early 1950s. His first designs were everyday objects such as vases, ashtrays, and bowls. By the middle of the decade, wall panels with relief decorations emerged, primarily with figurative motifs. Most depicted still lives and highly stylized animals—including horses, owls, and fish. His sculptures also often took on animal forms. Eventually, his utilitarian objects developed more and more into sculptural pieces, and the motifs of the wall panels became increasingly abstract.
Initially, Schäffenacker sold most of his work locally and regionally, but by the mid-'50s, he was participating in the Frankfurt trade fairs, and his work began to show up in retail outlets in various cities throughout Germany and in neighboring countries. Having heretofore sculpted in stone, clay, wood, and bronze, using traditional techniques, he began to experiment with stainless steel, aluminum, copper plate, iron, synthetic resin, and polyester—the industrial materials of the modern world.
In 1960, Schäffenacker moved his workshop and family to the district of Böfingen in Ulm. There, he worked with three kilns and sometimes as many as ten employees. All works were either unique or cast in small series of up to a hundred pieces from plaster negatives or with hollow plaster molds and finished by hand. His wall reliefs and plaques were executed almost exclusively using the "bridge technique," which prevents glazes from running together during the firing process. It amounts to stamping a tile of soft clay with a mold to create patterns in relief. The ridges left by the stamp create separate compartments that are then filled with differently colored glazes. Wall panels and plaques would usually stay in the program for two or three years.
Schäffenacker has received numerous national and international awards for his work. On the occasion of the artist's 85th birthday, Prof. Dr. Justus Engelfried wrote: "The individual objects are outstanding works of German and international ceramic design (e.g., the vase objects). The variety and number of wall panels are unique in Germany. The entire ceramic work of the designer and artist Schäffenacker is probably even unparalleled worldwide."
The artist ended ceramics production in 1993 when he had the kilns of his Ulm studio dismantled. However, he continued to work in other media well into the following decade. Helmut Schäffenacker died in 2010, at the age of 89.
---
IDENTIFICATION: Through the 1950s, Schäffenacker worked predominantly with white clay; later, he formed his vases and bowls almost exclusively in red clay. The wall ceramics are usually embossed on the back: "Schäffenacker, Ulm/do., Made in Germany, handgeformt (hand-molded)". Vases, bowls, etc., are sometimes similarly stamped but are always provided with a model number. Adhesive labels were also sometimes attached to the ceramics, in the 1950s with "Atelier Schäffenacker," later with the abbreviated "Sch" in black on a gold background. ("Ulm/Do." signifies Ulm an der Donau [the city of Ulm at the river Donau—i.e., the Danube.])
---
DETAILS
Maker – ATELIER SCHÄFFENACKER
Production Period/Year – PERIOD/YEAR
Designer – HELMUT FRIEDRICH SCHÄFFENACKER
Design Period/Year – PERIOD/YEAR
Origin – WEST GERMANY
Styles/Movements – MID-CENTURY MODERN
Materials – CERAMIC
Colors – COLORS
Condition – Excellent vintage condition; no damage. May show some signs of previous use.
Dimensions – 9 ¼" W × 6" D × 2 ½" H