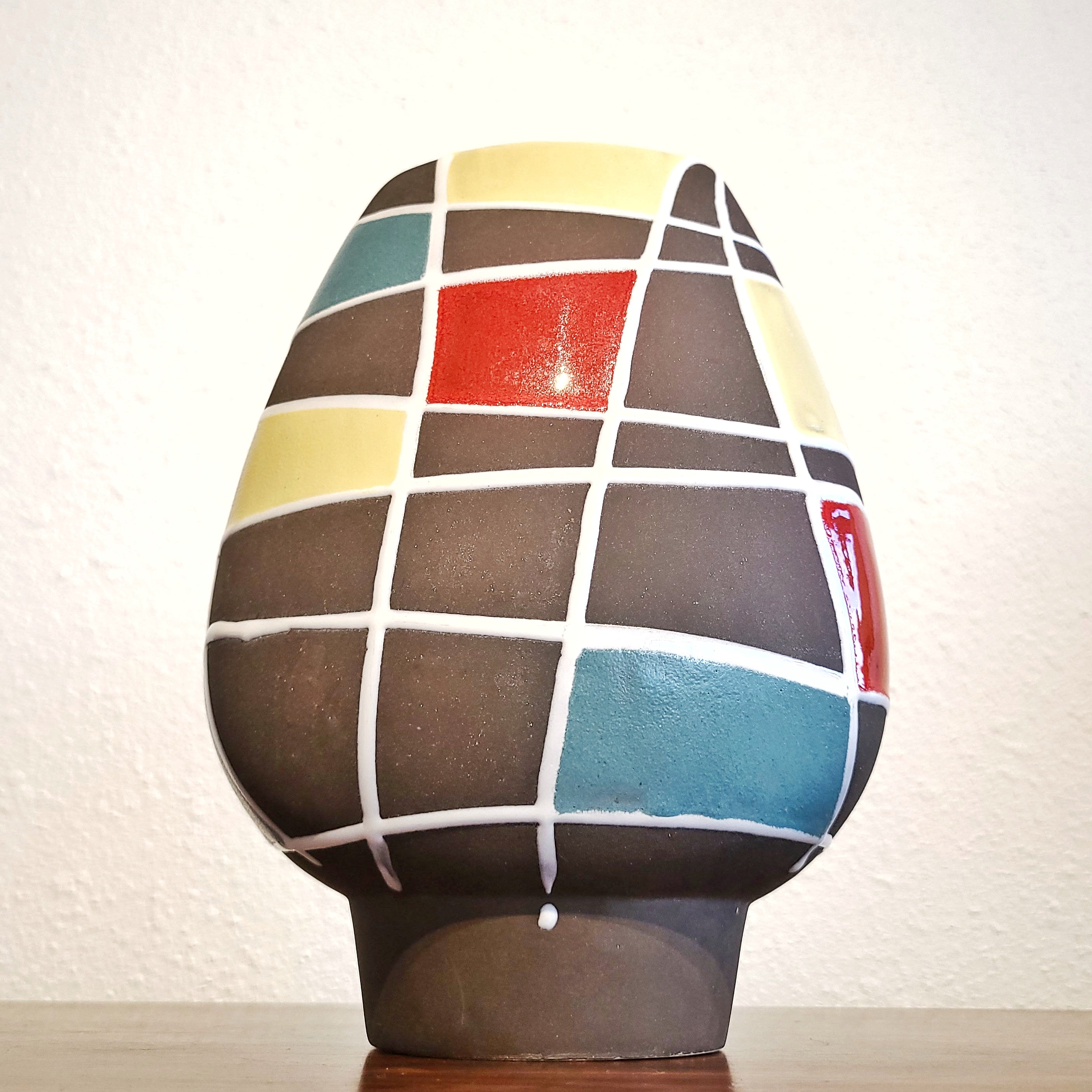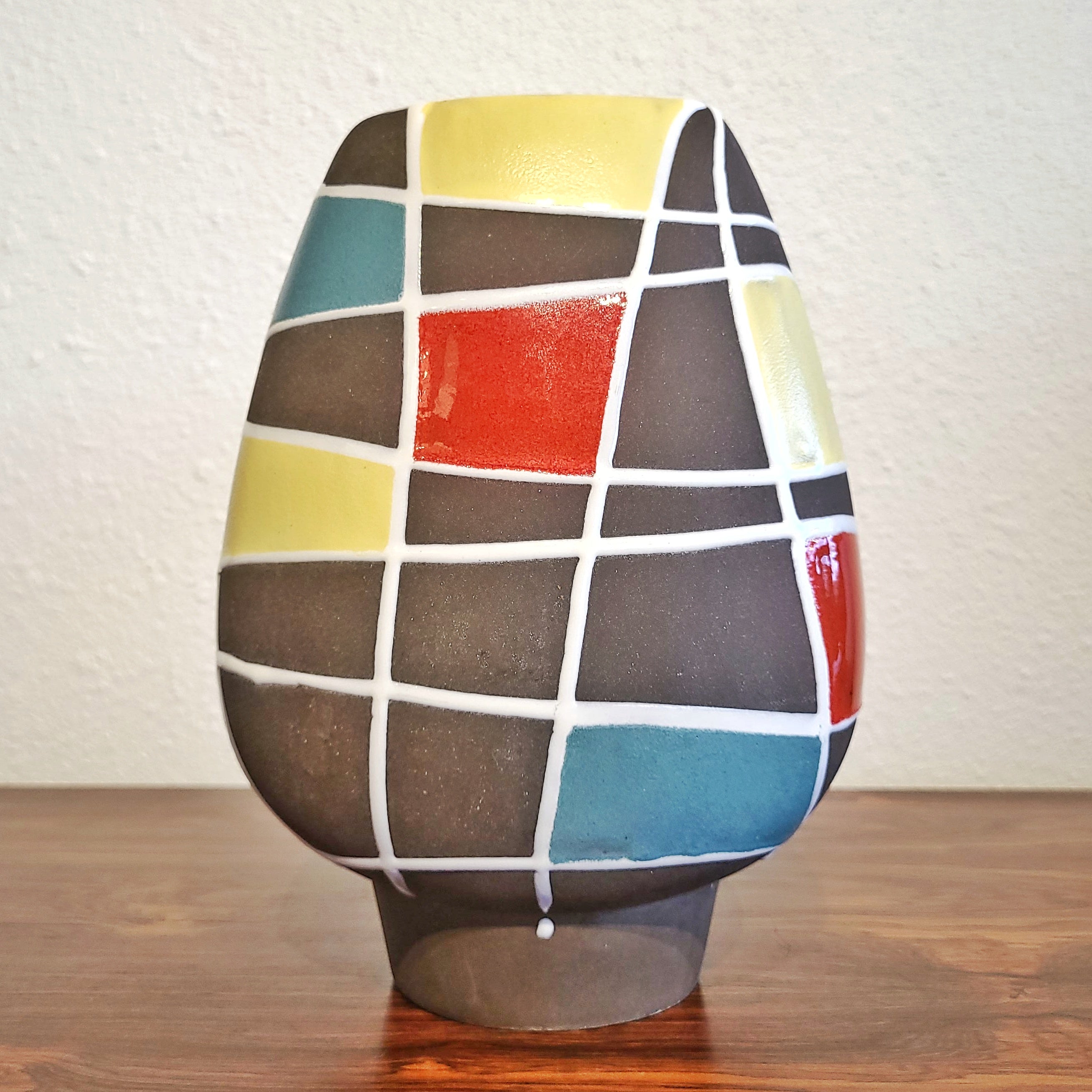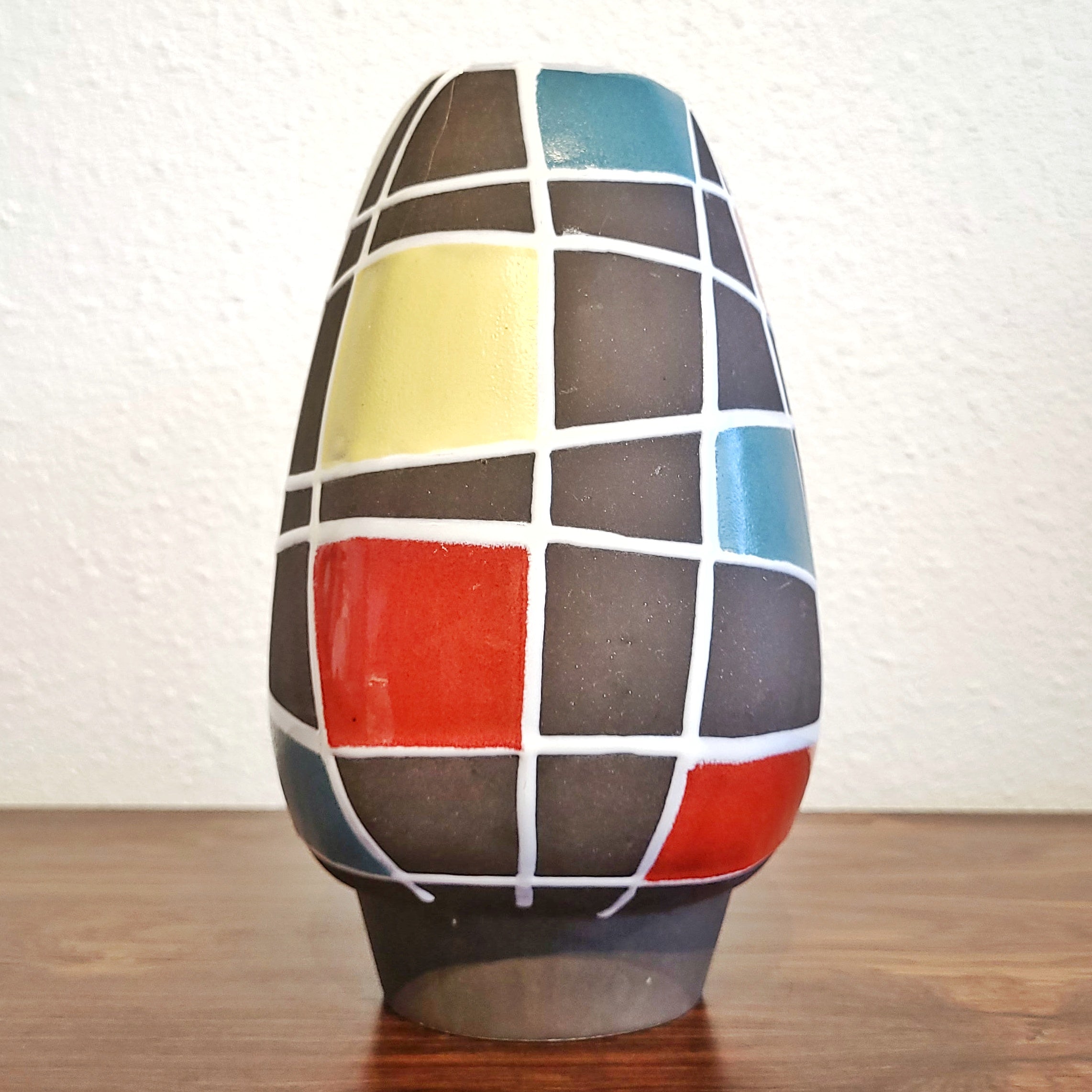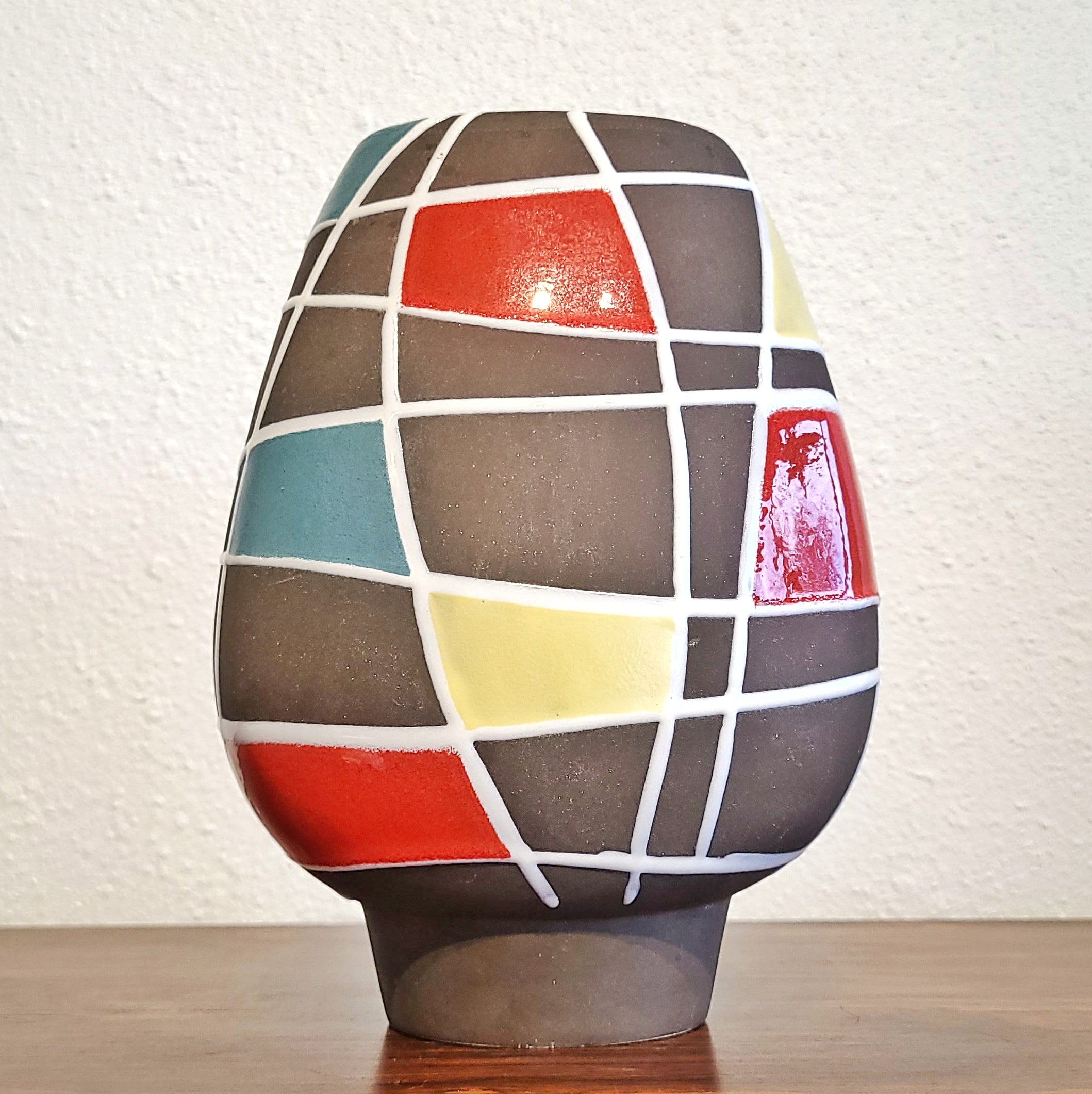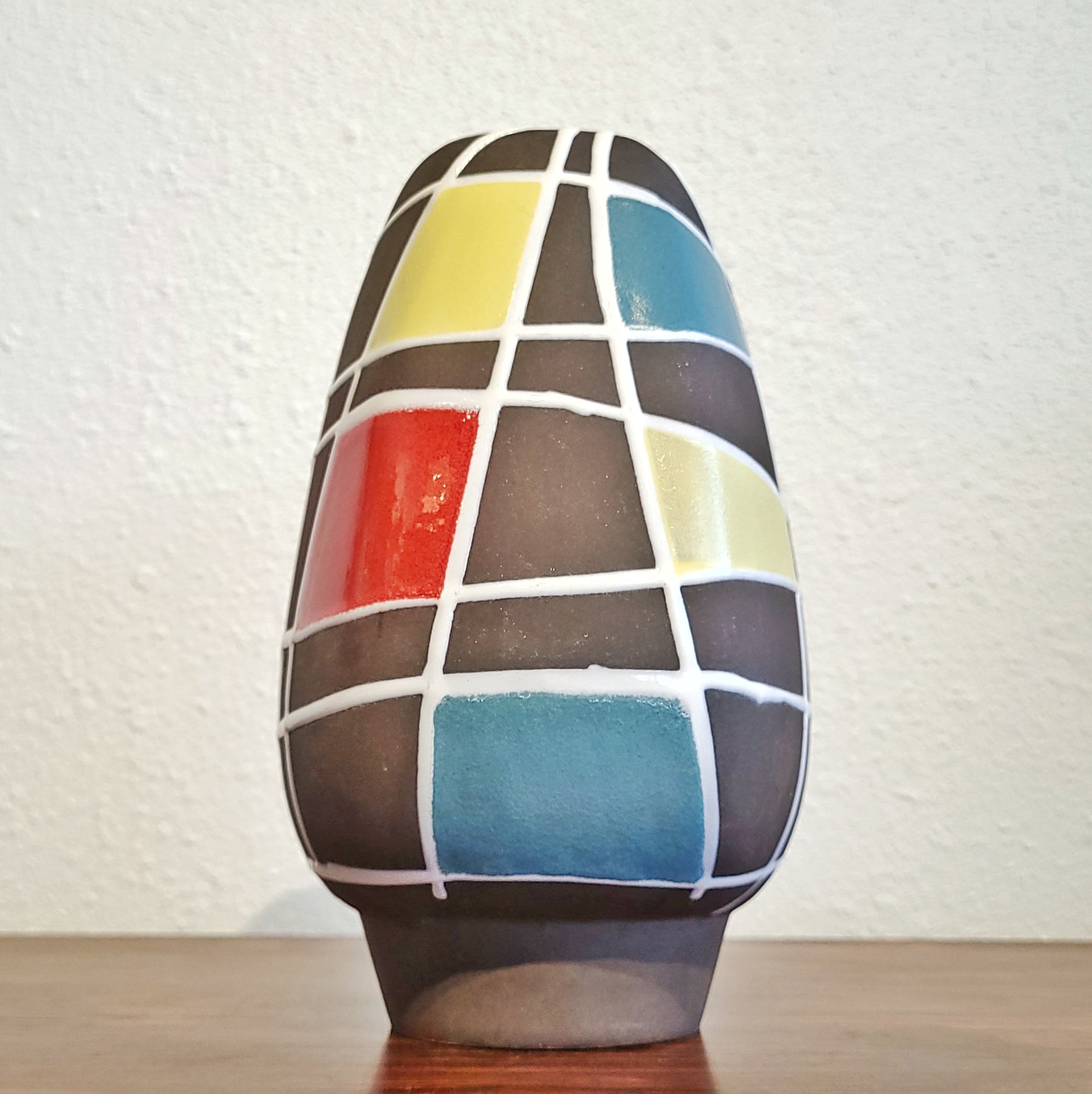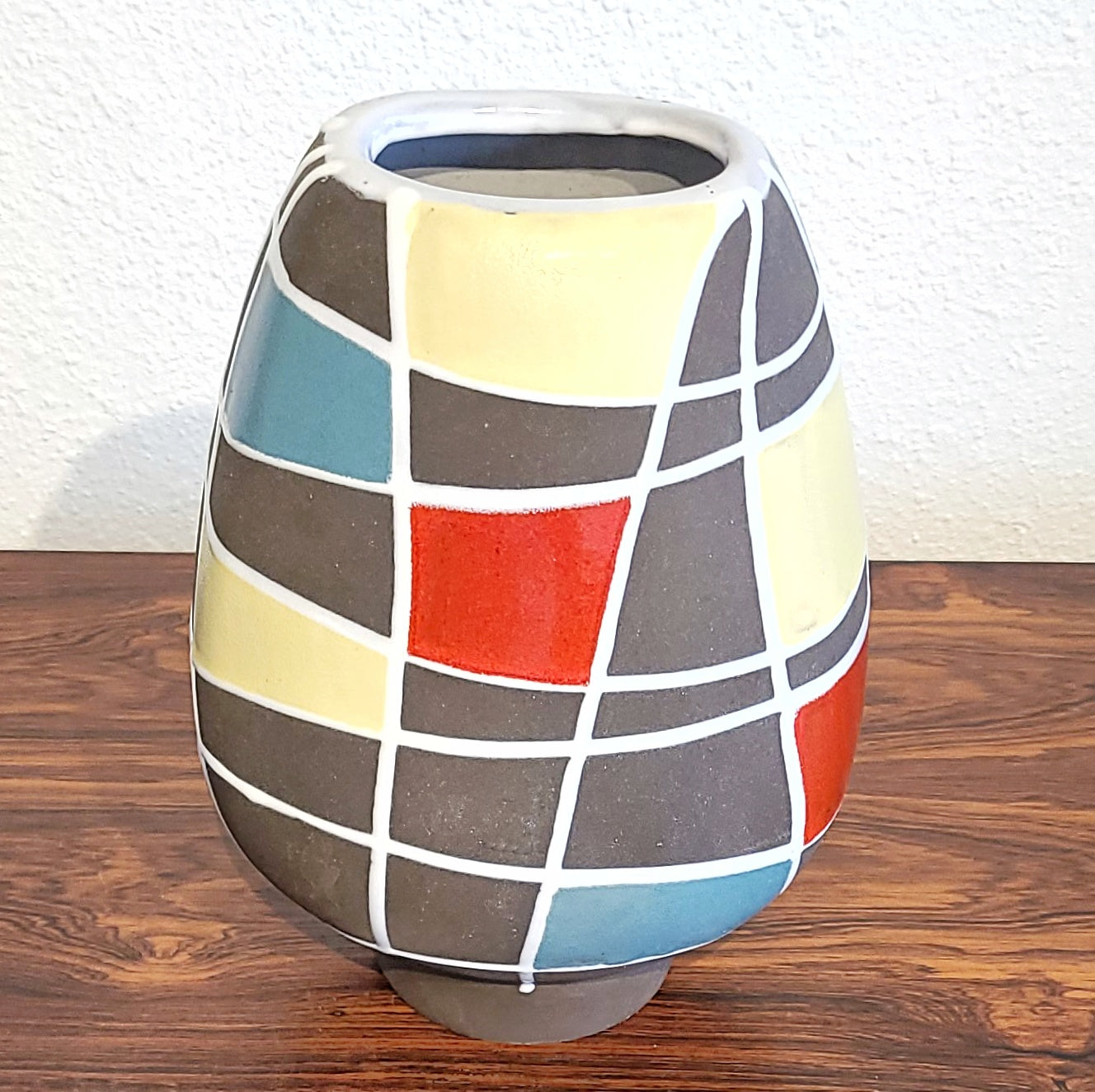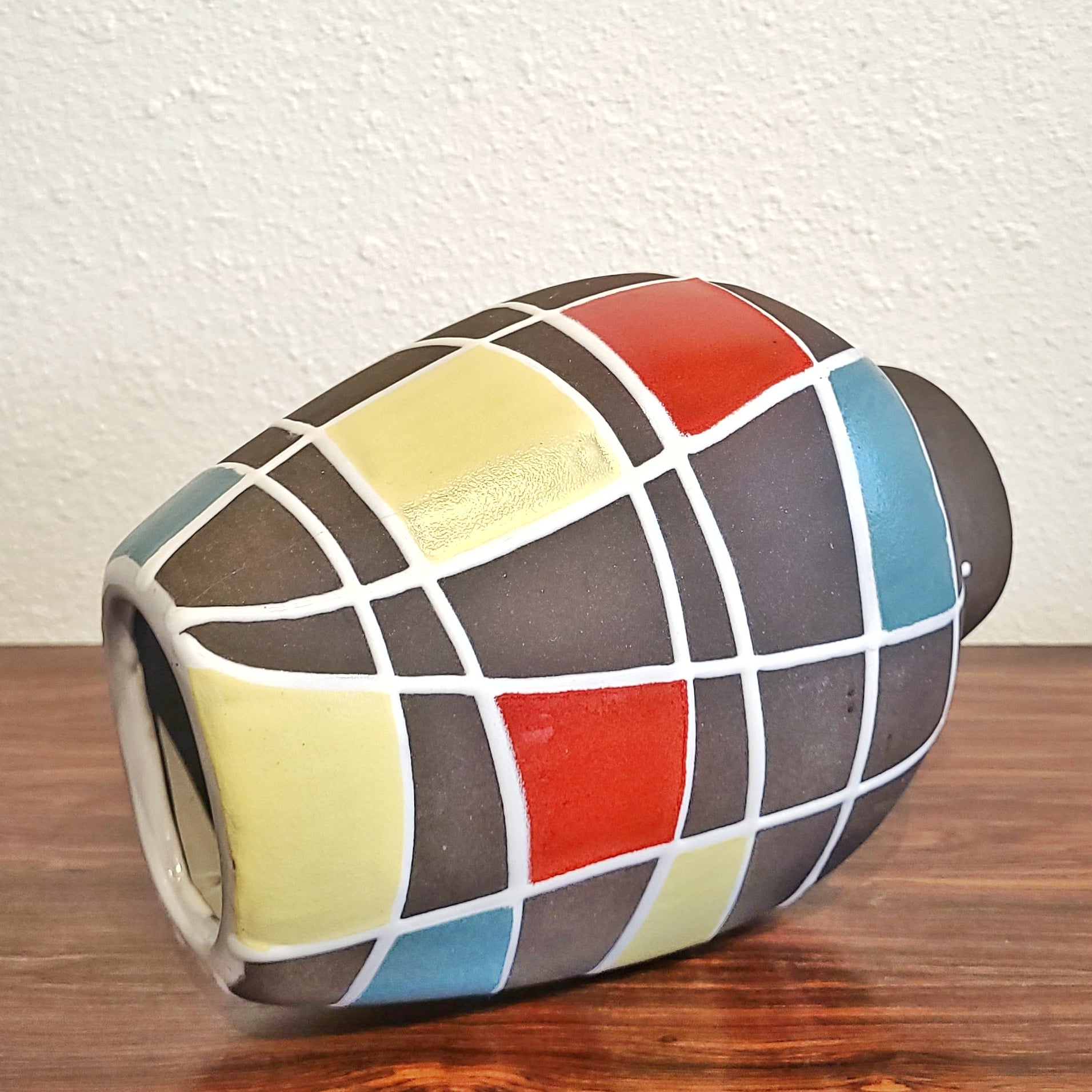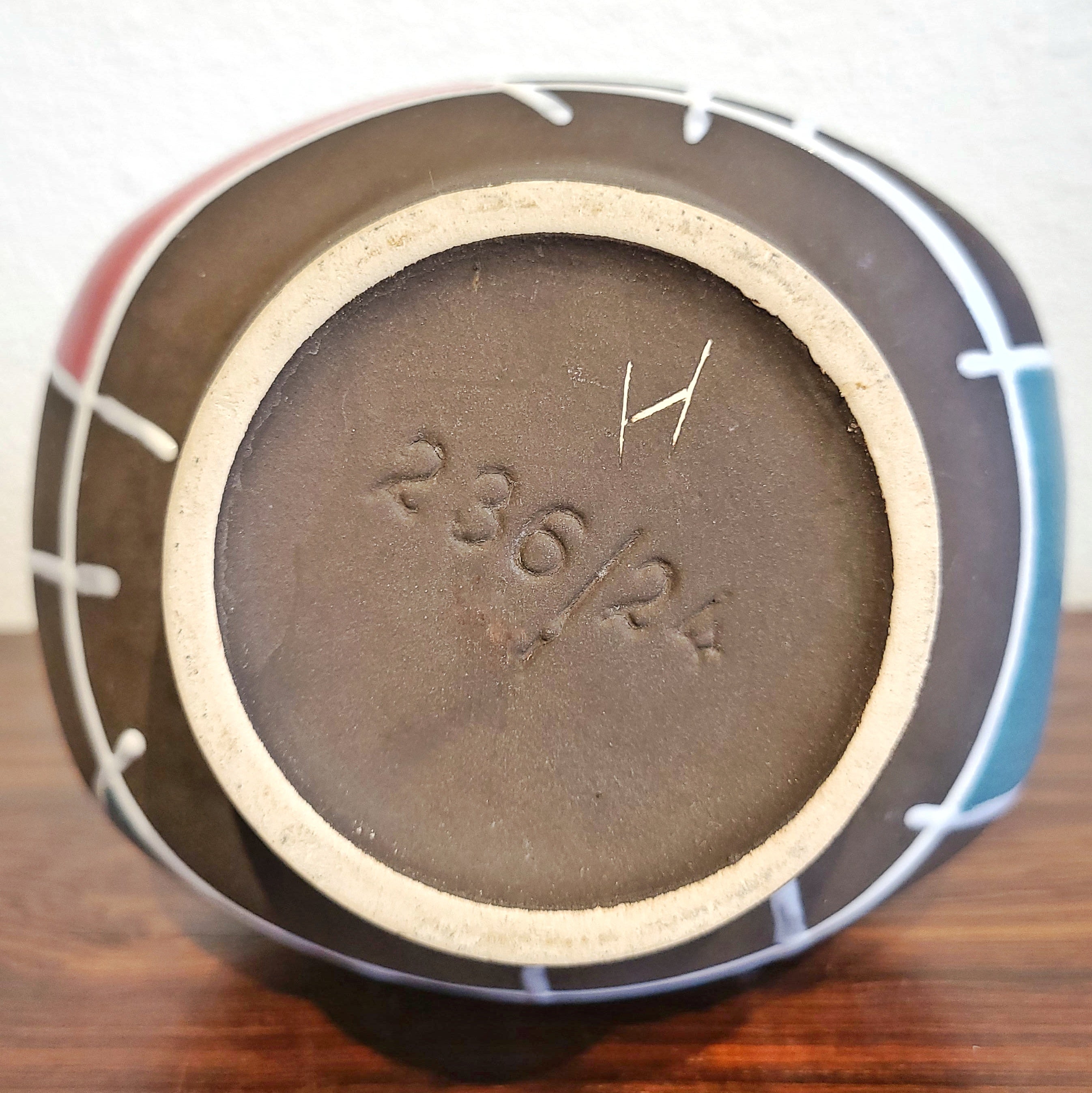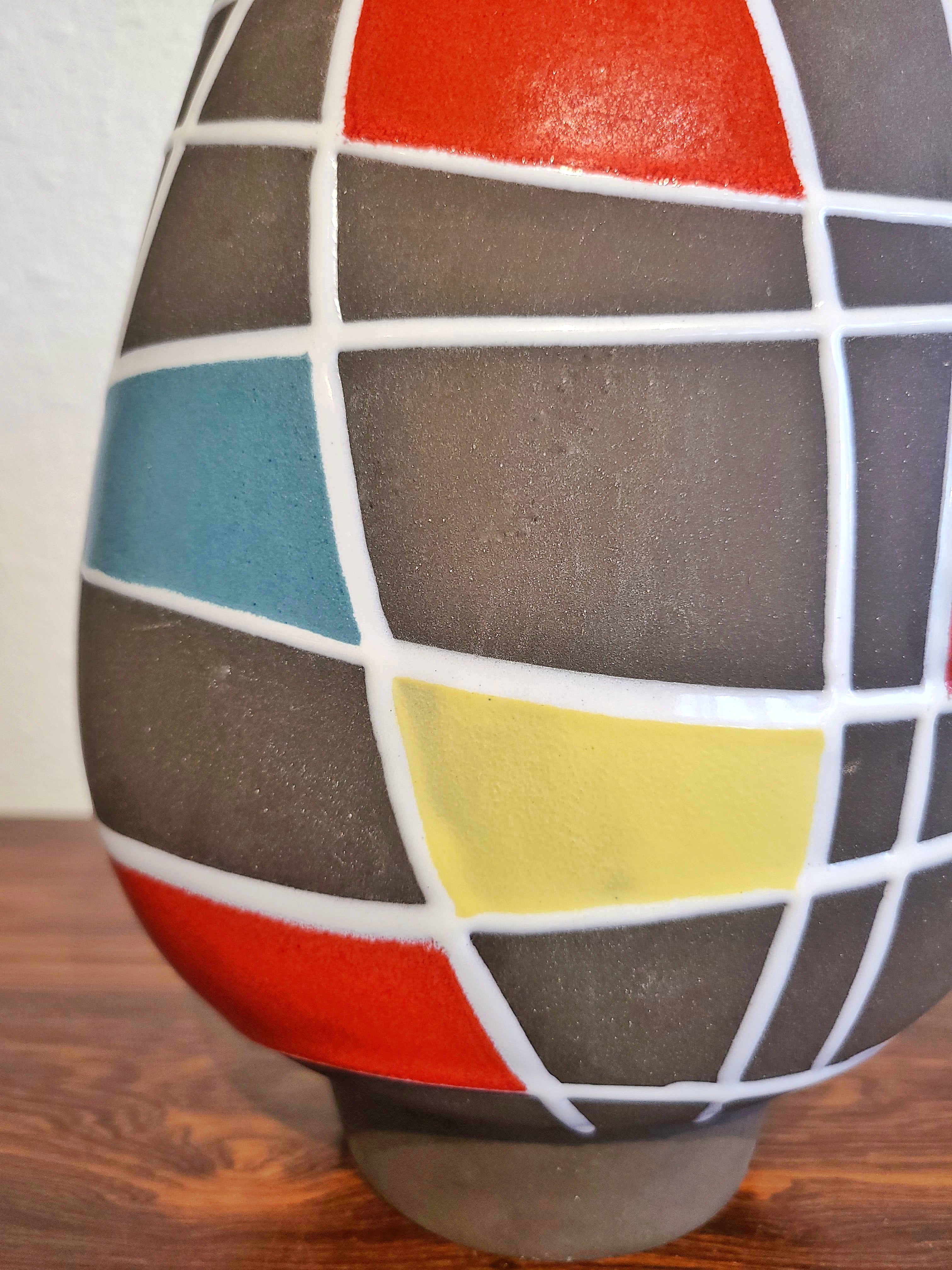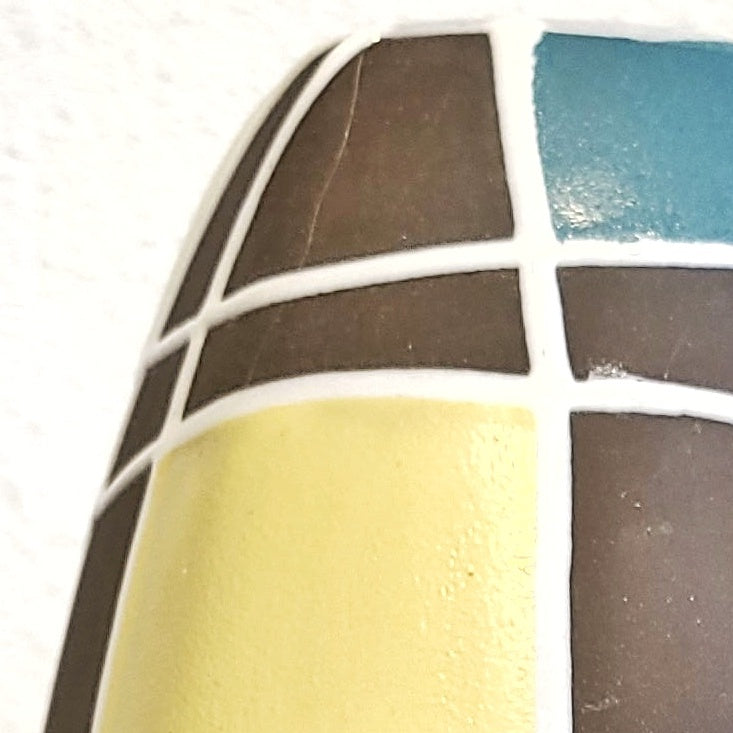 SCHLOSSBERG 'KUBA' DECOR VASE Nr. 236/24
$158.00
Regular price
$175.00
CONTACT US HERE ABOUT THIS ITEM.
Here is a beautiful Schlossberg decor from 1958 called 'Kuba'.  Designed by the very prolific Liesel Spornhauer, Kuba has long been one of Schlossberg's most popular decors and has become very collectible in the secondary market.  This vase does have an unfortunate hairline crack at the very top, and while its ability to hold water is not affected, the hairline does go all the way through (See the last photo).  The price has been adjusted accordingly.
SCHLOSSBERG KERAMIK was established as a workshop in 1946 by Ilse and Theodore Stefan in the village of Volmarstein, in the German state of North Rhine-Westphalia.  Its name was derived from its situation at the foot of the schloßberg—the castle-hill—of the ruined castle Volmarstein (destroyed by fire in 1754).  Initially the Stefans produced hand-turned, hand-painted faience exclusively.  Their output met with positive receptions at trade fairs in Frankfurt and Hanover.  Company growth and the factory's gradual conversion for the manufacture of serial products twice necessitated expansion of the buildings.  When it finally become impossible to scale up further in Volmarstein, SCHLOSSBERG moved south to a newly built building in the village of Langenaubach in Hesse in 1954.
That same year Liesel Spornhauer, previously of Dümler & Breiden, became the firm's first in-house designer.  She remained with the company through the decade and was responsible for most of the successful designs from the period. Though SCHLOSSBERG would remain a relatively minor player in the field of German art pottery, it managed to produce a disproportionate number of entirely first-rate designs, particularly under Spornhauer's direction.  When she left in 1959, co-founder Ilse Stephan assumed the position of head designer.  In the mid-sixties, like most other makers of the time, SCHLOSSBERG emphasized the production of the popular "fat lava" décors.  The talented Hanns Welling, renowned for the game-changing designs that he introduced while working for Ruscha and Ceramano, would leave his mark at SCHLOSSBERG as a freelancer.  Unfortunately, the business was not able to sustain the successes of the 1950s and '60s, and it closed its doors in 1975.
White clay was used exclusively in the manufacture of SCHLOSSBERG's products. Some pieces were inscribed with the intertwined letters, "T" and "S," probably representing co-founder Theodore Stephan's initials.  Many items had only form and size numbers engraved or molded on the base, separated by a slash mark or stacked one atop the other.  Usually a distinctive typeface was employed, which can be an aid in identifying the company's pottery.  Some pieces are entirely unmarked.
LIESEL SPORNHAUER (1926-?) came to her desired profession late due to the war.  In 1946 she began an apprenticeship as a ceramic painter with Kunow & Drossé in Höhr-Grenzhausen and continued her training at the Werkkunstschule Offenbach from 1949 to 1951, including with Kuno Jaschinski, who also ran his own ceramic workshop in Goslar.  After completing her training, she worked for Dümler & Breiden from 1951 to 1953 as a painter and designer.  In 1954, she joined Schloßberg-Keramik working with Theodor Stephan in Langenaubach as a form and decor designer, where she remained until 1959. All of the forms and decors that were created during this period, which are among the most important designs of the time, come from her.  In 1957 she married Heinz Ebinger, the manager of Schloßberg ceramics, and in 1960 set up a joint company with him to manufacture building ceramics in Bad Ems.  In 1962, along with Bodo Mans, she founded the ceramic group "Muffel", and also went public with her own ceramic objects.  Some of her most famous designs for Schloßberg include the decors: Roulette (1954), Azur, Tornado (1955), Hong Kong, Rosso (1956), Gotland  (1957), Kuba (1958), and Rio (1959).

| | |
| --- | --- |
| Manufacturer | Schlossberg Keramik |
| Design Period | 1950 to 1959 |
| Production Period | 1950 to 1959 |
| Country of Manufacture | Germany |
| Identifying Marks | This piece has been attributed based on archival documentation, such as vintage catalogs, designer records, or other literature sources |
| Style | Vintage, Mid-Century, Minimalist, Modernist |
| Detailed Condition | Good — This vintage item remains fully functional, but it shows sign of age through scuffs, dings, faded finishes, minimal upholstery defects, or visible repairs. |
| Restoration and Damage Details | Light wear consistent with age and use, There is a hairline crack at the top of the vase (see last photo) |
| Product Code | |
| Materials | Ceramic |
| Color | Black, red, yellow, teal, white |
| Width | 6.5 inch |
| Depth | 5.5 inch |
| Height | 9.5 inch |