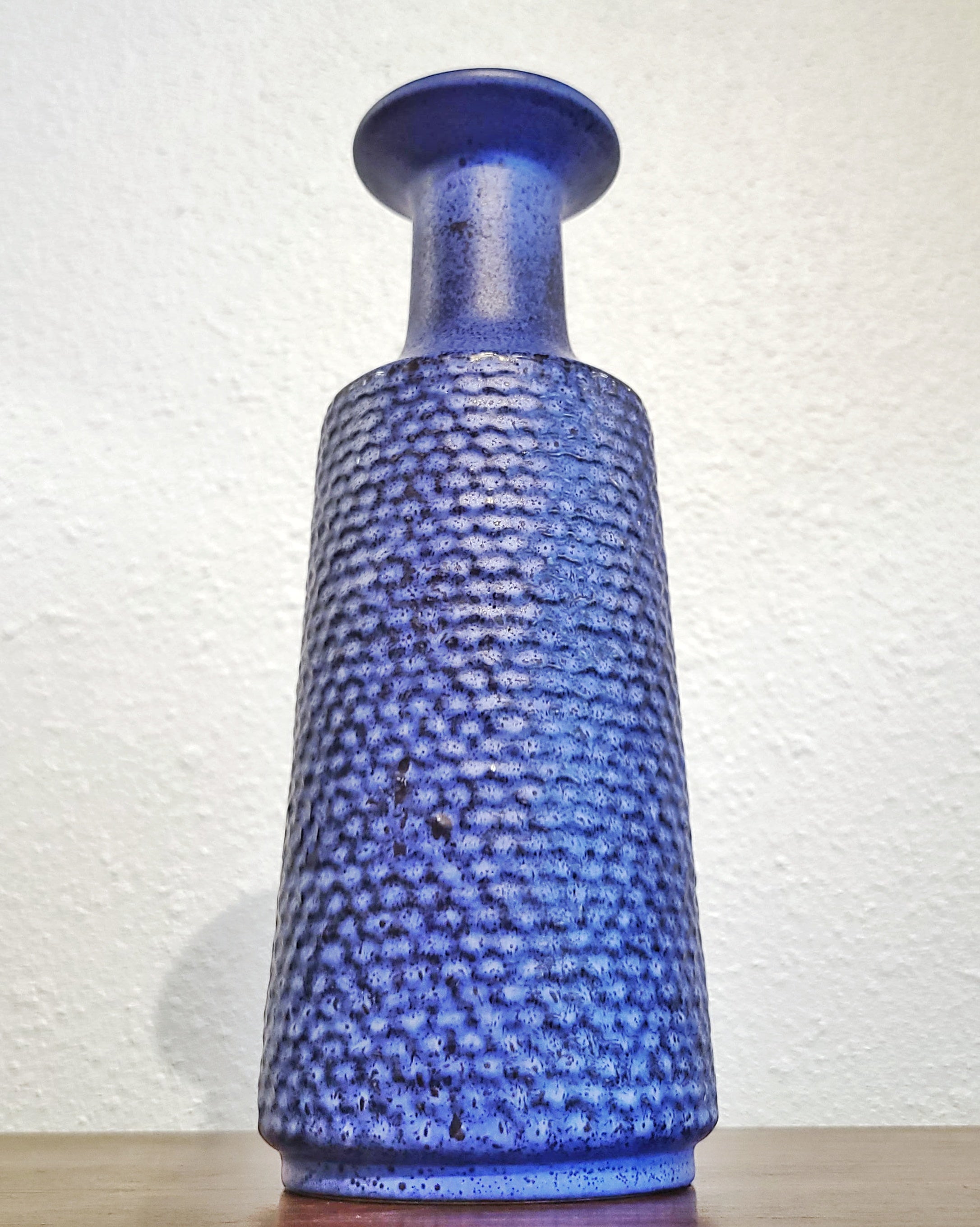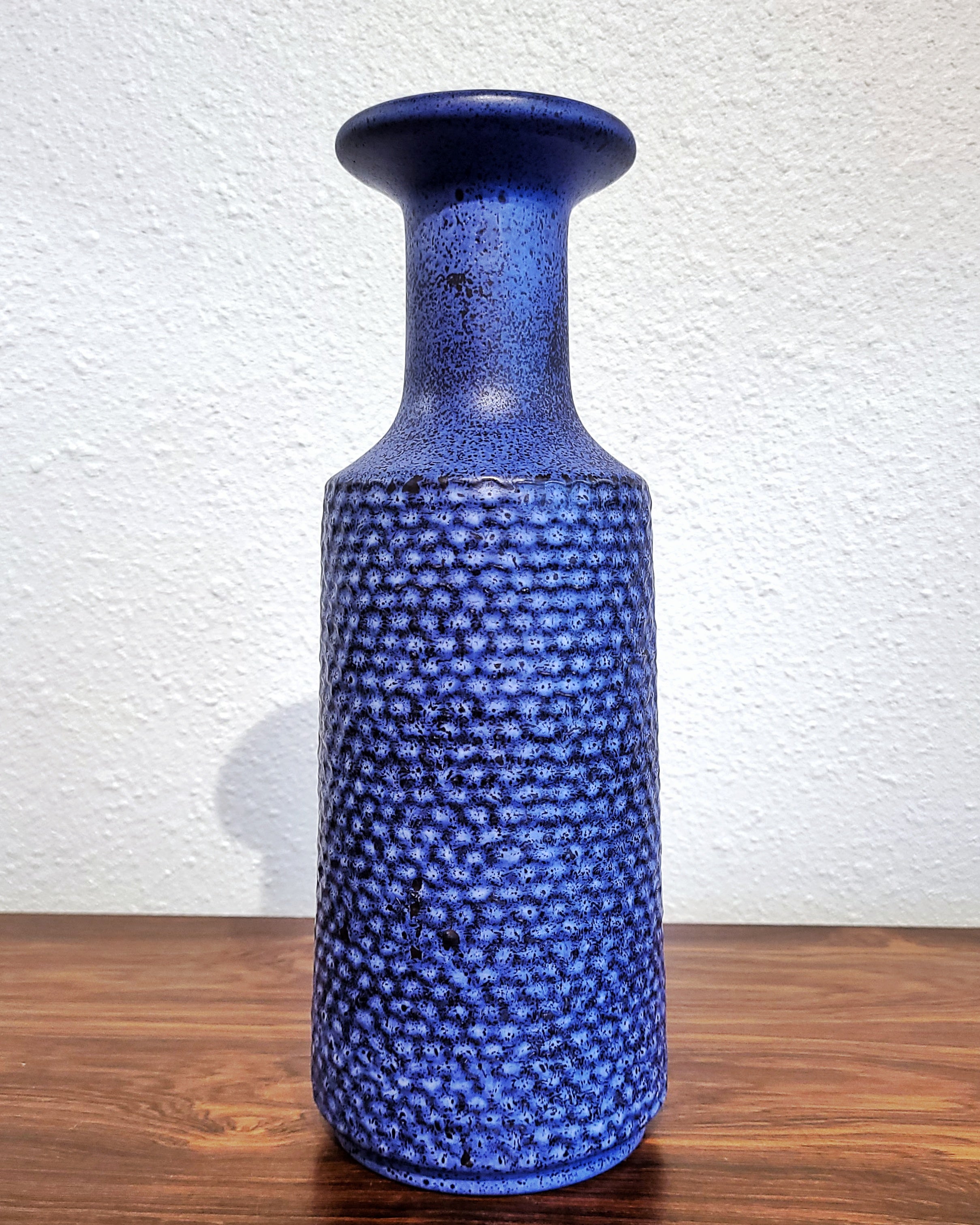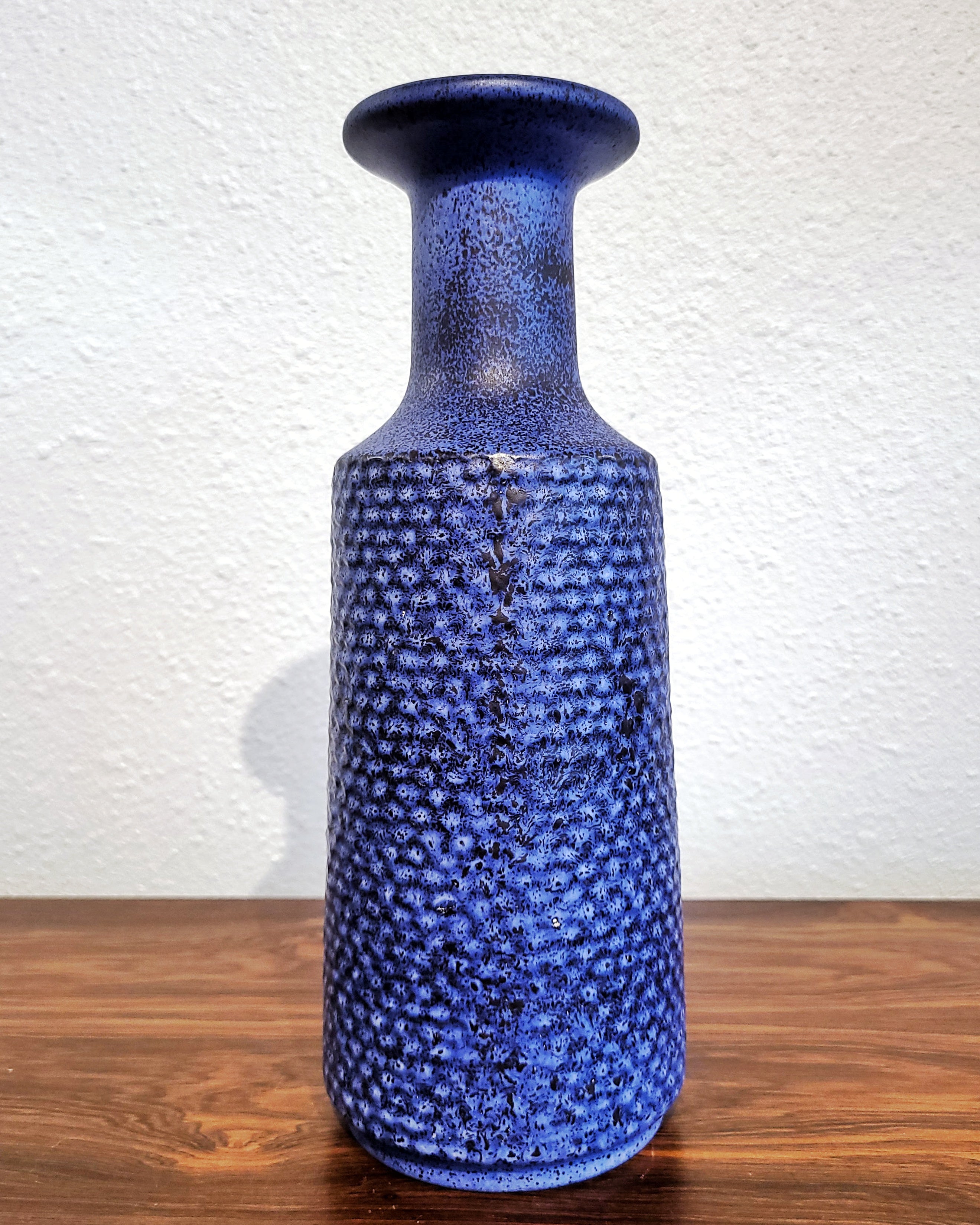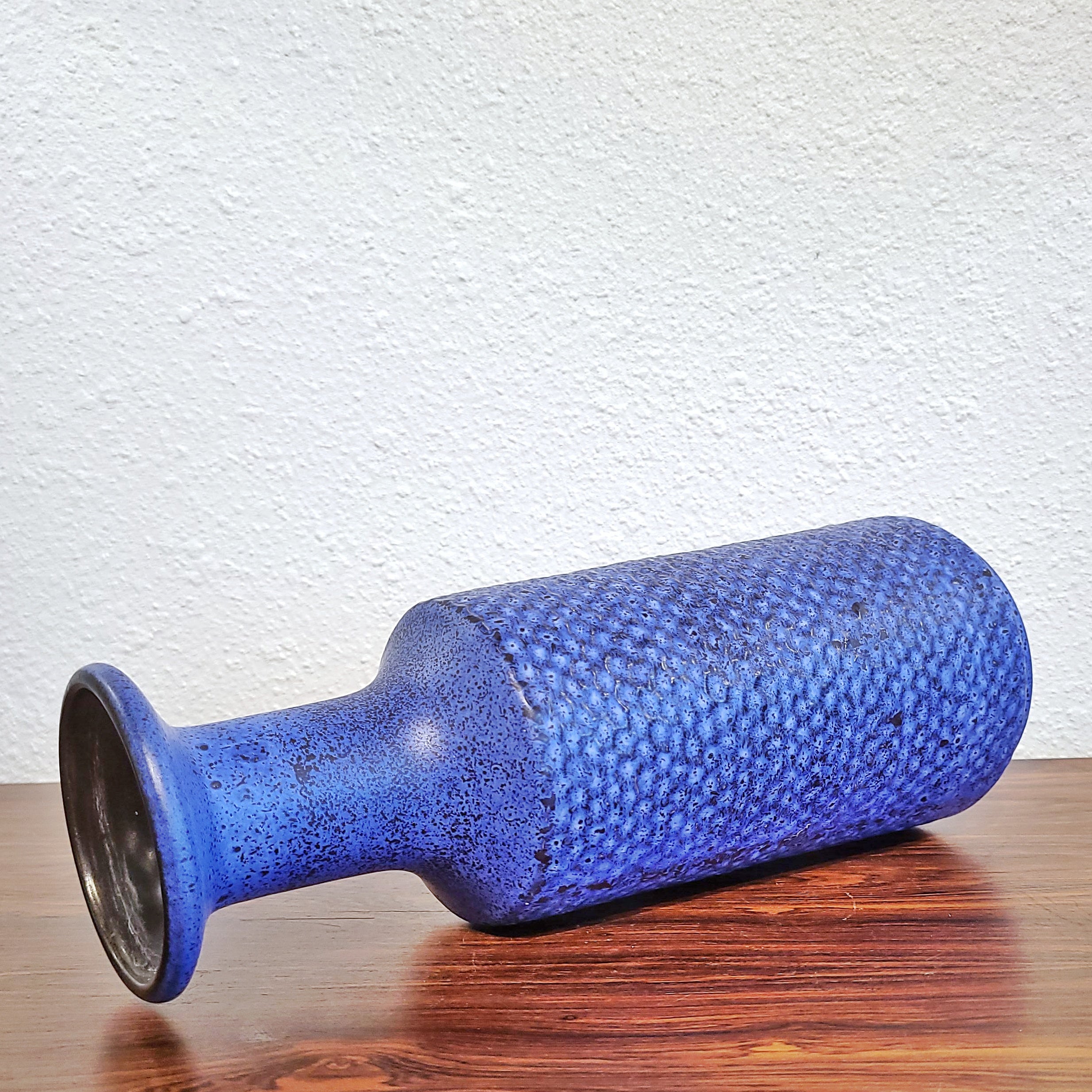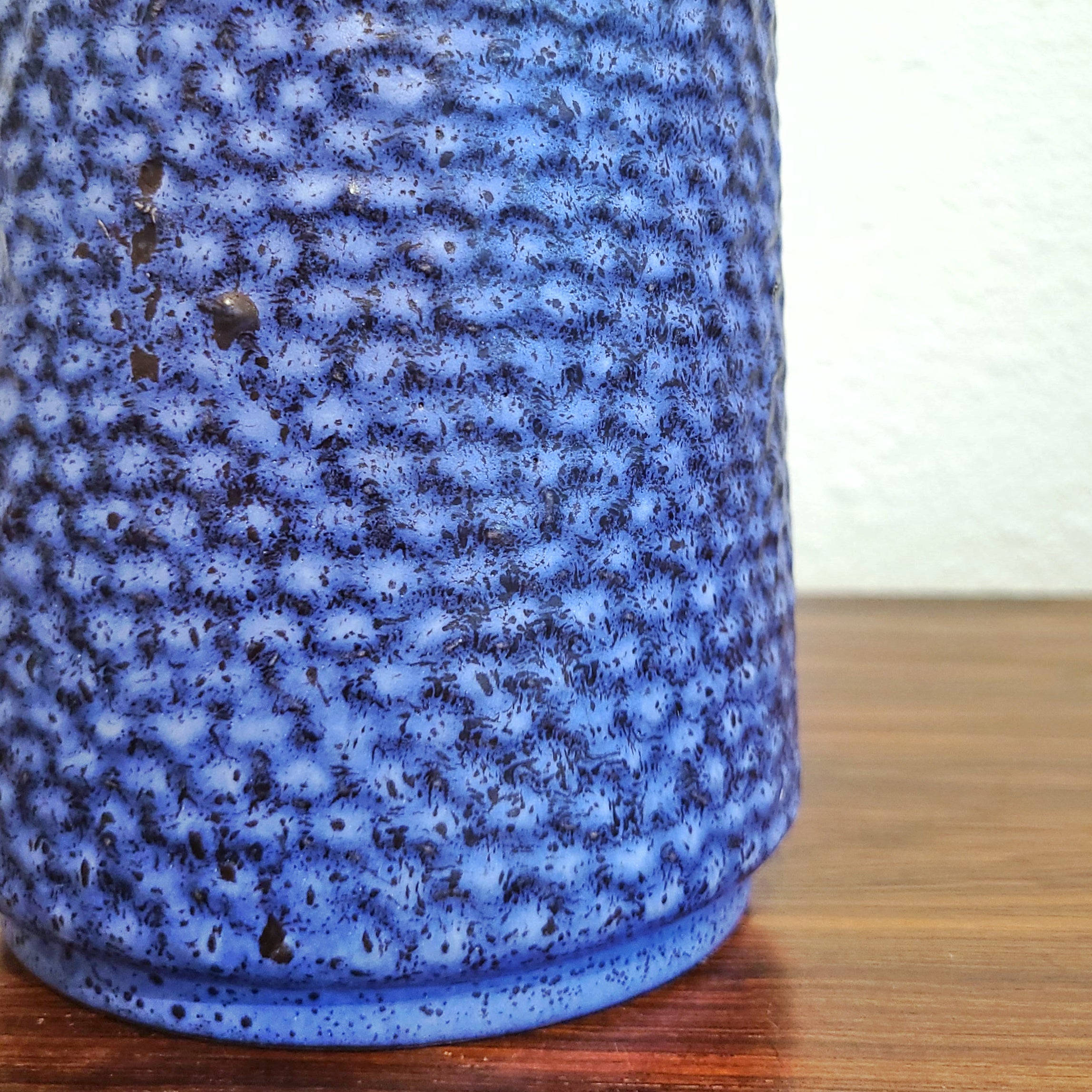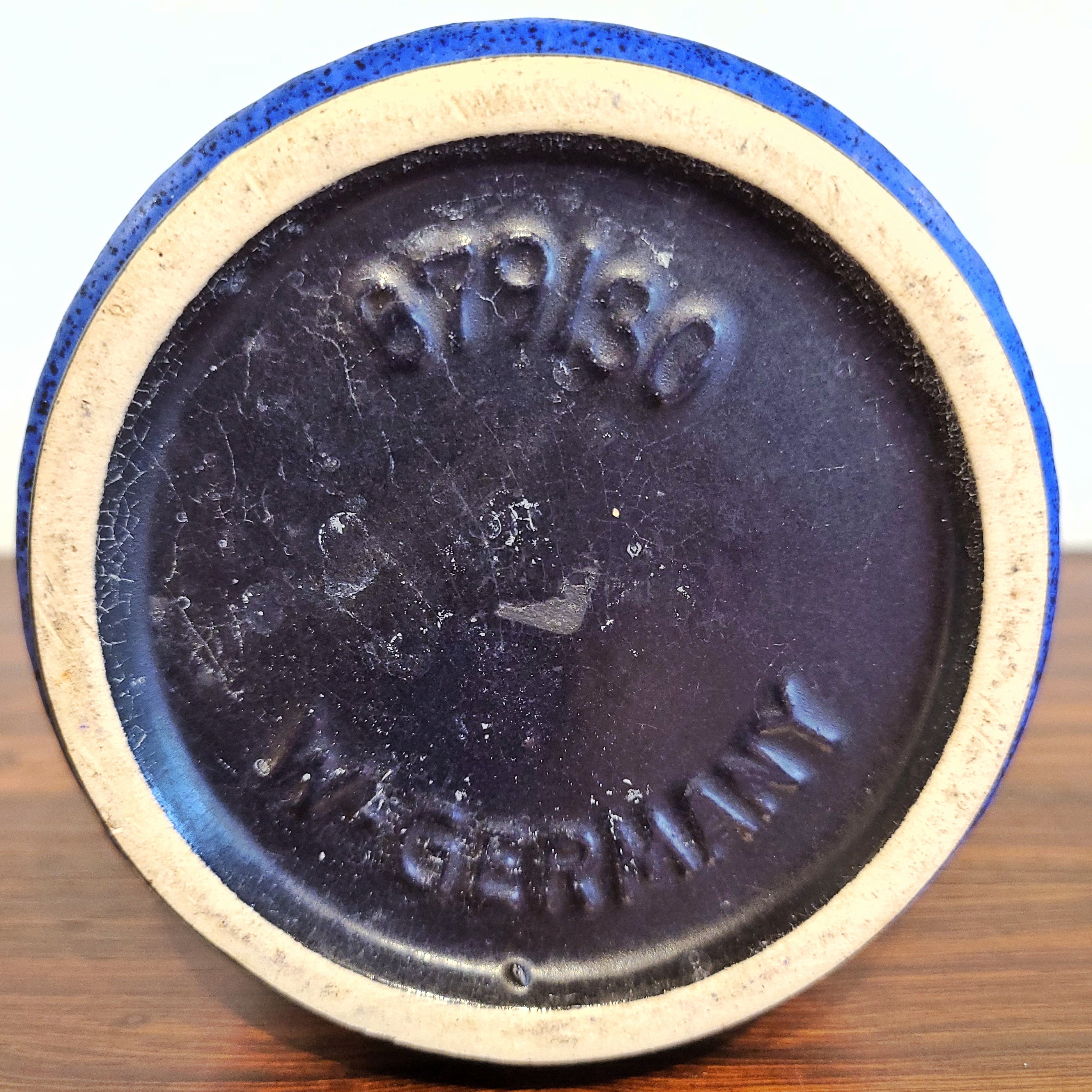 TALL BLUE HERBERT REUSCH VASE Nr. 879/30 FOR ECKHARDT & ENGLER
CONTACT US HERE ABOUT THIS ITEM.
A beautiful tall blue relief decor vase designed by Herbert Reusch for Eckhardt & Engler.  The form and decor are somewhat reminiscent of Stig Lindberg's work for Gustavsberg.
ECKHARDT & ENGLER (1898-1971) was founded as a wholesale company in Höhr-Grenzhausen, Germany.  It was initially converted into a pewter foundry and later into a stoneware factory.  In 1922 the molds from the dissolved company Roßkopf & Gerz were taken over by Eckhardt & Engler.  After overcoming the restrictions caused by the war, the company developed into one of the most important manufacturers of fine stoneware and decorative ceramics in Germany with around 100 employees.  In addition to the traditional range, the company introduced a more contemporary range of objects in shape and decor designs typical of the time and soon made up a considerable part of the total production.  Without exception, the designs were all made by Herbert Reusch, the owner's son-in-law and grandson of one of the original founders, and operations manager of the company.  The collections, which changed relatively frequently, were presented at the industrial trade fairs in Hanover and sold by regional representatives through specialist dealers as well as through purchasing associations and department stores.  The company closed its doors in 1971.
HERBERT REUSCH (1918-1991) was trained as a commercial ceramicist but had always desired to pursue artistic-ceramic training.  After WWII ended and he completed his military service, Reusch, the grandson of the company founder, joined the staff of Eckhardt & Engler where he soon took over the commercial management of the company.  a little later, he also took over technical and artistic management.  He designed all the decors in the following years and, in collaboration with a modeler, also had a major influence on the design program.
Details
Dimensions

4.5ʺW × 4.5ʺD × 12ʺH
Styles

Boho Chic 
Mid-Century Modern
Minimalism

Period

1960s
Place of Origin

Germany
Item Type

Vintage, Antique or Pre-owned
Materials

Stoneware
Condition

Very Good Condition, Original Condition Unaltered, No Imperfections
Color

Blue
Condition Notes

Excellent Vintage Condition