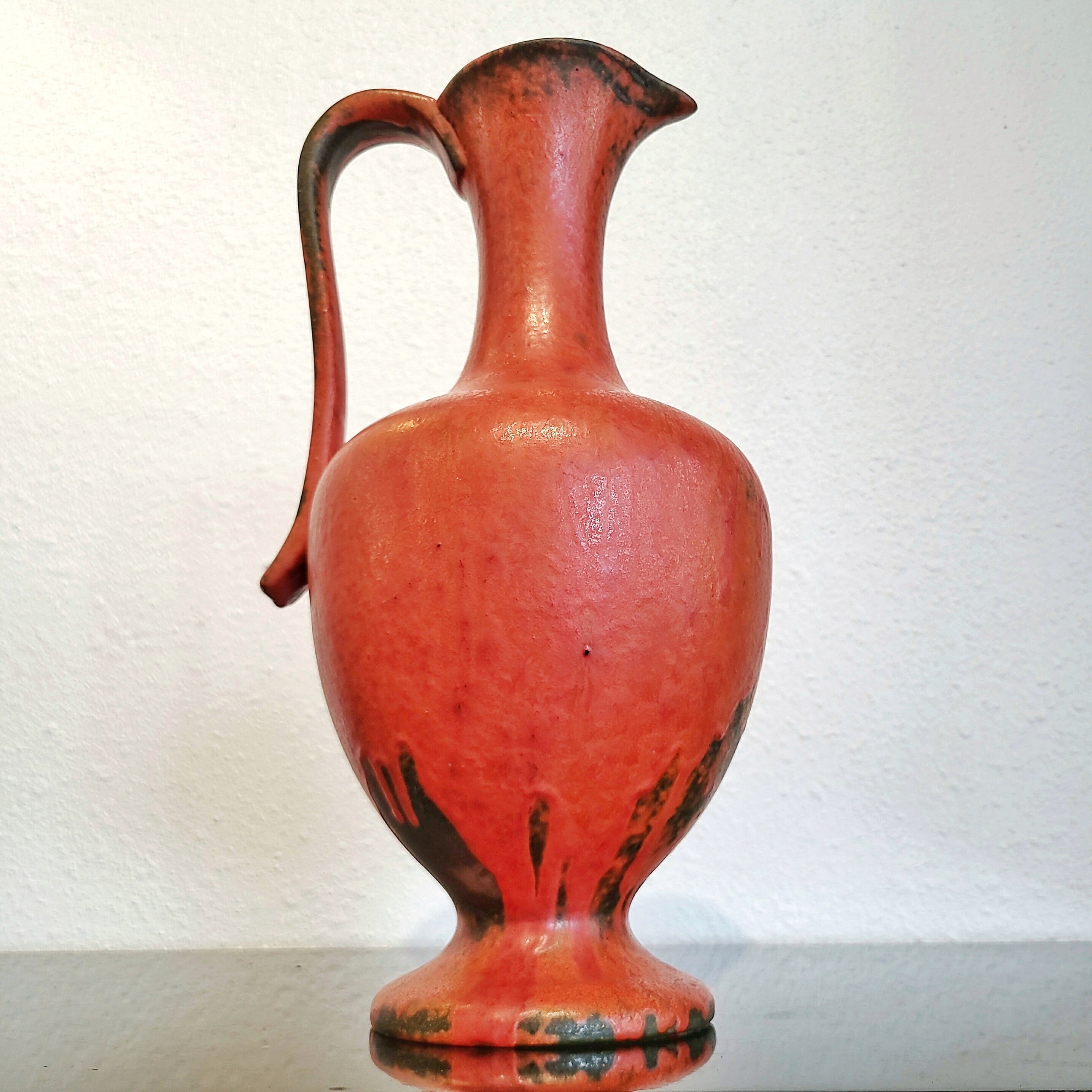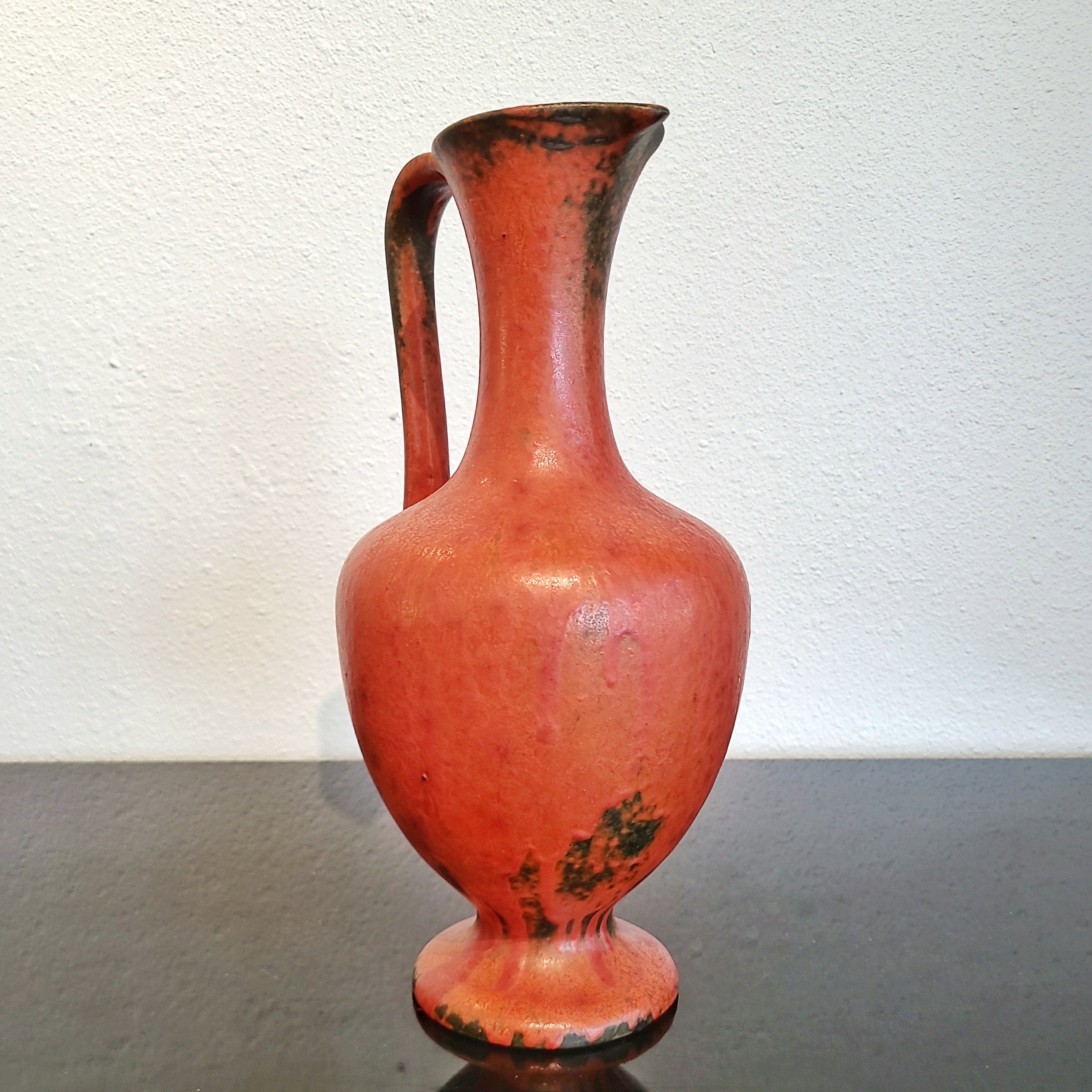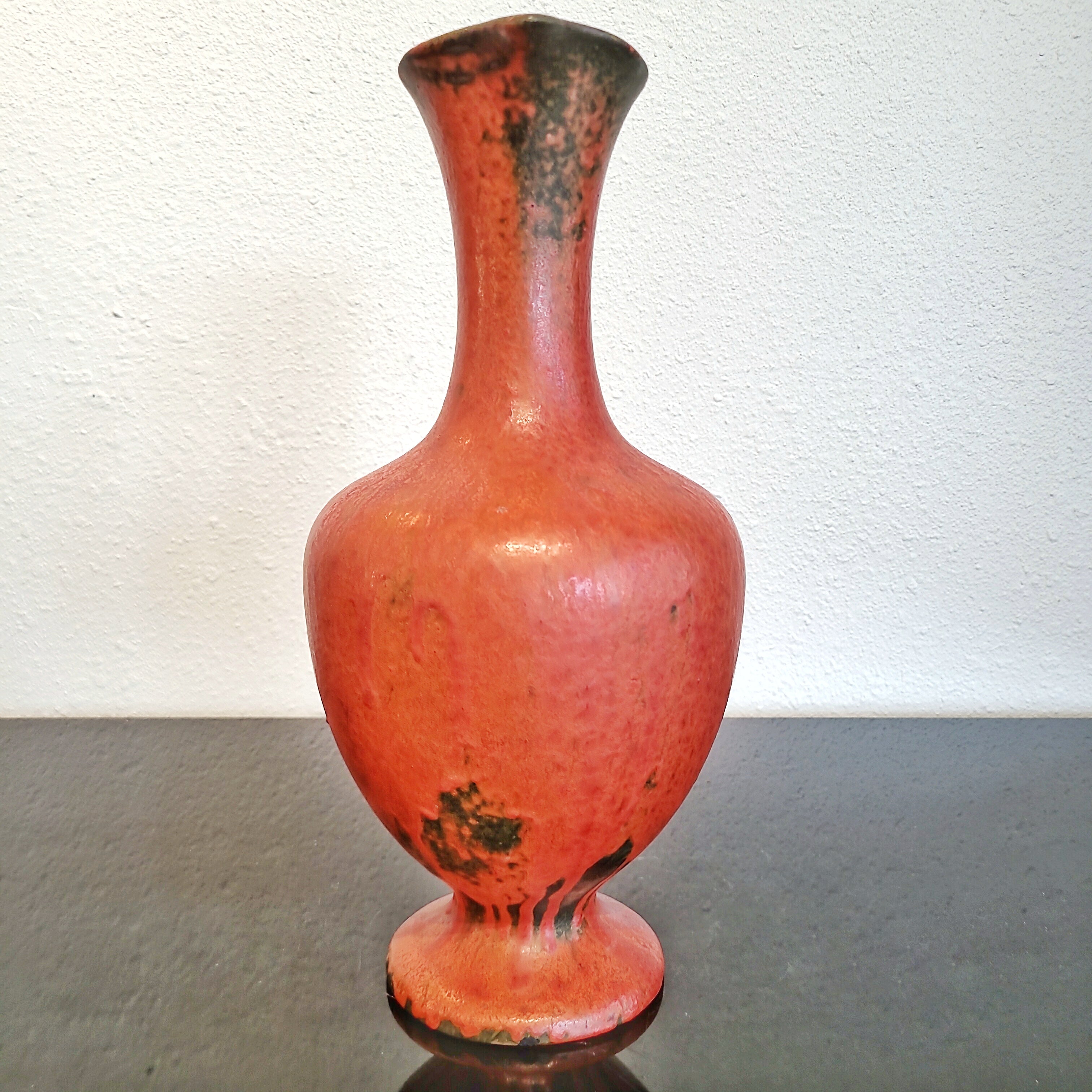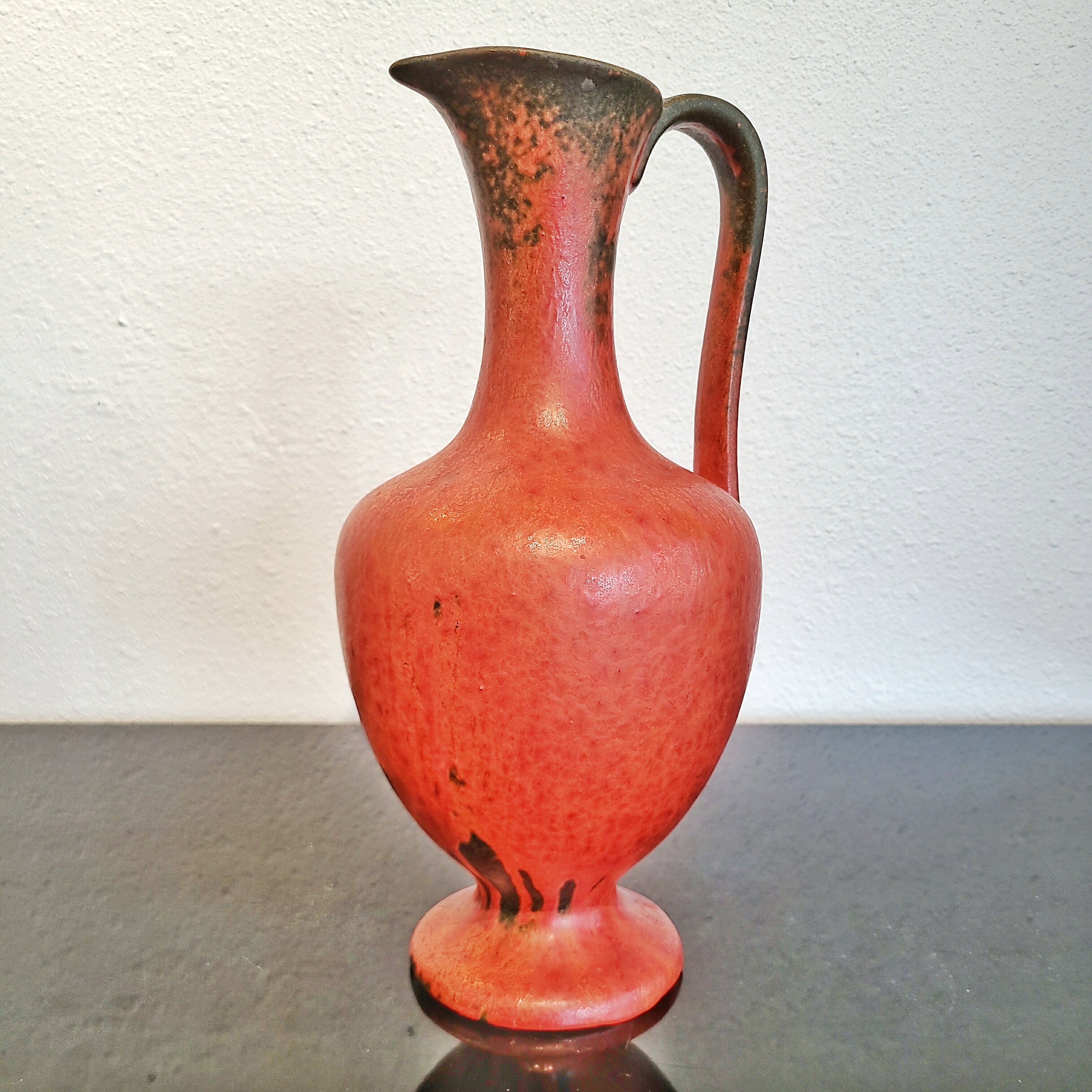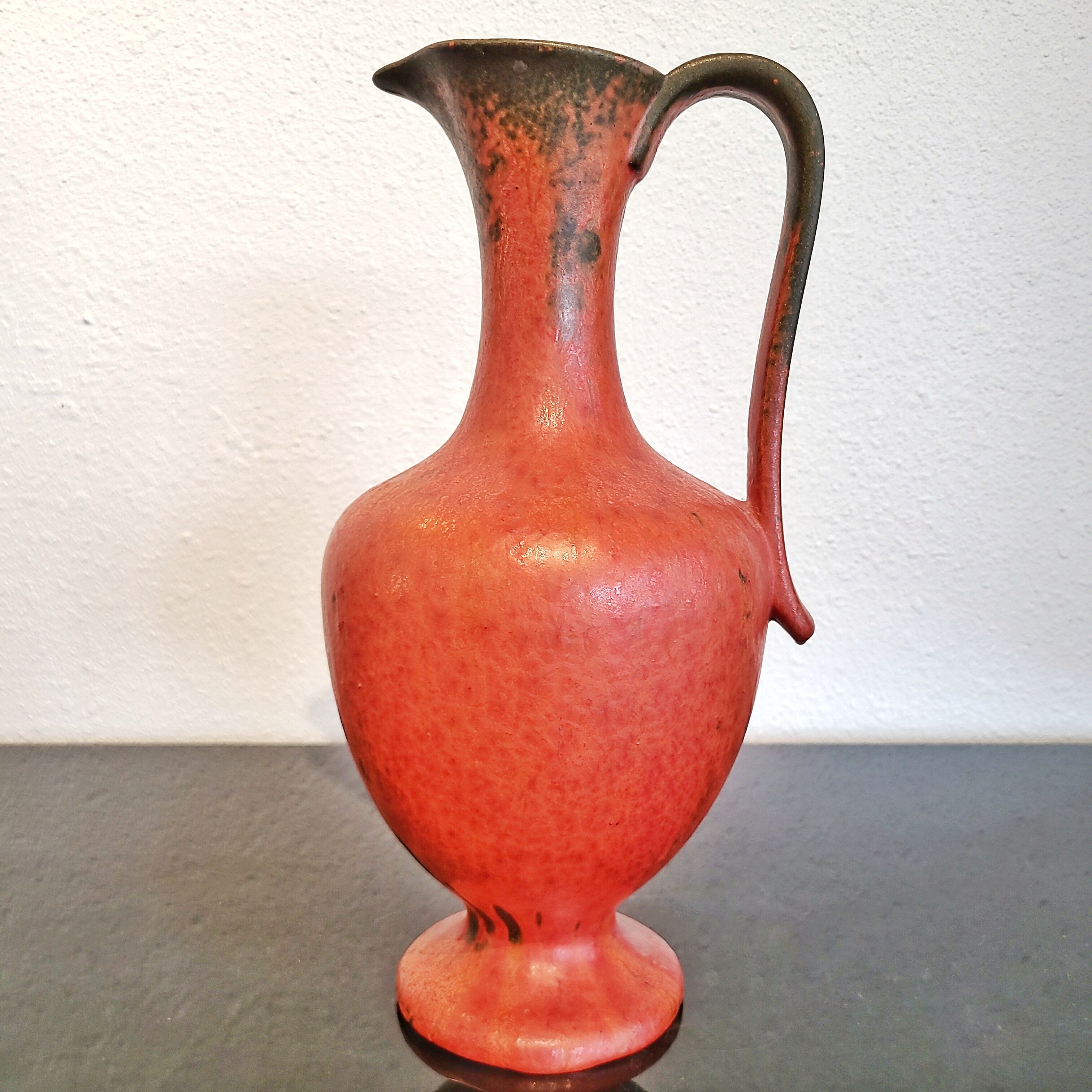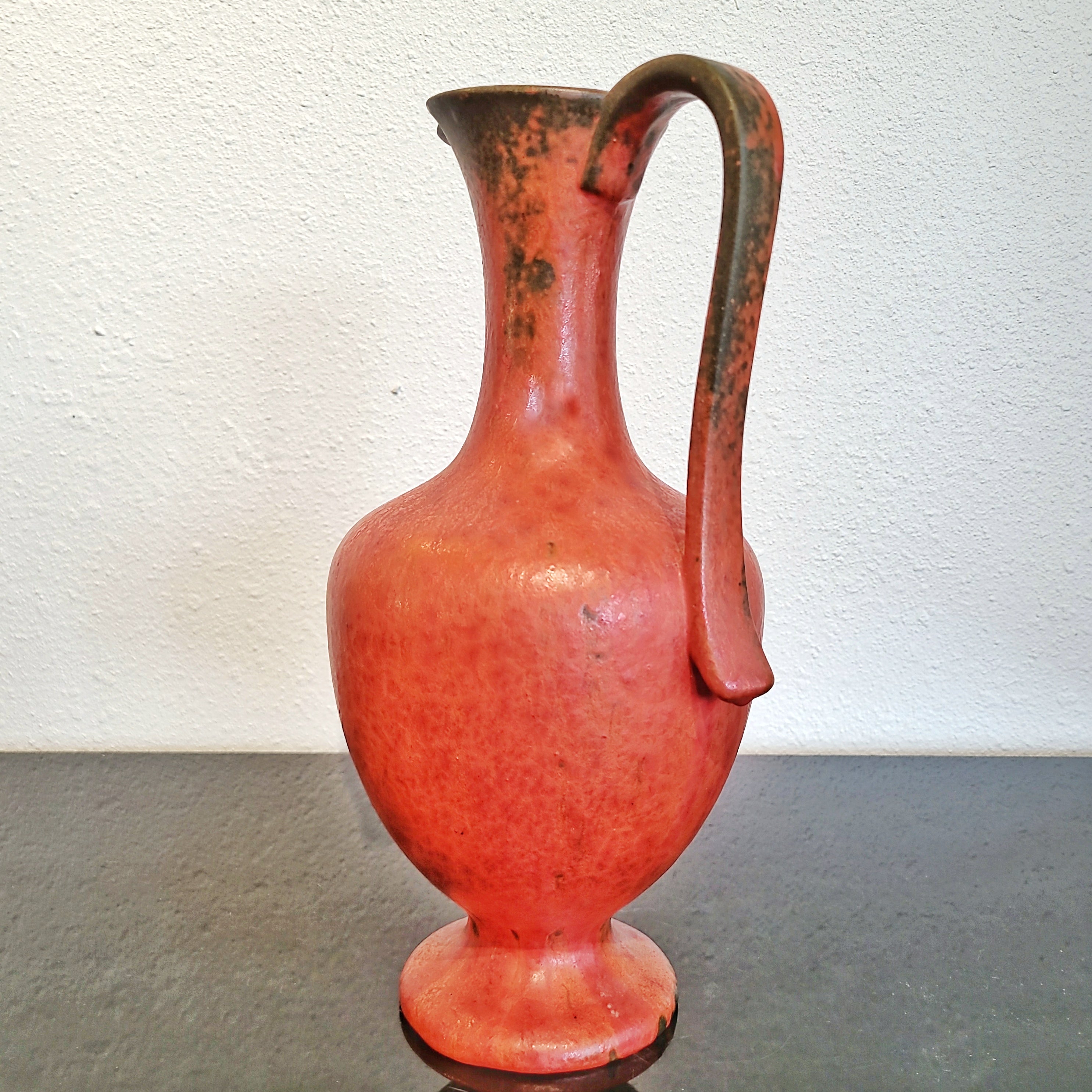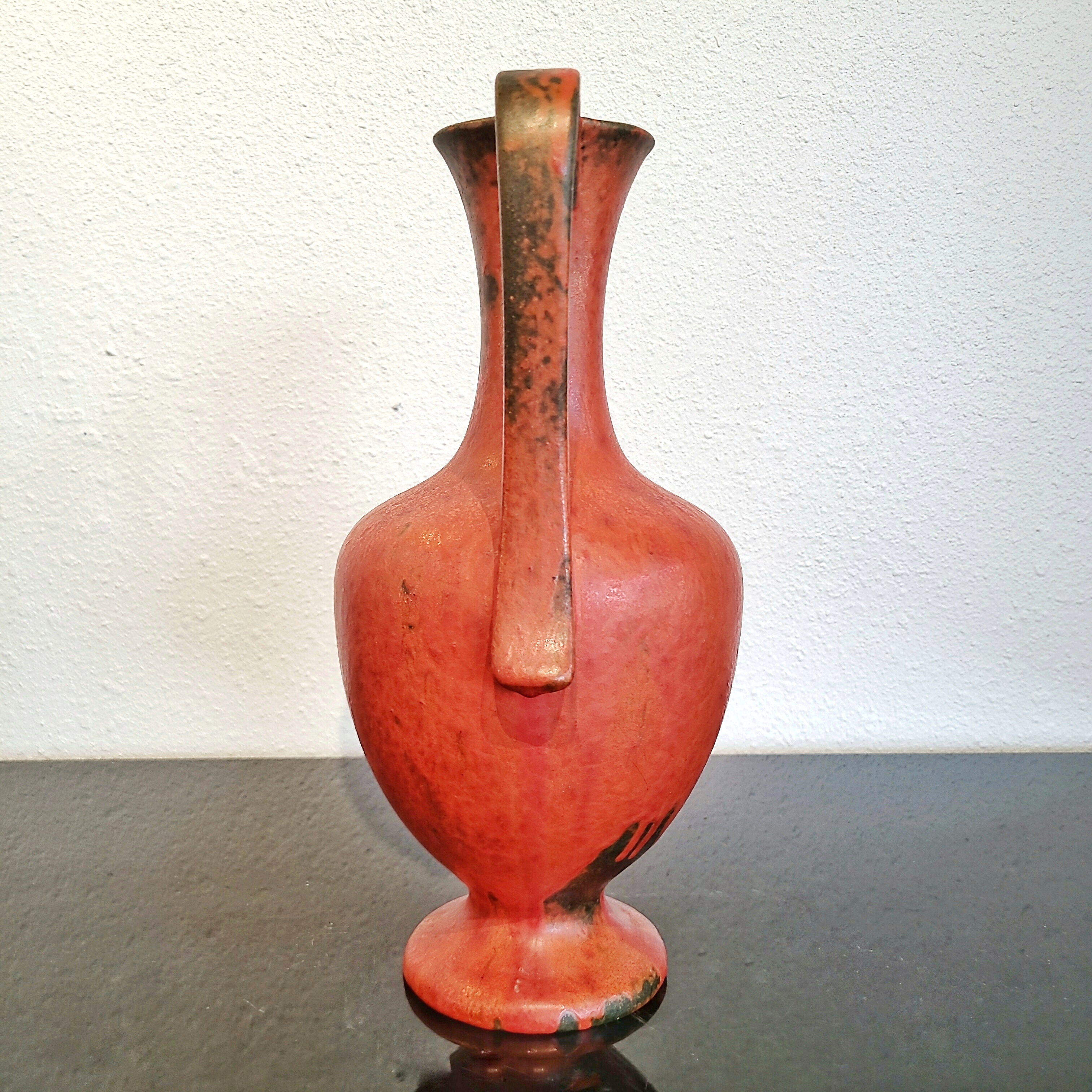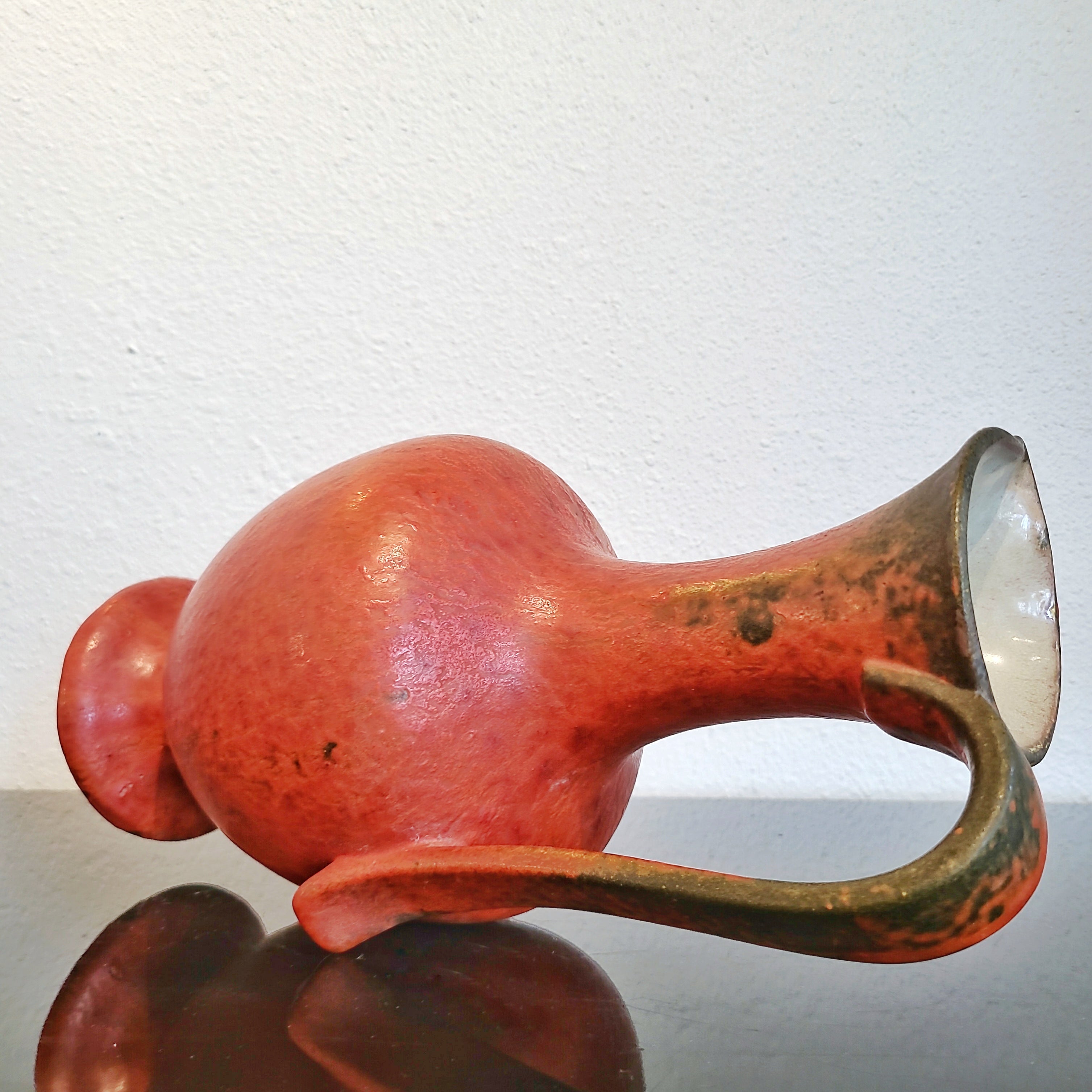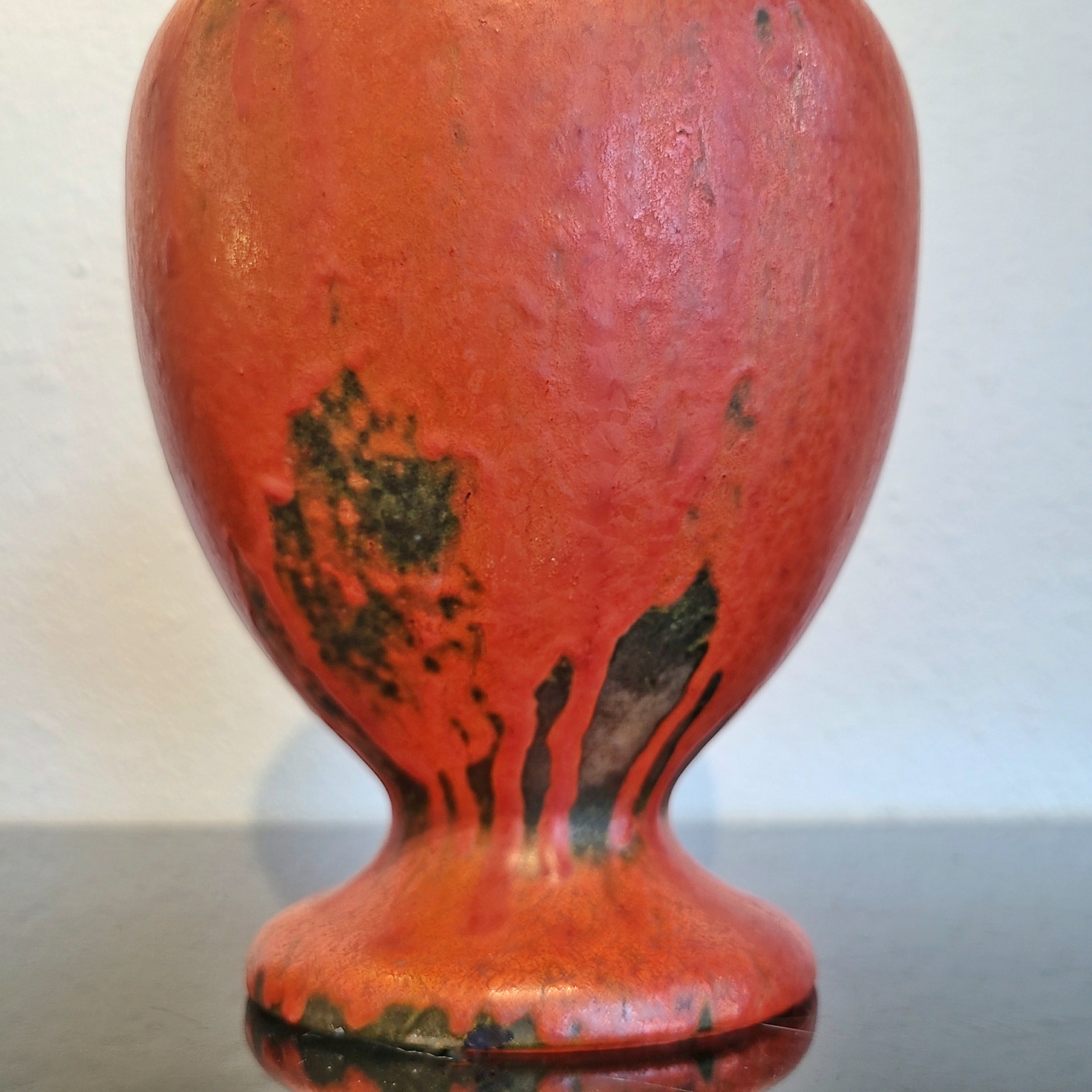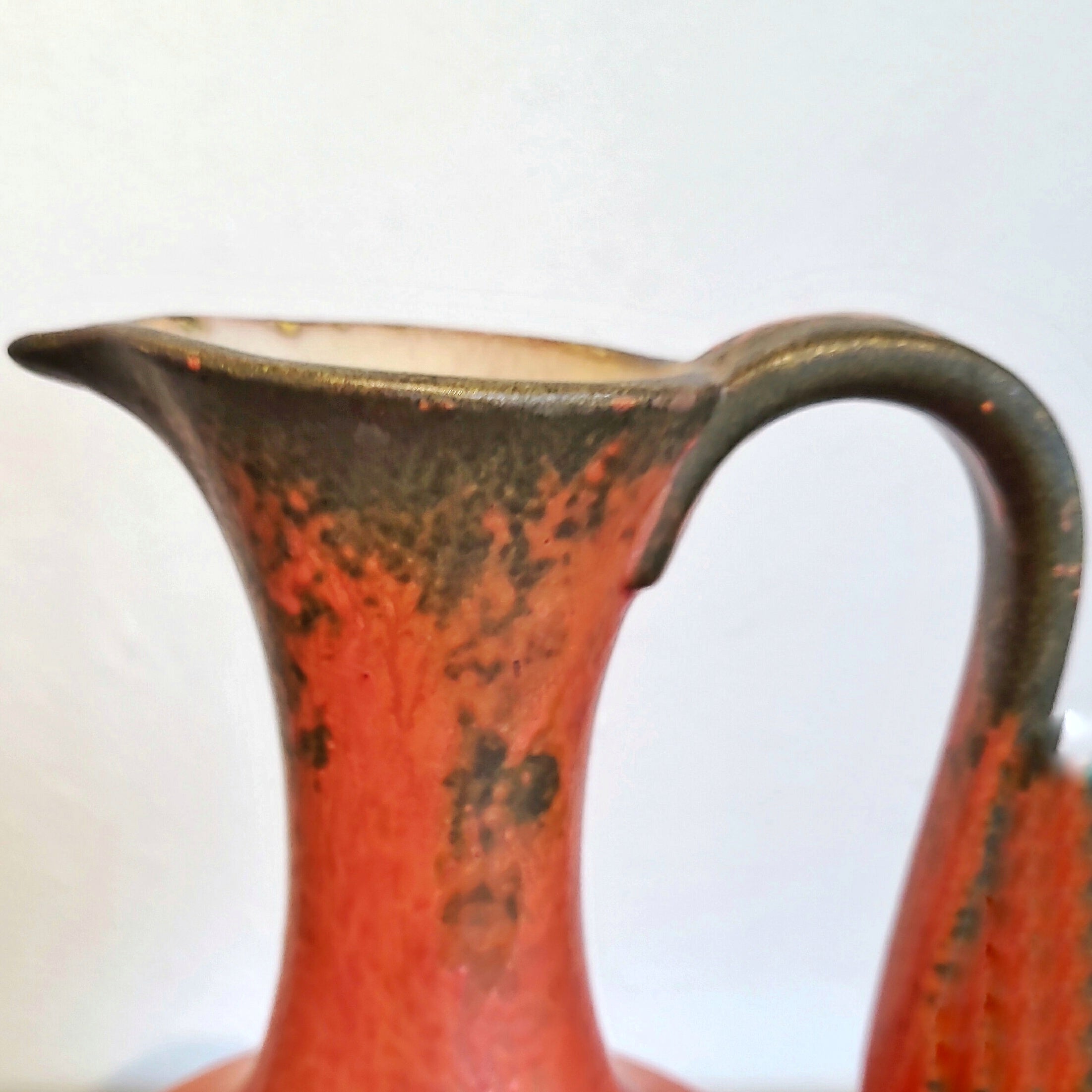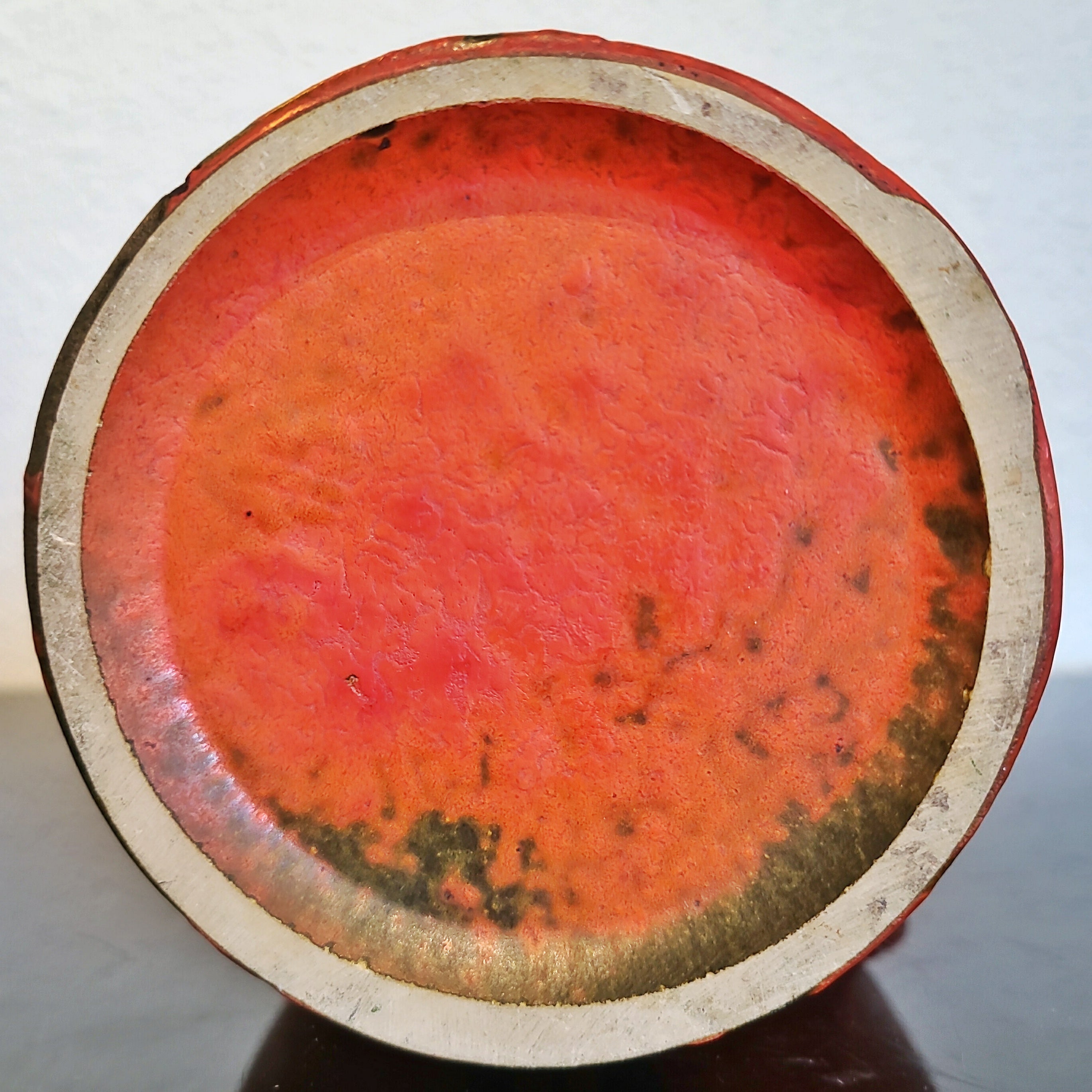 TALL RUSCHA 'VULCANO' PITCHER VASE Nr. 311/5
CONTACT US HERE ABOUT THIS ITEM.
A large RUSCHA KERAMIK pitcher-style vase designed by Kurt Tschörner and decorated with Otto Gerhatz's highly successful Vulcano glaze. Model Nr. 311/5.
---
KURT TSCHÖRNER is probably best known for the ceramic forms he designed for Ruscha Keramik, particularly the iconic jug vase no. 313 (1954)—considered by many to be among the best shapes to have emerged from the post-war German ceramics industry. Tschörner's tenure with Ruscha was prolific. When its art director, Otto Gerharz, left to form a company of his own, Otto-Keramik, in 1964, Tschörner went with him. Together, they produced all of that company's forms and décors well into the 1980s.
---
OTTO GERHARZ (1927-?) was a German chemist and glaze master who began training as a ceramicist in 1942 with a focus on arts and crafts. His apprenticeship was interrupted in 1944, toward the end of WWII, when he was drafted into service with the Wehrmacht. By 1946, he had emerged from the military with his interest in ceramics intact—but with his attention now concentrated obsessively on glaze chemistry. He began attending classes at the technical school at Höhr-Grenzhausen which had just reopened following the war. He completed his training and graduated with a degree in chemical engineering. Two years later he qualified as a ceramic engineer, having written his thesis on glazes. Gerharz continued his education with complementary studies in electro-ceramics, followed by laboratory and consultancy work within the industry.
In 1951, Gerharz went to work at Ruscha Keramik in Rheinbach, as its operations manager and lead ceramist. There he developed a wide range of glazes, playing a decisive role in the company's emergence as one of the most important in the field of artistically designed ceramics. Gerharz is usually credited with developing the famed Vulcano technique in 1959. Commonly seen as a turning point within West German ceramics, the success of this prototypical "fat lava" décor led companies to recognize the possibilities of the surfaces of their glazes, and, in response, to turn away from patterns in favor of textures.
Gerharz retired from Ruscha in 1964 to set up a home workshop where he could continue independent research into glaze chemistry. One of Ruscha's best form designers, Kurt Tschörner, would soon follow him and help to form the namesake Otto-Keramik by 1970. Everything was hand-made at the new concern, and Gerharz was responsible for most of the glazing. His son (Otto, Jr.) took over the workshop in 1994.
---
RUSCHA KERAMIK was launched in 1948 when Rudolf Schardt assumed management of Klein & Schardt, his father Georg's ceramics factory in Rheinbach—a small town southeast of Bonn in the German state of North Rhine-Westphalia, with a long tradition of earthenware pottery. (RUSCHA is a syllabic abbreviation of the name Rudolf Schardt.) The timing of the takeover put Schardt in a good position to take advantage of West Germany's post-war boom, and RUSCHA KERAMIK would become one of the leading lights of the "golden age" of German ceramics.
RUSCHA is credited with some of the era's key developments. It produced some very successful and innovative forms and finishes, including the iconic model Nr. 313 (Kurt Tschörner, 1954)—probably the period's most famous shape—and the Vulcano décor (Otto Gerharz, 1951)—which anticipated by decades the move toward thick, dripping fat-lava glazes.
As well as high-quality vases, RUSCHA is celebrated for exquisite wall plates, plaques, and tiles—manufactured for both indoor and outdoor applications. Specimens from the '70s often exhibit remarkable volcanic and "fat lava" glazes. When RUSCHA shuttered its factory in 1996, Scheurich Keramik acquired many of its designs and molds; distinctive silver RUSCHA labels were sometimes applied to the subsequent production.
---
IDENTIFICATION: RUSCHA KERAMIK used white clay almost exclusively. Rare examples made with red-brown clay are thought to date from periods when normal supply sources ran out. Vessels are typically embossed or incised with form numbers on their bases. If a model was available in more than one size, a single digit indicating relative size follows the form number (separated by dash or virgule). Lower form numbers (< 100) are occasionally preceded by a letter. Along with a handful of other manufacturers, RUSCHA would sometimes recycle model numbers—a cause of distress for some collectors.
---
KEY DESIGNERS:
Otto Gerharz
Kurt Tschörner
Hanns Welling
Adele Bolz
Heinz Siery
Cilli Wörsdörfer
---
DETAILS
Maker – RUSCHA KERAMIK
Production Period/Year – 1960s
Designer – KURT TSCHÖRNER
Design Period/Year – 1960s
Origin – WEST GERMANY
Styles/Movements – MID-CENTURY MODERN
Materials – CERAMIC
Colors – RED, BLACK
Condition – Excellent vintage condition. May show minor signs of wear consistent with age and previous use.
Dimensions – 7" W × 6 ¼" D × 13 ¾ " H