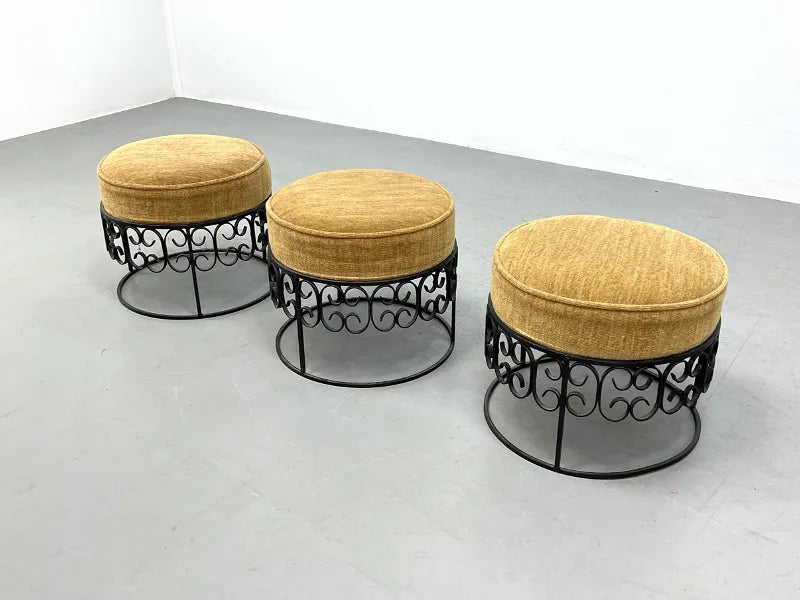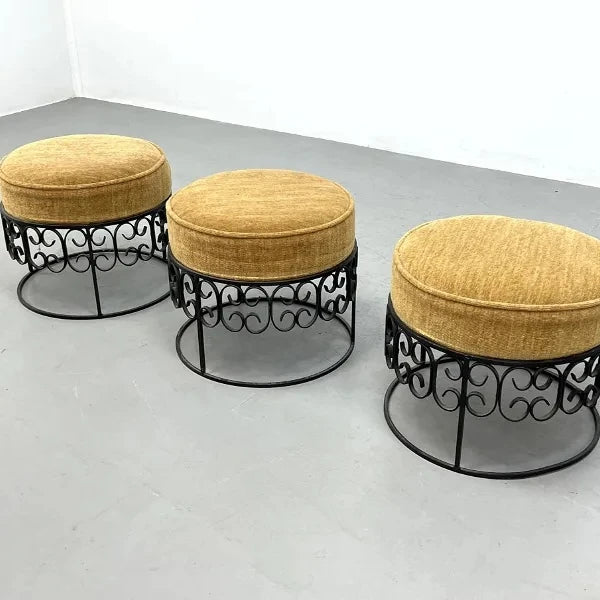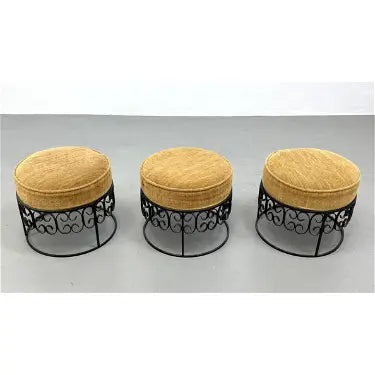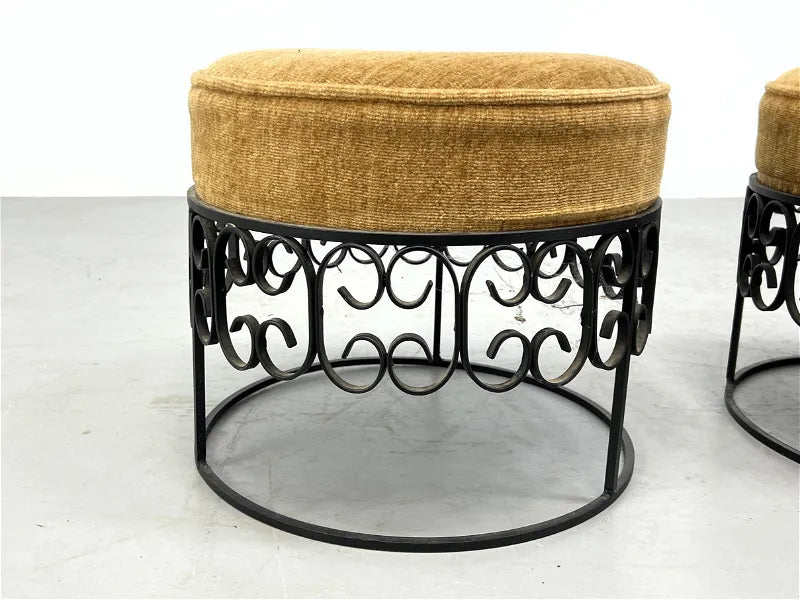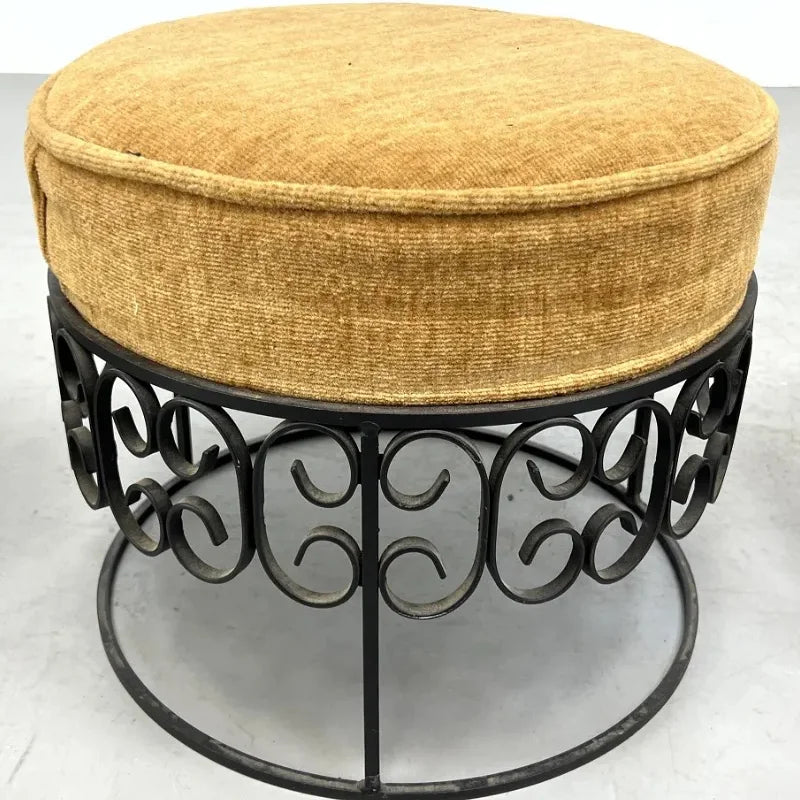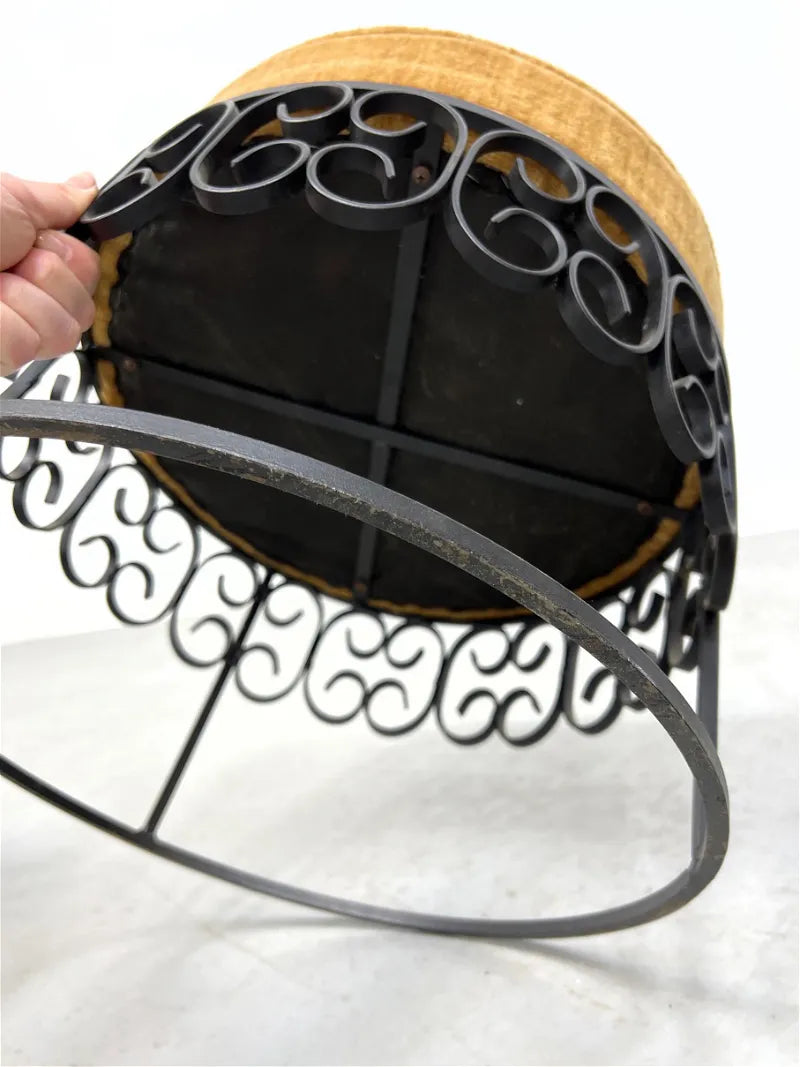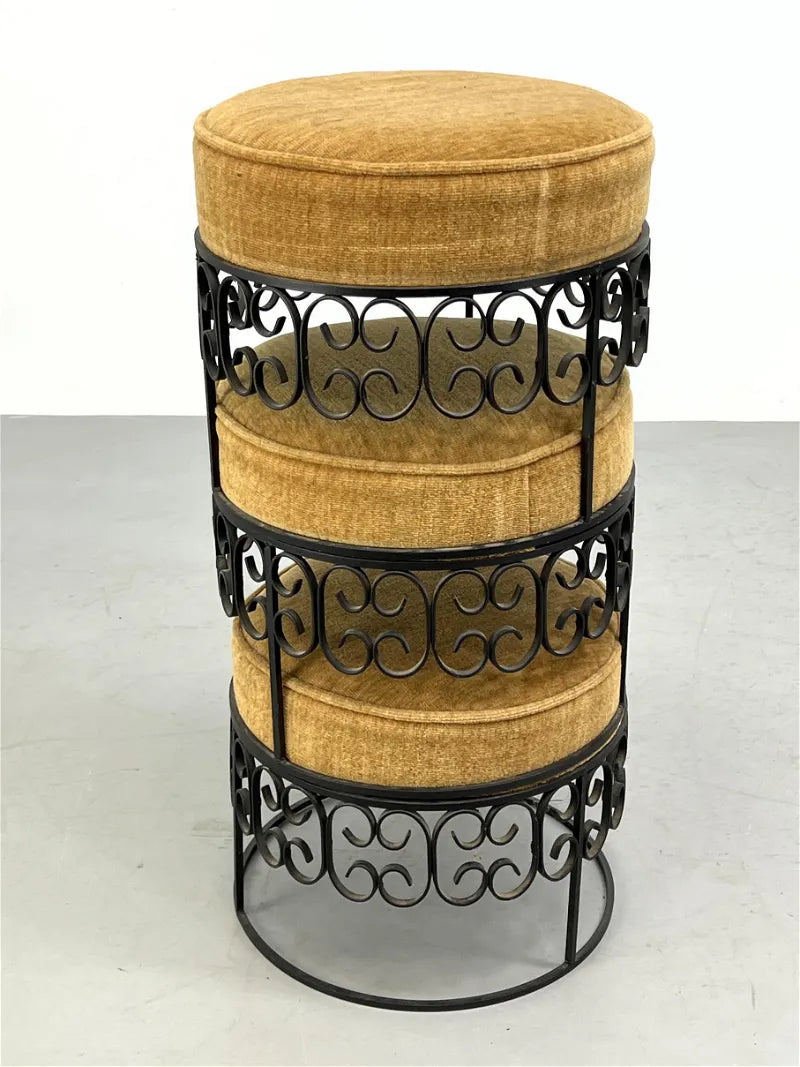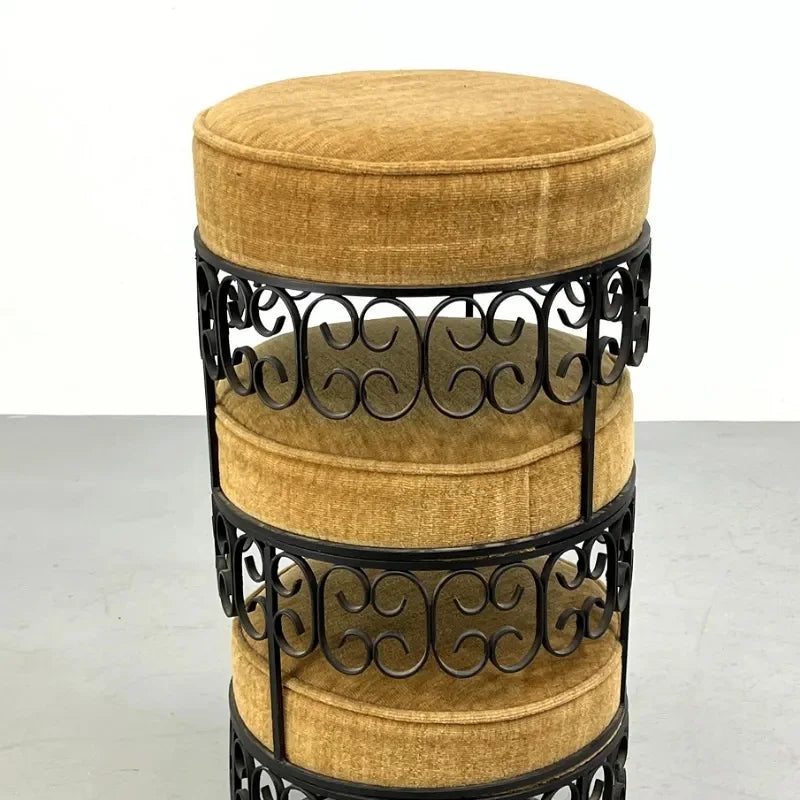 ARTHUR UMANOFF 'GRANADA' STACKING STOOLS FOR BOYUER SCOTT (1964)
CONTACT US HERE ABOUT THIS ITEM.
A rare set of G-117 iron-frame stacking stools from Arthur Umanoff's 1964 Granada collection for BOYUER SCOTT. Each individual stool stands 14 ½" tall; together they stack to a combined height of 33 ½".
Often misattributed to Salterini owing to its vague similarities to that firm's Tempestini-designed Scherzo and Ribbon collections from the early '50s and a paucity of documentation on contemporaneous BOYEUR SCOTT production, questions about the parentage of Granada were only recently put to rest—thanks to the in-depth research of Jonathan Goldberg (http://www.arthurumanoff.com/2012/07/the-grenada-collection-by-boyuer-scott.html). Goldberg reports that details of Shaver Howard's late '60s purchase of BOYEUR SCOTT account for  the sketchy paper trail that surrounds the production of Granada. While the buy-up made it a wholly-owned subsidiary, in the short term BOYUER SCOTT continued to operate under its own imprint, maintaining its own manufacturing. It was only over the next couple of years that BOYUER SCOTT was fully subsumed and the manufacturing of Granada moved to Shaver Howard.
ARTHUR UMANOFF graduated from Brooklyn's Pratt Institute in the early '50s and soon after produced his first designs for Post Modern Ltd., a Long Island concern where he was a founding partner along with fellow designer Tony Paul. He was involved there in all phases of the design process—from concept to prototyping and use-testing (in his own home), through to merchandising and marketing. Both Umanoff's and Paul's early designs for Post Modern, Ltd. were distributed by the Elton Co. of New York City.
The wrought-iron and slat furniture that most people recognize as Umannoff's work—chairs, tables, bars, and bar carts—was produced by Shaver Howard, a company he designed for from 1954 well into the '70s. A firm called Storkline produced some of his Shaver Howard pieces on a reduced scale as children's furniture in 1961, dubbing the collection Little Shavers. The inclusion of a miniaturized rattan bar raised eyebrows in the press, but Umanoff deflected criticism by referring to it as a "milk bar."
Work for Madison Furniture Industries of Canton, Mississippi, began in 1963. Umanoff's designs for the Howard Miller Clock Co. of Zeeland, Michigan, first appear in 1964. During the '70s his designs are produced by an increasing number of companies including Directional, Thonet, Dillingham Furniture, Rouse/Jackson, and David Morgan. In addition to Tony Paul, Umanoff maintained a lifelong friendship with designer Ben Seibel.
DETAILS
Maker – BOYUER SCOTT
Production Period – 197Os
Designer – ARTHUR UMANOFF
Design Period – 1975
Origin – USA
Styles/Movements – BOHO CHIC; MEDITERRANEAN; MODERN
Materials – FABRIC, IRON
Colors – GOLDENROD, BLACK
Condition – Excellent vintage condition. Minor wear consistent with age and use.
Dimensions – 16ʺ DIAM. × 14 ½ʺ H