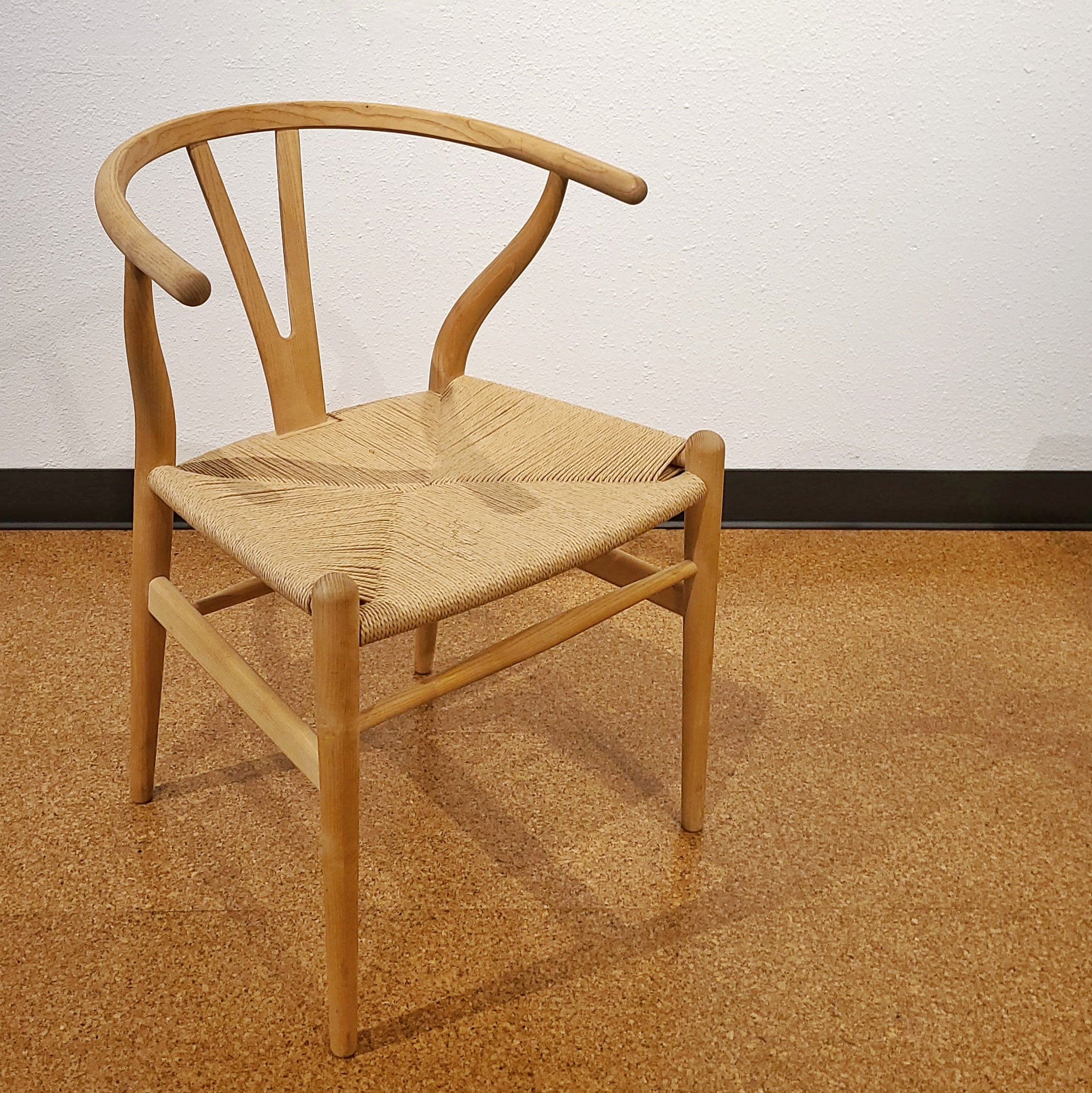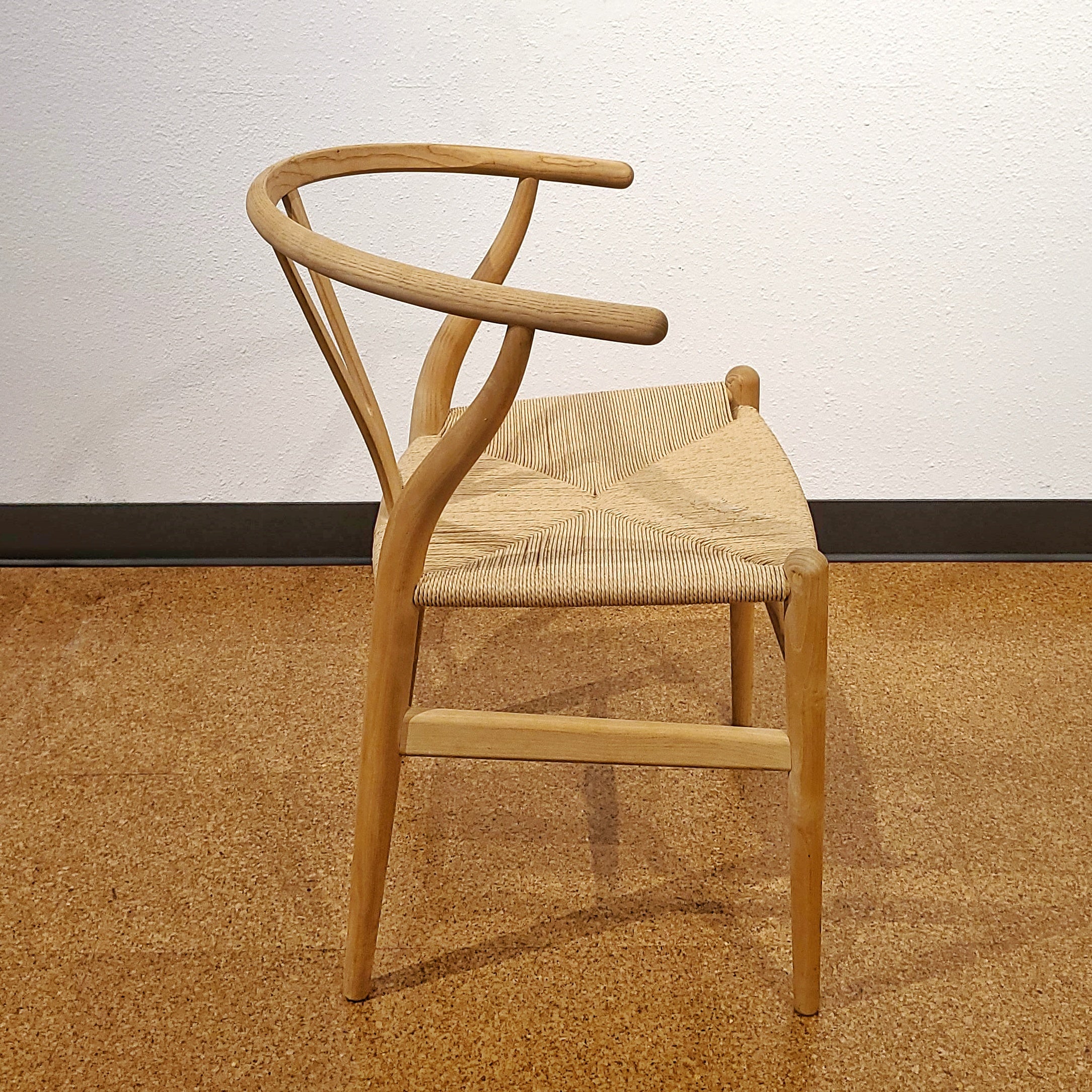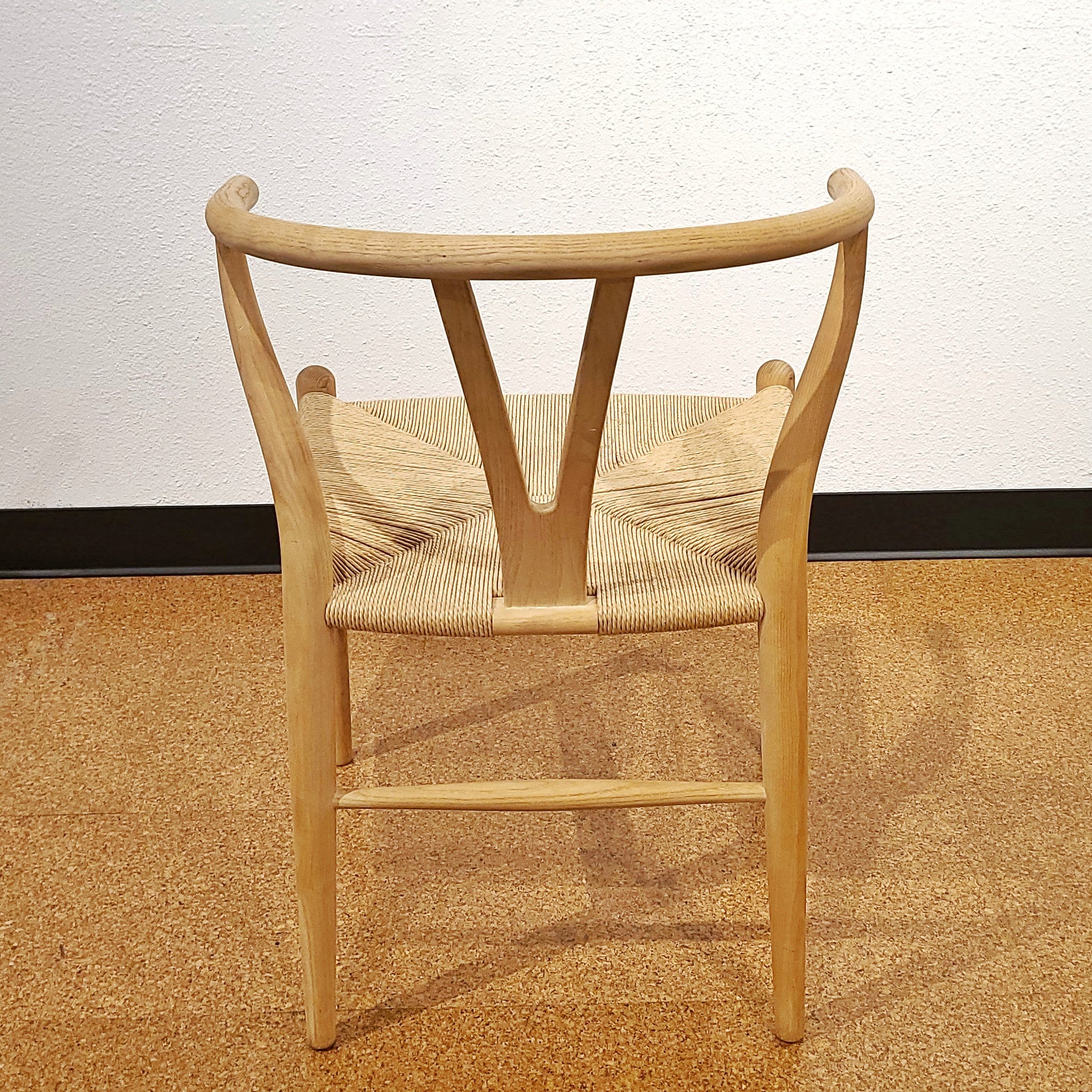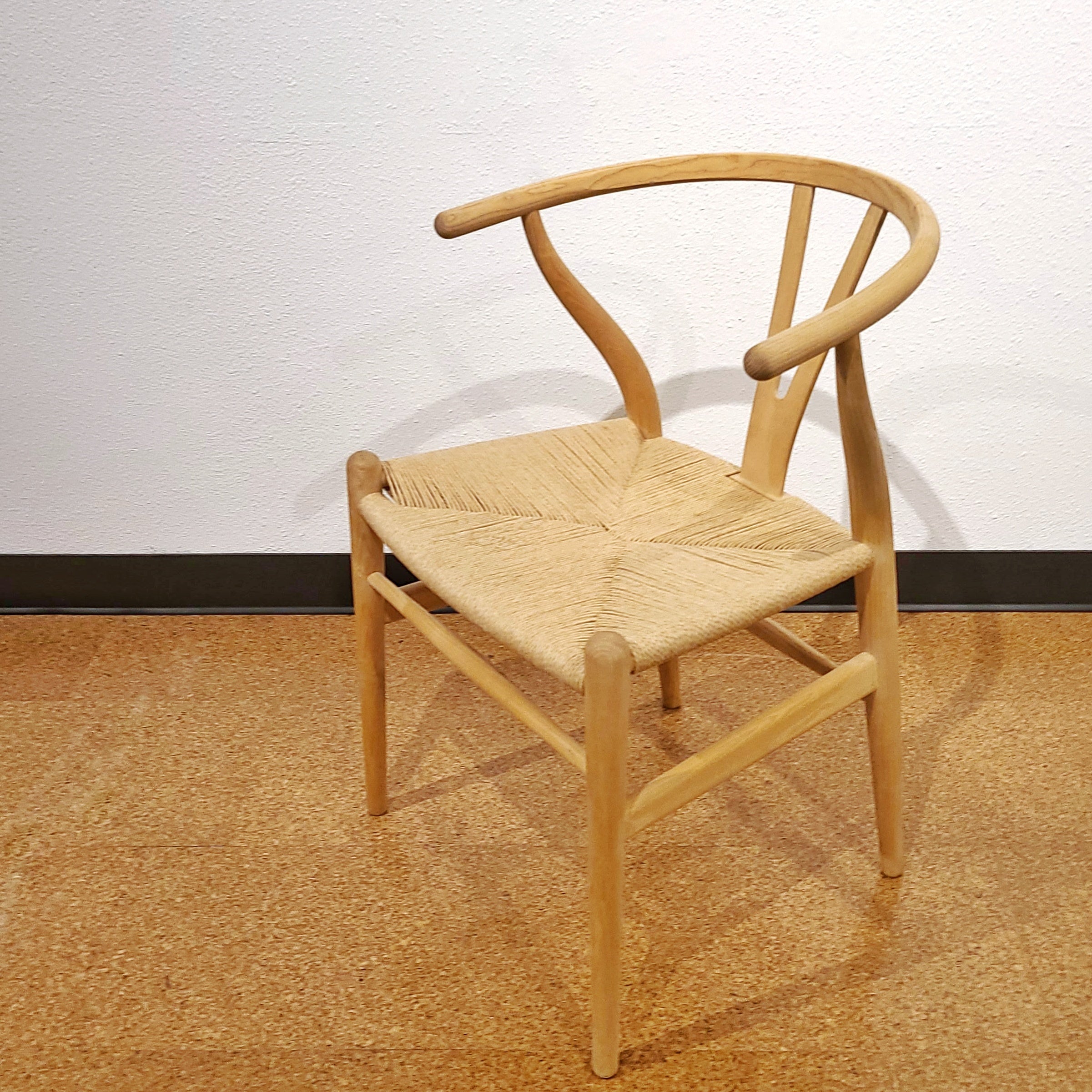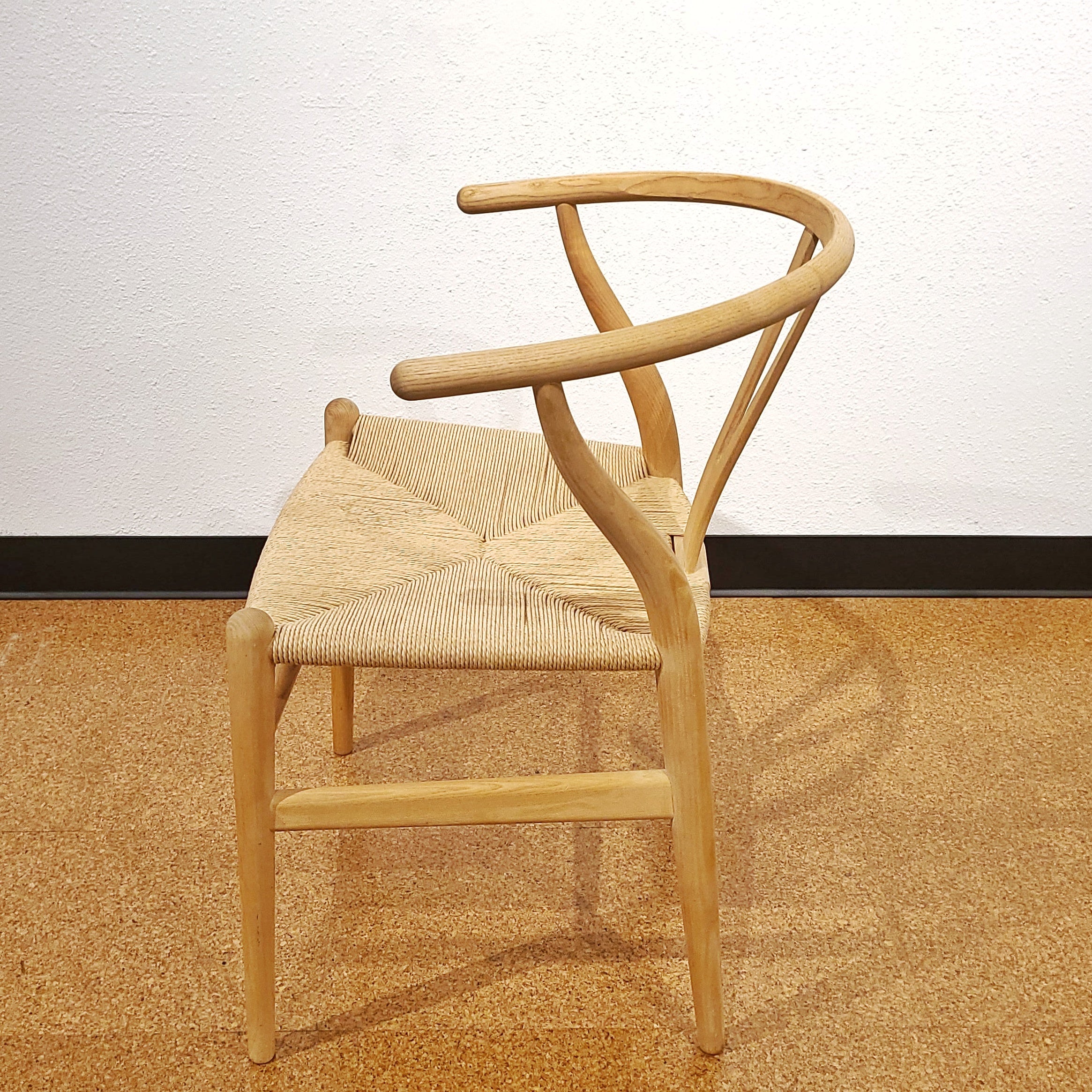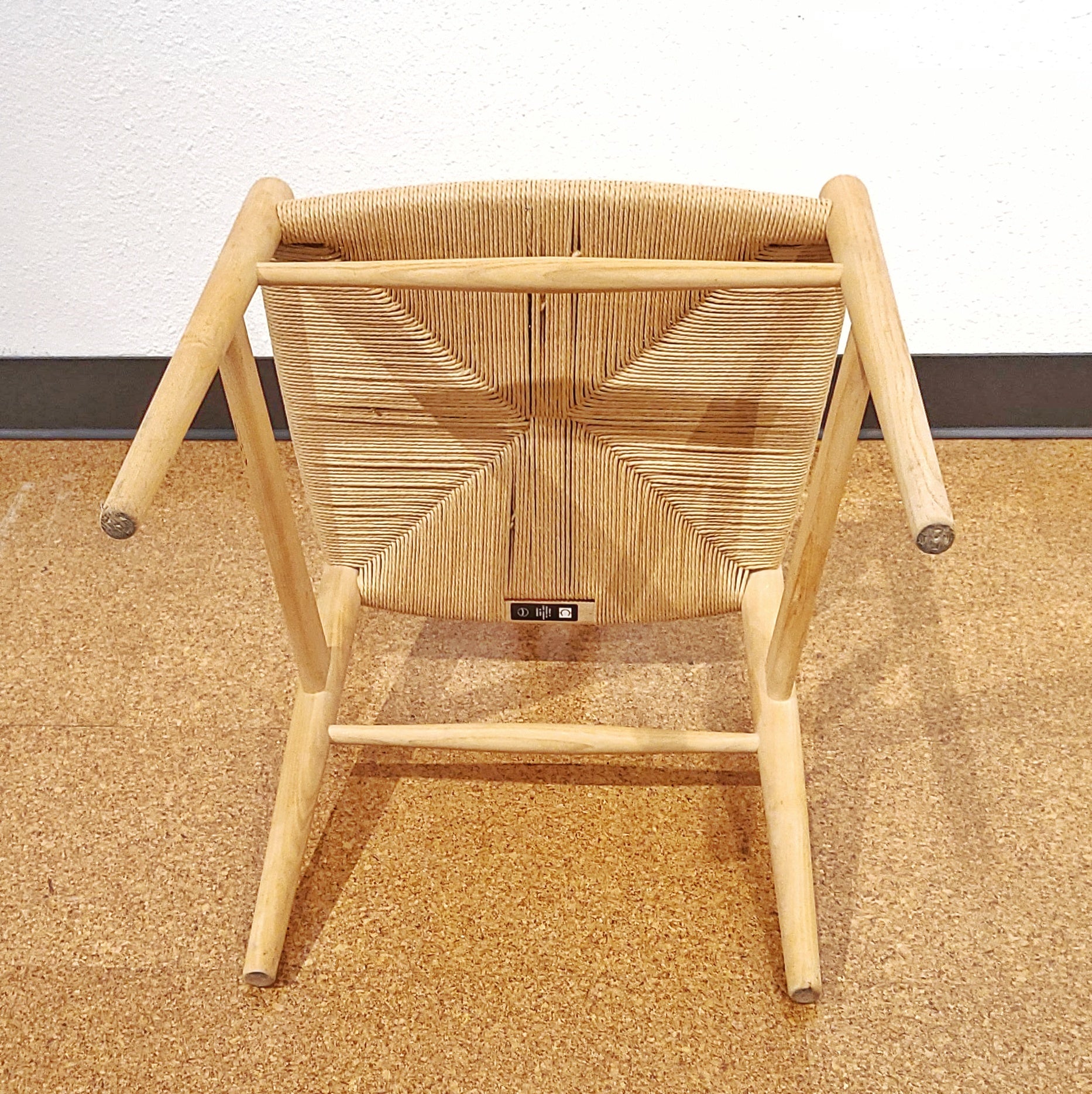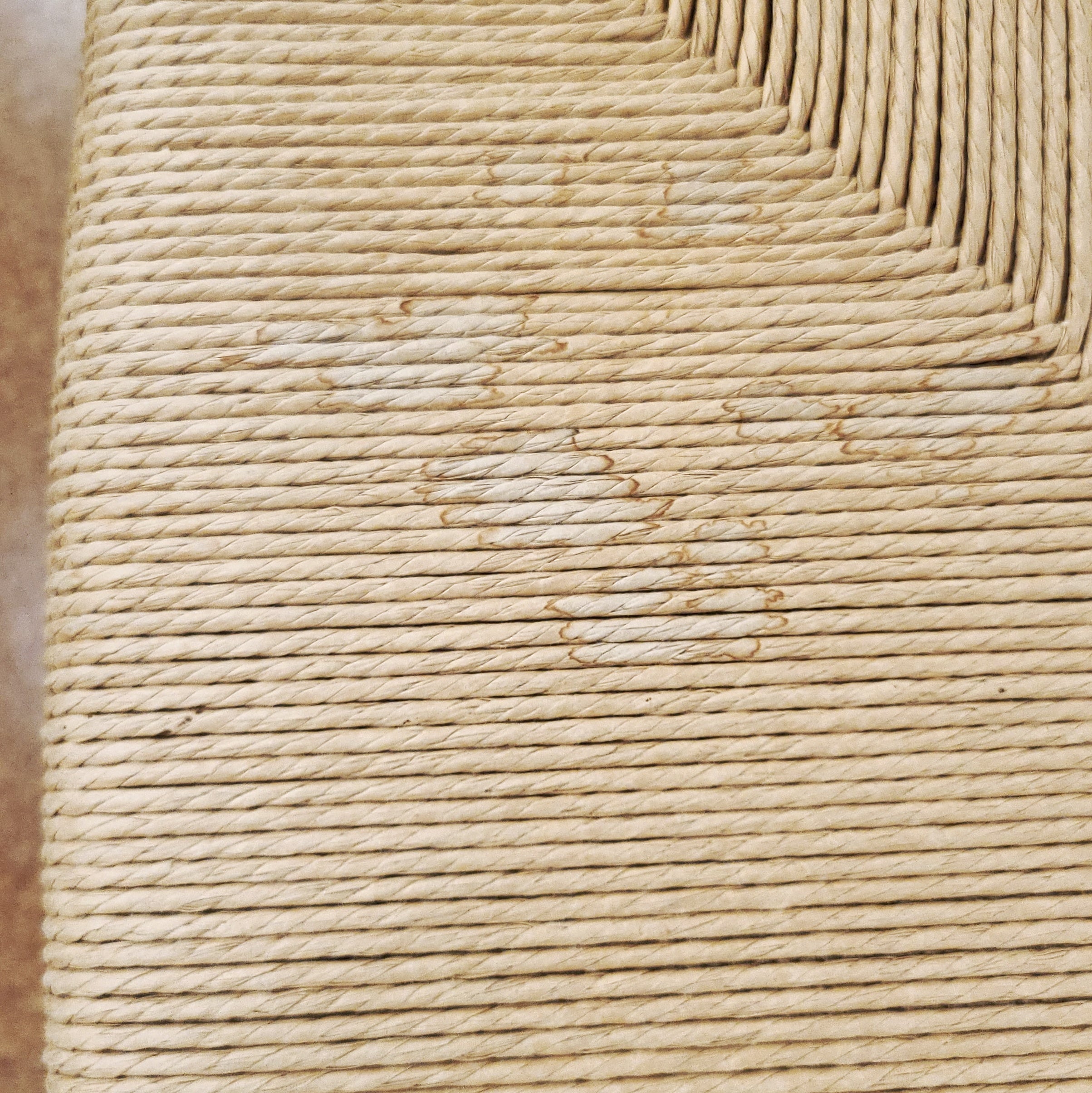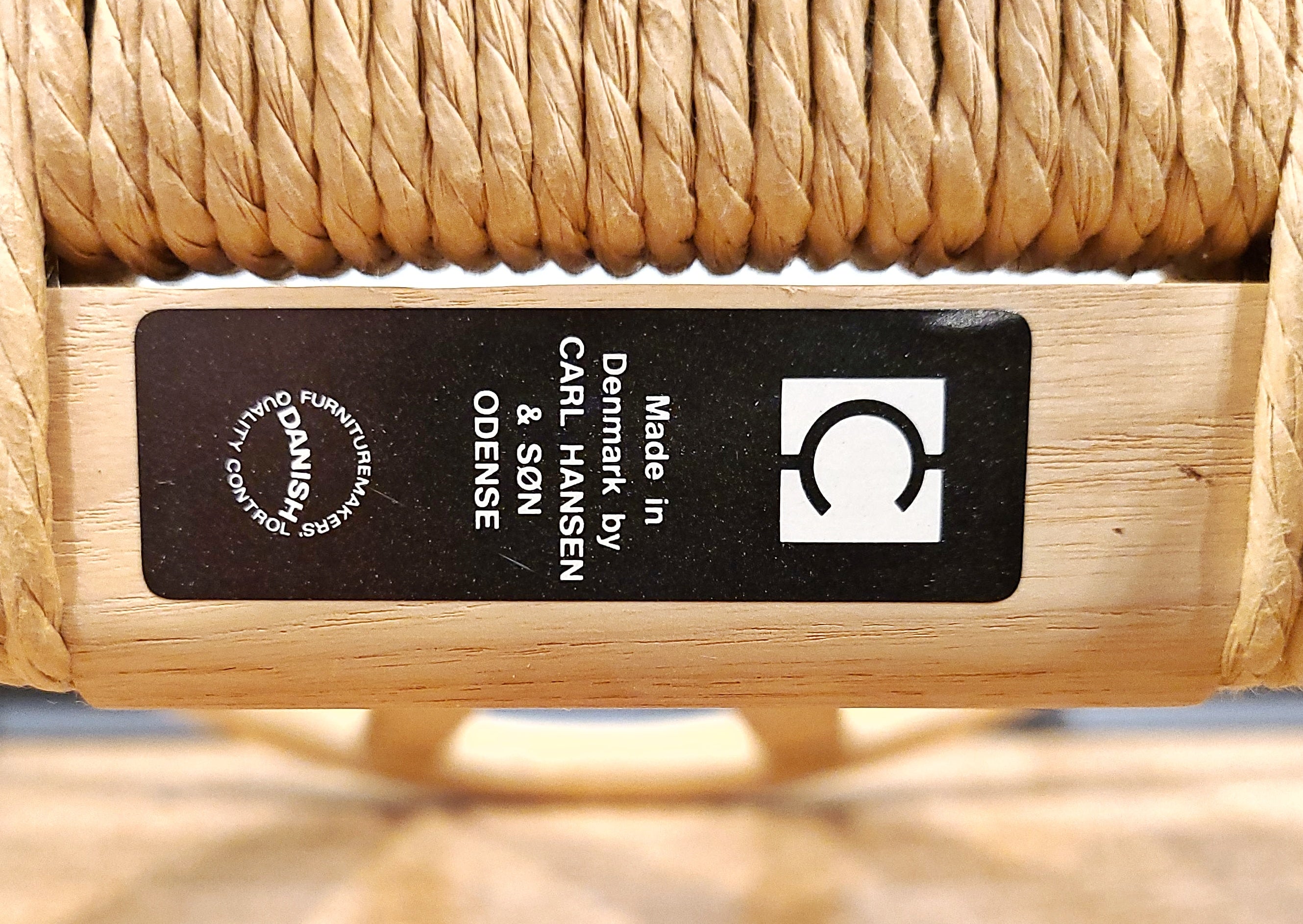 HANS WEGNER CH24' WISHBONE' CHAIR FOR CARL HANSEN & SON (d.1949)
CONTACT US HERE ABOUT THIS ITEM.
The classic CH24 or 'Wishbone' Chair, in soaped oak with a natural paper cord seat, designed by Hans J Wegner in 1949 for Carl Hansen & Son, Denmark.  Based on the label design, this example was manufactured sometime between 2002 and 2006.
HANS J. WEGNER (1914-2007) was one of the most important and influential designers in history.  He is commonly credited as a driving force behind the mid-century Danish modern movement—an era that forever changed the way the world looks at furniture.
Born in 1914 in Tønder, in Southern Denmark, Wegner was the son of a shoemaker. From 1928 to 1932, he was apprenticed to the cabinetmaker H.F. Stahlberg; at the age of fifteen, Wegner made his very first chair. He studied at The Danish School of Arts and Crafts (1936-1938) under Orla Mølgaard-Nielsen before going on to work as a designer in Arne Jacobsen and Erik Møller's noted architectural office.  During this period, Wegner also designed furniture for the Åarhus City Hall in Denmark and began working with master cabinetmaker Johannes Hansen, as well as Michael Laursen.  In 1940, he designed a rocking chair for Laursen, which became Wegner's first mass-produced chair. He opened his own studio in 1943 in Gentofte.
Championing modernism, craftsmanship, and Nordic functionality in combination with the unexpected influence of Chinese furniture, Wegner designed over 500 chairs in his lifetime. Over 100 of these were produced, and several became icons in the international furniture design arena, including: the Peacock Chair (1947); the Wishbone Chair (1949); the Round Chair (1949)—which the American magazine 'Interiors' called "The world's most beautiful chair" (and was featured in the first ever televised presidential debate between John F. Kennedy and Richard Nixon in 1961); the three-legged Shell Chair (1949)—which was designed for MoMA's historical competition on low-cost furniture; Papa Bear Chair (1950); Flag Halyard Chair (1950); Dolphin Chair (1951), the Valet Chair (1953); Ox Chair (1960); and Wing Chair (1960). His designs were at once functional and graceful; his solid wooden chairs, for example, featured limbs that elegantly tapered and curved, and which were often paired with woven rattans or leathers. Wegner utilized traditional construction techniques, mixing materials such as plywood, metal, upholstery, caning, and paper cord.
While he is best known for his chairs, Wegner also created memorable cabinetry, desks, tables, beds, and lighting fixtures. Over the course of his career, the designer collaborated with several renowned manufacturers, including AP Stolen, Carl Hansen & Søns, Fredericia Stolefabrik, Getama, Fritz Hansen, Erik Jorgensen, Louis Poulsen, Ry Møbler, PP Mobler, and Andreas Tuck.
Wegner's furniture is included in the permanent collections of the world's most respected museums. He is also the recipient of many prestigious awards, including the Grand Prix at Milan's Triennale in 1950, the Lunning Prize in 1951, the Eckersberg Medal in 1955, and the 8th International Design Award in 1997, among others.
Wegner passed away in Copenhagen in 2007 at age 92, leaving a remarkable legacy of design and craftsmanship for future generations to enjoy. His designs, vintage Wegner chairs in particular, fetch high prices at auction houses and are in constant demand by vintage lovers and art collectors alike.
CARL HANSEN & SØN is the Danish furniture manufacturer credited with launching the career of Hans J. Wegner, a designer who is often featured on lists of the most important and influential people in furniture design and is commonly credited as the driving force behind the mid-century Danish modern movement.
In 1908, Carl Hansen established a workshop in Odense. In the beginning, the company produced bespoke furniture including dining room sets and bedroom suites. Carl Hansen struggled financially during the 1930s-economic crisis, and in 1934, Carl's son Holger Hansen took over the family business, renaming the company 'Carl Hansen & Søn'.  With a new contract producing wooden cases for the American sewing machine manufacturer Singer, Holger was able to save the company from financial ruin.
Carl Hansen & Søn's sales manager, Ejvind Kold Christensen, kept a close eye on the new breed of Danish furniture designers that emerged in the 1940s. Up until the mid-1940s, Danish architect Frits Henningsen designed for the company, including a series of Windsor chairs, some of which were produced until 2003. In 1949, Kold Christensen introduced Hans J. Wegner (1914-2007) to Holger Hansen, after seeing immense potential in the young and undiscovered designer.
Within the first three weeks with the company, Wegner designed the CH22 Lounge Chair, the CH23 Dining Chair, the CH24 Wishbone Chair, and the CH25 Easy Chair for Carl Hansen & Søn.  This first collection, which was launched in 1950, would catapult both Wegner and Carl Hansen & Søn to international fame.  The sculpturally bold designs of both the Wishbone Chair and the CH25 Easy Chair were a break from tradition and were considered radical for their time. Wegner's use of woven paper cord—a substitution material used during the war—for the seat of his CH25 was unprecedented. Holger's decision to invest in work by a virtually unknown designer was a huge risk, but one that paid off for the manufacturer.
In 1951, the pair, along with Kold Christensen, formalized their partnership and formed a sales group called SALESCO. Active throughout the 1950s and '60s, SALESCO was a unique marketing team charged with promoting Hans J. Wegner's work in Denmark and abroad, though they were also instrumental in the advancement of the mid-century Danish design identity in general. Other notable designs by Wegner for Carl Hansen & Søn include the CH29 Sawbuck Chair (1952); the three-legged CH07 Shell Chair (1963)—which was designed for MoMA's now-iconic competition on low-cost furniture; the CH20 Elbow Chair (1956); and the CH88 Chair (1955)—which existed only as a prototype until it was produced in 2014 to celebrate the 100th anniversary of Wegner's birth.
In 1962, shortly after Kold Kristensen left SALESCO to work with the promising new designer Poul Kjærholm (1929-1980), Holger passed away. The company was left to Holger's widow, Ella Hansen, who safely steered the company through financial difficulty. In 1988, Ella's son Jørgen Gerner Hansen took over management of the company, and in 2001, her other son Knud Erik Hansen assumed leadership. During the early-2000s, the company moved to a larger factory in Aarup, located outside Odense.  
In 2011 and 2012, Carl Hansen & Søn bought the equally renowned Danish cabinet maker Rud. Rasmussen in Copenhagen and the furniture manufacturer P.J. Furniture in Store Heddinge.
Today, Carl Hansen & Søn is the largest manufacturer of furniture designed by Hans J. Wegner. Other historical and contemporary designers include Tadao Ando, Mogens Koch, Ole Wanscher, Kaare Klint, Thomas Bo Kastholm—son of the famous Danish architect Jørgen Kastholm, Poul Kjaerholm, and the Danish design duo Strand & Hvass.
| | |
| --- | --- |
| Designer | Hans J. Wegner |
| Manufacturer | Carl Hansen & Søn |
| Design Period | 1920 to 1949 |
| Production Period | 2000 to 2009 |
| Country of Manufacture | Denmark |
| Identifying Marks | This piece has an attribution mark |
| Style | Vintage, Mid-Century, Scandinavian Modern, Design Classics, Hand-Crafted, Modernist |
| Detailed Condition | Very Good — This vintage item has no defects, but it may show slight traces of use. |
| Restoration and Damage Details | Light wear consistent with age and use, Minor staining on the paper cord seat |
| Product Code | |
| Materials | Oak, Paper Cord |
| Color | Tan |
| Width | 21.7 inch |
| Depth | 20.1 inch |
| Height | 29.5 inch |
| Seat Height | 17.7 inch |