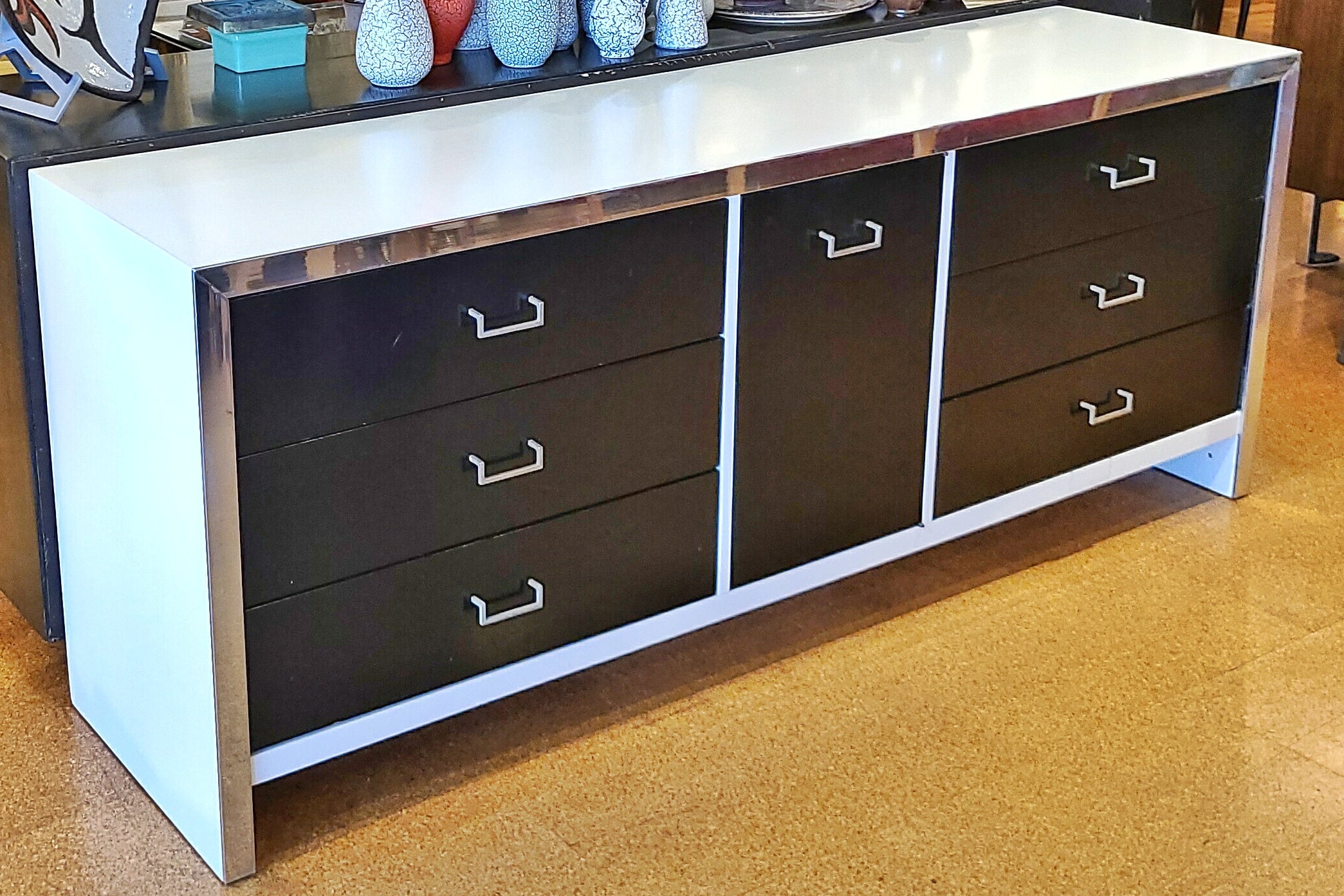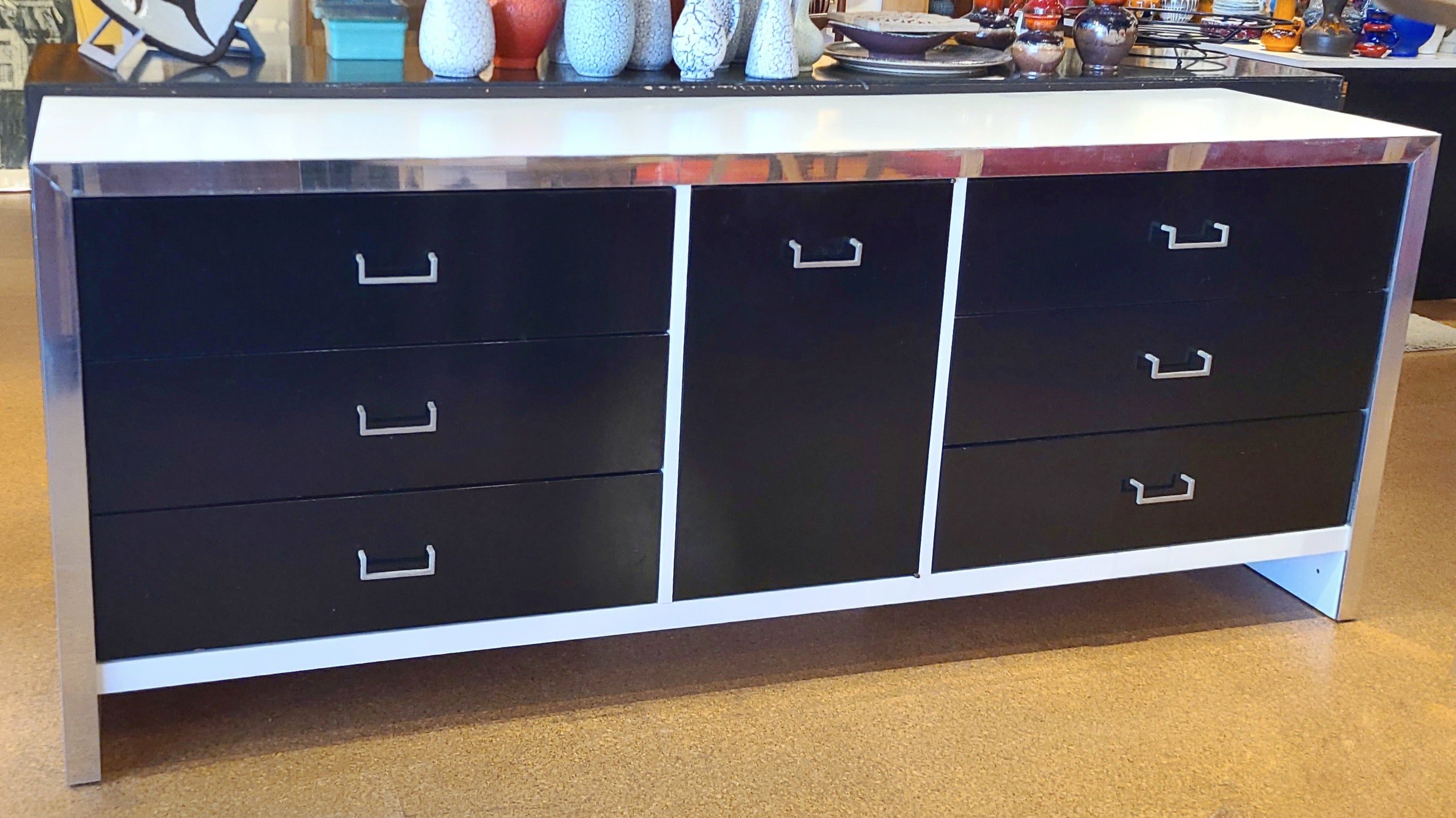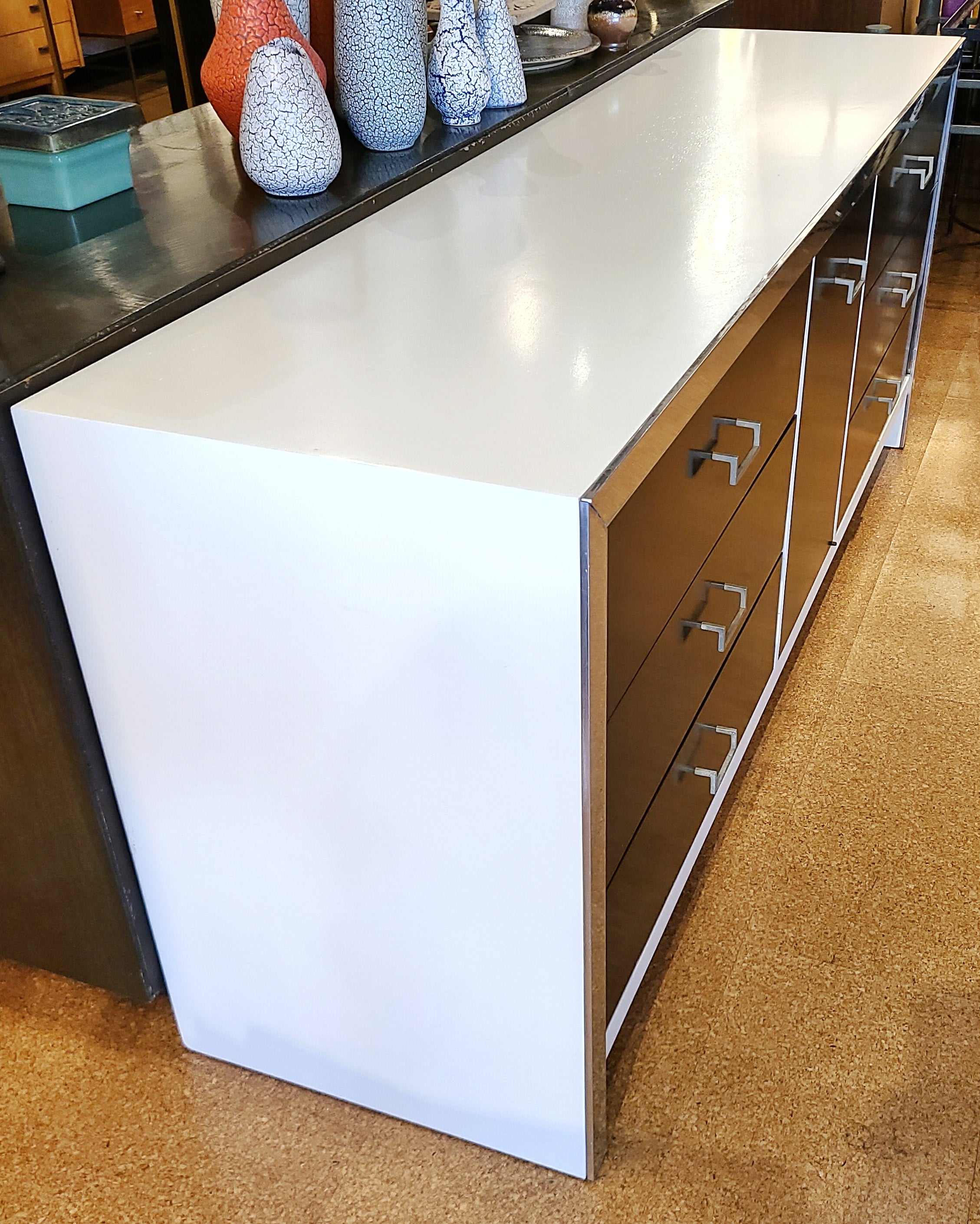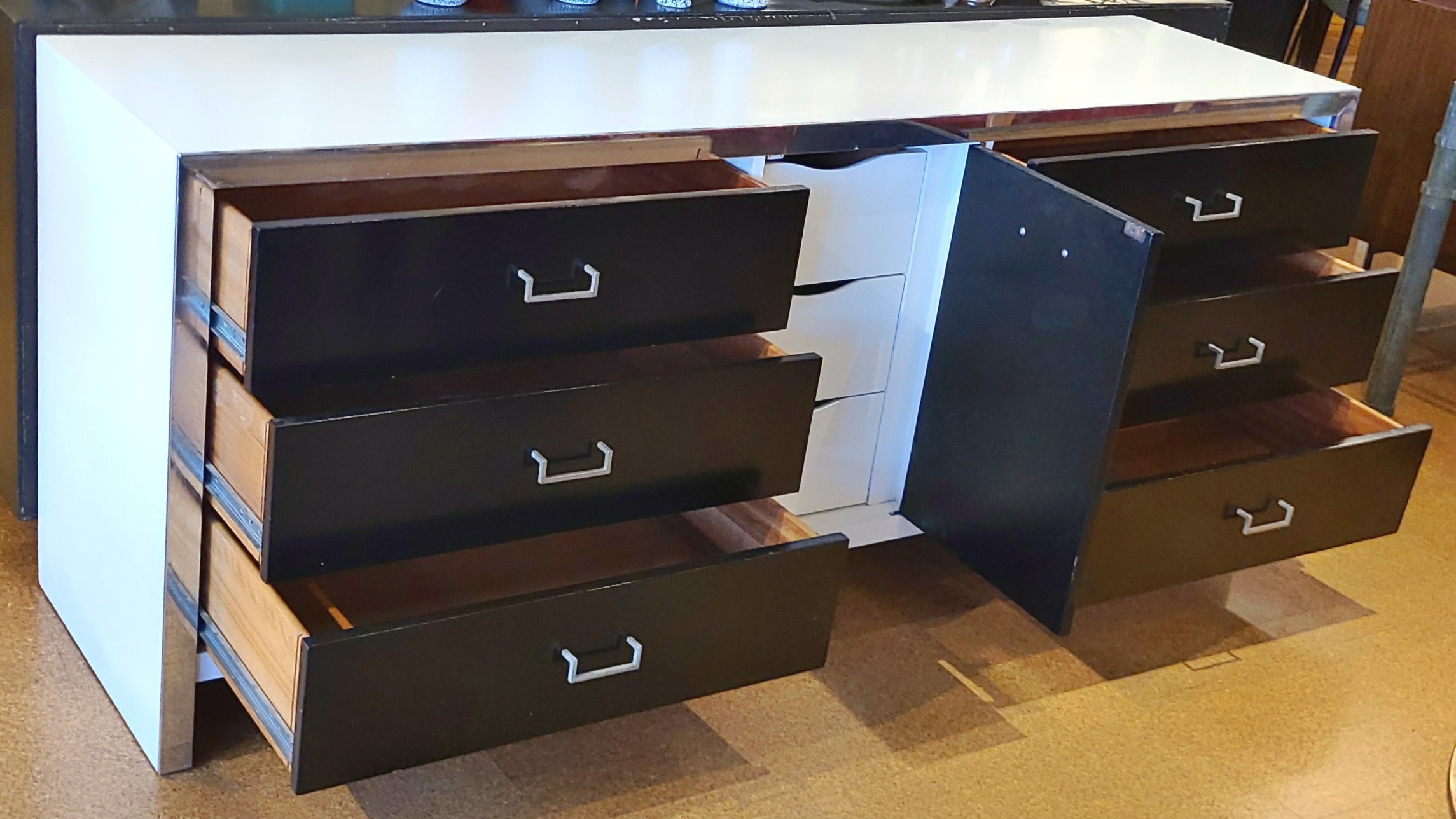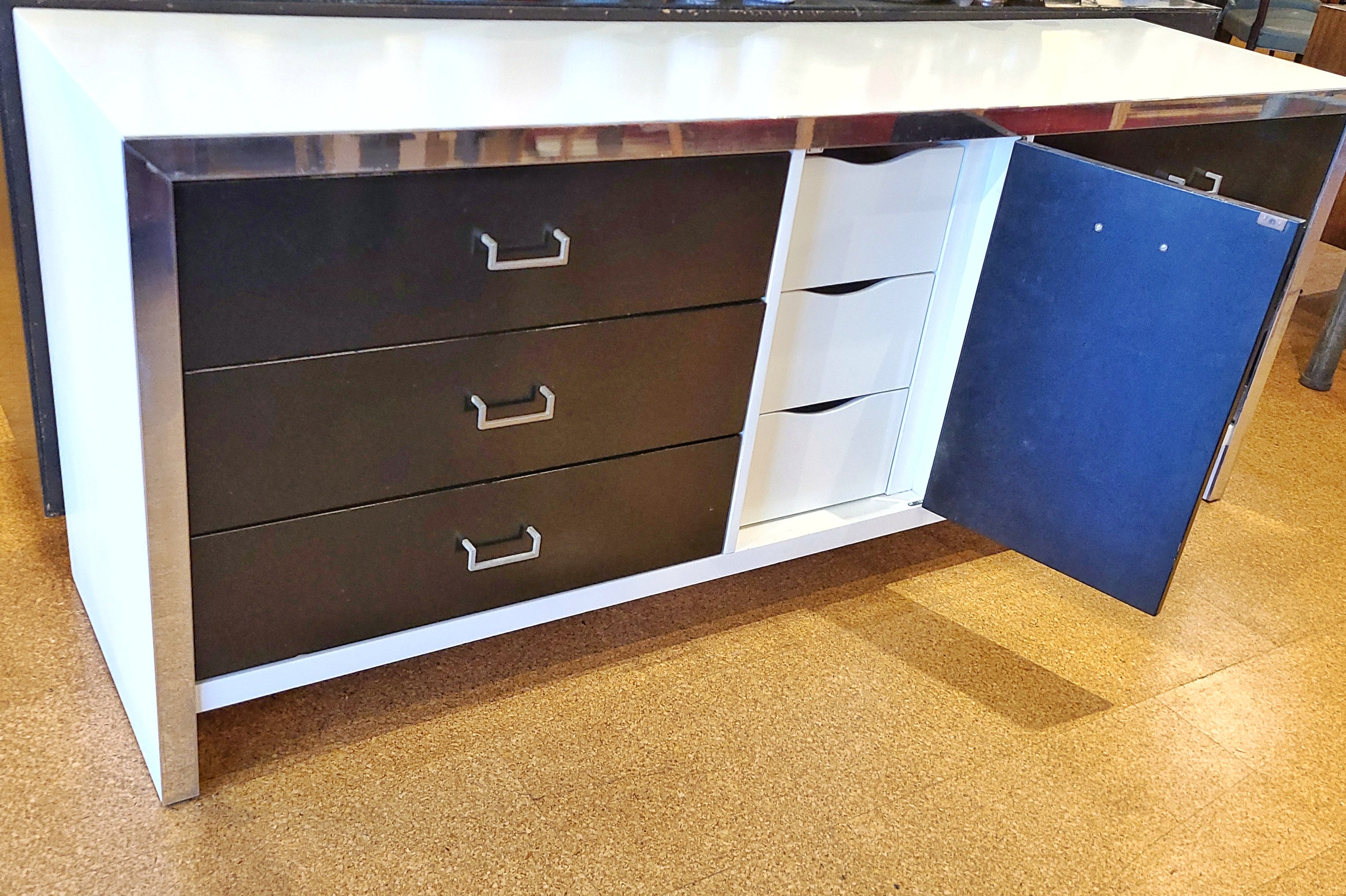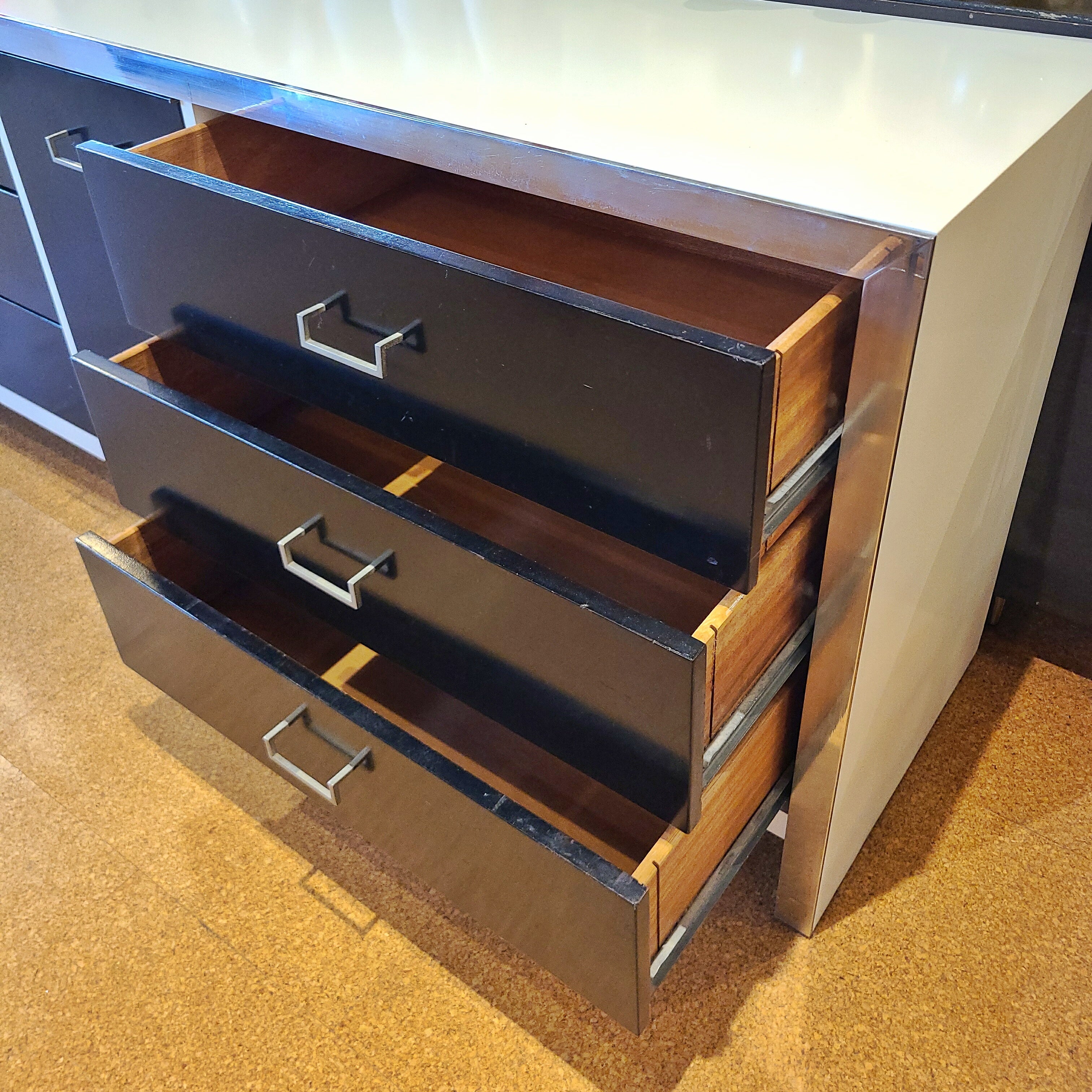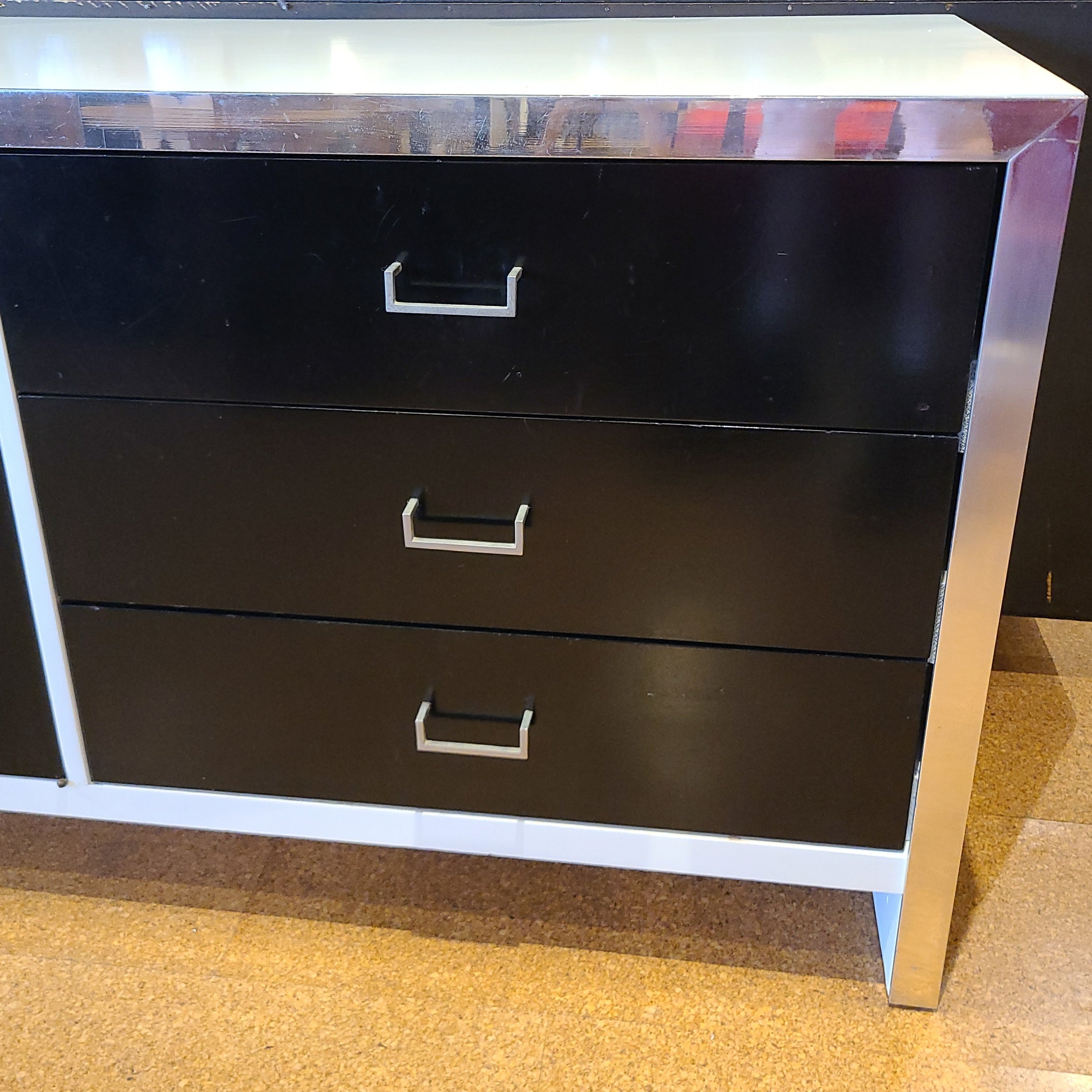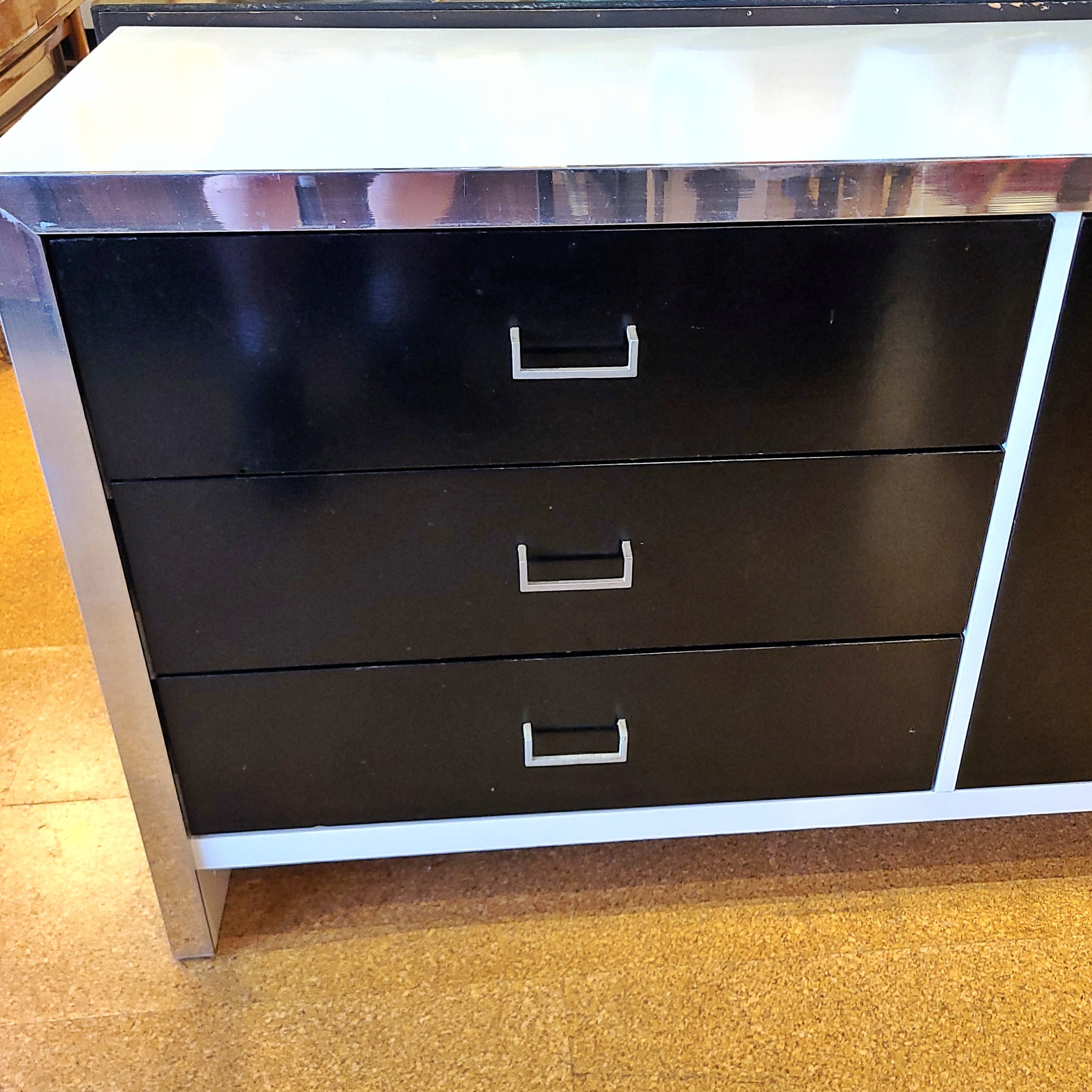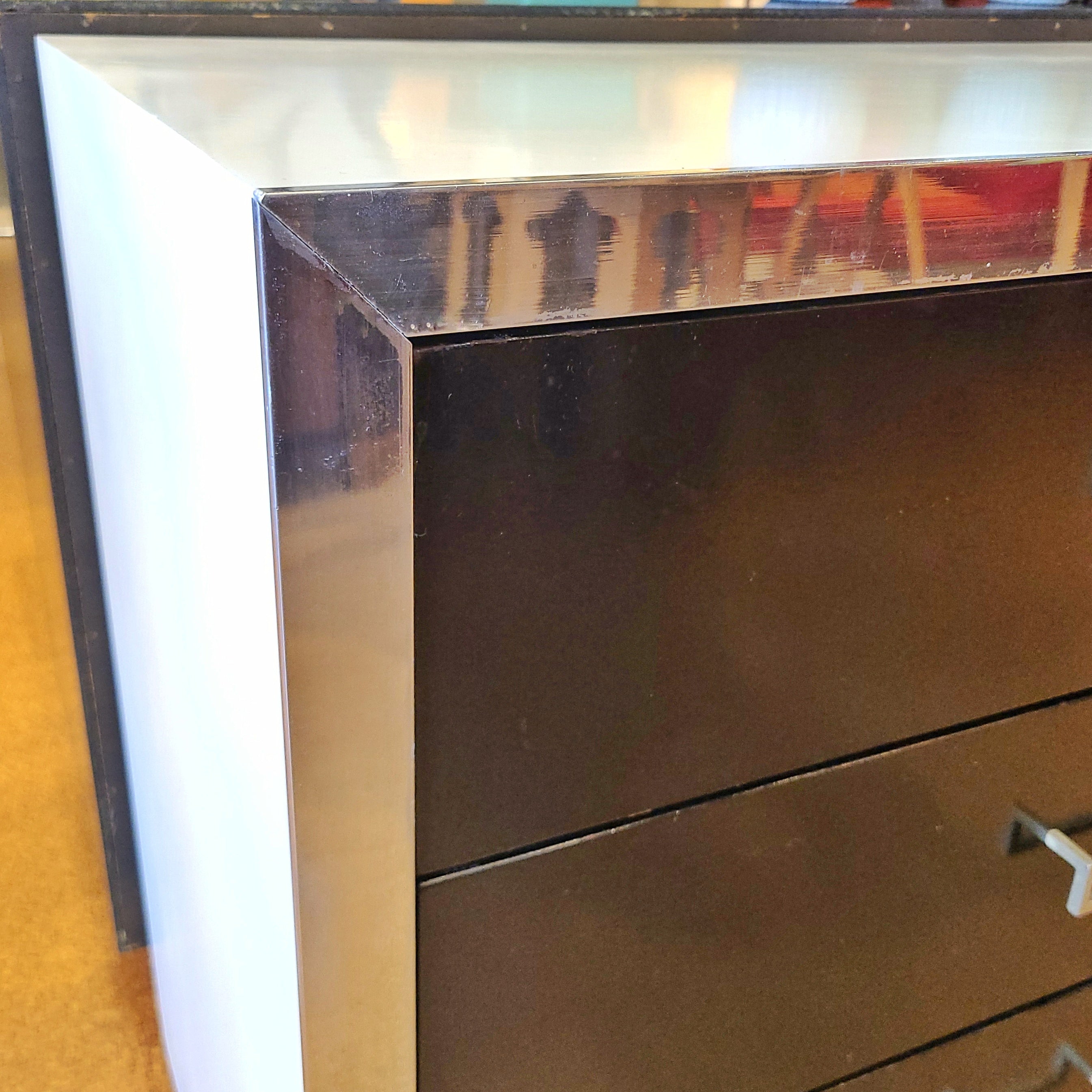 MILO BAUGHMAN DOUBLE DRESSER FOR JOHN STUART
CONTACT US HERE ABOUT THIS ITEM.
Black and white 9-drawer dresser with chrome trim and hardware designed in the 1970s by Milo Baughman for JOHN STUART, INC. The white lacquer finish is fresh, and the piece is ready to be placed!
MILO BAUGHMAN (1923–2003) was born in Goodland, Kansas, but moved with his family in his infancy to Long Beach, California—then a quintessentially easygoing Pacific coastal town. Many credit this background with Baughman's inherently unpretentious and accessible style. He was encouraged by his parents to contribute to the design of a new family home when he was thirteen—thus his path was set. After highschool, Baughman served for four years during World War II in the Army Air Forces, where he gained experience designing officers' clubs. He returned to Southern California with the war's end to formally study product and architectural design at the Art Center School of Los Angeles and the Chouinard Art Institute (later the California Institute of the Arts).
His education complete, Baughman was hired as an interior and custom furniture designer by the Frank Brothers furniture store of Long Beach. There he formed a close friendship with Georgia Christensen, the founder and publisher of Furniture Forum. In 1947, he left Frank Bros. to launch Milo Baughman Design, Inc., at the age of 24. He soon landed commissions from Glenn of California—where he would work alongside Swedish designer Greta Magnusson-Grossman (1906–1999)—and Pacific Iron. His collaboration with these Los Angeles firms would give rise to what became known as the California Modern aesthetic. The new decade took him to the country's east coast, where he created three major lines for Drexel Furniture of North Carolina and, in 1953, The Milo Baughman Collection for Winchendon Furniture of Winchendon, Mass. Meanwhile he ran a custom design shop with then wife Olga Lee (1924–2014) in Los Angeles. She contributed hand-printed fabrics, wallpaper, lamps, and other accessories to go with her husband's furniture designs, and both offered their services as interior consultants. (The Baughman-Lee showroom was located at 744 ½ N. La Cienega Blvd., Los Angeles, and operated from 1951 through 1953.)
The defining partnership of Baughman's career began in 1953, when he started working with Thayer Coggin, the North Carolina manufacturer that still produces his furniture today. By the middle of the '60s, Baughman's new collections were being presented annually at High Point Market—the world's largest home-furnishings industry trade show, held in High Point, N.C. His association with Thayer Coggin lasted five decades and produced enduring classics like the cantilevered 989-103 Chair and the semi-circular 825-301 LAF Sofa (both of 1968).
Baughman's designs have been exhibited in museums and shows throughout the US, including the Southeastern Center for Contemporary Art in Winston-Salem, N.C.; the North Carolina Museum of Art in Raleigh; and the "High Styles" show at NYC's Whitney Museum. Baughman has lectured broadly on the state of modern design, extolling the positive benefits of good design on human life. He was inducted into the Furniture Designer's Hall of Fame in 1987.
In 1965, Baughman converted to the Church of Jesus Christ of Latter Day Saints. He remained a passionate devotee of Mormonism until his death, establishing the Department of Environmental Design at Brigham Young University in 1969. He served there as department chair and adjunct professor for six years while continuing his professional design business. He split his time for twelve years afterwards between a farmhouse in Virginia and a home in Winston-Salem, N.C.; then back to Utah in 1987, for another nine years as a senior lecturer at BYU. He maintained a professional design studio in the state until his death on July 23, 2003.
In 1966, The New York Times wrote of the prolific designer: "Mr. Baughman and the companies he works for are among the few mass producers putting out inventive, nontraditional furniture that is widely available to the public both in terms of price and retail outlet." Baughman's creativity never got in the way of the functionality of his designs; to the contrary he always struck the ideal modernist balance. He created a new visual vocabulary, using iconic Midcentury-Modern materials—chrome, stainless steel, glass, and leather—and building on the legacy of Ludwig Mies van der Rohe and Marcel Breuer, infusing all his work with the style and ease of the American West Coast.
Furniture that is too obviously designed...too often belongs only in museums. – MILO BAUGHMAN
DETAILS
Maker – JOHN STUART, INC.
Production Period – 1970s
Designer – MILO BAUGHMAN
Design Period – 1970s
Origin – USA
Styles/Movements – MID-CENTURY MODERN
Materials – CHROME, ALUMINUM, LACQUER, WOOD
Colors – BLACK, WHITE
Condition – Excellent vintage condition.
Dimensions – 75ʺ W × 19 ¼ʺ D × 30 ¼ʺ H