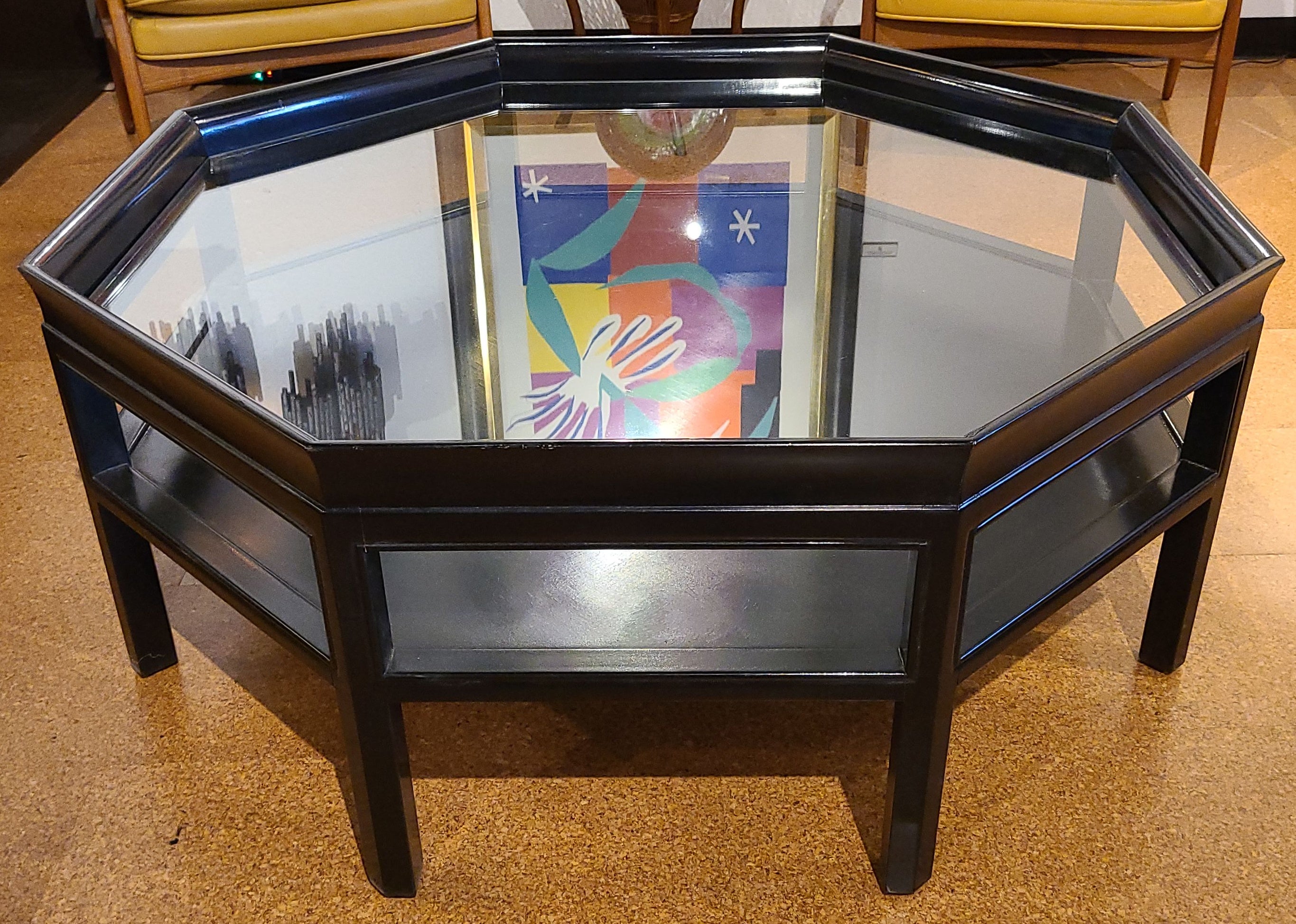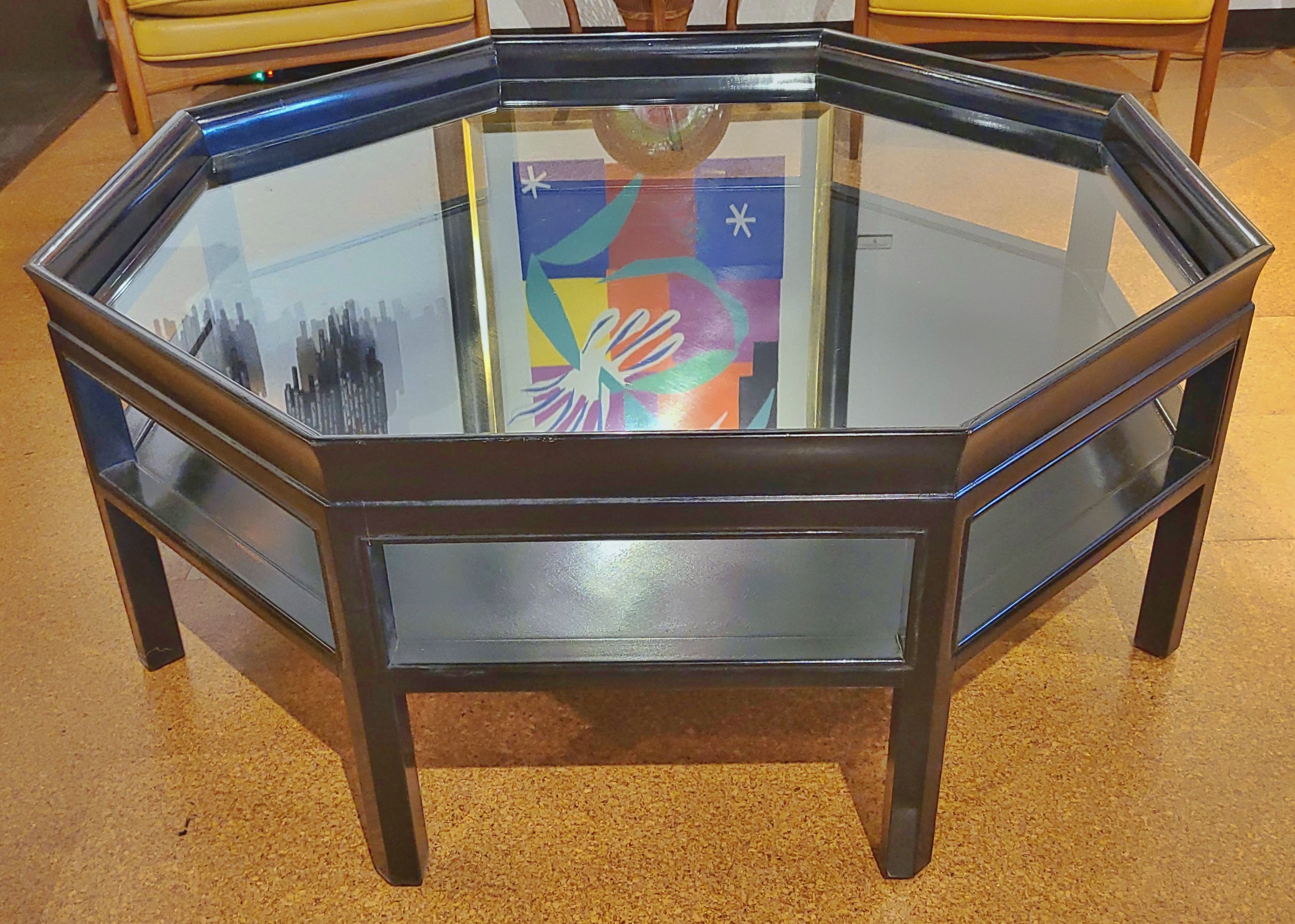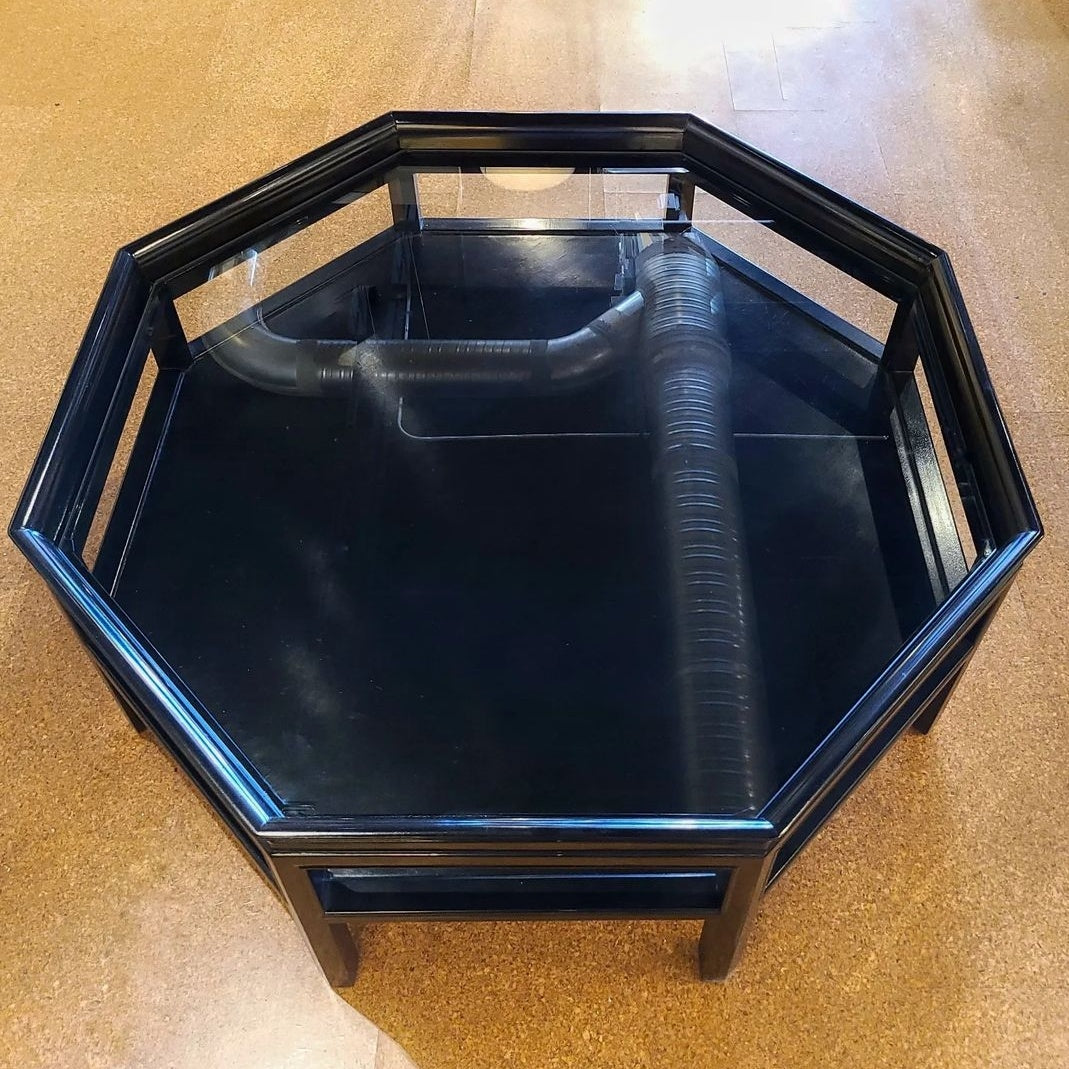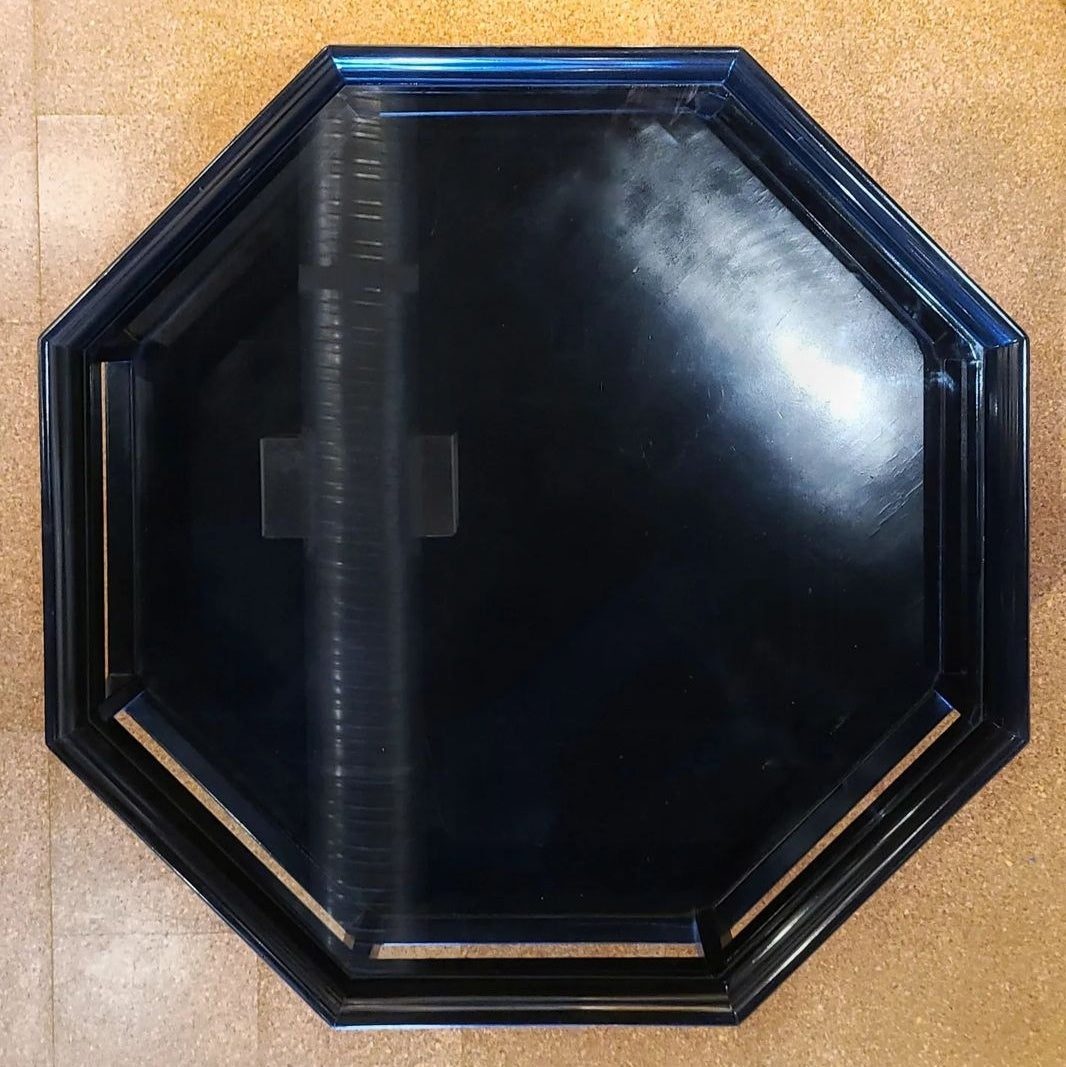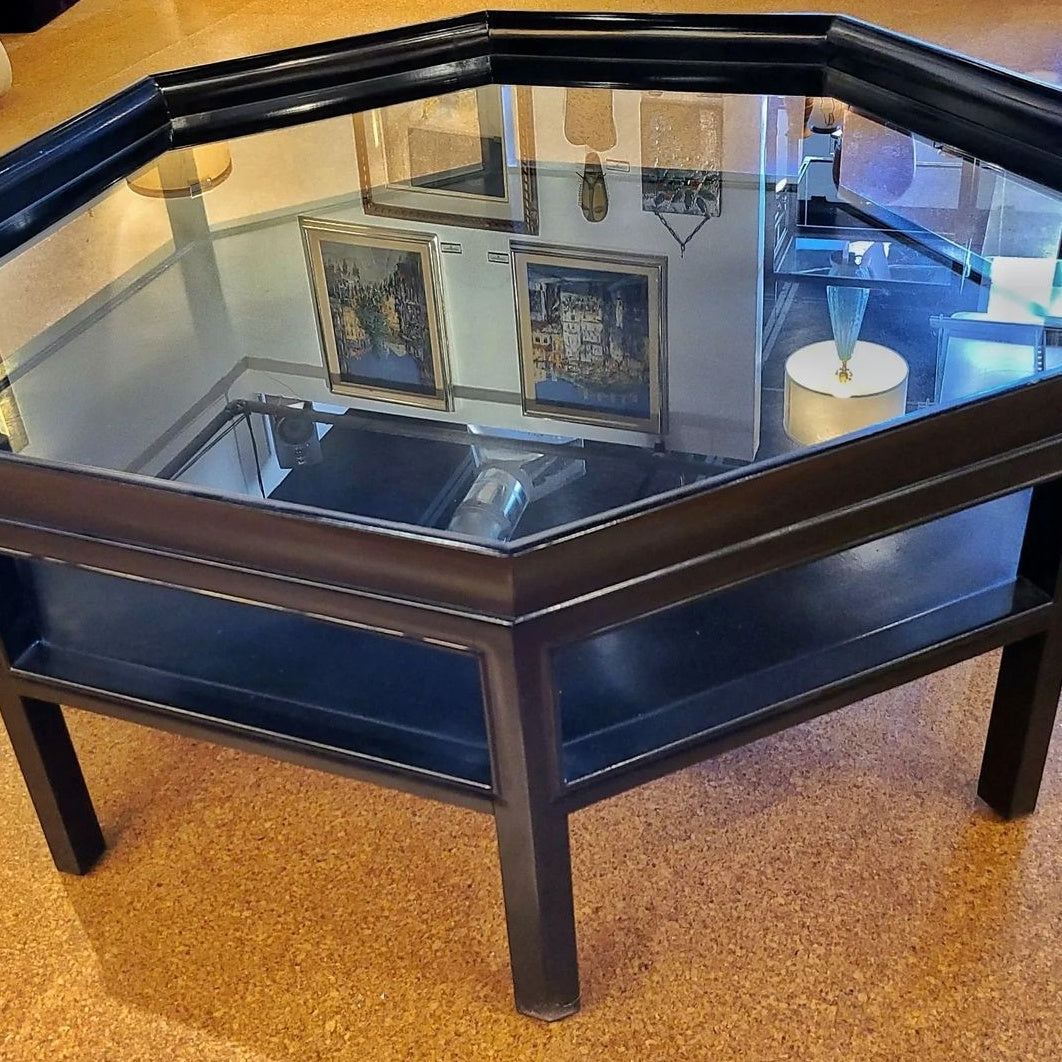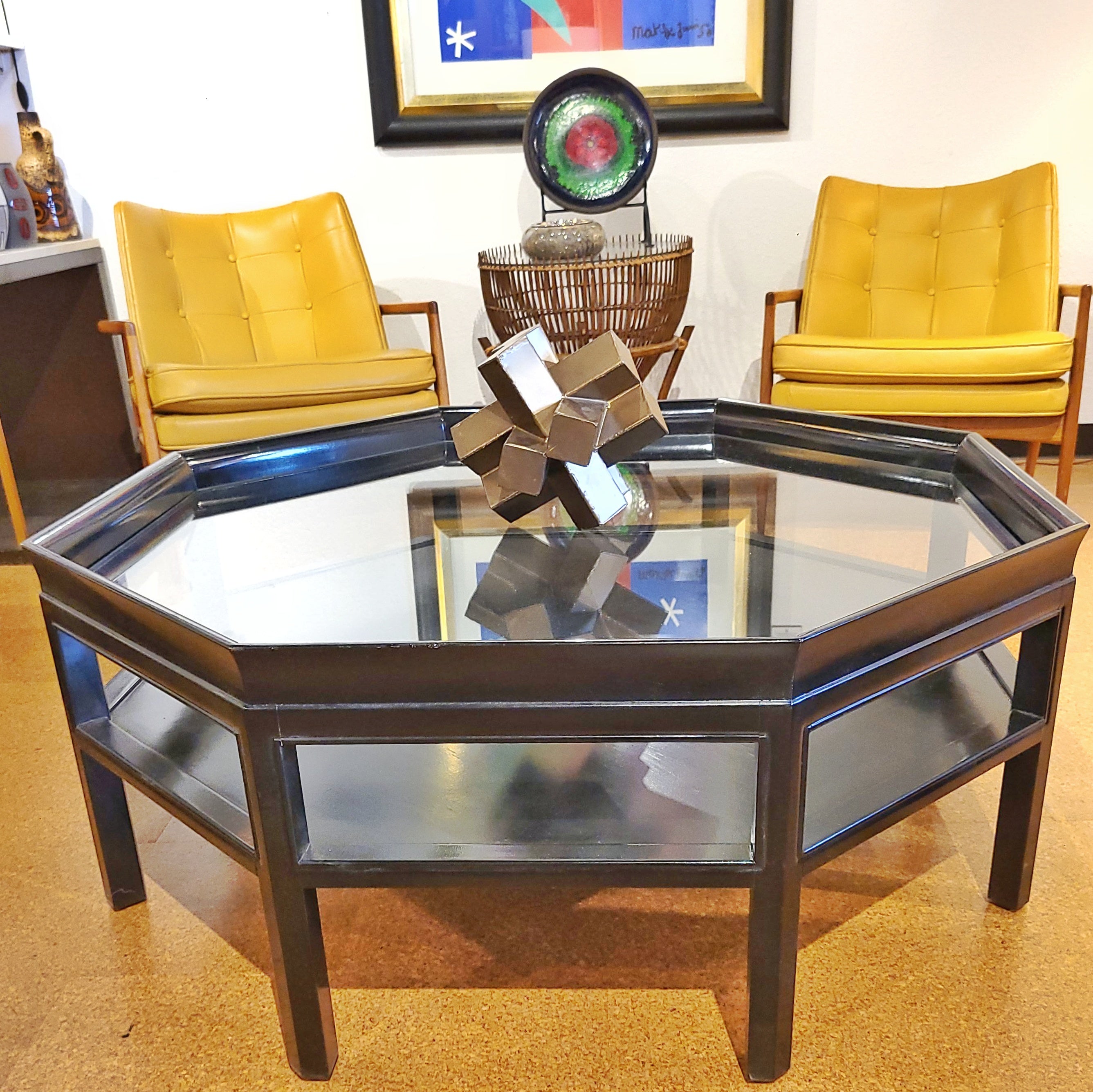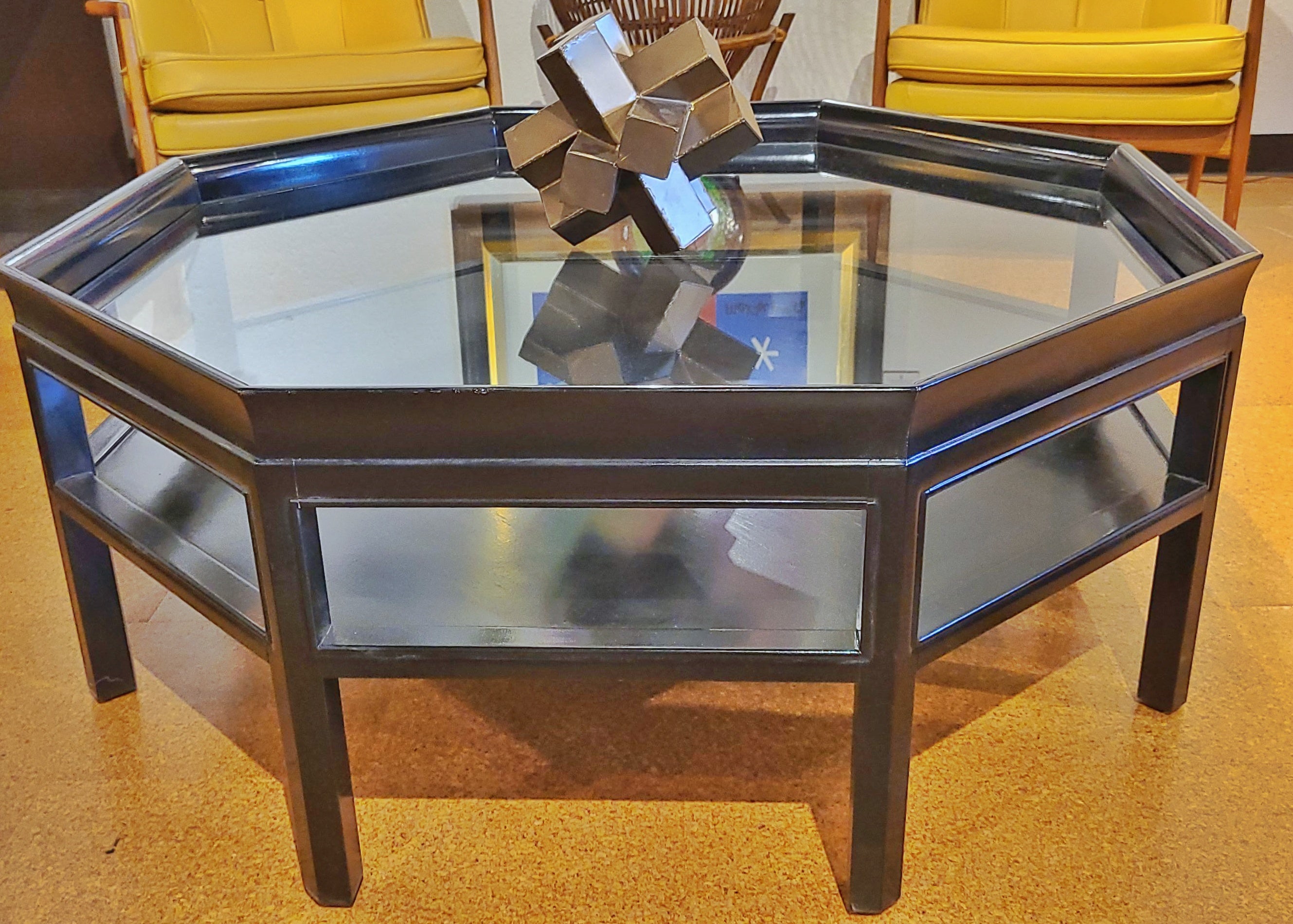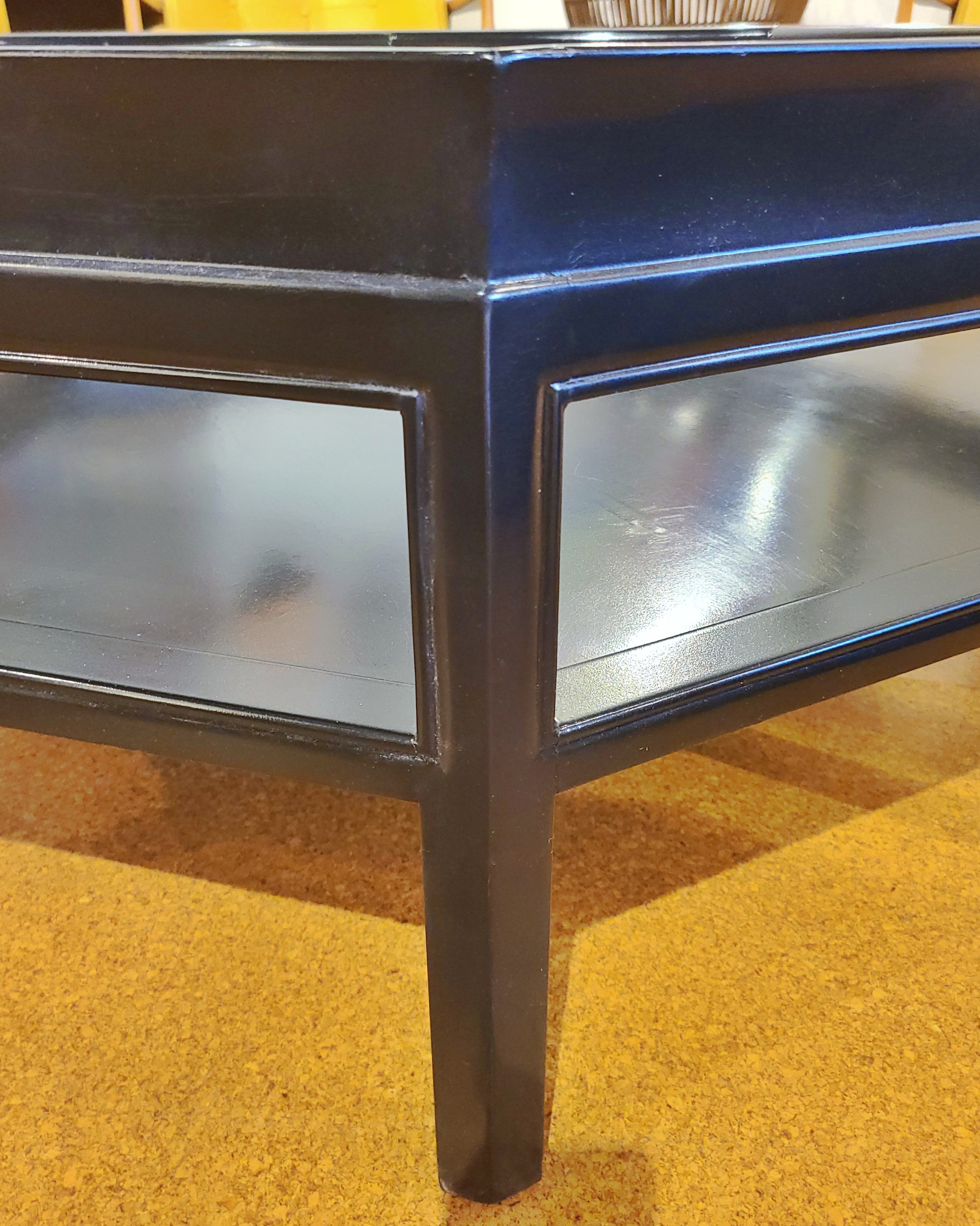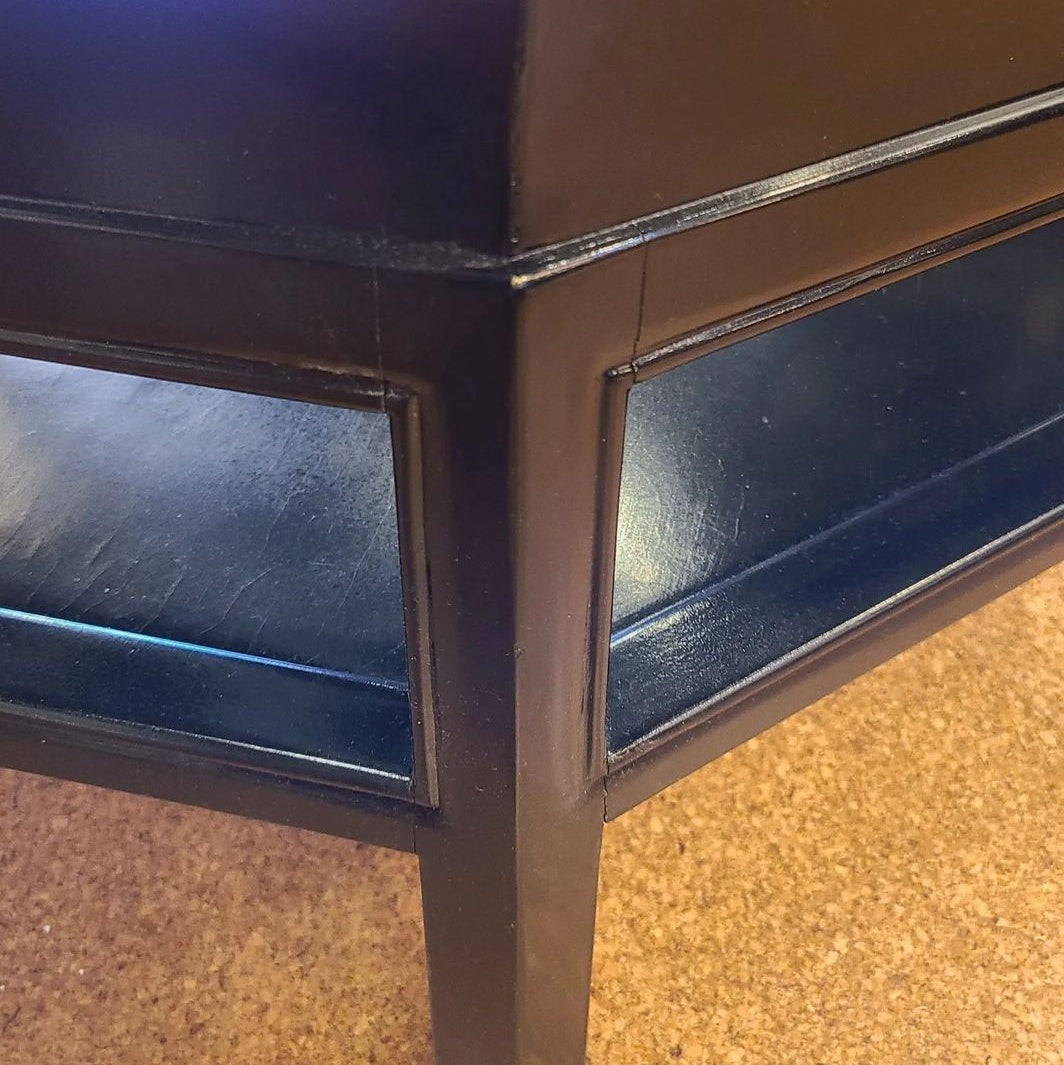 1960s OCTAGONAL GLASS-TOP COCKTAIL TABLE #3442 FROM BAKER FURNITURE
CONTACT US HERE ABOUT THIS ITEM.
A black octagonal glass-top cocktail table from BAKER FURNITURE designed c. 1947.
BAKER FURNITURE was founded as an interior woodwork and door company in 1890 by Dutch immigrant Siebe Baker (1852-1925) in Allegan, MI, just west of Grand Rapids. It manufactured its first piece of furniture three years later: a combination desk and bookcase. Siebe's son Hollis S. Baker (1888-1966) joined the firm as a salesman in 1910 after graduating from the University of Michigan.
The company ventured into Modernism in 1925 with the debut of an Art Deco collection, Twentieth Century Shop. Several pieces from designer Donald Deskey were included. Upon Siebe's death that year, Hollis was named president of the firm. By the end of the decade, BAKER FURNITURE stood at the forefront of the Modern movement among furniture manufacturers in the US.
BAKER premiered a line of bedroom furniture from Austrian-America stage designer Joseph Urban in 1927 and introduced pieces from noted modernist Kem Weber. It rolled out the first great furniture reproduction program in America, the Manor House Collection, in 1932. (Designs were mainly English, crafted by experts hand-picked from Europe.) In 1934 BAKER introduced Chinese Modern design to an American audience at the Chicago World's Fair. Hollis organized over 1,500 antiques in the early '40s into one of the world's largest private furniture collections.
BAKER FURNITURE introduced the Far East Collection in 1949, the first truly Asian furniture collection manufactured in the US. The next year it popularized Italian neoclassic design with the debut of its Palladian Collection, based on a study of museum originals. BAKER partnered with acclaimed architect Finn Juhl in 1951 to create the first Danish Modern furniture collection designed specifically for the American market. The Grand Rapids Chair Co. was acquired in 1957 and began the production of a line of simpler, less costly pieces under BAKER's Milling Road label.
When Hollis S. died in 1966, his son Hollis M. Baker, who would explore new niches in the luxury market, became president. A new facility was opened in Mocksville, NC, to produce high-quality machine-made furniture. Collections introduced in '60s and '70s included lines of country English and French Provincial furniture, as well as high-end executive desks. Notable was Woburn Abbey (1969), which featured reproductions of 25 choice English antiques from the home of the Duke of Bedford. BAKER FURNITURE merged with a leading showroom network in 1972 to form Baker, Knapp & Tubbs, which remains one of the largest wholesale distributors in the industry. A year later it entered the upholstery business with a plant located in High Point, NC. Finding inspiration in one of the New World's most fashionable, furniture-forward capitols, BAKER launched the Historic Charleston Collection in 1976.
In 1980, Italian interior designer Alessandro Gambrielli Gambalogna released a small collection of avant-garde occasional and dining room pieces with BAKER known simply as 'Alessandro.'  A year later, BAKER unveiled its Stately Homes Collection: copies of originals found in celebrated castles and estates in the UK. The exuberant reception of John Saladino's 1984 Façade Collection affirmed BAKER's lasting importance to designers around the world.
Kohler Co. acquired BAKER FURNITURE in 1986 and made it the cornerstone of its Interiors Group. The late '80s were marked by further design successes: the Charles Pfister Collection of Art Deco furniture and the McMillen Collection of continental furniture drawn from the archives of the eponymous New York design firm. Milling Road was revived as a division in 1990, again offering less formal, more livable furniture at lower price points. That same year the Smithsonian inducted the #789 Chippendale Chair into its permanent collection. In 1996 the Barbara Barry Collection debuted, featuring designs from the California-based artist that drew on 1930s Hollywood glamour.
From 2000 to 2015, BAKER launched collections from celebrated designers Bill Sofield, Thomas Pheasant, Laura Kirar, Michael S. Smith, and Jacques Garcia; the Collector's Edition (2005) inspired by classic European designs; and extraordinary lines from design luminaries Tony Duquette and André Arbus (2008-09). Hollywood royalty experienced BAKER FURNITURE elegance firsthand when the company was asked to furnish the Green Rooms for the Academy Awards presentations in 2011 and 2013. During this same period the company provided furniture for a VIP lounge at Mercedes Benz Fashion Week for three years running. A flurry of international showroom openings—Paris, Moscow, Singapore, and three cities in China—punctuated this later era.
DETAILS
Maker - Baker Furniture Company
Production Period - 1960s
Design Period - c. 1947
Origin - USA
Styles/Movements - Hollywood Regency; Mid-Century Modern; Chinese Modern
Materials - Lacquered hardwood, glass
Colors - Black
Condition - Very good vintage condition. May show slight traces of previous use.
Dimensions - 44ʺ W × 44ʺ D × 18ʺ H