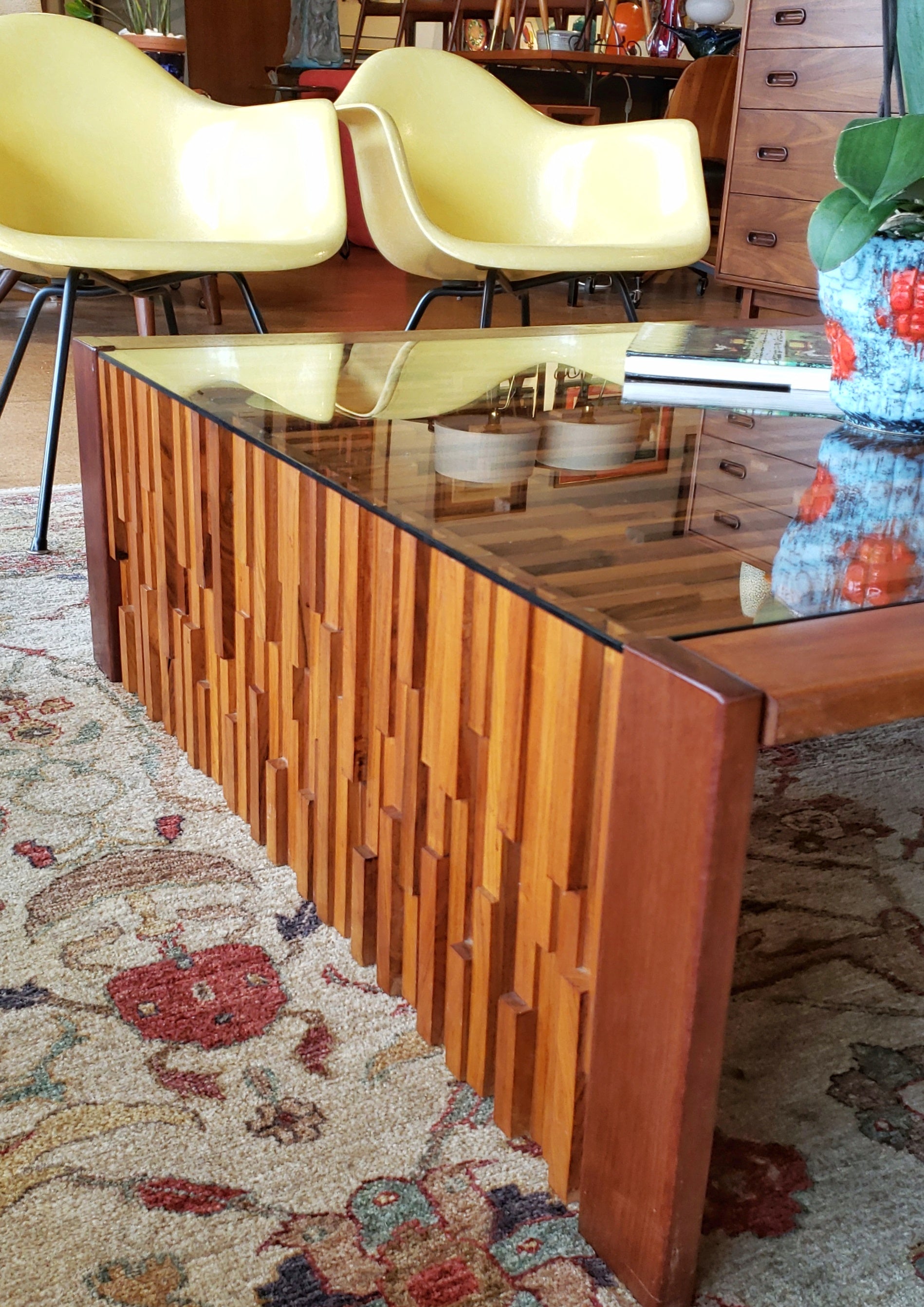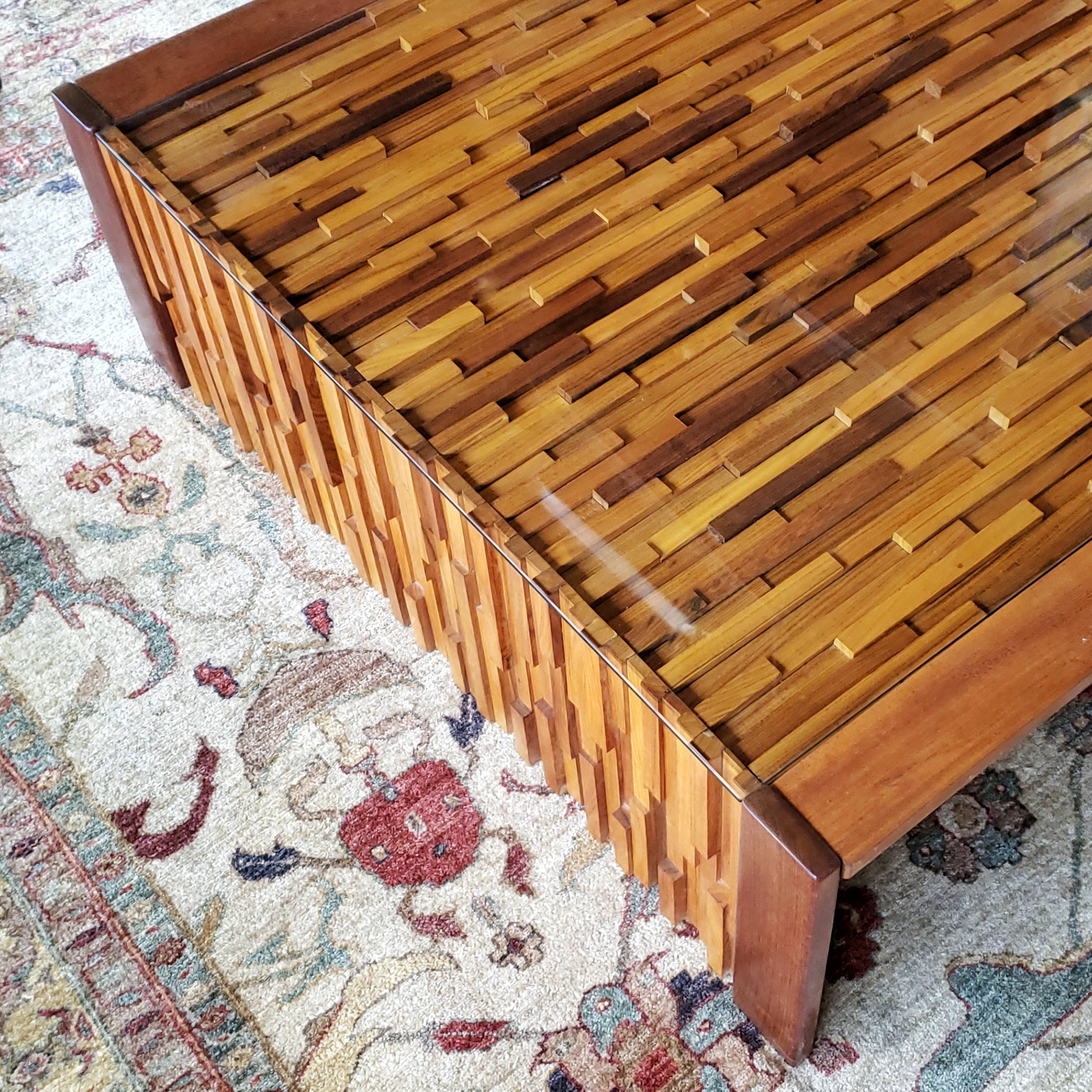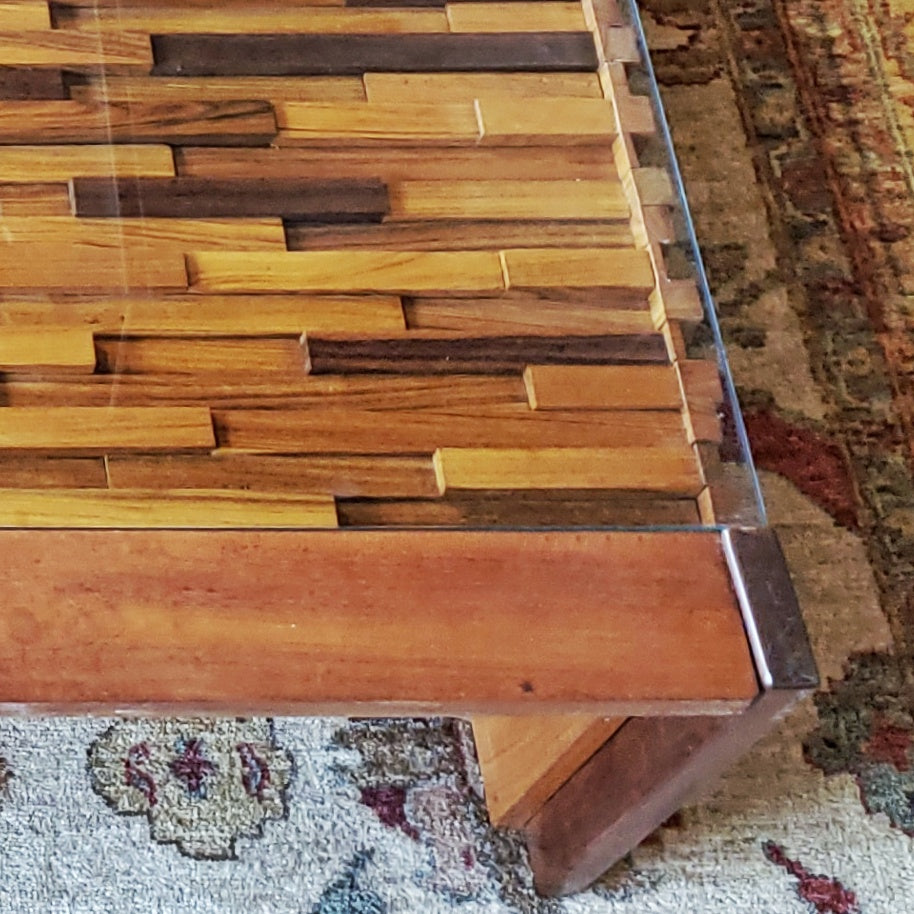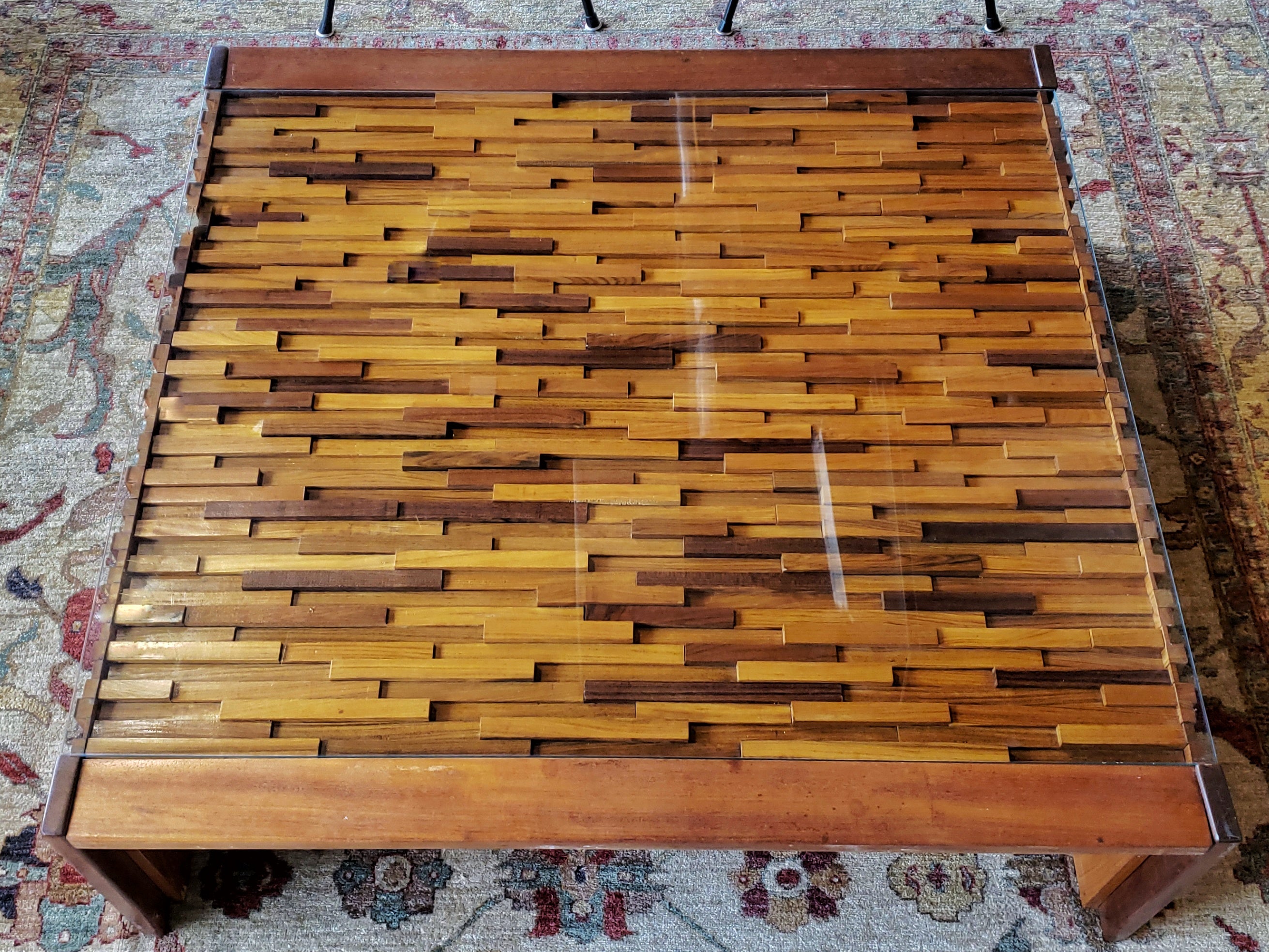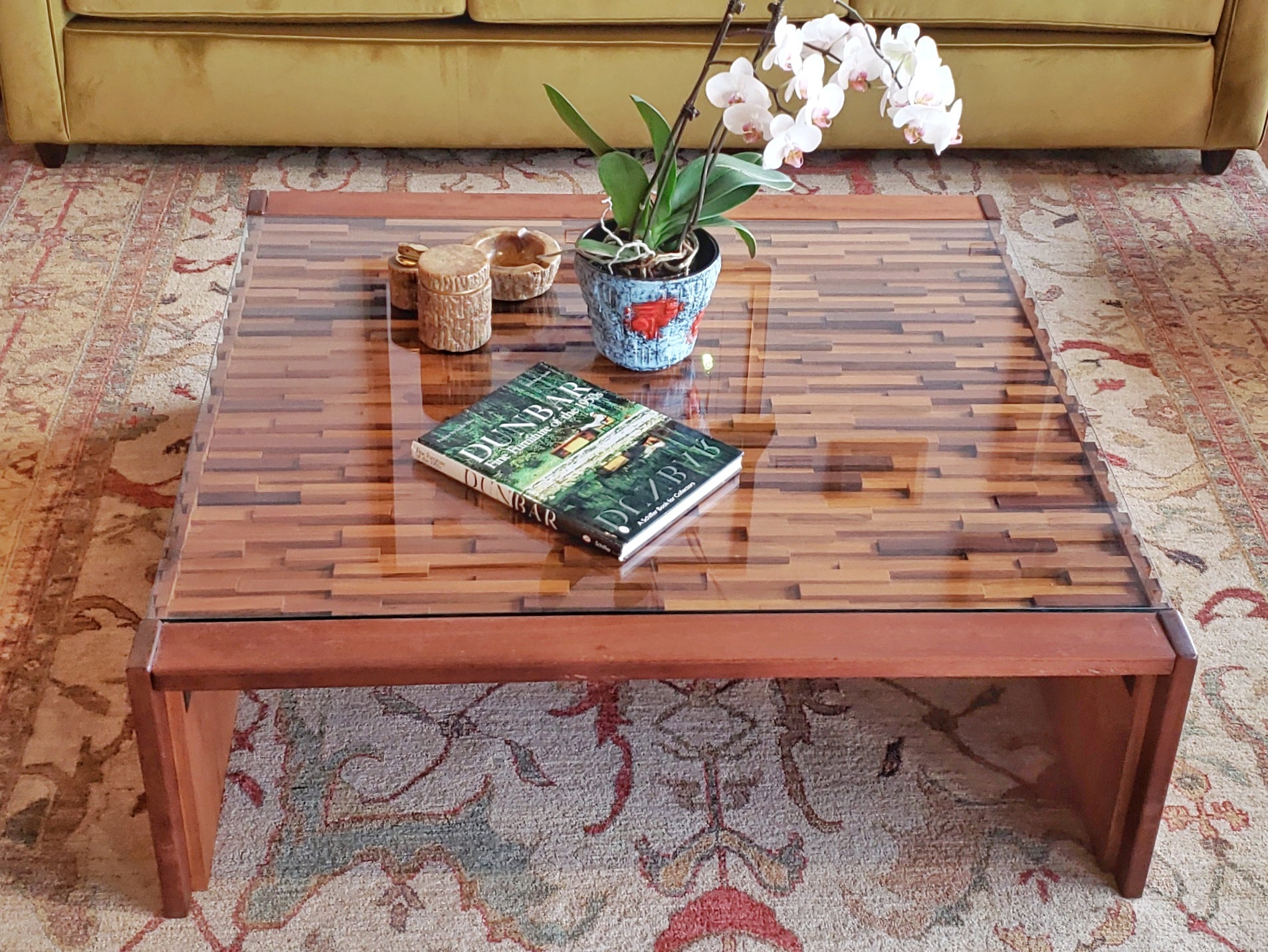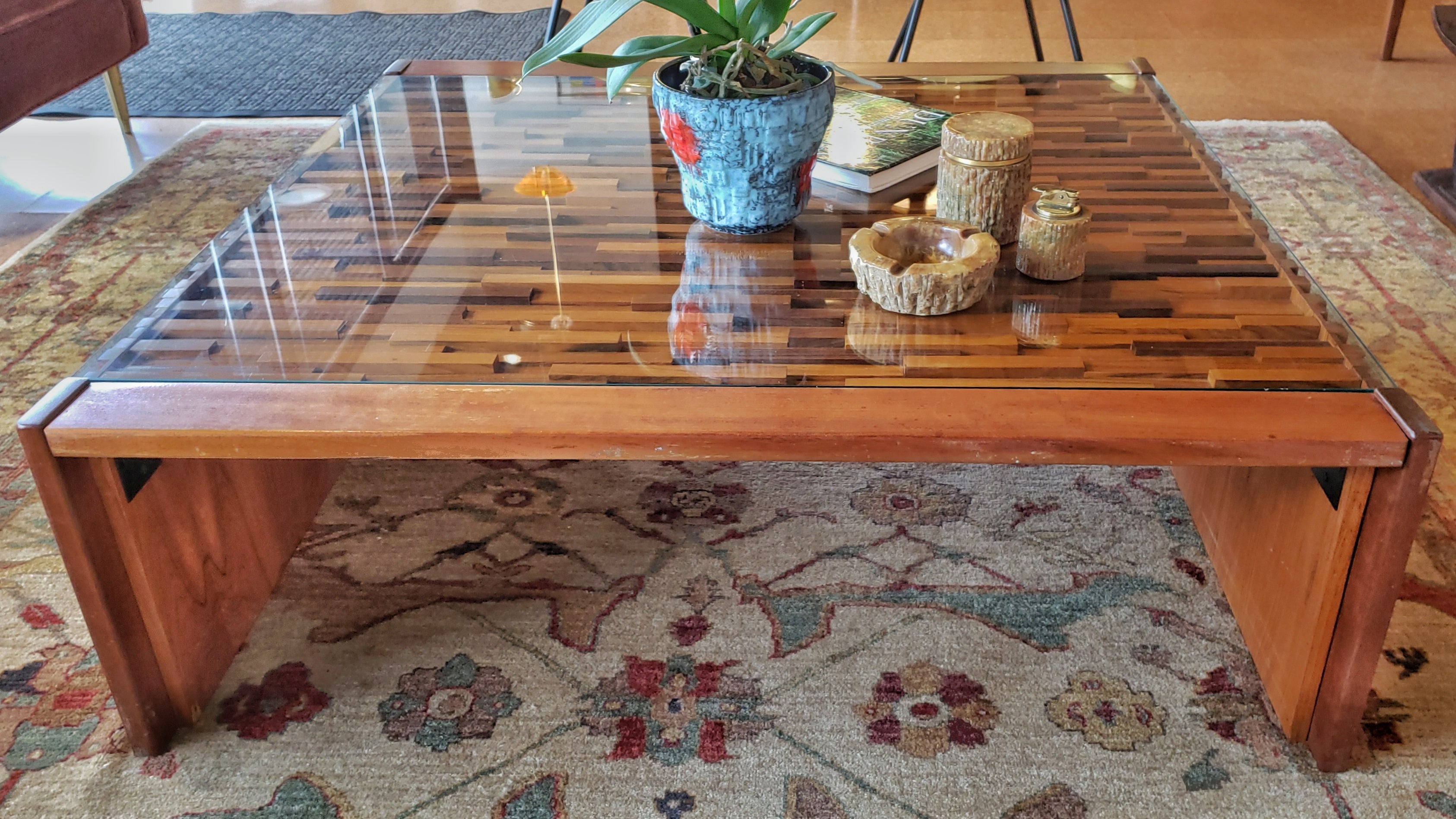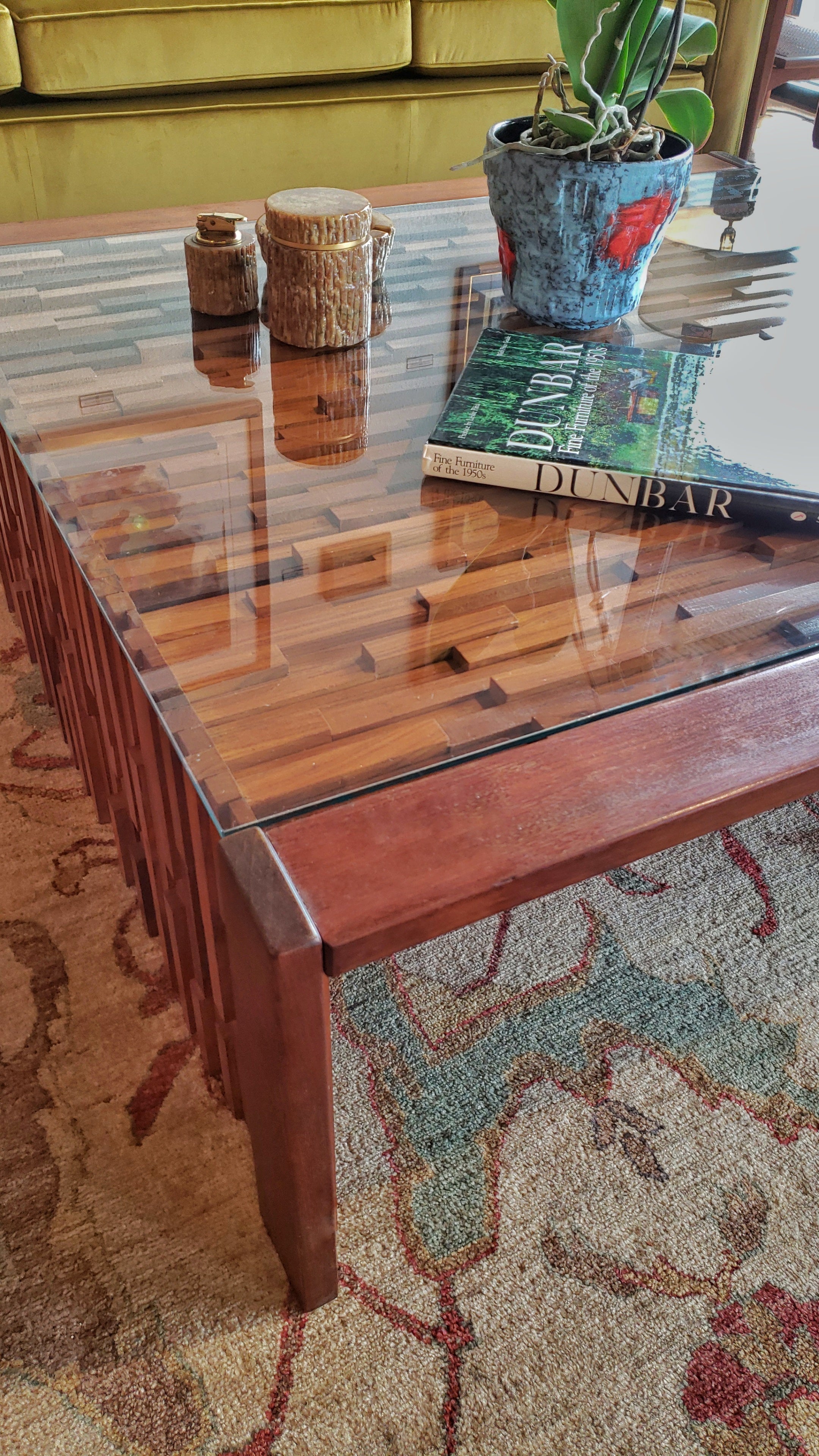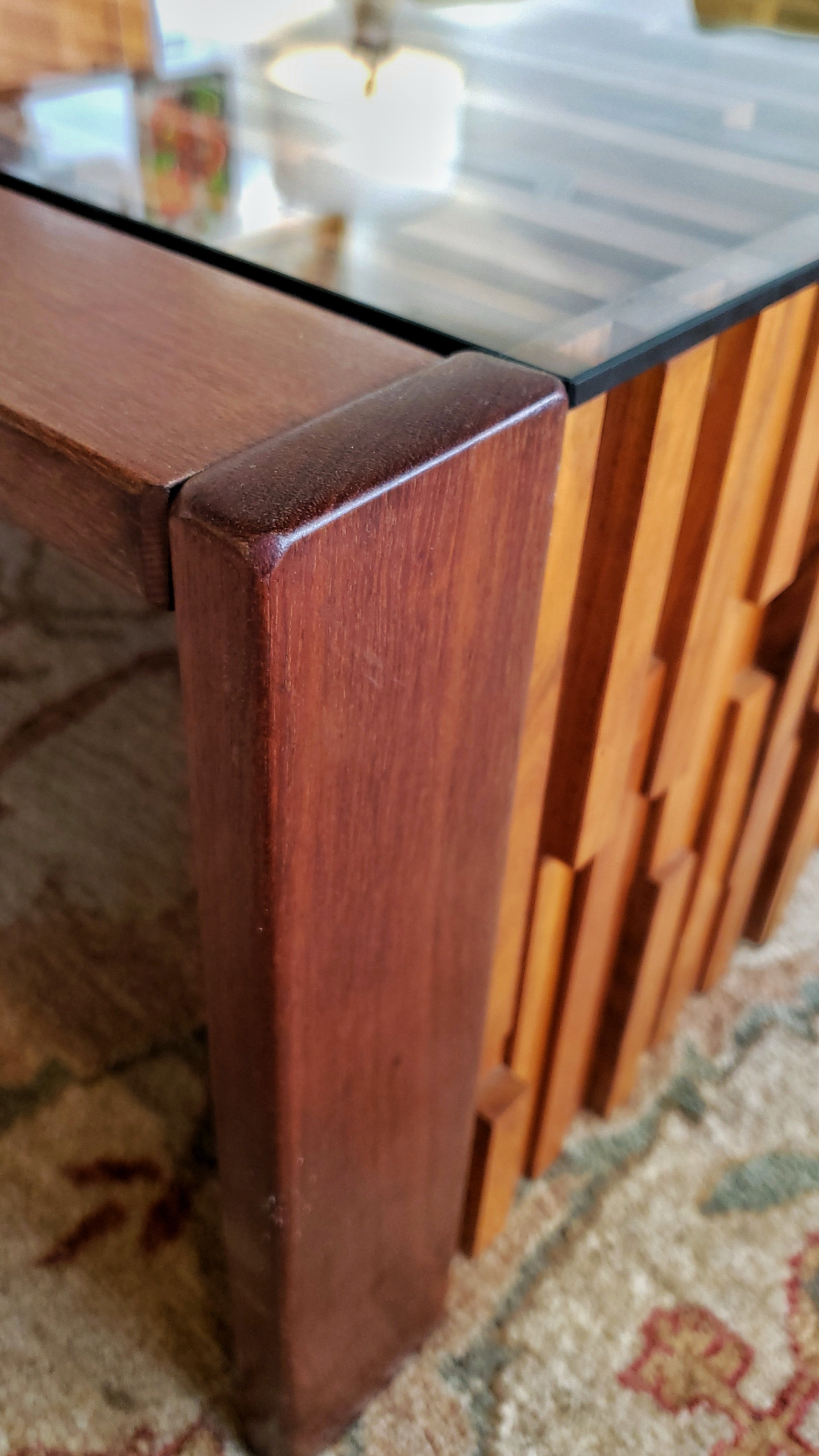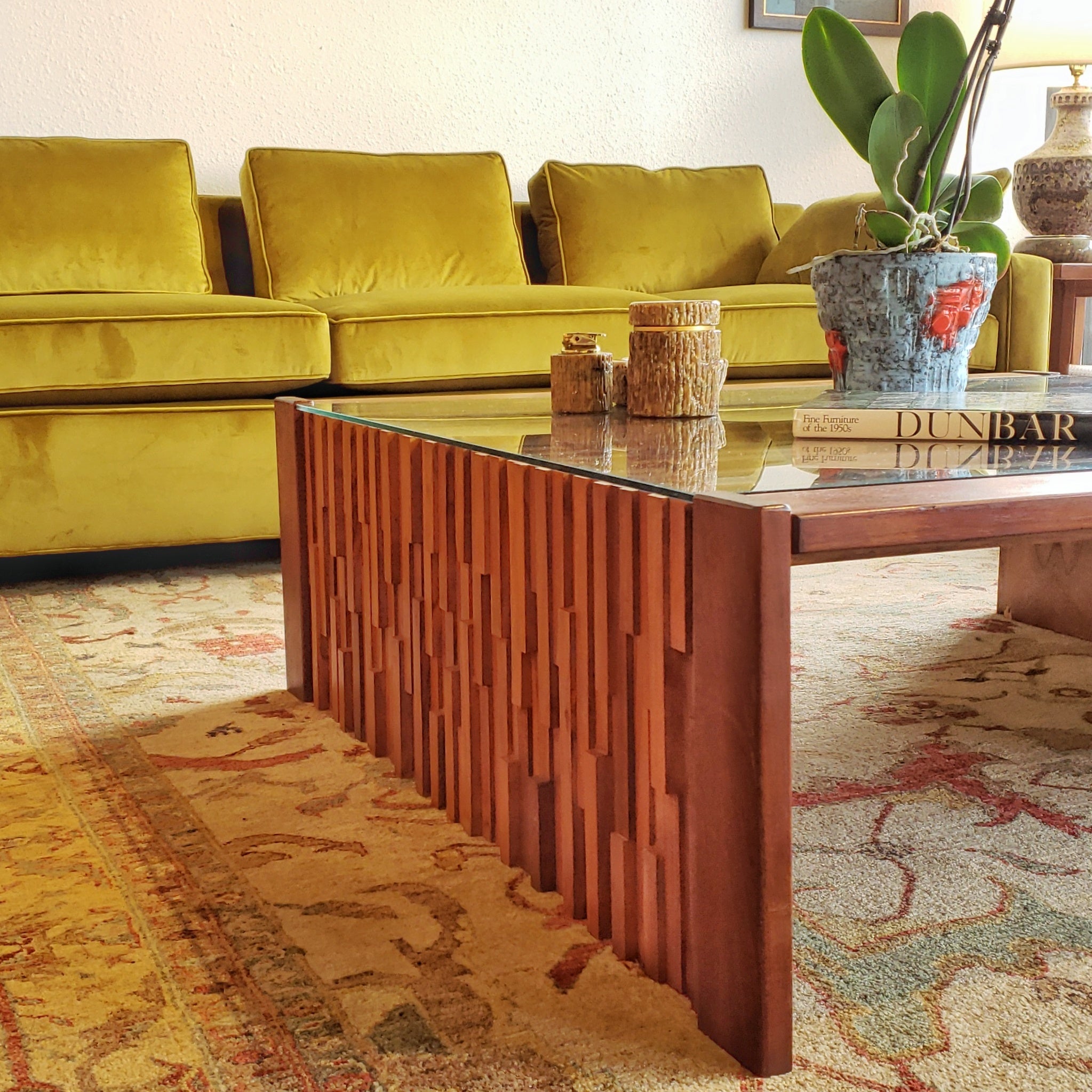 PERCIVAL LAFER COFFEE TABLE
CONTACT US HERE ABOUT THIS ITEM.
A fantastic mid-century cocktail/coffee table by famed Brazilian designer Percival Lafer.  Dating from the 1960's, this large format table is crafted in a layered, sculptural relief of four exotic tropical hardwoods—jacaranda, teak, mahogany, and rosewood—and fitted with a clear glass top.  The waterfall legs of the table may be folded inwards to facilitate shipping or storage.  In very good condition, with some age-appropriate wear; the finish is original.  This is the largest size of this particular model table.
PERCIVAL LAFER is a contemporary Brazilian furniture designer and a pioneer of the Brazilian Modernist movement.  He was born in 1936 and studied architecture at the prestigious Mackenzie Presbyterian University in São Paulo.  When his father unexpectedly died not long after Lafer graduated in 1960, he and his three brothers inherited the family furniture business.  They transformed the operation into a world-class manufacturer of high-quality furniture, with Lafer assuming charge of design and product development.
Lafer is most famous today for chair and sofa designs that combine low-profile hardwood structures with plush leather upholstery.  All of his furniture was designed with mass-production in mind and its pricing aimed squarely at the middle classes.  His 'MP-041' series (1965) included seating with solid hardwood frames and hand-tufted, pre-formed cushions.  The collection could be easily dismantled and re-assembled, enabling flat-packed delivery and lower shipping costs.  Other notable designs include the materially-minimal MP-89 armchair (1970); the MP-071 armchair (1973); the S1 Collection (1975) of sofas, armchairs, and tables; and the MP-163 armchair (1976), better known as the "Earth Chair."  The 1965 introduction of mechanical movements to the MP-7 sofa allowed for its transformation into a twin bed.  A passion for mechanisms animates Lafer to this day.  They feature in his most contemporary pieces, such as the 'Ion' sofa and the 'Adele' recliner.
Little influenced by northern European design in his early days, Lafer's work has always traced back to his Brazilian roots.  The reliance on local woods, the strength and elegance of his designs, and the warm colors of his upholstery, make him a fundamental figure in the evolution and affirmation of modern Brazilian design.  Despite his predilection for high-quality leathers and exotic hardwoods, Lafer's use of polished and matte steels in the structures of his seating ensure a thoroughly modern aesthetic.  He currently lives and works in Campos do Jordão, Brazil.
I've always been drawn to the motion features of furniture.  The engineering and design work that goes into its mechanisms is fascinating and fulfilling. – PERCIVAL LAFER
Designer – PERCIVAL LAFER (B. 1936)
Maker – LAFER
Attribution – WELL-KNOWN
Materials – MAHOGANY, TEAK, ROSEWOOD
Condition – VERY GOOD (no defects; may show slight traces of use)
Height (in.) – 14.0
Width (in.) – 43.0
Depth (in.) – 41.0