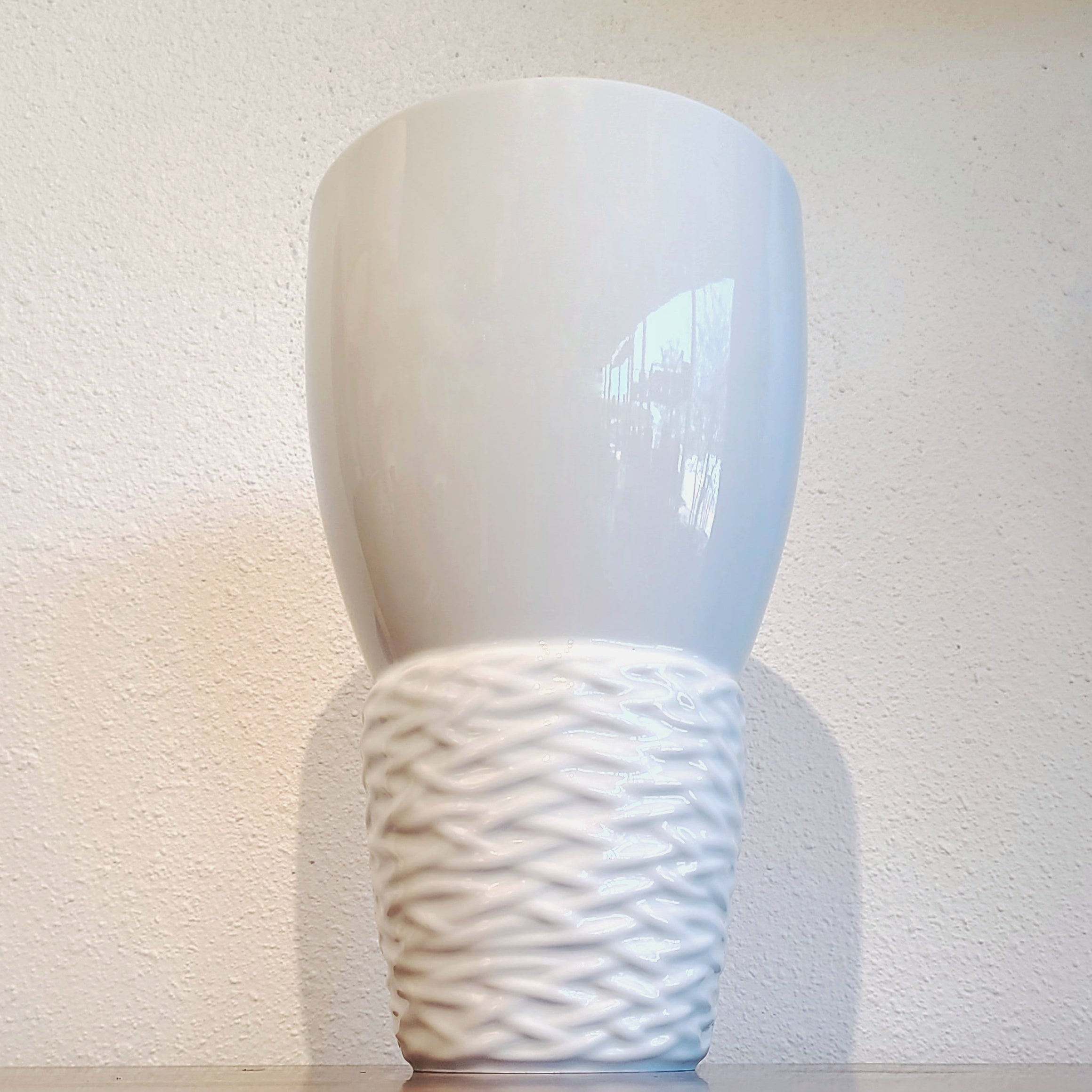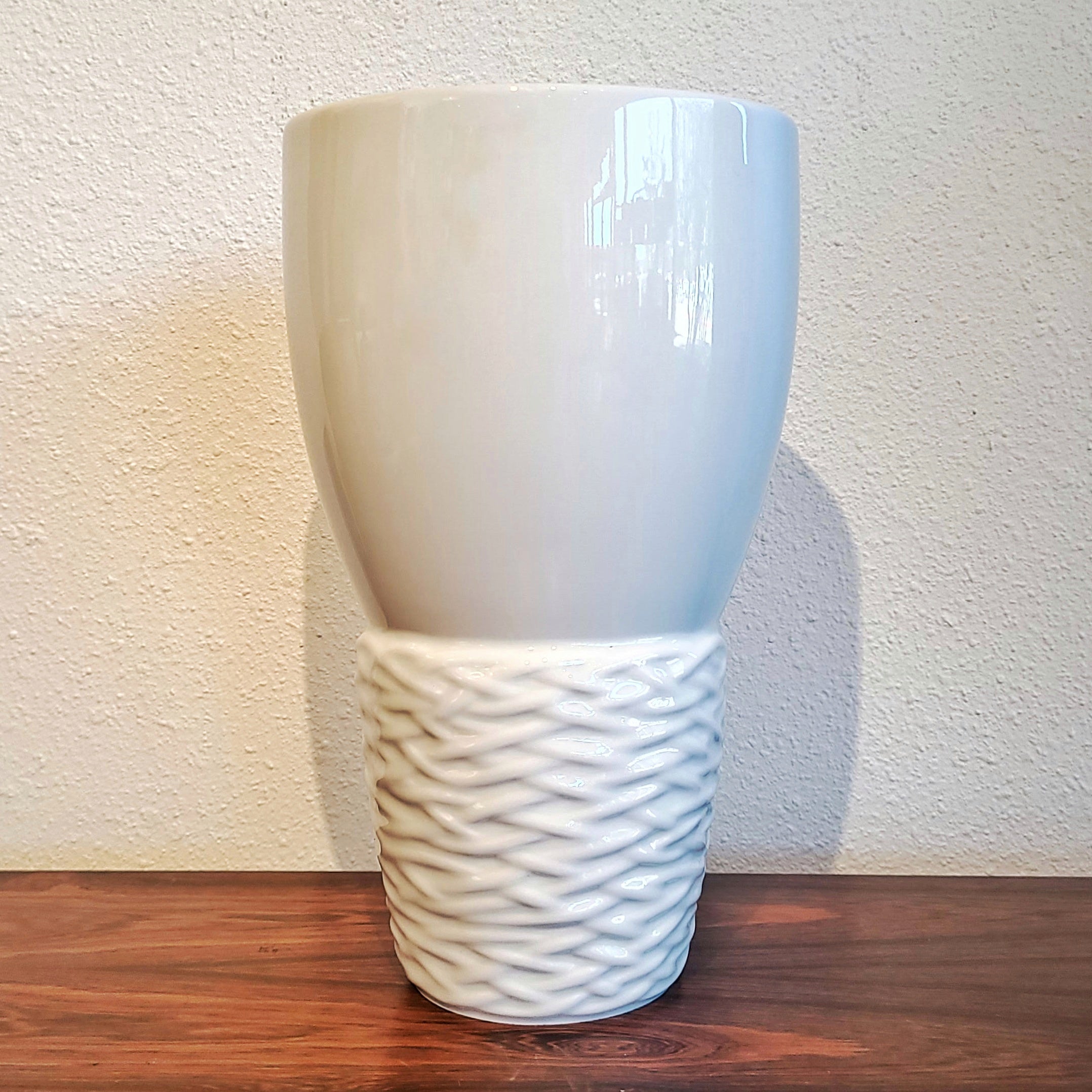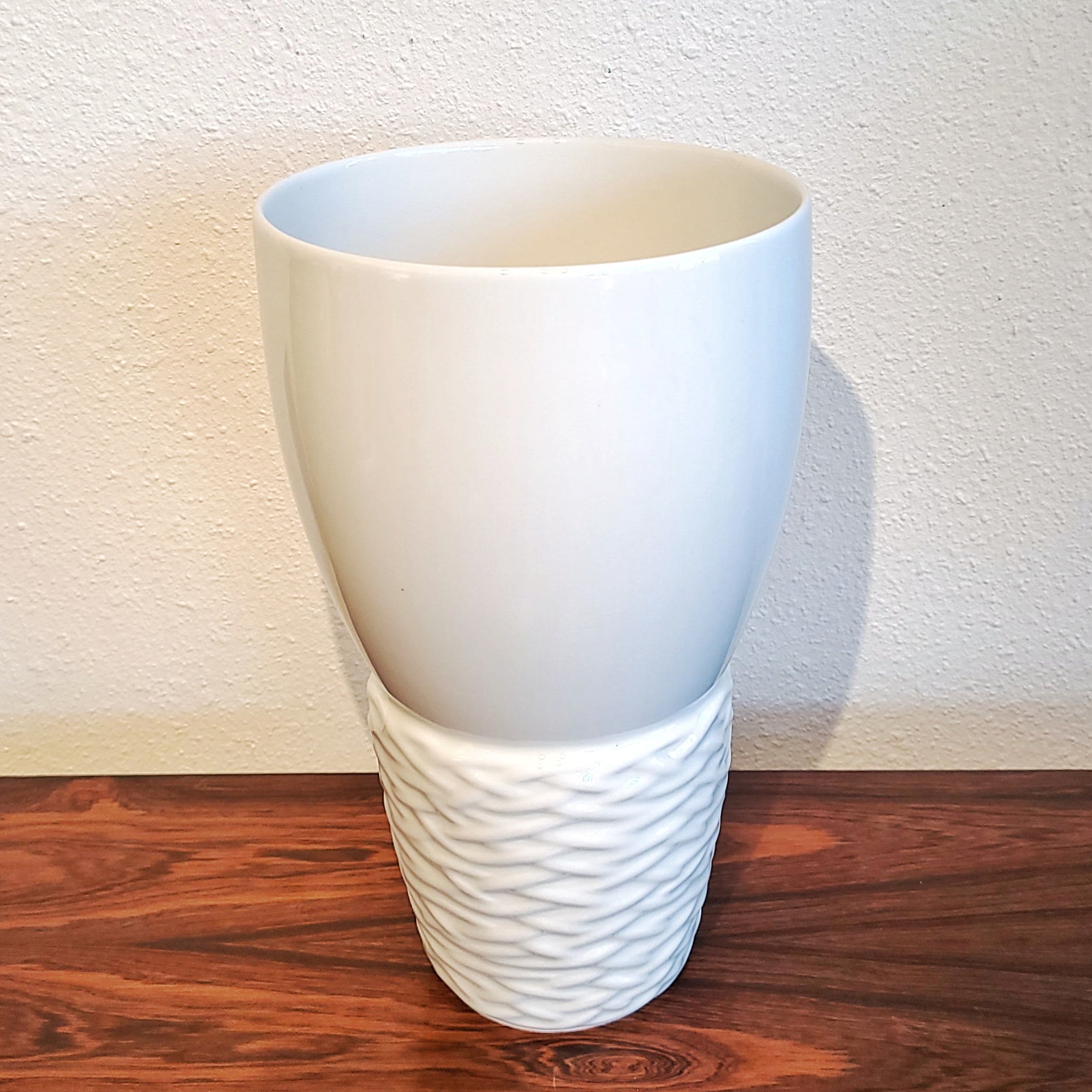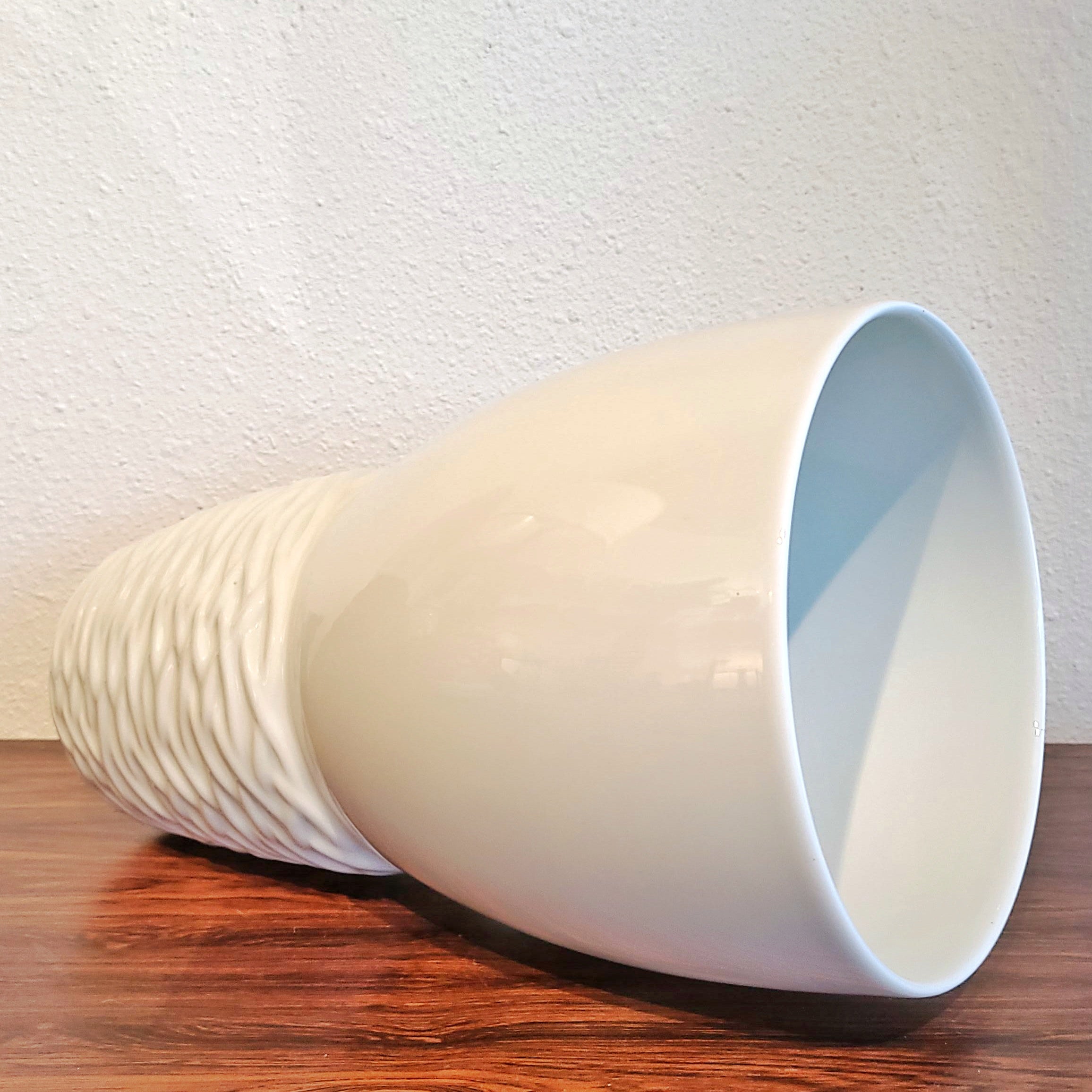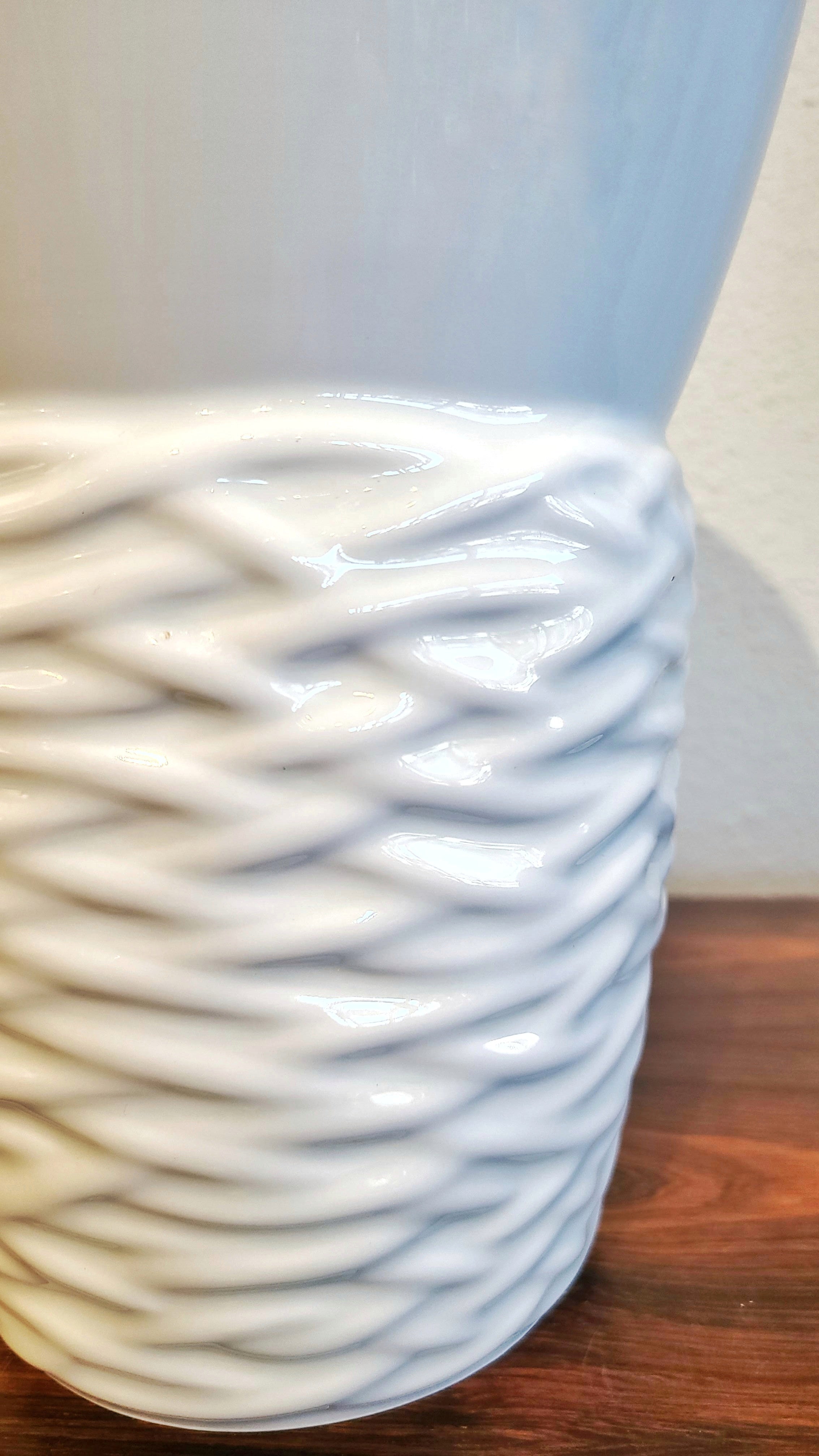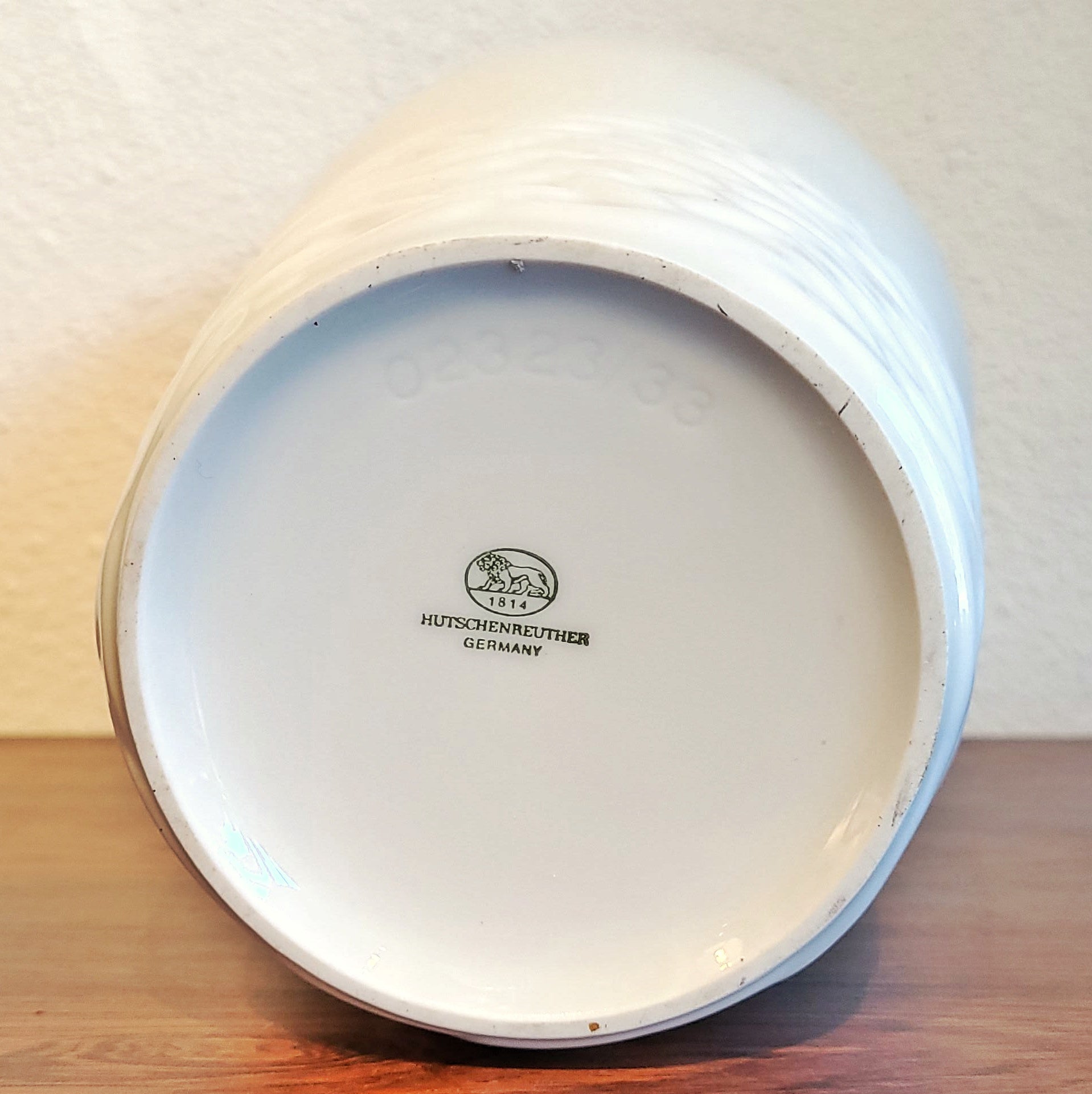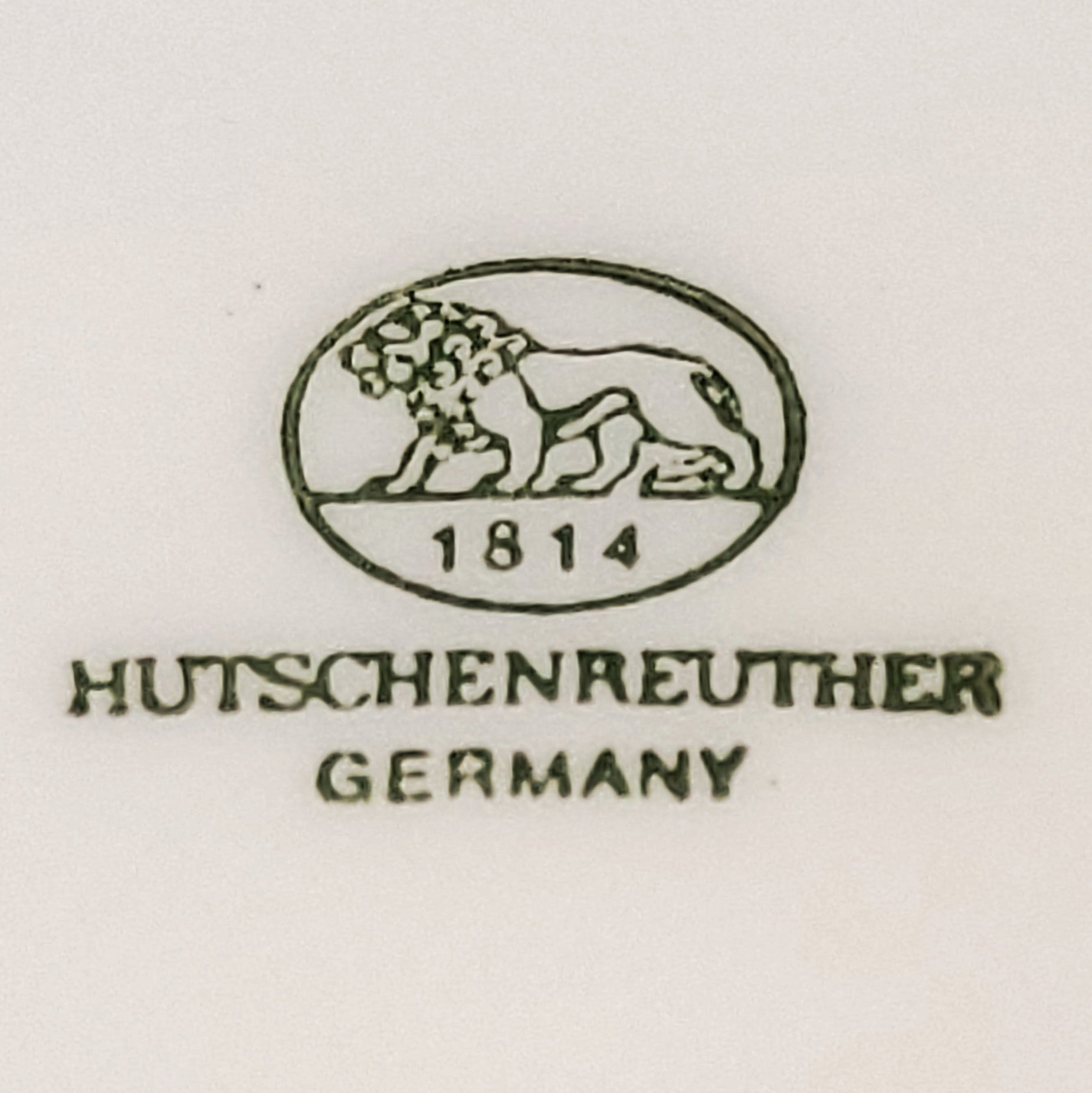 HUTSCHENREUTHER PORCELAIN OP-ART FLOOR VASE Nr. 02323/33
$315.00
Regular price
$350.00
CONTACT US HERE ABOUT THIS ITEM.
A very large, flared '70s Op-Art floor vase with a basket weave relief pattern from PORZELLANFABRIKEN LORENZ HUTSCHENREUTHER AG SELB, Germany.
---
Hutschenreuther is the family name of a German father and son who established competing porcelain manufactories in north-east Bavaria in the 19th century.
C.M. HUTSCHENREUTHER AG was first organized as a porcelain decorating factory in the Bavarian town of Hohenberg an der Eger by its eponymous founder, Carl Magnus Hutschenreuther (1794–1845) in 1814. He decided to try his hand at making porcelain for himself when deposits of kaolin, the soft white clay essential in its production, were discovered locally near the River Eger. The district forester, a relative, Ernst Ludwig Reuß set aside space in Hohenberg Castle for Hutschenreuther to paint porcelain and study its manufacture. In 1816 Hutschenreuther married Reuß' daughter, Johanna Maria Barbara.
After many years of petitioning the Bavarian authorities, a concession was finally granted to C.M. HUTSCHENREUTHER in 1822 to set up a kiln. By that time, a disused alum works on the site of the present-day factory had been acquired. At first, it seems that Hutschenreuther mixed the raw materials himself and similarly oversaw all of the firings so as to keep his processes secret. Only after a second kiln was constructed and additional decorators hired, did the company become successful—supplemented by the sale of white wares to free-lance painters.
To enhance product quality, C.M. HUTSCHENREUTHER recruited artists, craftsmen, and sculptors from all over continental Europe. Primarily focusing on quality and design, the company grew into a competitive firm that produced dinnerware services that were ideal for fine dining. After his death in 1845, Hutschenreuther's widow, along with sons Lorenz and Christian, ran the business. A large part of the factory suffered a devastating fire in 1848 but was quickly rebuilt.
PORZELLANFABRIKEN LORENZ HUTSCHENREUTHER AG SELB (aka LHS) had its origins in 1857 when Lorenz Hutschenreuther (1817–1886) struck out on his own and established a competing factory in the Bavarian town of Selb. The business grew throughout the early 20th century—in large measure by buying up the assets of neighboring firms, including those of Paul Müller, Selb. It was after the acquisition of Müller's art division in 1917 that LHS began producing figurines. By 1926 its art production had won wide acclaim, and the figurines in particular were highly sought after. LHS created many of its most famous dinnerware patterns during the first half of the last century, including Racine (1900), Richelieu (1929), Blue Onion (1930), and Maple Leaf (1940).
LHS marketed aggressively and ultimately became the more notable of the two Hutschenreuther concerns. Indeed, it was the first German firm to seriously rival the famous British porcelain brands. At no point was any partnership established between LHS and C.M. HUTSCHENREUTHER; the two companies would remain fully independent and in open competition for over a century.
By the end of WWII, both businesses had suffered losses, particularly C.M. HUTSCHENREUTHER. Many of its plants had been situated in territory that came under the control of Soviet satellites, and they were duly expropriated, as were a few mines belonging to LHS. Both companies were also faced with severe war-related restrictions. However, by the early 1950s recovery was well underway. The art pottery department at LHS played a significant role during the decade. Shape and décor designers of the time produced many of the company's most notable creations. The artists Hans Achtziger, Hildegard Gruinseiser, Christian Modrack, and Rudolf Lunghard deserve special mention. Much of the work was free-form.
In 1969, the assets of C.M. HUTSCHENREUHTER were purchased by LHS and the two companies at last became one. The newly united company continued to produce fine bone china and porcelain figurines. In 1972 the company merged with Kahla AG, and in 2000 it became part of the Rosenthal division of the Waterford Wedgwood Group. Rosenthal continues to use the Hutschenreuther's trademark "lion insignia." (As of 2009, Rosenthal is an independent division of the Italian firm Sambonet Paderno.)
---
DETAILS
Maker – HUTSCHENREUTHER
Production Period/Year – 1970s
Designer – DESIGNER
Design Period/Year – PERIOD/YEAR
Origin – GERMANY
Styles/Movements – MID-CENTURY MODERN; MINIMALIST; OP ART
Materials – PORCELAIN
Colors – WHITE
Condition – Excellent vintage condition.
Dimensions – 8" DIAM. × 13 ¼" H