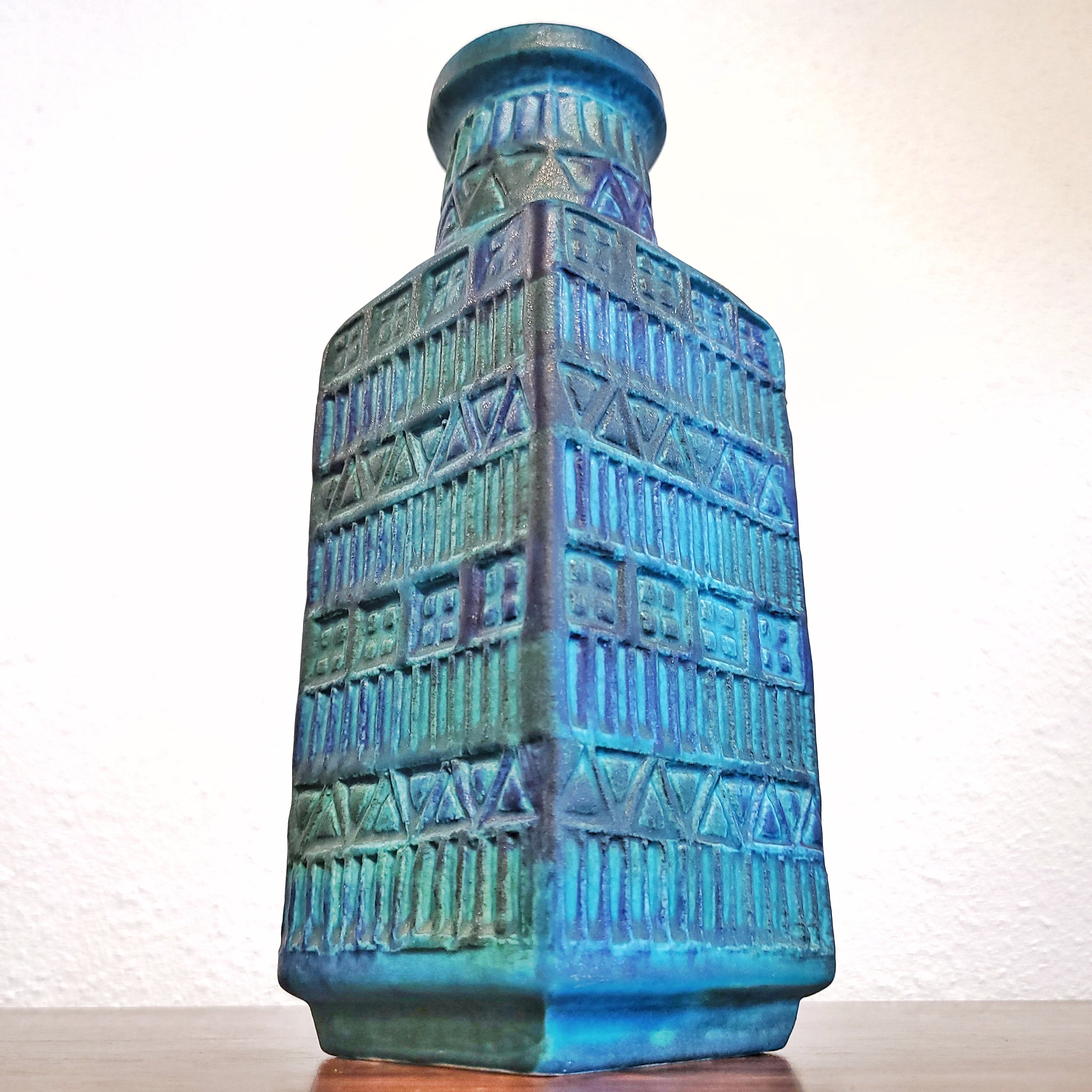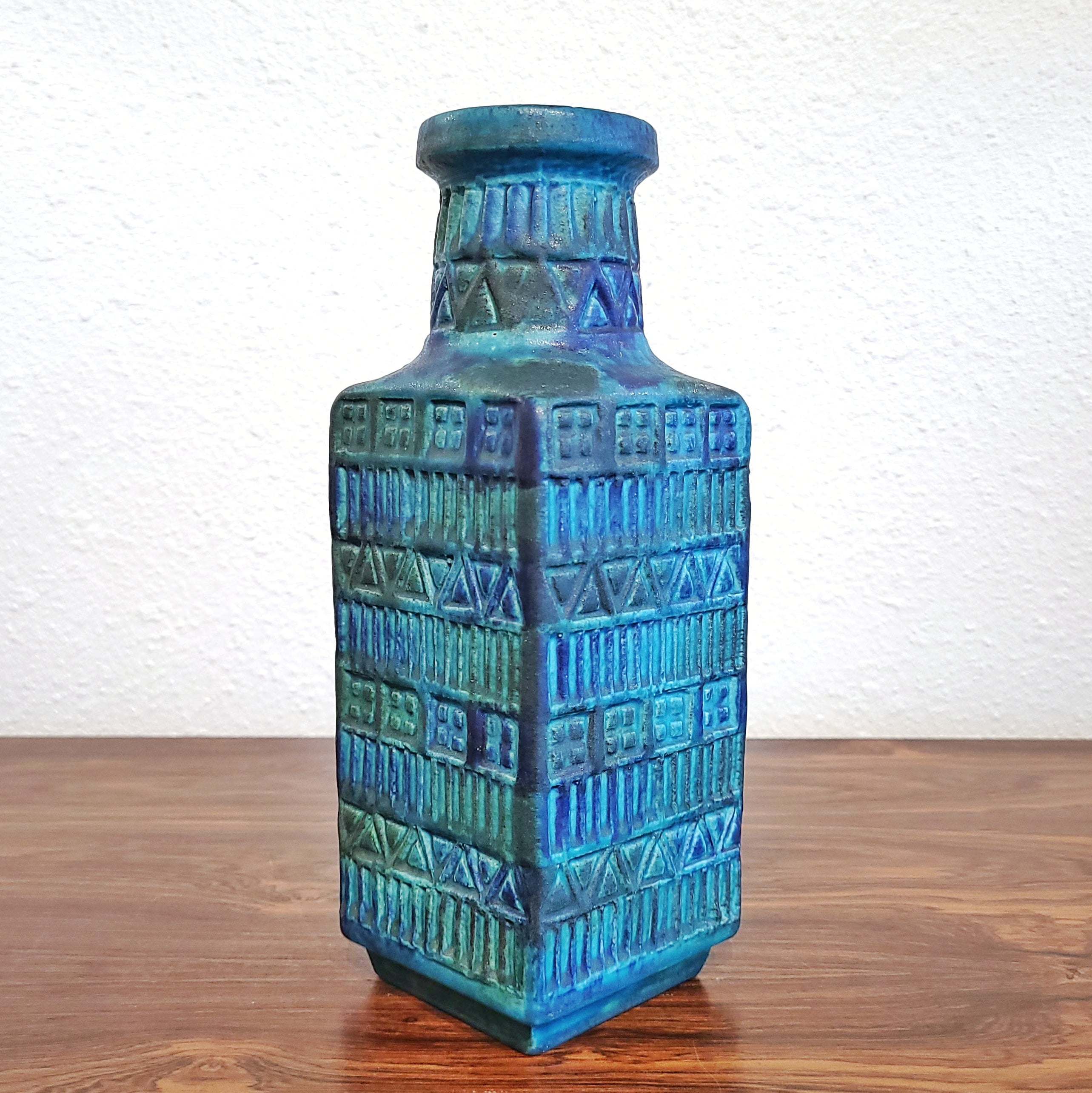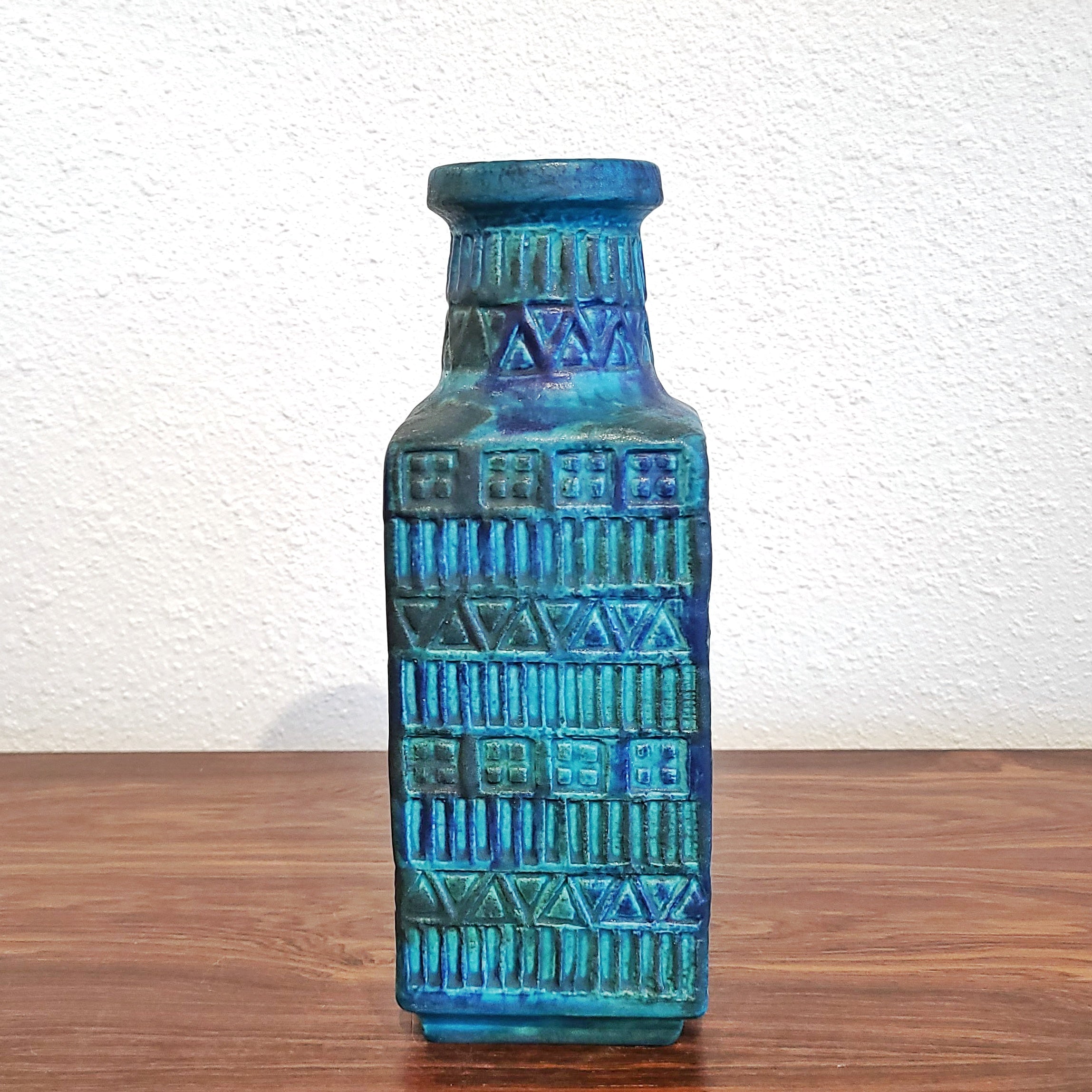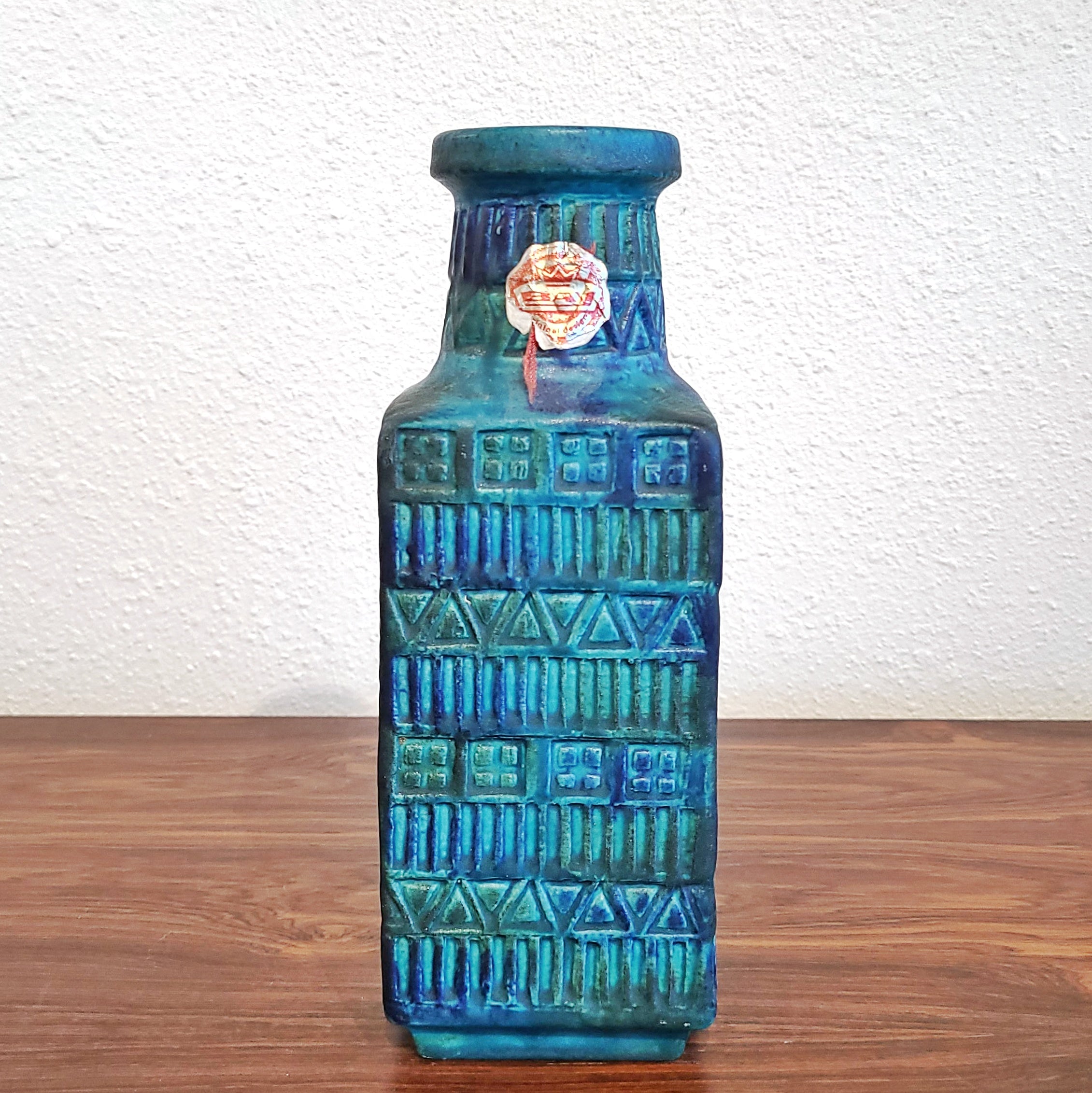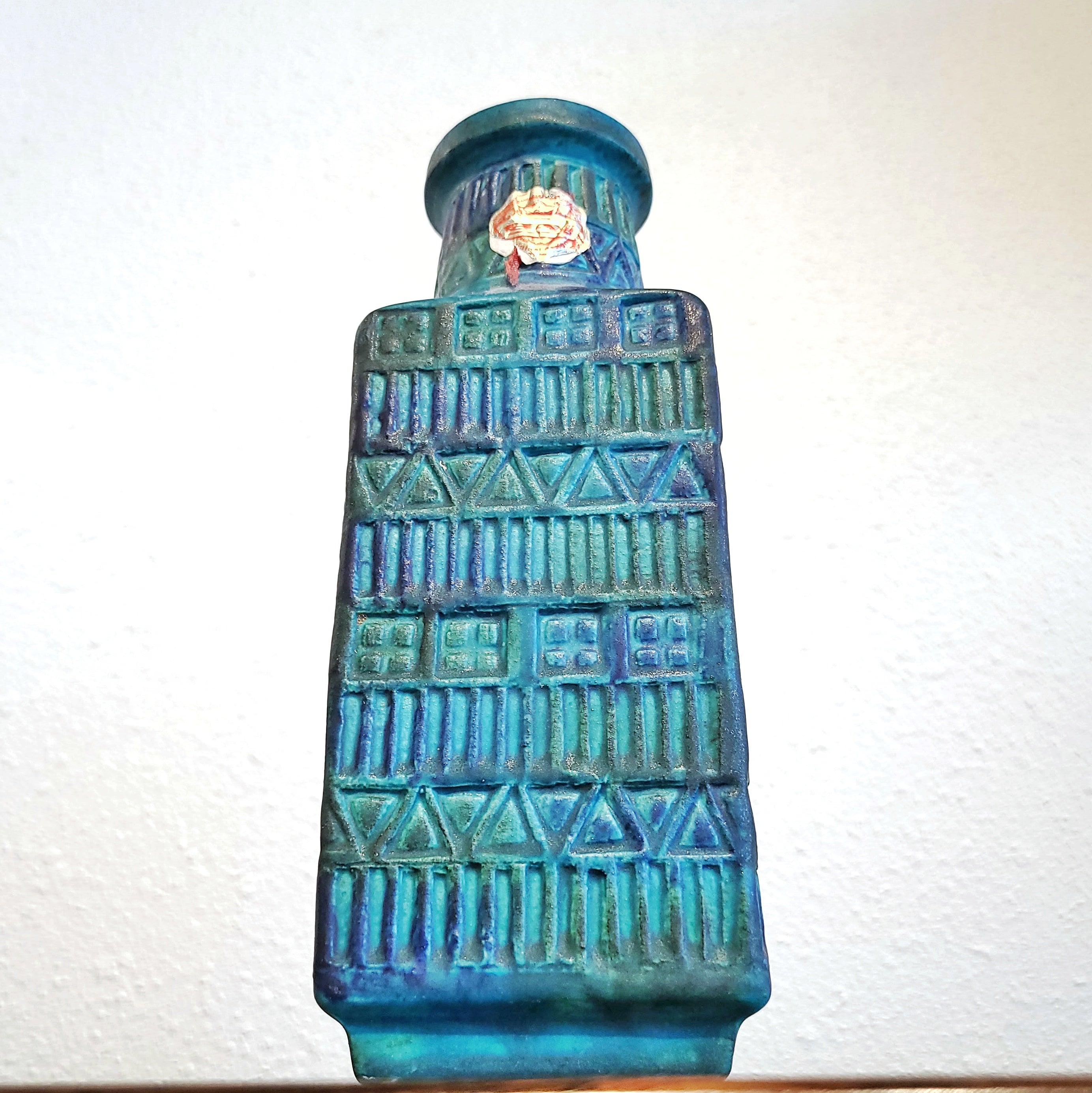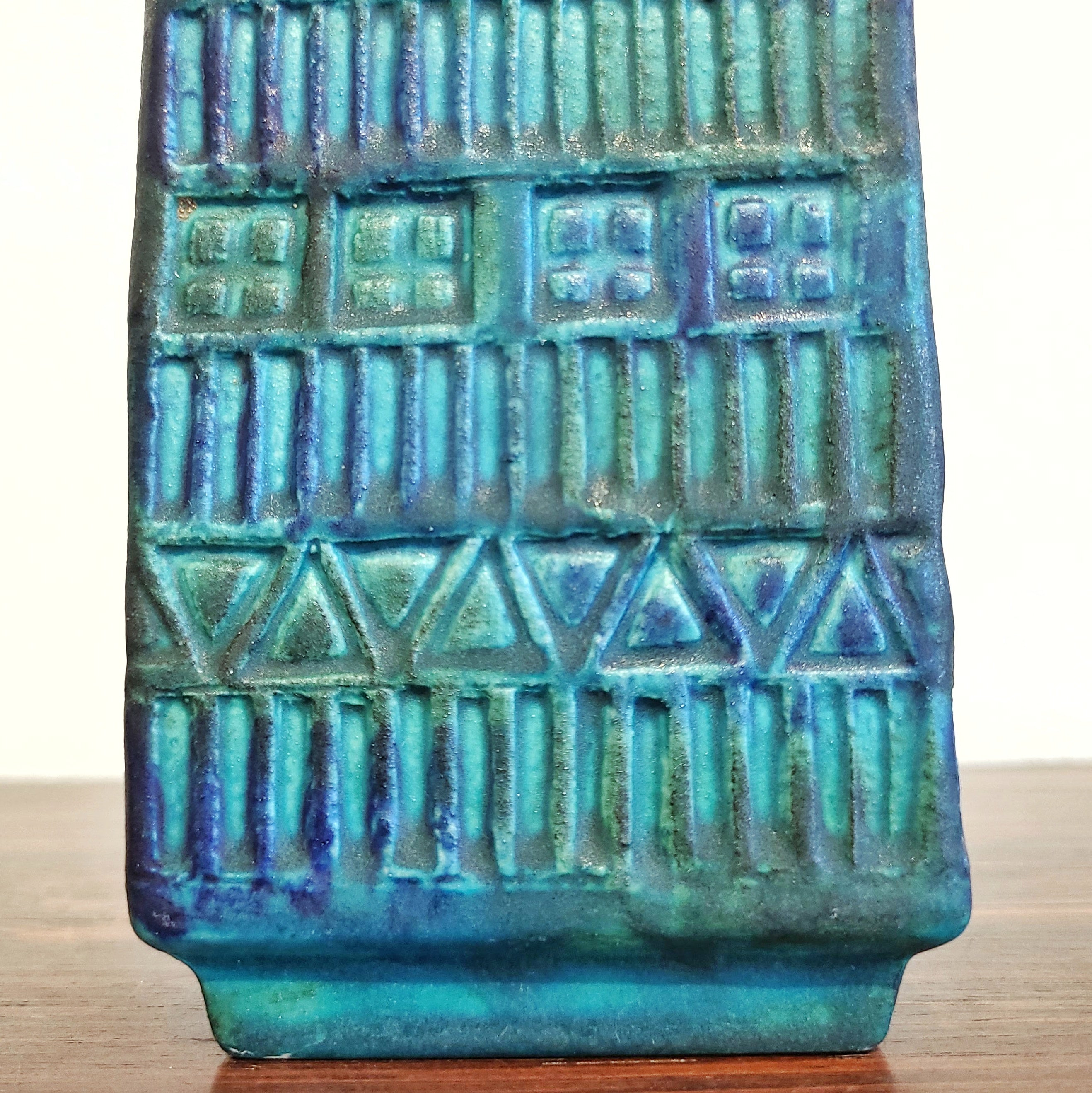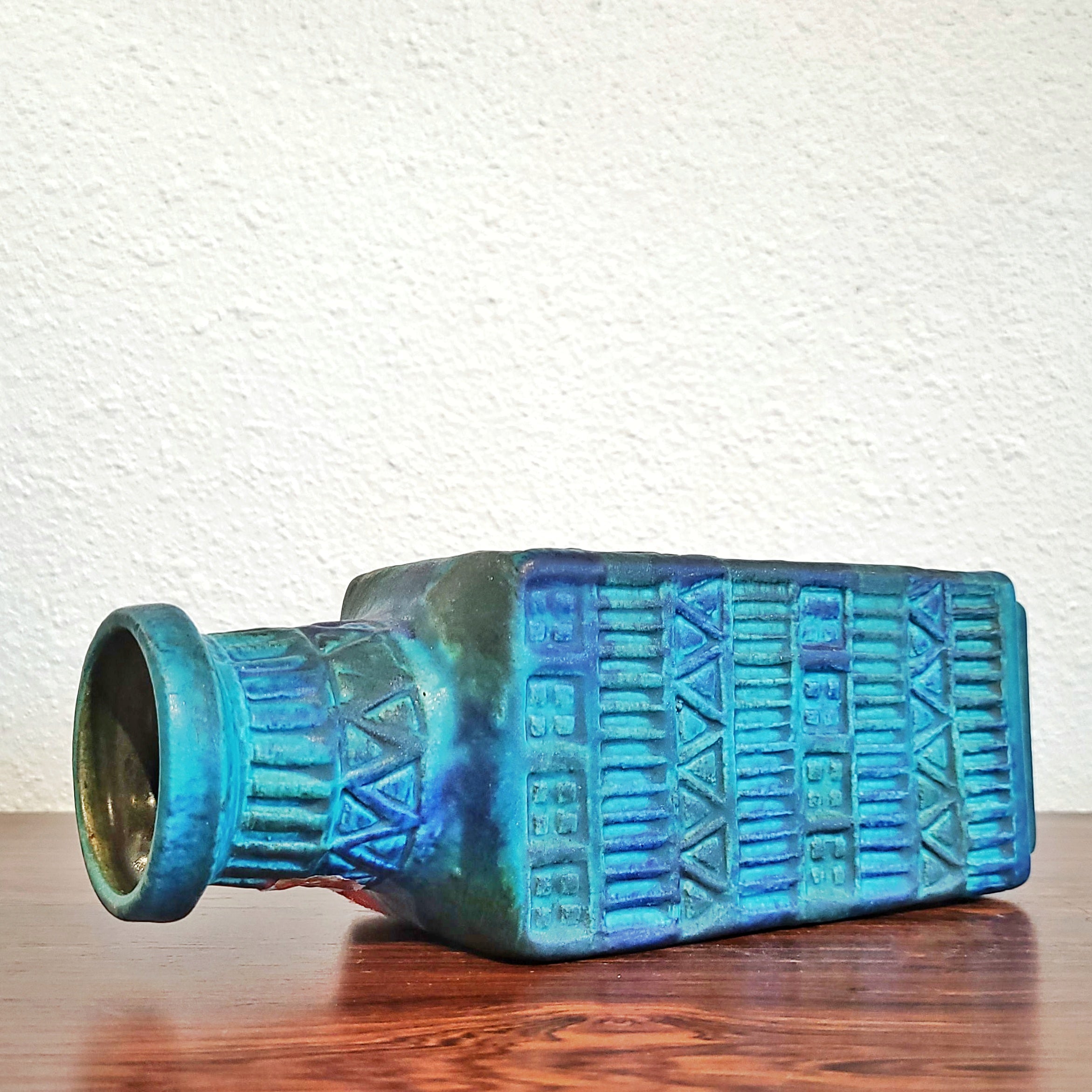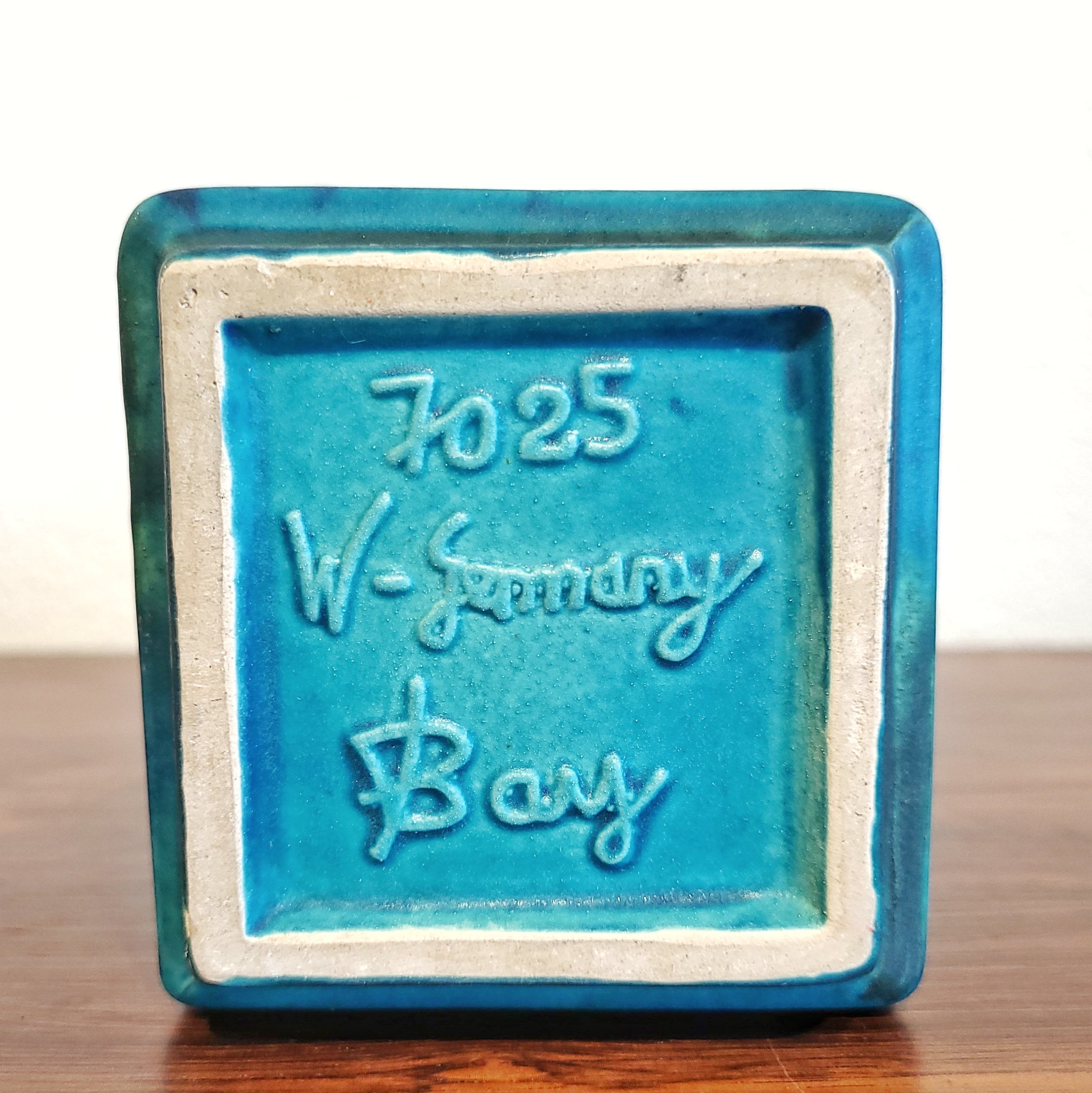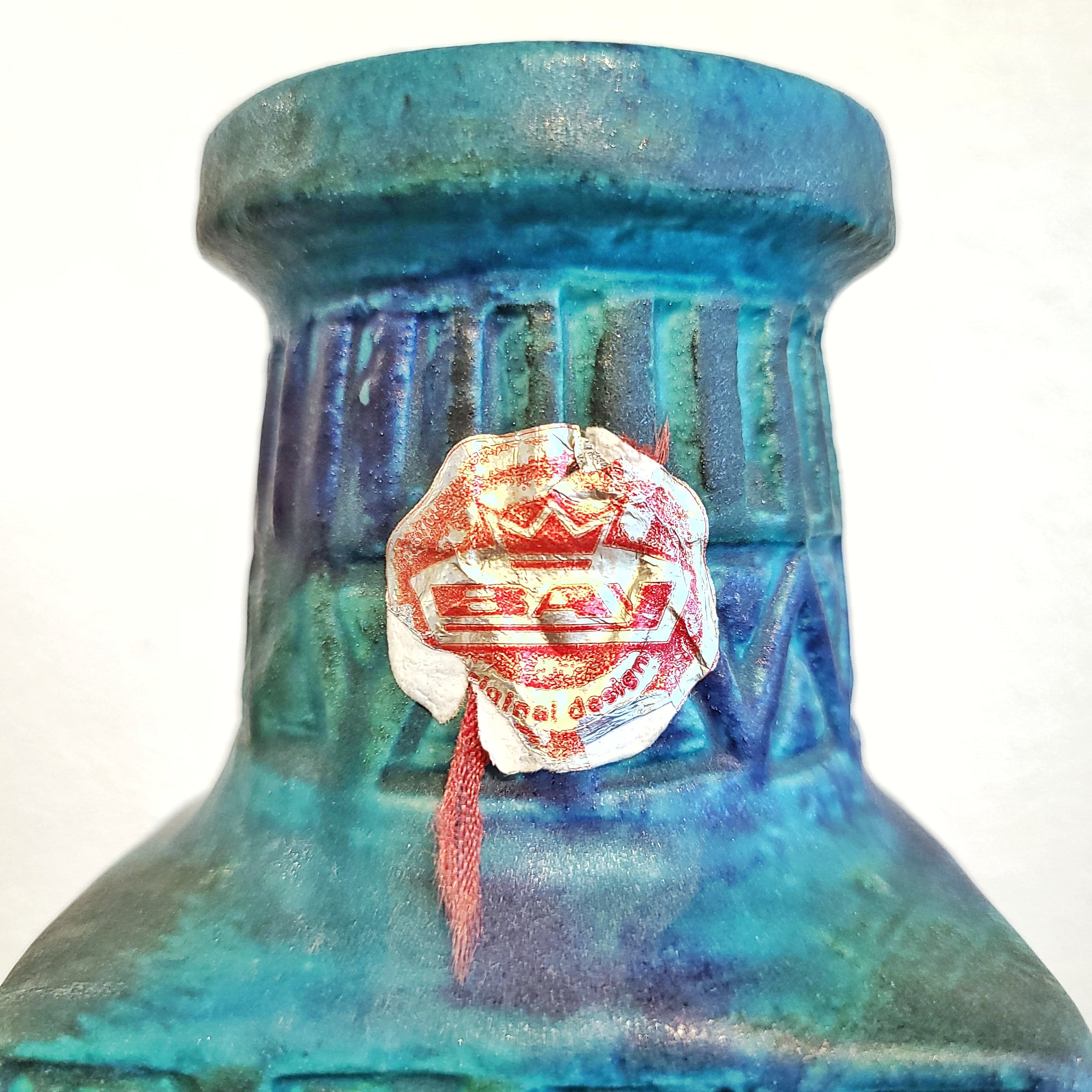 BAY KERAMIK 'SCANDIA' DECOR VASE Nr. 7025 (1960)
CONTACT US HERE ABOUT THIS ITEM.
A beautiful turquoise, green, and blue 'Skandia' decor vase from Bay Keramik.   The decor is often attributed to Bodo Mans, although such documentation is yet to be found.  The square body and round neck are banded with a relief pattern of rectilinear geometric forms of triangles, squares, and vertical lines, all awash in the wonderful tone-on-tone glaze.  the Bay label is still attached.
BAY KERAMIK was founded in 1934 by Eduard Bay in Ransbach-Baumbach, a small town in the heart of the Kannenbäckerland in western Germany. (The Kannenbäckerland, or "potters' land"—a historic center of ceramics industry—is the site of the largest clay deposit in Europe.) Its output was primarily utilitarian prior to the early 1950s when more and more decorative items were introduced. Production and sales grew rapidly throughout the decade, and, by the early 1960s, BAY was a leading manufacturer of art ceramics. Bodo Mans, probably the best-known designer of the period, was employed by the company from 1959 through 1975. His work is considered highly collectible today. The company's art pottery production continued into the 1980s and included some striking work that often showcased utterly fantastic specialty glazes. On the other hand, a huge amount of kitsch was produced for the tourist trade.
 BAY KERAMIK used white clay exclusively; marks are almost always molded to the base. The name BAY often appears. The country of origin is typically noted as "WEST-GERMANY" or "W-GERMANY."
BODO MANS (1935-2001) completed an apprenticeship as a shop window designer and decorative painter from 1949 to 1951, followed by graphics design training in Cologne and advanced studies in ceramics as a student at the Higher Ceramic School in Höhr-Grenzhausen from 1954 to 1956  In 1956/57, he was employed as a ceramic painter by Keto and took a temporary job at the Madoura company in Vallauris, where Picasso's ceramic designs were realized. After his return, and a short job at Ruscha, he went to work as a designer at the Majolika-Fabrik Rheinbach Jean Fuss & Sohn KG (aka, Marei Keramik), where he remained until the end of 1958. His designs, which were produced during this period, show clear influences from his earlier work at Keto.  After the acceptance of some of his designs by Bay Keramik in Ransbach-Baumbach, he began providing them with form and decor designs as a freelancer starting in 1959.  He became a permanent designer there in 1962.  in the same year he became a founding member, along with Liesel Spornhauer and others, of the ceramic group "Muffel", coming to public attention with his own ceramic objects and murals, and receiving great attention for their color and formal technical design.  Bodo Mans officially retired from Bay in 1975 but continued to work for them as a freelance industrial designer, painter, graphic artist, and journalist for many years.  He passed away in 2001.
| | |
| --- | --- |
| Designer | Bodo Mans |
| Manufacturer | Bay Keramik |
| Design Period | 1960 to 1969 |
| Production Period | 1960 to 1969 |
| Country of Manufacture | Germany |
| Identifying Marks | This piece is attributed to the above-mentioned designer/maker. It has no attribution mark |
| Style | Vintage, Mid-Century, Modernist |
| Detailed Condition | Excellent — This vintage piece is in near original condition. It may show minimal traces of use and/or have slight restorations. |
| Product Code | |
| Materials | Ceramic |
| Color | Azure, turquoise, green |
| Width | 3.5 inch |
| Depth | 3.5 inch |
| Height | 10.0 inch |