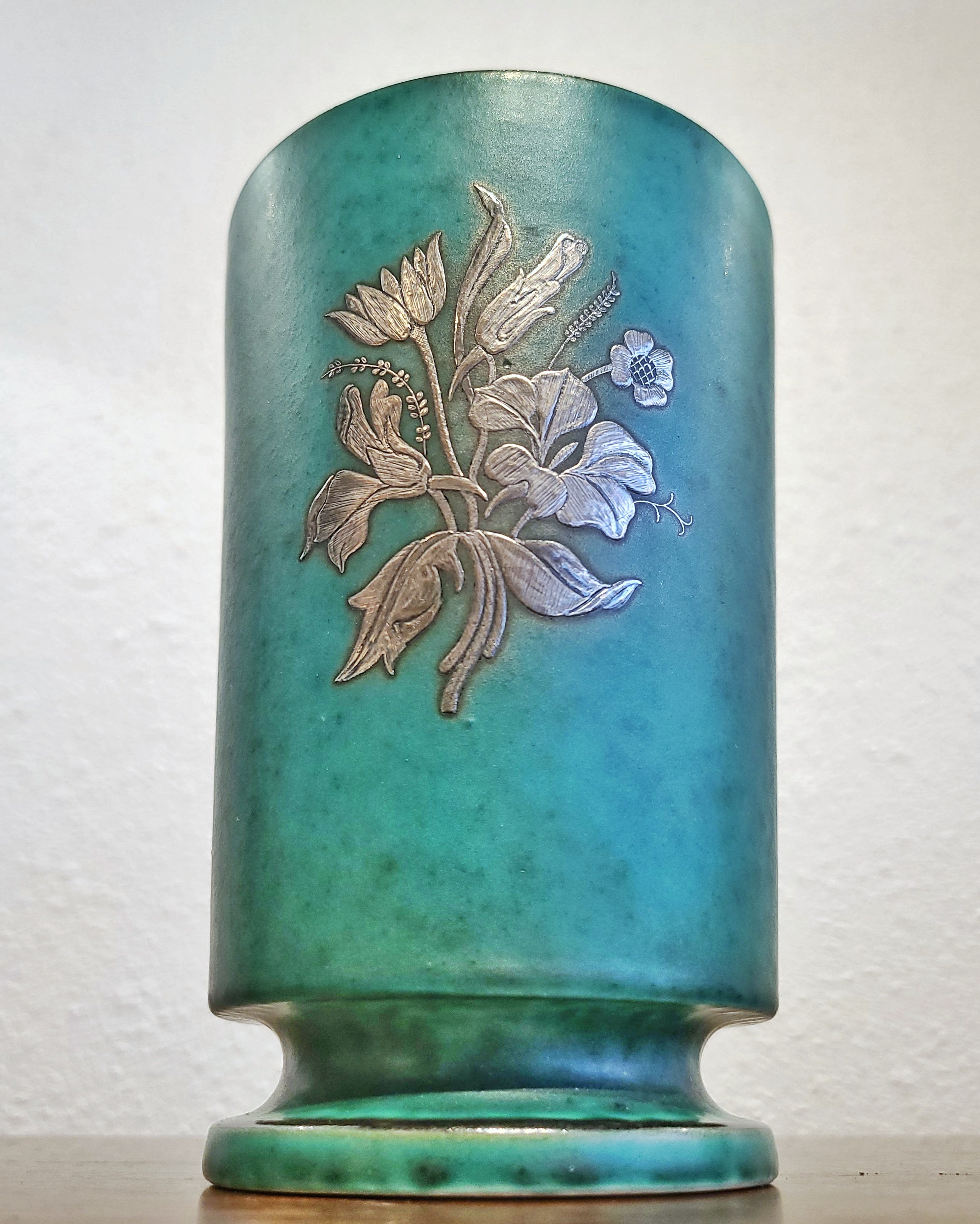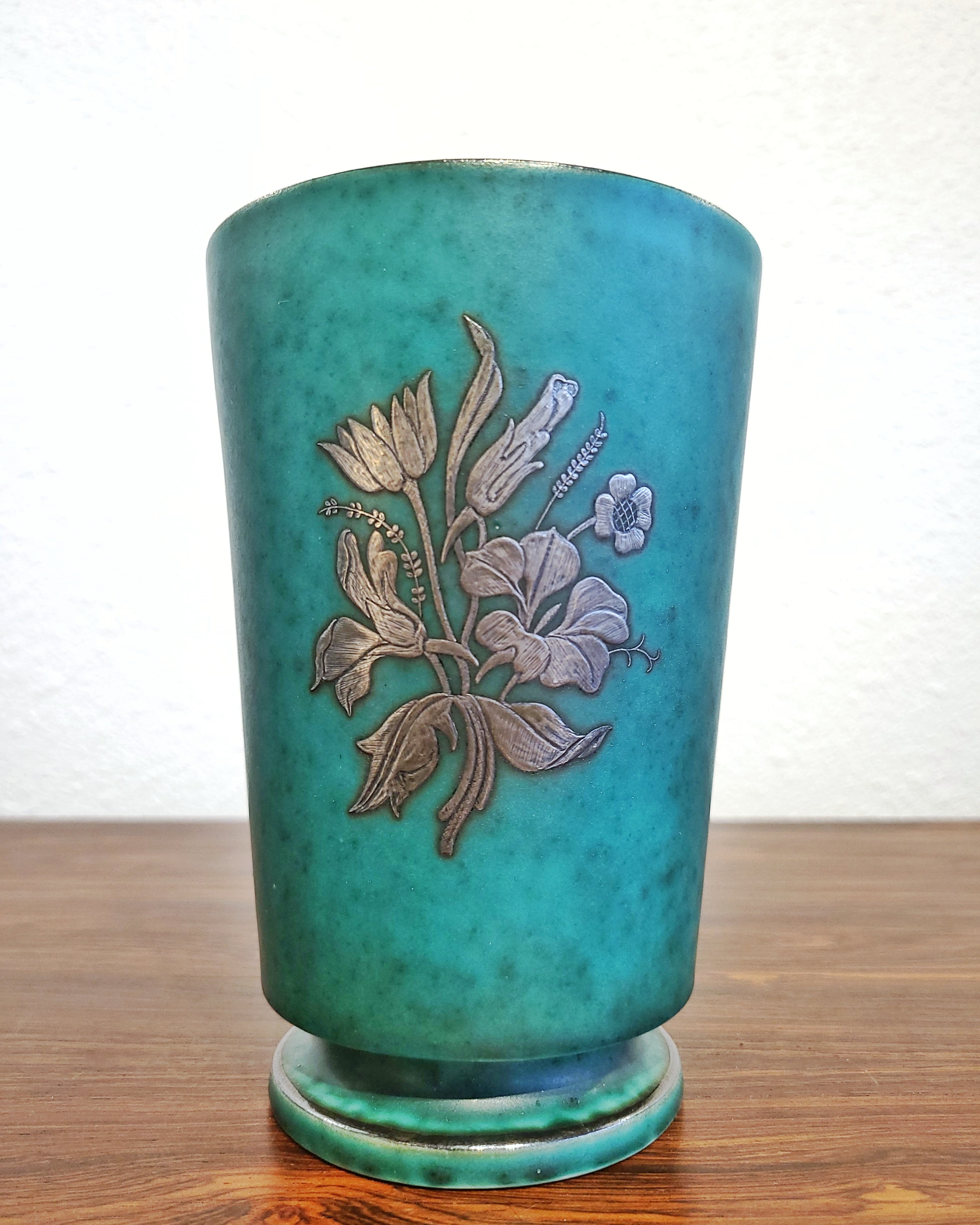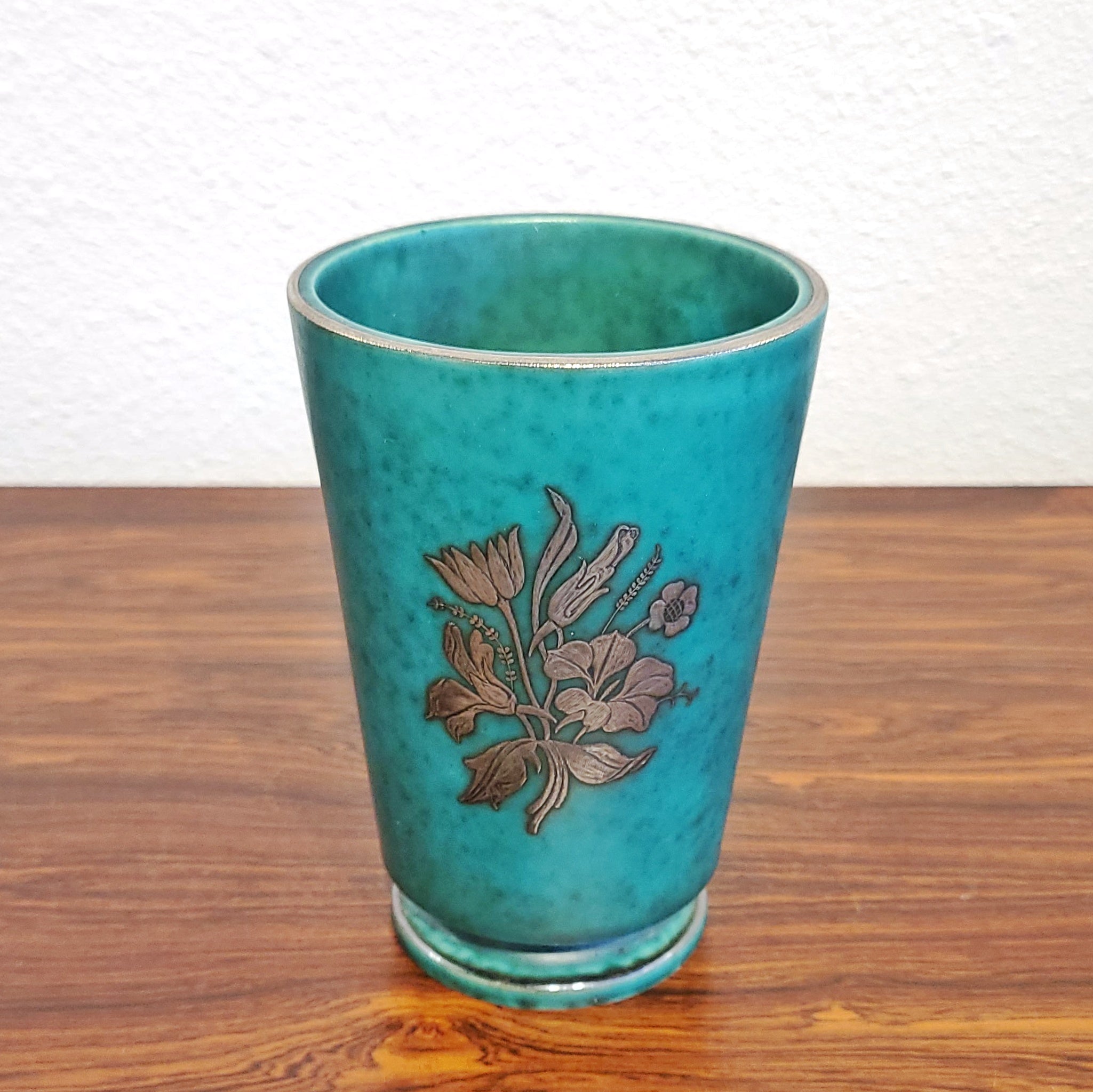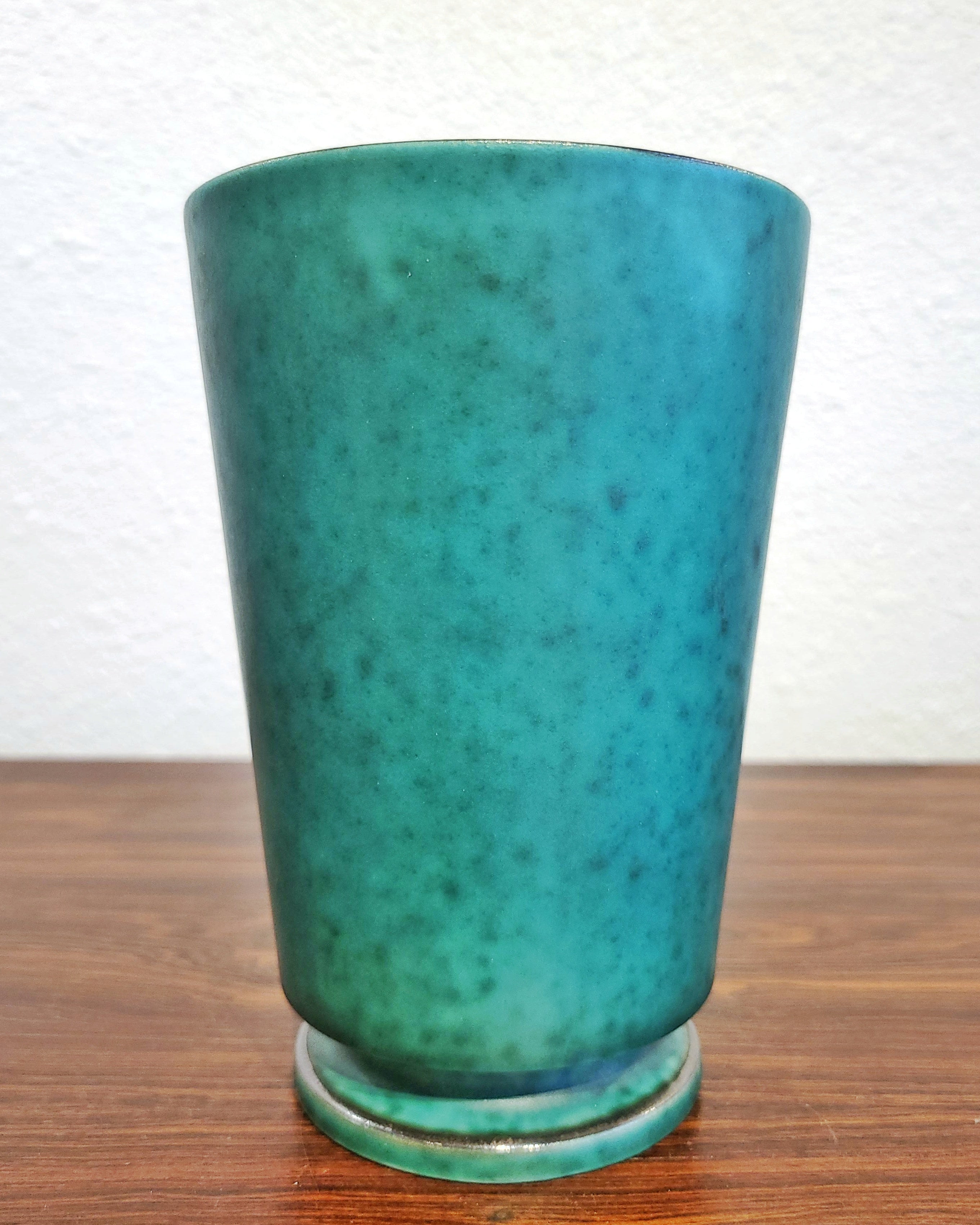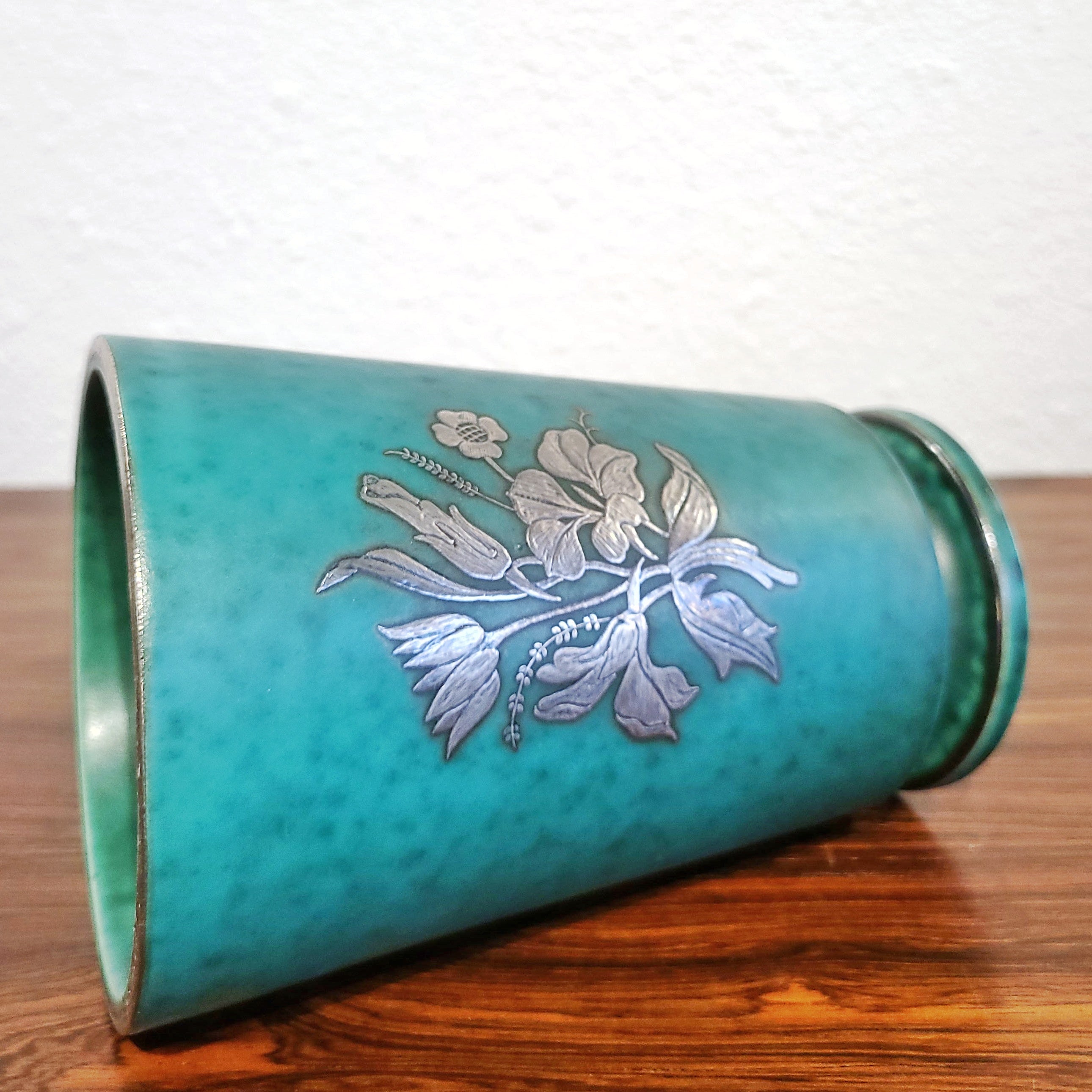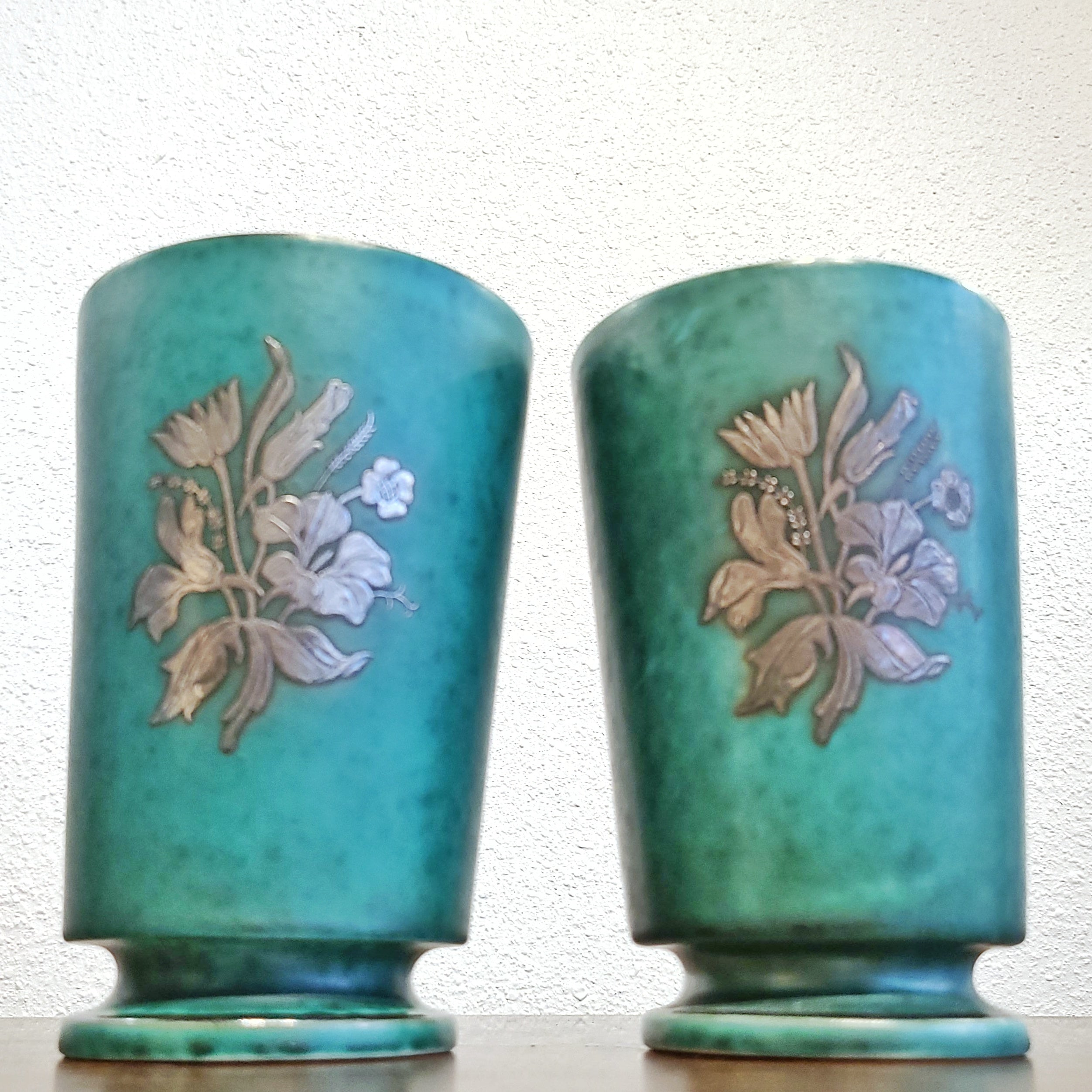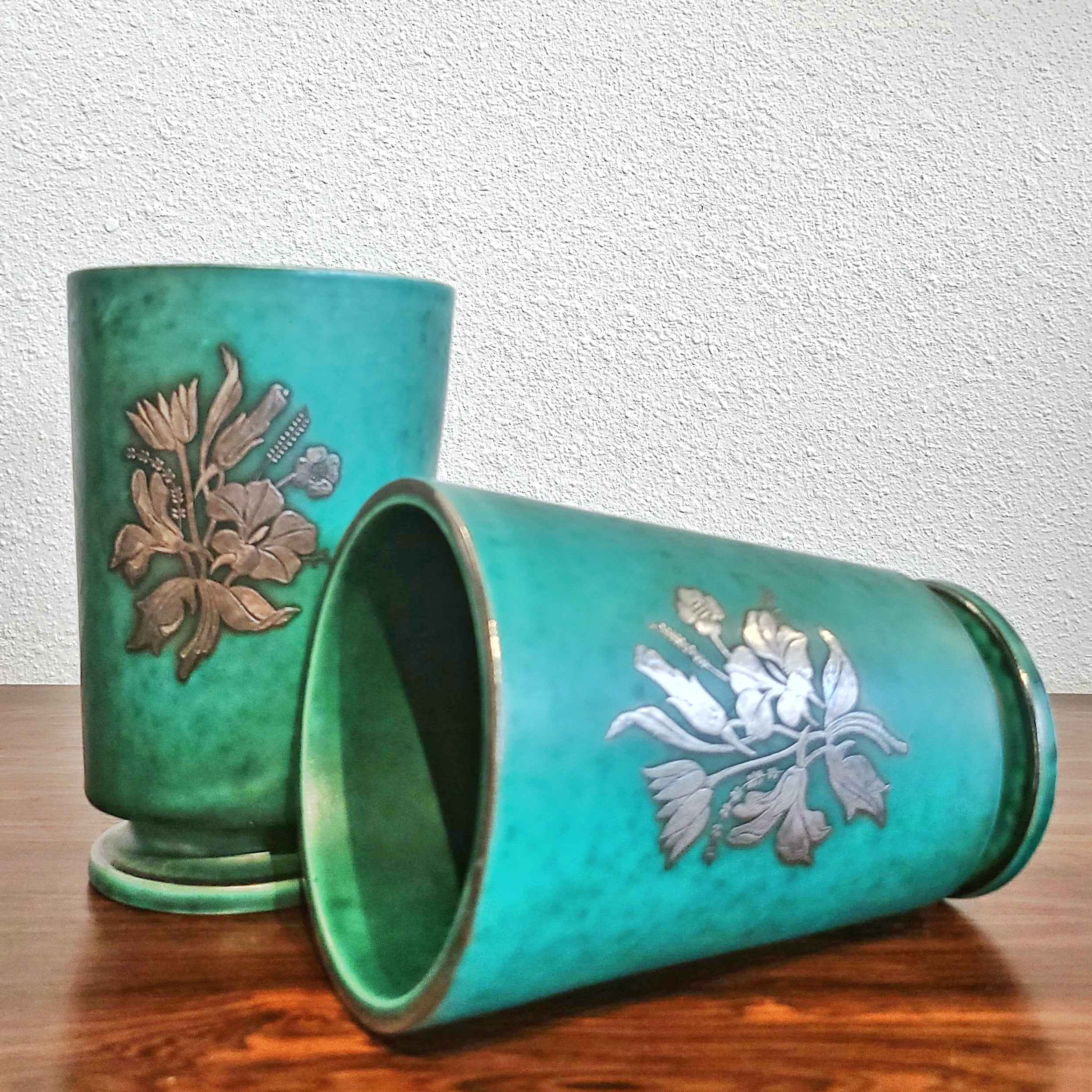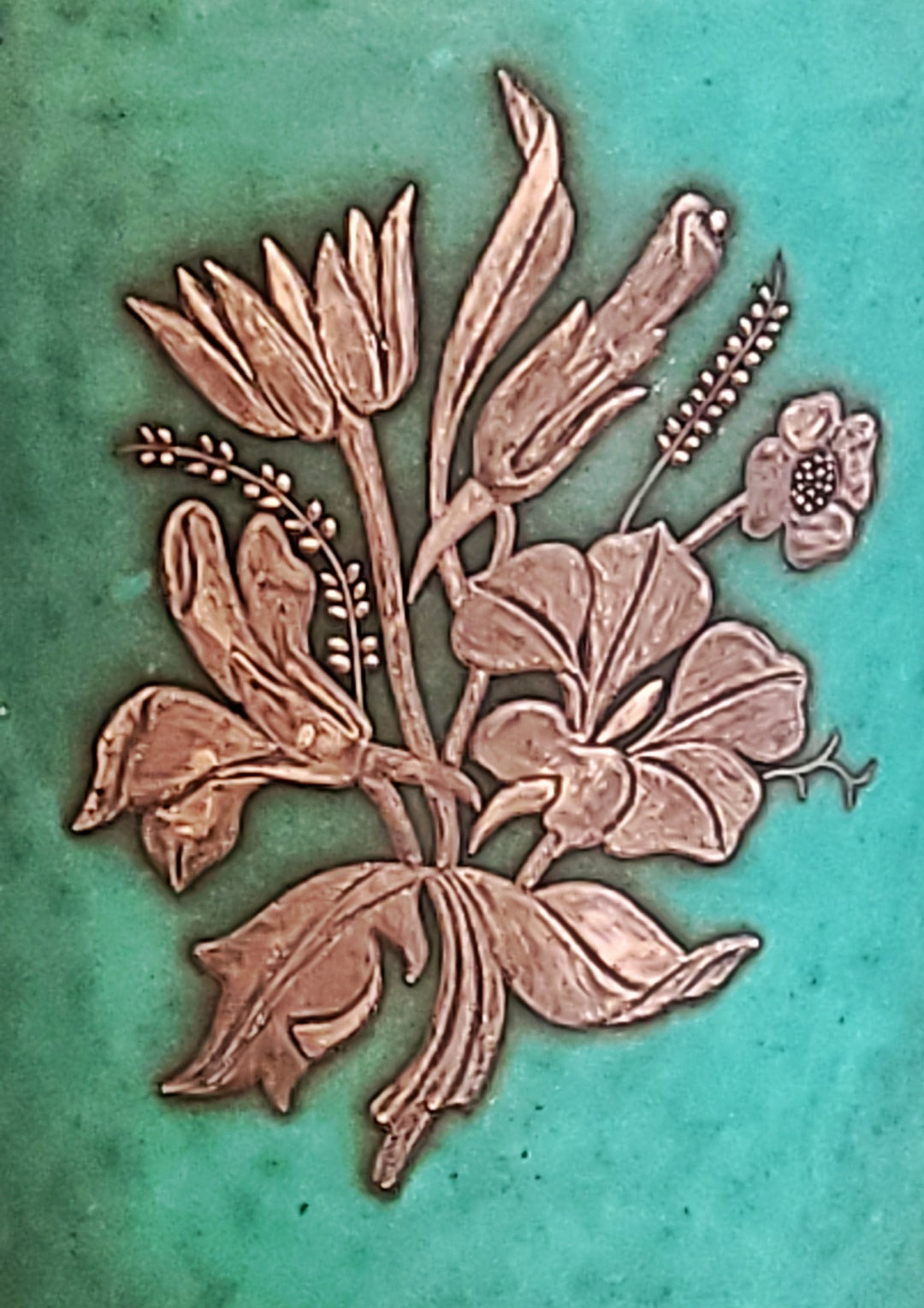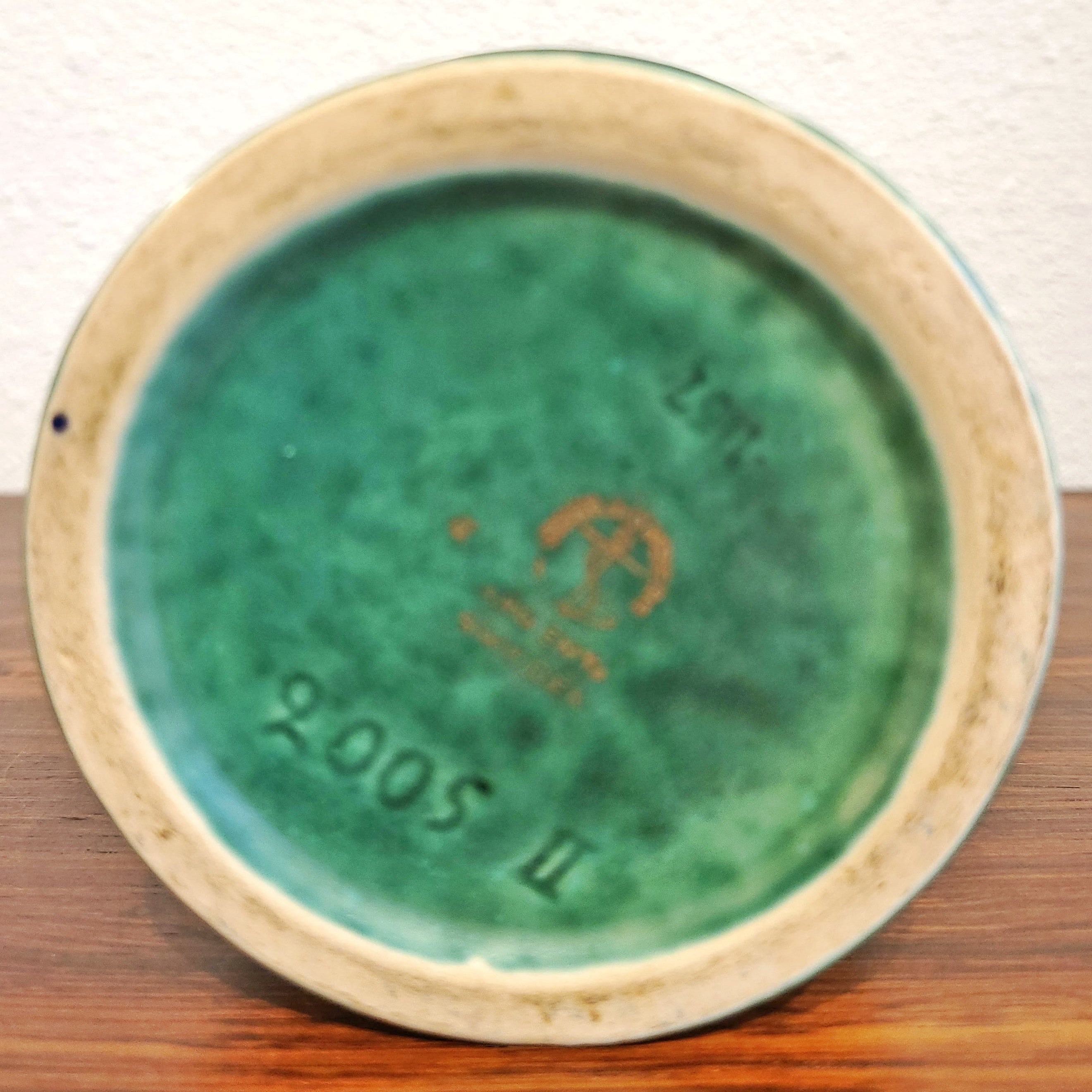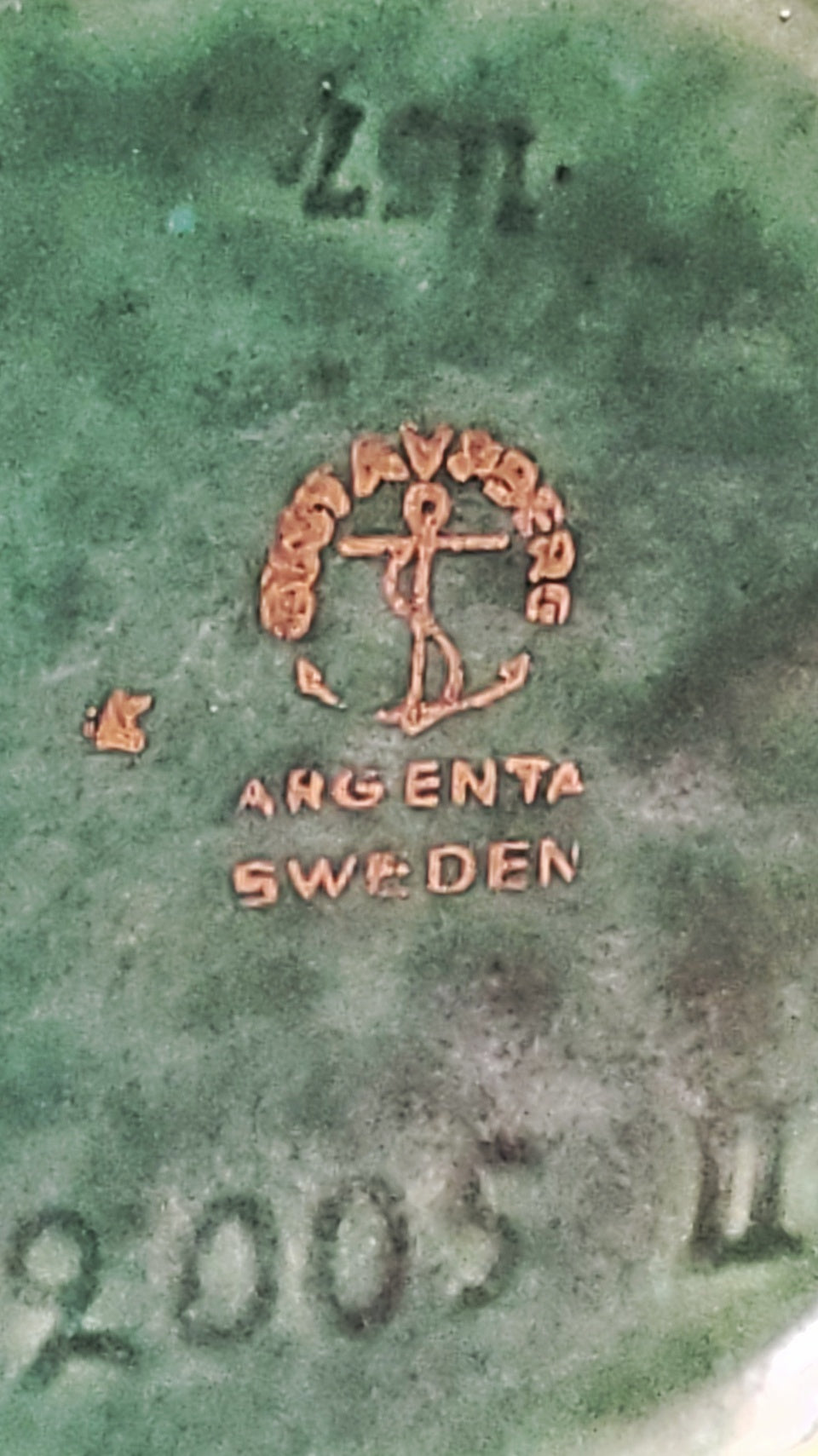 FOOTED 'ARGENTA' VASE WITH SILVER OVERLAY BY WILHELM KÅGE FOR GUSTAVSBERG
CONTACT US HERE ABOUT THIS ITEM.
A beautiful Argenta stoneware vase in the classic green/teal glaze, designed in the late 1920s by Wilhelm Kåge for GUSTAVSBERG of Sweden. This footed example flares from bottom to top and is decorated with a floral motif, hand painted in pure silver—as are the rim of the foot and the edge of the brim. The silver retains its original patina, and the vase is fully marked on the ground. One of two available (priced individually).
ALGOT WILHELM KÅGE (1889-1960) was one of 20th-century Sweden's most illustrious ceramic designers. He was born and raised in Stockholm and first studied drawing and decorative painting at Kontsfack—the city's University College of Arts, Crafts, and Design—and subsequently at the Valand Academy in Gothenburg under Scandinavian painters Carl W. Wilhelmson and Johan Rodhe. Continuing his education in Munich, Kåge perfected his skills as an illustrator. His colorful WWI-era poster advertisements for theaters, exhibitions, and lotteries attracted the attention of the GUSTAVSBERG PORCELAIN FACTORY, who were seeking new talent to revive interest in their products. Despite a complete lack of experience with clay, Kåge accepted their offer. The gamble would pay great dividends for the company. Within a year Kåge had created the functional tableware set Liljebla (Lily Blue), whose simple forms and flowing décor were reminiscent of 18th-century Swedish services. It was enthusiastically received at the 1917 home exhibition at Liljevalchs konsthall (art gallery) in Stockholm, and Kåge was soon elevated to the role of artistic leader at GUSTAVSBERG. He would maintain that position for over 30 years.
During his early decades with GUSTAVSBERG, Kåge developed the glazes and designs for more than 30 different tableware ranges. Their forms reflected functionalistic ideas and were focused on rational production with multi-purpose parts. Kåge's first great artistic breakthrough, the Argenta décor series, was created in the 1920s. It included everything from ashtrays, crocks, bowls, and vases to a 60 kg urn. Argenta was presented to the public at the groundbreaking Stockholm Exhibition of 1930 and soon became a sales sensation. Produced well into the '70s, the series—with its silver decorations over mottled green glaze—is commonly considered to be the epitome of the Swedish Grace era. Early pieces were hand-painted by Kåge himself, but demand soon dictated an expansion of efforts, and by 1940 three dozen artisans were employed finishing the product line with silver. The standard top glaze was bluish green, but rare red, brown, celadon, and blue versions exist. Kåge's most popular dinnerware series, Gra rander (Gray Stripes) from 1945, remained a commercial favorite through the mid '60s.
Many hold that Kåge's finest work was the exclusive Farsta stoneware studio line, which also debuted at the 1930 Stockholm Exhibition. Its handmade pieces—all individually shaped and finished—were crafted through the '50s. (The clay for the stoneware was harvested from nearby Farsta bay.) After an initial firing, items were dipped in a metal oxide bath and then glazed and refired. The oxides were drawn out by the heat of the second firing, imparting a layered look to the glaze with magnificent effects of color. The breadth of the collection is remarkable, but everything in it shares a discernible presence and the aura of quality. Demand for Farsta exploded in the '80s, and much of it is now quite costly.
Kåge launched "The Studio" at GUSTAVSBERG in 1942, an internal cadre of elite designers who would become the company's creative hub. In 1949 Kåge relinquished his title as artistic director. He continued to execute personal studio work at GUSTAVSBERG until his death in 1960. Kåge's oeuvre can be found in Stockholm's National Museum and Royal Library; in industrial art museums in Oslo, Copenhagen, Vienna, Budapest, and Prague; and in the Metropolitan Museum in New York City.
GUSTAVSBERG PORCELAIN FACTORY was founded in the Stockholm archipelago in 1825 on the island of Värmdö—on the site of a centuries-old brickworks that had been established by nobleman Gustaf Gabrielsson Oxenstierna. The mill with its clay pit and environs were renamed in Gustaf's honor upon his death in 1640. His 21-year-old widow, Maria Sofia de la Gardie, herself a noted industrialist (and Court Mistress to Queen Christina), had long envisioned repurposing the plant for ceramic production, but she was never able to persuade the Dutch masters she tried to recruit to relocate to the colder climate. It was only in 1826 that the brickworks would be torn down and a porcelain factory opened.
GUSTAVSBERG's earliest years were characterized by production problems and substandard goods. The company aesthetic was ruled by popular German and English styles, and originally no Swedish artists were enlisted. Industrialists Samuel Godenius (1806-1861) and son-in-law Wilhelm Odelberg (1844-1924) won control of the firm in 1852, and they modernized the factory and its work processes, restoring it to profitability. With the help of Swedish sculptor, Carl Gustaf Qvarnström (1810-1867), they began to outline a new creative approach. By the 1890s, GUSTAVSBERG had nearly 1000 employees and the factory had been electrified. Designer Gunnar Wenneberg (1863-1914) was hired as artistic director in 1895. He renewed the tableware catalog with flower patterns based on Swedish flora. By the turn of the century GUSTAVSBERG was a major supplier of table, art, and bathroom porcelain to Sweden's middle classes.
In 1908 Wenneberg was succeeded as artistic director by his protégé Josef Ekberg (1877-1945). Together the two had developed a modern version of the sgraffito technique, whereby two layers of contrasting glaze are applied to a piece before firing and then a design is carefully carved (or "scratched") into the top surface to reveal the inner layer. A native of Värmdö, having begun work at GUSTAVSBERG at the age of twelve, Ekberg had propelled the company onto the world stage when his work was presented at the Exposition Universelle of 1900 in Paris. As a key proponent of the Swedish Grace era, his approach reflected Sweden's take on the Art Deco movement and championed unadorned design, bold color, and strong contrast.
GUSTAVSBERG continued to evolve, with Ekberg stepping down in 1917 to hand the baton to Algot Wilhelm Kåge (1889-1960), who would come to be celebrated as the company's "ceramic king." A move towards functionality on his watch reflected the increasing international mass appeal of GUSTAVSBERG porcelain. The company was successfully marrying utility with style, and Kåge's presence ensured that the union never came at the expense of the beautiful. The simple forms and flowing decorations of one early success, the Liljeblå (Lily Blue) tableware set, were reminiscent of 18th-century Swedish services. His Argenta décor line from the '20s, encompassing a range of vessels coated with an oxidized green glaze and decorated with a proprietary silver paste, remains popular to this day. Arguably his most striking creations are his Surrea vases—white bisque porcelain in off-kilter forms inspired by Cubist paintings—and his Farsta ware—totemic stoneware vases and bowls with highly textured surfaces. Kåge organized a dedicated art pottery department at GUSTAVSBERG, the "Studio," in 1942. (In 1937 the company had been sold to the Swedish Cooperative Union, and a new facility was built to manufacture sanitary porcelain bathroom fixtures; the remarkable output of Kåge's elite "Studio" naturally remains of first interest to collecters and enthusiasts!) Kåge's two finest protégés, Berndt Friberg and Stig Lindberg, took over as design directors in 1945.
Berndt Friberg (1899-1981) began as a modeler for Kåge in 1934, but soon became GUSTAVSBERG's master thrower. Known for voluptuous, organic shapes, finished off with exquisite glazing, Friberg looked to the traditions of China and Japan for inspiration. He painstakingly applied color in layer after layer to achieve matt finishes with incredible warmth and depth (e.g.: his signature "rabbit's fur" glaze). Friberg was never known for ambition; his artistic debut only came at the age of 42 when he exhibited in Stockholm with other GUSTAVSBERG artists. At 52 he had his first solo exhibition in Gothenburg. The Swedish King Gustav VI Adolf became an avid collector of Friberg's work, acquiring more than 100 pieces. Friberg constantly refined his glazes, updating recipe details in his famous "black book." He remained at GUSTAVSBERG until his death in 1981.
The arrival of Stig Lindberg (1916-1982) in 1937 ushered in an era of less complicated decoration at GUSTAVSBERG that would help define Swedish design for years to come. The confident 21-year old walked into the factory proclaiming, "If you hire me, I will ensure that there will be jobs in the factory." His studio work falls into two basic categories: white porcelain pieces in round, biomorphic or stylized natural forms and weightier vases—often with textured bodies and applied décor—glazed in deep, earthy colors. Perhaps Lindberg's most enduring design is Berså ("arbor") from 1961; the famous stem of green leaves would be imitated on ceramics and textiles for decades.
Lindberg hired Lisa Larson (b. 1931) in 1954, at the height of GUSTAVSBERG's commercial success. She shared his creative approach, employing bright colors on plain backgrounds, but Larson had a more playful outlook. Best known for warm-hearted, humorous, and sometimes subtly ironic figurines, Larson's pieces seem to celebrate their own form with a gently smiling curiosity. Her work has technical distinction as well as visual style; she often mixed stoneware clay with chamotte—a finely crushed, oven-proof ceramic—giving her surfaces a grainy, rustic look. Larson's production was popular worldwide but especially in Japan, and it was frequently associated with charitable campaigns for organizations such as UNICEF and the World Wildlife Fund. Larson worked for the GUSTAVSBERG factory until 1980.
Despite their work with leading designers, GUSTAVSBERG found itself in financial trouble in the 1980s. It became increasingly hard to compete with mass-produced pottery from lower-income nations, and the factory was sold to the Finnish company Arabia in 1987 and soon after closed.
DETAILS
Maker – Gustavsberg Porcelain Factory
Production Period – 1960s
Designer – Algot Wilhelm Kåge
Design Period – 1920s
Origin – Sweden
Styles/Movements – Scandanavian Modern, Art Deco
Materials – Stoneware, silver
Colors – Teal, silver
Condition – Excellent vintage condition; without defects, but showing minimal traces of use.
Dimensions – 4 ½" Diam. × 6 ½" H