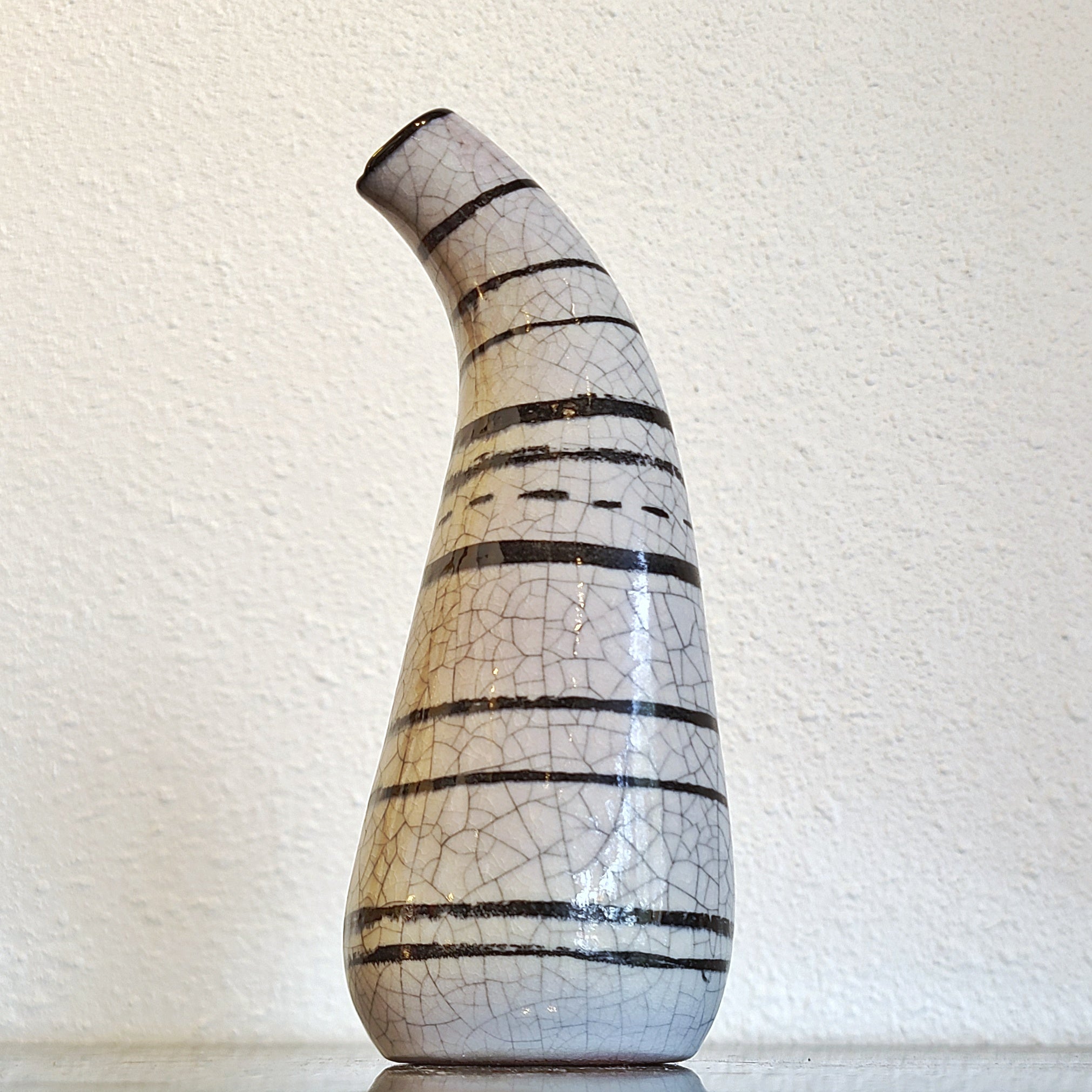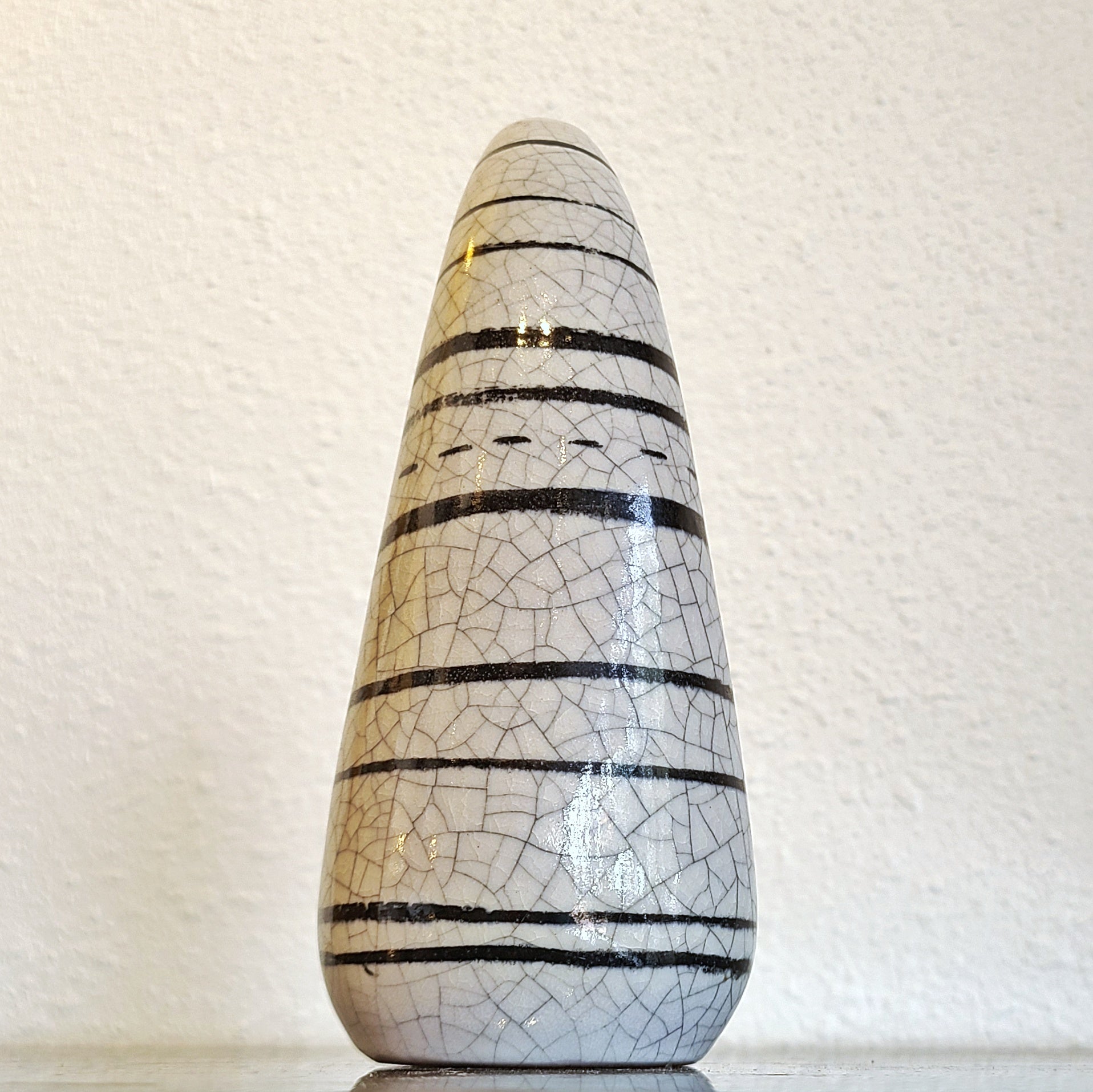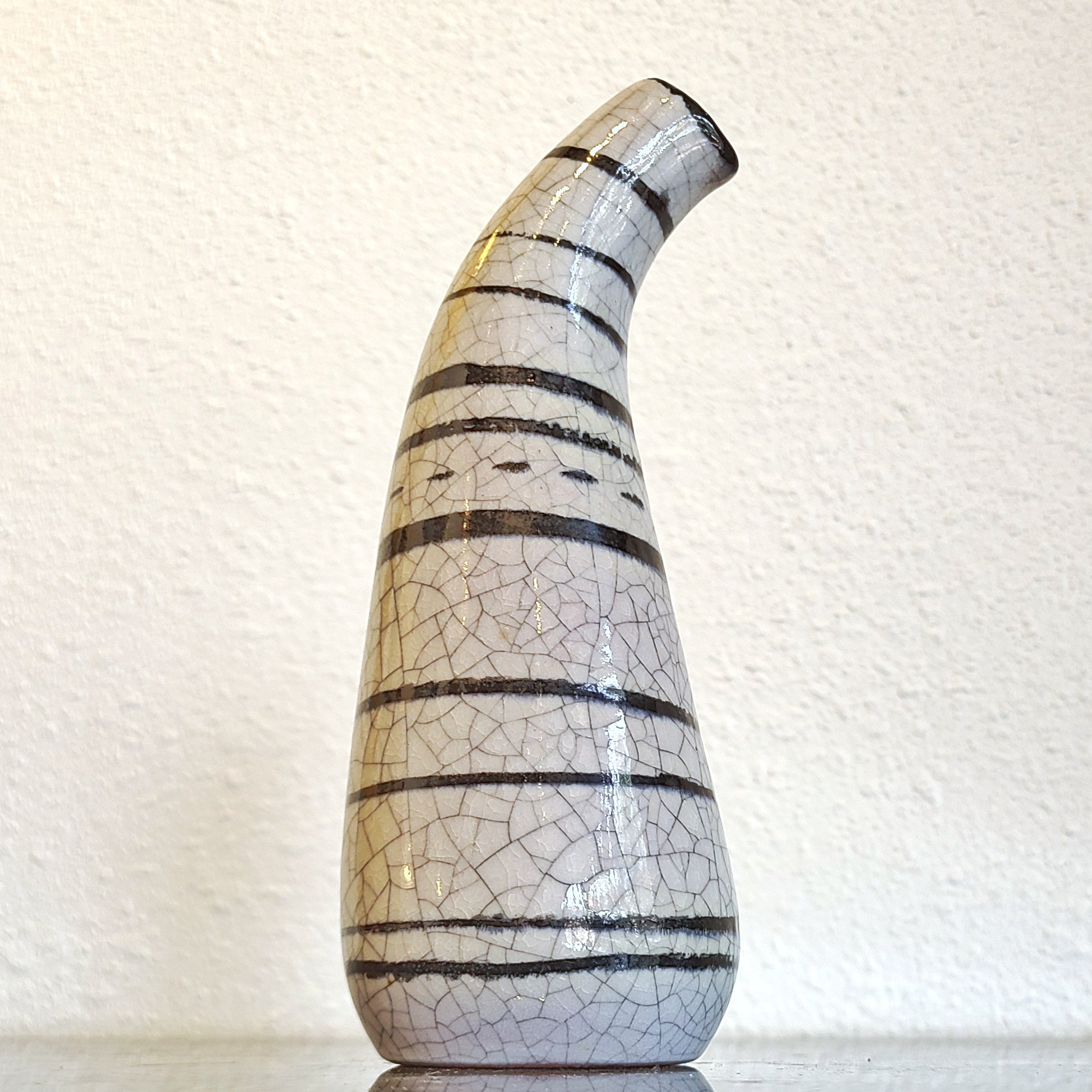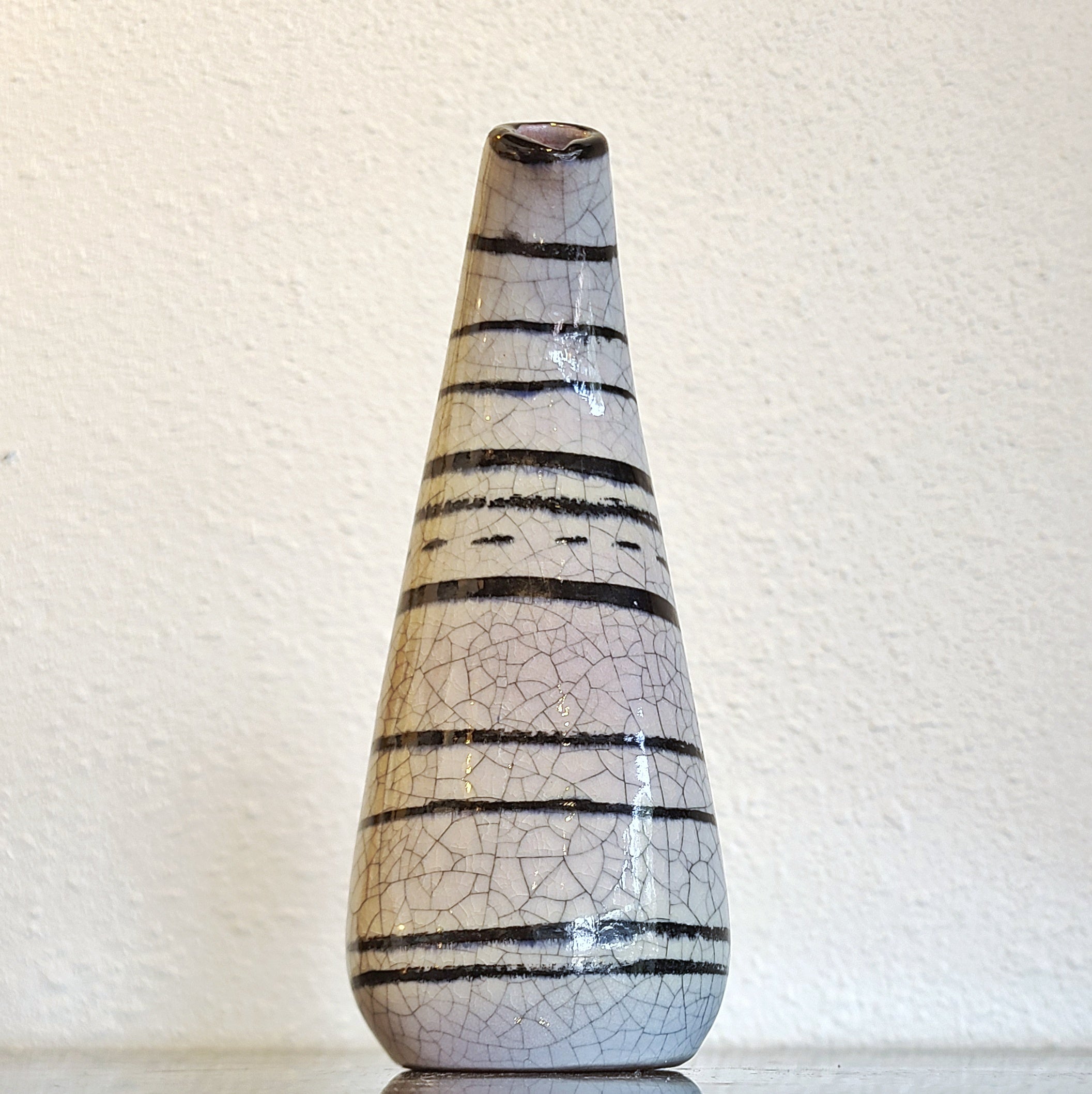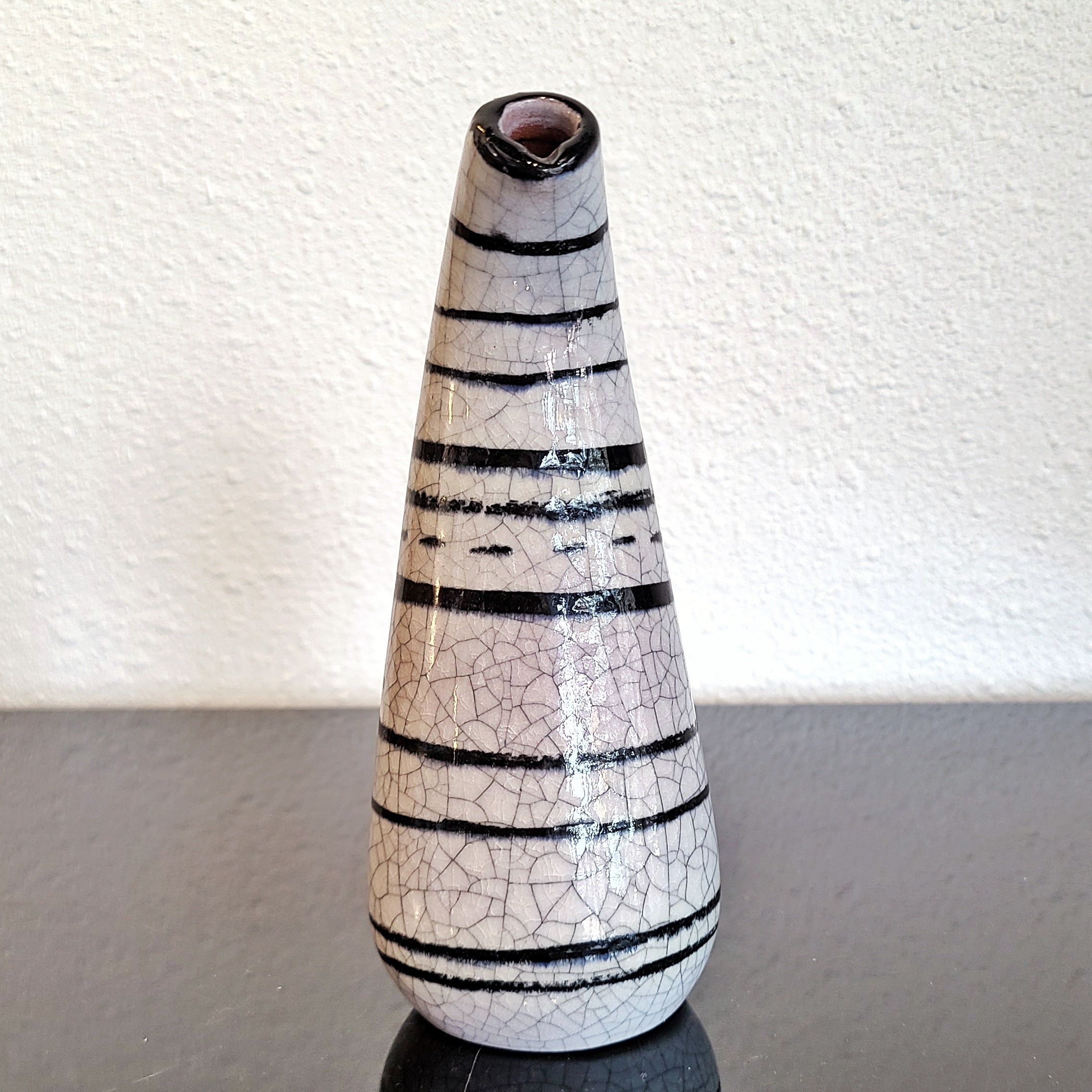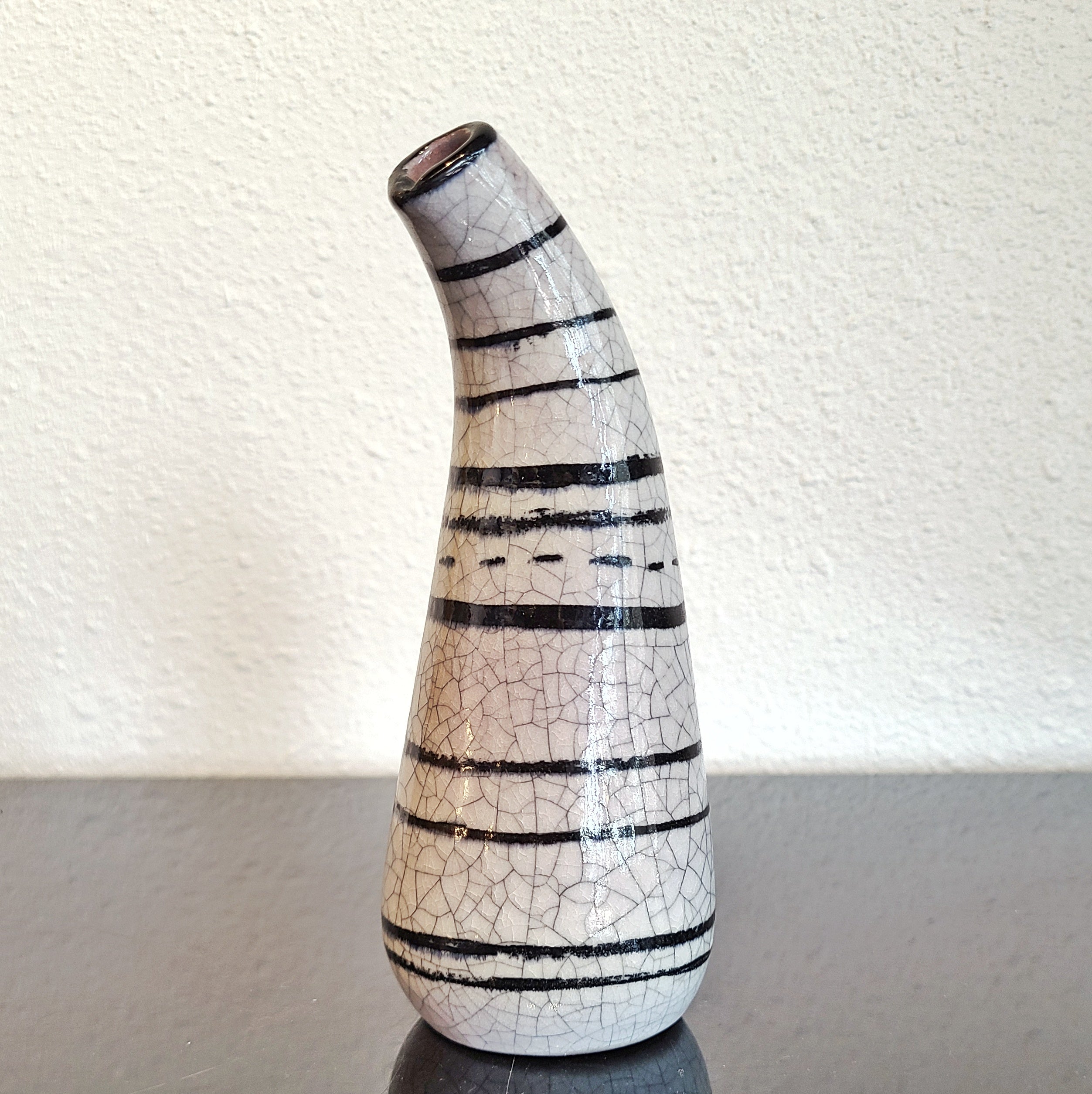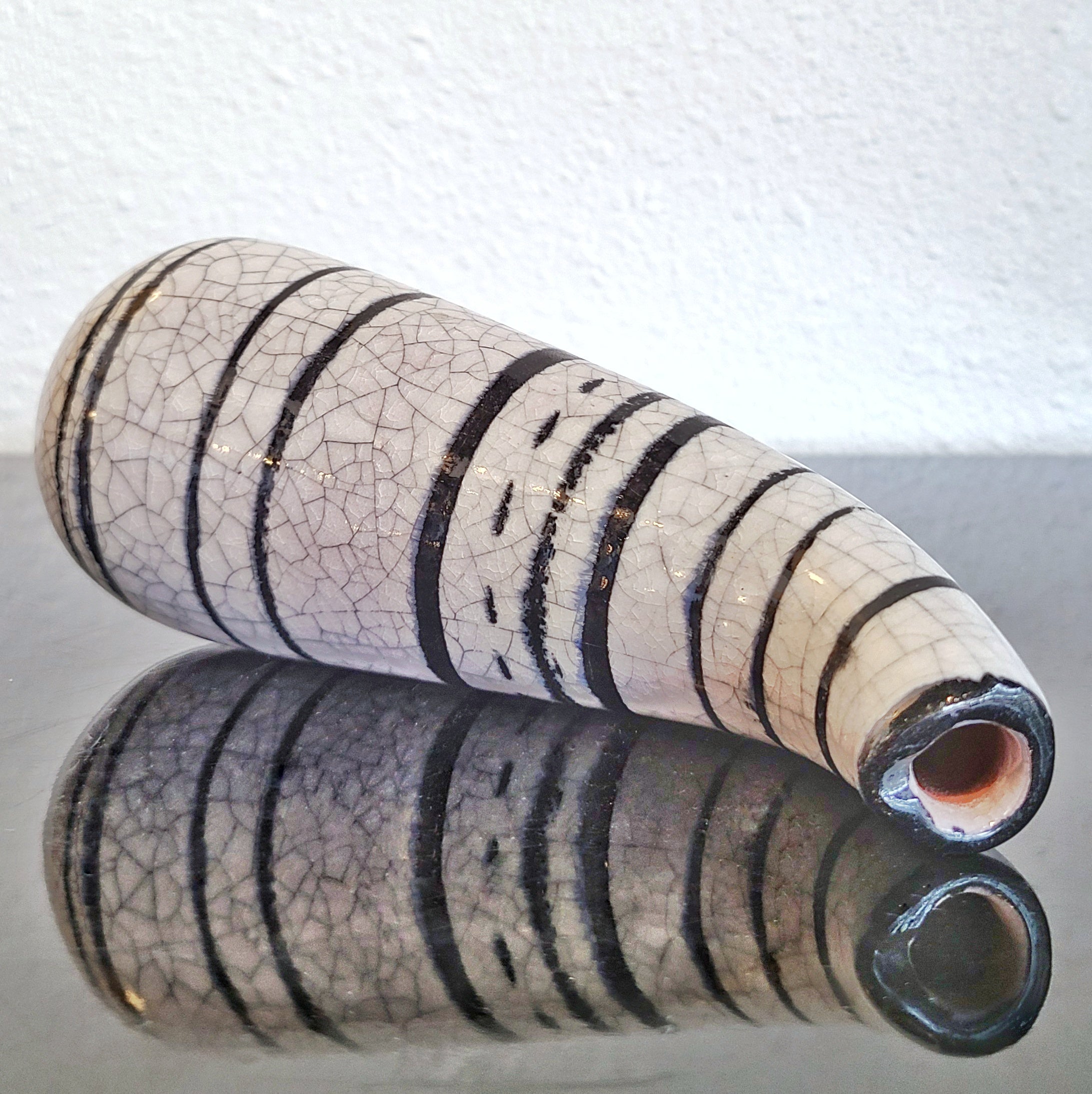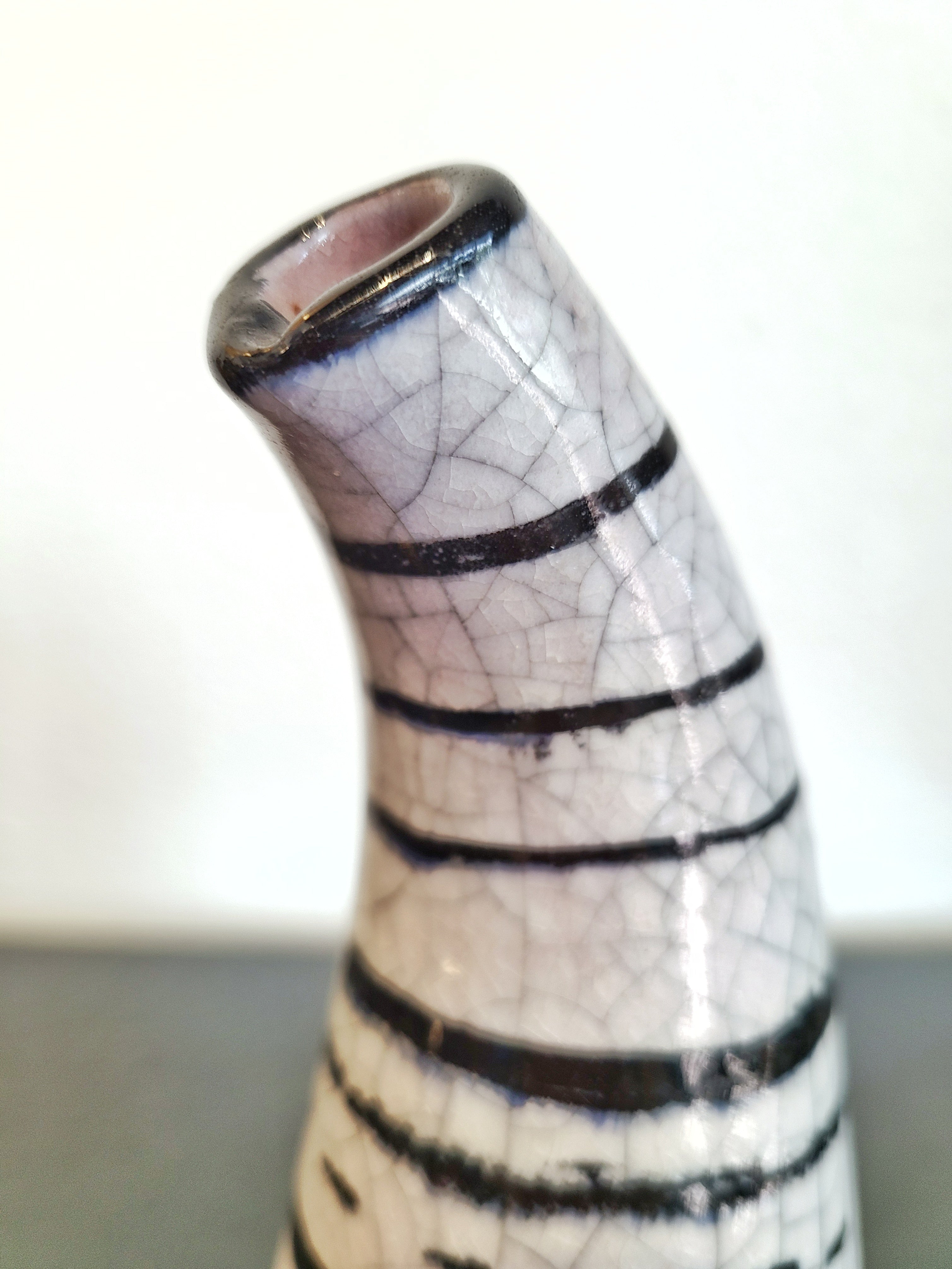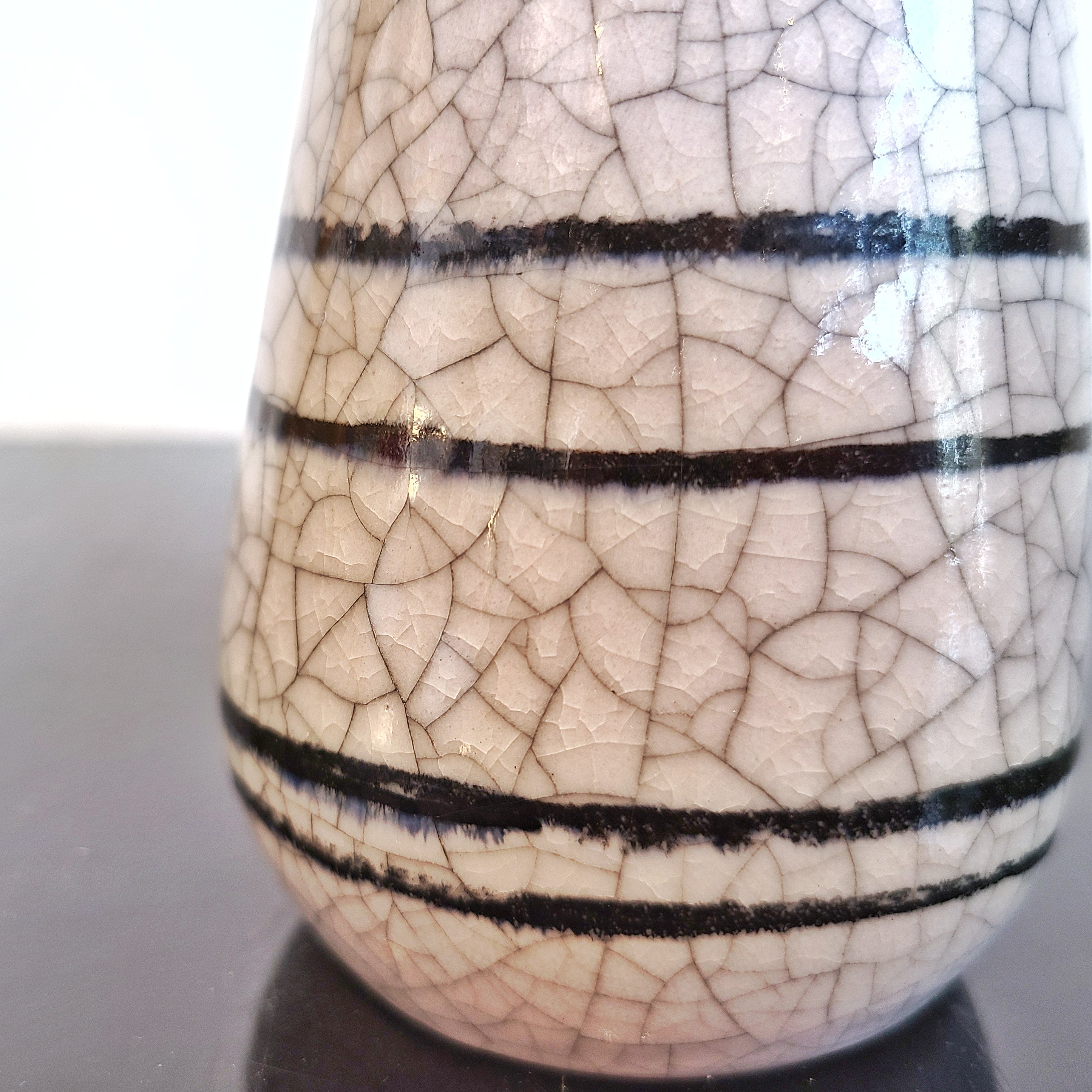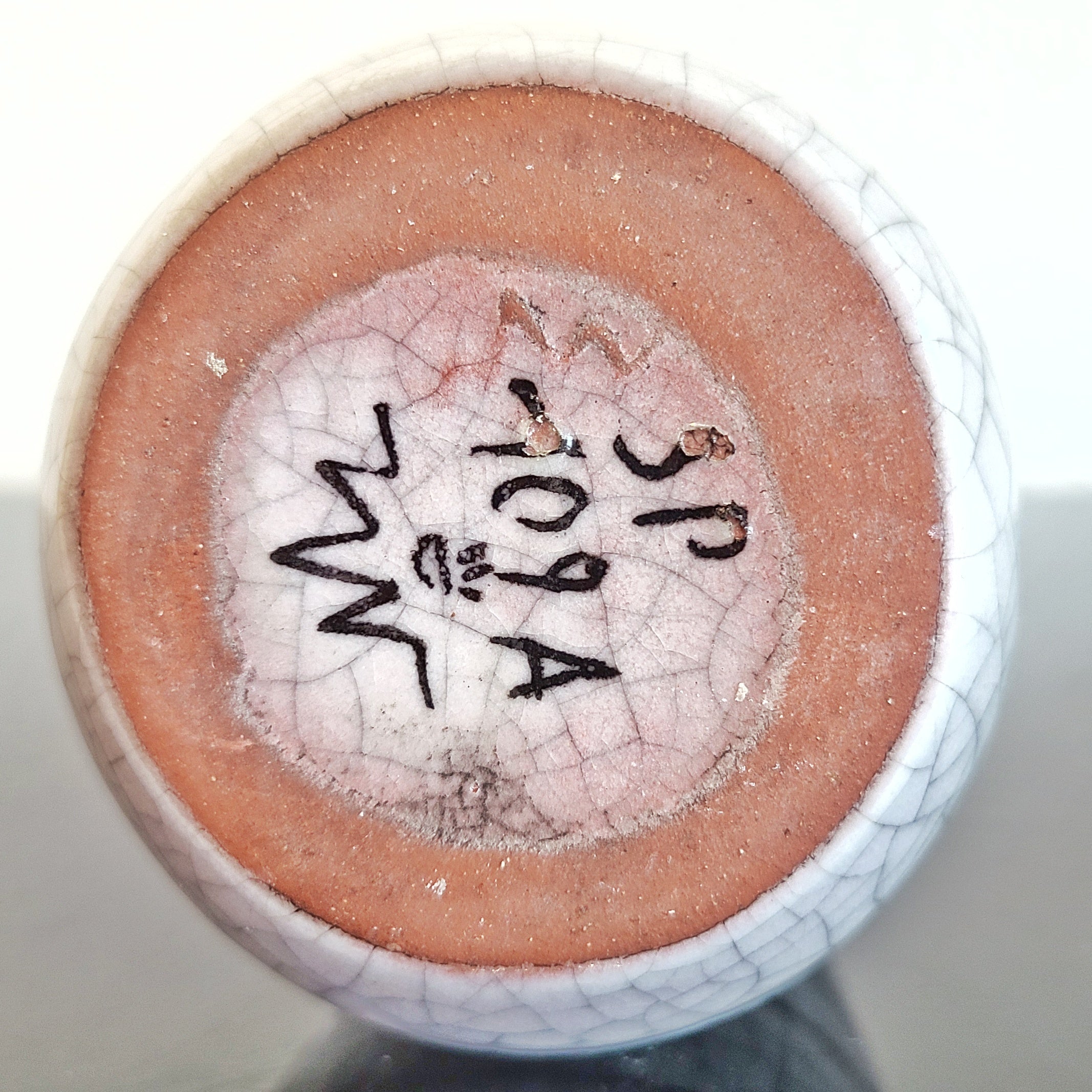 RARE ERWIN SPULER VASE FROM HIS KARLSRUHE STUDIO
CONTACT US HERE ABOUT THIS ITEM.
This quirky handmade vase was created by Erwin Spuler in his studio at the factory workshop of MAJOLIKA KARLSRUHE in 1951. Perfect condition; signed and marked on the bottom.
---
ERWIN SPULER (1906–1964) was born in the Bavarian city of Augsburg, Germany. He was a painter, ceramicist, graphic artist, filmmaker, and sculptor, who was particularly active in the field of architectural art. From 1922 to 1923 he studied at the Württemberg State School of Applied Arts in Stuttgart under Gustav Jourdan, Alfred Lörcher, and Hans von Heider. He continued his education from 1923 to 1924 at the Badische State Art School in Karlsruhe with Georg Scholz, Karl Dillinger, and Ernst Würtenberger. In Karlsruhe he developed a close friendship with Karl Hubbuch (1891–1979) with whom he collaborated, along with several other artists, in publishing the critical and satirical magazine "Zapko" in 1930. That same year he received the Baden State Prize for Graphics.
From 1931 until his death, Spuler would freelance at the ceramics workshop of MAJOLIKA KARLSRUHE. There he created some very early examples of asymmetrical shapes that he coupled with emphatically modern décor designs; these would go into series production as early as 1950. In 1933 he began the photographic series 120 variationen über ein Gesicht (120 Variations on a Face).
During the war years between 1939 and 1941, Spuler also freelanced in the architecture and graphics department for UFA-Film AG Berlin. He was briefly employed as a border customs officer in the Metz district in 1941 before being called up for military service in 1942. Health problems, that included a heart attack, led to an early discharge from the Wehrmacht in 1943.
In 1948 Spuler received a teaching position for drawing and modeling in the Faculty of Architecture at the Karlsruhe Institute of Technology. One of his most important students there was the graphic artist and sculptor Wolfgang Trust (1926–1986).
From 1950 on, Spuler developed an increasingly abstract design language. His graphic works of the period often suggested images of bombed cities. Successful sales made it possible for him and his wife Elisabeth (née Holzwarth, whom he had married in 1939) to make long, annual trips to the Côte d'Azur starting in 1954. There he would create an extensive cycle of drawings entitled Côte d'Azur. Spuler died in 1964 in Cros-de-Cagnes, France.
---
MAJOLIKA KARLSRUHE (more formally, Staatliche Majolika Manufaktur Karlsruhe) was organized at Karlsruhe in southwest Germany in 1901 when Friedrich I, the Grand Duke of Baden, agreed to build a ceramics factory at the behest of German pictorial artists Wilhelm Süs and Hans Thoma. Their goal was to revive the so-called "majolica" or faience technique, where opaque, tin-based glazes were applied to earthenware to serve as the basis for colored decoration. (The "tin" glaze used in majolica is in reality a lead glaze that has been rendered white and opaque by the addition of tin oxide. In the majolica production process, unglazed articles are first fired and then dipped in the tin glaze, which is allowed to dry. Designs are then painted on the glaze, which sets them off and preserves them during a second, high-temperature firing.) Towards the end of the decade, a signature style of majolica developed: compositions, often including cherubim, on a blue background.
The pottery passed through various hands in the following years, at one time being occupied by Villeroy & Boch, with the premises being owned by the state of Baden. (The word "Staatliche" was added to the name to indicate state ownership in 1927.) Despite the specific nature of its name, MAJOLIKA KARLSRUHE produced a wide range of artisan ceramics and was one of Germany's leading producers of ceramics generally. The quality of production was excellent. Top designers prior to WWII included Ludwig König and Max Läuger.
The factory was badly damaged by bombs in 1944 and did not return to the full-time production of decorative goods until the 1950s. By then business had resumed much as in pre-war days, with both company-employed and freelance designers. One of the foremost post-war designers was Friedegart Glatzle, who joined MAJOLIKA KARLSRUHE in 1951, and who over the next 30 years produced a huge range of designs. Other designers of note during this period included luminaries Eva Fritz-Lindner (1933–2017) and Werner Meschede (1925–1981). To this day the company provides artists with their own studio space and commissions work from them. Product examples can be seen at the Badisches Landesmuseum in Karlsruhe.
Most MAJOLIKA KARLSRUHE pieces bear the company's name and symbol—the arms of Baden above a double-joined 'M' for Majolika-Manufaktur. Items are made with red-orange clay and are marked with a form number.
---
DETAILS
Designer – ERWIN SPULER
Design Period/Year – 1951
Origin – WEST GERMANY
Styles/Movements – ABSTRACT; MID-CENTURY MODERN
Materials – CERAMIC
Colors – LIGHT GRAY, BLACK
Condition – Excellent vintage condition. May show slight traces of wear consistent with age and use..
Dimensions – 3" W × 3" D × 7 ½" H