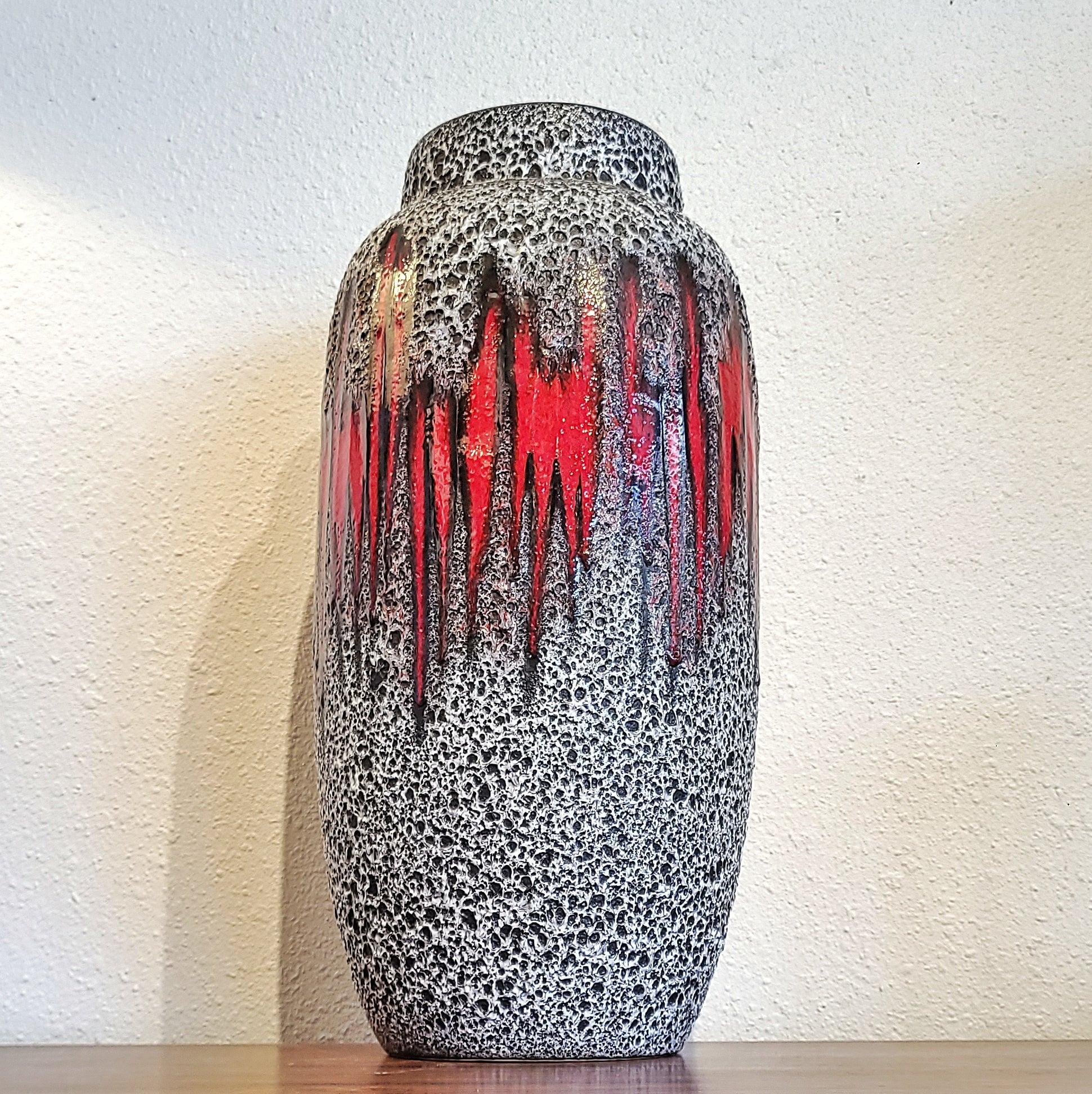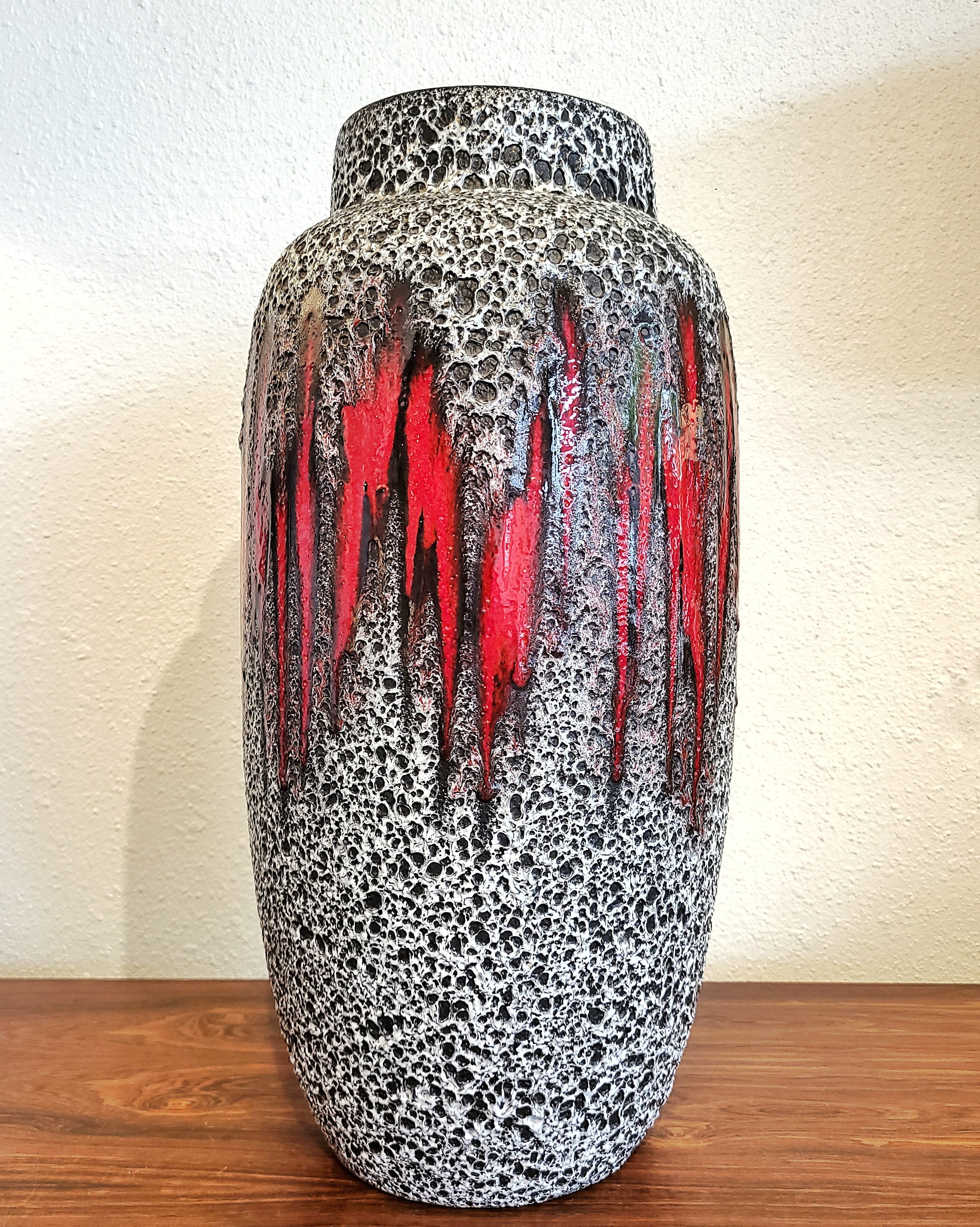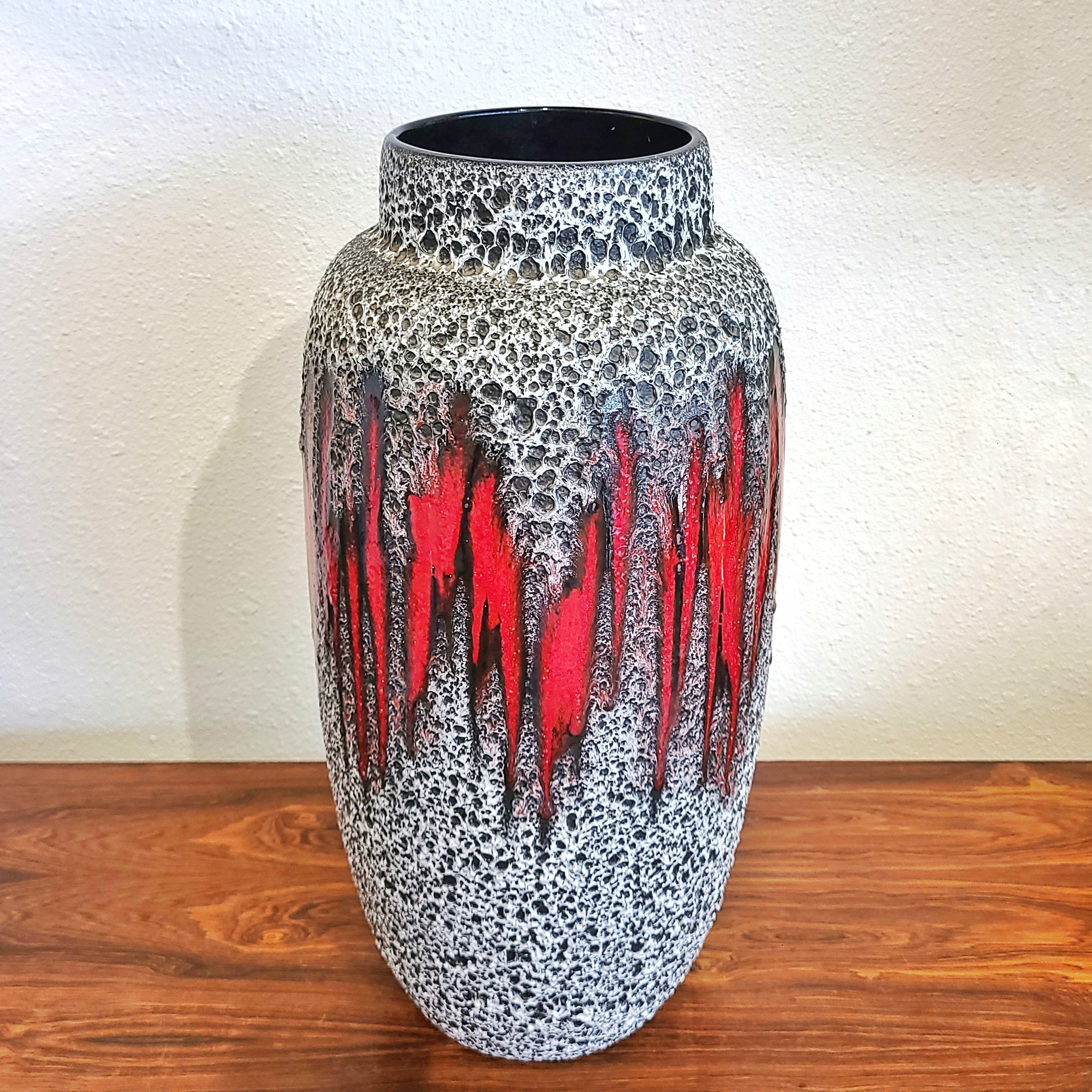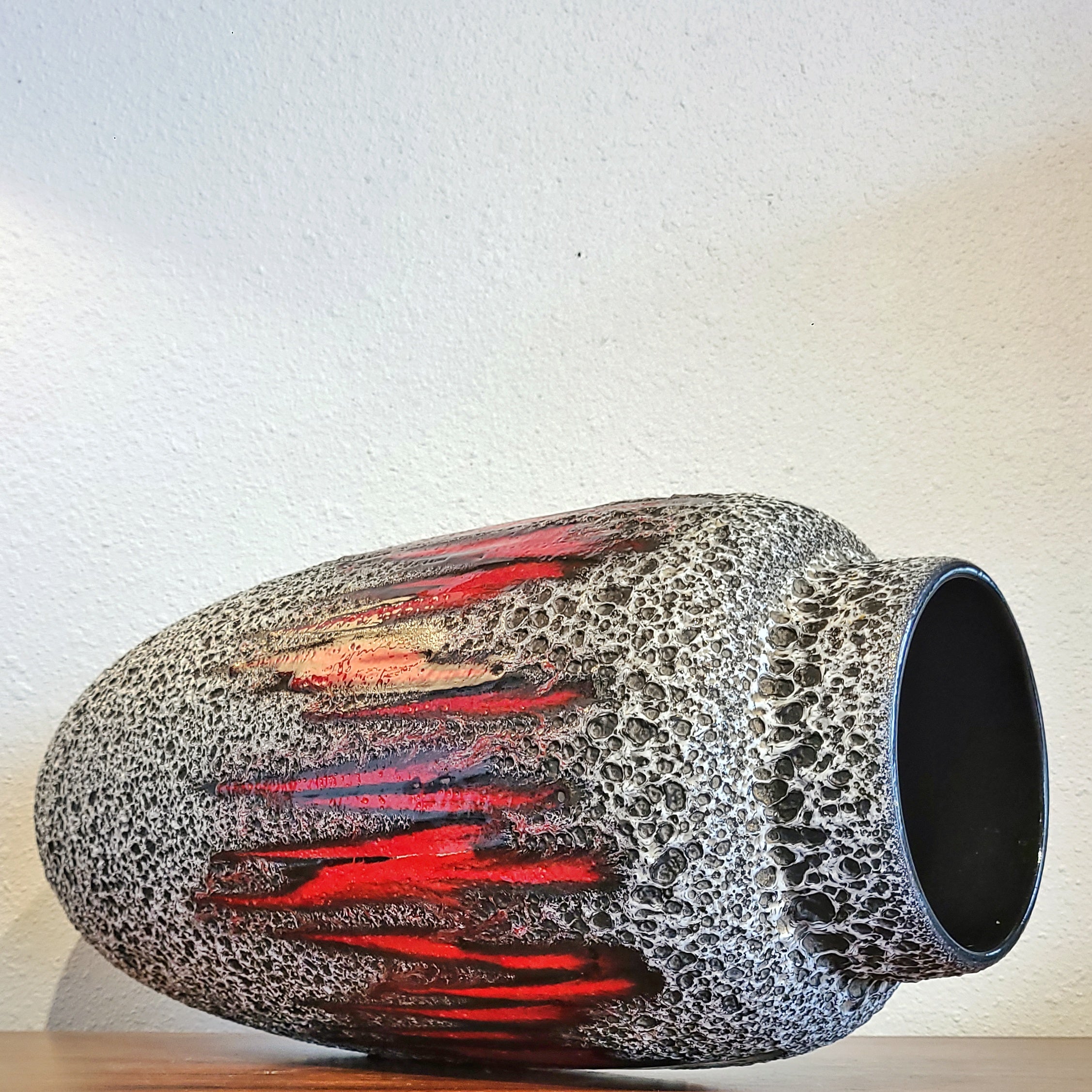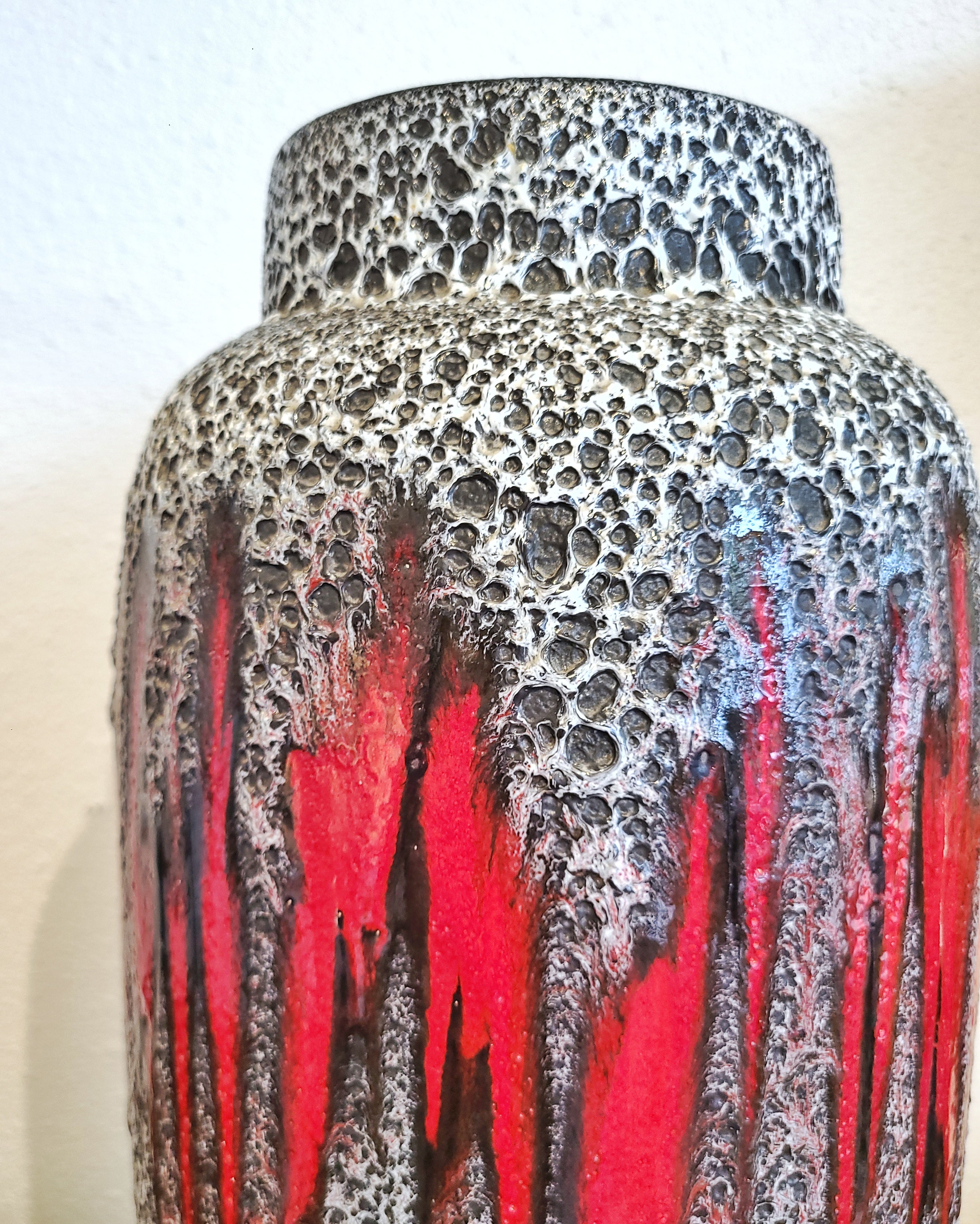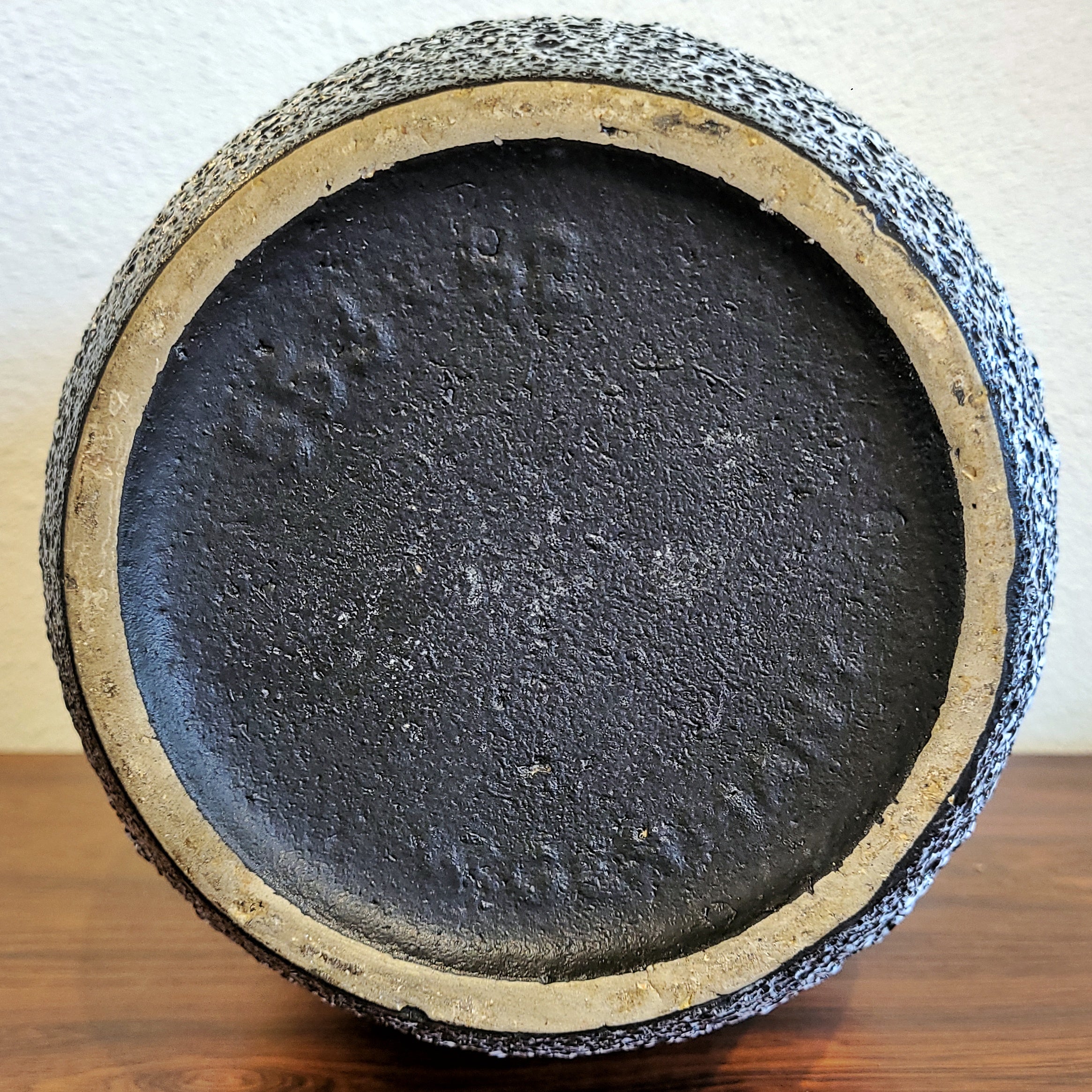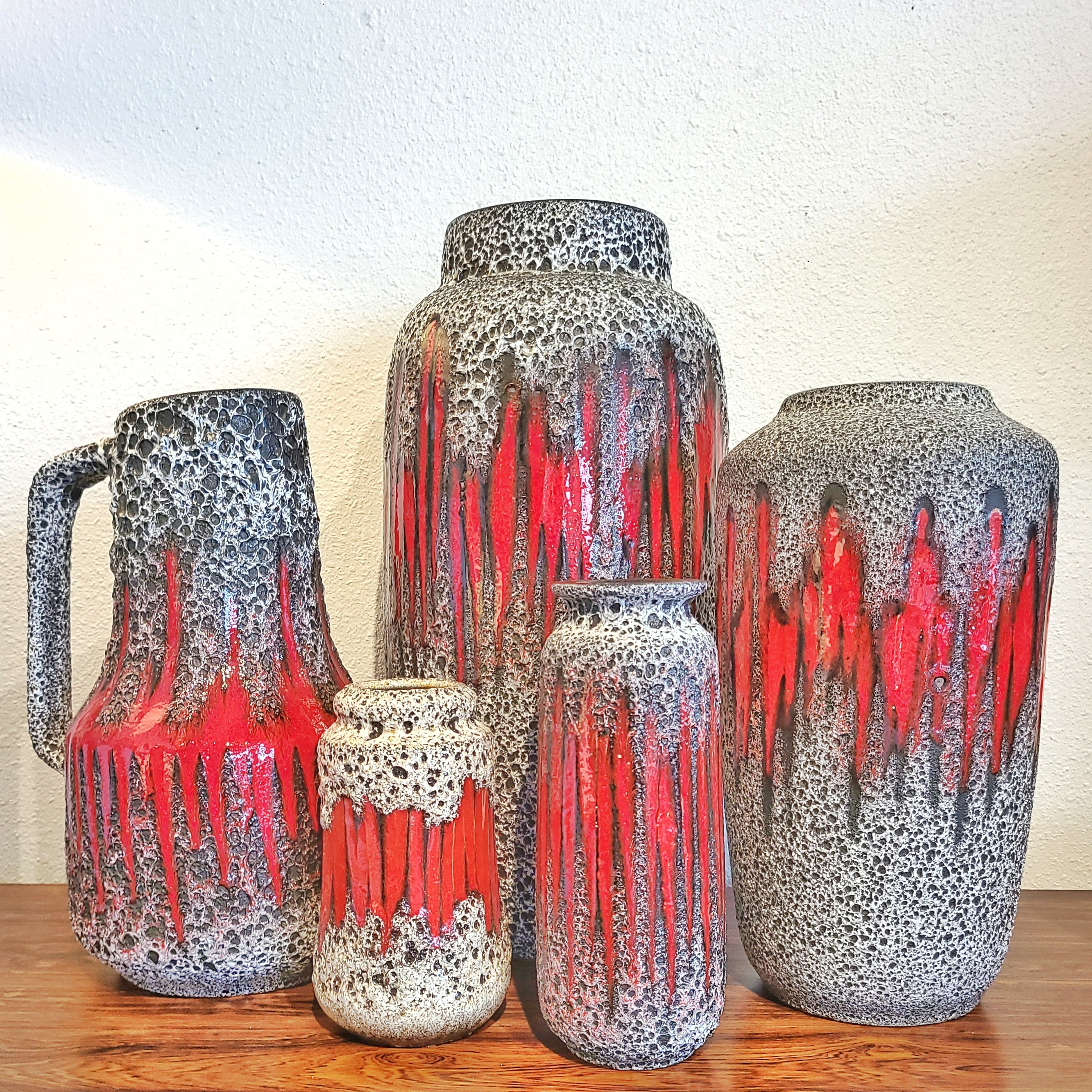 SCHEURICH KERAMIK 'LORA' DECOR FLOOR VASE Nr. 553/52
CONTACT US HERE ABOUT THIS ITEM.
A very large 'Lora' decor floor vase with a black and white crater glaze and a bright glossy red zig-zag pattern designed by Oswald Kleudgen in 1970, and produced by Scheurich Keramik.
SCHEURICH had its origins in a joint venture launched in 1928 by Alois Scheurich and his cousin Fridolin Greulich in the small town of Schneeberg near the Czech border in Saxony—wholesaling glass, porcelain, and ceramics. The business was moved to the market community of Kleinheubach in the northeast corner of Bavaria in 1938, and ten years later the partners began producing household ceramics of their own, selling them under the name Scheurich & Greulich. In 1954 the partnership was dissolved, and Alois founded Scheurich GmbH & Co. KG to continue production on his own.
The celebrated designer Heinz Siery was recruited in 1955 as Scheurich's lead form designer, but in addition to an extensive range of shapes, he was also key in helping the company develop a successful overarching production strategy, which was to produce a wide array of simple forms that could be produced cheaply and decorated in a great variety of glazes. This resulted in a range of pieces that were both varied and economically adaptable. The approach proved altogether successful and led to Scheurich's hegemony beginning in the late 1960s.  The company's strategy of keeping its prices low combined with an enormous range of attractive designs resulted in millions in sales and the designs were adapted twice a year to the changing tastes of the public.
Scheurich mainly made vases and flowerpots but also produced ashtrays, piggy banks, candle stands, beer mugs, buffet clocks, wall reliefs, and Christmas tree holders. Scheurich, with a few exceptions, did not make kitchen clocks or lamp bases.
The most successful vase models come in dozens of glaze versions (decors), for example, Heinz Siery designed vase model 271-22 in 1959 and it was fashionable for decades with a variety of changing glaze options. Another important designer for the shapes was A. Seidel. The main glaze designer was Oswald Kleudgen.
Some well-known motifs are Montignac (1972-1973; hand-painted), Amsterdam (onion motif/Zwiebeldekor; 1974-1975), Fabiola (dark brown-red overflow glaze), and Jura (fossil/snail motif).
Some designs were made especially for export purposes; on the bottom of those vases is not "West Germany", but "foreign". Nevertheless, vases with "foreign" also ended up on the home market.
The vases were fired at 1000 degrees Celsius and came from molds. The most extreme glazes and patterns remained in West Germany. Red and orange vases sold best. Yellow and purple less. Large floor vases cost 40-50 Deutsche Mark (20-25 euros) each and were for sale in the Karstadt and Kaufhof department stores. At least 500 pieces of each vase were made.
By the late 1980s, shapes and color schemes became plainer and the work less attractive to collectors.
Details

Dimensions

8.5ʺW × 8.5ʺD × 20ʺH
Styles

Abstract
Mid-Century Modern

Brand

Scheurich Keramik
Period

1970s
Place of Origin

Germany
Item Type

Vintage, Antique or Pre-owned
Materials

Ceramic
Condition

Very Good Condition, Original Condition Unaltered, No Imperfections
Color

White
Condition Notes

Excellent Vintage Condition