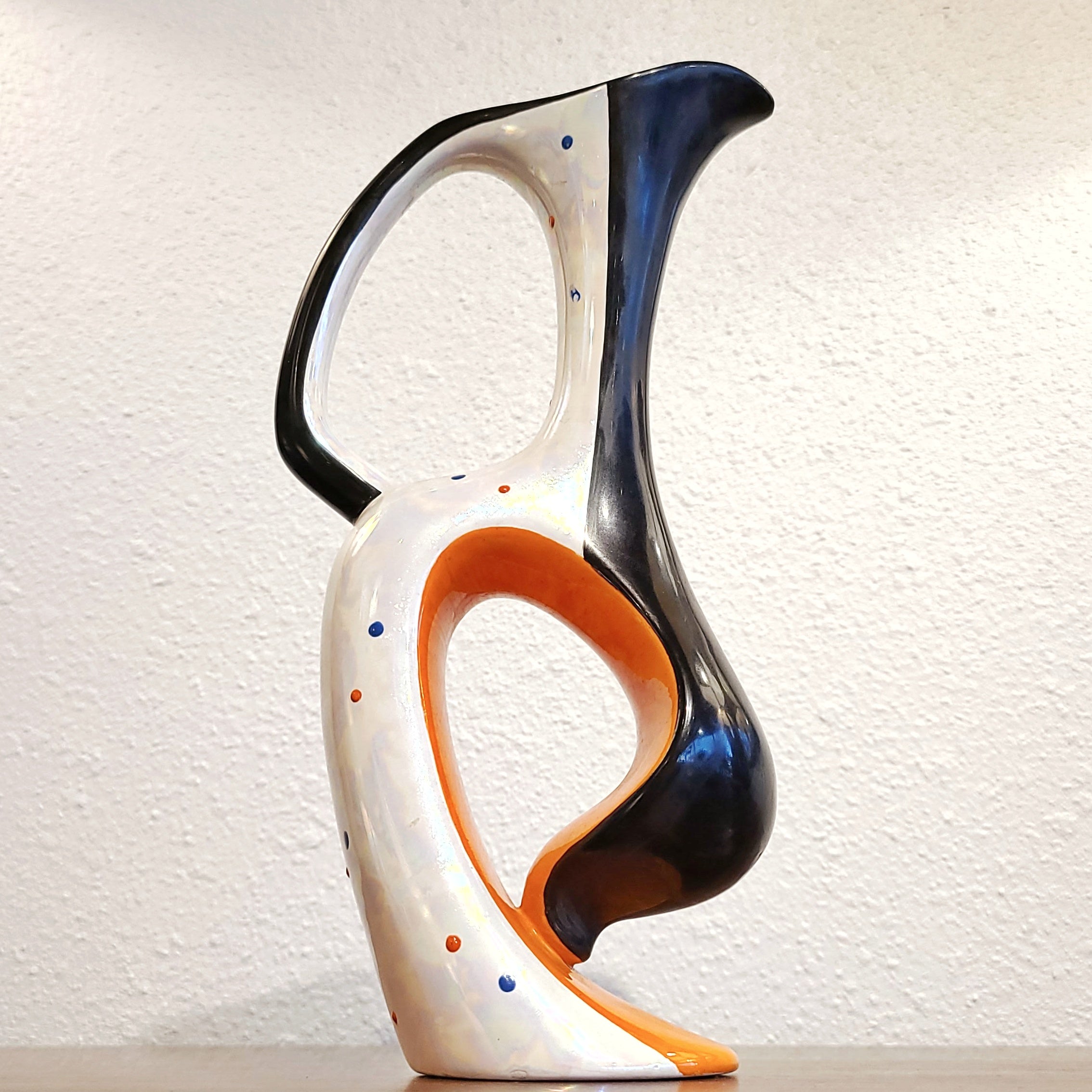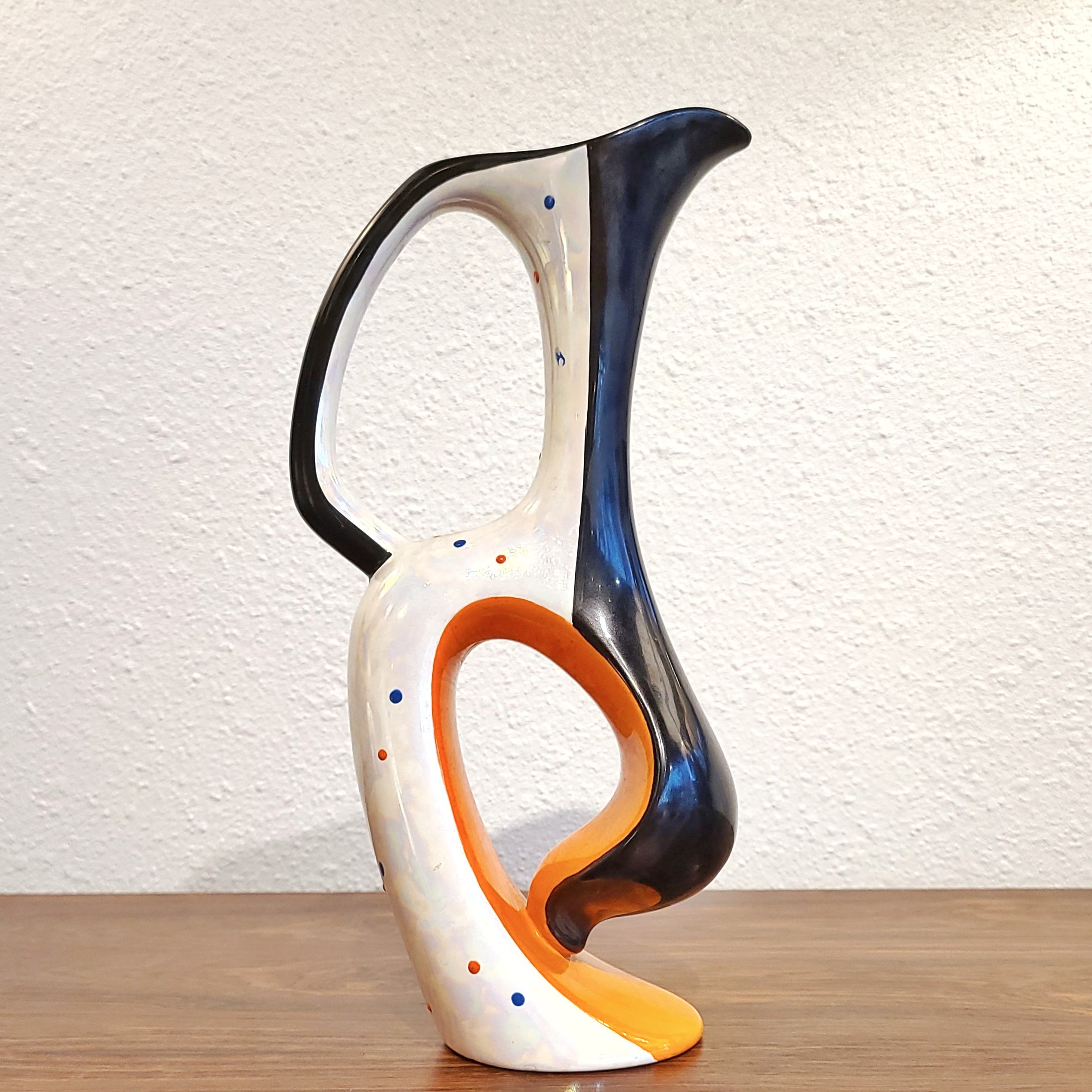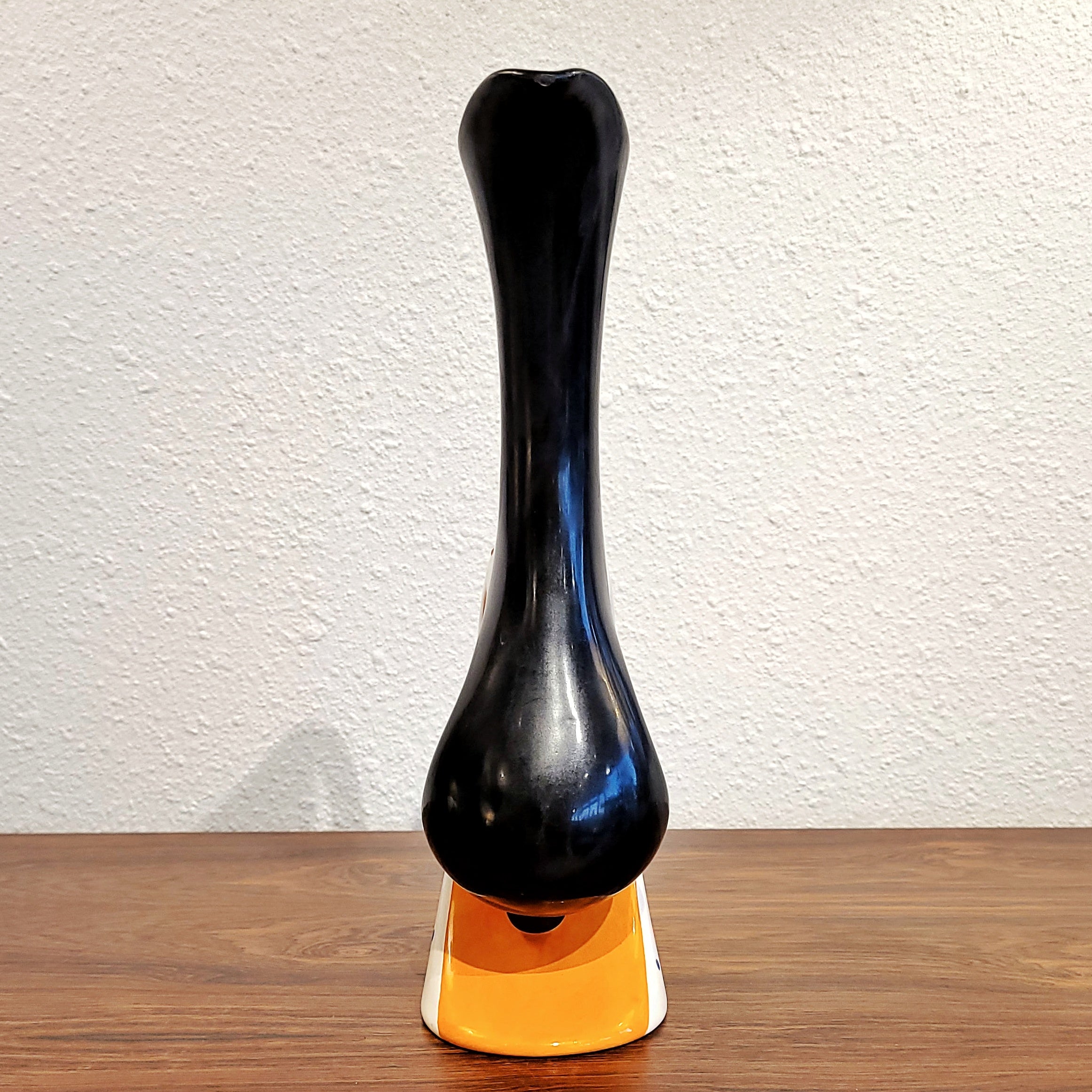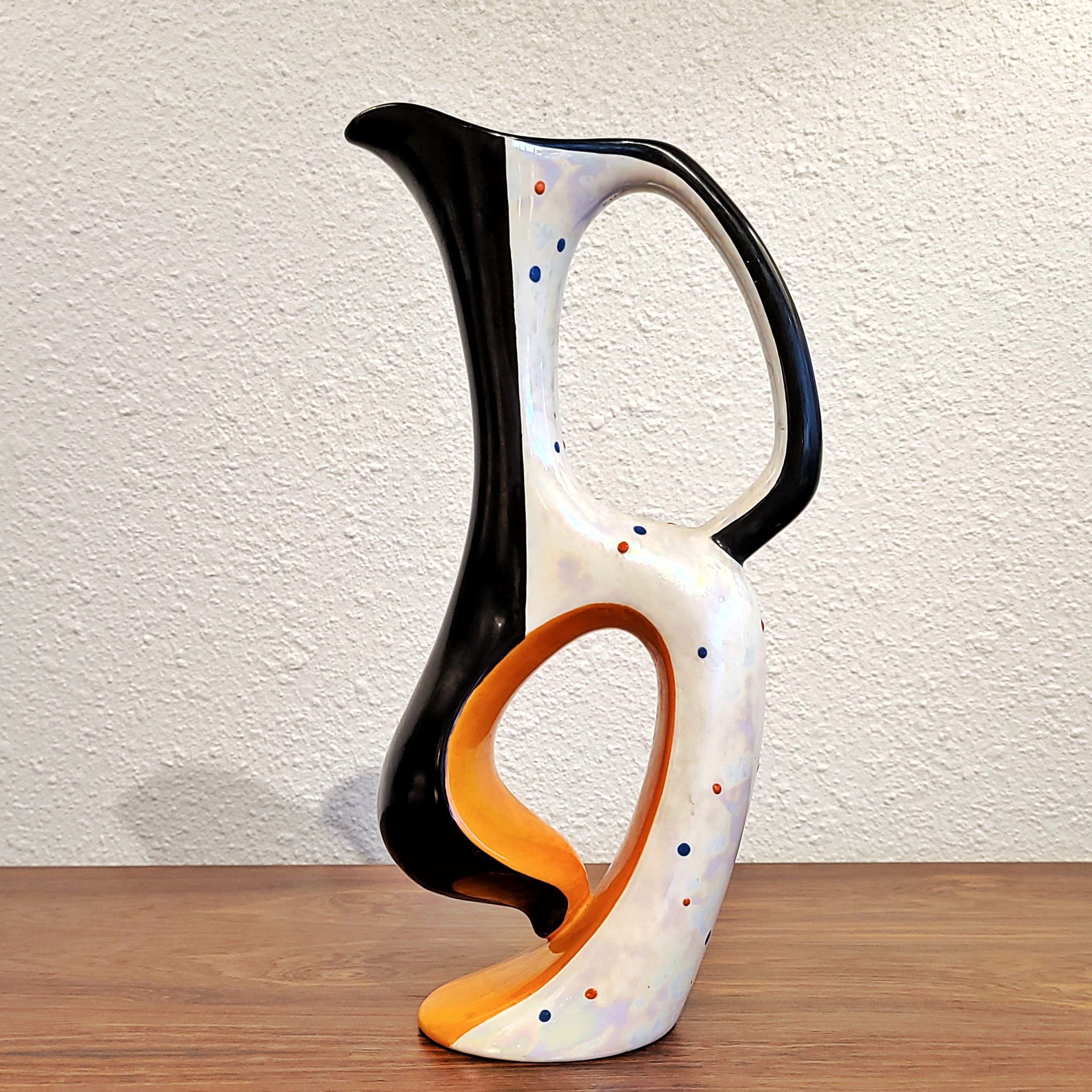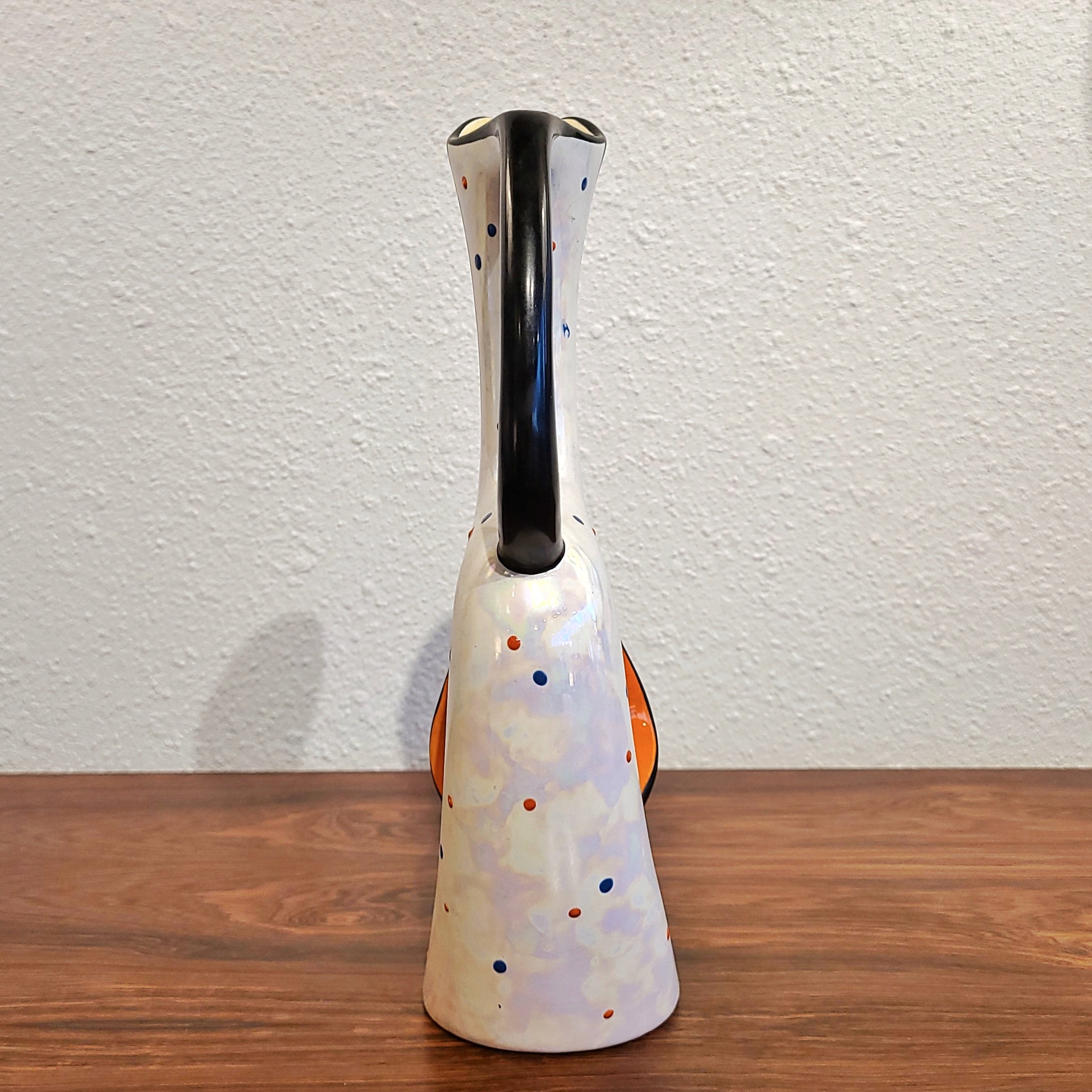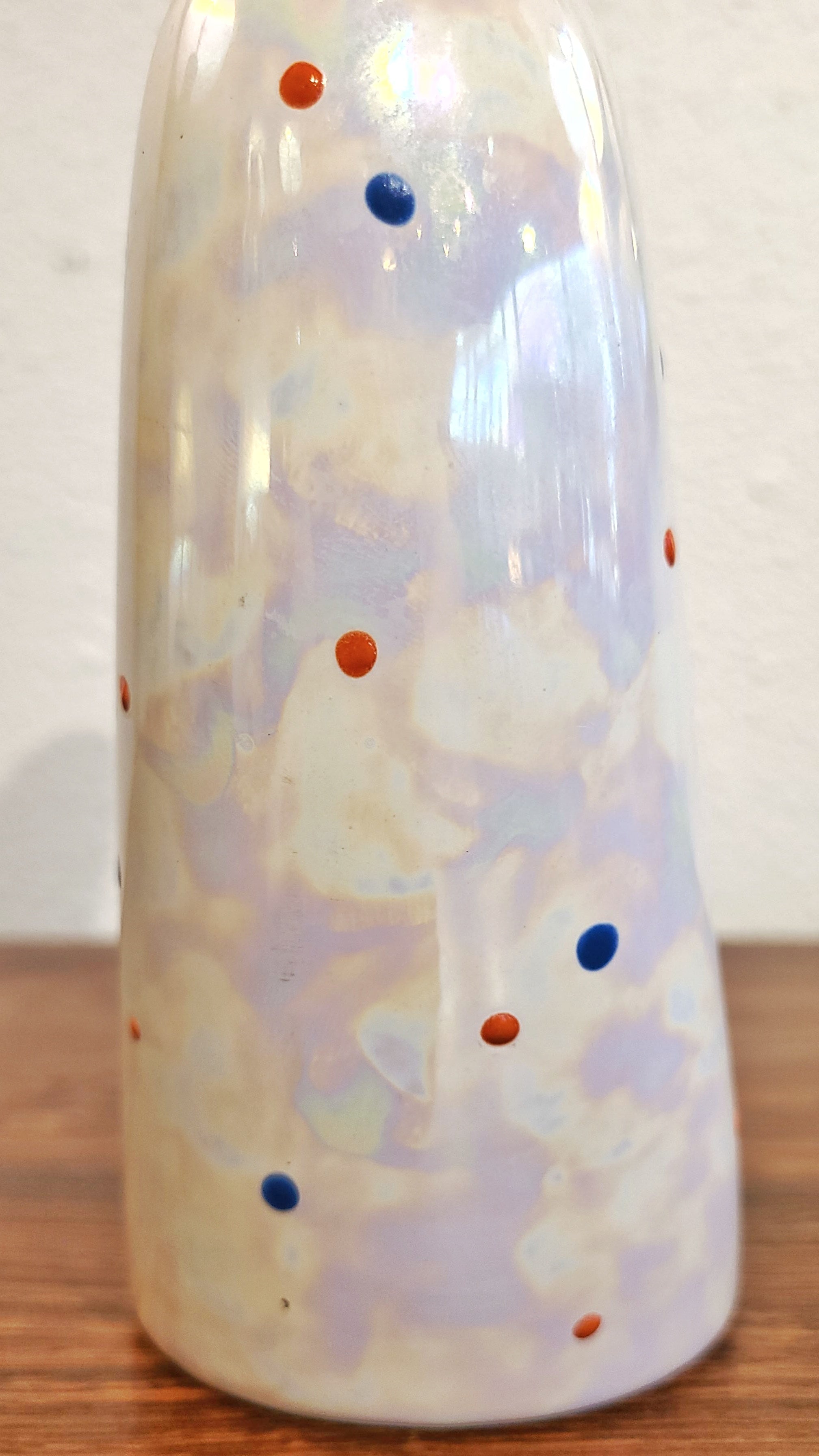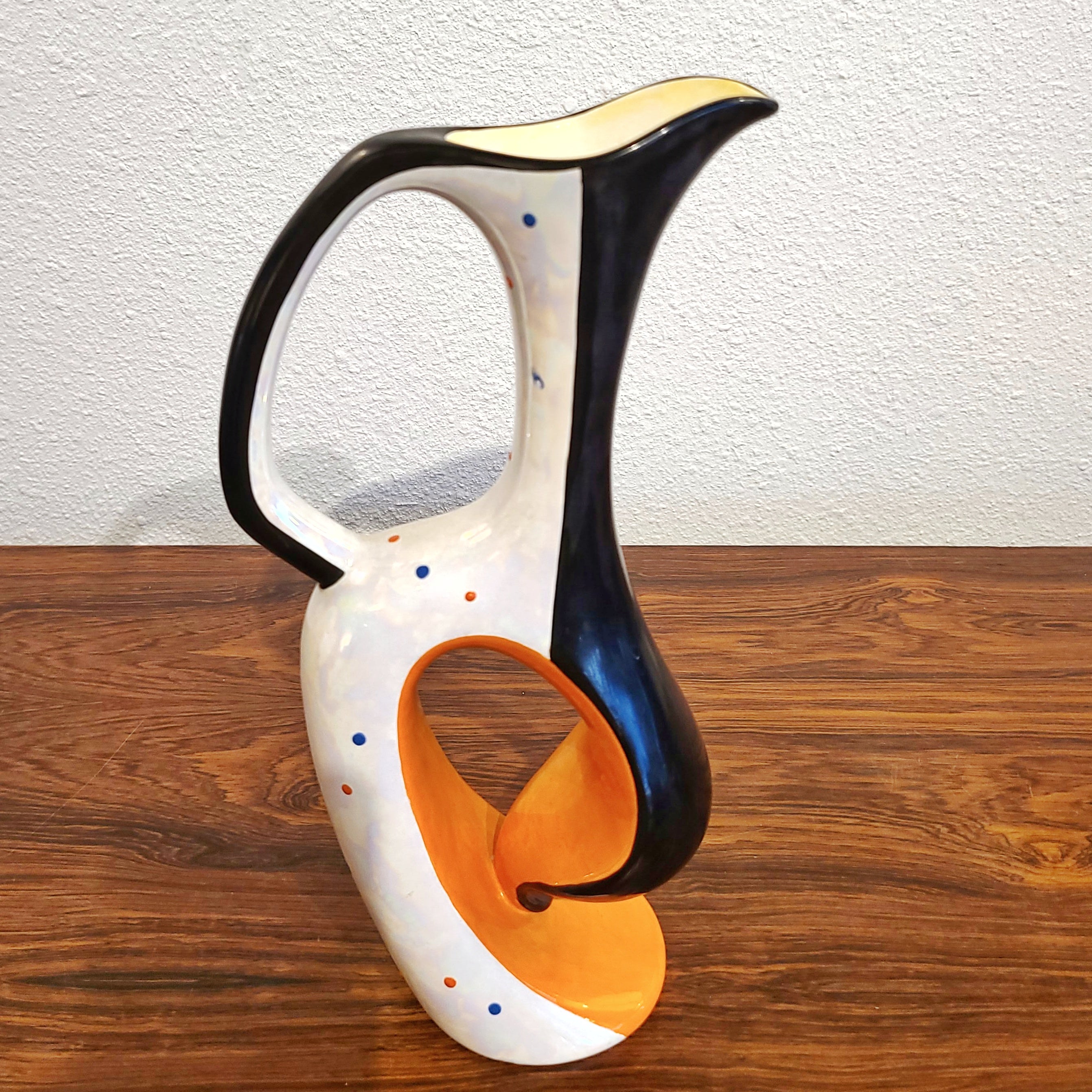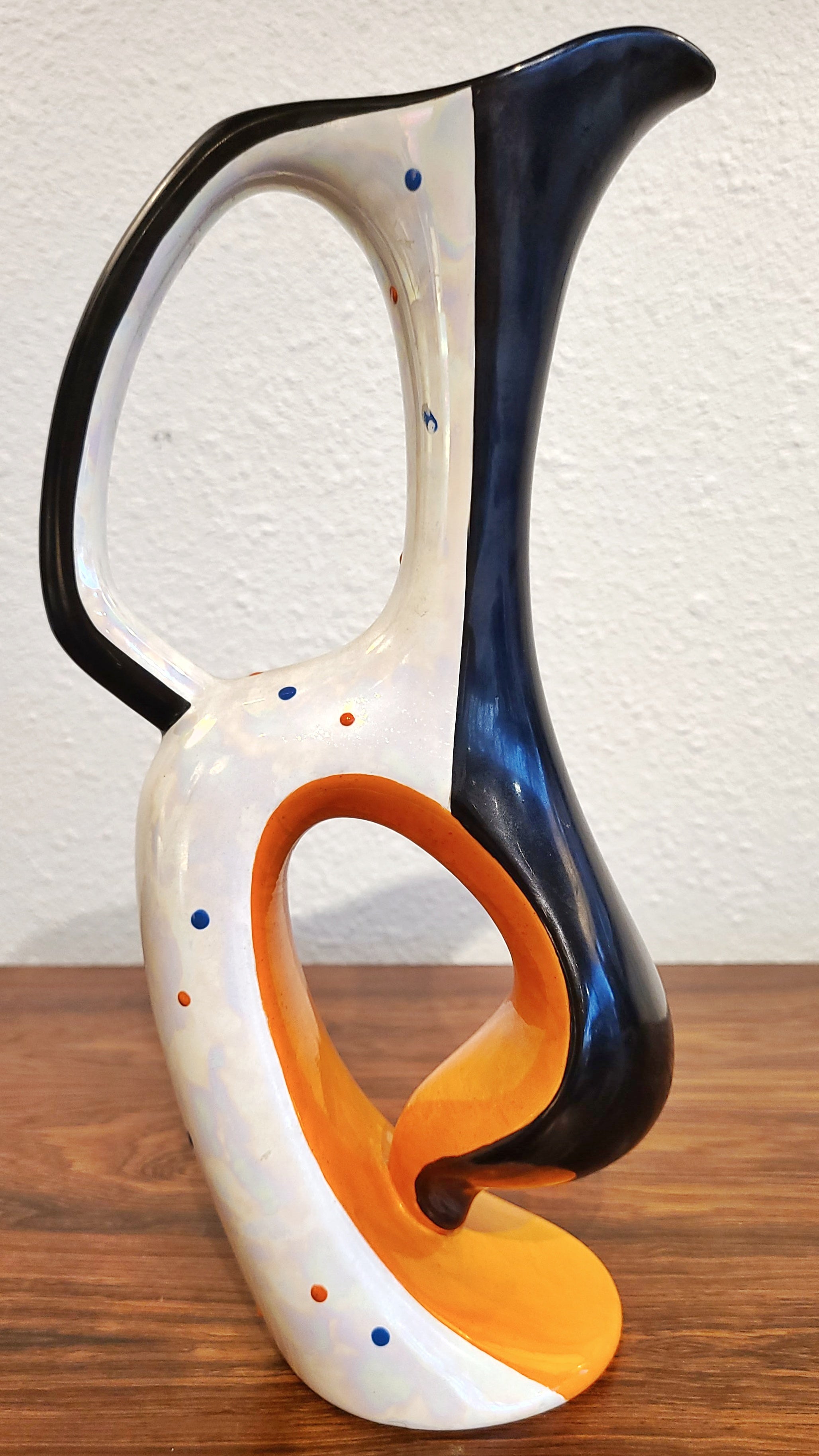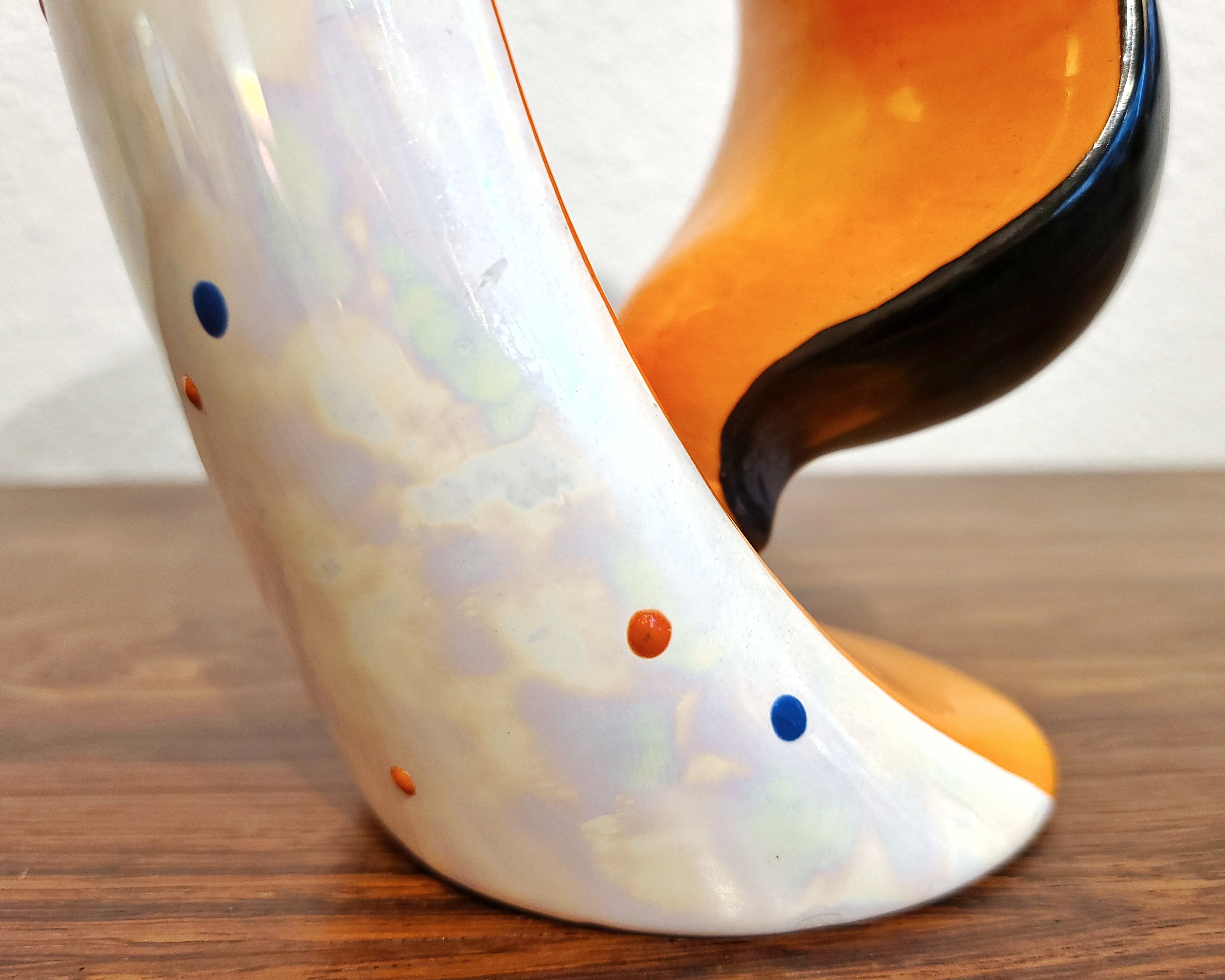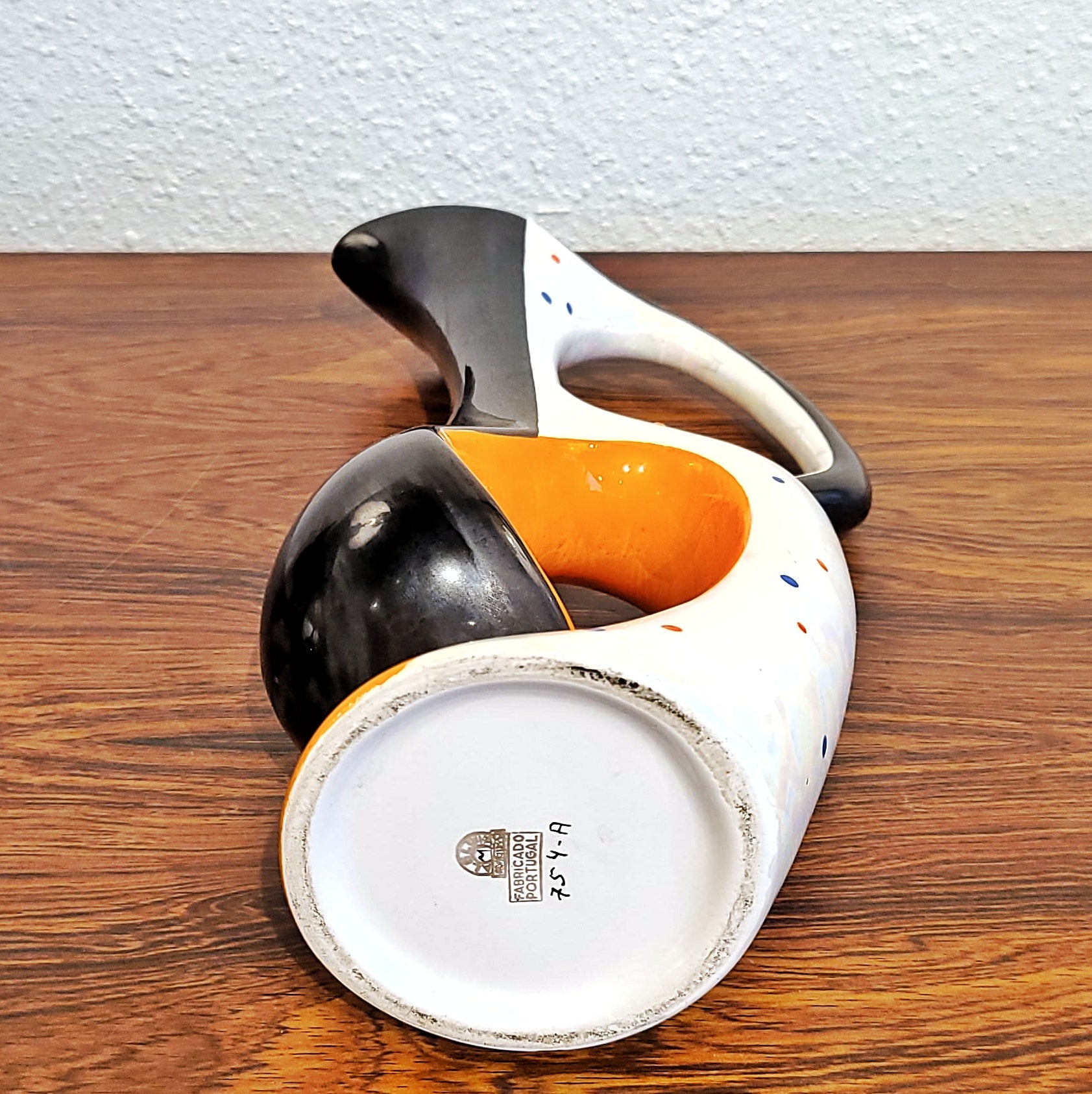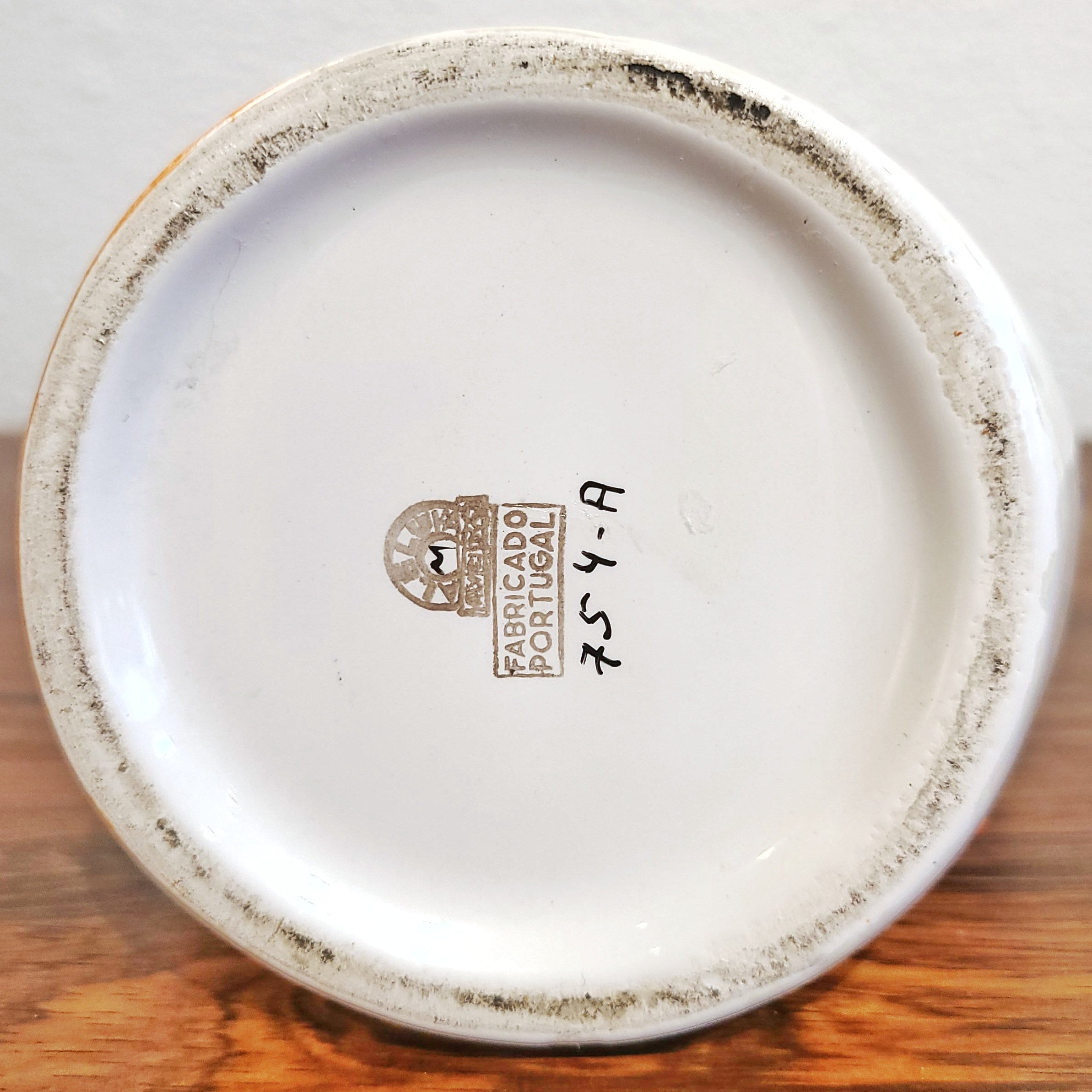 1950s ALELUIA BIOMORPHIC EWER VASE (AVEIRO, PORTUGAL)
CONTACT US HERE ABOUT THIS ITEM.
An abstracted biomorphic ewer vase produced in the 1950s or 60s by Aleluia Ceramicâ in Aveiro, Portugal.  The glazing reinforces the abstracted biomorphism of the form in plain colors of bright orange, black, and iridescent white accentuated with random dots of orange and blue and by the subtlety of the light yellow interior.
FÁBRICA ALELUIA was founded in 1905 by João Aleluia and was responsible for one of the most cosmopolitan decorative earthenware productions of the 20th century in Portugal.  Fábrica Aleluia, Aveiro has asserted itself for the modern inventiveness of its creations.  Despite notorious international influences, Aleluia has managed, over the years, to create a set of production lines, with its own decorative grammar, clearly distinguishing the national and international contexts.  In the first phase, the factory bet mainly on the technical quality of the painting, applied to structurally simple forms, often with classical roots. However, in the 50s and 60s, shapes became sculptural, taking advantage of the asymmetry and fluidity of curved lines, as if they were living organisms.  In line with trends in western ceramic design, unprecedented in Portugal, the originality of these pieces lies in the dialogue between the shapes and an efficient graphic in solid colors, underlining the details and accentuating the organic qualities of the volumes.  Similar models were produced internationally, both in several European plants and in the USA. Still, unique to Aleluia was the use of rather high-contrast graphics, used to explore the optical effects that were so popular at the time.  As is typical in Aleluia production of the 50s and 60s, the factory stamps and the indication "MANUFACTURED IN PORTUGAL" may appear along with a hand-painted number and letter indicating shape and decor, respectively.  The initial of the painter may also appear in the center of the brand.  Today, Aleluia Ceramicâ production is limited to floor and wall tile ceramic solutions for modern architecture and interior design requirements.
Details

Dimensions

5.5ʺW × 3.25ʺD × 11.5ʺH
Styles

Abstract
Organic Modern
Space Age

Period

1950s
Place of Origin

Portugal
Item Type

Vintage, Antique or Pre-owned
Materials

Ceramic
Condition

Very Good Condition, Original Condition Unaltered, No Imperfections
Color

Orange
Condition Notes

Excellent Vintage Condition