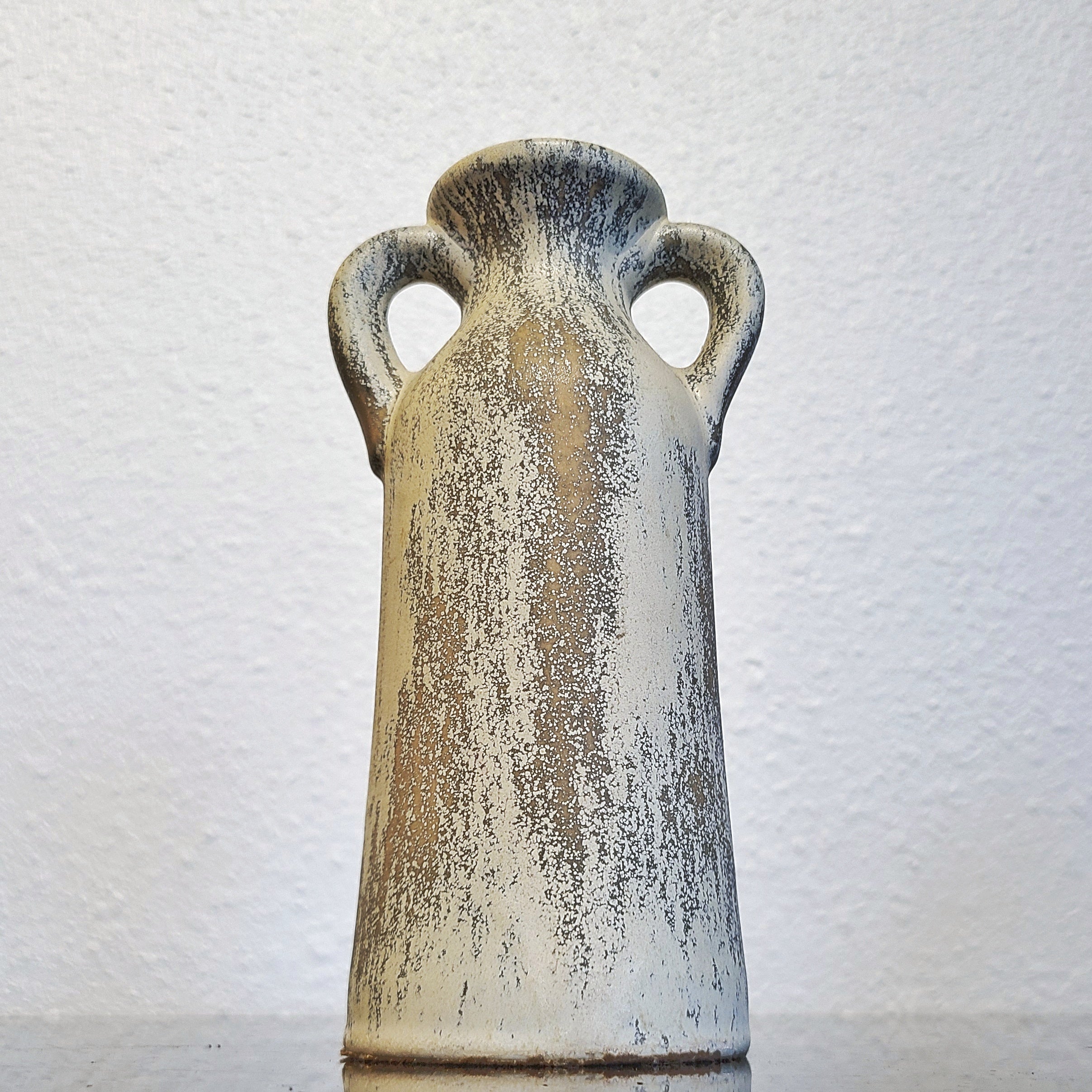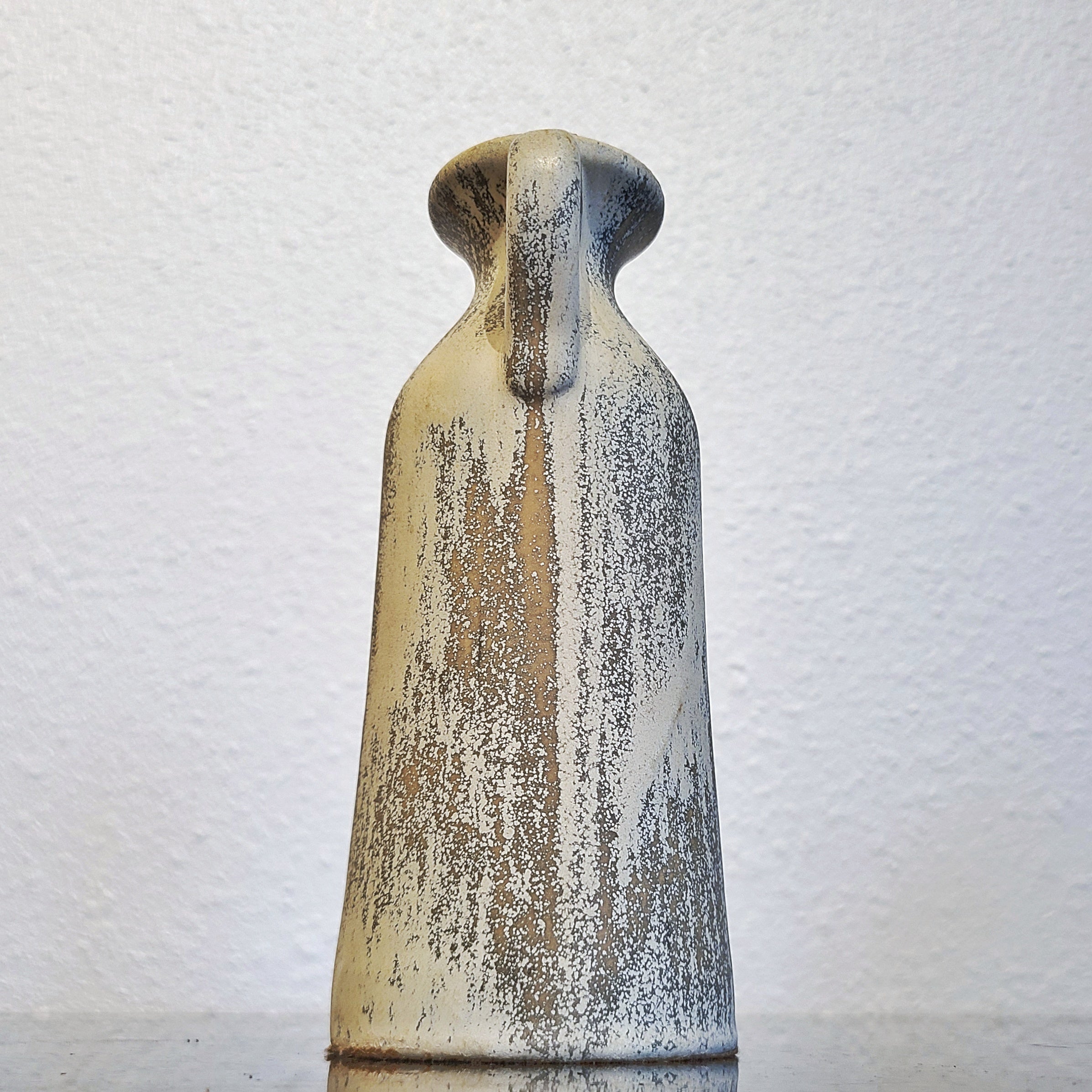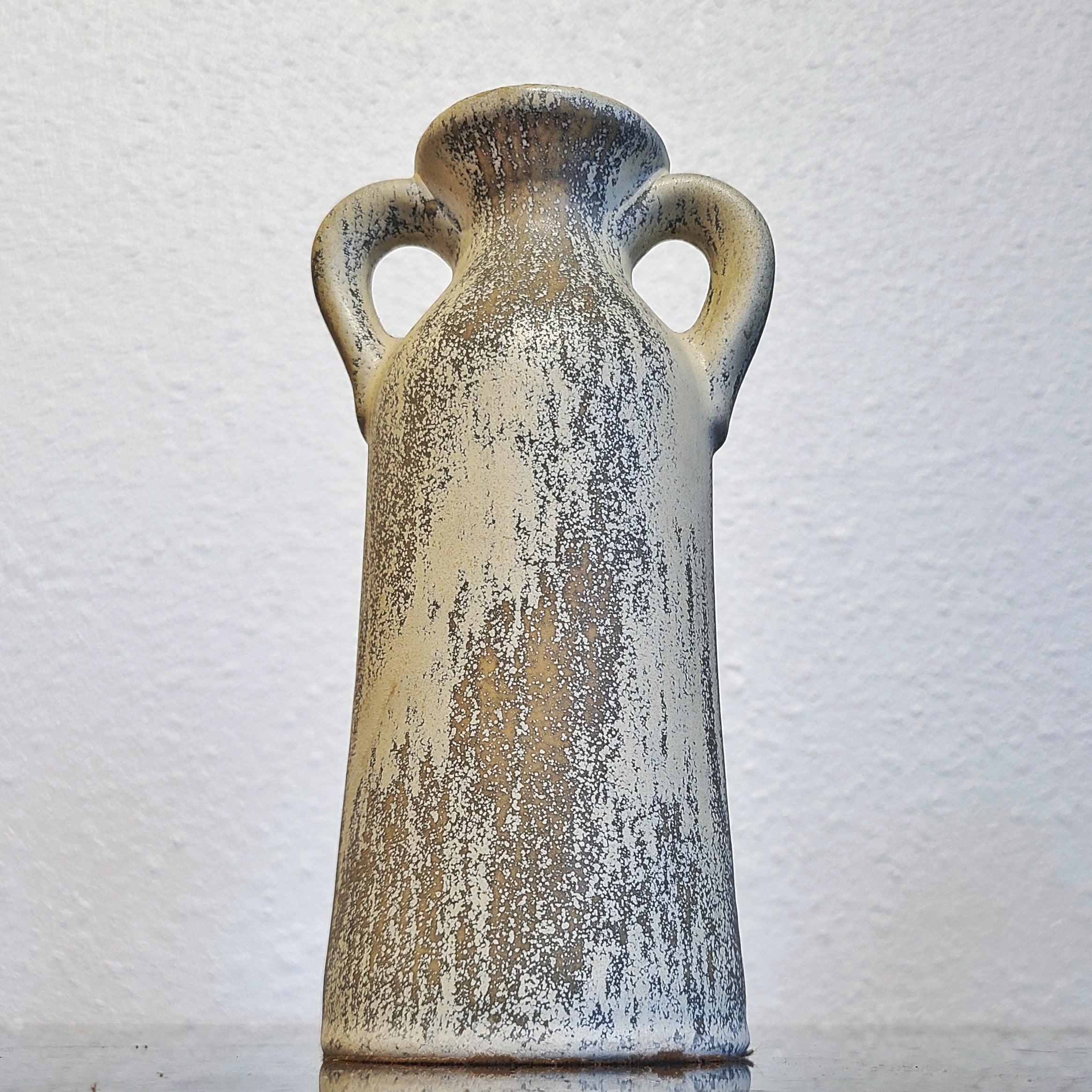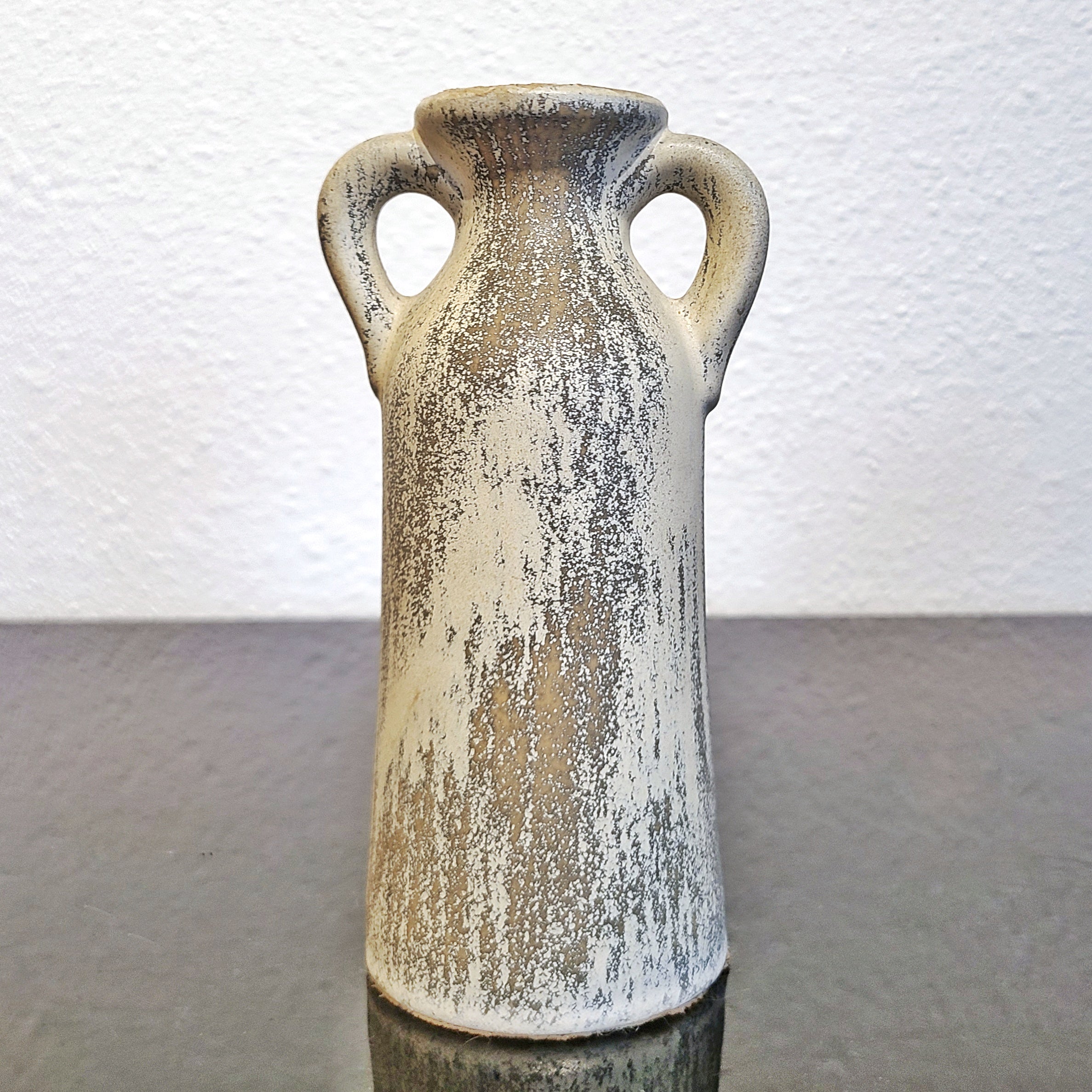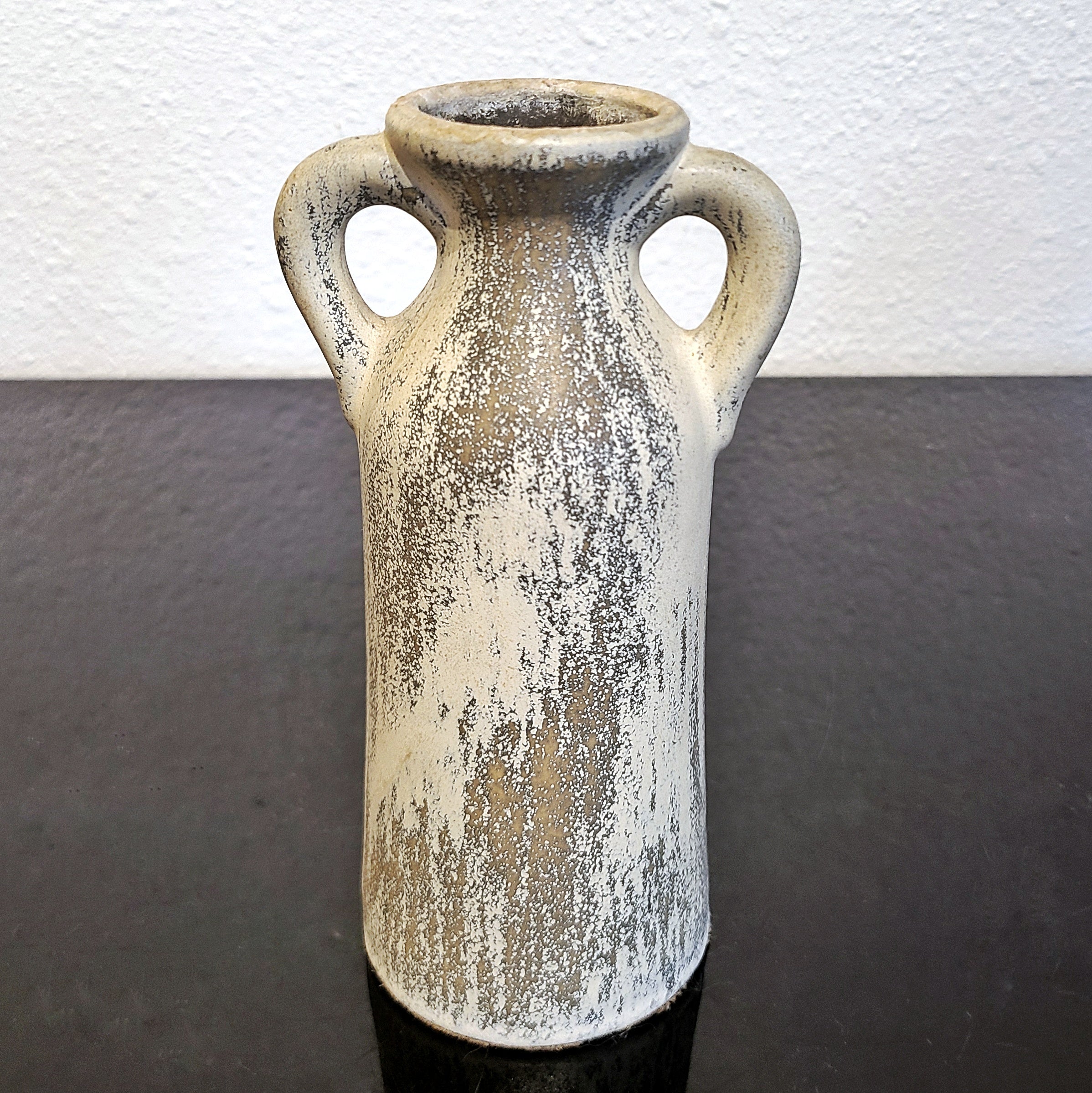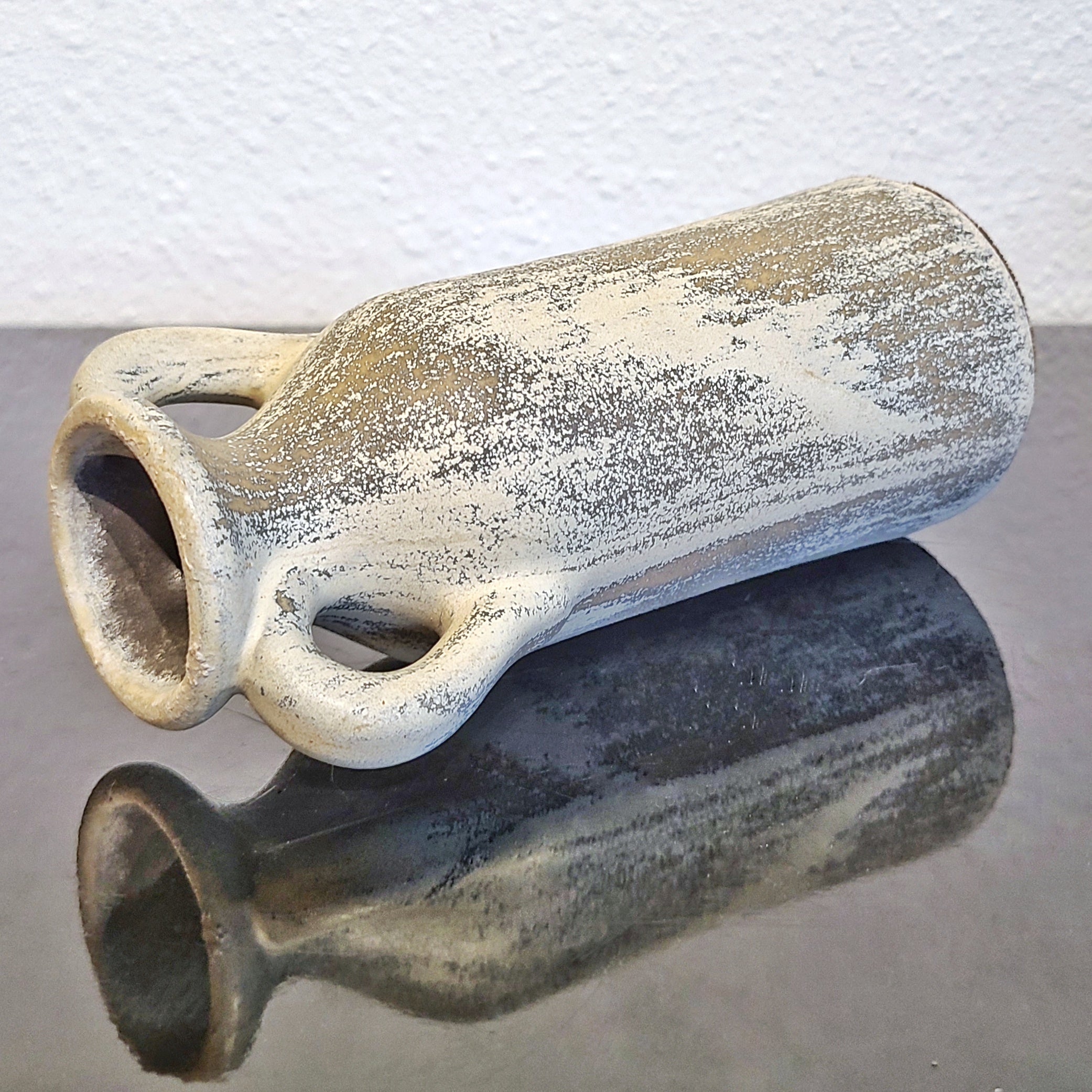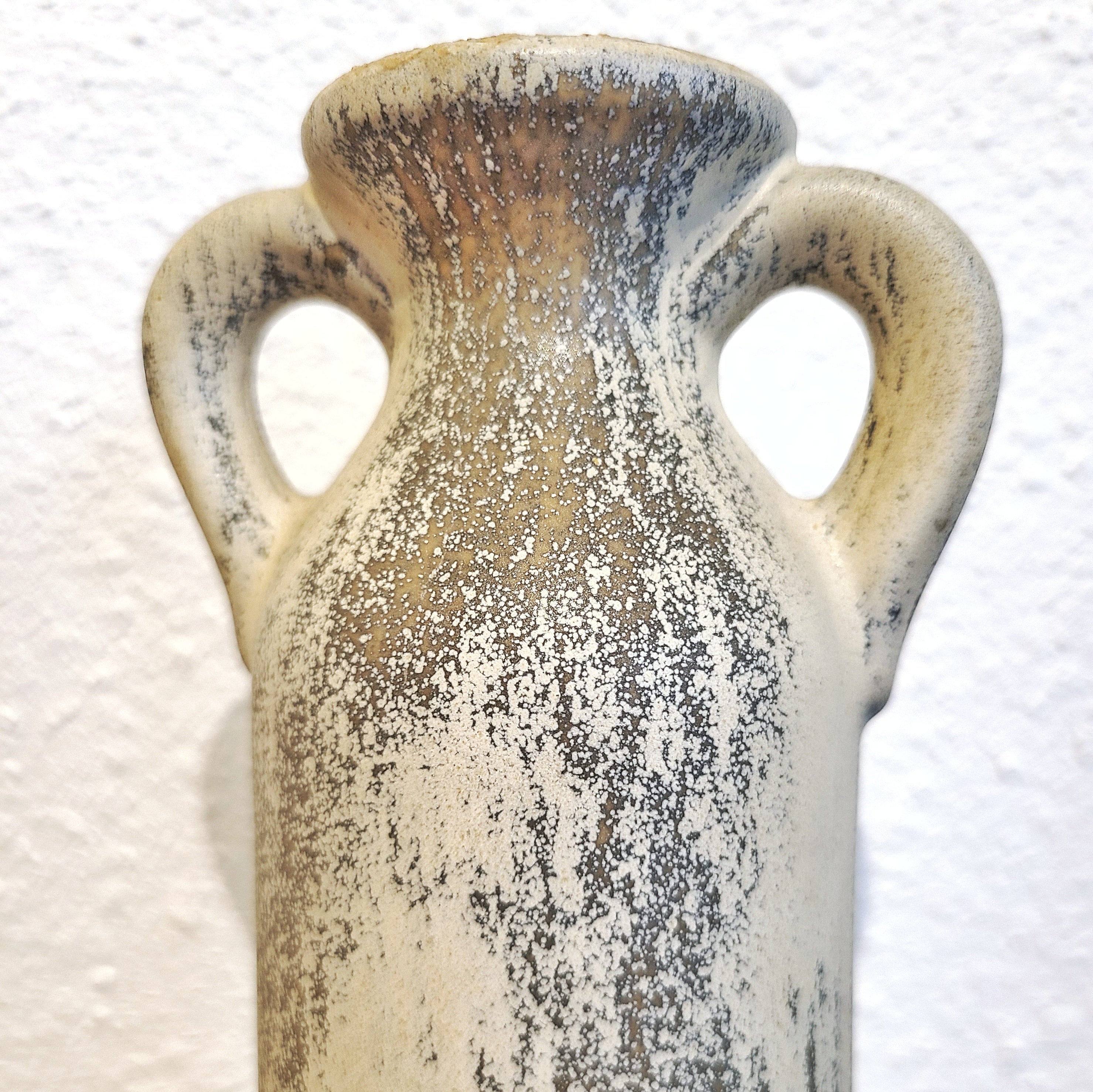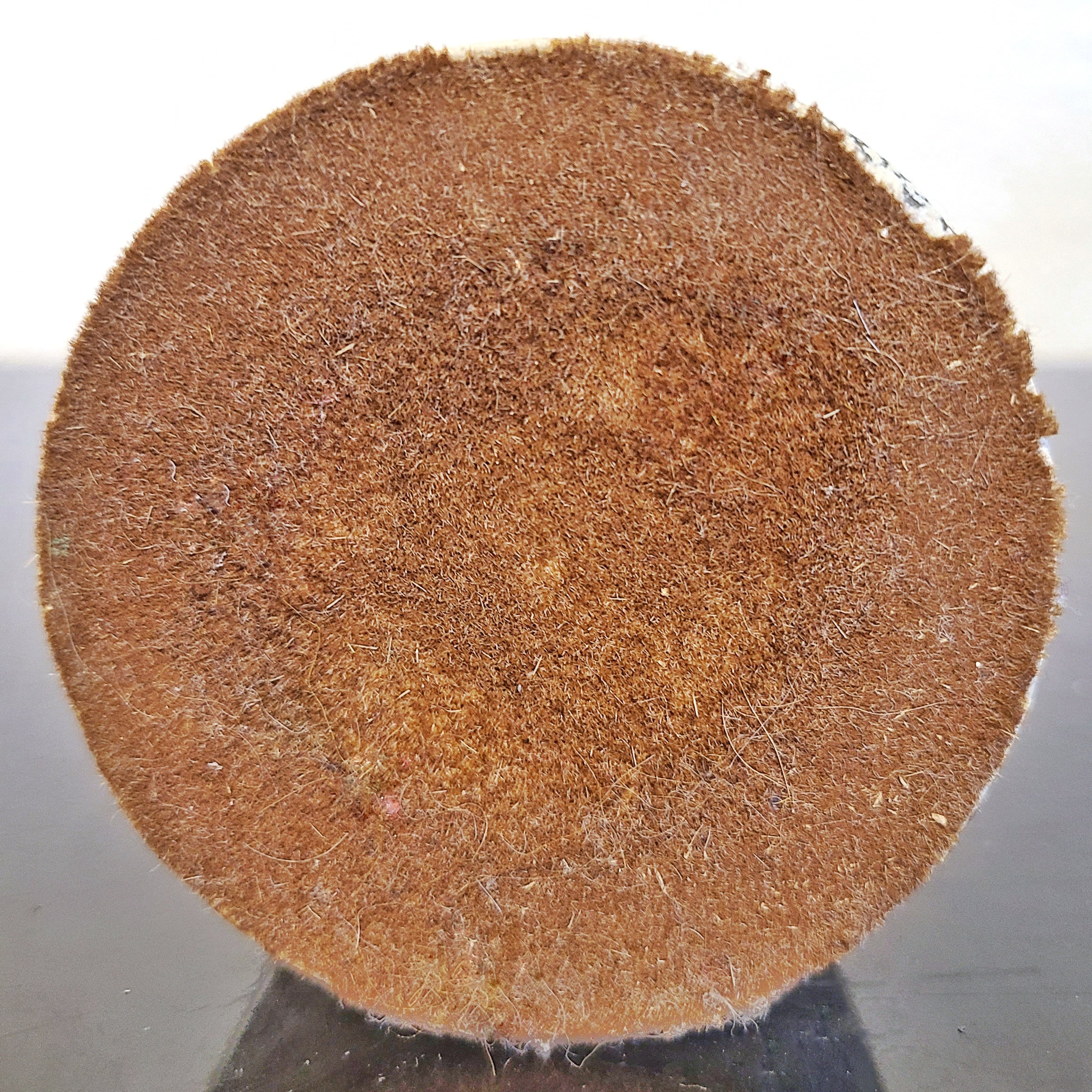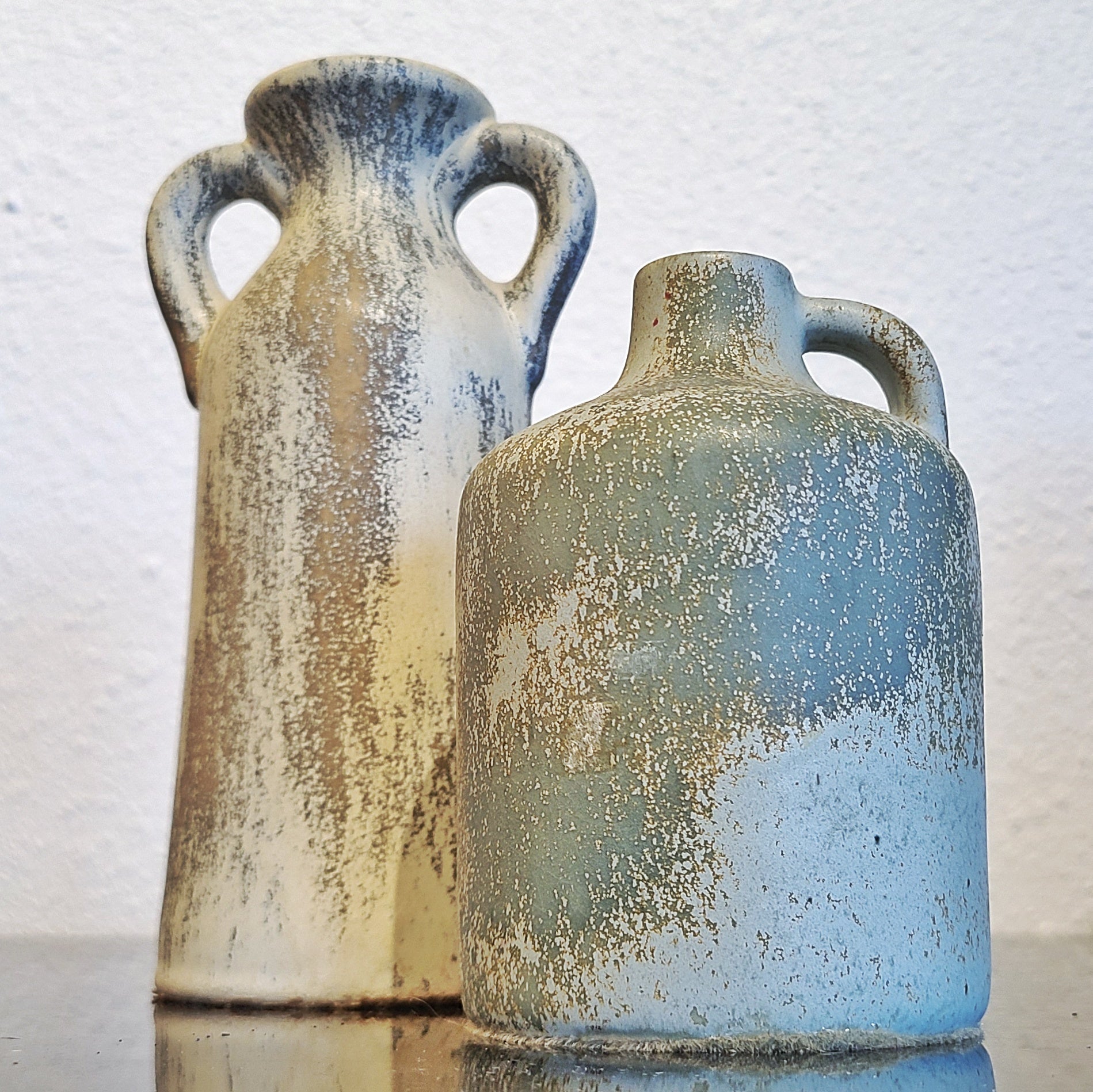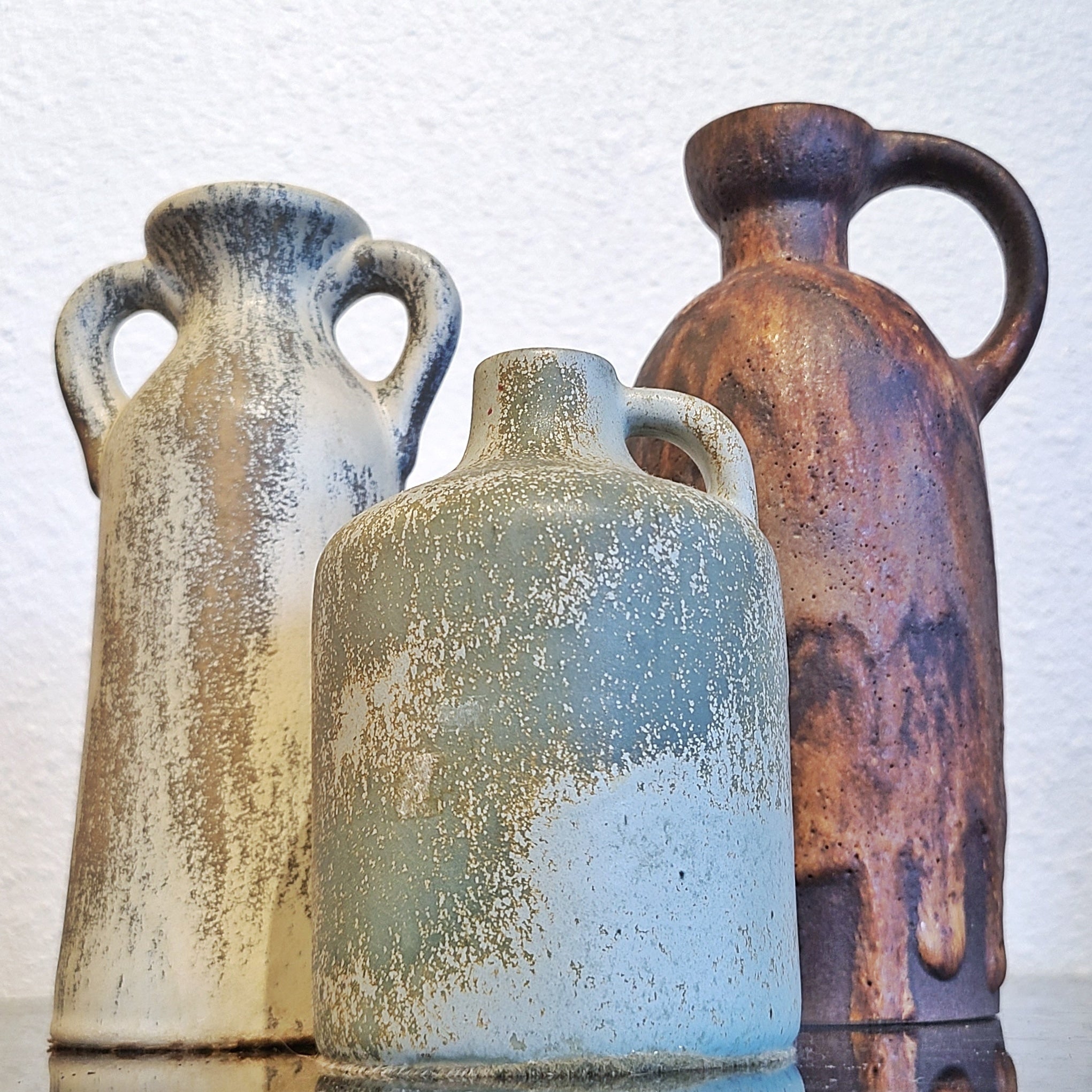 BEAUTIFULLY GLAZED OTTO-KERAMIK AMPHORA VASE
CONTACT US HERE ABOUT THIS ITEM.
A really beautiful double-handled vase with a lovely striated glaze in pale shades of tan and gray by renowned German glaze chemist Otto Gerharz—on a shape designed by Kurt Tschörner for OTTO-KERAMIK.
---
OTTO GERHARZ (1927-?) was a German chemist and glaze master who began training as a ceramicist in 1942 with a focus on arts and crafts. His apprenticeship was interrupted in 1944, toward the end of WWII, when he was drafted into service with the Wehrmacht. By 1946, he had emerged from the military with his interest in ceramics intact—but with his attention now concentrated obsessively on glaze chemistry. He began attending classes at the technical school at Höhr-Grenzhausen which had just reopened following the war. He completed his training and graduated with a degree in chemical engineering. Two years later he qualified as a ceramic engineer, having written his thesis on glazes. Gerharz continued his education with complementary studies in electro-ceramics, followed by laboratory and consultancy work within the industry.
In 1951, Gerharz went to work at Ruscha Keramik in Rheinbach, as its operations manager and lead ceramist. There he developed a wide range of glazes, playing a decisive role in the company's emergence as one of the most important in the field of artistically designed ceramics. Gerharz is usually credited with developing the famed Vulcano technique in 1959. Commonly seen as a turning point within West German ceramics, the success of this prototypical "fat lava" décor led companies to recognize the possibilities of the surfaces of their glazes, and, in response, to turn away from patterns in favor of textures.
Gerharz retired from Ruscha in 1964 to set up a home workshop where he could continue independent research into glaze chemistry. One of Ruscha's best form designers, Kurt Tschörner, would soon follow him and help to form the namesake Otto-Keramik by 1970. Everything was hand-made at the new concern, and Gerharz was responsible for most of the glazing. His son (Otto, Jr.) took over the workshop in 1994.
---
KURT TSCHÖRNER is probably best known for the ceramic forms he designed for Ruscha Keramik, particularly the iconic jug vase no. 313 (1954)—considered by many to be among the best shapes to have emerged from the post-war German ceramics industry. Tschörner's tenure with Ruscha was prolific. When its art director, Otto Gerharz, left to form a company of his own, Otto-Keramik, in 1964, Tschörner went with him. Together, they produced all of that company's forms and décors well into the 1980s.
---
OTTO-KERAMIK was founded in 1964 in the town of Rheinbach in western Germany, 15 km southwest of Bonn, by Otto Gerharz—a former production director for Ruscha Keramik. His primary focus being the chemistry of glazes, upon leaving Ruscha, Gerharz set up a workshop at his house to vigorously research their formulation and behavior. In 1970 he moved operations to an industrial estate. Gerharz is usually credited with developing the famed Vulcano technique, commonly described as the prototypical fat lava glaze. Up until 1996, Gerharz produced all of the glazes for OTTO-KERAMIK; designer Kurt Tschörner, who had followed Gerharz from Ruscha, was similarly responsible for all of its shapes prior to 1987.
OTTO-KERAMIK always remained a small company with a dedicated group of never more than 20 employees. Output was limited, and nothing was ever mass-produced In 1994 Gerharz's son (who was also named Otto) assumed charge of production. When Ruscha Keramik closed its doors in 1996, OTTO took over some of its designs.
OTTO-KERAMIK is one of the last of the great post-war German art potteries still in operation. Today it is very important to OTTO-KERAMIK that their glazes are designed and manufactured in-house. Basic glazes are colored using various oxides and/or pigments; by firing multiple glazes on top of one another, OTTO achieves effects that reflect deep knowledge and generations of experience.
---
IDENTIFICATION: OTTO items are distinct in that, until quite recently, all the bases were covered with felt in a range of different colors. Beneath the felt, the clay is white and flat, and the bases are unnumbered. (Some more modern items have numbered bases and are not always covered with felt.) Pieces are often found with labels—older pieces having a long, thin paper sticker and more recent pieces, an oval, gold-foil one.
---
DETAILS
Maker – OTTO-KERAMIK
Production Period/Year – 1970s
Designer – KURT TSCHÖRNER
Design Period/Year – 1970s
Origin – WEST GERMANY
Styles/Movements – RUSTIC; MID-CENTURY MODERN
Materials – CERAMIC
Colors – ALMOND, CAMEL, STONE
Condition – Excellent vintage condition. May show minor signs of age and previous use.
Dimensions – 3 ¾" W × 3" D × 8" H