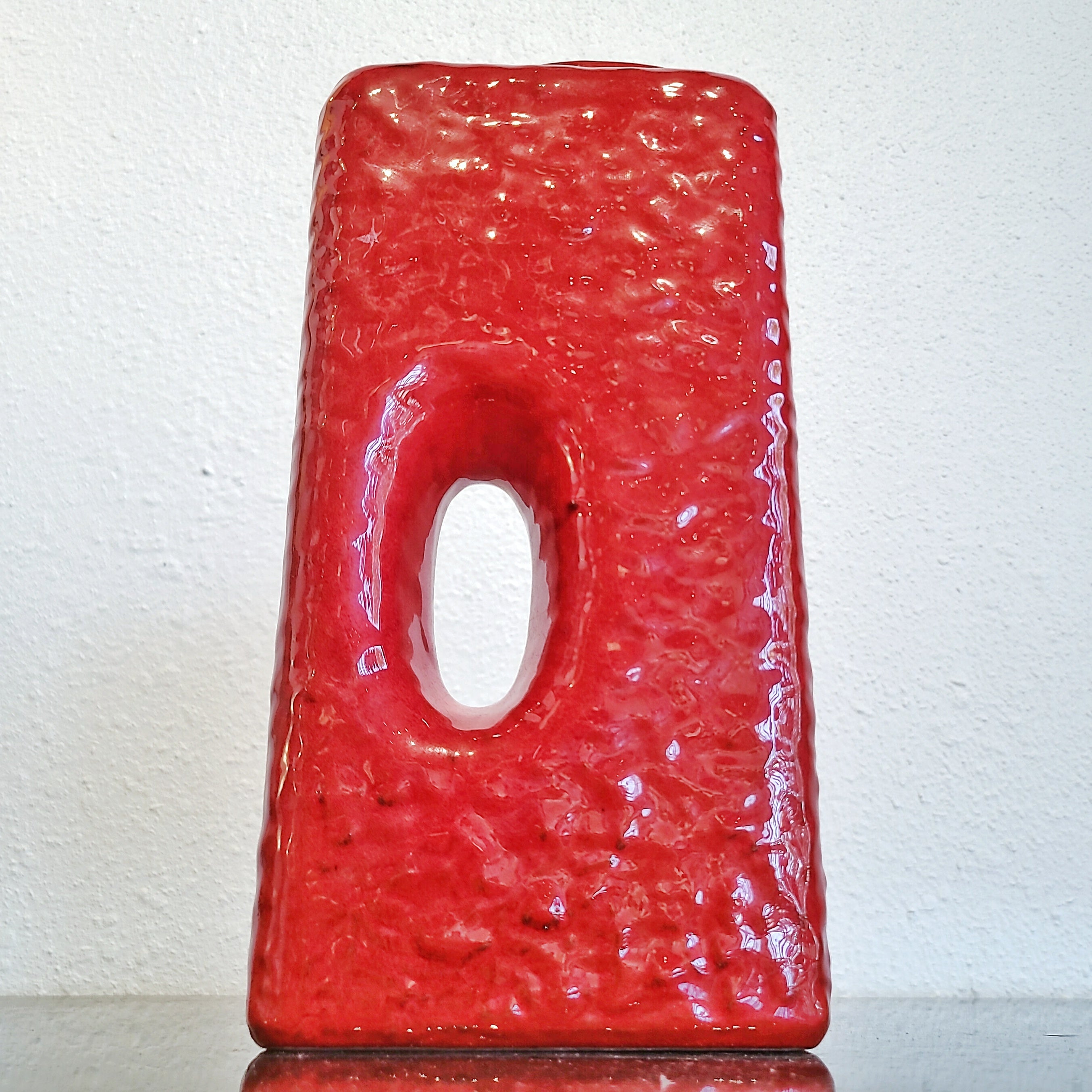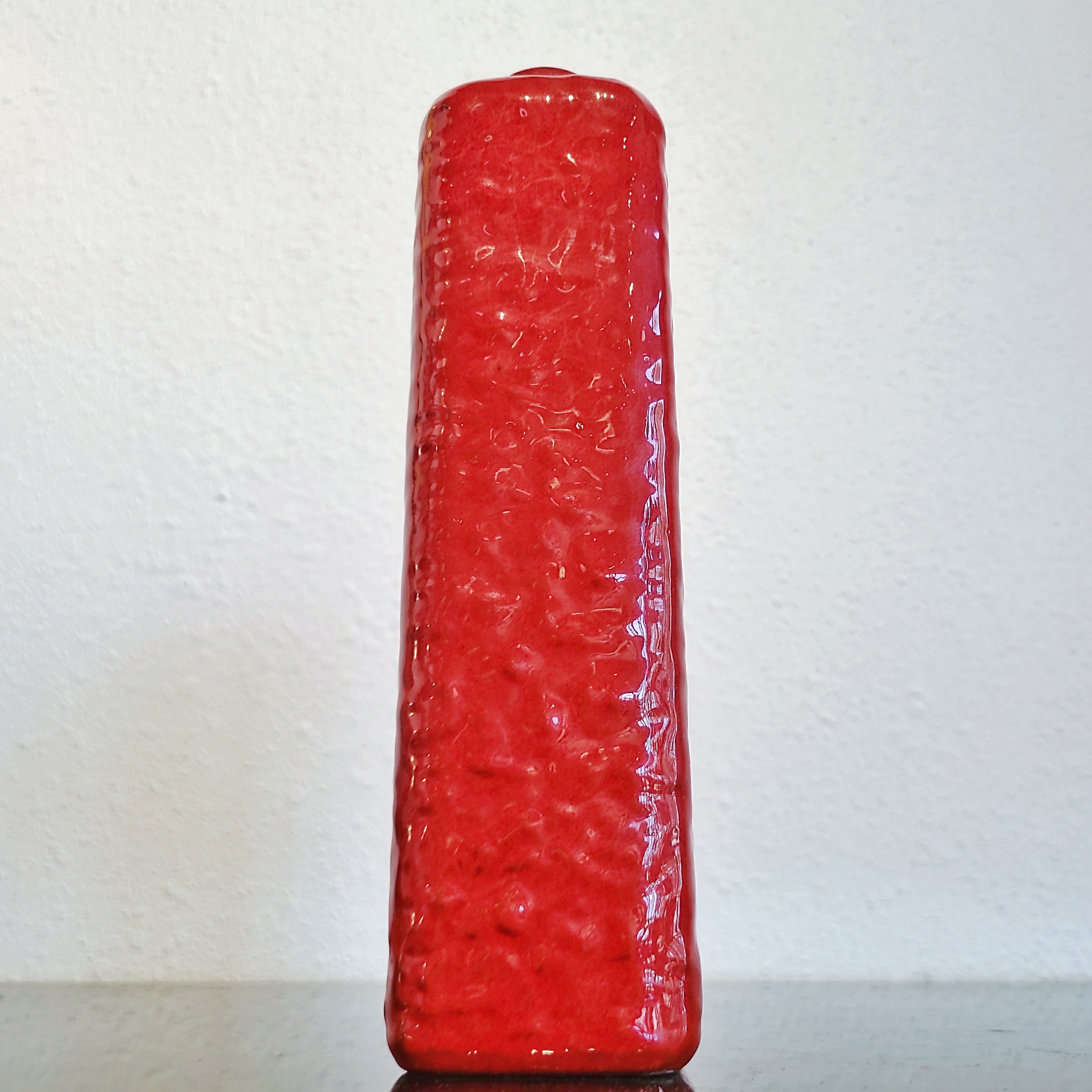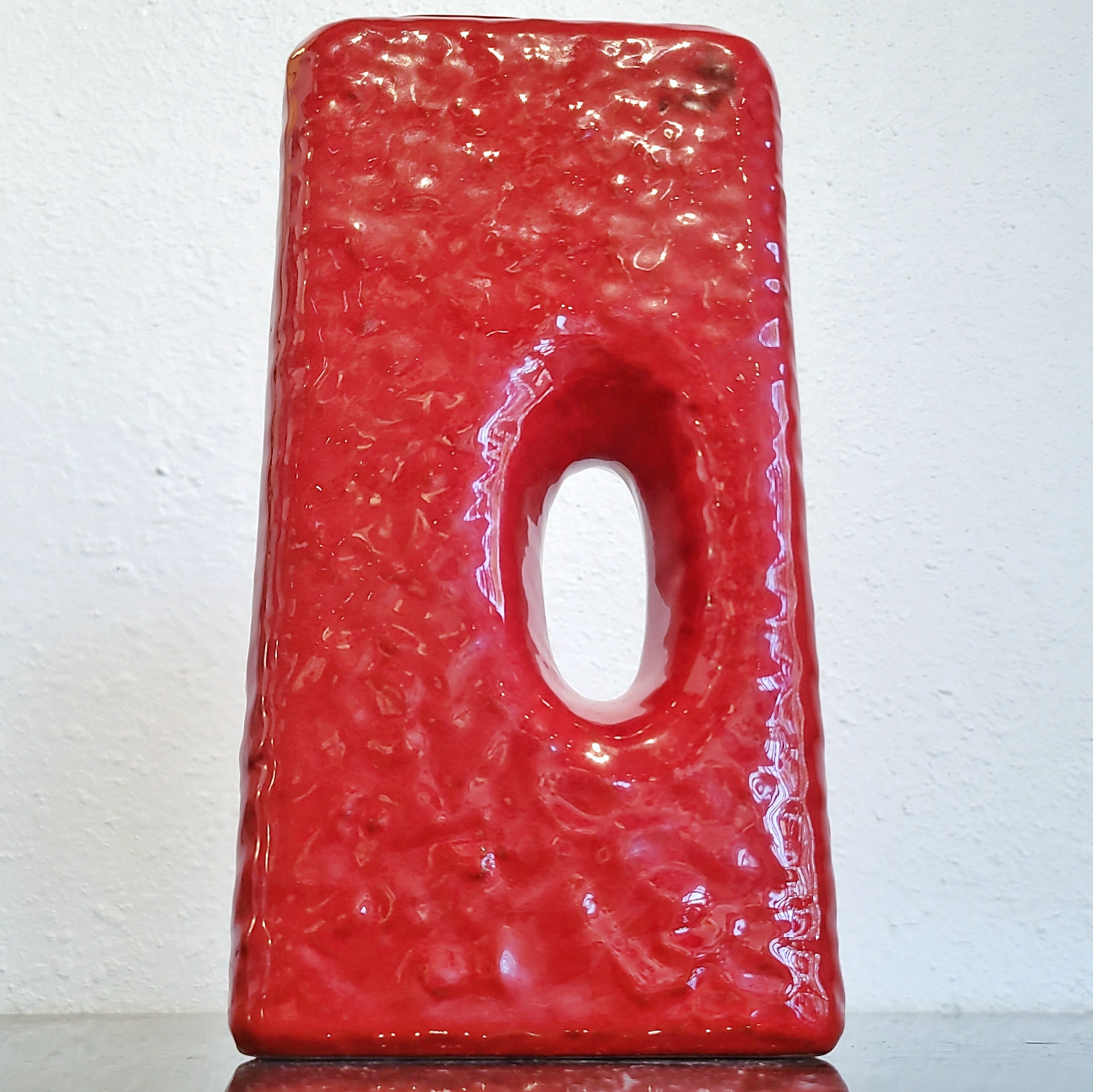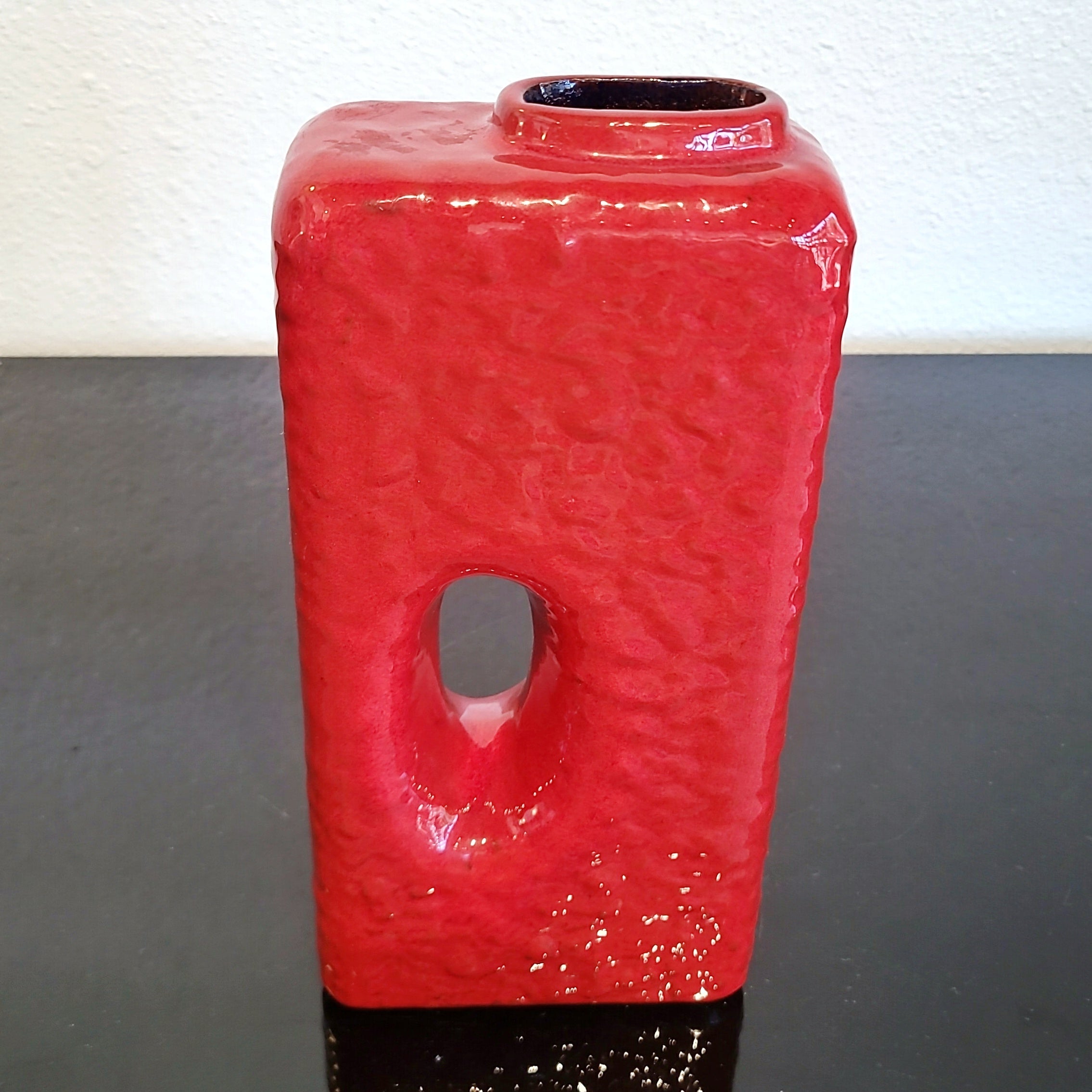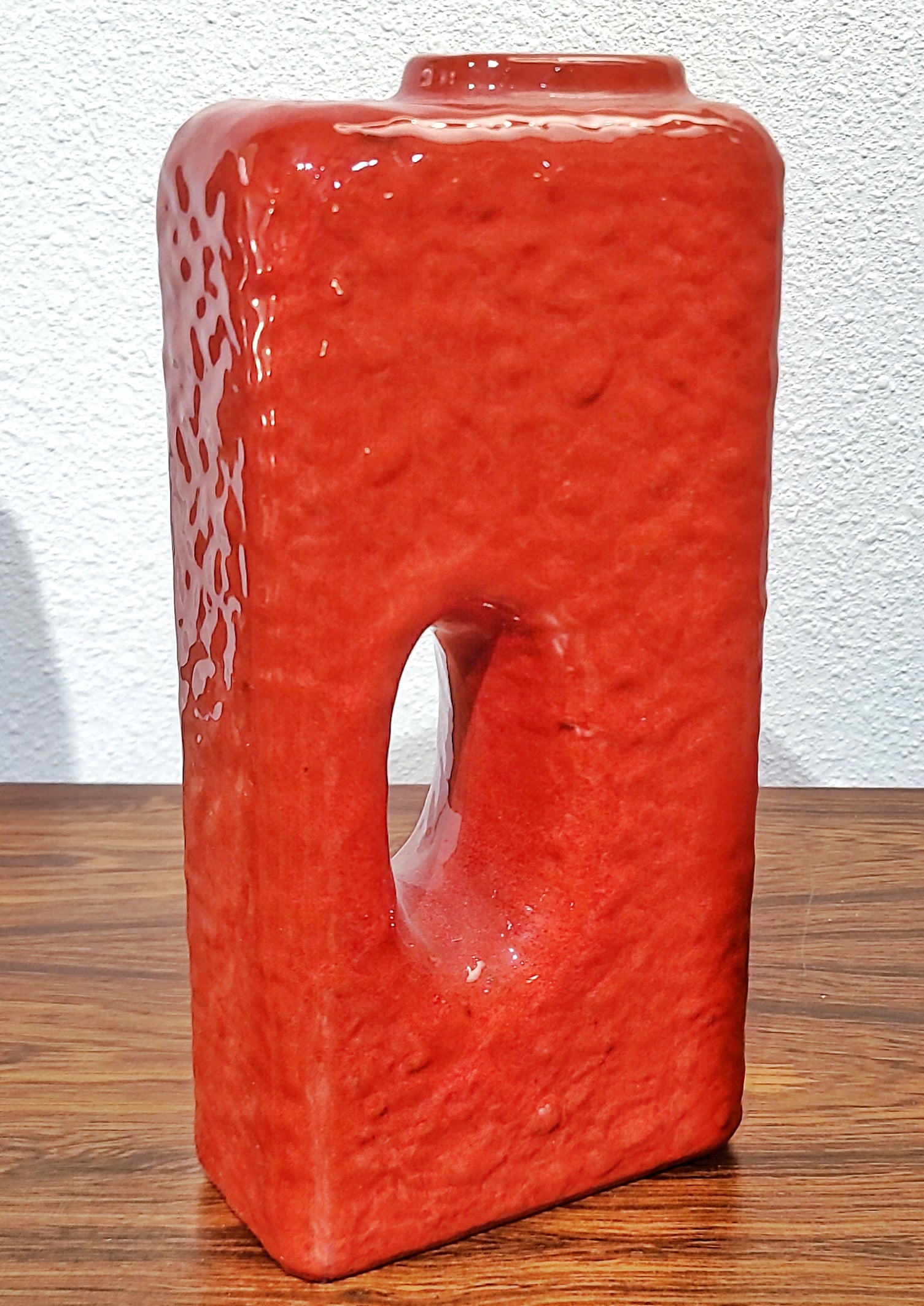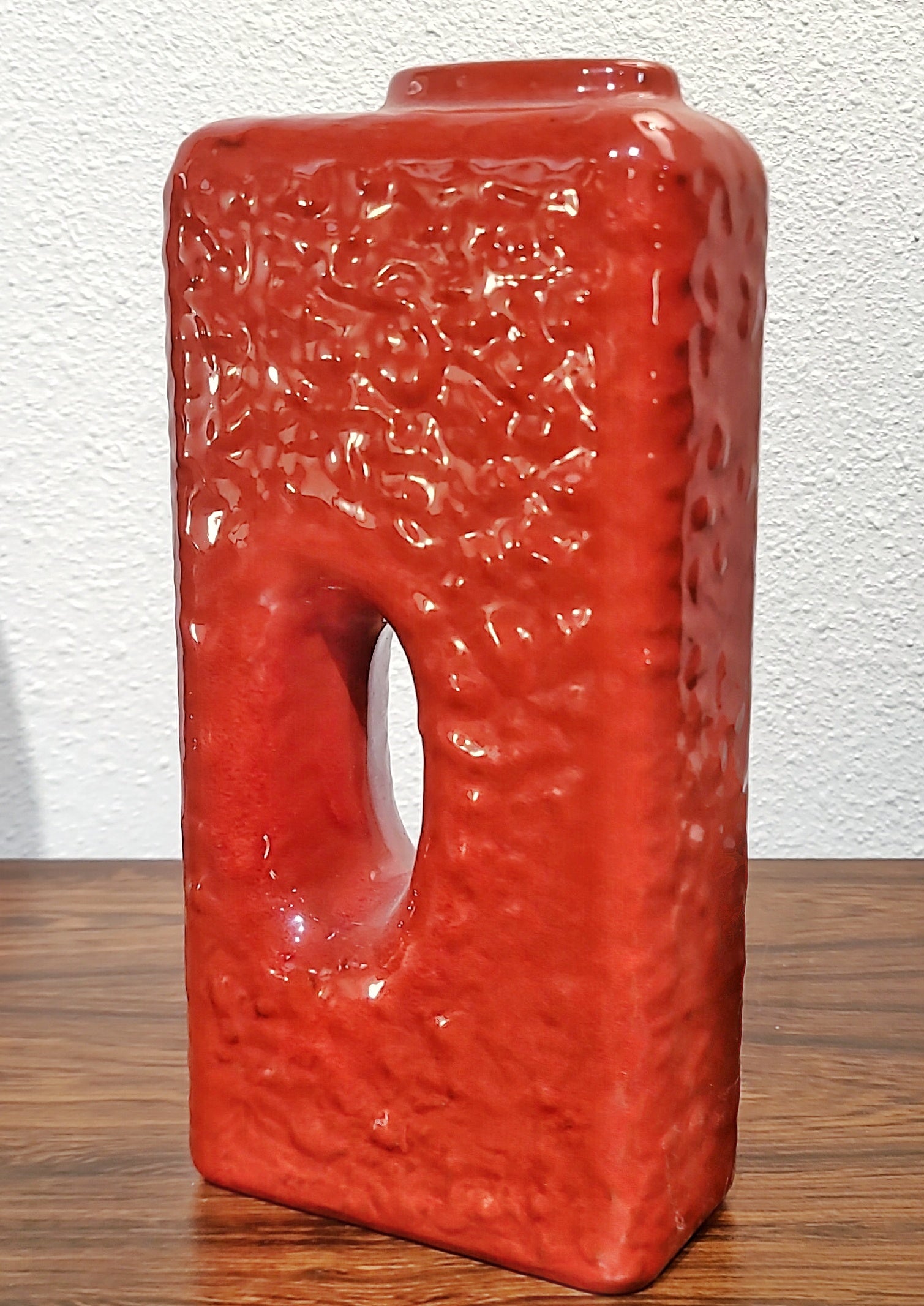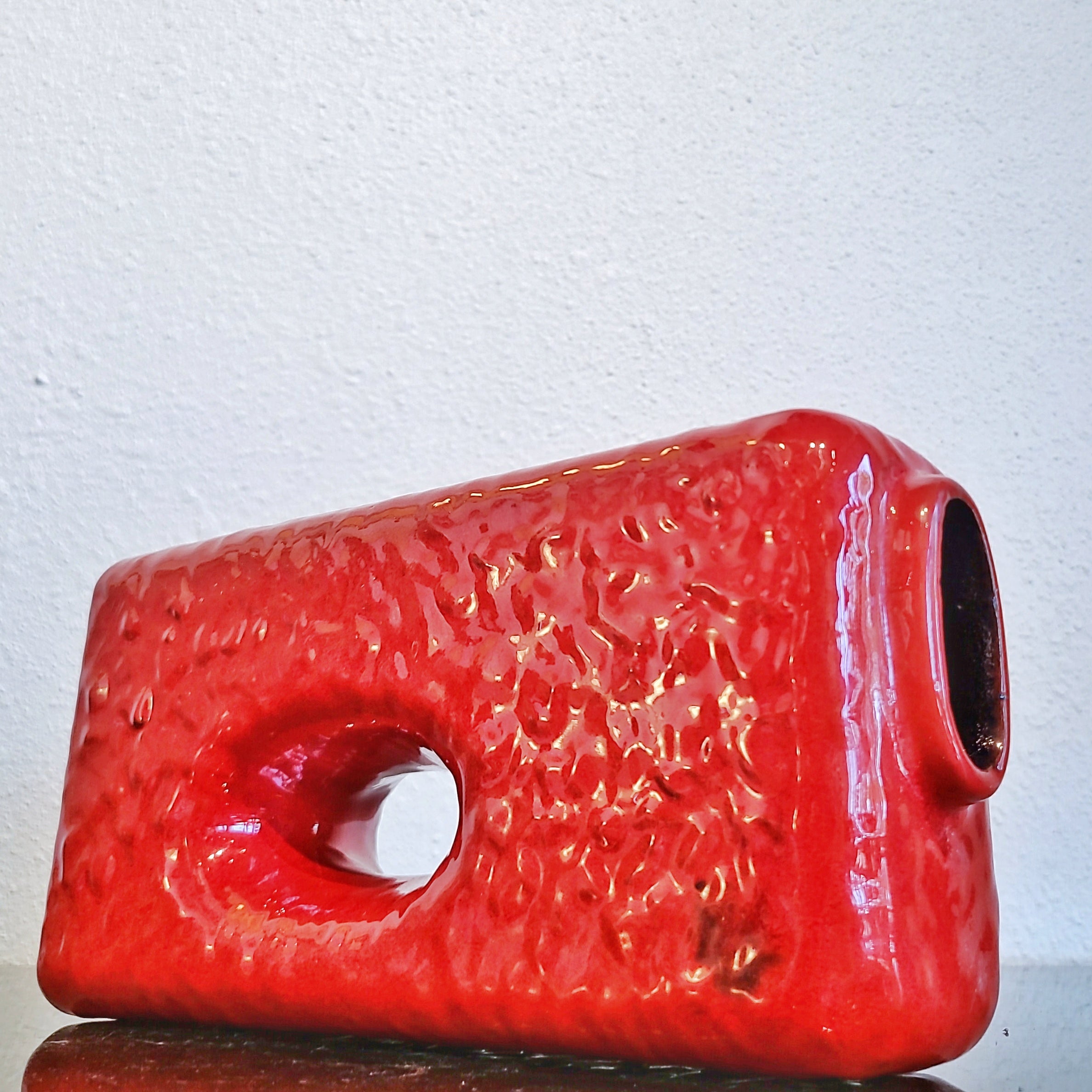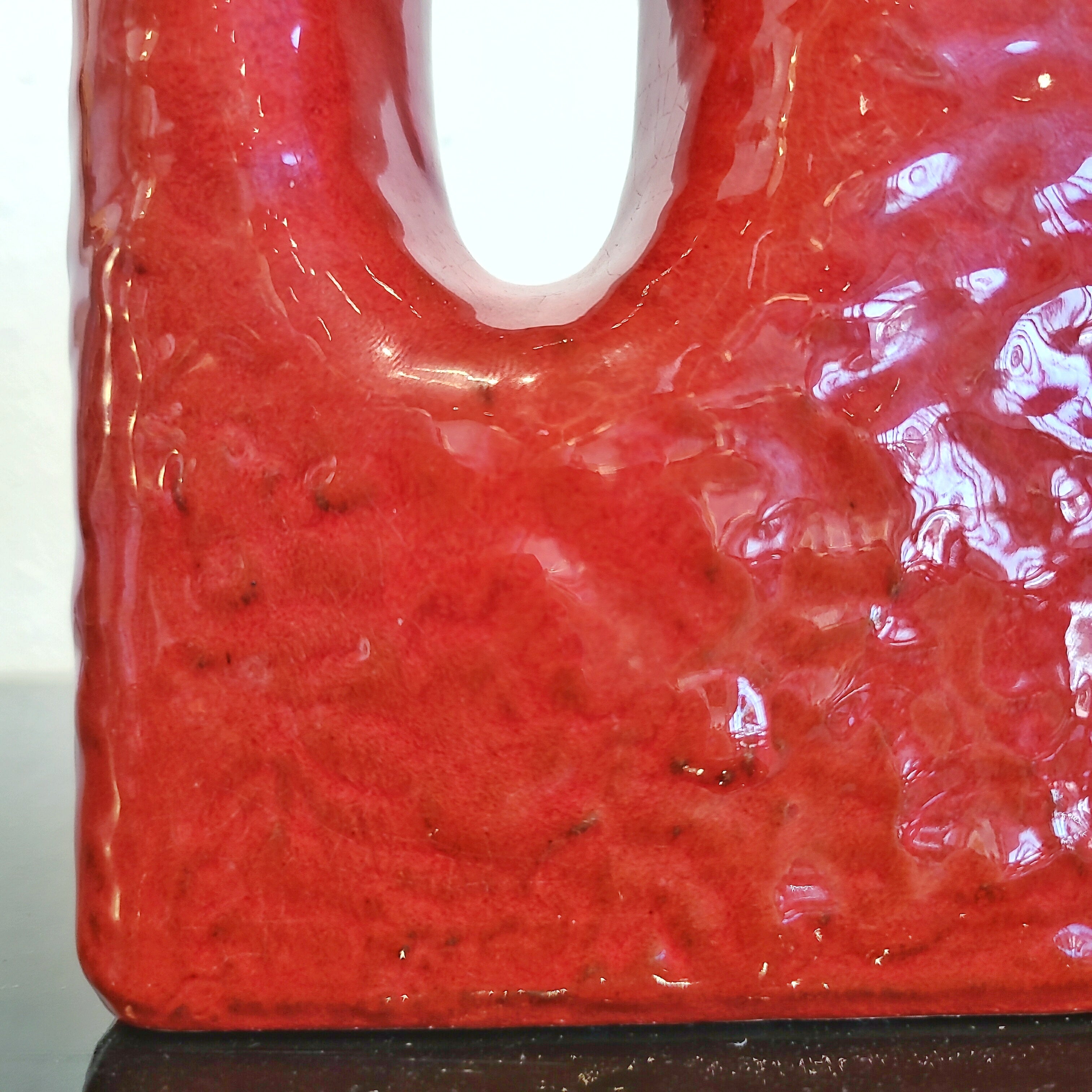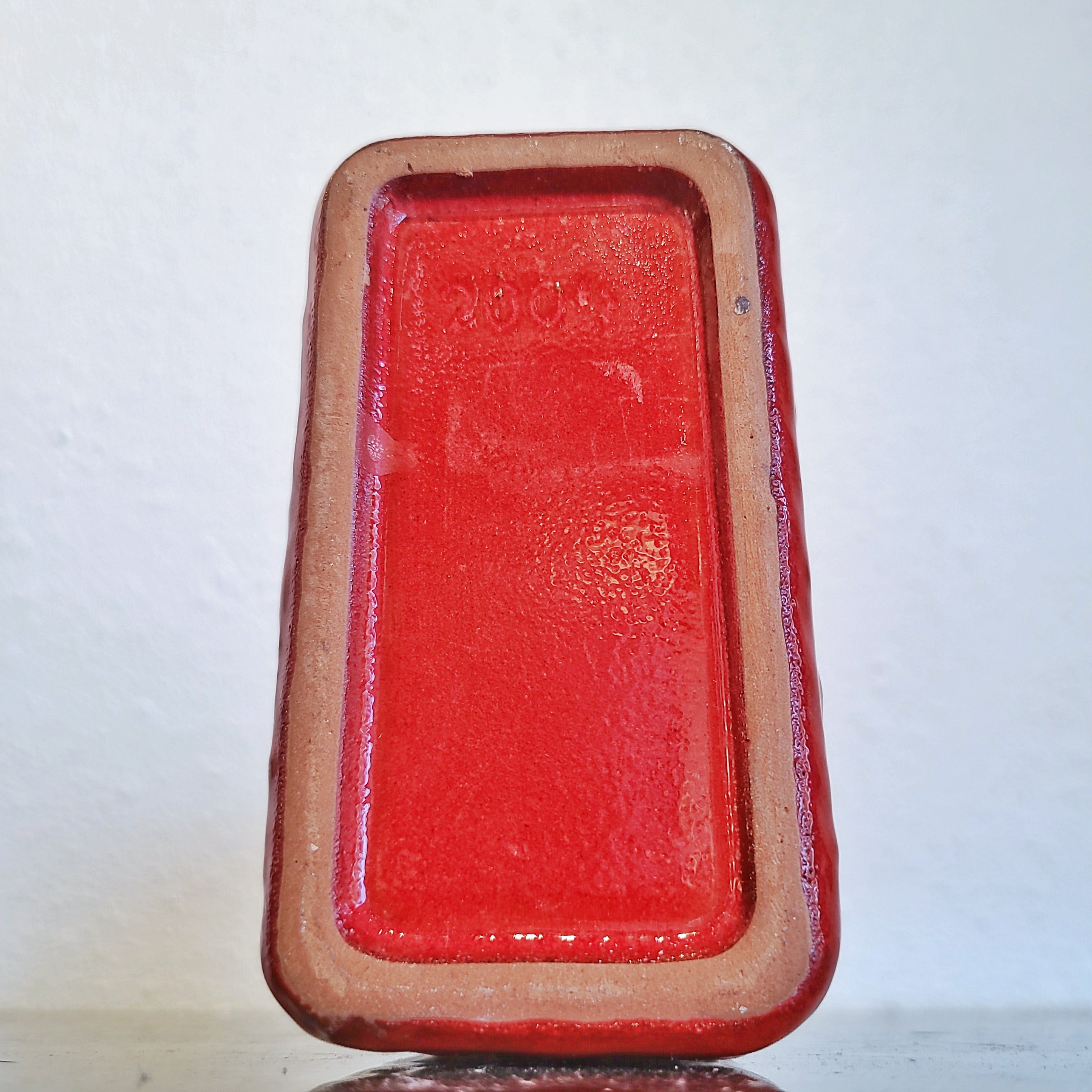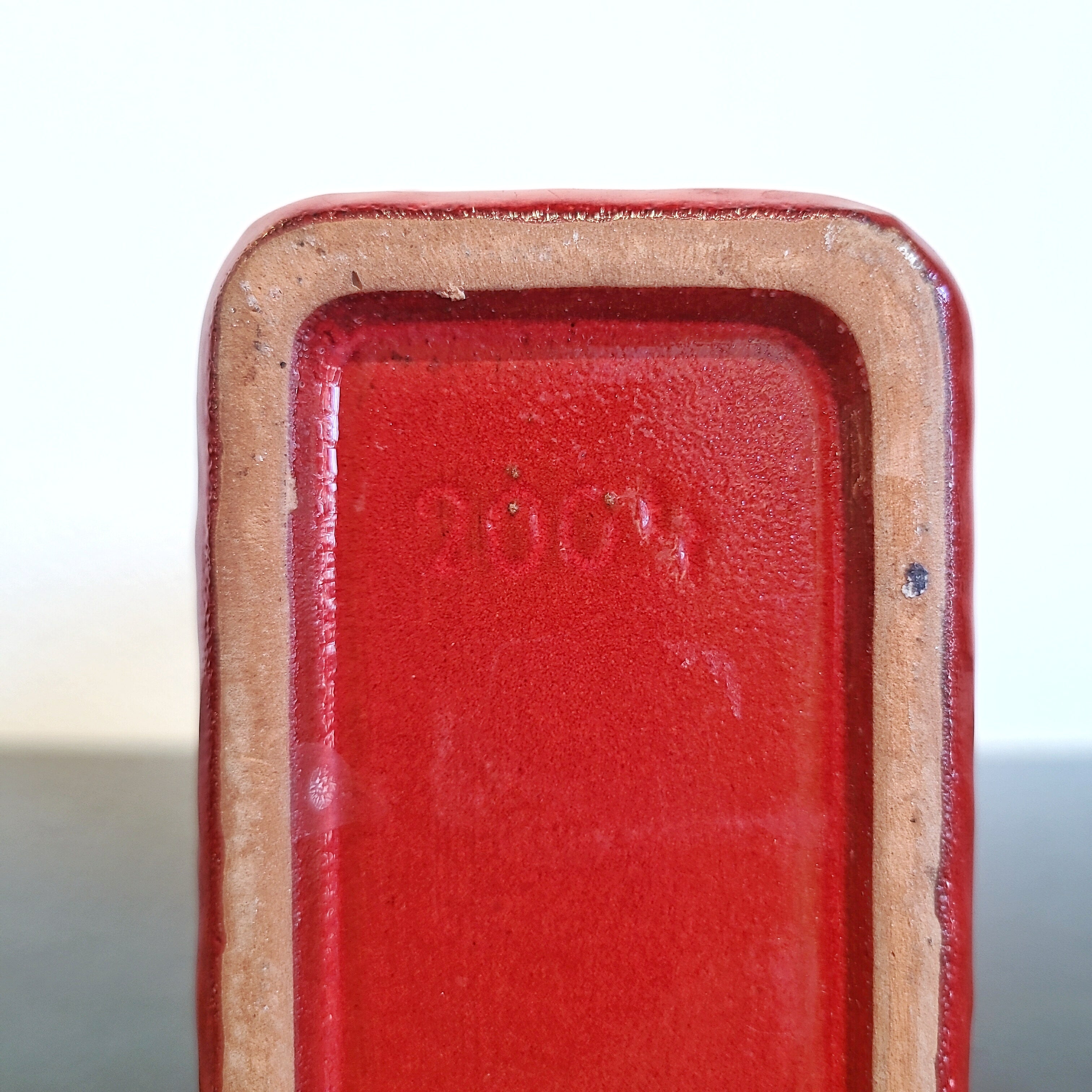 10-INCH MAREI CHIMNEY VASE Nr. 2004 (1970s)
CONTACT US HERE ABOUT THIS ITEM.
A heavy-duty MAREI KERAMIK chimney vase with a lumpy fat lava glaze in shiny red. Form Nr. 2004. Produced in the 1970s.
MAREI KERAMIK was founded in the town of Rheinbach, about 20 km southeast of Bonn in Western Germany, as Majolikafabrik Rheinbach Jean Fuss & Sohn in 1948. That was the year that financial difficulties associated with war forced the potter Fuss and his erstwhile partner, the modeler Josef Emons, to dissolve their terracotta business. Fuss & Emons had been launched in 1921, when the two men left employment with Klein & Schardt, the predecessor of Ruscha Keramik. Its output consisted of flowerpots, ornamental ceramics, and eventually drainage pipes. With the start of WWII, production came to a near standstill—with the exception of the inserts for the so-called "Hindenburg Leichter," an important source of wartime emergency lighting. The full program was resumed as conditions normalized after the war; nevertheless, the men decided to part ways. (Emons established ES [Emons & Sohne] Keramik with his sons in the same year.)
In 1951 Jean Fuss's son unexpectedly died in an automobile accident. The company retained its legal name, but it did adopt the DBA "MAREI" at that point—a syllabic contraction of MAjolikafabrik RhEInbach. The focus of MAREI's initial production program was flowerpots and vases with simple surface decorations, often hand painted in engobe. In 1957, however, daughter Hildegard Fuss and her husband Wolfgang Bruchhausen joined the family business (the latter would soon assume management of the company). Soon thereafter they engaged the well-known designer Bodo Mans to enrich the MAREI product line. When Mans left a year later, he was succeeded for a short time by Walter Weiland. Weiland in turn moved on to Fohr Keramik where he rose to head of design.
It was once generally thought that MAREI had been a fairly small company and that their output peaked in the 1950s. However, further research has shown that it was actually something of a manufacturing powerhouse and that some of its best work was produced in later decades. Catalog discoveries have credited to MAREI many pieces previously attributed to Roth Keramik. (The work of historians has been confounded by MAREI's unhelpful practice of reusing both form numbers and glaze names over the years.)
MAREI's most important design work dates to the '60s and '70s and is represented by decorative, vitrified, vases, jugs, and wall tiles—many of which recall the products of Keto, Ruscha, and Roth. Their most iconic designs include the Penguin Vase—so called because of its silhouette's resemblance to the bird—and the Chimney Vase series (the "chimney" in question is a prop used in firing to create a lateral hole, or holes, in a vase).
NOTED DÉCORS:
Brügge, comprised of raised arabesques made with glaze strings, perhaps inspired by the lace industry of Bruges, capital of West Flanders in Belgium.
Capri, named for the small island off the west coat of Italy near Naples, its blues likley reflect the Mediterranean waters.
Kolibri, German for hummingbird, evocative of the bird's iridescent colors and specialized feathers. (Tagged "snakeskin" by collectors.)
Kuba, colorful patchwork including a preponderance of matt terra-cotta panels, designed by Bodo Mans in 1958.
Narvik Lilac, named for a Norwegian town within the Arctic Circle; smooth matt lilac underglaze topped with a foaming, white and yellow diffusion.
The MAREI brand would survive until 2016 when the firm closed its doors.
DETAILS
Maker – MAREI
Production Period/Year – 1970s
Origin – WEST GERMANY
Styles/Movements – MID-CENTURY MODERN
Materials – CERAMIC
Colors – RED
Condition – Excellent vintage condition; no damage. May show some signs of previous use.
Dimensions – 4 ¾" W × 2 ½" D × 10" H