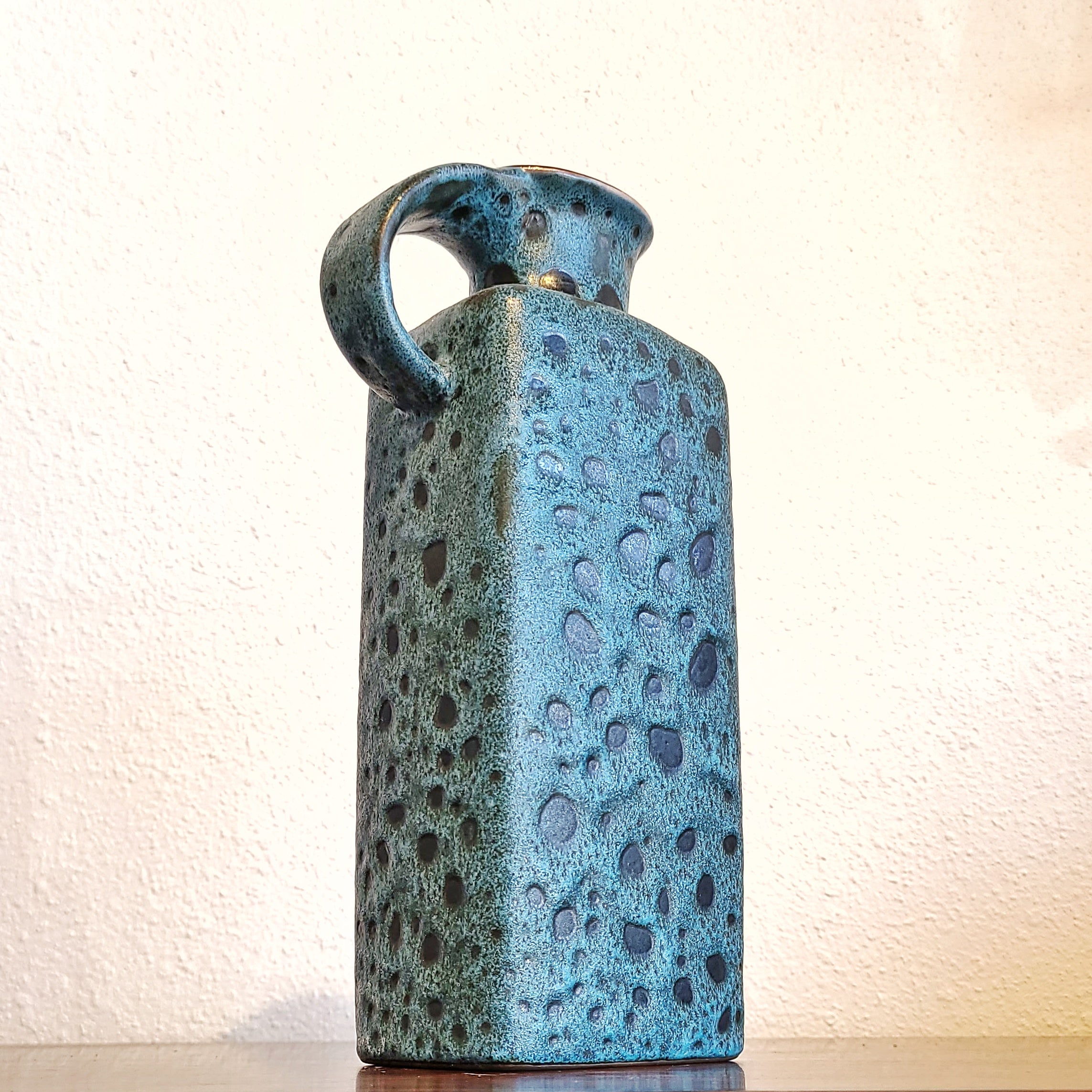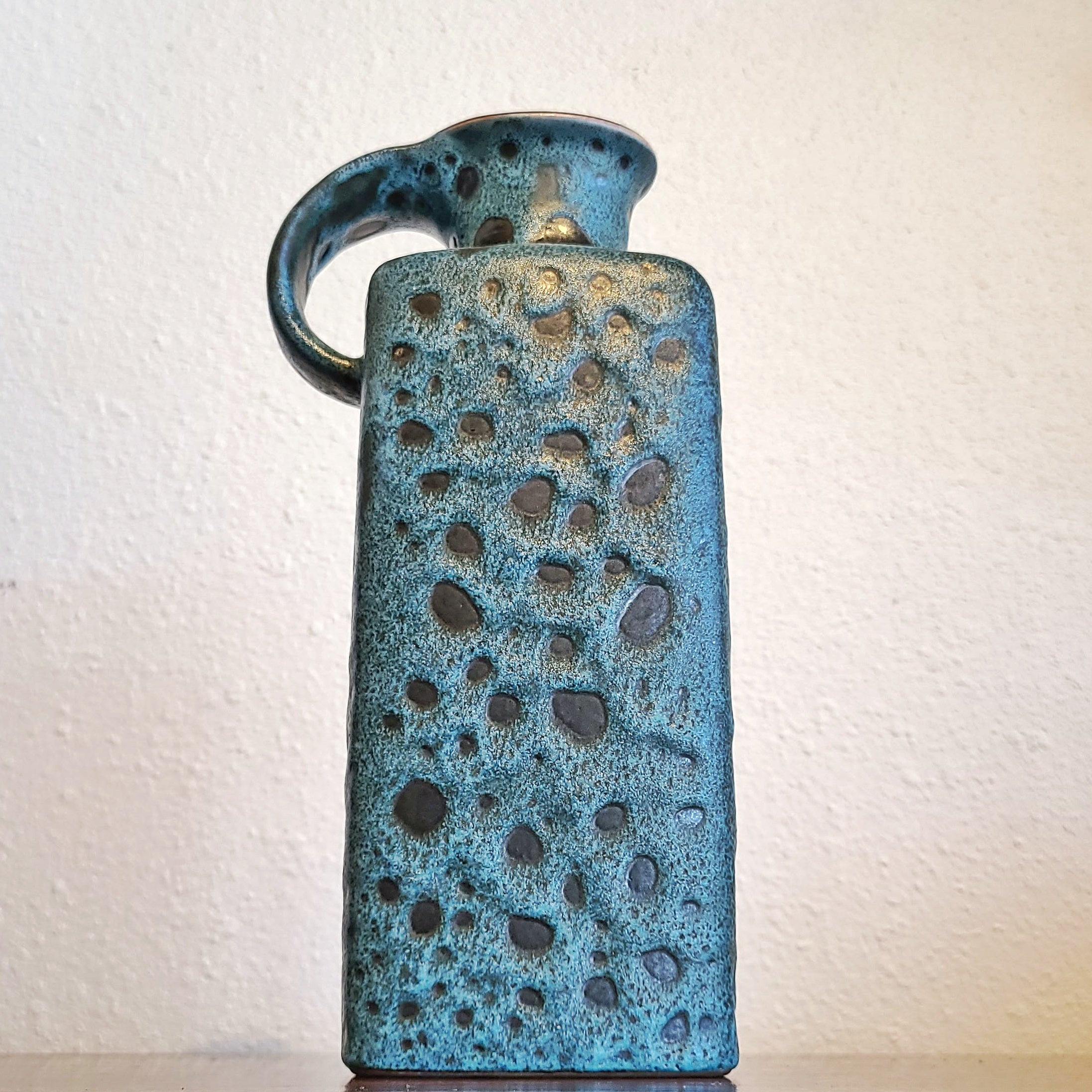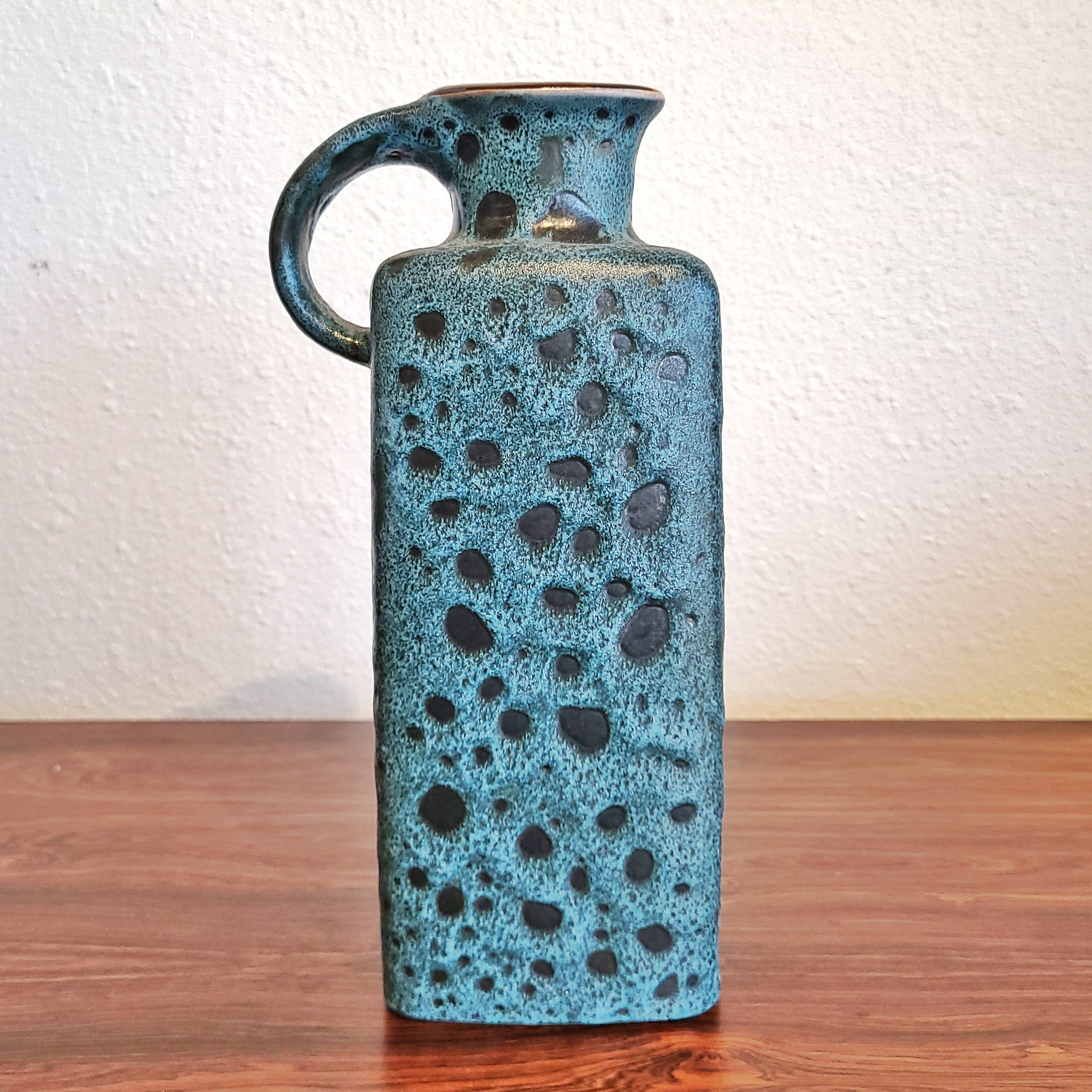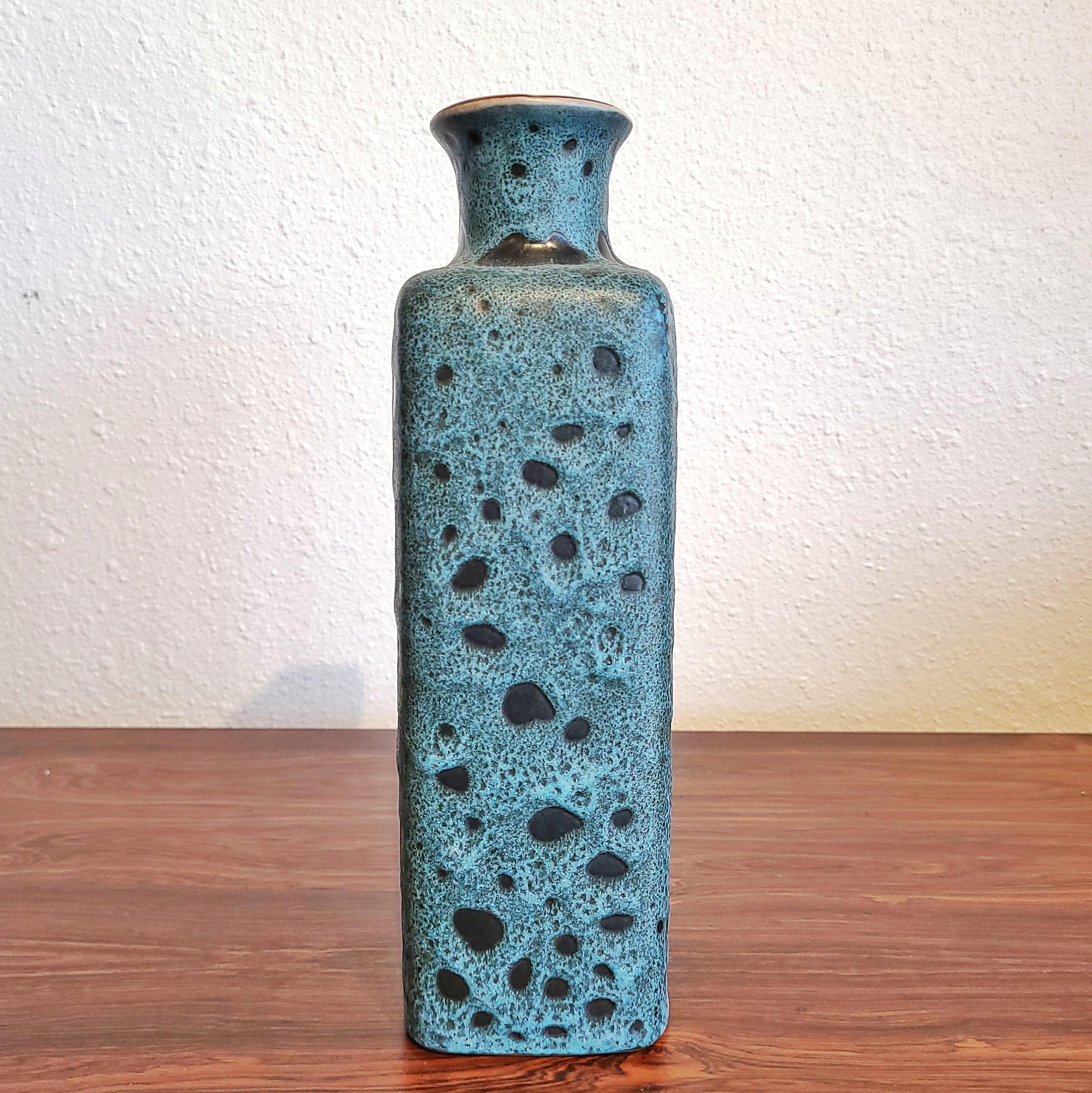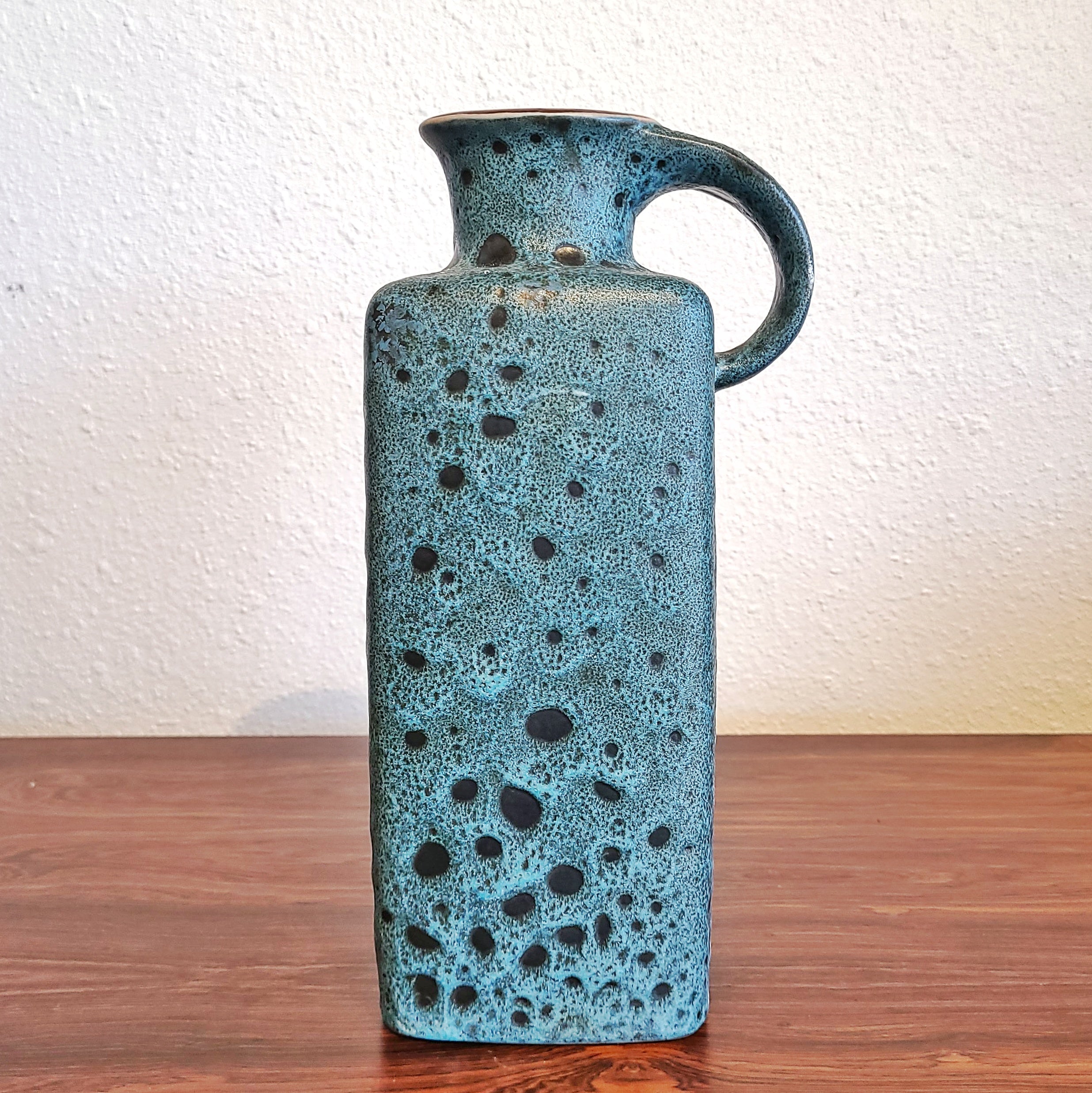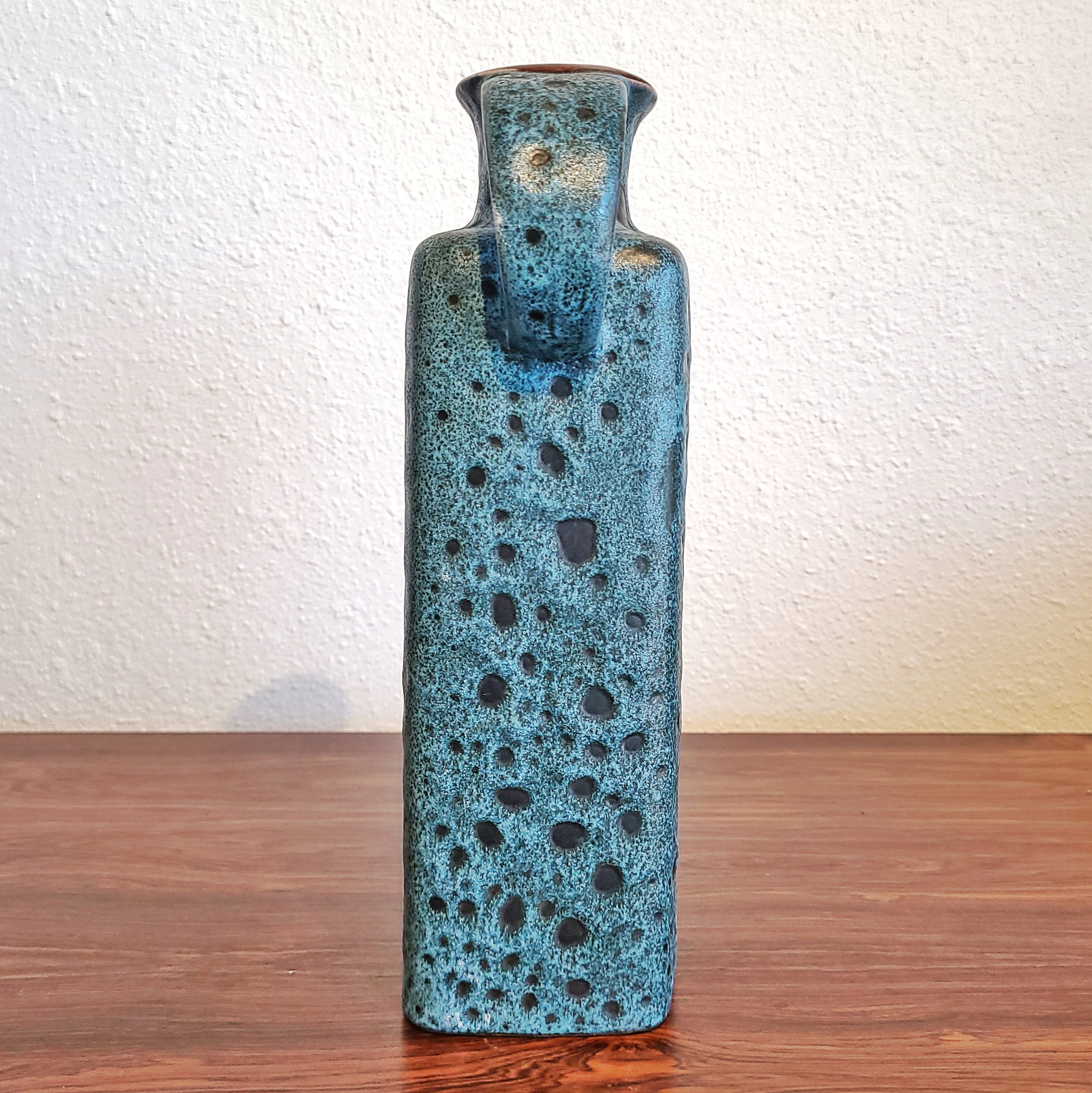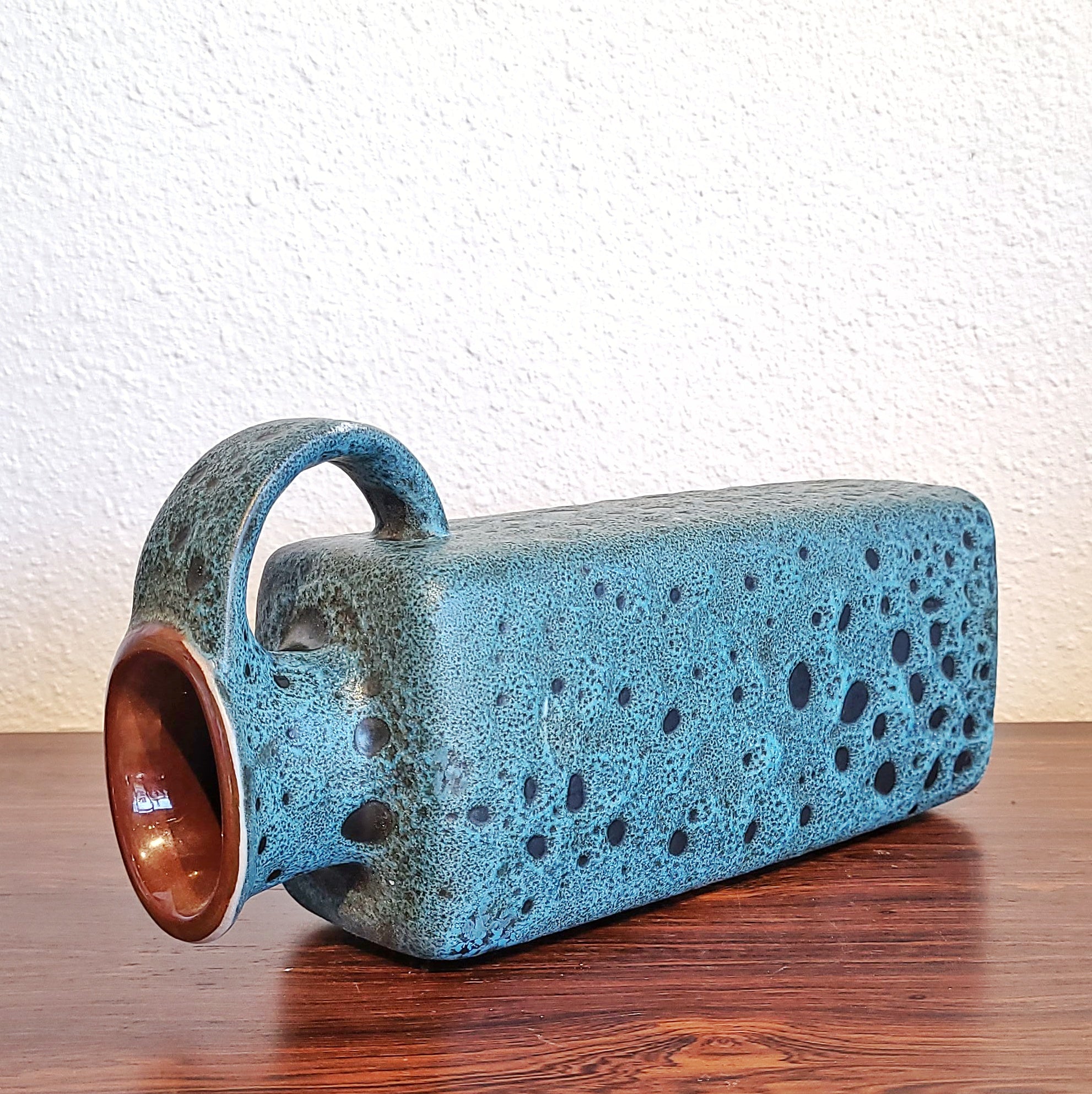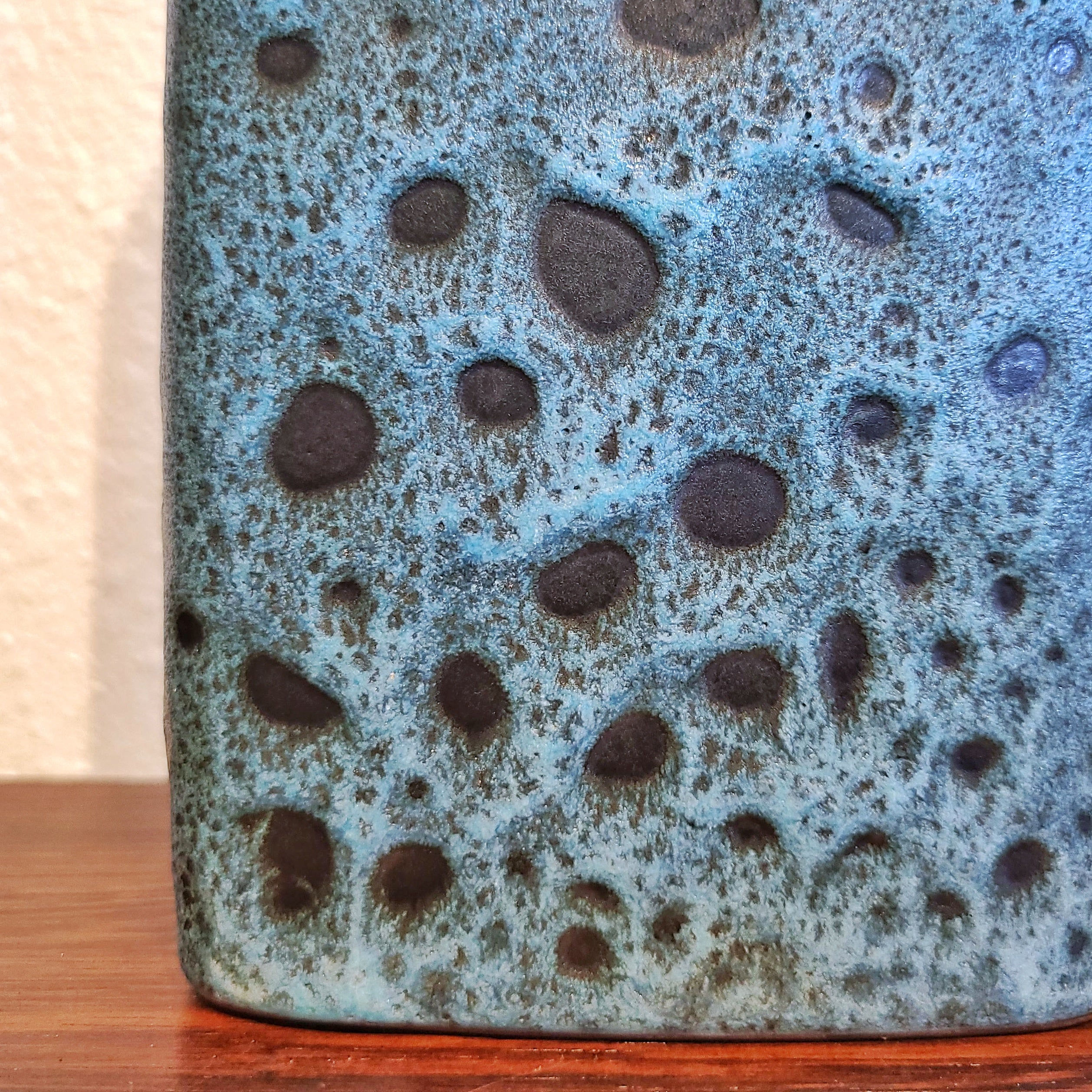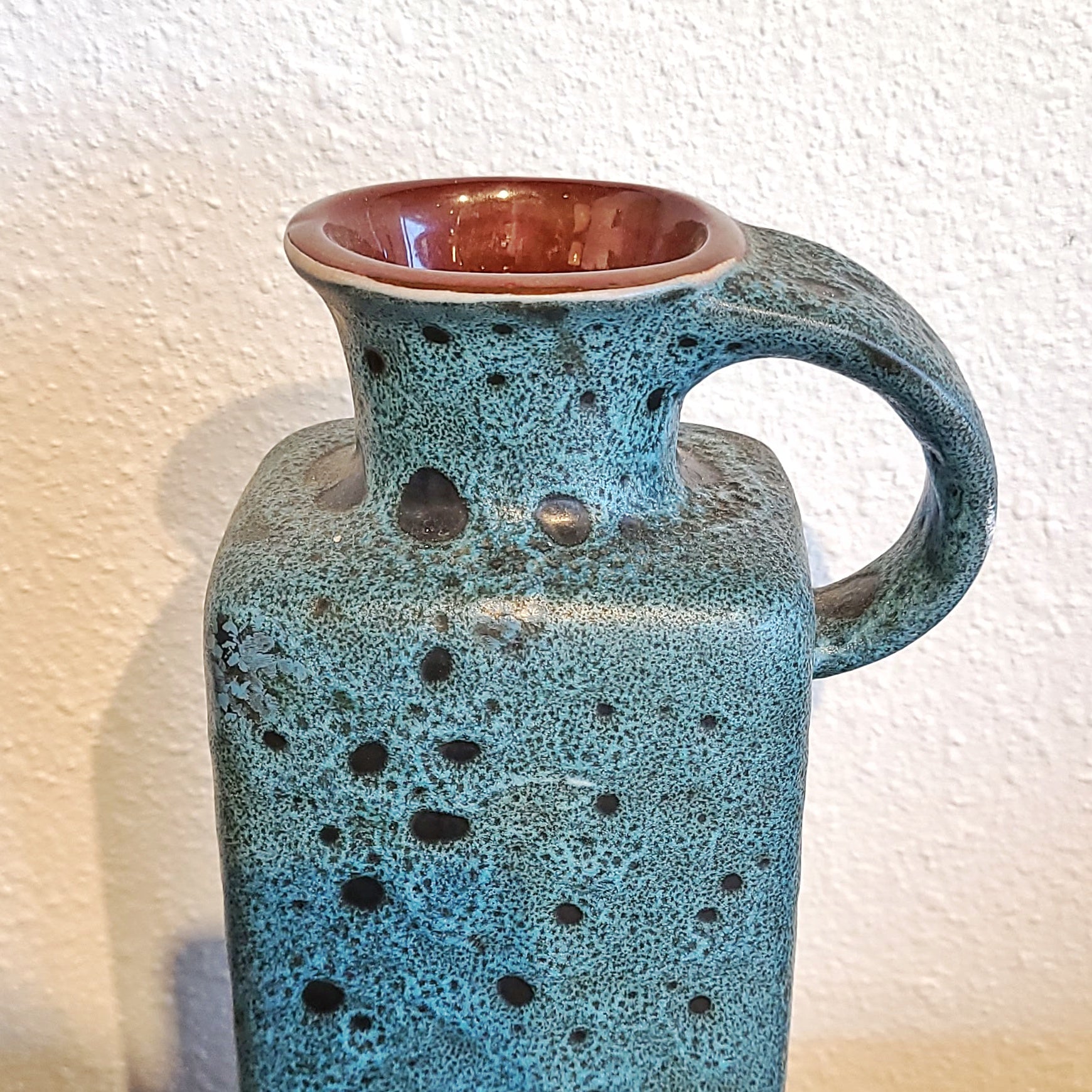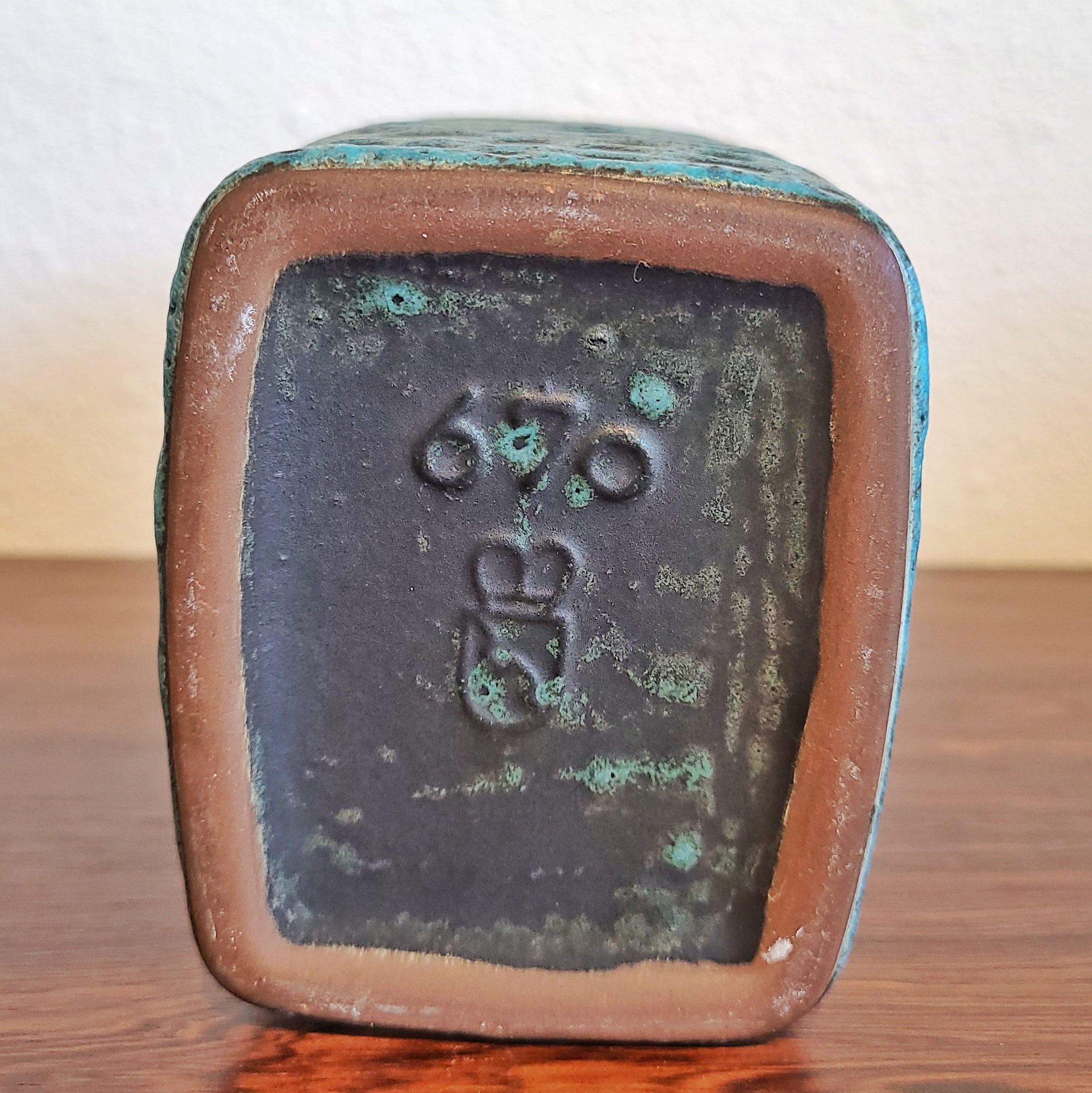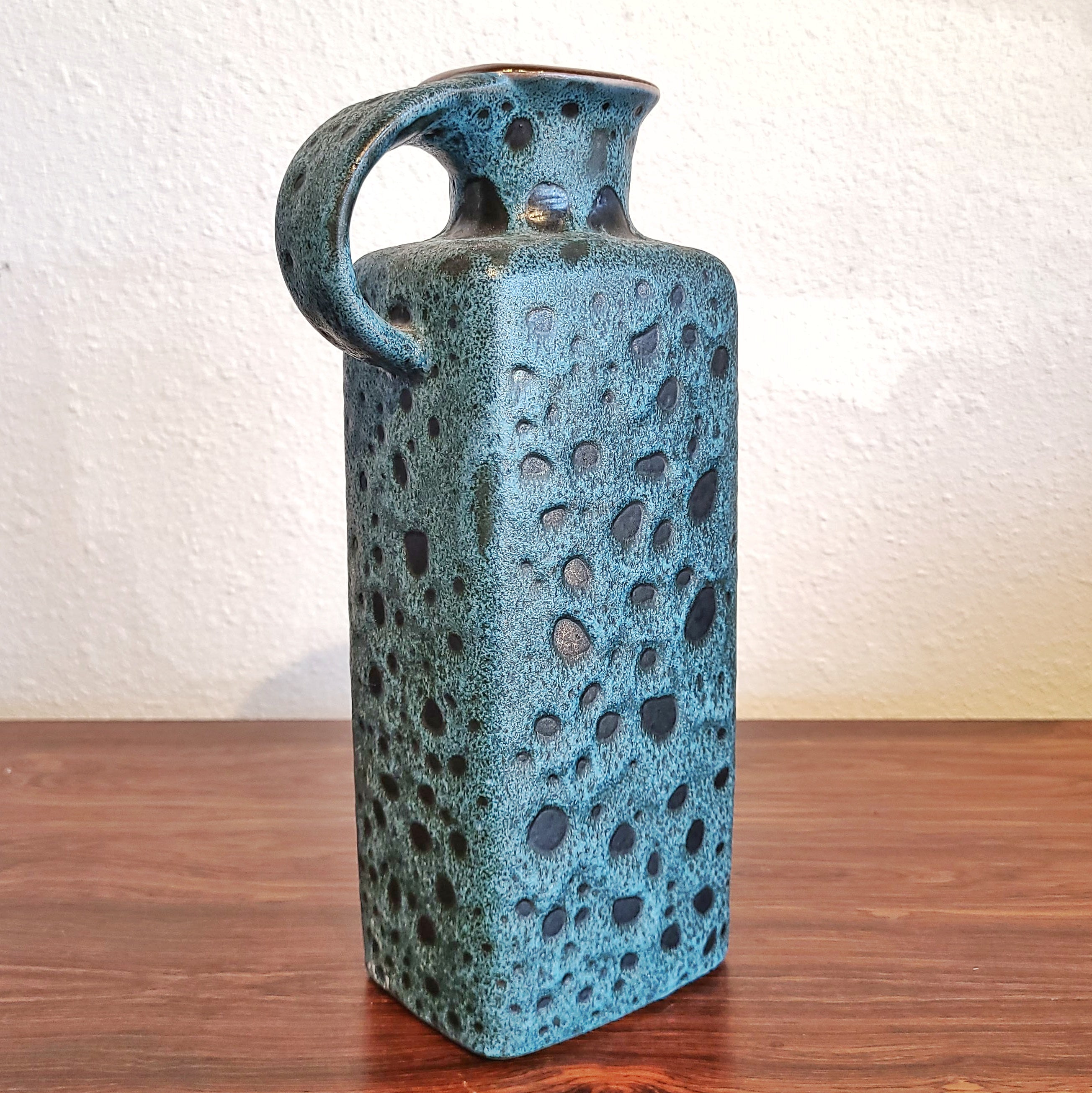 GRÄFLICH ORTENBURG TURQUOISE HANDLE VASE Nr. 670
CONTACT US HERE ABOUT THIS ITEM.
A gorgeous 1960s era rectangular handle vase covered in a flowing mat fat lava glaze of turquoise on black with a glossy brown interior.  The Bauhaus inspired design was created by Ursula Beyrau for Gräflich Ortenburg.
GRÄFLICH ORTENBURG was founded in 1946 by Hungarian count Alram Graf zu Ortenburg (1925 - 2007) on his family's estate in Tambach, Germany. Several clay pits had been developed on the property in 1939, and upon inheriting it, the Count decided to open a ceramics workshop in a side wing of his castle, Schloß Tambach. Initial production focused on ornately painted vases, bowls, and wall plates, all decorated by hand in an affiliated studio. As the decades progressed, more and more exciting Modernist designs—especially out of Italy—caught the Ortenburg's eye, and he re-aligned the studio's aesthetic to take advantage of this new post-War trend.
In 1949 the workshops in Gräflich began producing coffee and tea services. For cost reasons, only very few pieces were hand-painted at this point. International designers such as Tunisian sculptor Sebastiano Buscetta and American stylist Irene Pasinski were hired; their modern contributions to the product lines helped the company rise to international success.
From 1962 to 1967 Ursula Beyrau worked as a form and decor designer in the GRÄFLICH ORTENBURG stoneware factory.  Much of this later production was known for its heavy, rounded, Bauhaus-inspired shapes made of dark red clay. The period's glazes were luxurious—thick and glassy. These innovations achieved great popularity as the post-war German art pottery industry burgeoned, but In 1968, due to flagging sales, the Count closed down the ceramics studio and (as he was a sportsman) converted his estate into a game reserve. It survives to this day as a wildlife park.
URSULA BEYRAU (b.1931) passed her apprenticeship examination in pottery in 1951 after training with Paul Dresler and Margarete Pilger in the Grootenburg pottery workshop.  From 1954 to 1956, she studied with Otto Lindig in Hamburg, and then spent a year studying in Paris and the South of France.  In 1959 she worked for A. Schweizer in Steffisburg,  and then as a form and decor designer at Kermos-Keramik in Sulgen from 1960 to 1962.  Until 1967 she worked as a form and decor designer in the Gräflich Ortenburg stoneware factory in Tambach.  In 1969 she went to Lower Rhenish, where she worked as an architectural ceramics designer in Emmerich-Vrasselt, and then in her own ceramic studio in Emmerich since 1982.  In addition to ceramic decorative and utility objects, her work also includes ceramic wall reliefs of various formats with glazes that she developed herself.
| | |
| --- | --- |
| Designer | URSULA BEYRAU |
| Manufacturer | GRÄFLICH ORTENBURG |
| Design Period | 1960 to 1969 |
| Production Period | 1960 to 1969 |
| Country of Manufacture | Germany |
| Identifying Marks | This piece has an attribution mark |
| Style | Vintage, Mid-Century, Minimalist, Modernist |
| Detailed Condition | Excellent — This vintage piece is in near original condition. It may show minimal traces of use and/or have slight restorations. |
| Product Code | |
| Materials | Ceramic |
| Color | Turquoise, black, brown |
| Width | 5.3 inch |
| Depth | 3.3 inch |
| Height | 11.3 inch |