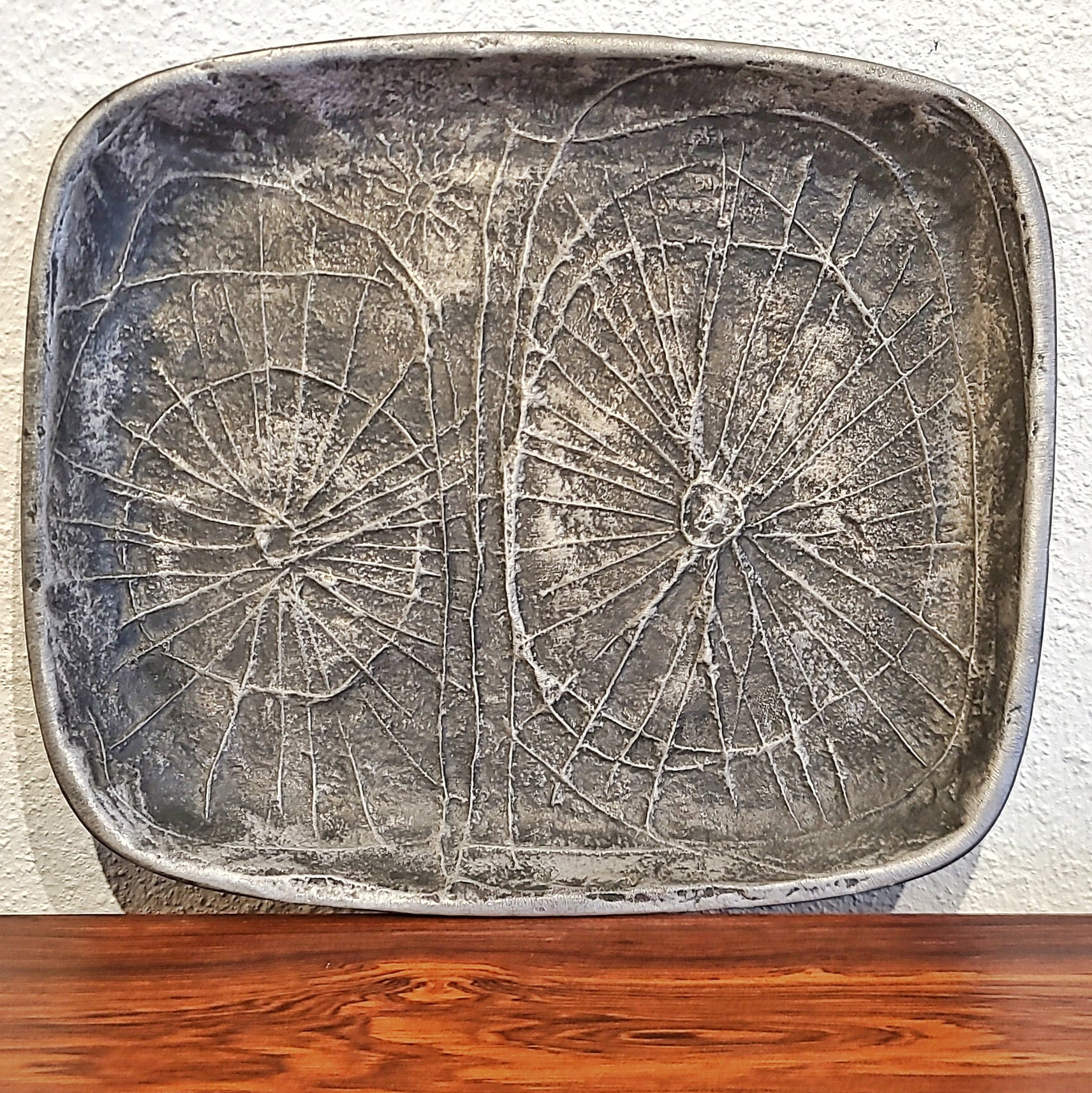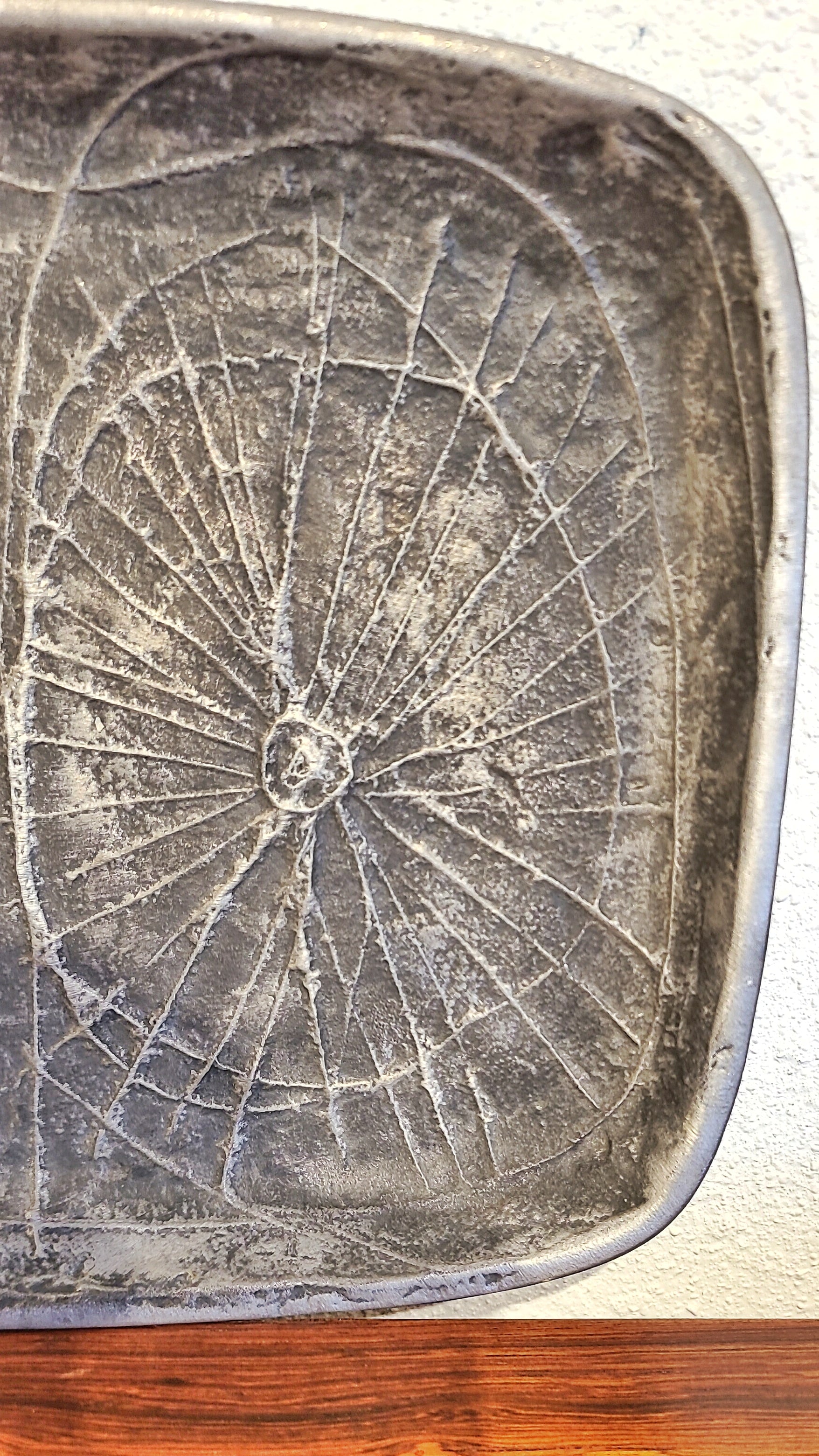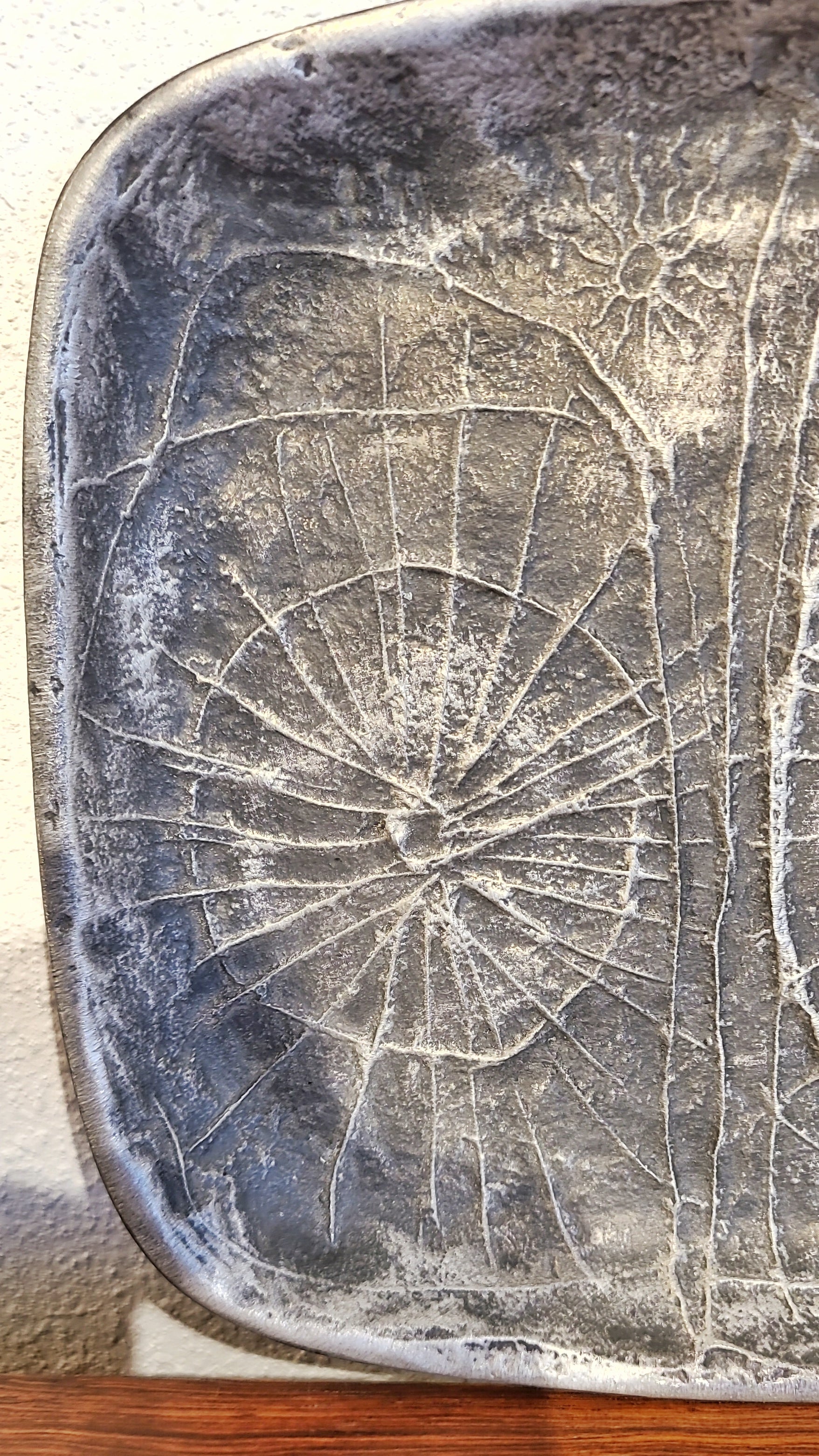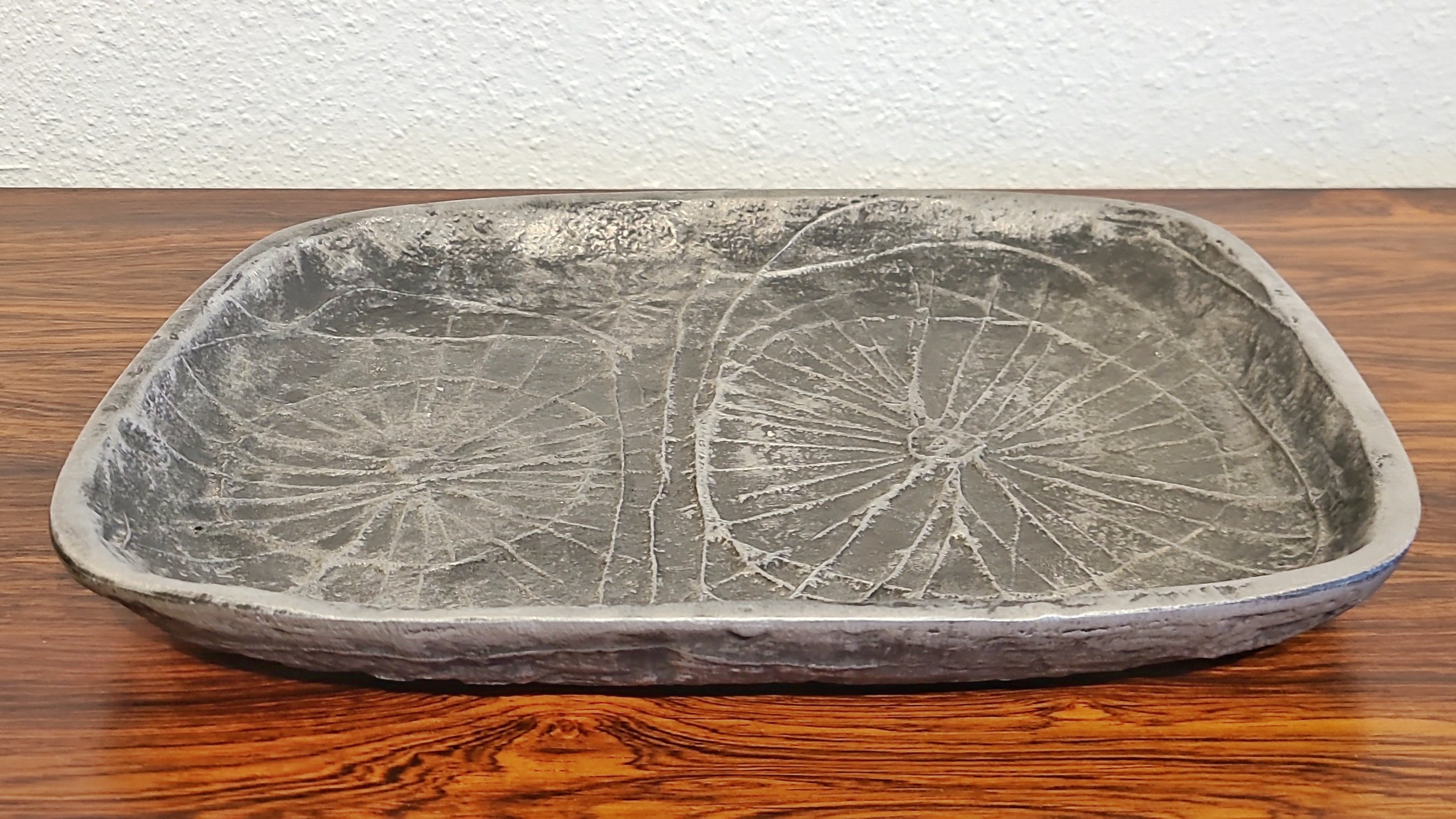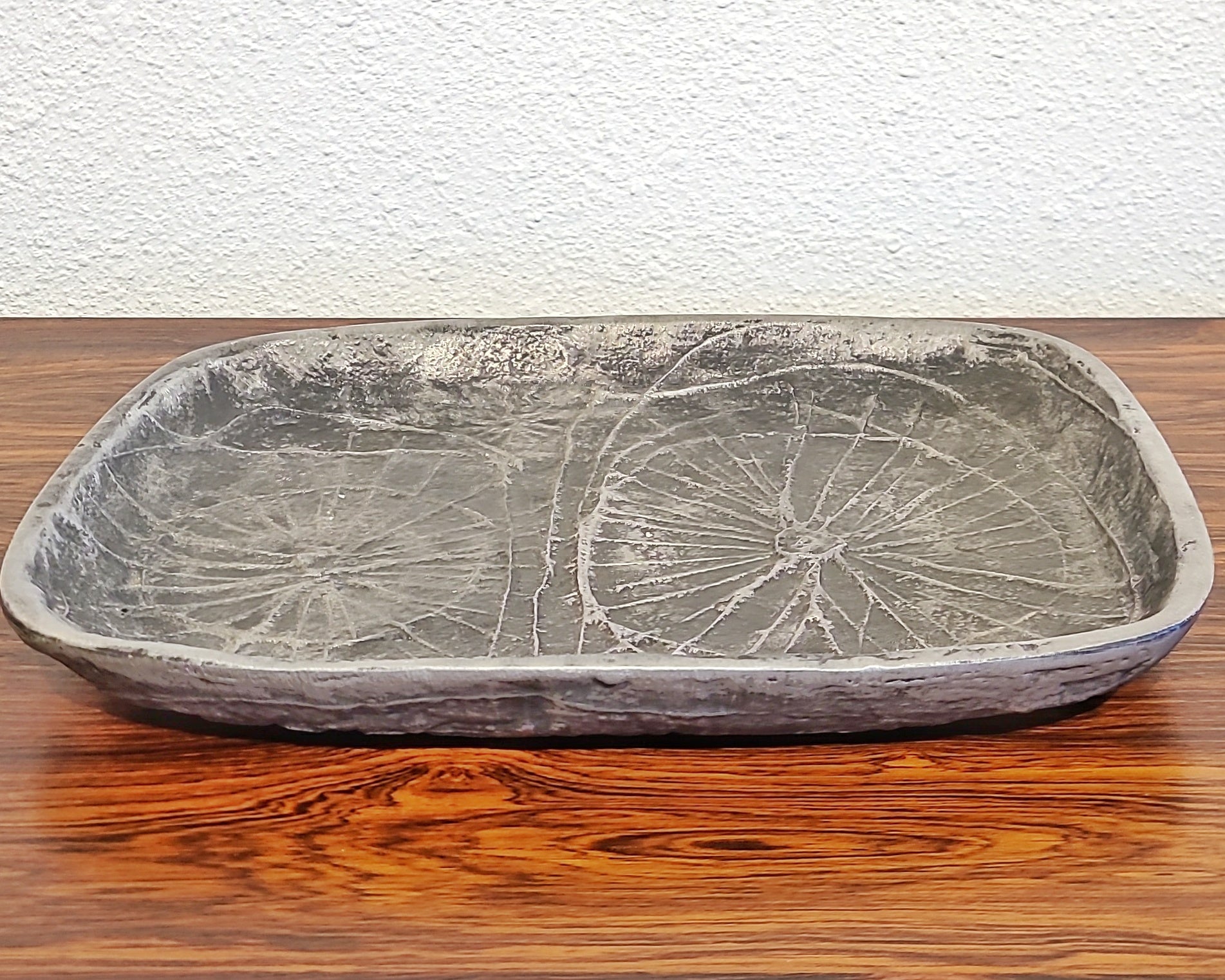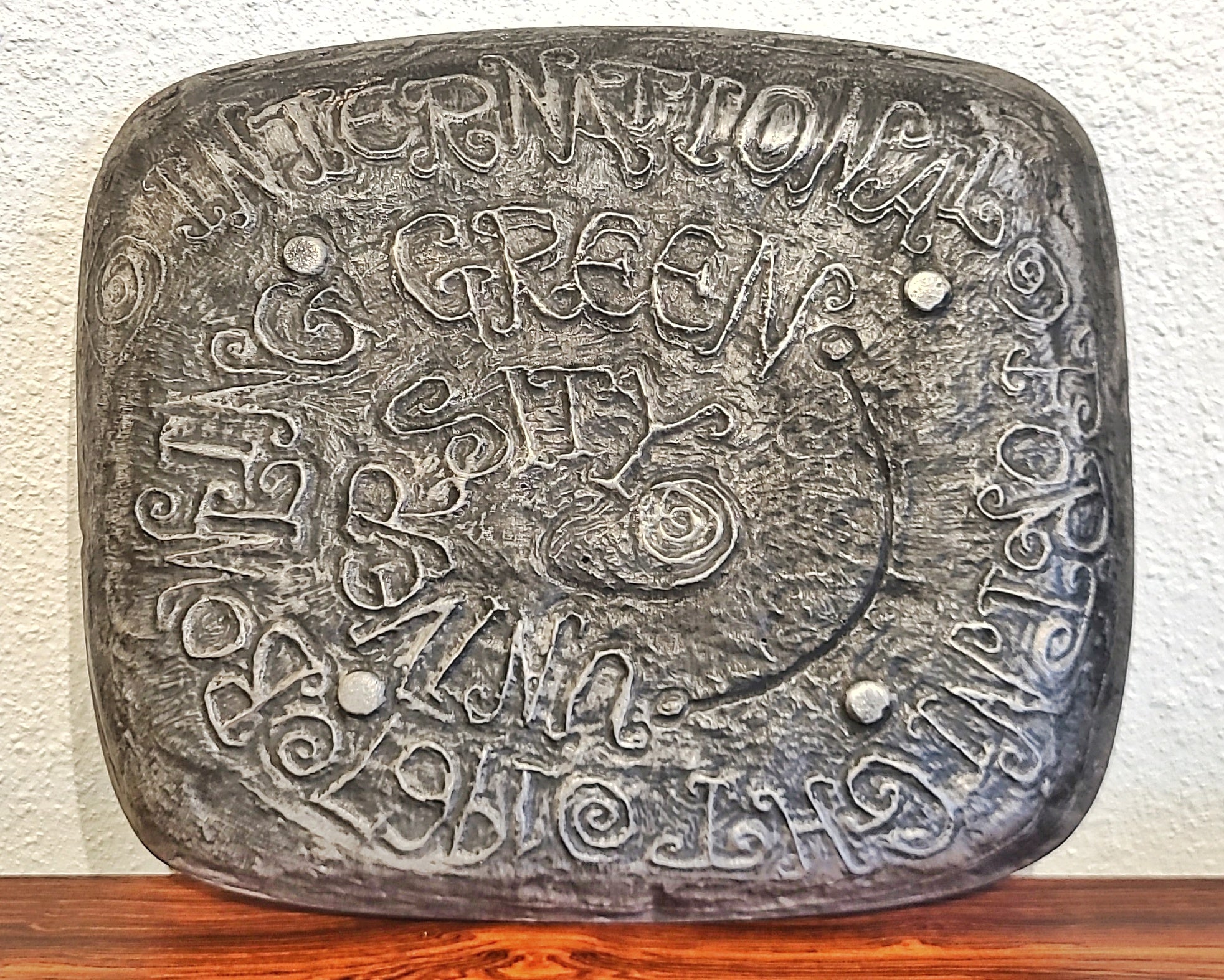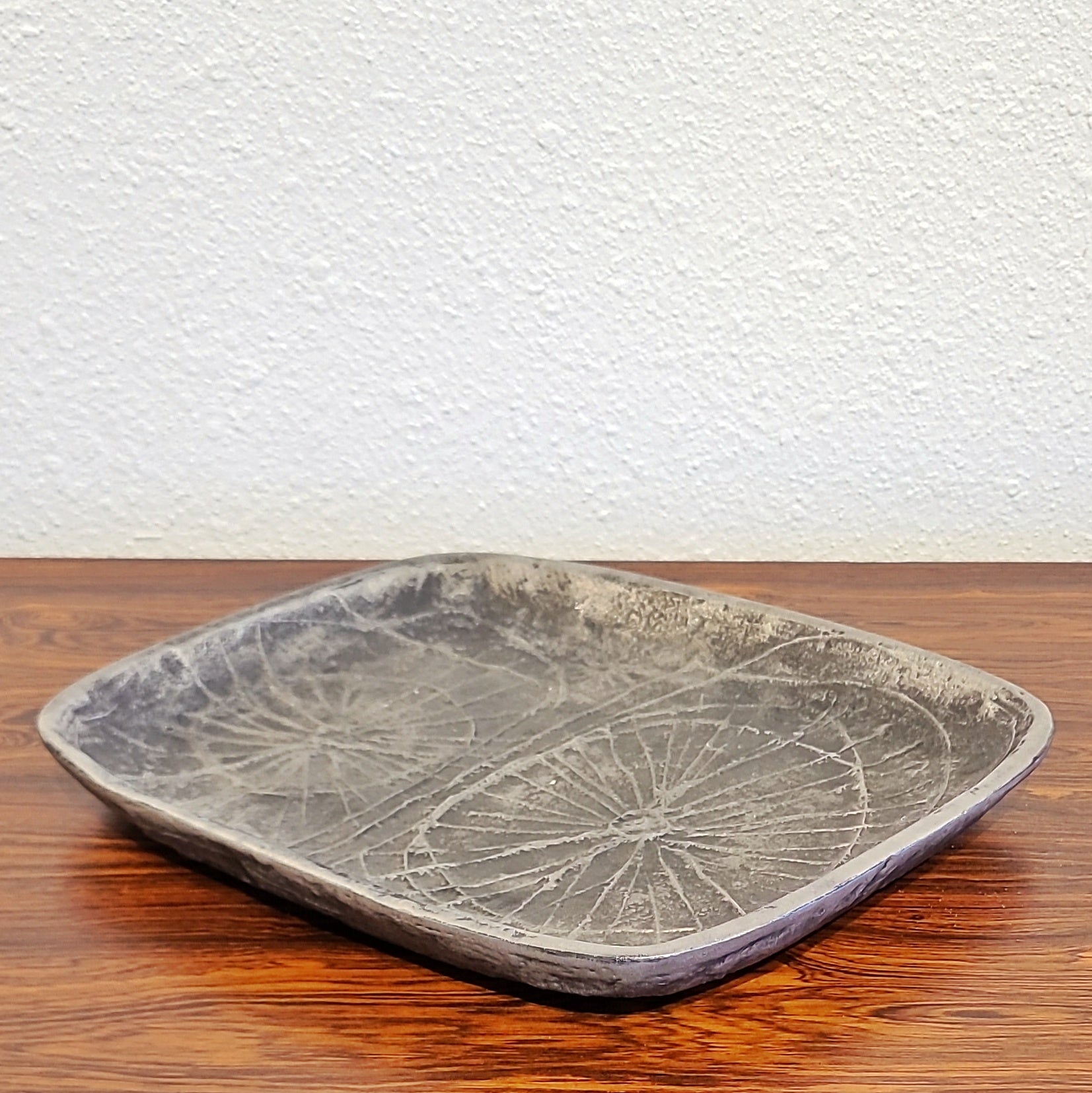 ABSTRACT SAND CAST ALUMINUM PLATTER BY DONALD DRUMM
CONTACT US HERE ABOUT THIS ITEM.
A limited edition abstract sand cast aluminum platter made by Donald Drumm in 1967 to commemorate the annual 'International Fortnight' festival at Bowling Green University, Ohio.  The decor consists of two circular forms of different sizes with spokes radiating out from the center of each one.  The sun shines high in the sky in the background.  On the back is a spiral embossed inscription reading:  @ INTERNATIONAL FORTNIGHT @ 1967 @ BOWLING GREEN UNIVERSITY @
DONALD DRUMM was born in Warren, Ohio in 1935. After studying medicine for two years at Hiram College in Hiram, Ohio, he decided to pursue a career in art. He transferred to Kent State University where he received a B.F.A. and an M.A. He subsequently worked as a designer for the Industrial Design firm "Smith, Scherr and McDermott" for two years. In 1960 Drumm opened his own studio, as a full-time practicing Sculptor and designer/craftsman near the University of Akron in Akron, Ohio. In 1971, together with his wife, Lisa Drumm, he expanded the studio to incorporate a one-room gallery. Since then the enterprise has grown extensively and now embraces eight buildings, providing gallery facilities for over 500 artists and studio space for three resident artists.
In the late 1950s, Drumm pioneered the use of cast aluminum (aluminum) as an artistic medium. In addition, he has been a pioneer in the use of contemporary building materials, and techniques for the creation of Arts and crafts. The 1960s brought about many teaching opportunities for Don as he was artist-in-residence at Bowling Green State University and taught at Penland School of Crafts.
He continues experimenting and constantly creating to this day. Drumm has won numerous awards along the way, including Ohio Designer Crafts' "Lifetime Achievement Award", "Outstanding Contributors of the Century", to the Akron community by the Beacon Journal Publishing Company, first recipient of the Outstanding Visual Artist Award from the Akron Area Arts Alliance in 2000, and the first recipient of the American Institute of Architecture (AIA) "Artist and Craftsman Excellence" award.
Drumm has worked on a wide range of public, commercial, and private commissions in the USA and abroad.
DETAILS:
DIMENSIONS

11.5ʺW × 10ʺD × 1ʺH
STYLES
DESIGNER
PERIOD

1960s
COUNTRY OF ORIGIN

United States
ITEM TYPE

Vintage, Antique or Pre-owned
MATERIALS

Aluminum
CONDITION

Good Condition, Original Condition Unaltered, Some Imperfections
COLOR

Silver
CONDITION NOTES

Excellent Vintage Condition. May Show Slight Signs of Previous Use.